Notabag Original Review
The Notabag Original is a well-designed packable tote that transitions seamlessly into a backpack, though there isn't a top closure to keep gear from falling out.
Our Verdict
Unlock the Pro Summary
Save time. Get access to brief summaries of our reviews so you can browse and make decisions more efficiently.
Pros
Extremely lightweight and easy to pack away
Quick to transition between tote and backpack mode
Comfortable to carry with a reasonable amount of gear stowed
Cons
Items poke into you in backpack carry mode
No padding or aeration for increasedcarry comfort
Material takes a while to dry
Recent Pack Hacker Video
Technical Details
Weight (oz)

3.9 oz (110.6 g)

Dimensions

17.7 in x 25.6 in x .5 in (45 x 65 x 1.3 cm)

Expands as you add gear | 5" x 6" pouch

Notable Materials

Cotton, Ripstop Nylon

Manufacturing Country

China

Warranty Information
Full Review
In researching the Notabag Original, we initially thought it was just a standard reusable bag. Don't get us wrong—we love nano bags, but what else can you do with this simplistic design? For example, we love the Nanobag Reusable Shopping Bag because of its simplicity and ultra-packability. After researching the Notabag even more, we saw that it'd won multiple awards for innovative design, so it's safe to say that we're interested in what's happening here. Is it just another nano bag, or is there something special to see? Let's find out!
External Components
The primary tote material is a blend of 63% cotton 37% nylon ripstop. It feels softer than other packable bags we have on hand and is some of the softest ripstop we've come across. It has a similar vibe as that favorite jacket in your closet that's perfectly worn in, so it only comes out for the most special occasions. Durability isn't a concern here, as the ripstop does well to ensure the tote stays intact. We've got water resistance here, too, which is nice should it start raining on your walk back to the hotel or Airbnb.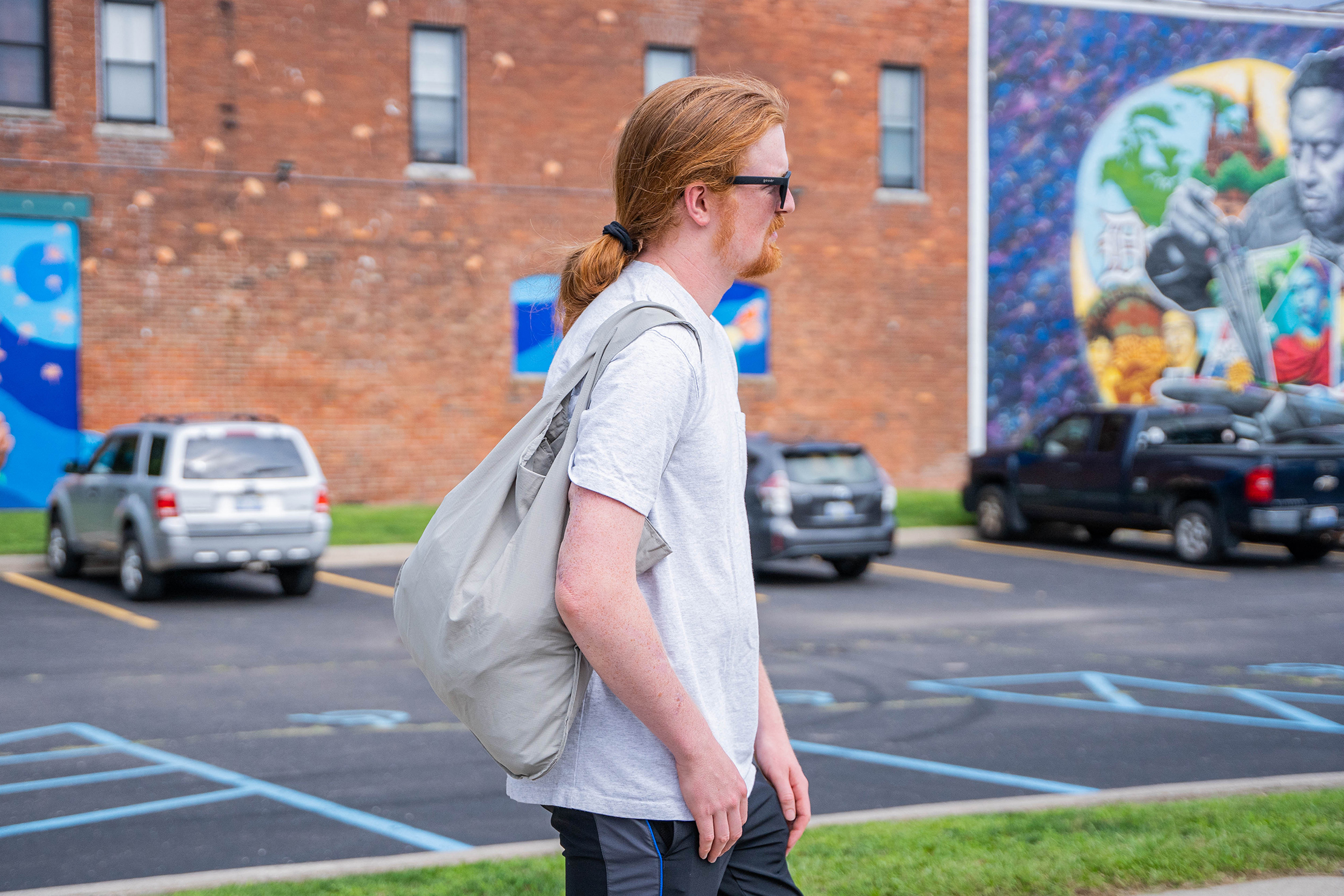 We have the grey colorway, which is minimalistic and subtle. This enables it to blend in whether you're moving gear from your office to a work meeting or shopping at the local market.
The tote has two handles that also operate as shoulder straps. It's a similar system as the Cotopaxi Taal Convertible Tote, though we feel that it's easier to use than its colorful sibling.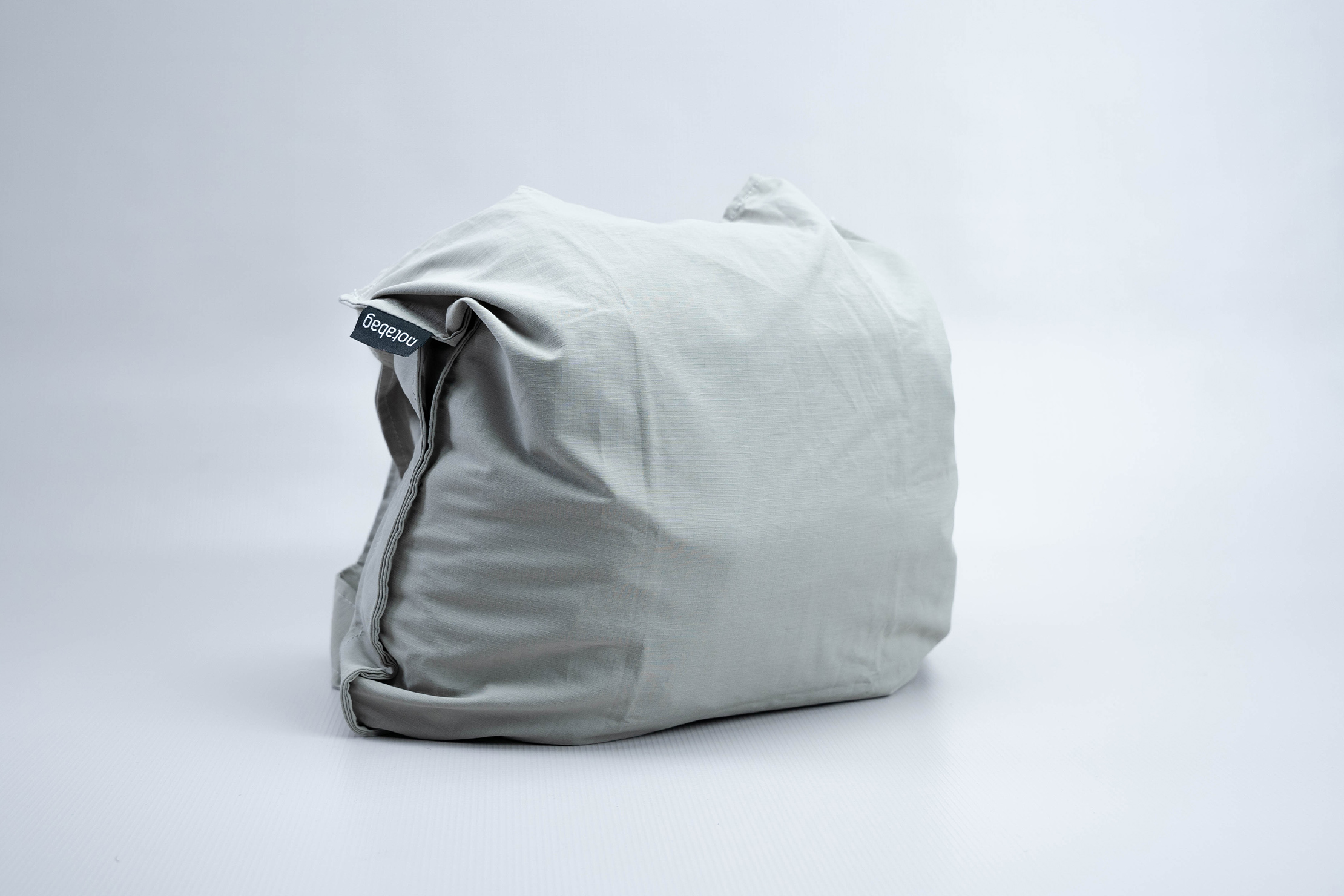 One side of the straps is attached to the bag's top side in a typical grocery bag style fashion. The other end passes through a reinforced slit on the top of the tote and extends down to the bottom of the bag. When you want to use it like a grocery bag, grab the top handles and go. If you prefer backpack mode, slide the straps through the loops and use the excess material as shoulder straps.
Though there isn't any padding or aeration on any part of the straps, they're wide enough to help disperse the bag's weight on your shoulder(s) or hand(s). If you pack the tote out completely, it can be uncomfortable wherever the strap is resting.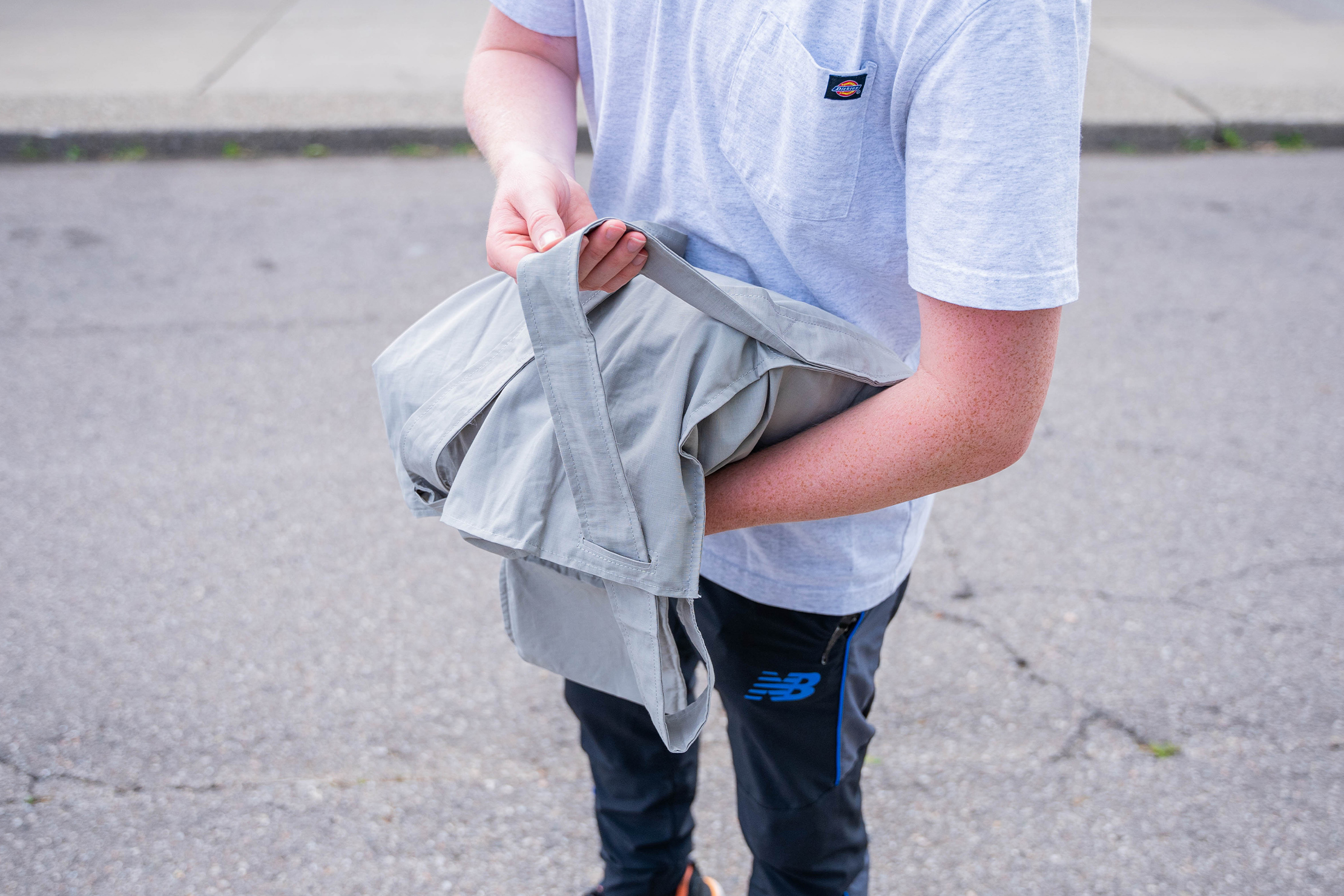 The convenience of being able to compress the Notabag down gives it an edge over other totes and enables it to slide easily into your EDC or travel backpack, daypack, or sling.
Fit Notes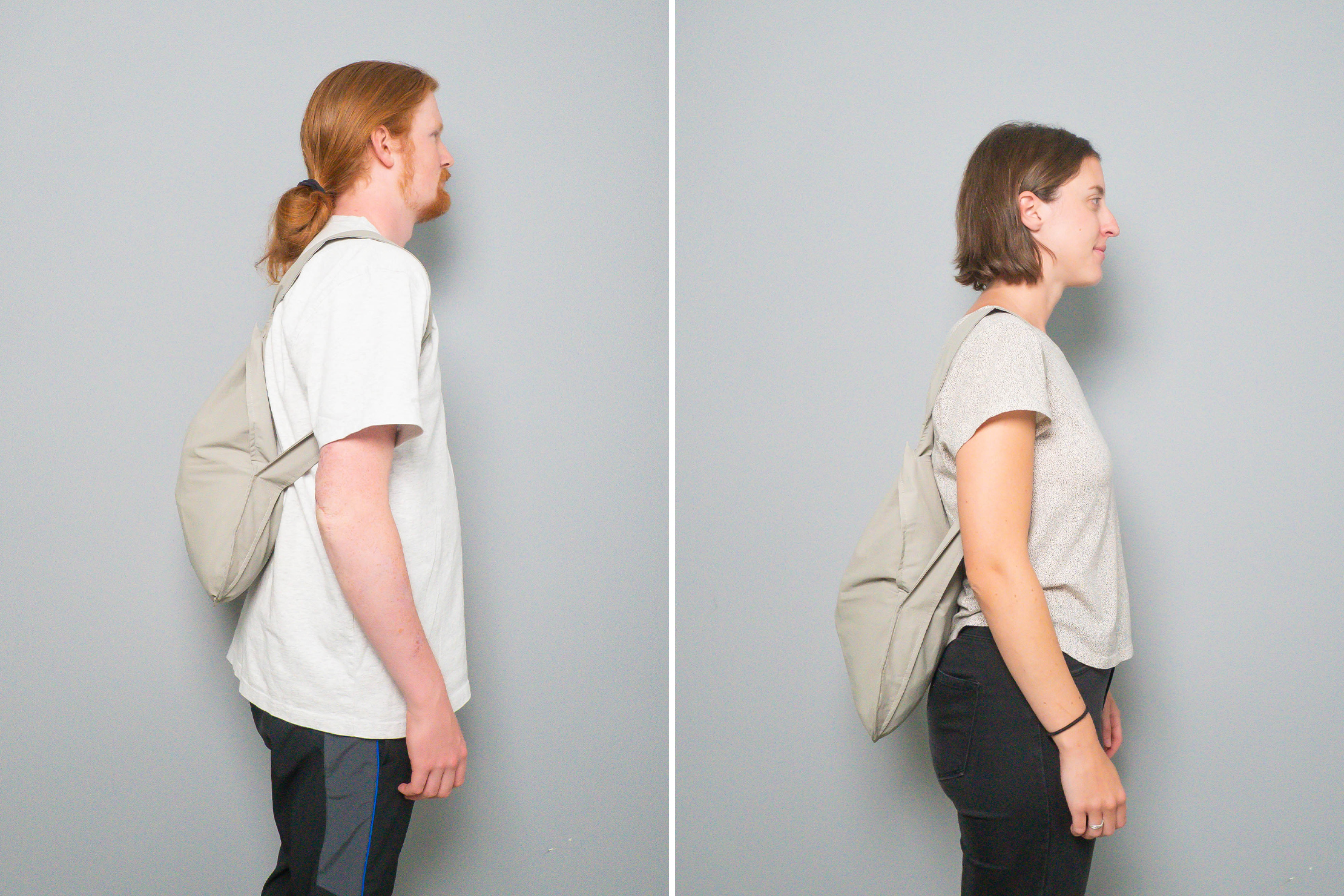 When it comes to carrying it as a tote, everything works as you would expect it to. The materials are lightweight, so if you pack a lot inside, expect to feel the weight in the cracks of your hand or on the bone of your shoulder.
In backpack mode, things are more dependent on what you stow. There's no structure to the bag's materials, so whatever you put inside becomes the back panel. The bag is comfortable if you have flat or cushioned items, like a notebook or sweatshirt. If you opt for oblong or hard things, like apples or potatoes, you will feel them digging into your back. You probably won't be loading a whole bushel of apples or a mess of potatoes into your tote, but it's a good way to illustrate what kinds of items won't do so well here. If you will be using your Notabag for that purpose, more power to you!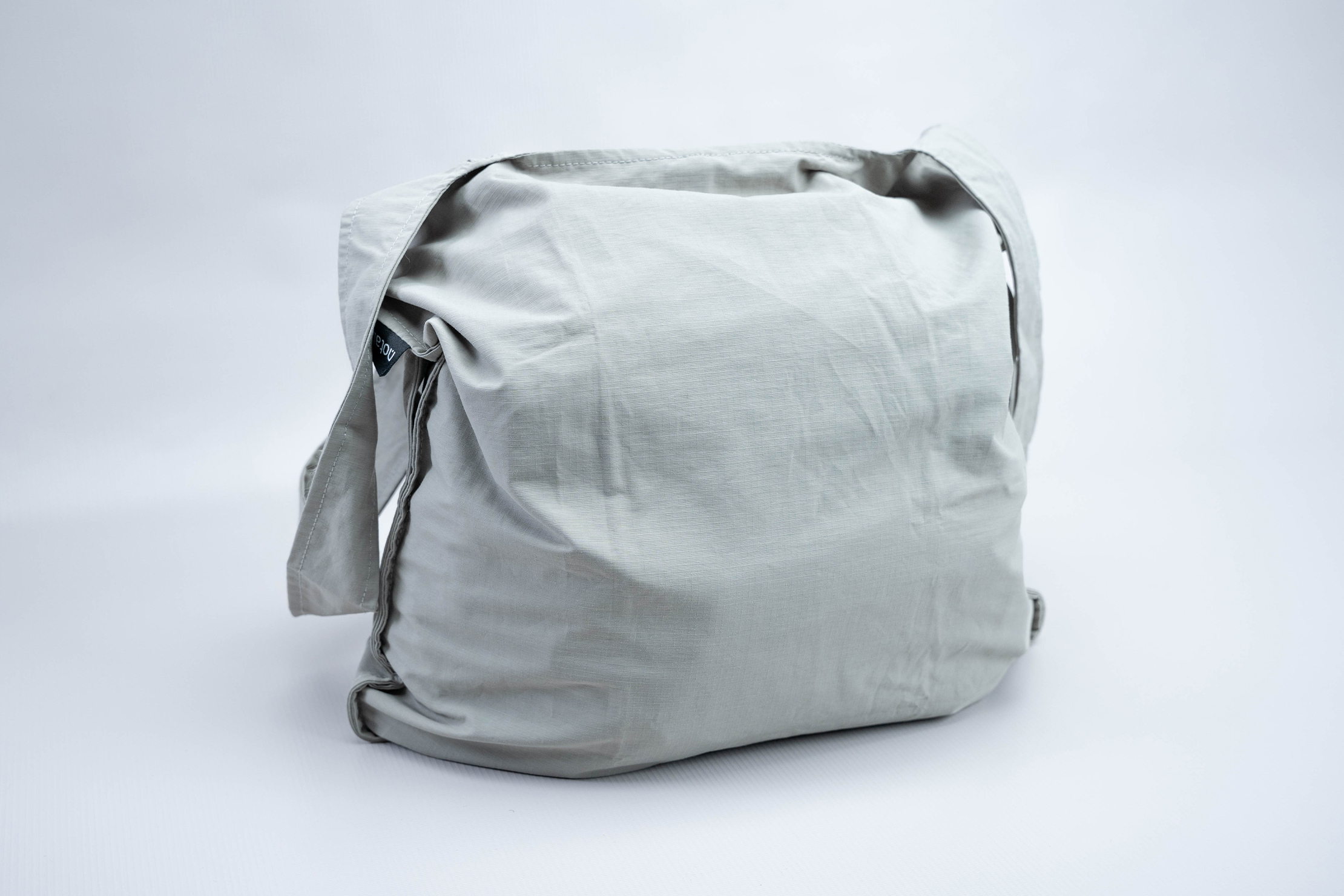 To reiterate, this tote isn't supposed to be super-duper padded. It's for when you're in a pinch and need a little extra space than your primary pack can hold. We weren't expecting to find a back panel or aeration here—we were just expecting it to work, and it does.
Inside The Tote
As avid gear testers, these are some of the most satisfying travel gear to use due to their simplicity.
There's absolutely nothing going on when it comes to the interior of this tote. It's a big open area with no internal organization, loops, rings, or hidden compartments. It's just a bag. This means you can get creative when packing it to ensure that everything fits nicely, or, if you're in a rush, toss everything inside and hit the dusty trail.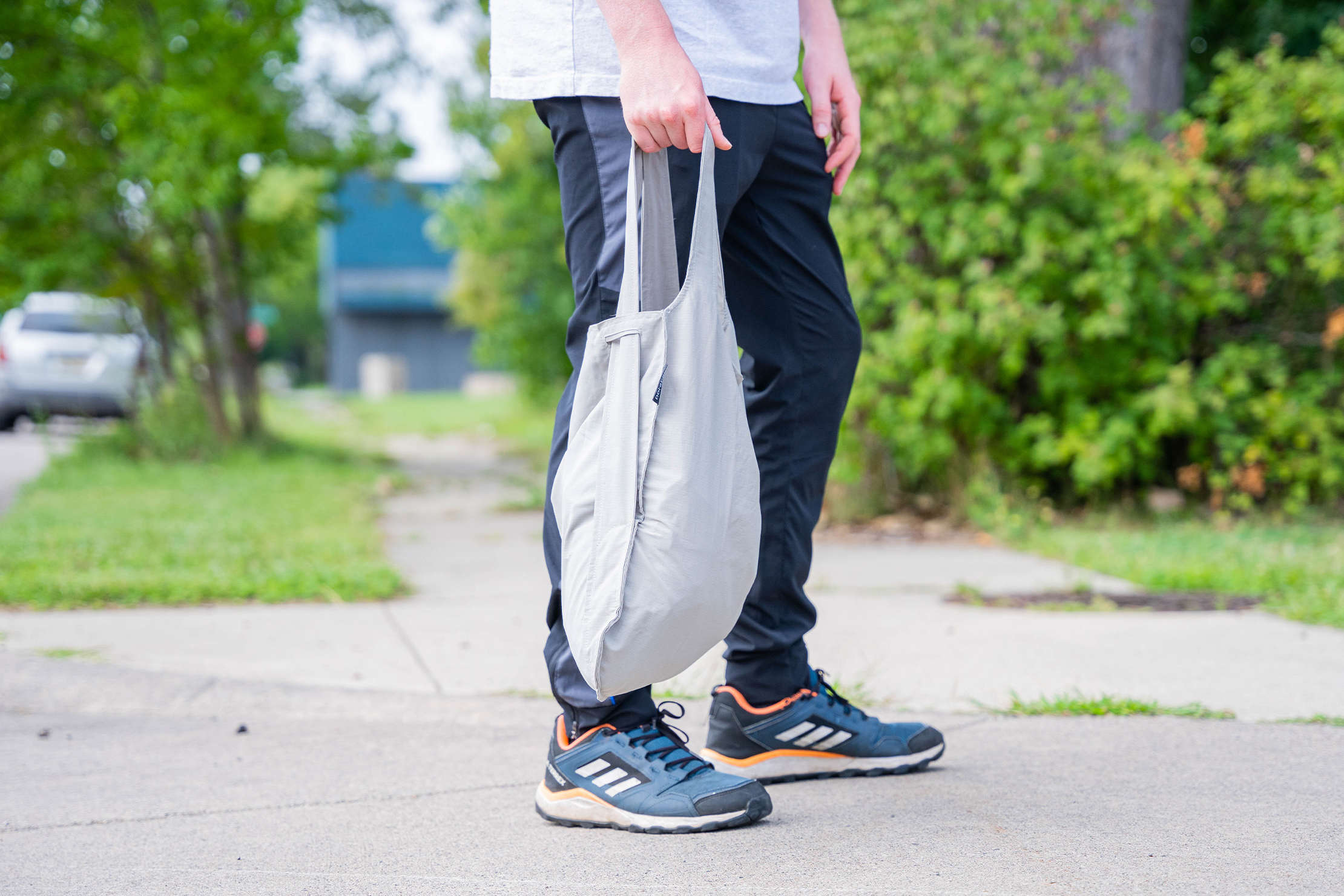 While wearing it in tote mode, you have access to the top slip so you can quickly get gear inside and out. However, it's worth noting that the top doesn't properly seal when you transition it into a backpack. There's no way to fasten it—only the shoulder straps hold it closed on the sides. Someone could easily slip their hand inside and grab whatever you have stowed inside. This isn't a great look in crowded tourist areas or places where pickpockets are known to operate. After all, you wouldn't want to lose any of your precious apples or potatoes!
The stuff sack hangs on the interior of the tote—it's attached so that you can't lose it, which we dig. You can use it as a small pocket for gear inside the bag, which is a nice addition. It's small, so a wallet or smartphone fits well here.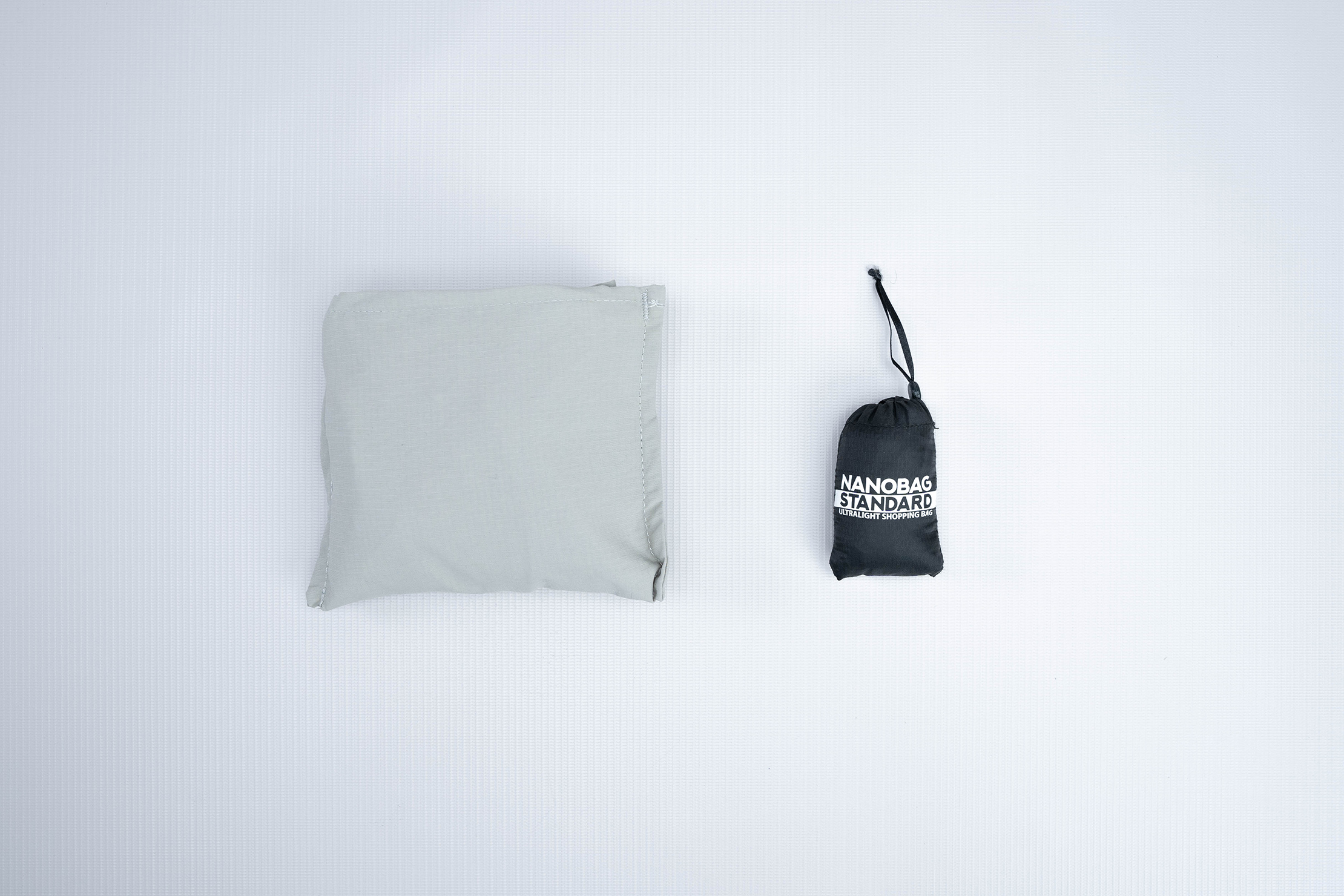 We feel this is an excellent place to compare the Notabag to two other favorites, the Nanobag Reusable Shopping Bag we mentioned earlier and the BAGGU Standard Baggu Tote. The Nanobag is the lightest of the bunch and packs down into the smallest package, so you can save more space. The BAGGU performs best out of the three in tote mode and comes in fun colors. The Notabag Original has isn't as light or colorful, but we like the material the most and it features backpack mode, which is an excellent feature for travelers or commuters. Depending on what you value more, all three bags are a great option.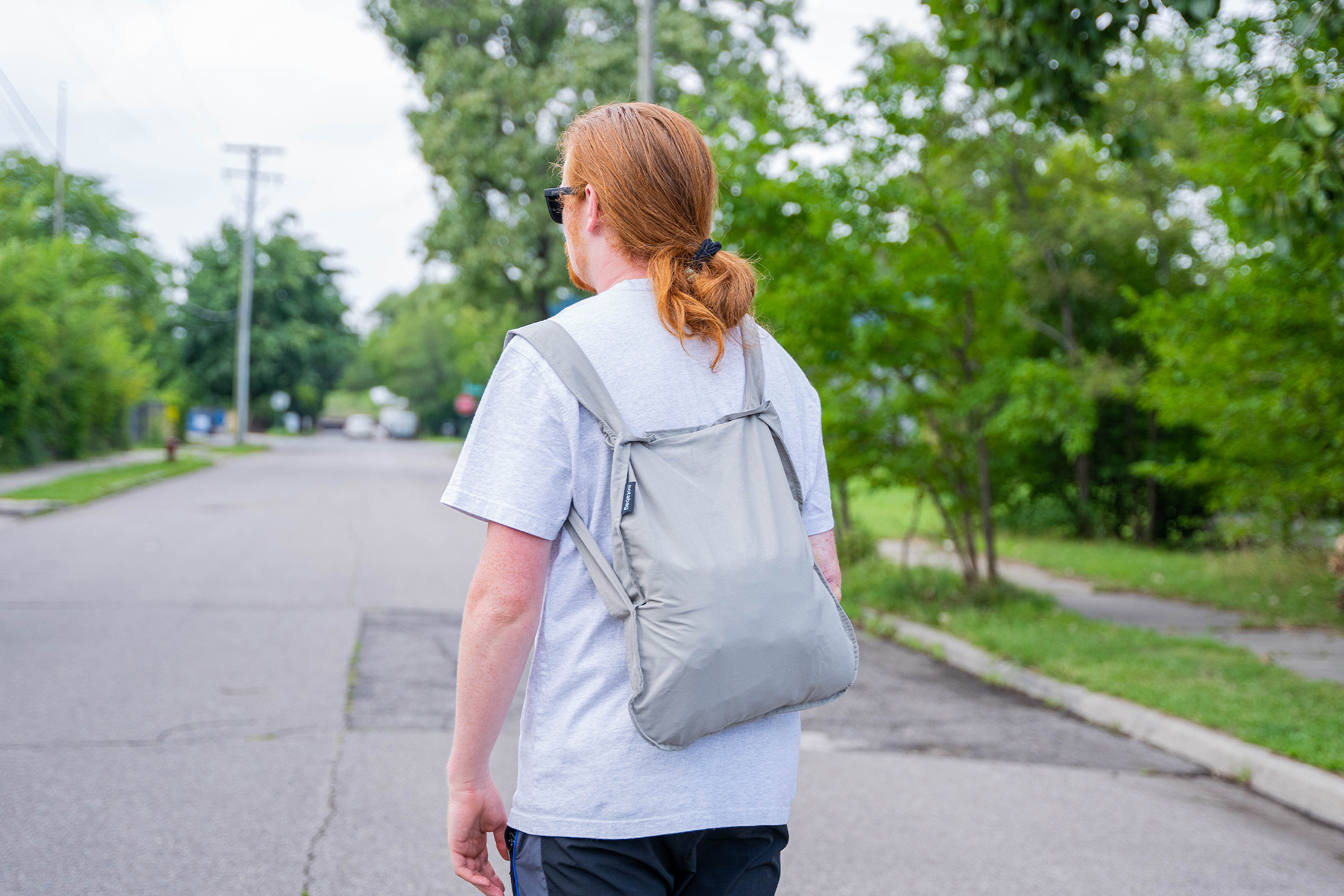 Overall, we dig using this tote. Backpack mode might not be perfect, but it operates better than other attempts we've seen here at Pack Hacker. The materials feel premium, which makes the bag look more versatile than simpler models. If you like to be prepared for sporadic trips and journeys, the Notabag is for you!
Usage Timeline
Initial Usage
Condition: Excellent
Extremely lightweight materials and an attached stuff sack make it an ideal travel companion
The ripstop feels durable even though its extremely thin
We're curious to see how the different carry styles affect loading and hauling gear
2 Weeks of Use
Condition: Excellent
The materials have held up without issue
Switching from tote to backpack mode is quick and easy
Carry comfort is dramatically dependent on the gear you have stowed inside
Access the Pro Community Discussion
Get your questions about the Notabag Original answered from our team and the Pro Community right here on the page. Plus, join discussions with other members about gear, guides, and more.
Other Bags & Luggage Reviews