Mystery Ranch Prizefighter Review
Comfort is on point thanks to the Mystery Ranch Prizefighter's well-padded harness system, though the interior pockets' placement isn't very accessible.
Our Verdict
Unlock the Pro Summary
Save time. Get access to brief summaries of our reviews so you can browse and make decisions more efficiently.
Pros
Good carry comfort thanks to shape and harness system
Glasses pocket only minimally intrudes into the main compartment
Main compartment's curved opening helps ease of access
Cons
Grab handle occasionally rubs against back of neck
Main compartment's rear pockets are hard to reach
Size of interior pockets feels either too big or too small
Recent Pack Hacker Video
Technical Details
Capacity

20.8l

Weight (lb)

2.1 lb (1 kg)

Denier

500D

Dimensions

19 in x 11.5 in x 9.75 in (48.3 x 29.2 x 24.8 cm)

Notable Materials

CORDURA®, YKK Zippers, Duraflex Hardware

Manufacturing Country

Vietnam

Laptop Compartment Size

15"

Warranty Information
Full Review
Mystery Ranch backpacks are no mystery to us. We've tested an extensive range of their gear, often calling out their harness systems as being super comfortable. Of course, there are exceptions, like the District 24 and the Market Pack, which aren't as comfortable to carry as others from the brand. Overall, we have a certain level of expectation when it comes to this particular aspect of Mystery Ranch's backpacks.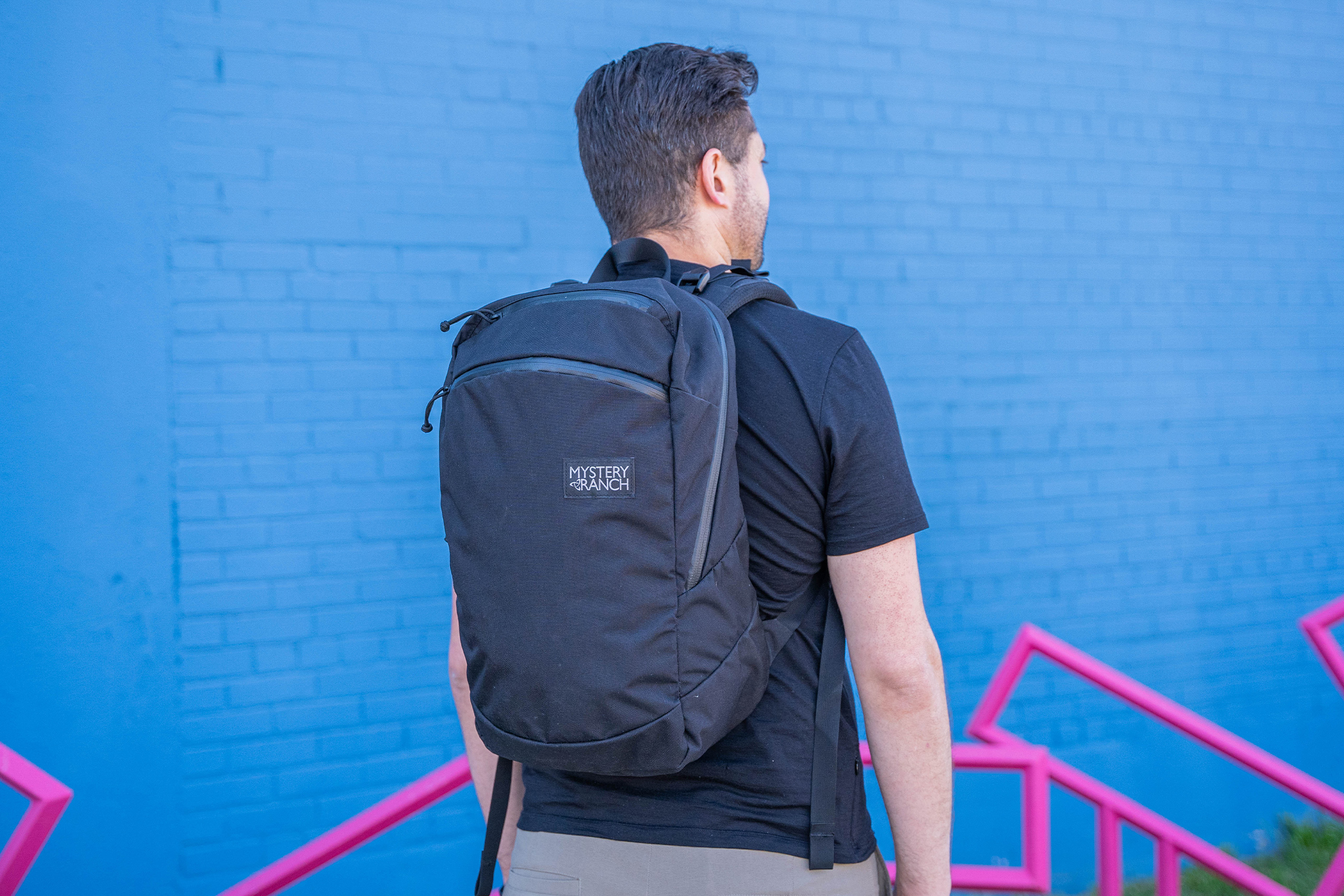 That said, the Prizefighter immediately stood out to us because of its distinct lack of extra features on the outside. Sure, the basics are there, like shoulder straps and a handle, but there are no gimmicks here, nor are there attachment points or water bottle pockets. On the other end of the spectrum, the Prizefighter is bristling with organization on the inside. The catch? It's a case of too many pockets in hard-to-reach spots.
External Components
We'll start off our tour of the Prizefighter by discussing what's not here. Firstly, there are no water bottle pockets, and there are no alternative bottle pockets on the inside either. That's a huge bummer for anyone who carries their own bottle daily, as we often find ourselves doing. Since the Prizefighter is a 20.8-liter backpack, there is space to accommodate a bottle inside, but we would've liked to see a dedicated pocket for it that preserves internal space for other bulky gear.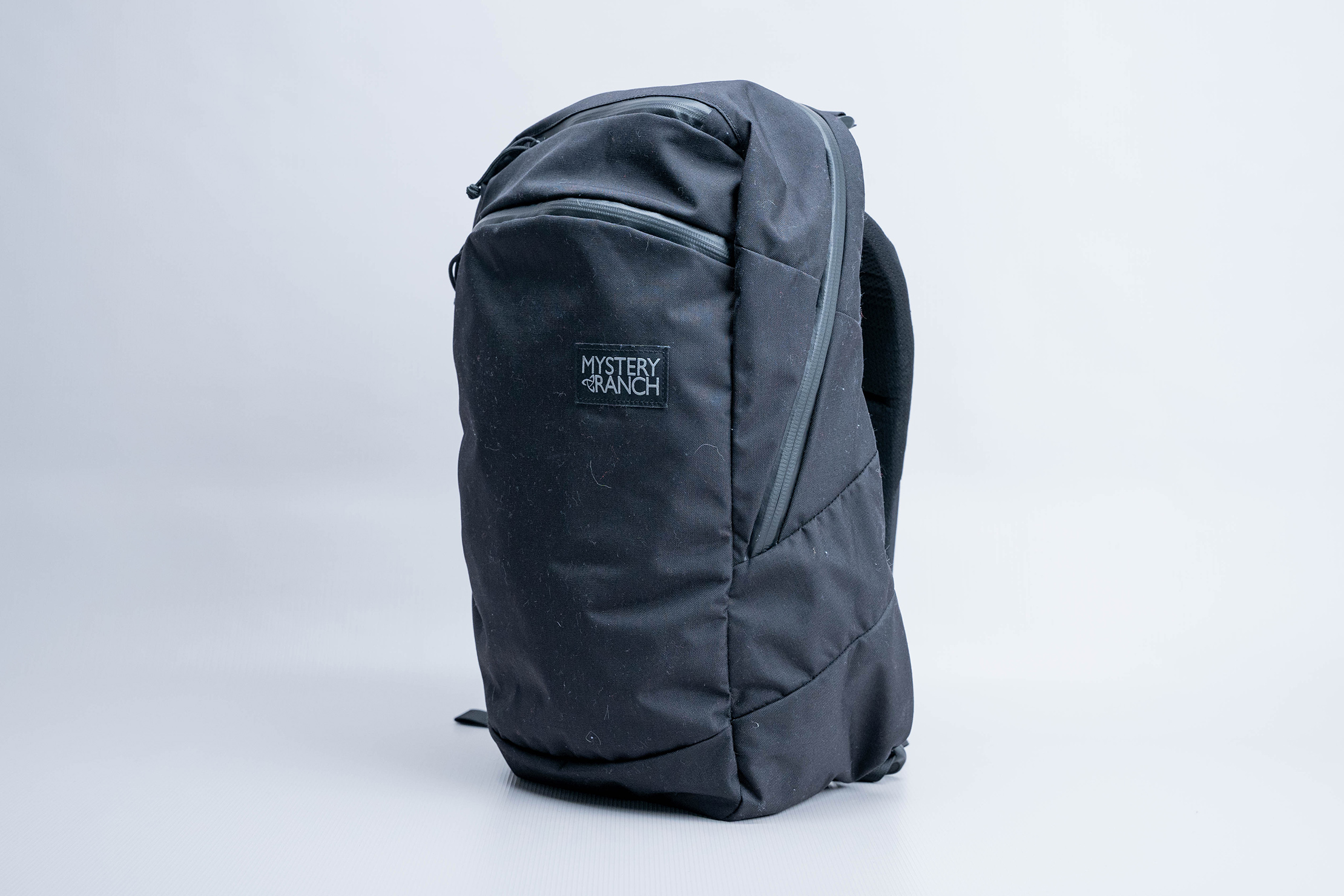 There are also no attachment points like loops, D-rings, or straps on the Prizefighter. These are a great way to expand a bag's carrying potential without adding volume. So if you are looking for a bag that can undersling a yoga mat or hang a handful of carabiners, the Prizefighter wouldn't be a good fit.
It's interesting to note that while the Prizefighter itself doesn't have a ton of external features, two of its siblings do, namely the Robo Flip Pack and the District 24 we mentioned earlier. At 21 and 23 liters, respectively, they're similar in size compared to the Prizefighter. If you want water bottle pockets, the District 24 is a better bet, while the Robo Flip Pack comes with a lot of attachment points. Neither has both, though, so you may also want to consider other brands as well.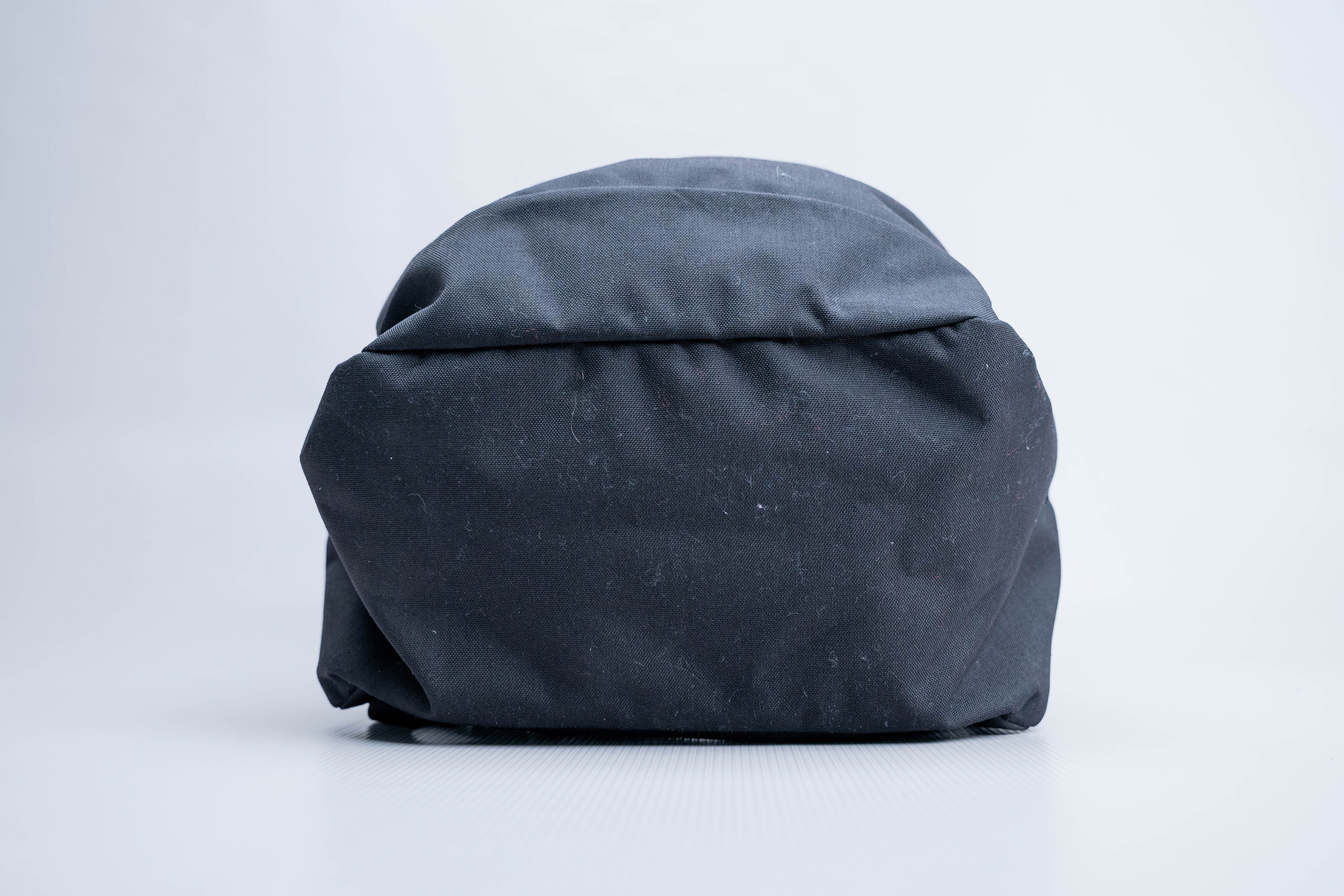 That said, there's something quite refreshing about the Prizefighter's lack of extra garnishing. It's a much more focused design that looks quite sleek, with a weight balance that is largely preserved as well. Couple this with a well-designed harness system, and you get a daypack that's a joy to carry around.
On that note, let's take a look at the Prizefighter's harness system. As we mentioned earlier, the harness system on any Mystery Ranch pack is something we look forward to because of how well they generally perform. Take note that we're not really looking for a long list of straps—when it comes to harness systems, we'll take quality over quantity.

The shoulder straps on the Prizefighter have thick and dense foam padding. You don't get a sense of Mystery Ranch holding back on the padding just because of its relatively small volume compared to backpacks in the 30-liter range. They've even included load lifters, which proves the point further as you only typically see load lifters on larger travel backpacks.
The included sternum strap is mounted on nylon webbing along the shoulder straps. There are three positions to choose from, which we think is enough for this pack. However, we are more fond of sternum straps that slide along rails since they offer more granular adjustment and are generally more secure.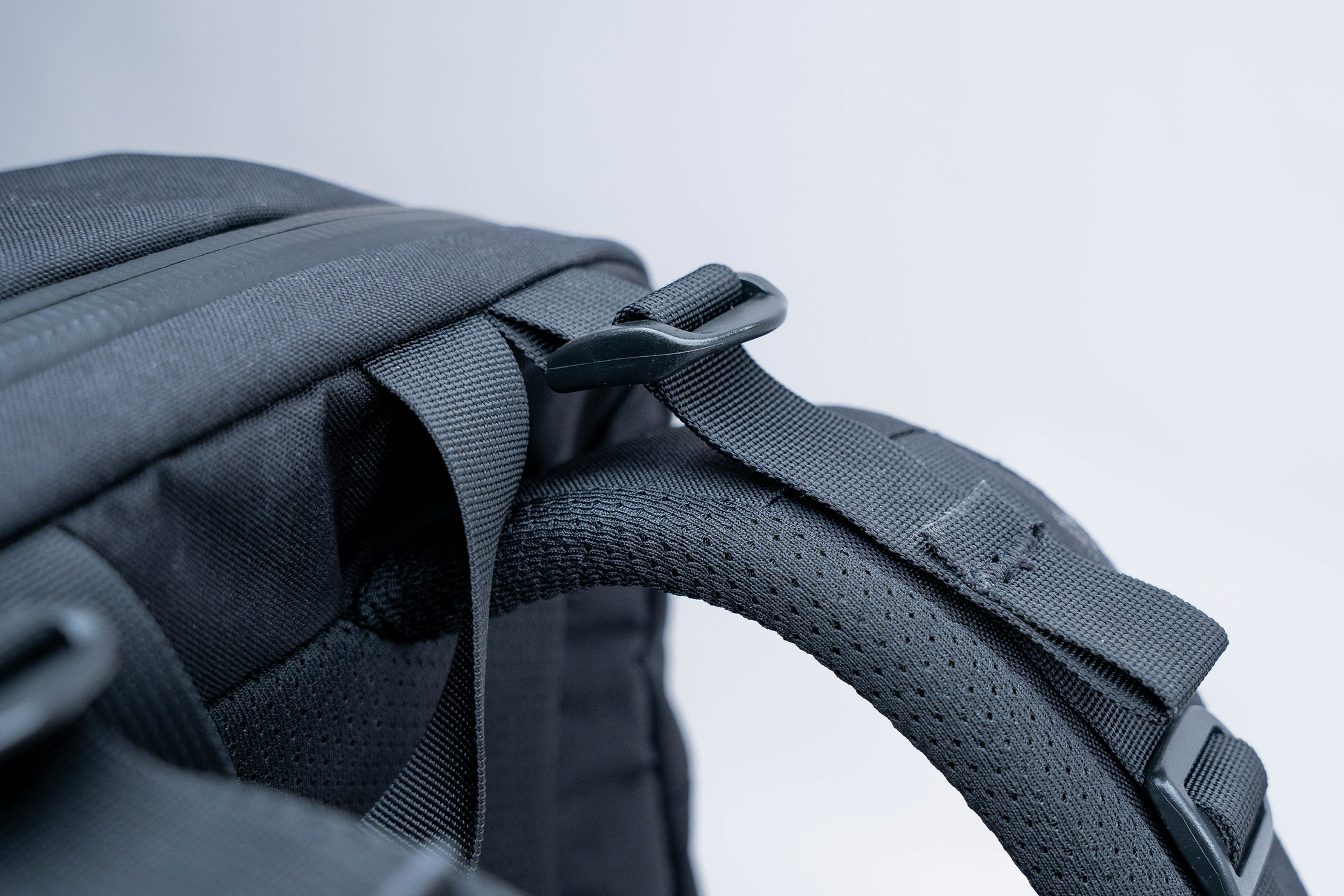 As an aside, there have been times when these types of hook-on sternum straps have detached accidentally on other bags. This sometimes happened when we were using them, and there were times when the bags were just sitting in storage. Fortunately, the Prizefighter's sternum strap seems to be pretty secure, with no signs of the hook getting loose over time.
A major part of what makes a good harness system is the back panel. This can be easily overlooked since it's arguably less flashy than a pair of shoulder straps. Suffice it to say Mystery Ranch understands its importance and makes it a point to have a full-length frame sheet to support it. Not every backpack has one of these, often leading to a baggy and soft structure that's detrimental to comfort.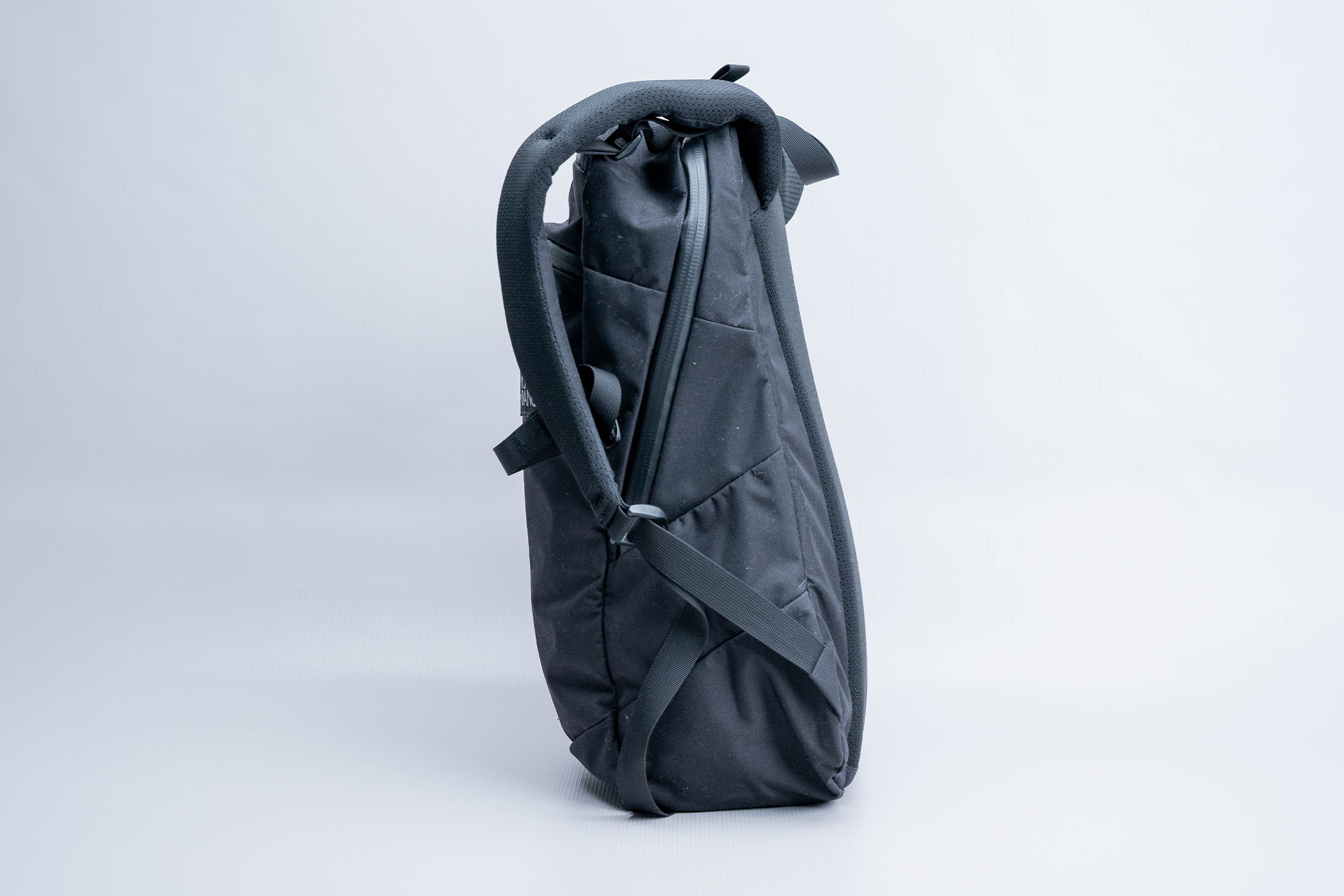 The frame sheet itself is hidden from plain view since its placed behind a layer of mesh and foam padding, the same kind found under the shoulder straps. From the outside, though, you can clearly see how the back panel is curved to better fit the natural shape of the wearer's back.
If we have any complaints about the Prizefighter's harness system, it would be the lack of strap keepers. More specifically, we think the load lifters could use some since their slack kind of flails around on windy days. The sternum and shoulder straps could use some as well for that #danglefree clean look.
However, the most immediate impact on comfort comes from the grab handle situated between the shoulder straps. We can't help but notice that it can rub against the neck if you tilt your head backward. There are probably users who can tolerate this and then those who are absolutely peeved by it. If you fall in the latter camp, you may want to look elsewhere.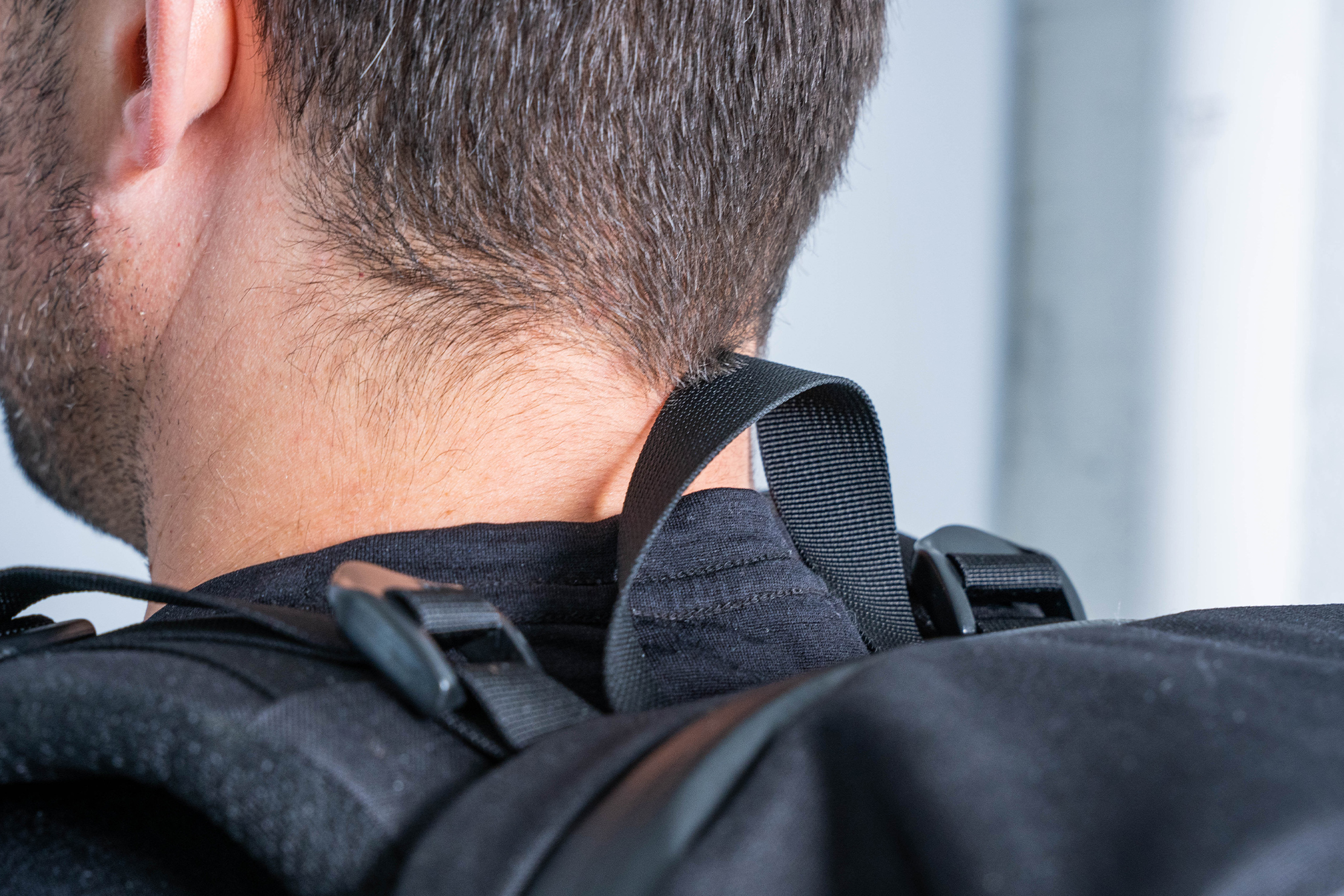 As for the handle itself, it's a simple nylon strap that's comfortable enough for quick grabs, but definitely not for carrying the Prizefighter for extended periods. Though we're not fans of how it rubs against the neck, its rearmost location does make it easy to hang off shallow hooks and pegs.
Fit Notes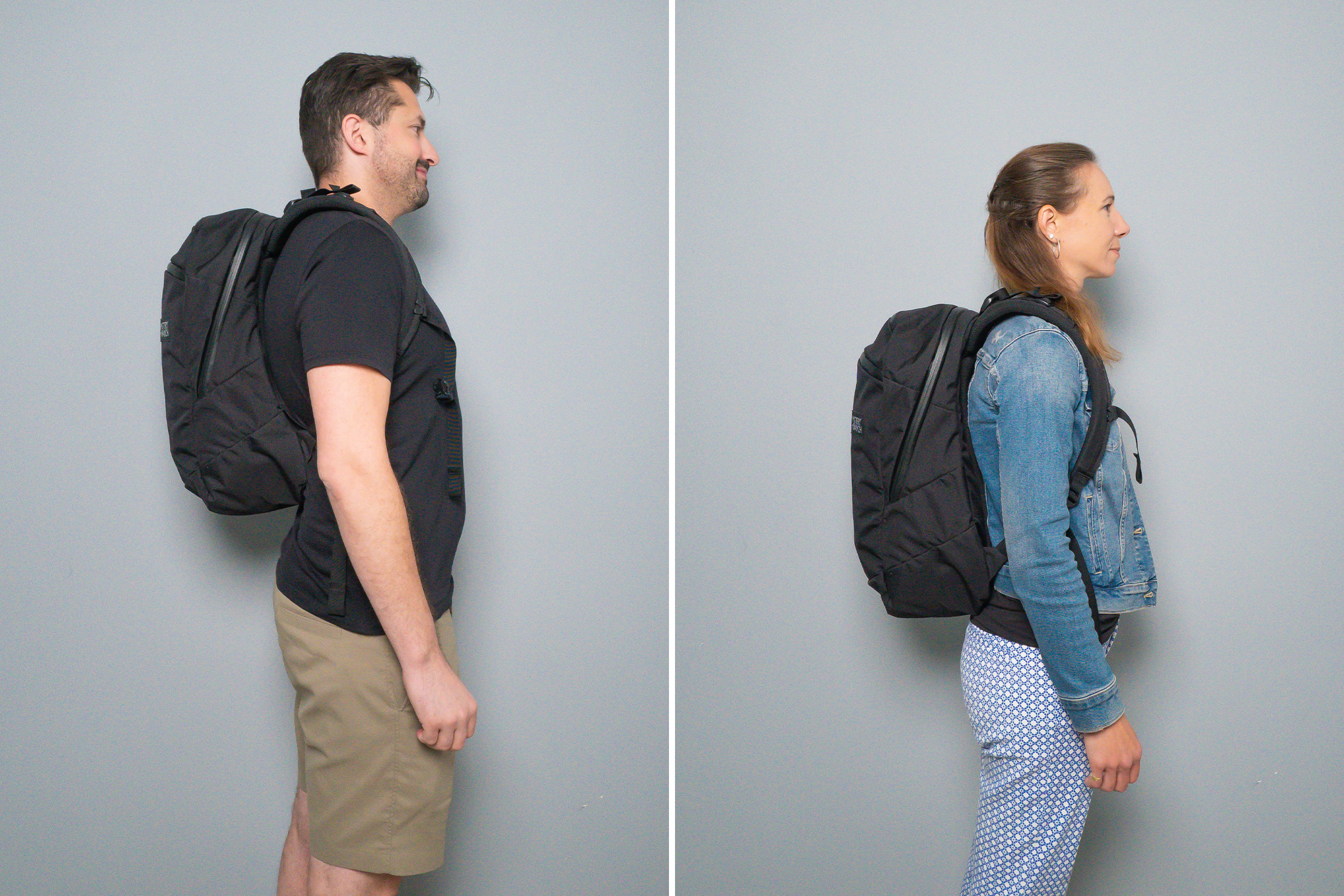 The Prizefighter looks quite sharp and sleek, again because of Mystery Ranch's mostly no-nonsense approach to its exterior. Though it has a sort of cuboidal shape, there are not many straight lines going on here. All the zipper tracks, creases, and stitching curve and flow around the bag cleanly. In terms of branding, there's only an off-center Myster Ranch logo at the front, giving the Prizefighter some aesthetic asymmetry.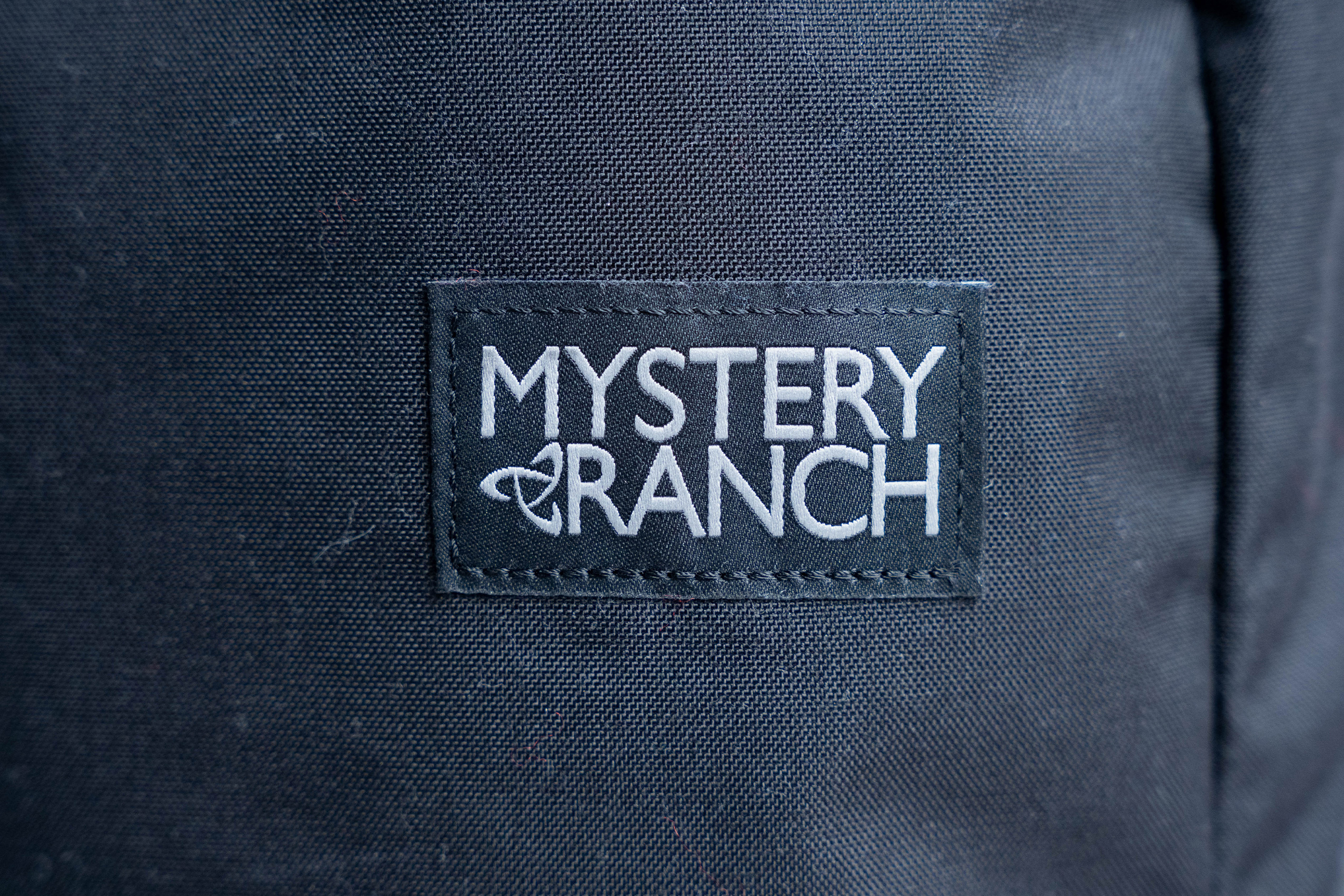 It's worth noting that if you're not a fan of the all-black colorway we're testing, there are other options available at the time of writing. The Cherry colorway is particularly eye-catching if you want to go a less stealthy route. Regardless of which you choose, though, you're getting 500-denier CORDURA fabric, along with YKK zippers, both of which are brands that make durable and reliable materials.
Now for the fit, or rather, how comfortable the Prizefighter is to carry. The good news is that the Prizefighter meets our expectations. Once you have the load lifters and sternum strap dialed in to your preference, the pack feels tight and locked in. The shoulder straps' dense padding does a great job cushioning the weight, even once the pack's fully loaded. Sagginess is kept to a minimum, and the back panel does indeed contour well.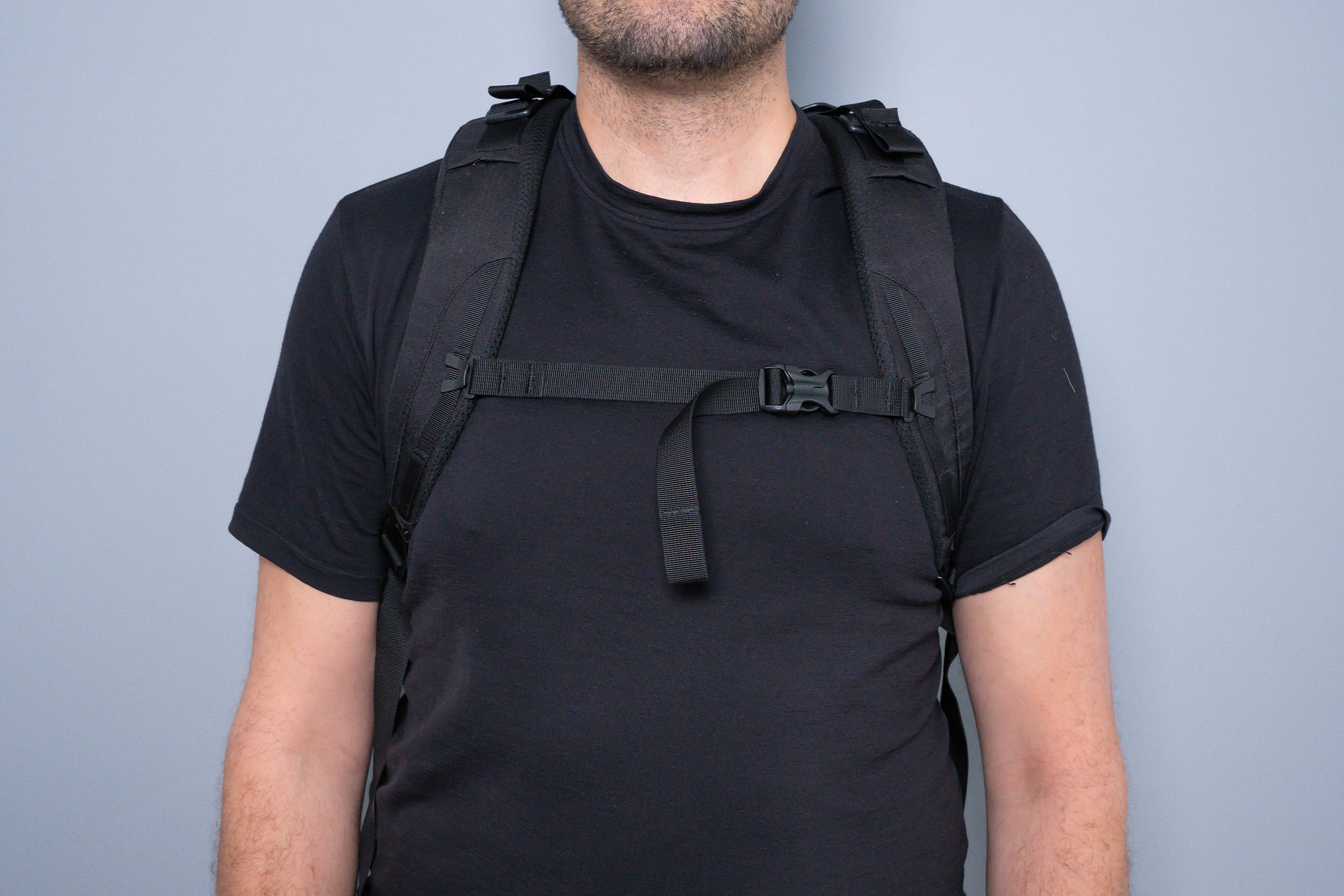 Again, the most annoying part of the fit has to be the grab handle occasionally brushing against the back of the neck. Short of ripping it off with a pair of scissors, there's really not much you can do about it. That's a shame, too, since the Prizefighter's overall carrying comfort would otherwise be exceptional.
Inside The Backpack
As minimalist as the Prizefighter is in terms of exterior features, it's the opposite when it comes to the interior. That said, we'll start with the more basic ones, like the glasses pocket at the front.


The first thing to note about the glasses pocket is its AquaGuard-style zipper track, which is very weather-resistant. All three of the Prizefighter's zippered openings use this style, so the compartments are relatively well-protected from accidental splashes. Plus, you also get knotted zipper pulls, which are easy to grab even while wearing gloves.
There's not much depth to the glasses pocket. Instead, you get an interior space that's more similar to a shelf rather than a pouch that goes deep. This puts your sunglasses over the rest of your gear that's inside the main compartment, rather than freely hanging among them where they might get crushed. If you're not the type of person to carry sunglasses, this shallow pocket also keeps small accessories easily accessible.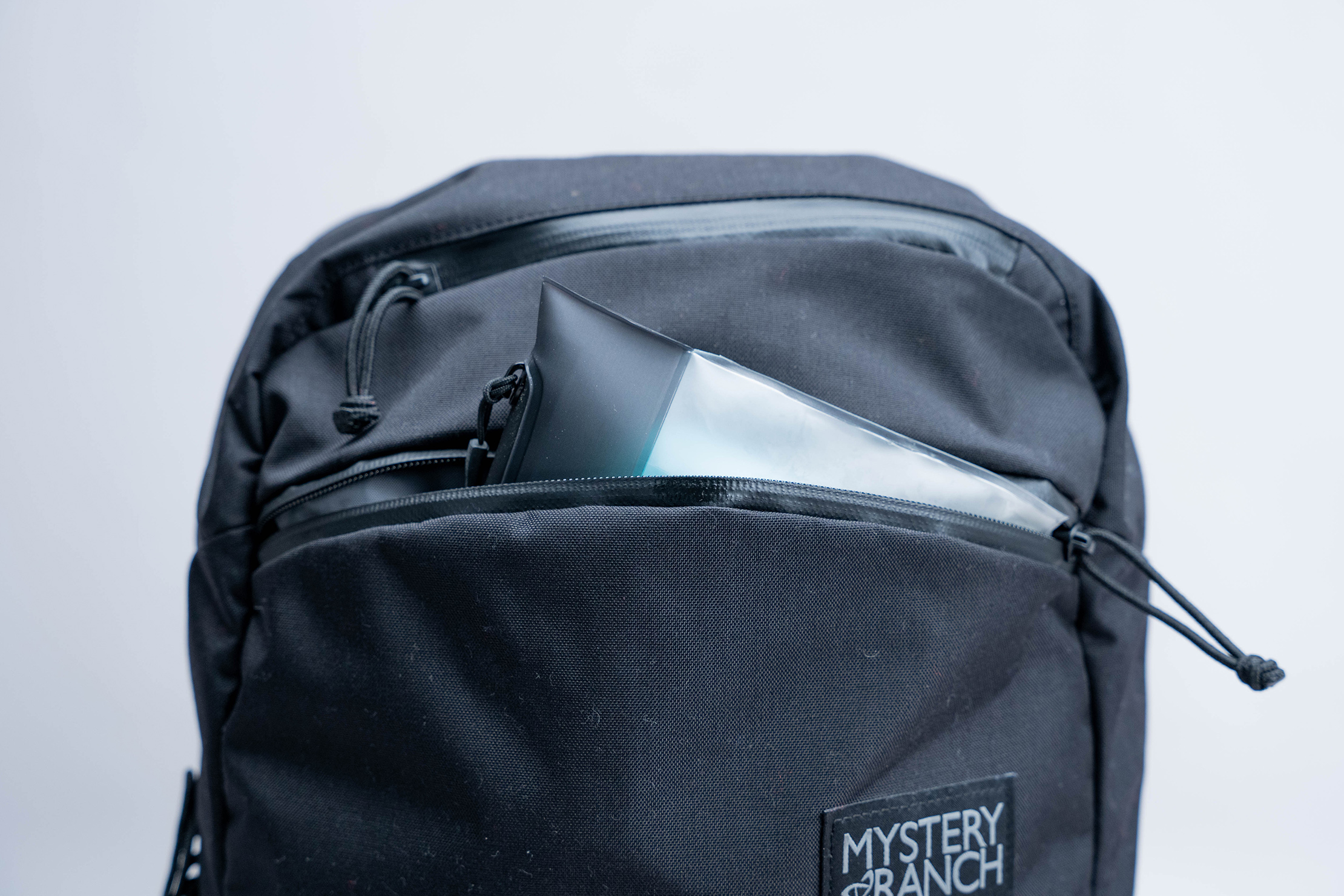 There's also a larger front pocket that's more attuned for bulkier gear. Think of items such as gloves, a wallet, a notebook, or a beefy power bank. The space goes quite deep, and coverage spans about two-thirds of the Prizefighter's front. Therefore, we don't really recommend dumping anything too small inside. Otherwise, you'll be fishing for them.
So far, there's nothing really too complex about the Prizefighter's interior features. However, that changes once we dive into the main compartment where the bulk of the Prizefighter's organization options is.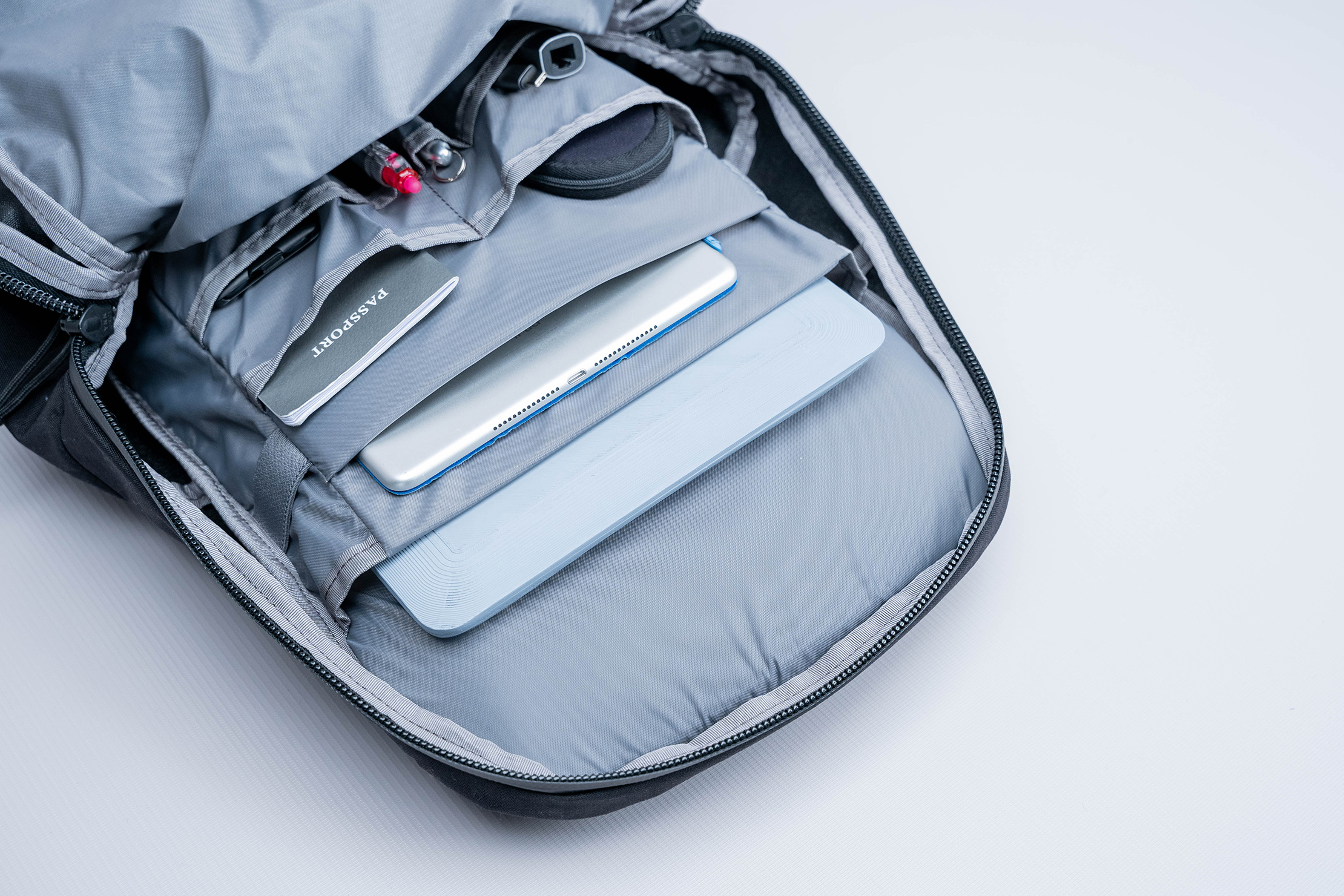 To start, the main compartment's interior is easily accessible thanks to the Prizefighter's curved horseshoe-style opening. It's not super obvious at first, but when you look at the main compartment from the side, you can see how the zipper track curves. This has the primary effect of minimizing the bag's ceiling, which would normally get in the way of access, especially to a laptop if the sleeve for it is at the back. A good example of a backpack with a large ceiling that does get in the way would be the Timbuk2 Division Laptop Backpack Deluxe.
You may be thinking that we're overemphasizing the importance of the Prizefighter's curved opening. Consider, though, that along with its laptop sleeve, the rest of the main compartment's smaller pockets are also at the back—and there are a lot of them. From top to bottom, you get the aforementioned 16-inch laptop sleeve, a tablet pocket, two liner pockets, then finally, two additional liner pockets flanking two pen silos.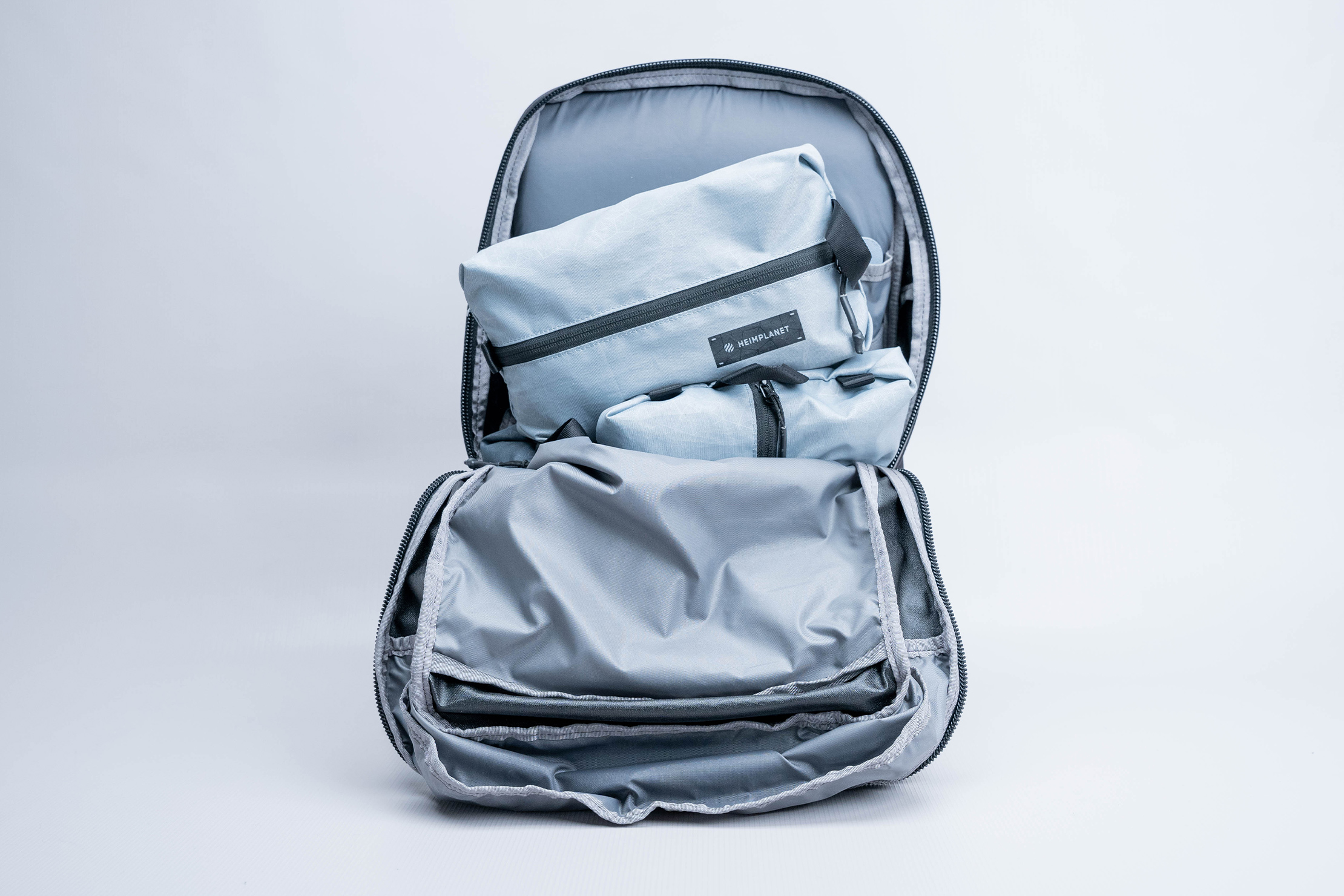 Despite the curved opening and its positive impact on the ease of access, we're still not huge fans of having all of these pockets at the back. Once we have the main area occupied with packing cubes and pouches, it's really tricky to get items from those pockets.
In fact, we think the pen silos are the most out of place out of all the pockets. They're located along the lowest row, which makes reaching for a pen particularly tricky while we're on the go. The liner pockets themselves are somewhat hard to utilize. Their proportions make them relatively tall, so anything too small will require you to dig in with your fingers. The ideal gear to put in these liner pockets is a passport for the upper area and smartphone chargers or adapters for the lower area.

Organization-wise, we're gonna stick with our preferred layout of having a dedicated front compartment with an admin panel, such as the one found on the Aer City Pack Pro, that keeps the main compartment reserved for the truly bulky gear. If you don't see yourself using those pockets anyway, then the Prizefighter still delivers. It's a no-nonsense daypack that's not encumbered by gimmicky features and still has that comfortable harness system we've come to know the brand for.
Usage Timeline
Initial Usage
Condition: Excellent
No side bottle pockets may be an issue for some
Harness system looks great—hoping it follows up with that Mystery Ranch comfort we know so well
Interior back admin panel is always tough to utilize properly if filling the bag up
2 Weeks of Use
Condition: Excellent
Looks great—refreshing to test a bag without a bunch of flashy features on the outside
Hanging strap and load lifter strap on backpack poke into neck—other than this issue, very comfy harness system
Want a bit more from the quick access pockets—one is too large and the other a bit too small
Access the Pro Community Discussion
Get your questions about the Mystery Ranch Prizefighter answered from our team and the Pro Community right here on the page. Plus, join discussions with other members about gear, guides, and more.
Other Bags & Luggage Reviews