Moment MTW Backpack 21L Review
The Moment MTW Backpack is a capable daypack with solid organization through MTW accessories, though the main compartment lacks organization without them.
Our Verdict
Unlock the Pro Summary
Save time. Get access to brief summaries of our reviews so you can browse and make decisions more efficiently.
Pros
Superb organization in the front compartment
Can be turned into a camera backpack with the MTW Camera Insert
White interior fabric makes the deep tech compartment visible
Cons
Main compartment has very little organization
Large interior loops—the MTW Camera Insert's anchors can come off
The mesh pocket in the front compartment can be hard to access
Recent Pack Hacker Video
Technical Details
Capacity

21l

Weight (lb)

2.15 lb (1 kg)

Denier

600D

Dimensions

18.7 in x 11.4 in x 5.5 in (47.5 x 29 x 14 cm)

Notable Materials

Kodra Nylon, Nylon, YKK Zippers, Nifco Hardware, Metal, Polyester, Polyurethane

Manufacturing Country

Vietnam

Laptop Compartment Size

16"

Warranty Information
Buying Options

$99.99
$89.99
Full Review
Get up to 20% off Moment • Join Pack Hacker Pro
Moment's MTW Backpack ticks the right boxes for a day-to-day backpack: a comfortable harness system, good capacity, a convenient front pocket, well-protected space for your laptop. Moment has also thrown in compatibility with accessories that turn this daypack into a full-on camera backpack.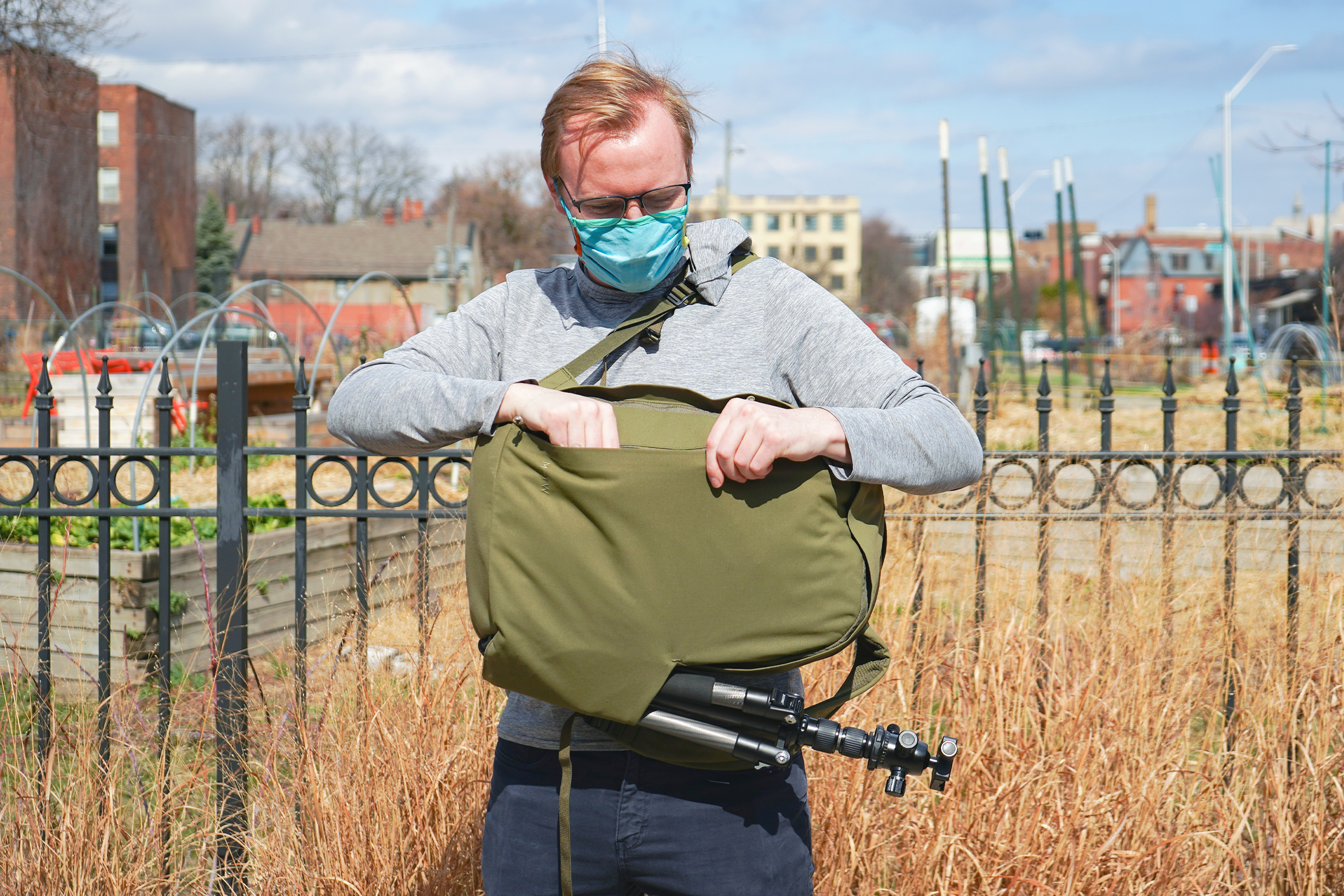 But the main compartment, while spacious, does feel a bit lacking in terms of organization. Although the front pocket and tech compartment pick up the slack in this regard, you'll either have to make do with the minimal organization or invest in pouches, packing cubes, or Moment's own MTW accessories. It's a lot to consider, but let's guide you through to see if this is the daypack for you.
Materials & Aesthetic
It doesn't take a lengthy staring contest with the MTW Backpack to see and appreciate the simple design. You can love it or hate it, but we can vibe with this minimalist approach as we're fans of "less is more" when it comes to aesthetics. Plain fabric dominates the front, only interrupted by an embroidered M-TW logo on the bottom left side. Styling is led overall by the colorway—currently available as Olive, Black, and Clay (reddish orange)—and the backpack's lines courtesy of seams and gussets.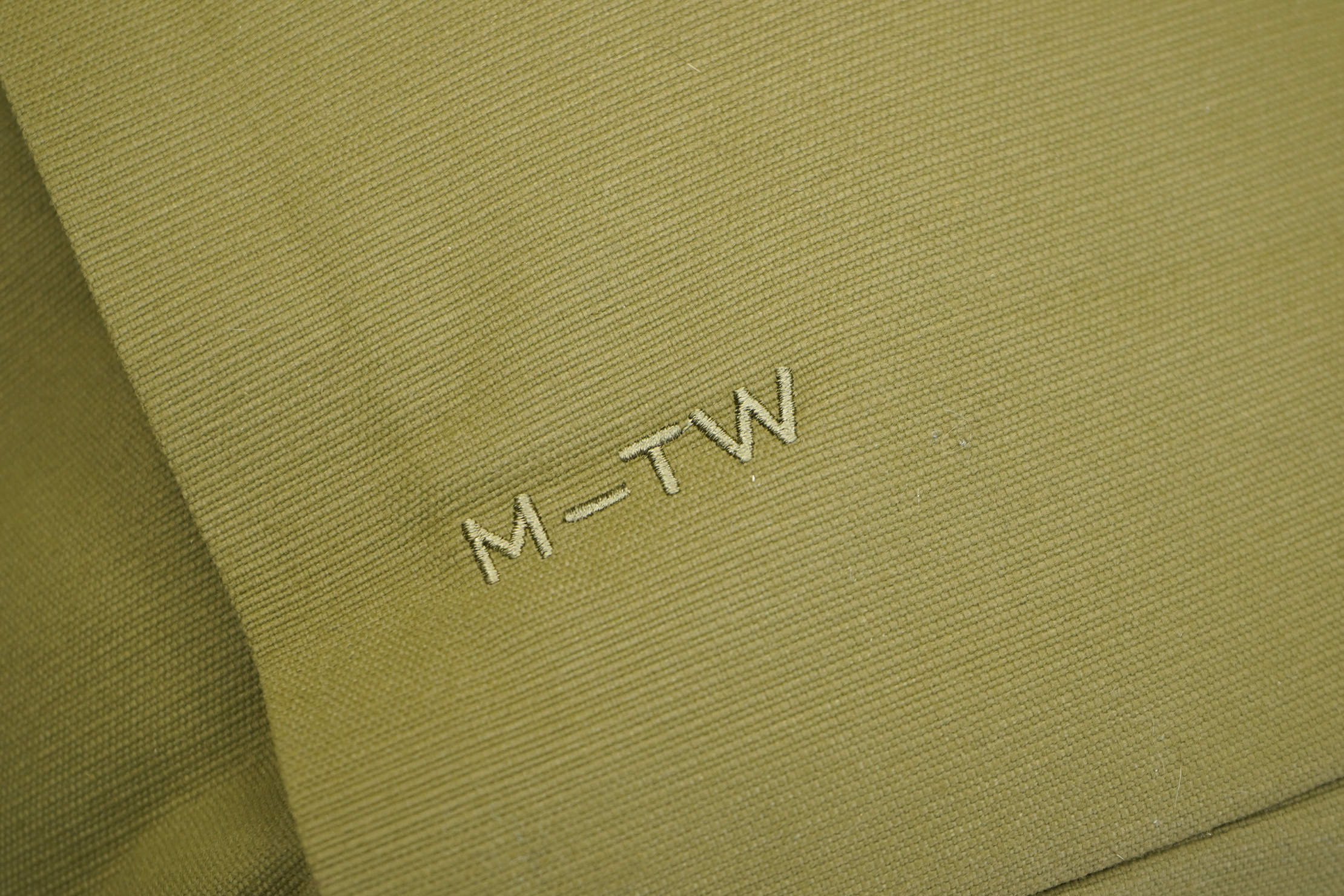 One design cue we've also grown to appreciate more is the sort of wrap-around style of the water bottle pocket. The front fabric seamlessly flows towards the right side and just adds a bit more character to the plain looks. It's a subtle design choice, but one that integrates well with functionality.
We'd suggest going for the safe Black colorway option if you're on the fence between the Clay and Olive, but we'll have to admit that the Olive colorway we have here really did grow on us. But whichever colorway you choose, rest assured that they're all made out of tough Kodra Nylon. As for the hardware and zippers, they're of the Nifco and YKK variety, respectively, which we've had no problems with.
External Components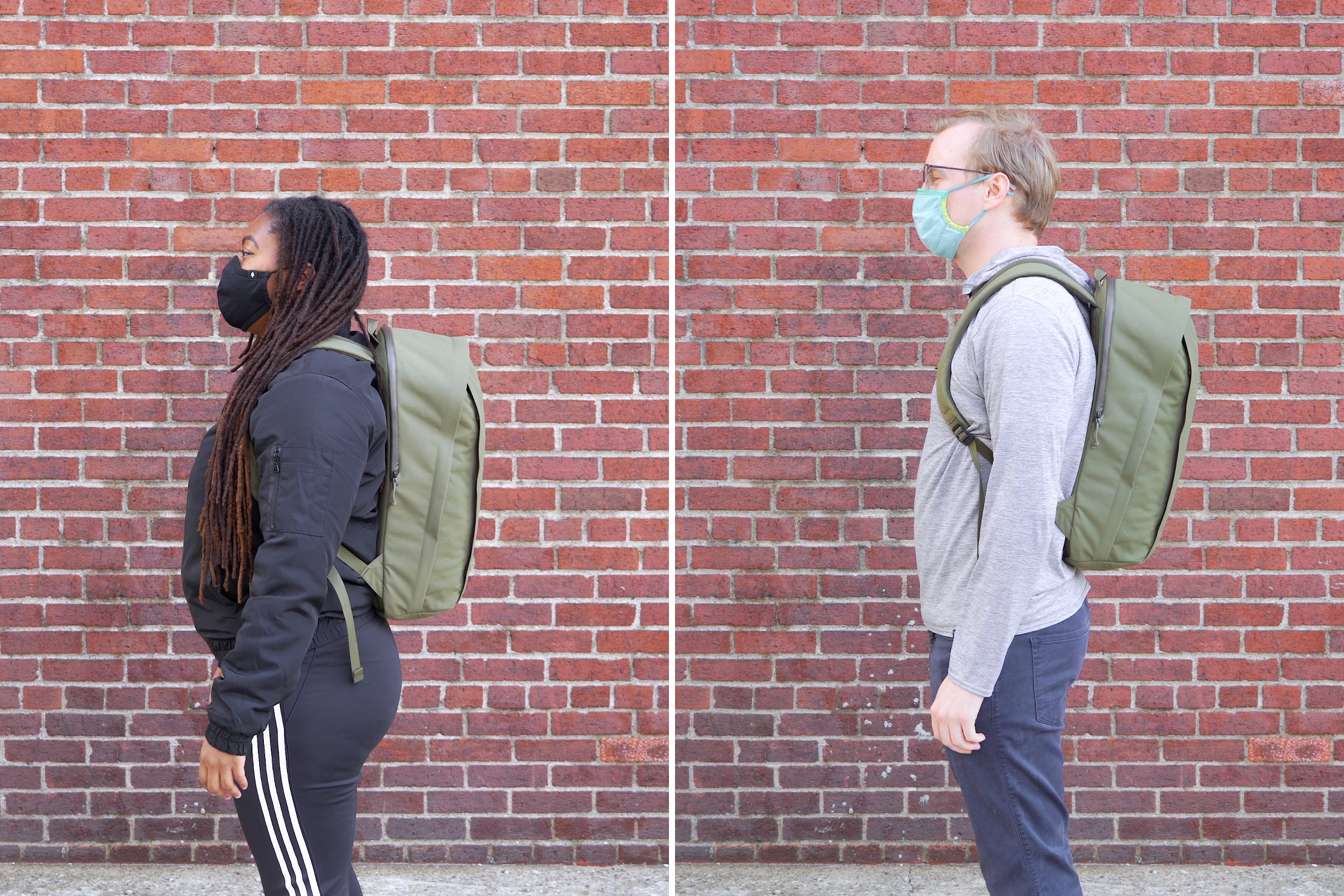 Now we move to the bread and butter of any backpack: the harness system. At 21 liters, this MTW Backpack variant is the bigger of the two available (the other standing at 17 liters). It's still well within daypack territory, so a simple harness system will be more than enough at this capacity.
And a simple harness system is exactly what we find here. You get a pair of shoulder straps with a healthy amount of padding and mesh material. The mesh covers the entire underside and goes over the straps' inner portion so they don't feel as harsh on the shoulders even when things get hefty. The mesh doesn't just stop at the shoulder straps either, as mesh covers most of the back panel's surface as well.

Carrying the MTW Backpack with a laptop and a DSLR was nothing short of comfortable. The straps were easy on the shoulder and were able to spread out the load as expected. Things did get a bit sweaty on one particular test day, but we'll chalk that up to hot weather.
Aside from the padding and the mesh, you also get a rather clever sternum strap that attaches differently from most other sternum straps. Instead of hooks or removable adjusters/buckles, you get a clip that attaches to a hidden rail on each shoulder strap, offering a great degree of granularity when it comes to adjustment.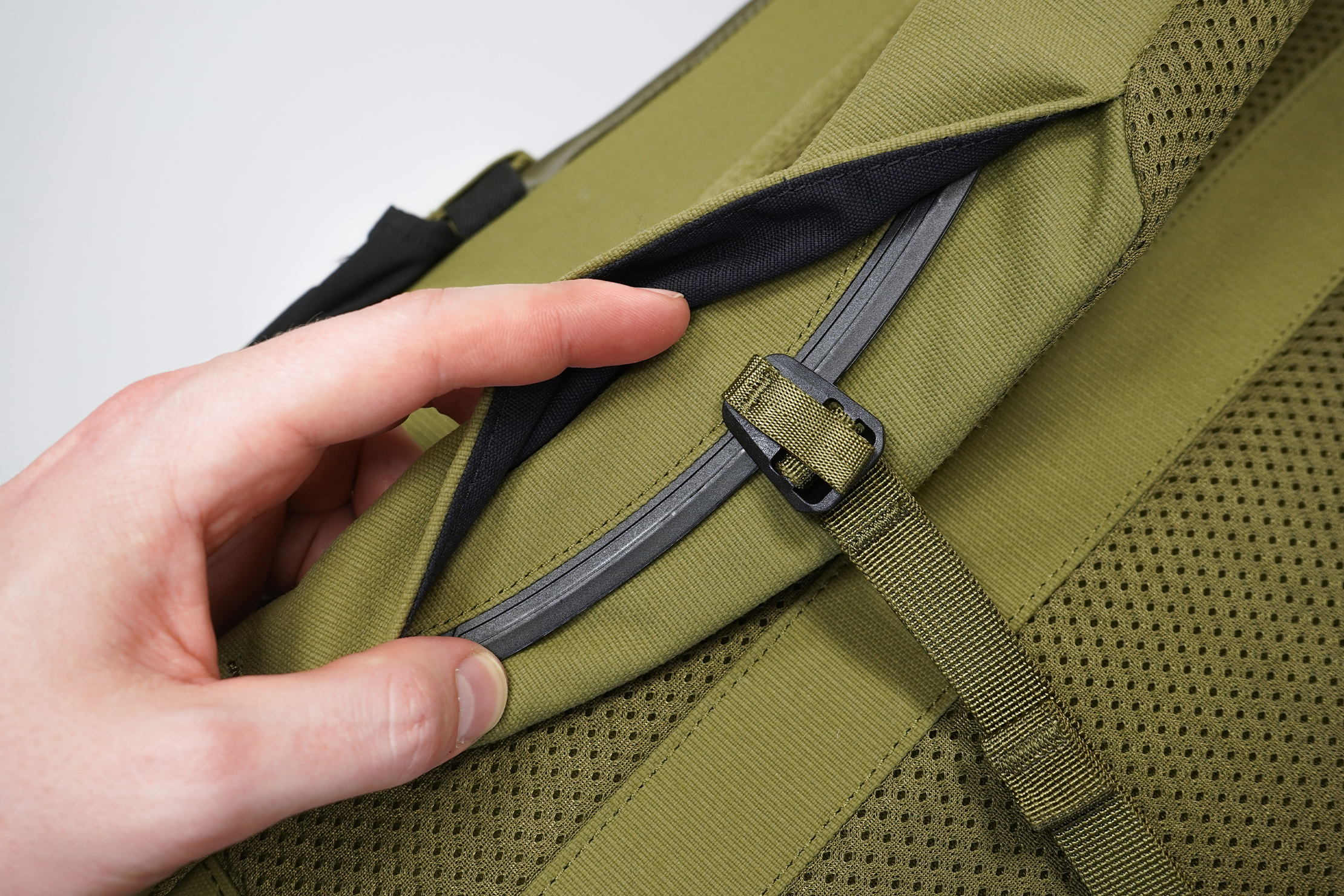 Up at the top is the obligatory nylon handle, stitched in for comfort. One noteworthy thing about this handle is the way it's stitched into the bag at an angle. That doesn't sound much, but it does help spread out the force when carrying the bag this way, and it maintains the bag's shape better. You probably won't be carrying the MTW Backpack for prolonged periods by hand, but it's nice attention to detail we like seeing.
On the right side of the body is the water bottle pocket. It's an aesthetic choice, but we dig how seamlessly integrated this water bottle pocket is. It's held flat when not used by the elastic that's only revealed once you stretch it out. As far as water bottle pockets go, this one is not that big as we initially thought. Though it fits our 21-ounce Hydro Flask, anything bigger will have to be taller but just as slim. It also works for camera tripods, though they'll also have to be the slim, compact type to fit in.
Inside The Pack
Back at the front is a side-opening quick grab pocket. It opens on the left side, so remember to swing the MTW Backpack from your left shoulder if you need to access something on the go.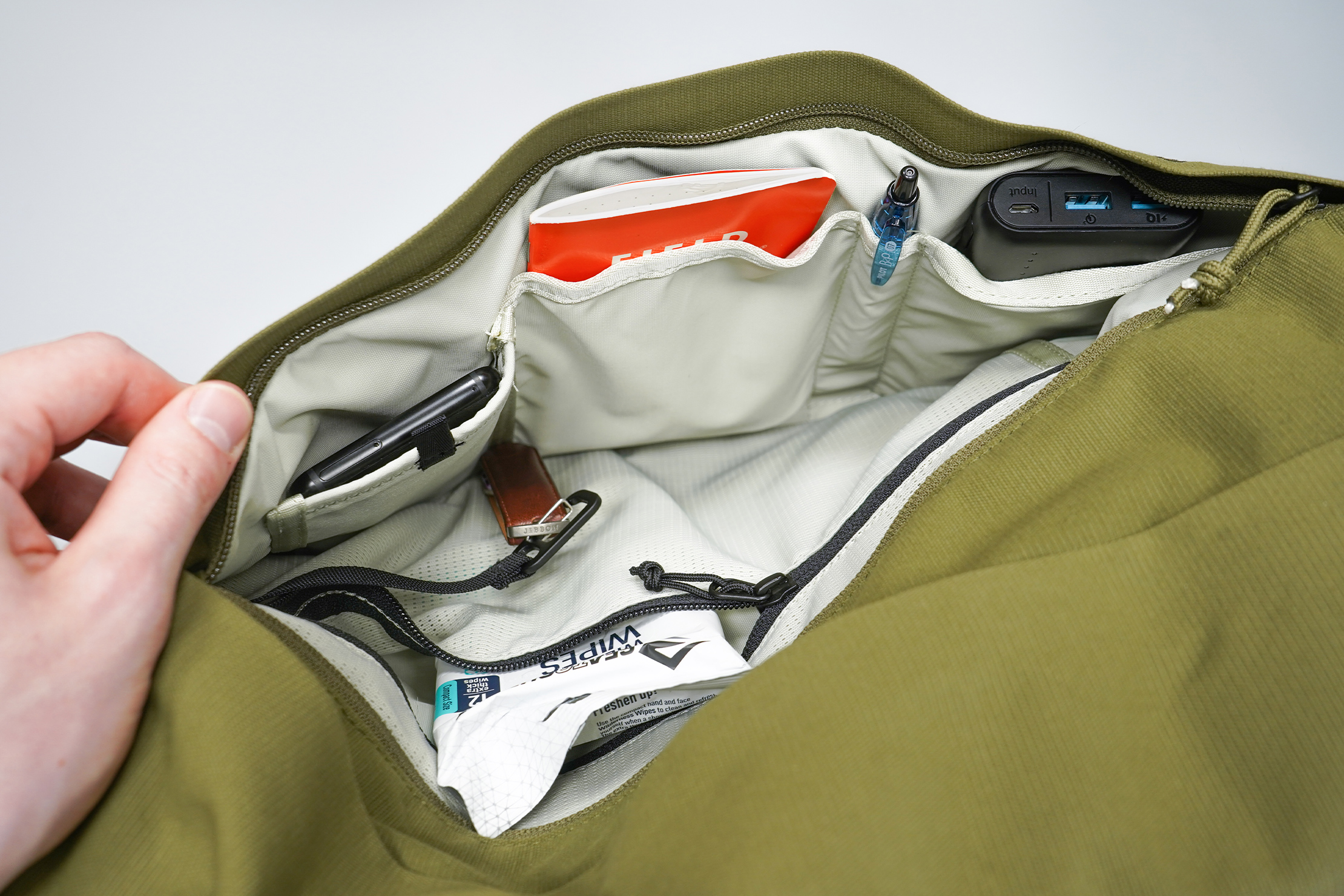 The front pocket's opening is quite wide, gusseted, and spans almost the entire length of the MTW Backpack. In addition to the good accessibility, the layout is also thoughtfully planned out with three liner pockets and a pen silo immediately reachable towards the front. These liner pockets are wide enough for small notebooks, tickets, travel documents, plus a pen if you like documenting your adventures.
You also get a zippered mesh pocket and a metal key clip inside. The former is handy for items you want to keep within easy reach but are too small for the liner pockets to hold securely. But you'll have to be careful not to overpopulate the front pocket in general, as it will be harder to access once you've got the MTW Backpack fully stuffed.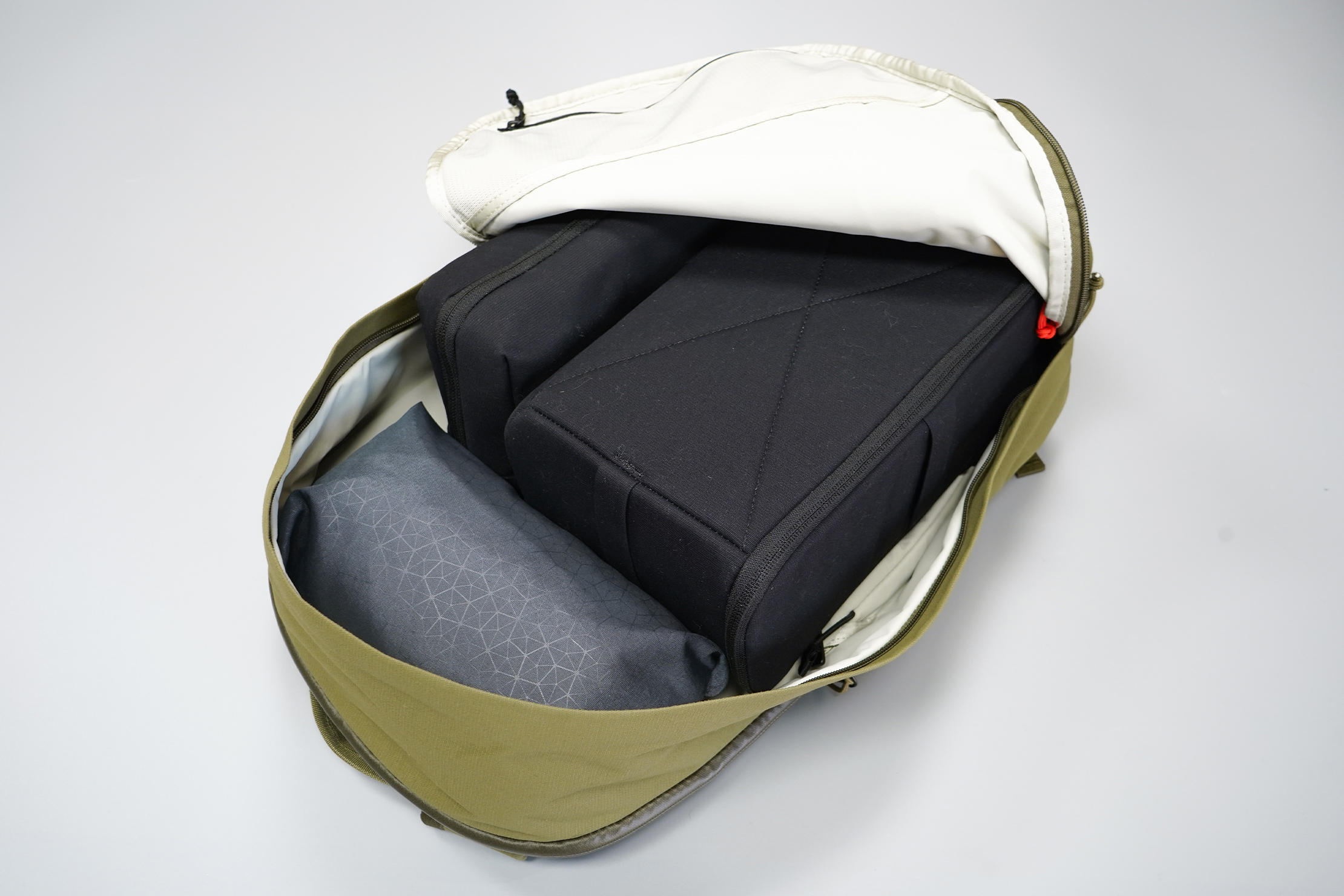 While opening the gusseted main compartment, you'll notice that the zippers open halfway down on the right side—right up to where the water bottle pocket starts—and all the way down on the left side. At first glance, it seems like a peculiar hybrid of a clamshell and horseshoe opening design. But the real reason is that the MTW Backpack is compatible—and goes well—with the MTW Camera Insert. Combined, the MTW Backpack becomes a full-fledged camera daypack with quick access from the left side.
Yep, this is where Moment shows their roots as a camera gear company first and foremost. Inside the main compartment are loops where the MTW Camera Insert's anchors attach. We did note that the anchors can come off loose from the loops, which happened a few times during testing. It's something to look out for if, for example, you've just come from a vigorous jog to make it to your flight.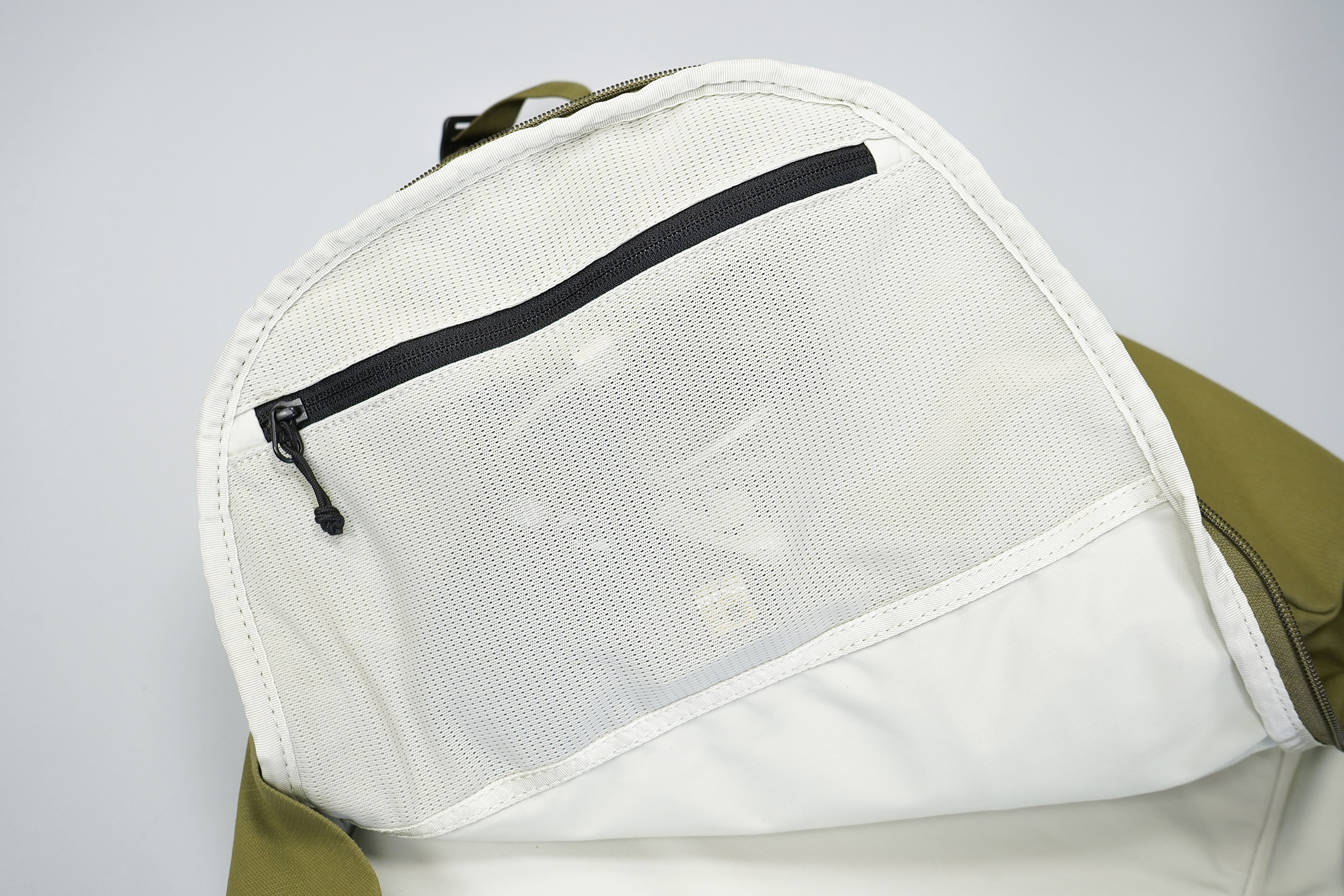 Without the MTW Camera Insert, the MTW Backpack's main compartment is largely open space, with only a top zippered pocket for smaller items. This is both a pro and a con depending on where you're coming from. If you already have some packing cubes, pouches, or organizers you like using or just want everything loose and open, this works well. But if you're looking for something with a bit more organization in the main compartment, then it doesn't.
On the plus side, all of the MTW Backpack's compartments are lined with bright white polyester fabric, similar to the one found in the MTW Tech Organizer, which we've also tested. Interior visibility is a huge boon for organization and ease of use, so we're happy to see it here as well.
You also get a dedicated tech compartment at the rearmost side of the MTW Backpack. For protection, this compartment forgoes gussets and Moment has instead opted for weather-proof zippers.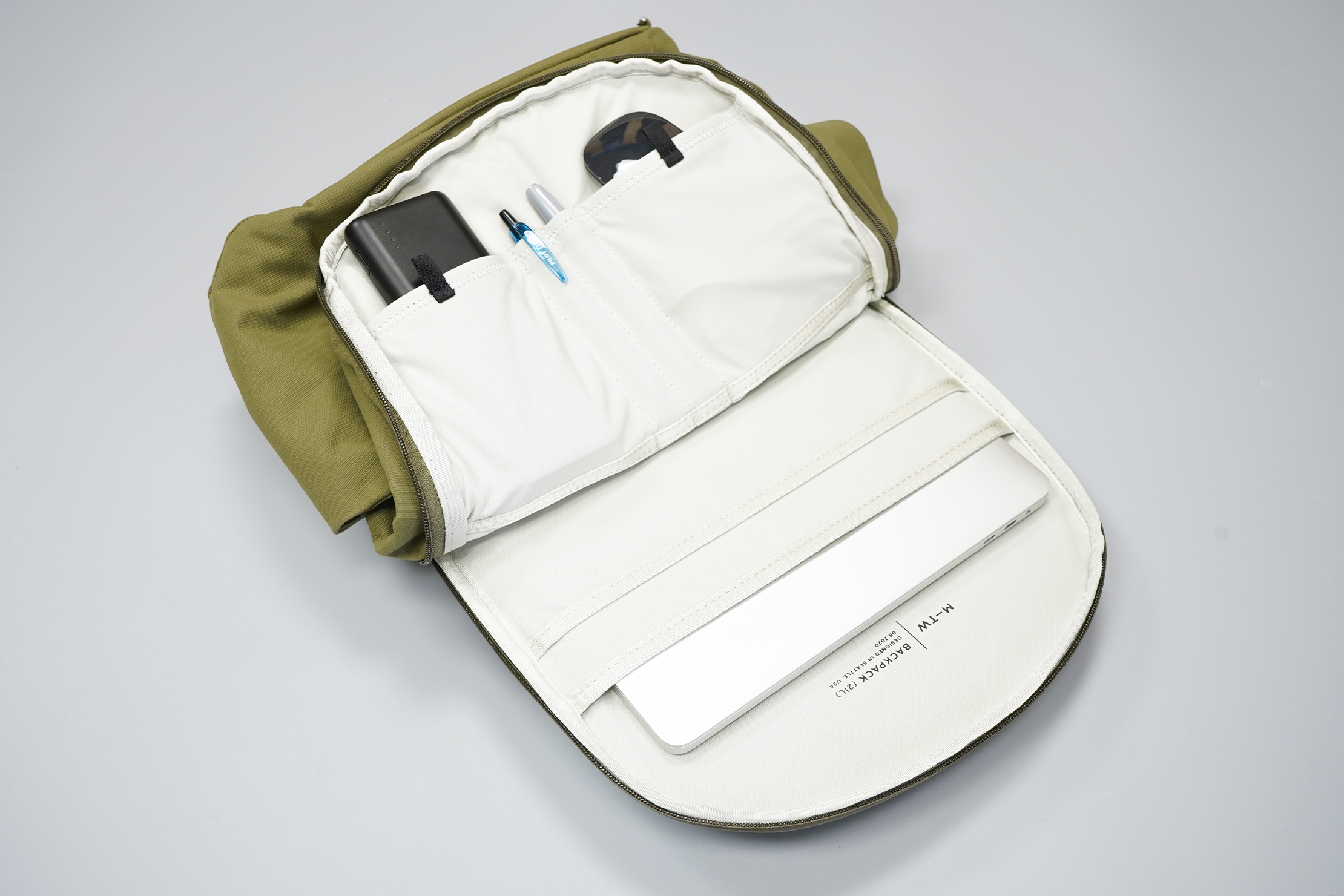 Inside you'll find the same clean white interior and, more importantly, organization similar to what was inside the front pocket. You get two sleeves, one for up to a 16-inch laptop and an extra one for a tablet, documents, or a travel chopping board if you so desired. Both sleeves are the floating kinds with more than an inch of space between their floors and the backpack's bottom. Opposite the sleeves are two liner pockets for slim travel mice and slim power banks. Conveniently, there are also two pen silos located between the liner pockets, so you have pens accessible from the front and the rear.
For those wondering, yes, you can fit an extra pouch inside the tech compartment. However, you'll want to keep things slim, like a cable organizer, so that you won't bulge into the main compartment or put unnecessary pressure on your laptop on the opposite side. You generally don't want to risk unnecessary pressure on your laptop so anything bulky is best stored in the main compartment.
Wrap Up
As simple as the MTW Backpack first seems on the outside, there's plenty going on in terms of features. Organization-wise, there's plenty of it in the front pocket and then some more in the tech compartment. In contrast, the spacious main compartment did feel a little too bare with only a single zippered compartment inside.
This changes once you've factored in the MTW Camera Insert and MTW Tech Organizer, or if you have your own way of organizing your stuff. Either way, if you don't mind the double-edged flexibility offered by its main compartment, then the MTW Backpack is worth considering.
Usage Timeline
Initial Usage
Condition: Excellent
Laptop compartment has plenty of pockets for accessories you want to bring along
Main compartment's zipper is shrouded and protected by the fabric
Water bottle pocket is quite large
2 Weeks of Use
Condition: Excellent
This backpack is simple and solid making it great for any sort of daily travel. The organization is minimal but between the front quick-grab area and rear tech compartment, it feels like enough. We used this backpack with the Moment MTW Camera Insert 5L which takes the backpack from a daily driver to a full-blown camera bag. The insert provides quick access to the camera and lenses and offers a more affordable alternative for casual photographers who like to carry their cameras with them.
Access the Pro Community Discussion
Get your questions about the Moment MTW Backpack 21L answered from our team and the Pro Community right here on the page. Plus, join discussions with other members about gear, guides, and more.
Other Bags & Luggage Reviews