Matador SEG30 Segmented Backpack Review
Traveling with the Matador SEG30 Backpack is almost like having a portable wardrobe with you, but the lack of structure and padding are omissions that leave much to be desired.
Our Verdict
Unlock the Pro Summary
Save time. Get access to brief summaries of our reviews so you can browse and make decisions more efficiently.
Pros
Segmented compartments make for a good portable wardrobe
Plenty of secondary handles for convenient handling
Weather-resistant zippers and fabric
Cons
Lacks overall structure
Shoulder straps have minimal padding
Laptop compartment is lacking in protection
Recent Pack Hacker Video
Technical Details
Capacity

30l

Weight (lb)

1.525 lb (0.7 kg)

Denier

420D

Dimensions

18.5 in x 9.5 in x 9.5 in (47 x 24.1 x 24.1 cm)

Notable Materials

ROBIC®, Nylon, EVA Foam, Polyurethane, Hypalon®, Zoom Zippers, Woojin Hardware

Manufacturing Country

Vietnam

Laptop Compartment Size

13"

Warranty Information
Buying Options

$112.50
Full Review
Get up to 20% off Matador • Join Pack Hacker Pro
There are many bags with very distinct and memorable features, whether it's a maker's signature design cues or fresh new designs that aim to shake things up. Remember the Skyseen Toast Backpack? We sure do, and so does everyone else that saw us wearing it. With that lingering memory in mind, it's almost indisputable that even bags can have unique and interesting personalities.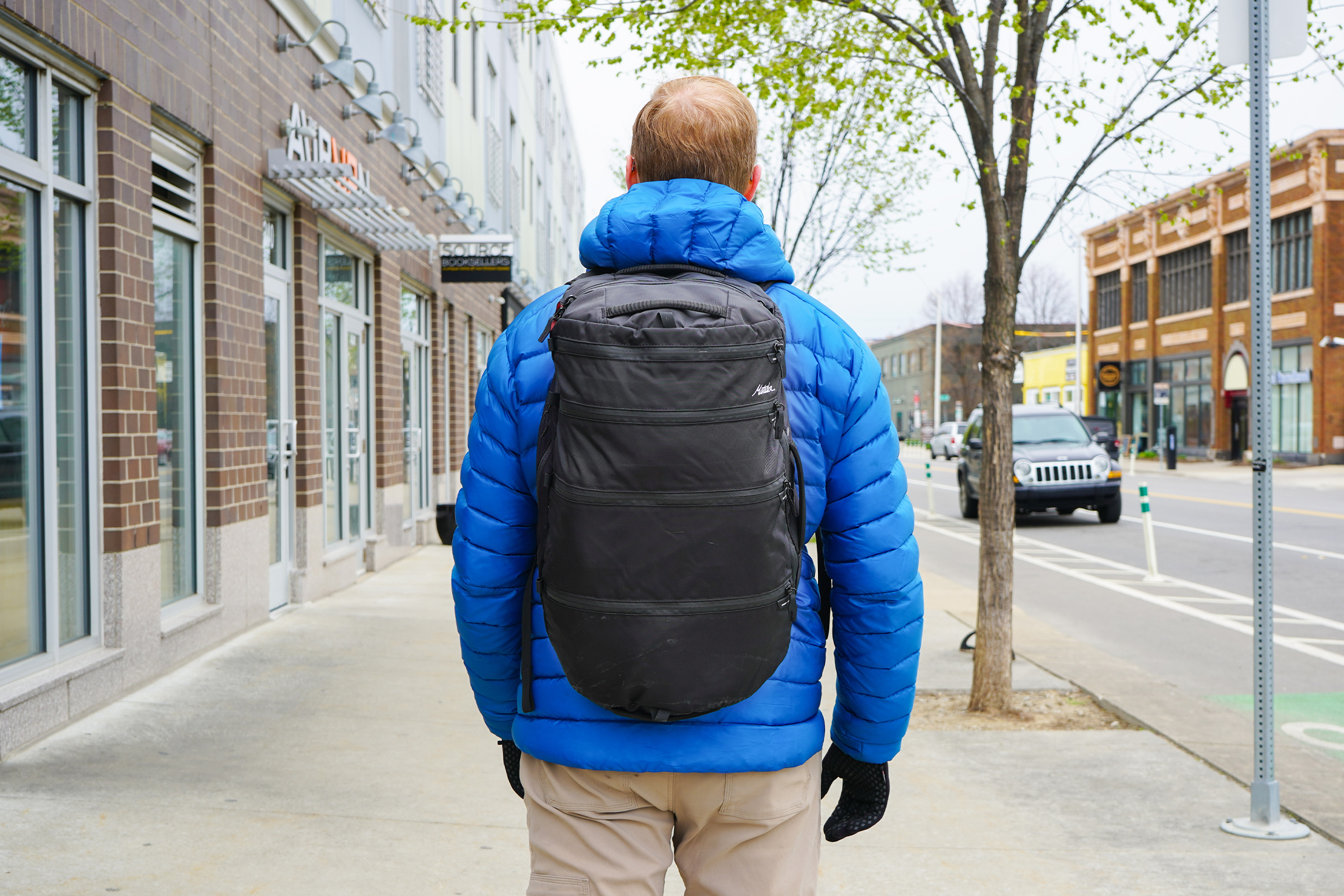 Now that we have an intervening picture of the Matador's SEG30 just above this paragraph, you can see where we're going with this. It's definitely a striking backpack to look at, and we're sure you have a ton of questions you want to ask it—ones we hopefully can answer for you in this review. There are many layers to go through (rather literally) so let's get right into it.
Materials & Aesthetic
We'll start with the looks since we can already sense that the SEG30 can be a bit polarizing in this regard. At the very least, it's an interesting caterpillar-like design where the facade is segmented by the zippered compartments running horizontally. They've definitely put function over form for this one, where the emphasis is on the key idea for the SEG30: segmented organization.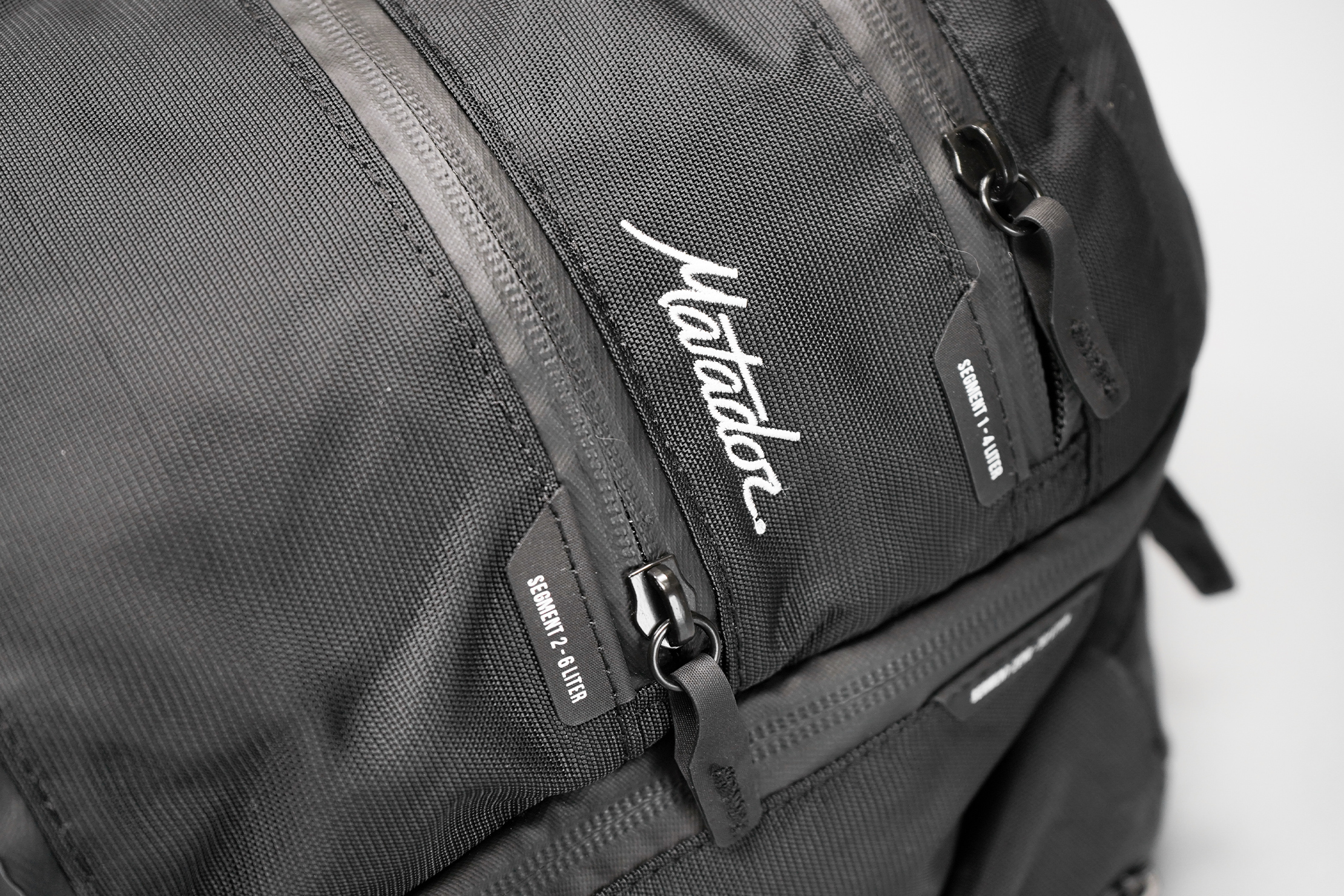 The SEG30's profile is half-squarish and half-cylindrical. If we had to compare the profile to existing designs, we'd say that it's a cross between a backpack and a duffle bag. It just has this aesthetic that's very tempting to pack as much as possible with its large profile and many compartments.
Branding is kept to a minimum with a simple Matador logo near the top, but each segment is labeled, and "SEG30" is written on the right side of the bag as well. You'll notice these almost immediately, thanks to the black fabric, which is the only colorway currently available. It's a very busy aesthetic, so we totally get that it's going to be a love-it-or-hate-it kind of thing. For our part, the SEG30's design has grown on us quite a bit over time.
If the SEG30 can't win you over in terms of looks, you can at least trust the durable materials it was made from. There's 420D nylon with UTS waterproofing, weather-resistant Zoom Zippers, Woojin hardware, and Hypalon tie-down points—good ingredients that make a sturdy bag.
External Components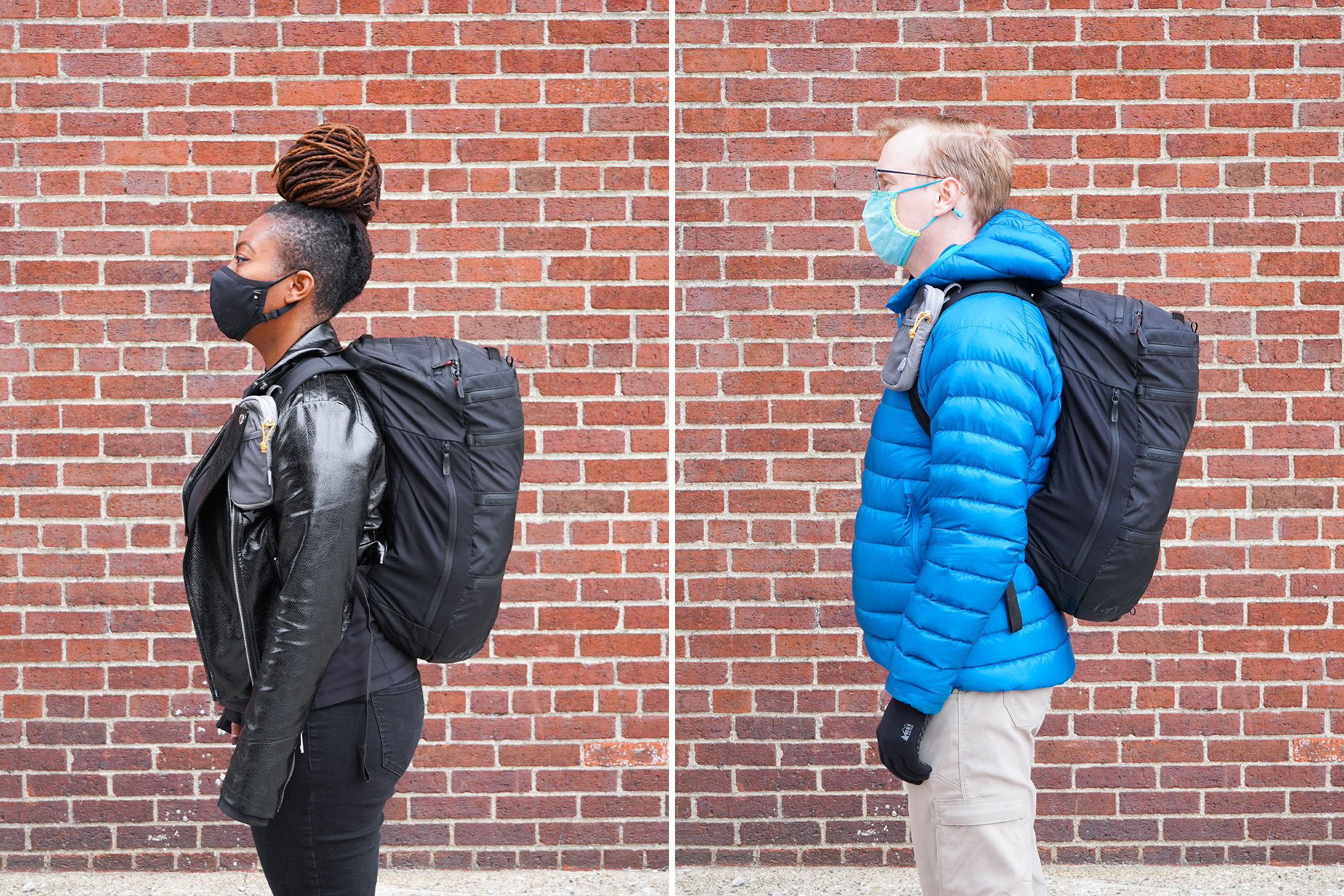 Next to the striking aesthetic, what you'll want to learn more about a backpack with a profile like this is the harness system. At first glance, the shoulder straps don't have much in the way of padding on them, and this is quickly reaffirmed when we first tried on the SEG30. The straps are wide enough to distribute the weight evenly across our shoulders, but the minimal padding leaves us wanting more, especially if you consider how much gear you can pack inside.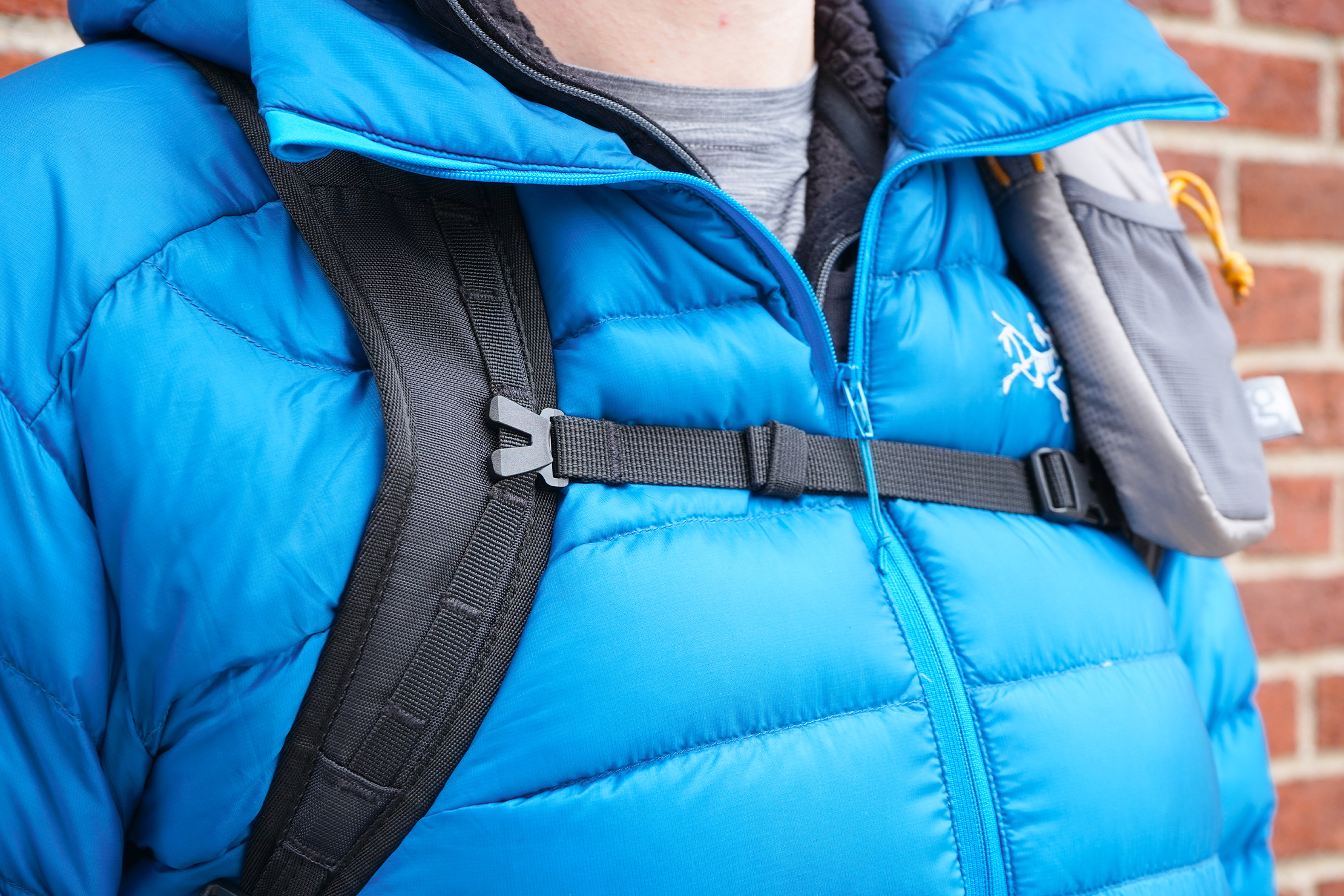 There's an included sternum strap for extra security, which we're glad to see on a bag coming in at 30-liters. One minor nitpick is that it uses a hook-on system that attaches via segmented loops on the shoulder straps. We're more sternum straps that adjust using sliders, though these do the job just well enough.
The back panel is one other area where the SEG30 is lacking. To be more specific, the back panel highlights the SEG30's lack of overall structuredness. It doesn't feature any padding; it really only starts to have structure once you put your laptop inside—not ideal when your device is the one providing structural support. This lack of structure makes carrying the SEG30 feel saggy—something which you can observe in the fit photos above if you look closely.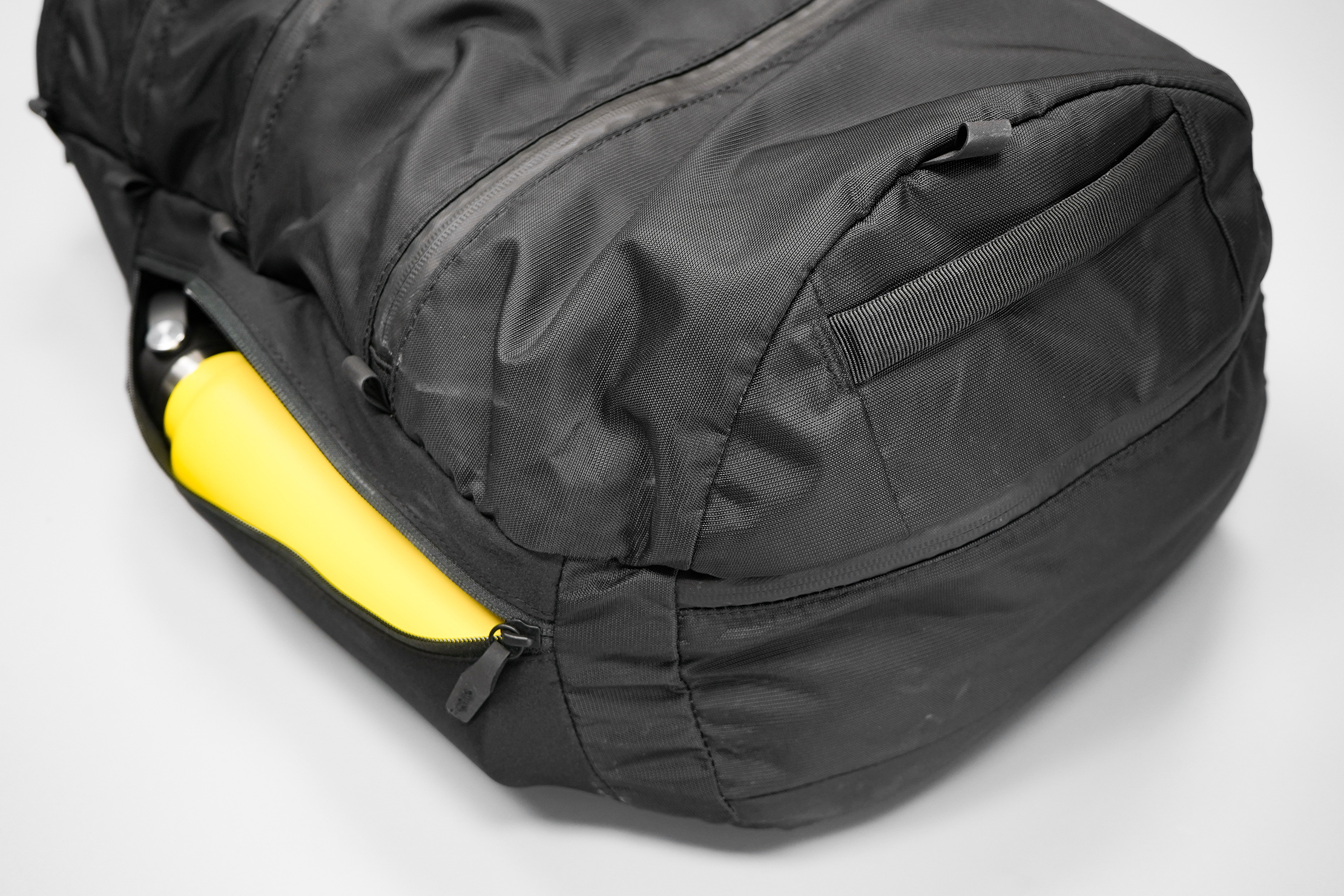 Matador has equipped the SEG30 with plenty of padded handles and loops. We counted four handles on the outside and two on the inside—those last two will make more sense once we get inside the bag. You get two top handles, one for hanging onto restroom stall doors and one for use in conjunction with the bottom handle when you're sliding the bag across a surface with all of the segments open. There's also a right side handle when you need to move the bag across the room or place it inside your car's trunk.
As for the loops, there's one for each of the four front compartments. You can hold onto them while pulling on the zippers, plus there's also one at the top and one at the bottom. That's a total of six loops which you can use to attach accessories to like bike lights, reflectors, or carabiners.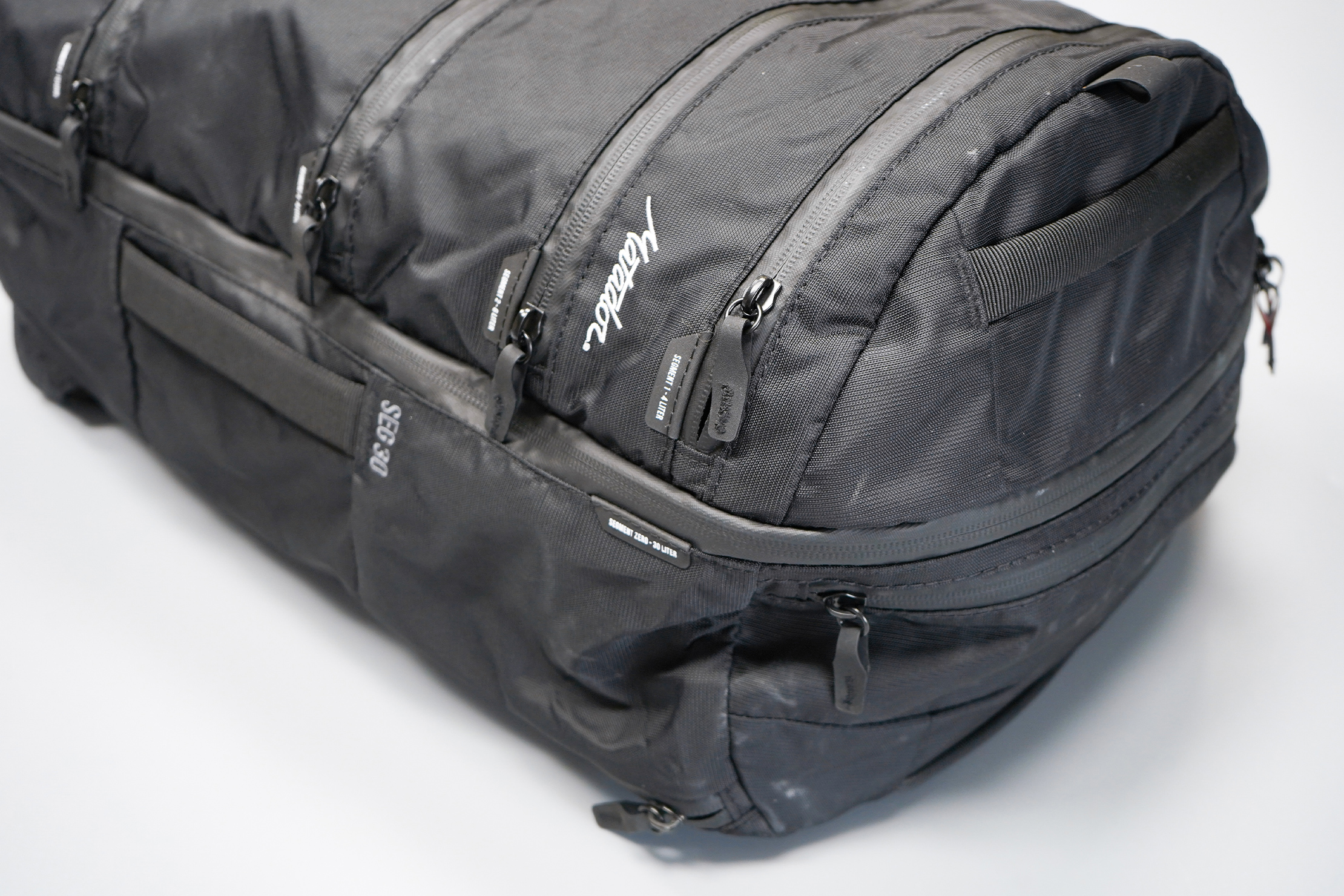 Finally, on the left side is a side pocket for your water bottle. The material used here is pretty opaque despite being breathable, and we can barely see our bright yellow 21-ounce Hydro Flask once it's inside. It zips all the way up, but since the fabric is breathable, all the moisture that could form inside should evaporate outwards and not penetrate the waterproof nylon of the bag.
Inside The Pack
Since we've already touched on it, we're starting with the laptop compartment. The SEG30 features a separate side-loading laptop compartment at the back, able to take in a 16-inch MacBook Pro. Again, there's no padding to speak of, and there's also no false bottom by design, though it somewhat forms one once you have the SEG30 fully packed. Device protection isn't very good, so we recommend using a dedicated laptop sleeve if you have one.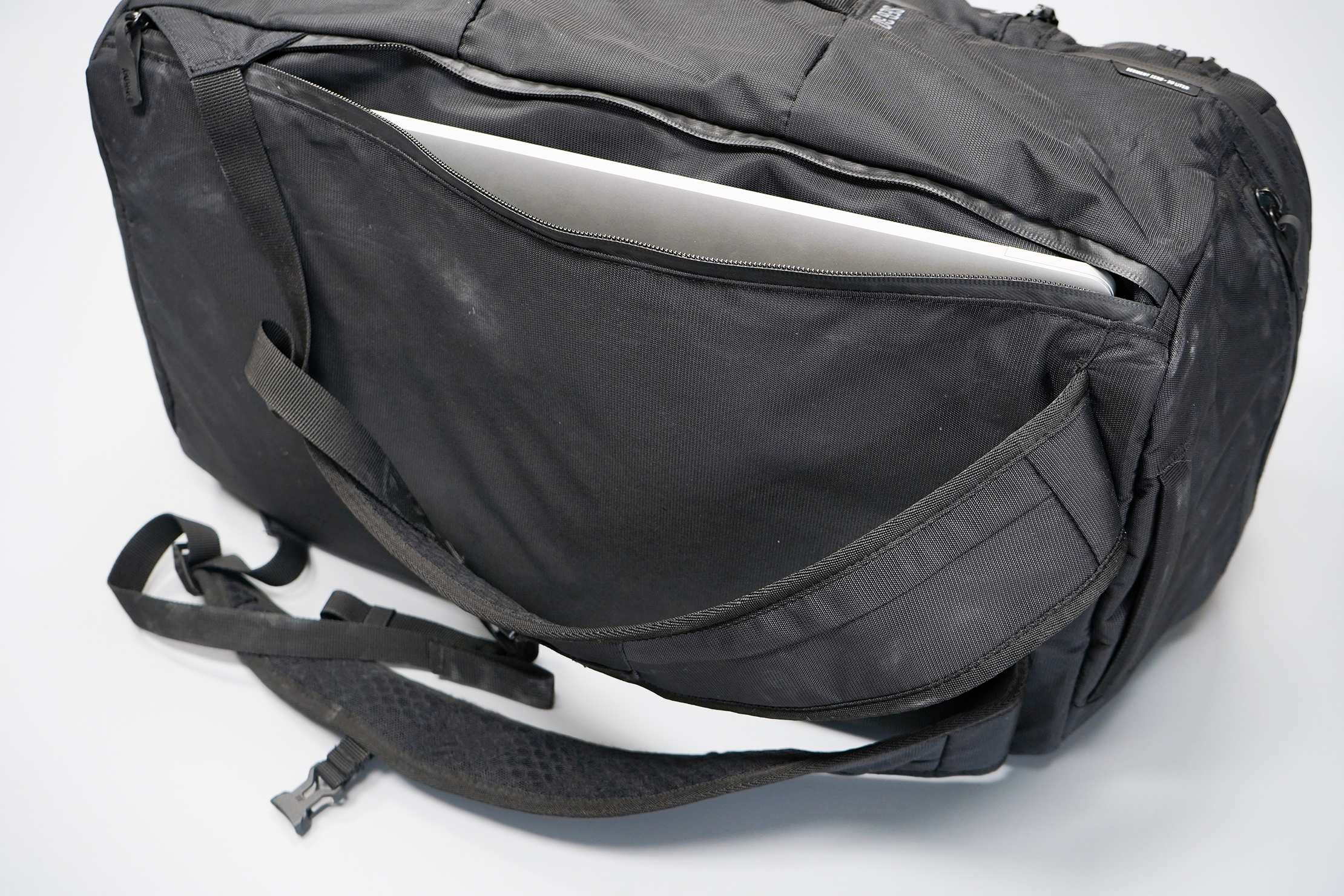 Next up is the top quick-grab pocket, which also doesn't feature any padding or soft liner fabric. It's perfectly fine for most everyday carry items like earphones, wallets, small pill caddies, but easily scratched items like sunglasses will need their own hard cases.
Alright, time for the star of the show: the segmented compartments. Top to bottom, each segment has the following allocated space: 4 liters, 6 liters, 8 liters, and 12 liters. You can already get the idea that each compartment specializes in different types of clothing.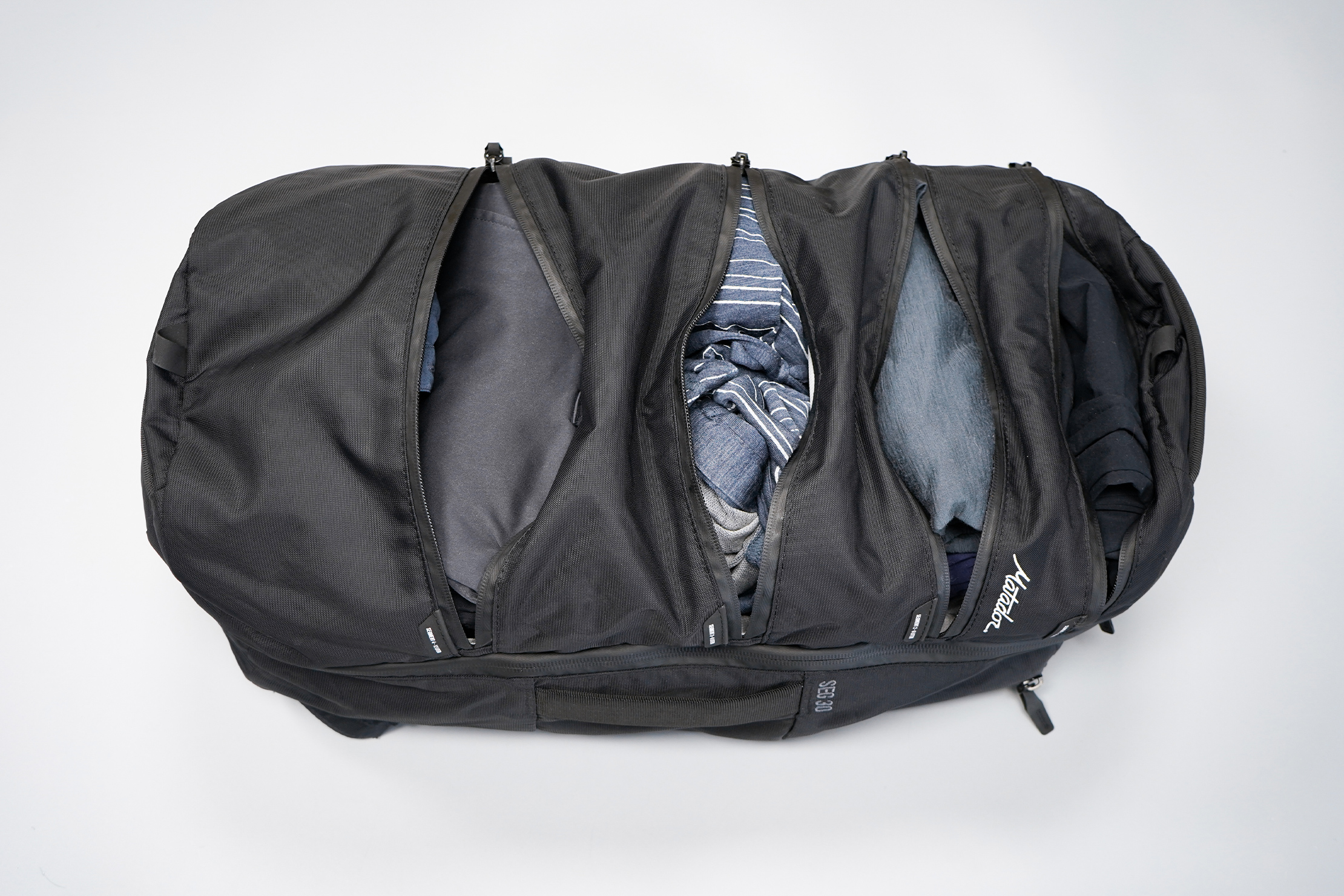 Of course, you're free to utilize each compartment as you see fit, depending on your needs and use cases. As for us, we see the SEG30 as a mobile mini wardrobe that integrates packing cubes into the design. We were able to fit in four pairs of socks and five pairs of underwear in the 4-liter compartment, five t-shirts in the 6-liter compartment, three pairs of pants in the 8-liter compartment, and three fairly thick jackets in the bottom 12-liter compartment. Your mileage may vary depending on how thick your clothes are and your packing strategy, but you shouldn't have much trouble packing a ton of clothes for an out-of-town weekend trip in the SEG30. Each of the compartments is lined with bright white fabric, so you shouldn't have too much trouble fishing out your favorite shirt or pair of pants.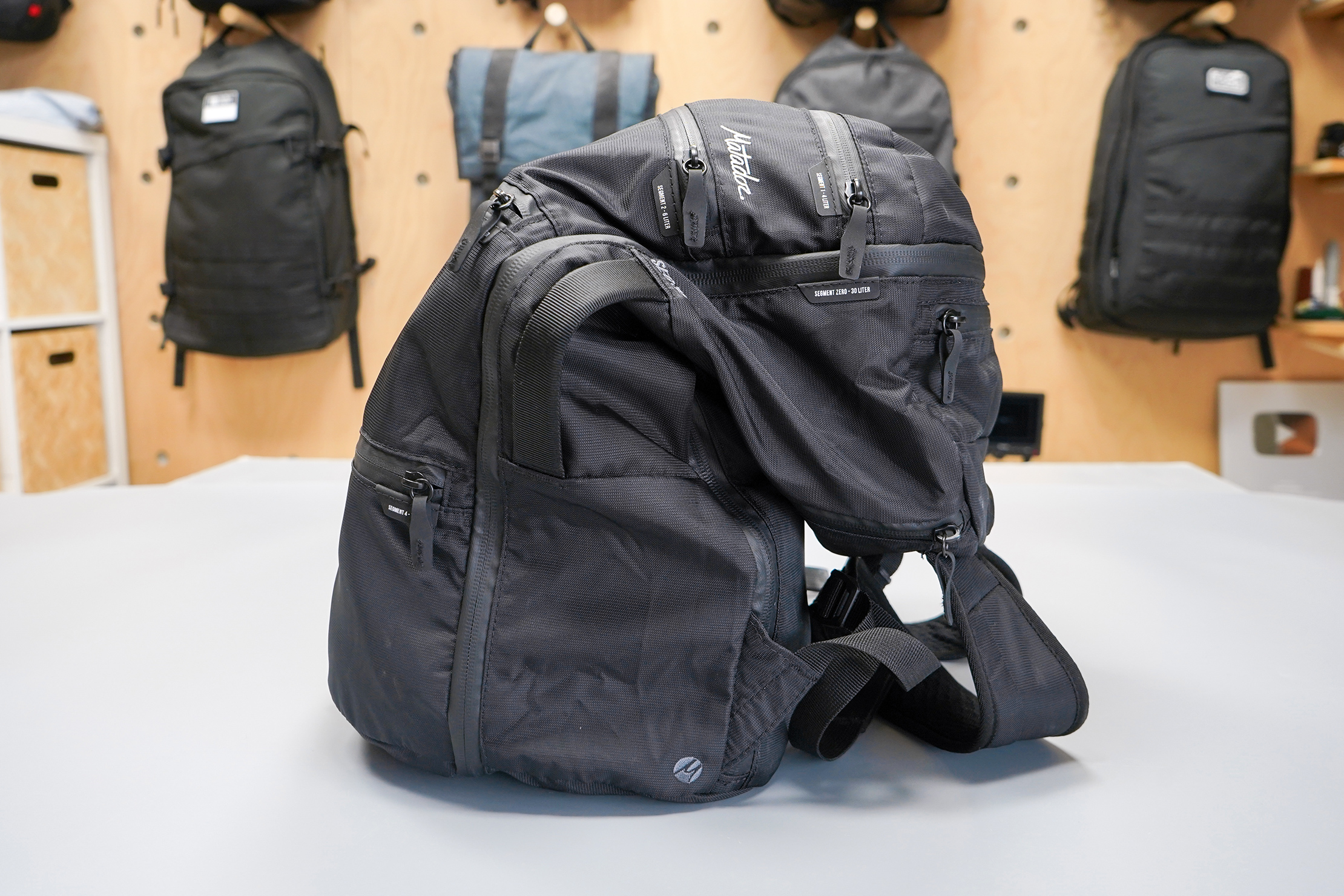 We were curious to see what would happen if we didn't want to use the middle 8-liter compartment but still wanted to use the other compartments. Sure enough, the 6-liter compartment above sunk into the space of the 8-liter compartment. On the one hand, this is yet another example of the SEG30's lack of structure. On the other hand, this means that load management is quite fluid, and you're not too constrained.
The packing doesn't necessarily stop with the segmented compartment, however. The SEG30 also opens suitcase-style to reveal a clamshell compartment and exposes the segmented compartments' inner structure. If an item is too big for the segmented compartments, you can use this clamshell compartment to store those items. Stuff like big boots or a portable radio can go in here. Keep in mind, though, that you'll have to balance the space between the segmented compartments and this clamshell compartment if you want to have a mix of both. Additionally, since the SEG30 lacks padding, anything in the clamshell compartment will press against your laptop or your back.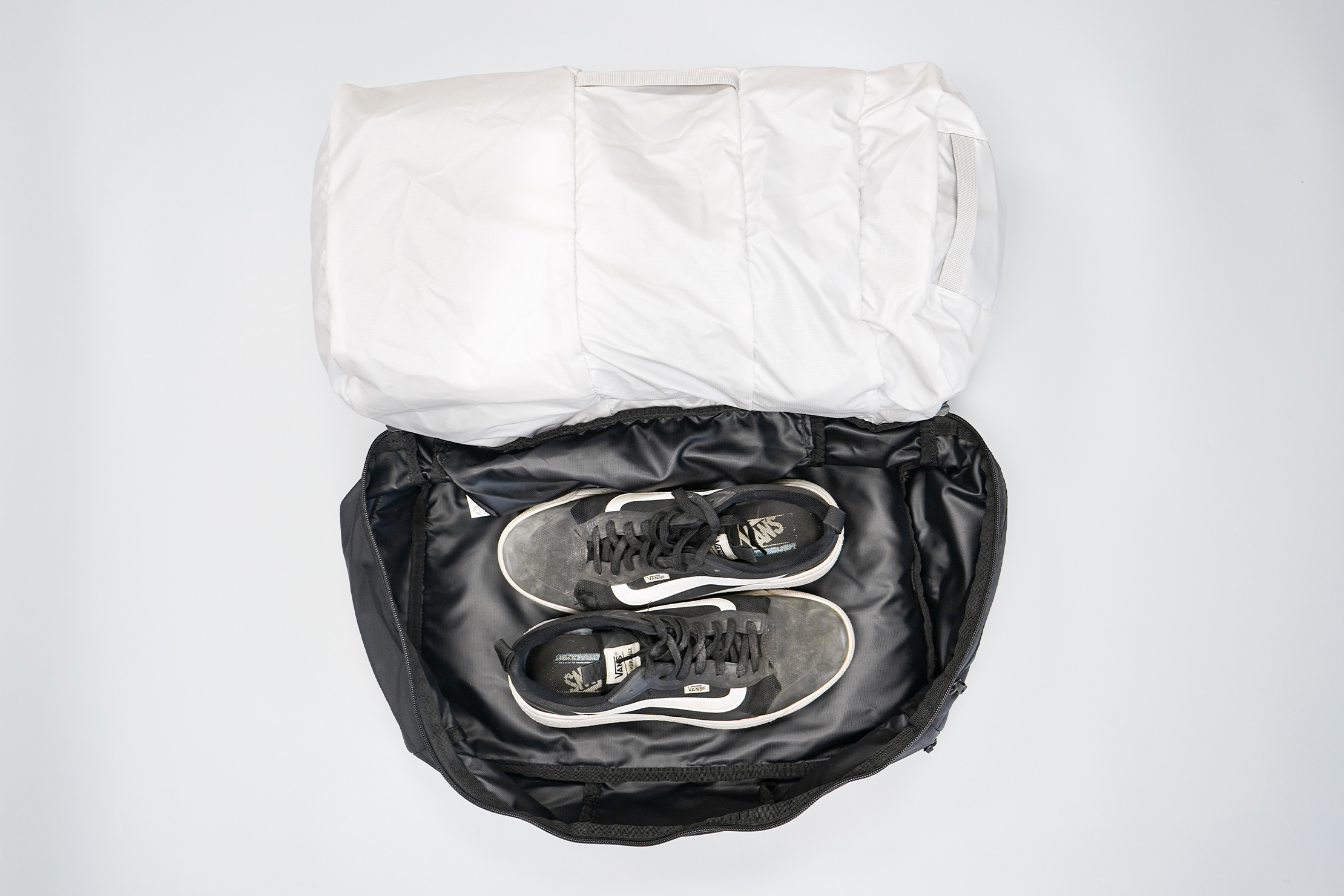 Matador has also thoughtfully stitched handles onto the liner fabric of the segmented compartment, as seen in the image above, so you can still slide the SEG30 around without messing with the contents that you've just packed.
Wrap Up
The SEG30 is an interesting concept reminiscent of what we've seen in the Tropicfeel Shell Travel Backpack and its wardrobe system. There's definitely great appeal in this amount of organization for clothes. It really is like traveling with a mini version of your wardrobe at home. We dig that Matador has dabbled with this concept with the SEG30 and the larger SEG42. However, much like with the SEG42, we have our reservations with the SEG30.
The lack of structure does play well into the flexibility of how you can pack the compartments and space out the load where space is available. However, this lack of padding and structure also extends to important areas like the laptop compartment and the shoulder straps. The SEG30 has tons of organization to rival even bigger travel backpacks, but it falls short on other important aspects.
Usage Timeline
Initial Usage
Condition: Excellent
Four individual segments for organizing your gear
External access laptop and water bottle pockets
More carry on compliant than the original SEG42 Travel Pack
2 Weeks of Use
Condition: Excellent
The built-in, packing cube-like organization is great for packing clothes for traveling and even worked great as individual dump sacks for quickly sorting all our daily tech and EDC gear. The problem with this bag is the lack of structure. Our laptop has little padding and no false bottom so we feel a little nervous about traveling for too long with it in there. The bag can also feel a little saggy overall with this lack of structure but it doesn't affect the carry of the bag as much as it did with the SEG42 Travel Pack. We were hoping for a little more improvement in the smaller version of this bag but it still suffers from some of the same issues as the larger version.
Access the Pro Community Discussion
Get your questions about the Matador SEG30 Segmented Backpack answered from our team and the Pro Community right here on the page. Plus, join discussions with other members about gear, guides, and more.
Other Bags & Luggage Reviews