Matador Pocket Blanket Mini Review
The Matador Pocket Blanket Mini is great at keeping your bottom dry during a pitstop, though it doesn't include any comfort-enhancing features or room for a friend.
Our Verdict
Unlock the Pro Summary
Save time. Get access to brief summaries of our reviews so you can browse and make decisions more efficiently.
Pros
Extremely lightweight and packable
Nylon is water-resistant
Stuff sack is breathable to prevent mildew
Cons
Only enough room for one person to sit comfortably
Folding process can be tedious
No included stakes
Recent Pack Hacker Video
Technical Details
Weight (oz)

1.3 oz (36.9 g)

Dimensions

3 in x 1.6 in x 0.8 in (7.6 x 4.1 x 2 cm)

Packed | 44 in x 28 in - Unpacked

Notable Materials

Nylon, Woojin Hardware

Warranty Information
Buying Options

$19.99

$25.00
Full Review
Get up to 20% off Matador • Join Pack Hacker Pro
Just like the Mini's big brother, the Pocket Blanket 3.0, this isn't a blanket to keep you warm when the temperature heads south. It's a tarp-like material that's extremely lightweight and serves as protection from water, dirt, and sand while out adventuring through the world. We think that the 3.0 is a little small to fit two people comfortably, so we're curious to see how the Mini manages to fit its 1-to-2 person claimed accommodations. Let's check it out!
Materials & Aesthetic
The blanket is crafted from thin nylon. It's so thin that it almost acts like a softbox for light when held up to a light source. The thinness of the material is excellent in terms of weight, as it comes in at 1.3 oz, though it doesn't lend itself to adding comfort to your bottom. You can't even tell that you're not sitting on the ground apart from the fact you aren't wet or dirty.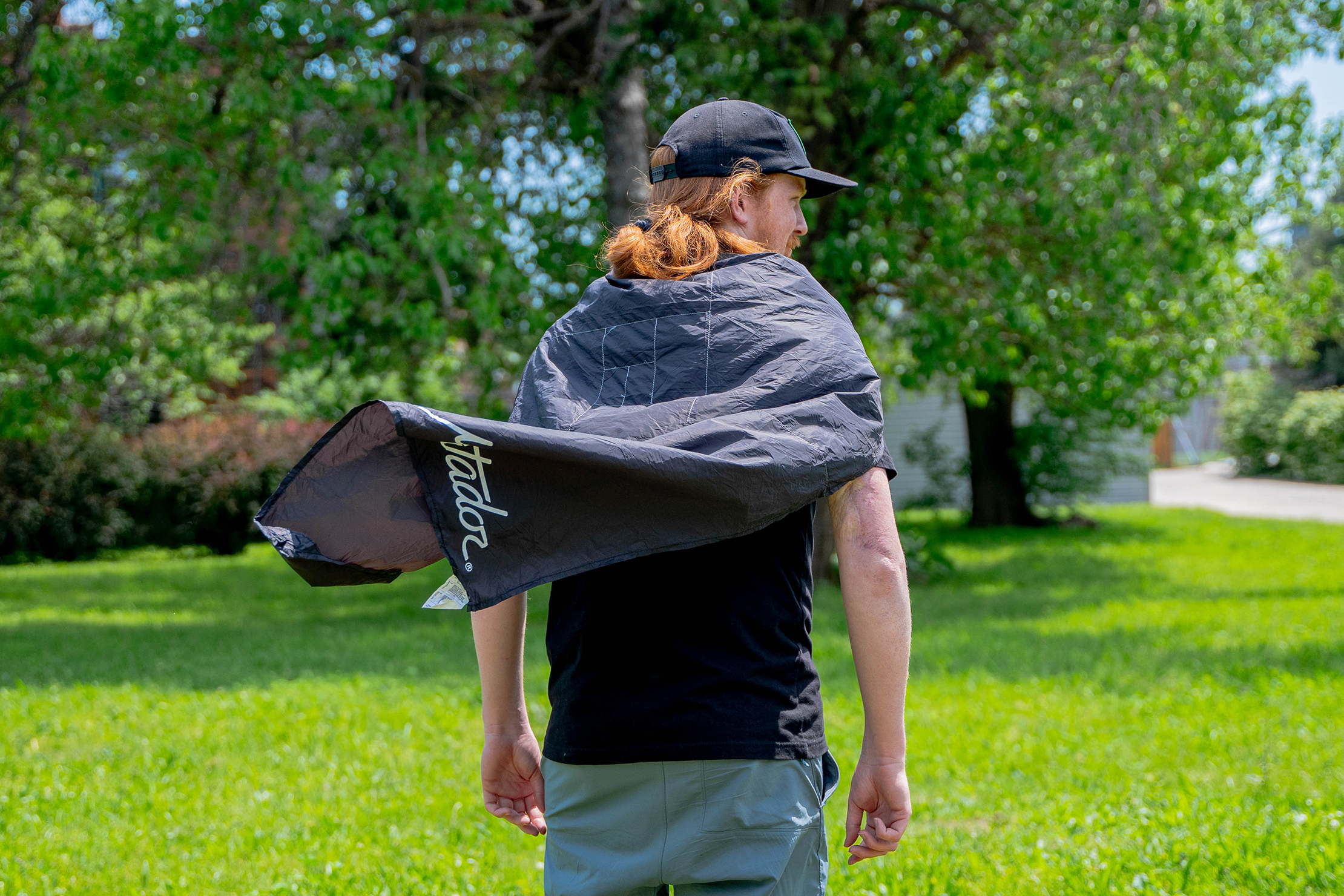 Adding another thicker blanket to the top of the Mini isn't a terrible idea, but finding a blanket that doesn't extend over the sides can be difficult, as the Matador is pretty tiny. Even a thick towel might work better, but it will overlap the blanket a little.
The material is exceptionally water-resistant, which is the primary use of the blanket. It's proficient at keeping us dry sitting on dew-covered grass, a wet wooden boardwalk, and a soaked metal park bench. Water will eventually creep through the material over time, but we had no issues for up to 30 minutes.
The material has a 90s wind pant noise when it rubs against itself, but that's only noticeable when you are packing or unpacking it. The stuff sack is a different material, so there's no noise to worry about once it's stowed.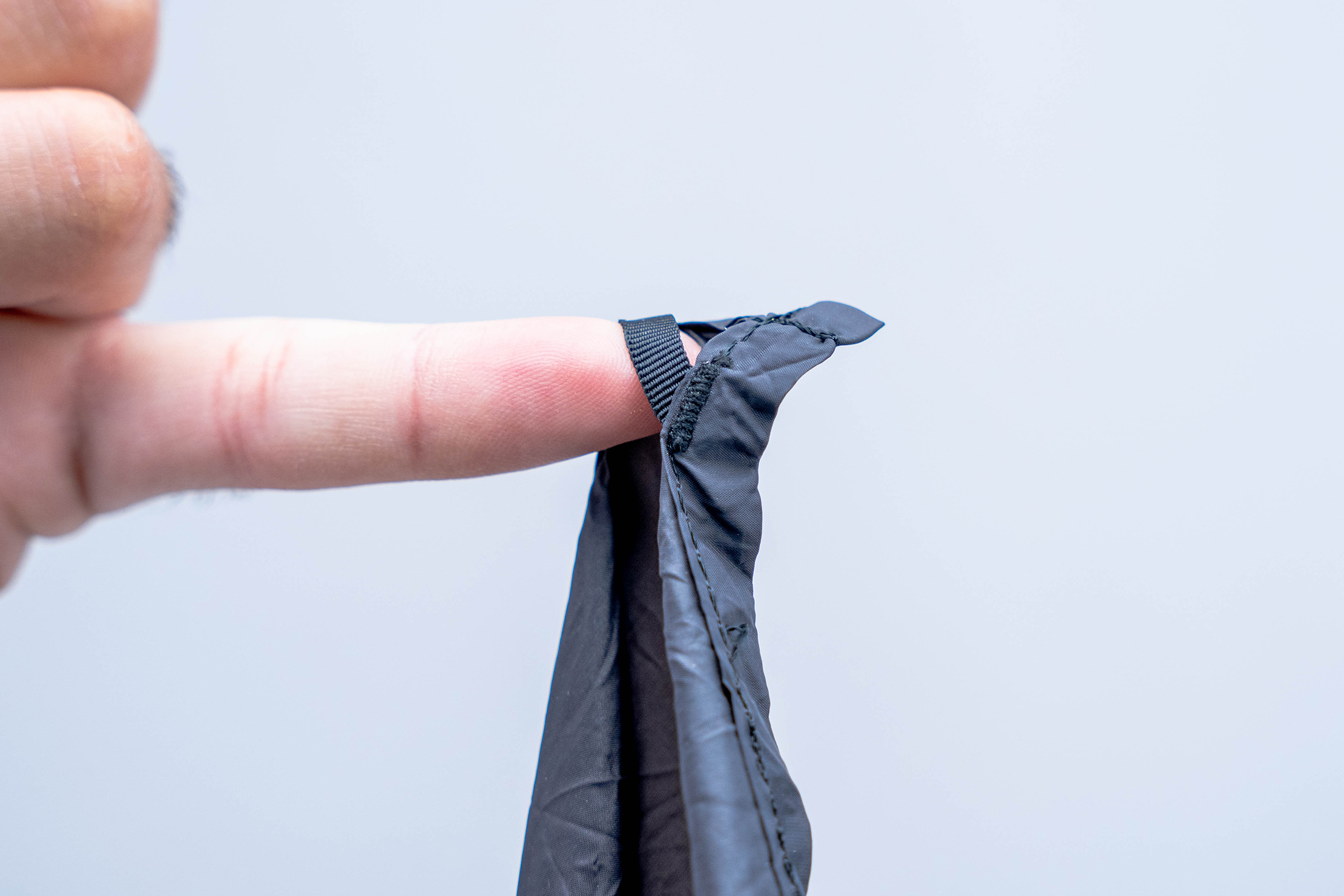 Each of the corners of the blanket has a small loop to stake them down to prevent them from blowing away if you leave the blanket unattended. You could also use these to tie ropes from each corner to create a makeshift roof, but the Mini is so small we don't see many situations where that would be necessary. Stakes aren't included as they are with the larger Pocket Blanket, which is a bummer, but we don't really feel like we need them anyway. If we leave the blanket, we typically just take it with us or throw a rock on top of it to hold it in place.
Once opened up, there's a large Matador logo in white on the bottom of the blanket. It looks nice but isn't very minimalistic. If it bothers you, you can simply flip the blanket over. The rest of the Mini is black, and at the time of writing, Black is the only colorway available.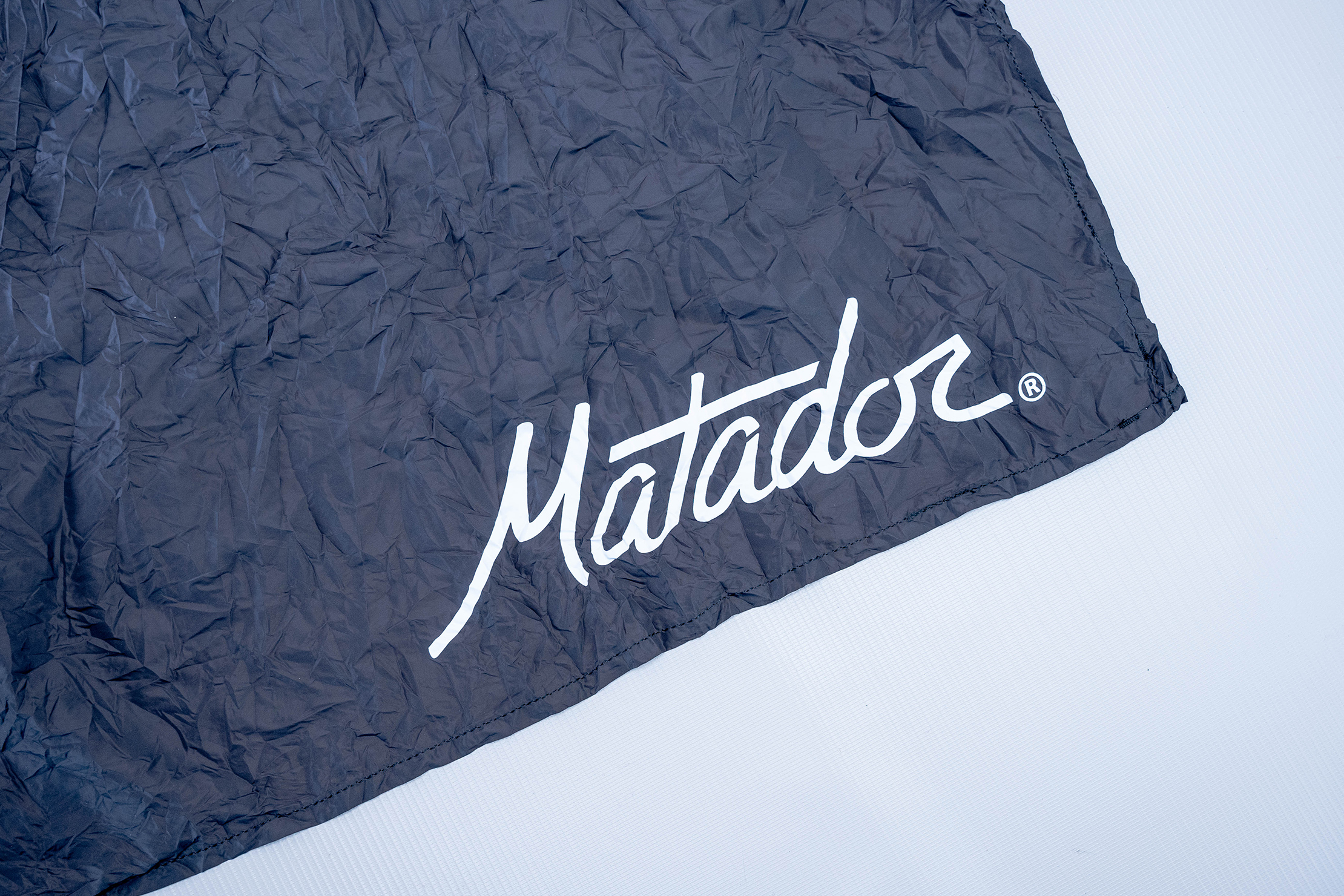 The stuff sack is crafted from stretchy mesh material, which has some give to it. The mesh also lets moisture out if the blanket is wet when you put it away. Odds are, if you're using the blanket, there's some sort of moisture involved. If the stuff sack wasn't water permeable, it could get mildewy quickly. The material enables airflow, which stops that from happening.
There's a hard plastic adjuster on the exterior to tie the stuff sack's opening down once the blanket is stowed. It stays tight and can be used to hook the entire blanket onto something inside your pack with a carabiner like the Nite Ize S-Biner SlideLock Aluminum.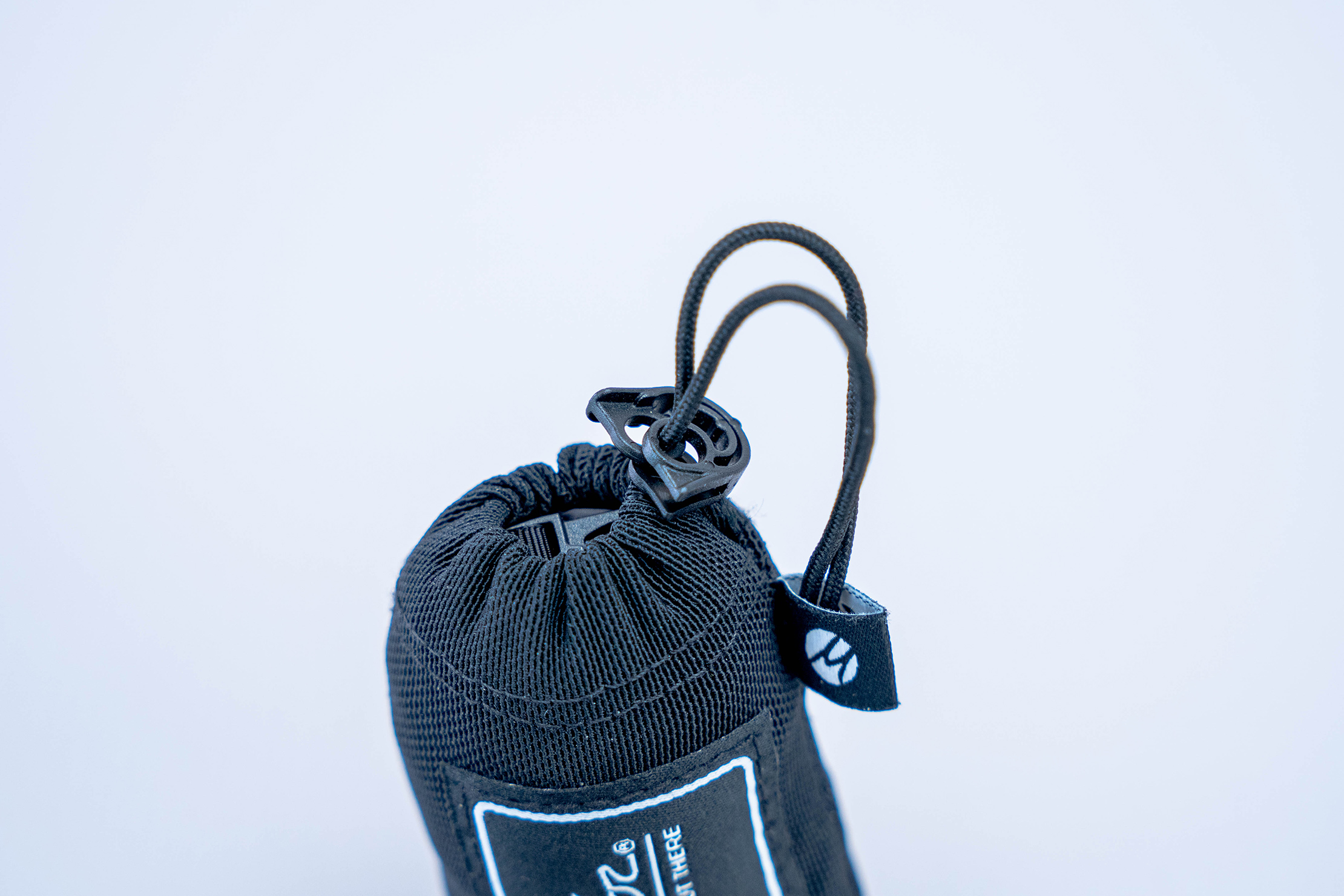 The inside of the stuff sack has one of two small Woojin buckles while one of the blanket's corners has the other. This is so you can attach the stuff sack to the blanket when you're using it and won't lose it. This is a nice touch if you're the kind of person who would lose the sack because you can attach it, but you don't need to use the clip if not.
Usage & Features
To kick things off, we want to say that we enjoy using the Matador Pocket Blanket Mini, especially considering its small size, but we want to present you with all the details before you purchase it. We may seem harsh in some places, but that is often because we compare it to larger blankets, which it is not. With that being said, let's move forward!
The Matador Pocket Blanket Mini unfolds to 44″ by 28″ (110cm x 70cm), which Matador says is enough room for 1-2 people. In reality, it's enough for one person to sit comfortably or two people to sit if you are just using the blanket for your bottoms and have your legs and feet hanging off. It's doable, but not terribly convenient.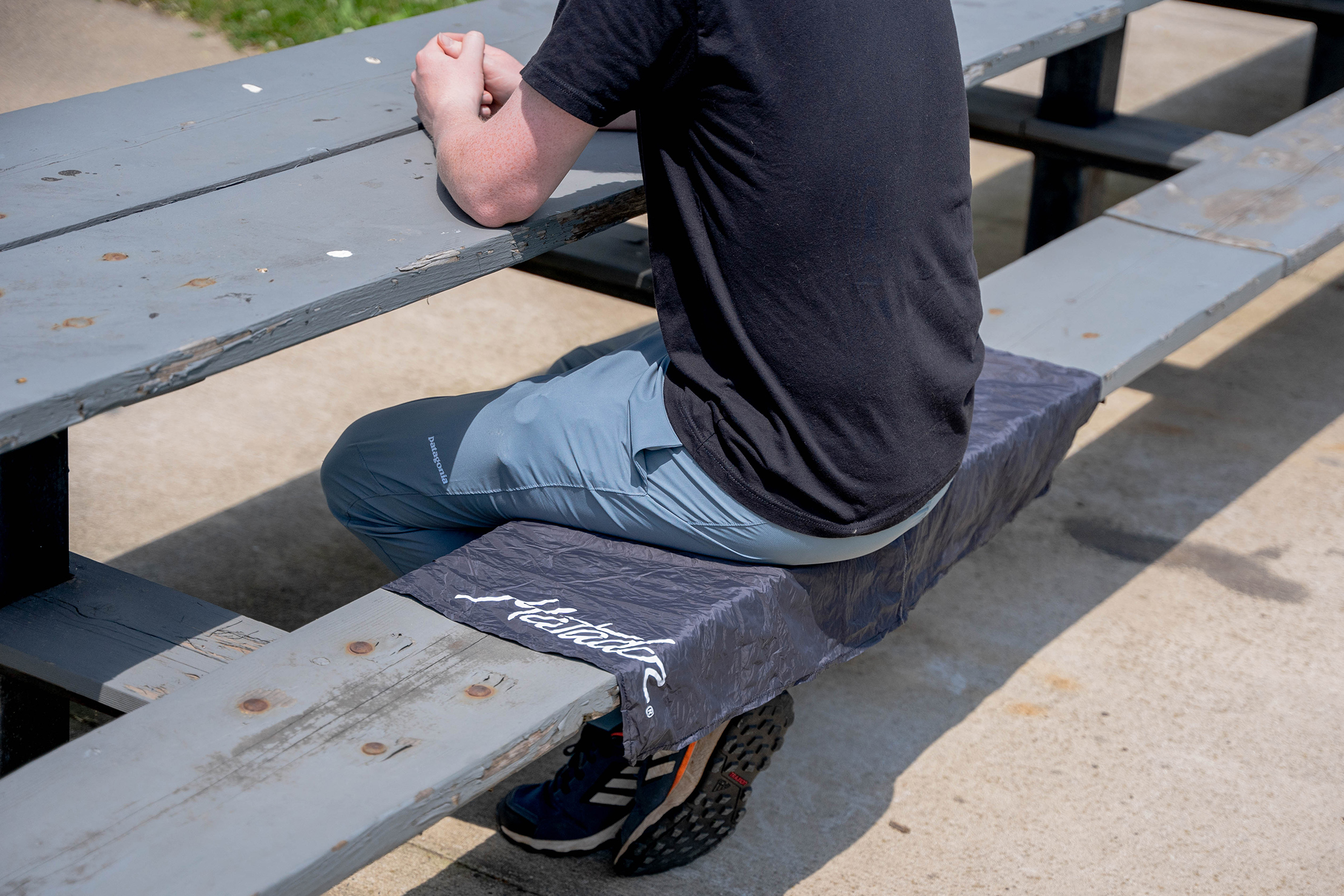 For one person, it's capable but still not entirely ideal. You aren't going to be able to sprawl out by any means, but a short break during a hike or walk in a city park does the trick.
To put things into perspective, a standard bath towel is roughly 30″ by 56″, an area of 1680″ squared. The Mini has an area of 1232″ squared, which is less than three-fourths of the area. So, compared to a standard bath towel, you've got roughly 25% less room to sprawl out if our math is correct (we're gear testers, not mathematicians).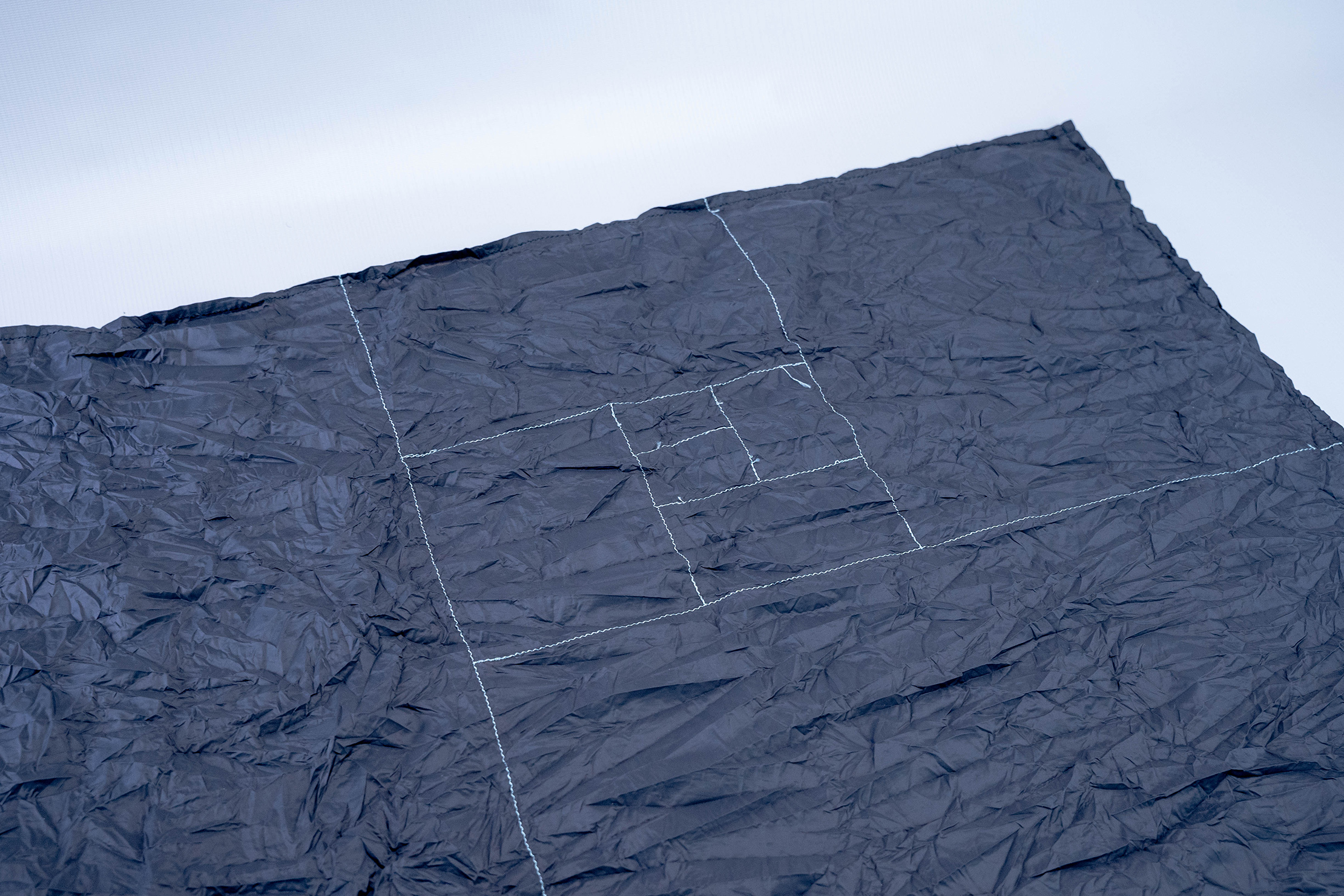 The blanket has a sewn-in guide of how to fold it back into the stuff sack, but we don't follow it most of the time. Our go-to method is to fold the blanket in halves until it's slightly less wide than the stuff sack is tall, then roll it up. Crisp folds make the rolling easier, as the material won't spread out as much as you roll it closer toward the edge.
Or, you can also just shove it into the stuff sack. It can be difficult to get all of it in at the end, but it works just fine in a pinch.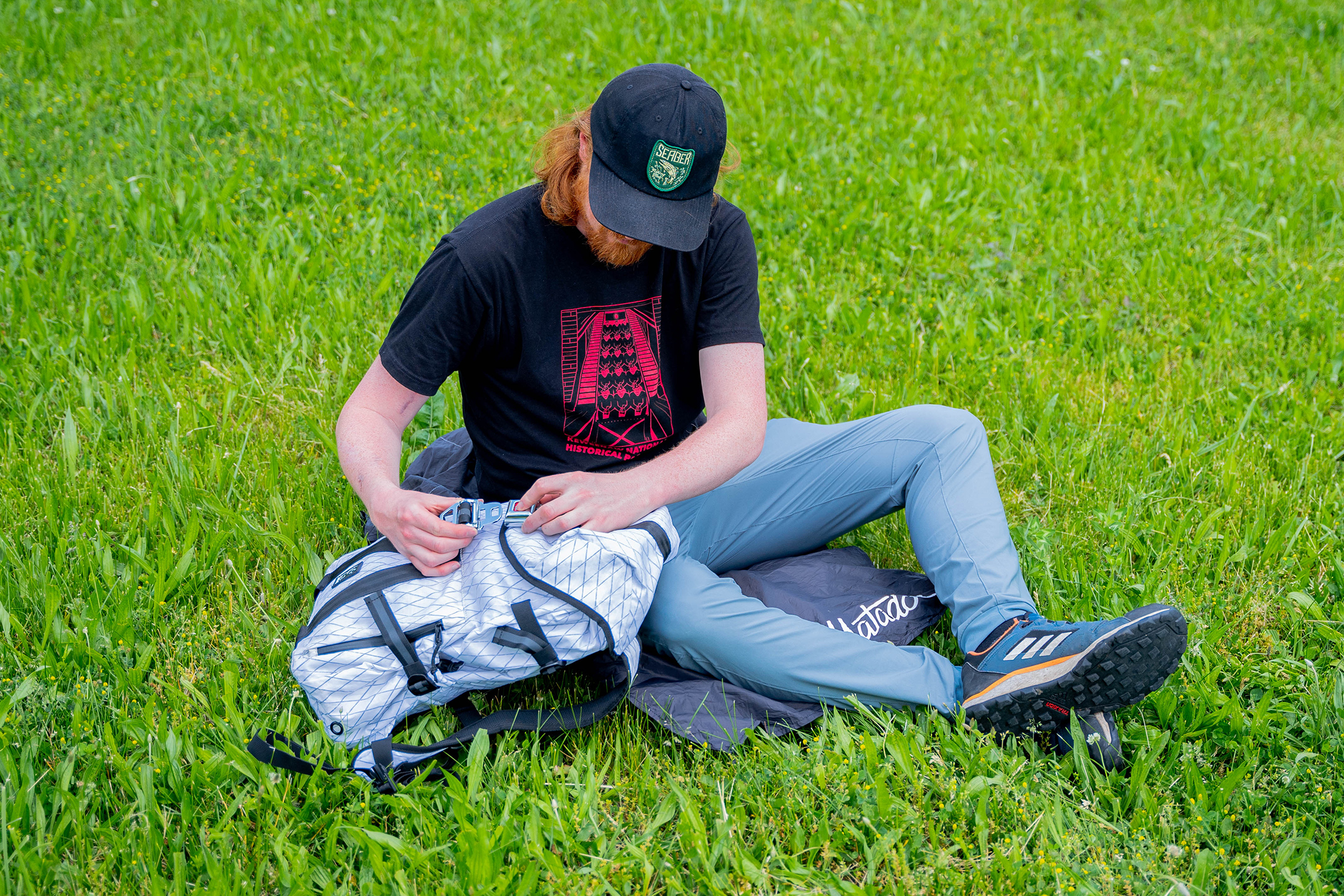 Matador's Pocket Blanket Mini is great for solo travelers or if you're on a journey with your partner and aren't opposed to getting super close and personal with them on the blanket. For one person, it's dynamic and has quite a few uses, most notably fitting nicely in your sling or daypack. For two people, not so much, but it will keep your butt dry, which is sometimes all you need.
Usage Timeline
Initial Usage
Condition: Excellent
When packed, it fits into the palm of your hand
The stuff sack isn't attached, but clips on
The blanket has a few noticeable loose threads
2 Weeks of Use
Condition: Excellent
The drawstring adjustor still tightens and loosens quickly
The nylon is wrinkle-prone, even after extended use
A few loose threads, but nothing alarming
Access the Pro Community Discussion
Get your questions about the Matador Pocket Blanket Mini answered from our team and the Pro Community right here on the page. Plus, join discussions with other members about gear, guides, and more.
Other Toiletries & Personal Care Reviews