lululemon Command The Day Duffel 37L Review
The lululemon Command The Day Duffel 37L has solid, thoughtful organization and a versatile look. But we're concerned about longevity.
Our Verdict
Unlock the Pro Summary
Save time. Get access to brief summaries of our reviews so you can browse and make decisions more efficiently.
Pros
Simple, versatile aesthetic
Ideal amount of organization for a bag of this size
Shoe compartment is thoughtfully-designed
Cons
Particularly uncomfortable to carry when full (crossbody strap lacks padding)
Concerns regarding durability
Laptop compartment not as secure as we would've liked
Recent Pack Hacker Video
Technical Details
Capacity

37l

Weight (lb)

2.15 lb (1 kg)

Dimensions

13 in x 21 in x 9 in (33 x 53.3 x 22.9 cm)

Notable Materials

Nylon, Polyester, YKK Zippers

Manufacturing Country

Vietnam

Warranty Information
Full Review
We've been pleasantly surprised by athleisure giant, lululemon, in the past. So we've been excited to put the lululemon Command The Day Duffel 37L to the test.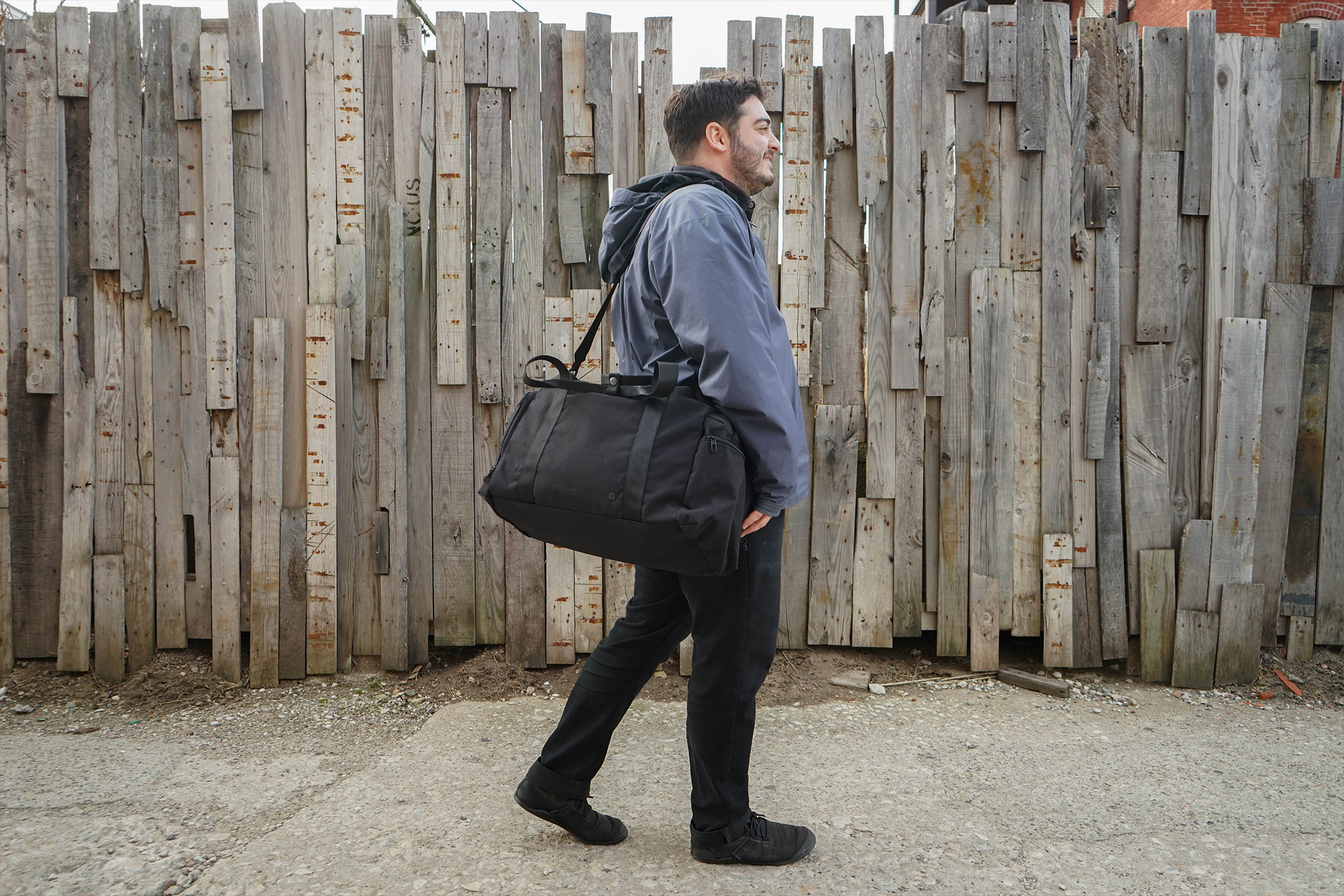 At first glance, this duffle has everything you want from a duffle—a cavernous space to shove clothes, a streamlined, professional aesthetic, and a solid amount of organization.
But how has it performed throughout testing? Let's find out.
Materials & Aesthetic
The product designers over at lululemon decided to keep things looking simple, which is exactly what we like to see. Seriously—one of our favorite things about this duffle is its nondescript aesthetic. The branding is minimal, the shape is classic duffle, and it's only available in one colorway at the time of this review: black.
When traveling with the duffle, you completely blend in with the crowd. Of course, we consider blending in with the crowd a good thing here at Pack Hacker (drawing attention to yourself as a tourist doesn't always end well). If you like to stand out then this duffle probably isn't for you.
Simplicity also means versatility—at least in this case. The Command The Day Duffel will fit in at the gym, at a business meeting, in a hostel, or wherever else you may take a duffle. This is definitely a plus for travel when you may go to all three of the aforementioned places in a single day.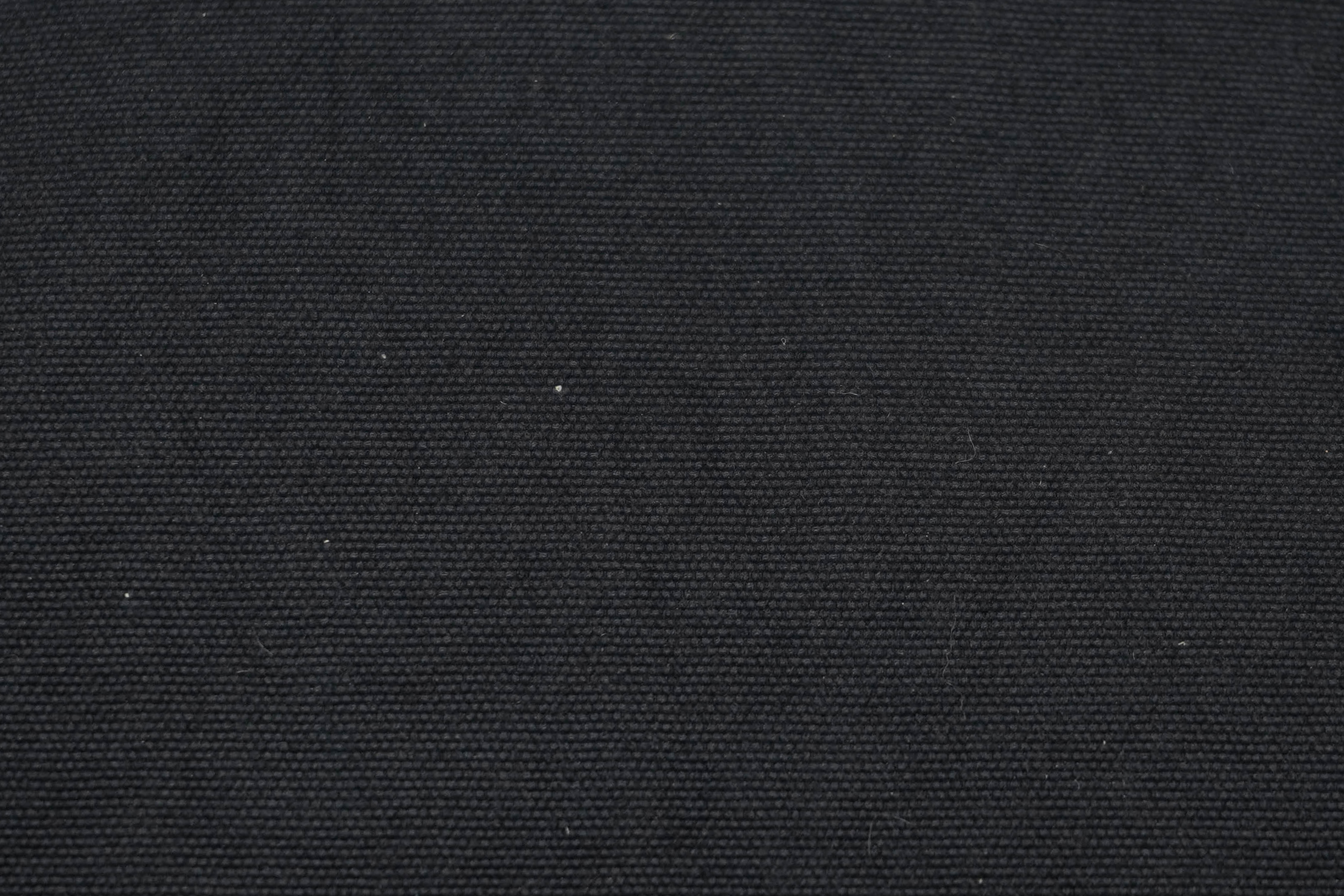 Less impressive are the duffle's materials. The body is made from nylon and it's lined with polyester. Nylon is known to be lightweight and durable, so you should be okay, but lululemon doesn't go into detail about these fabrics—what the denier is or anything like that—so we can't say too much about them. For the price point, we would've expected to see more information about the materials available.
The body of the bag is really soft, but it picks up lint/dust/pet hair annoyingly well. And because it's black that lint/dust/pet hair stand out. It's so bad that if you're a pet owner of a shedding dog, cat, ferret or whatever, you might consider opting for a different duffle.
The nylon is water-repellent—but, again, lululemon doesn't disclose with what—so it's easy to wipe clean. We've tested the duffle in drizzly San Francisco and everything inside the duffle stayed nice and dry.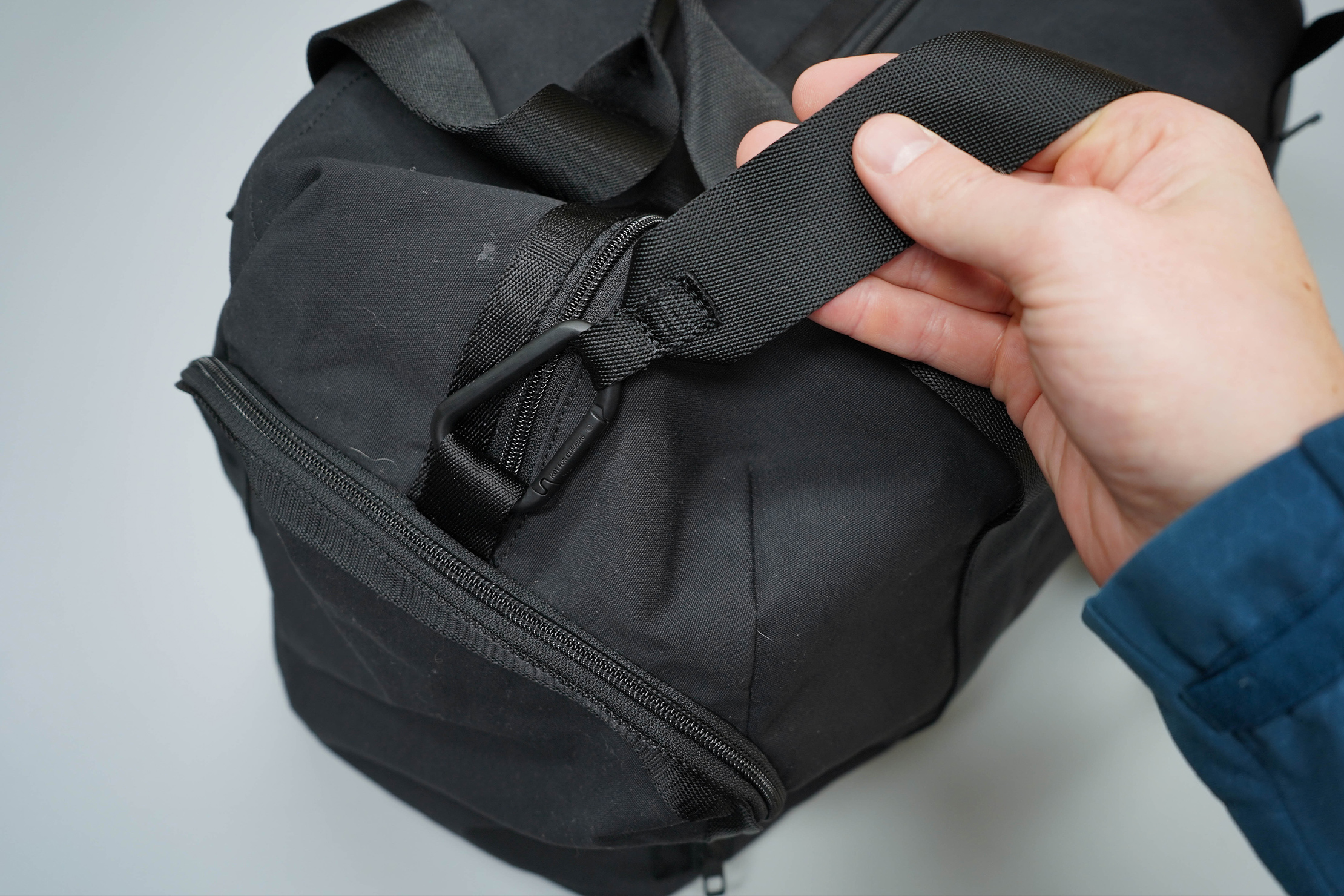 The carabiner-esque clips that attach the crossbody strap to the duffle are unbranded. We're always wary of unbranded hardware and for good reason. While we haven't had any issues with these clips ourselves, we've read multiple reports from others claiming their clips have broken after only a couple of months of use. Obviously, that's not good to hear. We're also not overly surprised to hear this as they don't appear to be the strongest clips. When you open them they don't automatically snap closed, meaning the spring is pretty dang weak.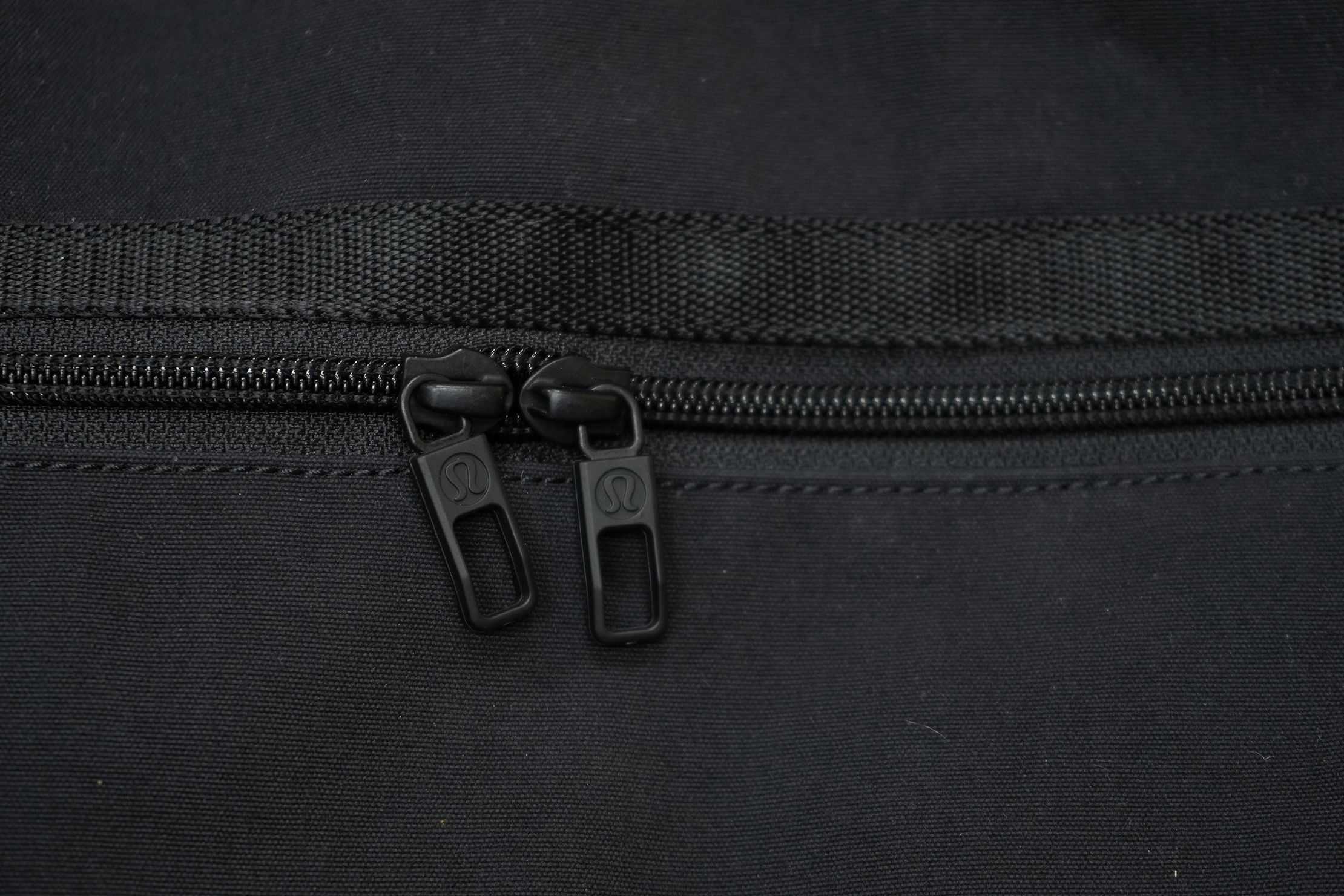 Ending on a positive note, the zippers are all from the trusted Japanese manufacturer, YKK. So they—at least—should last.
External Components
There's not too much going on externally, which cements that simple aesthetic we mentioned earlier.
In classic duffle form, you can carry this thing via the briefcase-style handles or via the detachable shoulder/crossbody strap.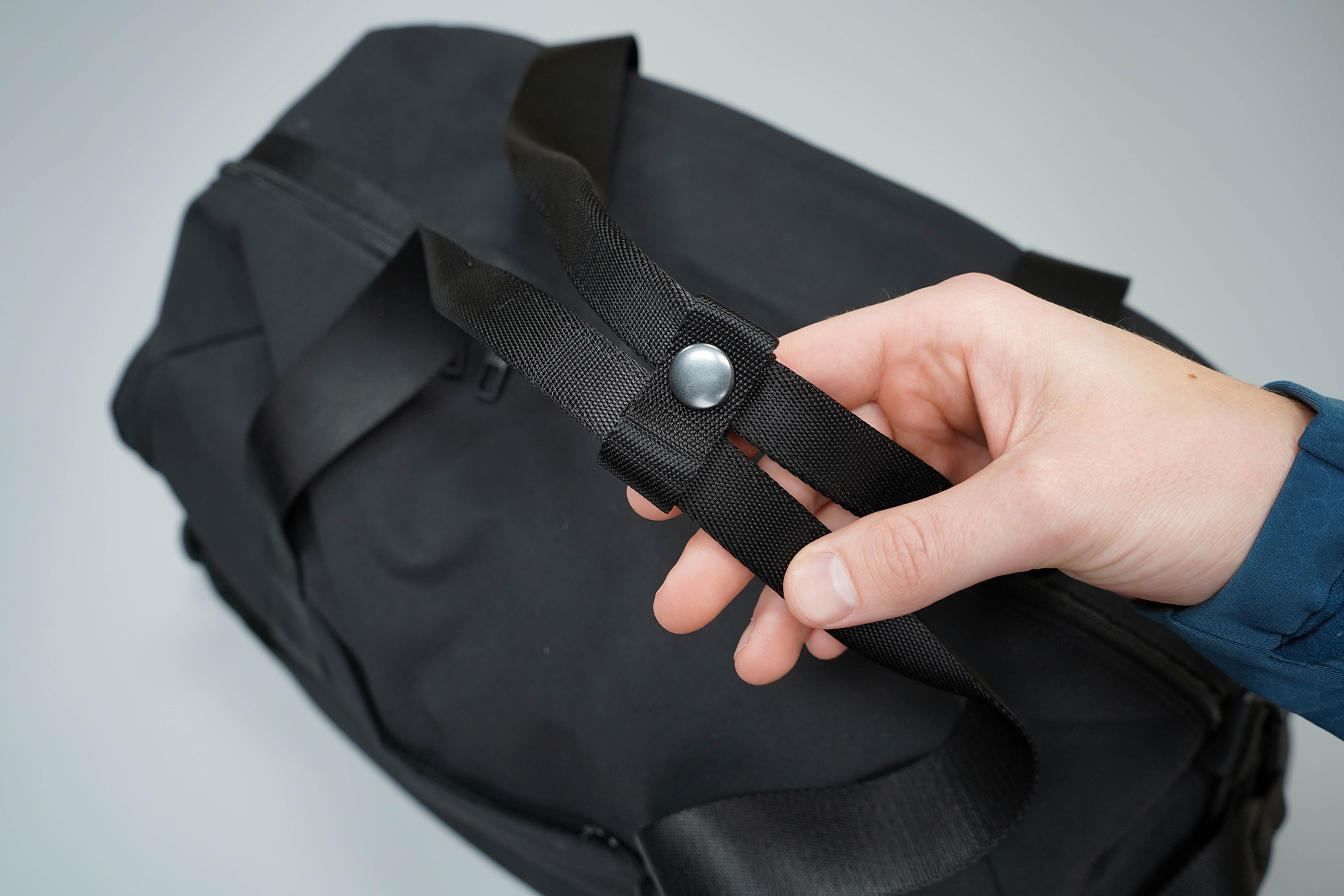 The handles are smooth and soft. They also button together, so you can have a solid grip. You can work the main zipper while leaving them buttoned, but it makes accessing your stuff inside the main compartment difficult. Not a big deal since unbuttoning them is as easy as you would think.
The profile of the Command The Day Duffel is also slimmer than other duffles on the market. This means when you're carrying it via the handles, it will sit closer to your body, which is always nice.
All that said, when you've filled the duffle up, it's uncomfortable to carry it in briefcase mode—unless you have particularly strong hands. We've found the handles to be great for maneuvering the duffle around—grabbing it from overhead bins, pulling it from the trunks of Uber's, or when you don't have much stuff inside of the duffle.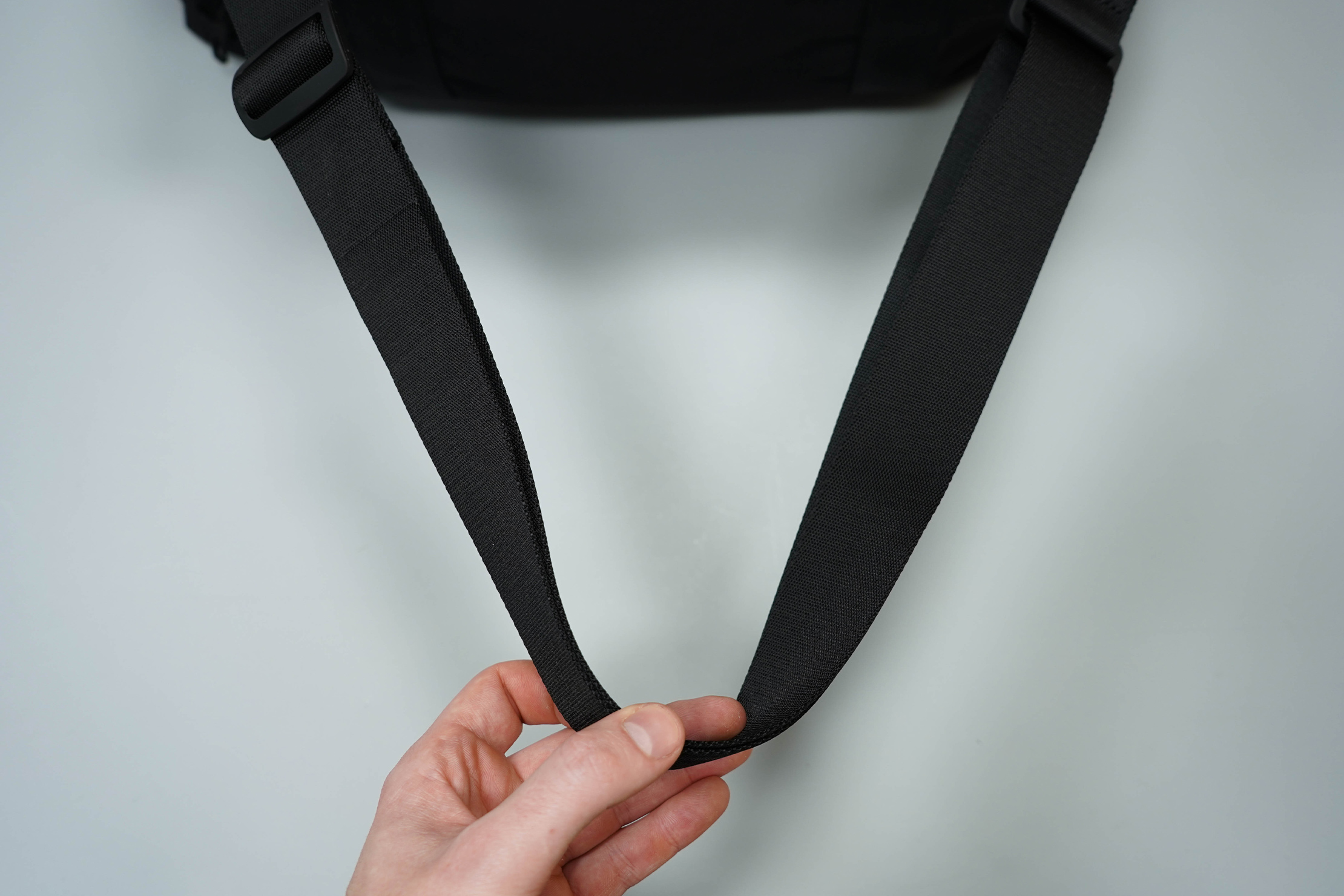 The crossbody strap is only so-so. It's as smooth and soft as the handles, and it's also a good width. But it doesn't have any padding. With a capacity of 37L, this thing can get heavy and padding would help the strap from digging into your shoulder. It's not terrible if you don't plan on walking around with your duffle much, but it's not ideal if you have to carry it for extended periods of time.
We like that it's detachable, so you can toss it inside of the duffle or leave it at home when you don't need it.
And that's it!
Inside the duffle
lululemon's internal organization is one of the best parts of this duffle. It strikes a great balance between too much and not enough. Although, we wish that the interior fabric was a brighter color. The black interior coupled with the fact that there's a good amount of depth to these pockets means it can be difficult to spot your stuff. It's easy to lose smaller items.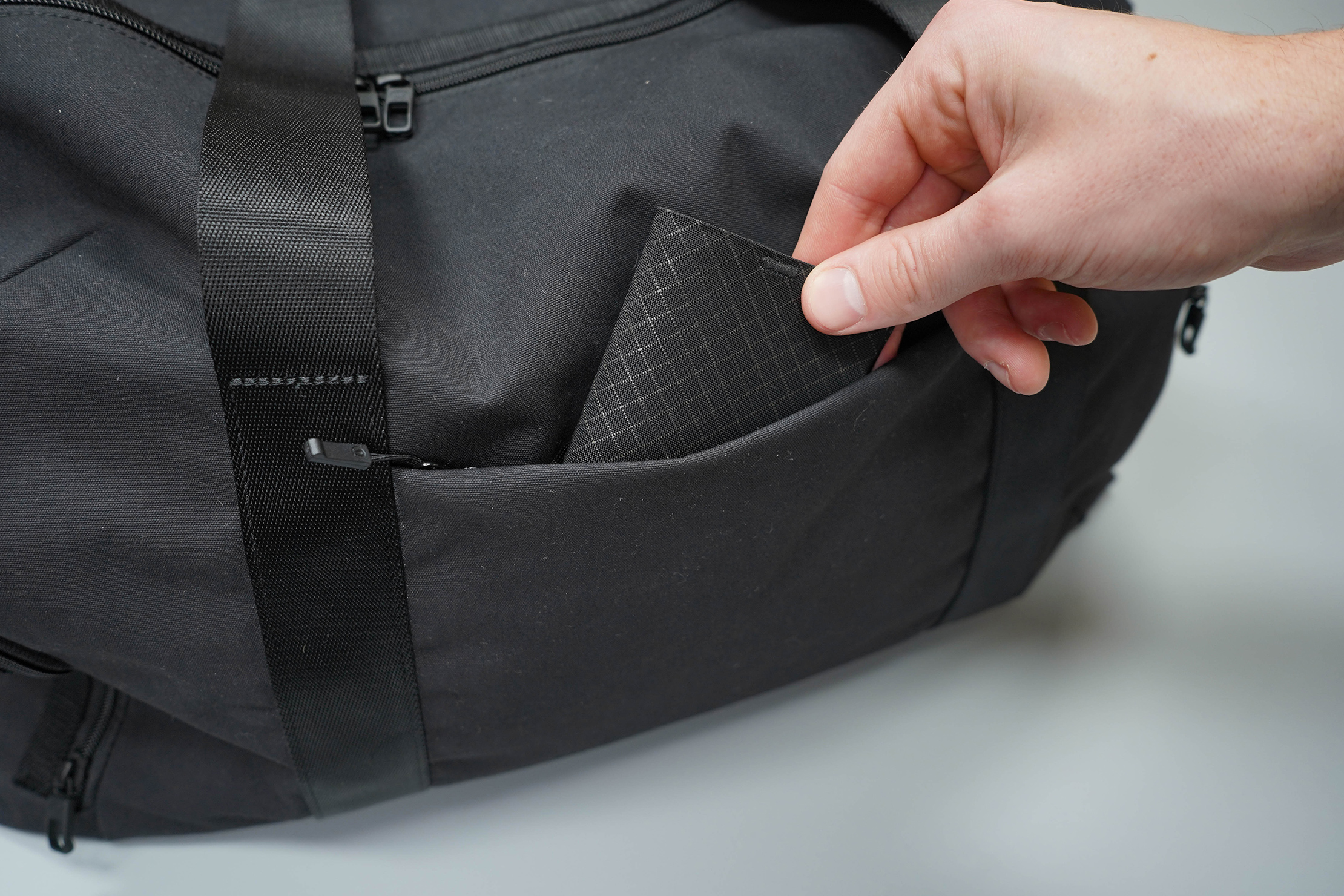 Let's start with the quick-grab pocket. While it's not a "secret" pocket per se, it doesn't stand out, and almost looks like a fold in the fabric. It's large enough to comfortably fit a phone, keys, and wallet. It goes pretty deep—basically to the bottom of the bag—which can be somewhat annoying. Smaller items get all jumbled together, and with that dark interior fabric, it's not easy to see what you've got going on inside. That said, if you only use it for a couple of things, it's not a big deal.
On the other side of the duffle, there's the laptop compartment. Now, this only fits up to a 13'' laptop—and even that is a tight squeeze. We've tested it with a 2010 13'' MacBook Air without a case and, let us tell you, it's difficult to maneuver it through the zippered opening (there's more room once you get it inside the compartment). It usually takes upwards of a minute and yogi-level patience.

It is padded, but not as much as we would've liked to see. Especially since we don't think a 13'' laptop with any substantial case would fit. While testing this bag on a domestic flight, we almost had to gate check-it due to a full flight. Confronted with that possibility, we realized how much we did not trust this compartment to protect such an expensive machine.
Because there's slightly more room within the compartment—as opposed to the small opening—you can shove a jacket or sweatshirt inside for extra protection. We shoved a puffer jacket beneath the laptop and on the exterior-facing side, which gave us added peace-of-mind.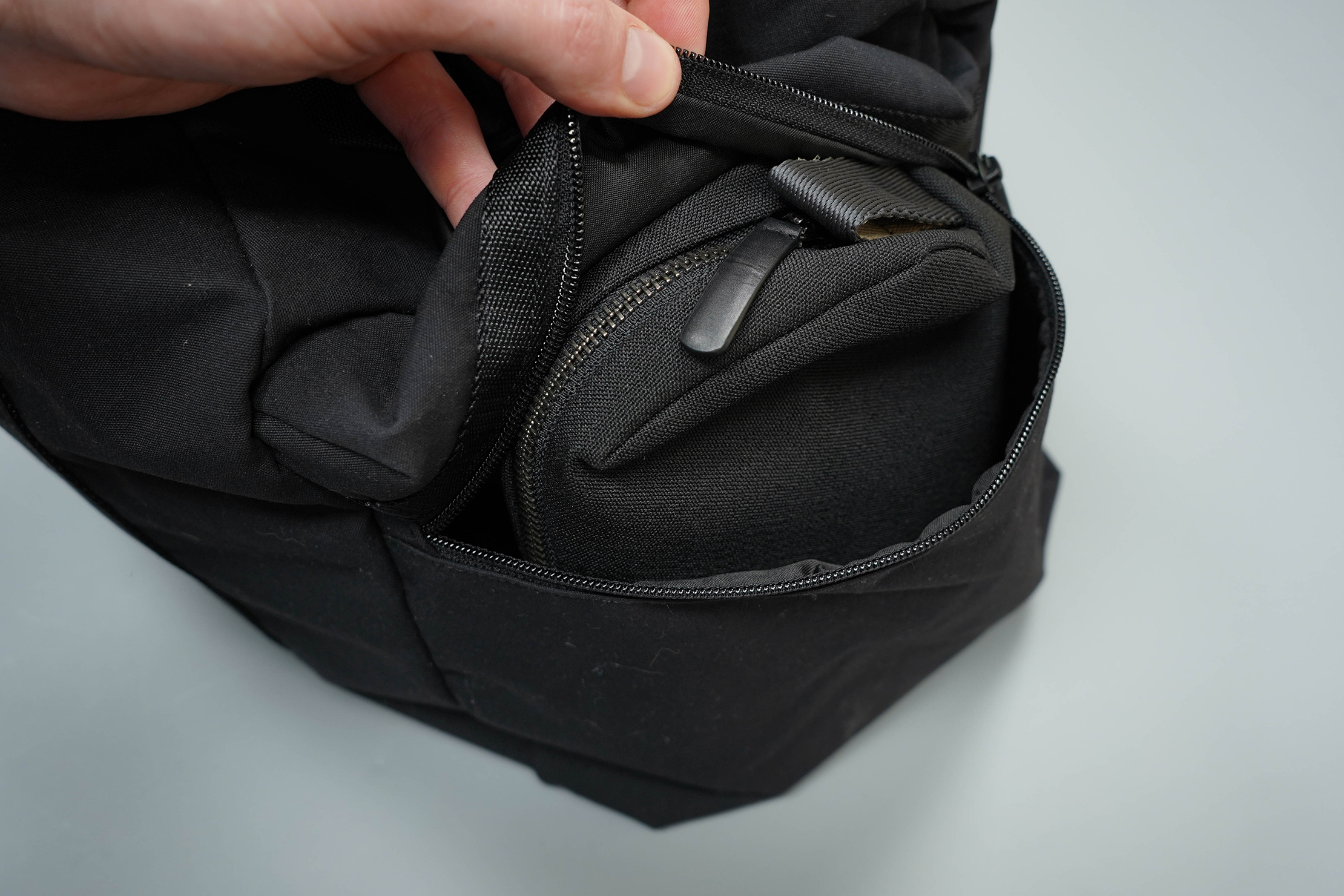 Alright, moving on. Next, there is the zippered water-bottle or, as lululemon calls it, the "protein shake" pocket. This is one of our favorite pockets on this thing. It has its own volume, so you can fit a lot inside of it without it cutting into the main compartment. But it's also worth noting that it does not fit tall water bottles. The 18oz YETI water bottle just barely fits—it has to be diagonal.
And, while it's called a protein shake pocket, you can also use it for all sorts of other things. It's zippered, so whatever you put inside should be secure.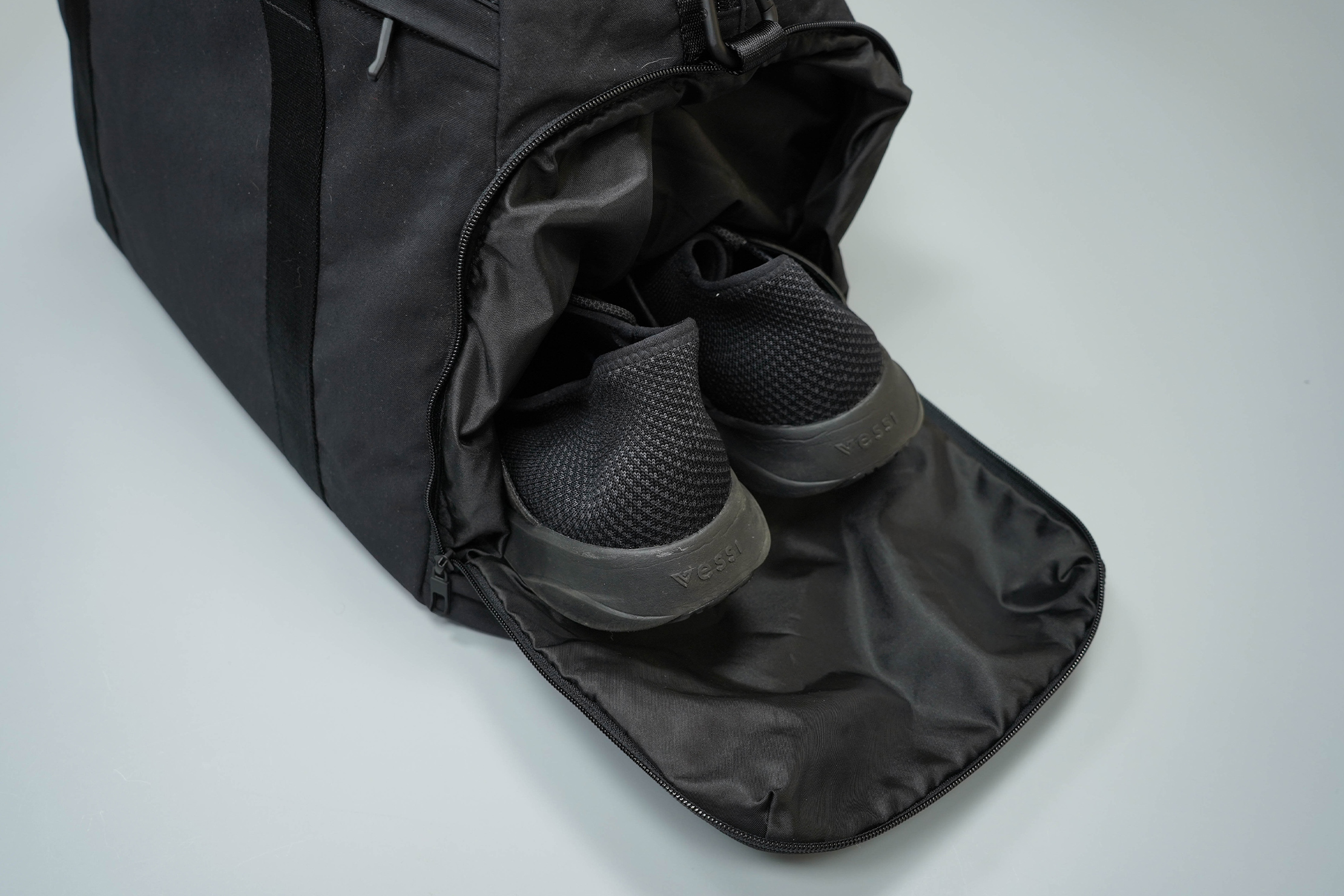 Opposite that is the shoe compartment. We've tested it with Xero Shoes Prio running shoes—thinking that packing them would encourage exercise to happen (it did not) and are happy to say that it didn't eat into the space of the main compartment that much. To be clear, it does a little bit, but not as much as we've seen with other bags. And that's due to the way it's been designed.
There's a snap inside that holds the excess fabric to the side of the bag. If you need more space, you can undo the snap, otherwise, you can leave it. We actually didn't need to undo the clip to fit the Prios, but obviously that depends on your feet size and style of shoes. This is also a great spot to stash dirty clothes to keep them from stinking up your clean ones in the main compartment.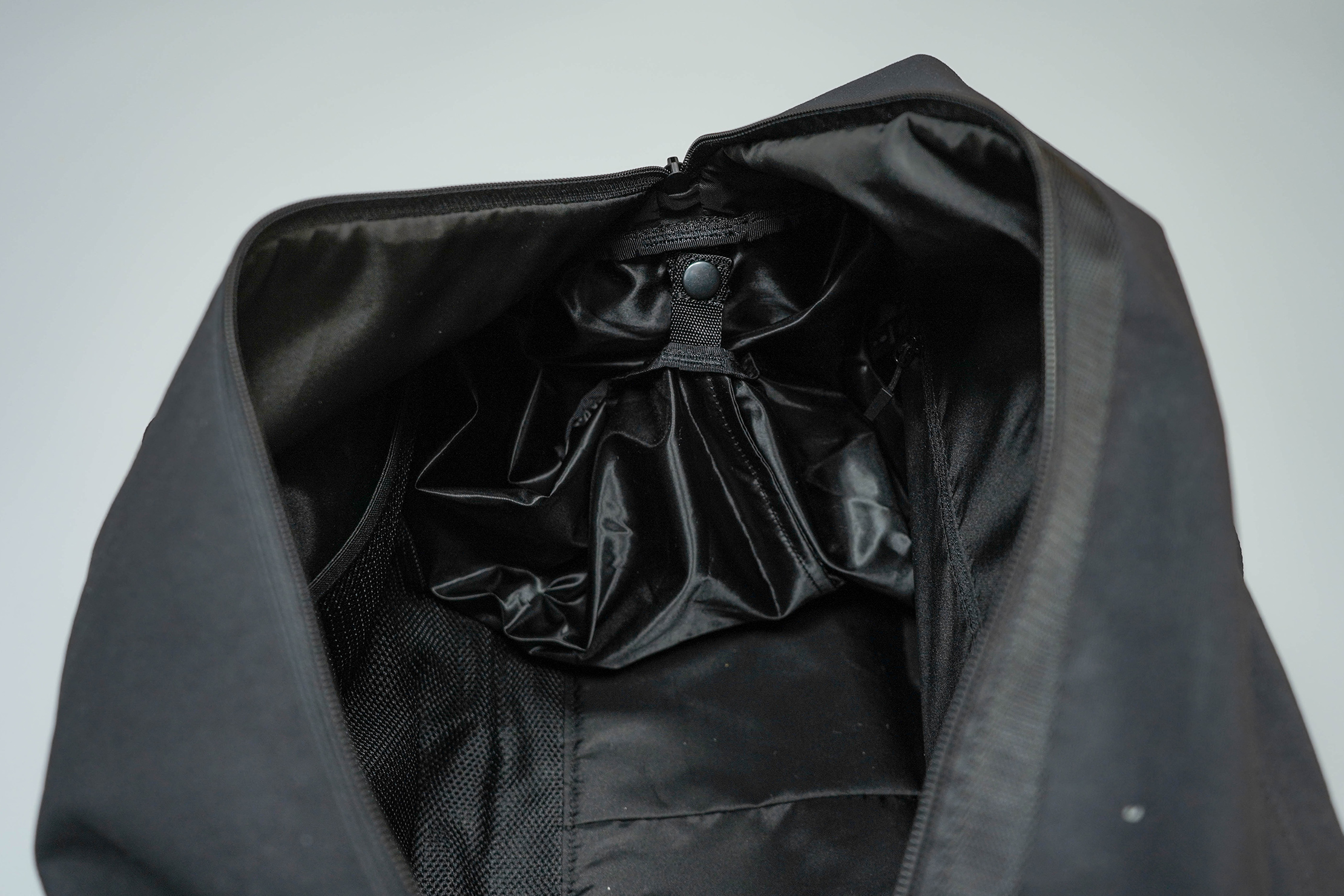 Speaking of—the main compartment is also great. It's a little floppy at first but gets a good amount of structure as you pack it out. Which, in turn, makes it even easier to pack. It's like a positive feedback loop. #Science.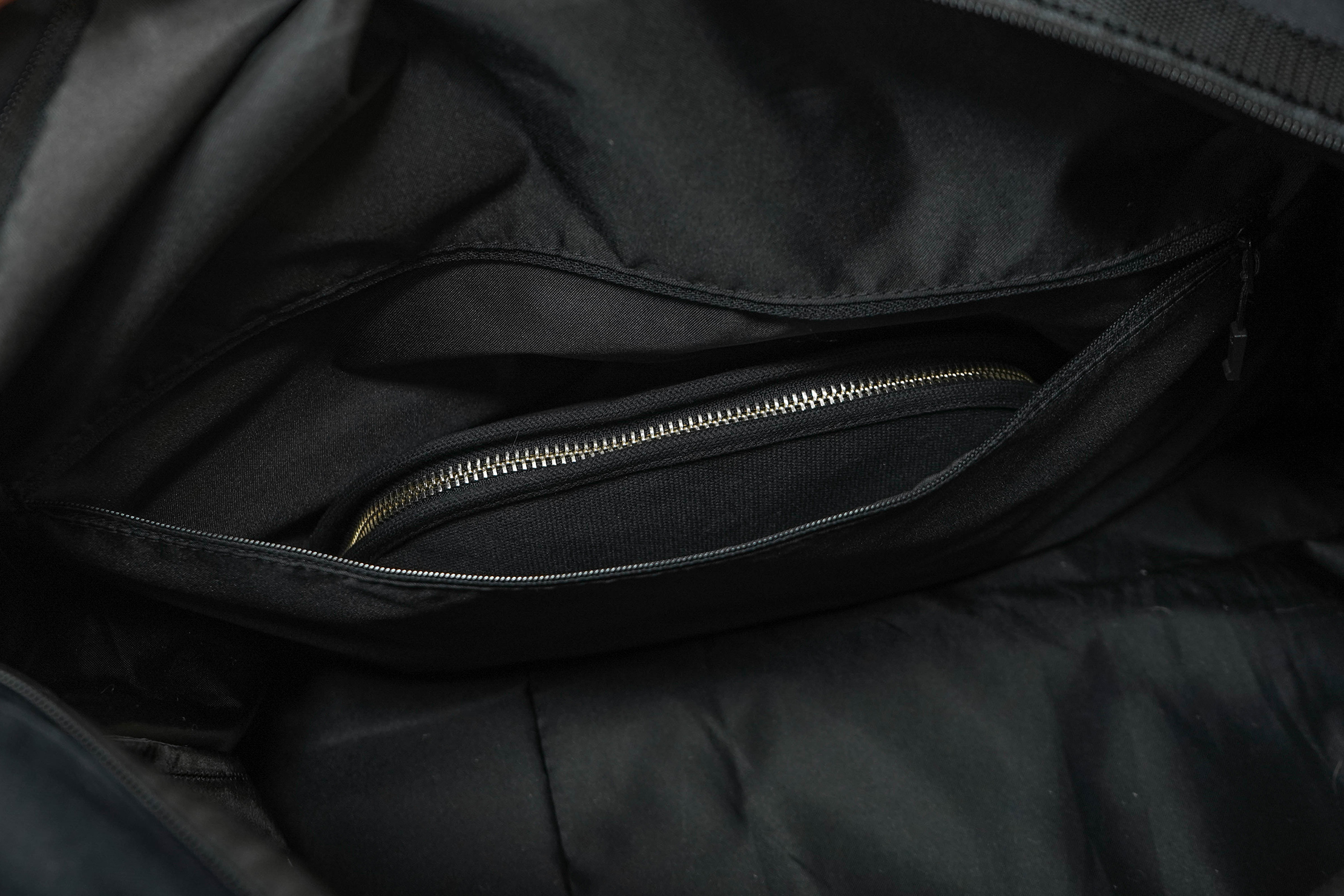 Inside this compartment, you'll find a zippered pocket on one side and two large, mesh divider pockets on the other. We've stashed a couple of notebooks in the zippered pocket, leaving it unzipped, but you can use it to organize whatever. We've used one of the mesh pockets to organize tech—headphones, phone charger, and a bulky MacBook charger—and the other one for socks. Random, we know.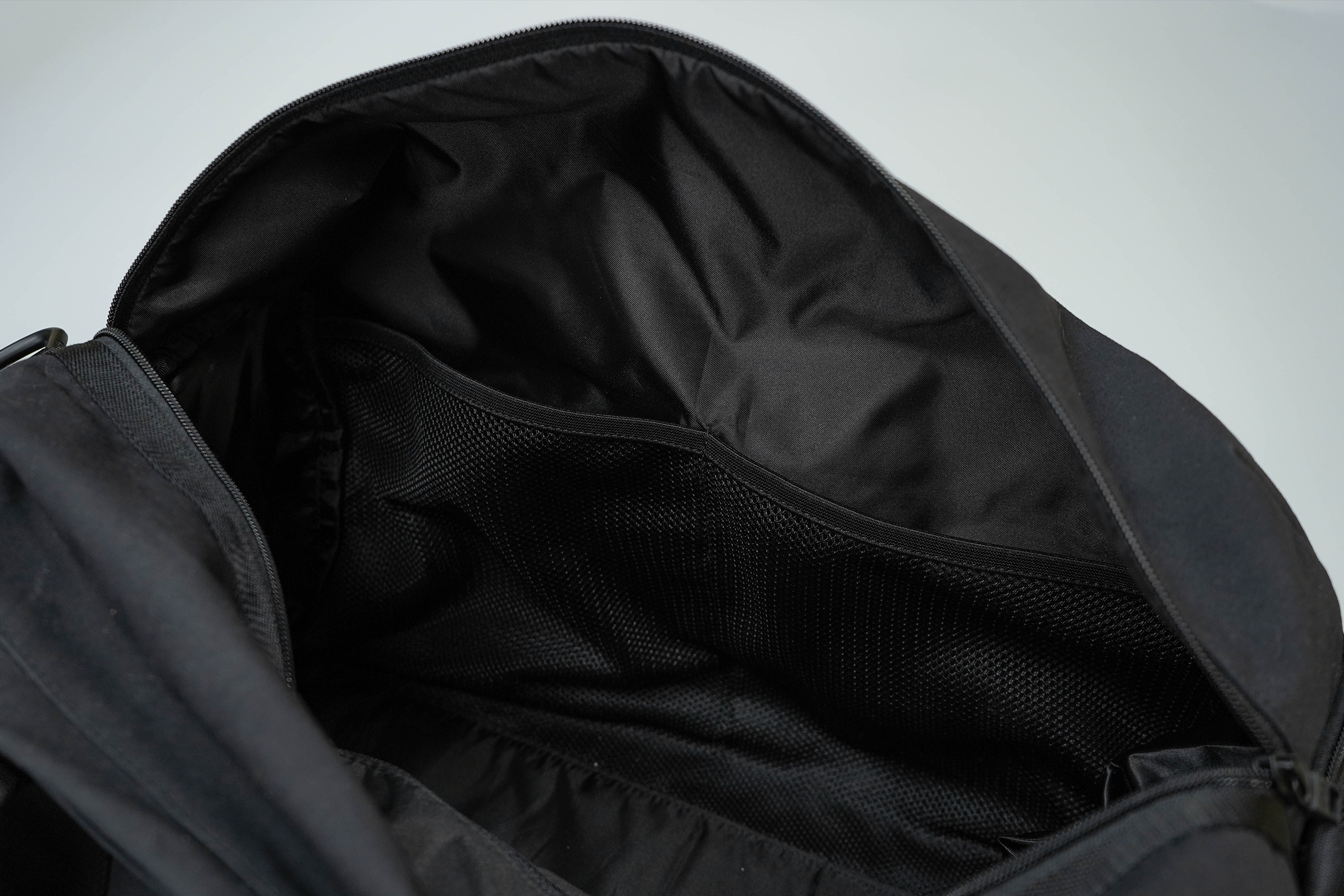 The rest of the space is a big ole bucket. You can pack a lot here—for better or worse as it can get super heavy. If you want to be ultra-organized, you can optimize this compartment with packing cubes. But we've tested it without packing cubes and have been impressed with how organized everything stays.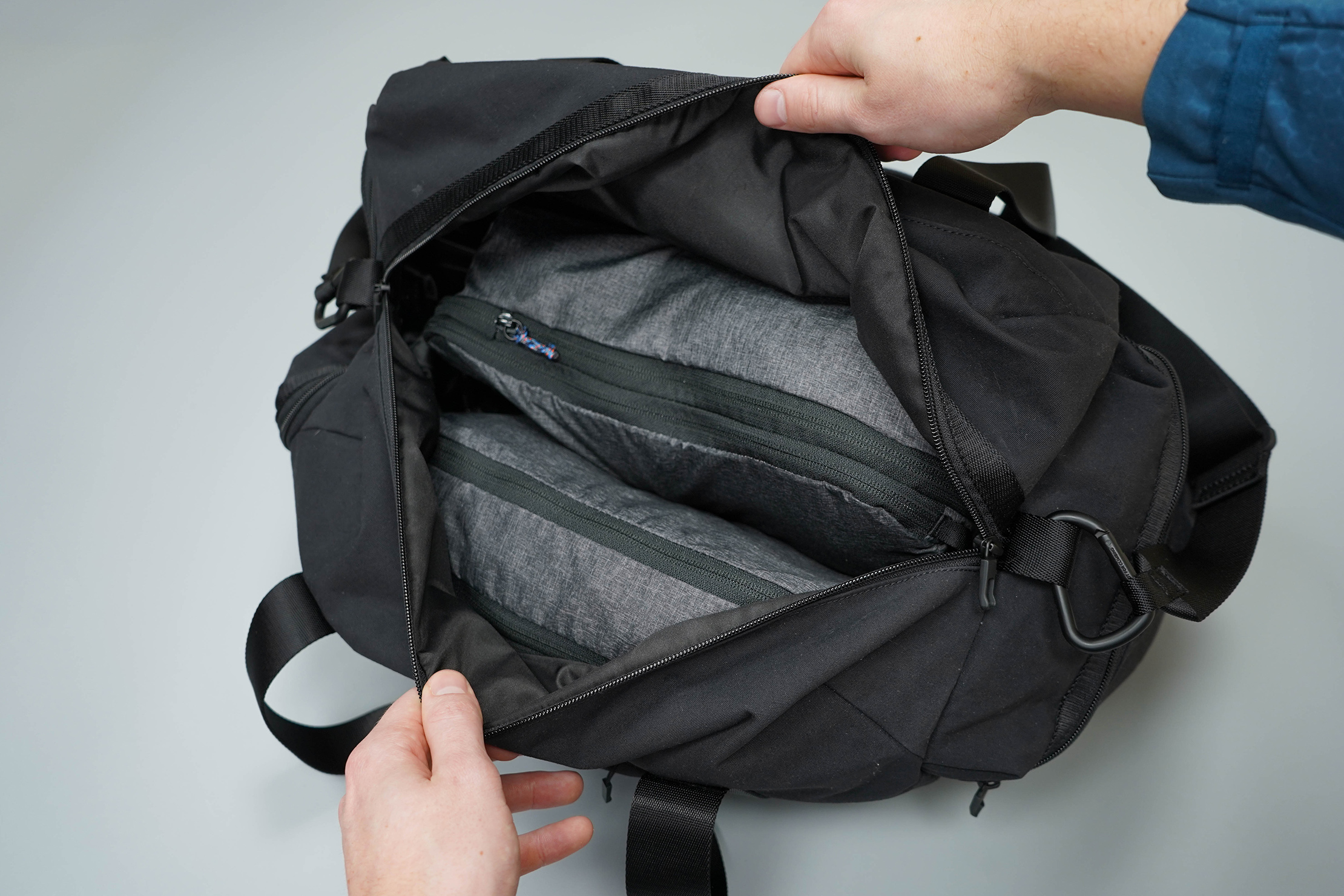 If you roll or fold your clothing Marie Kondo style, you can place them in a row along the bottom of the duffle. And due to the structure of this thing, your clothes will stay folded and in a row. Even as you throw it around in a plane, Uber, etc. It's a really nice feature!
We've set a Dopp kit on top of the clothes. It's a great spot for it—easy to grab when going through security.
Durability & Testing
We've been testing the lululemon Command The Day Duffel 37L for two weeks around southeast Michigan and have taken it on a trip to San Francisco. At 37L, it's a great size for medium-sized trips as it'll hold a lot. But we think it's not ideal for one-bag travel as it gets uncomfortable to carry far distances or for extended periods of time. We prefer backpacks that distribute the weight between your two shoulders, but this is less of a critique of the Command The Day Duffel and more of a critique of duffle bags in general.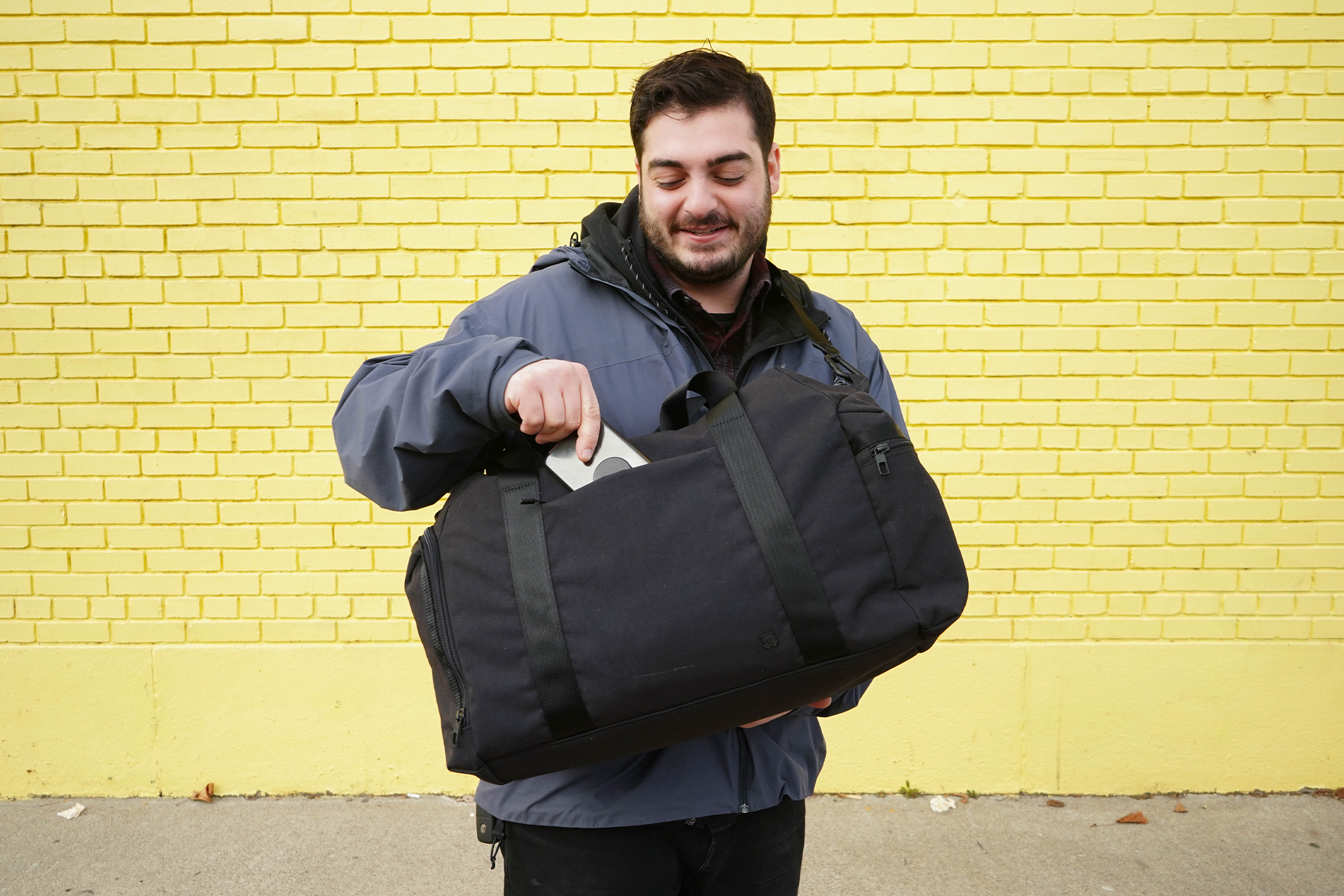 So far, it's been holding up well. Except for all that fuzz/dirt/dust. That said, we're not convinced that it will last. The carabiners that connect the crossbody strap to the body of the bag are worrisome, particularly because a number of reviews have pointed out that they break after a couple of months. We'll be sure to keep you posted in the Usage Timeline below.
Usage Timeline
Initial Usage
Condition: Excellent
All the materials feel durable but are soft to the touch
Padded side pocket can fit a 13 inch laptop
Overall just a very sleek and stylish duffel
2 Weeks of Use
Condition: Excellent
Holding up well, though it picks up dust/pet hair way too easily.
Access the Pro Community Discussion
Get your questions about the lululemon Command The Day Duffel 37L answered from our team and the Pro Community right here on the page. Plus, join discussions with other members about gear, guides, and more.
Other Bags & Luggage Reviews