KUHL Eskape 25 Backpack Review
The KUHL Eskape Backpack has multiple pockets and compartments to stow your gear, though the size is overpowering at times for a 25-liter daypack.
Our Verdict
Unlock the Pro Summary
Save time. Get access to brief summaries of our reviews so you can browse and make decisions more efficiently.
Pros
Two large compartments to stow gear, enabling you to separate unique gear
The backpanel is sturdy, which helps displace the weight of the pack
TPU laminated nylon keeps gear safe from water
Cons
FIDLOCK fastener system can be slow and awkward to close
Size can feel overpowering on smaller frames
Heavier than most daypacks we've tested of similar capacity
Recent Pack Hacker Video
Technical Details
Capacity

25l

Weight (lb)

4.1 lb (1.9 kg)

Dimensions

20.5 in x 12.5 in x 9.5 in (52.1 x 31.8 x 24.1 cm)

Notable Materials

Nylon, Thermoplastic Polyurethane (TPU), Woojin Hardware, Fidlock Hardware, YKK Zippers, Duraflex Hardware

Manufacturing Country

Vietnam

Laptop Compartment Size

17"

Warranty Information
Full Review
At first glance, the KUHL Eskape 25 Backpack appears a unique 25 liter daypack for a number of reasons that we'll explore in this review. First off, they're most known as a clothing brand, so we expect to see the values they instill in their clothing, like waterproofness and durability, translated into backpack form. We'll take the Eskape on a wild ride from water resistance to durability. Let's dive in!
External Components
The KUHL Eskape 25 is crafted from TPU laminated nylon, which is extremely water resistant. The material almost feels industrial, with high durability. However, it's pretty heavy. The pack comes in at 4.1 lbs (1.9 kg), which is high for a 25-liter daypack and is a more fitting weight for a travel backpack.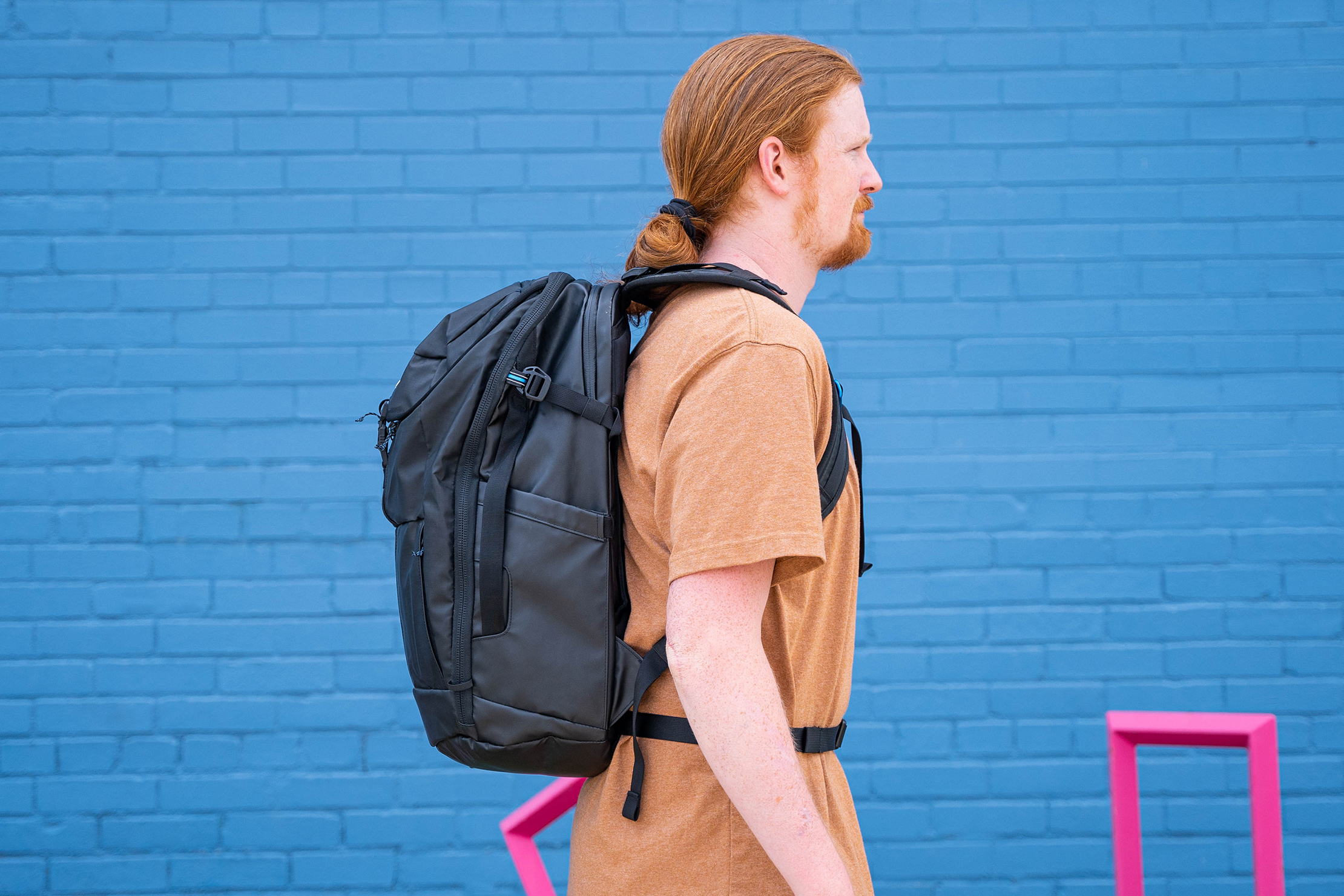 Around the office, we've been calling this pack the quadfecta. It isn't just a cute little affectionate nickname for the pack; it has a deeper meaning behind it.
There's a Woojin magnetic clasp sternum strap, FIDLOCK magnetic clasp on the secondary compartment, Duraflex adjustment hardware on the straps and buckle on the hip belt, and YKK zippers throughout the pack's construction. We typically see one of these brands on a pack, maybe two or three if we're lucky, so four is quite the treat. We have a ton of respect for these brands, and all the hardware on this pack works as it should, though some don't always feel like the right piece of equipment for the job—more on that later on.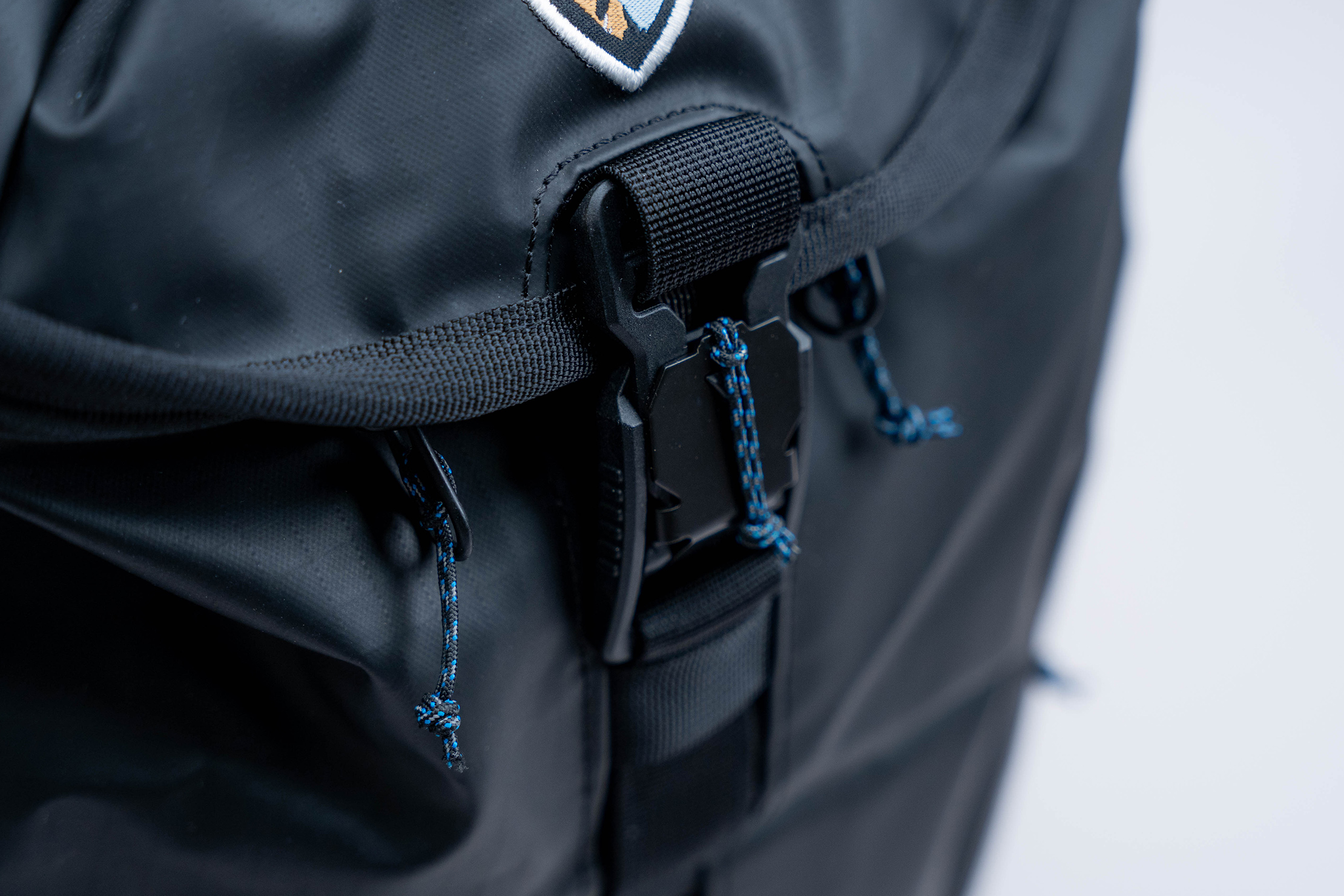 The Eskape has two water bottle pockets, one on each exterior side. They are crafted from the same exterior material and fasten with a durable piece of elastic. It's a solid construction and is large enough to hold a 32 oz Nalgene bottle, so we're happy with its functionality.
There are compression straps above each of the water bottle pockets. They attach using a hook, which is a nice inclusion. This makes it so you can loop it through the top of a tall water bottle, the leg of a tripod, or whatever other larger item you shove into the pocket below. There's quite a bit of strap to work with, which is excellent for larger items but annoying for smaller gear. You can shove the extra into the luggage pass-through, though we notice that it eventually comes out, especially if the journey gets rough.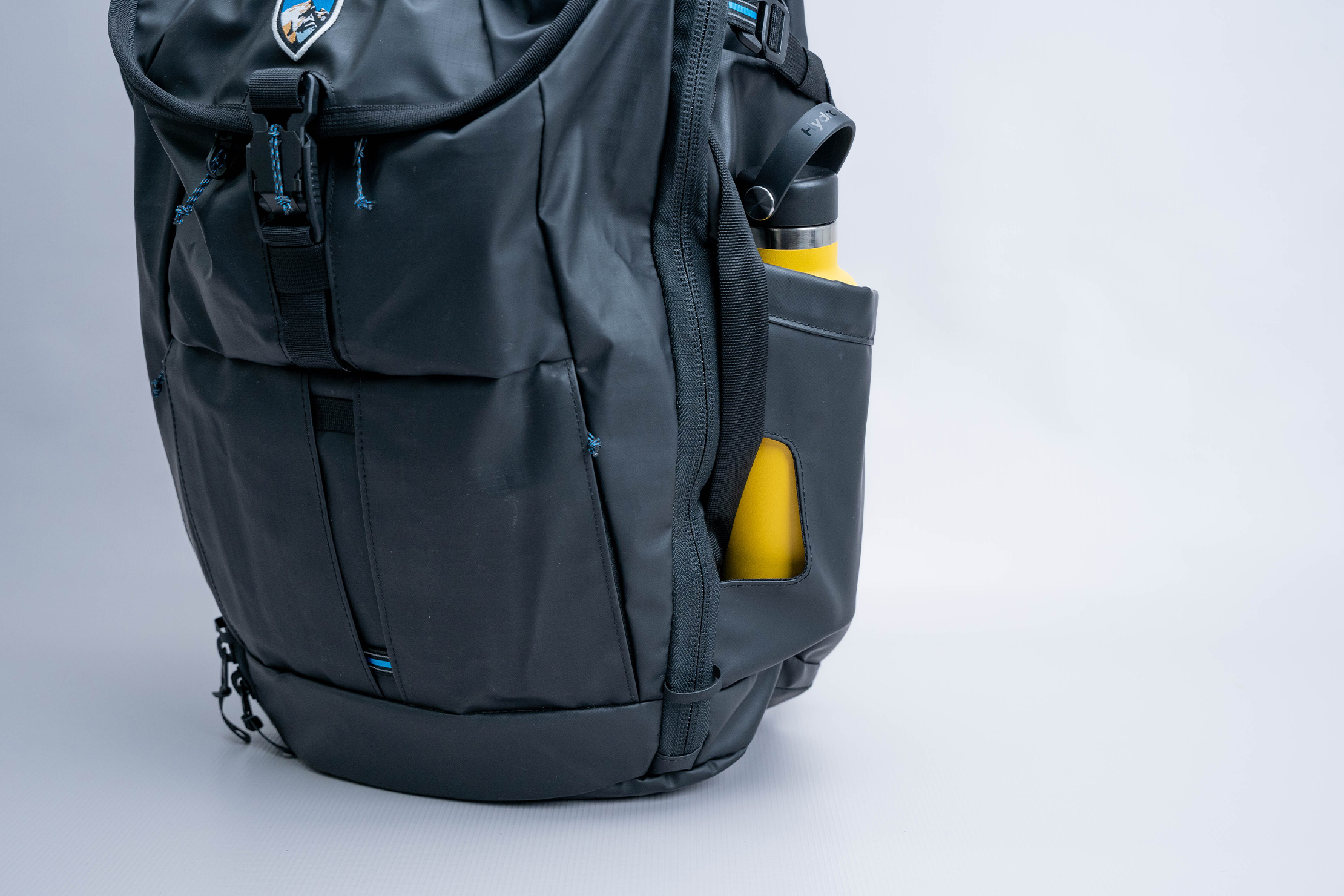 The luggage pass-through goes behind the back panel and is integrated well. It's tall and sturdy, so your bag locks into place nicely and doesn't move around a ton. It's relatively tall, so rolling luggage with a shorter handle may be a little awkward, but this isn't an issue in most cases.
The back panel is very dense and has ample padding. Various air channels keep things fresh, however there's no mesh to speak of. It can get pretty sweaty on warmer days, nevertheless, it performs very well on moderate days. If you like easily manipulated padding, you may find the back panel on the Eskape too structured.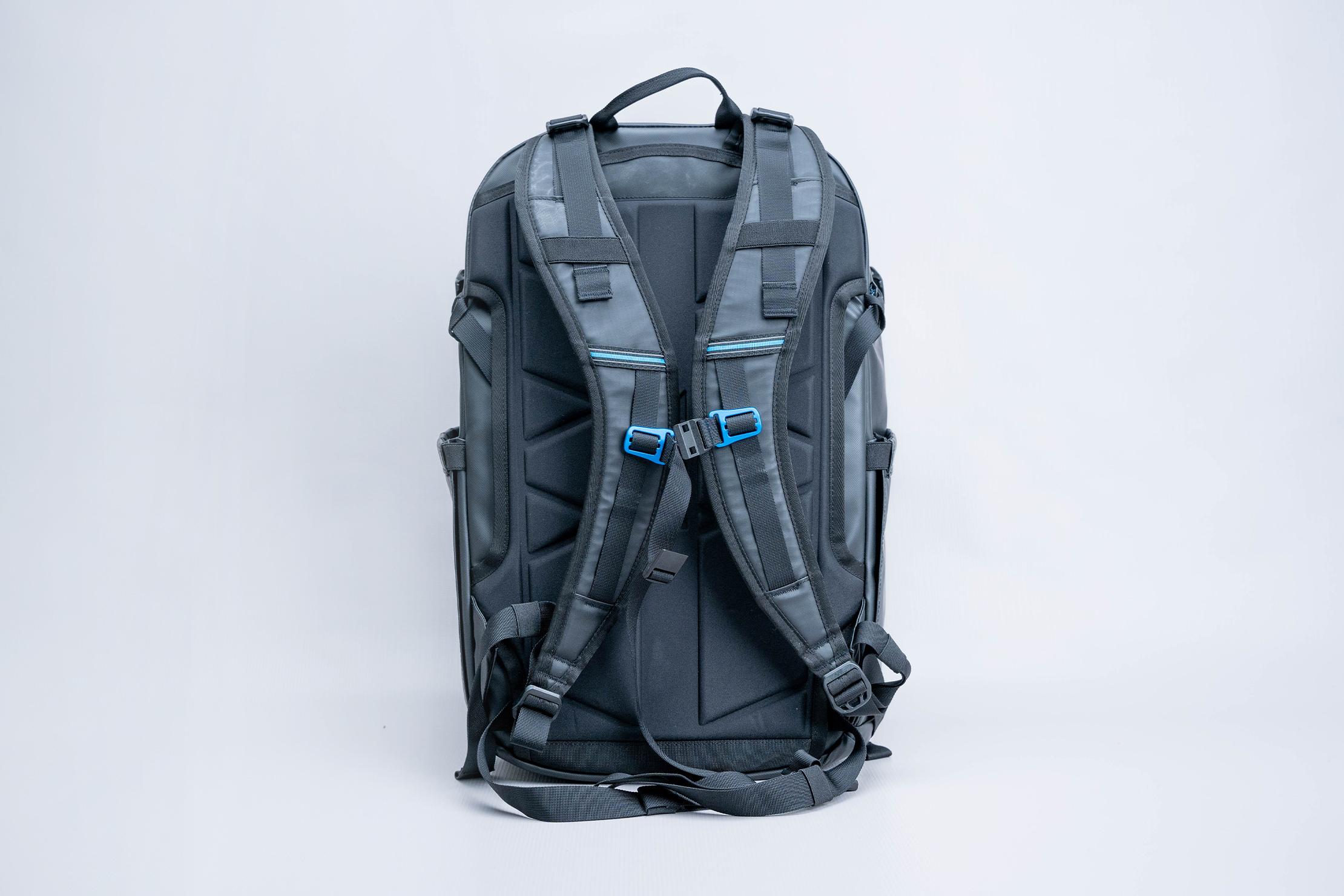 The shoulder straps are nearly as dense but aren't as thick, so they're reasonably malleable and easy to situate on your chest. They form an S-shape that conforms to your body, but this doesn't work for all body types, as some folks have mentioned when trying on the ULA Equipment Dragonfly. There isn't any aeration, and they aren't overly padded, but in most situations, they're comfortable.
There are two loops on each shoulder strap to attach a carabiner or pair of sunglasses, which is a nice inclusion. At the top are load lifters, which brings the backpack closer to your body. This is ideal for when you have the pack over-stuffed or have been using it all day walking across a new city.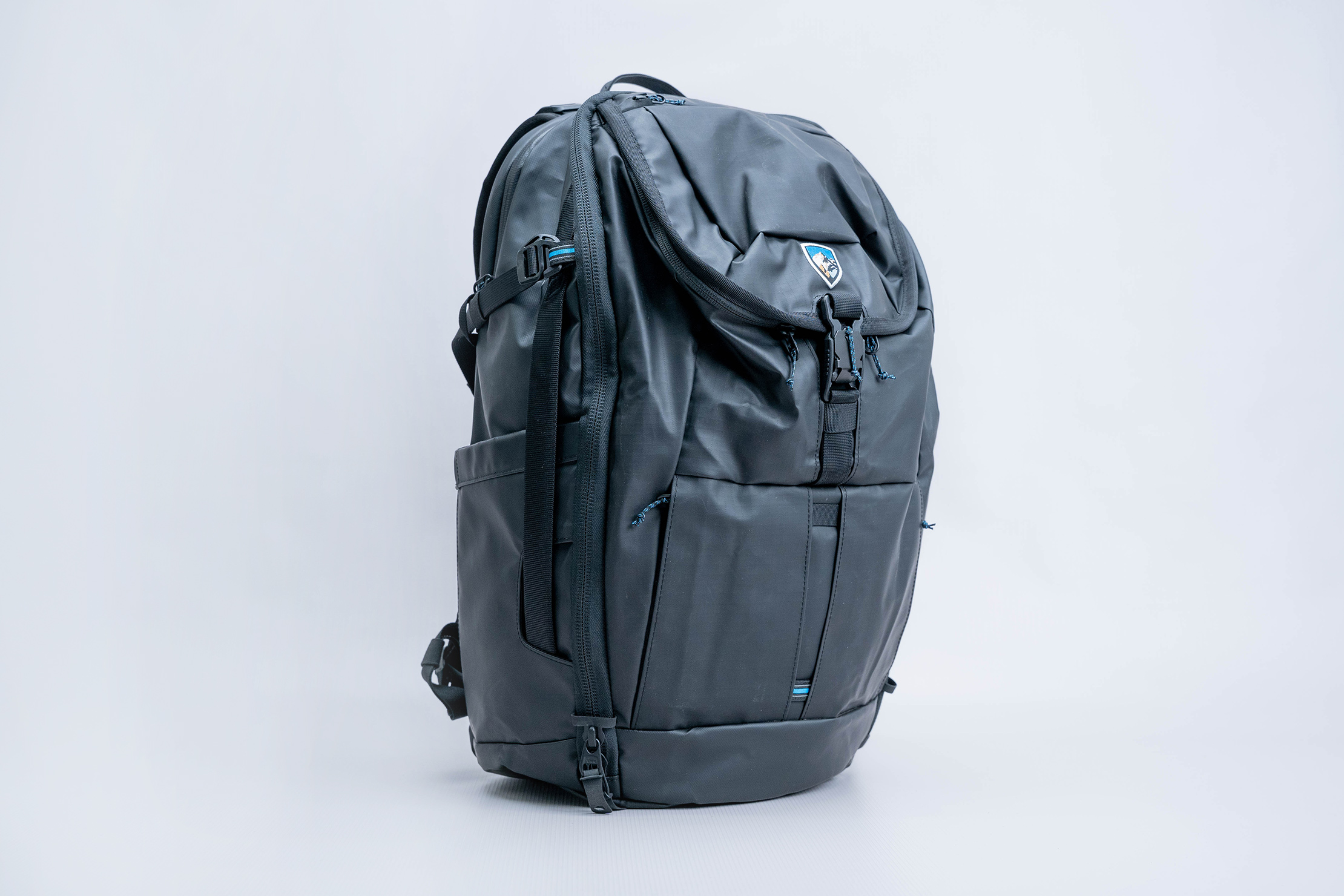 The sternum strap is on a rail, so you can make micro-adjustments as you see fit. It stays put relatively well once you've found your perfect spot, and after it's been there for a while, it's easy to find it again should it get shifted accidentally.
The hip belt is skinny, which feels inadequate for the size of the pack. It feels fairly adequate for a standard sized 25-liter backpack, but given the large footprint of this pack, it feels small. There isn't any padding or aeration, which is a bummer for heavier loads.
KUHL opts to put two side handles on the Eskape, which we find a little strange. Large padded handles are more common on a travel backpack or a larger photography bag. We typically rejoice at their inclusion, though they seem superfluous on a 25-liter daypack. Don't get it twisted; they work well—we just don't understand their inclusion.

There's a handle on the top of the pack as well that we dig. It's basic and makes it much easier to grab the pack for a quick Eskape. Wow, that felt great to write. The handle doesn't have much padding and gets uncomfortable after a while but operates how we would expect it to.
Fit Notes
To put things simply, this backpack is large and heavy, especially for its capacity. In comparison, the Lowe Alpine Depot 25L has the same liter rating but weighs 2.19 lbs (1 kg), or roughly 50% of the Eskape.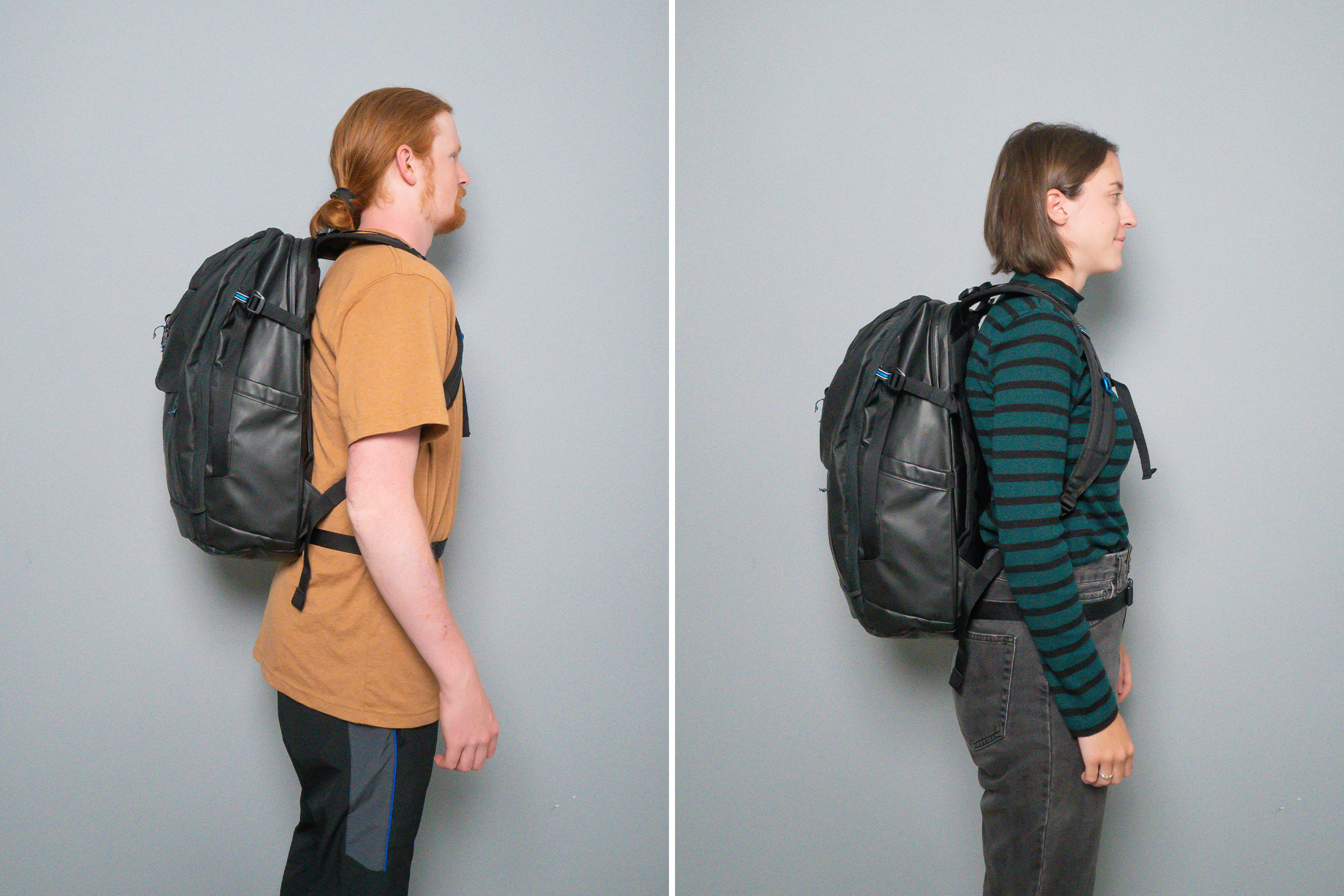 Those on the Pack Hacker team with smaller frames find that the pack feels very large on their back. It's manageable but cumbersome. On the opposite end, some larger-framed folks find it comfortable, while others don't. It seems as though it truly comes down to the wearer's personal preference. However, regardless of your body type, it feels more like an extensive travel pack than a daypack.
Overall, we find the back panel's padding to be quite comfortable. The load lifters also help shift weight around, and the hip belt can be awkward sometimes. When you try to tighten it to take some of the weight off your back, it can feel like an old-school car seatbelt or the secondary safety belt they have you wear on an older roller coaster. It gets the job done, but it feels like it needs improvements.
Inside The Pack
There are two small pockets on the front of the pack near the bottom. They face the side and are identical, apart from the fact that one has a key ring inside. It isn't super long, so you can't use the keys without taking them off, and the clip is durable and easy to use. The pockets are pretty small, so much so that we wish they were connected in the center. They're each roughly the size of a large phone, and there's a small loop between them where you could hook a bike light or reflector.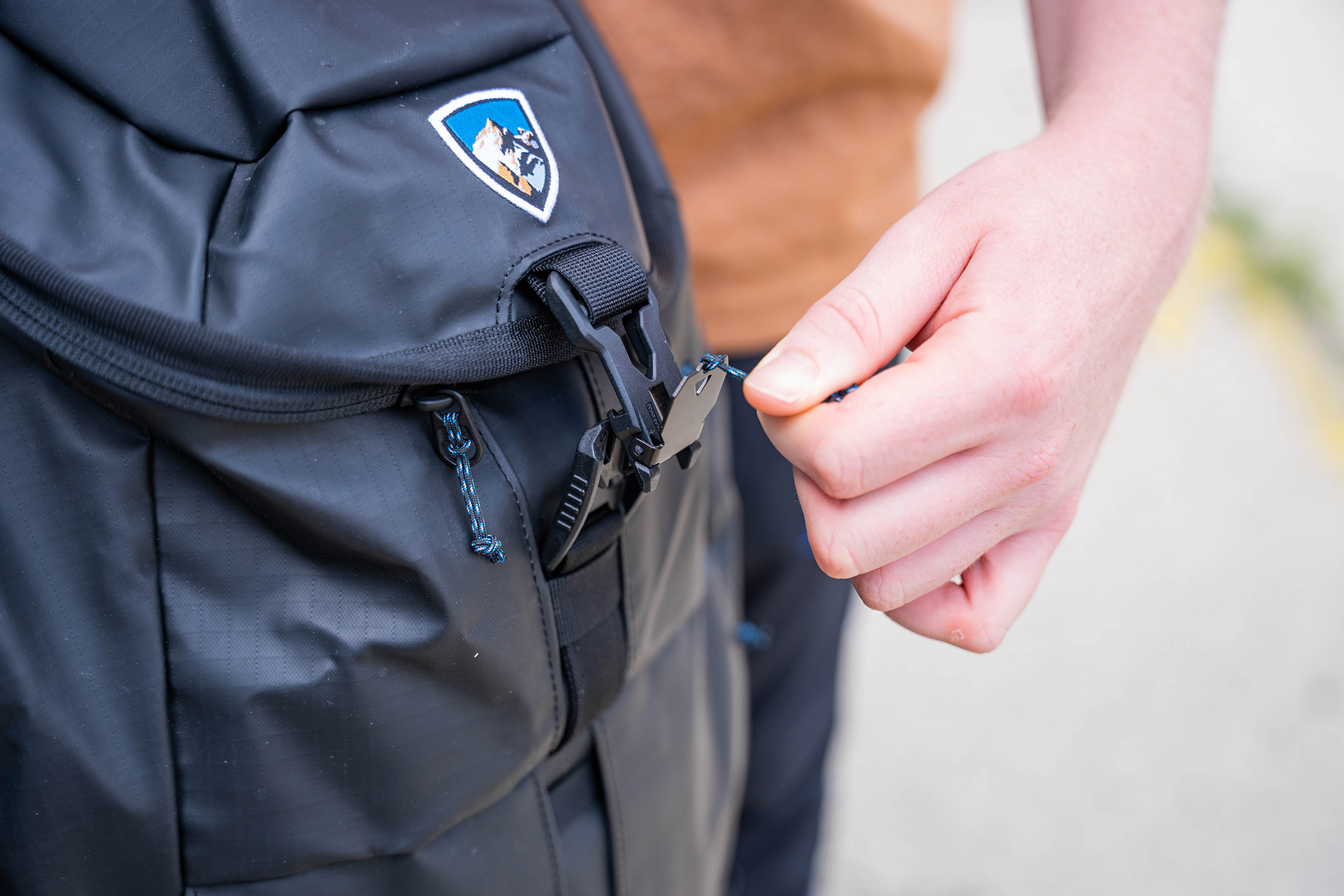 The top of the pack has a quick access pocket. It's crafted from a softer liner material, making it ideal for a phone or pair of sunglasses. It's relatively large so that you can fit multiple items inside simultaneously.
There are two large compartments on this pack, the main compartment, which we will get into shortly, and the secondary compartment, which we will cover now. It closes using two independent zippers with a FIDLOCK magnetic fastener in the middle. You can grab the buckle and pull on it hard to open the compartment in one fell swoop, which is quick and easy to do. However, when you try to close it, things move pretty slowly. You have to close each zipper and then attach the FIDLOCK, which can be awkward depending on how much gear you have stowed inside. If it were just one zipper without the fastener, it would be a much quicker close. It wouldn't be as fun to open, though, which would be a bummer.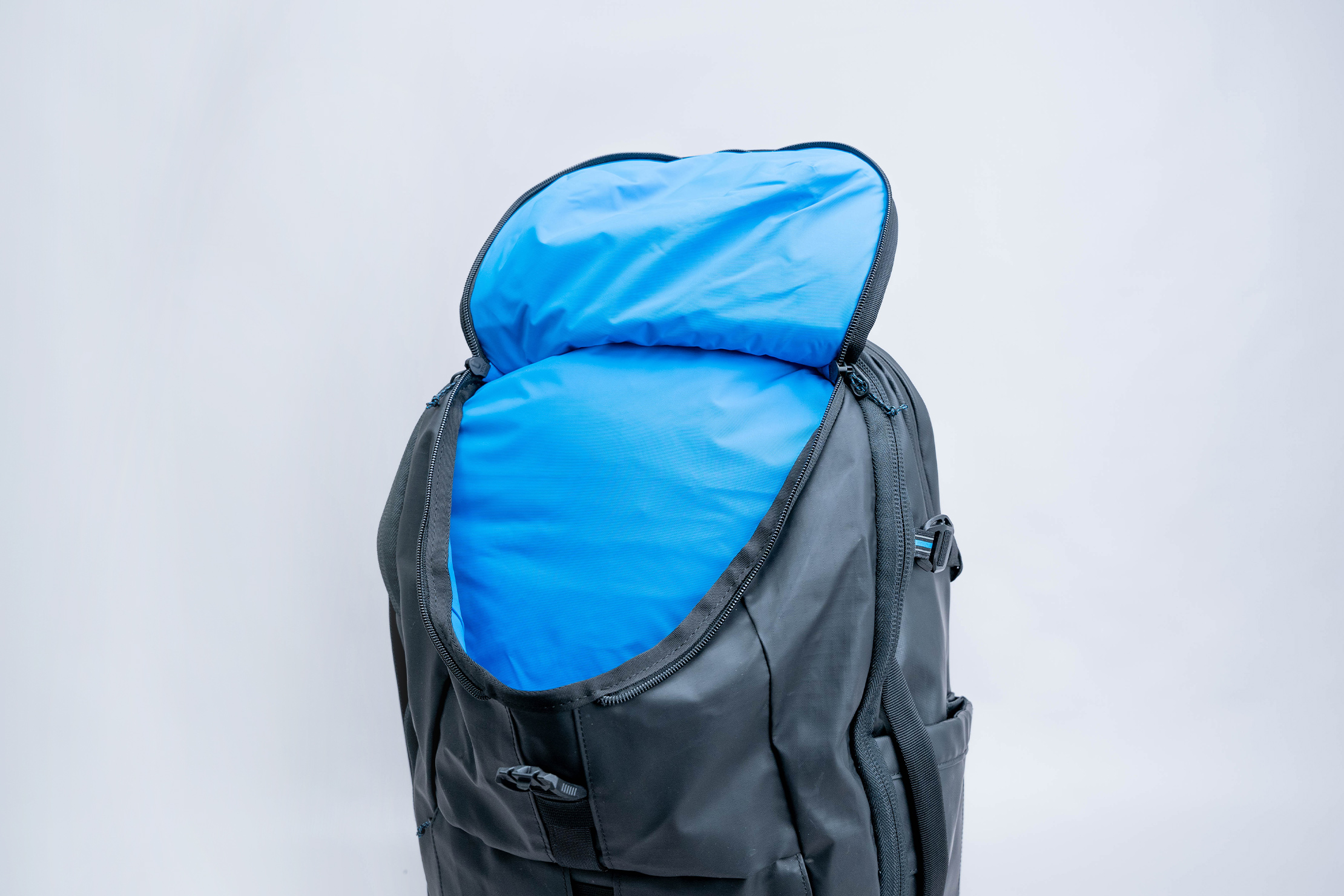 This compartment is the first time we get a good look at the blue liner. It looks very sleek and is a nice break from the orange many other companies use at the time of writing. Don't get us wrong, we dig the orange too, but this reminds us of Glacier Freeze Gatorade—nice and refreshing.
The pocket is gigantic and has no internal organization to speak of. It's just a bug chute for you to stow gear inside, which isn't always bad. We find it helpful to stuff clothes into for a long weekend trip if leave straight from work. That way, daily carry and work items can go into the main compartment and laptop area, and clothing don't get in the way. We find this a lovely spot to slide a sling into when you aren't using it. When you need it, just grab it and go!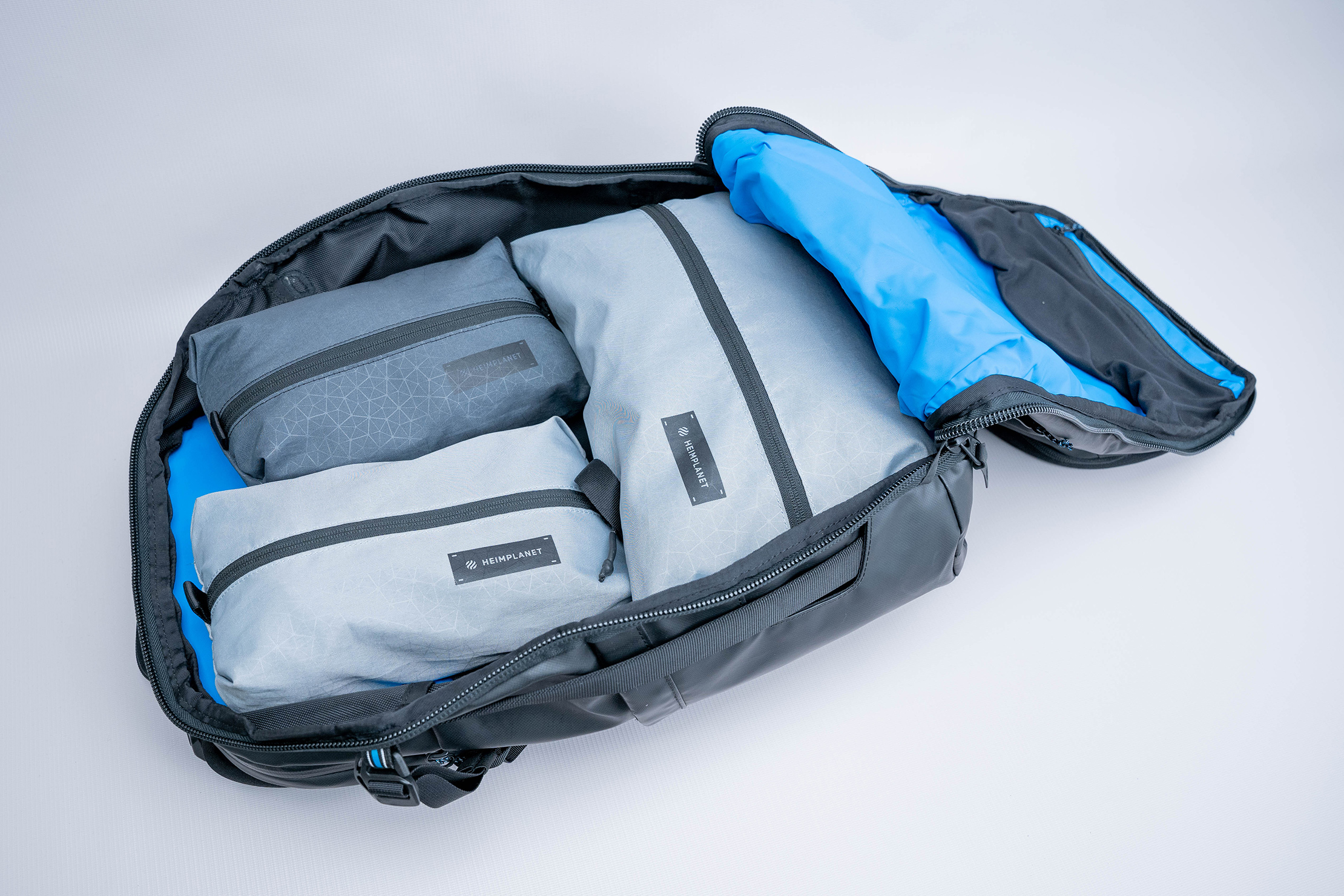 The main compartment has a water-resistant zipper track, which adds extra protection for your favorite gear. There isn't much organization here either, though it has a lot of space to work with. An elastic slide pocket on the back side is suitable for locking down a notebook, bento box filled with lunch, or other flat or unruly items. The top of the flap has a zippered elastic pocket with two smaller pockets inside. They're crafted from elastic too, but don't have a top closure. We dig this design because if you stow smaller items like dongles or cables here and the road gets rough, they're still inside the zippered area and won't get lost even if they bounce out into the pack. There's a hidden device tracker device flap, which fits an AirTag nicely.
The rest of the compartment is wide open space. The zipper creates a large opening so you can see everything inside and really get into the packing of the compartment. Your best bet is to use a few packing or organizational pouches here because things will get out of sorts quickly due to how much space there is. There's room for large gear here, though, which is excellent.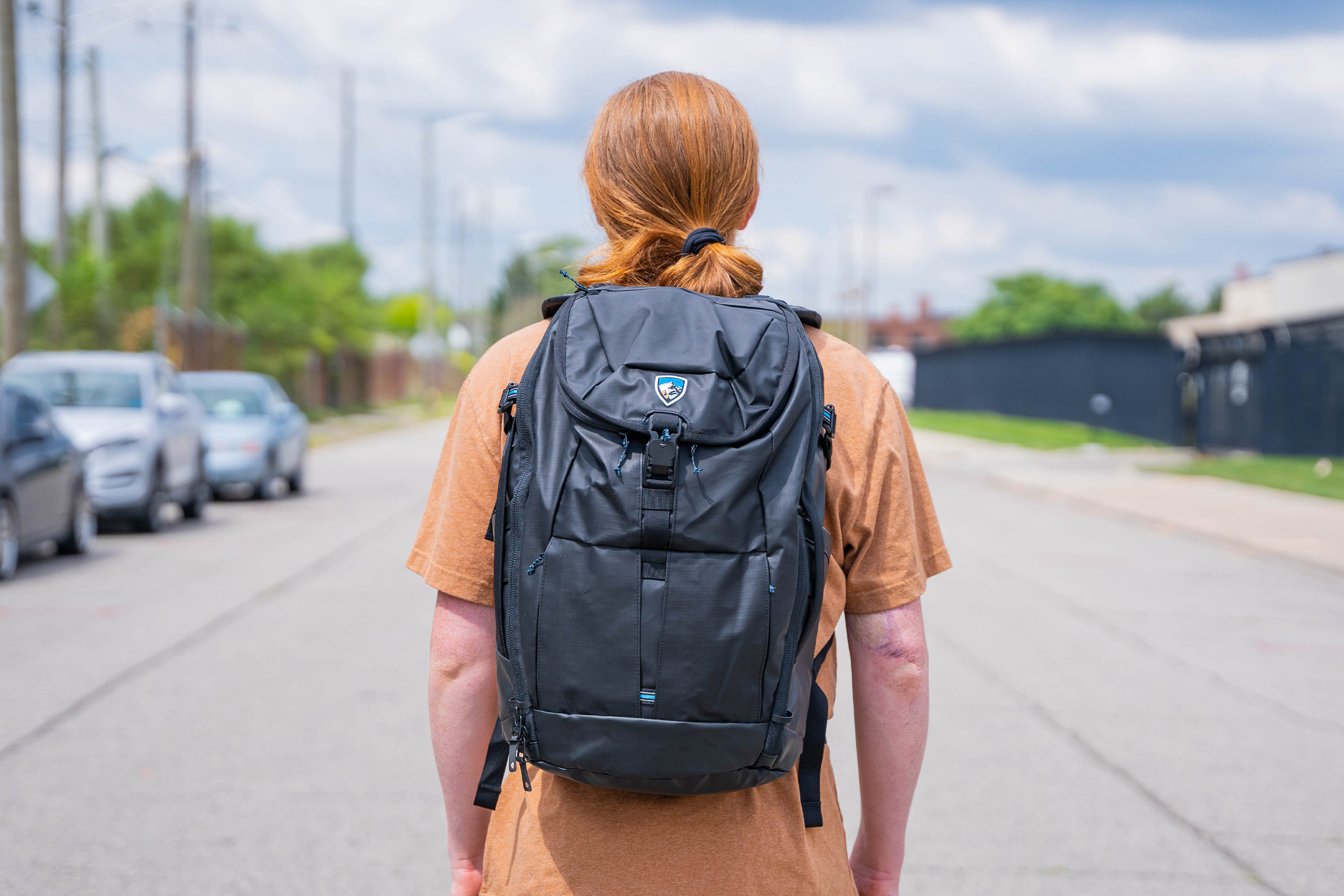 The laptop compartment has a water-resistant zipper track, too. There are liner pockets for up to a 17-inch laptop, a tablet, and extra space for goodies. The laptop iteration has ample padding on both sides, though the tablet space lacks formidable padding on the top. A big plus here is that the entire compartment is raised off the ground, so your expensive tech isn't slamming into the floor every time you set your bag down. If you want to stow them here, there's extra space beyond the sliders for other flat items like a notebook, book, etc.
Overall, we dig the layout and features present on the Eskape. We just wish it wasn't as huge and heavy as it is. It's a big deterrent for many travelers, ourselves included. It's a daypack with the footprint and weight of a larger travel backpack—but other than that, we dig it.
Usage Timeline
Initial Usage
Condition: Excellent
The materials are thick and hard to manipulate—but feel extraordinarily durable and water resistant
Blue lining and accents are extremely high vis and contrast nicely with the black exterior
The pack feels extremely heavy, coming in at nearly two kg
2 Weeks of Use
Condition: Excellent
The exterior materials are heavy but have held up durability-wise
No issues with water making its way inside the pack even in steady precipitation
Finding the right fit for the back panel can be difficult, but doing so enables a comfortable carry
Access the Pro Community Discussion
Get your questions about the KUHL Eskape 25 Backpack answered from our team and the Pro Community right here on the page. Plus, join discussions with other members about gear, guides, and more.
Other Bags & Luggage Reviews