Lowe Alpine Depot 25L Review
The Lowe Alpine Depot 25L separates the laptop sleeve from the main compartment, offering dedicated storage for tech but no organization for larger items.
Our Verdict
Unlock the Pro Summary
Save time. Get access to brief summaries of our reviews so you can browse and make decisions more efficiently.
Pros
Easy to fasten rolltop no matter how full pack is
Polyester exterior is extremely durable and water-resistant
Water bottle pockets fit large bottles
Cons
Main compartment organization is minimal and clunky
Shoulder straps can feel uncomfortable without sternum strap
Vertical zipper on front pocket is awkward to use in transit
Technical Details
Capacity

25l

Weight (lb)

2.19 lb (1 kg)

Dimensions

21.25 in x 12.598 in x 8.66 in (54 x 32 x 22 cm)

Notable Materials

Polyester, Duraflex Hardware, YKK Zippers

Manufacturing Country

Vietnam

Laptop Compartment Size

15"

Warranty Information
Full Review
The Lowe Alpine Depot 25L is a 25-liter rolltop pack with a dedicated laptop compartment. On paper, we love this idea—oftentimes, getting gear in and out of a rolltop can be cumbersome, and this lessens that issue. We also worry that the pack will feel a little too segmented and choppy with two different areas for gear and will leave us looking all over the place for our tech pouch. So, let's find out how well these features work in reality!
Materials & Aesthetic
Kicking things off with the materials, we've got two different types on the exterior. The front face of the pack is crafted from 1680D polyester, which looks and feels durable. Its texture reminds us what we're used to seeing from brands like Aer.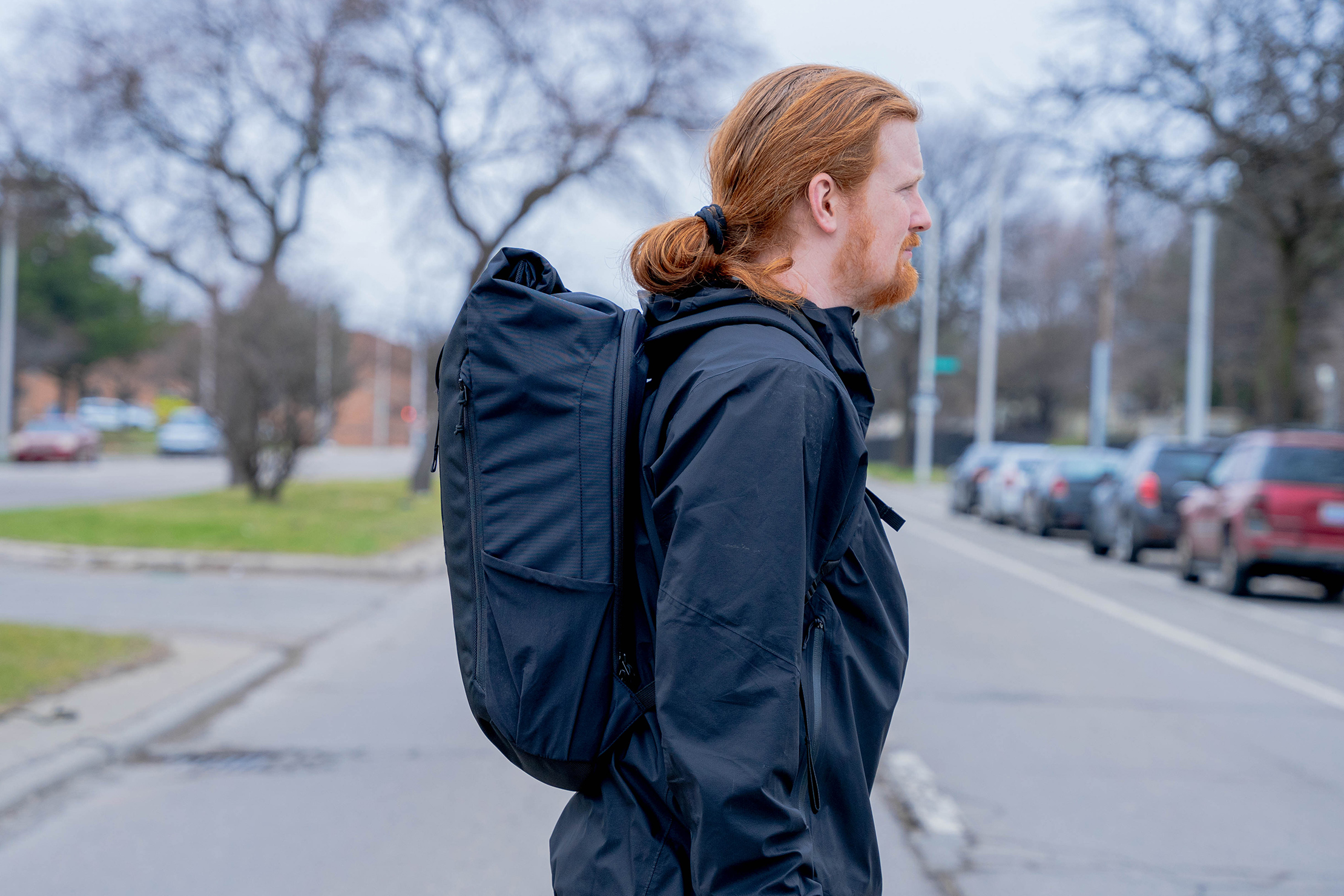 The secondary material is 420D polyester, which has a similar texture, just on a smaller scale. It's a bit softer than the 1680D and doesn't feel quite as durable, but it still fits the bill. While the heavier material is on the front of the pack, the lighter stuff is on the sides and edges. We find it to be more than durable enough and keeps water out just as well.
Both materials have Lowe Alpine's Hydroshield coating, which is a DWR coating. We've dragged this pack through the rain, sleet, and snow without issues. Okay, we don't drag it. But it's been on our back in all of those conditions, and our gear never got wet.

At the time of writing, the only available colorway is Black. We think it suits this pack very well, especially if you strive for minimalism. The front logo is outlined in a plastic-like sticker material, leaving itwith the texture of the 1680D polyester. It's sleek up close and difficult to see from afar, which we dig.
We've got YKK #8 zips on the pack's exterior, which operate smoothly and don't raise any issues with us. They have basic metal zipper pulls with nylon cables tied in a string on the end, which assists in opening and closing the zipper in all conditions.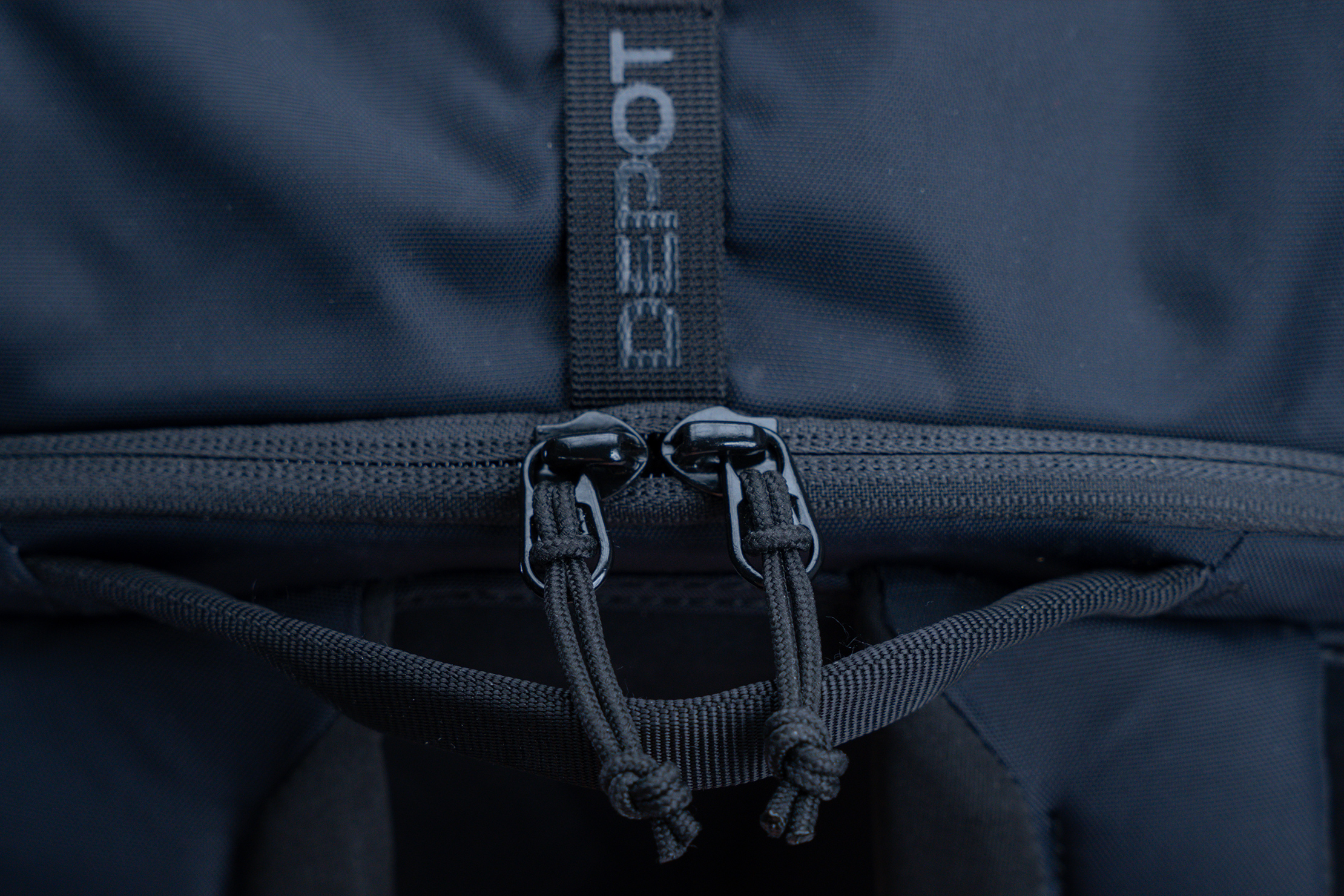 The interior uses YKK #5 zips with a basic metal pull, which, again, we have no issues with. As always, we receive a quality offering from YKK that's executed nicely by Lowe Alpine.
All the plastic hardware on the pack is Duraflex branded and operates smoothly. The adjusters are easy to use, and the buckle on the sternum strap opens and closes as it should.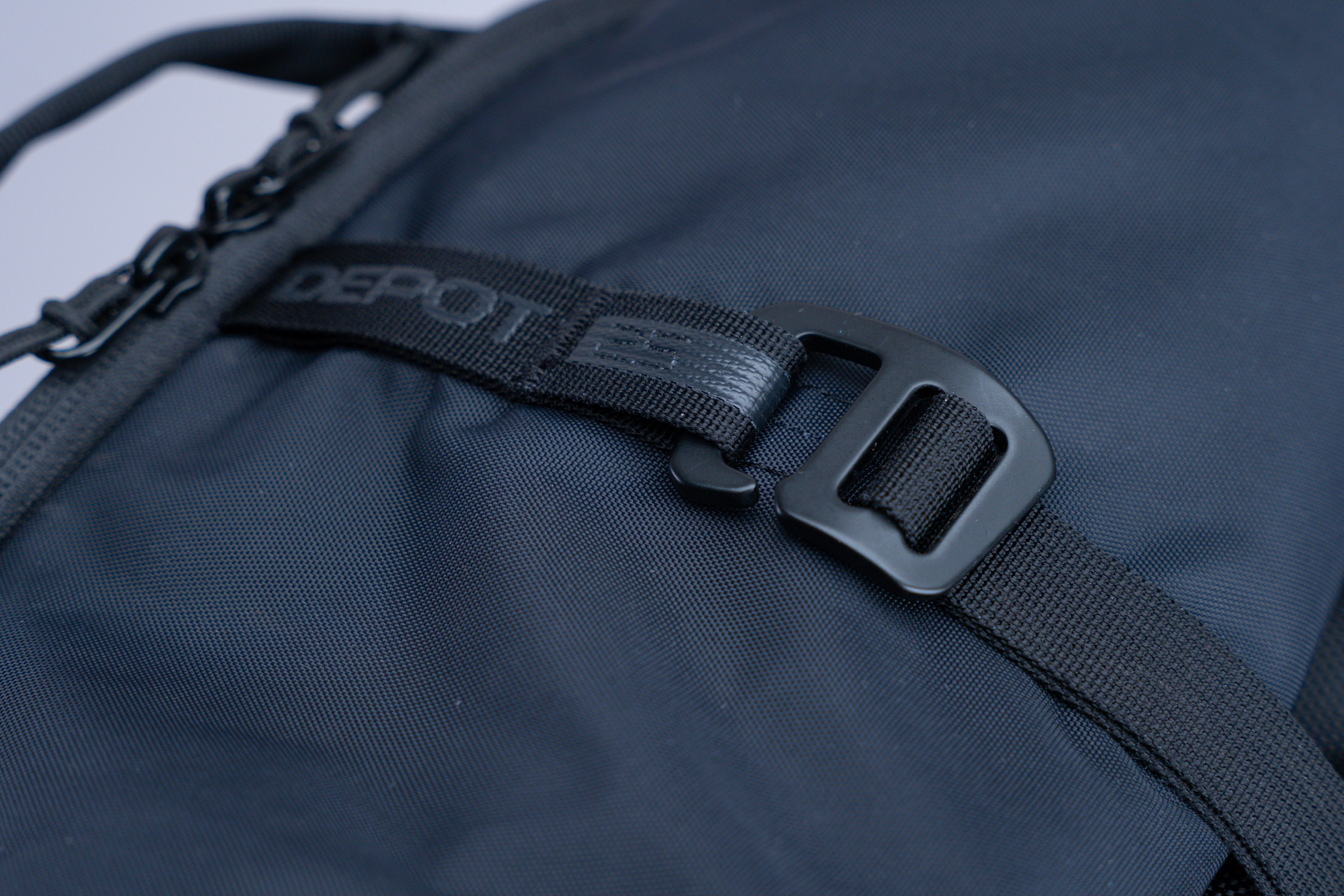 The rolltop fastens with a single metal hook, which is easy to open and close but doesn't open when you don't want it to. It adjusts up and down easily to accommodate larger and smaller loadouts, ensuring things are tight along the way.
External Components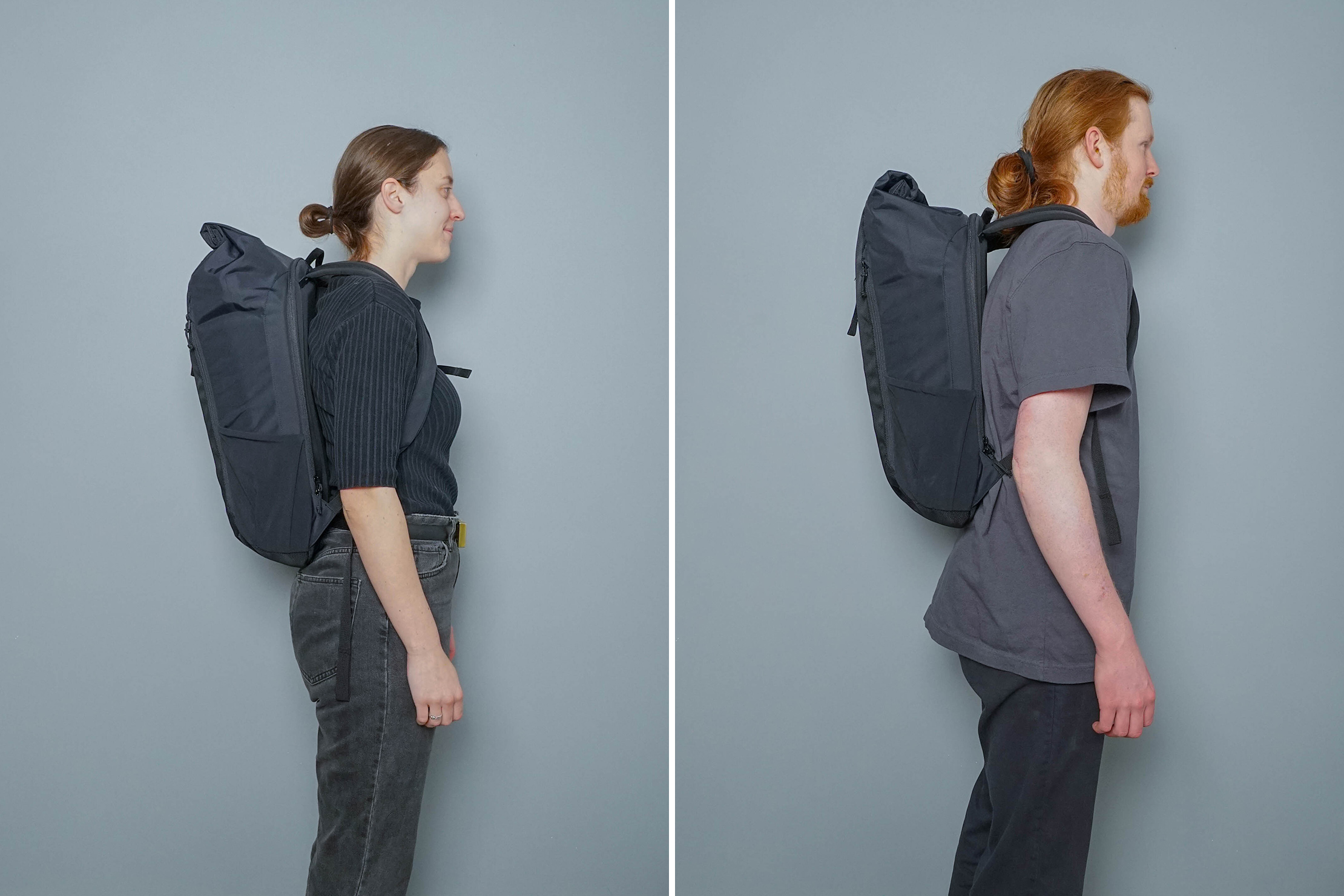 The shoulder straps consist of mostly padded foam. They're quite comfortable, even considering they're skinnier than other daypacks we have tested. They don't have any aeration, but the exterior fabric is thin and breathable, which helps keep you cool. However, on a hot day, things may get a bit sweaty.
The left shoulder strap has a small pocket designed for your BlueTooth headphones. It isn't very tight, so we wouldn't recommend that you leave them there for an extended period of time, but having a place to put your headphones when you run into a friend or head into a coffee shop is handy.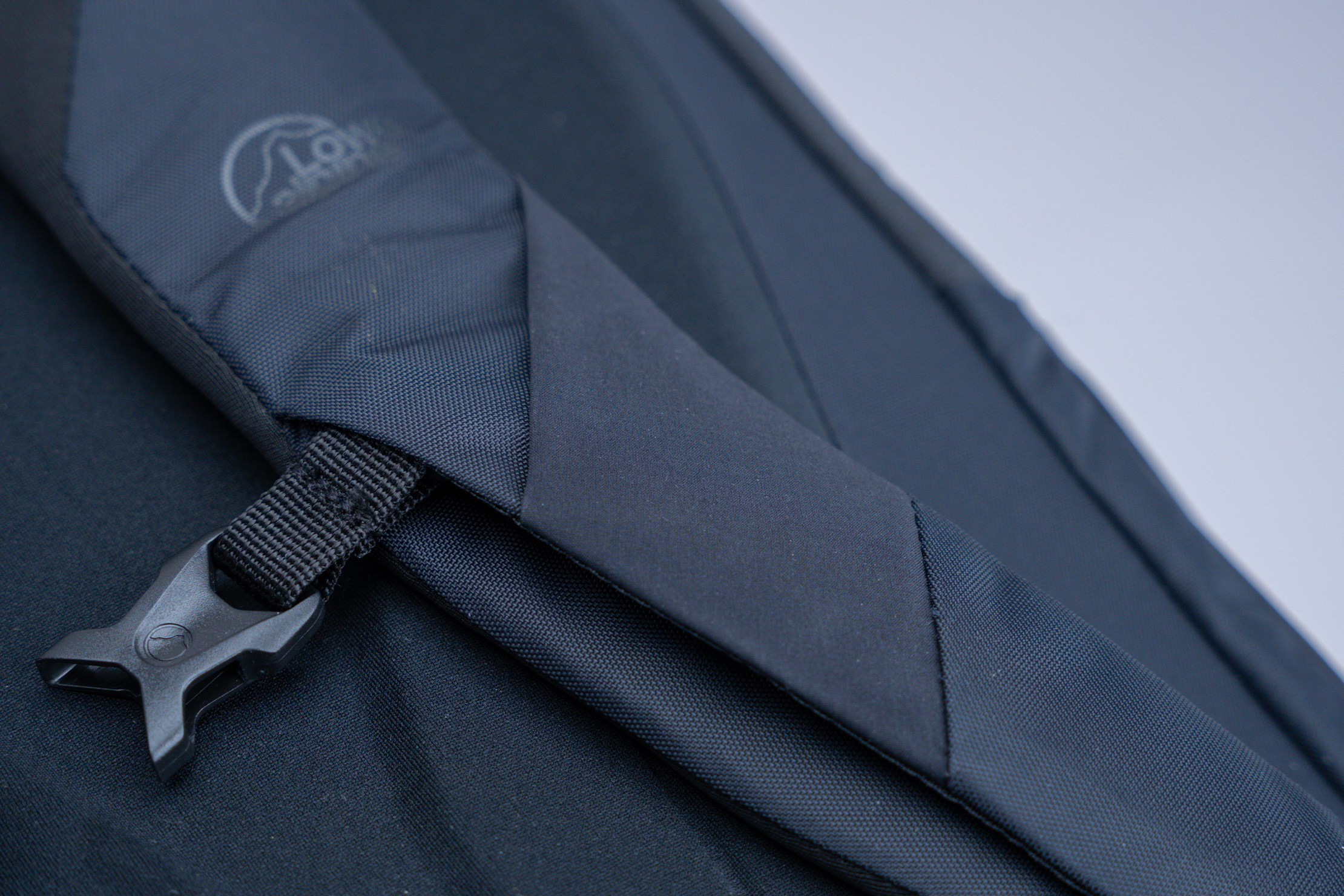 The sternum strap is relatively thin and the buckle is small, which can be a little hard to manage if you struggle to grip smaller things. Once fastened, it does its job as advertised. The shoulder straps sometimes feel a little too far apart on your chest without the sternum strap. Not uncomfortable, just a smidge too far from one another. This is especially true when moving quickly or cycling. The sternum strap remedies this nicely.
The sternum strap is on a hard plastic rail, so making micro-adjustments is easy. Once in place, it stays put and doesn't slide when you don't want it to.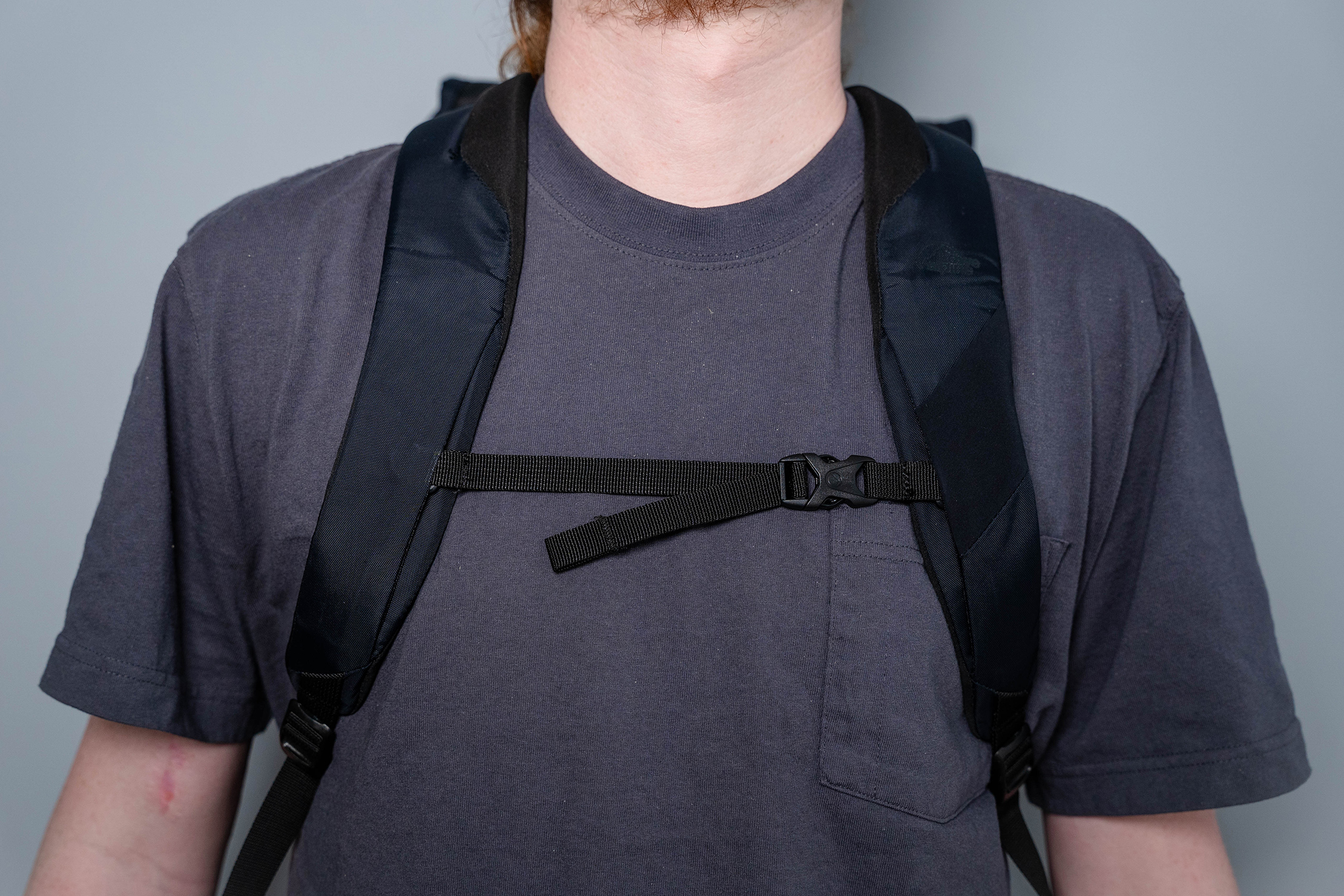 The back panel is amply padded with foam, similar to the shoulder straps, but with more rigidity. It doesn't have any aeration either, but it uses the same light material. On warm days things get pretty sweaty, but it isn't worse than other daypacks we have tested without dedicated aeration.
The top handle is basic but gets the job done. It's thin yet durable but can get a little uncomfortable when you hold it for too long.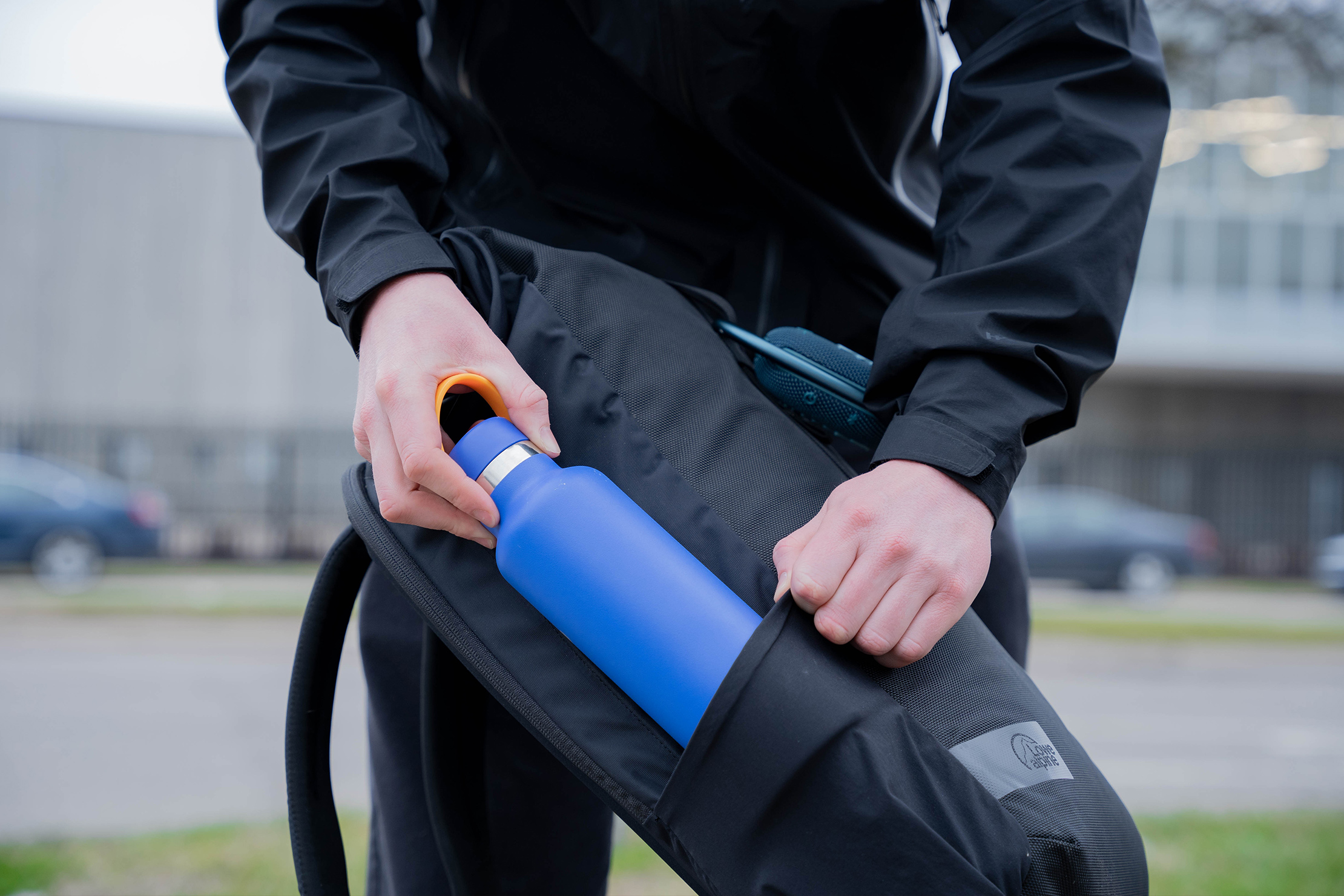 On each side of the pack is a water bottle pocket crafted from an elastic-like material—similar to the accent material on the ULA Dragonfly—so that they can accept larger bottles and oblong-shaped items. We're able to fit a beefy 32 oz Nalgene bottle here, which is a pretty high standard.
Inside The Pack
The pack's interior is a burnt yellow-ish gold color, which contrasts very nicely with the back exterior and accents. The color makes it easy to see your gear and has a calming quality.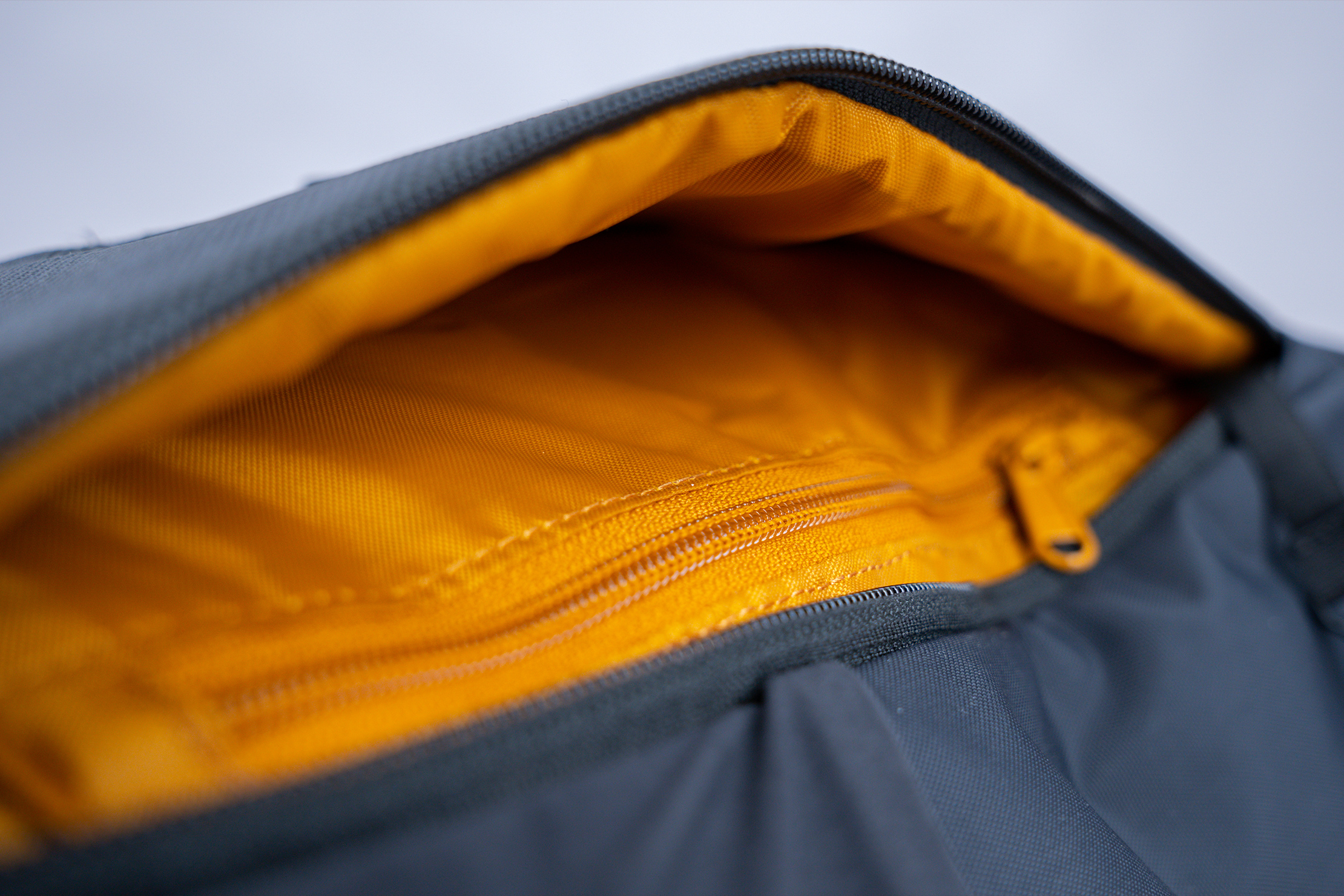 The front pocket has a vertical zipper and can be awkward to get used to. We don't discriminate against zippers of any orientation, but the front pocket on the Depot is fairly large, so getting inside while the pack is on your shoulder isn't seamless.
There's a key clip inside, which is easy to manipulate and extends a few inches outside of the zip if you need it to. This enables you to use your keys without taking them off the clip, which we see as a bonus.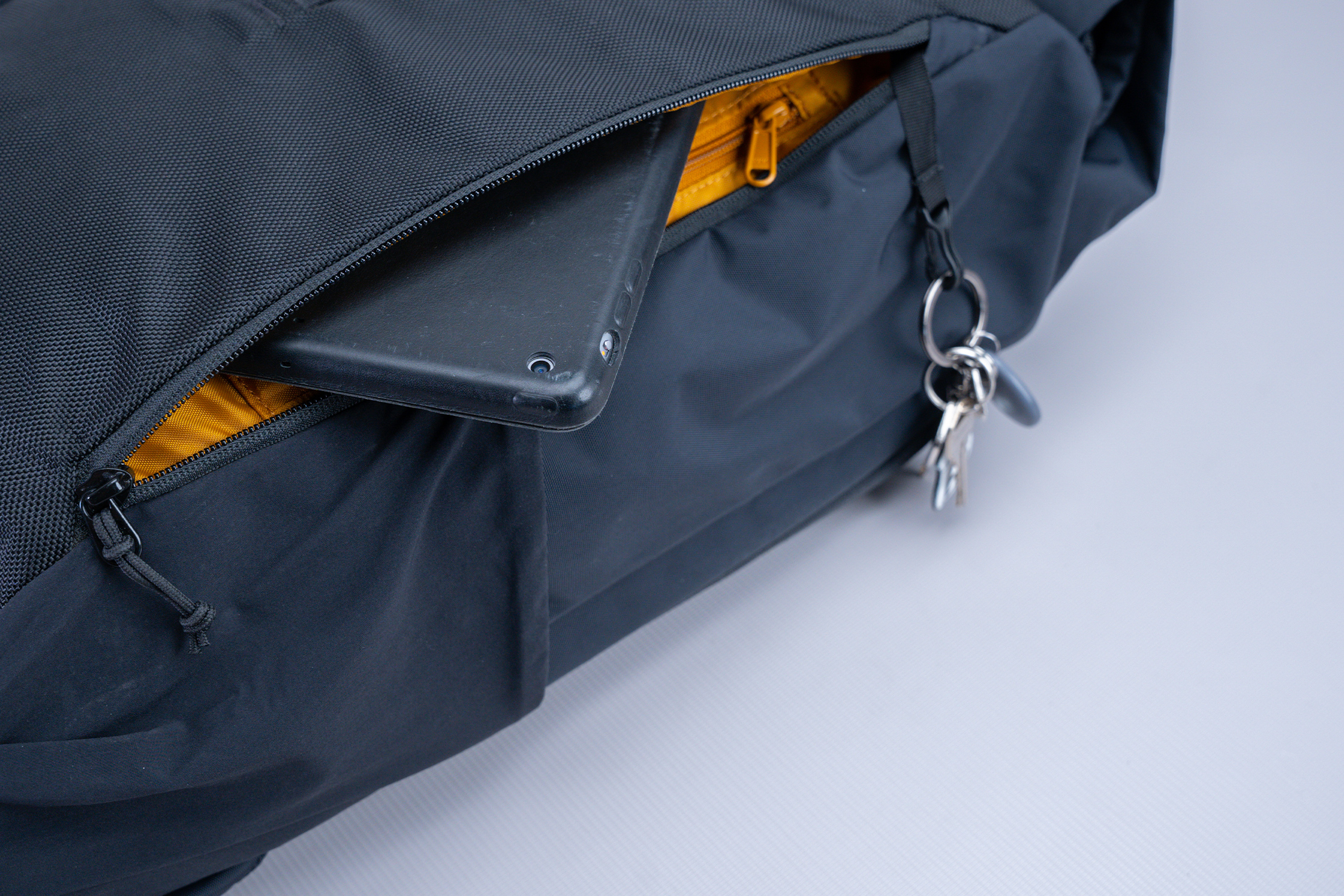 Just inside the compartment is a small zippered pocket. We find this a good place for smaller items we didn't want to lose in the larger area, like adapters or dongles.
A tablet or notebook will fit inside the front pocket, but there isn't enough padding for items without a case. There's padding between the liner fabric and the 1680D polyester, but not enough to place a fresh iPad screen underneath it. However, there is a zipper garage for added weather protection, so whatever gear you store inside is safe from the elements.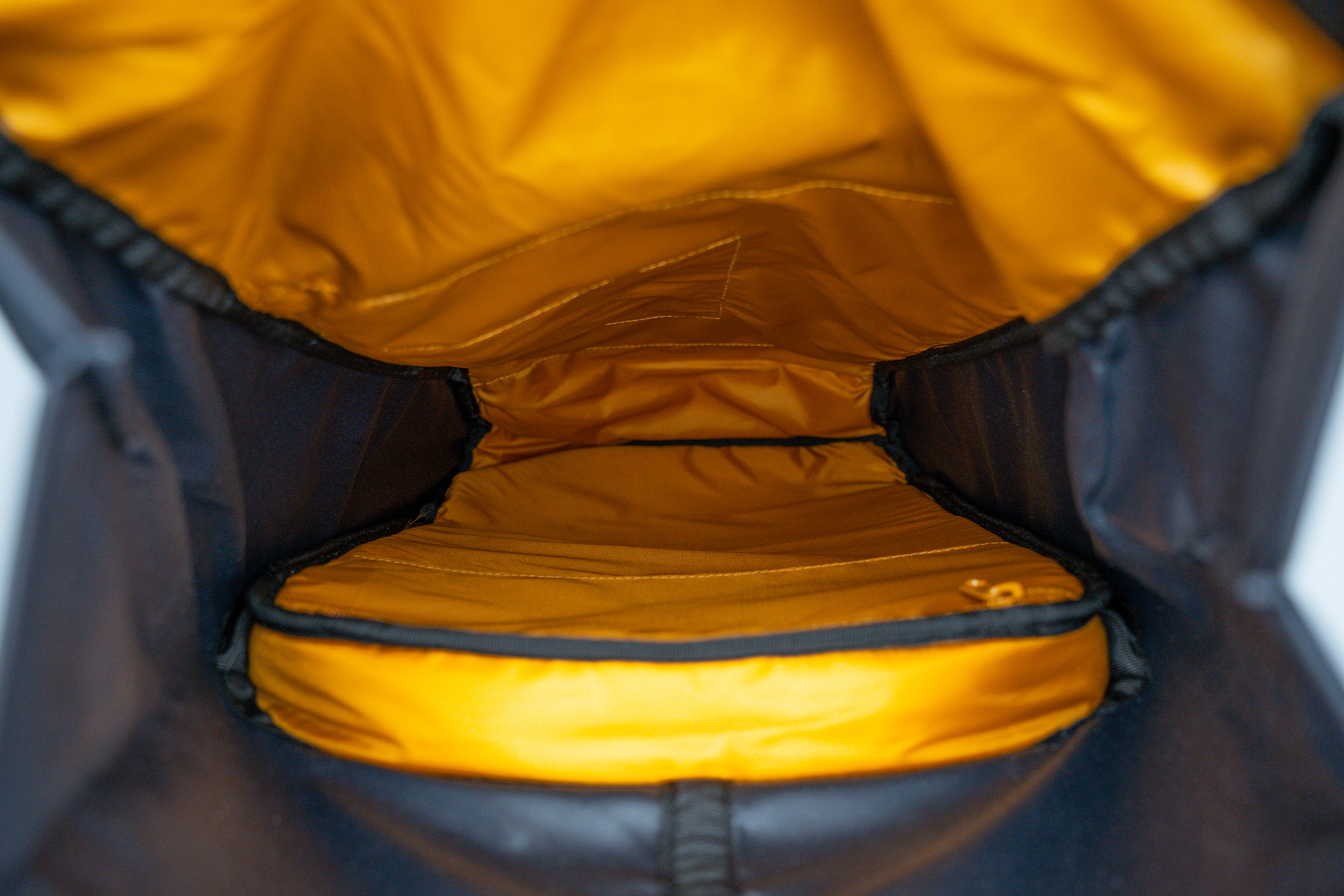 Typically, we spend the most time speaking about the main compartment because there's so much going on there. We're still going to do that here, but the Depot is almost the exact opposite with its fairly simple design.
Coming in at 25 liters, this is an amply sized daypack. Most of that space comes from the main compartment, which is a large chute. The only organization is a small zippered pocket on the back panel that's suitable for items you want to keep secure, like a passport or other travel documents.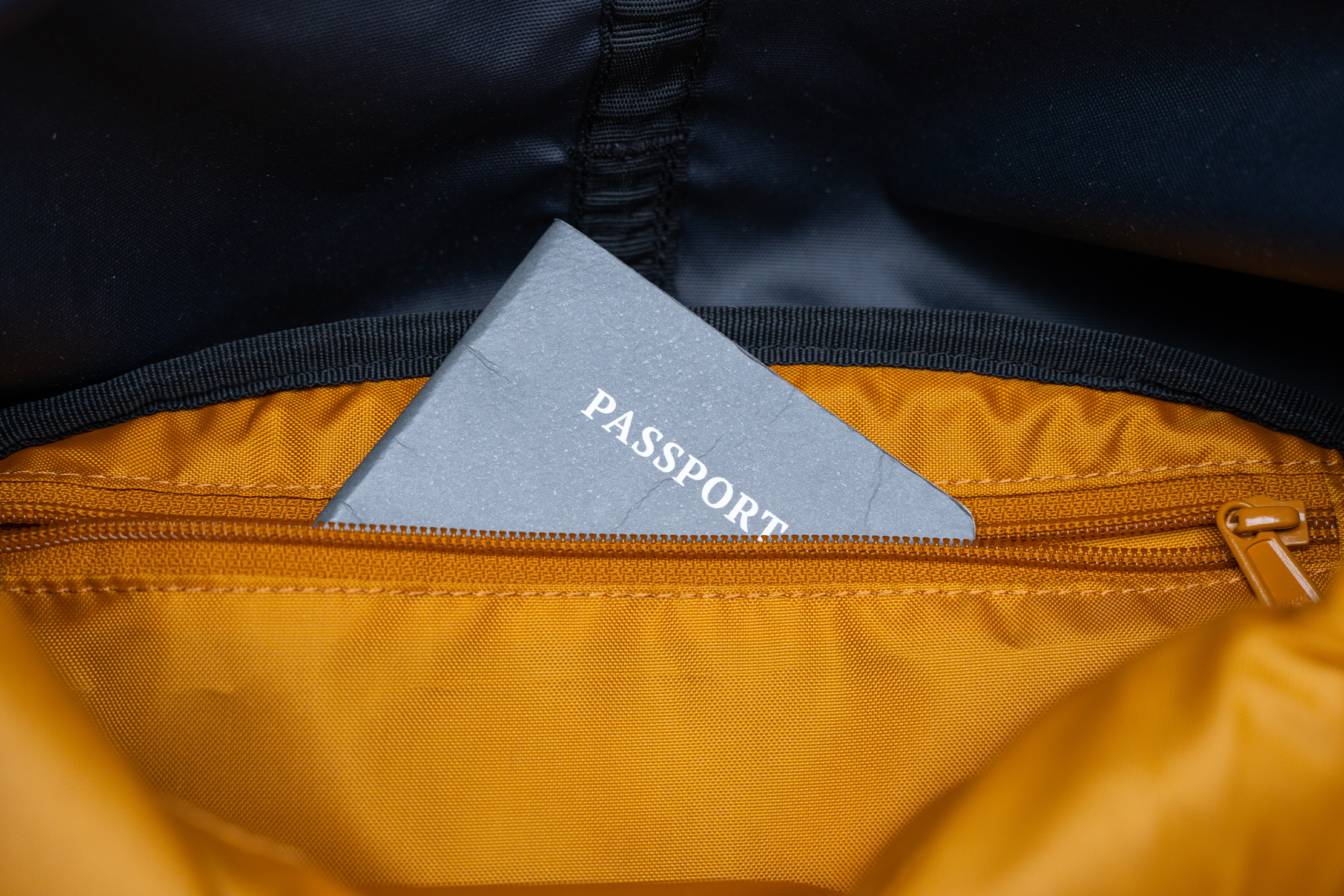 If our description of the main compartment seems negative, we've been misleading. There isn't a ton of space here, but you're free to do whatever you want with it.
A rounded rectangle shape with padding inside the compartment takes up most of the back panel, which is attributed to the laptop compartment bulging into the main compartment. It's a bit odd-looking but doesn't affect usage. It makes the back of the compartment flat, which can be helpful for stacking items like packing cubes.
The rolltop closes nicely no matter how much gear you have stored inside, and we feel that it looks nice regardless of how full or empty it is.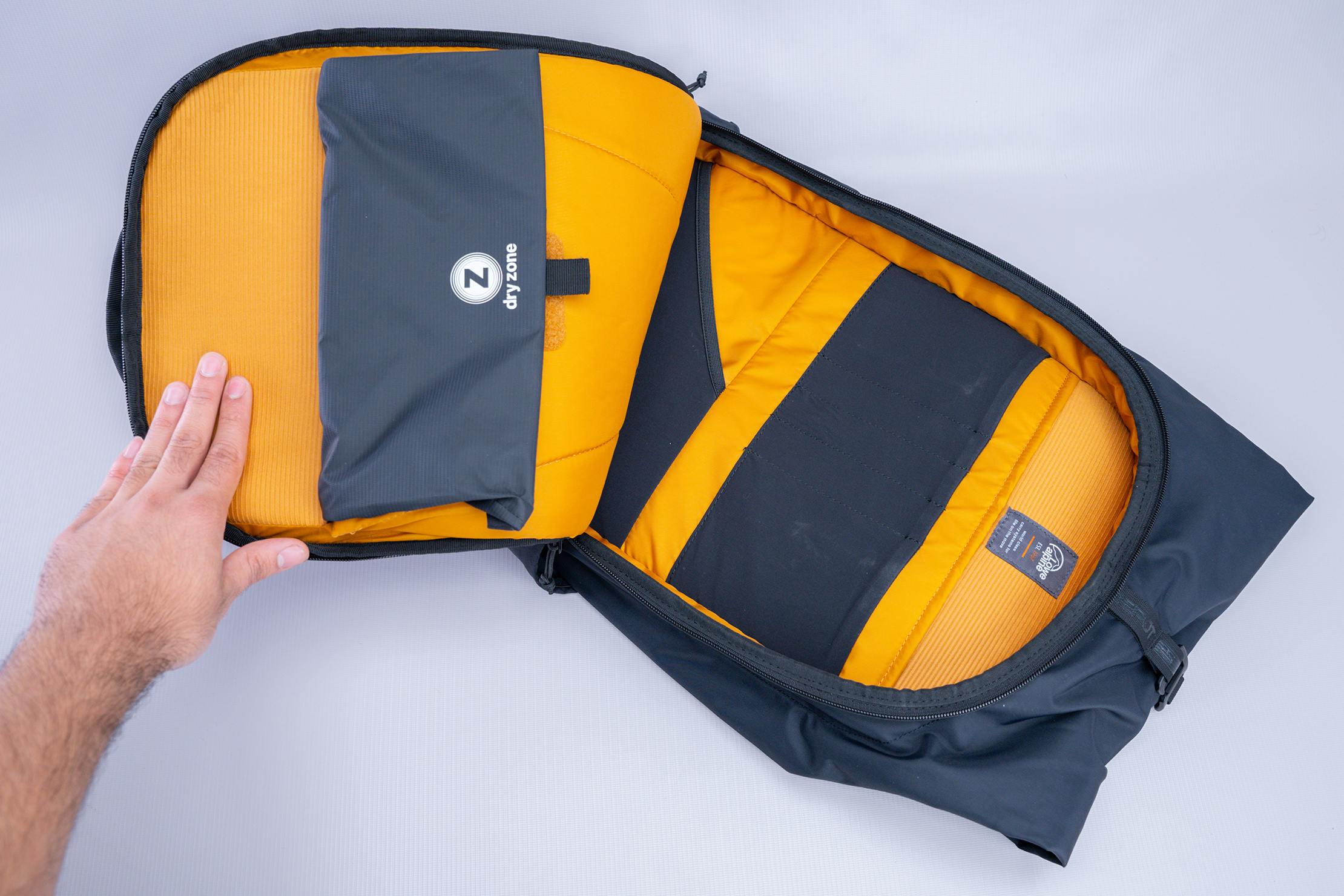 The laptop compartment is behind the back panel and has its own zippered entry. There are two zippers: one side of the track goes all the way to the bottom of the pack, and the other goes to the top of the water bottle pocket. It folds diagonally when you open it completely, which is a little weird, but you get used to it.
There's a large liner pocket on the front side of the compartment. It's flat and is large enough for a small eReader or notebook.
On top of it, there are more liner pockets and pen sliders. They're crafted from the same elastic-like material as the water bottle pockets and snap back nicely. The two larger pockets are a good place for a phone or wallet, and the three pen sliders can fit pens, pencils, and even a stylus.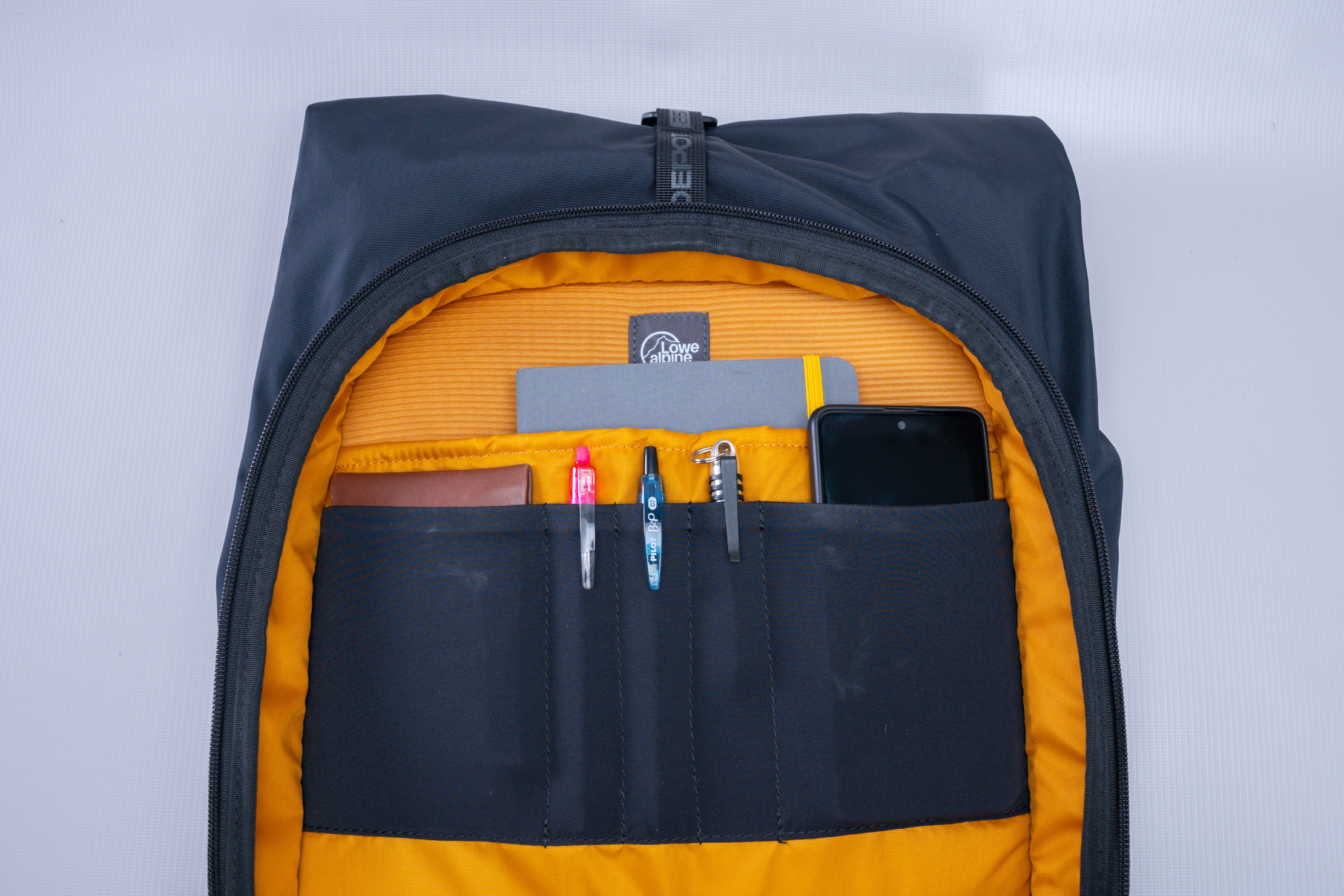 Below that, there's a larger liner pocket with a diagonal opening. It's hard to get your hand to the bottom of the pocket, but items stay inside nicely. Smaller chargers and cables fit well here, but larger laptop chargers might be too big.
The backside of the laptop compartment has a padded laptop sleeve. There are three places that your laptop can go, all of which offer different benefits.
To describe it simply, there's one large laptop slider. There's a dry bag fixed within it, but it isn't attached on the sides, so you can still slide things in on either side of it. You can place your laptop on either side of the dry bag or inside the dry bag. We're able to fit our laptop inside the dry bag and a small tablet in front of it, but there isn't any padding between the dry bag and the tablet, which isn't ideal.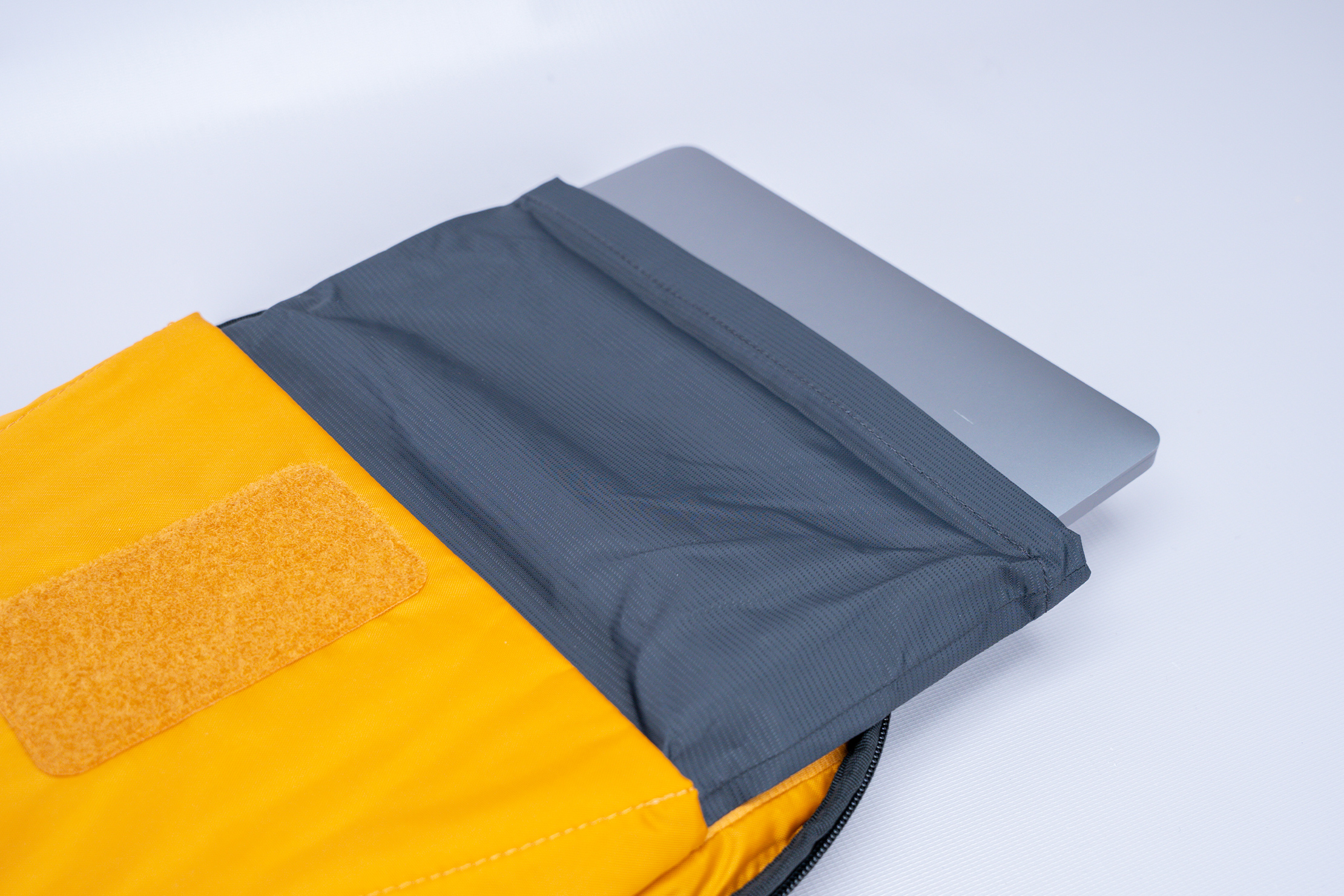 The dry bag has 'dry zone' printed on it and fastens with a hook and loop fastener. It's not waterproof but will offer an additional layer of protection should you get stuck in a monsoon.
The back panel protects the backside of the laptop slider. The padding is ample and feels more than enough to keep your laptop safe. There's a fair amount of padding on the other side, too, although it's not as rigid as the back panel.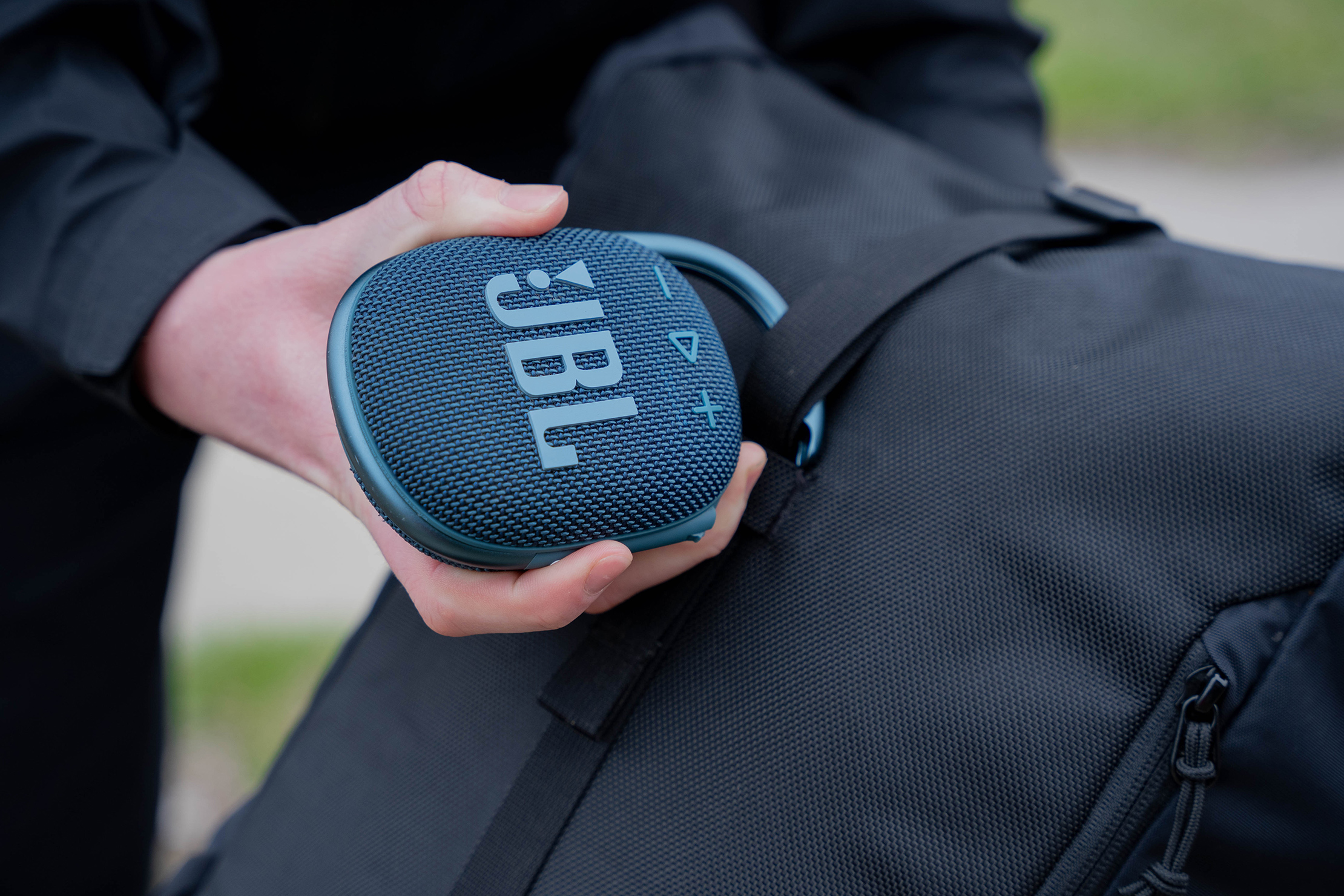 The laptop compartment has a lot of organization to make up for the lack of organization in the main compartment, which we like. We're able to keep all of our smaller items organized here, while the bulk of our clothes and other items find their way into packing cubes and pouches in the main compartment. Depending on your organization style, this might not work for you.
No matter how you organize it, the Lowe Alpine Depot 25L will look good while you figure the rest out.
Usage Timeline
Initial Usage
Condition: Excellent
The G-hook attaches to the back
One shoulder strap has a handy little stash pocket
Has an independent tech compartment
2 Weeks of Use
Condition: Excellent
Elastic material on water bottle pockets hasn't loosened
Shell is extremely easy to clean
No loose threads or abrasions on fabric
Access the Pro Community Discussion
Get your questions about the Lowe Alpine Depot 25L answered from our team and the Pro Community right here on the page. Plus, join discussions with other members about gear, guides, and more.
Other Bags & Luggage Reviews