HydraPak Stash 1L Collapsible Water Bottle Review
The compressibility and low weight of the HydraPak Stash 1L Collapsible Water Bottle are great for travel—although we've found a few awkward quirks in use.
Our Verdict
Unlock the Pro Summary
Save time. Get access to brief summaries of our reviews so you can browse and make decisions more efficiently.
Pros
Collapses down to a small size
Lightweight
Stands up on its own
Cons
Holds on to odd tastes
Awkward to drink from
Wide mouth isn't ideal
Recent Pack Hacker Video
Technical Details
Capacity

1l

Weight (oz)

3.7 oz (104.9 g)

Dimensions

8.2 in x 3.9 in (20.8 x 9.9 cm)

Open

Notable Materials

Thermoplastic Polyurethane (TPU), Plastic

Manufacturing Country

China
Full Review
With all collapsible water bottles, you can expect a few quirks. And the HydraPak Stash 1L Collapsible Water Bottle is no exception.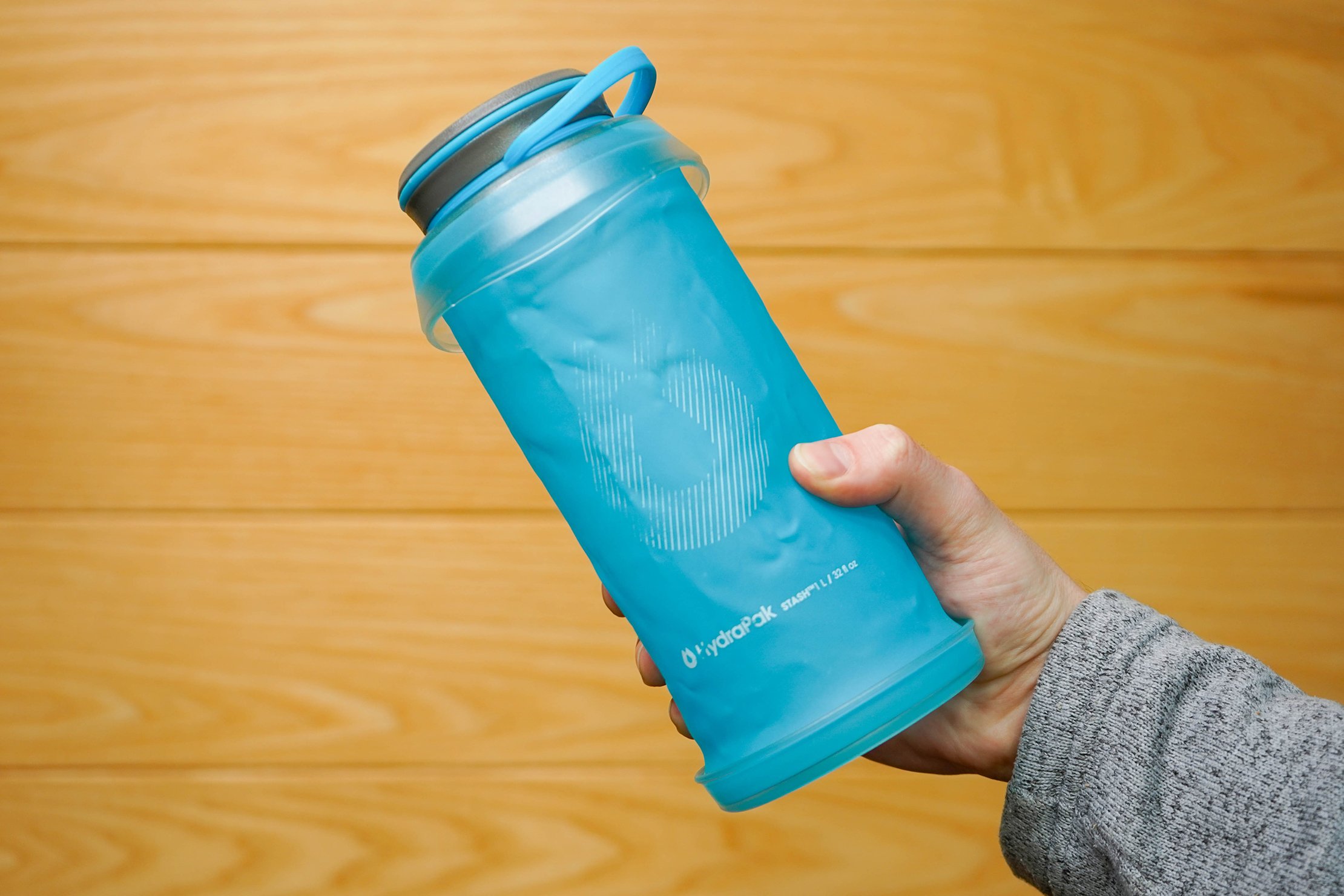 In fact, it may be a little more quirky than others on the market. It's lightweight and packable, but also awkward to drink from, precarious to set down near tech, and competent at holding on to odd tastes.
Whether or not you mind the eccentric nature of the bottle, or think its packability is a worthy tradeoff, depends on you. So let's take a closer look.
Features & Usage
When collapsed, the HydraPak Stash 1L Collapsible Water Bottle is approximately the size of a large-ish fist, two hockey pucks stacked on top of one another, or a behemoth of a cupcake. Its small size and low weight (3.7oz—a few ounces lighter than an apple) is awesome because it won't take up much space/weight in your pack. Plus, it'll fit in most sling bags or backpacks that lack specific water bottle pockets.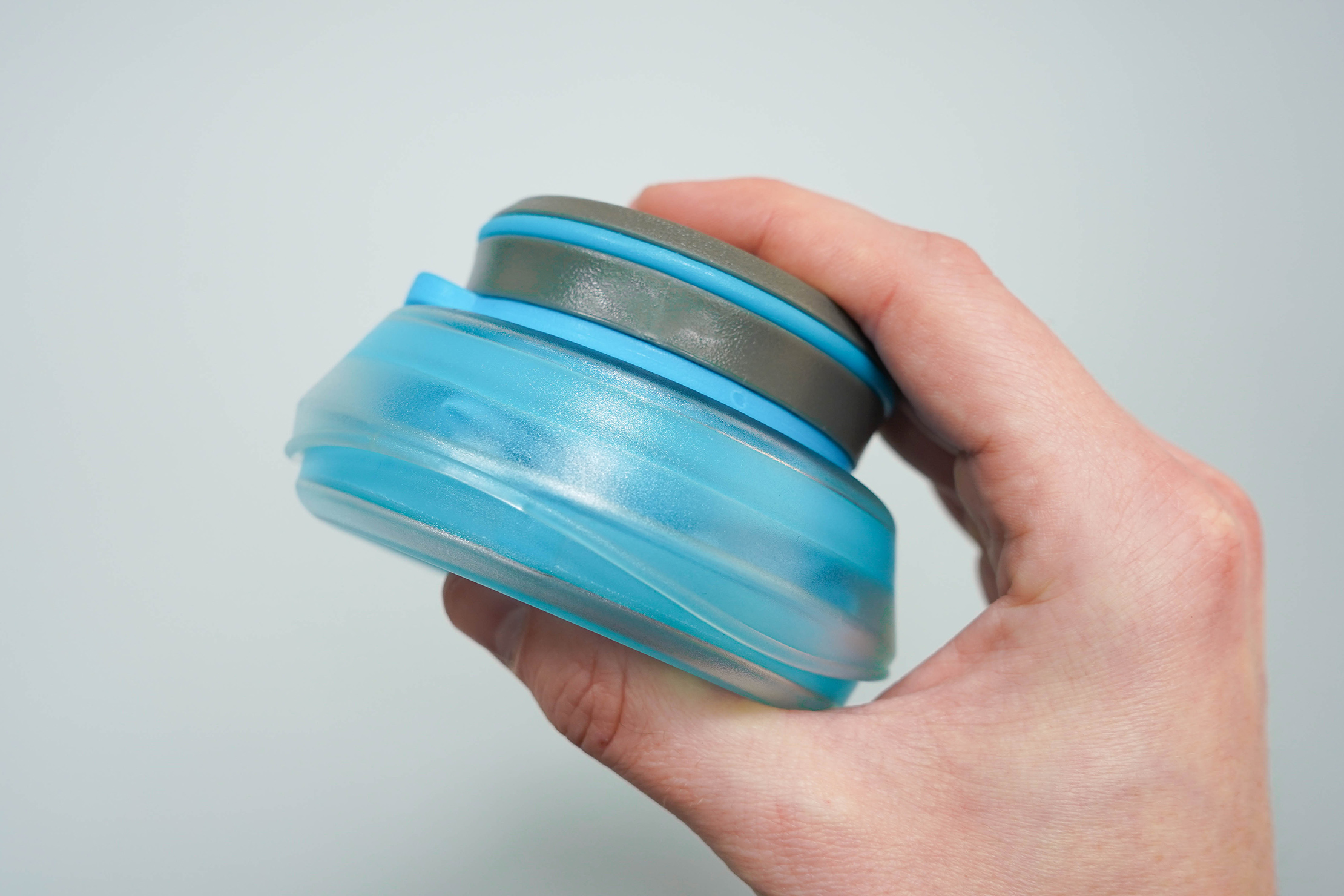 Once, we thought we had lost the HydraPak Stash Water Bottle. Turns out, it was chilling at the bottom of the Mystery Ranch Mission Rover. It's just so small and nondescript, it's easy to miss. Its size is still way more of a good thing than it is a liability, but be careful where you toss it.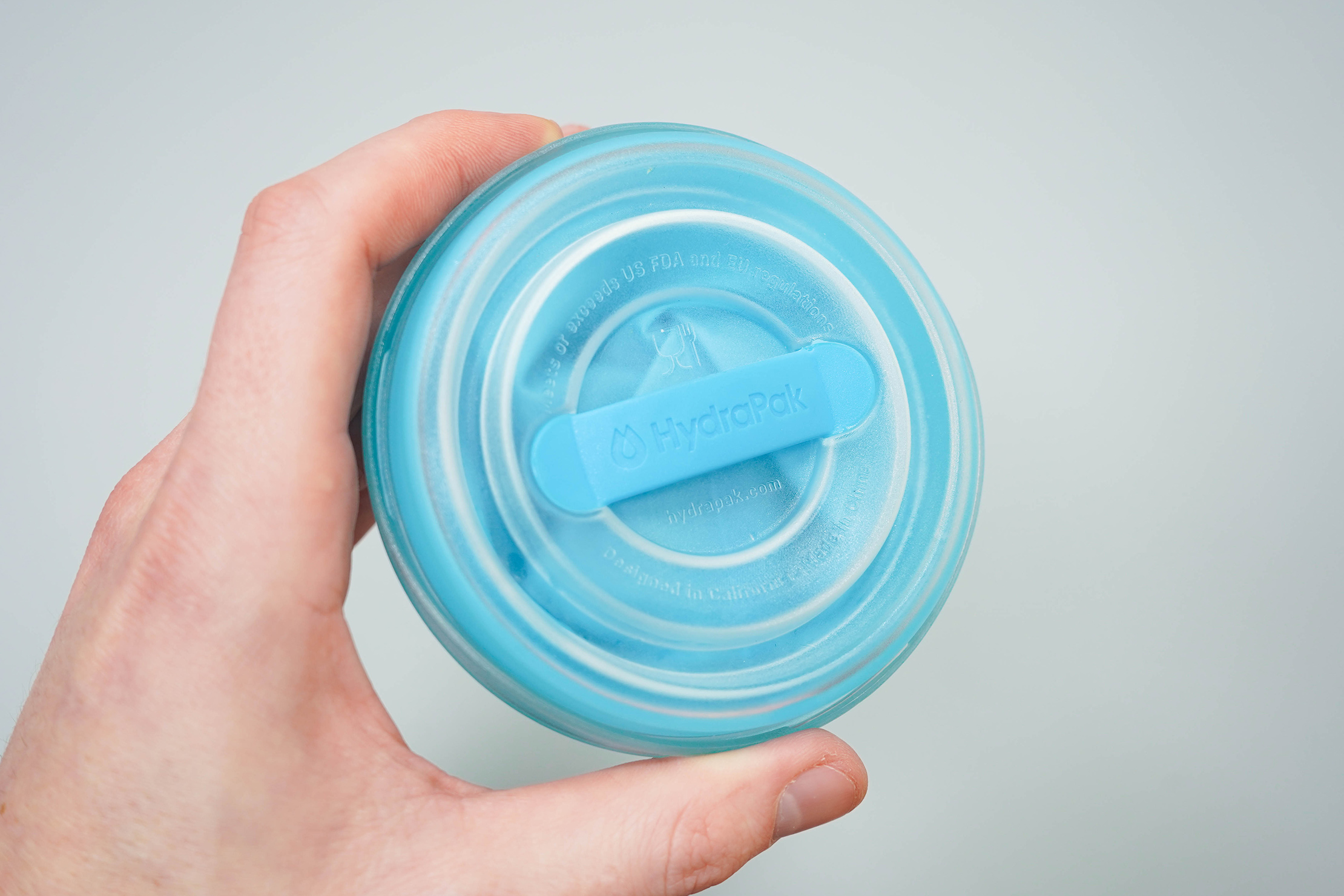 To expand it, unscrew the lid, grab the handle and the bottom tab, and pull. It'll pop out to its full 1L size. The fact that you get one liter of water from a bottle that packs down to such a small form factor is a huge plus for travel. You may be willing to overlook everything else we have to say because of this handy feature.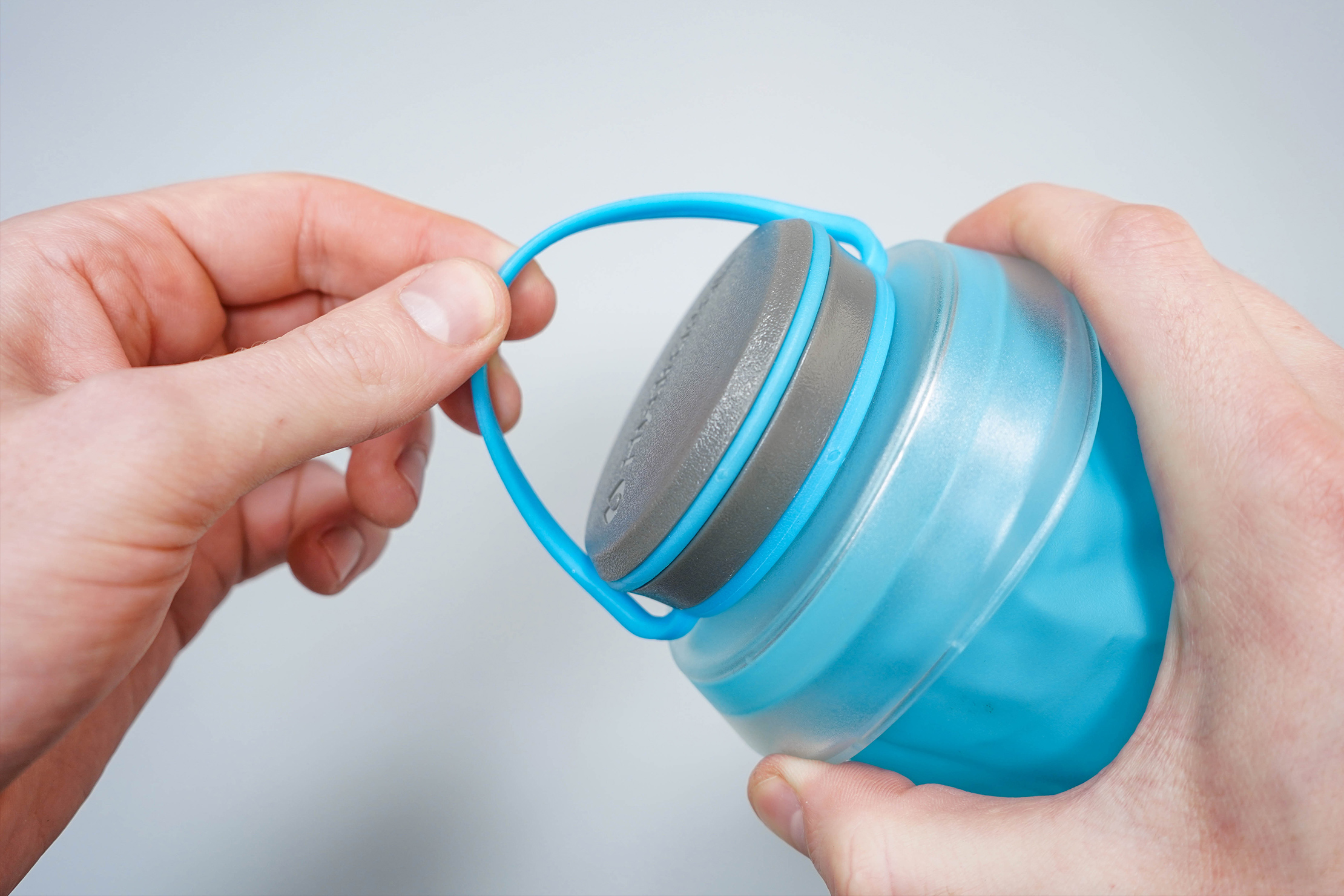 The aforementioned handle is good for more than expanding the bottle—it's also a great way to attach it to your belt (you'll need a carabiner and a ton of self-confidence to do this) or hang it to the exterior of your pack.
When you're ready to compress it again, simply twist the bottle to keep everything tidy and push the top and bottom back together. They'll sort of snap in place to stay shut.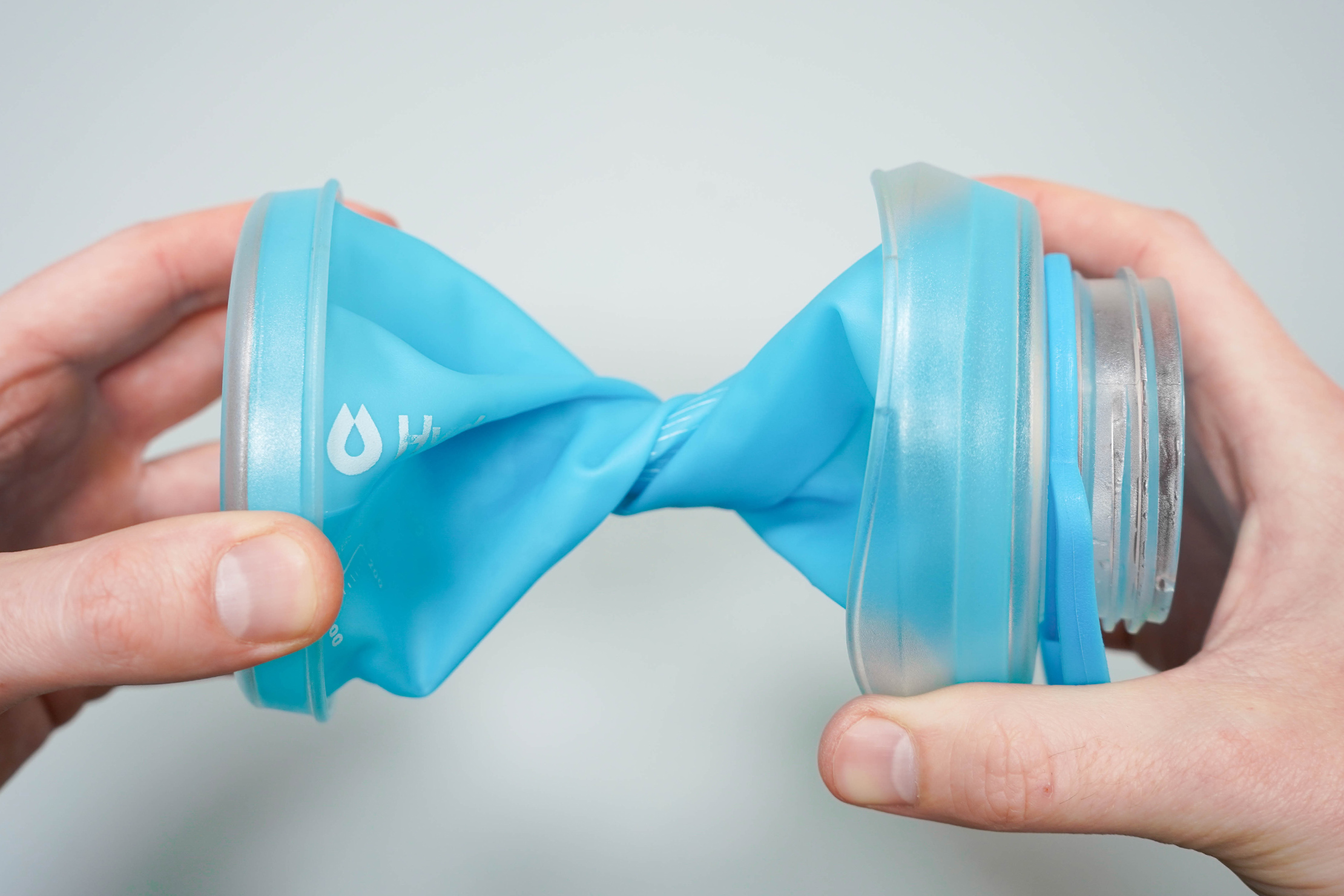 The HyrdraPak Stash is made from BPA and PVC-free plastic and thermoplastic polyurethane. While there's nothing bad about these materials per se, we've found that this water bottle holds onto tastes really well. Including an overpowering plastic-y taste in the beginning—even after washing it. Speaking of washing—after we did just that, the bottle held onto a soapy taste that took half-a-day or so to rinse out.
The good news is the plastic-y taste has faded over three weeks of testing…or we've gotten used to it and stopped noticing. Either way, it doesn't bug us anymore.
As you might expect, the bottle doesn't have much structure to it, which makes drinking from it an awkward experience. After much trial and error, we've found a firm two-handed grip with one hand near the top and one hand near the bottom to be your best bet.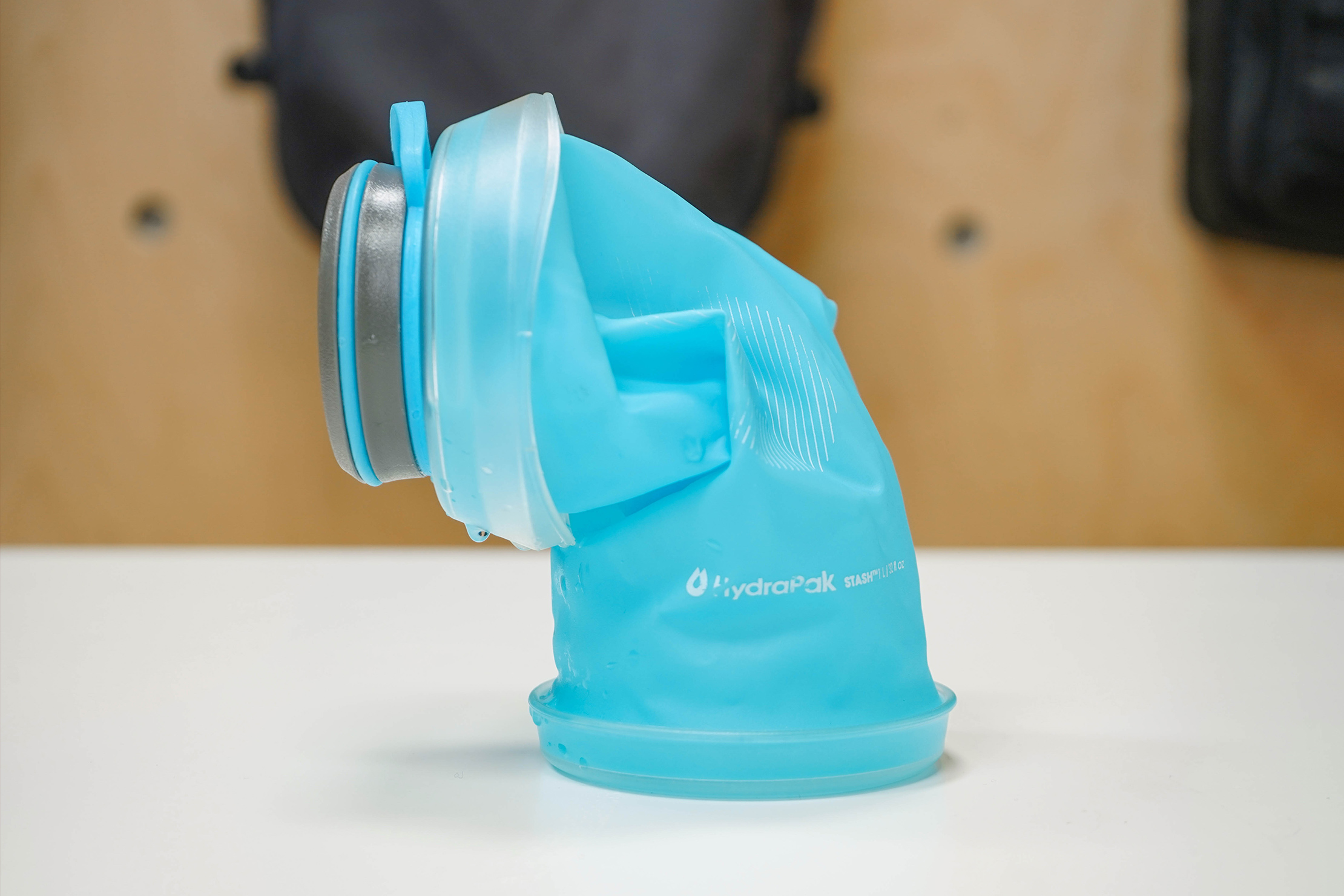 You may have occasional success when holding it with one hand on the bottom, but it's sketchy. If you try and only go for a top grip, the bottle kind of slouches over, cutting off the flow of water from the bottle to your mouth. And you can forget holding it from the middle. A word of warning—if you do grab the bottle from the middle while it's full and the cap is either off or loose, it can and will squirt water everywhere. So, yeah, it's solidly a two-hand operation.
Despite this flexibility (or floppiness), it does stand up on its own—even when empty—which is nice. It's easy to fill, or set down on your tray table or wherever.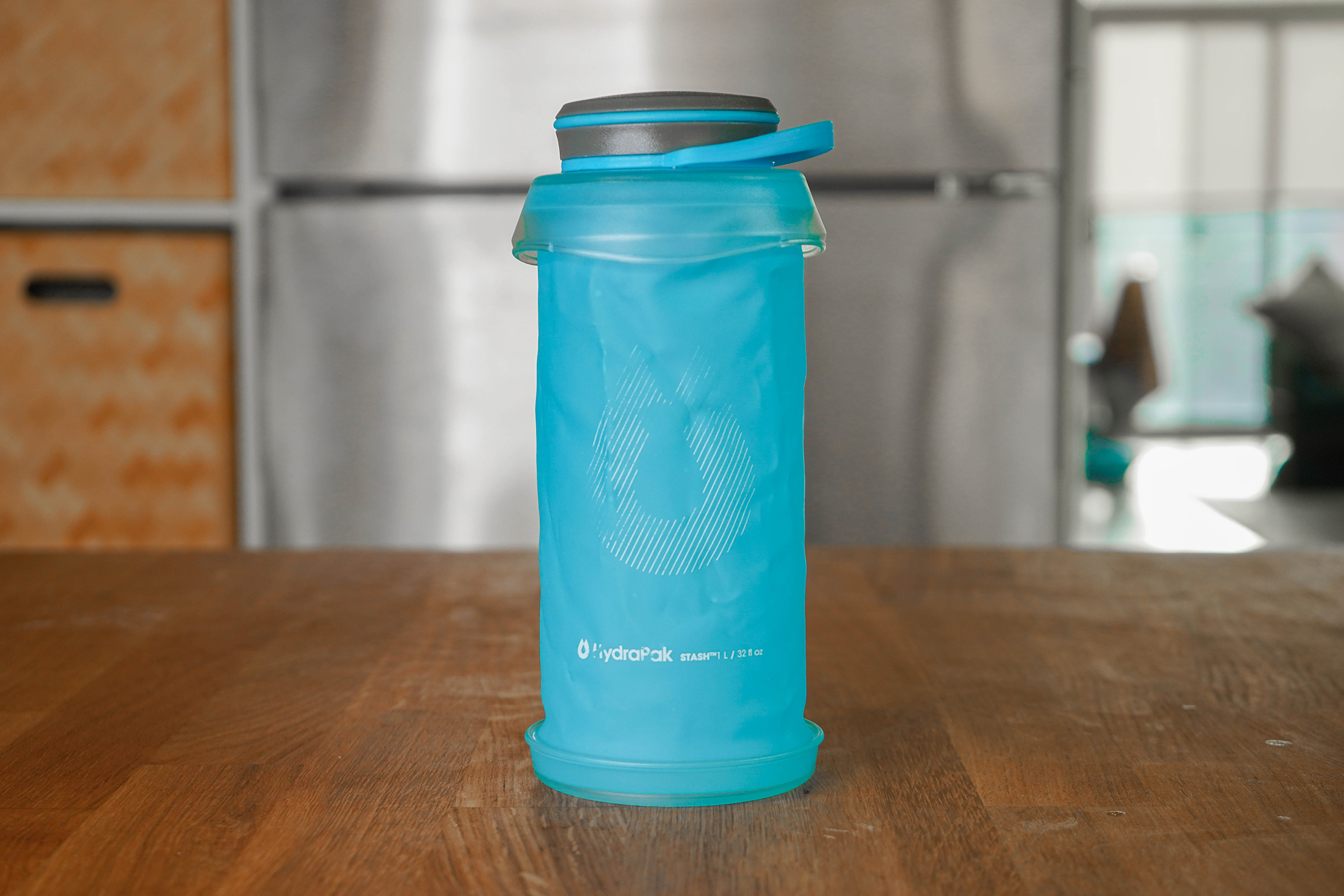 Now, the HydraPak Stash does have a wide mouth. This helps fill and clean the bottle and means it's compatible with 63mm threaded filters. But, since the bottle isn't sturdy, its wide mouth can be a liability. We've had a close call with a rickety table and MacBook Pro. And it's a little bit more difficult to drink from without spilling on yourself.
Regardless of a few benefits, we'd prefer if the bottle had a smaller mouth—like on the Vapur Eclipse Water Bottle.
Durability & Testing
We've been testing the HydraPak Stash 1L Collapsible Water Bottle as a daily driver for three weeks in Detroit, Michigan. Unfortunately, we already have a minor durability issue to report.
The water bottle has measurements that run along the side, which have already started to fade. Actually, they started to fade the first time we washed this bottle…before we had even started using it. We don't usually use these measurements to gauge our water intake, so it's not that big of a deal. But it's also kind of annoying. And if you do keep track of how many ounces of water you drink in a day, you'll be super annoyed.
Everything else is looking good.
Usage Timeline
Initial Usage
Condition: Excellent
Collapses to a small, compact size
Slightly odd to drink out of—you need to hold the top and bottom of the bottle firmly so the middle doesn't fold in half
Great size for all day hydration
Lightweight
2 Weeks of Use
Condition: Good
The measurements printed on to the side of the bottle faded after we washed this thing one time. Not great.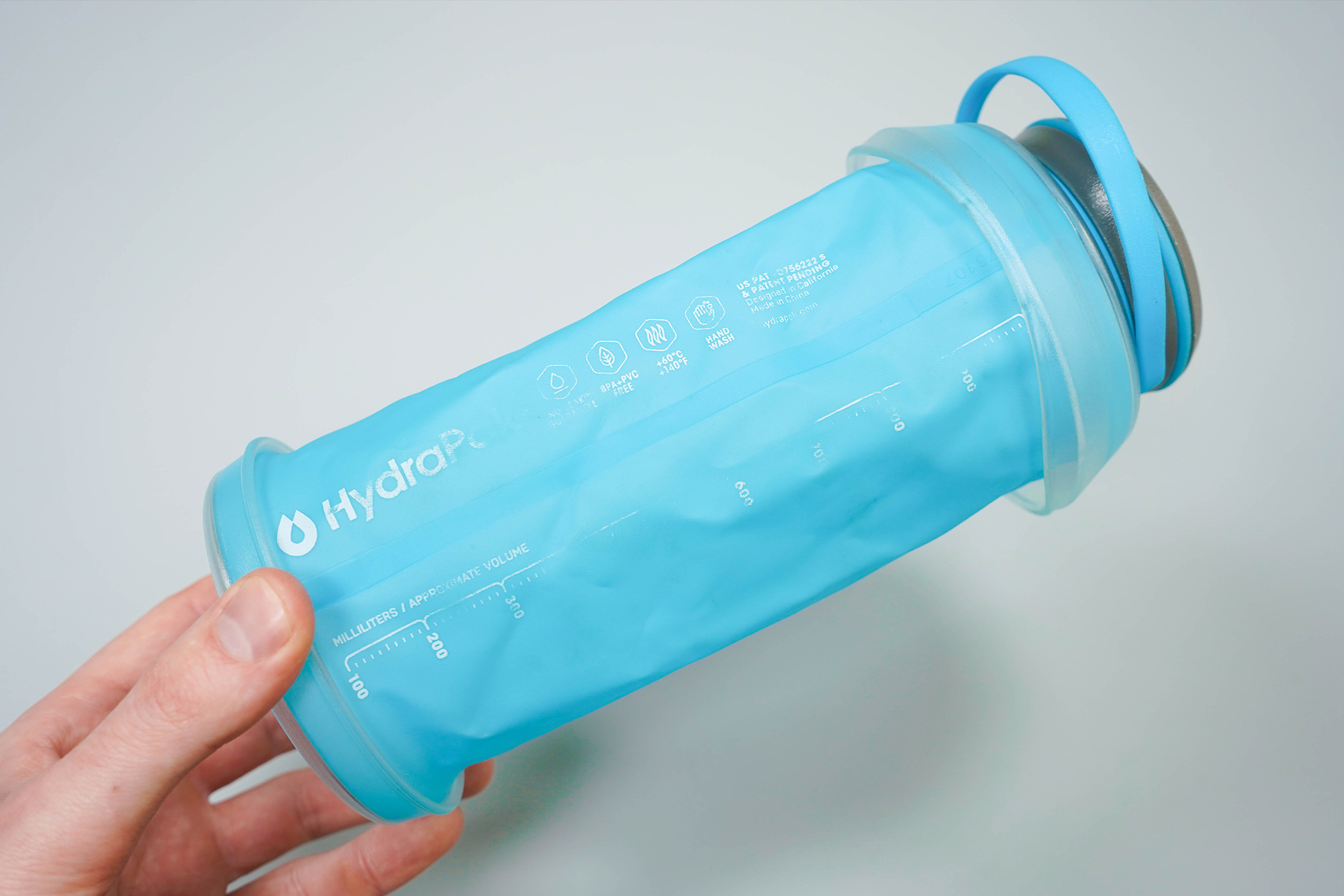 Access the Pro Community Discussion
Get your questions about the HydraPak Stash 1L Collapsible Water Bottle answered from our team and the Pro Community right here on the page. Plus, join discussions with other members about gear, guides, and more.
Other Miscellaneous Reviews