GORUCK Bullet Ruck Review
The GORUCK Bullet Ruck is a compact, durable daypack that's great for everyday use—especially if you're carrying a relatively light load.
Our Verdict
Unlock the Pro Summary
Save time. Get access to brief summaries of our reviews so you can browse and make decisions more efficiently.
Pros
High-quality materials and construction throughout the bag
Very comfortable harness system (even compared to the GR2 and GR3)
Silent zipper pulls are a nice touch—there's not much jingling going on
Cons
No strap keepers at the bottom, so you'll have dangling straps
The 1000D CORDURA nylon can be abrasive
Slash pocket can be hard to use, especially if the main compartment is full
Recent Pack Hacker Video
Technical Details
Capacity

10l

There's a 15L option as well.

Weight (lb)

1.32 lb (0.6 kg)

Denier

1000D

Dimensions

18.5 in x 8.5 in x 5 in (47 x 21.6 x 12.7 cm)

Notable Materials

CORDURA®, YKK Zippers

Manufacturing Country

United States

Warranty Information
Full Review
The GORUCK Bullet Ruck 10L is a compact daypack from a brand we've come to know and love for quality and reliability. We've had positive experiences with GORUCK's 40-liter GR2 (our founder Tom traveled with it for two years), and we've tested other gear by the Florida-based brand, as well.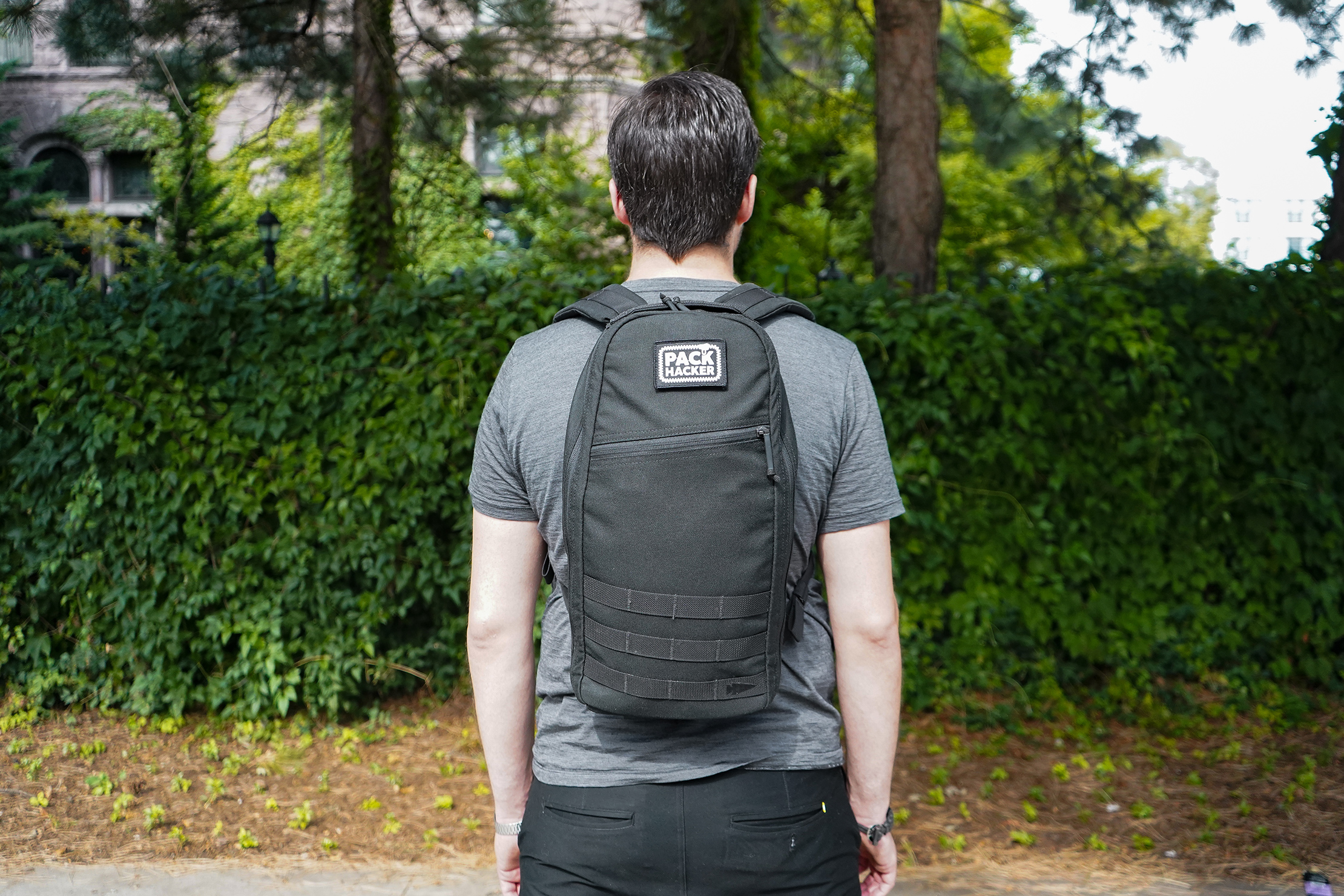 While this review is focused on the GORUCK Bullet Ruck 10L, you should know that this bag also comes in a 15-liter version. We've been testing the Bullet Ruck 10L for about a month in Detroit, Michigan.
So, let's see how it checks out.
Materials & Aesthetic
If you like color options, GORUCK delivers. The company tends to experiment with a lot of different colorways on its bags, and the Bullet Ruck 10L is no exception. There are a handful of choices available at the time of this review, but we went with the standard and classic black. We like how it looks—plus, it goes well with our Pack Hacker patch (#stylepoints).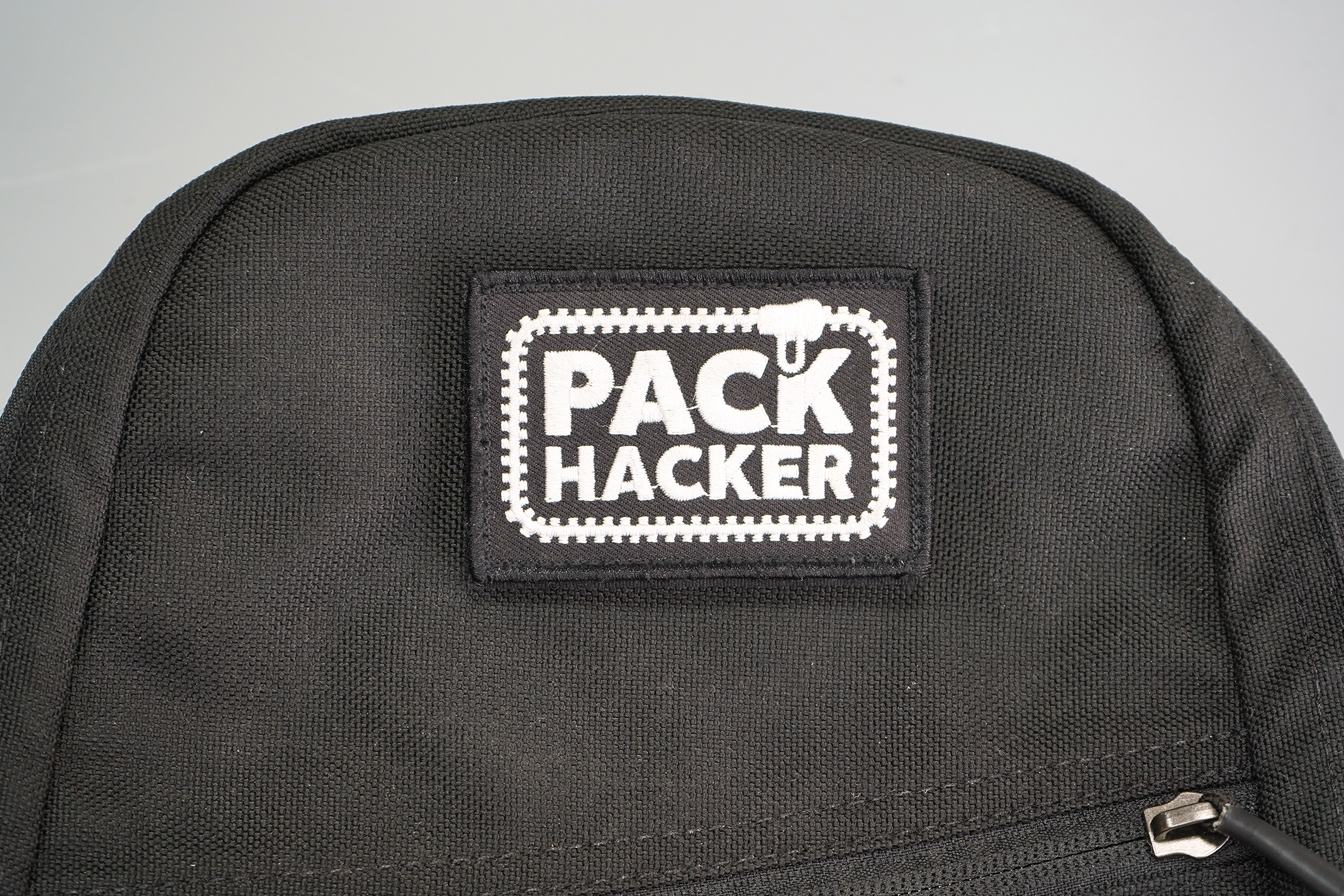 The main fabric of this bag is 1000D CORDURA nylon, which is strong and has some decent weather resistance to boot.
Some people have had issues with this fabric, as it's a bit rough around the edges and may rub against your shirt when the bag is loaded to the max. Depending on the type of clothing you're wearing, this could even generate some pilling or fraying—so it's something to keep in mind if you're a fan of more delicate shirts. That said, we've had pretty good luck so far.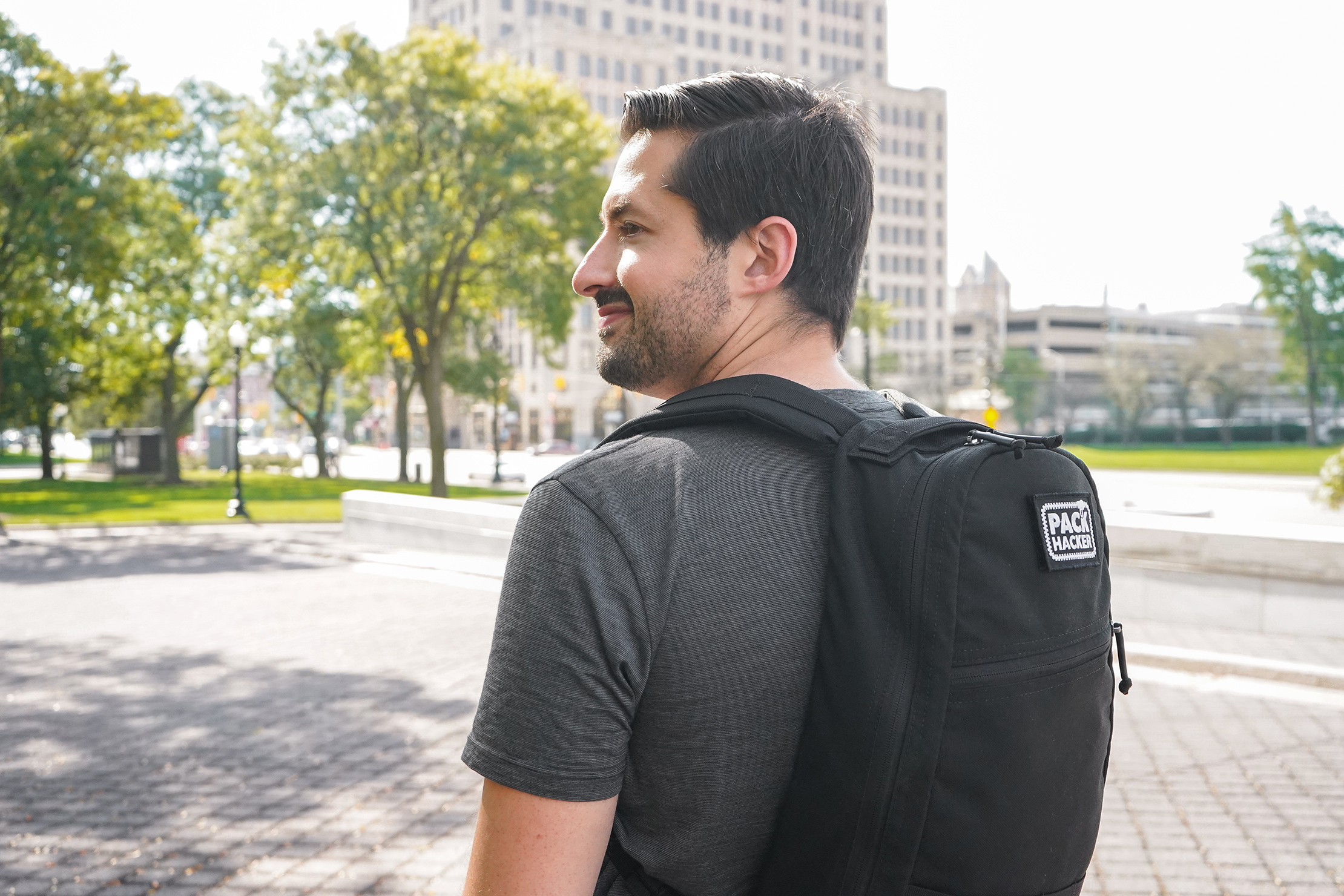 Overall, we dig the look of this compact daypack. But (per usual) we asked our Instagram audience to get their thoughts—it was almost an even split. Make sure to follow us @packhacker to be involved in future polls.
From a branding perspective, the GORUCK Bullet Ruck 10L has a small tip-of-the-spear icon near the bottom of the bag on the PALS system..and that's pretty much it. There's not a lot of other GORUCK branding going on, which we like. It's minimal and subdued.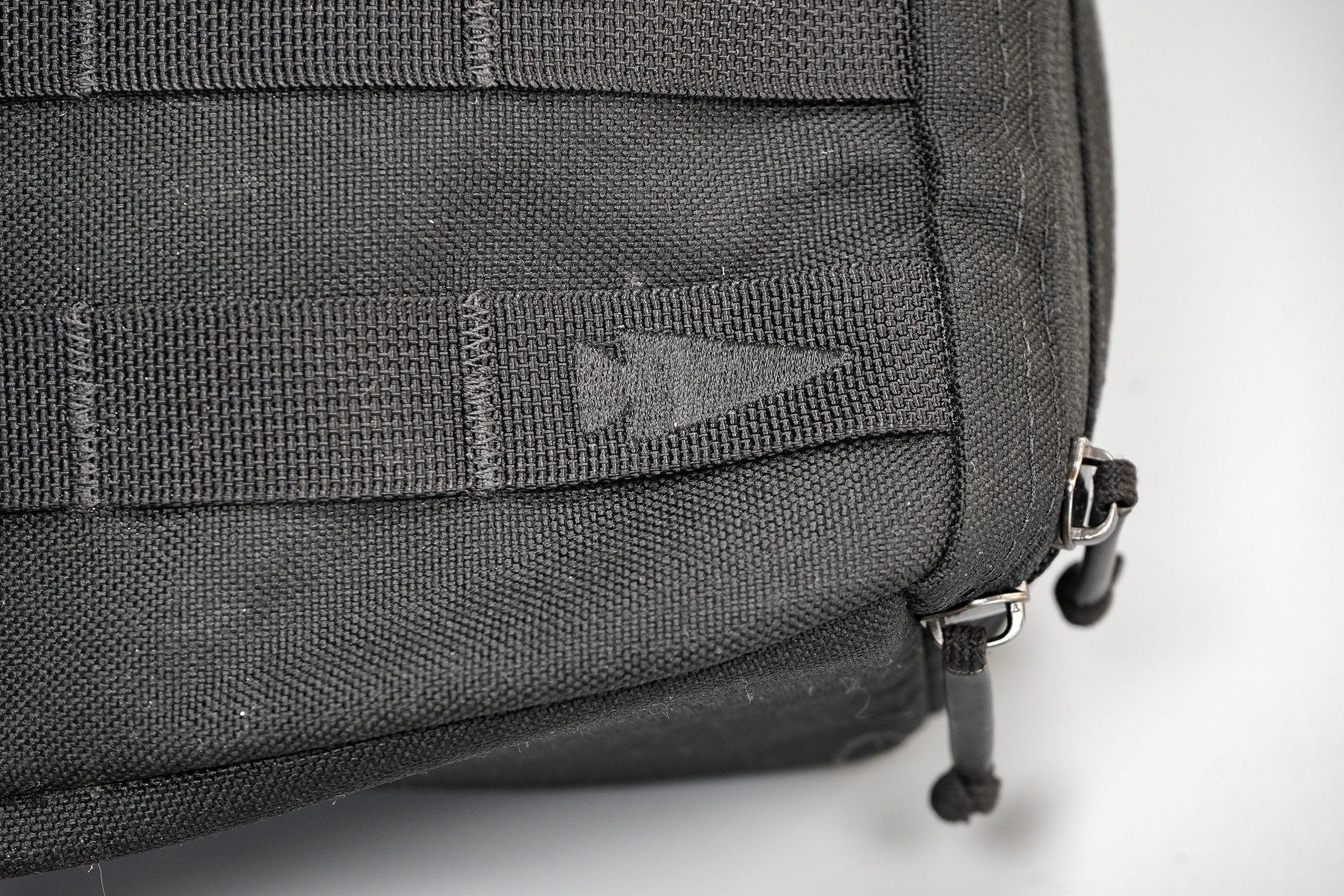 Wrapping up the rest of the materials on this bag, it features durable YKK zippers with custom silent heat-shrink zipper pulls and Duraflex plastic strap adjusters.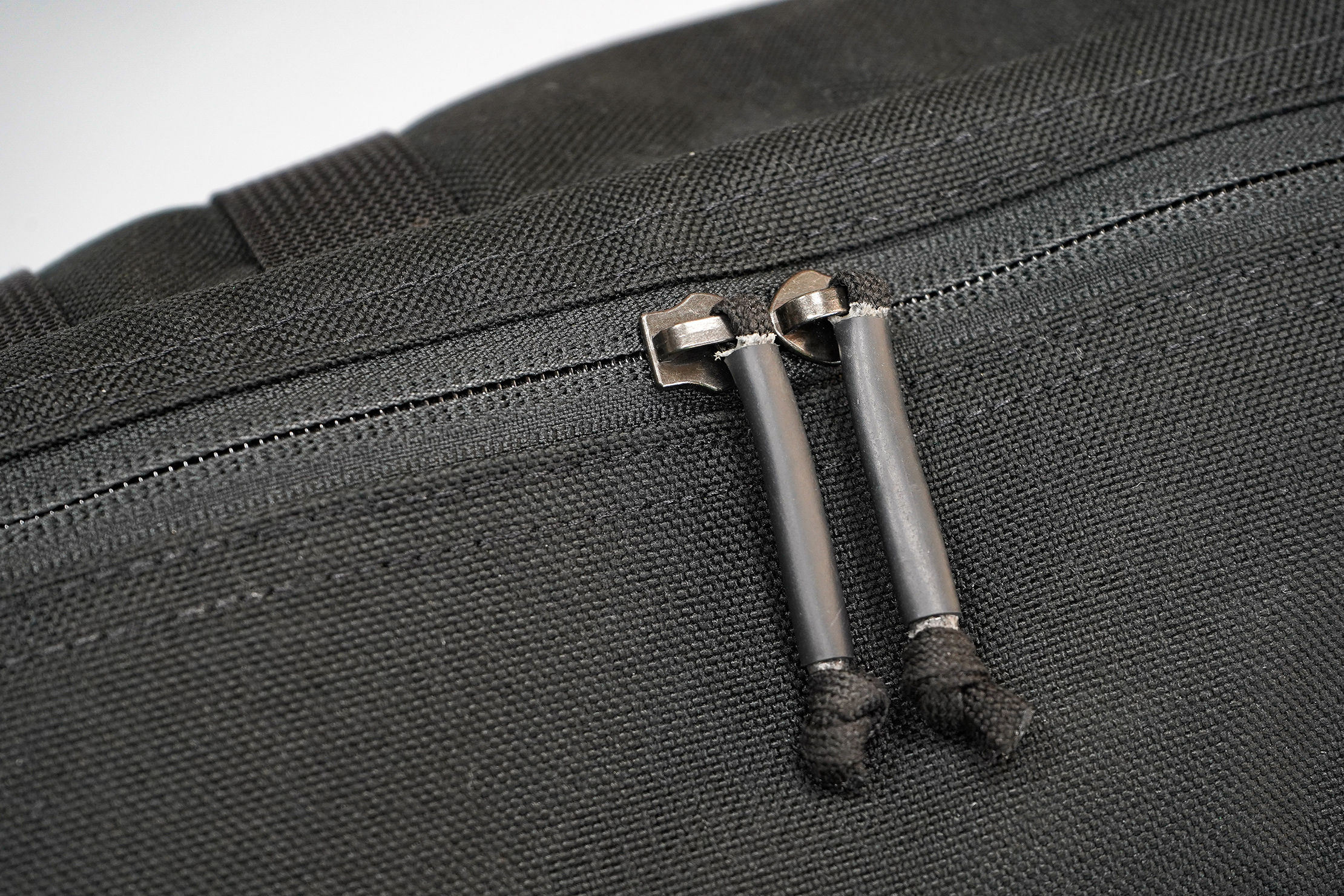 External Components
The harness system on the GORUCK Bullet Ruck 10L is nice for a pack this size. The straps themselves have that familiar GORUCK beefiness to them, although they're a bit thinner on the Bullet than what you might be familiar with on the GR2 and GR3.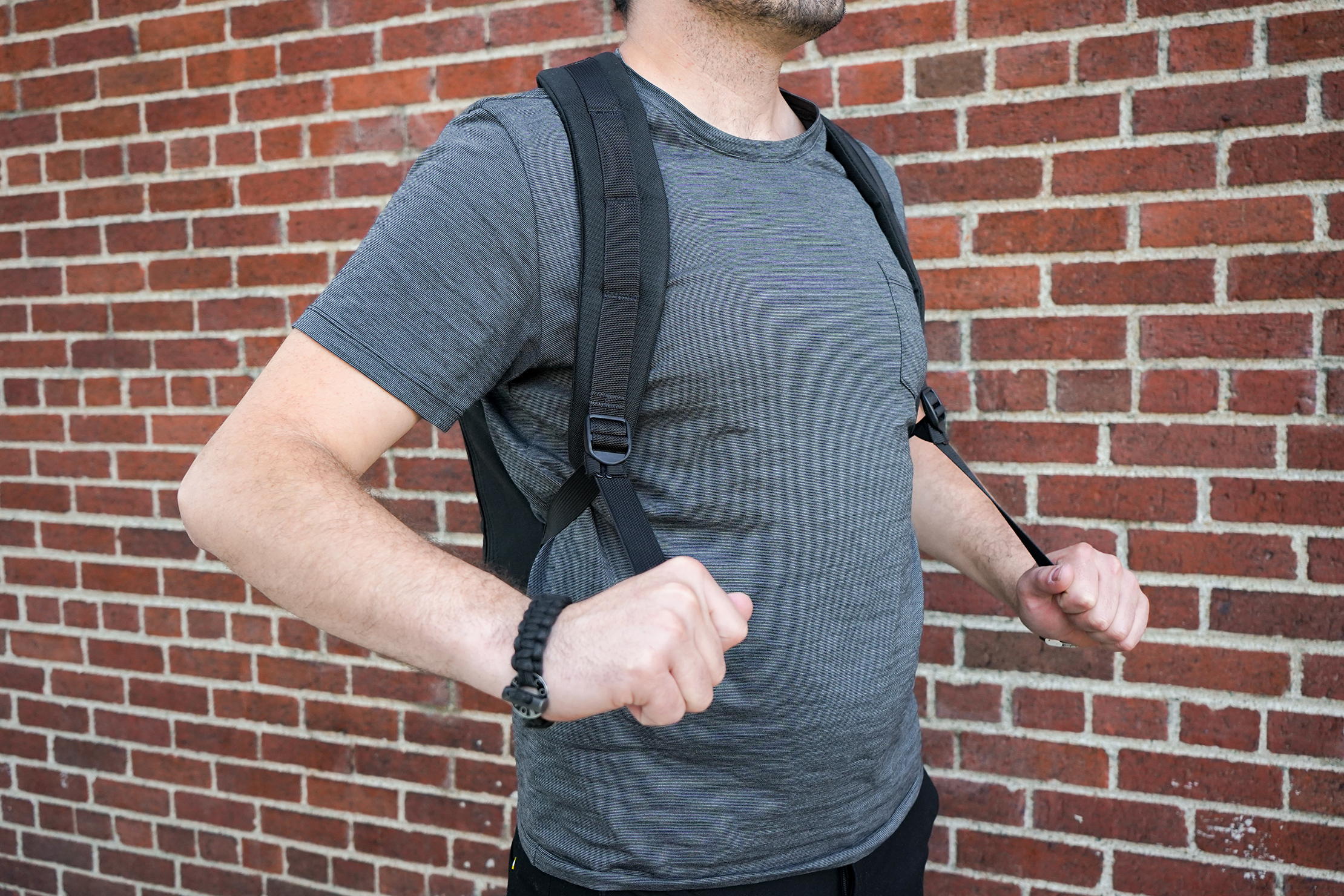 The front of the straps are lined with a single row of PALS, which is ideal for attaching MOLLE accessories or a sternum strap. Then we've got those nice Duraflex strap adjusters we mentioned earlier, which glide oh so easily.
Now, these straps are missing elastic keepers, which means the bottom of the straps dangle around a bit—it's definintely not a dangle free experience. But not to worry. We added some Tom Bihn strap keepers during testing to achieve that blissful dangle-zero.

The back panel offers some decent padding. It's not quite the frame sheet you'll find in bigger GORUCK packs, of course, but it adds some structure to the bag.
You won't find any mesh or other channels for airflow on the back panel of the Bullet Ruck 10L, but this is typical of most GORUCK bags. Although it's always difficult to avoid that dreaded swamp back entirely, mesh typically helps keep the sweat at bay.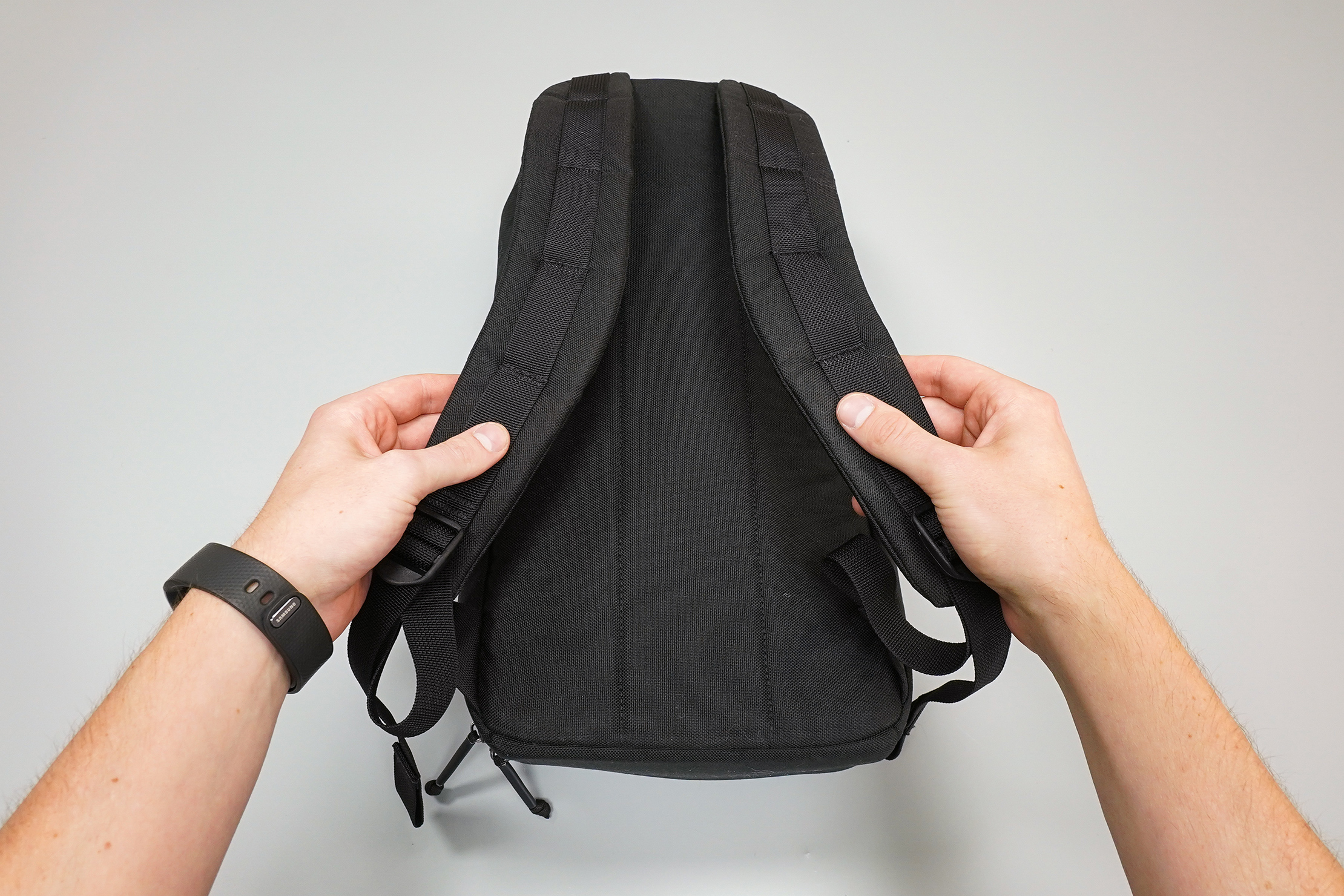 Apart from the harness system, there are a few more features on the outside of this pack.
For starters, we dig the padded handle at the top. It offers a nice amount of padding for a bag of this size, without being overkill.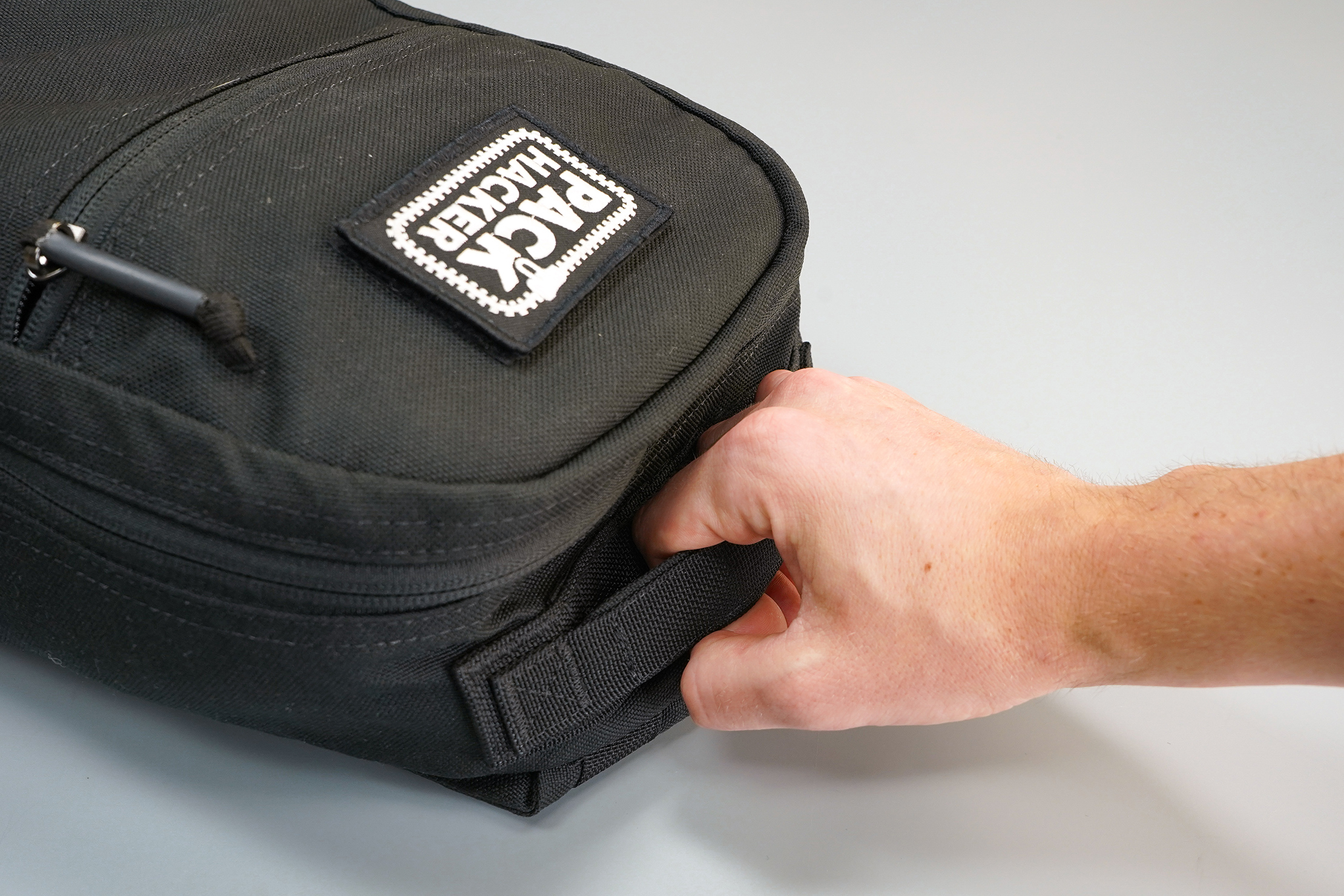 We also appreciate the way GORUCK heavily reinforces its handles with additional nylon and anchoring points. There aren't any aluminum stays used here (which can make the handles a little bit floppy) but for a backpack this size it isn't really needed.
At the top of the bag below the back panel, there's a small bit of Velcro where a hydration bladder hose can be passed through. This offers easy access for those who want to use the bladder compartment on the inside of the bag and hides away for those who don't.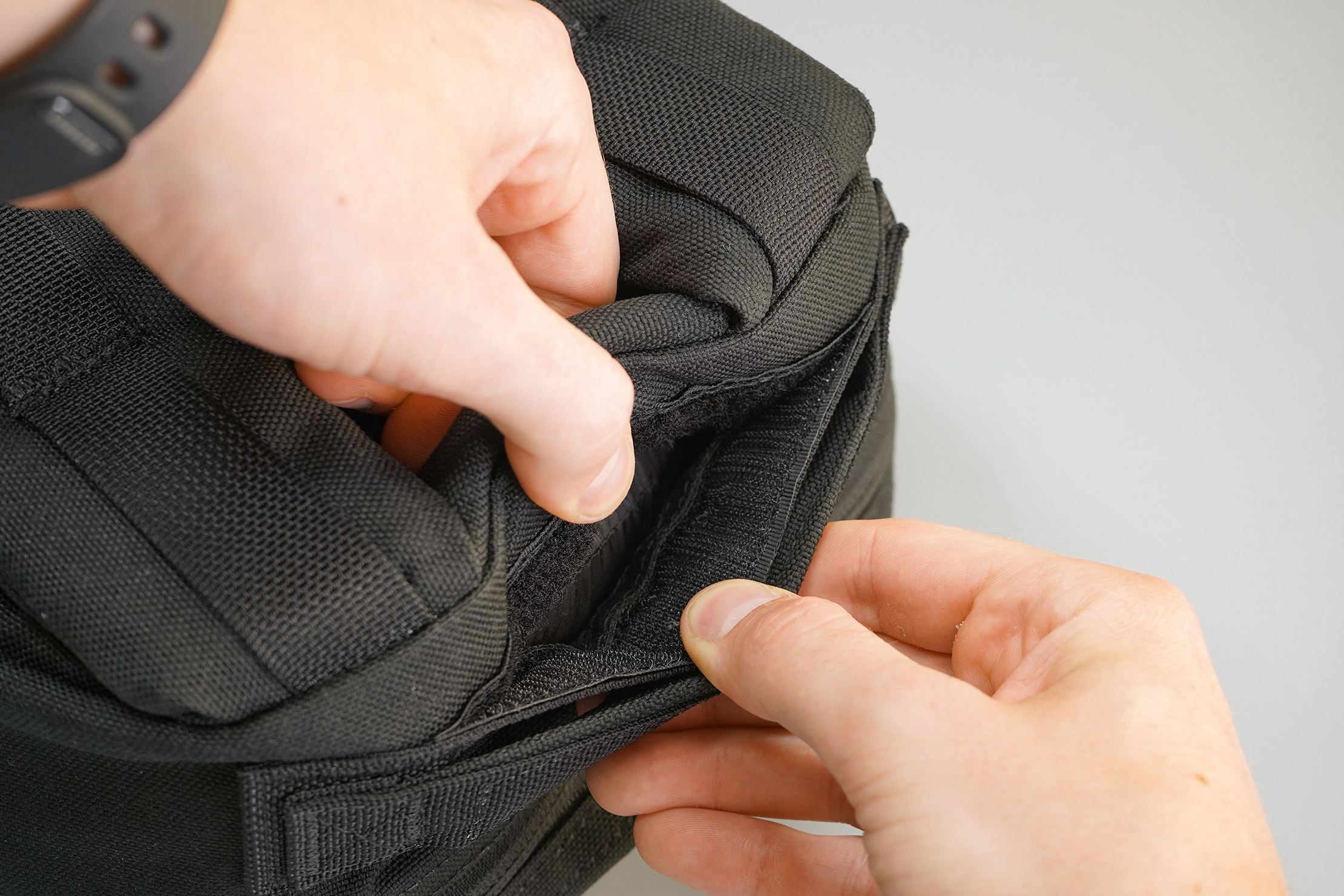 The front of the Bullet Ruck 10L features a nice, 3×2 morale patch area. When you take the patch off, you'll see an American flag design—a nice little detail that GORUCK adds to a bunch of its other gear.
Lastly, you'll find three rows of PALS toward the bottom of the pack, which work well for attaching MOLLE accessories or a carabiner. GORUCK sells a variety of compatible accessories and you can find them from plenty of other brands out there, too, so you can customize the Bullet Ruck exactly how you'd like. You do you.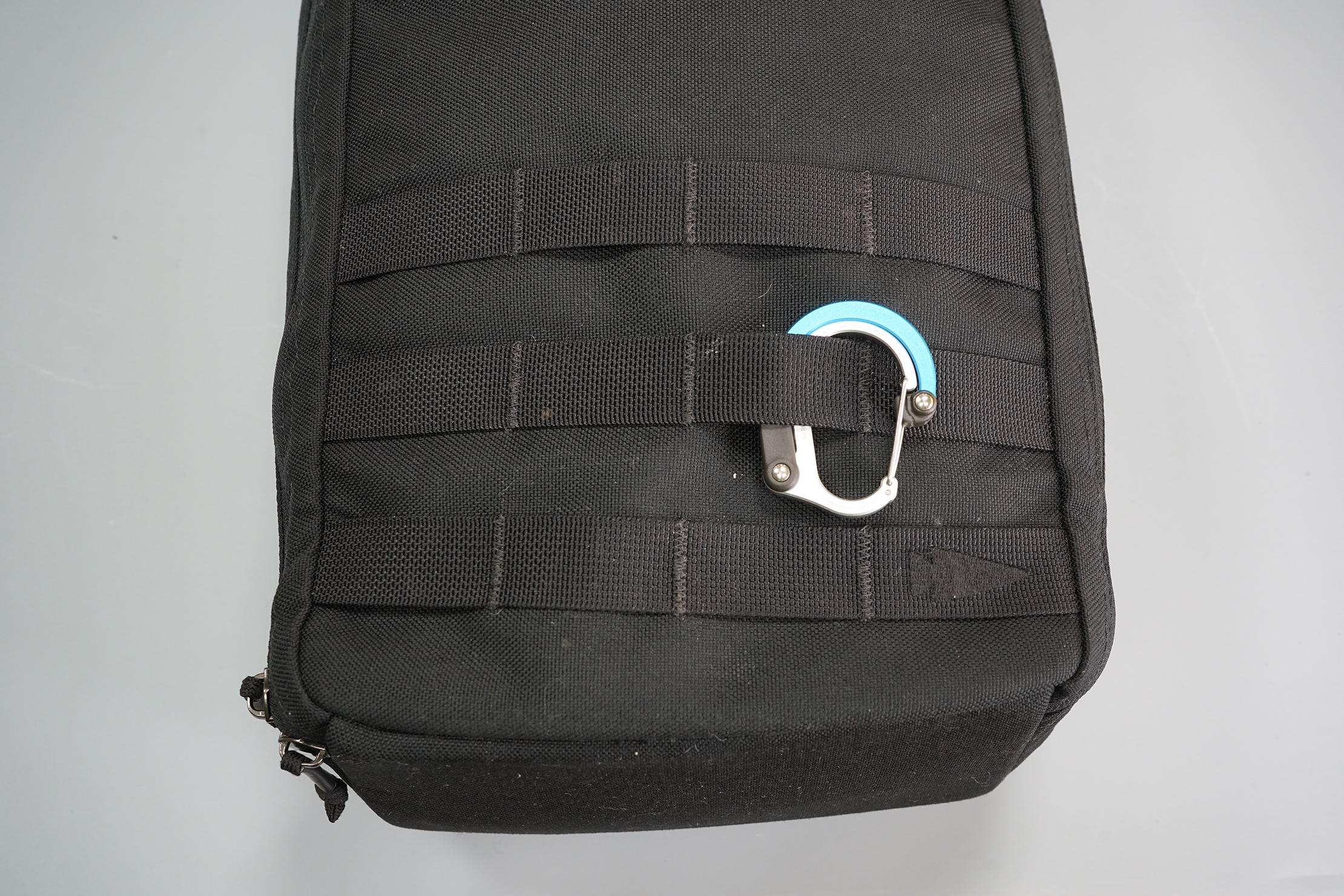 Inside the Pack
Let's start with the slash pocket and work our way in. Sound like a plan?
The slash pocket is about two-thirds of the way up the front of the GORUCK Bullet Ruck 10L. The YKK zipper opens right up and this pocket goes down to about the remaining height of the bag. It's a great spot to store a lighter jacket or that unwieldy computer charger.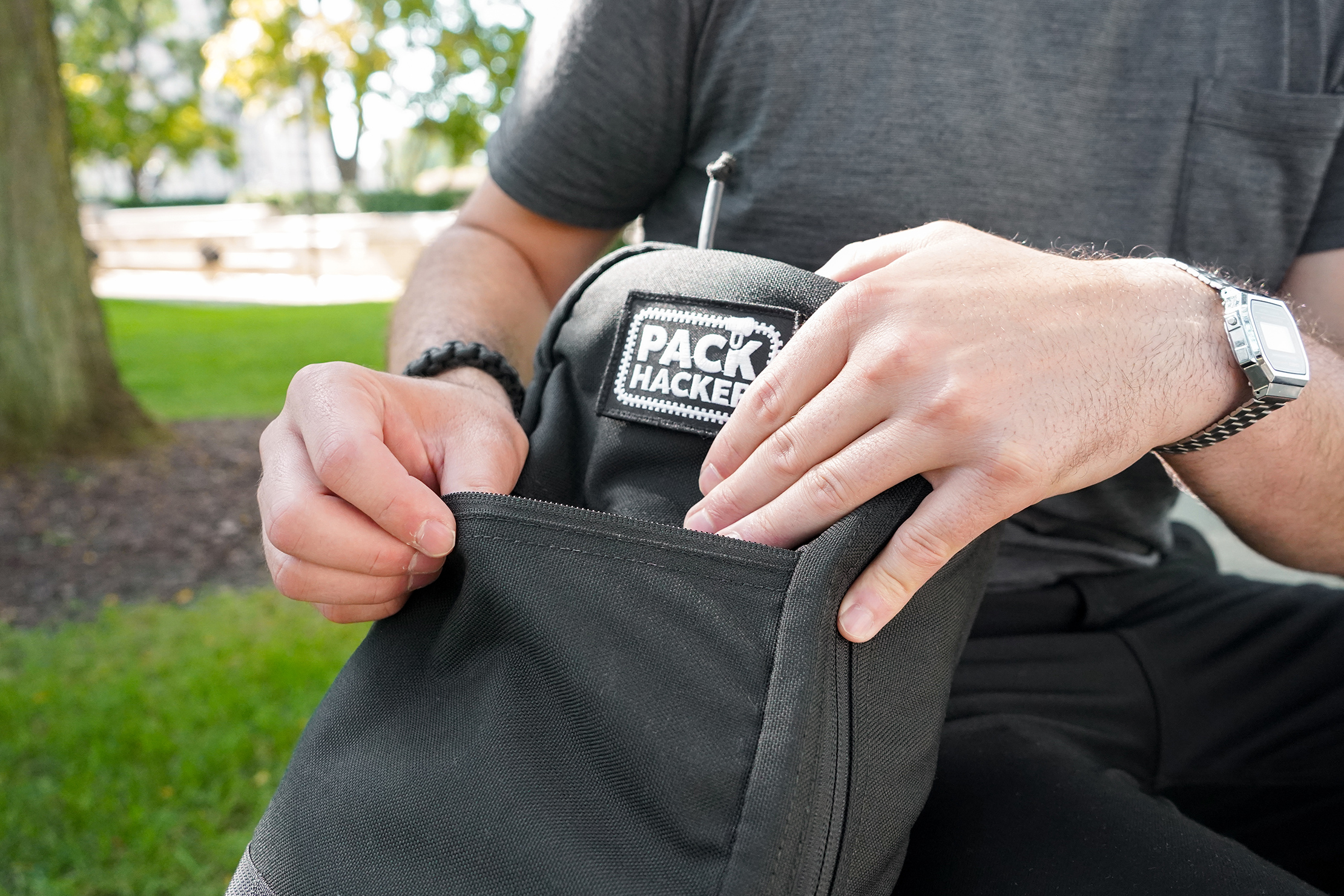 Keep in mind, however, that this pocket is not liter independent. If you have the main compartment of the bag full, it's more difficult to get in and out of the front pocket. We ran into this issue a couple of times during our testing—like while trying to shove a small computer charger into the pocket while the main compartment was packed out (let's just say it isn't easy).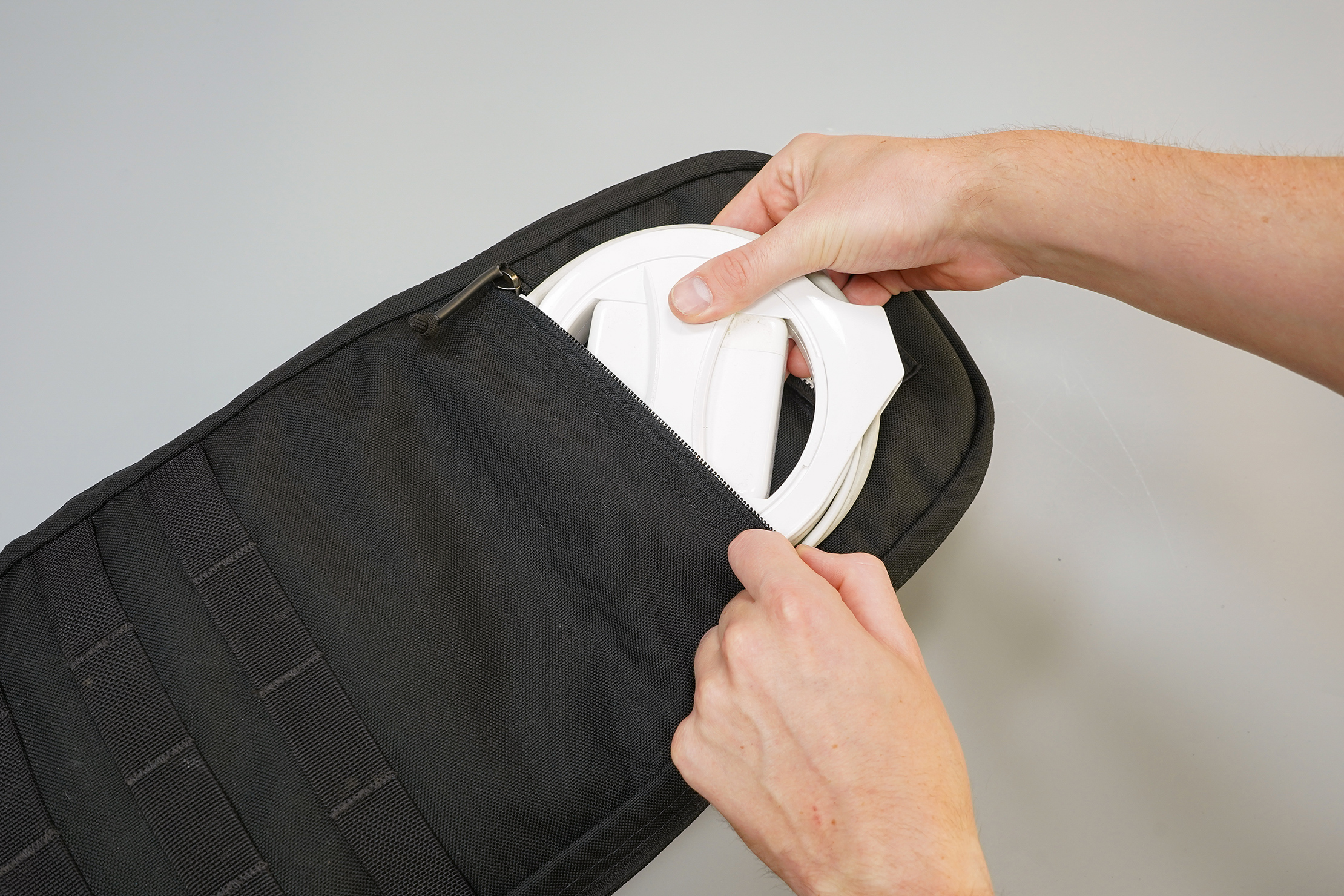 The main compartment on the GORUCK Bullet opens fully clamshell-style for maximum access. We were surprised to find that a 15-inch laptop inside of a case fits inside this small bag—not in the included sleeve, but just inside of the main compartment.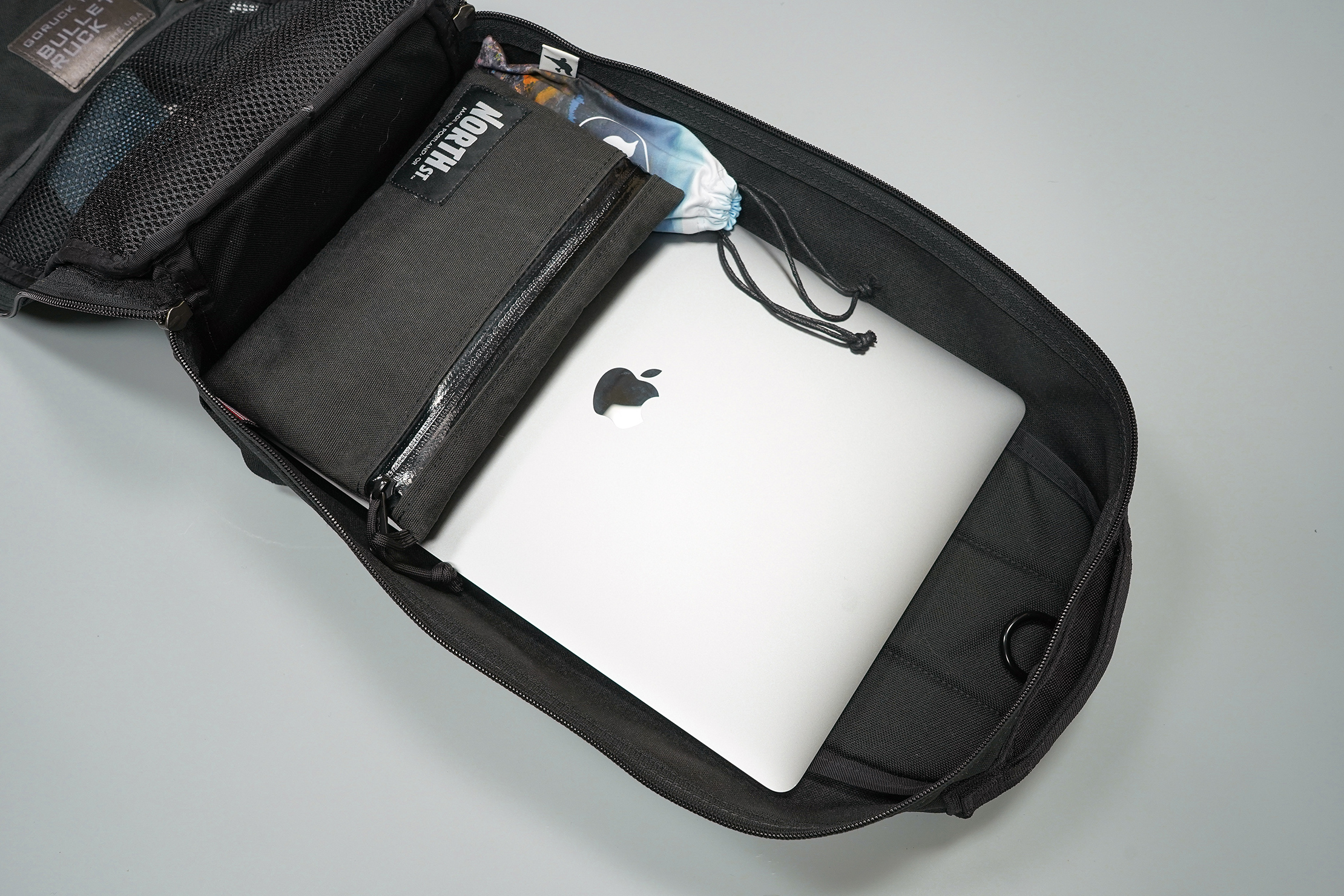 The front flap of the pack has a "GORUCK 10L Bullet Ruck" label inside that also reads "Built In The USA."
An important note: While our Bullet was created in the U.S., GORUCK is shifting a lot of its production overseas to Vietnam. So your mileage may vary.
There's also a 1000D CORDURA nylon pocket with a coyote-colored zipper pull so you can tell it apart from the rest of the pulls. This pocket is about the size (or slightly larger) than a passport, and it's ideal for quick access—just unzip the top of the bag and fish your hand in.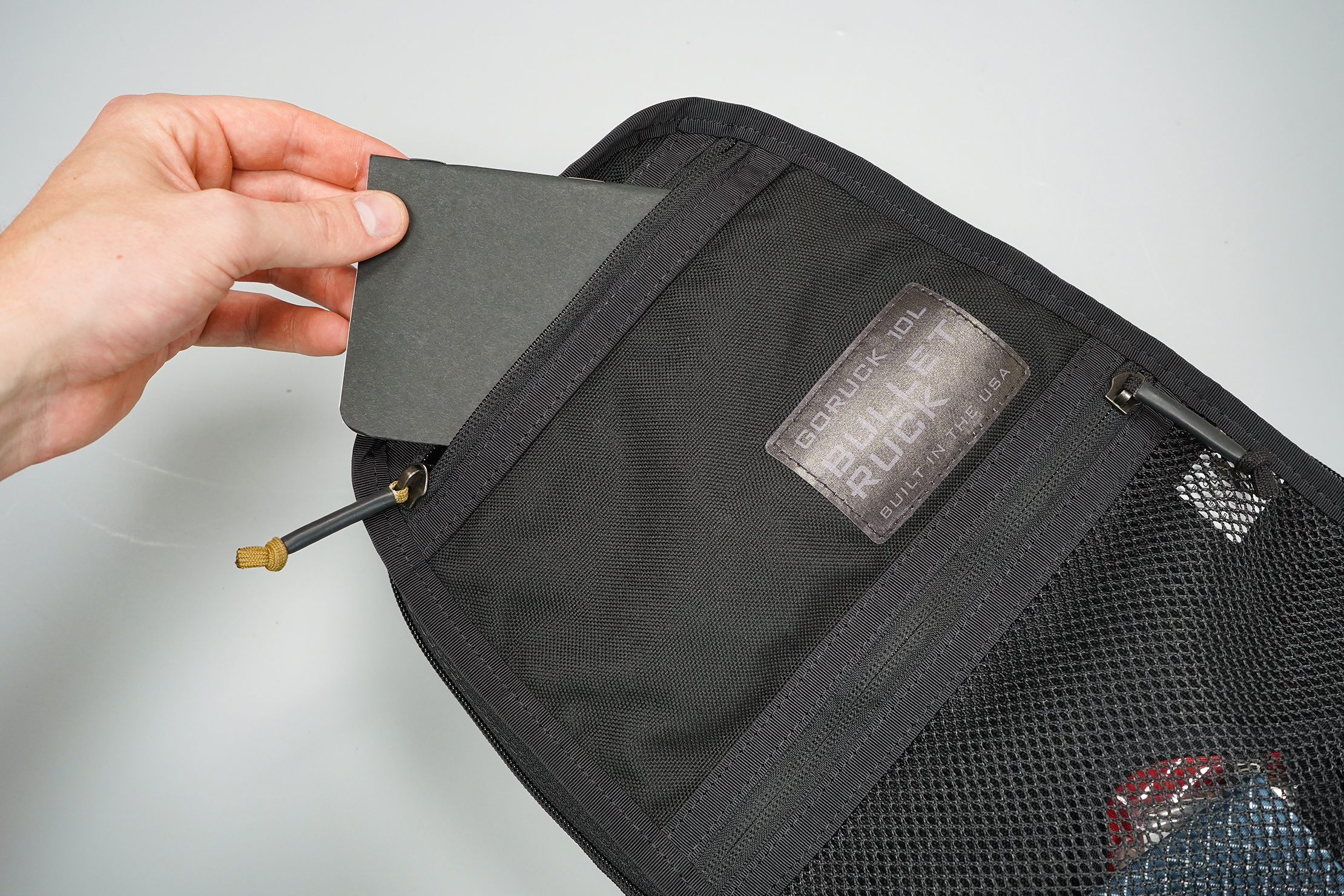 Just below that, you'll find a mesh pocket that's ideal for flatter items—and we like the visibility offered by the mesh. Though there is a bit of dimensionality to this pocket, we found that storing flatter items work best.
On the other side of the main compartment, you basically have a giant bucket. At the bottom of the bag, there's some pretty dense foam padding between the 1000D nylon, which helps give the bag a little bit of structure. The slightly floppier 1000D CORDURA material is found around the outside with no padding. Together, this system works well for giving the bag some structure and shape while still keeping it lightweight and flexible.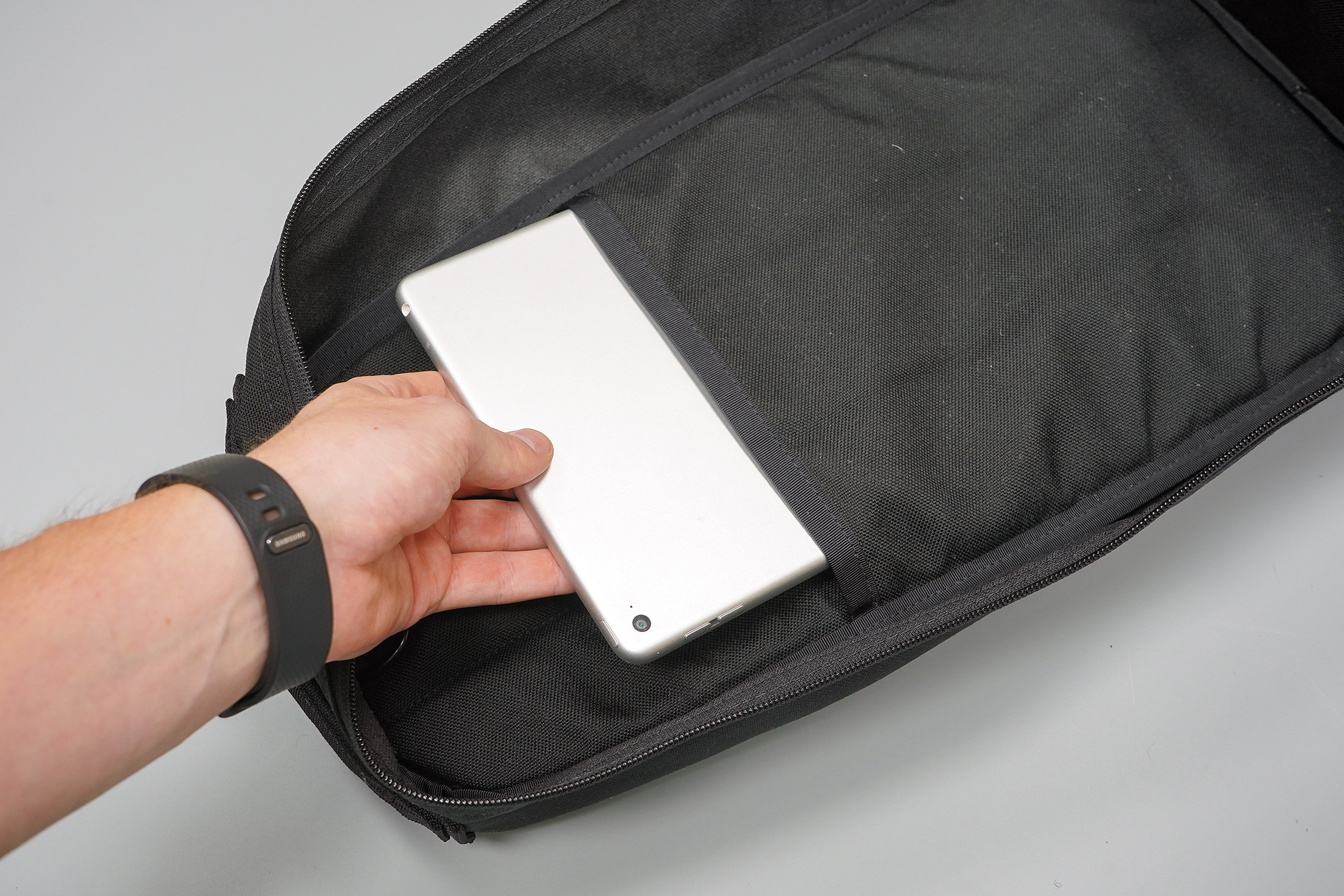 Towards the back of the GORUCK Bullet Ruck 10L, there's a sleeve with that same 1000D CORDURA. It's a nice place to toss in a water bladder, a rucking plate if you're rucking, or a smaller laptop or tablet.
Above that, there's a durable chunky metal D-ring at the top, which can be used as the toggle for your water bladder or for attaching a carabiner to hang other items.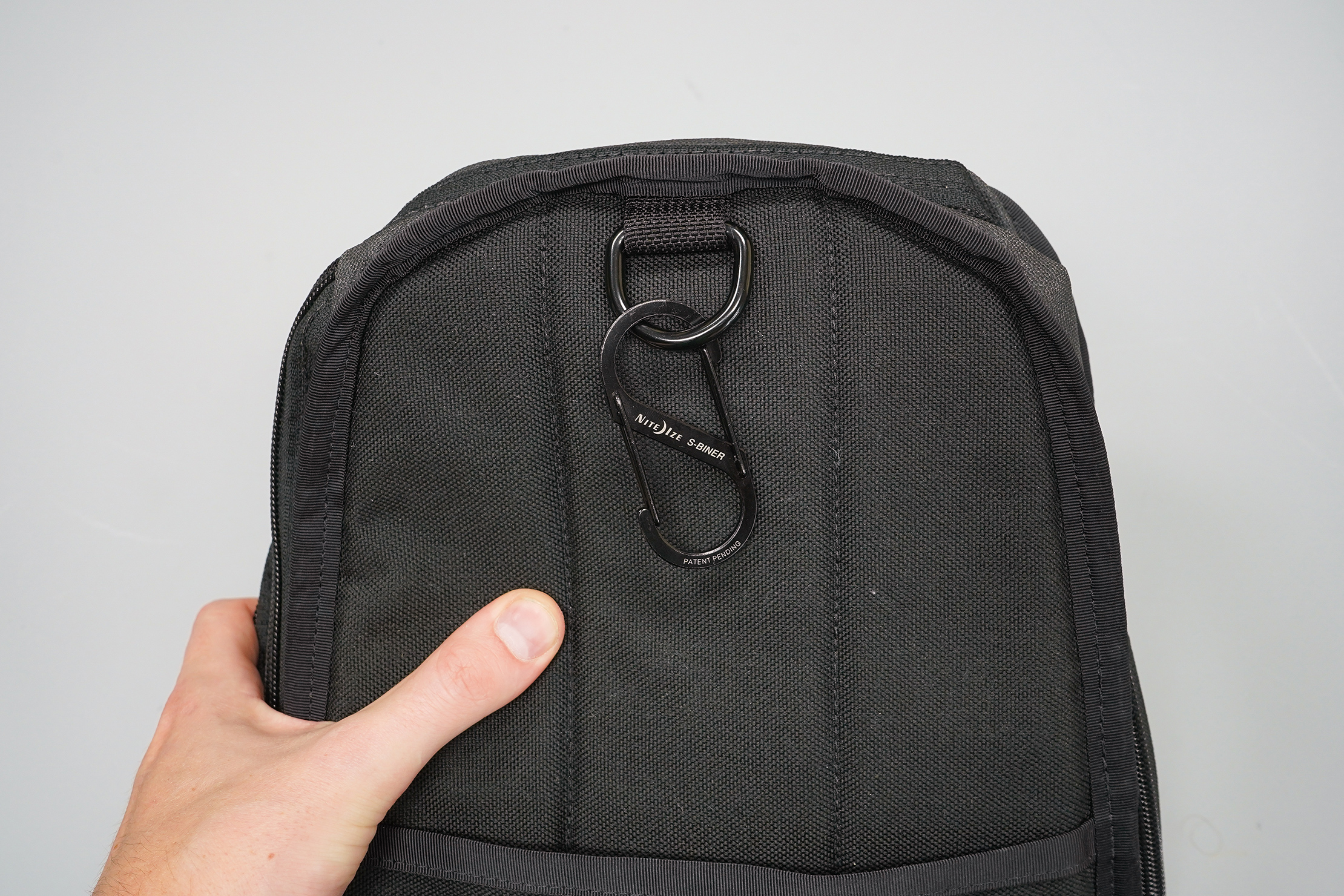 Durability & Testing
At the time of this review, we've been testing the GORUCK Bullet Ruck 10L for about a month as a daily driver around in Detroit, Michigan and on a trip to Arizona including a couple of flights.
Overall, it's been a durable and satisfying little bag to use for everyday carry. It also works well for super minimal travel. We love that there's just enough organization to where you can compartmentalize your stuff, and the main compartment is still large enough to use pouches and packing cubes—even on a short trip across the country.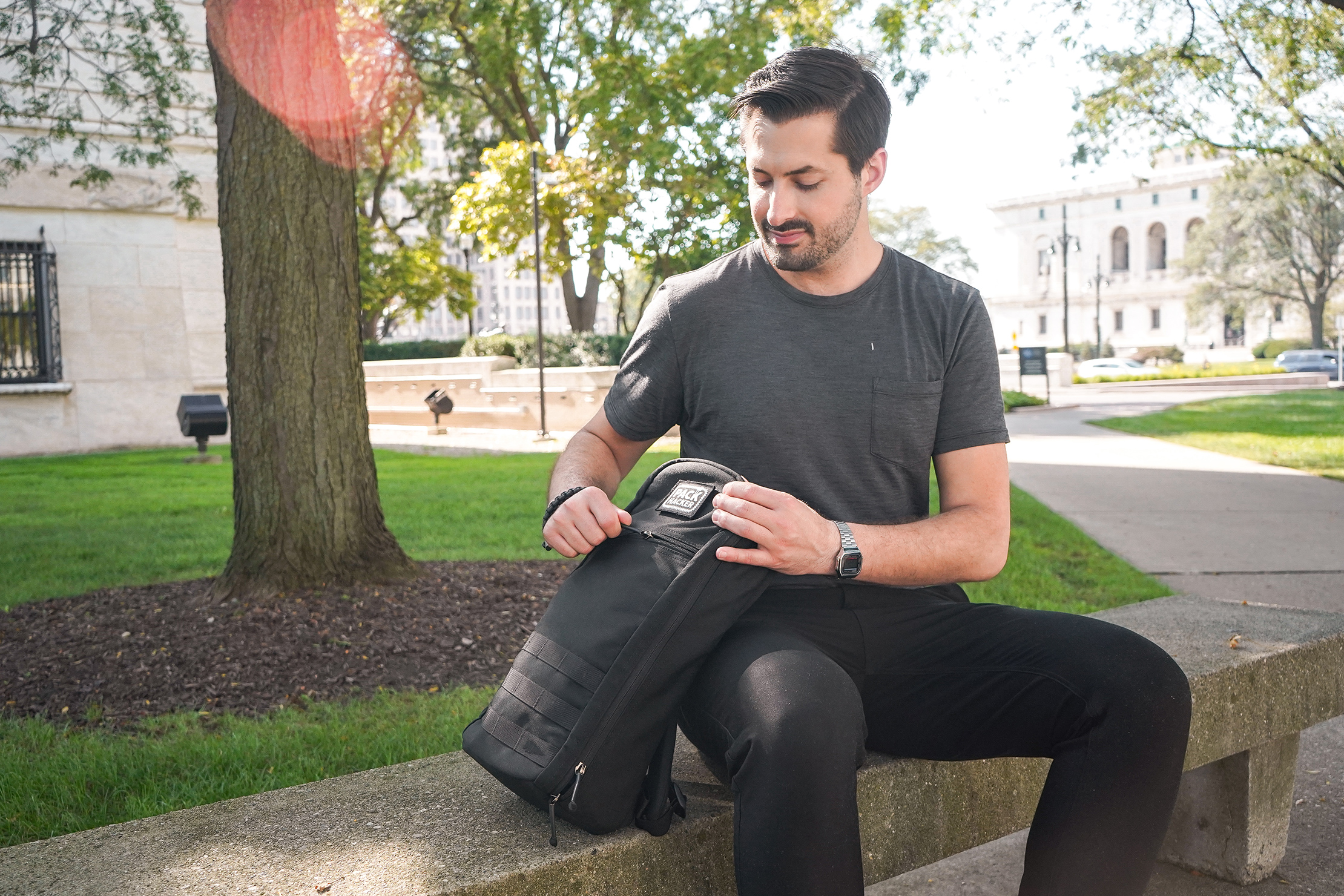 The Bullet Ruck 10L has been super comfortable to wear, as well. It takes a little bit of time to break in those shoulder straps, but once you do, it gets plenty comfortable.
Now, GORUCK recommends that you pack this bag inside of a GR2 or GR3 while traveling to use it as a daypack when you reach your destination. But we think that's a little bit overkill. We've had better luck with lighter, more compressible daypacks for travel—especially since you're typically trying to save as much weight as possible. So you could use the GORUCK Bullet as your travel daypack, but it's probably not the most practical option.
Usage Timeline
Initial Usage
Condition: Excellent
Great size for short day trips
Same great, durable materials we've come to expect from GORUCK
Set-up very well for a hydration pack
2 Weeks of Use
Condition: Excellent
Harness system is very comfortable and it fits more than expected
1 Month of Use
Condition: Excellent
Great size for short day trips, but the slash pocket is a little difficult to use.
Access the Pro Community Discussion
Get your questions about the GORUCK Bullet Ruck answered from our team and the Pro Community right here on the page. Plus, join discussions with other members about gear, guides, and more.
Other Bags & Luggage Reviews