FREITAG F306 HAZZARD Review
Upcycled truck tarp may not scream "top-of-the-line," but it does give the FREITAG F306 HAZZARD a durable edge and keeps the material out of a landfill.
Our Verdict
Unlock the Pro Summary
Save time. Get access to brief summaries of our reviews so you can browse and make decisions more efficiently.
Pros
Made of very water-resistant used truck tarps
Square bucket space is easy to pack out
Multiple ways to access the main compartment
Cons
A bit heavy for the features it has
Shoulder straps lack padding
Strong rubbery out-of-the-box smell
Recent Pack Hacker Video
Technical Details
Capacity

19l

Weight (lb)

2.87 lb (1.3 kg)

Dimensions

11.8 in x 4.7 in x 17.7 in (30 x 11.9 x 45 cm)

Notable Materials

Tarpaulin, Recycled Polyester, PVC

Manufacturing Country

Switzerland

Portugal, Poland, the Czech Republic, Bulgaria, and Tunisia

Laptop Compartment Size

17"

Warranty Information
Full Review
Like most brands, FREITAG has a compelling backstory to go along with its gear lineup. Started by Markus and Daniel Freitag, the brand traces its origins to a small apartment with a used truck tarp, a sewing machine, and a dream. Oh, and a roommate to tell the story later on. It's a humble beginning that many startups can definitely relate to. A tale as old as time, if you will.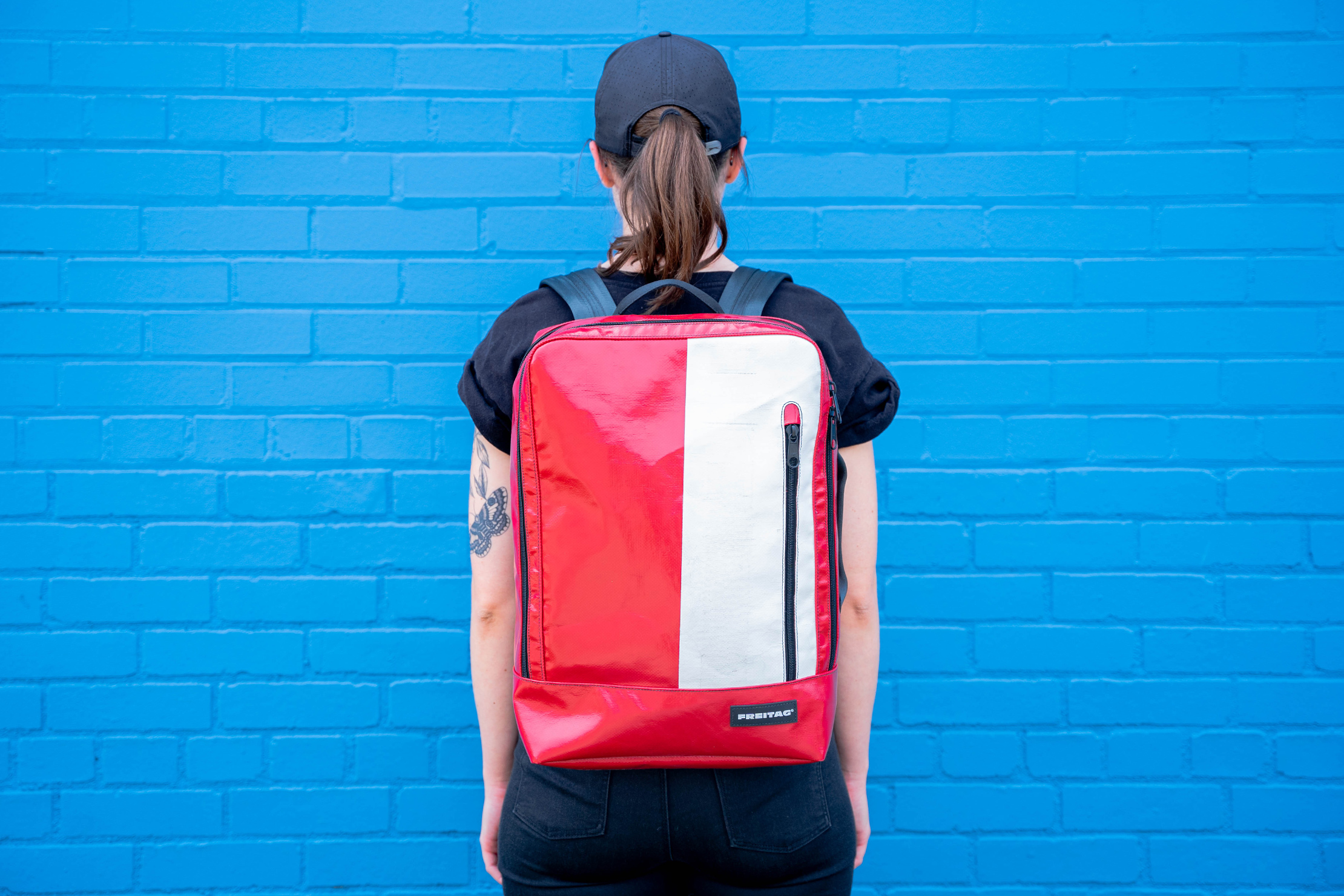 Fast forward to this review, and we now have the F306 HAZZARD, a backpack that, at first glance, seems to be cobbled together from pieces in the leftover bin—and it works.
It's not perfect, though. We wouldn't be caught redfaced with it, but the bag unapologetically bears its upcycled nature. The tarpaulin has patina right out of the box, the seatbelt-like shoulder straps are a bit lacking, and it definitely comes with an out-of-the-box smell. Still, the bag is well-structured, easy to pack, and environmentally friendly, so it's not without its good points either.
Materials & Aesthetic
As mentioned, the F306 HAZZARD is made out of used tarpaulin, as with most of FREITAG's gear. The way they source it is pretty interesting as well. They scour truckstops for the material and take them to a facility where they'll be inspected, tested, and processed. As you can imagine, there's some randomness when it comes to what colors of tarpaulin they will get, so the amount of colorways available is quite extensive.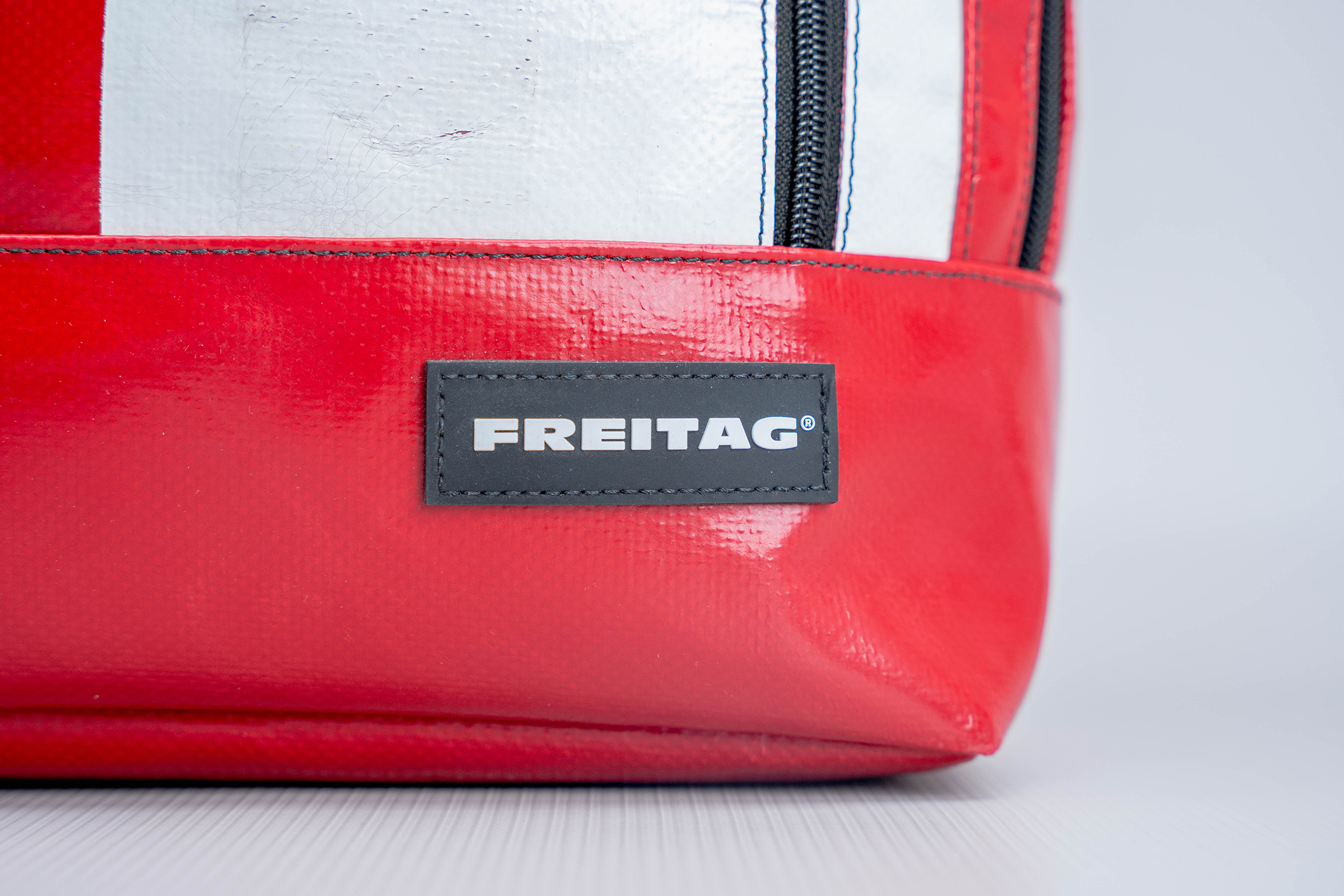 At the time of writing, the exact colorway we have here is no longer available. However, there are other red and white patterns available. Most of the other colorways are two-tone designs, like blue-white, red-yellow, green-white, and blue-pink. Solid color options are also available, but we like the two-tone ones better because they just stand out more. This red and white colorway is particularly pleasing to look at. It kinda reminds us of those old cars you see, with the cherry red paint job and white leather seats.
Since the fabric is technically used, the F306 already has patina right out of the box. Now some may see this as a red flag. After all, used tarpaulin that's already scuffed doesn't exactly scream "quality." To be fair, it looks quite fresh despite the used fabric. And when we say patina, we don't mean tears and scratches, more like folds and creases.
We're no strangers when it comes to tarpaulin. We've seen it used on bags such as WANDRD's PRVK series and other packs that put an emphasis on water resistance. For those of you wondering, the tarp on the F306 is made up of polyester with PVC coating (tarpaulin can also be made from canvas). Meanwhile, the interior liner is made from recycled polyester PET bottles, meaning most of the F306 is made of used materials. On the other hand, tarpaulin does also have its disadvantages.

While tarpaulin is a fairly durable material, it's also quite heavy. Even when empty, the whole bag weighs 2.87 lbs. Now, we have seen bags of a similar size that weigh more than that, but those usually have tons of straps, pockets, and features in general. In comparison, the F306 does feel a bit bare for its weight.
Something else to note about the F306's tarpaulin is its out-of-the-box smell. It had a particularly strong rubbery scent, strong enough that we wouldn't recommend sniffing it up close and personal. The good news is that this smell eventually wore off without having to wash the bag. After a week from initial use, the smell is barely even noticeable.
The hardware and zippers are also unbranded. We're generally suspicious of the lifespan of materials when this is the case. However, we're still giving the F306 a pass since the hardware and zippers haven't really failed us either. We will say that the zipper pulls are very jingly, and since they sit to one side, they kind of only ring in our one ear. It's an odd quirk but a noteworthy one if you're (understandably) peeved about jingly zippers.
External Components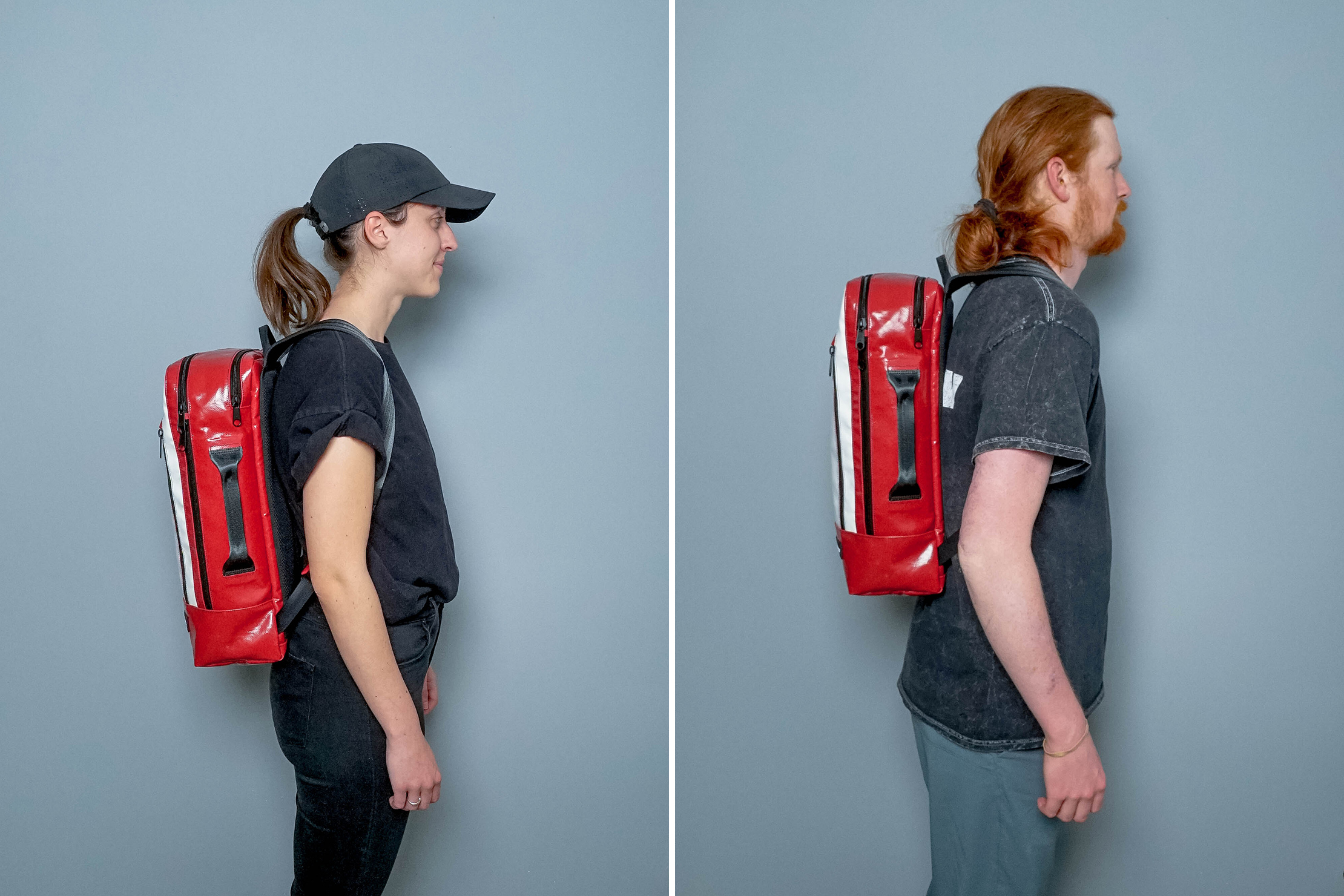 The F306 comes with your standard shoulder straps but not much more. You do get a well-padded and meshed back panel, but really, that's the extent of it. That's not necessarily a bad thing. If done right, even the basics can provide a comfortable carrying experience, especially at 19 liters.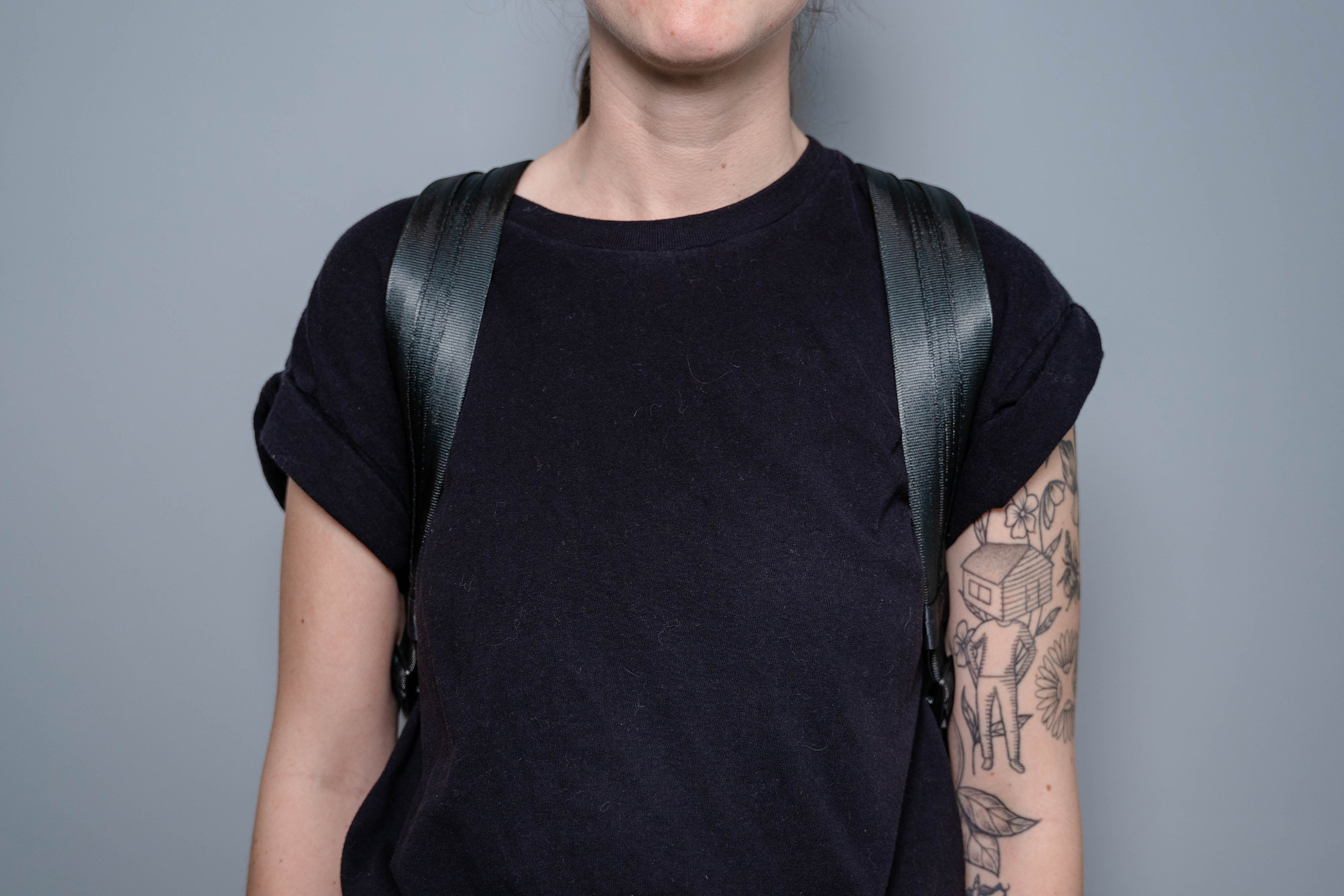 While the back panel is comfortably padded and has good coverage, the shoulder straps are a bit lacking. They come in this sort of seatbelt-like material, and a quick read-through of FREITAG's site may clue you in on why that is. It says "…made of recycled stuff like tarps and inner tubes and car safety belts." So yes, even the straps are recycled.
However, that doesn't distract from the fact that they still lack any appreciable cushioning whatsoever. The straps feel more solid and rigid rather than soft and gentle. As a result, they really dig into the shoulders, even when we don't fully pack out the bag. Needless to say, these straps wouldn't be comfortable to wear for long periods of time.
Something else worth noting is that the strap adjusters, while easy to slide, are also prone to slipping over time. We find ourselves adjusting it once or twice a week because it feels like the fit is off.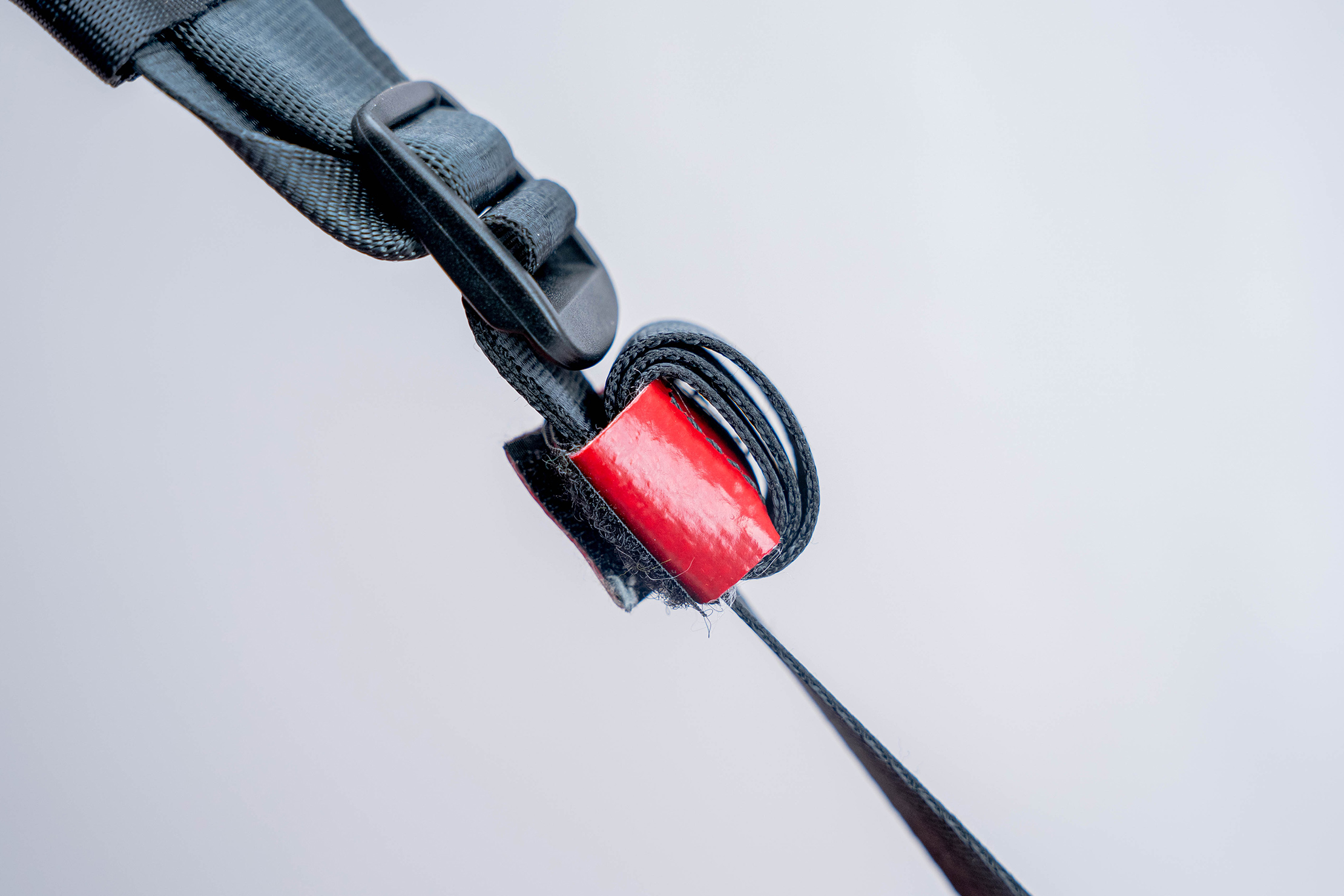 There is something working in favor of the F306's shoulder straps: strap keepers. Each shoulder strap has one, and both are covered in red tarp, so they help with the aesthetic as well. Simply roll the slack from the end and use the hook and loop fastener to anchor it in place. Jingly zippers may be an issue for this bag, but certainly not dangly straps.
You can also carry the F306 like briefcase-style via the side handle. For quick grabs, there's a top handle positioned at the very rear edge of the bag. In our view, this is the ideal position. Though it may not make for a completely balanced carry, being located near the edge means it's easy to hang even on shallow hooks. You know the ones—those very minimal hooks they put behind bathroom stall doors.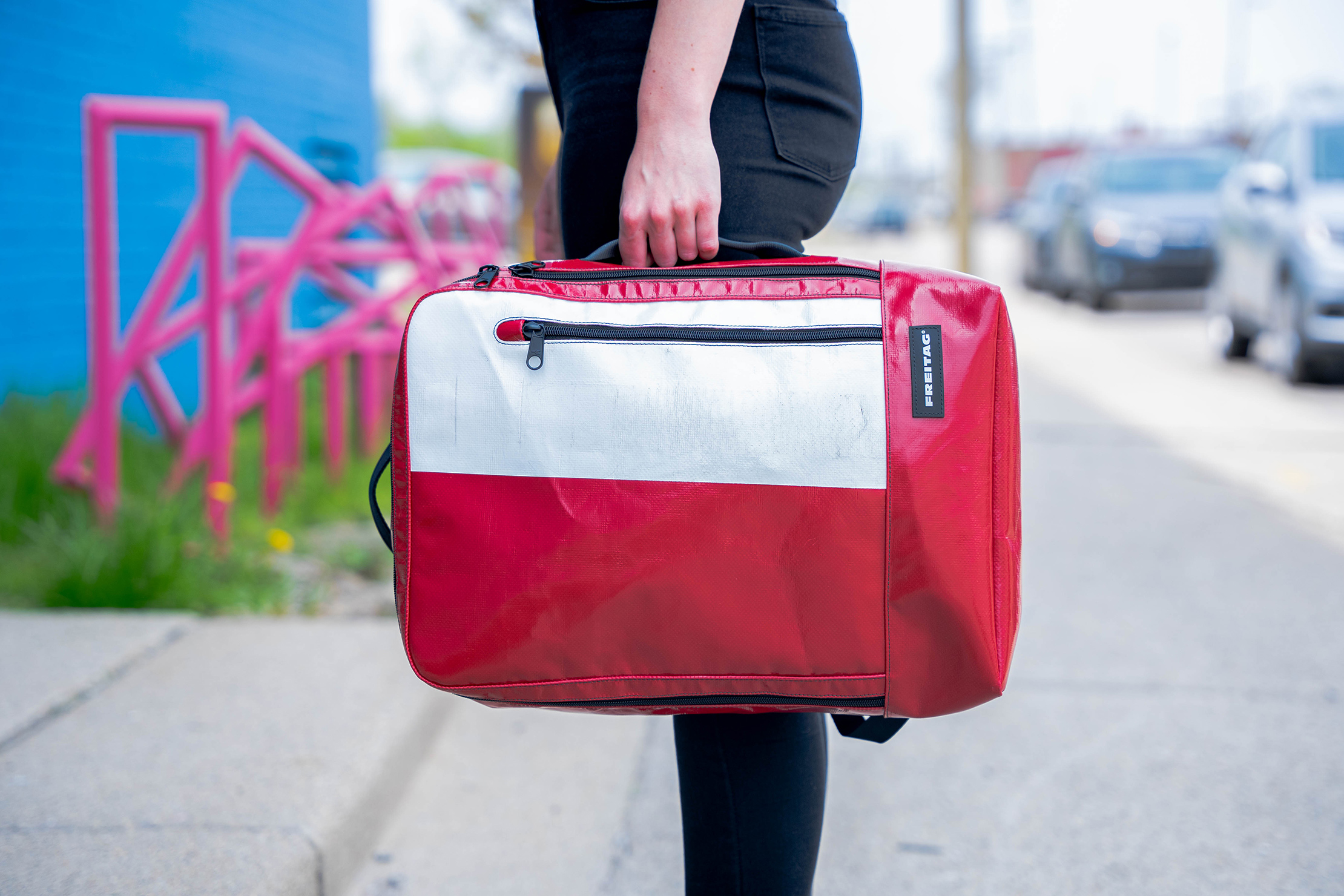 All in all, the F306 isn't the most comfortable backpack to lug around. The shoulder straps lack the padding it needs. In general, the exterior feels bare for how much the bag weighs. As mentioned earlier, most of the weight is due to the relatively heavy tarpaulin. External features are fairly minimal, lacking a sternum strap, water bottle pockets, attachment points, or a luggage pass-through.
Inside The Backpack
The front pocket has a sideways opening, which is not the easiest to access when you have the bag standing vertically on the floor. On the other hand, The opening is best accessed when the bag's sitting on its side suitcase-style. It's also arguably easier to open whenever you swing the bag to your front from the right shoulder.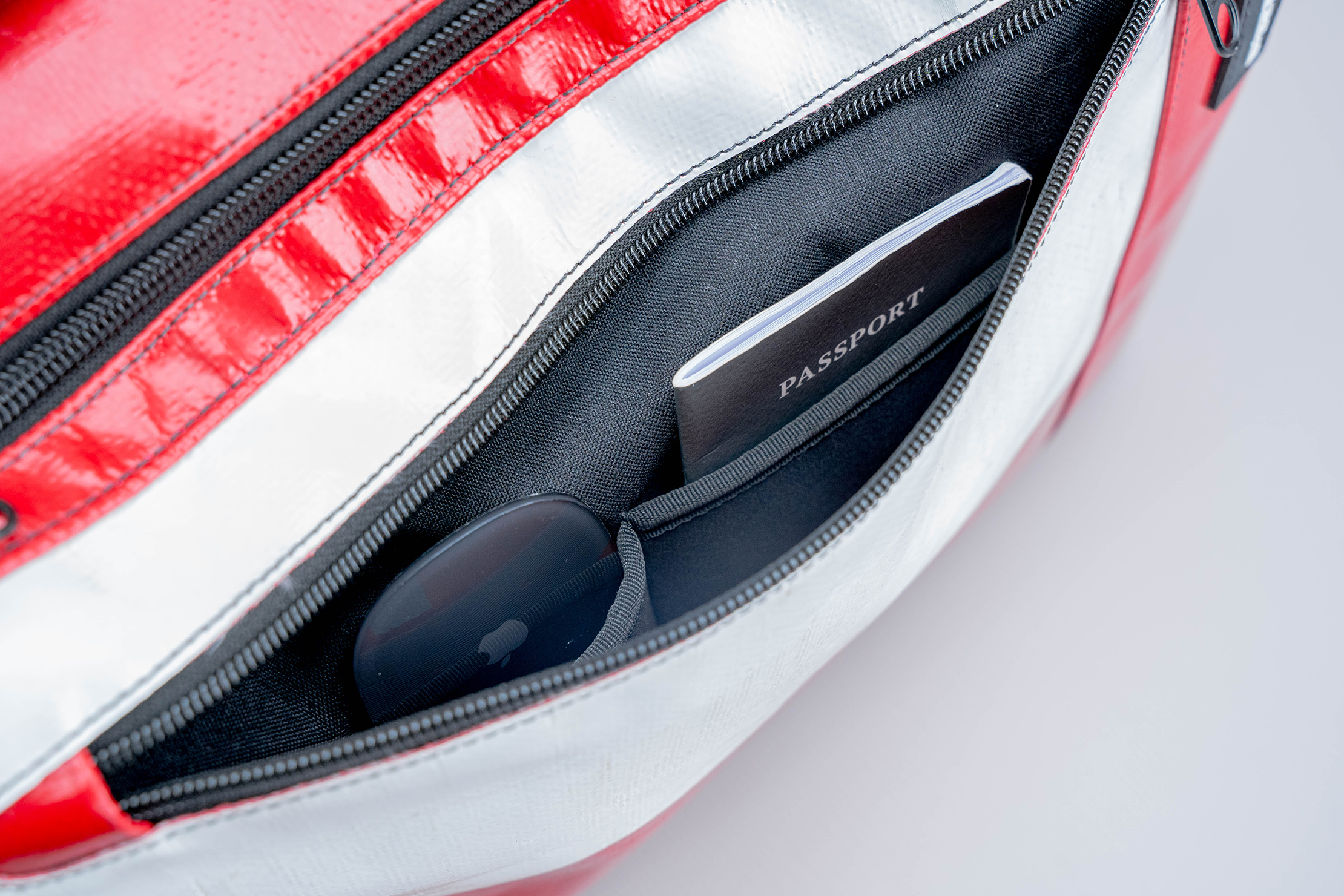 Inside, the internal pockets are similarly laid out in a sideways fashion like the opening. You get two liner pockets; one is too narrow for a passport, while the other fits it with room to spare. That may be a nitpicky thing to point out, but we still wish there was just a bit more flexibility with the size (i.e., make the narrow one just a tiny bit wider). You also get a key leash, and this time it really is just a leash. Other bags include a clip at the end, but this one just has a loop, so you'll either have to provide your own keyring or tie your keys to it. We don't suggest the latter because you won't be able to detach your keys in a pinch quickly.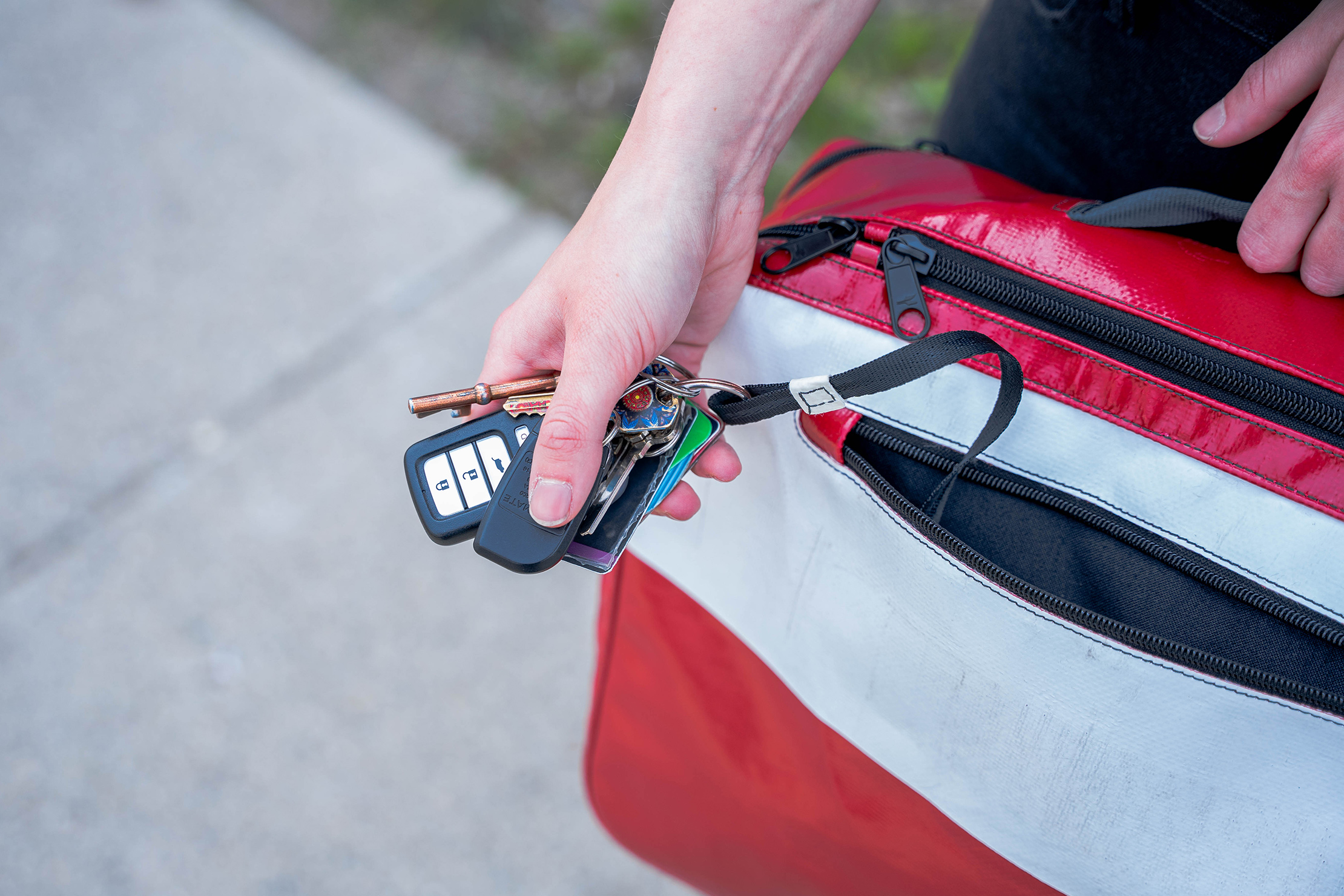 In terms of space, there is plenty of it, even for something like a bulky wallet, power bank, or a journal. Like we said earlier, the tarp manages to hold its shape fairly well, so there isn't a huge impact to its shape when it's packed with bulky items.
FREITAG's approach to the F306's main compartment opening is rather interesting. It's a clamshell opening (though the zippers do stop about an inch or so from the bottom), but the two zippers are each limited to their assigned area.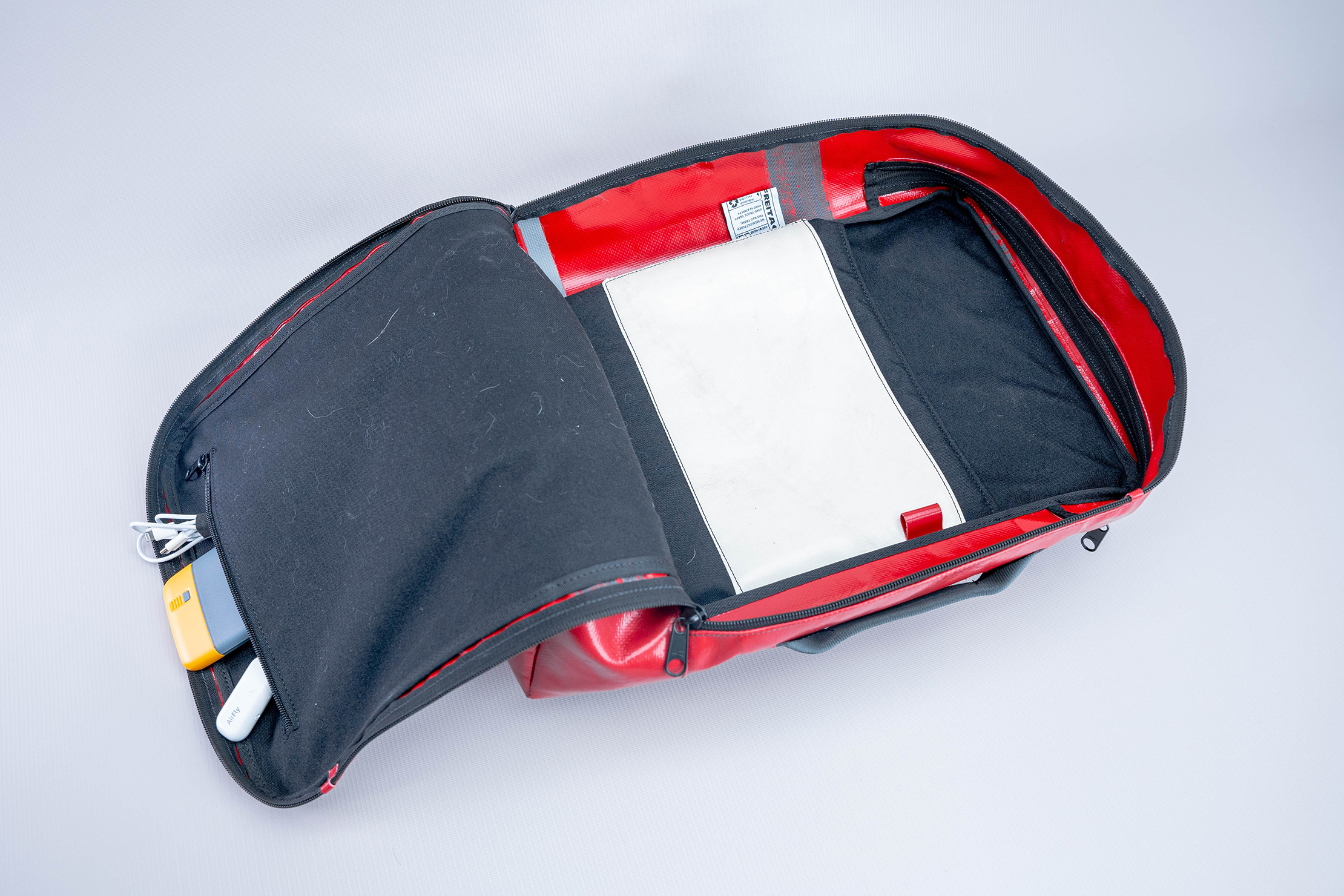 Like a typical clamshell, there are two zippers, but a small stopper separates them near the right-hand corner. This gives you a partial zippered opening on the right side and a two-thirds opening starting at the left. This seems like a clever idea at first. However, in practice, this feels a lot less flexible compared to just having both zippers move freely sans the stopper. Accessibility feels a bit clunky but still fine overall.
Once you have both zippers down, you're greeted by a huge bucket space closely resembling that of a squared-off suitcase. Combined with the F306's good structure, packing out the interior is a breeze and quite satisfying as well. Filling the space corner-to-corner with rectangular pouches, packing cubes, and even a water bottle easily maximizes every ounce available. Also, parts of the interior are bare tarpaulin, and their colors give some illumination, so you're not staring at something completely black.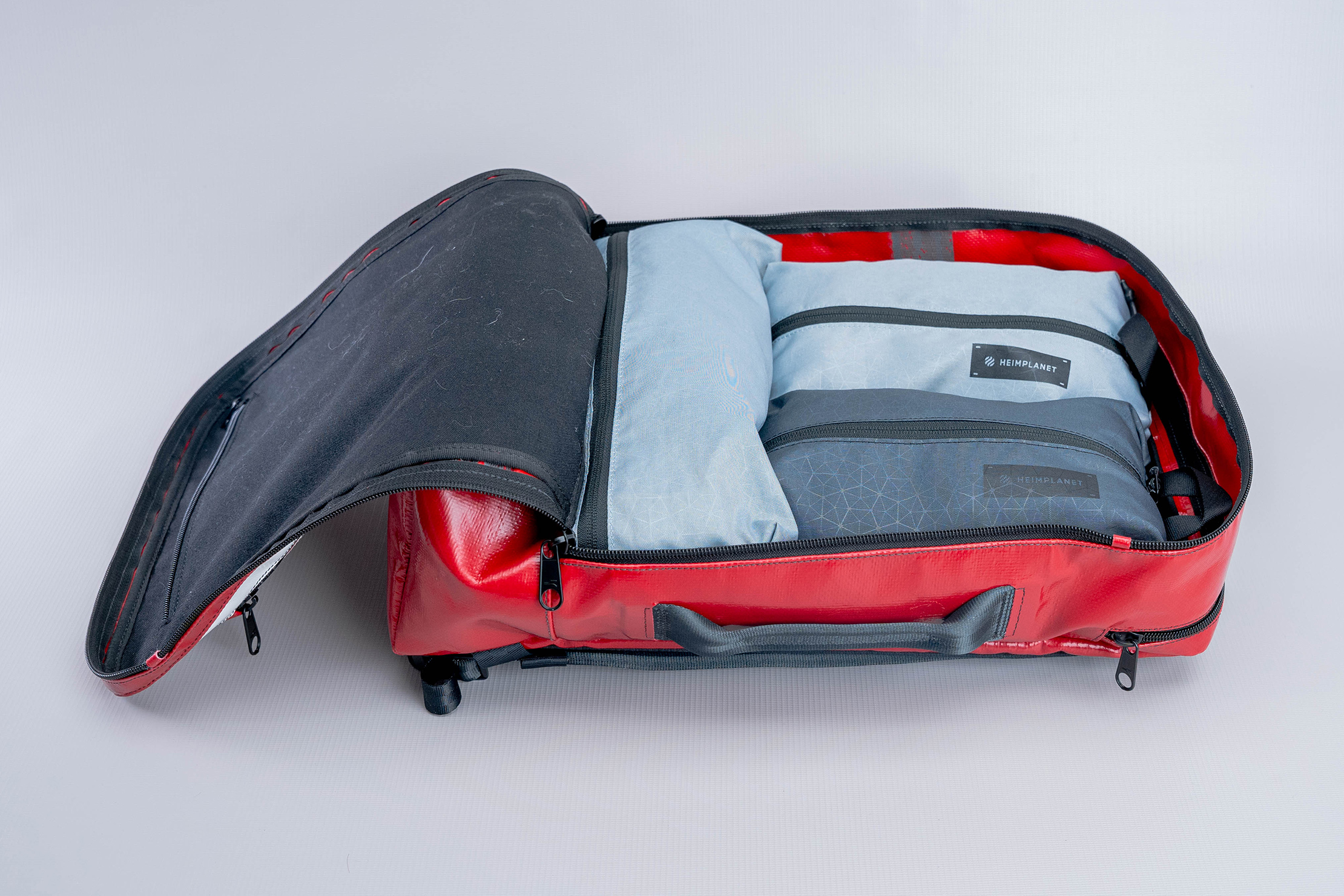 Internal organization is handled by built-in laptop (up to 17 inches), and tablet (fits an iPad Air) sleeves at the back and a zippered pocket at the front. The latter is our dump pocket for all of our tech accessories. You also get a small pen loop on the right side. Watch out though, because the tarp catches on pens with rubberized grips, making them a bit tricky to remove.
While the laptop sleeve does technically have a false bottom, it actually doesn't do a lot. There's barely enough material and buffer space to really cushion even a minor impact. Therefore, we still take some caution whenever we're setting the F306 down.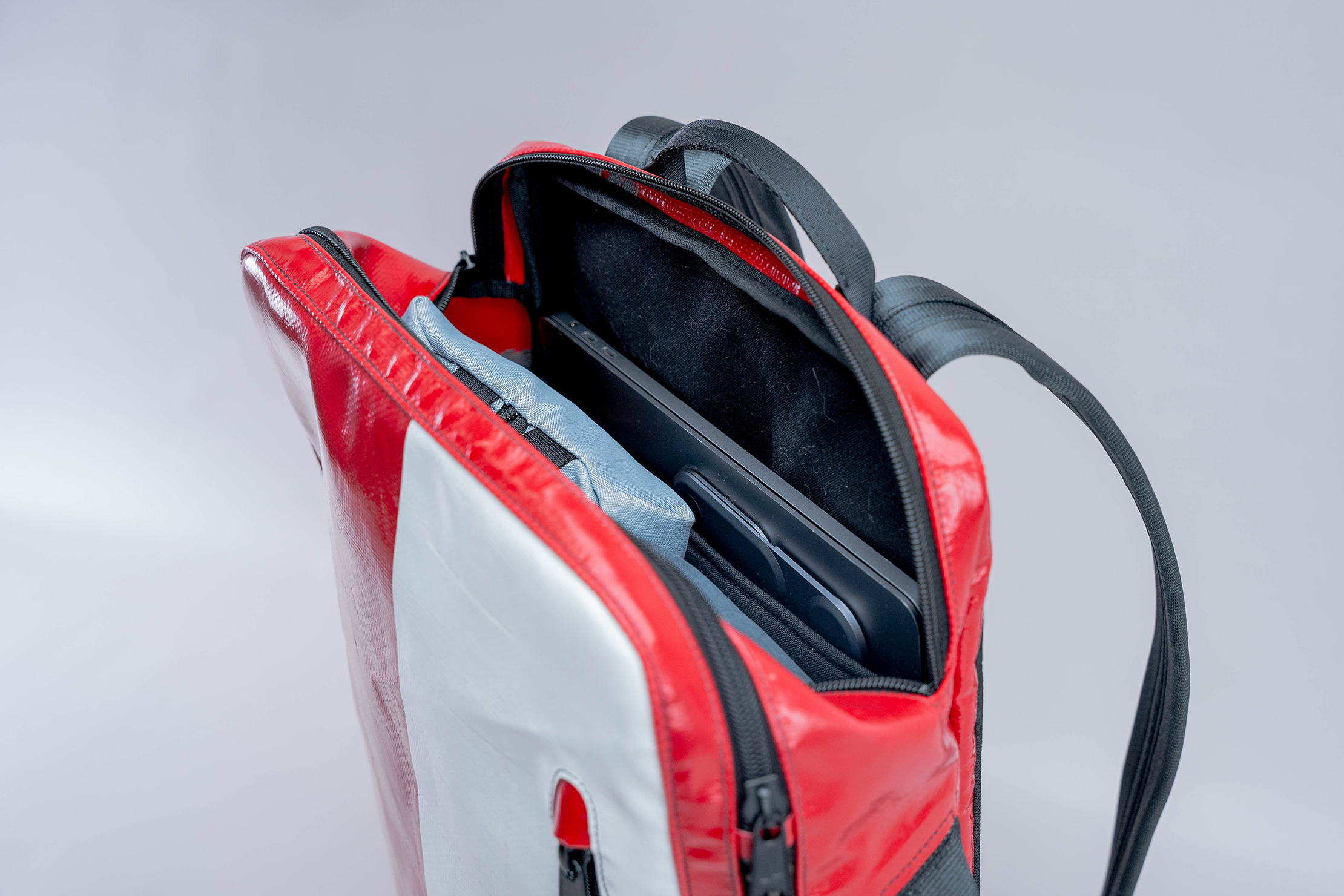 Taking out a laptop or a tablet through the main compartment's clamshell opening can be tricky because there's a lack of clearance. Both devices butt up against the top edge of the bucket space. Fortunately, there is a separate zippered opening for accessing them. In fact, the opening is big enough to use as a third way to access bulky gear inside the main compartment.
Weight and comfort are the F306's chief weaknesses. To be clear, it's not unwieldy, just that the harness system feels lacking while the structured tarpaulin adds to the weight. In return, you get a pretty unique-looking recycled backpack that's easy to pack. That is, once you get used to the quirky layout of the openings.
Usage Timeline
Initial Usage
Condition: Excellent
Has a distinct tarp smell
Squared off and feels well-structured
Carrying the bag using the side handle is very suitcase-like
2 Weeks of Use
Condition: Excellent
Smell reduced relatively quickly
Satisfying to pack the rectangular shape
Shoulder straps lack padding, which really impacts comfort as you load the bag with gear
Access the Pro Community Discussion
Get your questions about the FREITAG F306 HAZZARD answered from our team and the Pro Community right here on the page. Plus, join discussions with other members about gear, guides, and more.
Other Bags & Luggage Reviews