Fjallraven Ulvo Hip Pack Medium Review
With a versatile carry and sleek look, the Fjallraven Ulvo Hip Pack Medium is great for EDC and travel—but we're disappointed in its lack of organization.
Our Verdict
Unlock the Pro Summary
Save time. Get access to brief summaries of our reviews so you can browse and make decisions more efficiently.
Pros
Polished, simple aesthetic
Made of durable, quality materials
Can be worn as a waist pack and a sling bag
Cons
The main compartment lacks interior organization
Zippers are slow to work around the corners
White interior makes us nervous it'll easily show marks
Recent Pack Hacker Video
Technical Details
100 %
Carry-on Compliance
Capacity

2l

Weight (lb)

.33 lb (0.1 kg)

Dimensions

4.72 in x 11.02 in x 3.94 in (12 x 28 x 10 cm)

Notable Materials

Polyamide, Nylon, YKK Zippers, Woojin Hardware

Manufacturing Country

Vietnam

Warranty Information
Buying Options
$59.12

Full Review
Here at Pack Hacker, we've tested a lot of Fjallraven gear. And, since this Swedish brand makes quality, durable stuff that's handy to have in everyday life and on the road, we're always excited to get our hands on what they have to offer.
Something else we're always excited to get our hands on? Waist packs (also called, fanny packs, hip packs, etc.). These nifty packs are great for holding the essentials while you're out exploring the world.

Enter the Fjallraven Ulvo Hip Pack. Which is from Fjallraven and a hip pack, so, yeah, we've been excited to test this thing. And after two weeks of doing just that, we have a lot to say.
Before we get into it, we want to mention that the Ulvo Hip Pack is available in both medium and large sizes. We've been testing the medium—which is what we'll be focusing on in this review—but the large is similar. Only it has two liters more capacity, slightly more internal organization, and compression/lash straps.
With that said, let's check it out.
Materials & Aesthetic
Beauty is always in the eye of the beholder, but we're digging the simplistic vibe of this waist pack. Somehow, it manages to be both urban and outdoorsy, old-school and modern, playful and serious. We love the logo tag with the classic red arctic fox logo, the heritage font used to write Fjallraven, as well as the oblong shape of the waist pack. (Note: the logo tag is also reflective.)
Fjallraven says the Medium Ulvo Hip Pack has a capacity of two liters. There is no international standard for waist pack capacity—at least, not yet—so liter size varies from company to company. From our experience of testing approximately 1.2 gazillion, or you know, dozens of waist packs and sling bags, this one skews toward being larger than what we would expect from a 2L size. Not really a pro or a con, just a note.
At the time of this review, it's available in seven colorways. Of course, being a product from Fjallraven, all of these colors are a little more earthy and a little less in your face. We've been testing the Mountain Blue, which we think looks quite polished.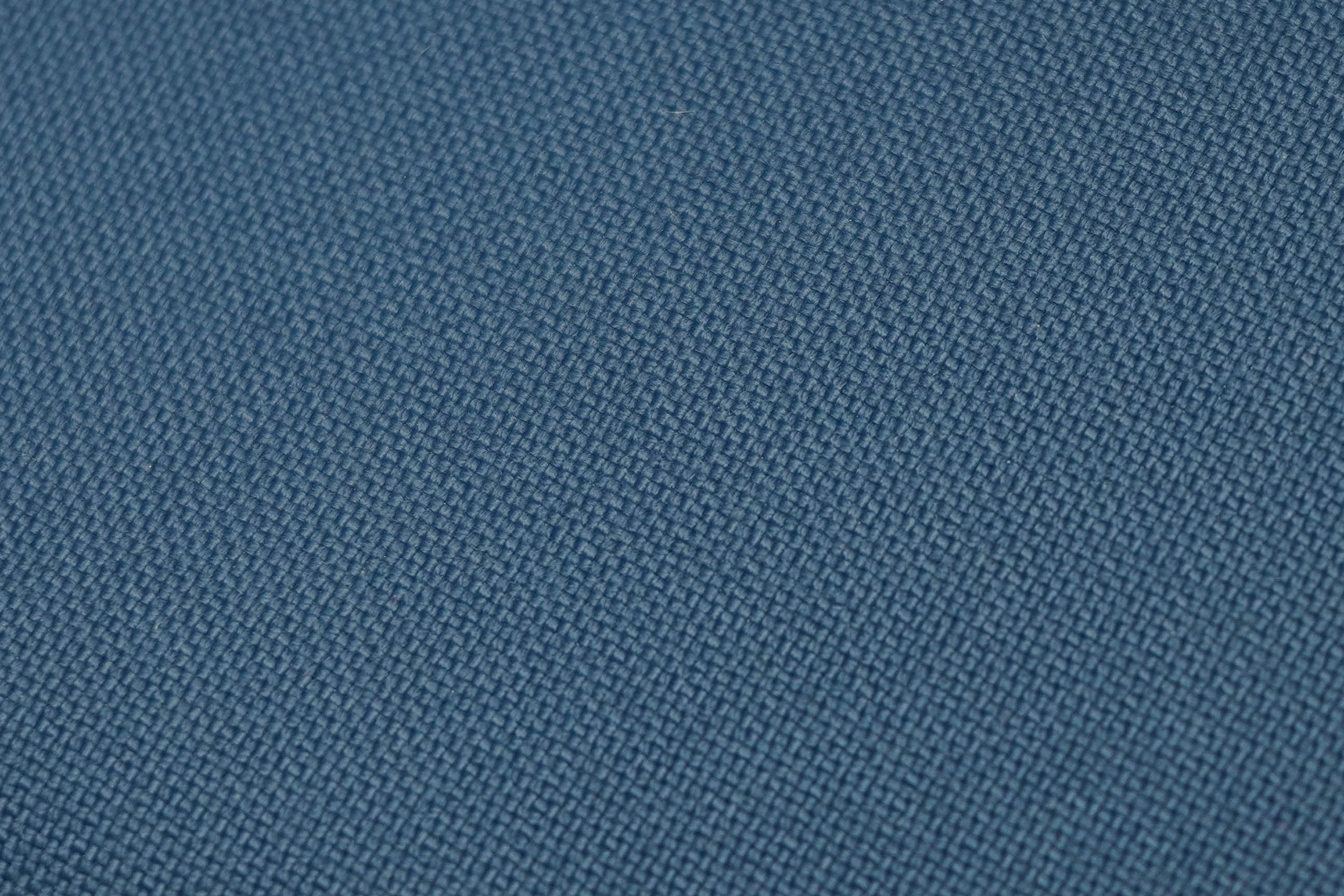 This waist pack is constructed with Fjallraven's newest fabric, Bergshell, which is a 400D nylon made of air-textured and ordinary filament yarn. If you're interested in learning more about this fabric, check out our review of the Fjallraven Ulvo 23 Backpack, where we dive into the nitty-gritty.
For the purposes of this review, we'll just tell you that Bergshell is smooth, durable, and water-resistant. And, unlike a number of Fjallraven products made of the brand's classic G-1000 fabric, the Bergshell doesn't pick up lint or hair. Which is great!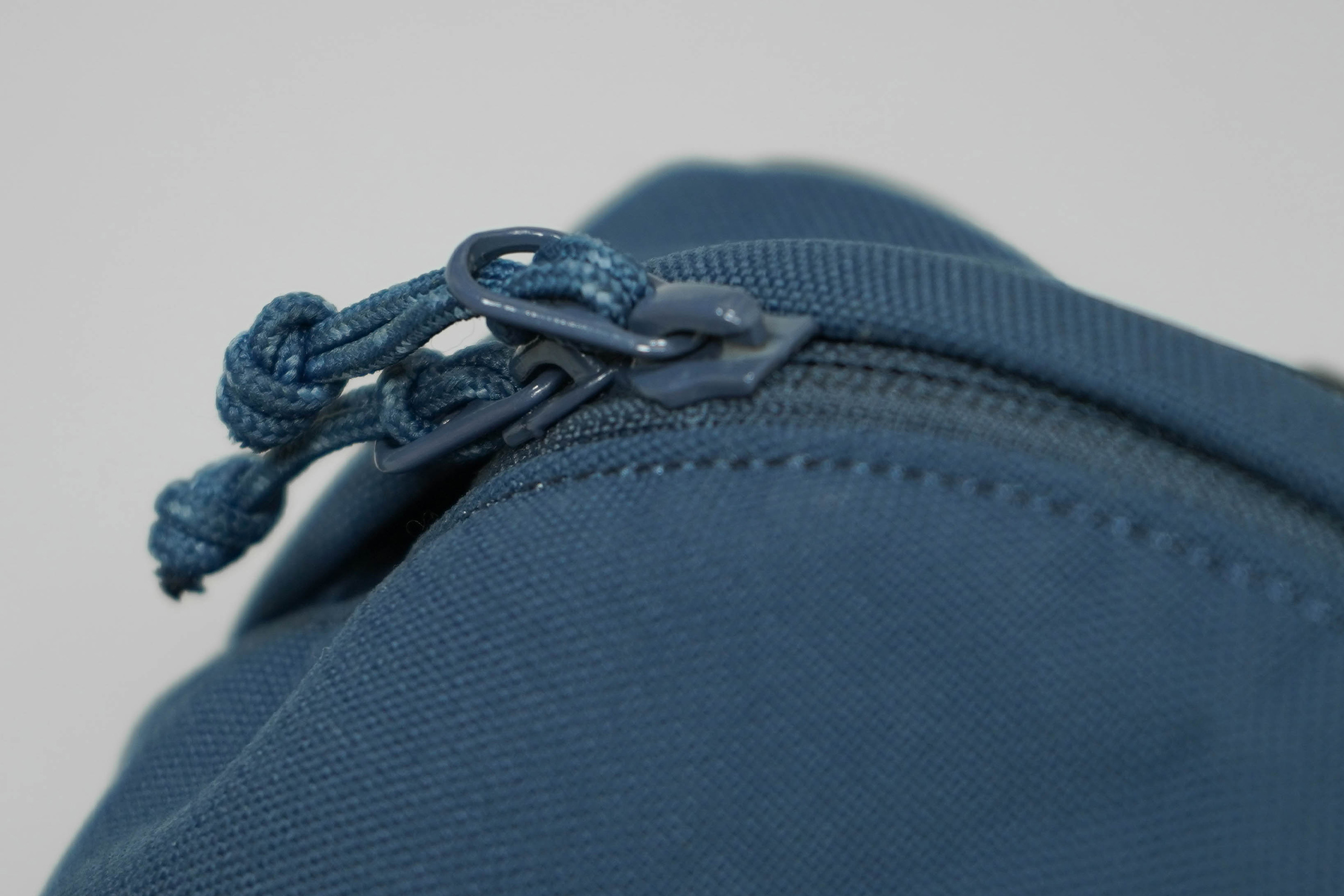 The zippers are from the trusted brand, YKK. While they're not water-resistant in and of themselves, they're covered by flaps of the Bergshell fabric so you'll be protected against most inclement weather. The seams are also sealed, adding to the pack's overall water-resistance.
The buckle is from Woojin, so everything is all good there.
We also want to note that there isn't any leather on the Ulvo Hip Pack. While we're not usually in the business of telling you what a pack doesn't have, we wanted to note this as Fjallraven is known for adding leather accents to a huge number of its products.
External Components
Unsurprisingly, we'll start with the only external component on the Fjallraven Ulvo Hip Pack: the strap. It's the perfect thickness for a waist pack of this size, offering a comfortable carry as a sling bag and a waist pack. For those of you unfamiliar, a sling is worn slung across your chest or back, while a waist pack is worn across your waist (fitting names, right?).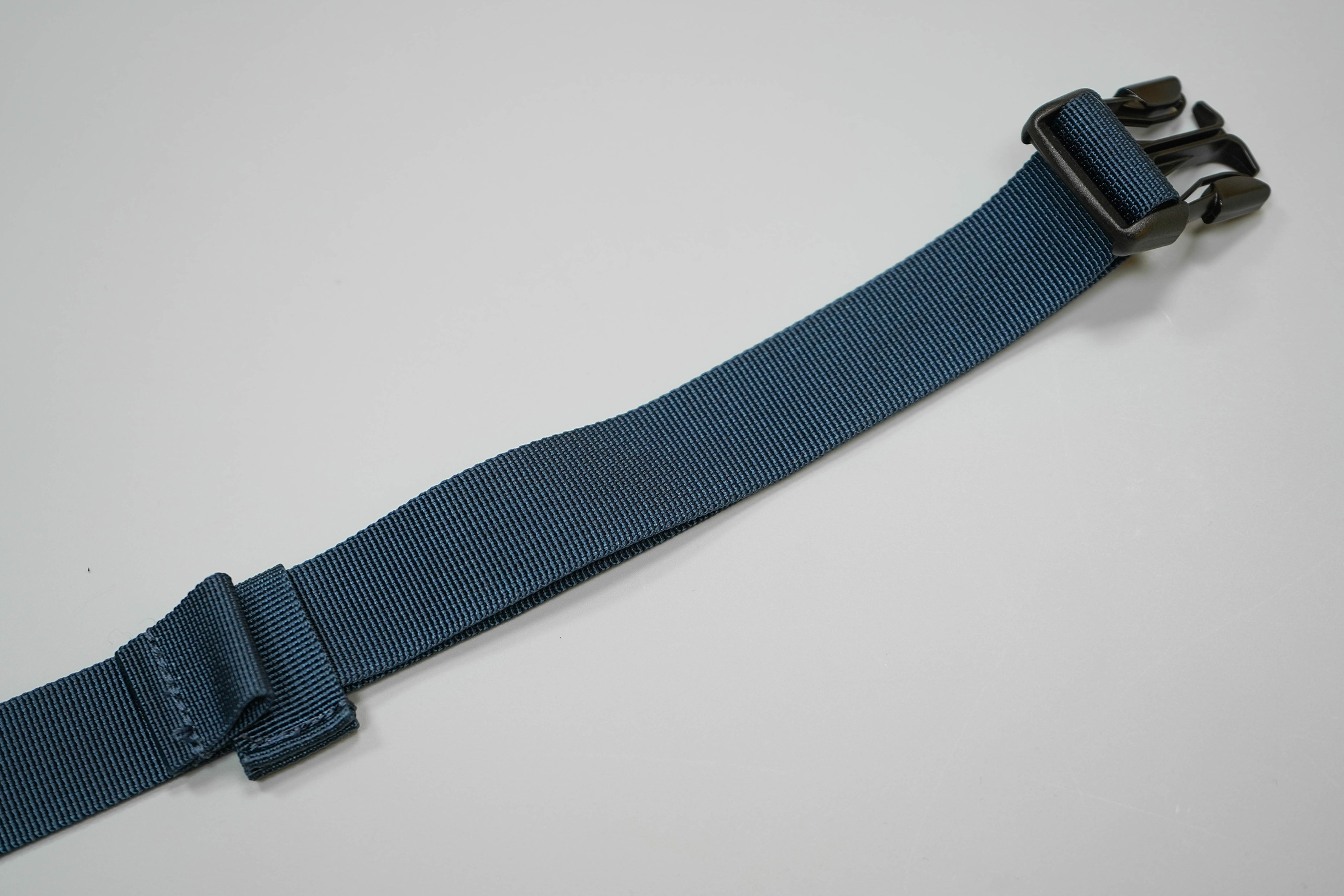 We've tested this bag all three ways and found them all great, which is not something you can say too often. Plus, it fits a wide range of body types and works for both righties and lefties.
The strap is (of course) adjustable and has an elastic keeper, which we always appreciate as there's nothing worse than dangling straps. Okay, there are a few things worse—fragile zippers, gear not being available in black, people telling us we use the word "sleek" too much—but not many.
Inside the Waist Pack
You'll find two pockets on this thing, which makes perfect sense for its size. The first one is a zippered security pocket that will sit against your chest/back/waist when you're wearing it, making it difficult for pickpockets to get to. So, of course, it's great for those items you'd like to keep secure.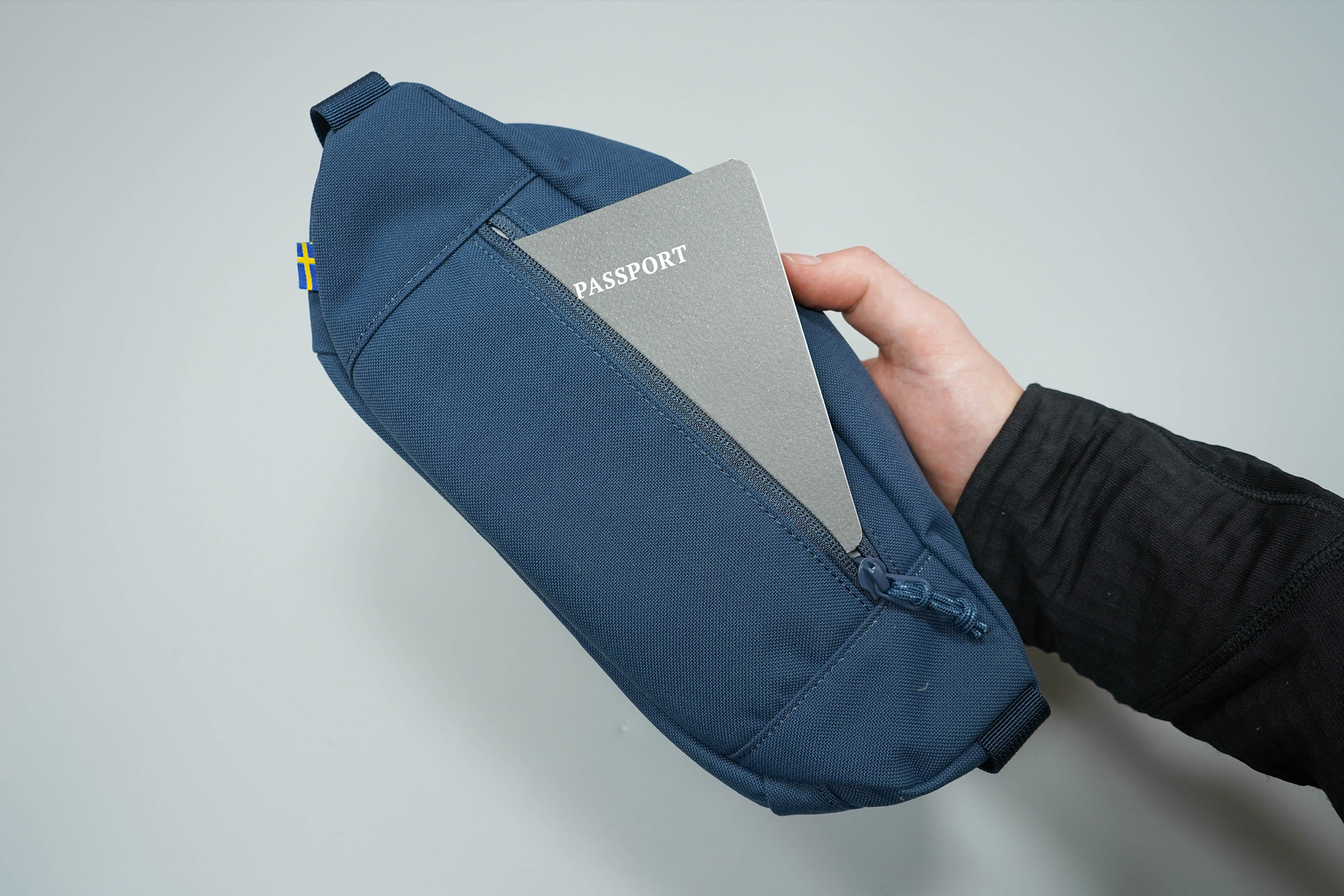 It's also a great place to organize smaller items—as the main compartment lacks solid organization, which we'll discuss in a second. We've liked keeping cash and coins here, but it's also a large enough pocket to fit a passport or minimal wallet like the Fjallraven Kanken Card Wallet, which is small, but not slim.
That brings us to the main compartment. Before we dive inside, we want to note that it can be tricky to open. Perhaps tricky isn't the right word—as we understand how to open it—annoying is more fitting. The two zippers are tough to work around the corners, making it a process to open this thing up. Not good if you ever have a snack emergency or, you know, want to access your stuff quickly. Plus, you need two hands to open it.
And you need to ensure that you've covered the zipper track completely if you want any water-resistance.
Once you've got it open, you'll be greeted with what is essentially an open space. There's a long elasticated mesh pocket against the back, large enough to fit an iPhone—and that's it. No other pockets.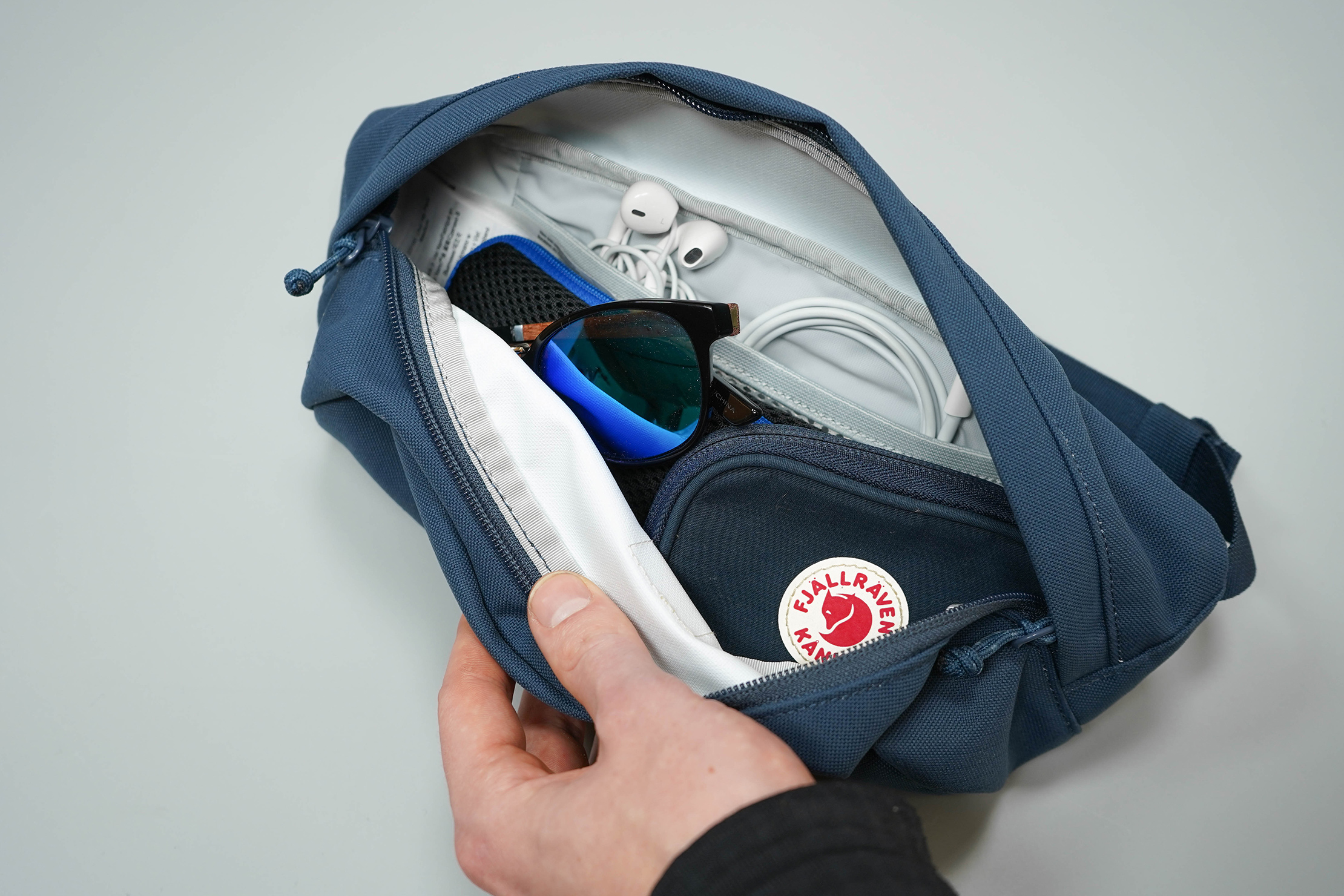 For us, this is a little too simplistic. We wouldn't want too much going on, since we like that you can drop whatever you want inside, but we would have liked to see a couple of sleeves at the back for organizing smaller objects. As it stands, smaller items can get lost or stuck in the corners of the pack.
You can always take organization into your own hands with small accessory pouches. And we do like that the interior fabric is white, allowing you to better see your stuff. (Although, the white makes us a little nervous that it may get dirty quickly. No problems so far, but still.)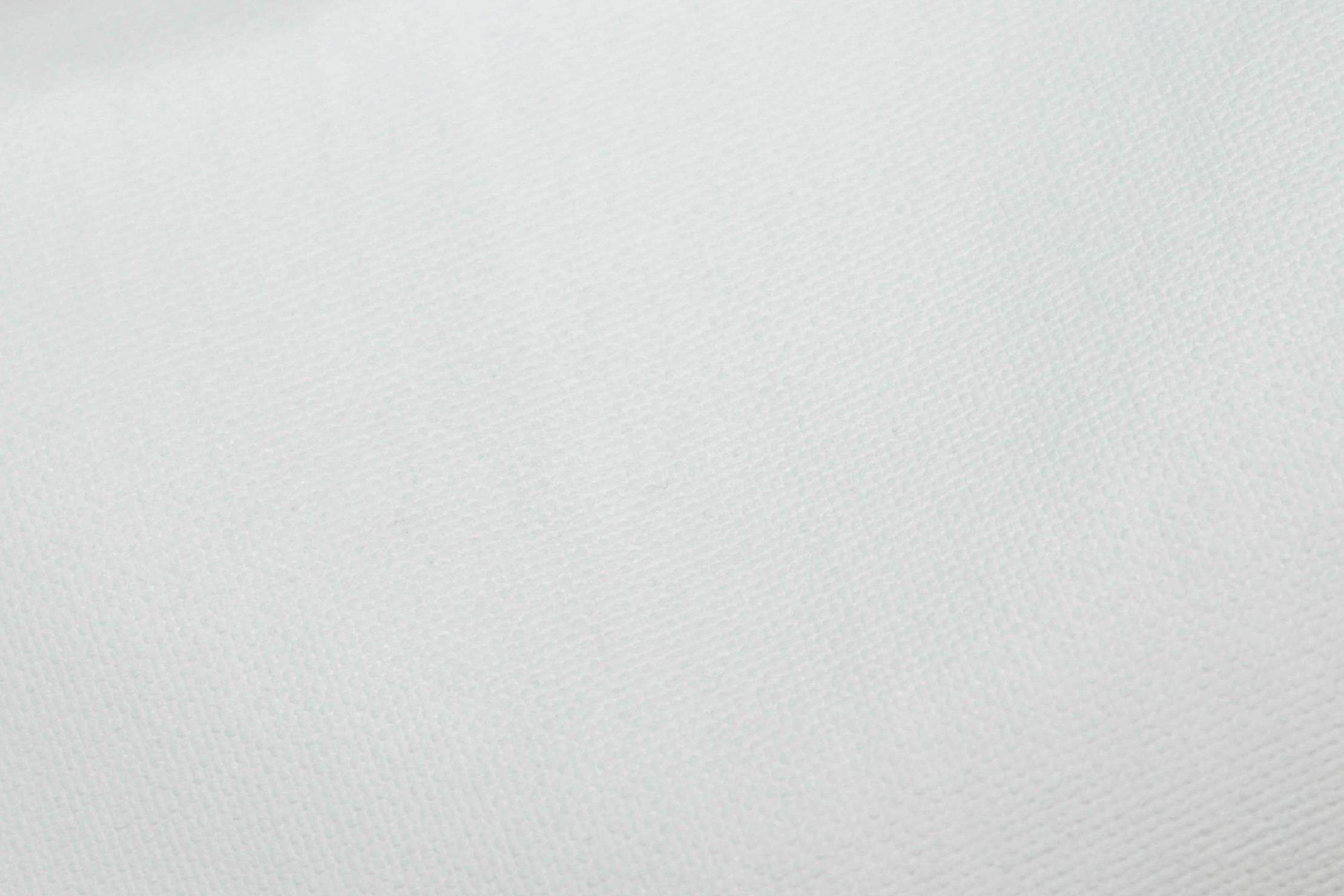 All in all, you can hold a good amount of stuff in this 2-liter Ulvo Hip Pack. Basically what you would be carrying in your pockets, plus a little extra. It's also an ideal size for a personal item, holding your in-flight essentials: headphones, snacks, chargers, etc.
Durability & Testing
At the time of this review, we've been testing the Fjallraven Ulvo Hip Pack in the medium size for just over two weeks in Detroit, Michigan. And there are no signs of wear or tear to speak of. Even that white interior is still looking as good as new.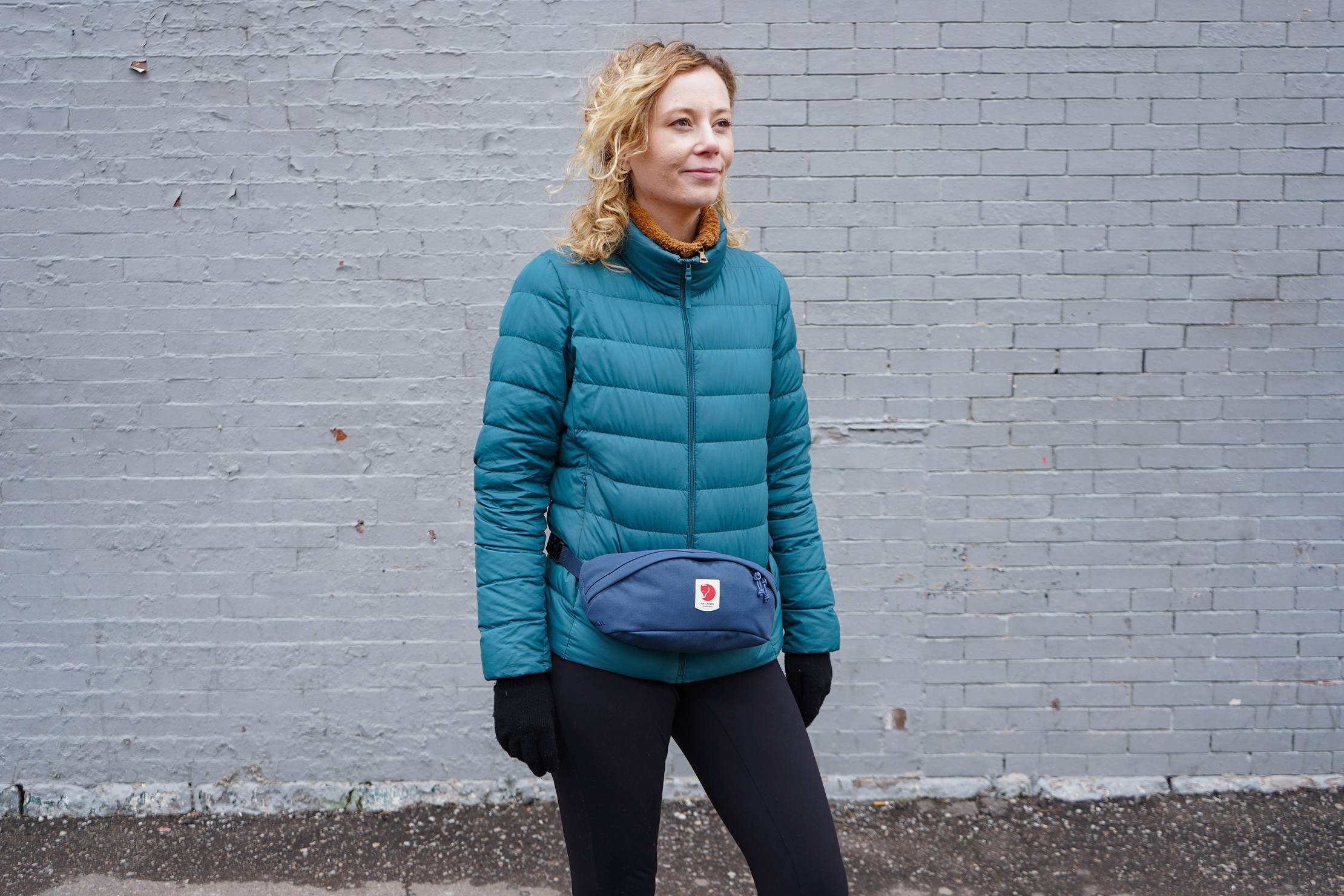 Usage Timeline
Initial Usage
Condition: Excellent
Main compartment is a big bucket with a small elasticized mesh pocket
Back pocket is great for smaller items
Zippers are a little sticky around corners, we'll be interested how they break-in
2 Weeks of Use
Condition: Excellent
Everything still looks great—even the white interior.
Access the Pro Community Discussion
Get your questions about the Fjallraven Ulvo Hip Pack Medium answered from our team and the Pro Community right here on the page. Plus, join discussions with other members about gear, guides, and more.
Other Bags & Luggage Reviews