Eagle Creek Packable Waist Bag Review
The Eagle Creek Packable Waist Bag is exceptionally light and easy to stow away, though its footprint is still fairly large when packed.
Our Verdict
Unlock the Pro Summary
Save time. Get access to brief summaries of our reviews so you can browse and make decisions more efficiently.
Pros
Very lightweight and flat when packed
Strap is comfortable under most loads
Surprisingly spacious for its capacity
Cons
Not much internal organization
Strap can dig in with a heavy load
Packed size isn't much smaller than when in-use
Recent Pack Hacker Video
Technical Details
100 %
Carry-on Compliance
Capacity

2l

Weight (oz)

3 oz (85 g)

Dimensions

9.5 in x 6 in x 2.5 in (24.1 x 15.2 x 6.4 cm)

unpacked | 7 x 5 x 1 in - packed

Notable Materials

Recycled Polyester, Ripstop Polyester, Zoom Zippers, Duraflex Hardware

Manufacturing Country

Indonesia

Warranty Information
Full Review
Get up to 20% off Eagle Creek • Join Pack Hacker Pro
Packable daypacks and slings are great travel companions but sometimes make you miss features your regular pack has. Whether the thing you desire is padding, organization, or space, the compromises made to make it packable can deter some folks from using them. We can't help but wonder if the Eagle Creek Packable Waist Bag will fall victim to those same issues or whether we've finally found our holy grail. Let's find out!
Materials & Aesthetic
Coming in at two liters, the pack is very lightweight. It's crafted from 100% recycled polyester ripstop, which is a great shout on the sustainability front. The material doesn't have any structure to it at all. It can be a little swishy, similar to a pair of '90s wind pants, but not in an overly distracting way.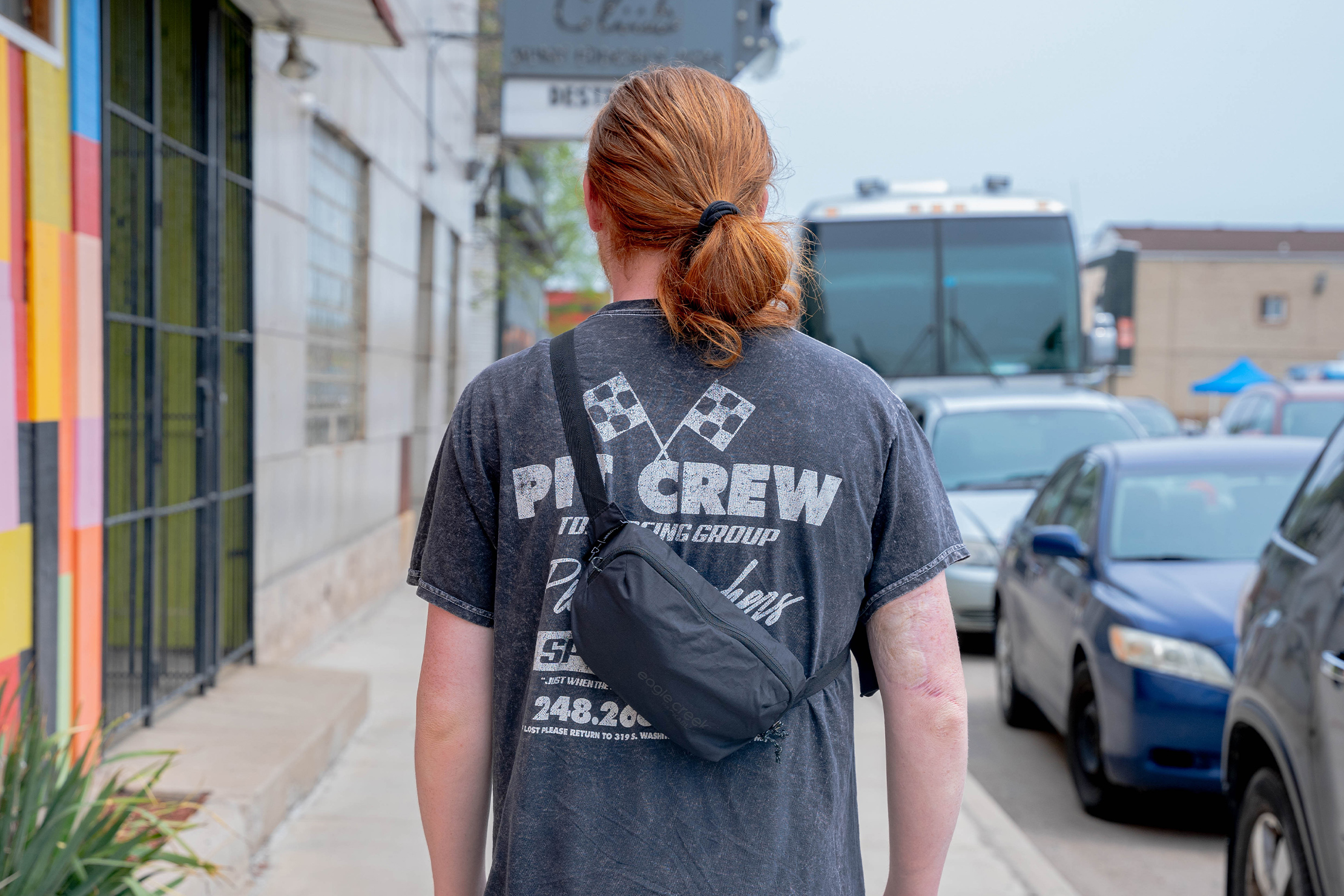 The exterior material has a Protx2® anti-microbial treatment. This means that it is supposed to fend off fungi and other little germs from growing, which is ideal for when you're visiting environments where it rains a lot and you can't always dry the pack before stowing it inside your daypack or packed luggage.
The front of the pack has the Eagle Creek logo, but it's pretty tough to see in most environments. It's somewhat reflective, so in perfect light, you can read it, but it does blend in pretty well with the pack material.
The bag comes in Black, Rising Sun, Arctic Seagreen, and Forage at the time of writing. All the colorways have a similar design, their logo blending in fairly well, and we like the subtly. However, if you want the Eagle Creek logo to be more noticeable when exploring a new city, maybe this sling isn't for you.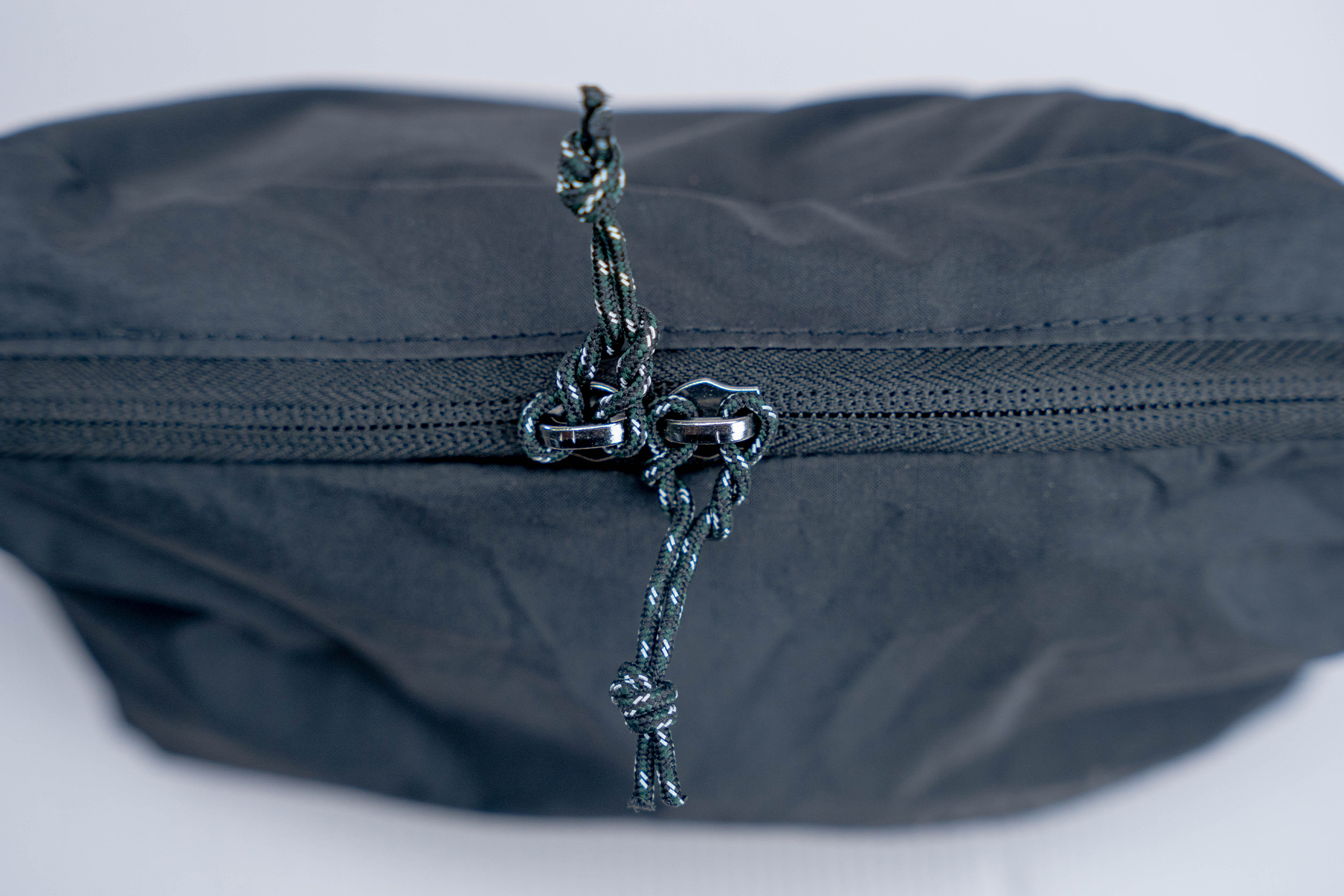 There's only one zipper on this pack, and it's from Zoom. It works as expected, and we've had no issues with it popping open or not closing.
The zipper pulls are crafted from a paracord-like material that matches the colorway but has little white speckles, which is a nice pop of color on an otherwise minimalistic pack. They too work as expected, even in inclement conditions.
The far end of the zipper track has a small loop bridge over it that acts as a locking mechanism. Slide the zippers and their pulls under the bridge and it becomes much harder to open the pack, which slows down thieves. It adds a little peace of mind while walking through a crowded city street or market, making enjoying what you're seeing that much easier. That said, if you use it frequently, you'll also slow down access for yourself.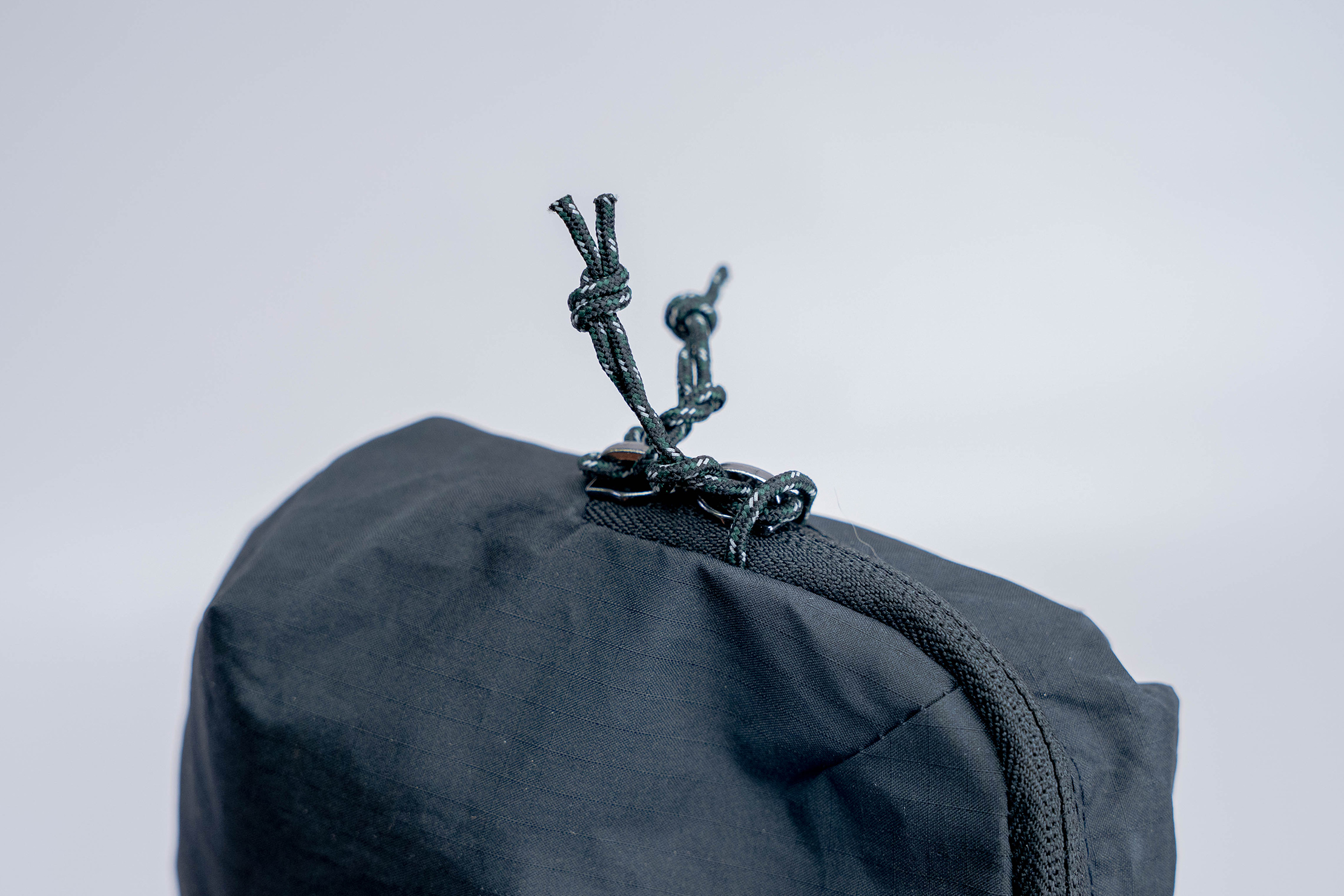 The strap is relatively lightweight and very thin. There isn't any padding or aeration here, but we don't expect there to be. The material is soft and comfortable as far as straps go, and we haven't had any issues with it digging in unless we completely filled the pack. Even then, it isn't unmanageably uncomfortable.
The strap is secured using a Duraflex buckle. We've come to expect quality from these buckles over the years, and this one does not disappoint. It feels a little large for the job it has, especially considering how small and lightweight the strap is, though it isn't uncomfortably large.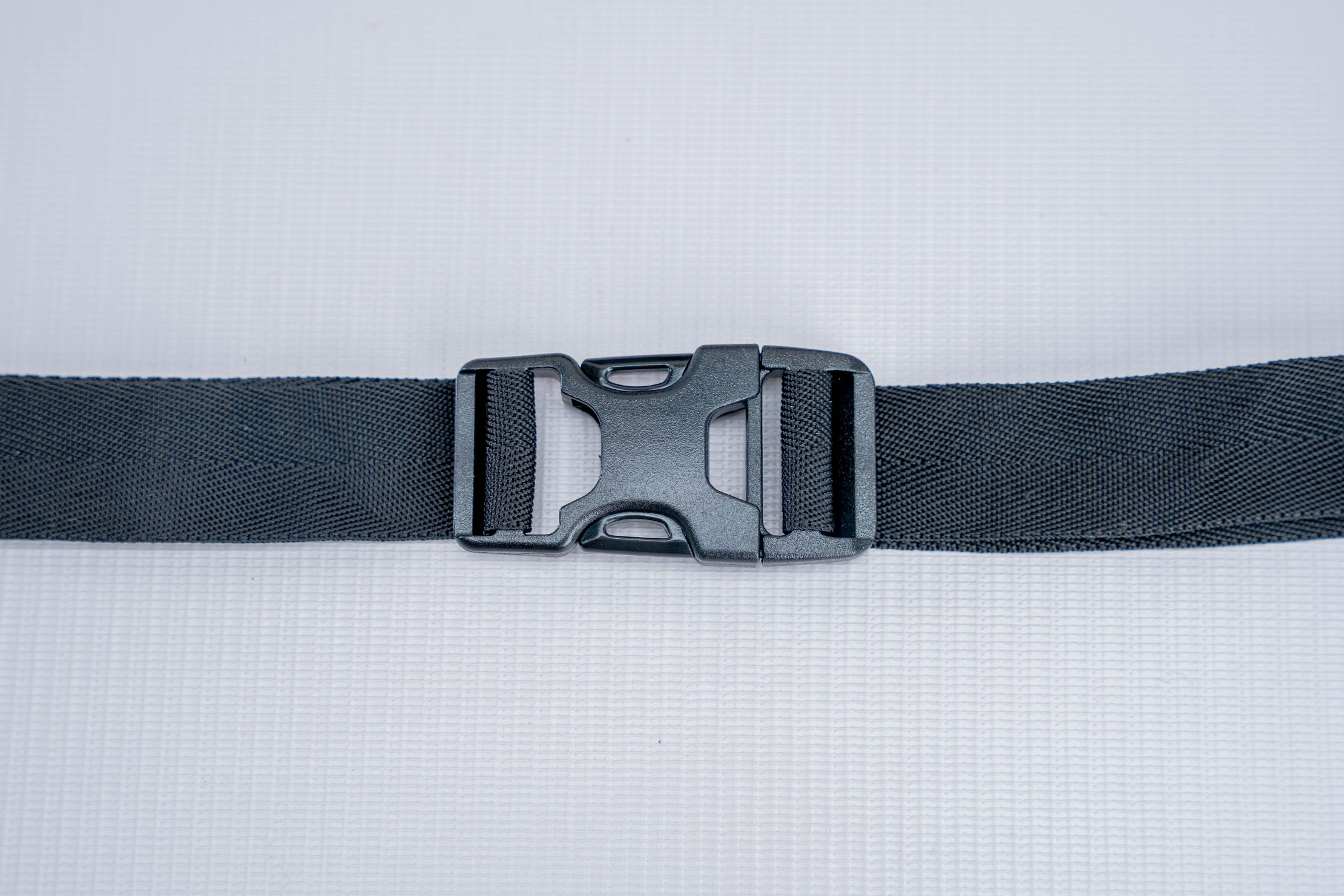 There's a tab of pack fabric between where the strap ends and the main pack begins, which we have seen on other slings like the Moment MTW Mini Fanny Sling. It adds comfort and feels almost like a hug, which is nice. Who doesn't want a hug? It also stops the connection between the strap and pack from sitting awkwardly against your body, which is a nice plus.
Usage & Features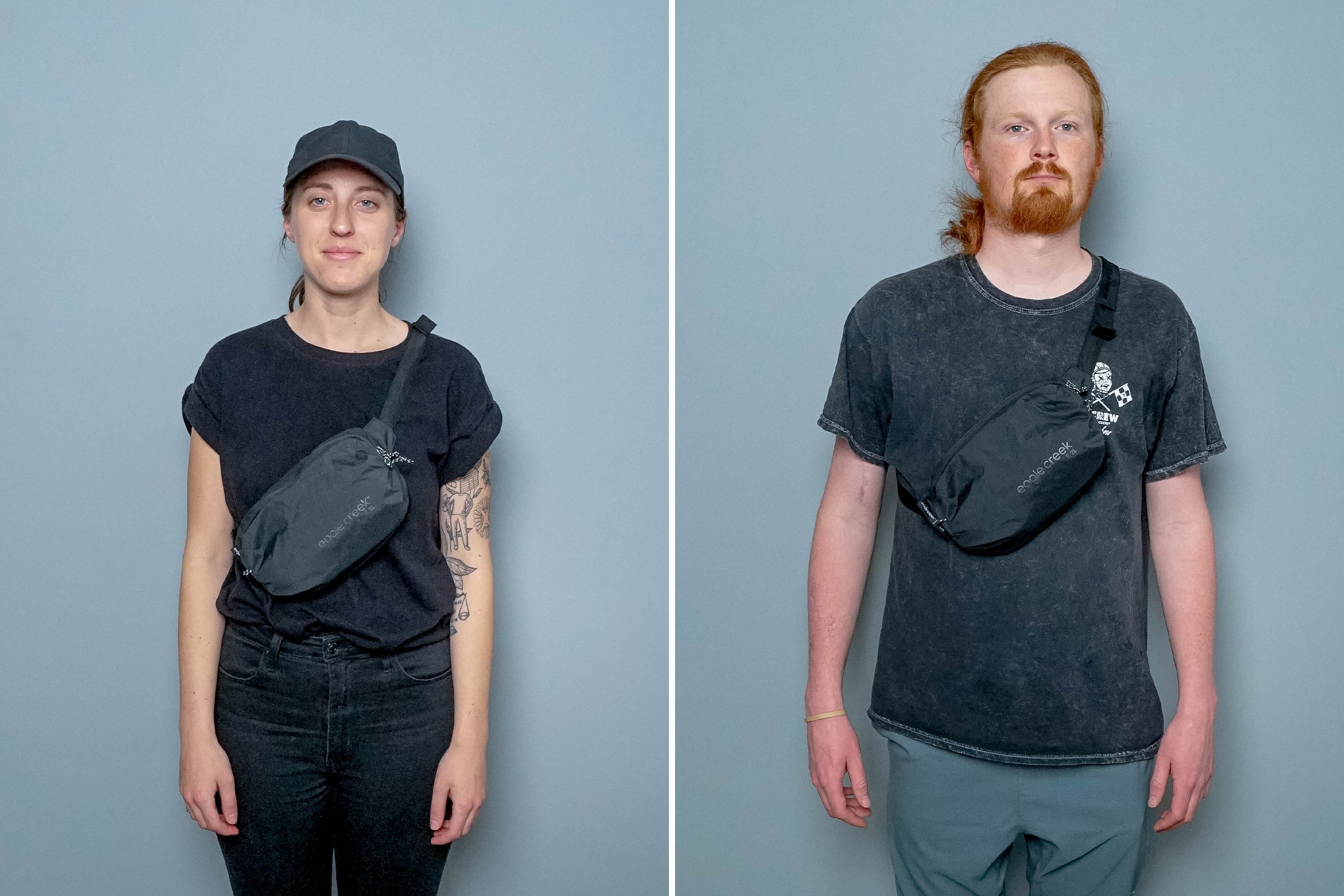 There's only one pocket on the Packable Waist Bag, and it's the main compartment. It's a wide-open area with very little organization or structure. There's a big patch on the interior with text that communicates the need to waste less and reuse things more often, which we can fully get behind here at Pack Hacker.
There's one piece of organization inside—a liner pocket on the back wall. It uses a hook and loop fastener to close at the top, which is an excellent addition. This ensures that your gear doesn't tumble out of the top of the pocket, making the slider a nice place for smaller items you want to keep locked down like a wallet, phone, battery bank, or other small tech. Whatever you put into this pocket becomes the pack's back panel because there isn't any padding behind it, so flat items are more comfortable to carry. There's a key clip here that is a dual-use feature, which we will talk more about later on. As a key clip, it works as we would expect it to, though.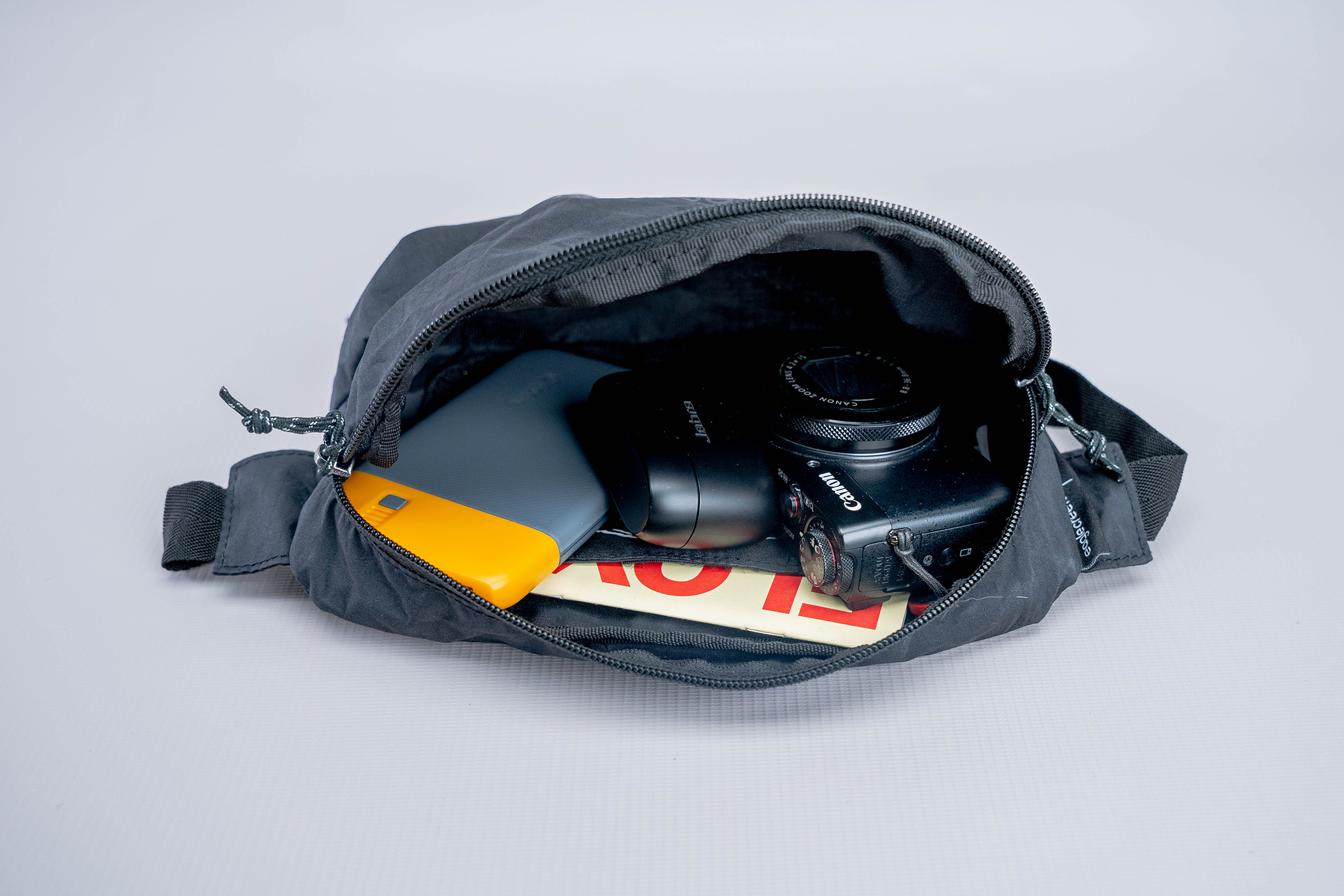 To pack the bag away, first, turn it inside out, put the strap inside, and zip it away. You don't necessarily need to zip the straps away, but we find that it makes the process easier. The hook and loop fastener will be on the front of the pack now, and the next step is to open that pocket. Once the mouth is open, stuff the rest of the back inside that pocket from the inside out so you can no longer see the patch with the recycling text we mentioned earlier. There will now be another patch with the Eagle Creek Logo and a vector of the pack on the exterior. The hook and loop fastener that was once inside the pack is now on the exterior, and you can close the compressed pack with that. The key clip we mentioned earlier is on the top, enabling you to hang or attach the pack to something.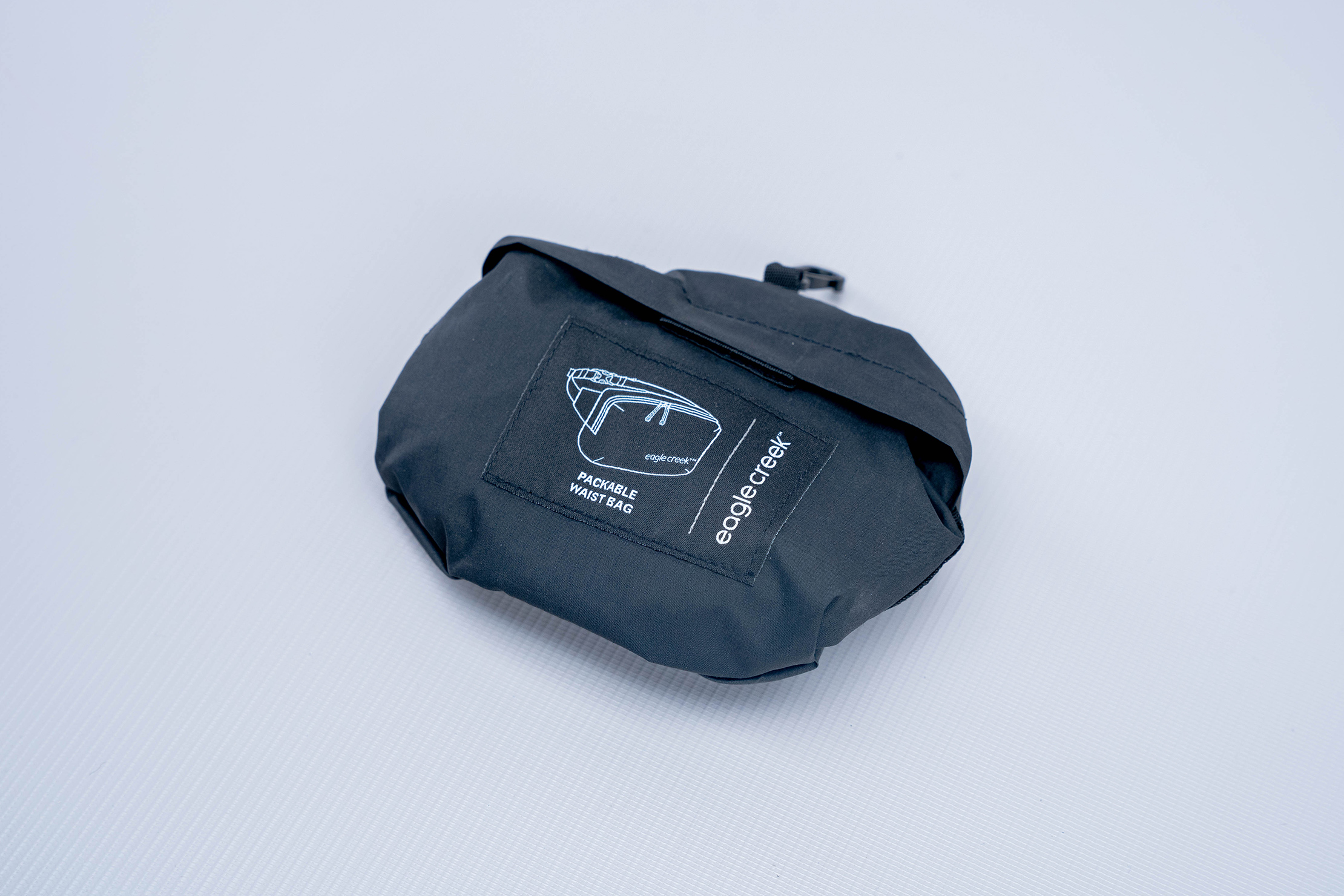 We found that packing the Packable Waist Bag is easier than other packs we've had to compress in the past, like the Nanobag Reusable Shopping Bag. This is likely because the packed size isn't radically different from the usable size, so you don't have to rely on your own compression skills just to get it inside. We do find ourselves leaving it in stage two—inside out with the strap stowed away because that's even quicker than fully stowing it away and is largely the same size. It compresses very flat, so it's easy to slide into a daypack or between gear in your luggage.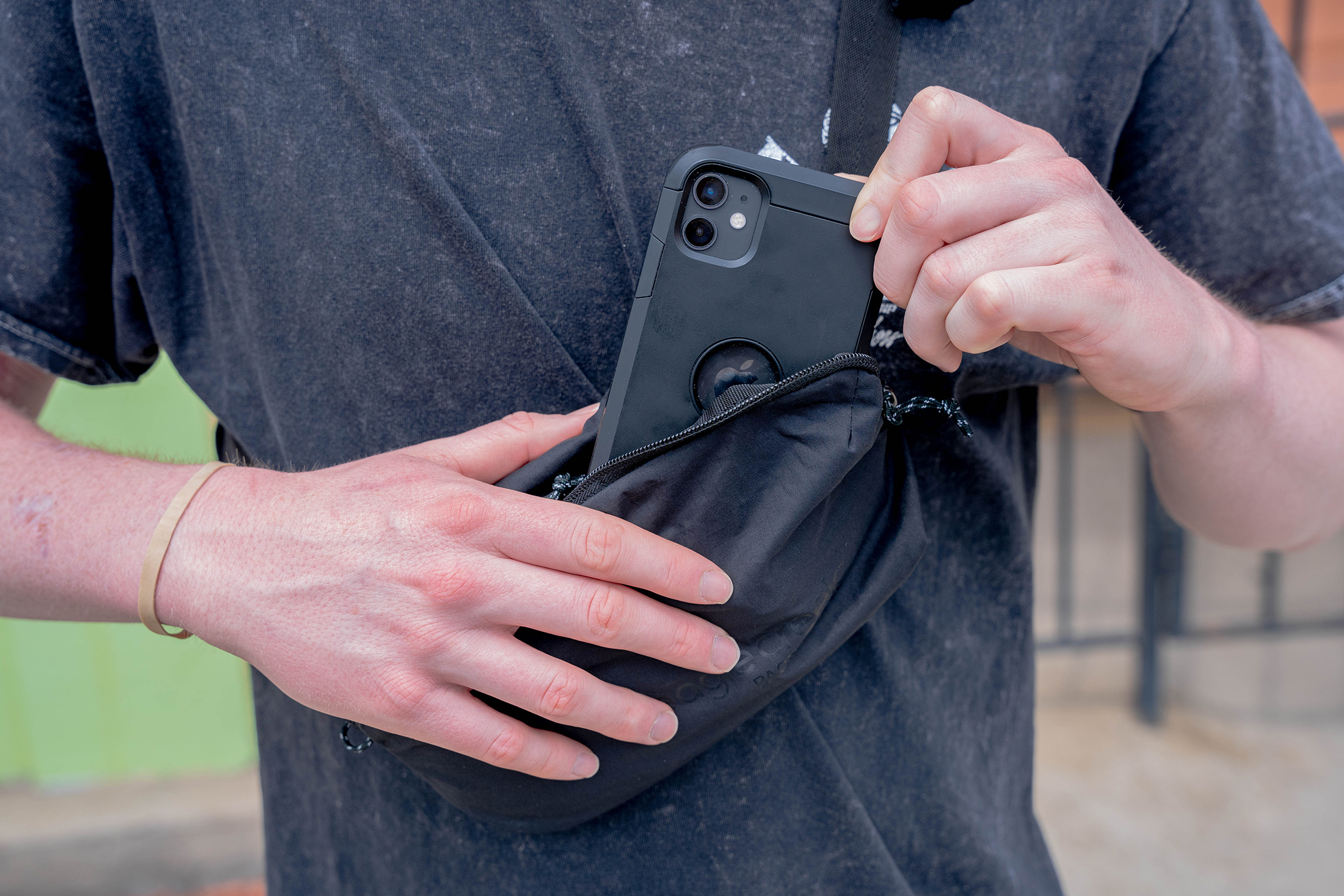 We enjoy using the Eagle Creek Packable Waist Bag for many things while adventuring, from stops at the market to a quick hike around the lake. We do miss some features from more organized slings like the Bellroy Lite Sling, but we haven't come across many slings that compress as small or as easy as this one. If you find yourself craving internal organization, this pack might not be for you—though we found the liner pocket more than enough to meet our needs while traveling.
Usage Timeline
Initial Usage
Condition: Excellent
Black colorway is sleek, but other color options add a pop of color
Strap keepers work well to manage extra strap length
Packed size isn't much smaller than unpacked size
2 Weeks of Use
Condition: Excellent
Fabric tends to stay wrinkled a while after unpacking
Strap has no padding but is comfortable with moderate loads
No abrasions, tears, or marks
Access the Pro Community Discussion
Get your questions about the Eagle Creek Packable Waist Bag answered from our team and the Pro Community right here on the page. Plus, join discussions with other members about gear, guides, and more.
Other Bags & Luggage Reviews