Moment MTW Mini Fanny Sling 1L Review
The Moment MTW Mini Fanny Sling is exceptionally tiny, though its durable materials and sleek design can improve the comfort of carrying extra gear.
Our Verdict
Unlock the Pro Summary
Save time. Get access to brief summaries of our reviews so you can browse and make decisions more efficiently.
Pros
Kodra Nylon is durable and repels light rain
Can be worn as a sling or fanny comfortably
Slide pocket is perfect for a phone or battery bank
Cons
Strap can be uncomfortable when sling is full
Small buckle sometimes hard to manipulate
Not a ton of room in the main compartment
Recent Pack Hacker Video
Technical Details
100 %
Carry-on Compliance
Capacity

1l

Weight (oz)

3.2 oz (90.7 g)

Dimensions

10.25 in x 5.25 in x 1.6 in (26 x 13.3 x 4.1 cm)

Notable Materials

Kodra Nylon, YKK Zippers

Warranty Information
Buying Options

$39.99
$29.99
Full Review
Get up to 20% off Moment • Join Pack Hacker Pro
Here at Pack Hacker, we've grown to love slings as an essential piece of travel gear that can make life on the move a lot easier and more comfortable. At first glance, we wonder what on earth a one-liter sling could be used for. What could you even fit inside such a small sling? We love how lightweight and small its form factor is, but in terms of usage, we're skeptical. Let's dive in and see if we were proved wrong!
Materials & Aesthetic
The primary pack material is recycled Kodra Nylon, which is more durable than standard nylon. It feels rugged but has an inherent softness to it, which makes for a comfortable carry, even on a one-liter sling like this.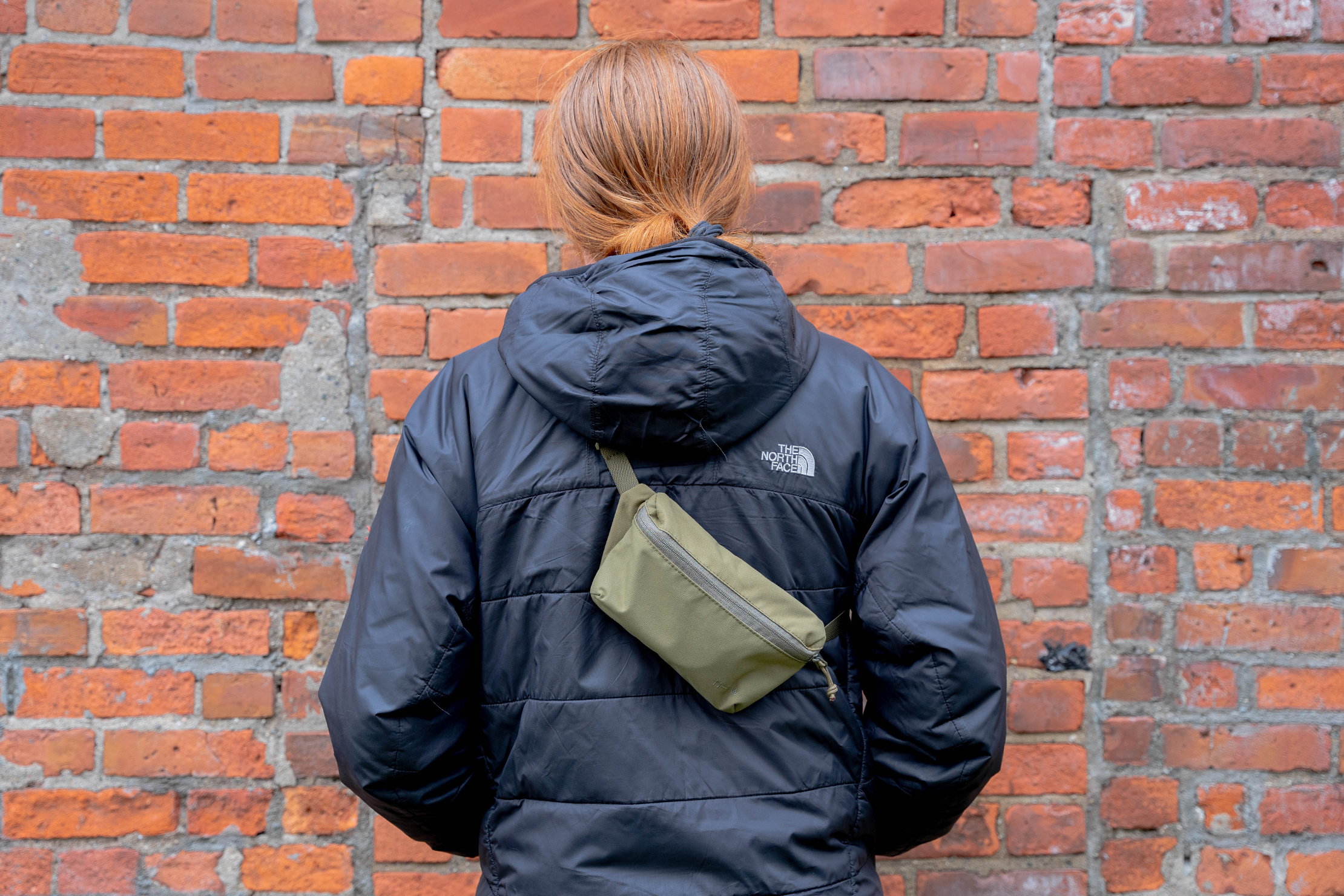 In addition to its durable shell, it also has a waterproof coating applied. In testing, we found that it's more than capable in light rain, but when heavier precipitation occurs, it's wise to head for cover to ensure your gear stays dry.
There are quite a few options on the Mini Fanny Sling when it comes to colorways. There are Olive, Mustard Yellow, Clay, and Black colorways crafted from Kodra Nylon. These options are all very earthy and feel natural. We like the look of these colorways, especially the Olive and Clay options.
To add to the minimalism, the M-TW logo, zipper, and zipper pull are all the same color as the pack material. Everything comes together quite nicely because of this, and the sling has a sleek look.

In addition to the four Kodra options, there's a black ripstop model. The material is a little shinier but not jarringly so. The fabric feels much lighter, which is saying something considering how small the pack is. In contrast to the monotone options we went over earlier, the ripstop version adds a pop of color. The M-TW logo is white, and the zipper pull is red. It isn't as minimalistic as the others, but the contrast offers a nice look.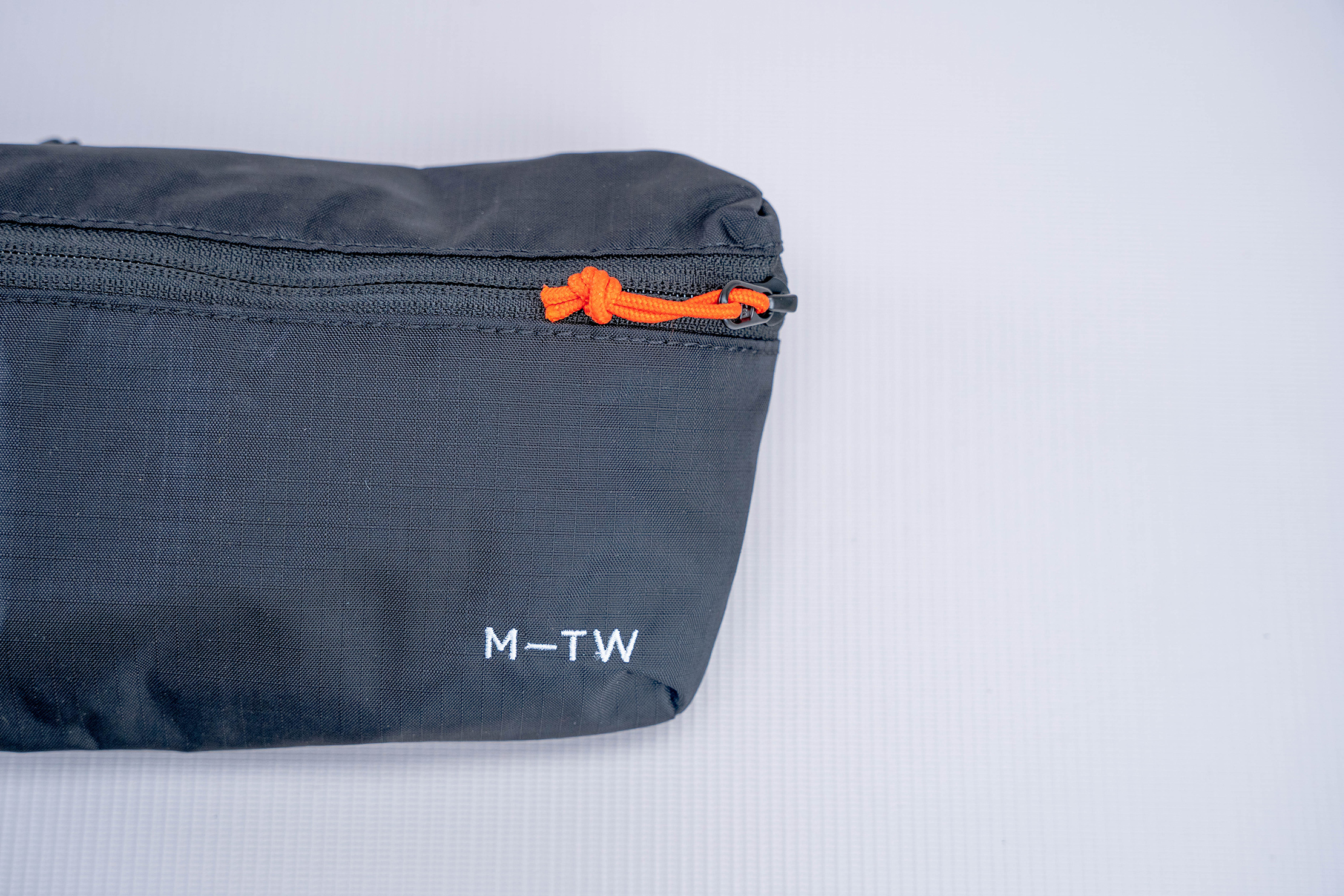 There's only one zipper, and it's a YKK #5. Its smooth and easy to operate, which we expect from YKK as a brand. There's a tiny metal zipper pull, which would be awkward alone, but a paracord-like material attached with a knot on the end makes it easier to grab. Even in wet conditions, the pull is easy to use.
The strap is relatively thin, coming in at just under an inch thick. There isn't any padding or aeration, just a simple piece of fabric. The pack is so small that we didn't miss them, but the strap occasionally digs into the area between the shoulder and the neck when completely packed out. We will dig into that more later, though.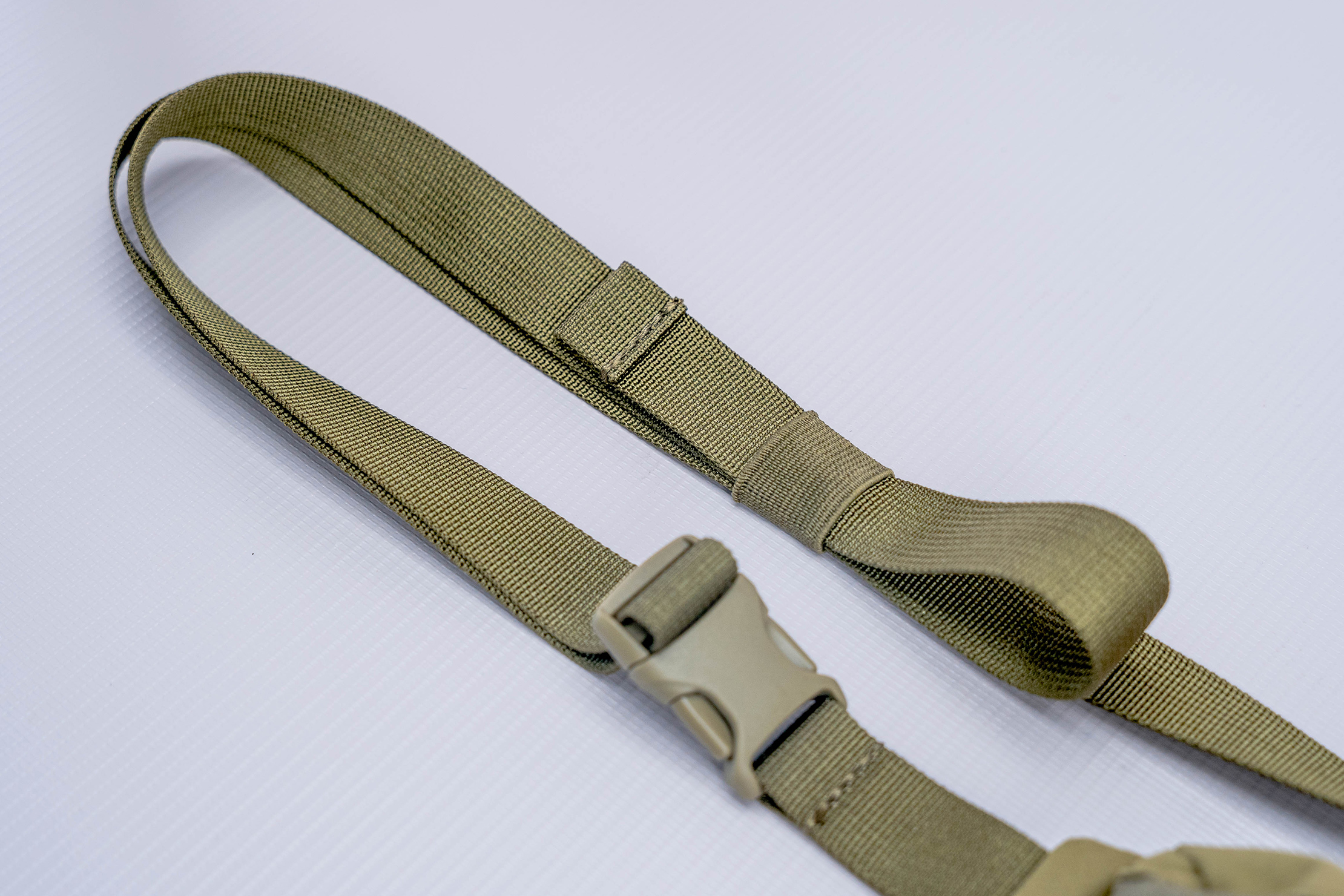 The strap is long, coming in at 49.5 inches (1.3 meters) when fully expanded. If you have a smaller build, there's a lot of extra material to work with. There's a single strapper keeper, which blends in nicely, but can be overworked quickly. It's tight, though, which is great for just one pass-through, but anything over three is a little too tight.
The strap fastens with a Woojin Buckle, which is easy to use and is relatively small. This would typically be a gripe, but it fits in and works well given how small the strap is. Those with larger hands may struggle to manipulate it, but we feel it's the right size for the sling. It's placed very close to the left side of the pack, which means it's easily accessible. When wearing the sling in crossbody mode, it's just under your arm, and when in fanny mode, it's on your side.

Where the strap attaches to the pack's body, there's a little tab of transitionary material. It's very small, but it has a positive effect on usage. It makes the sling feel like it's hugging your body and negates the awkward seatbelt effect we have seen on other slings that don't have a demilitarized zone between the strap and the pack itself.
Usage & Features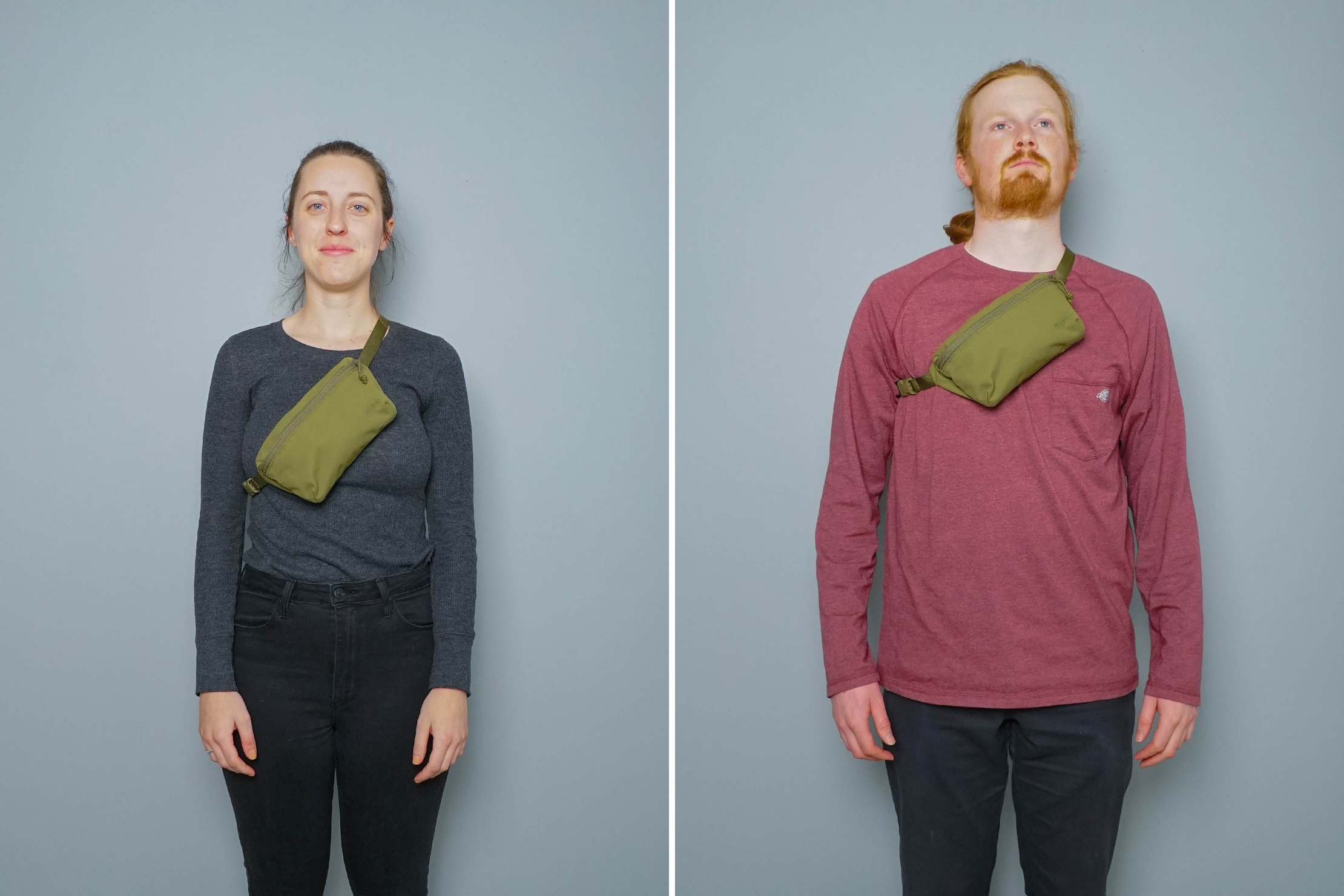 As we briefly mentioned earlier, you can wear the Moment MTW Mini Fanny Sling in two ways—in fanny mode or as a cross-body sling.
In fanny mode, you can wear it on your front, back, or side. We prefer front mode just because it's nice to access our gear quickly, but it's just as comfortable in all four positions. The pack is light enough, even when fully stuffed, to not sag or hang awkwardly. We even wore it underneath our shirt a few times, but the strap did feel a little uncomfortable on our bare skin after a while.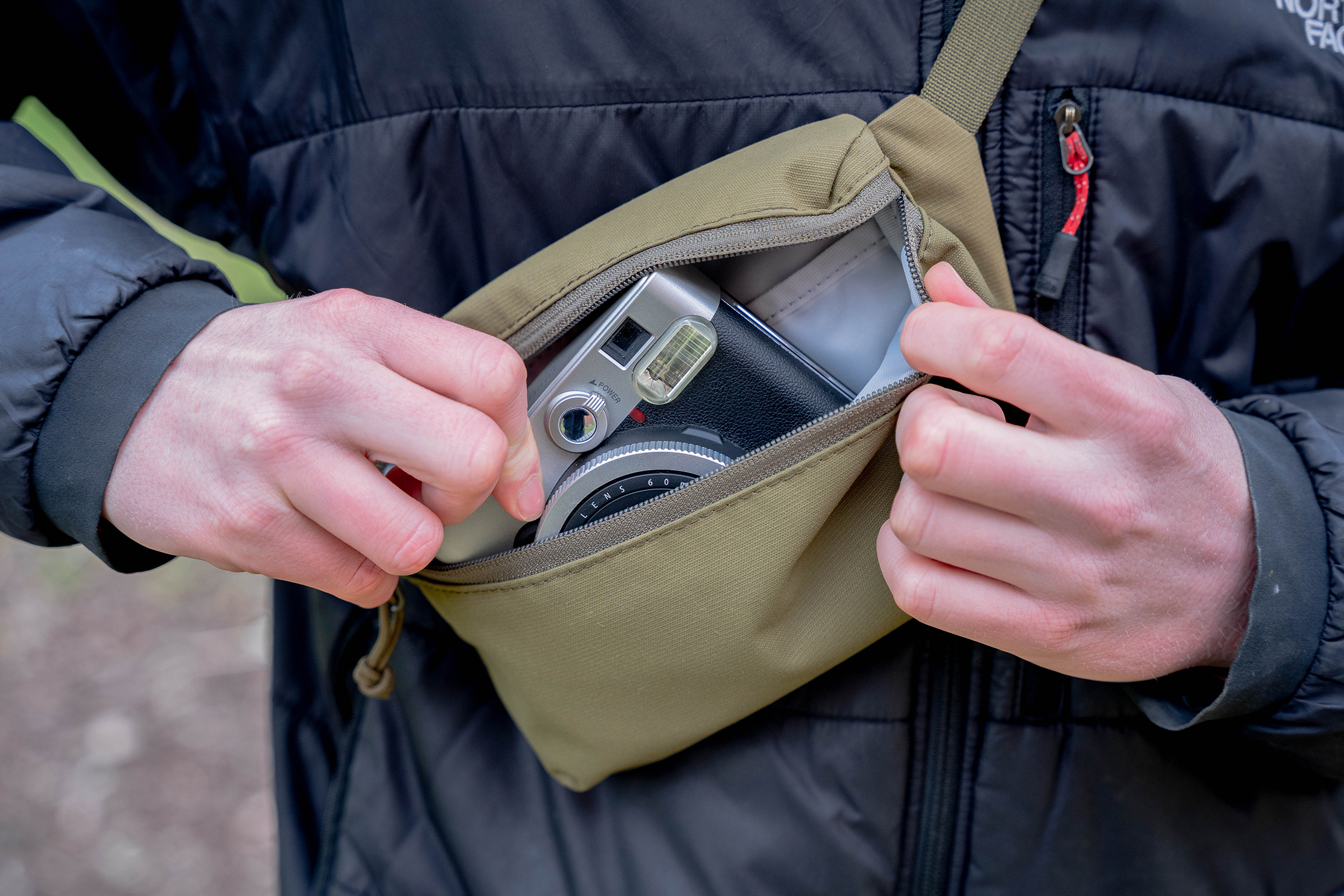 In cross-body mode, you can wear it on your front or back as well. Again, we prefer to wear it on our front because it offers quick access to all of our gear. When not stuffed all the way, the sling sits nicely wherever you place it. When things get a little heavier, it can slide down a little, but it doesn't happen as frequently as with heavier slings.
The inside of the sling is very basic, but not in a bad way. It has one large area and a liner pocket on the backside of the compartment. This separation is amicable because even though it's a small sling, you still want to keep certain things separate. The slide pocket fits a standard-sized cell phone, like a regular iPhone 11, or a battery bank like the Clutch Charger V2. Flat items do well in the slide pocket because it rests against your body no matter how you're carrying the sling. Oblong-shaped items fit but aren't comfortable. A phone, passport, or battery bank are all good selects for this area.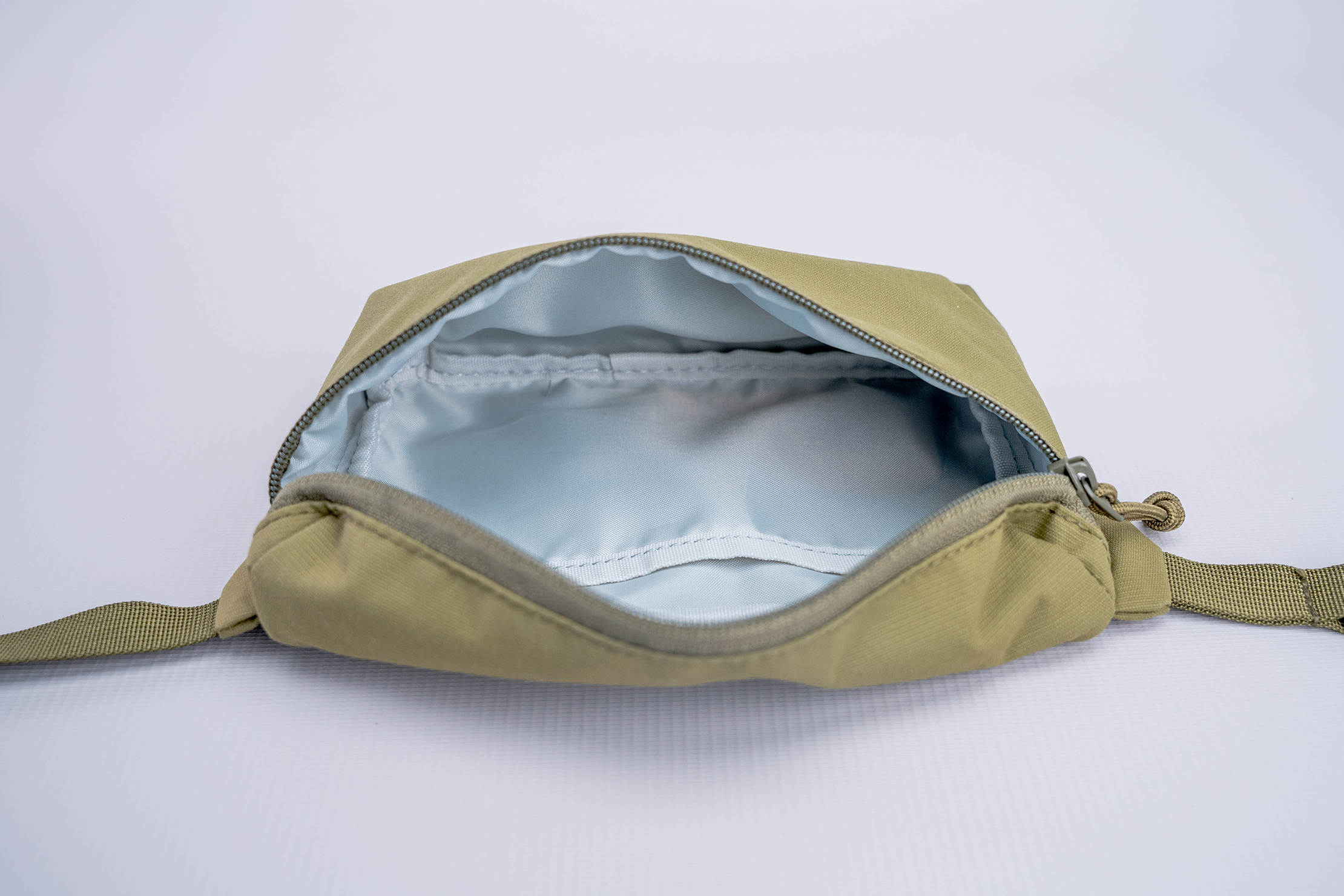 The central area of the main compartment is a suitable overflow from your pockets. There isn't much room here, but there's enough room for items that would typically make your pockets feel too bulky or for items you wouldn't want to stow inside your pants. A compact camera might fit into your pocket, but it would be cumbersome and uncomfortable, but it will fit nicely in the sling. We also often used it for our Instax Mini 90, which fit a little snug but still worked.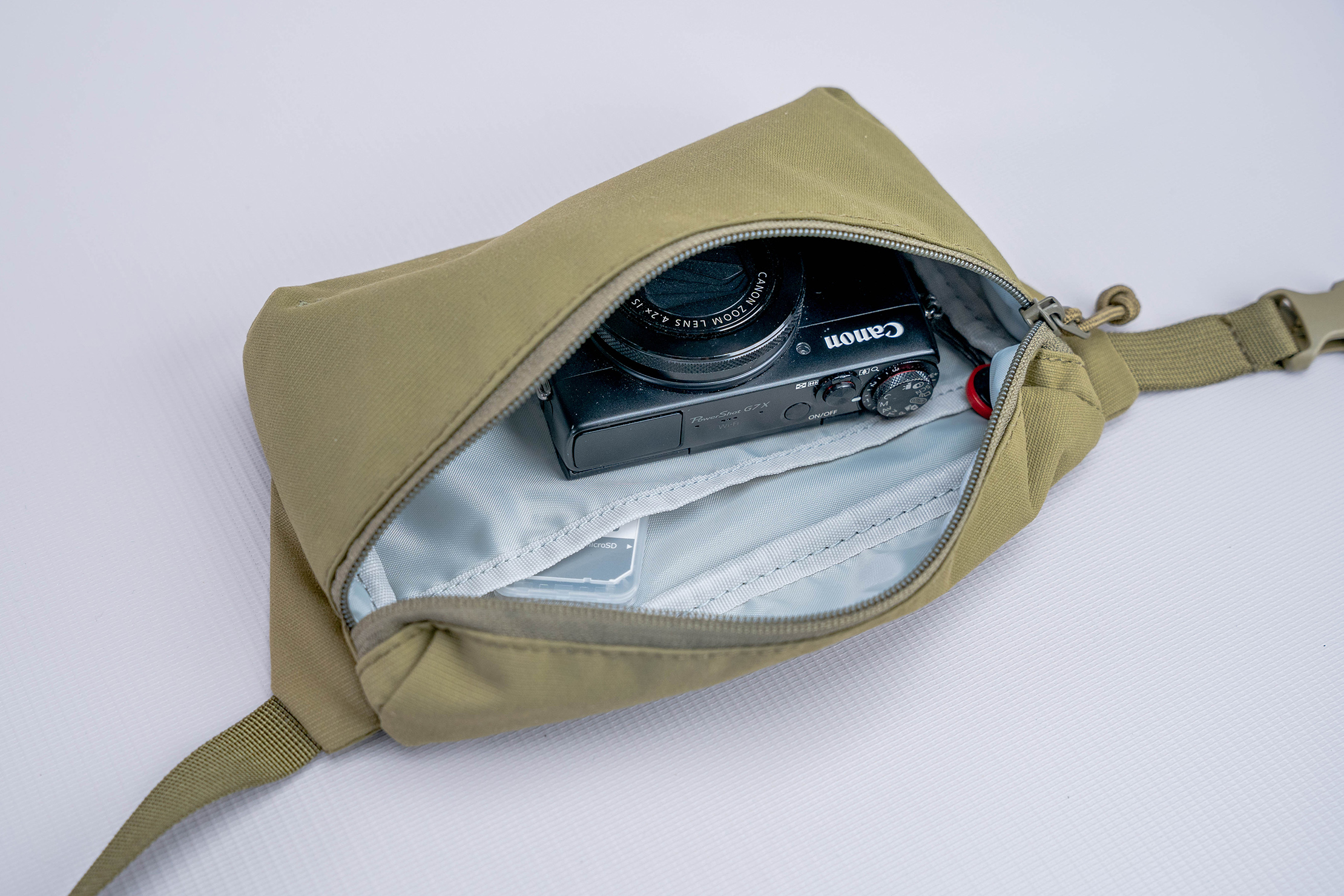 It's also a great place for camera batteries, SD cards, and other accessories like canisters of 35mm film, rolls of 120 film, and lens filters that you wouldn't necessarily want in your pants or coat pocket. Little items, like the SD card we just mentioned, are safer inside the sling than in your pocket because it would be easy for them to hang onto the corner of your phone case or wallet and come flying out when you pull them out to make a phone call or pay for a drink at a cafe.
We found the sling very handy while being active, especially when cycling. It's so tiny and light that it can stay out of sight and out of mind, but it has the vital items you'll need in case of emergency, like a small bicycle repair or first aid kit. Its light size and weight make it easy to forget you even have it sling around your shoulder, especially if you're wearing a coat or thicker shirt.

Overall, we're stoked about how well this fanny sling performs, even at just one liter. Sometimes you just need something to catch the overflow from your pockets but don't want something too large. Coming in at half the size of the Moment Fanny Sling, it feels less than half the size, even if it actually isn't. Through the use of lightweight, durable materials and a simple design, it's a super helpful addition to your travel pack out. It's so small it won't take up a ton of room on the journey, but it'll have a big impact once you get there.
Usage Timeline
Initial Usage
Condition: Excellent
Not quite sure about its "Rainstorm proof construction," but we'll see
The small size make it suitable mostly for point-and-shoot cameras
Wears closely when it's weighed down
2 Weeks of Use
Condition: Excellent
"Rainstorm proof construction" checks out, no water inside during rain
Strap can dig in occasionally, but only when fully packed
Zipper remains smooth, even when over-stuffed
Access the Pro Community Discussion
Get your questions about the Moment MTW Mini Fanny Sling 1L answered from our team and the Pro Community right here on the page. Plus, join discussions with other members about gear, guides, and more.
Other Bags & Luggage Reviews