Moment Fanny Sling Review
We're digging the Moment Fanny Sling's unique look and organization—although it doesn't carry very comfortably as a sling.
Our Verdict
Unlock the Pro Summary
Save time. Get access to brief summaries of our reviews so you can browse and make decisions more efficiently.
Pros
Just-right organization (especially for camera-specific gear)
Microfiber interior in pockets keeps smartphone-specific lenses scratch-and-smudge free
Accessory straps are useful for external storage
Cons
Shoulder strap material isn't as comfortable as some other slings
Feels bottom-heavy in sling mode
Compression buckles become loose on their own
Recent Pack Hacker Video
Technical Details
100 %
Carry-on Compliance
Capacity

2l

Weight (lb)

.63 lb (0.3 kg)

Dimensions

5.5 in x 8 in x 3.5 in (14 x 20.3 x 8.9 cm)

Expanded

Notable Materials

Canvas, Nylon, Polyurethane, DWR Coating, Ripstop Nylon, Duraflex Hardware, Hetai Zippers

Manufacturing Country

Vietnam

Warranty Information
Full Review
Get up to 20% off Moment • Join Pack Hacker Pro
Like many of Moment's products, the Moment Fanny Sling is heavily camera-focused—its organization and interior fabric make for easy and safe storage of your lenses and other smaller camera accessories.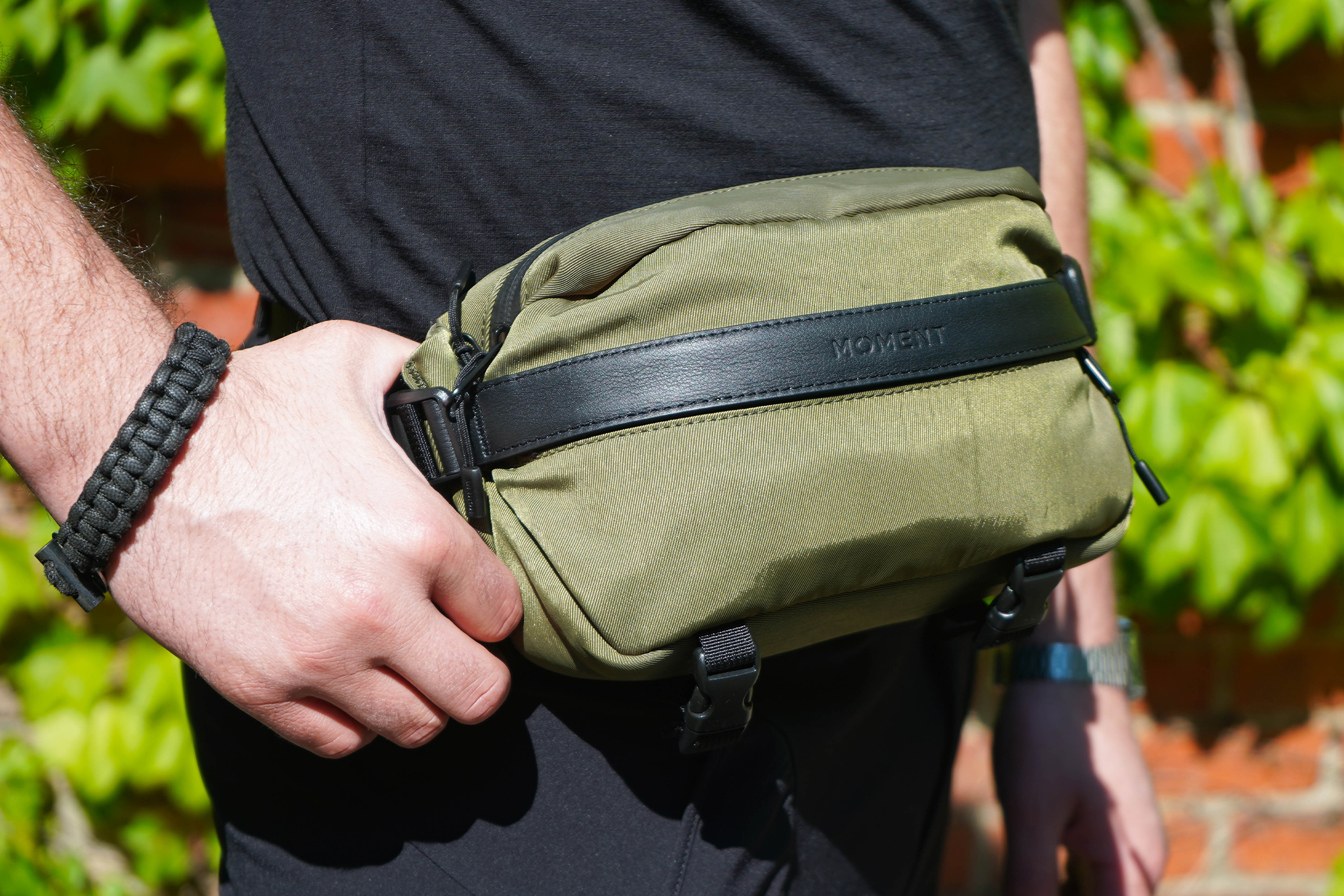 And its name is fitting, as you can wear this thing in both fanny pack and sling mode—though it loses some comfortability as a sling (and we'll explain why in the review).
We've been wearing this Fanny Sling (or Fling, or Sanny Pack, or whatever you want to call it) around Detroit for about two weeks now and have some things to say—both good and bad. So let's get into it.
Materials & Aesthetic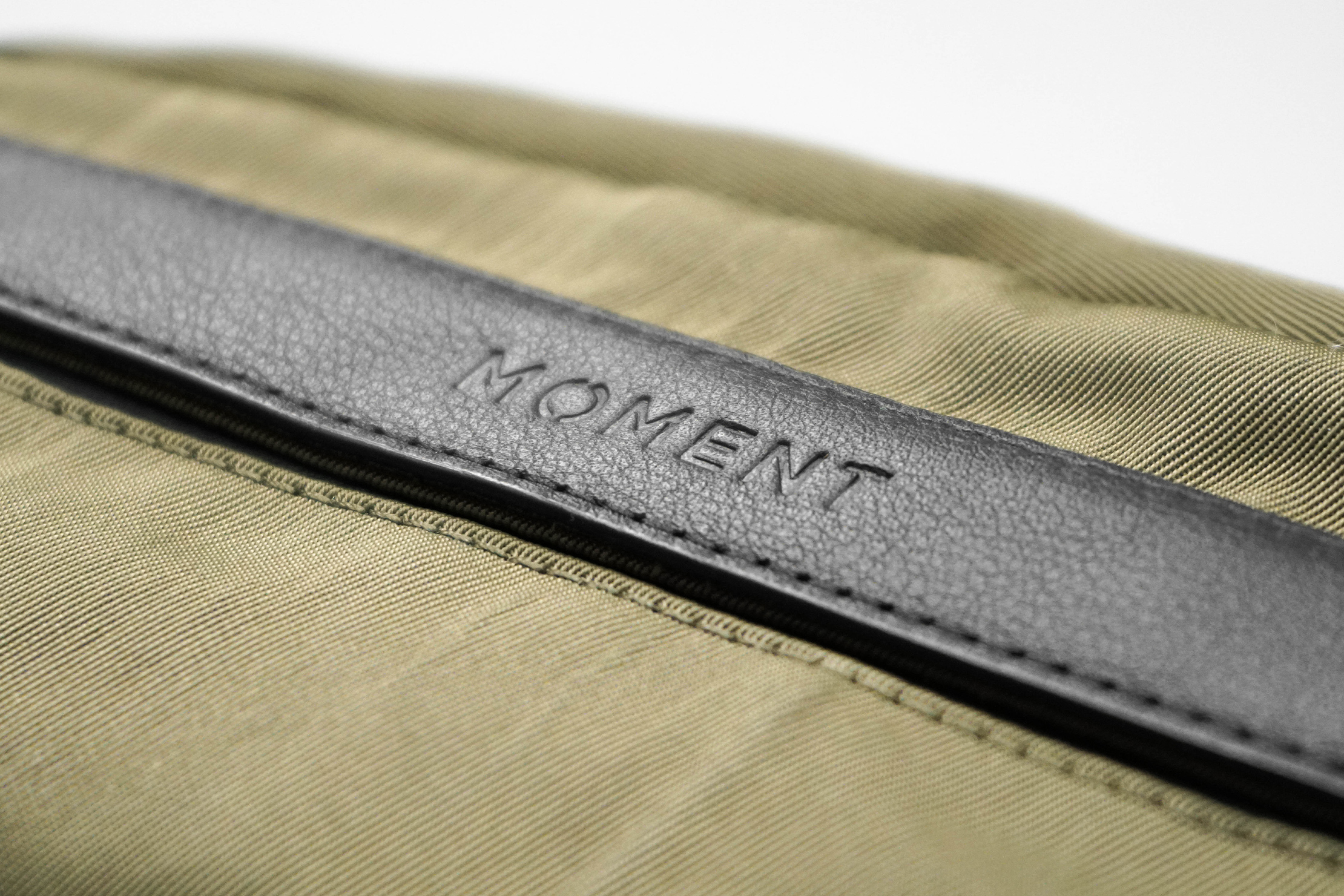 The Moment name is debossed in a smooth, black, leather material across the front of the sling. This is a unique accent that we haven't seen on many slings—it's subtle and gives this bag a more sophisticated look.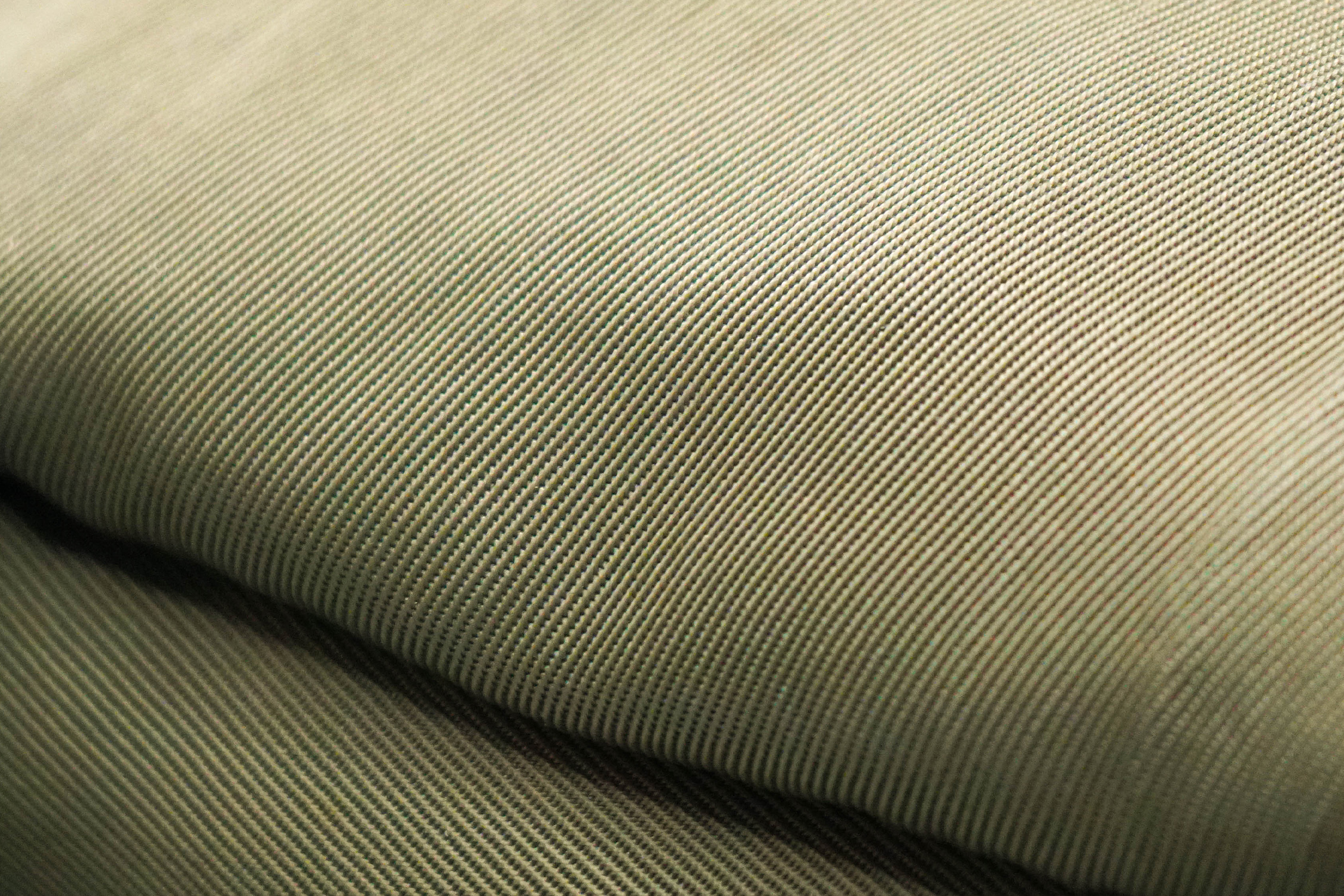 The Olive colorway we've been testing has a durable, canvas exterior with PU (polyurethane) coating for added water-resistance. It's also treated with a DWR coating for even more durability and water-resistance. At the time of this review, the Moment Fanny Sling is available in two colorways, and two materials. As we mentioned, the Olive colorway is made with canvas, and the Black colorway is available in either canvas or ripstop nylon (which would be swishier than the canvas version). The ripstop version is also leather-free, so it's a good option if you try to avoid animal products.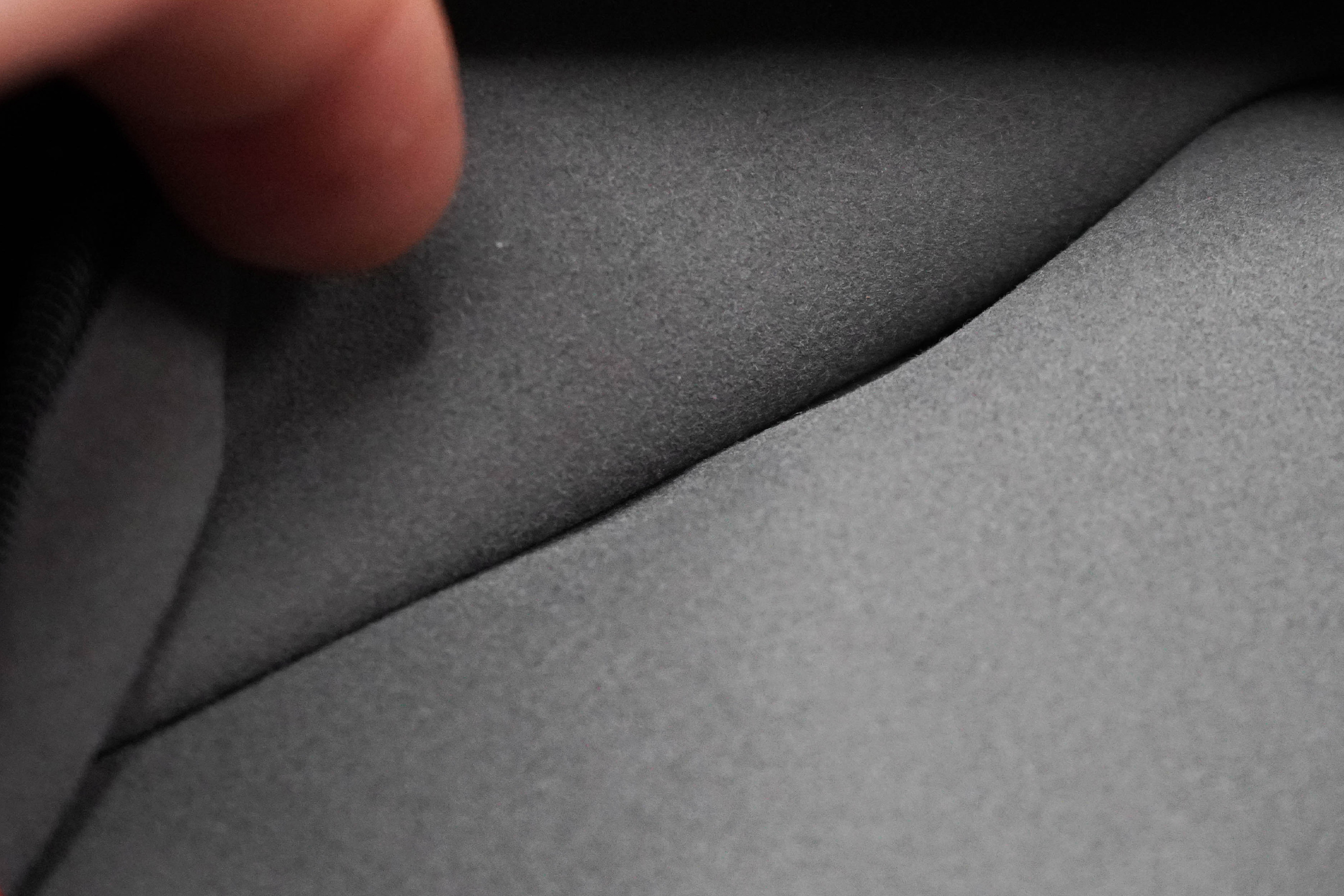 As for the inside, the pockets are lined with microfiber fabric (yeah, all of them)—a unique choice for a sling. This is one way the sling caters to cameras (specifically Moment's camera accessories and lenses) as it'll keep your phone and lenses scratch-free while stored inside.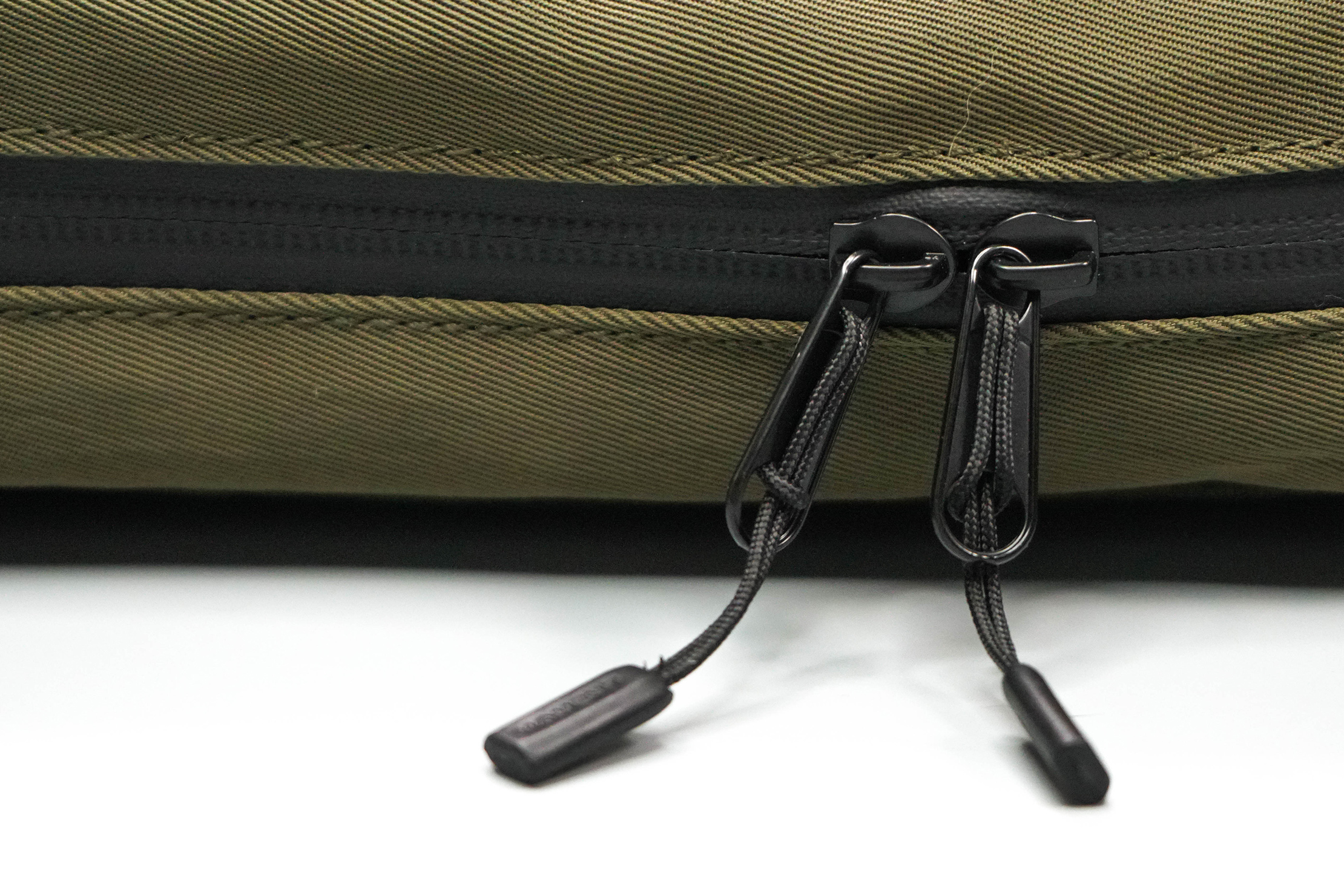 The Hetai zippers on here are also water-resistant to help keep moisture away from your gear. The zippers to the main compartment have nice, branded pulls but the zippers themselves are pretty small—this would be a concern on a larger, heavier travel bag, but they work for a sling of this size. We're always a little wary when it's not YKK, but everything has been smooth sailing so far.
Duraflex Hardware also makes an appearance on this sling. The buckles have all stayed secure during testing thus far, and the strap keepers on the shoulder strap have kept dangling to a minimum—so no issues there.
External Components
There's not a crazy amount of stuff going on with the outside of this sling, but there are a few things we want to point out—starting with the harness system.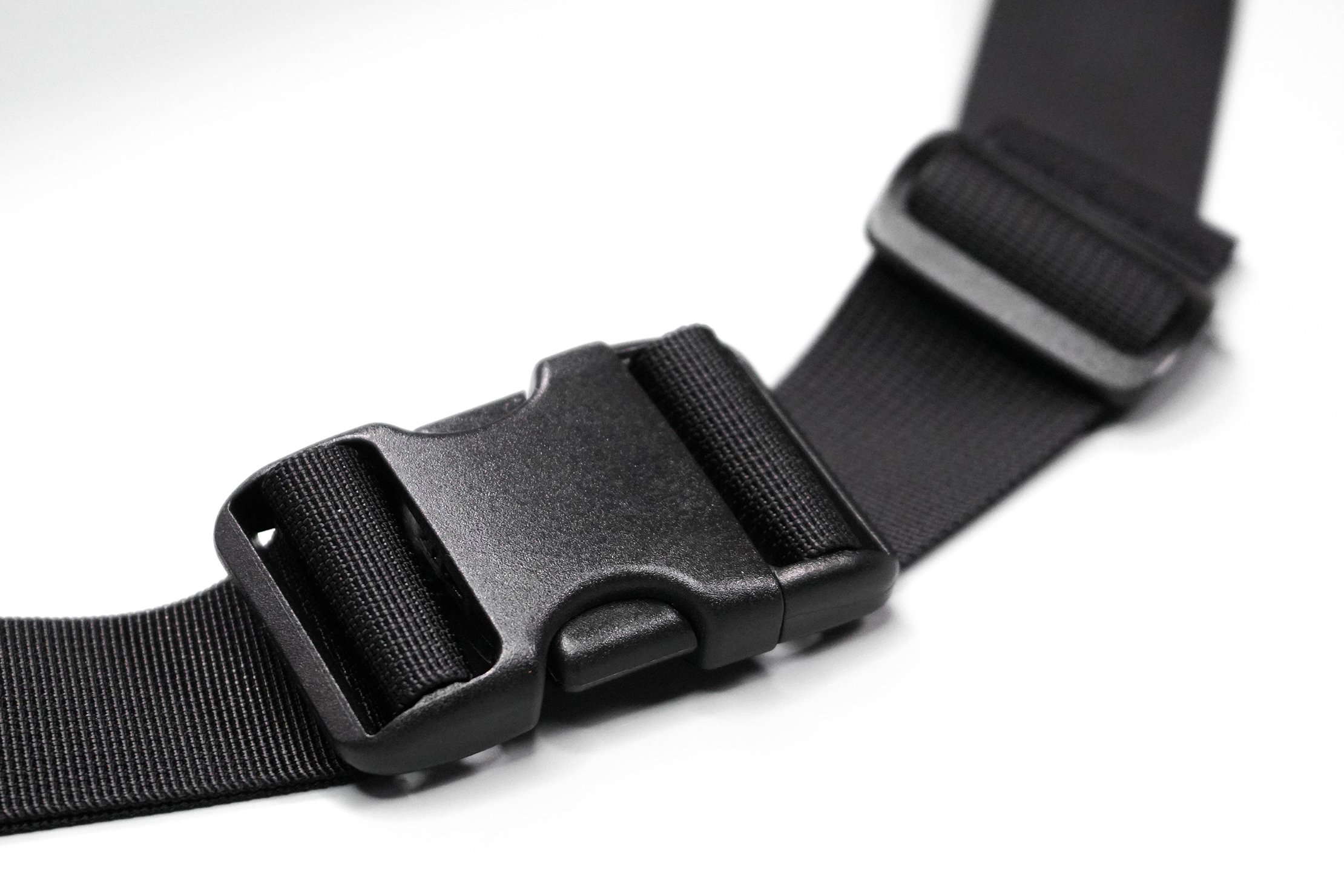 The shoulder strap is secured with a buckle that comes in most handy for taking the bag on and off when worn in waist pack mode. We've mostly been testing mostly in sling mode ourselves, but if you dig the fanny pack vibe, by all means. At 52 inches (132 cm), we've found the strap long enough to accommodate most heights, sizes, and styles of carry. Of course, your mileage may vary.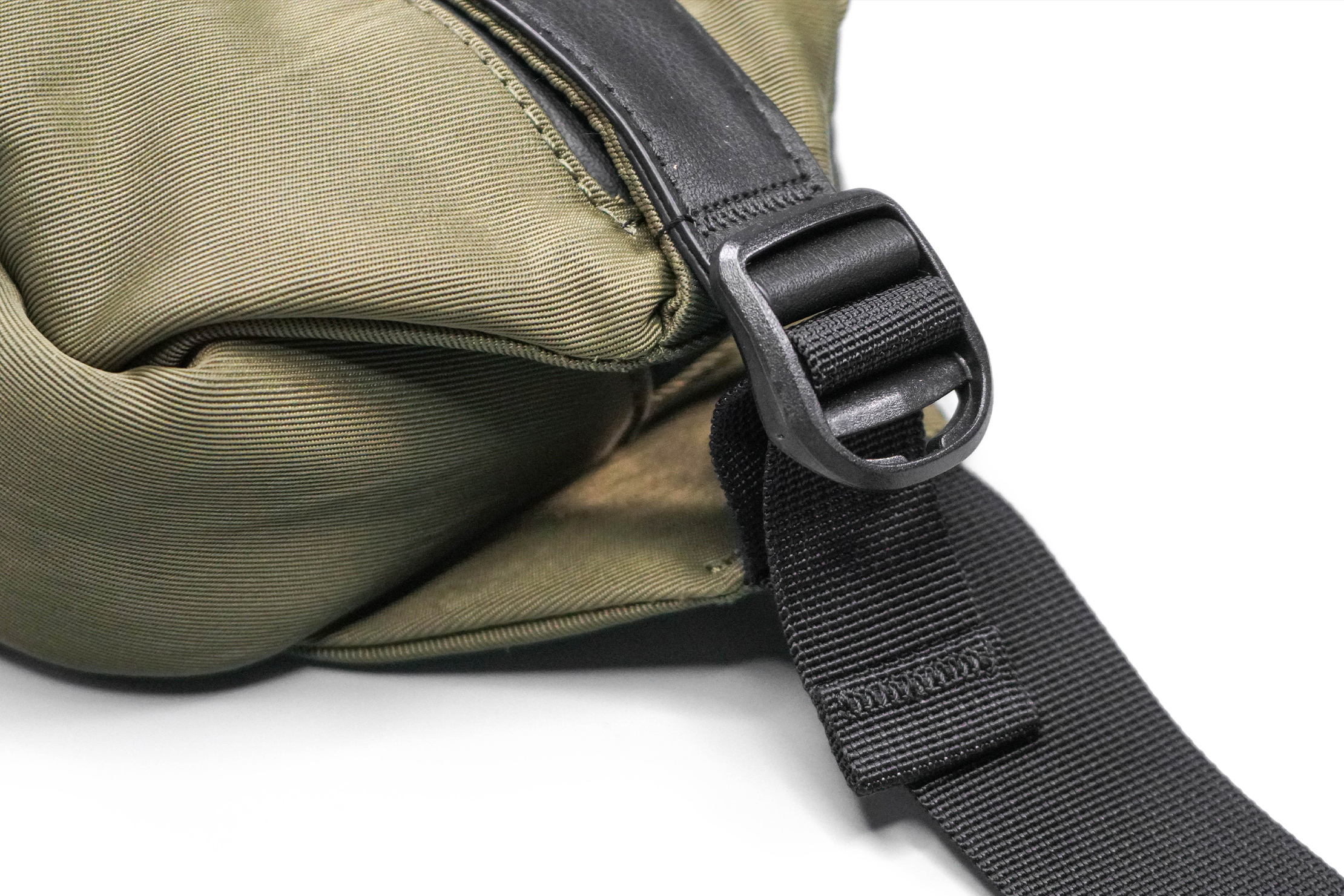 One aspect of this strap that we aren't loving is its material. The nylon is rough in the hand, and we can definitely feel it against our shoulders—it's not the nice, comfortable seat belt-like material you'll find on other slings bags like the Aer City Sling or Chrome Industries Citizen, for example. Also, with most slings, you'll notice that the strap is anchored directly in the middle to disperse weight evenly. Here, the strap is anchored pretty high up. This does give it more of a standard waist pack look, but when in sling mode, it becomes bottom-heavy—and we can feel the bulk against our back or chest, depending on where we have it situated.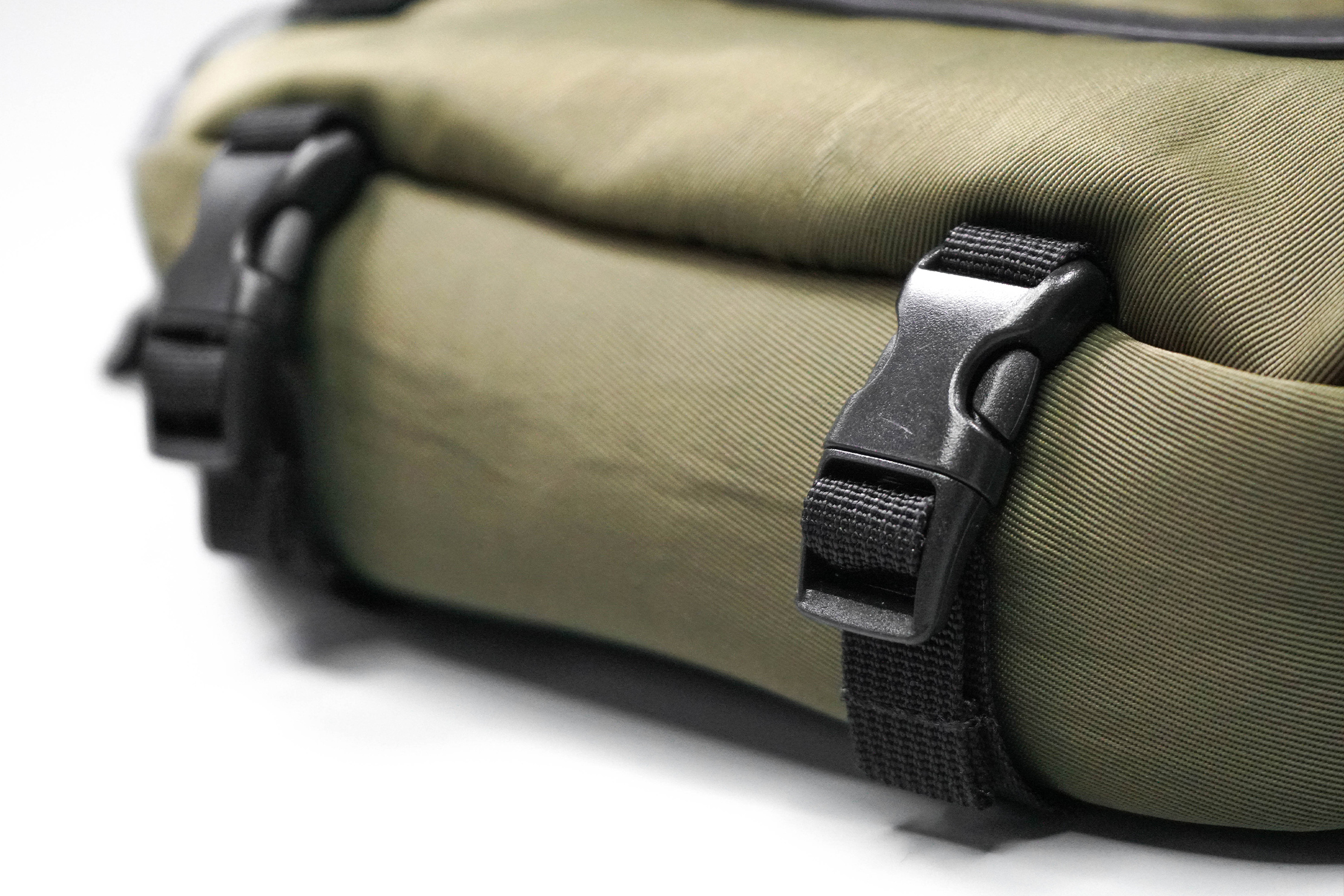 At the bottom of this sling are two buckled straps that you can use to attach things like an umbrella or small tripod, like the JOBY GorillaPod. We've even clipped on a hat with these while caught in some wind on a bike ride, which is pretty handy. There aren't any strap keepers on here but you don't really need them for straps of this length—we're still getting a relatively #DangleFreeExperience without them.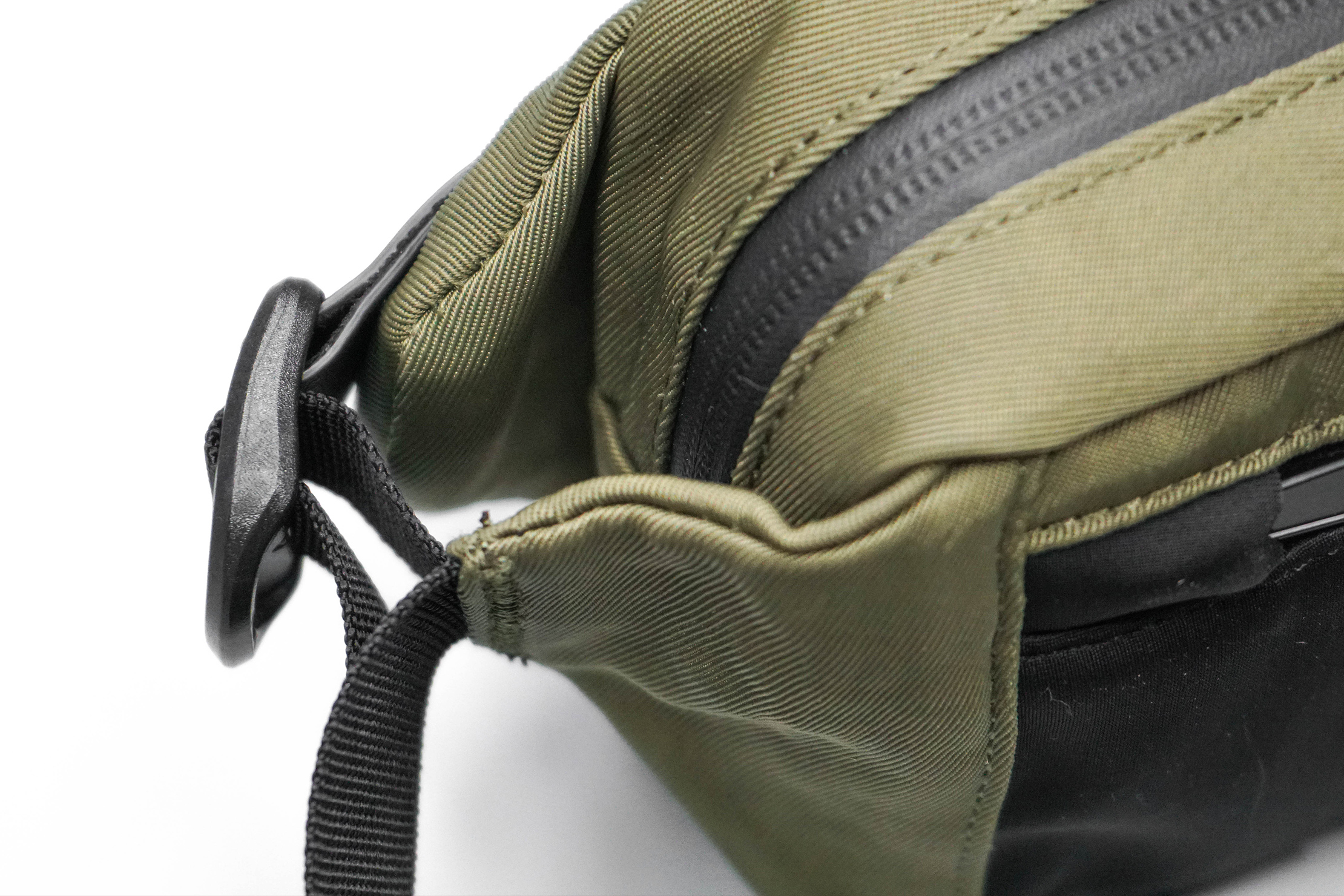 There's also a compression strap on each side of the bag so you can compress it down when it's less full. Something we noticed, however, is that the straps' material doesn't stick in place very well when we do cinch the bag back—more so than other bags. So if you're trying to keep the sling low-profile, the straps can lose tension and the sling can start to come loose and widen on its own. We were having a conversation in Pack Hacker Pro, and other members have had similar issues as well.
Inside the Sling Bag
Let's start this section by talking about the Fanny Sling's size. It falls into what we call the PocketsPlus category—meaning you have room for anything you usually keep in your pockets, plus a little extra. It's great for a day out exploring the city, or if you want to have quick access to your smaller items instead of digging through your larger backpack.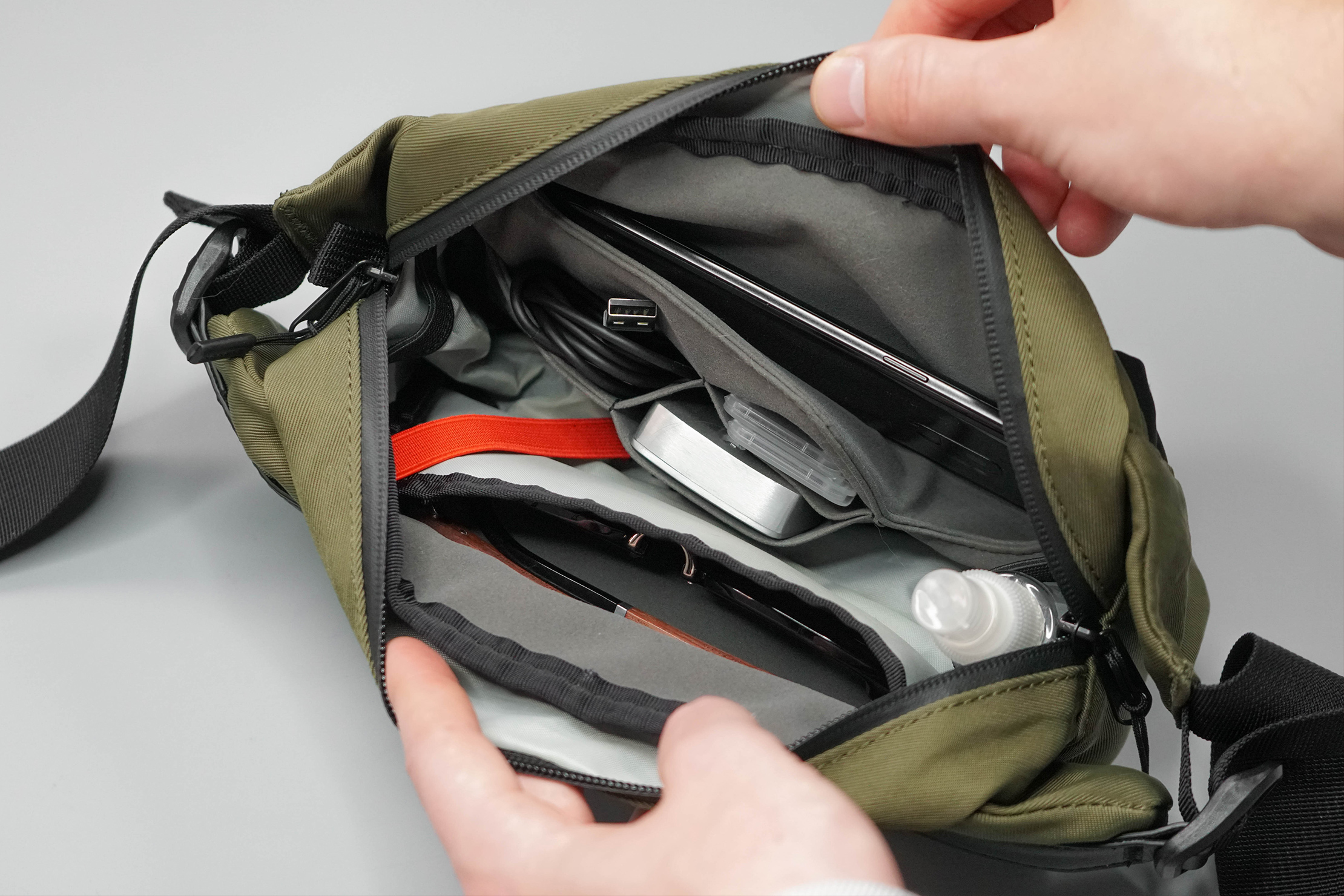 Inside the main compartment, you'll find a good amount of organization. There's a suspended pocket against one side that works great for a pair of sunglasses—as we mentioned earlier, the interior is lined with that nice, smooth microfiber to keep scratches and smudges at bay. On the other wall of the sling is a sleeve for your phone and four other small pouches. The sleeve has an indent to accommodate a Moment mobile lens so you don't have to detach it every time you store your phone—a smart design consideration if you ask us.
As for the pouches, those work for SD cards, memory cards, and other smaller accessories—for our purposes, we've been slipping in a cord or two, The James Brand Stilwell Collapsible Pen, and of course, a handy spork (for all of our on-the-go snacking needs). There's also a pocket on each side of the main compartment for some extra storage—you can fit a travel-size bottle of hand sanitizer in here or even a small bottle of cleaning spray for your lenses (for your lenses and glasses if you have them), among other things.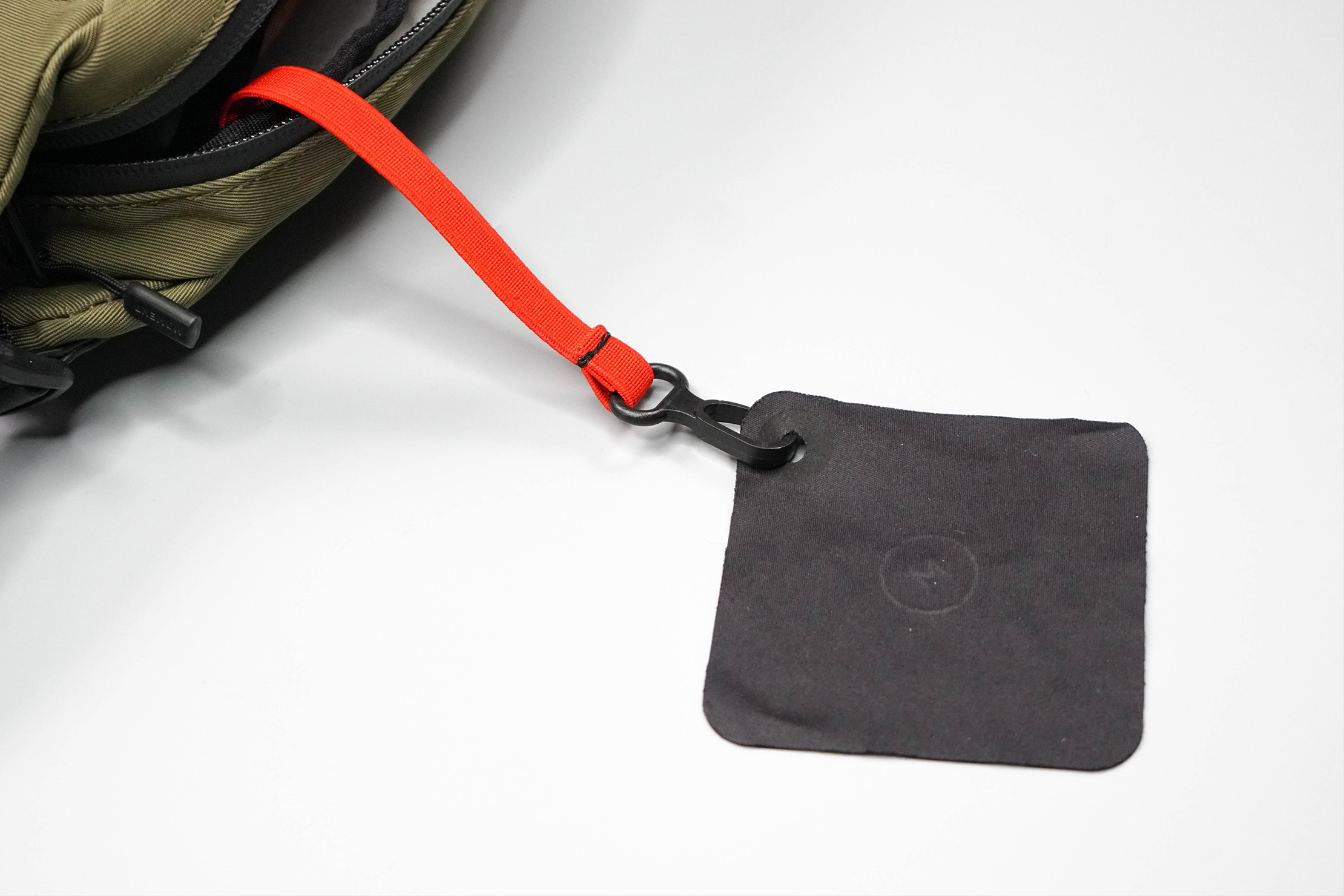 There's also an integrated plastic key clip with a small microfiber cloth attached—the microfiber feels like one of those camera-specific features, but you could also use it for glasses or your phone which is handy. The strap itself is pretty stretchy, which is another smart design detail we haven't seen in a lot of other slings. A lot of times when you sling a bag like this around your front, you have to awkwardly bend over to unlock your door, car, whatever it is—this band's stretchiness helps mitigate that. It's also a very bright orange which makes it easy to spot inside the sling.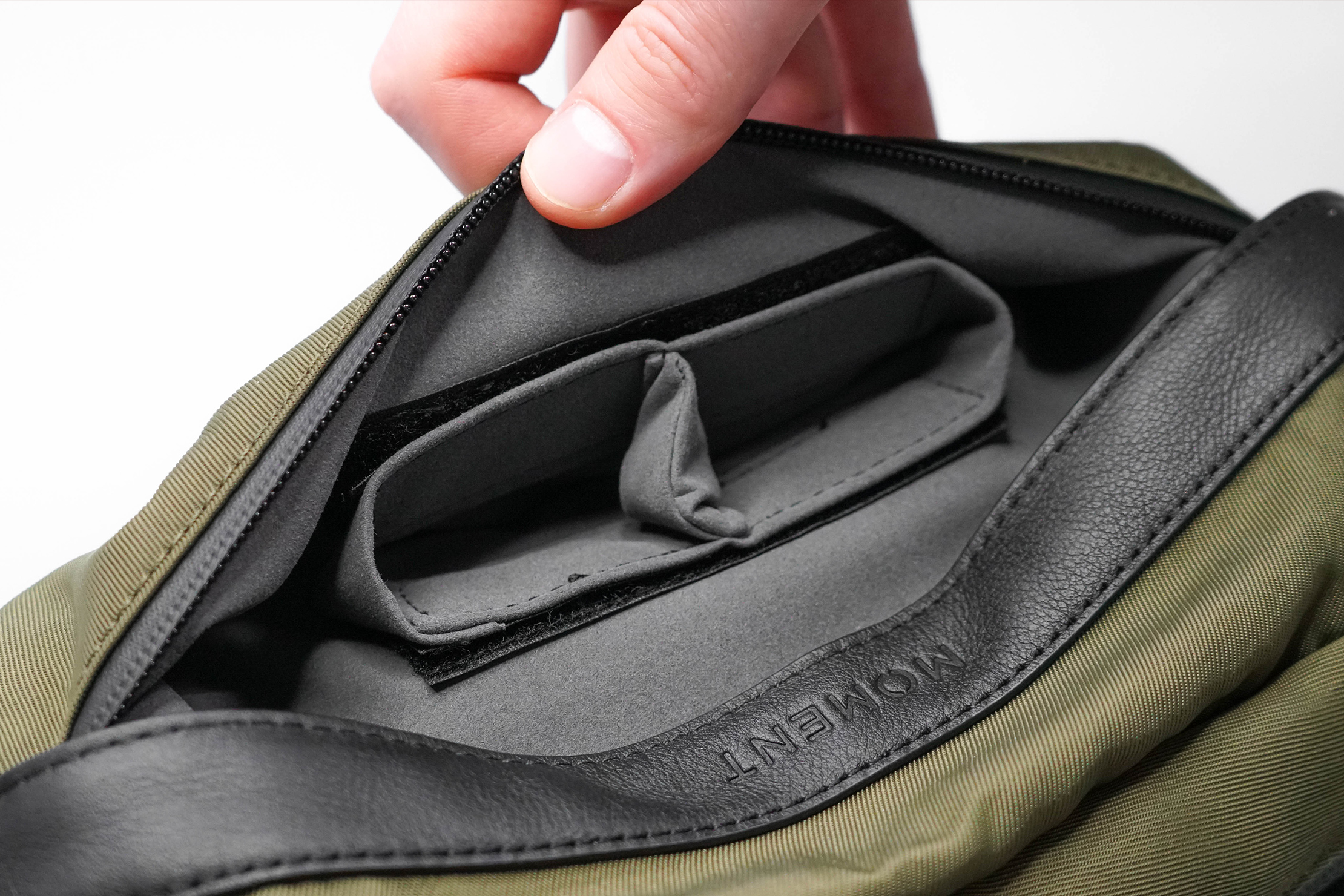 If you lift up the leather fold on the front of the sling, it reveals a zippered pocket. Inside are two dividers that help the pocket hold up to four Moment mobile lenses, like the Moment Wide Lens. These dividers are flexible and expand/compress with the sling to prevent excess bulk, which is a nice touch. They're also removable so if you don't find them useful, just detach the velcro and use the space for something else.
The pocket itself is (again) lined with that microfiber fabric to keep your lenses scratch-and-smudge free if you do keep them in here. Something to note—when you're not using the compression straps, you have some extra capacity on each side of this pocket but it goes away if you cinch the bag back.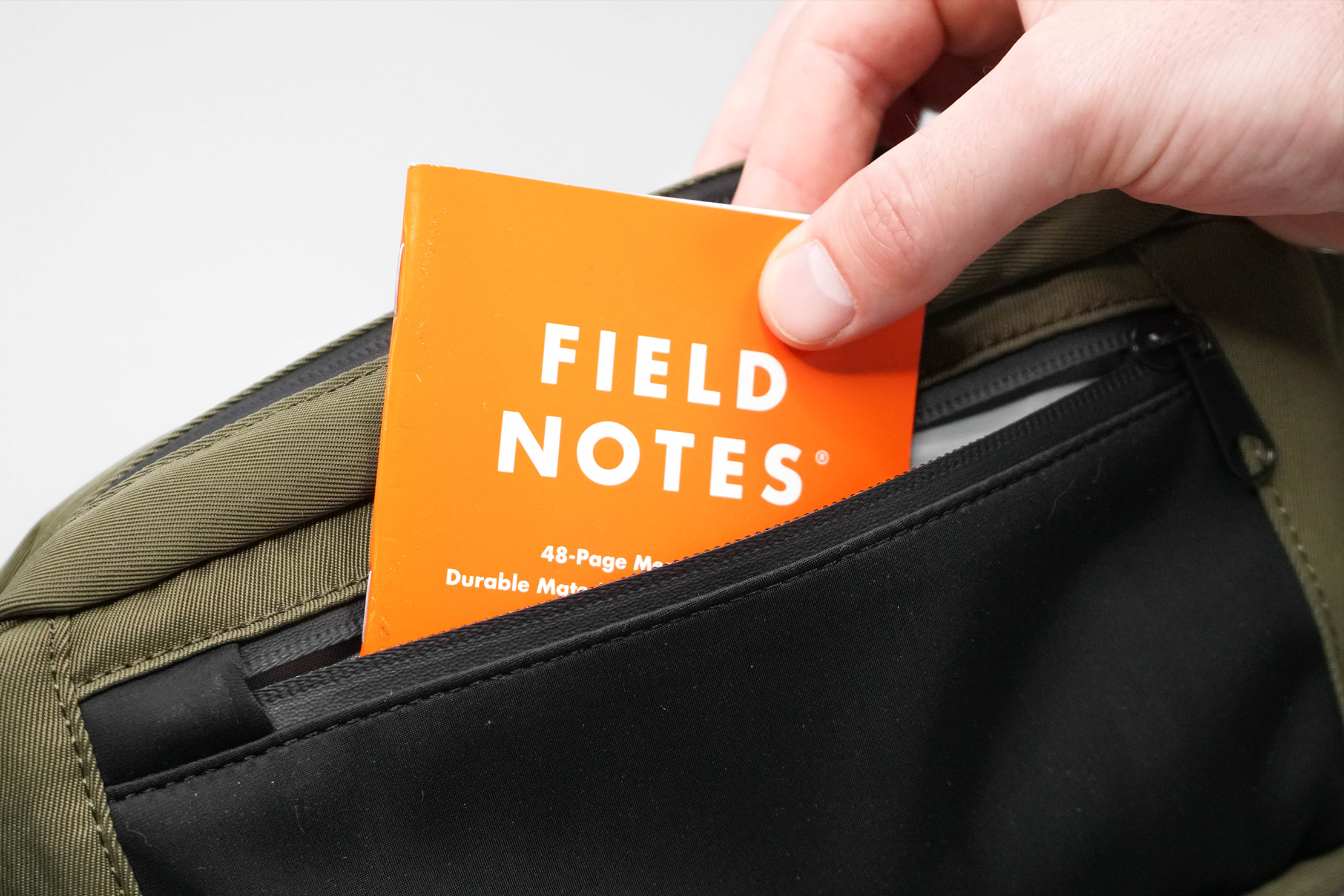 There's also a pocket on the back secured with a weather-resistant zipper and a garage you can tuck it into. This pocket looks like it would accommodate a phone nicely, but when we tried keeping one in here we could feel it against our backs (and hips when in waist pack mode). Flatter, more flexible items work better—like a small notebook, some extra cash, or your passport. And we're liking the mesh-like material that this pocket is made with. This "MicroMesh," as we've been calling it, is soft and has some stretch to it so it can accommodate whatever you put inside—though you don't want too much bulk back here since the pocket lies against your back, chest, or hips depending on how you're wearing it.
Durability & Testing
We've been carrying the Moment Fanny Sling around Detroit for two long weeks now—mostly in sling mode. Like we mentioned earlier, carrying it as a sling can get uncomfortable due to the material and anchoring of the strap, but it's not quite as noticeable when worn as a waist pack.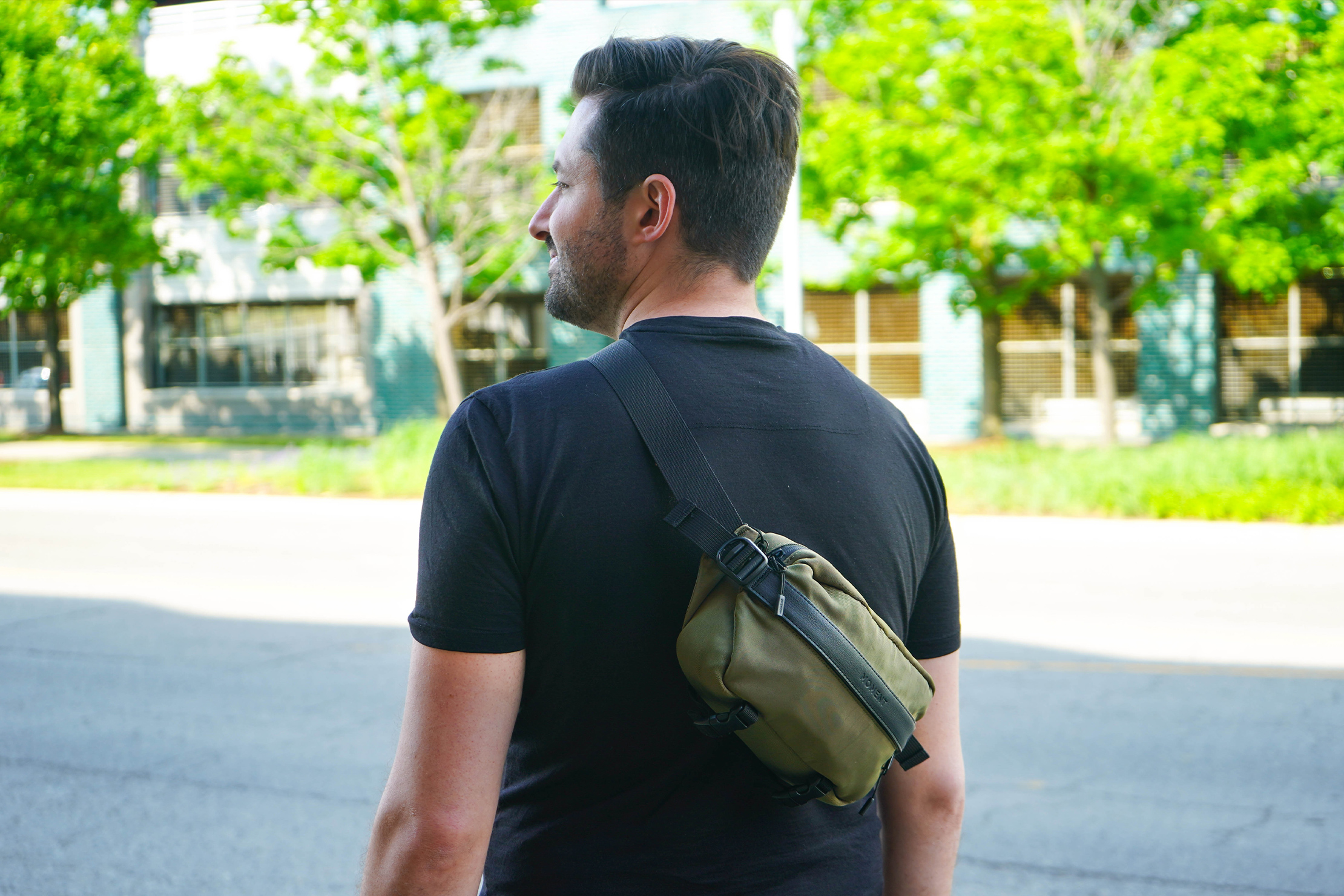 While this sling has definitely been designed to accommodate Moment lenses and other mobile photography-specific gear, we've found that the size and organization work well for our everyday essentials too. And, if you're not using the camera-specific features, they don't get in the way.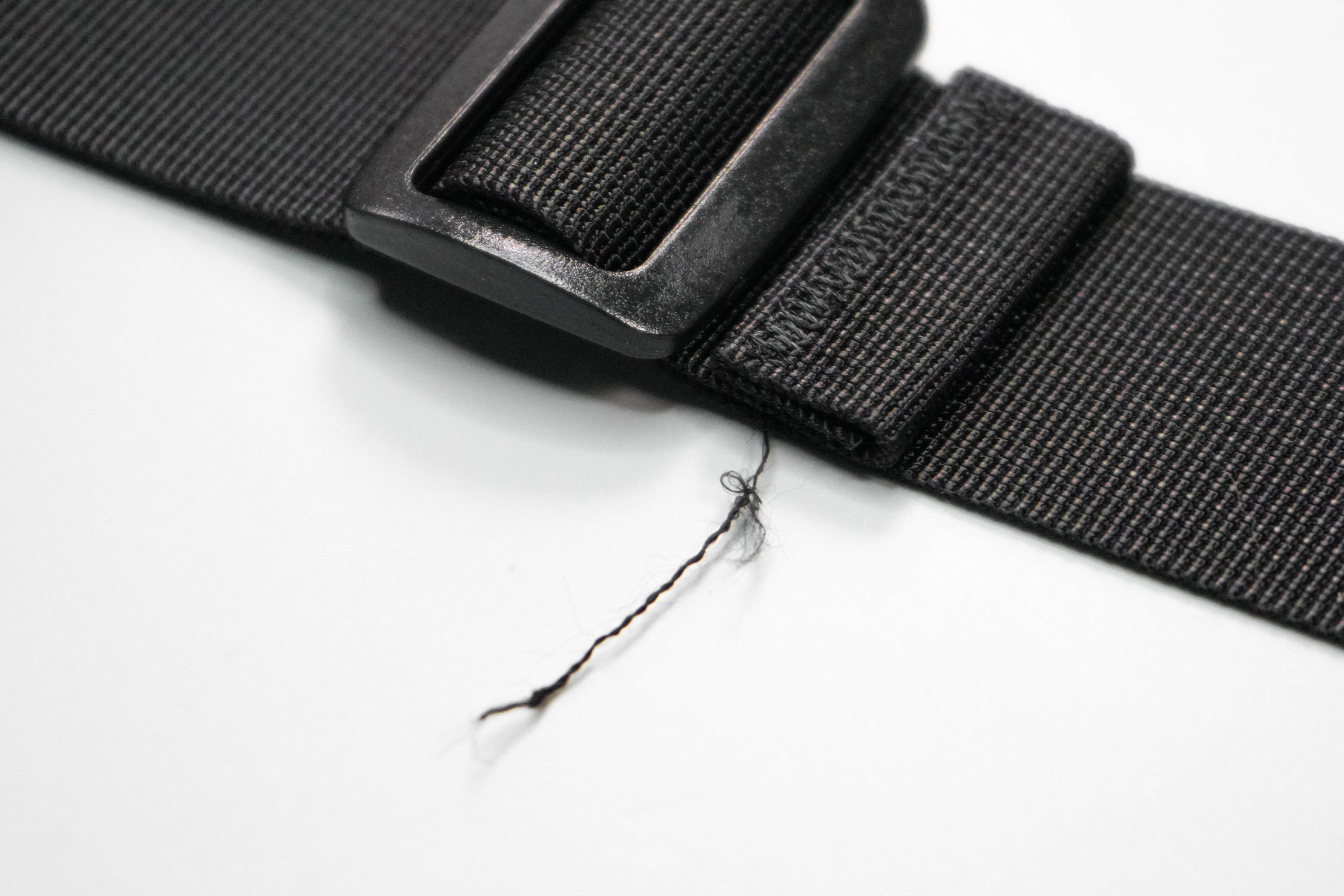 As for durability, a thread did come loose on the main strap—it hasn't caused any hassle yet, but we're keeping our eye on it. Everything else is in tip-top shape.
Usage Timeline
Initial Usage
Condition: Excellent
Digging the microfiber interior liner
The strap is a bit rough compared to other slings that use smooth, seat-belt-like material
The size feels just right for "Pockets+" gear carrying
2 Weeks of Use
Condition: Excellent
Compression buckles on the sides can become loose on their own.
The rough strap is still noticeable on the shoulder—especially when the sling is fully loaded up
External accessory straps have proven useful in the real world—in testing, buckling a hat to them on a windy day while biking has proven useful
Still digging the organization and microfiber interior. All-in-all, solid experience despite the nitpicks
The straps are anchored towards the top of the bag, which is great for fanny pack carry, but it creates a feeling of imbalance when in sling carry mode. The bag feels bottom-heavy
Access the Pro Community Discussion
Get your questions about the Moment Fanny Sling answered from our team and the Pro Community right here on the page. Plus, join discussions with other members about gear, guides, and more.
Other Bags & Luggage Reviews