Clutch Charger Pro Review
The Clutch Charger Pro has a 5,000 mAh battery and MagSafe compatibility, but the permanently attached cable, like V2 and V3, may not work for some travelers.
Our Verdict
Unlock the Pro Summary
Save time. Get access to brief summaries of our reviews so you can browse and make decisions more efficiently.
Pros
MagSafe creates a tight fit between phone and battery bank
Recharges via USB-C
No issues with durability in testing
Cons
Not being able to change cables will irk some users
Feels large for the battery's size compared to V2 and V3
Finding the MagSafe sweet spot can be tricky at first
Recent Pack Hacker Video
Technical Details
Weight (oz)

3.5 oz (99.2 g)

Dimensions

3.86 in x 2.64 in x 0.32 in (9.8 x 6.7 x 0.8 cm)

Notable Materials

Metal, Plastic

Manufacturing Country

China

Warranty Information
Full Review
Get up to 20% off Clutch • Join Pack Hacker Pro
If you've been in the market for a battery bank in recent years, odds are that you've come across the Clutch Charger. It's a tiny offering with an attached charging cable and a budget-friendly price tag. We tested the V2 and liked the idea, but we still felt it could go further. Will the Pro model blow us away, or will we be left wanting more? Let's dive in and find out.
The Rundown
Before we get too far into the Pro model, let's discuss how we got here.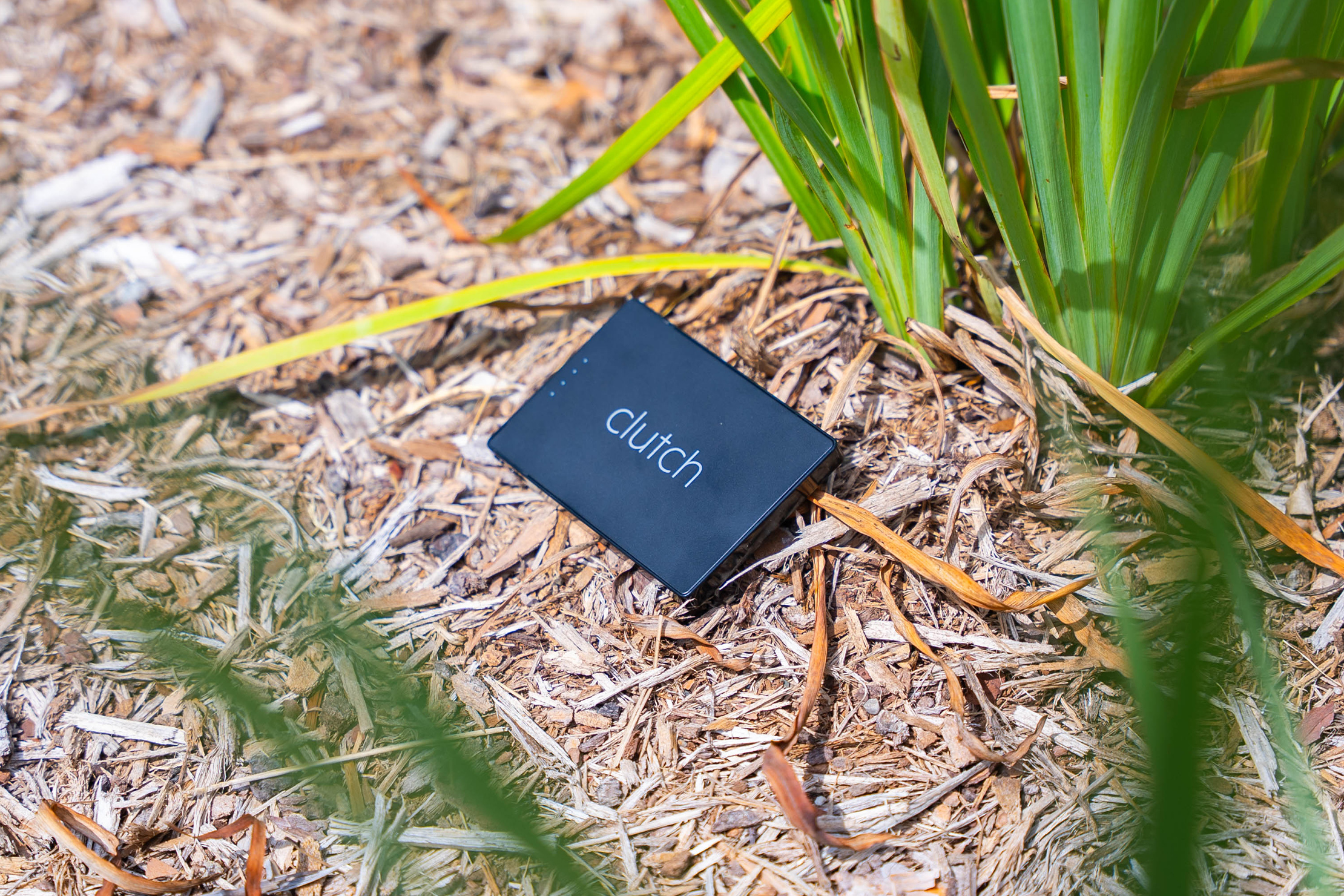 The first Clutch Charger we tested was the V2. That model came in at 3,000 mAh, 3.5 in x 2.5 in x 0.125 in (8.9 x 6.4 x 0.3 cm), and just 2.3 ounces. It charged using a micro USB, which we felt was outdated.
Along came the V3, which we didn't test because it didn't feel different enough than the V2. The battery increased to 3,300 mAh, it retained the same size and weight, and the Micro USB upgraded to a USB-C for charging purposes.
At the time of writing, the Clutch Charger Pro is one of the newest offerings. It brings the battery up to 5,000 mAh, the weight to 3.5 ounces (99 grams), and doubles the thickness of the previous two iterations. Plus, it's MagSafe compatible, so you can stick it to your phone while charging. So it's bigger, has a bit more battery, and weighs a smidge more. Is it worth the upgrade?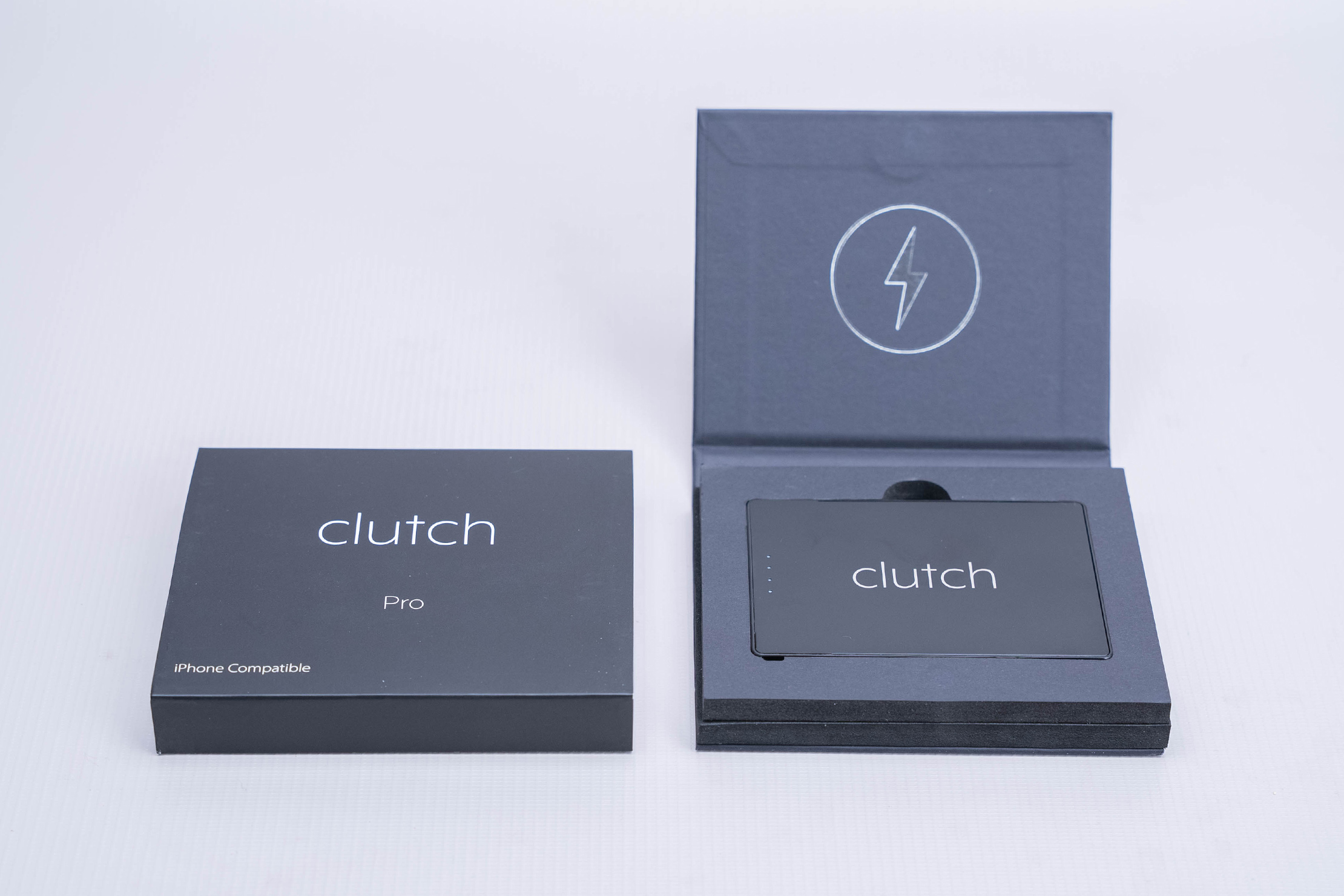 Before we chat about that, let's get down to brass tacks. This thing is constructed of metal and plastic. The edges feel durable; however, the front and back face don't feel as rugged. We haven't had any issues with either side on any of the Clutch Chargers we've tested, but it feels much less durable than other battery banks we've tested.
When purchasing the Clutch Charge, you've got to decide which charging cable you want. All the battery banks charge with a USB-C, but you use the attached cable to charge your phone. There are USB-C and Lightning models; you can't change the cable once you've purchased it. This isn't an issue if you have exclusively Apple products or upgraded to USB-C entirely. However, this might not be the charger for you if you've got a few of each.
The front face of the battery bank has four LED lights to indicate how much battery is left. We dig this feature on larger models, but it feels superfluous for something with just 5,000 mAh. However, it's ideal for forgetful or anxious travelers that want to ensure they've got juice for their day away from the hotel.
At the time of writing, the Clutch Pro comes in Black, White, and Pink colorways. While it's a small selection, it's more than we're used to seeing for most battery banks.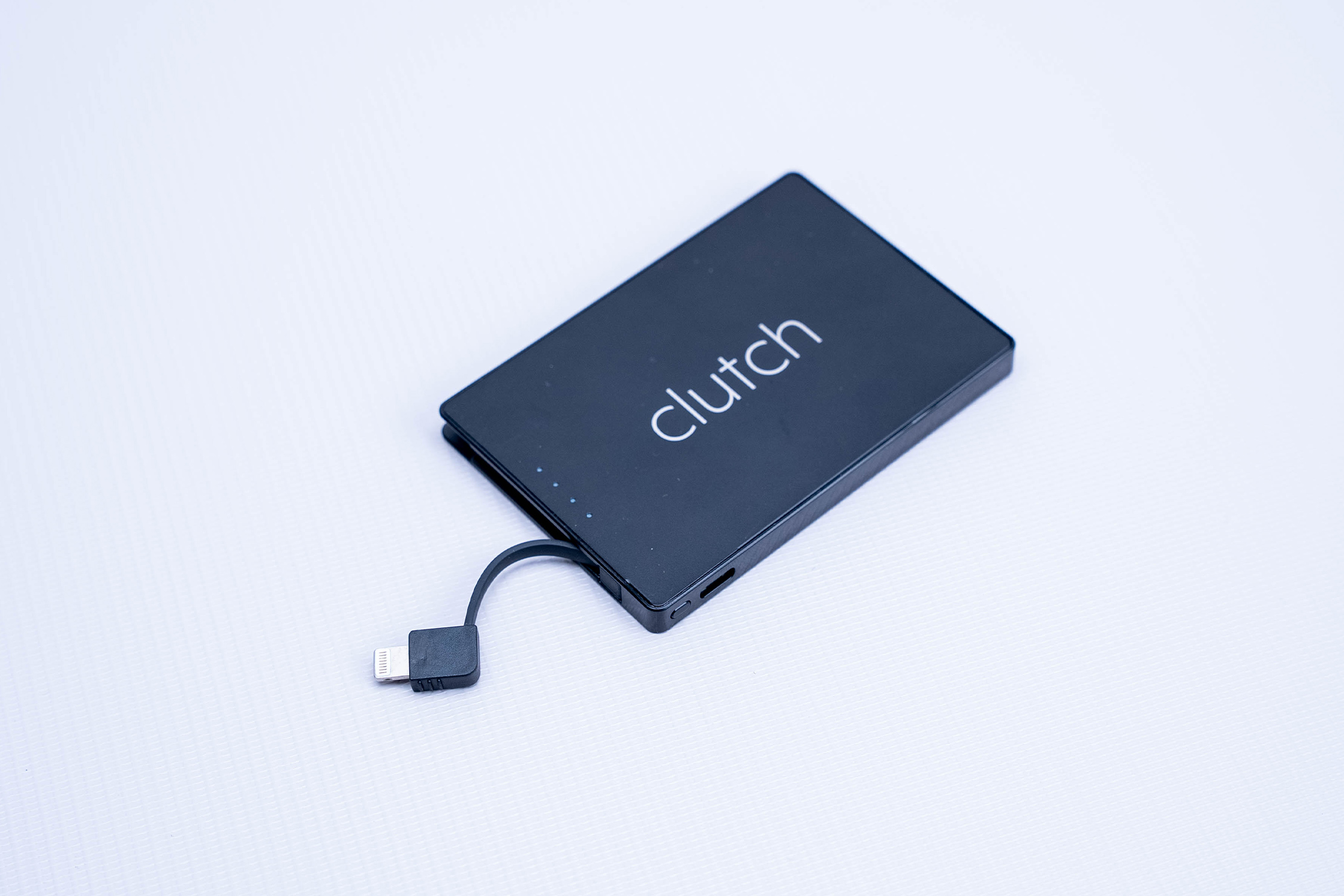 Okay, so you're probably wondering, is it worth it? Well, that depends.
The added MagSafe compatibility will be huge for some users. If you have a Clutch Charger or another battery bank and are constantly using it while on your phone, that process will be much easier. Well, it is as long as you've got a MagSafe case or no case on your phone so it can attach properly. Older Clutch chargers and non-MagSafe models slide around and make it so you've got to keep track of your phone and the battery bank, plus the charger combining the two. This simplifies things.
However, if you aren't a huge fan of MagSafe, there are still reasons the Pro model might entice you. 5,000 mAh is a big leap from the previous 3,300 mAh. The newest iPhone at the time of writing, the iPhone 14 Pro Max, has a capacity of 4,323 mAh. The standard V3 won't charge that once, but the Pro model will, and then some. For larger devices, this makes sense.
Packability
However, upgrading to the Clutch Pro will cost you some weight and space. It isn't a ton when you think about it in terms of the room you've got in your sling, daypack, or pocket.

The Pro model comes in at 3.86 in x 2.64 in x 0.32 in (9.8 x 6.7 x 0.8 cm), which is still incredibly small but is noticeably larger and heavier in your hand than the previous iterations.
Even with that extra size and weight, you won't have any issues sliding this into your sling or the liner pocket of your travel backpack. If the feature upgrades are meaningful to you, it's worth the switch.
Quick Comparison
Although we've already compared the Clutch Pro to previous Clutch models, it's worth seeing how it stacks up against some of our other favorite battery banks.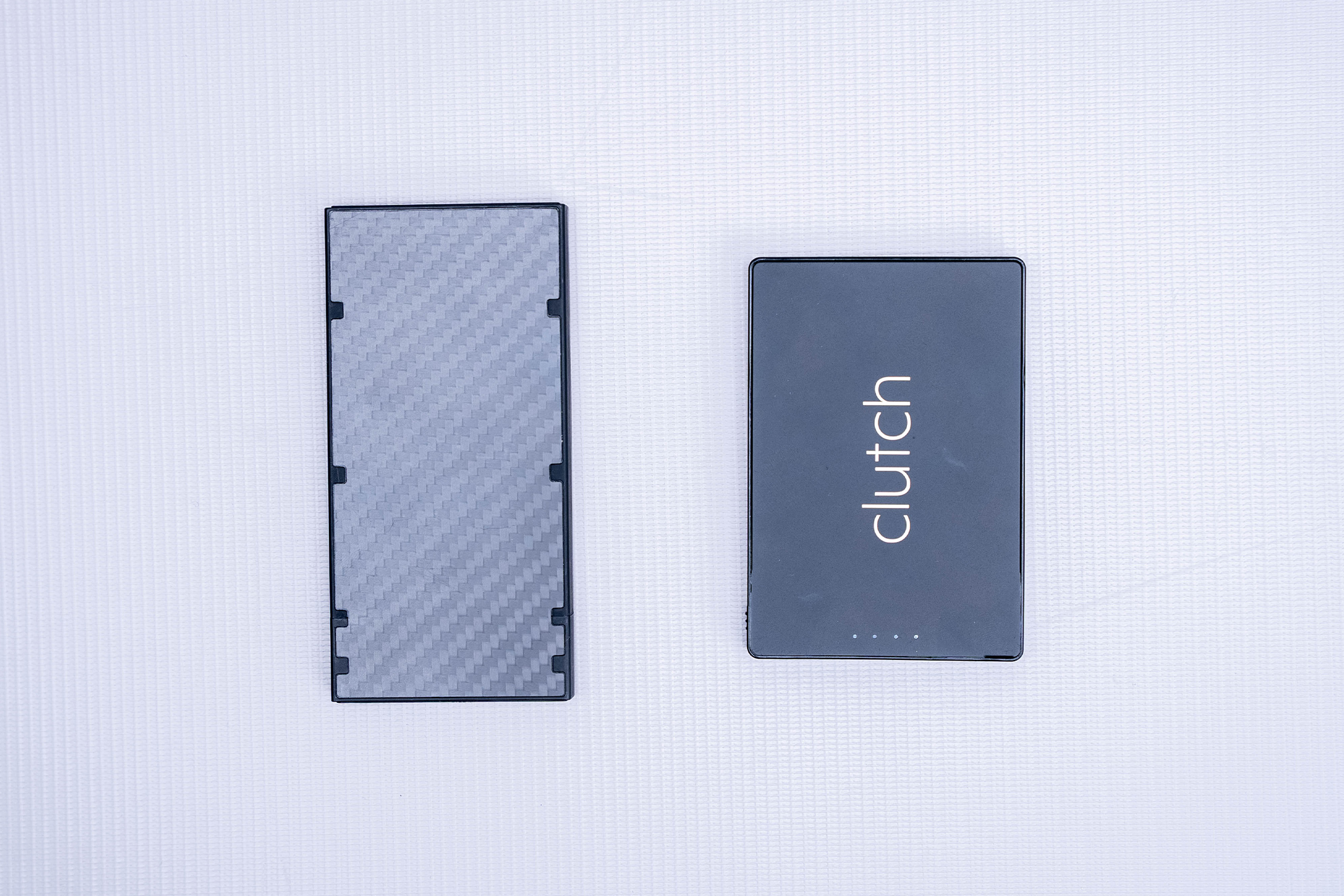 The NITECORE NB10000 Power Bank has double the battery power and can output with USB-A and USB-C ports simultaneously. There's no attached cable, and it's 1.6 ounces heavier, so there are some trade-offs.
The NITECORE is crafted from durable carbon fiber, which looks sleek. The corners are a little pointy (if you want something more elegant, go with the NITECORE CARBO 10000), which takes some getting used to. However, the NITECORE feels much more durable than the Clutch. Carbon fiber makes it pretty light for its capacity, too.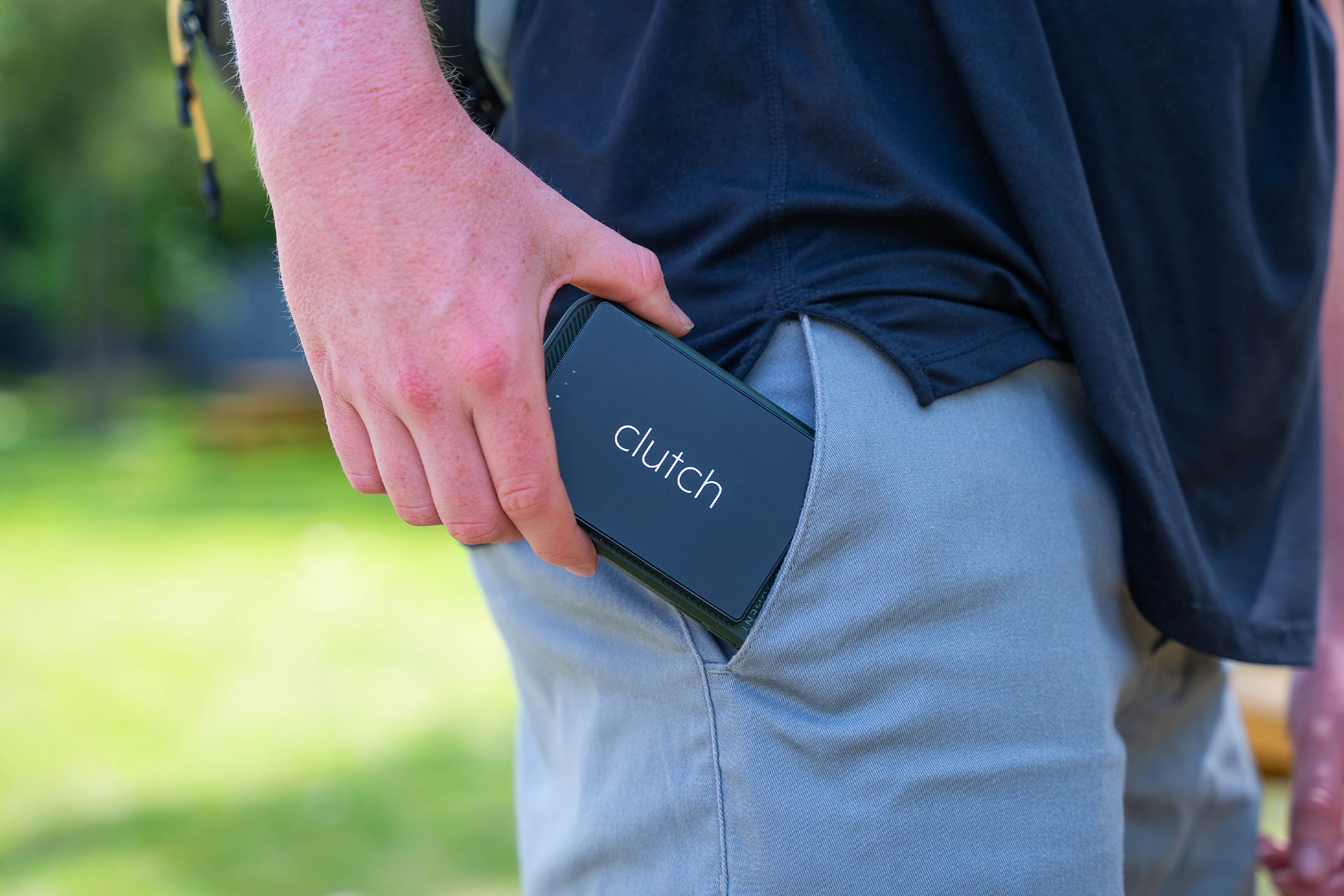 Ultimately, it comes down to what you're using a battery bank for. The Clutch is probably a good bet if you are looking for something to top you off during a long day of exploring (while still using your phone). However, if you're going for a longer journey and need more assurance that your device won't die, you may want to go with something more capable, like the NITECORE NB1000 or CARBO 10000.
Usage Timeline
Initial Usage
Condition: Excellent
The charging cable doesn't feel very durable
Magnets make it easier to use on the go
The larger battery life is a welcome change from the smaller model, but it comes with a size increase
2 Weeks of Use
Condition: Excellent
No issues with the materials or durability
USB-C charging is ideal unless you don't have any other USB-C devices
MagSafe is handy for charging on the go
Access the Pro Community Discussion
Get your questions about the Clutch Charger Pro answered from our team and the Pro Community right here on the page. Plus, join discussions with other members about gear, guides, and more.
Other Productivity & Tech Reviews