Carhartt Delta Shoulder Bag Review
The Carhartt WIP Delta Shoulder Bag features a variety of pockets and loops for organization, but the small side pouch noticeably rubs while walking.
Our Verdict
Unlock the Pro Summary
Save time. Get access to brief summaries of our reviews so you can browse and make decisions more efficiently.
Pros
Durable materials and structure
Variety of pockets for organization
Strap adjusts on two sides
Cons
Small pouch rubs against arm when carried on back
Front compartment's opening tilts downward when worn at the front; may cause items to spill out when opened.
Strap's degree of adjustment is low
Recent Pack Hacker Video
Technical Details
100 %
Carry-on Compliance
Capacity

3.9l

Denier

170D

Dimensions

8.7 in x 6.9 in x 3.9 in (22.1 x 17.5 x 9.9 cm)

Notable Materials

CORDURA® Nylon, YKK Zippers, Duraflex Hardware

Manufacturing Country

Vietnam

Warranty Information
Full Review
Packing a bag while making full use of the available space is just the right hit of serotonin the night before an adventure. Whether it's a suitcase with a week's worth of clothes or a pouch filled with small adapters to turn an iPad into a mobile workstation, we call that kind of purposeful density an "absolute unit."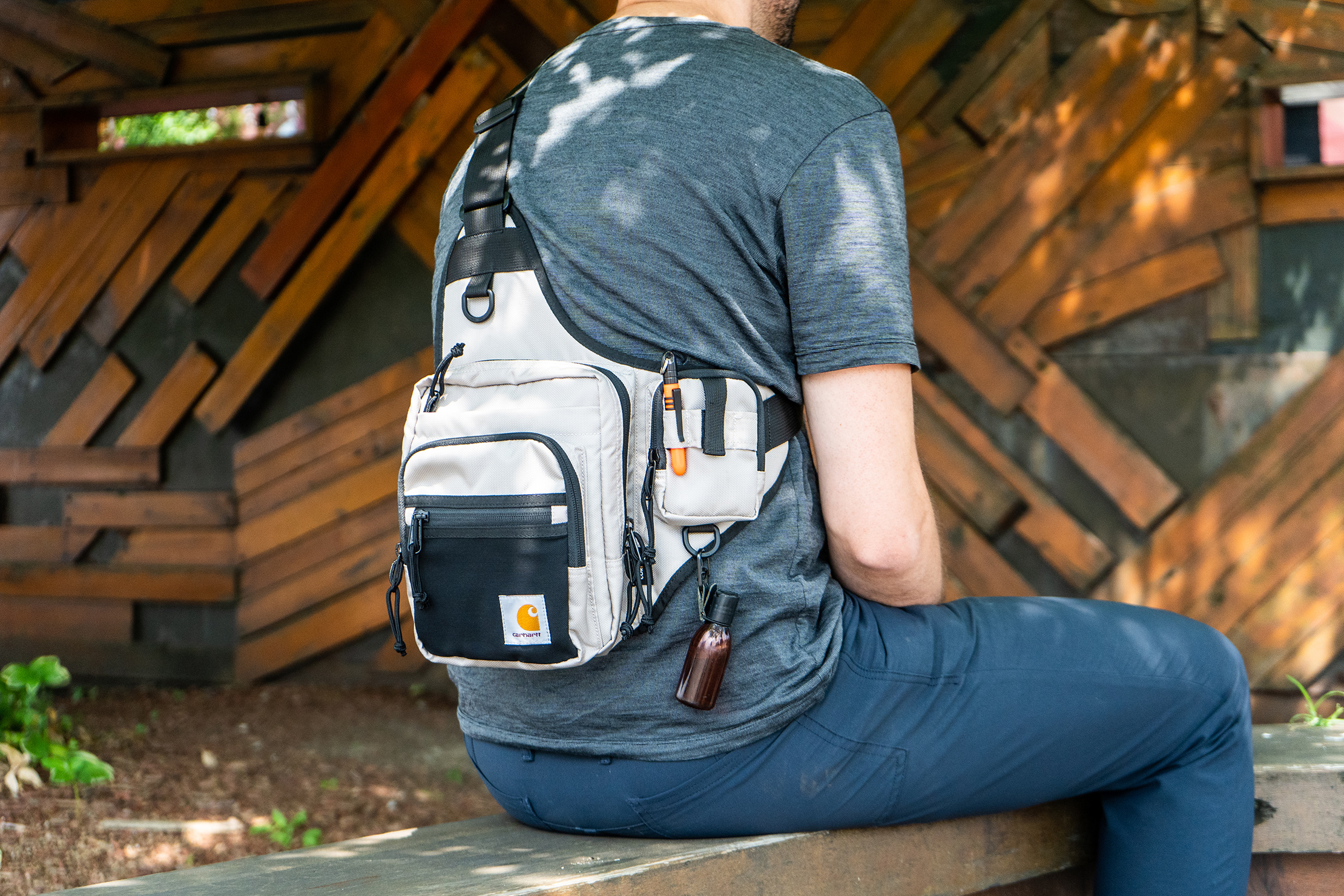 Yes, some of us here at Pack Hacker have also called our beloved pets that, but that's only because they're also packed with adorableness. In the case of Carhartt's WIP Delta Shoulder Bag, it packs enough pockets for organizing everyday carry items and then some. The body-hugging back panel fabric makes it feel even more integrated and accessible, albeit with some comfort issues. Features-wise there are plenty of layers (of pockets) to go through, so let's dig into it.
Materials & Aesthetic
As far as styling is concerned, the Delta Shoulder Bag comes off as one tactical-looking bag. The entire front surface area is covered in pockets and features that are meant to get you organized. It gives a sense of what it would feel like to have enough drawers and bins at your desk on a busy week. In short, you get a good impression of what the Delta Shoulder Bag is capable of in terms of organization.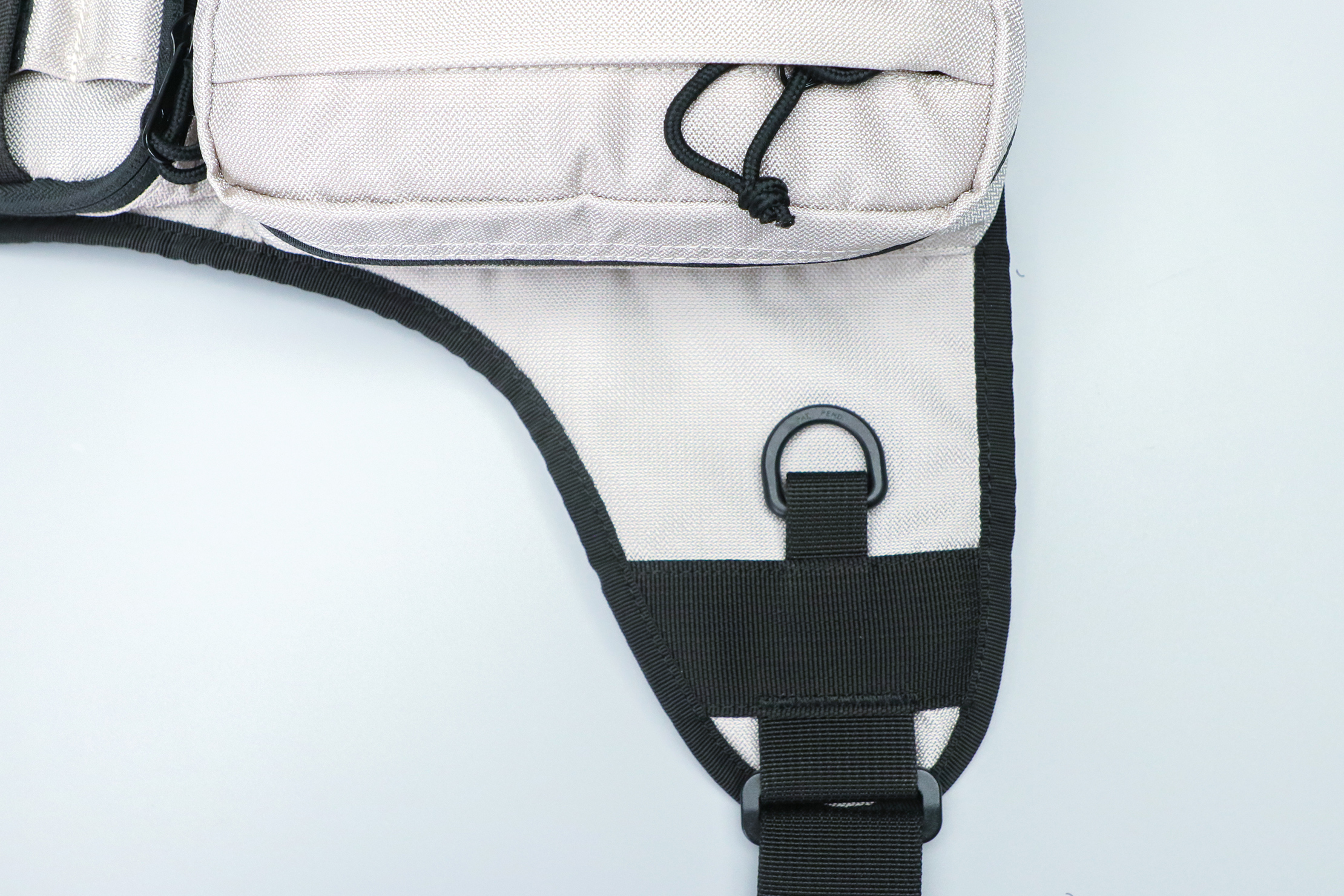 It's not all substance and no style, either. We think it's a good-looking bag that pulls off the tactical look well. The pouches are like white sand islands stuck to a triangular canvas—a delta, if you will. Of course, another way to look at the design is that it's a very cluttered one with many dangling zippers and a prominently featured logo—a fair assessment as any.
There are other colorways currently available at the time of writing, namely Black, Dollar Green, and Safety Orange. The Glaze colorway we have here works well for our taste, but if we had to choose otherwise, Safety Orange would be a good pick for outdoor adventures.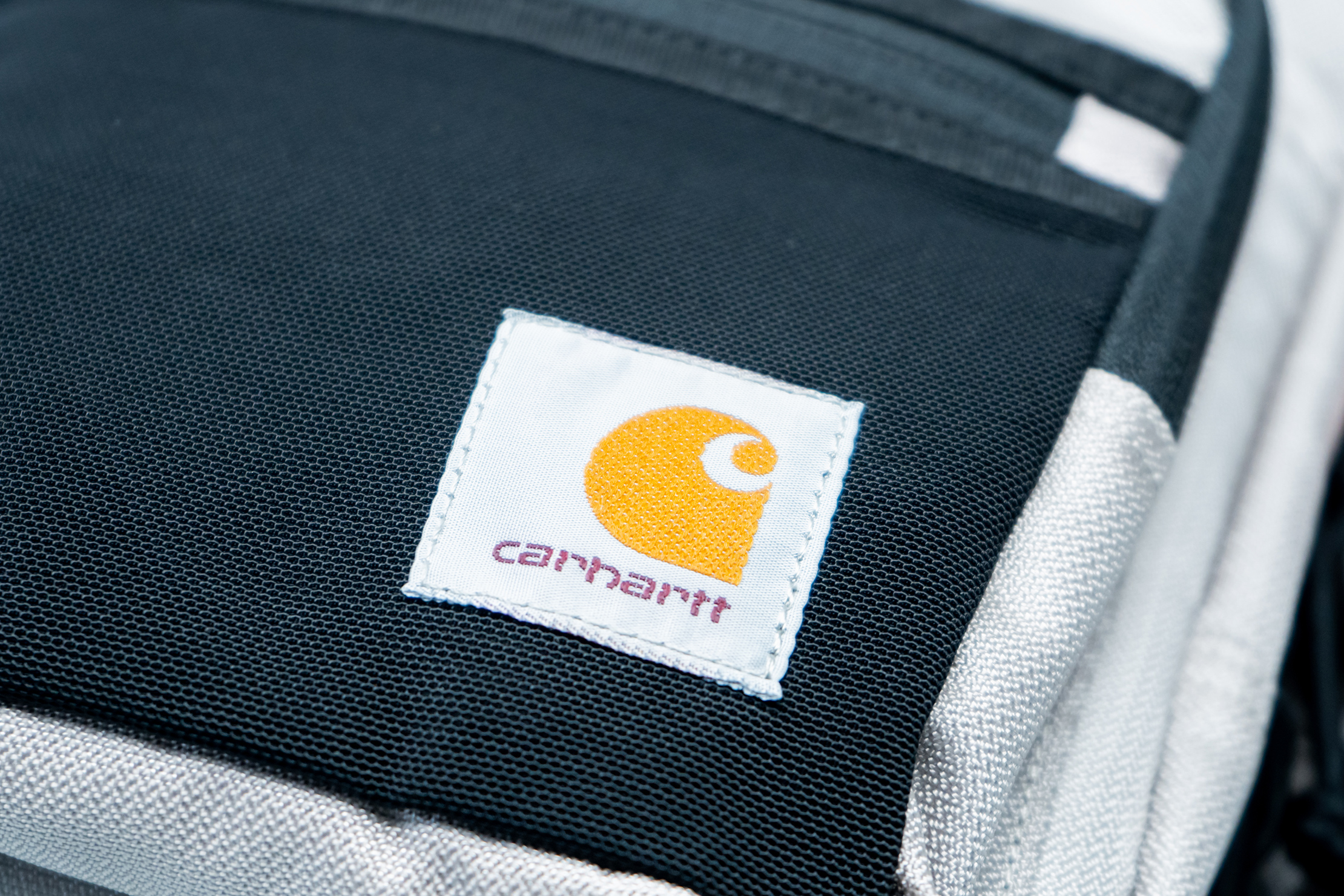 Beauty is in the eyes of the beholder, and the Delta Shoulder Bag's looks won't be for everyone. The good news is that this bag has another means of wooing: a trifecta of quality materials. The fabric is CORDURA Nylon, the zippers are YKK, and the hardware is Duraflex. When these three names come together, it's a recipe for reliability. True enough, there are no loose threads, stuck zippers, or snapped-off buckles.
External Components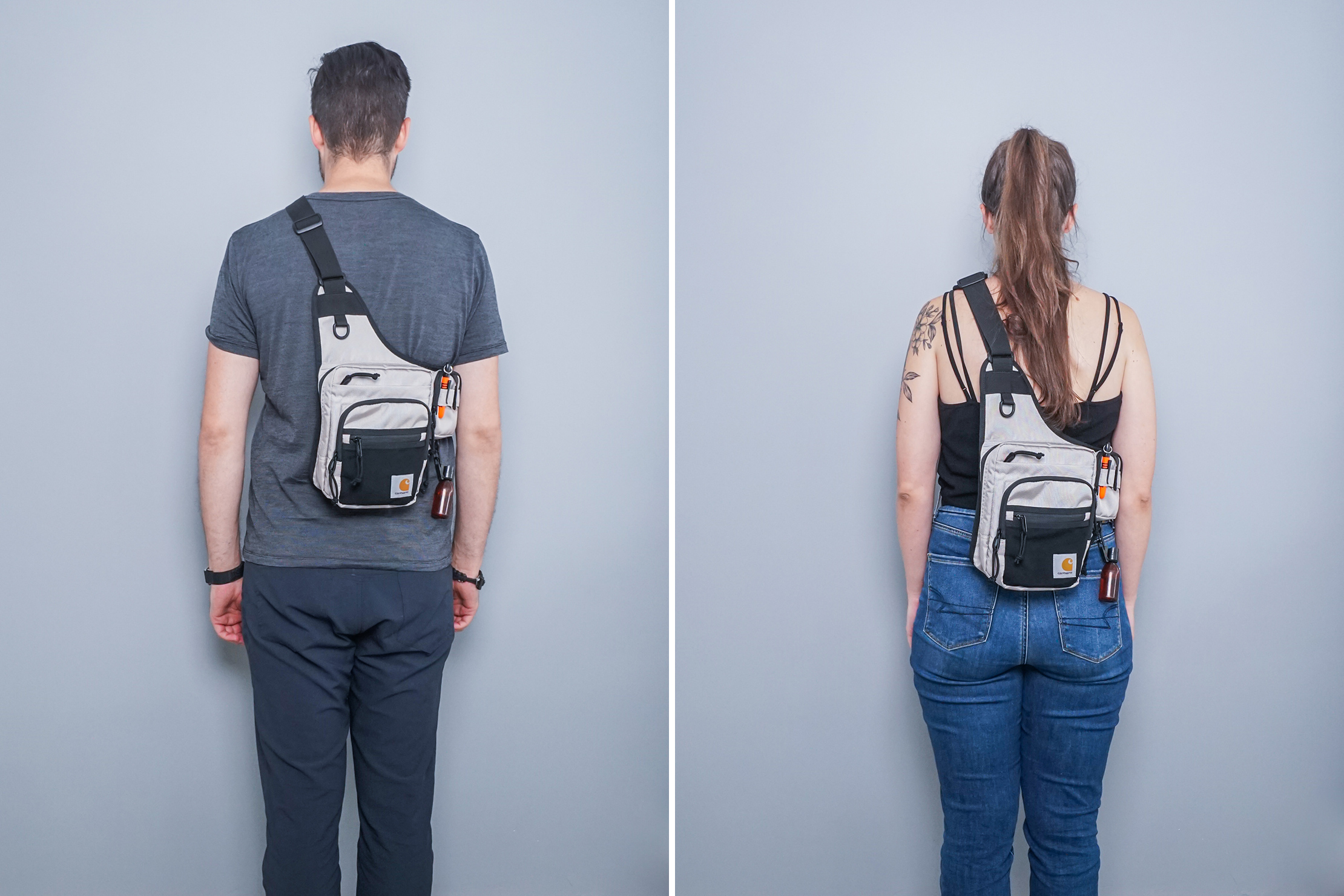 Due to the large size of the Delta Shoulder Bag, it's kind of a cross between a sling and a small backpack. The wrap-around fabric has good structure, and its back panel is covered entirely with mesh. The padding rests comfortably against you whether you mount it at the front or at the back. However, there are some caveats for each style of carrying due to how the pockets are laid out.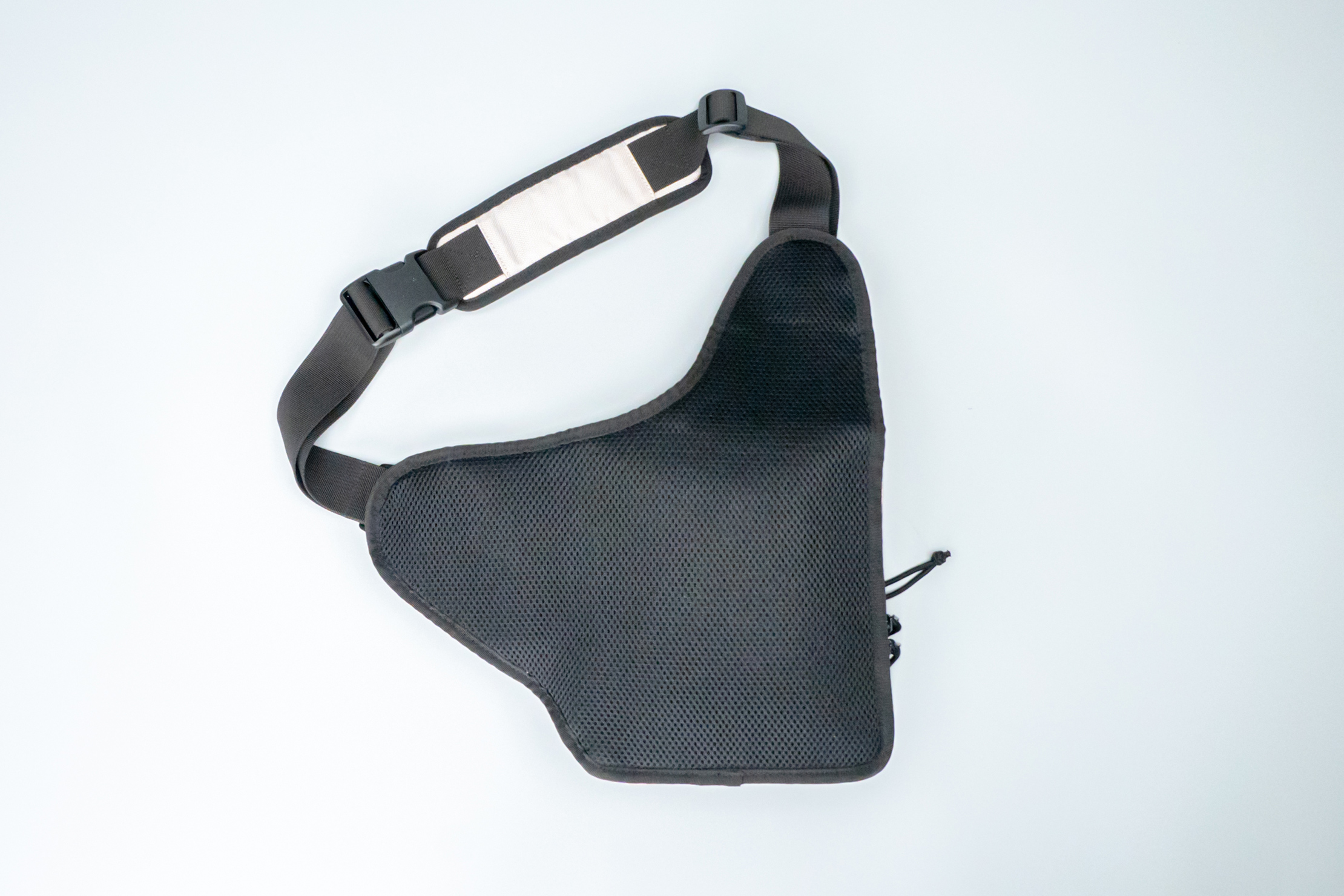 If you have the bag at the front, crossbody style, you get this odd tilt that rotates the bag a little to the right-hand side. It still carries comfortably, but the small issue is that the front compartment's lone zipper opens from the side tilted downwards. It's a bit of a hazard if you have small items that could spill out. The pocket opens horseshoe-style, so there is some fabric blocking items from just completely spilling out.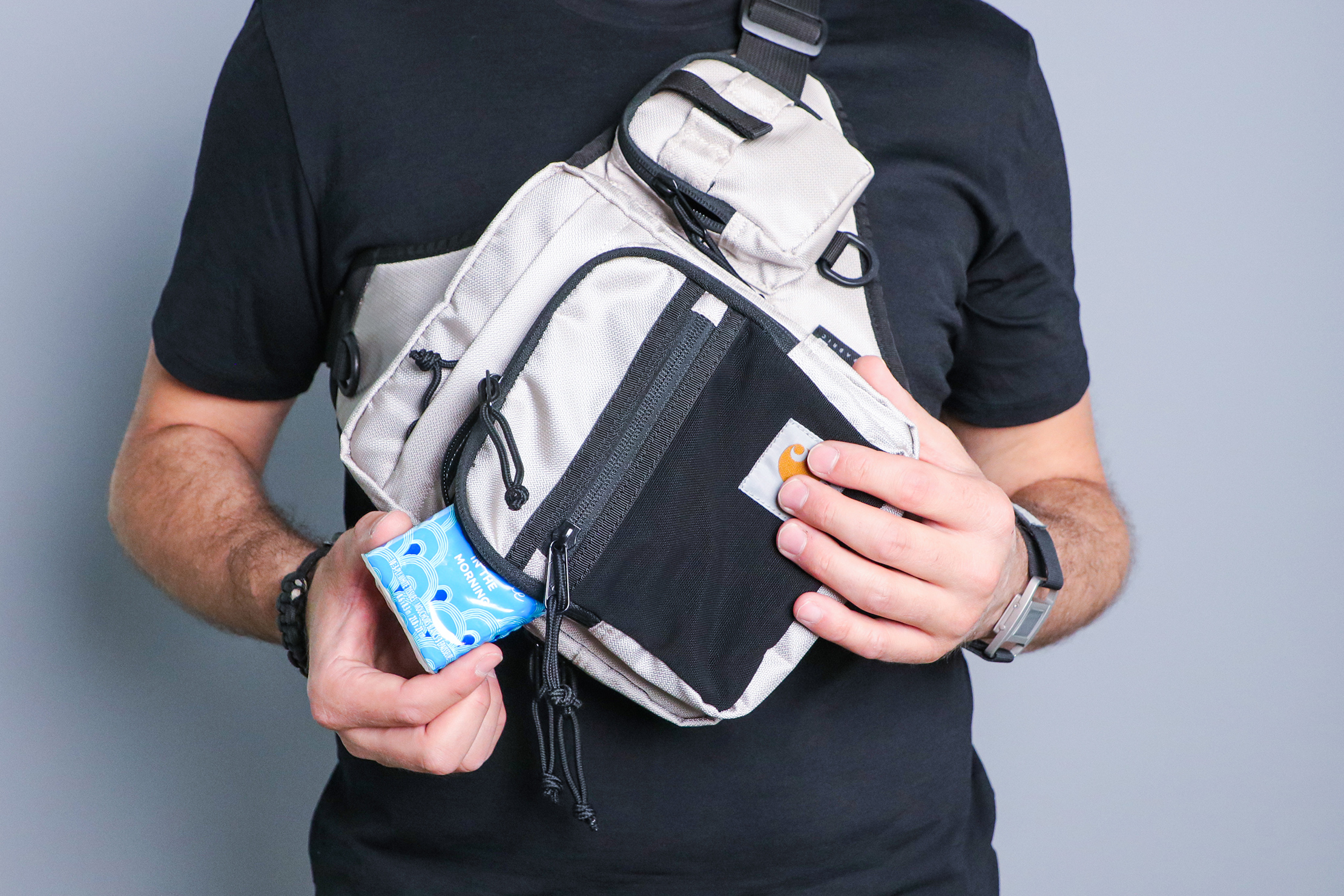 If you have the bag mounted at the back, the wing positions the small pouch just under your right arm. It can rub against you even at the slightest swing of the arms, which, let's face it, a lot of us do while walking.
Fortunately, the Delta Shoulder Bag's harness system has a way to mitigate this. Firstly, the shoulder pad has as much padding and mesh as the back panel does—enough to comfortably handle the amount of weight you can load up on the 3.9-liter bag. Second, it's adjustable on both sides. Now, that doesn't seem to mean much at first until you consider that it means you can adjust the bag's position relative to your body. It takes some playing around with the adjusters to get it right, but trust us; it's worthwhile to minimize chafing.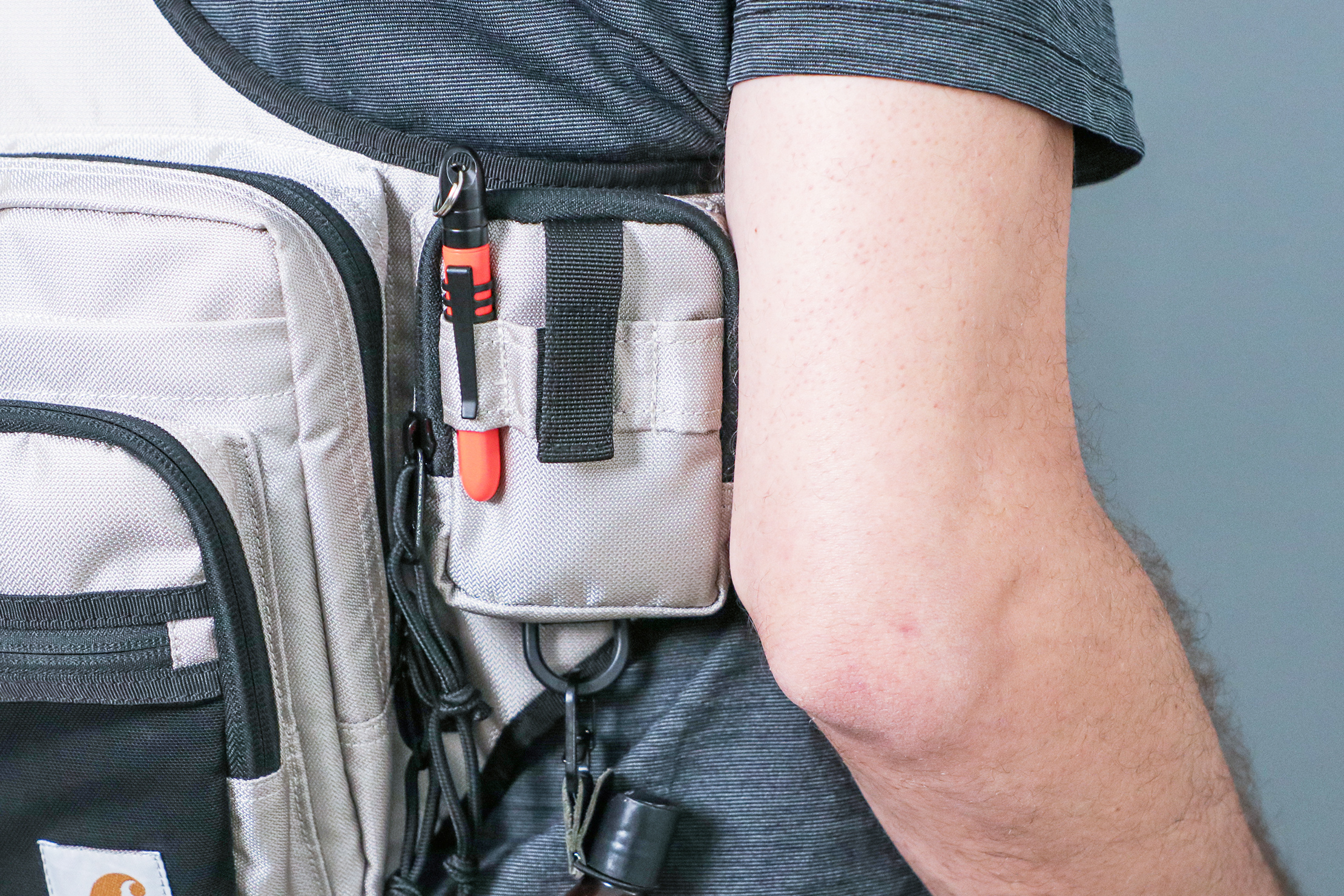 It's also worth noting how wide the strap's Duraflex buckle is. Using it to release the Delta Shoulder Bag feels easy and convenient. It may not have the tactile feel of a fancy magnet nor the beefiness of aluminum, but it just works. The bad news is that despite having adjusters on two sides, the degree of adjustment isn't great, and some of us found it difficult to get the bag to sit just right.
The Delta Shoulder Bag is also adequately equipped with loops. There's a D-ring mounted on the top-left corner where the strap attaches to, plus another one beneath the small pouch. They're convenient for accessories like small bottles of hand sanitizer or keychains. But bear in mind that hanging accessories off of the D-ring beneath the small pouch can swing around noticeably, so we suggest not hanging anything too hefty down there.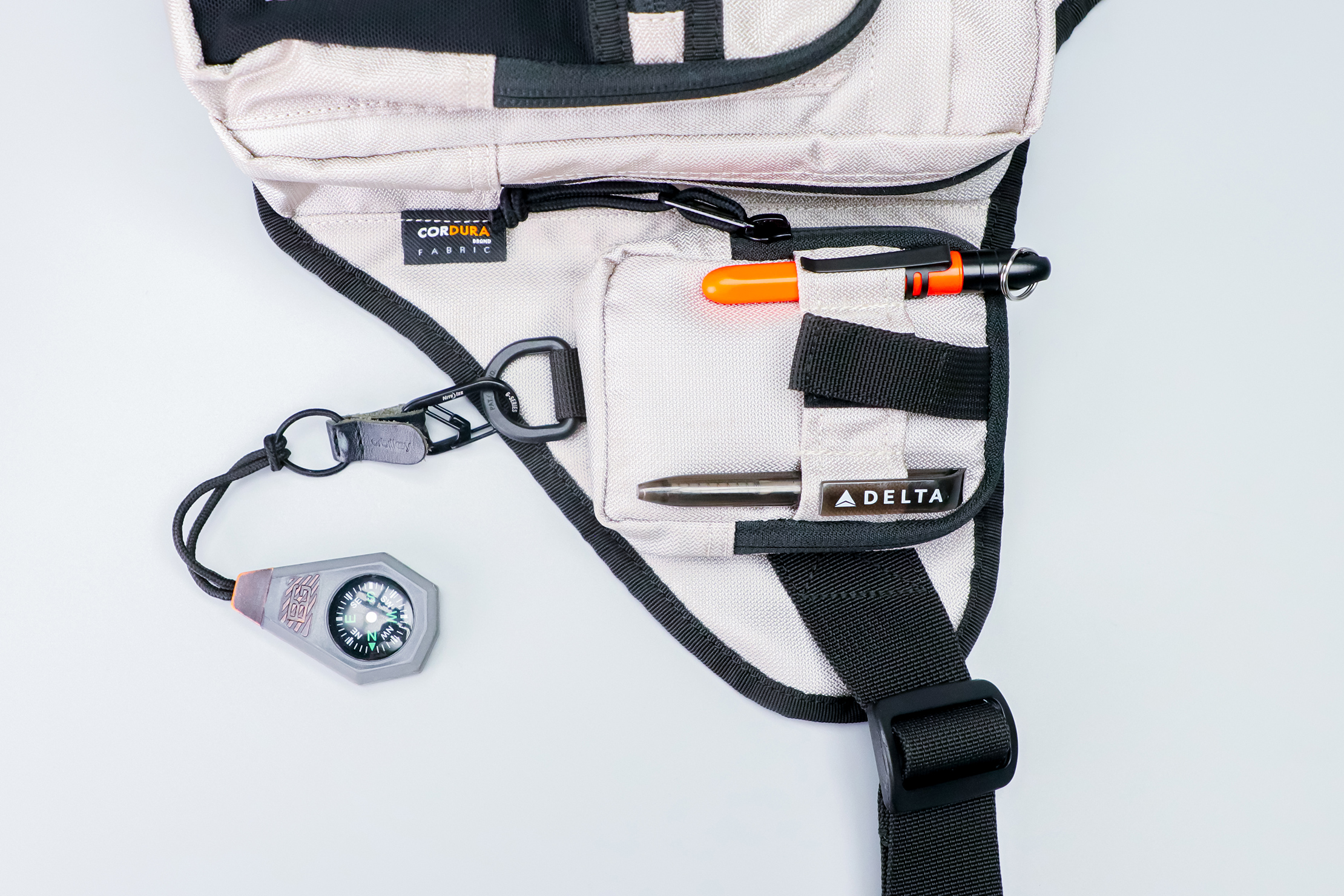 On the small pouch itself, there's a set of three loops. The two farthest to the sides are suitable for pens; just make sure to clip them properly in place so that they don't fall to the center of the earth. Then there's the middle loop which has a velcro latch for extra security. Heftier accessories like pocket knives or multi-tools can go here, and the latch helps keep them from bouncing off and sliding to under a desk, never to be seen again.
Inside The Bag
We'll start with the adorably sized right-side pouch. It's a very easily accessible compartment for quick-access items, especially if you have the Delta Shoulder Bag mounted crossbody on your back. Yes, the wrap-around style still means your arm will rub against it, even when the strap's fully adjusted. But the trade-off is a quick-access pocket for a small power bank or some wireless earbuds so you can listen to your tunes.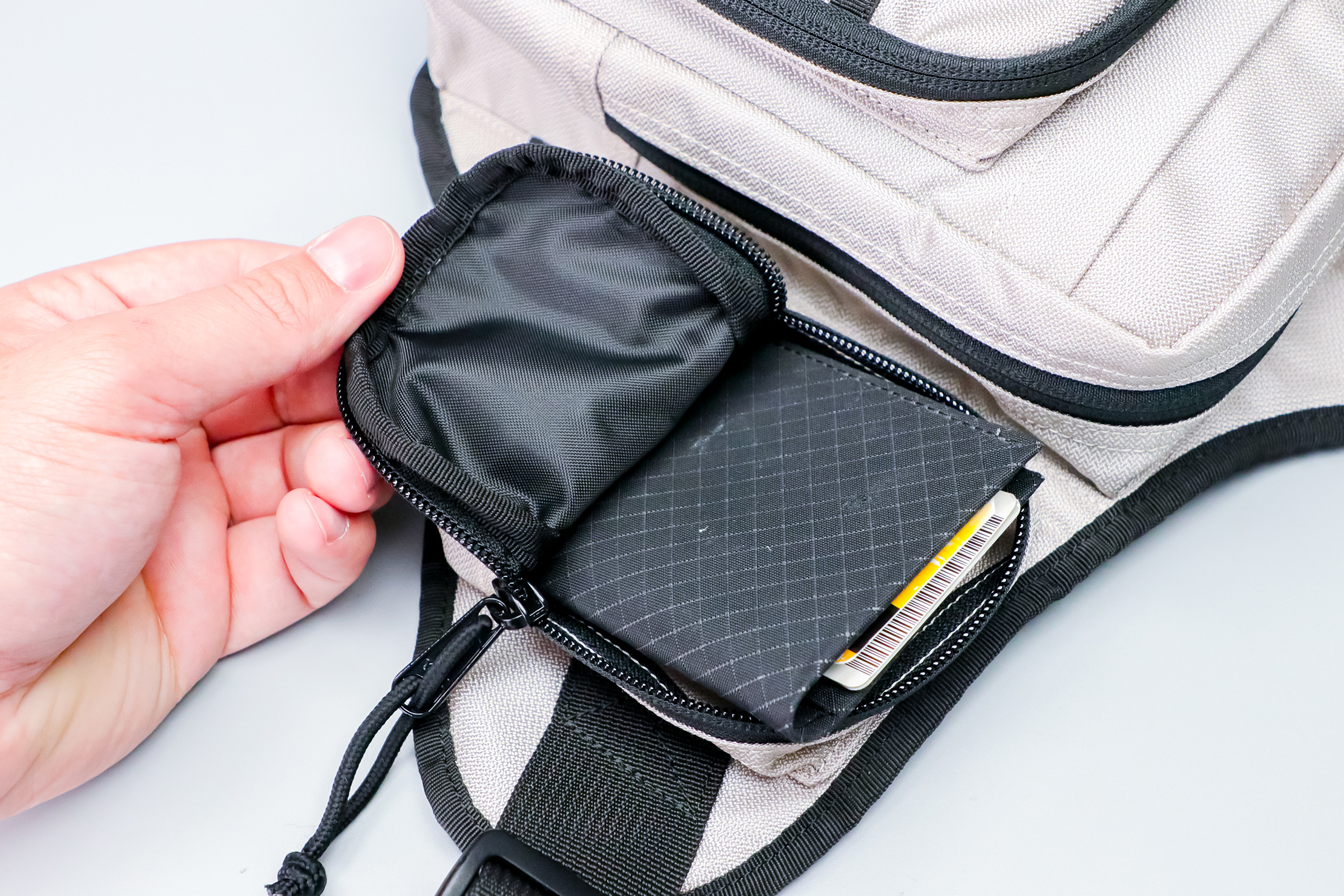 Accessibility to this small compartment does still take some practice as you'll be reaching it with your left hand, and the zipper is located on the far side. Fortunately, sliding and shimmying the Delta Shoulder bag isn't too difficult—if all else fails, there's always the quick-release buckle as well. The horseshoe-style opening is relatively wide and accessible as well, with only nearly an inch of fabric left before it can be considered a clamshell opening.
On the main pouch (that's the big pouch) itself, there's a mesh pocket for small items that you don't mind being visible from the outside. Our everyday carry item nominee for this position is a packet of wet wipes or tissues. A small one will fit since there's some ceiling space beneath the upper side of the zippers, so you can shimmy and squeeze a pack in there.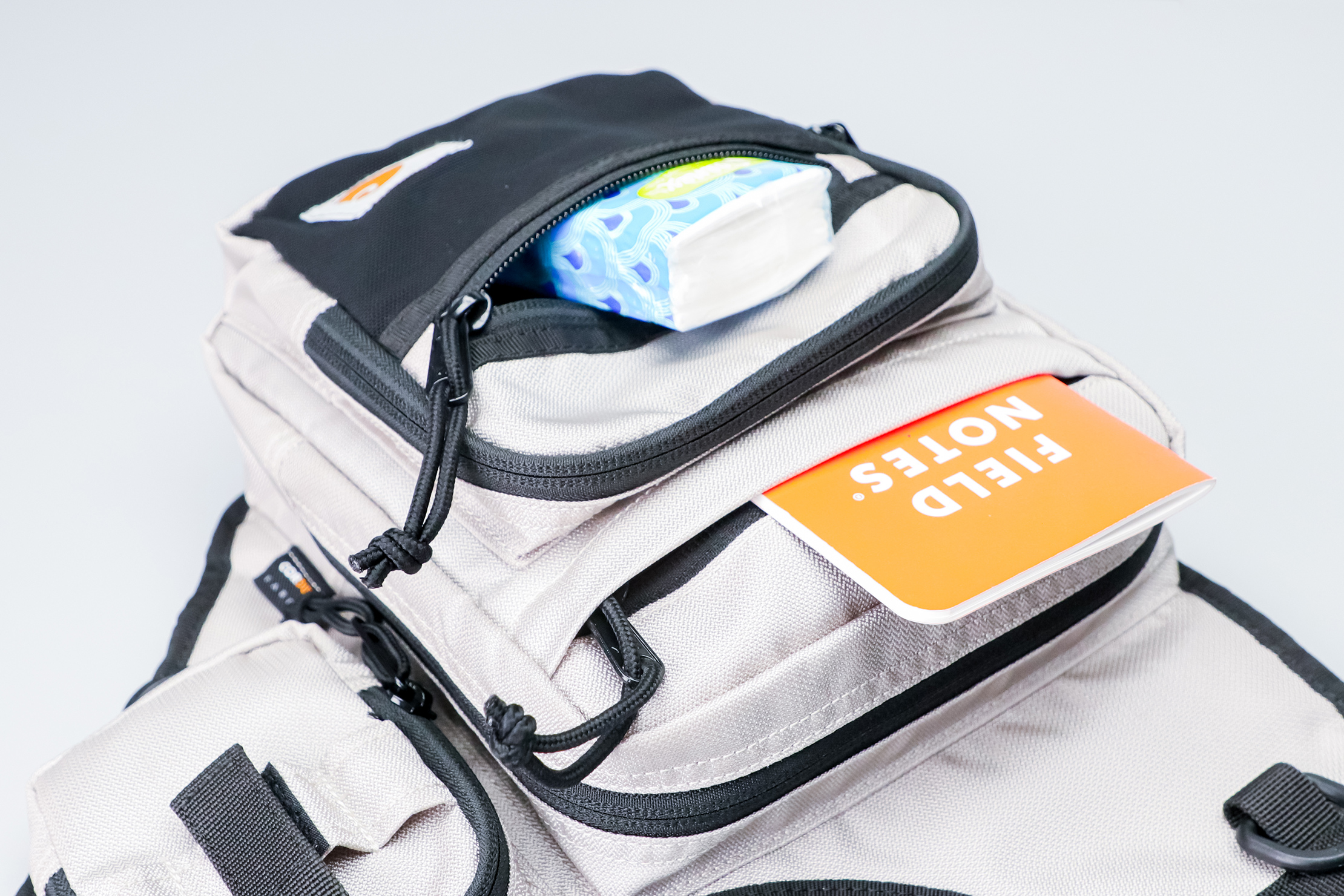 The next pocket layer is what we'd consider the front compartment due to the volume it has. As mentioned before, items falling out of this compartment is a concern when the bag's mounted at the front. It's a concern, but one that can be solved with some management of its contents. As a rule, we avoided putting a thick powerbank at the bottom so that our smaller gear isn't at the top near the opening where it can immediately fall out when we open the zipper.
We wish that there was more than one zipper here so we can move the opening where we want. But all those concerns aside, this pocket has enough space for more than just a packet of tissues. This is where you might put your smartphone, a wallet, or, as said previously, a power bank.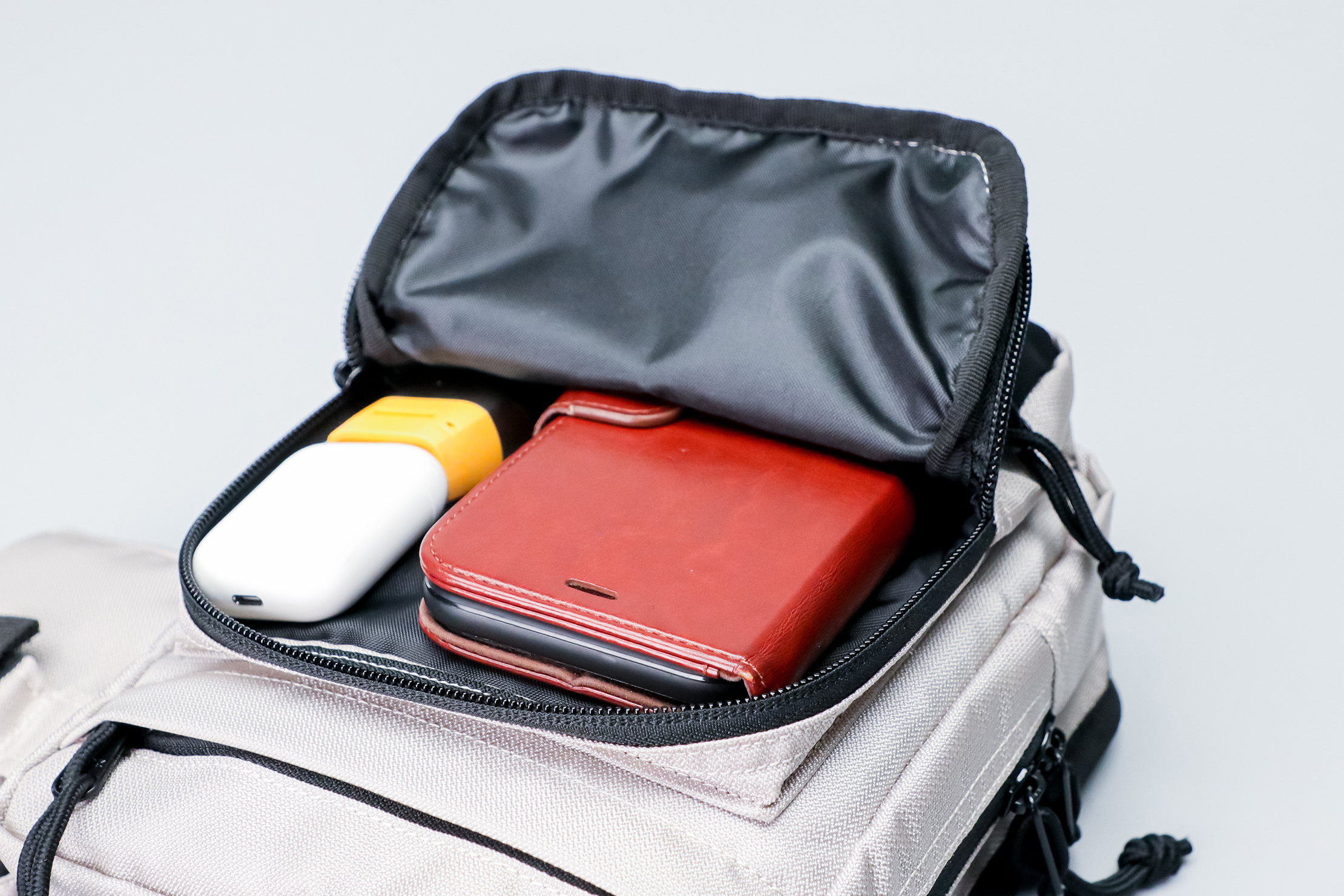 Further back, just before we reach the main compartment, is a semi-hidden pocket. An upward-facing lip of fabric shrouds its opening, only given away by the knotted zipper pull peeking out. Space inside is slimmer, mostly suitable for items like a small notebook, a passport, or travel papers—thin and important items you don't want out in the open.
Finally, there's the main compartment, and it gets some special treatment. It has a similar horseshoe-style opening to the one on the front compartment and small pouch. Horseshoe-style openings are great for accessibility that isn't as over-the-top as a full clamshell. But, to further balance it out, the Delta Shoulder Bag's main compartment also has gussets on the sides. You still get the wide opening, but it prevents the front from flopping over and folding under its own weight when you open the main compartment.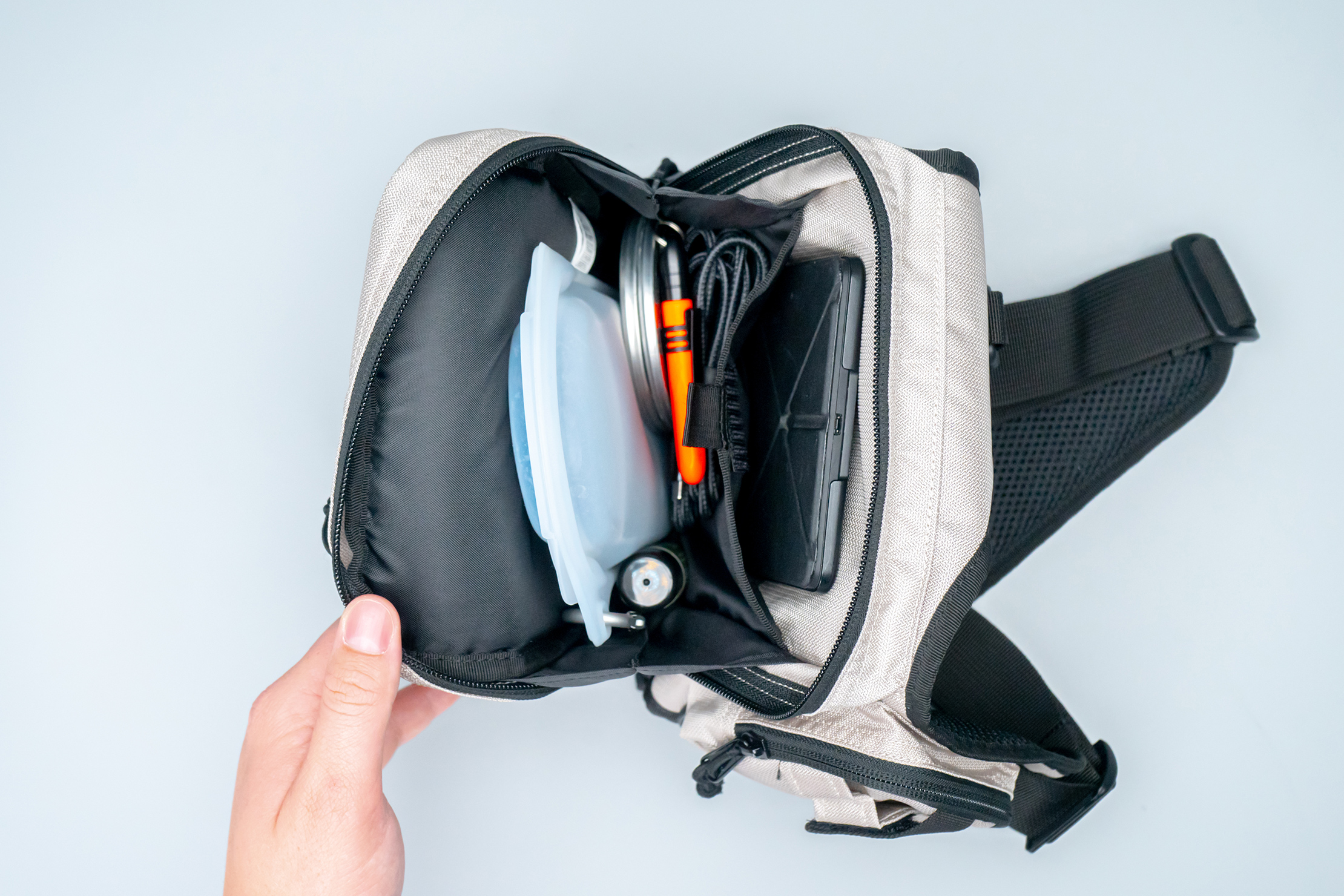 What's it like inside? It's fairly minimal, actually. There's only a liner pocket on the backside, which is able to fit our e-reader, and a great open space for bulkier items, such as a thick pair of gloves or a packable jacket like the Outdoor Research Helium II. Space's the limit for whatever you want to fit inside, though we suggest a double-decker peanut butter and jelly sandwich to keep yourself topped up while touring a new city.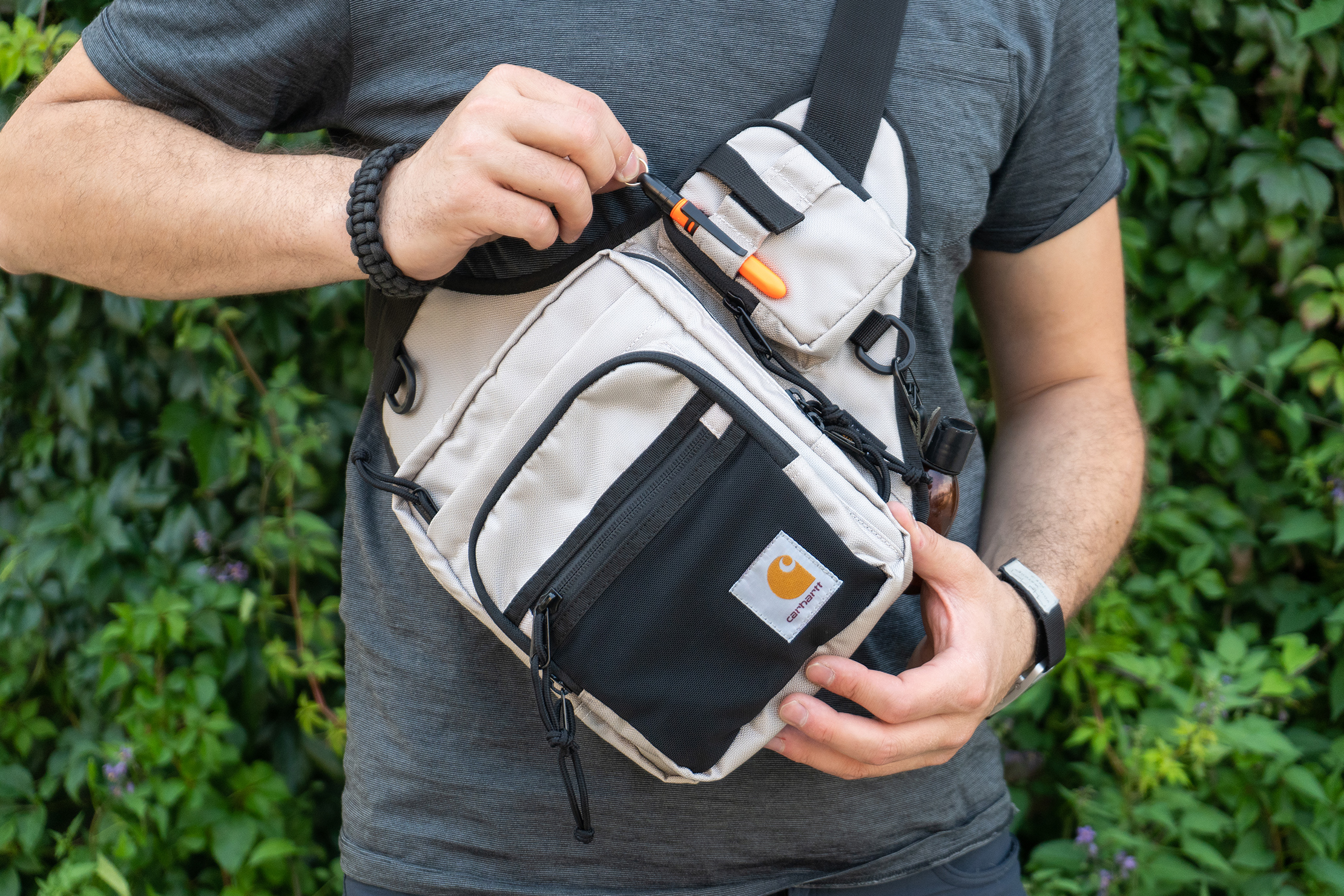 The Delta Shoulder Bag's layout is rather interesting, as you can view it as a system of pockets and pouches stitched together into a unit of a compact bag. Put together, there's good diversity in terms of organization, featuring a small pouch, mesh pocket, security pocket, D-rings, loops, and more. There are a few quirks with how it carries, but the accessibility and organization more than make up for it.
Usage Timeline
Initial Usage
Condition: Excellent
Harness system wraps around comfortably
Front zipper pocket is detachable
Strap has a quick-release buckle
2 Weeks of Use
Condition: Excellent
Dig the small pocket on the side for holding a Zippo and minimalist wallet
The adjustable shoulder strap is nice, though the range is low – we found that some of our team members had an issue getting the bag to sit right on the back and shoulder
This thing feels like a "unit" – there's a lot of organization on the outside and plenty of segmented zippered pocketing as well
Access the Pro Community Discussion
Get your questions about the Carhartt Delta Shoulder Bag answered from our team and the Pro Community right here on the page. Plus, join discussions with other members about gear, guides, and more.
Other Bags & Luggage Reviews