Bellroy Melbourne Backpack (18L) Review
The Bellroy Melbourne Backpack's main compartment is very accessible—a bit too accessible with the top flap popping open easily during use.
Our Verdict
Unlock the Pro Summary
Save time. Get access to brief summaries of our reviews so you can browse and make decisions more efficiently.
Pros
Wide accessibility to the main compartment
Uses good, quality materials
Bright interior fabric
Cons
Magnetic flap pops open easily
Quick-grab pocket's side opening can spill items
Water bottle pocket is a bit slim
Recent Pack Hacker Video
Technical Details
Weight (lb)

1.65 lb (0.7 kg)

Dimensions

17.7 in x 11.8 in x 6.3 in (45 x 30 x 16 cm)

Notable Materials

Leather, Nylon, Polyester, YKK Zippers, Metal

Manufacturing Country

Philippines

Laptop Compartment Size

16"

Warranty Information
Full Review
When we think of Bellroy, we think of premium-looking and feeling travel gear. From pouches to backpacks, they often strike a good balance between stylishness and functionality. Some of the stuff we like from them is their choice of fabric, their tasteful application of leather, blended in with some clever design choices, and with a pinch of organization to round it all up. So when the Melbourne Backpack landed on our desk, we expected more of the same.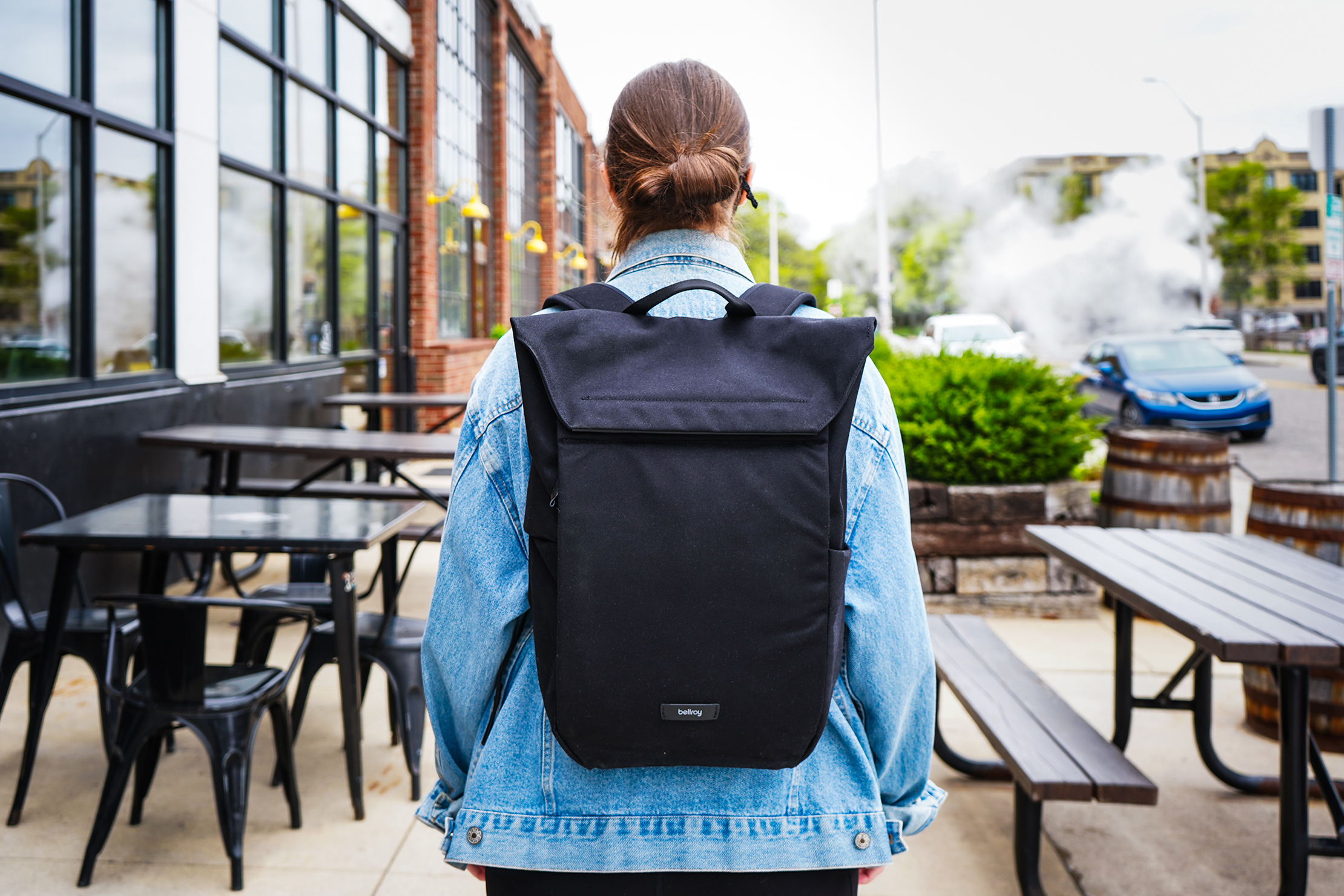 Indeed, we did find most of the stuff we like in it. The build quality is up to par, and the styling, while subjective, is about what you'd expect from Bellroy: fabric that's good to touch, with leather sprinkled in between. Functionality is great as well, for the most part. But there is a glaring issue with the main magnetic flap popping open during use—even if the bag is not fully loaded. Read on to decide if the Melbourne Backpack is your next.
Materials & Aesthetic
We're no strangers to Bellroy's style and approach when it comes to their gear. Starting with the main material, this Melbourne Black variant has the Fine Weave fabric, which feels felty to the touch. Bellroy has always nailed the look and feel of the fabrics they use, and we're glad to report that the Melbourne Backpack doesn't buck the trend. Other colorways available include Lunar and Limestone, each looking close to beige and light grey, respectively. They also use different fabrics; Lunar uses Baida Nylon, while Limestone is made from Looma Weave and is leather-free. They all look appealing, and we think you can't go wrong with any of them in terms of looks, but that's ultimately up to you.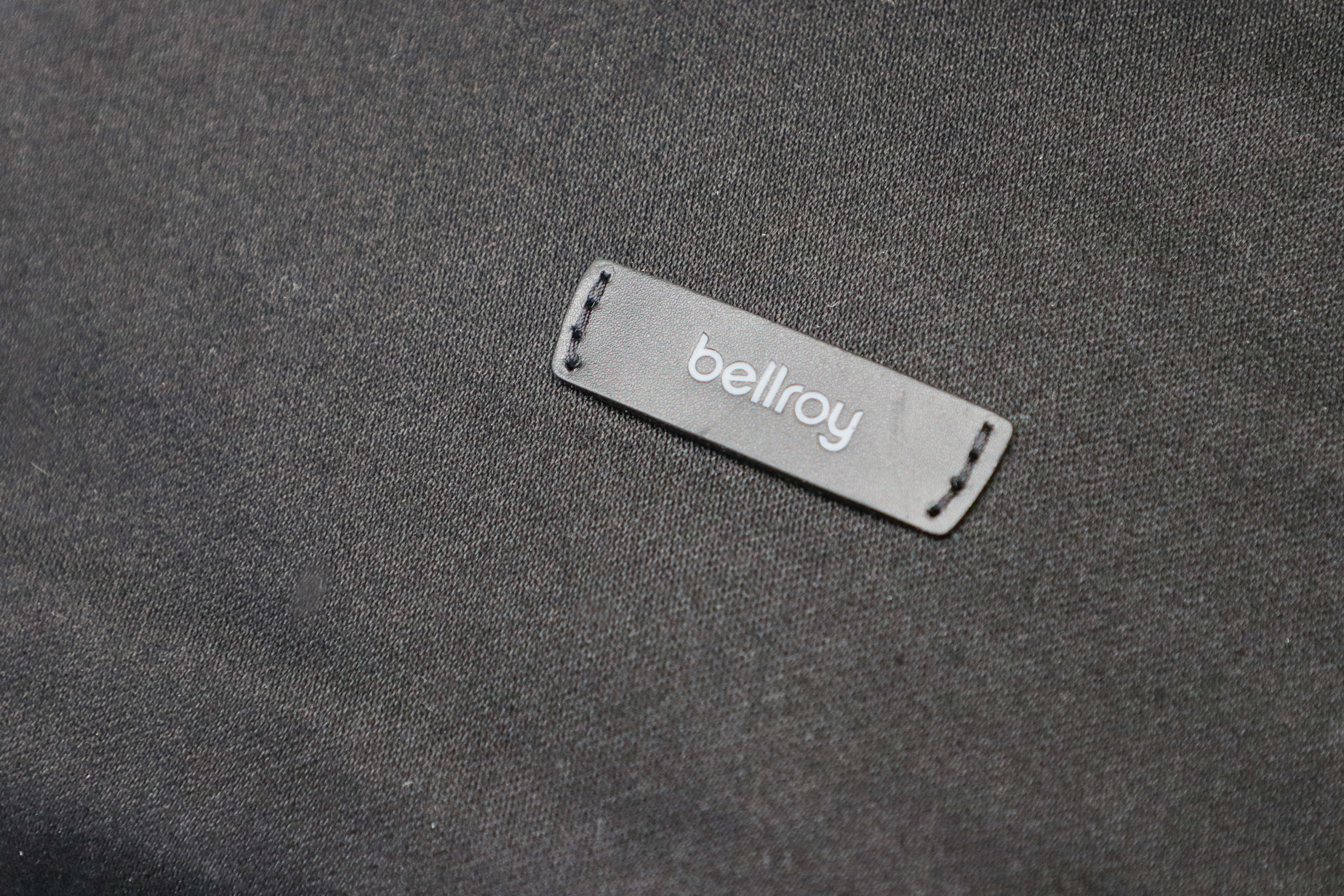 Speaking of leather, the Melbourne Black variant we have here does come with bits of it, though they're also in black. They blend in well with the pitch-black fabric, so you'll need to look closer to appreciate them. These leather bits include the relatively small Bellroy logo at the front, the leather zipper pulls of the main compartment, and the strip that holds the top flap's magnets in place.
This blacked-out aesthetic looks very classy and business-like. It's very minimalist with very few lines and a rather bare-faced front. It reminds us of retro knapsacks but with a contemporary yet elegant twist. In short, we dig how the Melbourne Backpack looks, and it gets even better when you open it. The very light tan interior fabric goes really well with the black exterior fabric, and it makes for a rather photogenic backpack.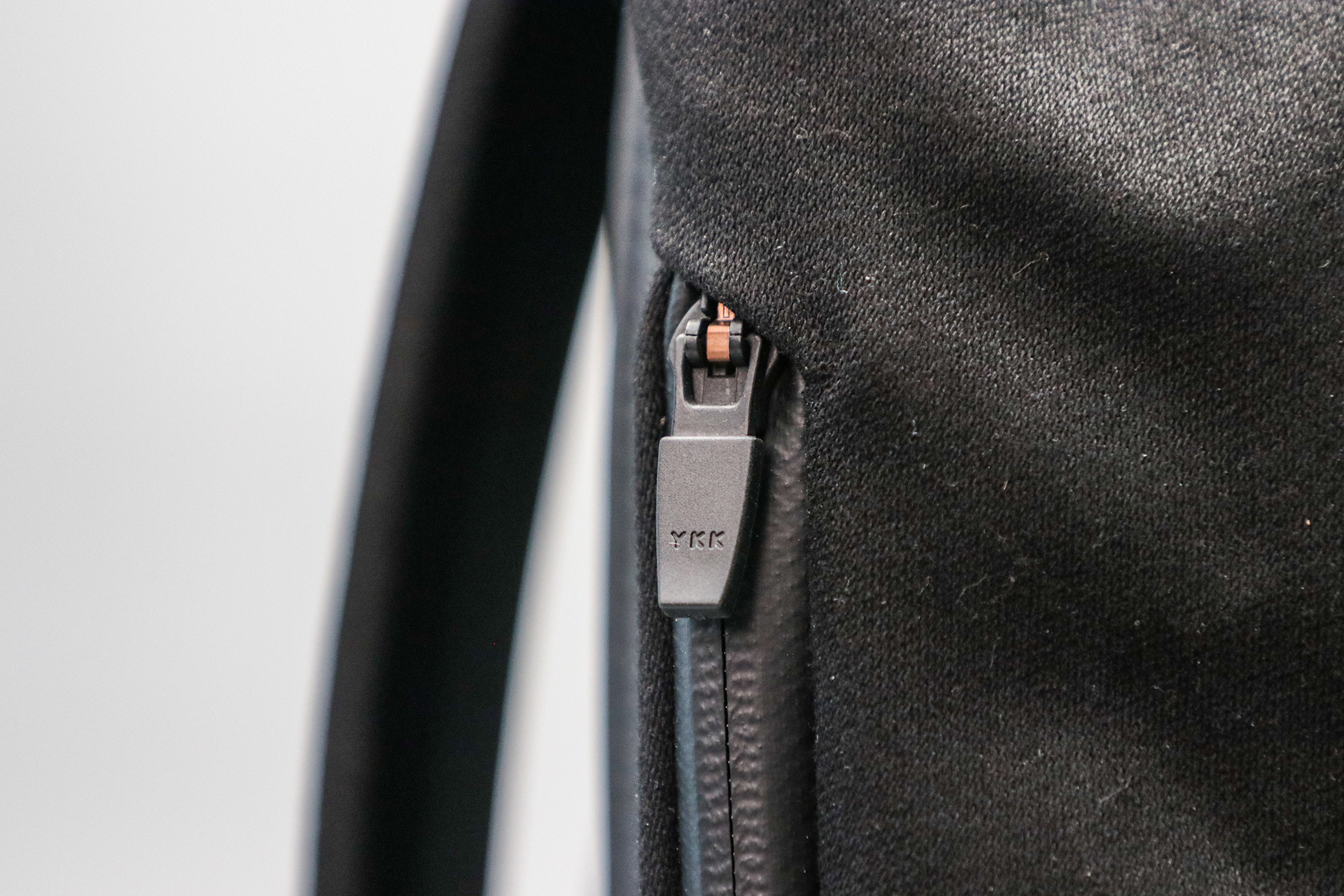 But enough about style, what about substance? There are YKK zippers for the main compartment, and the one on the sunglasses pocket is of the Aquaguard variety and is self-locking. Both zip well and haven't snagged during our testing. The Fine Weave material has picked up some fluff along the way, but there are no signs of wear or damage. The same can be said for the aluminum hardware and plastic strap keepers. But all of that said, we did have to limit our testing period due to a rather major flaw with the Melbourne Backpack's design. More on that down below.
External Components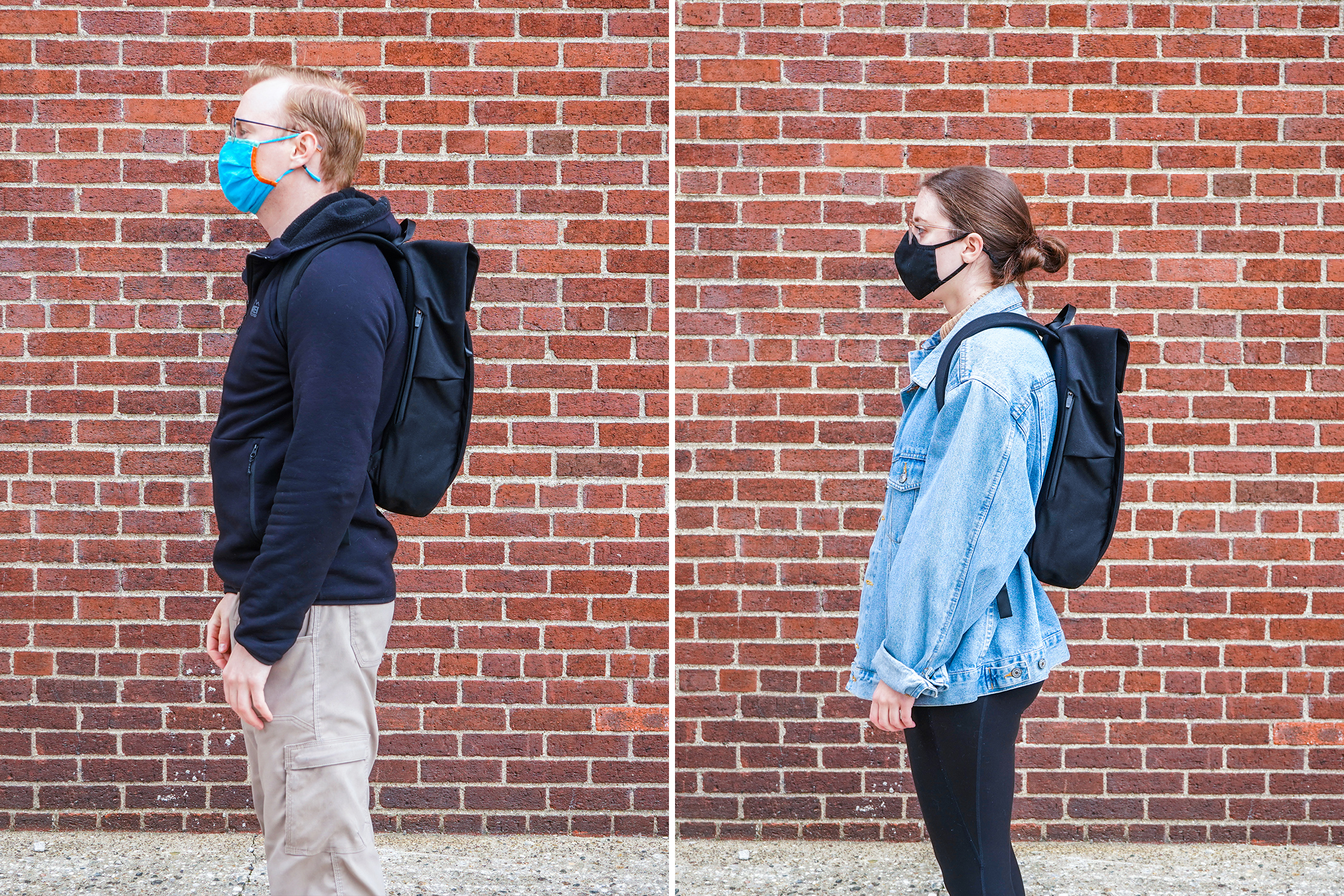 For now, let's take a look at the bread and butter of any backpack: the harness system. More specifically, the shoulder straps. At first glance, the Melbourne Backpack's shoulder straps look like they're geared more for looking good rather than function. They look slim, and they get even slimmer towards the bottom of the backpack. Rest assured, though, that they do feel comfortable to wear thanks to the ample amount of padding. The 18-liter volume of the Melbourne Backpack doesn't call for an overly complicated harness system, and the one here does well.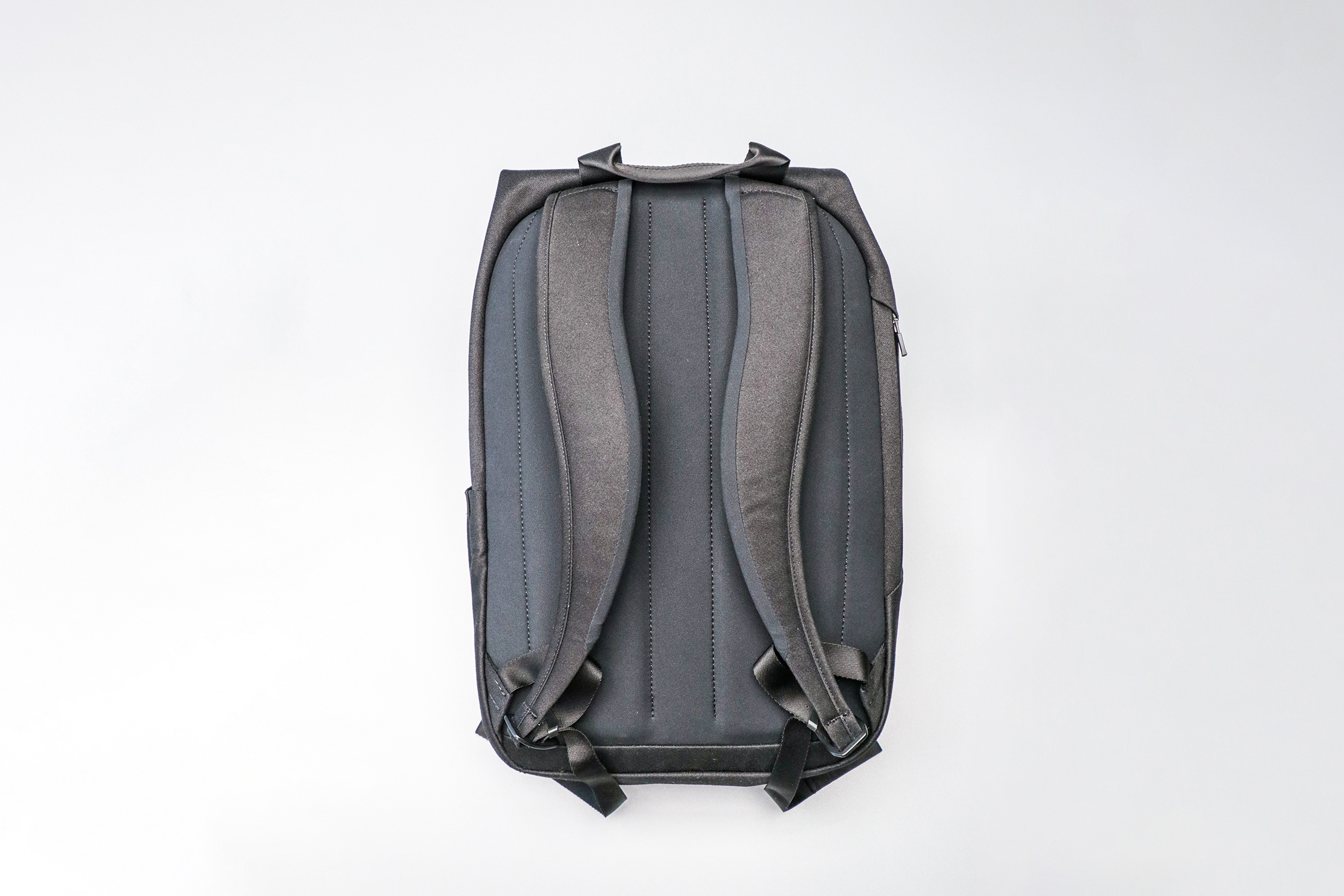 Completing the harness system is a folded nylon handle—for hanging and hand-carrying—and a well-padded back panel. It's an overall comfortable carrying experience, and we feel that this harness system is well-suited for the Melbourne Backpack's size. We might want to see some webbings or a mounting loop or two for some accessories. But the trade-off there is you lose some of the cleanliness of the looks.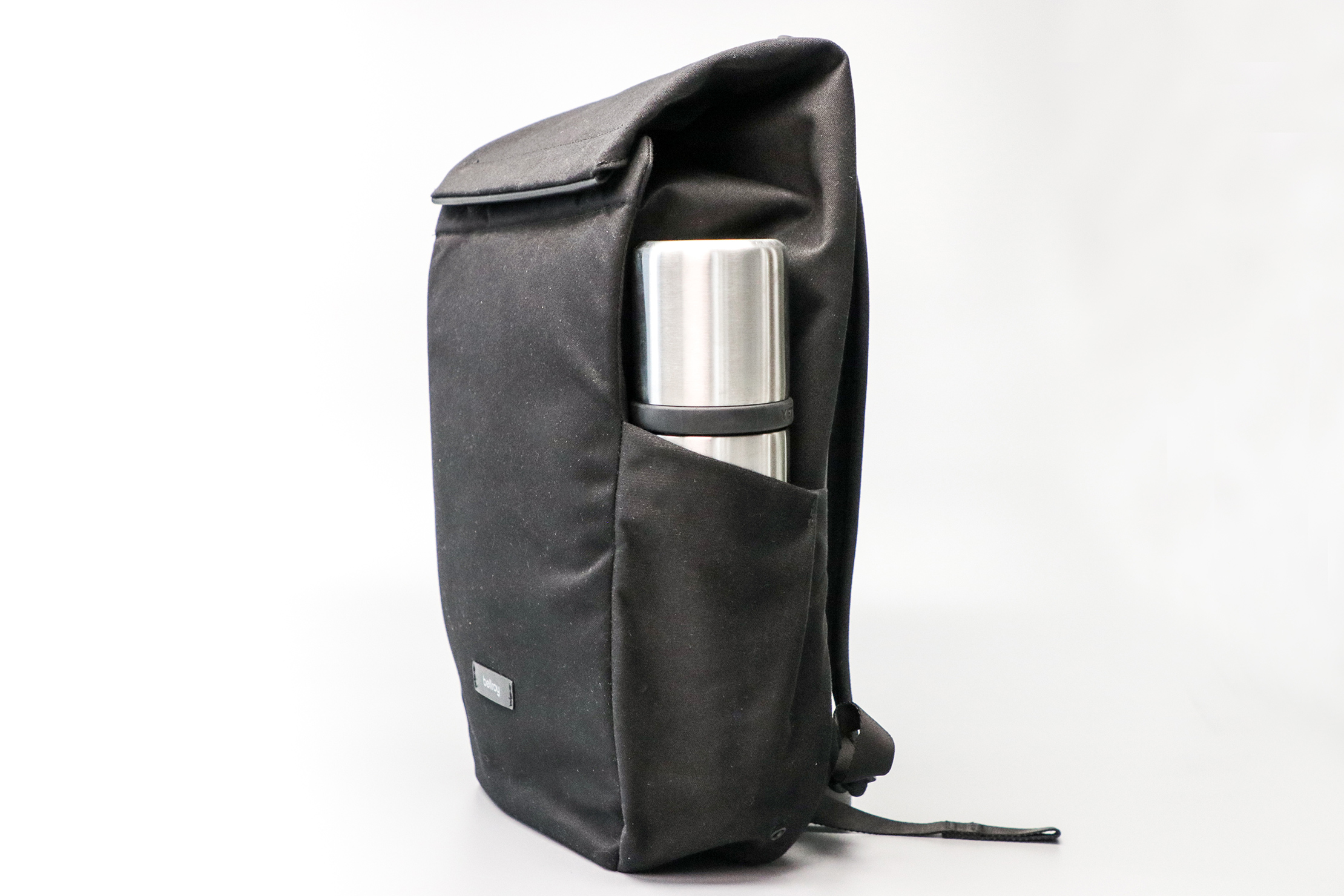 On the right side of the backpack is a water bottle pocket. It's not one of those fancy fold-flat water bottle pockets you see on some backpacks. But since the fabric on the Melbourne Backpack is dark, it does create the same impression. Our YETI Rambler 18-oz fits inside easily, though anything bigger might not fit depending on how wide the bottle is. Once you put a bottle inside, it eats some space from the main compartment, but not too badly.
Inside The Pack
In terms of quick-grab pockets, the Melbourne Backpack only has one, and it's technically meant to be a sunglasses pocket. The pocket is located on the left side of the bag, and it opens sideways. The interior is lined with soft fabric, and since it's away from any bulging pressure, it's an ideal spot for keeping your sunglasses or any easily scratched and/or fragile items.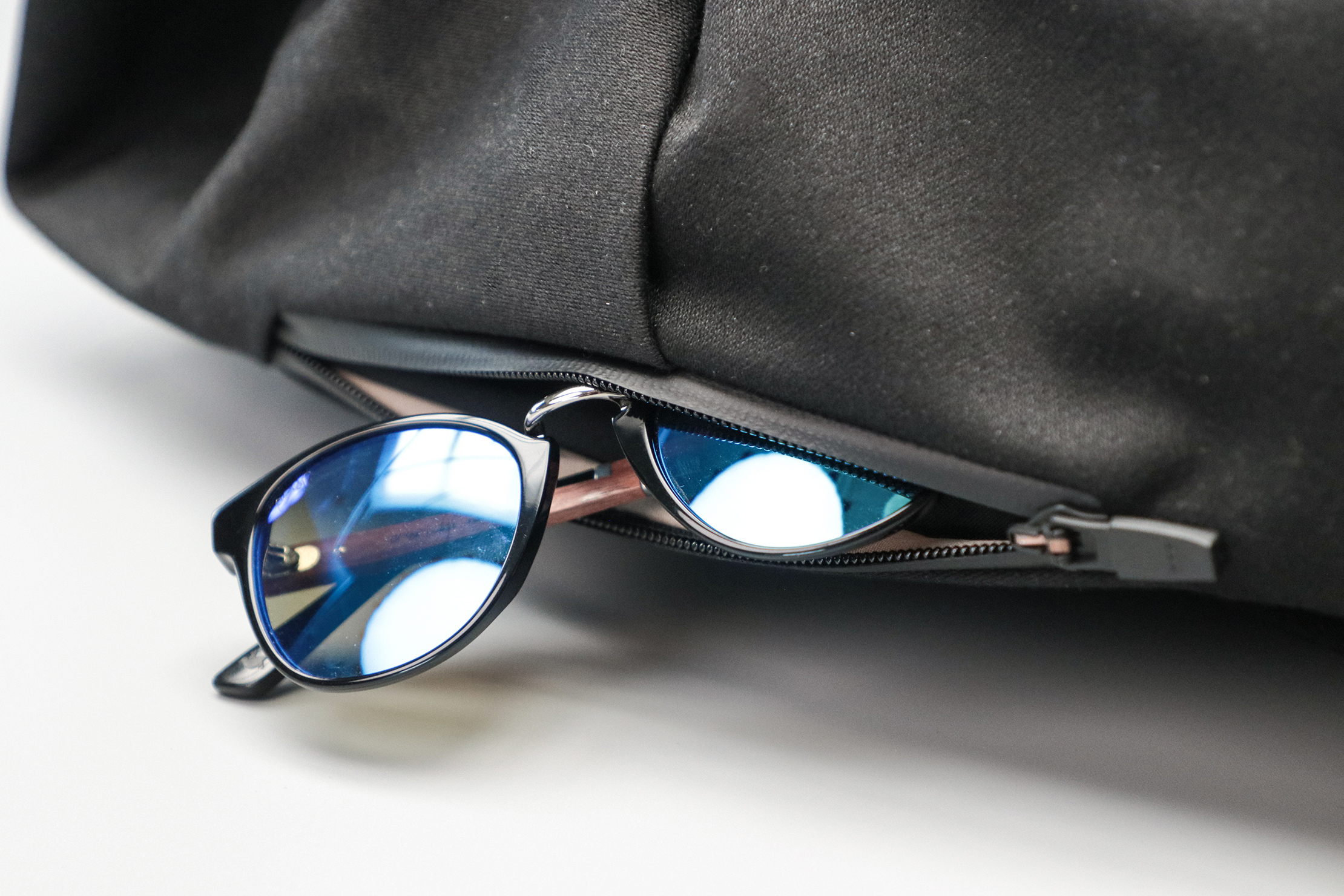 For us, however, we opted to use it as an all-purpose quick-grab pocket for our tech items like frequently used cables, dongles, and wireless earphones. Since it's a side-opening pocket, we were careful when opening it to avoid spilling whatever's inside.
The main compartment is accessed via a magnetically secured top flap and a left-side zipper that zips all the way down for a splayed opening. This is an interesting design choice we've seen in bags like the Osprey Arcane Large Day Pack (V2), especially for those looking for a more accessible main compartment. It's not quite the full clamshell-style opening, nor is it the relatively narrow type like a rolltop. It's somewhere between the two styles, and we think it's a good mix of both.
But before we go any further, we have to address a major issue we had with the Melbourne Backpack, and that is regarding the magnetic top flap.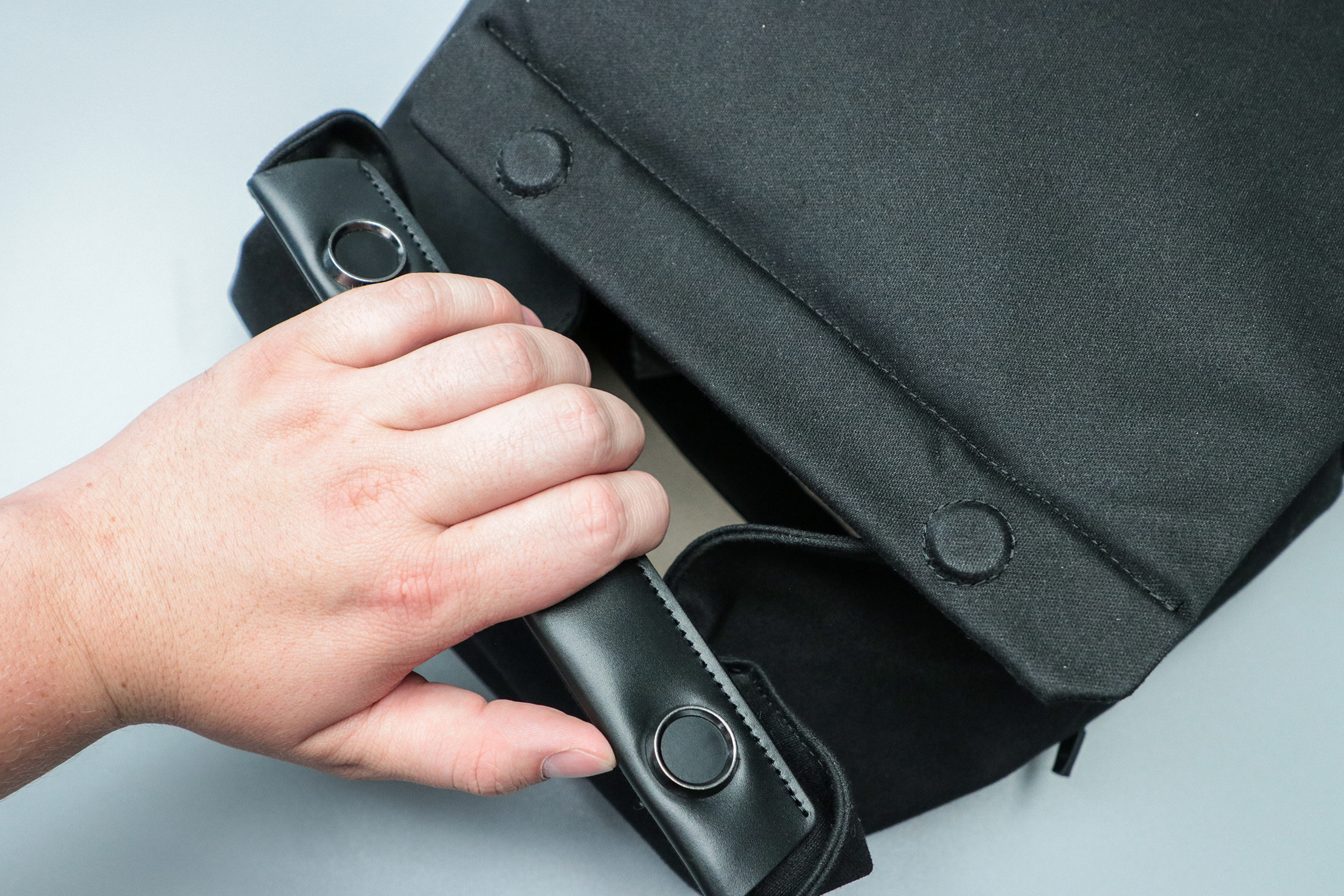 We found that the top flap can easily pop open during our first week of testing the backpack if the bag is fully loaded and packed tightly. This way, there's tight tension on the magnets, making it easy for them to snap off with even a slight jolt. This often happened whenever we wore the Melbourne Backpack on a bike ride, and we could easily replicate the issue with a hard pull on the handle or shoulder strap. The issue is less pronounced if you pack lightly, but that limits the usable space. It's unfortunate since the magnets felt very good quality and are fairly beefy for the job—Bellroy usually nails things in the design department quite well, both in terms of look and functionality. This is a major concern with regards to how secure the bag is, and it undermines other aspects of the Melbourne Backpack, including comfort and to some extent, style.
Moving on from the magnets, the main compartment of Melbourne Backpack has a good amount of organization inside. There's a right-side pocket that can fit a MacBook Pro charger and an A5 document sleeve big enough for small tablets. Attached to the front side is a zippered stretchy mesh pocket for any additional quick-grab items, in case you did want to use the other one as a sunglasses compartment. The laptop sleeve fits a 16-inch MacBook Pro, and it fits in safely, thanks to a false bottom measuring roughly an inch.
The main compartment's space is good for a large tech pouch-like Bellroy's own Tech Kit, plus a few small packing cubes of clothes you can stack up. There's a good blend of organization and space, which we dig, and we didn't feel like we were too constricted in terms of what we could carry. Thanks to Bellroy's choice of bright interior fabric across all of the three colorways, everything's also easily visible. Barring the unfortunate issue with the magnetic top flap, the main compartment is well-equipped in addition to looking sharp.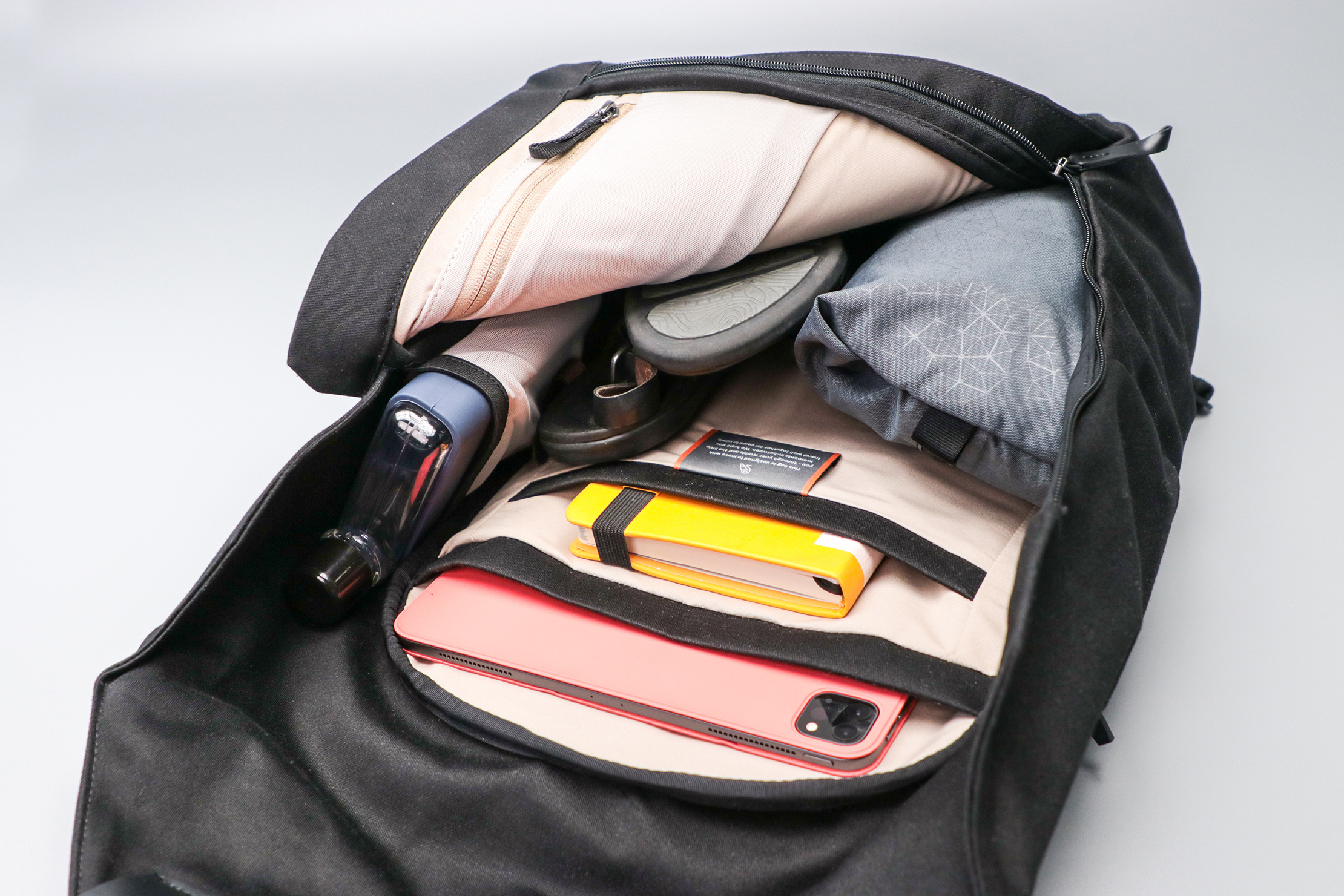 We can't overlook the issue with the flap frequently popping open during use. The harness system is comfortable, but we always felt conscious whether the flap had opened behind us or not. The main compartment has great wide-open accessibility, but we're worried it might have too much accessibility in a negative sense.
If you pack very lightly, you might not run into this issue, but we hope Bellroy can work on this design further because we think the Melbourne Backpack has an appealing design and a good mix of space and organization. Sans the issue, it has the right stuff to be a good backpack.
Usage Timeline
Initial Usage
Condition: Excellent
Has a similar hybrid access design as Bellroy's Apex Backpack
The MagSnap fasteners are tactile and satisfying to use
Looks very discreet on the outside, but internal visibility remains excellent
2 Weeks of Use
Condition: Mediocre
We didn't quite make it through the whole two weeks of testing with this one, as the bag unpredictably popped open, even when only half full of gear. We're hoping Bellroy can improve this design as we've had excellent luck with a lot of other Bellroy gear.
Access the Pro Community Discussion
Get your questions about the Bellroy Melbourne Backpack (18L) answered from our team and the Pro Community right here on the page. Plus, join discussions with other members about gear, guides, and more.
Other Bags & Luggage Reviews