Bellroy Classic Backpack Plus Review
The Bellroy Classic Backpack Plus is a comfortable, yet sophisticated option for your everyday carry, though we wish the organization was more optimized.
Our Verdict
Unlock the Pro Summary
Save time. Get access to brief summaries of our reviews so you can browse and make decisions more efficiently.
Pros
Premium materials
Sophisticated, sleek look
Great size for everyday use
Cons
Suboptimal organization
Top quick-grab pocket is difficult to unzip
False bottom in laptop compartment is small
Recent Pack Hacker Video
Technical Details
Capacity

22l

Weight (lb)

2.2 lb (1 kg)

Dimensions

20.5 in x 11.8 in x 8.3 in (52.1 x 30 x 21.1 cm)

Notable Materials

Polyester, Leather, YKK Zippers, Woojin Hardware

Manufacturing Country

Philippines

Laptop Compartment Size

15"

Warranty Information
Full Review
This review is a Pack Hacker Pro Community Pick!
Whether you're new to the daypack world or looking to upgrade your current bag, the Bellroy Classic Backpack Plus is one to consider.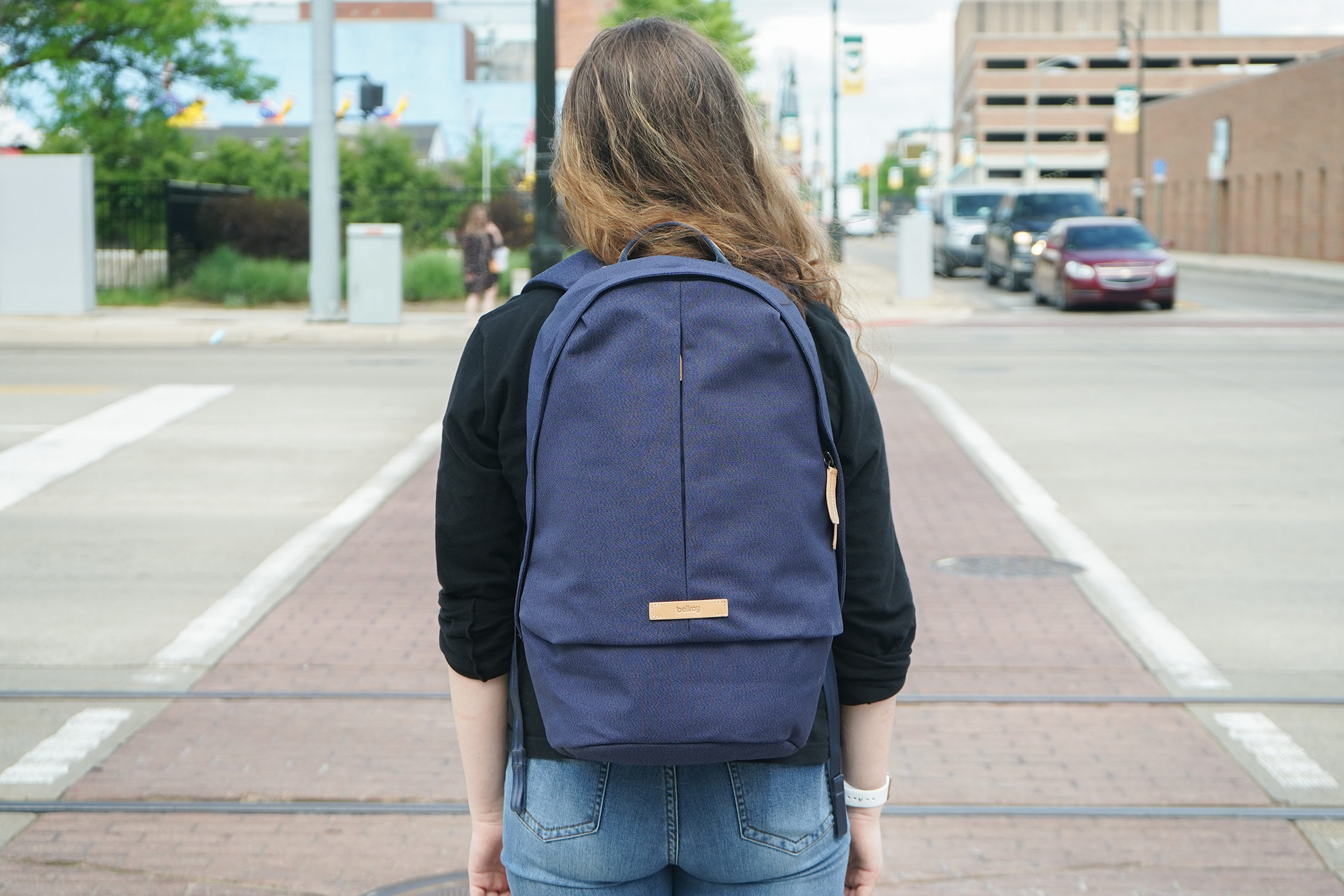 "Classic" may be in its name, but this pack has a design that's unique to itself. With a versatile look and storage, it adapts well to both your gear and your environment.
If you're wondering what else we have to say after two weeks of testing, read on to find out.
Materials & Aesthetic
In regular Bellroy fashion, the Classic Backpack Plus touts a mature, streamlined aesthetic that works in both casual and professional environments alike. However, some of you are on the fence, as only 65% gave this bag's look the thumbs up, according to our Instagram poll.
We've been testing the Ink Blue colorway these last few weeks, and we like its semi-casual, semi-sophisticated vibe. If blue just doesn't do it for you, you'll be happy to know that this pack is available in lots of other colorways at the time of this review, so you're sure to find something that fits your style and use case.
Also at the time of this review, you can pick up this pack in several different recycled fabrics depending on which colorway you choose—including recycled polyester, nylon, and even material made from plastic bottles. Way to keep it eco-groovy, Bellroy.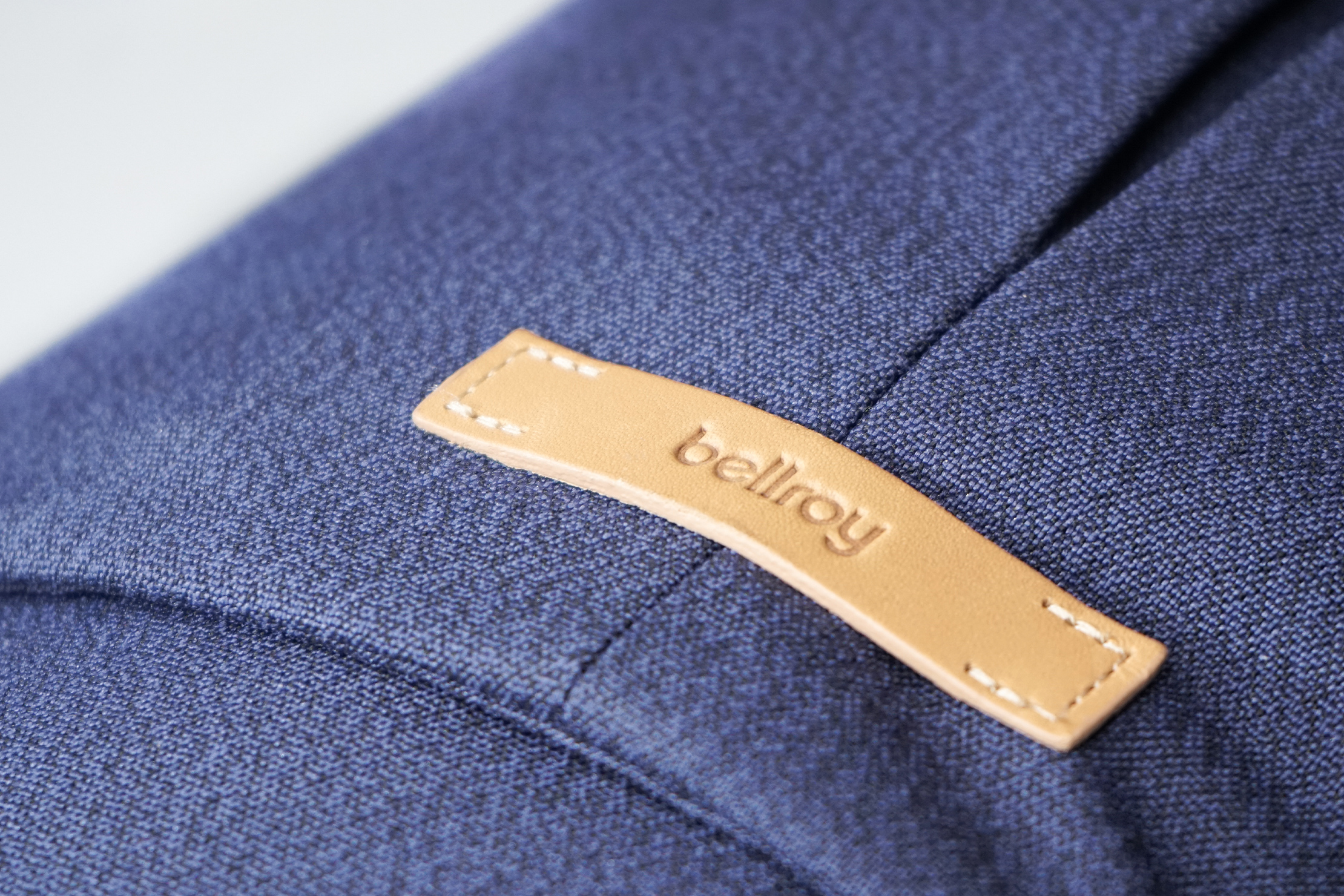 It wouldn't be a Bellroy bag without their wordmark and owl logo debossed into some leather. We're digging the premium look and feel of these accents as always, and appreciate their minimalist approach to branding.
As for material, this colorway is made with Bellroy's Venture-weave polyester, which isn't very smooth in hand—rather, it has some rigidity that makes it feel nice and rugged. The brand claims this material is also water-resistant, and while we haven't dropped it any puddles (yet), you'll be fine in some drizzly weather. Altogether, we're happy to report that it has held up well so far during testing.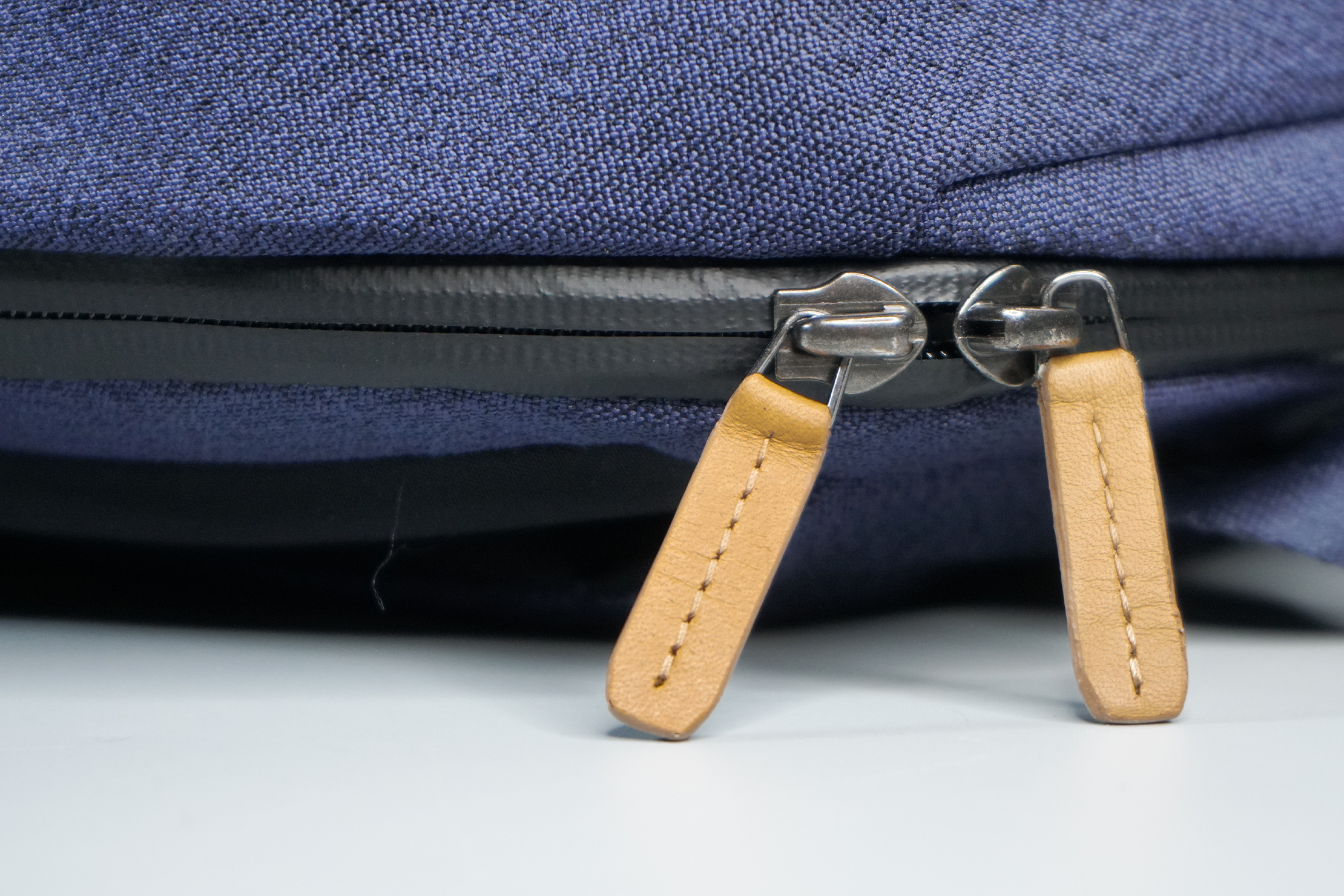 We're always happy to see YKK zippers on bags, and these ones are chunky. They feel robust in hand and have soft, easy-to-grab leather pulls, which are a nice touch (and a Bellroy staple). One note we have is that the AquaGuard zipper on the top quick-grab pocket has given us some trouble during testing, which we'll talk about later in the review.
Some ITW, Woojin, and metal hardware also make an appearance on the Classic Backpack Plus, most of which have been working smoothly. The magnetic Woojin buckle has taken some getting used to, but more on that later.
External Components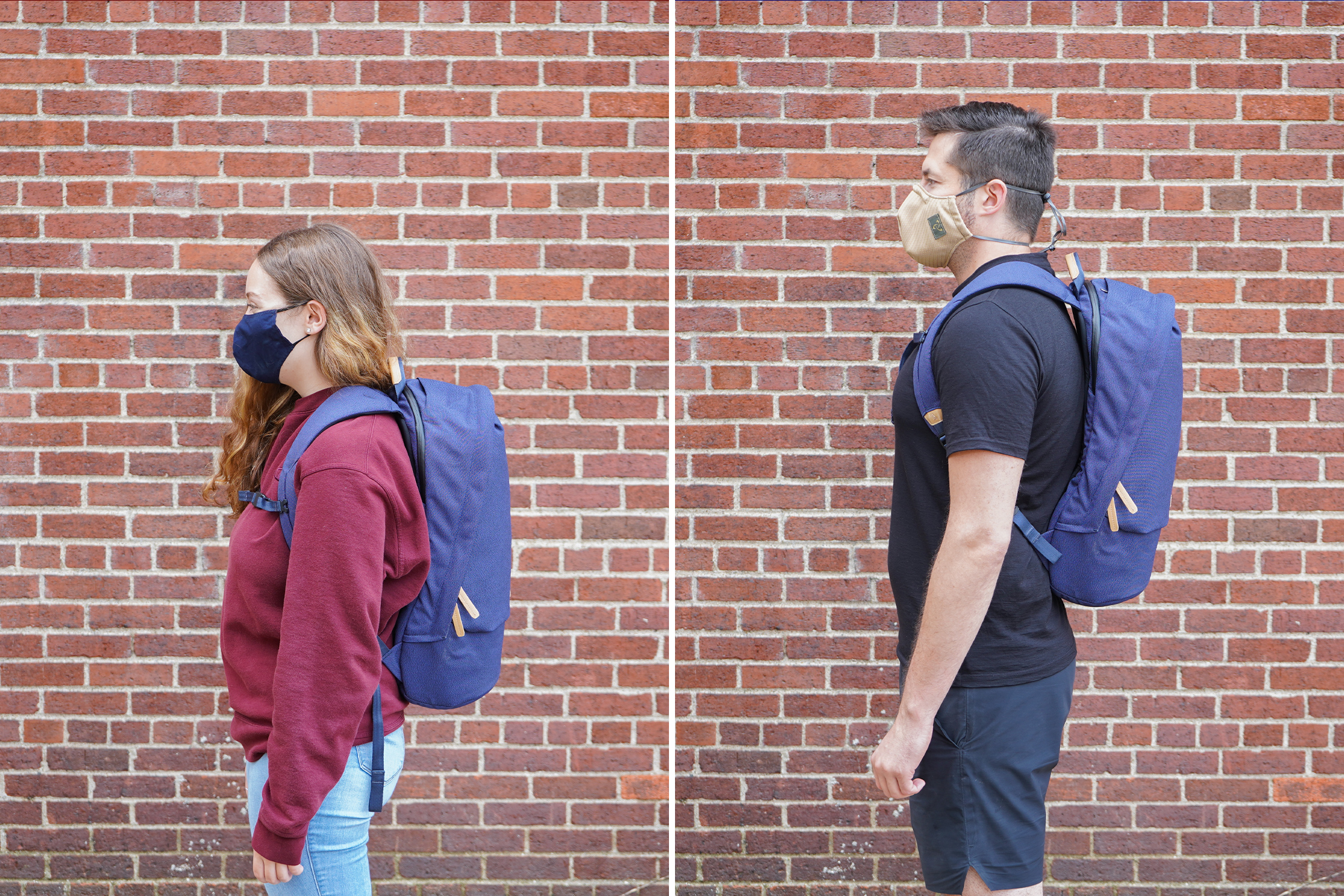 We're going to kick off this section by talking about the harness system, which is well-built for a pack of its size. Overall, we've found it to be pretty comfortable during testing, though some folks have mentioned that it feels stiff on a smaller frame.
The shoulder straps have some decent, spongey padding that we've found to be pretty comfortable during testing. These straps are made with a sleek-looking seat belt-like material that's smooth in hand. We also appreciate the durable metal hardware and plastic keepers that help manage excess strap, to keep us nice and #DangleFree. One nitpick we have is that the fabric on the upper part of these straps can move around some, but it hasn't been a huge deal.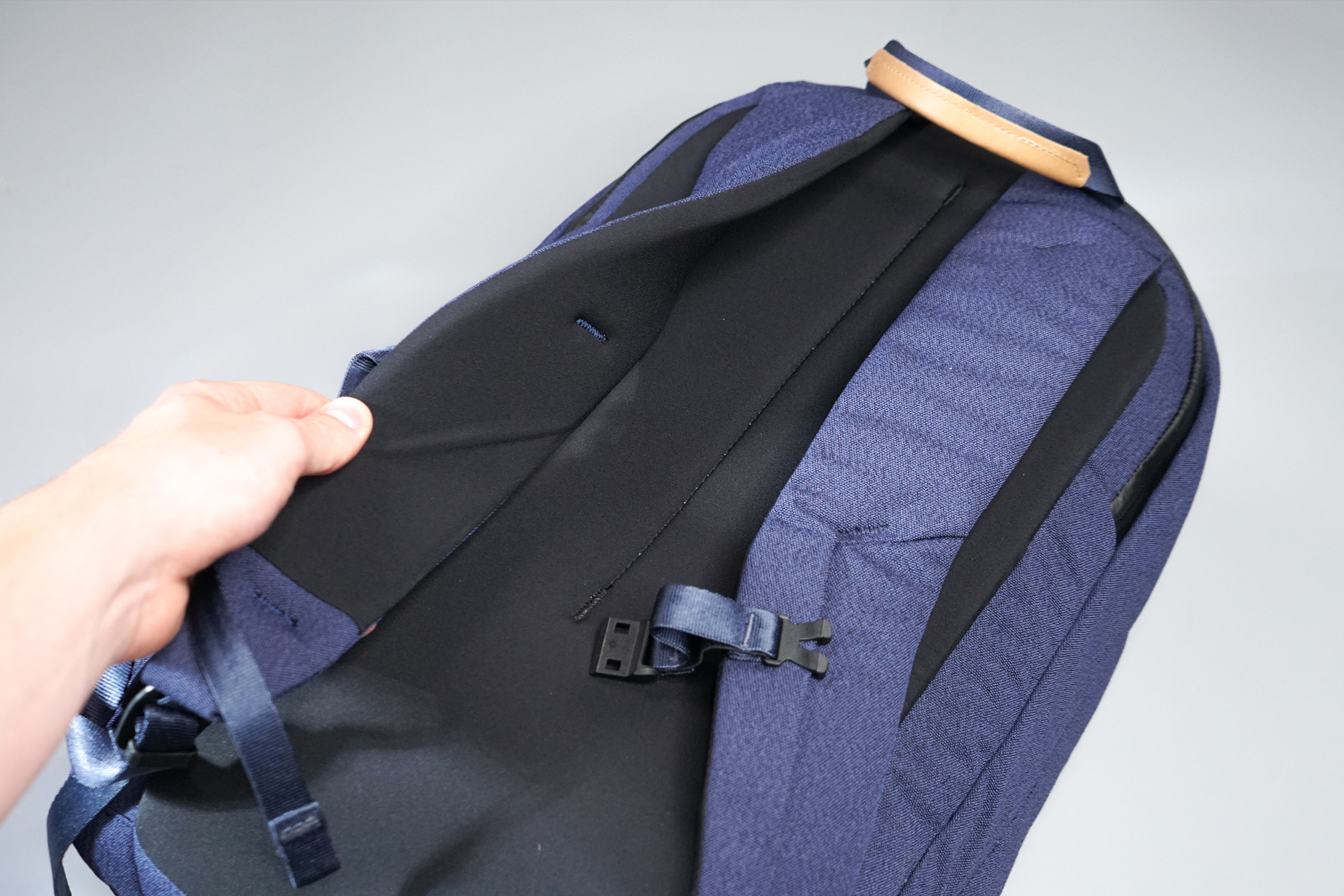 This bag's sternum strap is also super smooth and has plastic hardware that clips into indents on a fabric welt on the shoulder straps—it reminds us of what we'd see on a Peak Design bag, and we're digging its clean, streamlined look. The strap secures via a magnetic Woojin buckle that takes some more fiddling to disengage than a regular buckle. That said, it has stayed secure throughout our testing, which is good.
This strap doesn't feel as secure as one that permanently fastens to the pack, but also doesn't feel so loose that we're concerned about losing it—and its attachment makes it easy to remove and stow away if/when you don't need it. There's no elastic keeper, so you will have to deal with some dangling strap if you max out the adjustment.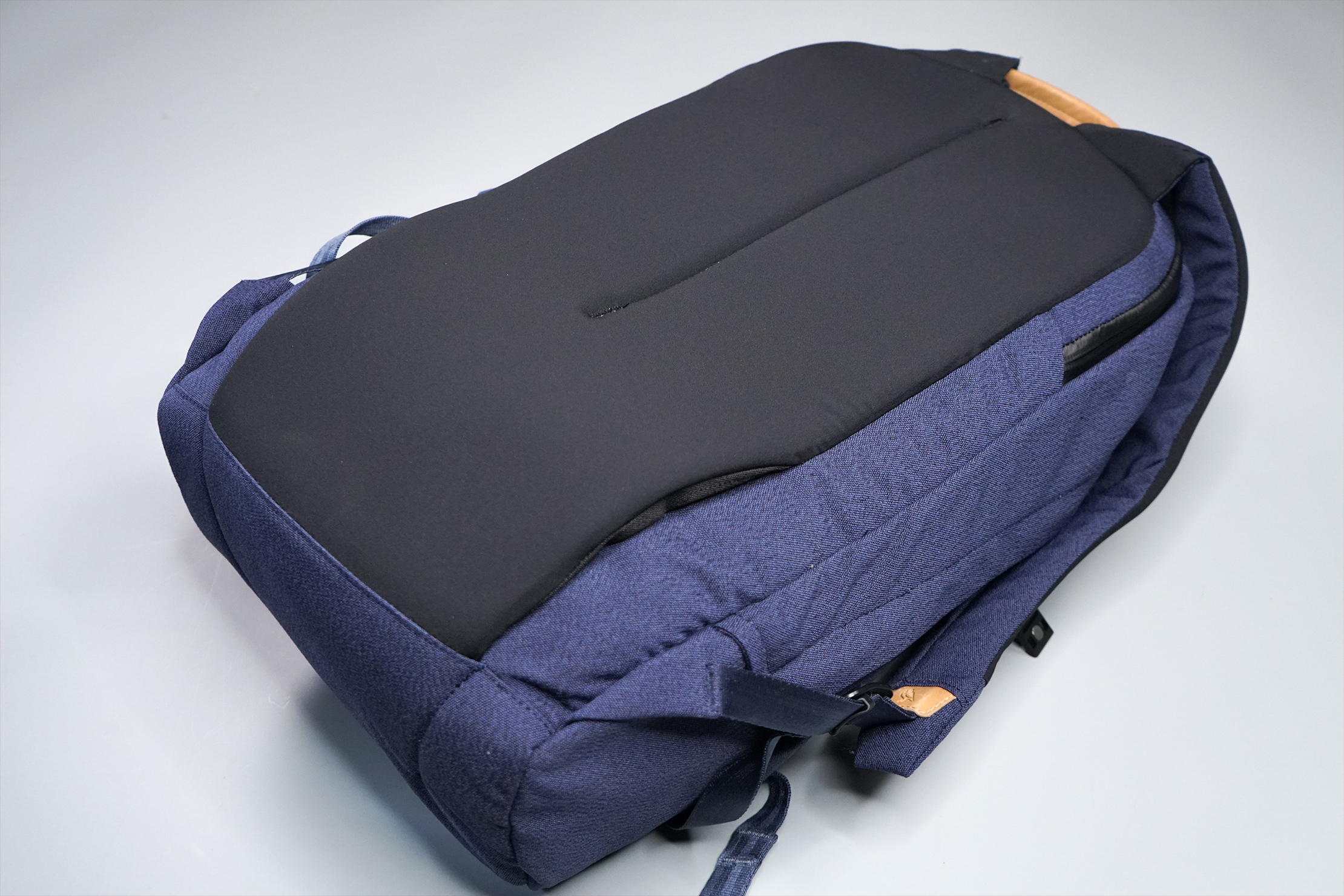 Like the Bellroy Transit Backpack, this back panel has a natural contour that some team members have found pretty comfortable. Others found it to feel stiff, and as if the bag is pulling away from shoulders—almost to the point where load lifters feel necessary. It all depends on your frame and preferences, but it's something note. You also don't have any mesh for added breathability, so that dreaded Swamp Back can make an appearance if you're wearing this thing in warmer weather.
There's also a handle at the top made with the same smooth, folded seat belt-like material as the shoulder straps. Most brands just fold this material, and that's it—but on this handle, you'll notice some leather which again, works as a nice, bright accent. It's comfortable in hand and convenient for grabbing the pack or hanging it when needed.
Inside The Pack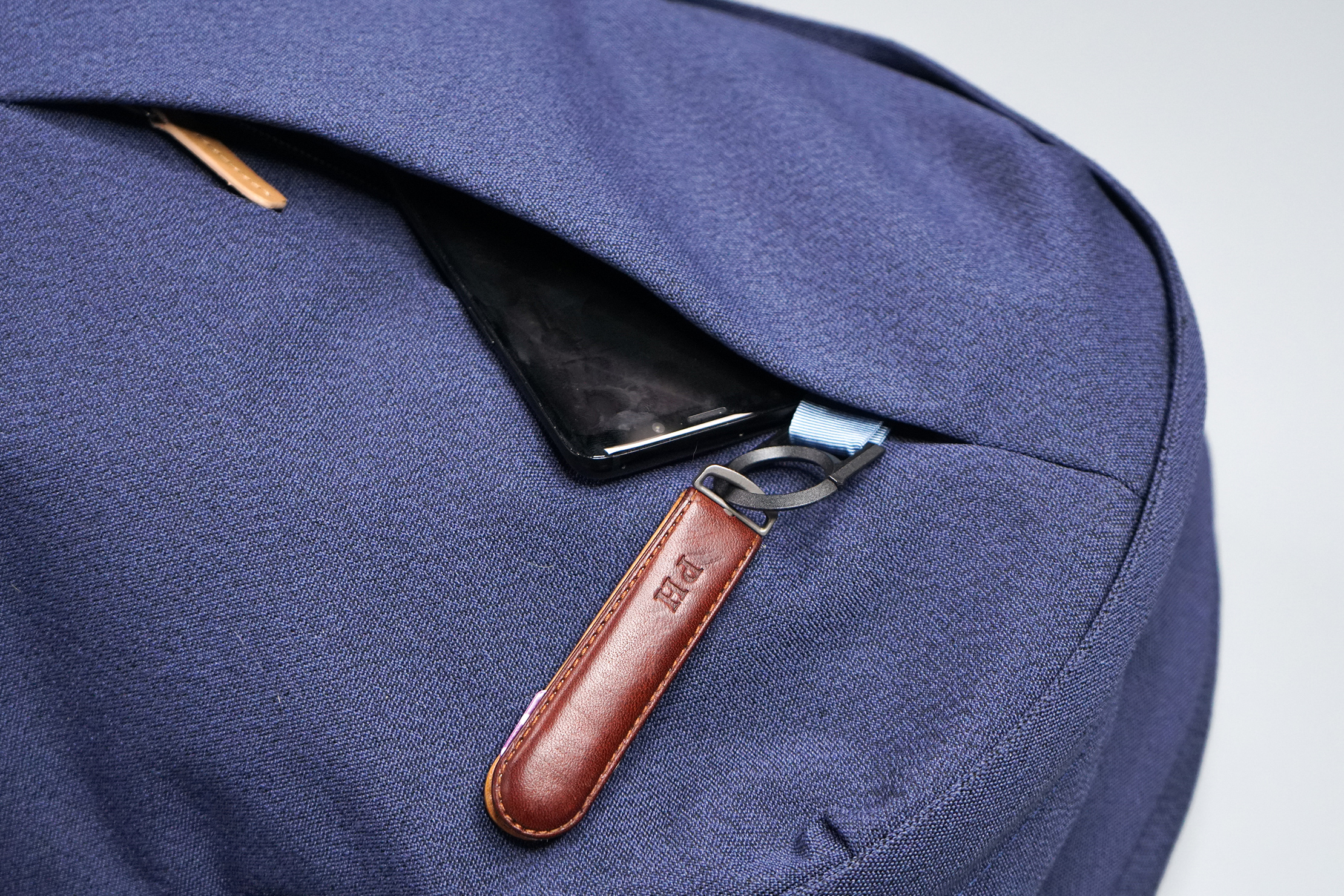 First things first—let's talk about pockets. The front pocket on this pack is unique in that the zipper runs vertically rather than horizontally, so when you swing this bag around to your chest and reach in, you're not fumbling around in a deep pocket for your things.
We've been keeping smaller items like a travel spork and a Tom Bihn Color Zipper Ghost Whale Organizer Pouch inside. We do wish this pocket was a little bigger, so it could better accommodate something like a phone, as we've found a large iPhone to be a tight fit. Although we appreciate the fabric welt over the zipper that adds some water resistance and a clean look.
There's a dedicated key leash inside, also. This clip is similar to ones we've seen on other Bellroy bags, and our feelings are the same—it holds up well during use, but doesn't match the premium look and feel of the rest of the pack.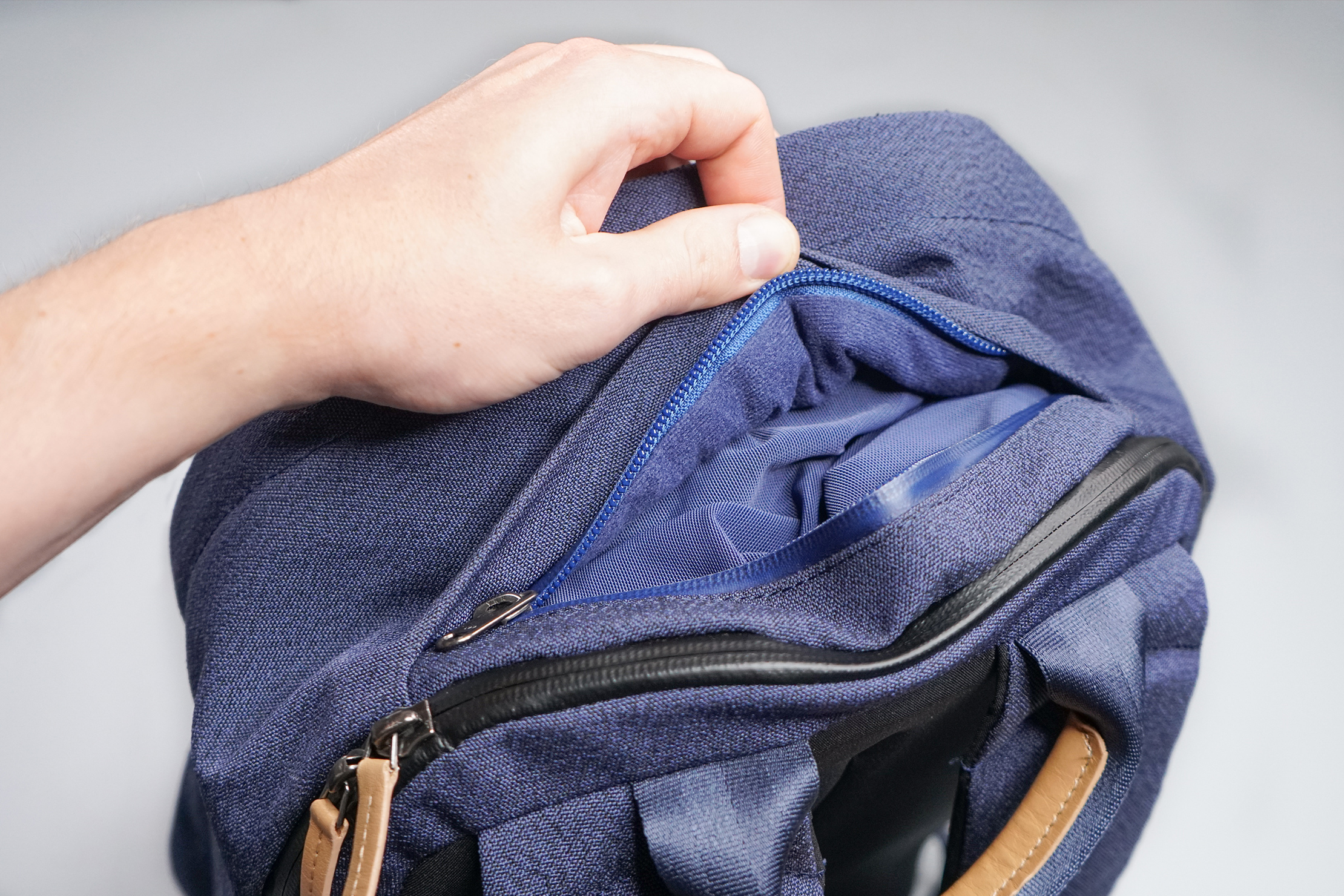 If you're looking for another spot to keep stuff handy, there's also a quick-grab pocket at the very top of the bag. It's hidden by a fabric welt, which adds some nice security as well. Plus, its AquaGuard zipper keeps everything protected from those sudden showers or accidental spills you might encounter. However, it also slows down your access. It's pretty sticky and doesn't have the same easy-to-grab leather pull that the other compartments do.
We got to know this pocket pretty well on the Transit Backpack. The inside features some soft, stretchy mesh that can much more easily stretch to fit the larger frequently-used gear that didn't work in the vertical quick-grab pocket, like your phone. When not in use, it lies nice and flat, so it's out of the way and not taking up space.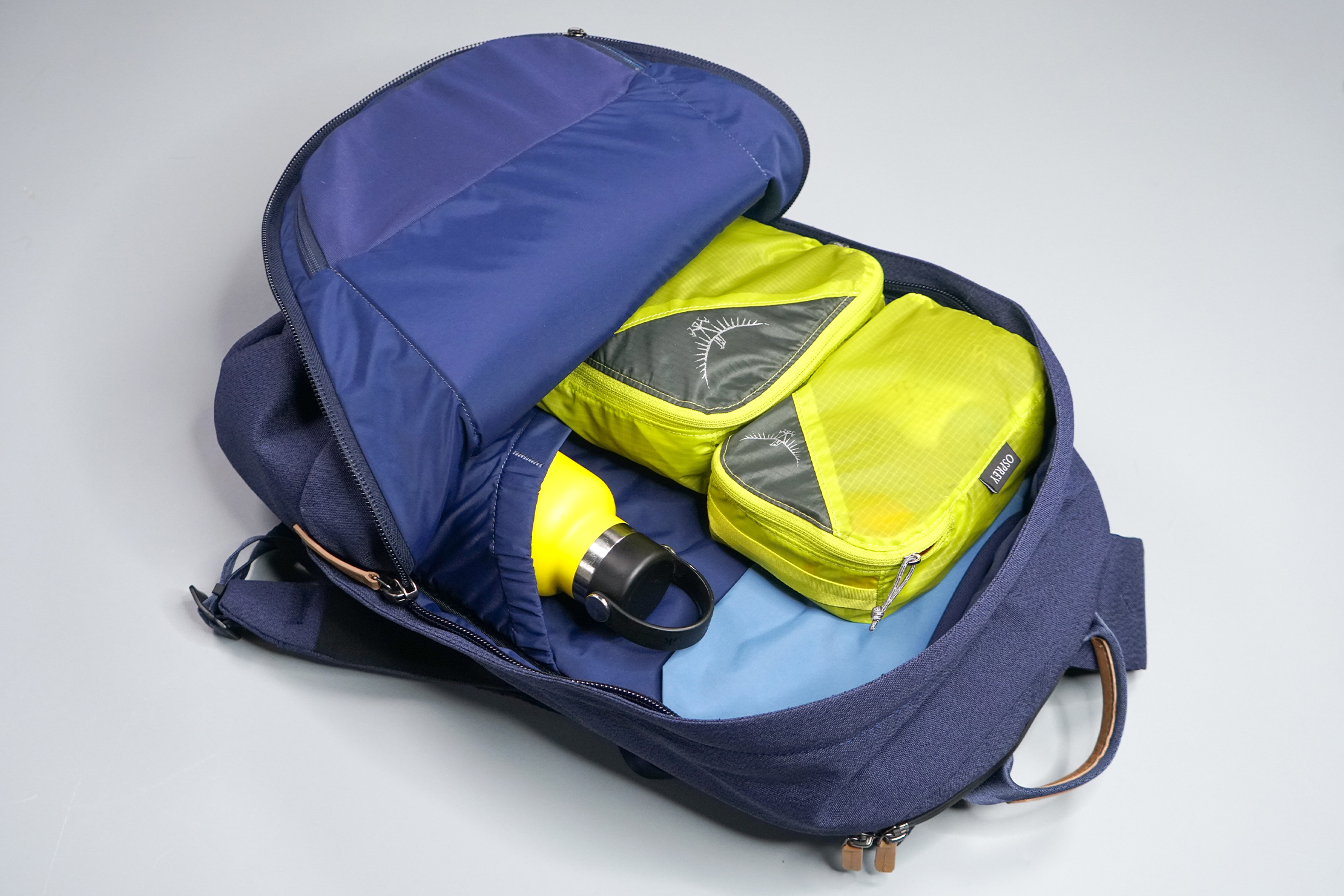 Then there's the main compartment. It has a horseshoe-style opening but one that unzips almost the full length of the pack, so you get some nice visibility of what's inside. At 22L, it can fit everything you need for a day's work, an afternoon adventure, or even a quick overnight trip (if you pack minimally).
In terms of organization, the first pocket at your disposal can be found on the front flap. It's mesh, and we quite like the feel of it—it's stretchy and slightly see-through. This mesh and bright blue lining offer both flexibility with what you can store and lots of visibility of what's inside when you're looking for a specific item.
We've been storing some medium-sized notebooks inside for safekeeping. This pocket stretches most of the length of the pack and has some gusseted fabric at the end, which adds some extra space. Although, it's unfortunately not as well suited for smaller items. They sink to the bottom and take some searching to find when you need them. We would've preferred if this pocket were split into two for better segmentation and ease of access.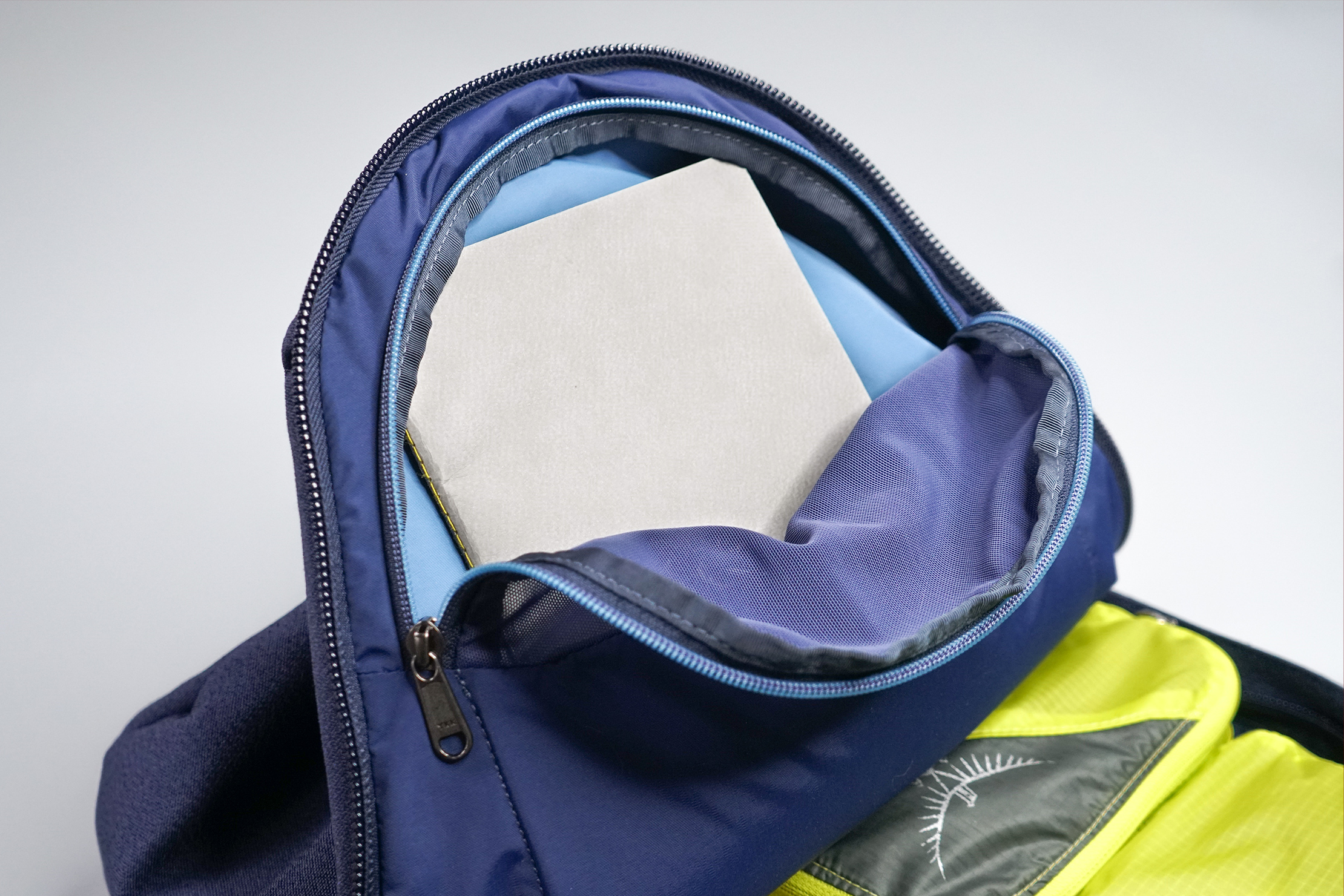 Also, keep in mind that if you pack this pocket and the front vertical pocket out but not the main compartment, the bag will look a little awkward—the top will appear bulky, and the bottom panel will pull upward, causing it to look like a mushroom that Super Mario would eat to power up.
Against the back wall, you have a slant pocket that you can use to store a water bottle, as there's not a spot for one on the outside of the bag. We've been keeping the Hydro Flask Standard-Mouth Water Bottle with Flex Cap 21 oz inside, and it's a nice fit. The pocket has some elastic that allows it to flex to a larger bottle, too, if need be.
Then you have lots of free space inside to store your larger items, like a keyboard, which we've been keeping inside the Roost Minimalist Keyboard Sleeve. If you're not a fan of letting your stuff free float in your pack, you can always incorporate some pouches or packing cubes for even more segmentation. Pro tip: if you pack out the bottom of this pack with something bulky like a lunch box or sweatshirt, it gives it enough structure to stand up on its own—that, and you'll avoid that mushroom-like shape we mentioned earlier.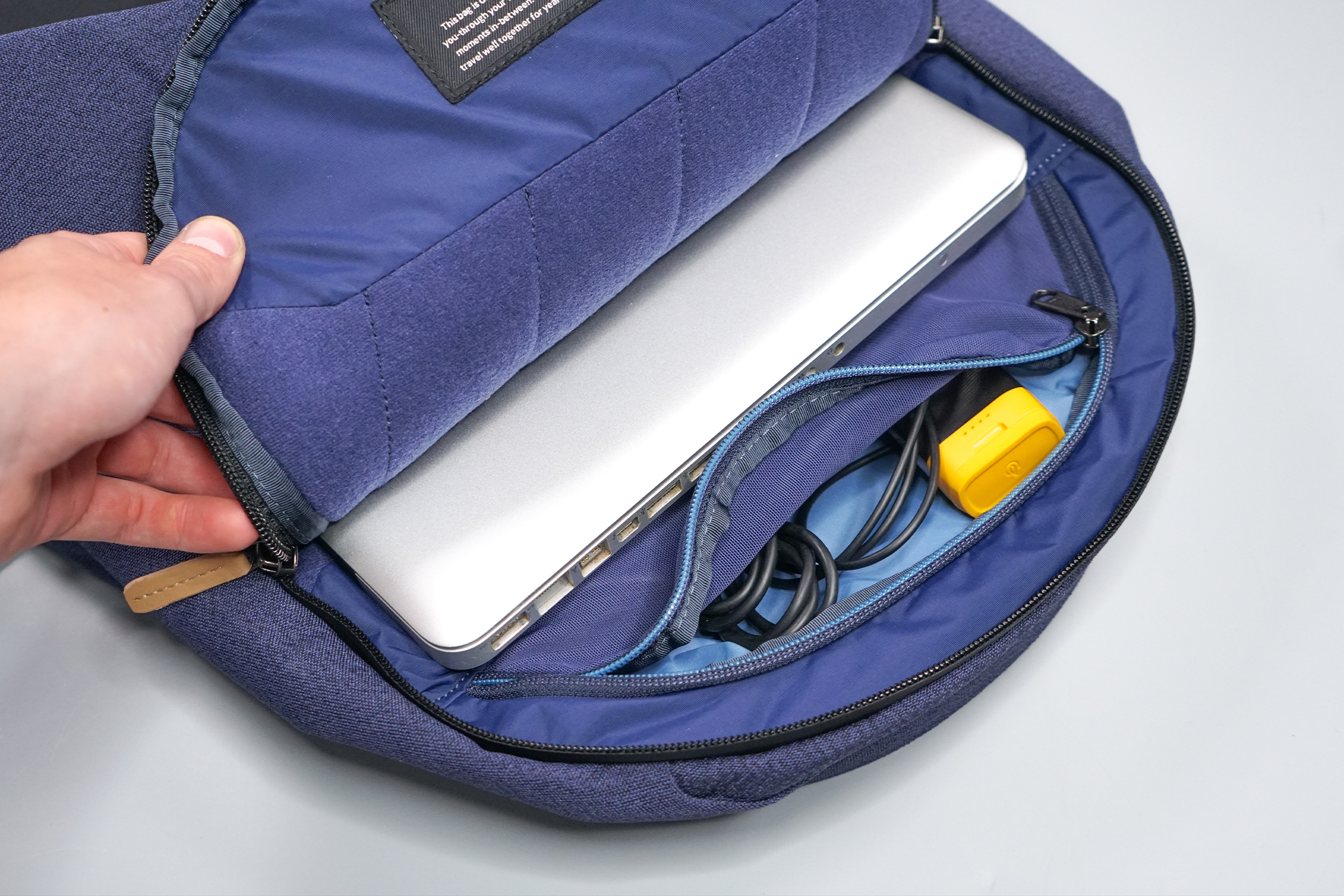 Last on the list is the dedicated laptop compartment. This compartment is also secured with an AquaGuard zipper for added water resistance, which works a little smoother than the one on the top quick-grab pocket as it has those easy-to-grab pulls—we always appreciate this safety integration when it comes to our tech. We're also digging the soft, quilt-like lining material and ample padding that keep our laptops protected from scratches and daily damage.
You have a pocket inside that's similar to the front-flap pocket in the main compartment. It's made with the same mesh material but is also much shallower. You can throw your laptop block and charger inside or any other cords and cables you may have and get quicker and easier access to them. We can't take it out and keep it handy on our desks like a tech pouch, but we appreciate it nonetheless.
We've been able to fit up to a 15" laptop in here, no problem. The false bottom in this compartment is pretty slight, so you're not getting the added protection for your tech that you would if it were suspended higher up. Because of this, and in general, we recommend keeping your laptop in a protective case.
Usage Timeline
Initial Usage
Condition: Excellent
Great size bag for tech and EDC items
Separate compartment for laptop and tech gear
Back panel is contoured for a more comfortable carry
2 Weeks of Use
Condition: Excellent
The top pocket zipper is a little stiff and tricky to access quickly
Enjoying the look & feel of this bag—aesthetically, it's mature & sleek
Vertical pocket seems a little slim at times—fitting in a larger phone takes some finesse
Comfortable carry overall
Access the Pro Community Discussion
Get your questions about the Bellroy Classic Backpack Plus answered from our team and the Pro Community right here on the page. Plus, join discussions with other members about gear, guides, and more.
Other Bags & Luggage Reviews