Arc'teryx Cerium LT Hoody Review
The Arc'teryx Cerium LT Hoody is comfortable, lightweight, and will keep you warm all winter long—though it takes finesse to pack into the included compression sack.
Our Verdict
Unlock the Pro Summary
Save time. Get access to brief summaries of our reviews so you can browse and make decisions more efficiently.
Pros
Durable, warm materials
Packable, easy to travel with
Great warmth to weight ratio
Cons
Material is slippery, takes some finesse to pack
Compression sack isn't built into jacket (though you can attach the two)
Particularly puffy, can look a little bulky
Recent Pack Hacker Video
Technical Details
Notable Materials

Nylon, Down, YKK Zippers

Manufacturing Country

Myanmar

Warranty Information
Full Review
If you're looking for your next coat to bundle up in this year, the Arc'teryx Cerium LT Hoody is a warm, lightweight, and overall solid option to consider.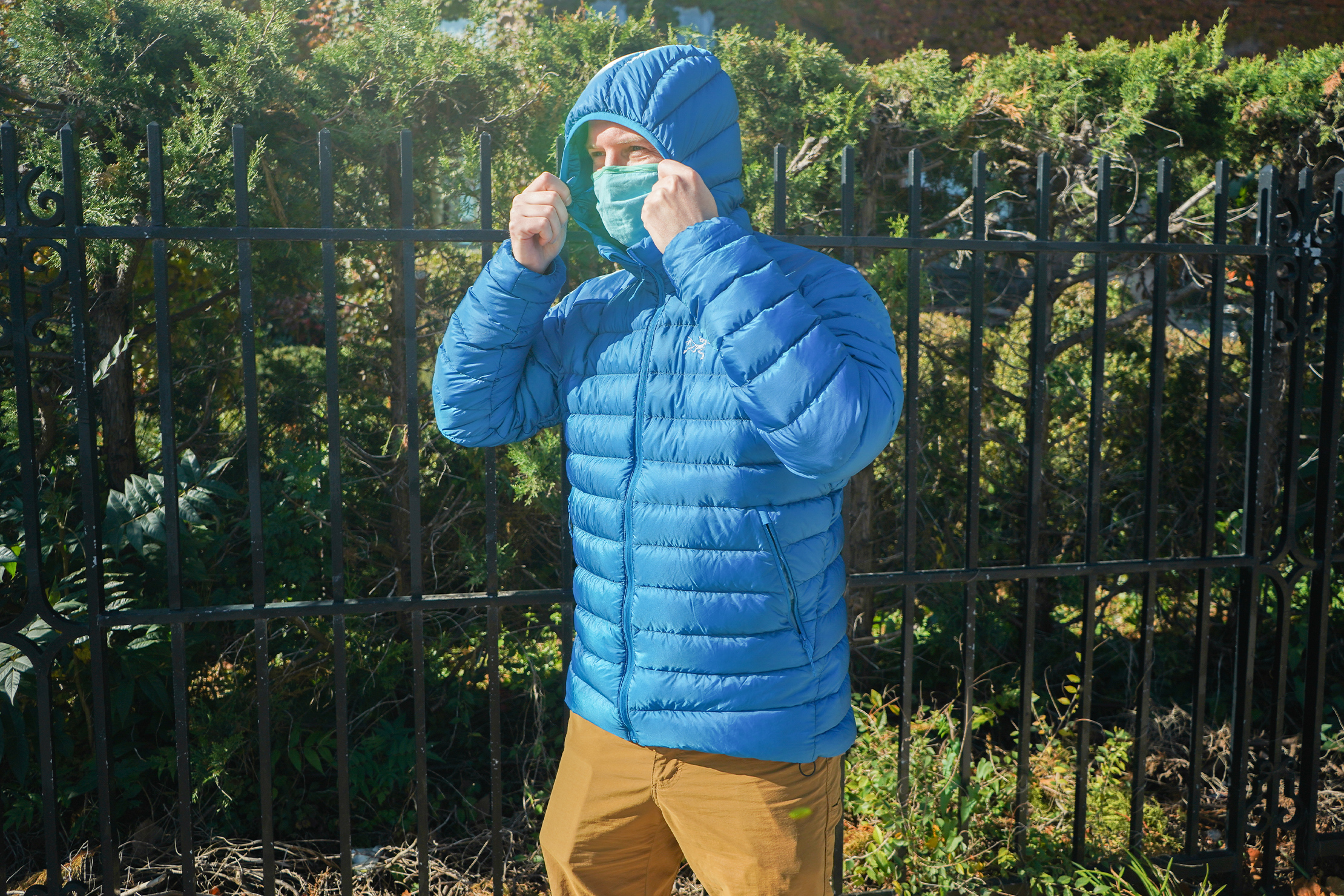 Just one of the many things Arc'teryx is known for is their durable, streamlined materials on their daypacks, which extend down to their jackets, too. And not only is the Cerium LT Hoody durable, but it's also well-insulated to keep you cozy, as well as packable to make storing it away a quick and easy process.
We've packed all our experiences from the last month of testing into the review below. Check it out!
Materials & Aesthetic
When we say the Cerium LT Hoody is a puffy jacket, we mean it's a puffy jacket; in fact, for this size & weight class, it's one of the puffiest we've tested. That's not to say we feel like a giant bubble while wearing it, though—it's just a little more sizable than other packable jackets we've tested in the past.
Arc'teryx labels this jacket as a Trim Fit, meaning it's designed to fit slimmer to the body and offer a more low-profile look. We feel it's closer to their Regular Fit guidelines in that it aligns with most standard jackets of its kind.
The brand also offers two more styles of jacket: there's the Next To Skin Fit which, as it sounds, is especially snug to most efficiently trap heat and deter moisture. Then there's the Relaxed Fit on the opposite end of the spectrum, a looser sizing that creates a more casual wear.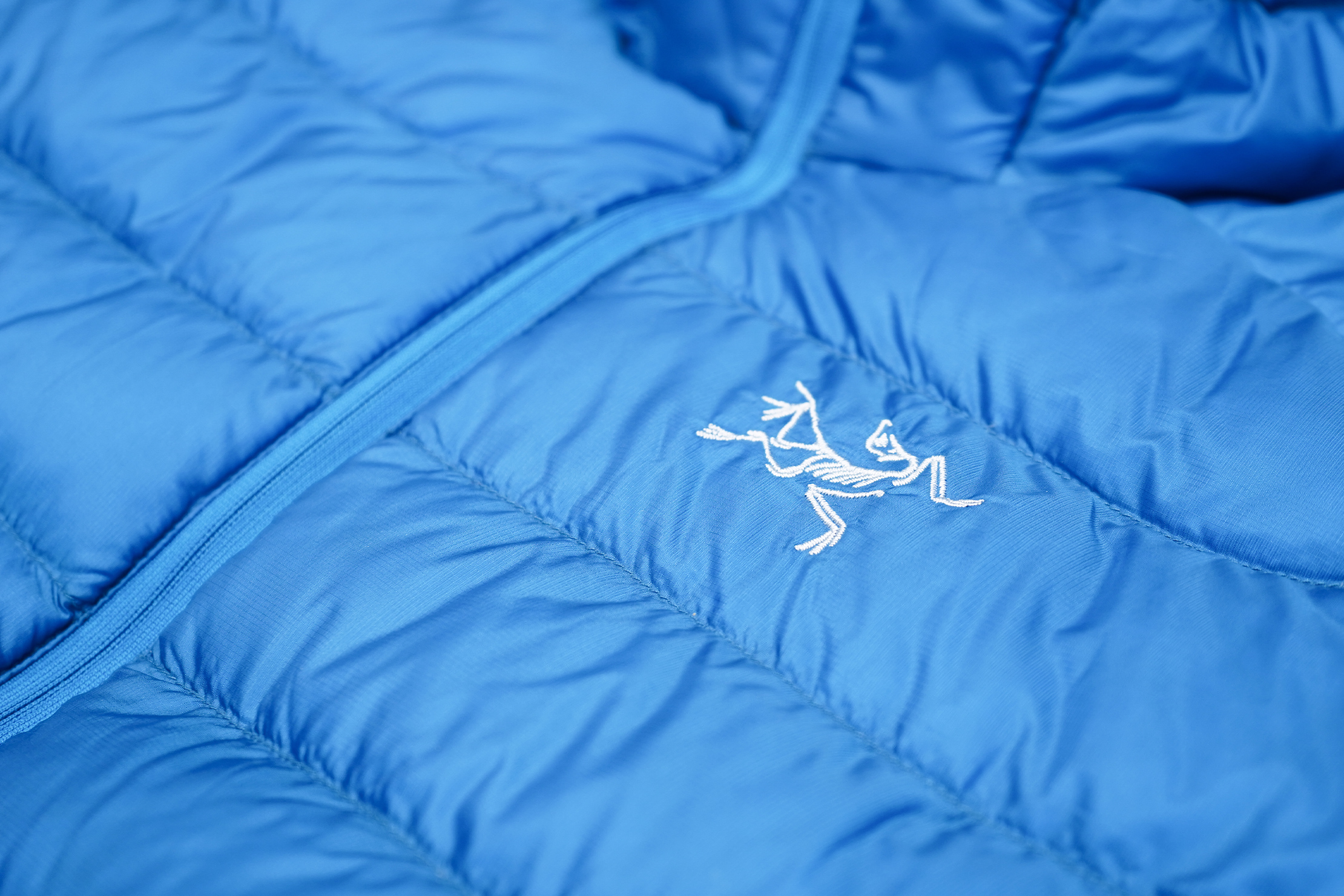 We've been testing the Shimizu colorway, which translates to "pure water" in Japanese; with its bright blue hue, this name is fitting. This hoody is also available in a ton of other colorways as well at the time of this review, including the vibrant Utopia (green) and Dynasty (orange), or more muted Labyrinth (dark teal) and Rhapsody (deep red).
Just like you'll find on many Arc'teryx packs, their skeletal-figure logo is stitched on the front of this hoody in white thread, which stands out a little more on the colorway we've been testing. We don't mind it, as this branding reinforces that this is a durable, quality jacket all the way around.
Material is important when we're talking about clothing, and jackets are no exception. In this case, you've got the brand's Arato™ 10 nylon shell on the outside and an 850 down on the inside. Plus, because synthetic insulation does better when wet than regular down, you'll find some in the more high-moisture areas, including the collar of the jacket that you're likely breathing on throughout the day.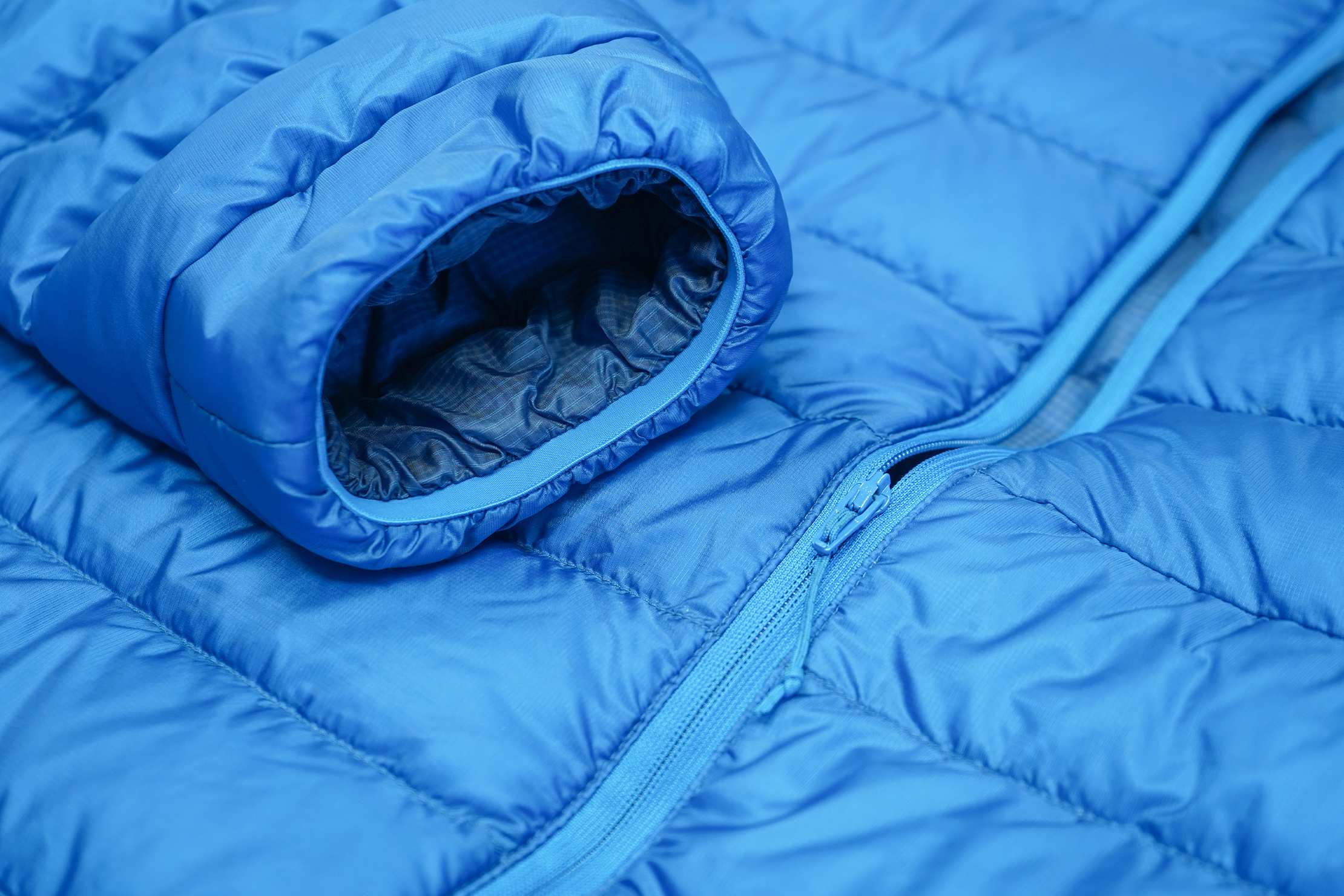 There's also a lot of elastic incorporated throughout this jacket, like on the cuffs, around the waist, and even along the hood's rim. This addition keeps the hoody closer to the body and blocks off ports where heat can escape, helping to keep you nice and toasty. The elastic around the waist is also adjustable from two sides rather than just one, so you don't have to shuffle the bottom of the jacket around to even it out—you can simply cinch and go.
We're always happy to see YKK zippers on packs, so you can imagine our excitement to see them integrated into this jacket. We appreciate their smoothness on the jacket's opening and the security they add to the jacket's pockets, so we don't have to worry about anything falling out (like if we're carrying our phone or keys).
Features & Usage
Speaking of pockets, let's talk about how many you have and what you can put in them. On the outside, you have two standard jacket pockets that, as we mentioned above, secure with a zipper to keep your stuff from tumbling out and getting lost. They're pretty roomy, as well. To go back to our previous examples, you can fit a larger-sized phone and a bulkier set of keys in each one, no problem.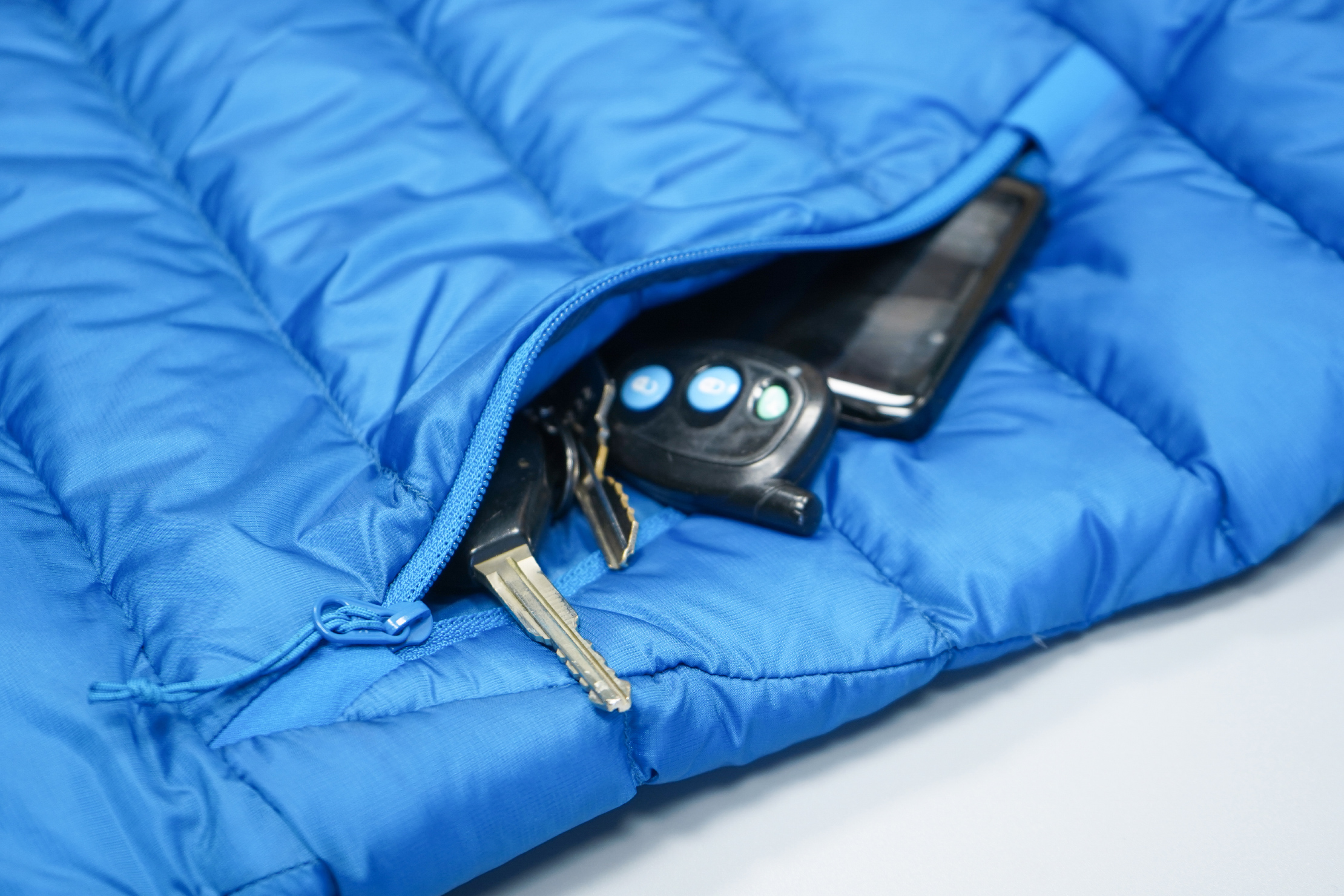 You even have a zippered bonus pocket on the inside of the coat. This pocket is even more secure than the external ones, as it's harder for any pickpockets to reach. Because of its location, it's a great spot for stashing debit or credit cards, your ID, or some extra cash, among other more valuable stuff. You can also keep your phone in this spot in lower temperatures, as the cold may inhibit your phone's functionality—in here, it'll stay warm and ready to go.
This internal pocket is also what holds the compression sack that this jacket packs into. There's a loop sewn on one corner of the compression sack that, through some maneuvering, can be fastened to a similar loop that's inside the pocket. This design reduces any need for a bulkier clip or buckle that would add weight to an otherwise lightweight, minimal jacket.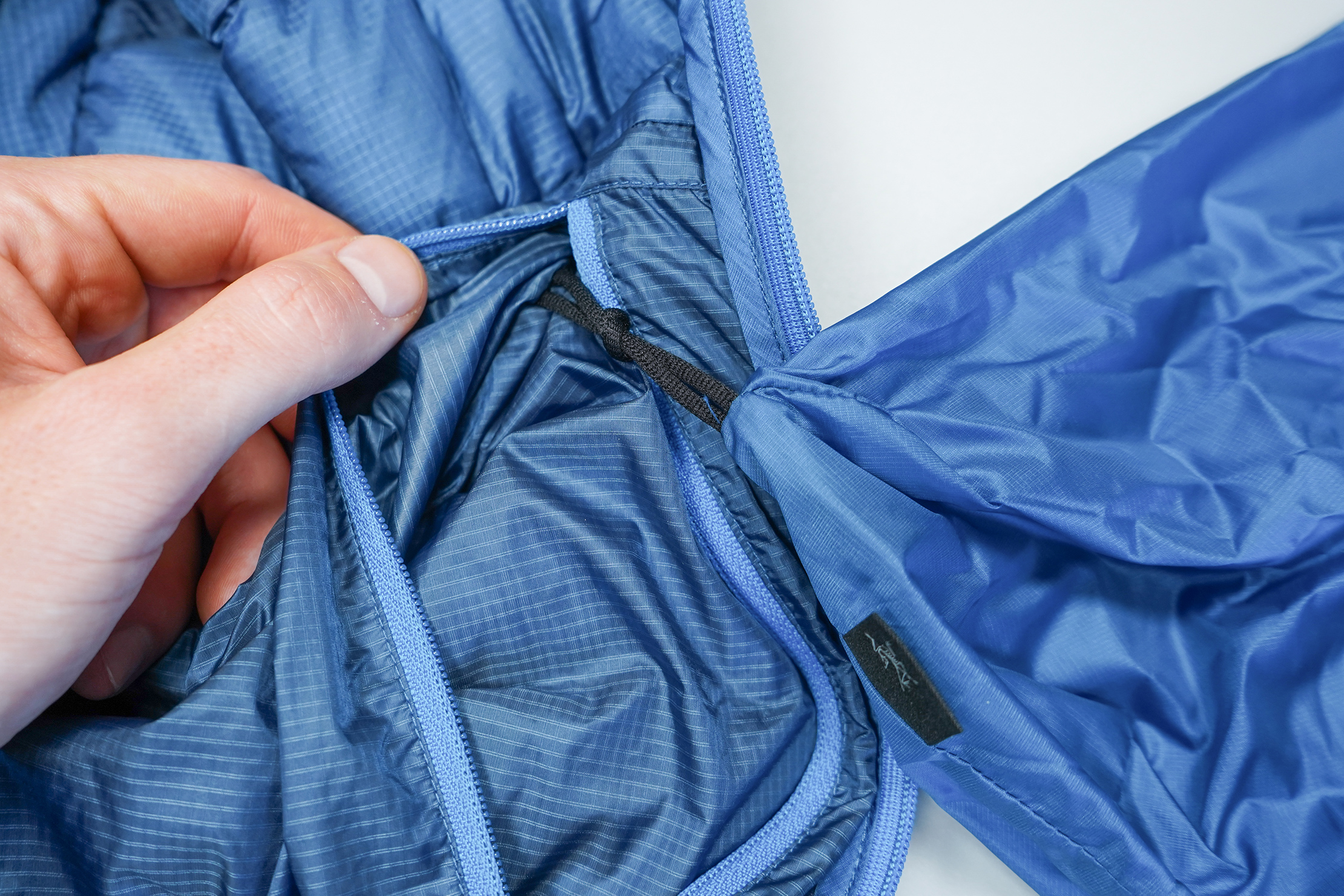 We often see and really appreciate, with packable jackets, when the compression sack is built-into the coat itself through a pocket such as this one. That's not the case here, though we like that they at least offer the ability to connect the two via the loops we mentioned above. Even so, you'll just want to make sure you're correctly securing the compression sack inside this pocket to lessen the likelihood that you'll lose it.
When you're storing the coat away, we've found it's best to fold the jacket into a smaller cylindrical shape before attempting to put it in the compression sack. The material can be slippery, so just grabbing one end and trying to stuff it inside isn't the most efficient method. Once you do get it in its compression sack, though, you can easily throw it inside your day or travel pack for convenient carrying.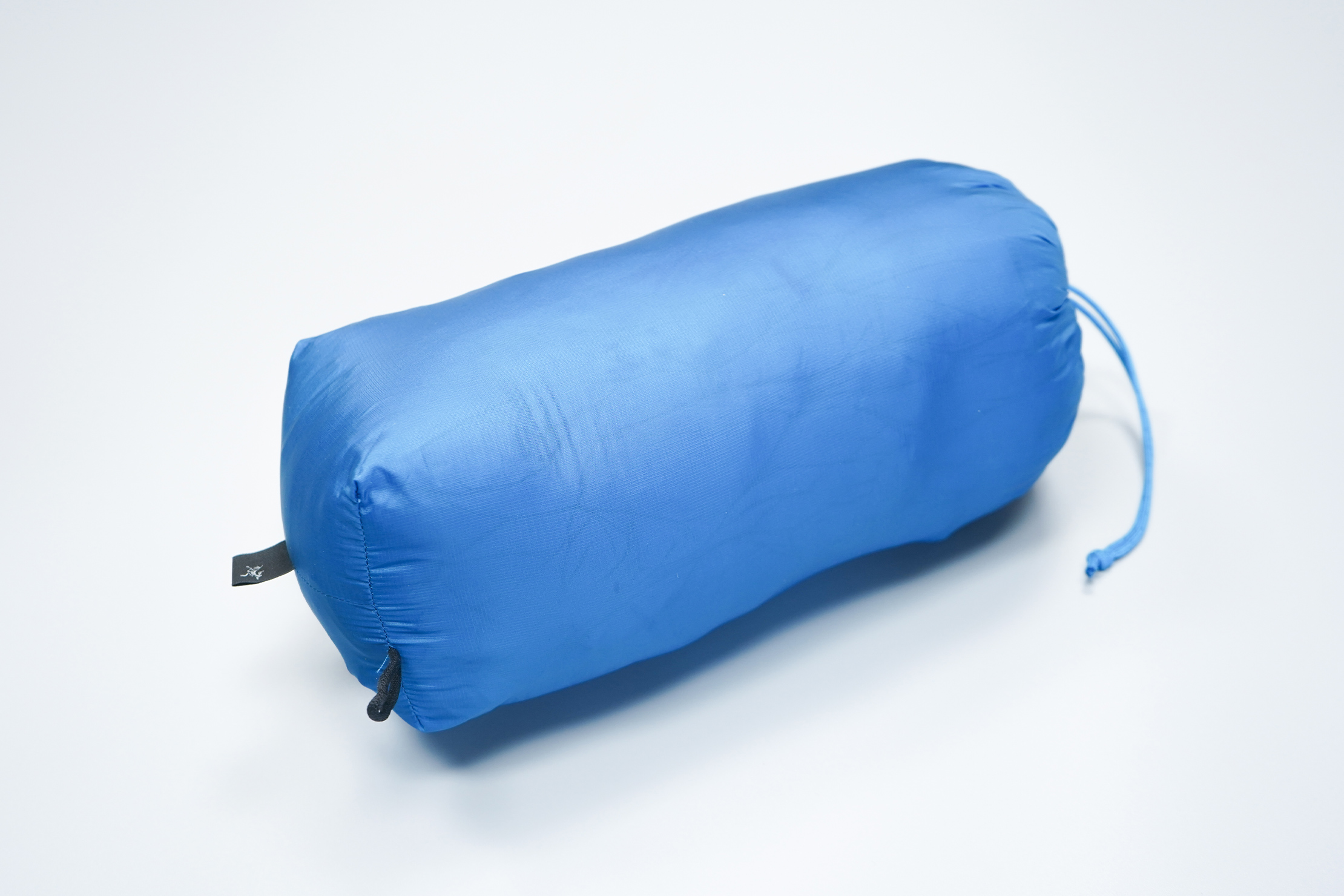 Another thing to remember is that you want to leave this and other insulated packable products like it uncompressed as much as possible. Having the jacket always packed essentially smashes both the down and the material, affecting their quality over time. So, when possible, leaving this jacket on a hanger or hook will help it last longer and keep you warmer.
We've been wearing the Cerium LT Hoody in cooler conditions throughout our testing—around 40ºF (4ºC), for reference—and it keeps us plenty warm. In fact, it's almost too warm, so we've found ourselves leaving the jacket unzipped to allow for some ventilation when the weather isn't so harsh. Any colder, though, and we'll be zipping it right back up to stay toasty.
Altogether, we've really enjoyed donning this jacket for the last month. It's a comfortable fit with effective insulation and it keeps up with whatever activity we're engaging in—whether that's exploring the city, trekking through the woods, or getting the best angle for a photo. If, for some reason, this jacket just isn't for you, don't worry—referencing the guide above will help you find one that is. Plus, we have reviews of other jackets in the Arc'teryx family, including the Zeta SL Jacket and even the Beta SL Jacket that you can check out.
Usage Timeline
Initial Usage
Condition: Excellent
Elastic sleeve cuffs and waistband to help lock in heat
Flexible and doesn't restrict movement
Exceptional warmth-to-weight ratio
2 Weeks of Use
Condition: Excellent
This jacket is insta-warm! The 850 down does a great job of keeping heat in and we're cozy as can be. Even after being compressed, it poofs right out (it almost looks inflatable). Unless it reaches sub-zero temperatures, this is really a stand-alone layer.
1 Month of Use
Condition: Excellent
Still holding up great, no rips, tears, or loose threads. Still poofs out quickly after uncompressing.
Access the Pro Community Discussion
Get your questions about the Arc'teryx Cerium LT Hoody answered from our team and the Pro Community right here on the page. Plus, join discussions with other members about gear, guides, and more.
Other Clothing & Accessories Reviews