Altec Lansing Mini H2O Waterproof Bluetooth Speaker Review
While the Altec Lansing Mini H2O Waterproof Bluetooth Speaker's sound quality isn't the best, its compact size and IP67 rating make it a great choice for travel.
Our Verdict
Unlock the Pro Summary
Save time. Get access to brief summaries of our reviews so you can browse and make decisions more efficiently.
Pros
Small size and light weight make it easy to bring on a trip
Silicone shell easy to remove and clean
Sound quality quite good for the size
Cons
No sound input for answering a call
Lacks integrated hook or strap
Not the best bass quality
Recent Pack Hacker Video
Technical Details
Weight (oz)

3.87 oz (109.7 g)

Dimensions

4.25 in x 2.33 in x 1 in (10.8 x 5.9 x 2.5 cm)

Notable Materials

Plastic, Silicone, Metal

Manufacturing Country

China

Warranty Information
Full Review
We know what you might think—this speaker is so tiny; can the sound quality be worth it? Well, we believe it is, and it has a few extra features that make it worth looking at, too. Let's dive into it!
The Rundown
Regarding materials, we've got a mixture of plastic, silicone, and metal. All of that comes together to form an IP67 rating with complete dust and dirt protection and the ability to be submerged in water for an extended period. Plus, it floats, so if you drop it in the lake, it won't sink to the bottom.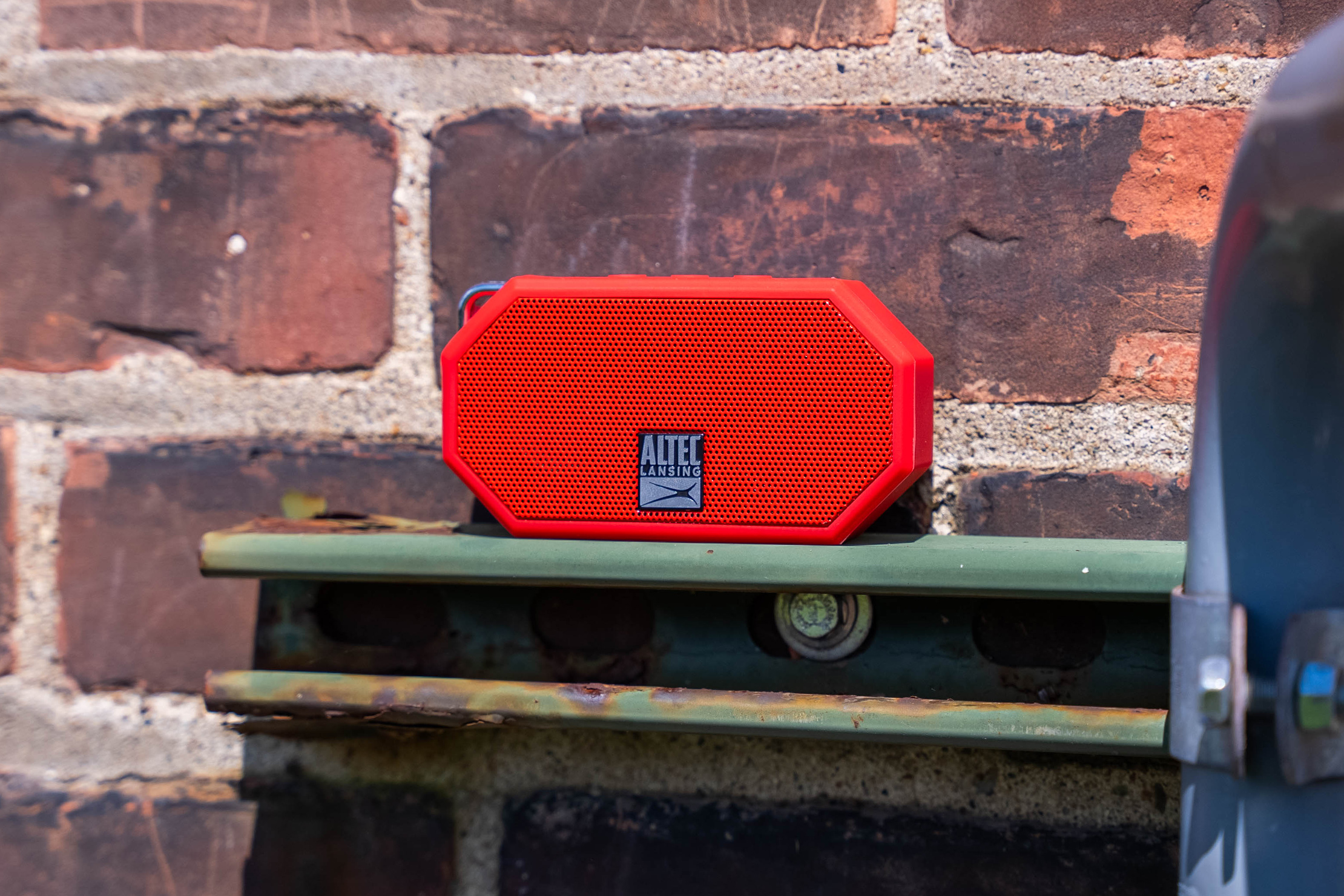 A closer look at the Altec Lansing Mini H2O Waterproof Bluetooth Speaker shows that the front grill is metal, and the silicone exterior is actually a case that covers a hard plastic frame. You can remove the silicone to clean it should it get sandy, muddy, or musty, which we think is a plus. If you do this, you must ensure you place the case back on properly; otherwise, water might get where it isn't supposed to and break the speaker. Without the silicone, this thing isn't waterproof.
There are many colorways, which is ideal for travelers who like to buy matching accessories. Most options are vibrant and saturated, but there are a few sleek models, too. The Altec Lansing logo is quite large compared to the size of the speaker overall; however, we don't think it's too distracting.
You might be thinking, this thing is tiny, so how can I take it places? Well, there's a small eye on the speaker's top to attach it to things. You can use a carabiner, wrist strap, or other attachment method to bring it along for the ride. There isn't anything included to make that happen, but it's easy enough to find something to attach to your daypack, sling, or wrist.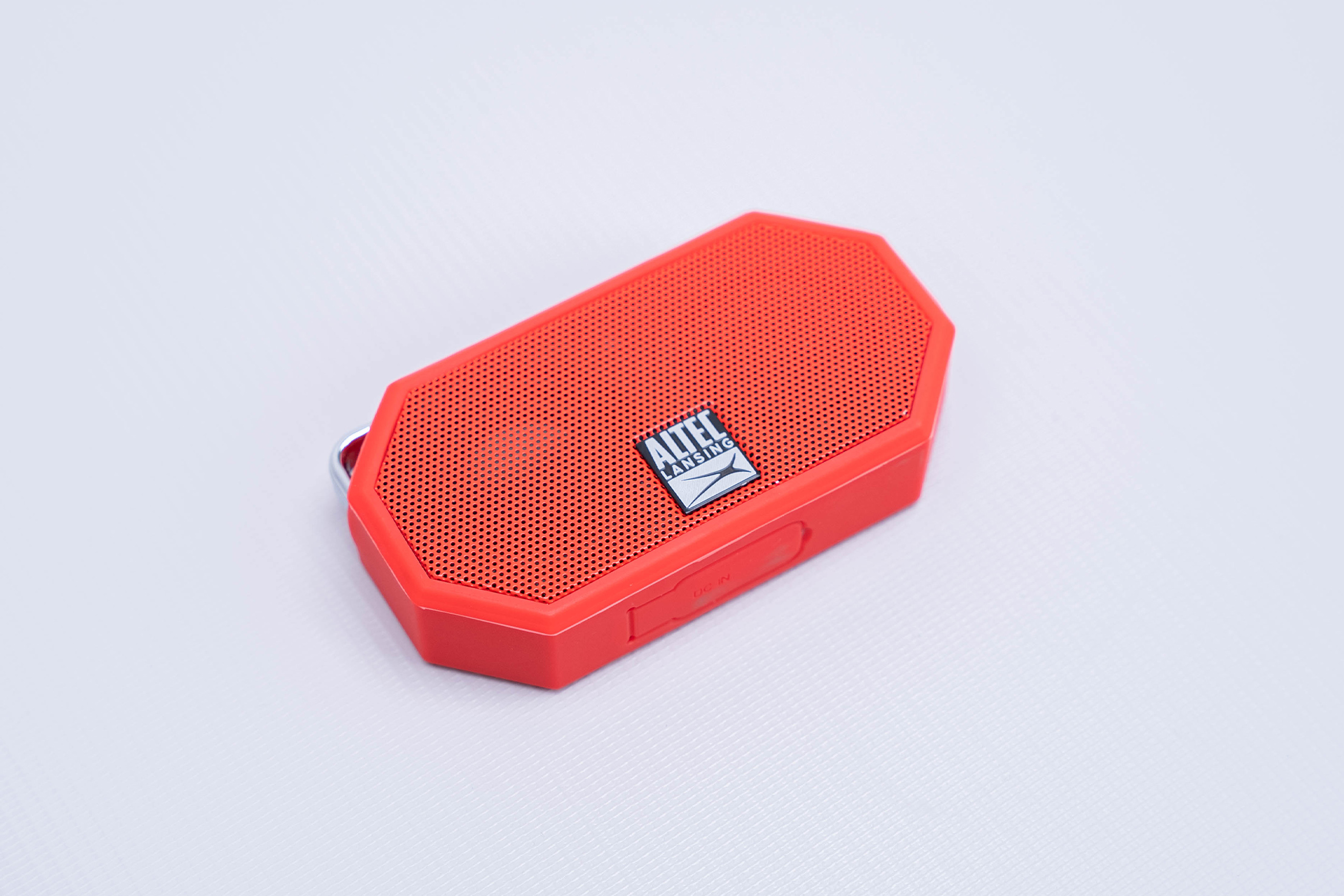 There are three buttons on the top of the speaker. The power button turns the speaker on and off, and you can hold it to pause or play the music. You can also answer and hang up phone calls with that button. However, there isn't a microphone, so you still need to have your phone nearby to use the speaker while on speakerphone. The plus and minus buttons control the volume and your playlist: if you hold the plus, you'll skip the track forward; if you hold the minus, it'll go backward. Although there are only three buttons, you can use them to good effect.
The speaker charges with a Micro-USB port, which feels outdated because it is. This speaker has been around for at least five years. A half-decade before we tested this speaker, a micro-USB wasn't as out-of-date as it probably is when you're reading this. It's a little annoying, but, for the price, we can't complain much tag.
Speaking generally, we're pretty happy with the audio quality of this speaker. Songs with a large dynamic range (bass and vocals simultaneously) can get a little crispy at high volumes, but it's still listenable. In most situations, the sound quality is more than adequate. For podcasts or other non-musical uses, it does superbly, and, again, for the price, we're amped.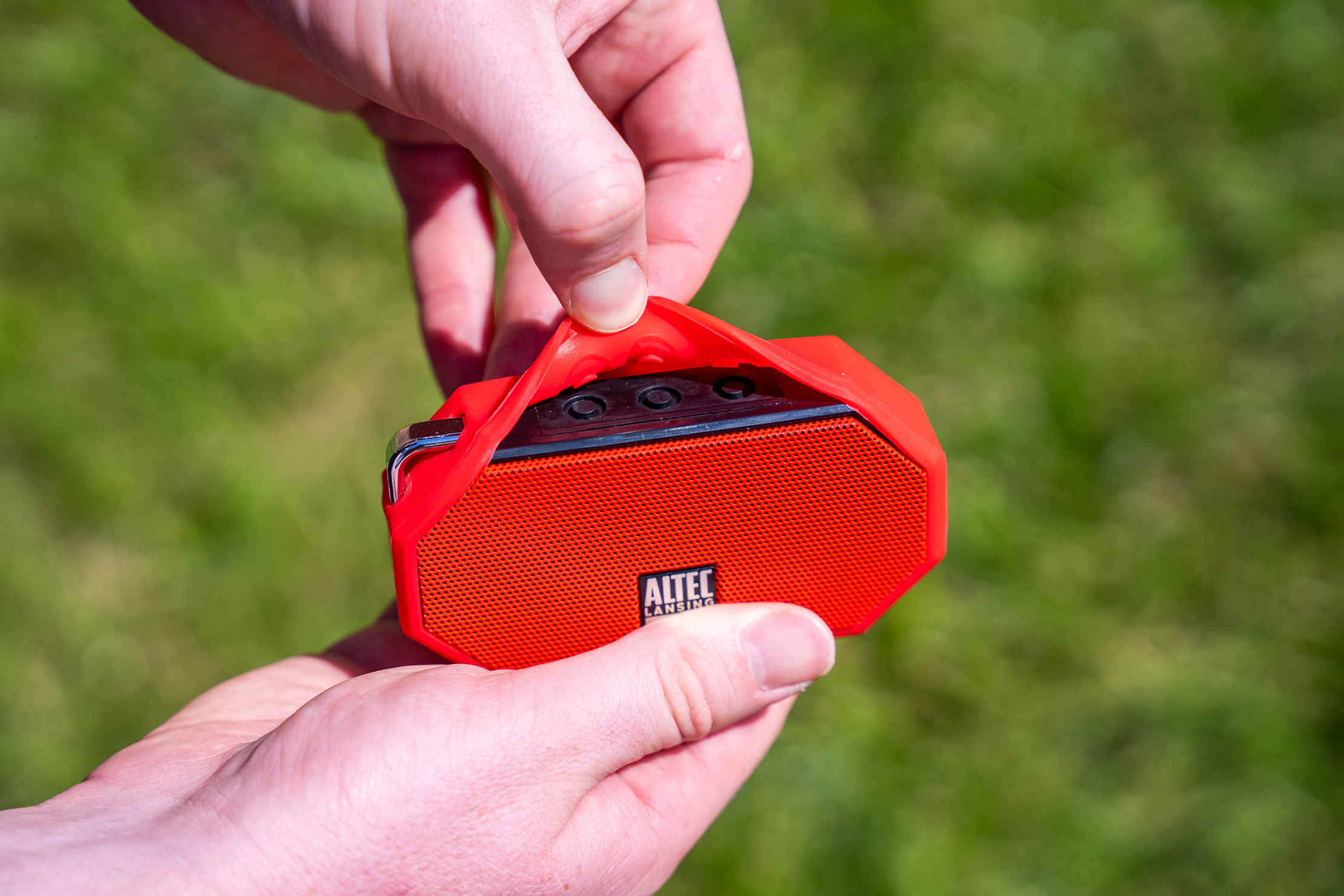 As we mentioned earlier, you can answer calls on the speaker, but it doesn't have a built-in microphone. If you've typically got your phone handy, this isn't a huge deal, but if you bury your phone in your travel backpack or leave it in another room, you might have to shuffle around to answer a call using the speaker.
Packability
As far as packability goes, this thing is tiny. It measures 4.25 x 2.33 x 1 inch (10.8 x 5.9 x 2.5 cm), which fits inside even a small pants pocket. It resembles a metal mint case but with more vibrant colors.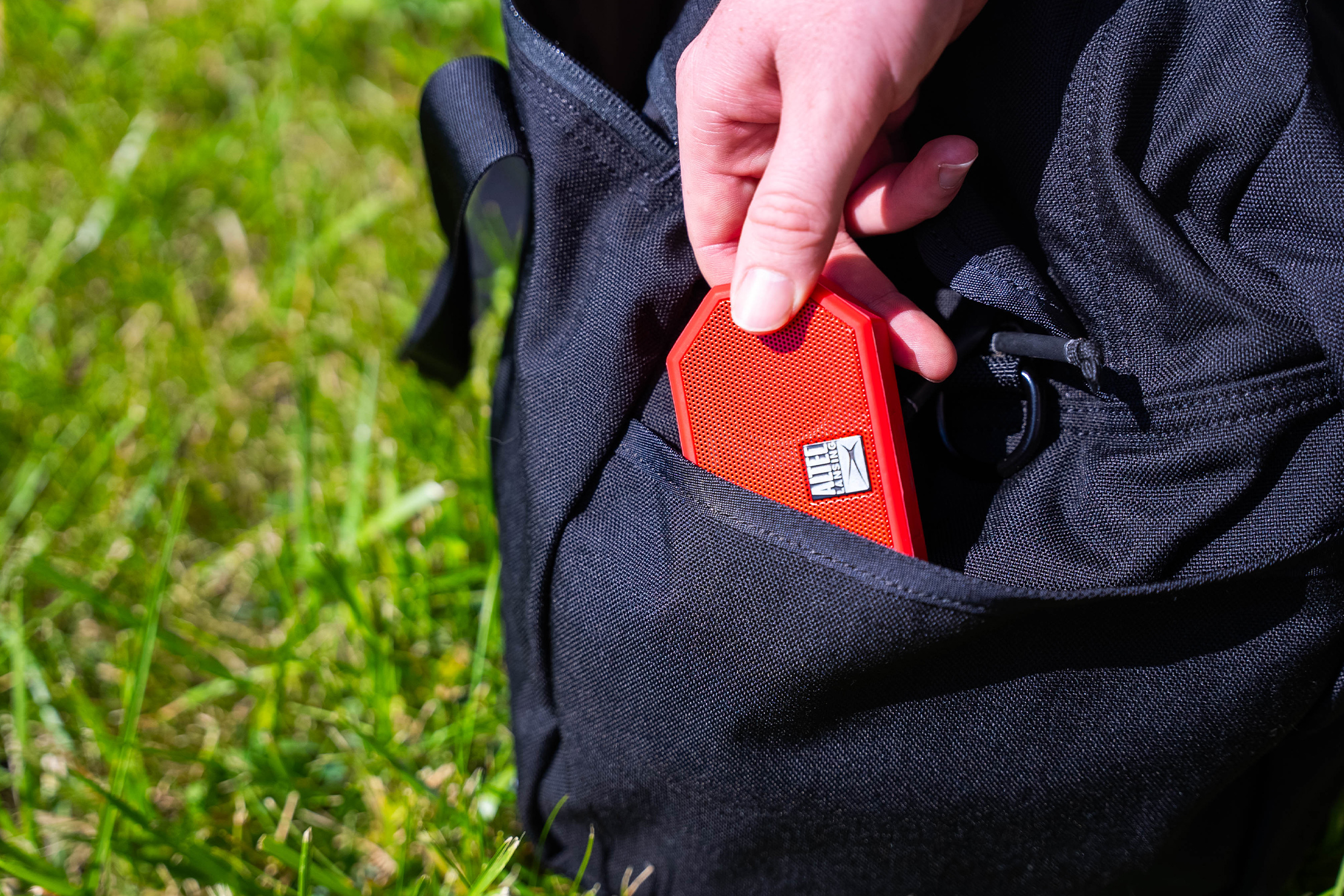 Because of its small size, you can fit this thing anywhere: inside your pocket, in a mini-sling, or a liner pocket inside your pack.
If you don't want to stow it somewhere, the eye we mentioned earlier makes it easy to attach to the outside of your bag.
If that isn't your style, either, the silicone ensures it doesn't slide around too much when you sit it on its backside. While it isn't foolproof, especially in wet environments, we haven't had any issues with it sliding around too much.
This is probably a good time to note that just because you can take it anywhere doesn't mean you should. If you're going on a hike, walking through a quiet neighborhood, or are in the airport, you probably shouldn't blast your music or a podcast. Everyone has different thoughts about listening to music out loud in public places, so you should respect that. We aren't saying you can't listen to music outside—we're just saying to do it respectfully!
Quick Comparison
Another favorite small speaker is the JBL CLIP 4. Although they're somewhat similar in size, we've got some differences.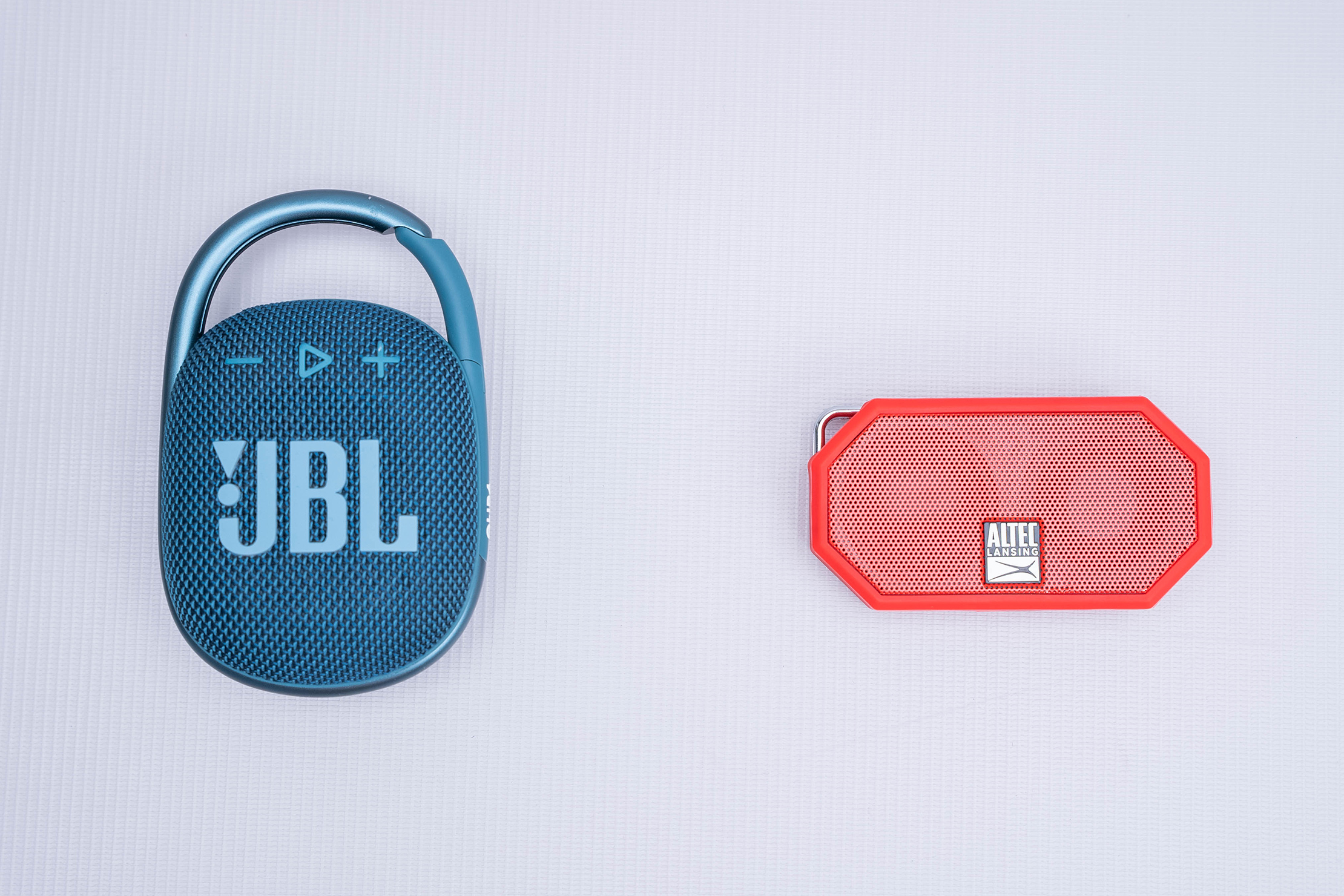 Before we dive in, it's worth noting that the same person got both of these companies off the ground. James Bullough Lansing helped found the company that would become Altec Lansing and later founded James B. Lansing Sound, Incorporated, which would later become JBL. How fun is that?
Odd historical tidbits aside, the JBL comes in at 3.4 in x 5.3 in x 1.8 in (8.6 x 13.5 x 4.6 cm), or roughly 32 cubic inches in volume. The Altec Lansing speaker is 4.25 in x 2.33 in x 1 in (10.8 x 5.9 x 2.5 cm), or roughly 10 cubic inches. Looking at the speakers side by side, that might seem shocking; however, this includes the clip area of the JBL, which makes it take up a lot more space than the Altec Lansing. We'll be the first to admit that volume calculation for the JBL speaker wouldn't hold up in a scientific lab, but you probably get the point; the Altec Lansing model takes up less room in your pack. It weighs less, too, at 3.87 ounces (109.7 g) compared to the JBL's 8.48 ounces (240.404 g).
However, the JBL has the upper hand when it comes to sound quality. We'd categorize the class of the JBL as good-to-great, whereas the Altec Lansing comes in at average-to-good. The CLIP 4 has a built-in clip, which is incredibly handy. Attaching the Altec Lansing speaker to things is easy but less integrated.
The JBL CLIP 4 can't answer calls or play call audio over the speaker, whereas the Altec Lansing does. Neither have microphones, but the ability to play speakerphone loud on the Altec Lansing is quite lovely.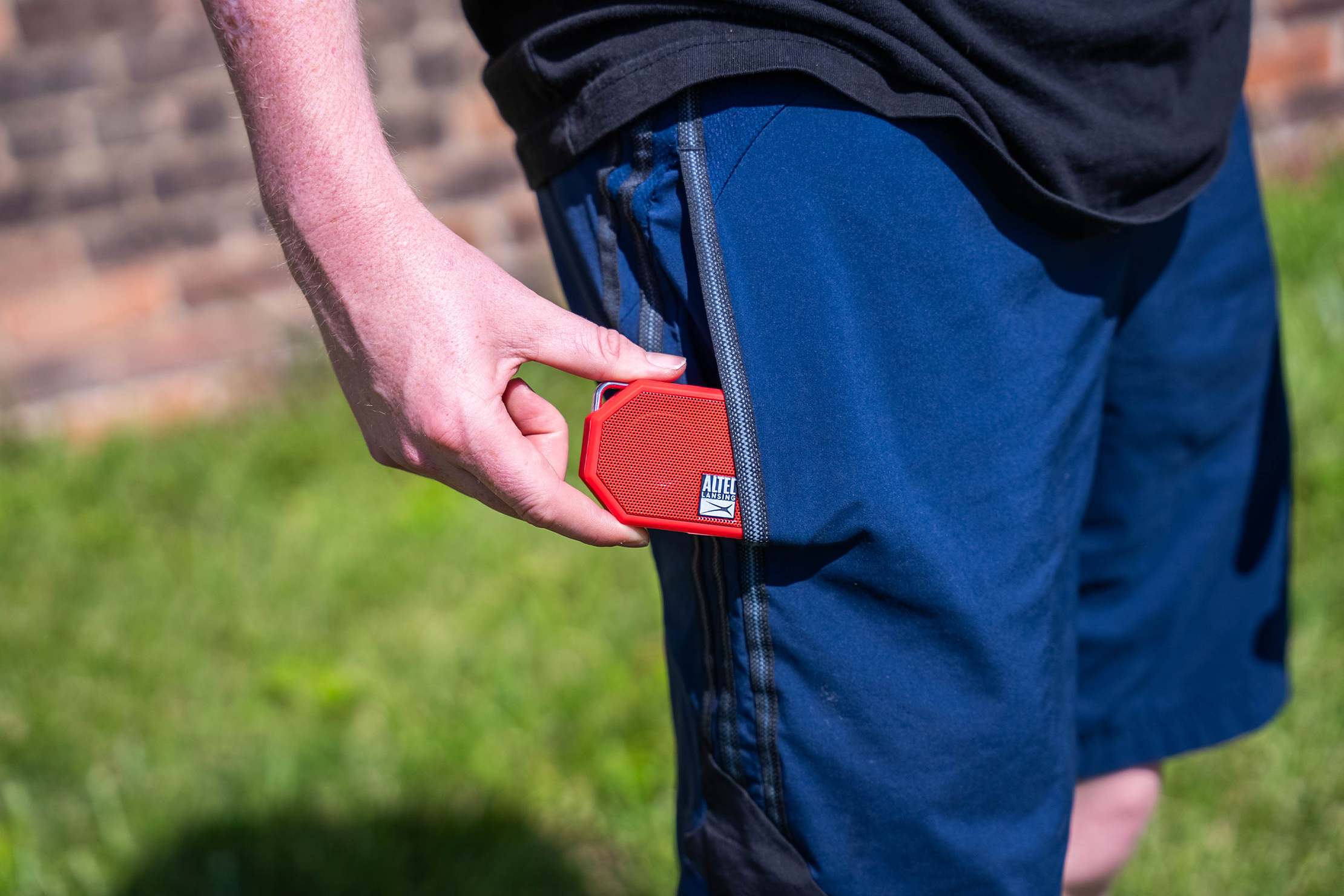 The JBL CLIP 4 utilizes a USB-C charging method, whereas the Altec Lansing model has that pesky Micro-USB. For most users, this won't be the end of the world; however, for travelers who have eliminated the older charging method from their tech pouch, this might not work for them.
Last but certainly not least, depending on the colorway, the Altec Lansing speaker can come in at a quarter of the price of the JBL CLIP 4. This might be the deciding factor for users who aren't obsessed with sound quality. Either way, you can't go wrong with these IP67 speakers! However, if we had to pick, we think the Altec Lansing speaker's lightweight, compact design is hard to beat.
Usage Timeline
Initial Usage
Condition: Excellent
Colorway options are fun and easy to distinguish
IP67 rating should be enough for most trips
We're curious about it's durability, considering it's mostly made of plastic
2 Weeks of Use
Condition: Excellent
Materials have held up well
Sound quality can be affected by how you're carrying it
The ability to remove the silicone case is essential for keeping the speaker clean
Access the Pro Community Discussion
Get your questions about the Altec Lansing Mini H2O Waterproof Bluetooth Speaker answered from our team and the Pro Community right here on the page. Plus, join discussions with other members about gear, guides, and more.
Other Productivity & Tech Reviews