JBL CLIP 4 Review
The CLIP 4 from JBL offers punchy and robust sound in a small package, though a few minor issues with gaps in sound leave us wanting more.
Our Verdict
Unlock the Pro Summary
Save time. Get access to brief summaries of our reviews so you can browse and make decisions more efficiently.
Pros
Durable materials, both in drops and inclement weather
Sound quality is crisp and punchy
Design and color options offer a light, fun feel
Cons
Sound pauses for a moment when it reaches full volume
Sensitive buttons are easy to hit accidentally
Doesn't easily clip onto larger items
Recent Pack Hacker Video
Technical Details
Weight (lb)

0.53 lb (0.2 kg)

Dimensions

3.4 in x 5.3 in x 1.8 in (8.6 x 13.5 x 4.6 cm)

Notable Materials

Plastic

Manufacturing Country

Vietnam

Warranty Information
Full Review
JBL's fourth iteration of their CLIP series of speakers has a pretty dramatic change in design, leaning more into integrating the clip as a part of the speaker instead of as a separate entity forcing its way into the picture.
We like the look but are curious to see how this new design works, especially regarding travel. It can be hard for a music lover to justify bringing along a Bluetooth speaker on a trip, but it might be worth it when it's as portable as the CLIP 4. Let's dive in and find out!
Materials & Aesthetic
Kicking things off, we'll start with a basic description of the design JBL has employed on this Bluetooth speaker. The speaker section is a pill-shaped oval with a larger oval ring running around its outside.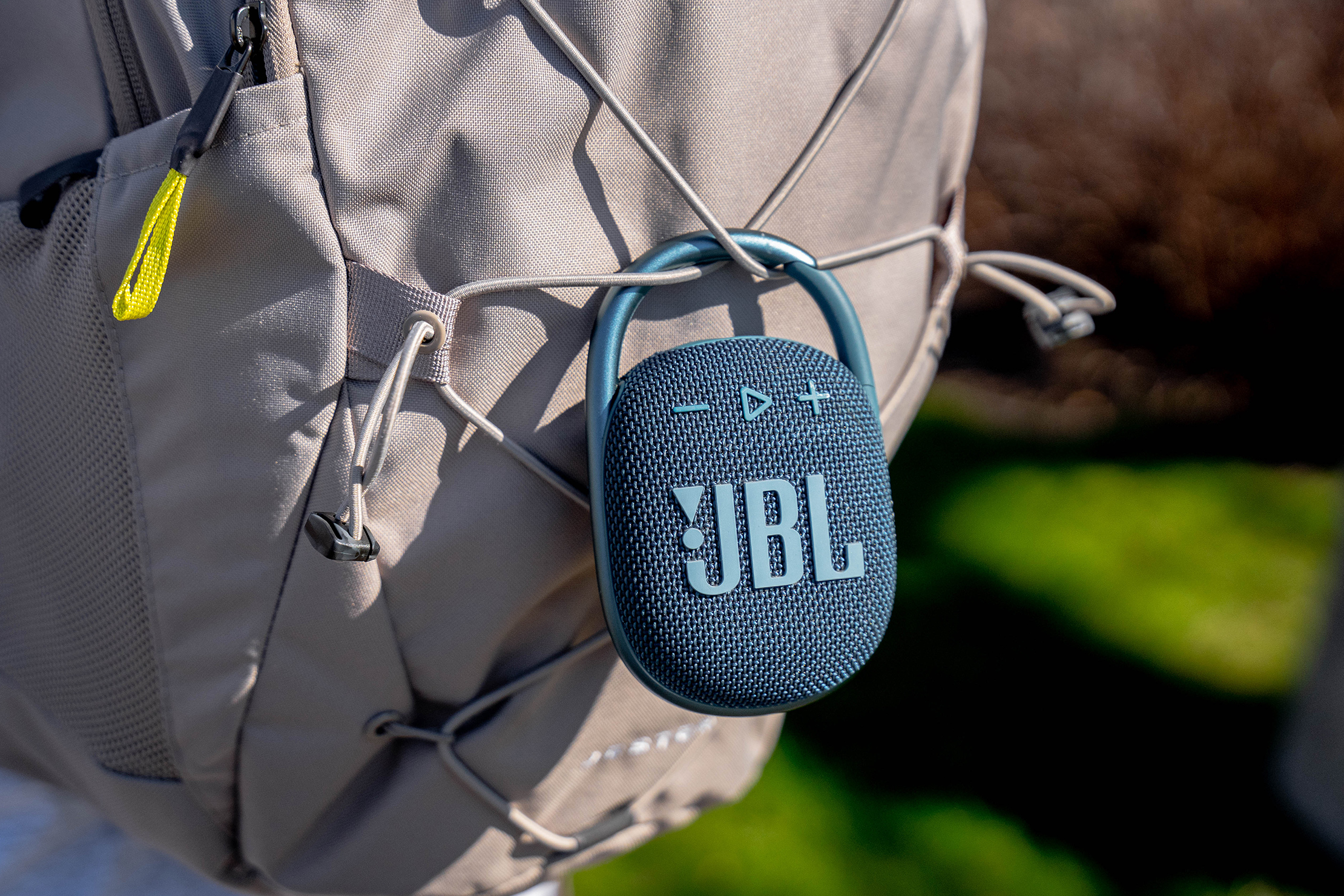 The oval ring is crafted from two different materials. The first is a hard plastic that looks and feels like metal. This material makes up most of the circumference and is quite durable. We put this thing through the wringer over our two-week testing period: dropping it, throwing it (on accident, we promise), and dragging it along rough surfaces like concrete and asphalt. There are a few knicks and dings on the hard plastic material we described, but other than that, there aren't any issues to note.
The other section of the ring is a softer plastic and makes up part of the clip, which moves and connects to the harder section of the ring. It doesn't feel as durable but doesn't have as many knicks as the hard plastic. There's less of it on this speaker, so that might be why, but it looks great for what it's been through either way.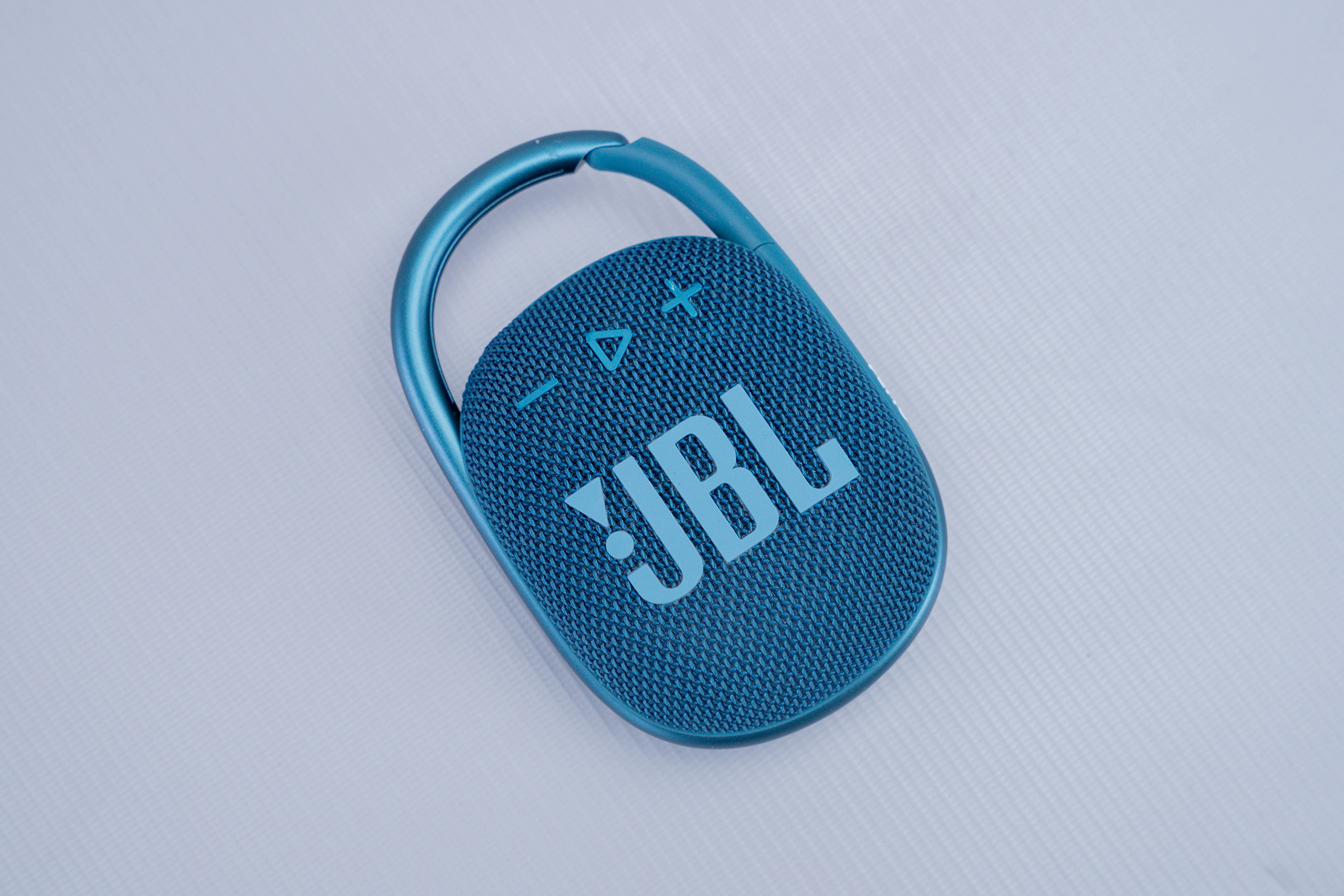 The clip on the JBL CLIP 4 is integrated much better than the two previous iterations. It's much wider and feels like it was considered during the speaker's design, not tossed on like an afterthought. The movable part of the clip does wiggle a little, but we've had no issues with it coming unclipped. It's easy to attach to various loops and hooks on a daypack, messenger bag, or sling. Some minimalistic bags make it difficult to find a loop to hook the speaker to, which can force you to hang it in a way that pushes the sound into the fabric of the bag instead of out into the world. If you bring another carabiner, like the Nite Ize S-Biner, you can adjust which way the speaker is facing.
The main material on this speaker is the weave on the speaker's surface. We aren't certain what this weave is crafted from, but it feels strong and hasn't frayed anywhere at the time of this review. It's incredibly tight—so tight that it seems like it should affect sound quality, but doesn't. There's no muffling or softness to the sound produced by the speaker, which we love to see (and hear).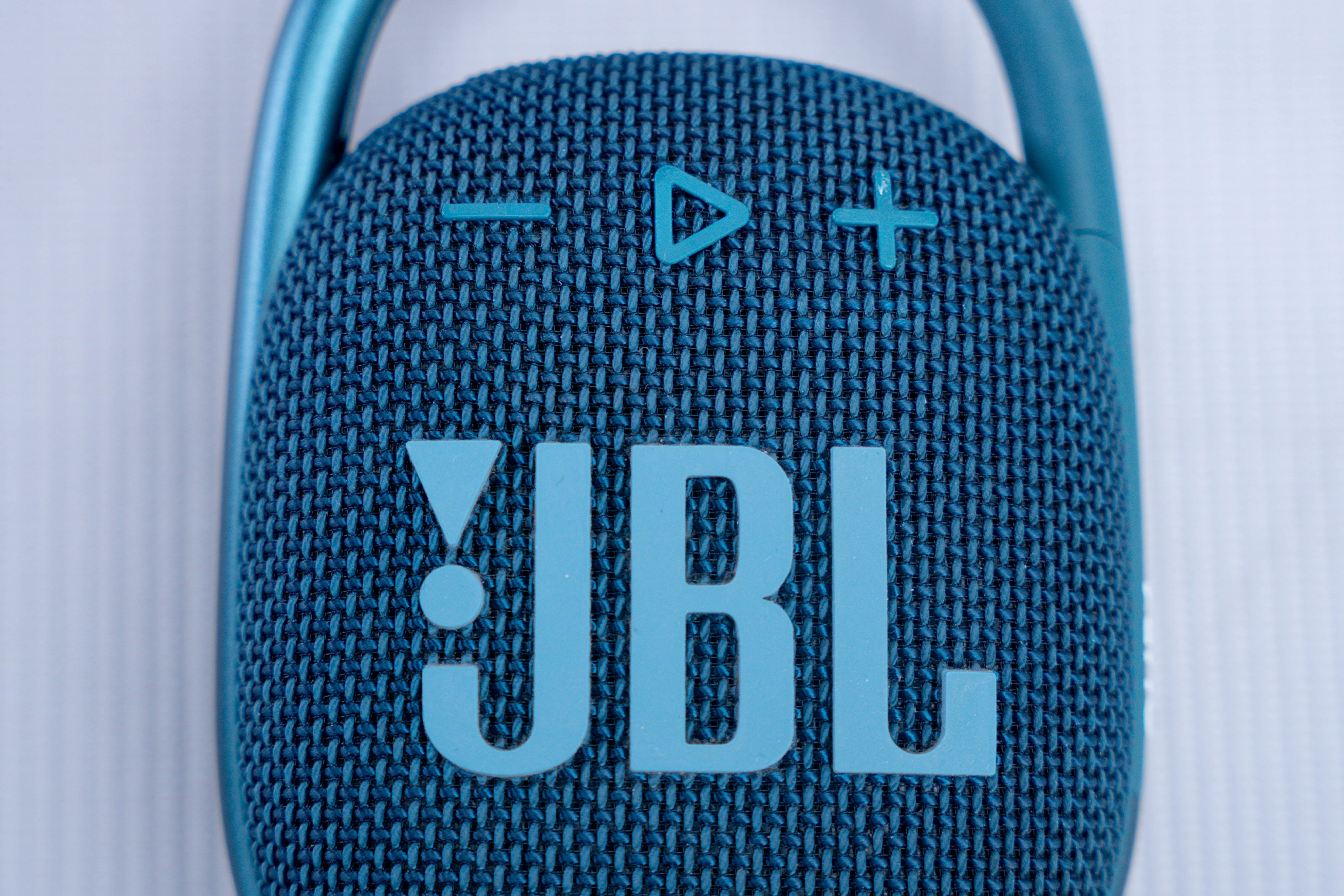 The speaker has an IP67 rating, which means it's dust-tight and rated for water immersion up to one meter. As far as the dust rating goes, we used the speaker on the ground a fair amount and never had any issues with mud or dirt getting inside. The few times it did get mud or dirt on the exterior, we were able to wipe it away with a wet cloth.
In terms of submergability, we didn't dunk the speaker into the water. We did throw it out into the elements, and it came out on the other side without issue. Michigan weather in the spring is unpredictable, so this speaker was able to experience rain, sleet, snow, ice, and sunshine all within about a week. The speaker was completely drenched a few times, and at no point did we notice this affecting the speaker, the sound quality it emits, or its battery.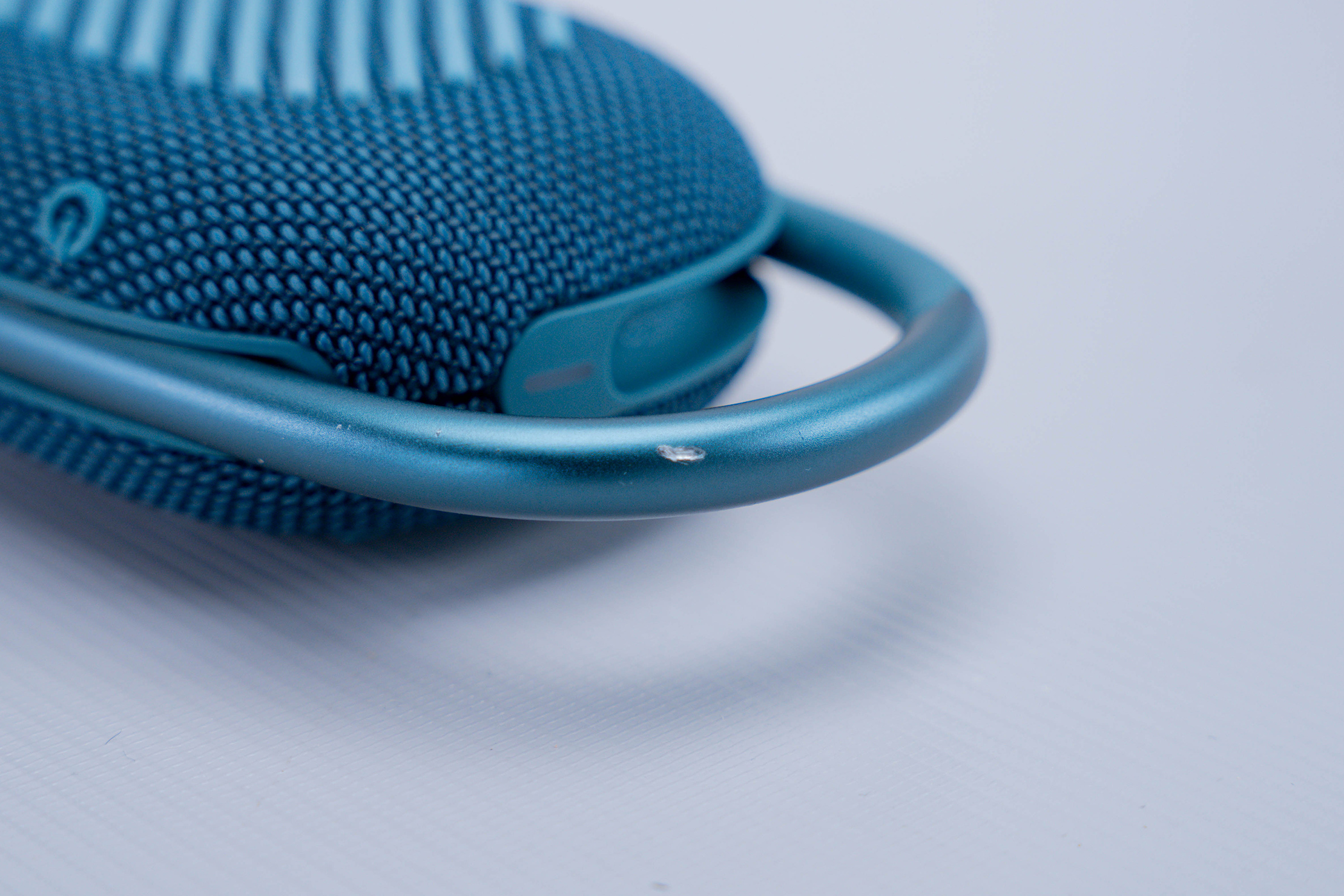 As far as colors go, there are quite a few options for the JBL CLIP 4. At the time of writing, we found Red, Blue, Pink, Black, Camo, and White options. We've seen others in the past and a few that are currently out of stock, so odds are, there are probably some different options by the time you're reading this. Some of the colorways are two-toned, and some are all one color. The one-color models are still somewhat two-toned due to the different materials used in the speaker's construction but still look nice.
The JBL logo is on the front and side of the speaker, both of which are pretty basic. The front logo is rather large but matches the speaker's color well. It's crafted from a similar material to the other buttons, a soft rubbery plastic. It feels pleasant to the touch and is paralleled on the backside with a design of straight lines. This is so that the speaker can grab onto whatever surface you set it on, and creates a gap between the back and of the speaker and that surface. The material grips onto most surfaces quite well and is fun to touch with your fingers.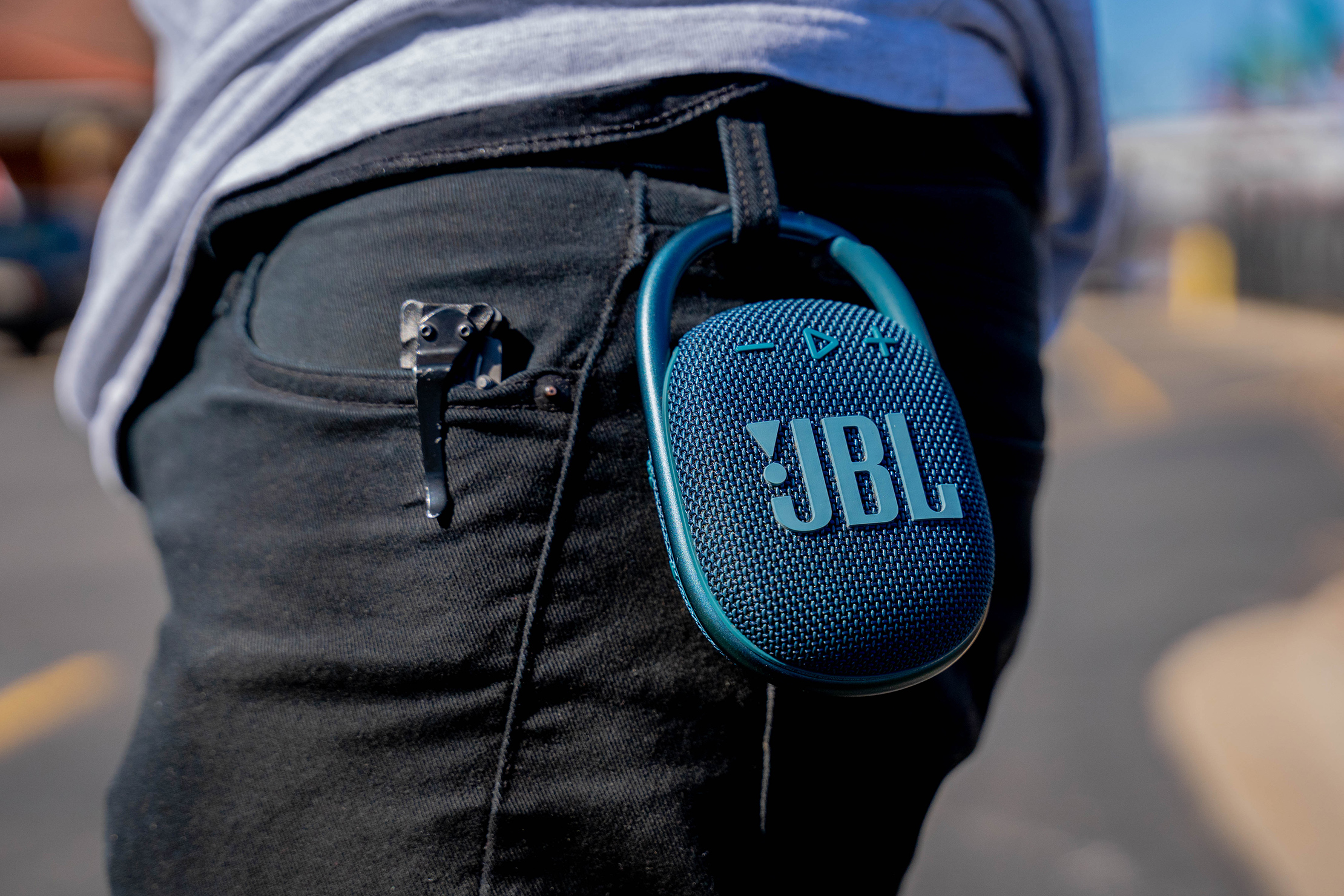 The second logo on the speaker's side is small, white, and says 'Clip4.' It stands out more than anything else on the speaker but still has a fun and quality look.
The technical details are hidden nicely on the top and bottom of the speaker. The warning and instruction symbols required by law are on the back left side of the clip, but they're imprinted, so they are hard to see. We're happy that they were integrated this way so that they don't take away from the overall look of the speaker. The brand, product, and serial information are printed across the bottom of the speaker but are quite small and in a color that is exceptionally close to the primary speaker material. Like the warning and instruction symbols, we're happy that they're there, but it's nice that they don't take away from how fun this speaker looks.

The buttons are similar to the JBL logo we spoke about earlier, just smaller and harder. The play and volume buttons are on the front just above the logo, and the power and pairing buttons are on the speaker's backside. We'll go into each of these individually in a moment, but overall they're easy to use and feel nice to touch.
Usage & Features
To turn on the speaker, hold the power button on the backside. Once on, it makes a little guitar noise. If your phone has paired with the device before, it will automatically connect and make another, higher-pitched guitar noise. If not, it should appear in the 'other devices' list in your BlueTooth settings.
The power button is easy to hit accidentally, and a few times in use, we accidentally turned it off while it was attached to a daypack or sitting in a water bottle pocket.
The play button and volume buttons suffer from a similar issue. Due to their location, it isn't as easy to accidentally hit them, but it did still happen. There isn't much worse than jamming out to your favorite song, and the music pauses accidentally. It's a total vibe killer! We're mostly joking, but it can be annoying when you're having a good time.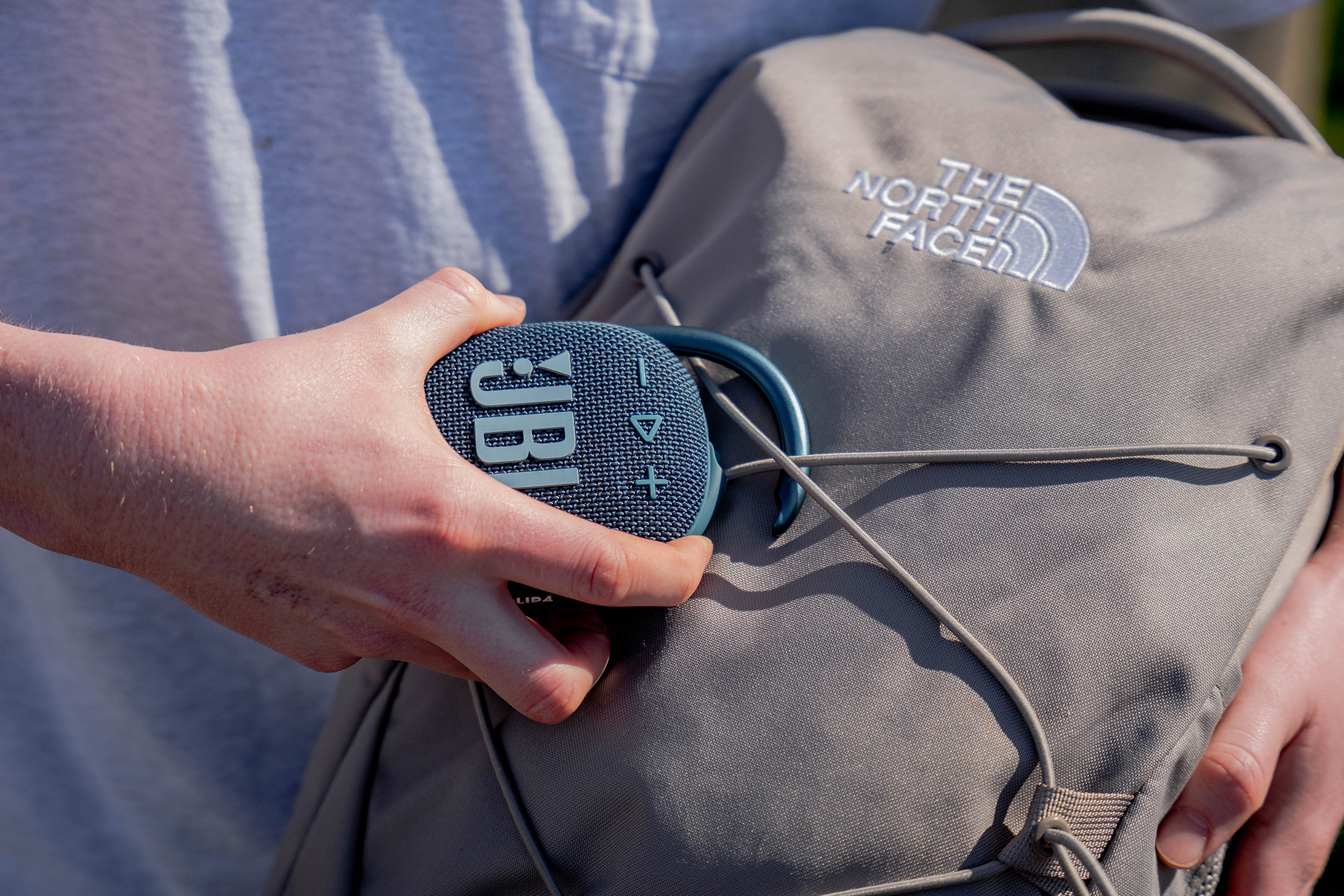 Speaking of jamming out to your favorite song, there's another little tidbit that can affect that. When you turn the speaker all the way up, either with the plus button or with your cell phone, it makes a little noise to let you know that you've reached the top of the volume. It also creates a short pause in the music or podcast you're listening to, which is a little jarring. We often thought it was accidentally turned off, then were surprised when the music returned a moment later. It's less than a second long, but it's noticeable and seems like a flaw.
Another issue that may ruffle some users' feathers is that you cannot use this device with speakerphone. If you make or receive a call while using the speaker, you have to find your phone and put it up to your ear like in the 1990s. You can't answer with the speaker, or use the speaker as an output device. The plus side is that there are no buttons to push to make your call private if you want it to be (as that's the default), but if you want to have a conversation with the whole family, you're out of luck.
The JBL CLIP 4 does pretty well for a speaker of this size when it comes to battery life. The listed battery time is ten hours, and we're able to get just under that with a full charge. We listen at max volume most of the time, so that could be the reason we don't hit the advertised 10 hours.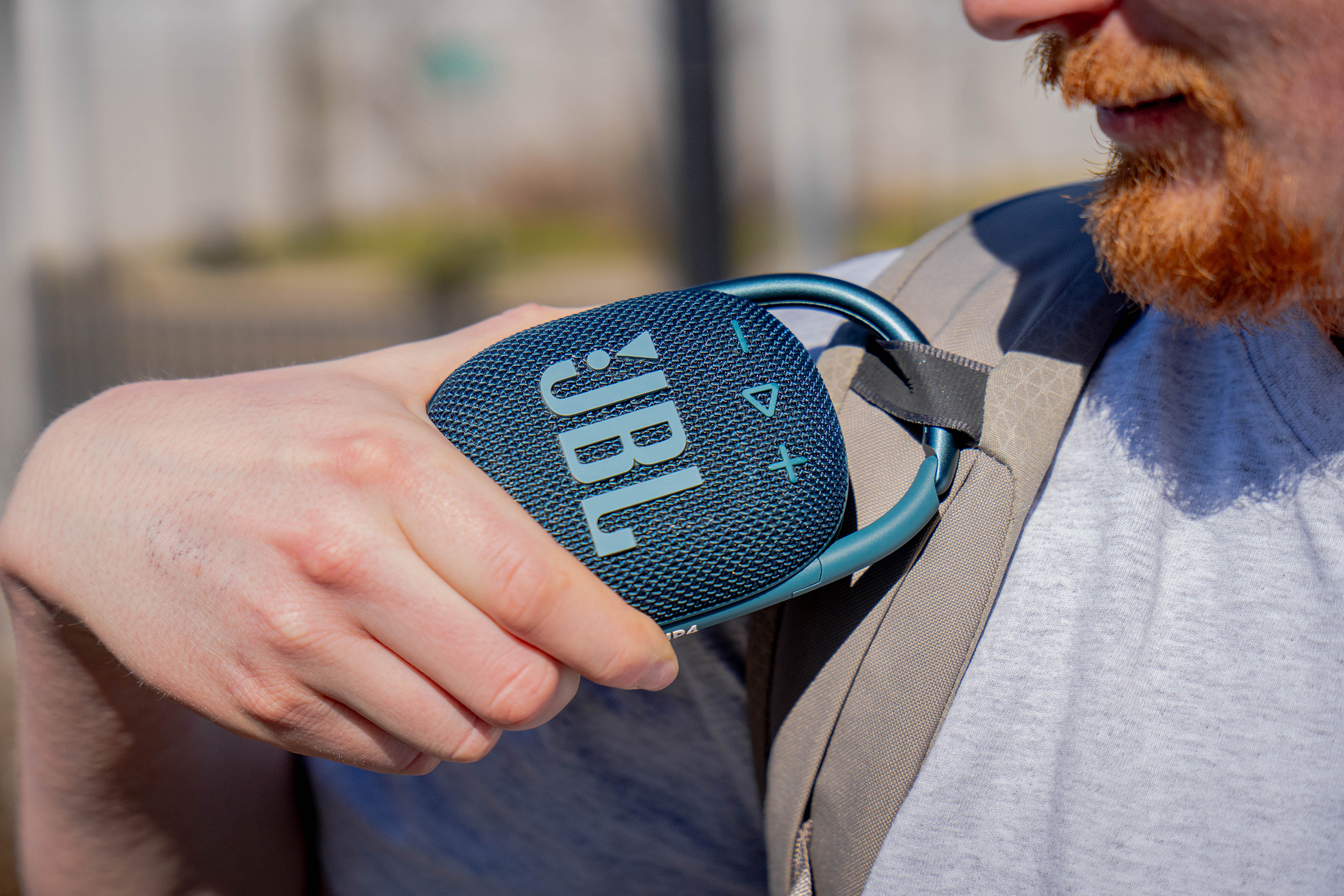 The charging time is listed at three hours on their website, and we found that to be true. This seems like a long time for a speaker that lasts under 10 hours on a full charge, but it's not the end of the world. It's super convenient that it charges with a USB-C cable because most of the time we have one nearby and don't needto bring a separate charger. If you don't have a USB-C device already, this might be an issue.
Overall, we enjoy using the JBL CLIP 4. It's inherently fun, from the colorway options to the clip and buttons. We wish that we could use it with speakerphone and that it didn't pause the music briefly when you turn it all the way up, but overall those issues don't affect usage a ton.
Usage Timeline
Initial Usage
Condition: Excellent
Charges via USB Type-C cable, which comes included
Outputs a decent amount of bass
Carabiner-style clip feels fairly rugged
2 Weeks of Use
Condition: Excellent
A few knicks from drops, but nothing that affects usage.
Clip is quick and locks effectively
No issues with sound quality or battery life
Access the Pro Community Discussion
Get your questions about the JBL CLIP 4 answered from our team and the Pro Community right here on the page. Plus, join discussions with other members about gear, guides, and more.
Other Productivity & Tech Reviews