ALPAKA Elements Tech Case Mini Review
ALPAKA's Elements Tech Case Mini still features the level of organization and sling mode that we liked from the regular version but in a smaller package.
Our Verdict
Unlock the Pro Summary
Save time. Get access to brief summaries of our reviews so you can browse and make decisions more efficiently.
Pros
Bright liner increases visibility for small and dark tech accessories
Can double as a day sling for added versatility
Good mix of space and organization
Cons
Pen can slip out of its loop easily, and obstructs pockets below
Zipper has trouble going around its relatively sharp corners
A little slim for bulkier tech
Recent Pack Hacker Video
Technical Details
Weight (oz)

7.05 oz (199.9 g)

Dimensions

9 in x 5.3 in x 2 in (22.9 x 13.5 x 5.1 cm)

Notable Materials

YKK Buckles, Ripstop Nylon, X-Pac

Manufacturing Country

China

Warranty Information
Full Review
Get up to 15% off ALPAKA • Join Pack Hacker Pro
In case you were eyeing ALPAKA's Elements Tech Case but thought it was too big for your needs, you may want to consider the Elements Tech Case Mini. Don't let the name fool you, though. Short of fitting a Nintendo Switch, the Elements Tech Case Mini has more than enough space for most tech accessories like memory cards, data cables, a smartphone, and a travel mouse, among other things.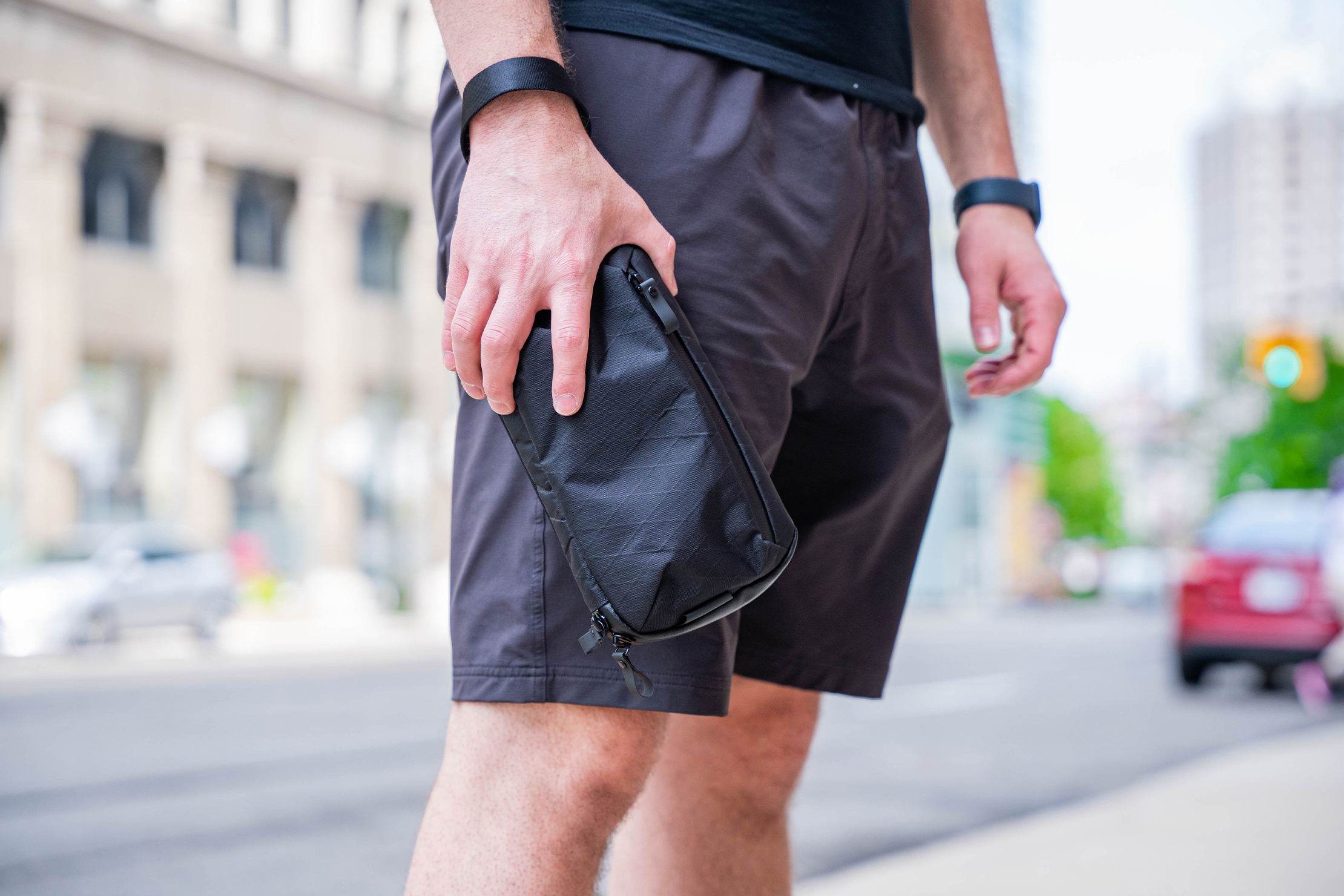 In fact, ALPAKA keeps the dual-purpose feature from the Elements Tech Case and includes a strap with the Mini, allowing it to perform as a sling, too. So if you think the regular Elements Tech Case is overkill but still want some that day sling action, stick around and see if the Elements Tech Case Mini lands in your Goldilocks zone.
External Components
Right off the bat, the Elements Tech Case Mini presents itself with a strong start with its durable and structured feel. This is thanks largely to the water-resistant X-Pac VX42 fabric of the sample we're testing, plus all the piping and interior partitions. It's not a hard case by any means, but it has more than enough structure to hold cables and dongles without deforming.

One of the first things we noticed on the Elements Tech Case Mini is the zippers. More specifically, the Hypalon zipper pulls. They're relatively short compared to the ones we see on the smaller Zip Pouch, though ALPAKA eventually used these shorter ones in later revisions. Anyhow, while shorter pulls work to complement the small Zip Pouch, we're not quite sure it has the same positive effect on the Elements Tech Case Mini.
The short pulls do get the job done on the Elements Tech Case Mini. However, we think that longer pulls would do wonders, especially when we're using it part-time as a sling. Visually speaking, the difference may be minor, but the better ergonomics speaks for itself since we sometimes slightly struggle to hunt for the pulls on the go.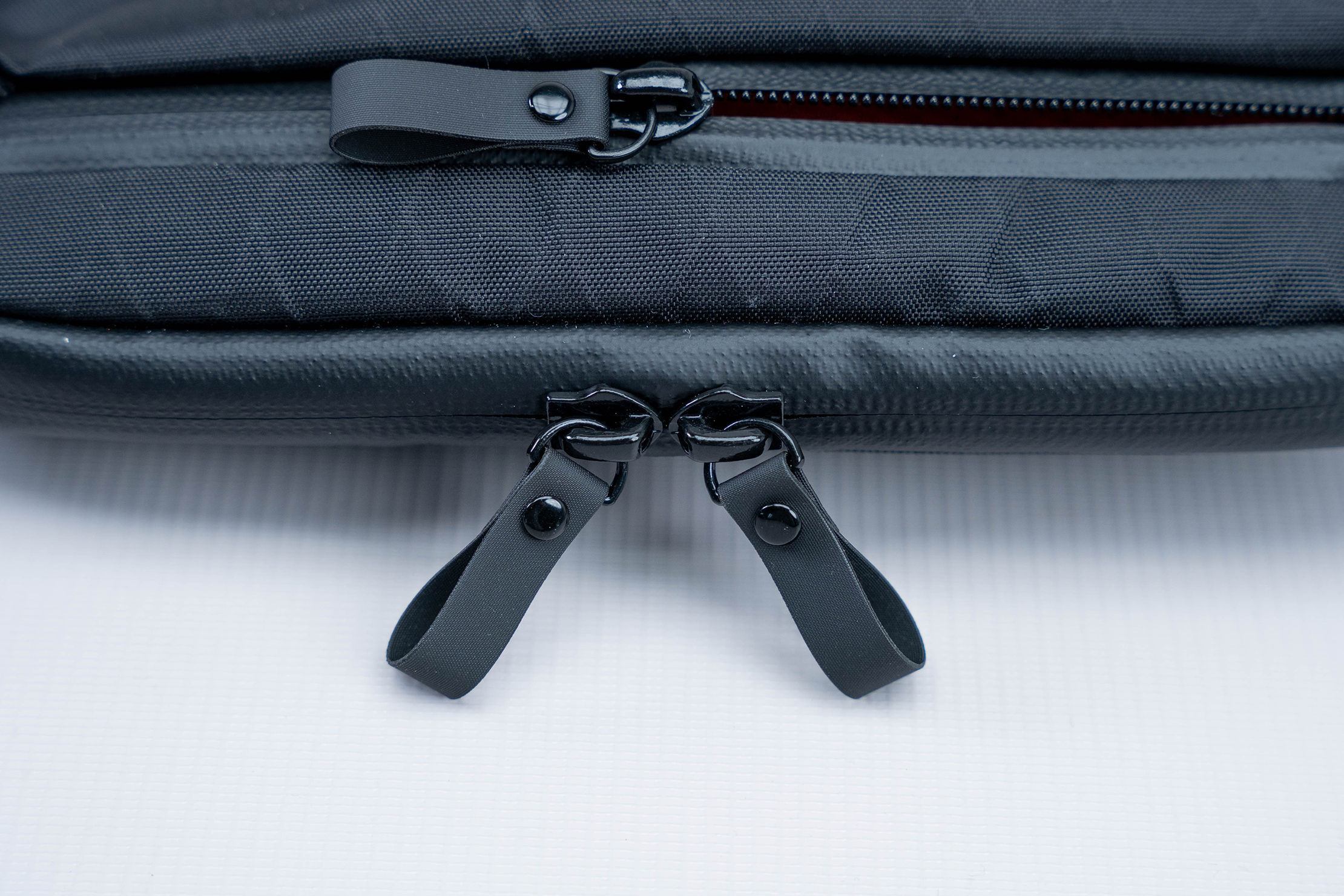 Something else to note about the zippers is that they do have some resistance to them. Not the weather-resistance courtesy of their AquaGuard-like design; we're talking about how they're sometimes tricky to unzip around the pouch's fairly sharp corners. This is the main reason why we wish the Elements Tech Case Mini had longer zipper pulls so that they're easier to reach and pull along.
Oh, did you get hung up on the whole "part-time sling" part? Yep, you can use this tech pouch as a sling, too. At the back is a long and flat handle for carrying it by hand. More important are the in-line loops flanking the handle where you can attach the included strap. The strap uses gatekeeper clips, which are tricky to disengage, so we recommend doing the prep before you set off. That said, even though the clips take some fiddling to get off, that also means they're quite secure by nature.

Of course, ALPAKA also sells other straps you can use with the Tech Case Mini. Fans of anything magnetic can fork out the extra dough for the Pro Strap that comes with a Fidlock V buckle. There's also a hand strap if you're more comfortable carrying the Tech Case Mini like a clutch. Take note that all these straps use gatekeeper clips, so if you're not a fan of those, you may want to look into third-party straps as well.
Fit Notes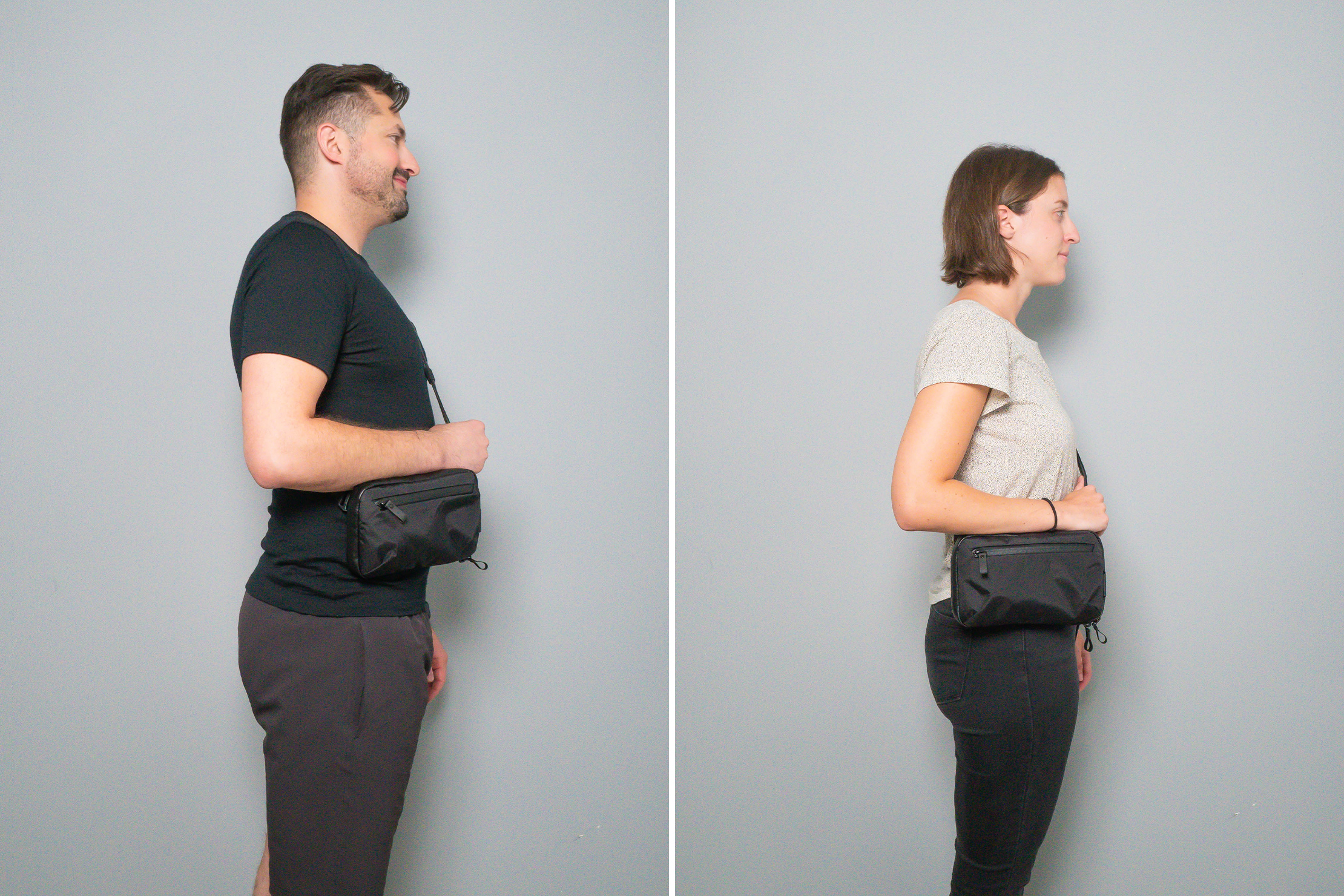 As mentioned, the Elements Tech Case Mini can also pull double-duty as a sling despite being a tech pouch first and foremost. The included strap, though thin, does a competent job managing the load, though it falls short of keeping it in place.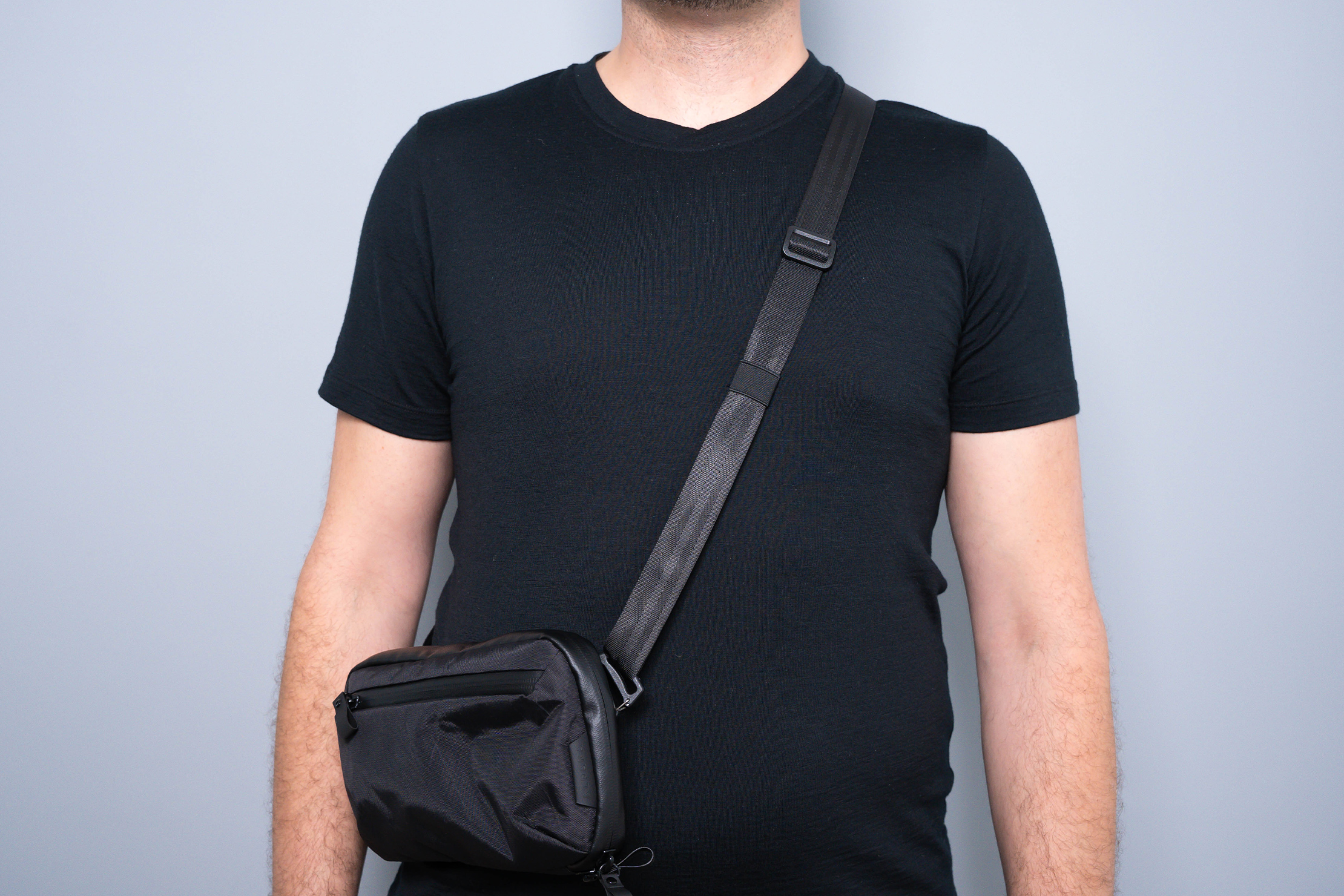 We typically prefer our slings close to the chest and tightly strapped. However, the Elements Tech Case Mini tends to slip down to the side. Consequently, we settle for a more relaxed carry where the strap is loose, and the pouch is in a more messenger-like position. This is all not to say that it's a bad or uncomfortable way to carry; it's just not our first choice.
Inside The Pouch
Before we get to the interior of the pouch, let's preface this section by discussing size. During testing, there's one note we keep having to remind ourselves: this is the Elements Tech Case Mini. Yeah, super obvious, right? Well, not really. The actual size of this pouch doesn't really scream "mini." When we think of a mini tech pouch, we think of something along the lines of Bellroy's Tech Kit Compact or even Moment's MTW Tech Organizer Mini. The latter is close to the Elements Tech Case Mini in dimensions, but its thinness and floppier structure make all the difference in terms of packability.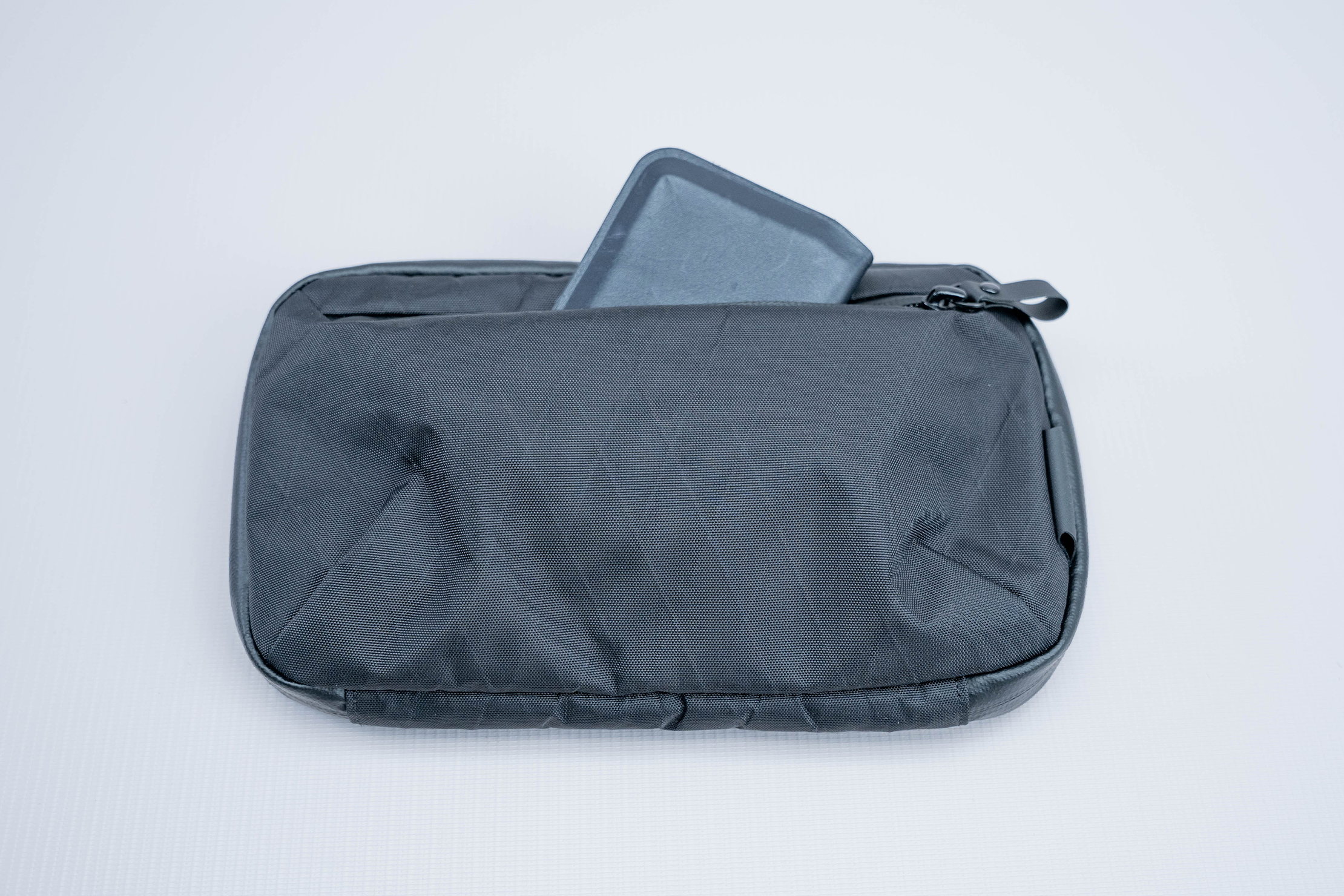 All of that said, we do get what ALPAKA means by the mini designation, chiefly that it's the smaller sibling of the regular Elements Tech Case. Tech items that are super bulky may have a hard time fitting inside. We noted on the Elements Tech case that it's tuned better for slim gadgets rather than rounded ones, such as boxy chargers. That logic applies here in the Mini as well, so keep that in mind.
A sign that this mini tech pouch is anything but minuscule can be seen in the front pocket. Whereas some bigger slings and pouches' front pockets struggle with space, the Elements Tech Case Mini's front pocket has notable independent volume. Sleek stitching at the front allows the pocket some expansion, though a packed-out main compartment can still jut it from the other side.

We're also keen to point out ALPAKA's use of a bright orange liner. ALPAKA officially calls it blood orange honeycomb because of its pattern. In any case, the extra visibility will pay dividends once you start filling the Elements Tech Case Mini with smaller and smaller gadgets. MicroSD cards will have a harder time hiding from you in this ocean of orange.
Now we've arrived at the main compartment. The zipper goes around the three sides of the pouch, teasing a fully clamshell opening. However, fabric gussets at the sides stop it from fully opening. No surprises there, to be honest, given that the regular Elements Tech Case features a similar gusseted design.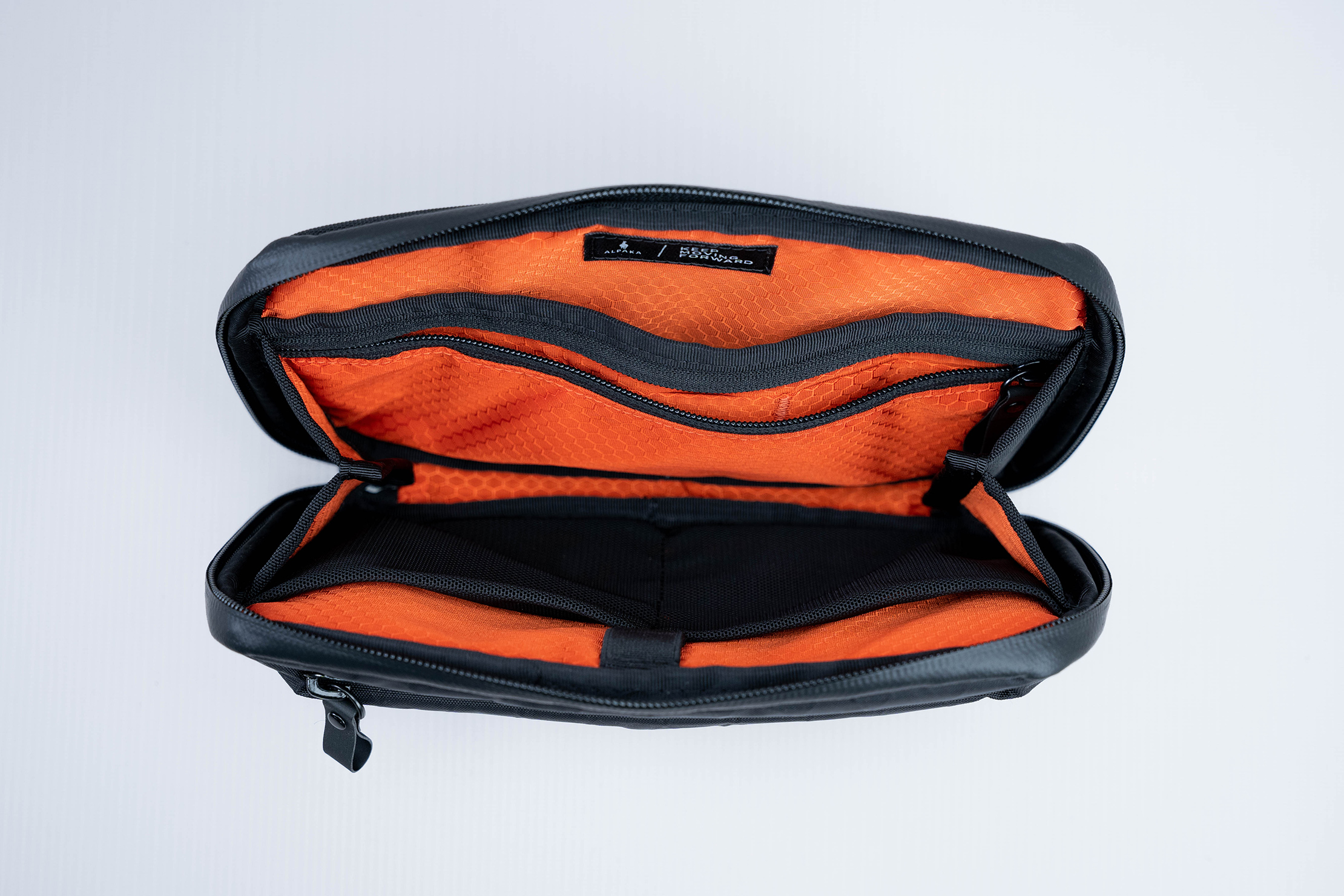 Take note that the gussets don't extend all the way to the base of the pouch. Instead, there are gaps where small accessories may squeeze their way through, so make sure to put those in the zippered areas of the main compartment.
You get more of that bright orange liner inside, along with a familiar accordion-style layout which we've seen on a lot of pouches, not only on ALPAKA's. Starting from the back, there's a divider pocket whose one side is lined with loop material (that's the soft half of a loop and hook fastener). On the divider itself is a zippered pocket that contains a row of three smaller pockets. These are for memory cards, smart trackers, or similarly small tech accessories in general.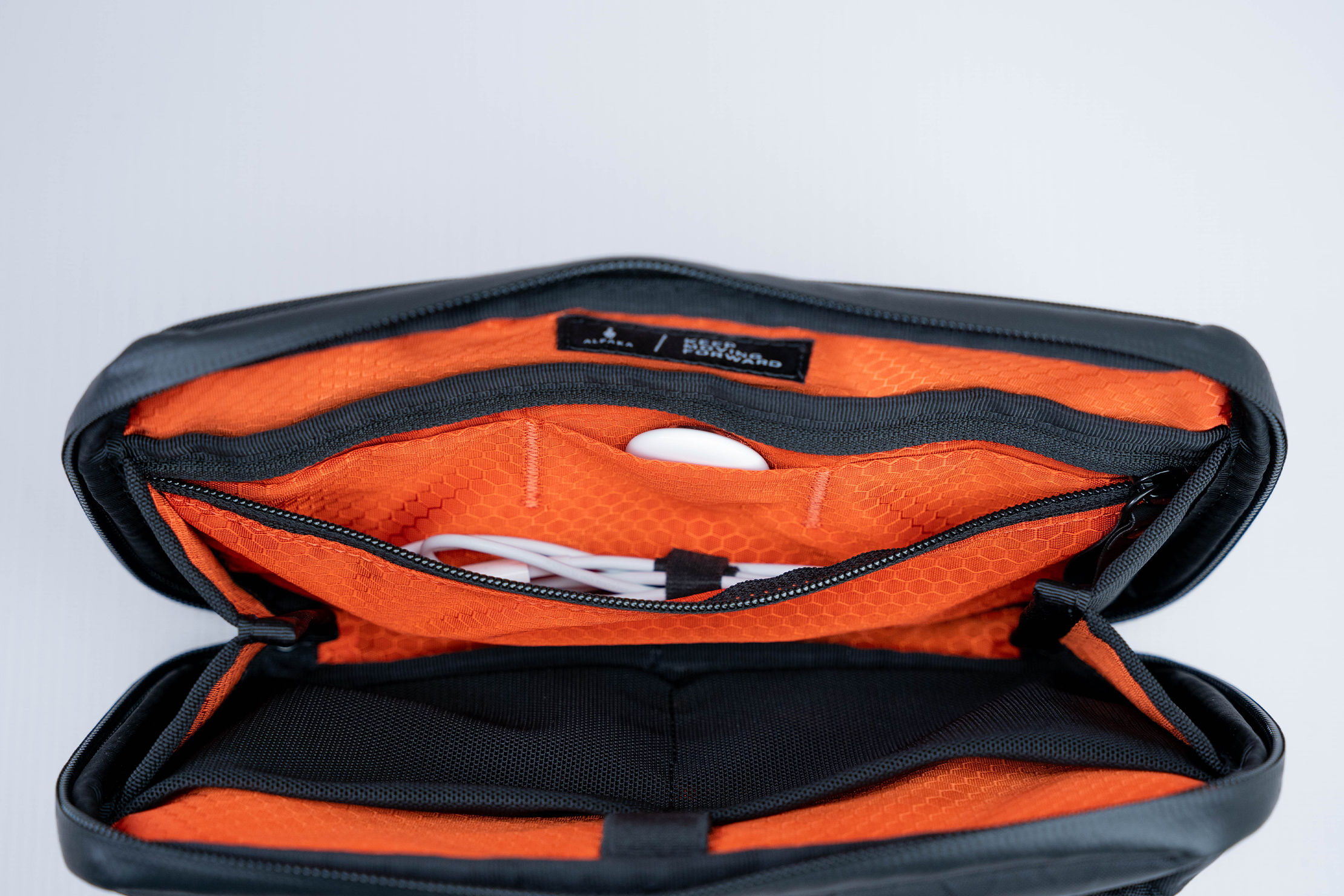 The middle is a totally open area where most of the bulkier gadgets reside. For context, an iPhone 13 Pro Max fits with room to spare, and so does a Kindle—further emphasizing that the Elements Tech Case Mini isn't starved of space in spite of its name. That said, Nintendo Switch owners will be saddened that their consoles can't fit inside.
The opposite side is occupied by two stretchy mesh pockets and a lone pen loop that's oriented horizontally. The mesh pockets don't have a ton of stretch, but they hold onto whatever gear we toss in them fairly well. We're less impressed with the pen loop, though. There's a tendency for our pen to shake loose, plus it can obstruct the mesh pockets situated below.

For us, there are really two ways to look at the Elements Tech Case Mini. It can either be a standalone tech pouch you can toss into your daypack, or it can be a sling filled with a mix of everyday carry items and not just tech. As a sling, it doesn't really excel against more specialized day slings since it clearly leans more into its tech pouch design. On the other hand, it's still a well-organized tech pouch, just not as spacious as the original Elements Tech Case. So if you are looking into the Elements Tech Case Mini, know that it's a good tech pouch that you can also use as a sling, but in a more compact size.
Usage Timeline
Initial Usage
Condition: Excellent
Dig the smaller zipper pulls on this compared to longer, more unwieldy ones with previous Alpaka products we've tested
Curious to see if the depth feels like it's enough
On first glance, it looks more travel-friendly than the original, larger Elements Tech Case
2 Weeks of Use
Condition: Excellent
Enjoyed using it as a tech case
Case is a little thin to fit everything we want inside
Orange liner is great for visibility
Zipper can get caught around corners, and pulls are a tad short for a pouch this large that also doubles as a sling
The case can slide around in sling mode—especially if worn on the chest
Access the Pro Community Discussion
Get your questions about the ALPAKA Elements Tech Case Mini answered from our team and the Pro Community right here on the page. Plus, join discussions with other members about gear, guides, and more.
Other Organizers & Pouches Reviews