Able Carry Daybreaker Review
The Able Carry Daybreaker features a simplified design for active use, but sacrifices in some areas like internal organization mean it's not for everyone.
Our Verdict
Unlock the Pro Summary
Save time. Get access to brief summaries of our reviews so you can browse and make decisions more efficiently.
Pros
Overall simple-yet-practical design
Uses lightweight materials
Hidden security pocket
Cons
Deep side pocket can be hard to access
Dark interior fabric reduces visibility
Minimal protection for laptops
Recent Pack Hacker Video
Technical Details
Capacity

25l

Weight (lb)

1.24 lb (0.6 kg)

Denier

210D

Dimensions

19.7 in x 10.2 in x 7.5 in (50 x 25.9 x 19.1 cm)

Notable Materials

CORDURA® Ripstop Nylon, Duraflex Hardware, YKK Zippers

Manufacturing Country

China

Laptop Compartment Size

15"

Warranty Information
Full Review
Get up to 10% off Able Carry • Join Pack Hacker Pro
Backpacks are some of the best workhorses around when it comes to lugging gear as an individual. Nothing quite matches the comfort of having two well-padded shoulder straps to balance a heavy load. This makes them a good and safe choice for almost any purpose relating to hauling things around.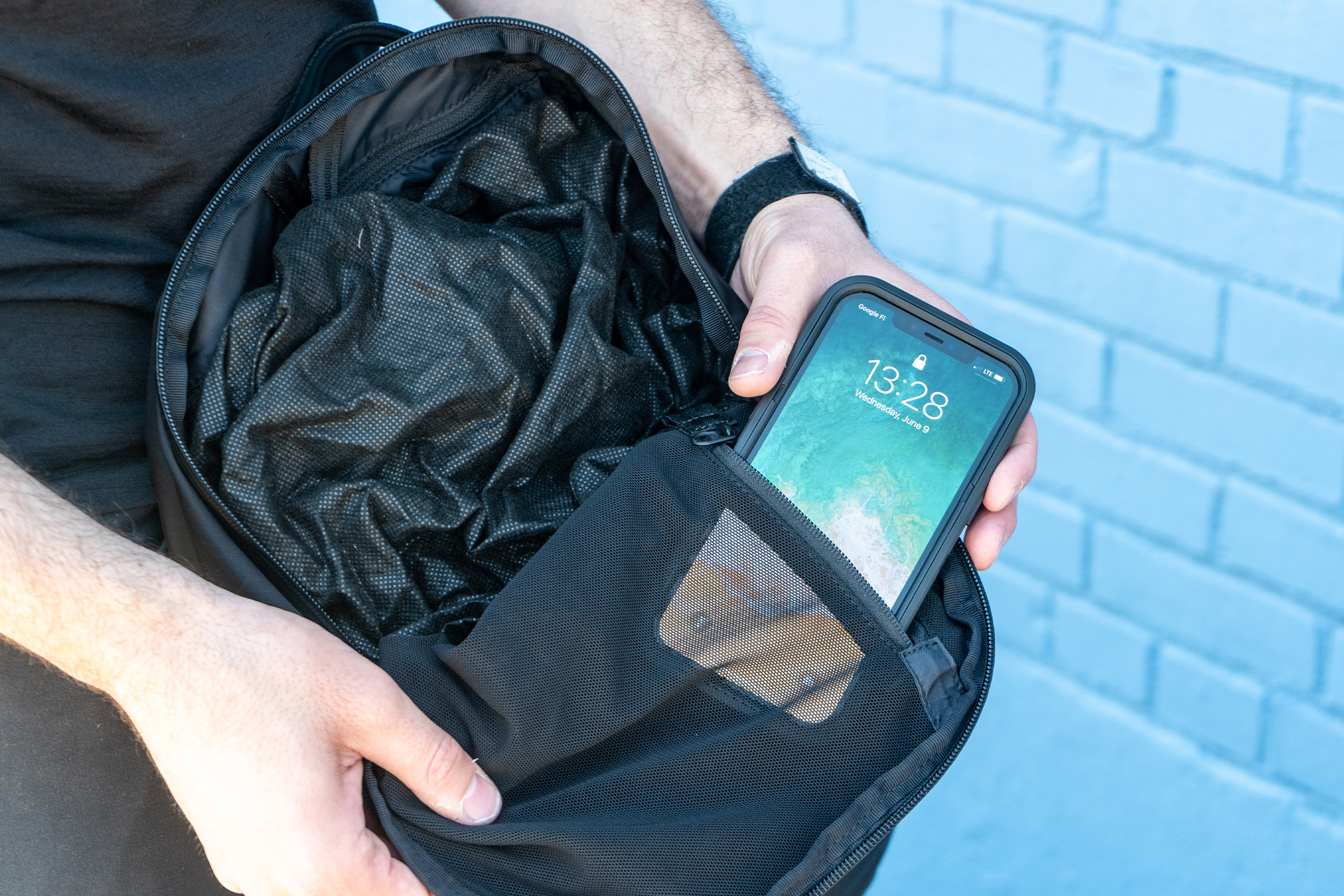 Of course, a little bit of specialization and focus can turn heads, and the backpack in this review certainly does just that. Able Carry's Daybreaker doesn't go to the extent that it breaks the mold, but it features some interesting design choices to fit their vision of an "activity pack." Weighing in at 560 grams (1.23 lbs), the Daybreaker keeps most things to a minimum, including its use of fabric, foam, straps, hardware, and more. We know that sounds like a lot, so let's take a look at how it all comes together.
Materials & Aesthetic
First impressions with the Daybreaker can leave you with one: It's a tall backpack. It's certainly not the tallest backpack we've come across, but its height to width ratio makes it seem tall. We've mentioned "tall" a bunch of times already in this paragraph alone, but you should probably get used to it now because you're going to hear it a lot more once we get to talking about the inside.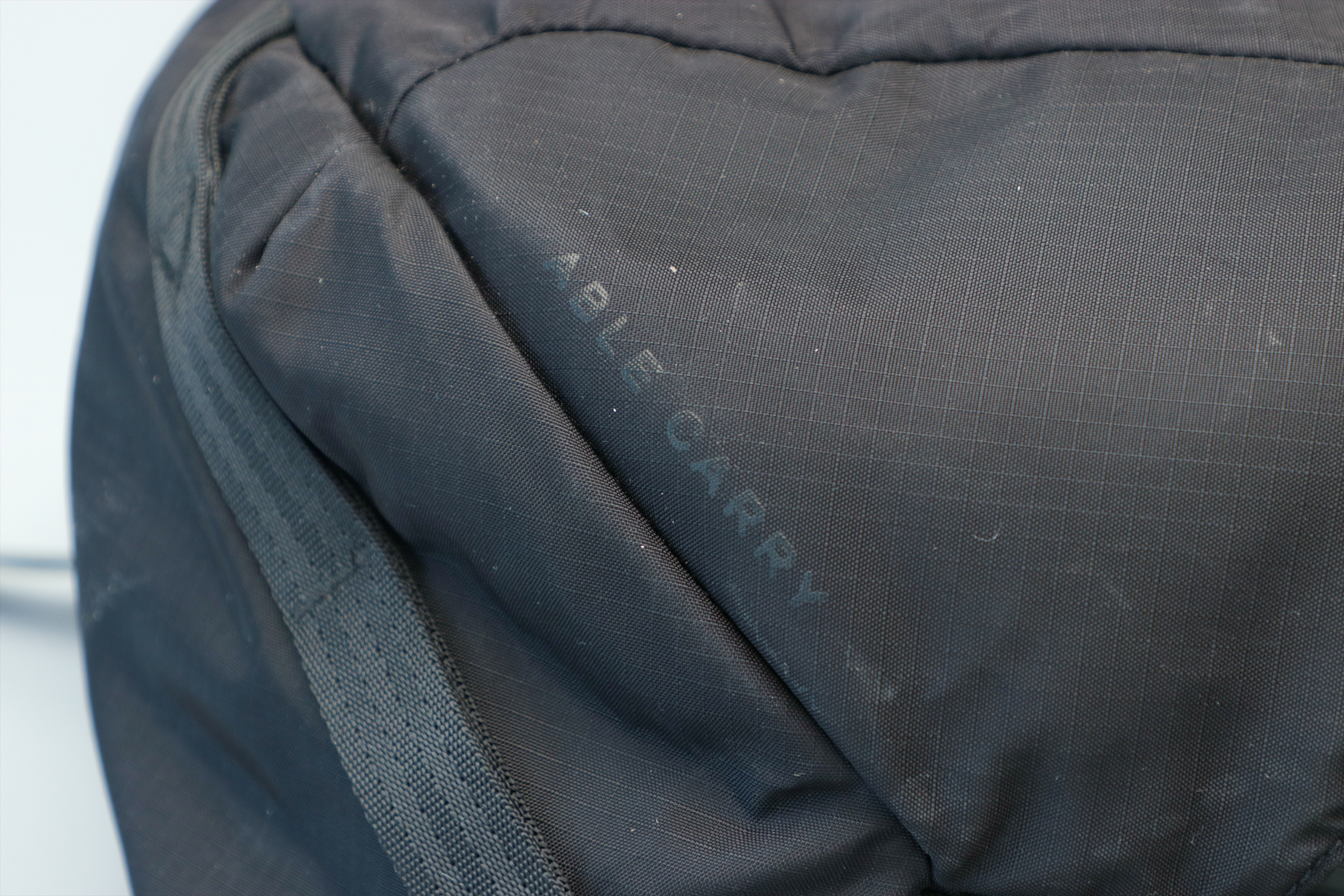 For now, let's talk about looks. In this black colorway, it's very stealthy and discreet—take a step back, and the top even looks like a hooded figure. It's relatively featureless apart from the odd lines, which are courtesy of the zippers and the natural wrinkles on the fabric. Those looking for something with flair will have to look elsewhere. With that in mind, there's a case to be made for the arguably more eye-catching Castlerock Grey colorway, but it exposes more of the fabric's wrinkly-ness. Speaking of the materials, the Castlerock Grey is made with X-Pac VX21 fabric, while the black model we have here has CORDURA Ripstop (both are available at the time of writing).
This choice of either X-Pac VX21 or CORDURA Ripstop makes the tall Daybreaker easier to carry, giving it an almost packable daypack vibe. Despite the lightweight nature, it'd be wrong to say that it's flimsy in any way. Okay, we did spot one loose thread near the end of the main compartment's zipper, but that hasn't affected durability too badly, and the rest of the Daybreaker's components are reliable. The YKK zippers slide nicely and keep splashes at bay, while the Duraflex hardware adjusts without issue.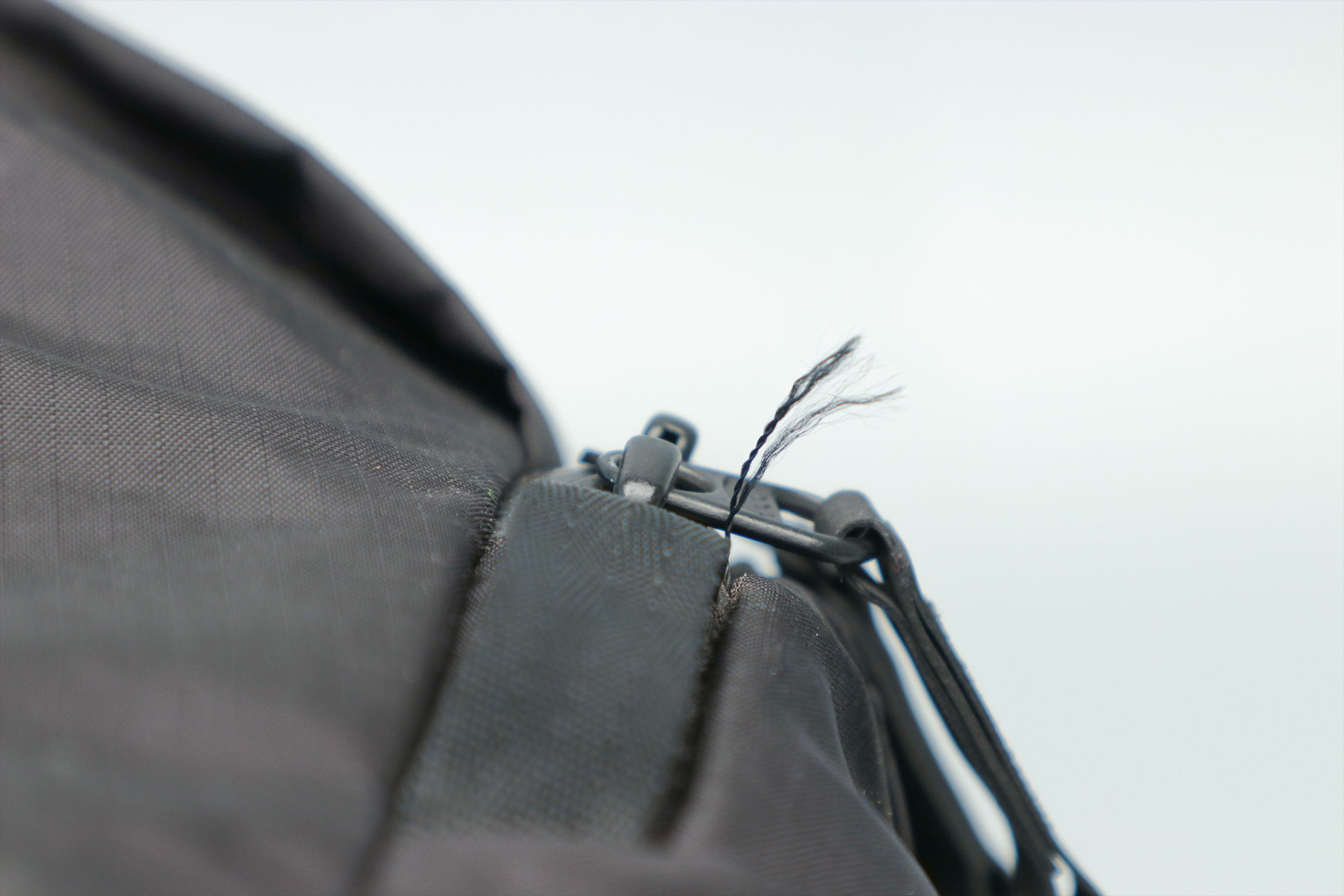 You may notice from the pictures that our sample here has some left-over mud stains. That's because we used the Daybreaker for our daily bike rides, where we kicked up some mud along the way. The YETI Crossroads 35L also underwent a similar treatment when we reviewed it. But unlike the Crossroads, the Daybreaker walks away with just a loose thread rather than a partly peeled logo.
External Components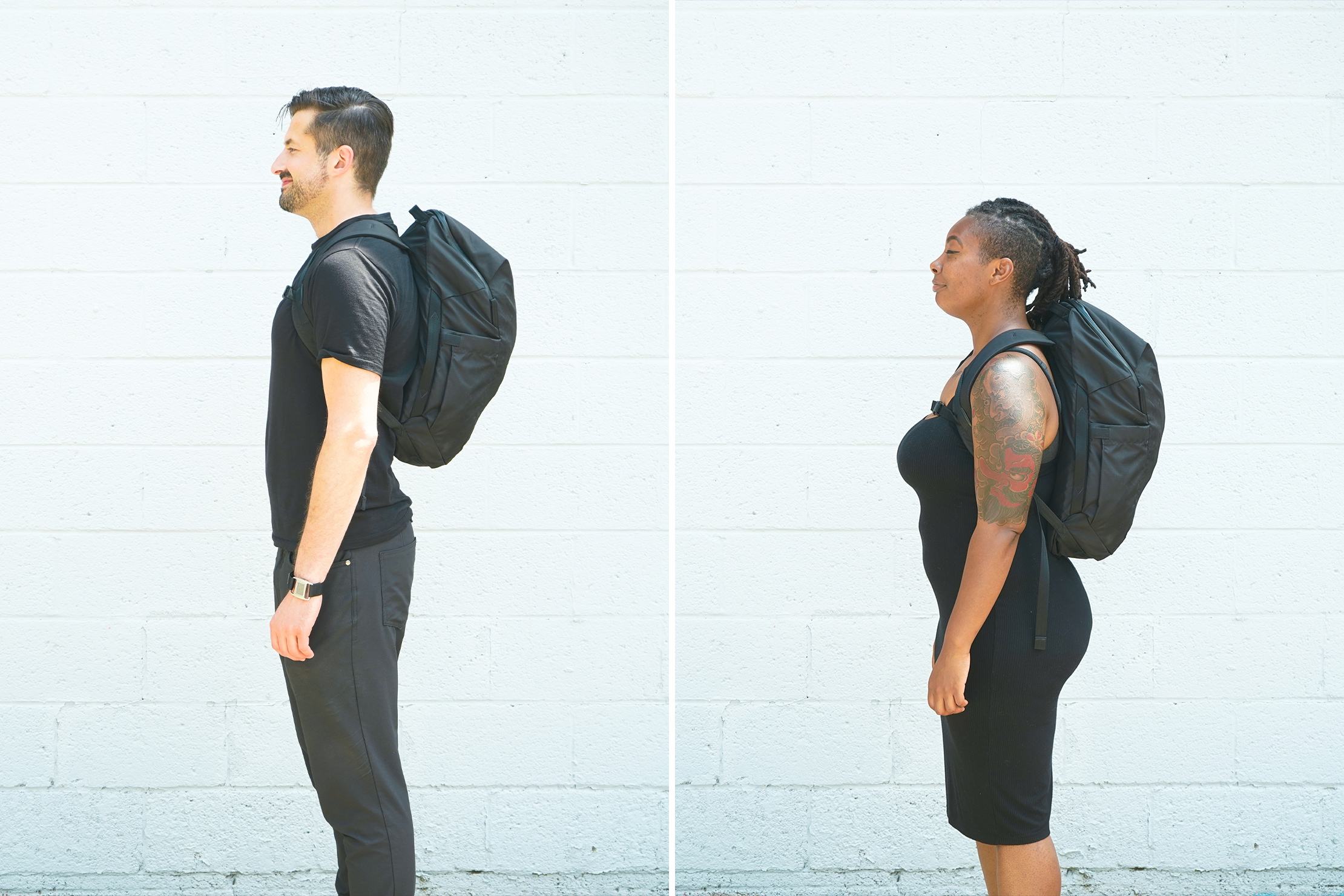 In our review of the Max Backpack, we noted how Able Carry used heavily reinforced bartacks on the harness system's A-frame. It's no different on the Daybreaker's A-frame, as we find similar triangular bartacks near the top, a series of them on the shoulder straps, and more going all the way down to the bottom of the bag where they finally stop. We dig these bartacks because they add to the lifespan of the bag. However, we do have to acknowledge the irony of finding a loose thread on the Daybreaker because that demonstrates the importance of strong stitching.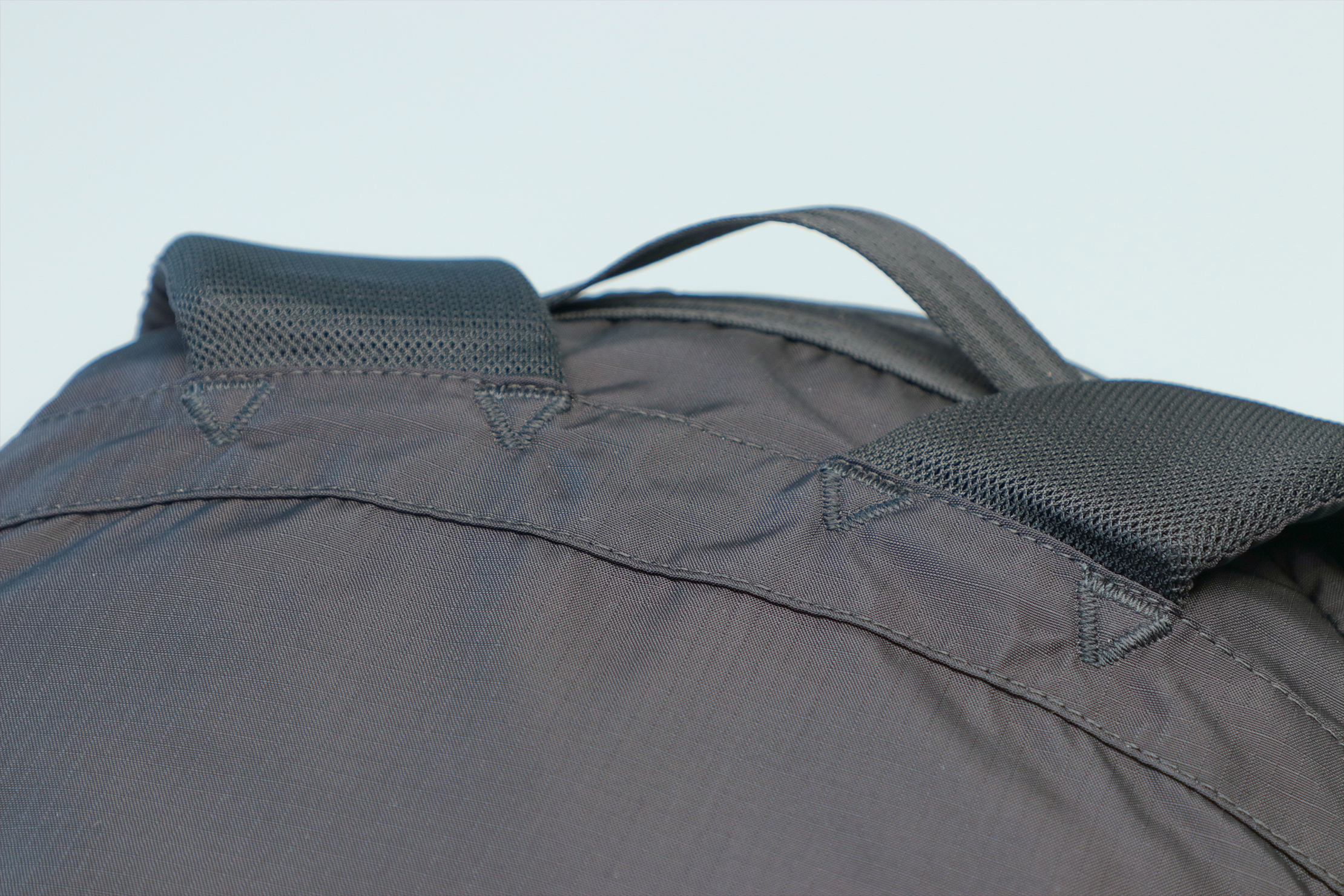 The shoulder straps themselves are comfortable relative to the Daybreaker's size. There's a decent amount of foam and breathable mesh material underneath that keeps things cushy even under load. The absence of a hip belt and hip belt attachment point might leave some doubts, but we didn't find a need for it, even when we were biking. What is present is a simple sternum strap that anchors to a set of daisy chains and clips together using a simple side-release buckle.
The shoulder straps adjust via seat belt-like straps using Duraflex hardware. The interesting thing about them is how Able Carry makes the shoulder straps out of one piece each. They run from the midsection of the shoulder straps where they form the sternum strap's daisy chains, down to the corner of the back panel, and further down to the bottom of the bag where they form some more daisy chains, thus completing the A-frame.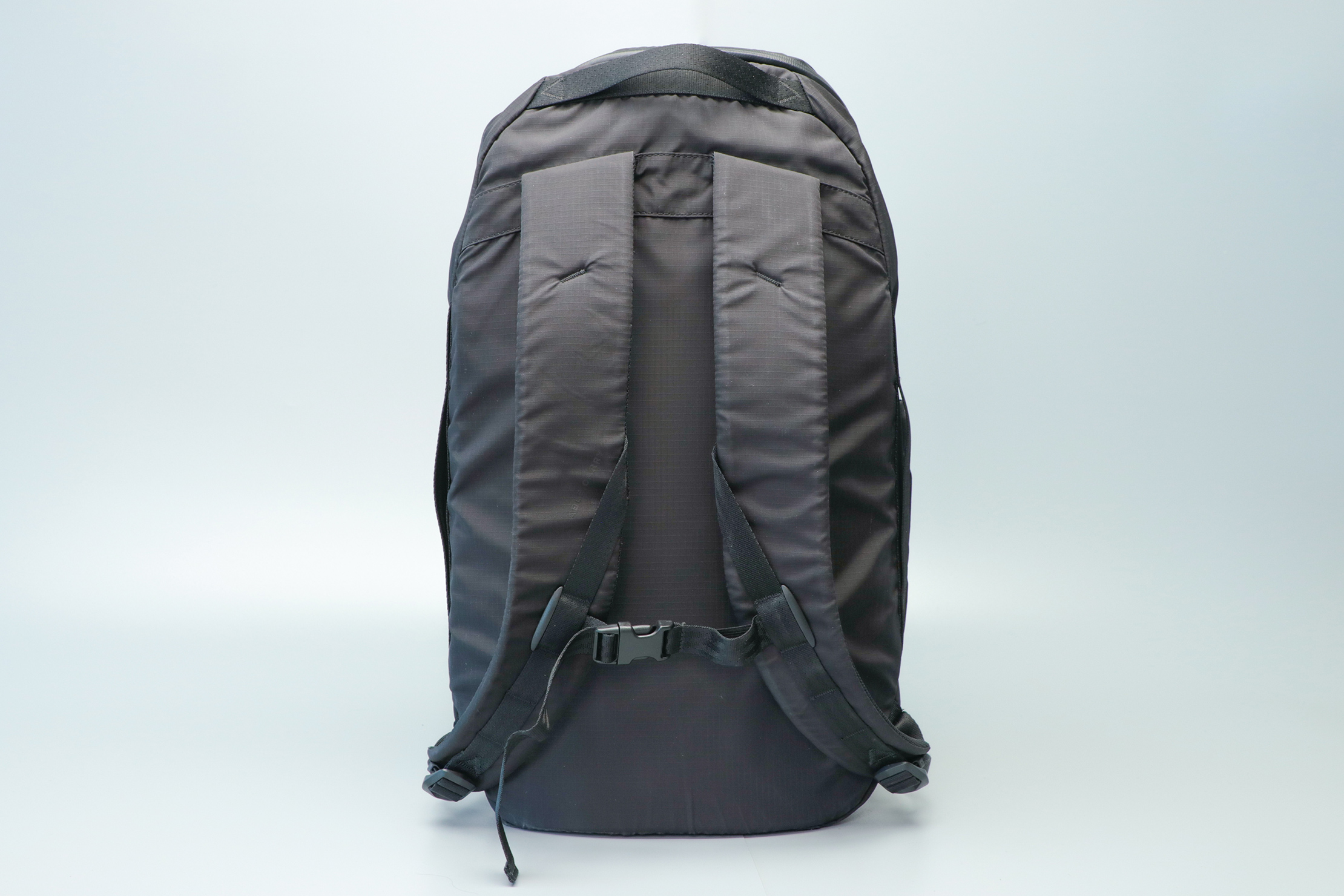 The back panel on the Daybreaker doesn't have any fancy air channels or patterned ribbing, nor does it have a luggage pass-through. However, the frame sheet inside is adequate and gives the Daybreaker some structure so that it doesn't collapse like soggy bread the moment you set it on the floor. Spoiler alert: the frame sheet is accessible from the inside, meaning you can technically replace it if you feel like doing some DIY work and want something stiffer.
You also get three handles with the Daybreaker so you can carry it by hand for short distances. There are two on each side and one at the top. They feature some reinforcement to keep the bag from sagging, though the handles themselves are made of simple flat nylon. They're not the most comfortable handles we've ever felt, but they get the job done.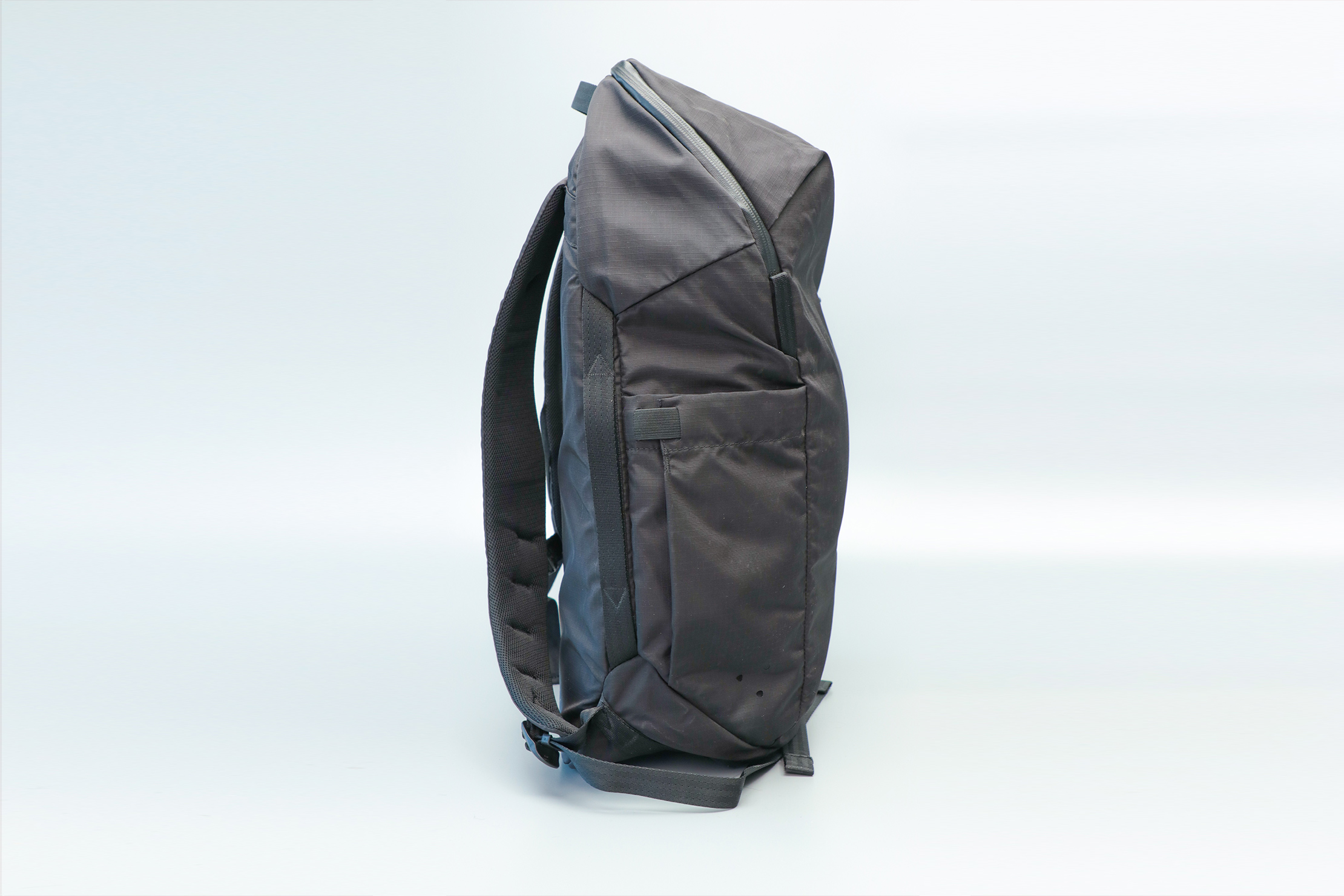 On the left side of the Daybreaker is a tall water bottle pocket. Our 18-ounce YETI Rambler fits in no problem, with room to spare thanks to the gusset kept in reserve by the elastic strap along the top edge. It does come with three holes so water can drain in case of spills or rain. However, these holes are raised a fair bit to the side, meaning water can still accumulate below that level.
Inside The Backpack
Opposite the water bottle pocket is a zippered quick-grab pocket for items you need to access quickly, like hand sanitizer, your favorite pair of earphones, some sunglasses, and a set of keys. For the latter, there's a built-in key clip with a fairly long leash. Having a long leash like this helps so your keys can reach the lock without having to detach them each time.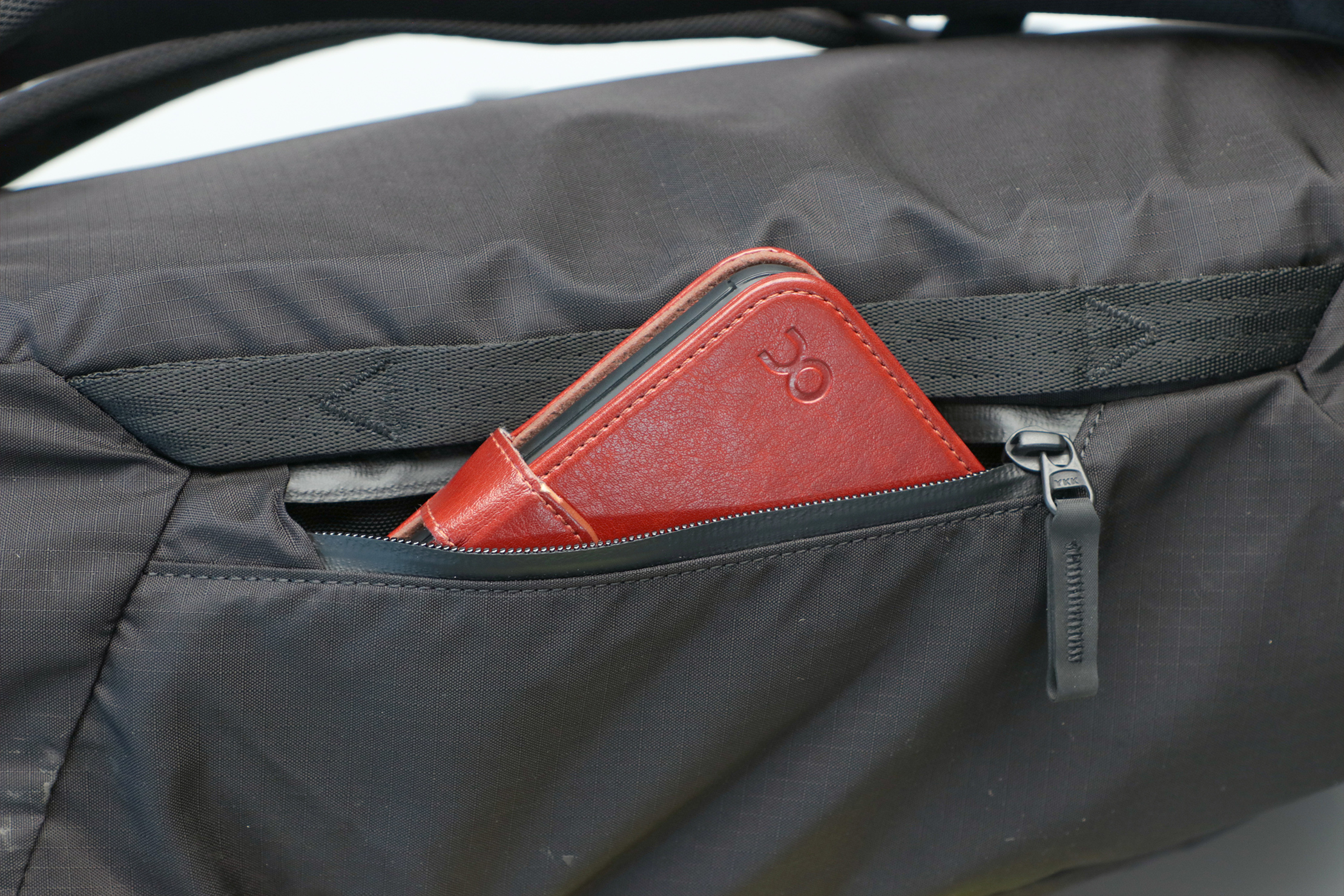 The inside of this pocket covers a significant portion of the side of the Daybreaker, giving it more room than we first expected. We appreciate the extra space, but it also means small items can get lost in the deep end, where the black interior fabric will make them very difficult to see and fish out.
At last, we've arrived at the main compartment. It's flanked by two nylon loops that act as pull tabs, though you can also attach accessories to them if you need to. The Daybreaker's opening is limited to around the top, making it more of a top loader than a horseshoe-style opening. It's not as narrow as a rolltop, though, and you can fold the hatch away just enough for a good view of what you're stacking inside.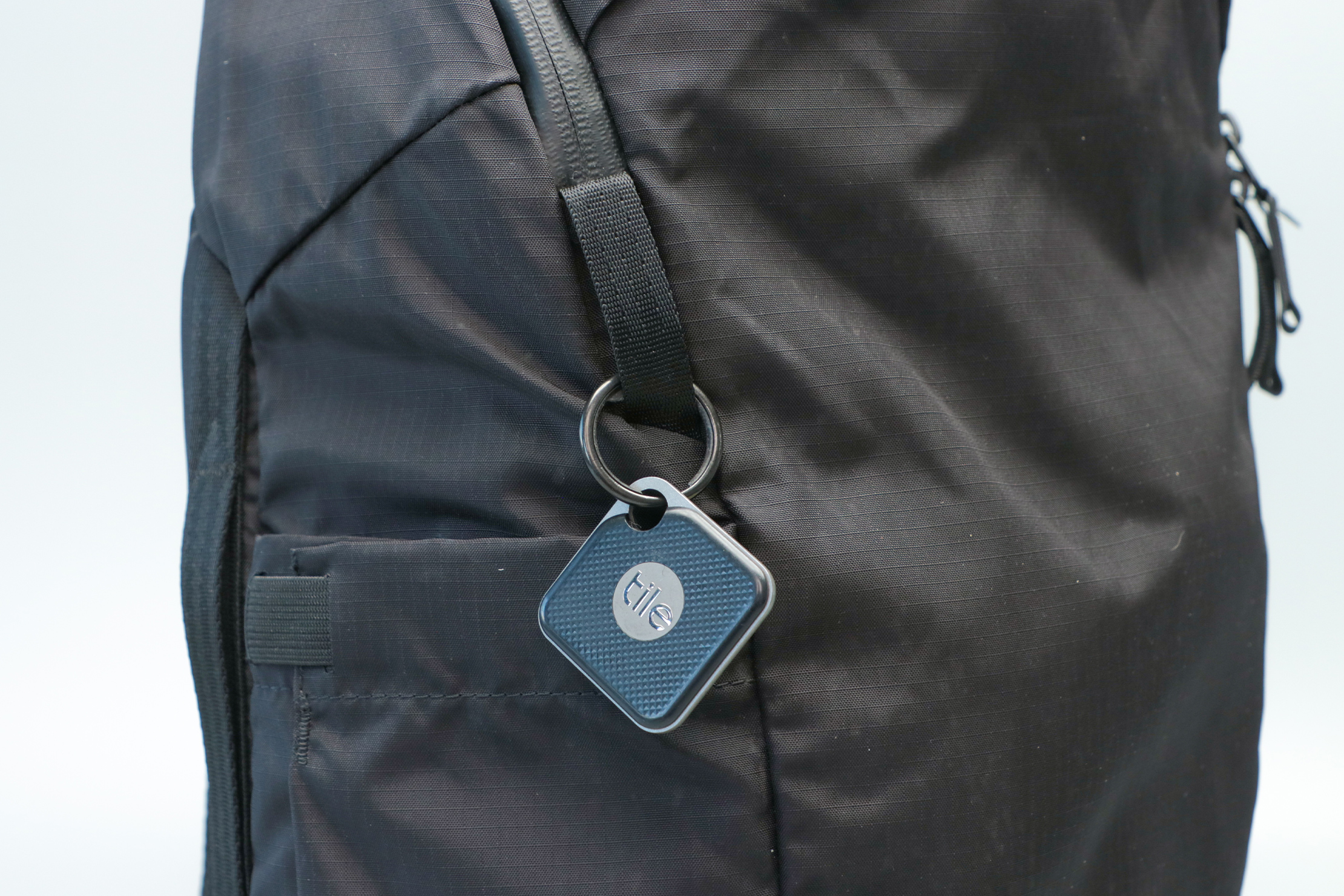 At 25 liters, you can pack the Daybreaker with two or three medium-sized packing cubes, making it a suitable bag for the gym or activities that require extra sets of clothes. Peeking inside the black interior from the top reinforces the tall impression we have of the Daybreaker. But again, we think the opening is wide enough for convenient packing, if only just.
Attached to the top flap is a pocket made out of stretchy mesh, which, in turn, forms another pocket behind it. The zippered portion is nice for valuables you want to keep secure but still want quick access to. We kept our wallet, face mask, and travel canisters in there, plus some small accessories like gloves or rolls of socks behind the mesh pocket.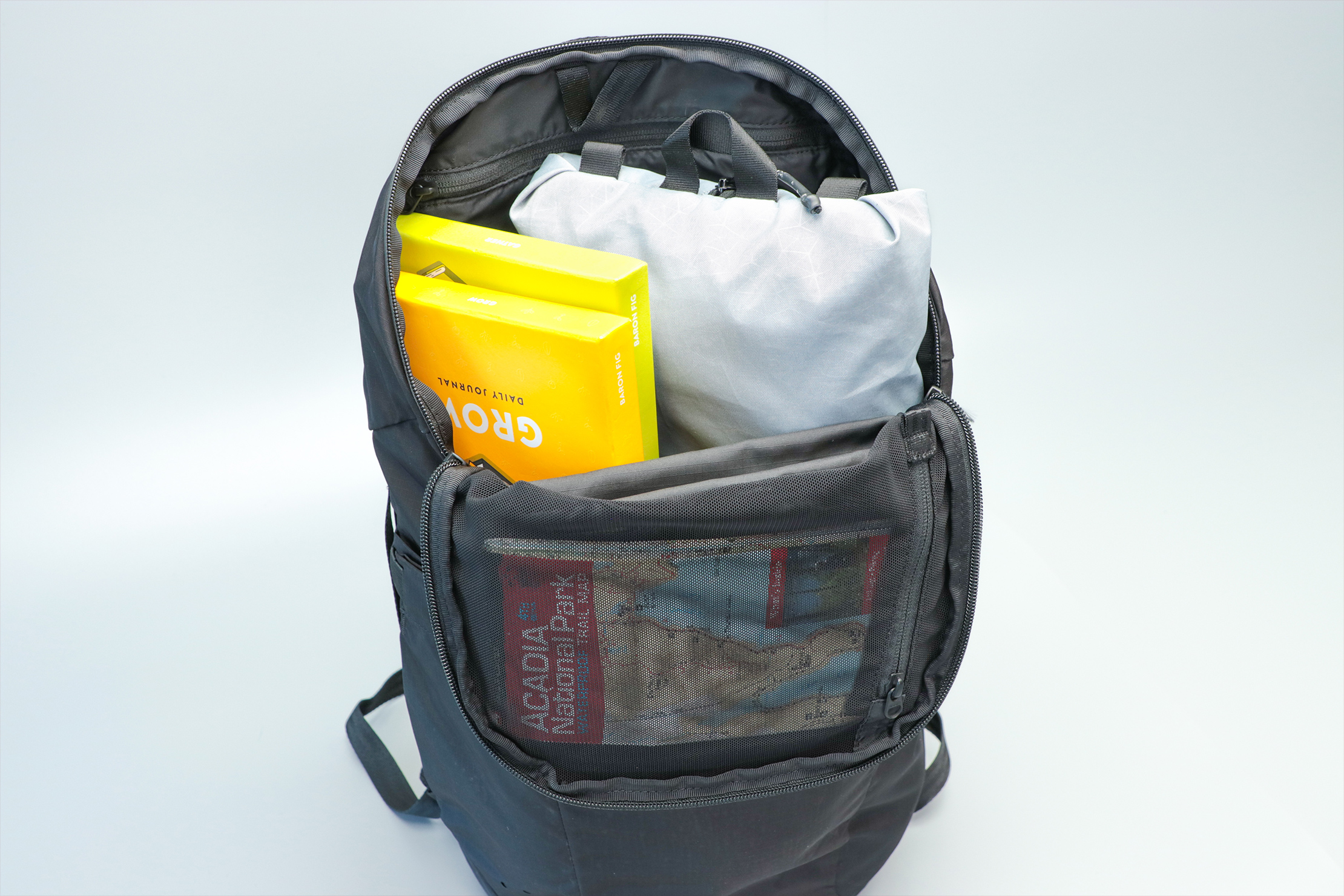 Towards the back, there's a loop for attaching a water bladder or another accessory you want to keep near the top, like a tech pouch or a Dopp kit. The Daybreaker isn't the most tech-oriented backpack out there—the 15-inch laptop sleeve is more like a wide liner pocket, there's no foam padding on the inner-facing fabric itself, and the false bottom isn't substantial enough to be confident with.
Last but not least is the frame sheet compartment we mentioned earlier. It's not quite wide enough that you'll be able to slip out the frame sheet (it does require some shimmying and squeezing), but it's at least an option to do so without tearing open the liner fabric. Also in here is a security compartment, big enough for some travel documents like passports and airline tickets. It's a nice bonus, and we're always happy to see security features like this wherever possible.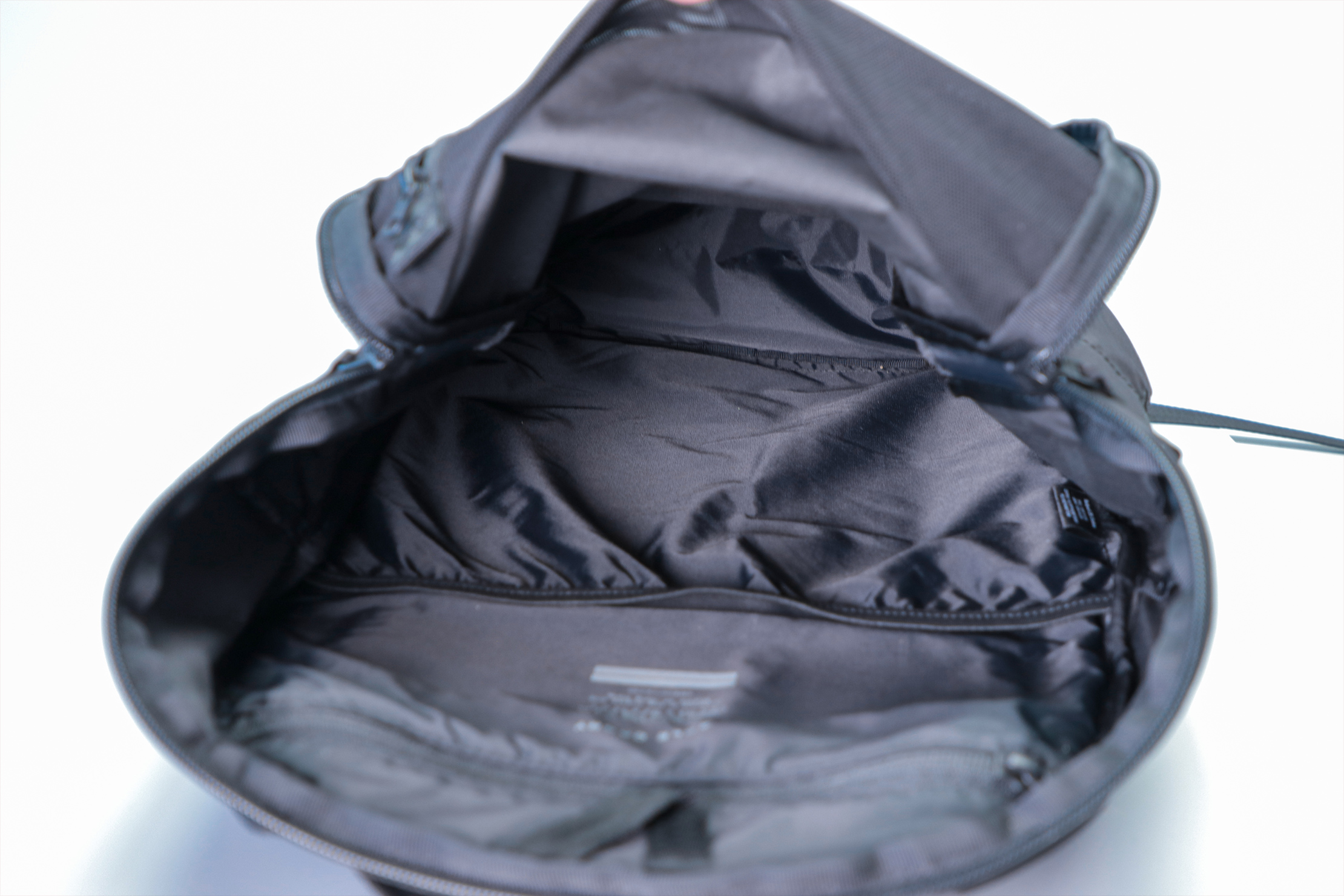 Noticing the tiny details on a bag's design can be a fun game on its own because it puts into perspective what the company's goal was with it. In Able Carry's case, the Daybreaker focuses on a stripped-down, simplified, and lightweight design language that fits the bill of "activity pack." The materials are lightweight, tech-oriented features have been kept to a minimum, and the harness system's A-frame gets the job done without too many frills. Barring one loose thread, the Daybreaker ticks the right boxes without going over the top.
Usage Timeline
Initial Usage
Condition: Excellent
Sternum strap looks like it could fall off if not in use due to how it's anchored
Fairly lightweight considering its overall tall profile
There's a handy mounting point inside for water packs that you can also use for other accessories
2 Weeks of Use
Condition: Excellent
YKK AquaGuard zippers helped the bag's contents survive a wet & muddy ride in the rain
No-frills lightweight daypack was nice to use daily
Interior organization is pretty sparse
Caught a loose thread after 2 weeks of use
Continuity of straps from the bottom of the bag all the way to the shoulder straps is a nice design element and adds functionality
Can be a bit of a black hole—it's hard to see to the bottom of the bag when paired with the smaller opening
Access the Pro Community Discussion
Get your questions about the Able Carry Daybreaker answered from our team and the Pro Community right here on the page. Plus, join discussions with other members about gear, guides, and more.
Other Bags & Luggage Reviews