686 Everywhere Pant (Men's Slim Fit) Review
Despite the fluff the fabric picks up, we're digging the 686 Everywhere Multi Pant's comfortable material and subdued, but plentiful features.
Our Verdict
Unlock the Pro Summary
Save time. Get access to brief summaries of our reviews so you can browse and make decisions more efficiently.
Pros
Comfortable, durable & flexible materials
Lots of pockets without looking ridiculous
Smart & clever design
Cons
Material picks up fluff easily
Can get wrinkly after being compressed
RFID tag detracts from the streamlined look
Recent Pack Hacker Video
Technical Details
Notable Materials

Nylon, Spandex, DWR Coating, YKK Zippers

Manufacturing Country

China

Warranty Information
Full Review
If you're looking for a new everyday pant that you can wear anywhere and everywhere, the 686 Everywhere Multi Pant is a solid option.
The company's founder, Michael Akira West, has been bringing his ideas for skiing and snowboarding-suited clothing to life since 1992. What started as a college project has grown into a California-based brand with a variety of technical clothing, accessories, and denim.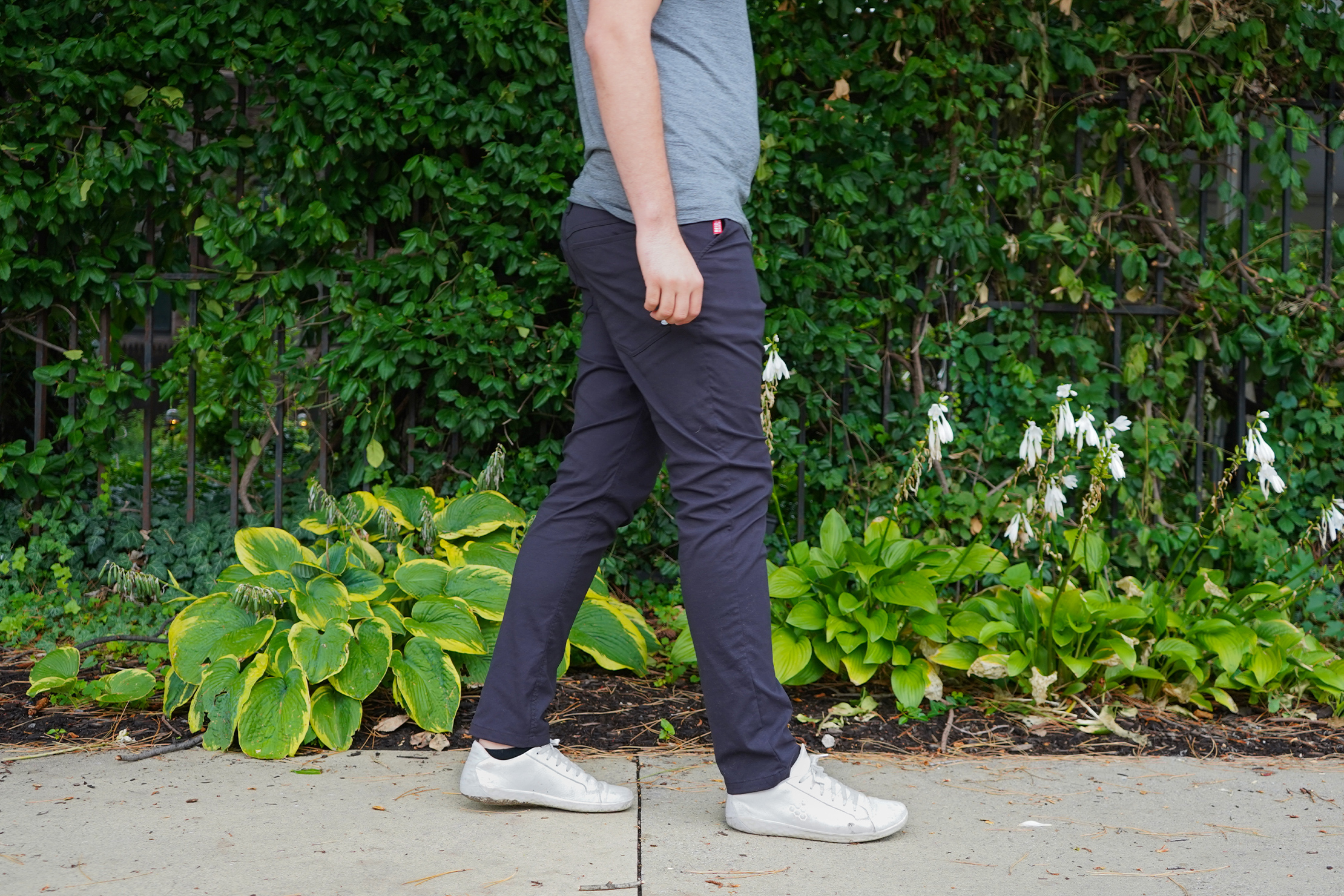 The Everywhere Multi Pant is just one example. It's a comfortable, efficient pant that flexes with you and offers tons of pockets for your phone, keys, pens, passport; you name it.
We've been wearing them all over Detroit for the last month, so follow us into this review to see what we think!
Materials & Aesthetic
We're digging the overall techy vibe of this pant that can be worn casually. It works for more relaxed office settings, a night out, or even lengthy travel—though there are some things you'll want to be aware of if you're using them for this last one, which we'll talk about later.
At the time of this review, you can pick up the Everywhere Multi Pant in eight different colorways, with everything from Navy when you want a more subdued look, to Surplus Green for a brighter, earthier vibe. You can also opt for Dark Camo if you want your legs to be invisible.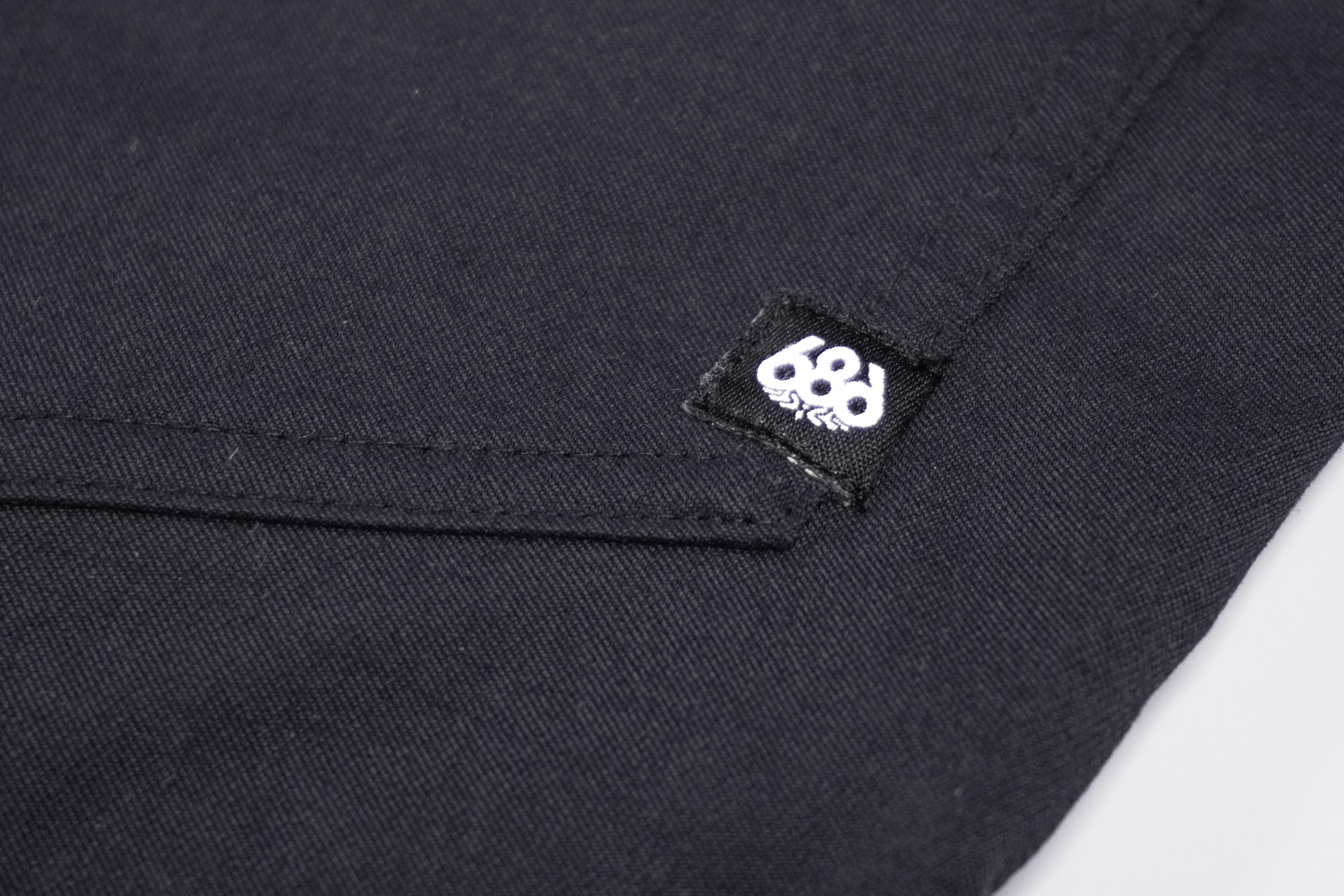 When it comes to clothing, we generally appreciate subtler branding for a subdued look. If you agree with us, you'll be relatively satisfied with the placement of 686's logos, as they mostly occupy the interior lining of the pants.
That said, we've found the bright red RFID-blocking tag on one of the pockets to be a bit of an eyesore. Sure, the pocket may be RFID protected, but a bright red bullseye would seem to encourage a pickpocket. Something this small might not bother you, but if it does, you can always cut it off with a pair of scissors.
You'll also spot a nice slogan on the fabric welt behind this pant's zipper: "to travel is to live." Who knew a pair of pants could be so inspiring? Anyway, we align with this sentiment—we are world travelers after all.
Perhaps the most important aspect of this pant, though, is its material. It's made up of 92% nylon for durability and 8% Spandex to give the pant some stretch. Even better, it's finished with a DWR coating for weather resistance, which will come in handy when you get caught in some drizzly weather.
This fabric feels robust and also a little fuzzy & soft in the hand. It's been attracting fuzz, lint, and dust during testing. This differs from something like the Olivers Passage Pant or Outlier Slim Dungarees, which features a much slicker material. They can get pretty dirty after a wear or two between washes which isn't a deal-breaker, but it is something to note if you plan on wearing these while on a road trip or during other forms of travel when you can't wash them frequently.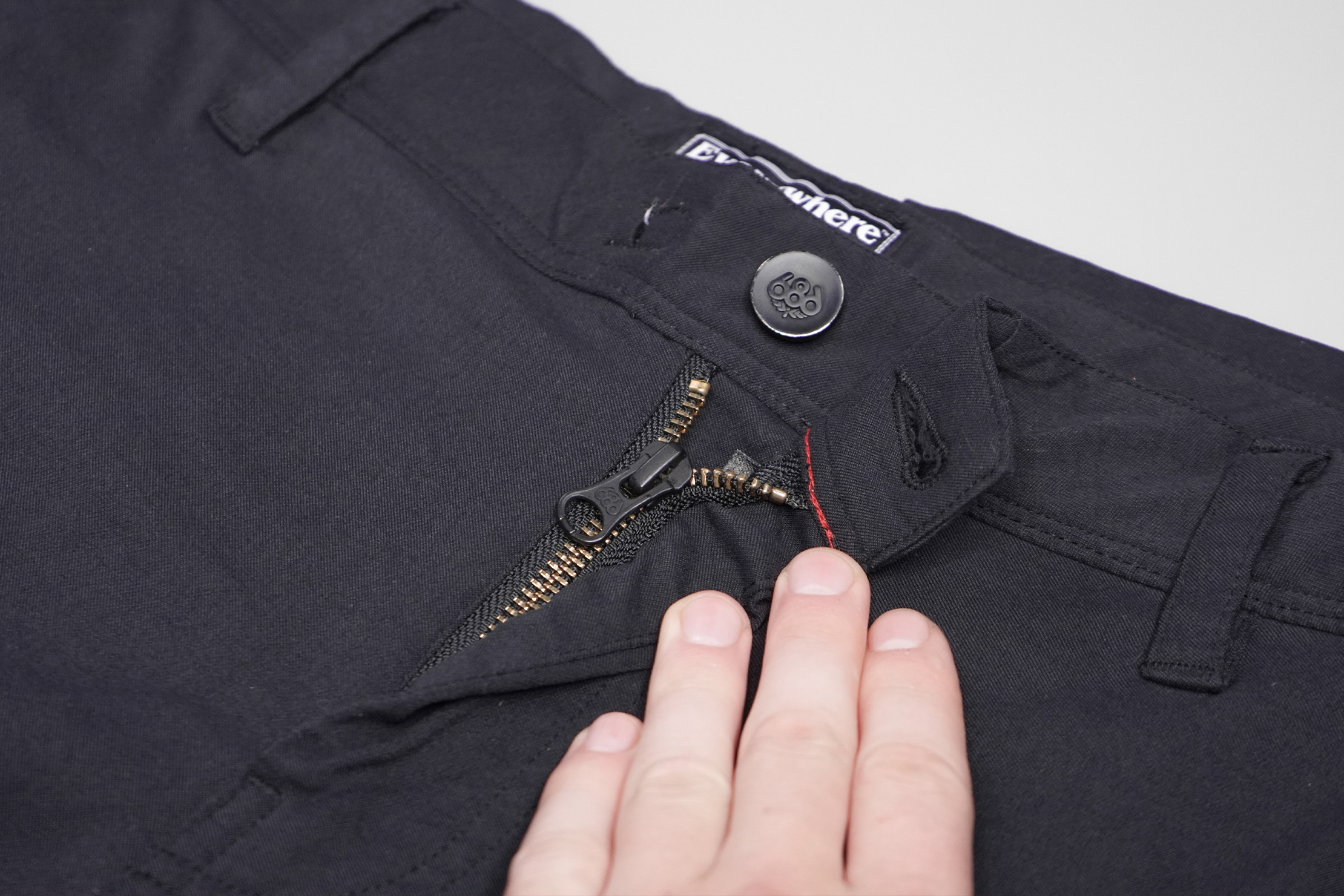 We've tested a lot of YKK zippers on all different bags, slings, and totes, and we're happy to add pants to that list. The Everywhere Multi Pant features a YKK zipper that feels nice and robust, and, as expected, has been working smoothly throughout testing.
The button is branded with the 686 logo and is reinforced with some extra stitching since it's a high-traffic part of the pant. We've noticed quite a few loose threads around it which is a bit concerning, but it hasn't given us any other issues during testing yet.
Fit, Fabric & Features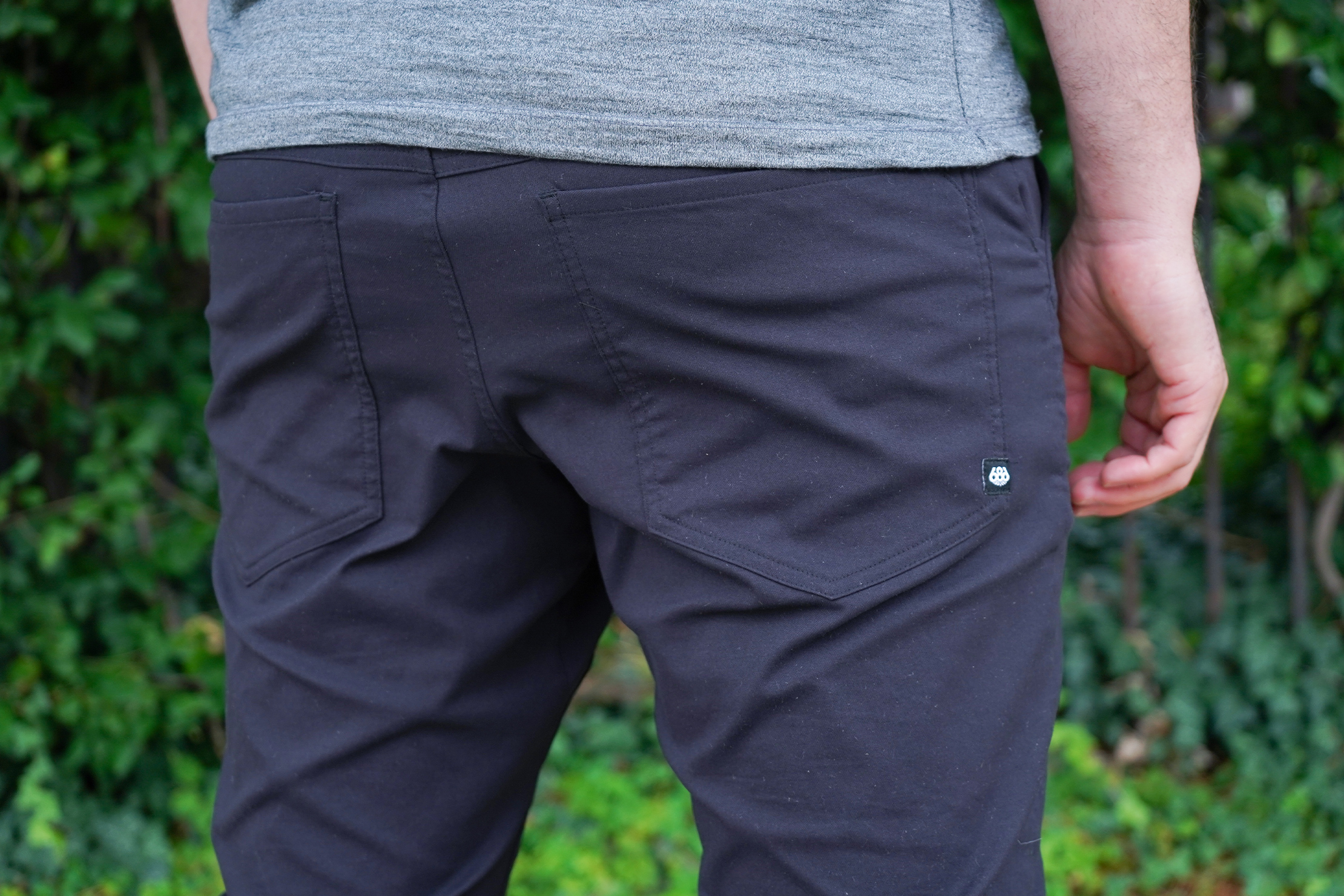 As for how they look, we've received a lot of compliments on this pant's tapered fit, as it hugs the body nicely without looking or feeling too tight or constricted. We like that the Spandex in this pant's material allows for some horizontal stretching, meaning we still have a lot of mobility. This is great for when we have them on for more active ventures, like riding a bike or exploring the city. If you have longer legs, keep in mind that these pants don't come any longer than 34", so your ankles might get a little cold.
Before we go any further, we have a very serious question to ask … are you an innie or an outie?
And no, we're talking about your belly button. We're referring to the Everywhere Multi Pant's drawcord that can be positioned either inside on the inside or the outside of the pant but feeding the cord through the openings in the waistband. We've been keeping them on the inside during testing as we prefer the cleaner look, but your mileage may vary.
When we first got our hands on these pants, we were a bit annoyed at the drawstring was on the outside, but this little piece of innovative thinking goes to show just how much care has gone into these pants during the design phase.

This drawstring is also attached both at the back of the waistband, making each side independent of one another. You can pull on each side of the cord and it will tighten only that side of the pant without coming completely out. What does this mean? No more losing drawstrings in the washing machine and having to scrunch them back in through the waistband.
Now, when we first learned that this pant has 10 different pockets, we thought that might be a little overkill. But as we've been wearing this pant and discovering all of its nooks and crannies, we've come to appreciate its segmentation and convenient integrations.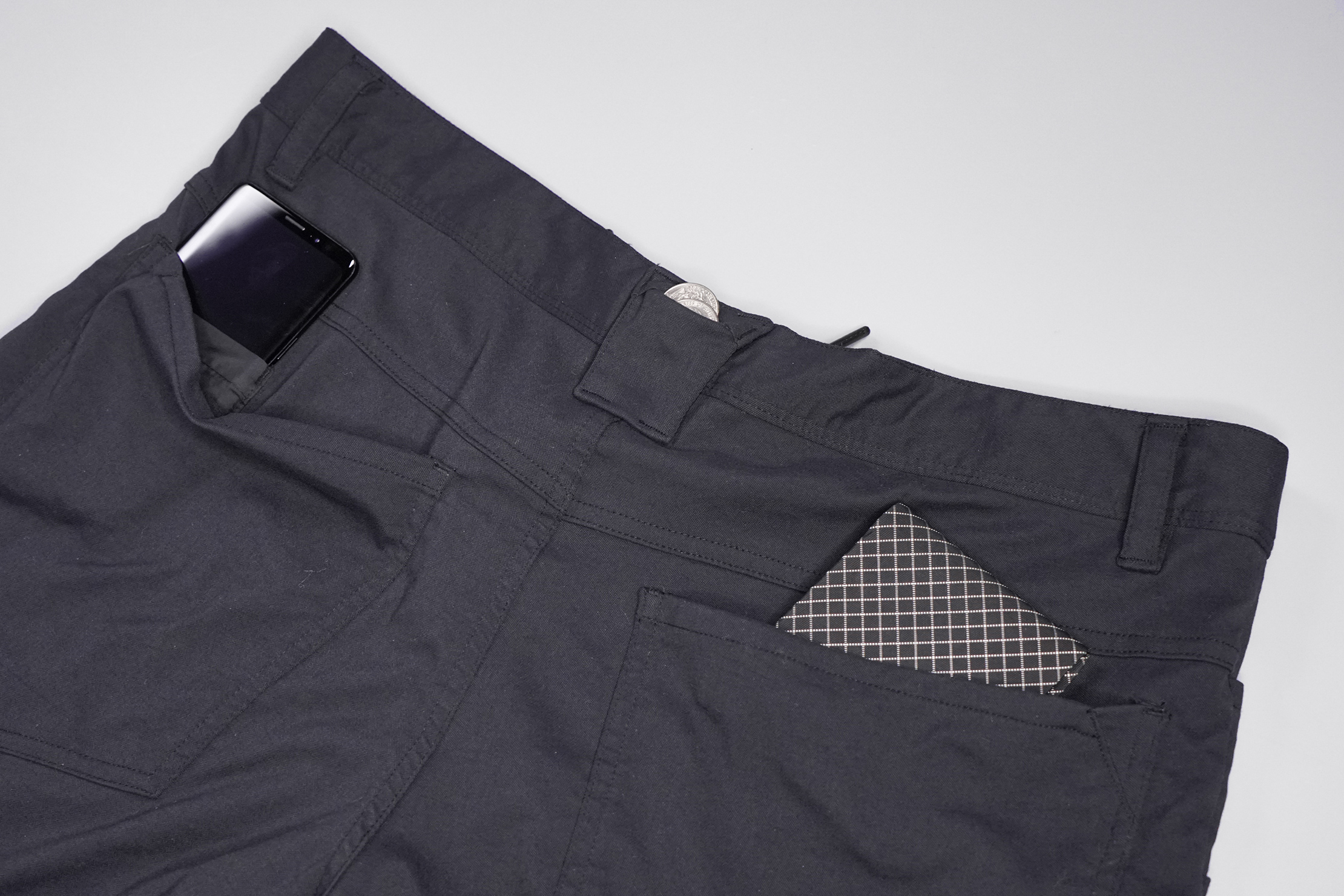 Flipping it over, the first pockets at your disposal are some pretty standard-looking back pockets you can slip your phone or wallet into for quick and easy access. Inside each one, you also have a card pocket where you can slip your ID or other frequently-used cards so you can pull them out with ease when needed if you'd rather keep your wallet in a more secure spot. This is one of two card pockets, neither of which has a zipper, which we would've appreciated o at least one for more security.
Also back here is a hidden belt loop pocket you can use to store one or two smaller items. We haven't gotten much use out of it during testing, as we're not sure what we'd put in here since the pocket is pretty small. A house key fits, but the pocket isn't zippered to keep it secure, so you may not be comfortable stashing one back here. On a more serious note, this pocket is perfect for stashing your stack of lucky quarters for those rogue arcade game encounters.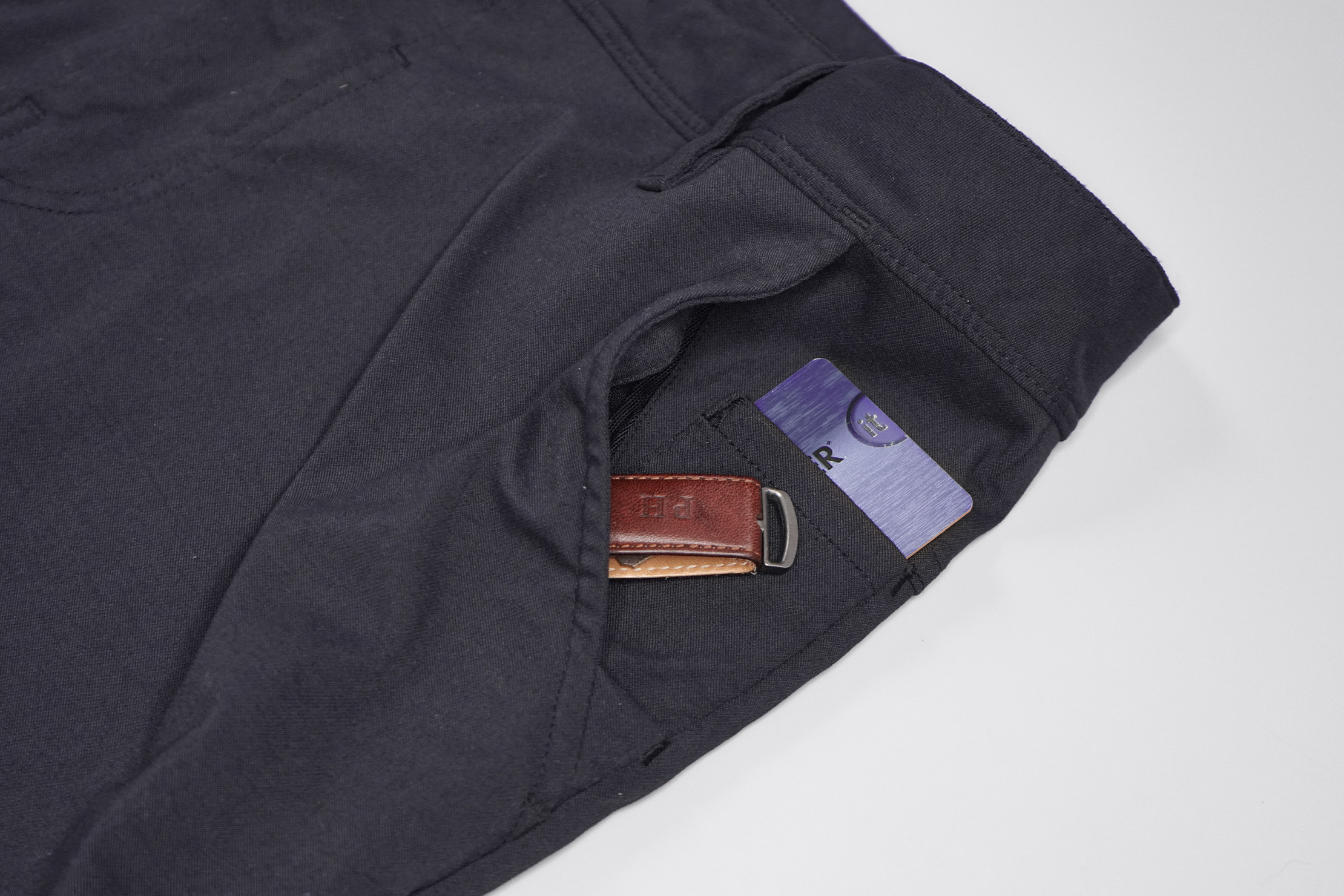 Then on the front of the pant, you again have some standard pockets to stash your keys or a snack. It's made with some stretchy mesh that feels soft in the hand and has been flexing to our items well during testing. You'll also find that dedicated coin pocket in one, and a bonus card sleeve in the other that features RFID-blocking technology. This keeps your information secure from any cyber thieves nearby looking to steal it, should you encounter any.
You even have a mesh pocket on the side to fit anything you couldn't get into the other pockets—a phone, in particular, fits nicely inside and is more secure than when in your front or back pocket. This pocket is also where the pant compresses into itself when you need to pack it away for later use! Just feed the material into the pocket, zip it up, and you have a convenient little pouch that won't take up too much room in your pack.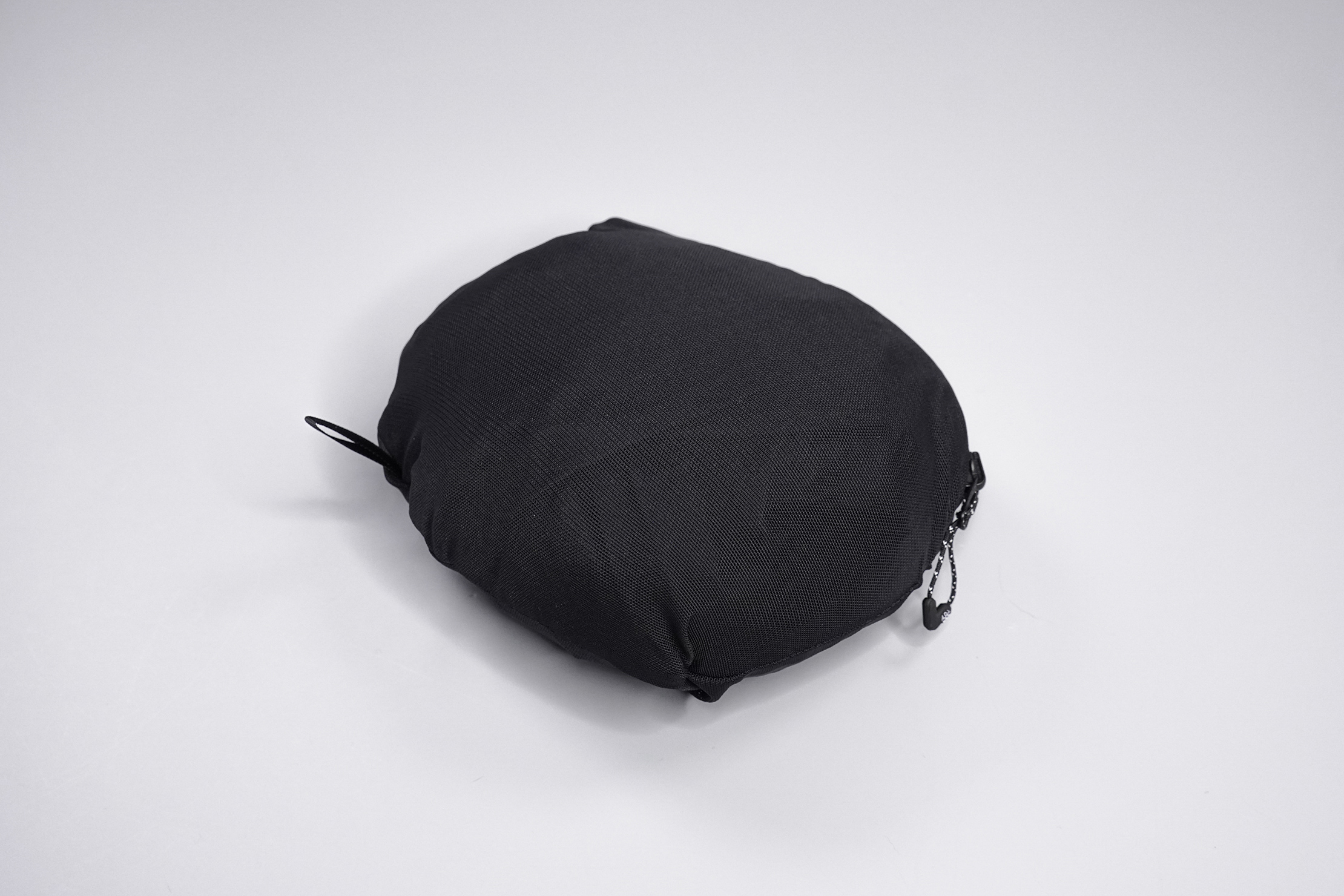 One note we have with this functionality is that the Everywhere Multi Pant can get pretty wrinkly after having been compressed a handful of times, which isn't the best look. This is another thing to be aware of when traveling, as you may not always have access to a machine or sink to keep these pants looking fresh.
Usage Timeline
Initial Usage
Condition: Excellent
Exterior drawstring gives the pants a technical look versus having them on the interior
The fabric is soft & stretchy, but still feels robust
RFID tag on the right pocket seems a little tacky—we'll likely cut it off
Tapered fit which looks nice
Not very lengthy
2 Weeks of Use
Condition: Excellent
We figured out that the drawstring can be moved to the inside of the pants—much better there!
1 Month of Use
Condition: Excellent
Receiving a lot of compliments on the tapered look
Digging the look, feel, and functionality
Haven't used the hidden pocket on the belt loop, but we dig it's there
Pant material tends to pick up fluff more than others we've tested—not great for multiple wears between washes
Pants can get wrinkly—especially when compressed into the mesh pocket
Access the Pro Community Discussion
Get your questions about the 686 Everywhere Pant (Men's Slim Fit) answered from our team and the Pro Community right here on the page. Plus, join discussions with other members about gear, guides, and more.
Other Clothing & Accessories Reviews