Olivers Passage Pant Review
The OLIVERS Passage Pants look like a pair of regular pants, which is great. They're also versatile, comfortable, and provide a professional look with a casual feel—which is even better.
Our Verdict
Unlock the Pro Summary
Save time. Get access to brief summaries of our reviews so you can browse and make decisions more efficiently.
Pros
Lightweight, soft, and just-right stretch feel.
High quality materials used throughout.
Versatile, professional look with a casual feel.
Cons
Fifth security pocket is hard to utilize.
Fabric tends to pick up dirt a tad quicker than expected.
A couple loose threads after one month of use.
Recent Pack Hacker Video
Technical Details
Weight (oz)

12.49 oz (354.1 g)

Notable Materials

CORDURA® Nylon, Spandex, YKK Zippers, RIRI Hardware

Manufacturing Country

United States

(California)

Warranty Information
Full Review
Get up to $20 off Olivers • Join Pack Hacker Pro
In this review, we're taking a look at the OLIVERS Passage Pants. These are a versatile, comfortable pair of pants that are great for travel and everyday wear. Let's jump right in.

Material & Aesthetic
When it comes to travel pants, versatility and comfort is king—and we're happy to report that the OLIVERS Passage Pants check both of these boxes. They're made with a blend of 91% CORDURA® grade nylon and 9% spandex, which offers a comfortable four way stretch with some solid durability. They're stretchy enough for some athletic activities (probably nothing too crazy) and comfortable enough for lounging around. However, they're not excessively stretchy—so they're not going to drape off of you as you're wearing them.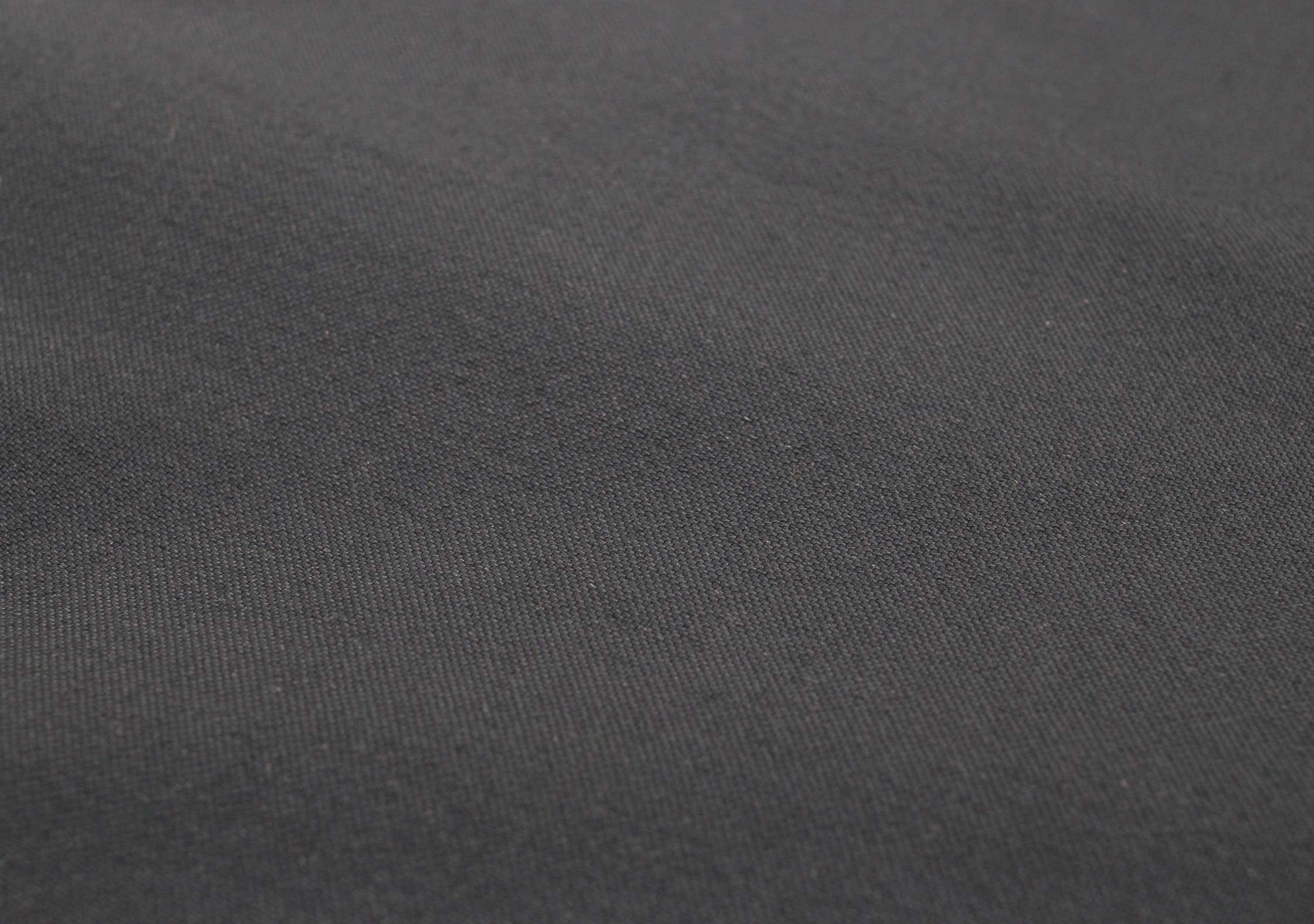 This fabric is comparable with other synthetics, so although they don't really have any anti-microbial properties, the thin material allows them to dry quite quickly. This is great at home, where you can just give them a machine wash on cold and lay them flat to dry. When you're on the road, you can fill up a sink in your Airbnb, hotel, hostel—wherever you are—with some tepid water and soap. Give it a quick hand-wash, lay flat to dry, and you are good to go.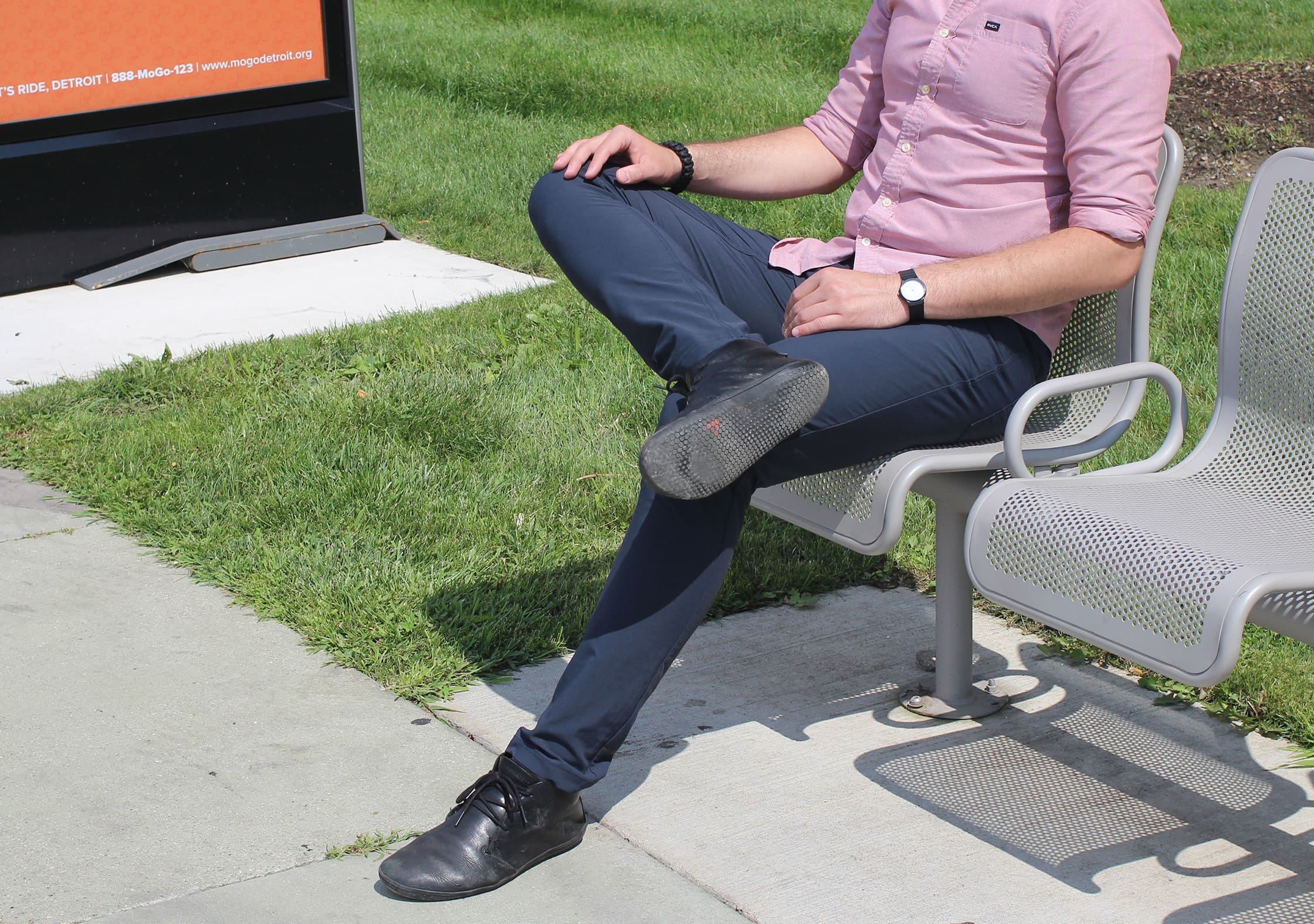 As far as aesthetics go, these pretty much just look like a normal pair of pants—which is what we like to see for travel pants. These can more or less pass as chinos or slacks, and look good with an Oxford shirt or any kind of "dressy" clothes. They might not be dressy enough for a formal business meeting or a "gala" type of event (because we go to so many of those), but they'll get the job done for most use-cases. If you're a minimalist, just going for that one pair of pants to bring on your travels, we think these are definitely a good choice.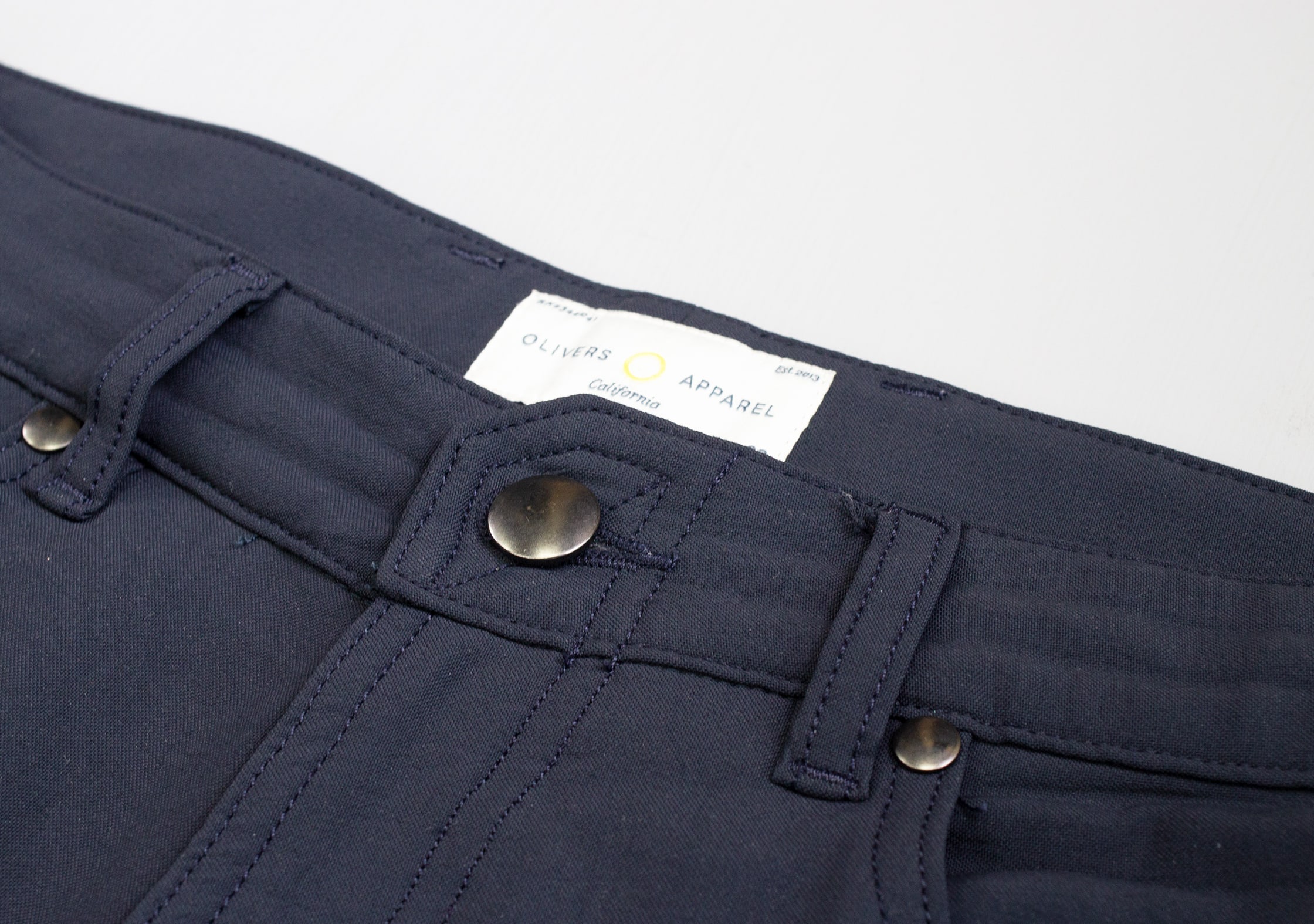 In addition to that nice synthetic fabric, OLIVERS hasn't skimped on the hardware either. There are some great self-locking YKK zippers, as well as Riri rivets and buttons. (That's a high-quality button company, by the way—these aren't made by Rihanna.)
Between the fabric, hardware, and general aesthetic… it all comes together quite nicely. These pants have a great fit and feel with just enough stretch—plus, they're soft to the touch.
Components & Features
Moving on, lets check out some of the components and features on these pants. (Yeah—components and features on PANTS! Get ready for a wild ride.)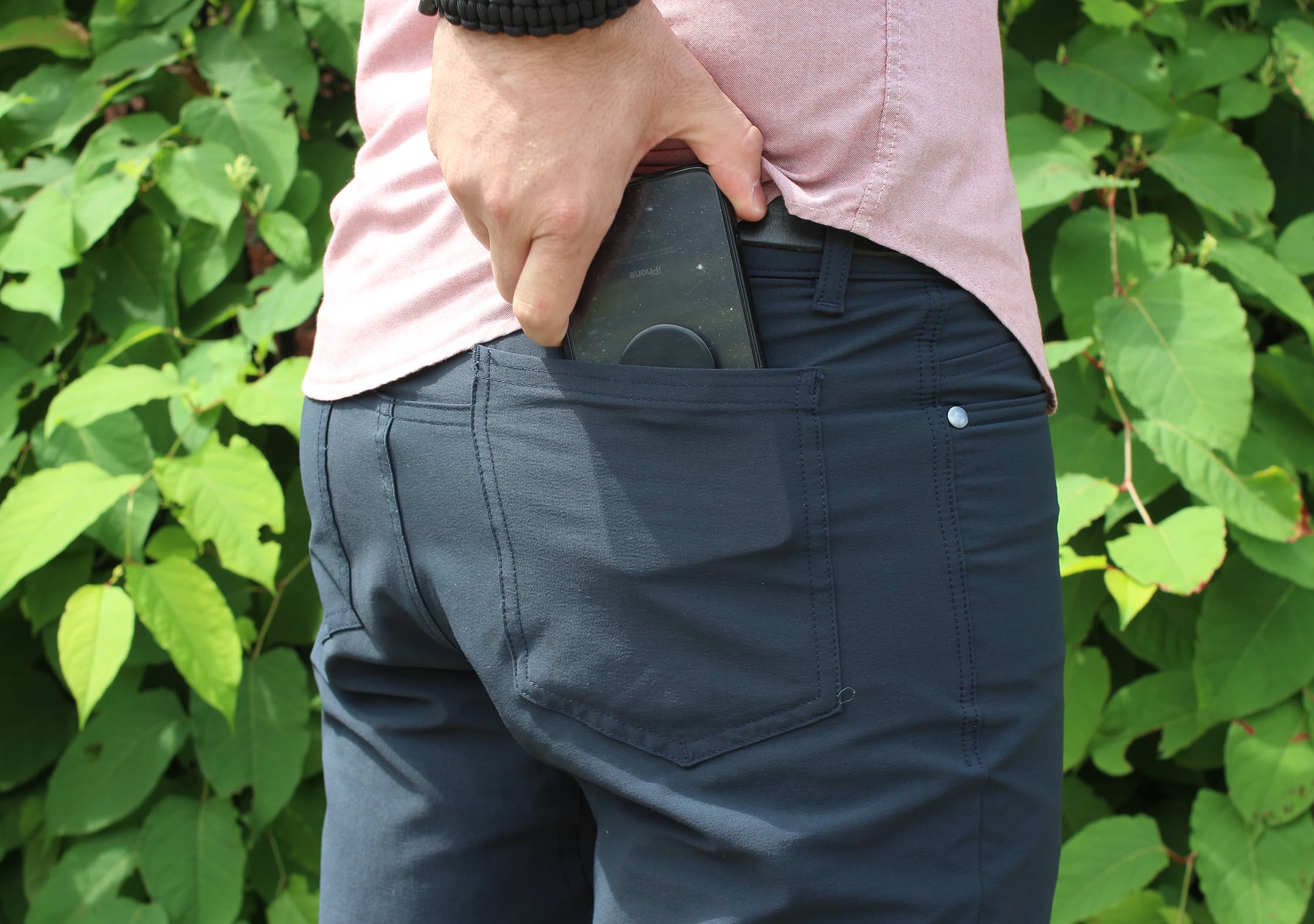 OLIVERS offers five pockets on these bad boys—two in the front, two in the back, and a fifth security pocket on the right front pocket. These are all pretty average, like you'd see on any other pair of pants. The best way to describe the size of the security pocket is that you can fit about three fingers into it—so it's definitely a good theft deterrent pocket. You could throw a few bills in here, maybe a couple of keys or a small phone.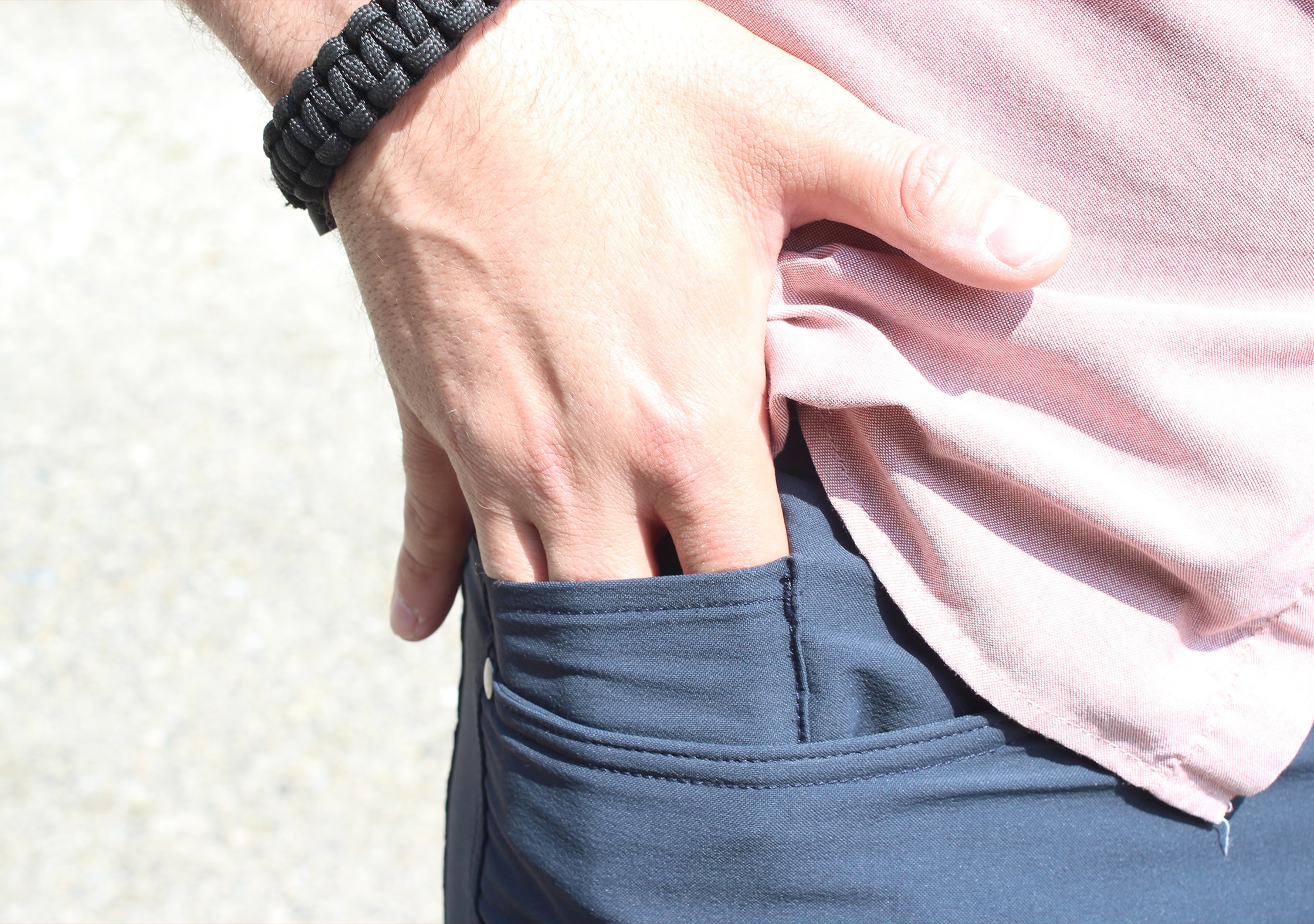 As a side note, if you want an example of pants that handle security pockets really well, be sure to take a look at our review of the Bluffworks Chinos, as well as the AT Slim Rivets from Western Rise. They have a nice low-profile zippered pocket that adds an additional layer of security.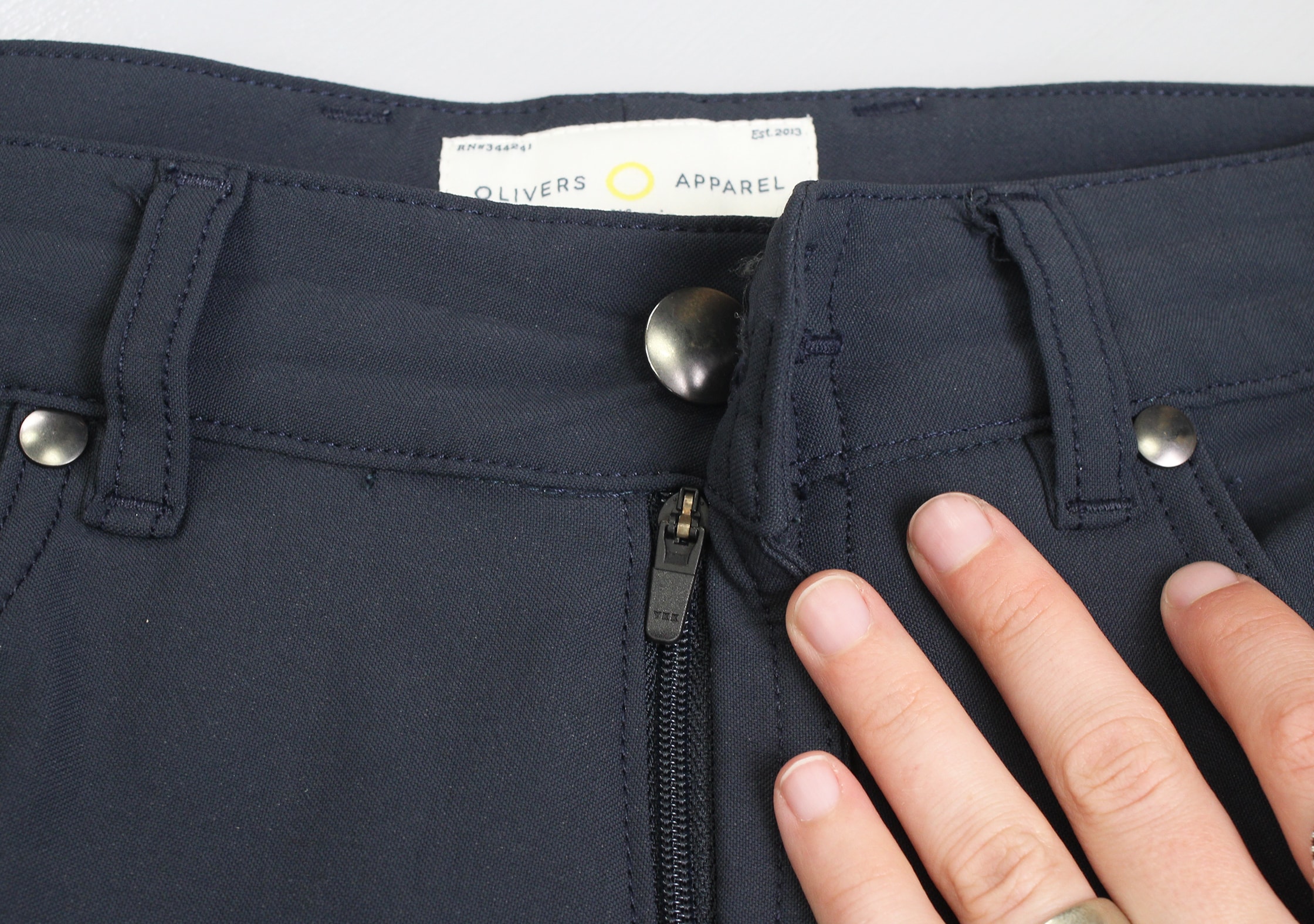 And finally, that self-locking zipper means that you'll rarely, if ever, be caught with your fly down. (We say rarely because you just never know what could happen! But seriously, that zipper isn't going anywhere without some effort on your part.)
So for the most part, these really are just like a standard pair of pants. OLIVERS likes to explain them as "your favorite commuter jeans on steroids," and we'd tend to agree. They basically just took the pattern for a normal pair of pants, used some really high quality fabrics and materials, and brought it all together in a nice, cohesive way. The result is a very solid pair of pants that are versatile, stylish, and great for travel or every day use.
Durability & Testing
Overall, these pants fit true to size—they offer a fitted look without being too slim. Tom is 6'2″ with long legs, and he confirmed that these things fit him just fine, which is good to hear.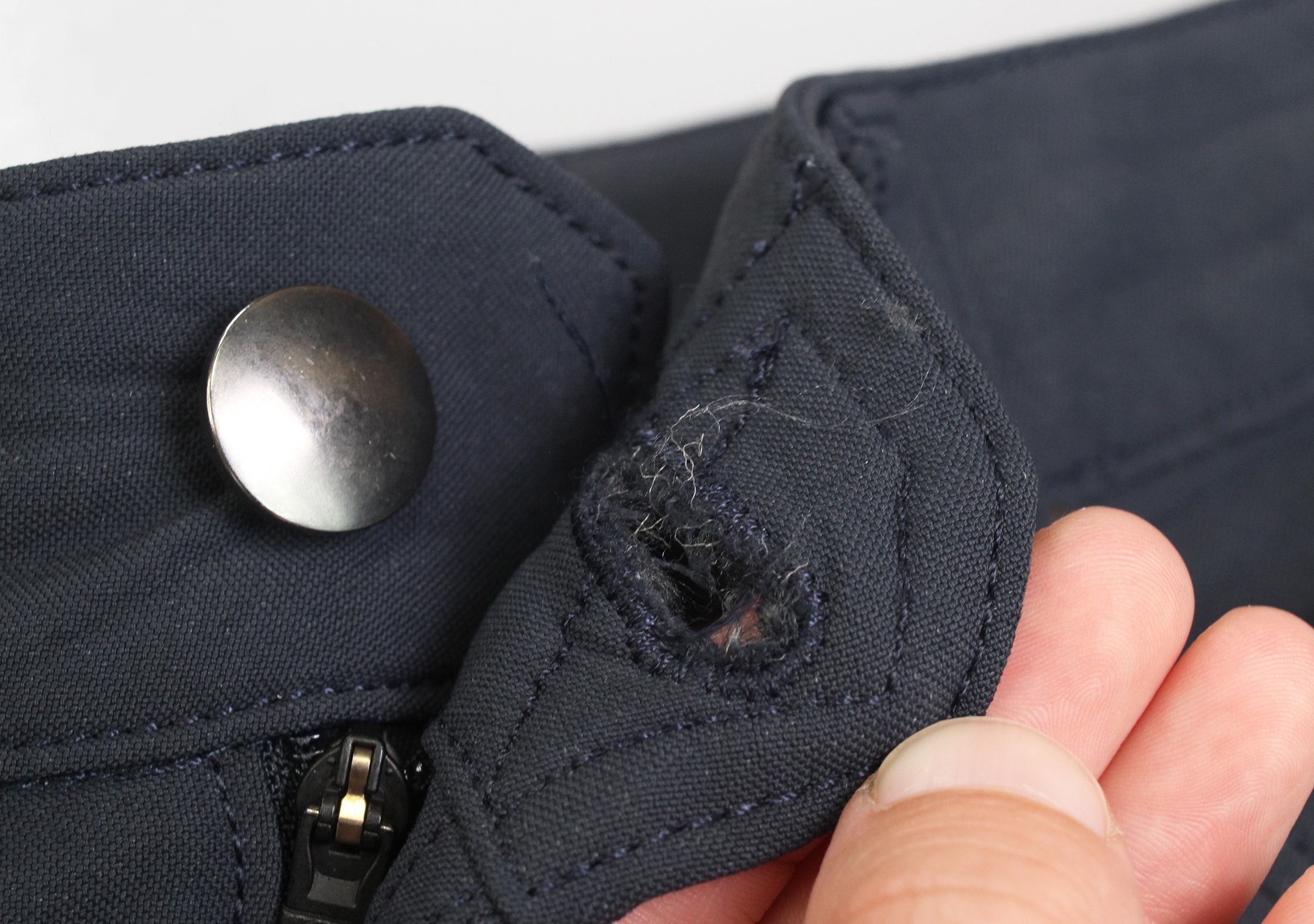 At the time of this review, we've been testing these pants for about two months. So far, we haven't seen many durability issues with them outside of a couple of loose and fraying pieces of fabric—but even then, they're pretty minor and hard to spot.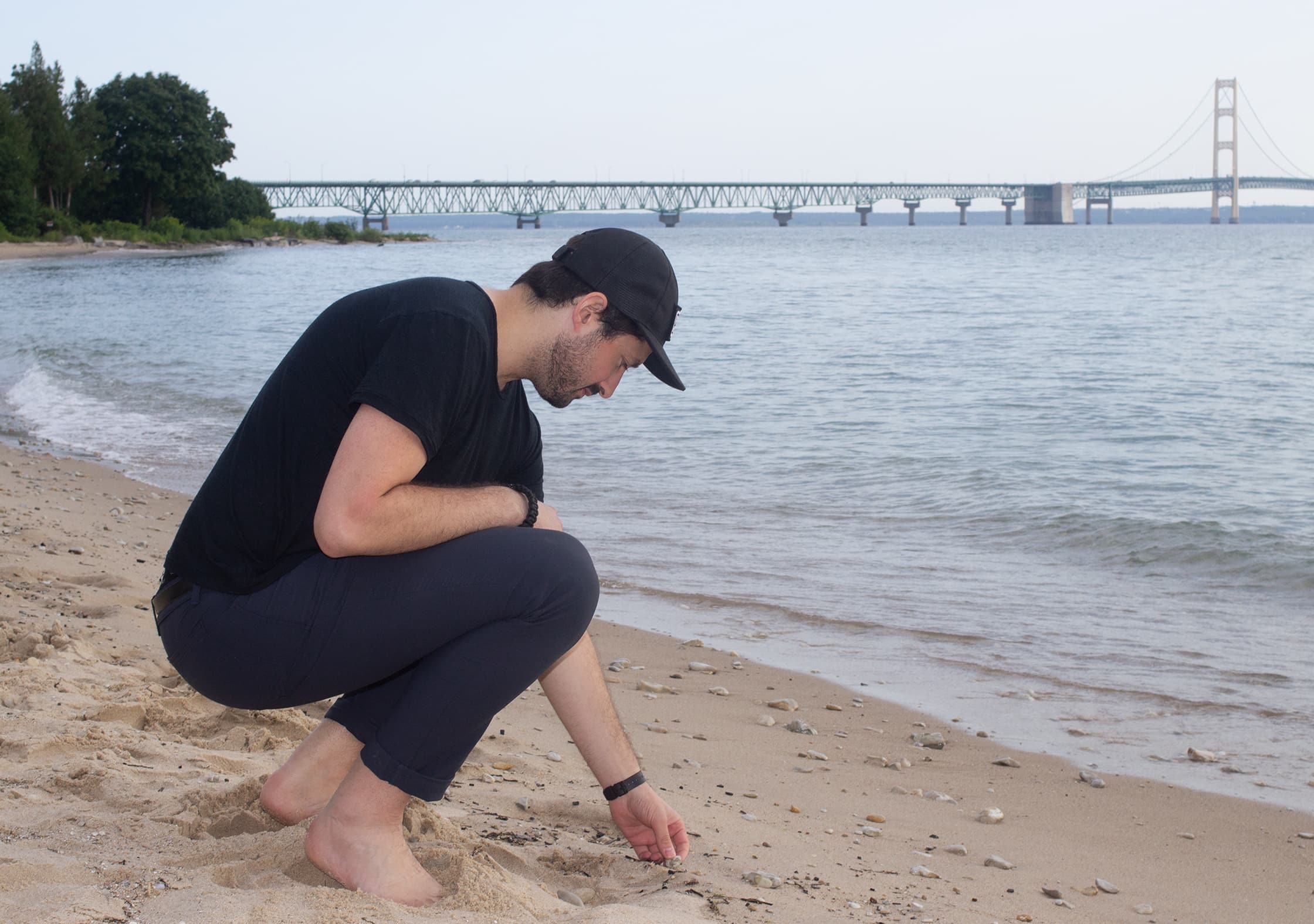 We've reviewed quite a few other pants and we hold the Outlier Slim Dungarees in pretty high regard. We'd say they are basically the gold standard of versatile travel pants, but these come quite close. They pick up dirt and get smelly a bit faster than the Dungarees, but overall they're a very solid pair of pants!
Usage Timeline
Initial Usage
Condition: Excellent
Great! Stretchy, comfy, digging the look.
1 Month of Use
Condition: Excellent
Still going strong, the security pocket is a little tough to use.
2 Months of Use
Condition: Good
Starting to see some fraying—nothing catastrophic, but something to note.
3 Months of Use
Condition: Good
Still holding up well (besides some minor fraying).
6 Months of Use
Condition: Good
These pants made the cut to head on a month-long trip to Porto, Portugal. The quick-drying material is great for long-term travel.
9 Months of Use
Condition: Good
Still holding up well but there's slightly more pilling around the button of the pants.
1 Year of Use
Condition: Good
One year and they're still in the clear!
1.5 Years of Use
Condition: Good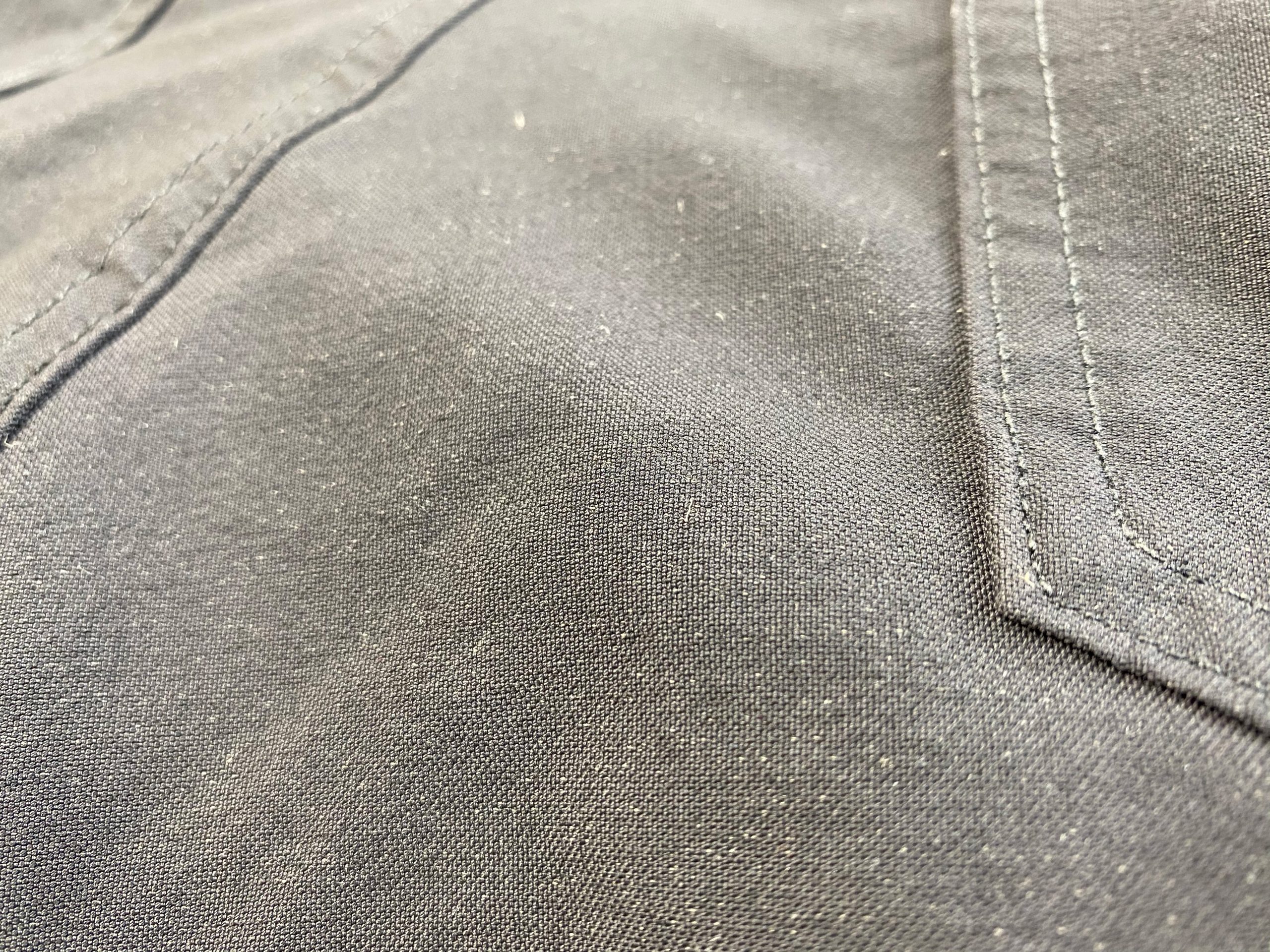 At this point, these pants have been worn well over 100 times. The only wear that's continuing to show on the fabric is slight elastic-y piling. Still holding up well—we don't plan on retiring them any time soon.
2.5 Years of Use
Condition: Mediocre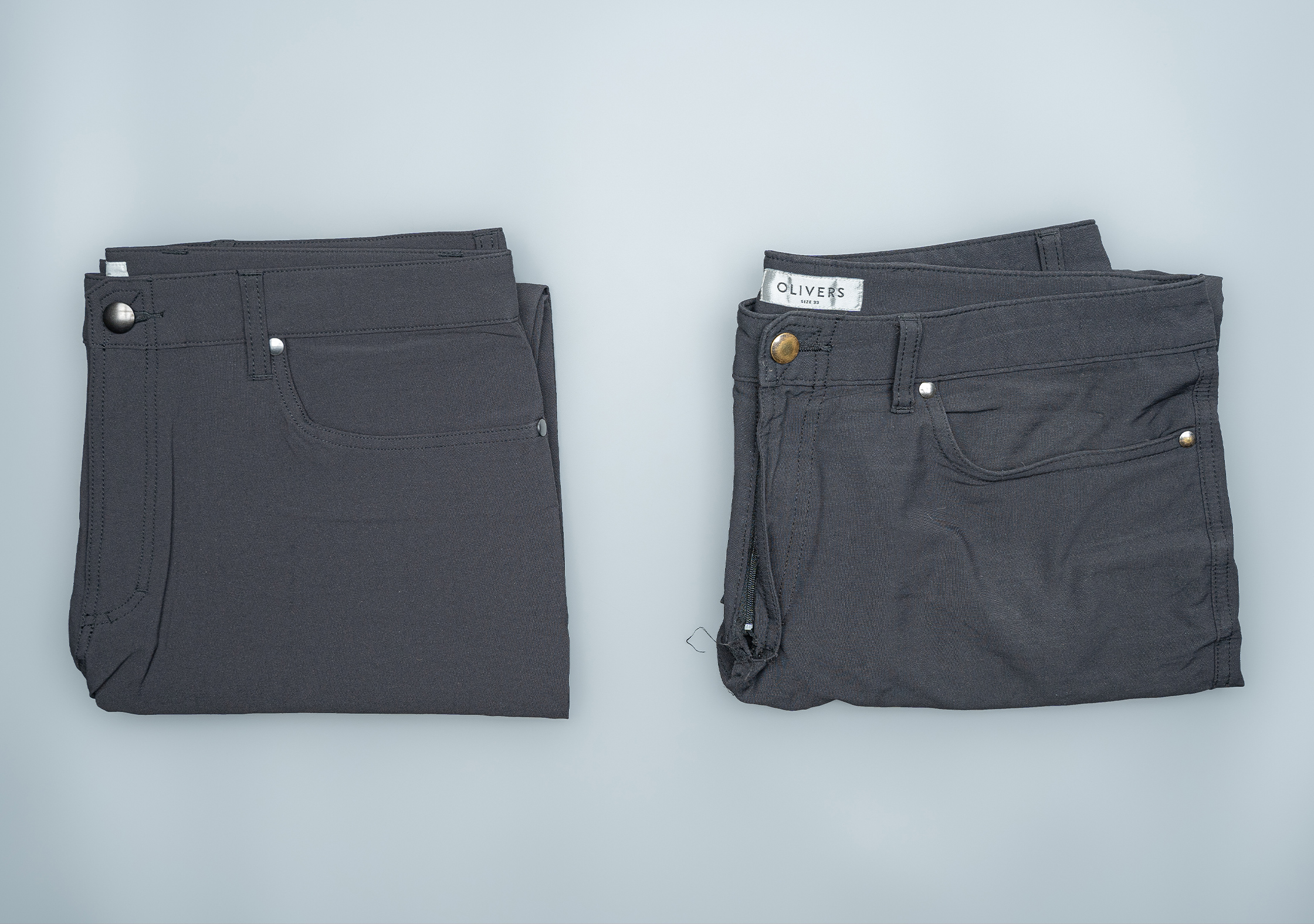 After 2.5 years of adventure, it's time for a new pair! The pair on the left is brand new and the pair on the right has been used for over 2.5 years. The fly is starting to burst open, the color is faded, and the button has a slight patina along with the pilling—all badges of honor earned with each adventure!
Access the Pro Community Discussion
Get your questions about the Olivers Passage Pant answered from our team and the Pro Community right here on the page. Plus, join discussions with other members about gear, guides, and more.
Other Clothing & Accessories Reviews