Even before the age where smartphones ruled the pockets of travelers, a plug adapter was an essential piece of gear. You can get away without one if you travel to nearby countries most of the time (we're talking a border or two), but if you're going further away or to a unique place, you'll likely need a universal adapter. We've come up with a list of the best travel adapters, whether you're hoping to charge up your phone after a long day or use your curling iron before a photoshoot at the Eiffel Tower. Some will work on your desk at work, others are small enough to fit into your travel sling, and some come with a carrying case to stow in your travel backpack. No matter what you're looking for, we've got you covered.
Before diving into these outlet adapters, let's talk about voltage and how to ensure your gear doesn't get fried. Many newer electronics are dual voltage, meaning they can handle a variety of voltages. In the United States and Canada, most plugs are 120 volts, so devices made there cater to those requirements. However, many places worldwide have a higher voltage, namely 220, which is expected around Europe. If you plug a 120-volt device into a 220-volt outlet with an outlet adapter, your device may be damaged. However, some adapters are also converters, which change the voltage and won't fry your device. Before you head out on your trip, look at the voltage where you're going, the voltage on the devices you're bringing, and whether you have an adapter, a converter, or both.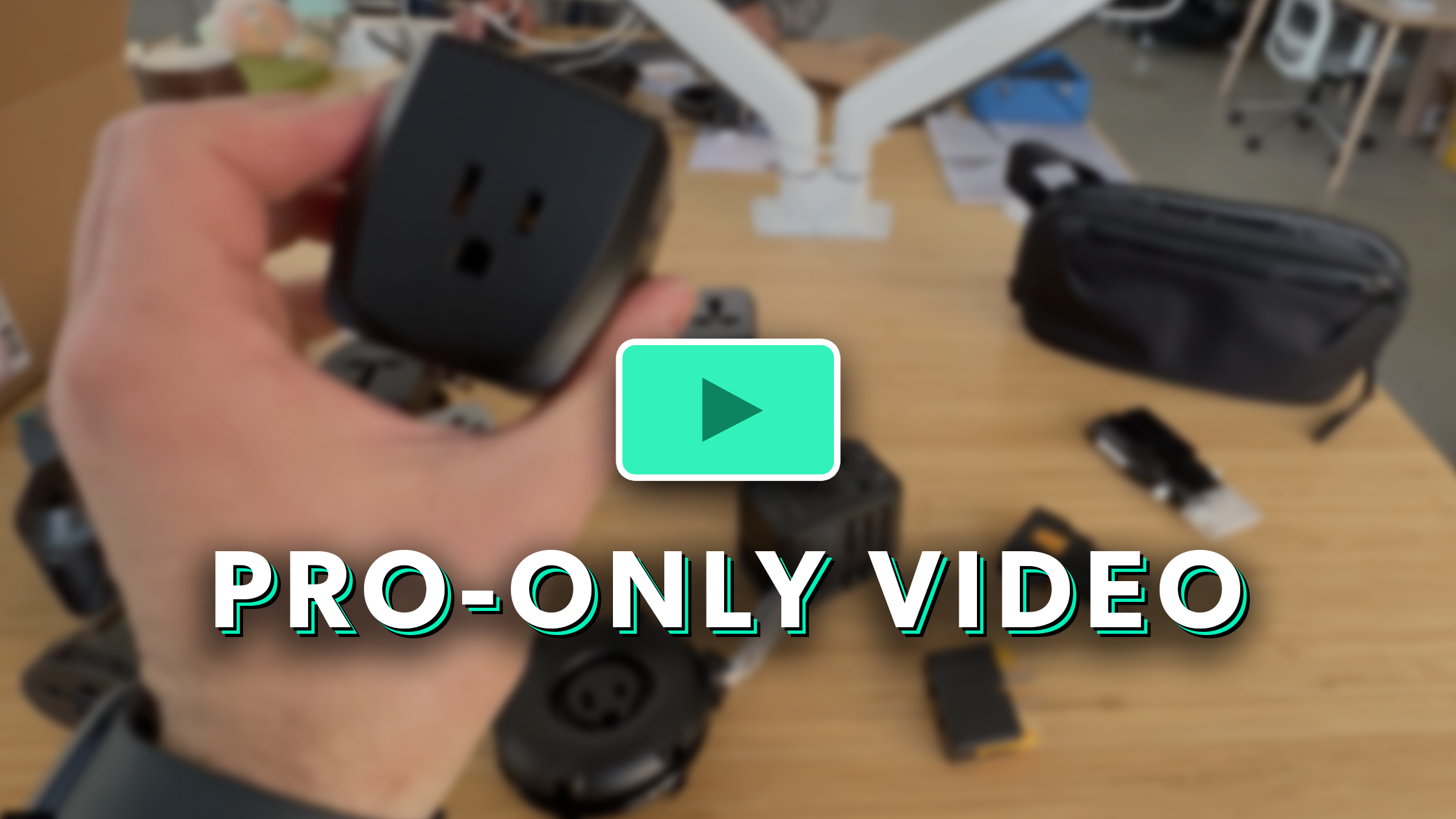 Get a detailed look at gear and have your burning questions answered by our team. Unlock access to our entire catalogue of Pro Exclusive Videos when you sign up for Pro.

Now that the brass tacks are out of the way, let's dive into the gear!
1. MOGICS Super Bagel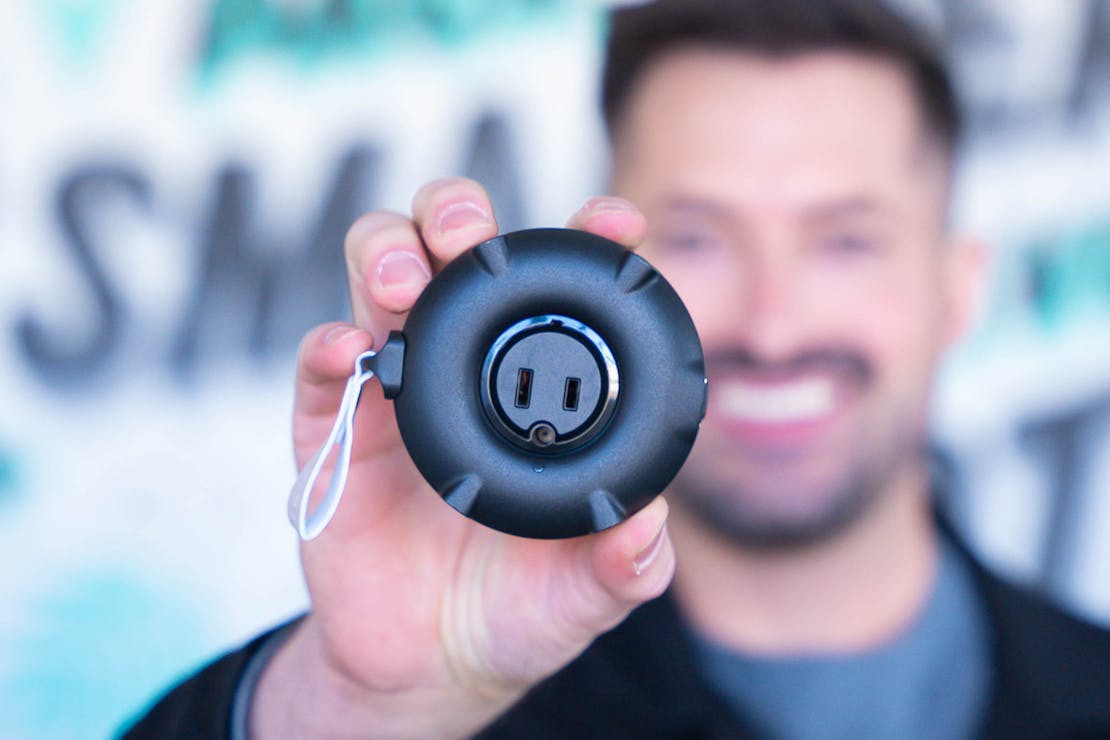 Why We Like It: Has a self-repairing fuse so you're never without an adapter.
What You Should Know: Removing and storing the adapter takes some practice.

There's a reason we put the MOGICS Super Bagel on the third iteration of our Digital Nomad Packing List—we dig this thing! It's shaped like, you guessed it, a bagel and utilizes that shape to fit five sockets, an extension cable, and a plug adapter in the middle. There's also a USB-A and a USB-C port snuck into the mix, too, so you don't need to bring an extra block if you don't want to.

The "hole" in the center is occupied by the travel adapter, which has U.K., AU, and EU wall socket adapters. A built-in fuse resets itself after a surge, which comes in handy in countries with unstable power supplies. Some users have noticed issues with the fuse not resetting itself; however, we typically find it's ready to roll in an hour or less.

We even spent a month with this adapter in Thailand and South Korea, and the extension cable was endlessly helpful staying juiced up during long days of working in a coffee shop. Wherever you go, the Super Bagel is a universal adapter that won't disappoint!
See Full Review & Buying Options
2. Road Warrior Universal Travel Plug Adapter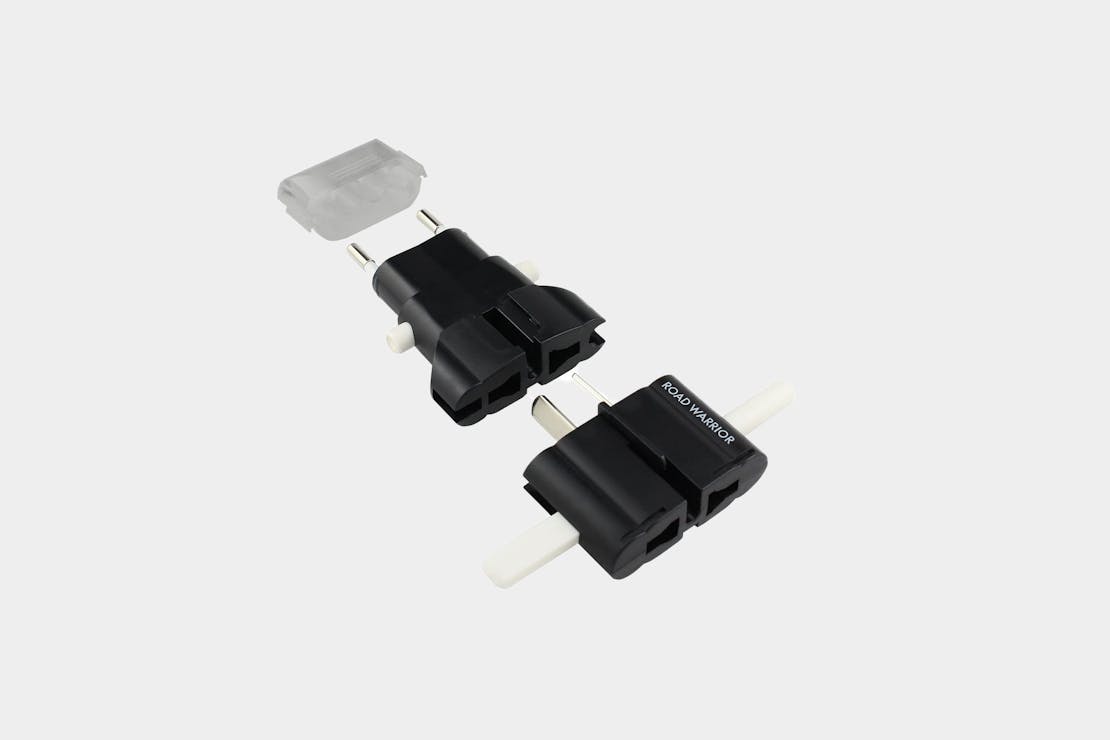 Why We Like It: A classic design most people are used to.
What You Should Know: Can be shaky in a plug when using heavy wall chargers.

If you're looking for a simple universal adapter that won't break the bank, look no further than the Road Warrior Universal Travel Plug Adapter. The pieces come together like a transformer to assemble a plug adapter that will work in over 150 countries worldwide. Plus, at under $20, it won't break the bank.

Some users have had issues with the pieces staying together, especially if the thing you plug into the universal adapter is heavy. However, we've always been able to make it work, even in the most precarious situations. There's no ground, so if you bring a device that requires that, you might need to go with a different universal adapter.

Colorway might not be your number one priority for a universal adapter. Still, the four options available from Road Warrior are a nice breath of fresh air and enable you to pick a model that goes with your flow.
See Details & Buying Options
3. Futurizta Tech Pixy 33W GaN Compact Travel Charger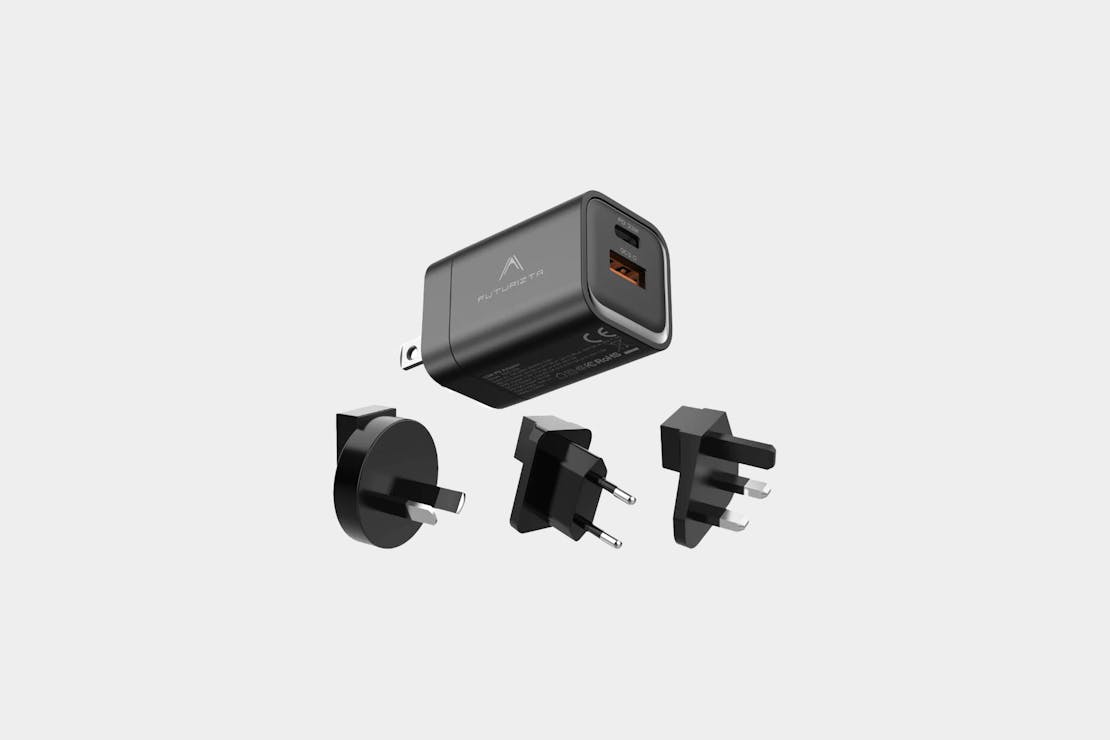 Why We Like It: Works both at home and abroad
What You Should Know: There's no outlet, just USB ports

Finding the best travel adapter can feel like finding a needle in a haystack. There are many excellent options for wall chargers; however, the options for a universal adapter that you can plug into are far more limited. Finally, those two worlds collided, and we're here for it. The Futurizta Pixy 33W GAN PD Universal Charger takes everything you love about your wall charger at home and makes it work across the globe.

Upon initial inspection, it looks like a standard wall charger. However, the end is replaceable, so you can bring the pieces you need for each trip and nothing more. There's a USB-A and USB-C port on the back end, which can be used simultaneously. This works well if you're bringing devices that don't need much power, as the charger maxes out at 33W. You will need something more significant if you bring a MacBook Pro with an M3 chip. However, for most users, this universal charger will work splendidly.
See Details & Buying Options
4. Twelve South PlugBug World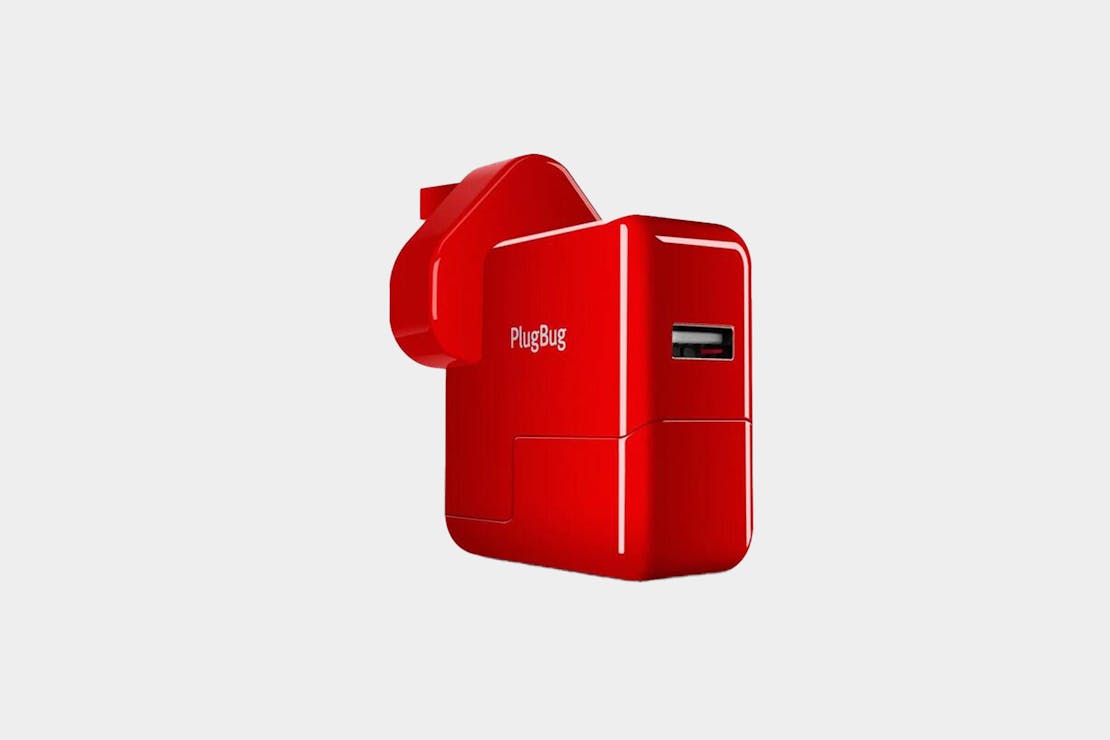 Why We Like It: It converts your Mac charger into another port.
What You Should Know: Isn't useful for users without a Mac charger.

Do you have a MacBook that charges with a USB-C cable with a large white brick? If so, the Twelve South PlugBug World is the universal adapter for you. It slides onto the end of your brick, converting the outlet from wherever you're traveling, and adds an extra port so you can charge your laptop and another device simultaneously.

If you don't have a MacBook with the standard wall charger, this isn't the best travel adapter for you. However, if you need to travel with your MacBook and want a simple charging solution for your other devices, like your iPhone or Apple Watch, the PlugBug World is a great shout. From Detroit to Delhi, you can stay charged up.
See Details & Buying Options
5. CARD CA4-Pro (Card Adapter 4-Pro)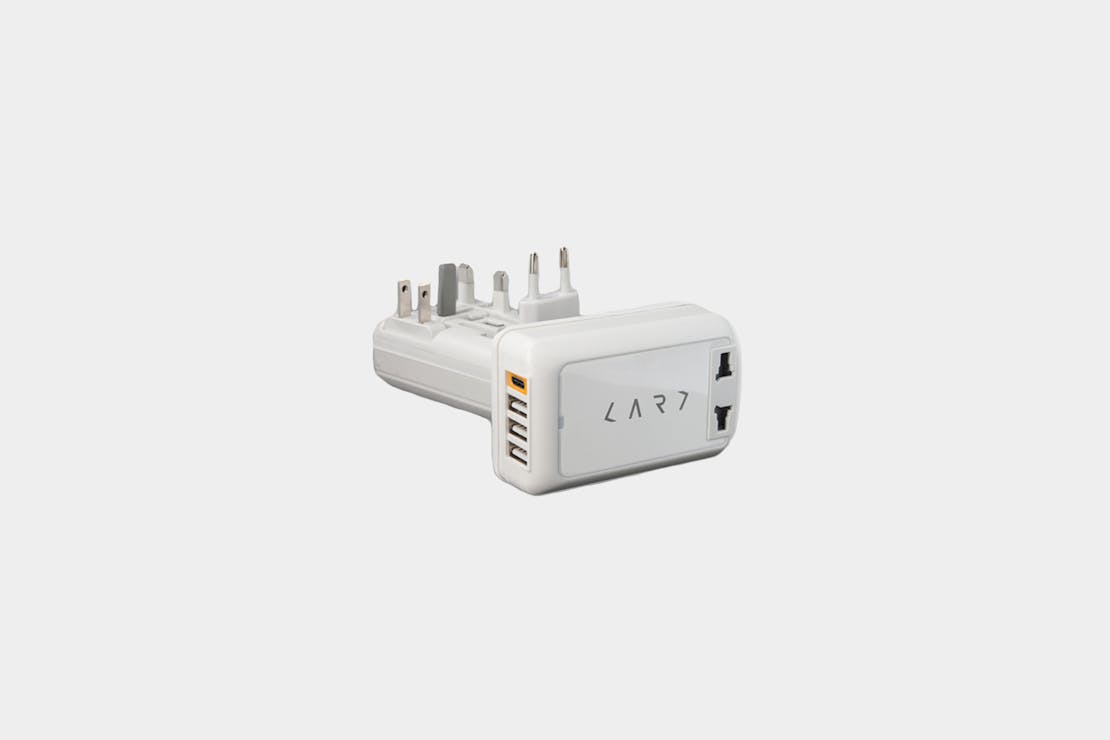 Why We Like It: It has four USB ports for charging.
What You Should Know: It's pretty heavy and may fall out of some outlets.

If you're sick of the standard design and want something that isn't as bulky, the CARD Travel Adapter 4-Pro is worth considering. It's roughly the size of a wallet and has everything you need for your trip in one container. The adapters are stowed in the back behind a panel, and there's an extra fuse in case you blow the first one.

Depending on what cables you already have, there are a few options for you. There's a model with a USB-A port, two USB-A ports, four USB-A ports, and one with three USB-A ports and one USB-C port. The last option offers the most charging capabilities, so we opted for that one, although it is the largest of the four. If you don't have many devices to charge while traveling, one of the smaller options might be a better outlet adapter for you!
See Details & Buying Options
6. Targus World Power Travel Adapter (APK01US1)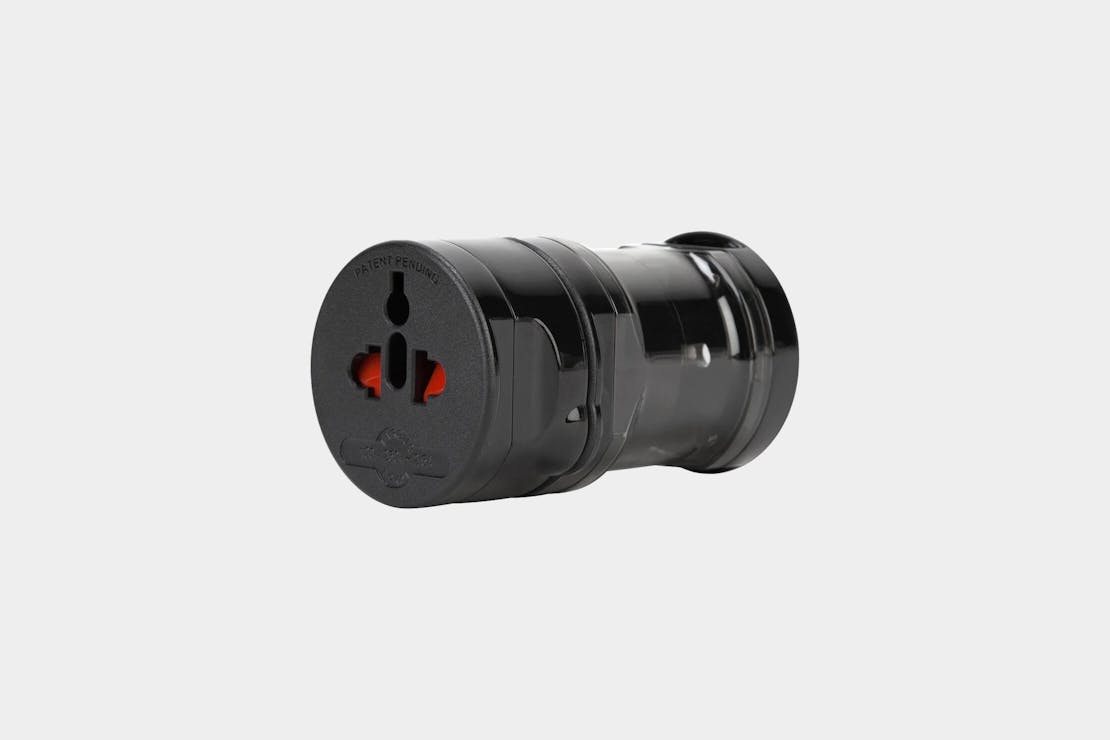 Why We Like It: The materials are durable.
What You Should Know: It doesn't have any USB ports.

The Targus World Power adapter is a durable option for travelers who want a self-contained set. The design is compact enough to fit in your sling or daypack and includes adapters that will work in the United States, Europe, the United Kingdom, Asia, and Australia.

The adapter doesn't have any USB ports, so you'll need to bring a wall charger to charge your phone and other small devices. However, this enables you to bring the charger you're used to, which means you know what you're getting yourself into. This universal adapter's most significant selling point is its durability—as it's constructed from polycarbonate plastic.

Whether you're going to Seattle or Sydney, this adapter has you covered!
See Details & Buying Options
7. HYTED 2000 Watts Travel Adapter and Voltage Converter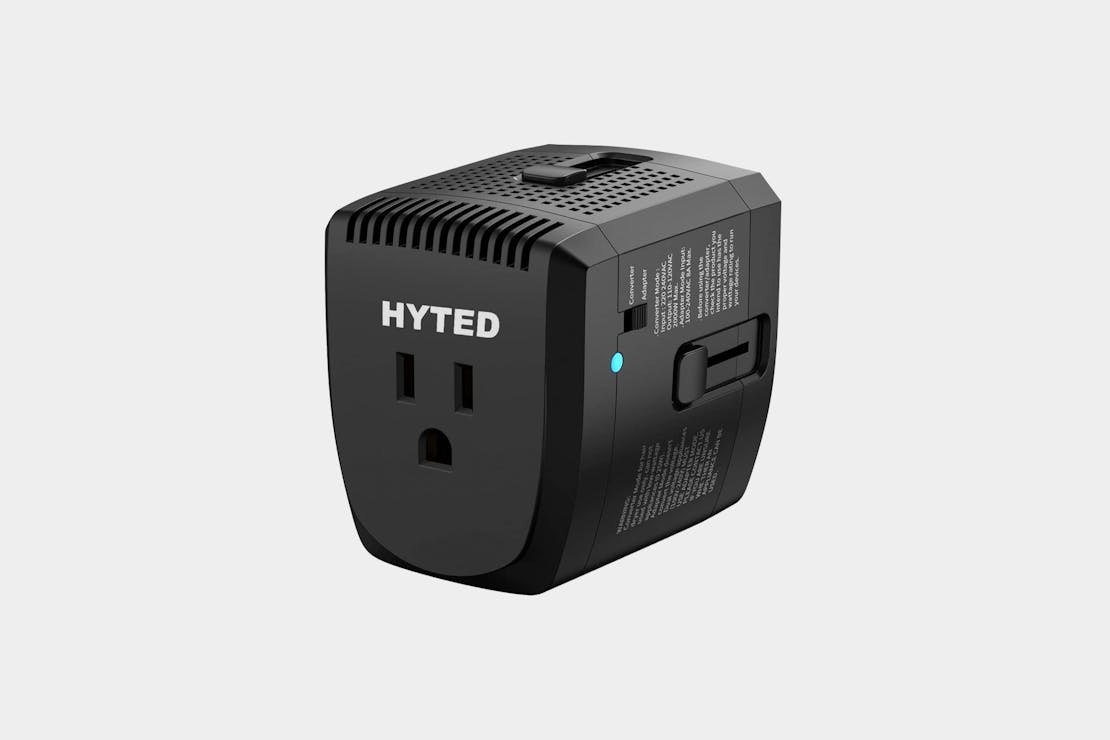 Why We Like It: It can convert power for those coming from lower voltage regions.
What You Should Know: The adapter is a bit bulky.

The HYTED Travel Adapter and Converter is an excellent shout for trips requiring power conversion. It converts 220V outlets to 110-120V, so you can use and charge your devices without worry that a foreign outlet will overpower them. It has a fuse, which can't be replaced, but will protect your gear from being destroyed should it surge.

The adapter will work in over 150 countries across the globe so that you can take it on nearly any trip. The universal adapter is a little bulky but self-contained, so there aren't any extra bits or bobs to worry about losing.

No matter where you end up, this outlet adapter will keep you charged up and your gear safe from power that's too strong!
See Details & Buying Options
8. Zendure Universal Travel Adapter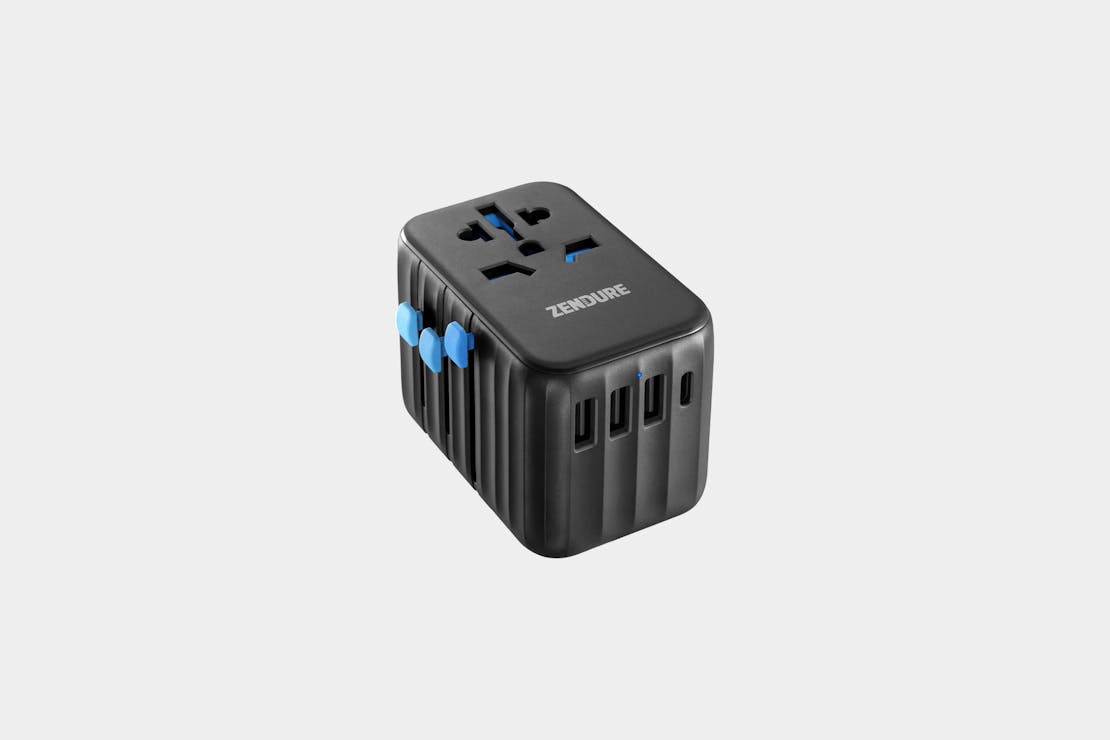 Why We Like It: Five total USB ports is great for charging.
What You Should Know: On the more expensive side.

For the USB-C cable lover, the Zendure Universal Travel Adapter is the move! It has four USB-C plugs to charge all your devices simultaneously, and it has a spare USB-A plug for good measure. It maxes out at 65 watts, so you can charge some laptops at full speed. For devices like a phone, Nintendo Switch, or headphones, you'll get rates you're used to at home!

It isn't the cheapest adapter we've found; however, it can adapt to outlets in over 200 countries. It won't adapt power, so checking the voltage of the countries you're visiting is essential. All the pieces are contained inside the brick, so you don't have to worry about losing any small parts.

If you don't have many USB-C cables and don't plan to convert to the dark side any time soon, this might not be the universal adapter for you. However, for the USB-C lover, this is an excellent plug adapter.
See Details & Buying Options
9. MINGTONG Universal Travel Adapter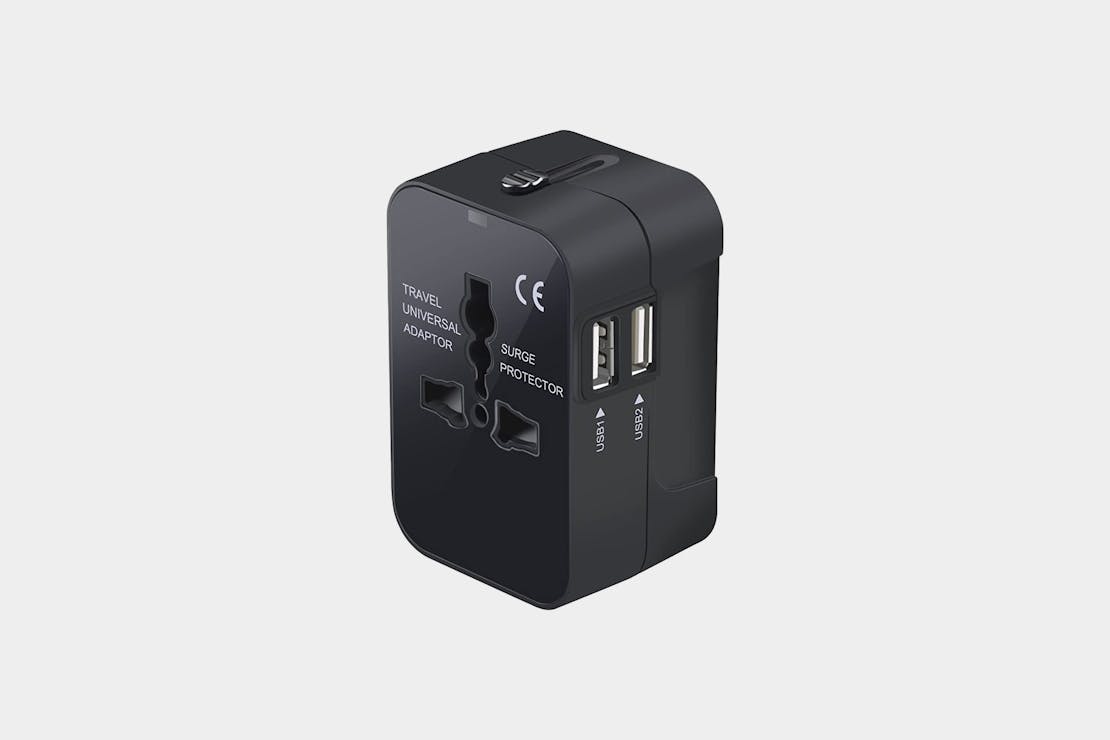 Why We Like It: A simple design that's easy to use.
What You Should Know: The design isn't anything revolutionary.

Sometimes, you just need an outlet adapter that gets the job done. The Mingtong adapter falls into that category. The device has two USB-A ports to charge devices, and there's a model with a USB-C port to replace one USB-A if that's your style. Plus, it'll work in over 150 countries, which is what really matters.

You can also insert a standard plug in so you can use things other than a USB cable. All the moving parts are attached to the device so you won't lose anything essential. It's a little bulky, and the design isn't anything to write home about, but this universal adapter gets the job done, no matter where your journey takes you.

It won't convert 220V outlets for use with 110V devices, so be sure to know what voltage your destination uses before you depart!
See Details & Buying Options
10. Flight 001 5-in-1 Adapter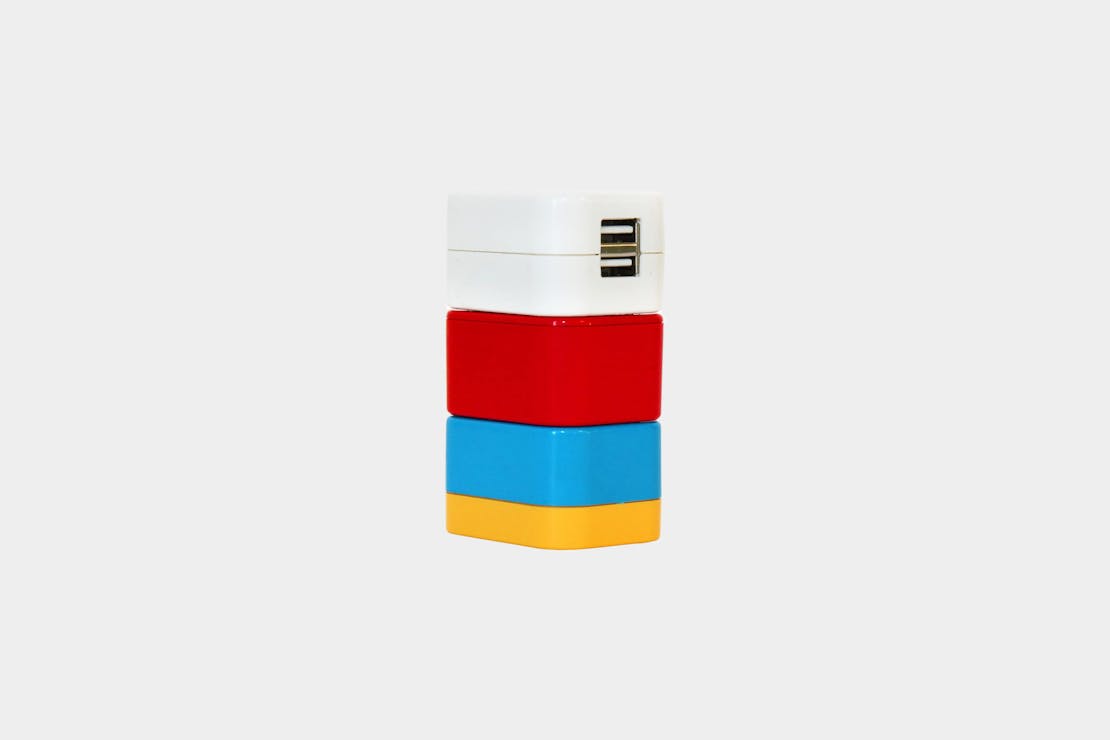 Why We Like It: Super colorful and fun looking.
What You Should Know: We worry about long-term durability.

Do you like gear that's as colorful as you are? If so, you're in luck because we've got the best travel adapter for you. The FLIGHT 001 5-In-1 Adapter has five saturated and fun pieces to look at, which brings a bit of fun to any charging situation you may find yourself in.

The output is two USB-A ports, so you can charge two devices simultaneously. This is an outlet adapter, not a power converter, so be sure to check the voltage of your destination. The colors make it easy to remember which piece goes where, so you can get into the swing of adapting the outlet more quickly.

The design is a bit large, and we worry about long-term durability; however, this thing is fun as heck to use, which is worth commending. Come on; it's a universal adapter, after all!
See Details & Buying Options
11. DoAce Ace3 Travel Adapter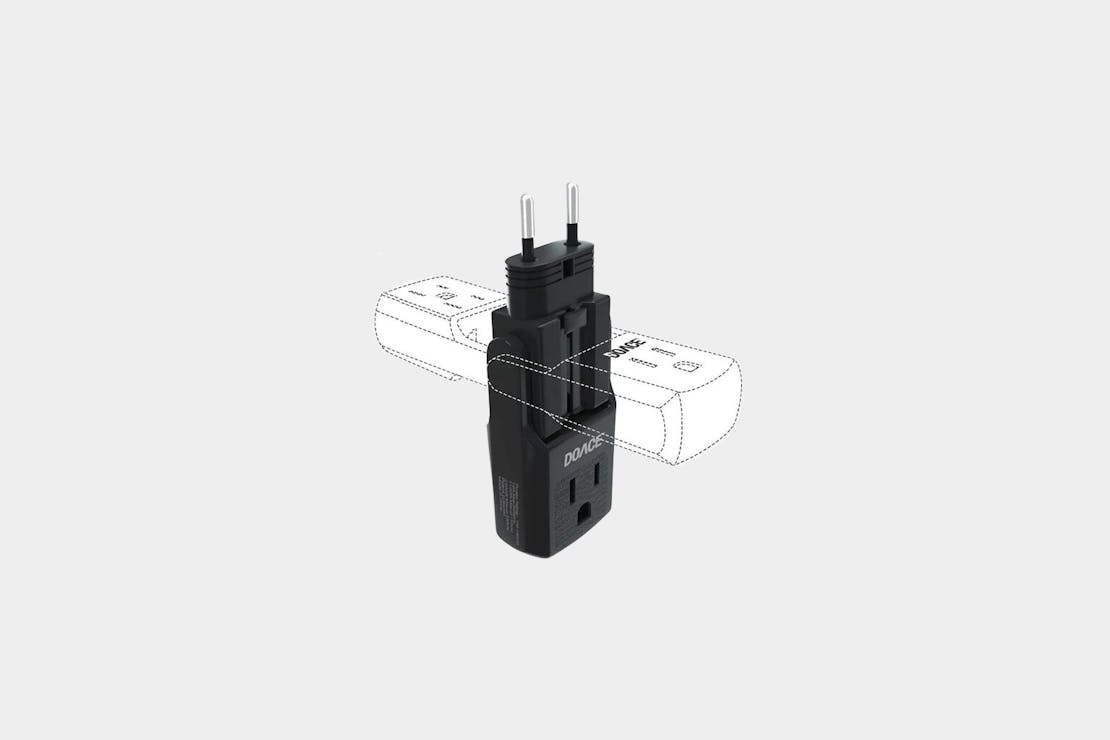 Why We Like It: The plug rotates to ensure it can fit into hard to reach outlets.
What You Should Know: It doesn't convert power.

One of the most frustrating things while traveling is returning to your hotel after a long day of adventuring to recharge for the night and being unable to get your tech to work right. A common occurrence with a bulky plug adapter is not being able to fit them into the outlet or not being able to fit your wall charger because of an inconveniently placed plug. Enter the DOACE Ace3.

This universal adapter has a rotating head, so you can turn it to miss corners and make charging your devices more accessible. One side has a single grounded outlet, and the other has two outlets with one ground between them so that you can plug in one grounded item or two non-grounded things.

The adapter doesn't convert power, so look up the voltage of the country you're visiting before you hit the airport. We love the design offered by this universal adapter, and it makes charging your devices that much easier!
See Details & Buying Options
12. OTAO 200W 4-Port GaN Charger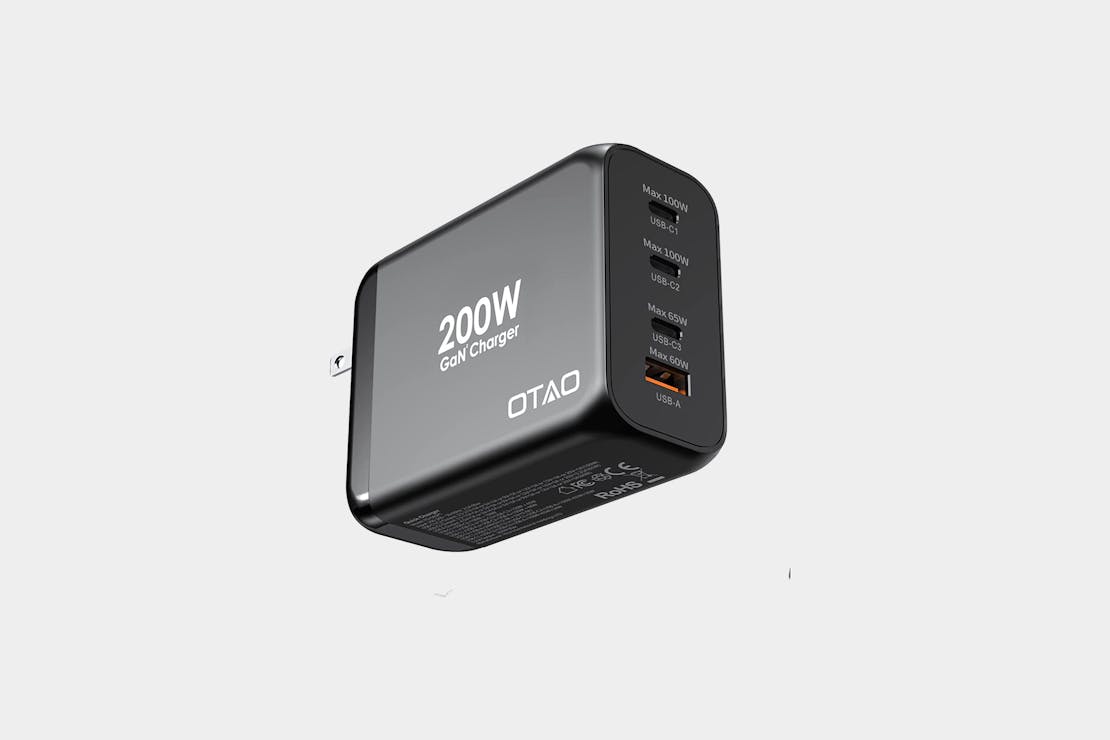 Why We Like It: The large wattage capacity is great for larger devices.
What You Should Know: It doesn't have a standard outlet, just ports.

If you're searching for a wall charger you can use on your desk at home and abroad, look no further than the OTAO 200W USB-C Wall Charger. It has outlets for various plug types worldwide, so you have the option to only bring the ones you need. Plus, it comes with an extension cord that you can use on type A and type B outlets at home on your desk.

Plus, this thing has ports on ports on ports. There are two 100-watt USB-C plugs, a 65-watt USB-C plug, and a 60-watt USB-A plug. However, the device is capped at 200 watts, so you won't get full throttle from every port if you have four things plugged in.

There's no standard outlet, so it won't work for your bathroom accessories. However, this is one of the best universal adapters for content creators and travelers who like to bring multiple devices.
See Details & Buying Options
13. SublimeWare 2000 W Black Travel Adapter Kit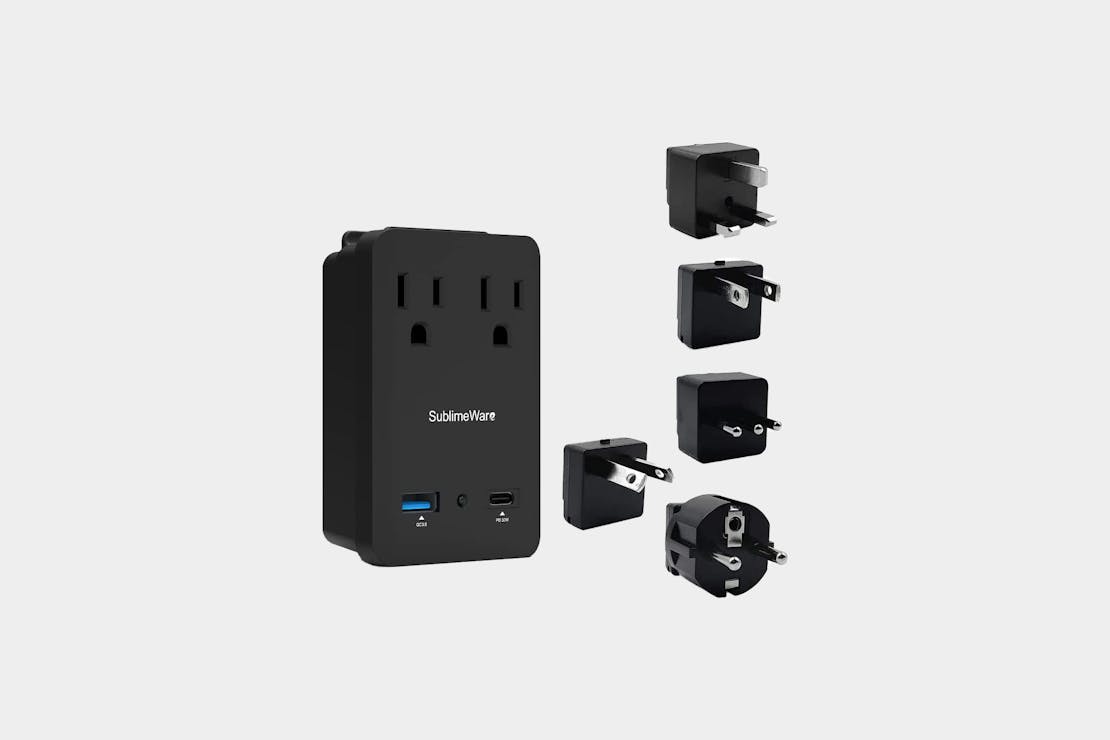 Why We Like It: It has two outlets and two USB ports for charging and bathroom products.
What You Should Know: The pieces are easy to lose.

If you want multiple outlets and USB ports, your options for a European plug adapter are limited. However, the outlet adapter from SublimeWare has you covered. It transforms outlets from over a hundred countries and is grounded in most, so your gear is protected from surges. The pieces that do the adapting aren't connected, so you can only bring what you need, but they're relatively easy to lose track of.

The device comes with a bag to keep it in, so you are less likely to lose pieces. It can't convert 200—240 volt power sources, so look up the voltage of the countries you're visiting beforehand. However, with two type-B outlets and two USB-A plugs, you're ready to take on dozens of countries.
See Details & Buying Options
Whether you were looking for a way to use your curling iron on Crete or charge your drone in Denver, we think you'll find the best travel adapter for you somewhere on this list. Power up, and enjoy the rest of your trip!