YETI Crossroads Backpack 23 Review
The YETI Crossroads Backpack 23 is a durable bag that's a great size for everyday carry or minimal travel—plus, it stands up!
Our Verdict
Unlock the Pro Summary
Save time. Get access to brief summaries of our reviews so you can browse and make decisions more efficiently.
Pros
High-quality materials and construction
Comfortable shoulder straps
Bag stands up on its own
Cons
Stretchy tech pocket is an odd size and placement
Quick-grab pocket can be hard to use when the main compartment is full
Feels smaller than other bags with a similar claimed liter capacity
Recent Pack Hacker Video
Technical Details
Capacity

23l

Weight (lb)

3 lb (1.4 kg)

Denier

1000D

Dimensions

18 in x 12.5 in x 7 in (45.7 x 31.8 x 17.8 cm)

Notable Materials

YKK Zippers, Nylon, Ripstop Nylon, Duraflex Hardware

Manufacturing Country

Philippines

Laptop Compartment Size

15"

Warranty Information
Full Review
If you're looking for a robust backpack to keep up with your daily grind, then the YETI Crossroads Backpack 23 may be the right everyday carry bag for you. And it works pretty well as a minimal carry-on travel bag, too. The Crossroads is a 23L backpack from the popular Austin, Texas company that cut its teeth making coolers, insulated mugs, and other rugged outdoor lifestyle gear.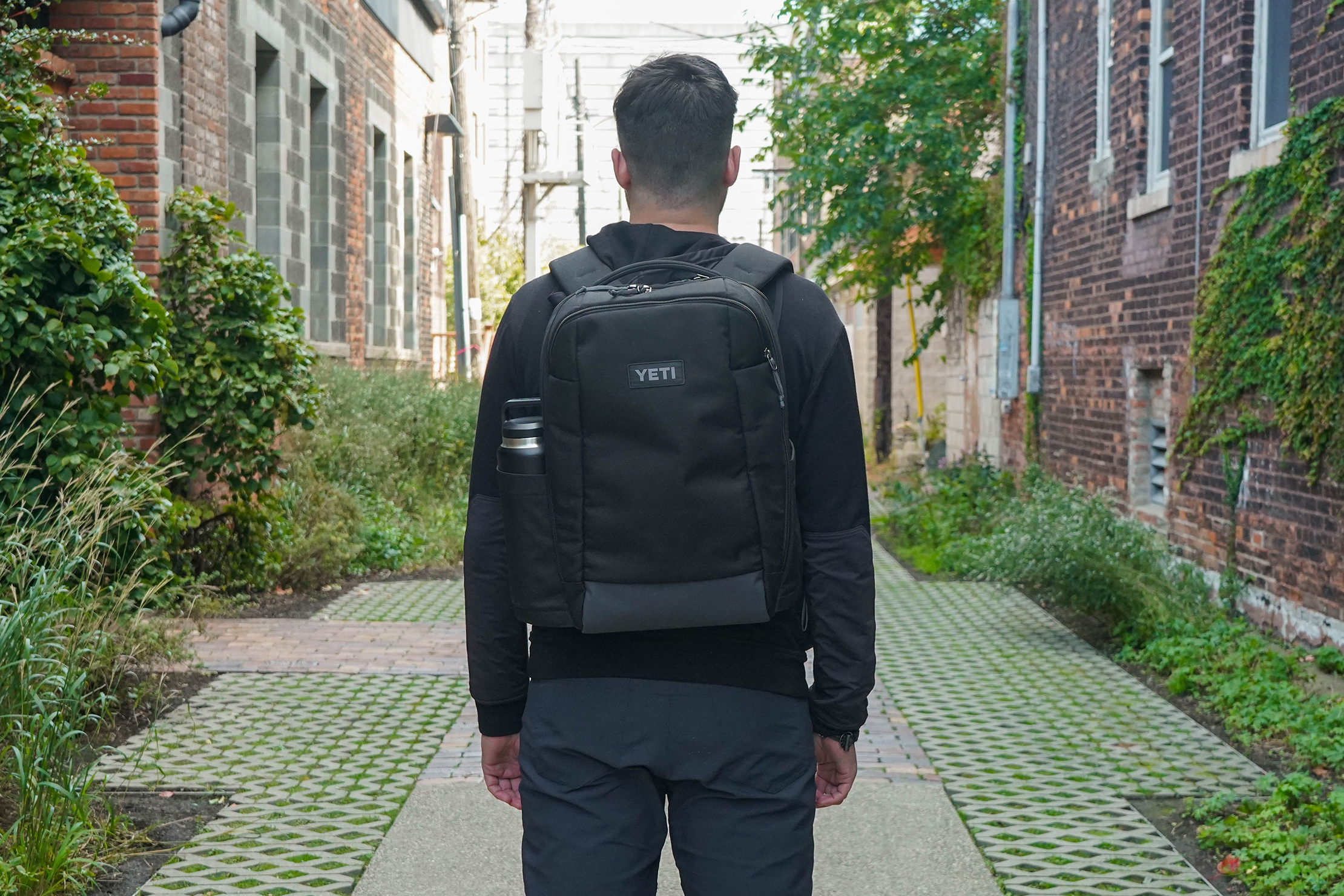 Our team has been testing the YETI Crossroads Backpack 23 around Detroit and northern Michigan for the last three weeks. How did it stand up? Let's jump right in and find out.
Materials & Aesthetic
Overall, the Crossroads Backpack 23 definitely has that signature YETI style—albeit a little more subdued than the brand's coolers that tend to have massive zippers and louder colors. YETI also makes a 16L tote in this same Crossroads line, if you prefer that style of carry.
When it comes to branding, there's a small YETI patch on the front of the Crossroads Backpack 23 and one on the back of the shoulder straps.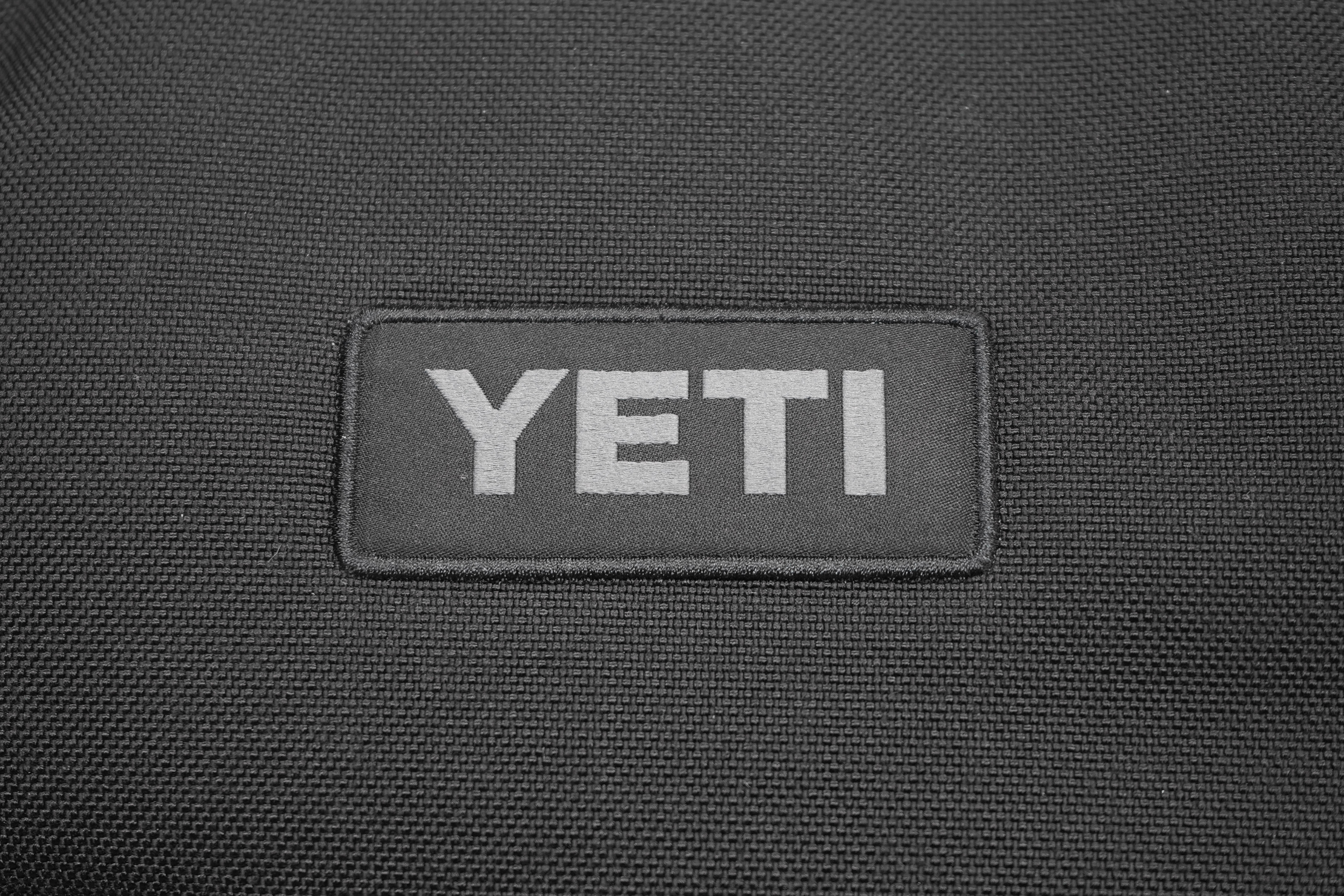 We like that the logo is gray on black—which is another more subdued choice—especially compared to the white on black patch found on the YETI Tocayo (a bag we reviewed previously that has since been discontinued).
The main fabric on the exterior on the YETI Crossroads Backpack 23 is a 1000D nylon. It feels nice and soft to the touch, and we expect it'll hold up for the long haul.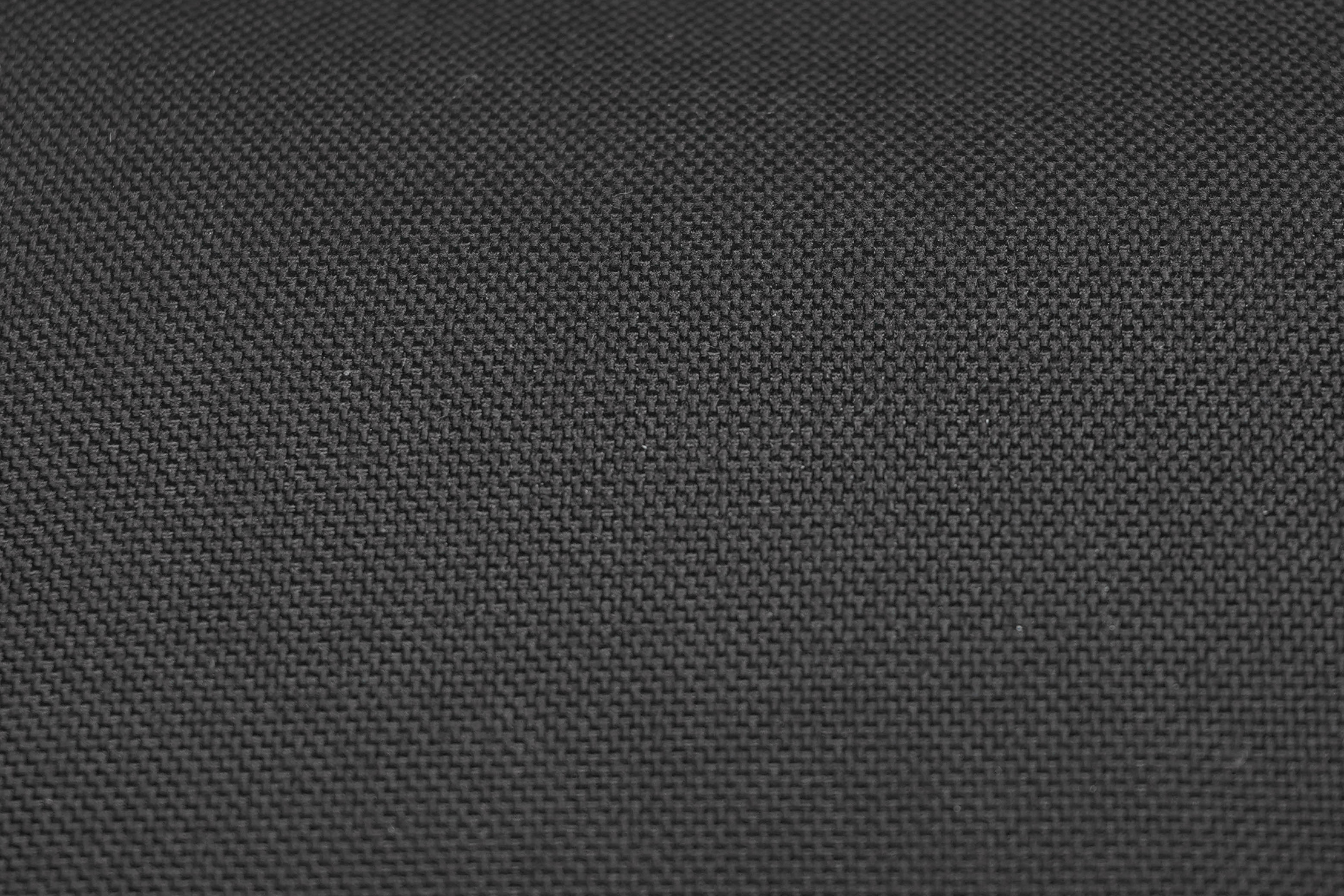 At the time of this review, this bag comes in three different colorways: Slate Blue, Charcoal and Black. We've been testing the Crossroads Backpack in Black (shocking right?). But, for the Tote, we opted for the Charcoal colorway which looks slick as well.
That said, Pack Hacker HQ is split on the overall aesthetic of this bag. Some of us like it. Some of us don't. And some of us think it gives off a "dad" vibe (sorry, dads). As always, we tossed it out to our Instagram audience to get their thoughts—and they tended to side with the "dislikers" among us. Be sure to follow us on Instagram @packhacker to be involved in future poles.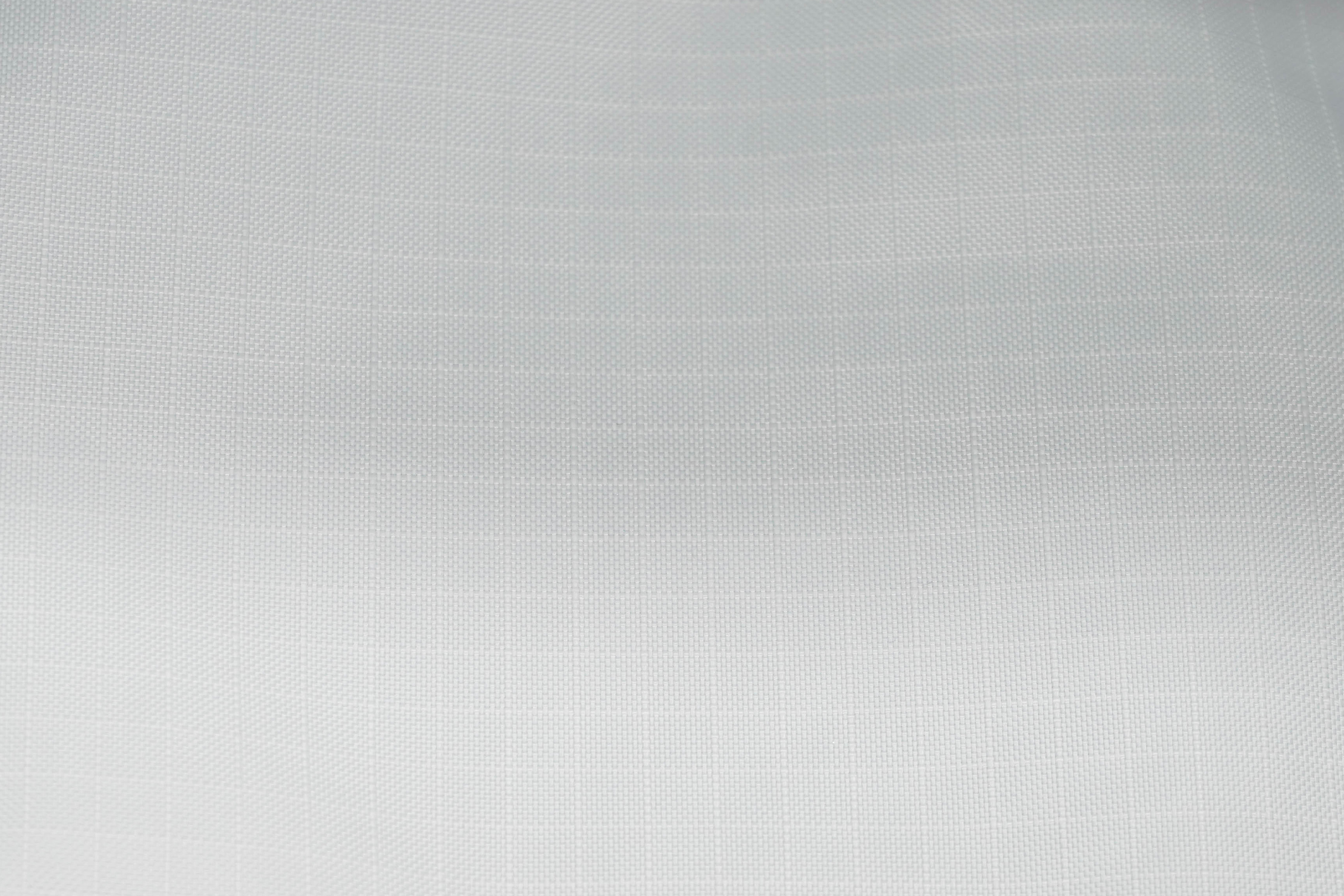 Wrapping up the rest of the materials, the YETI Crossover Backpack 23's interior liner is 420D ripstop nylon, which feels nice and also has some durability to boot.
This bag also has durable YKK zippers on the openings along with high-quality Duraflex buckles and plastic hardware on the strap adjusters and sternum strap.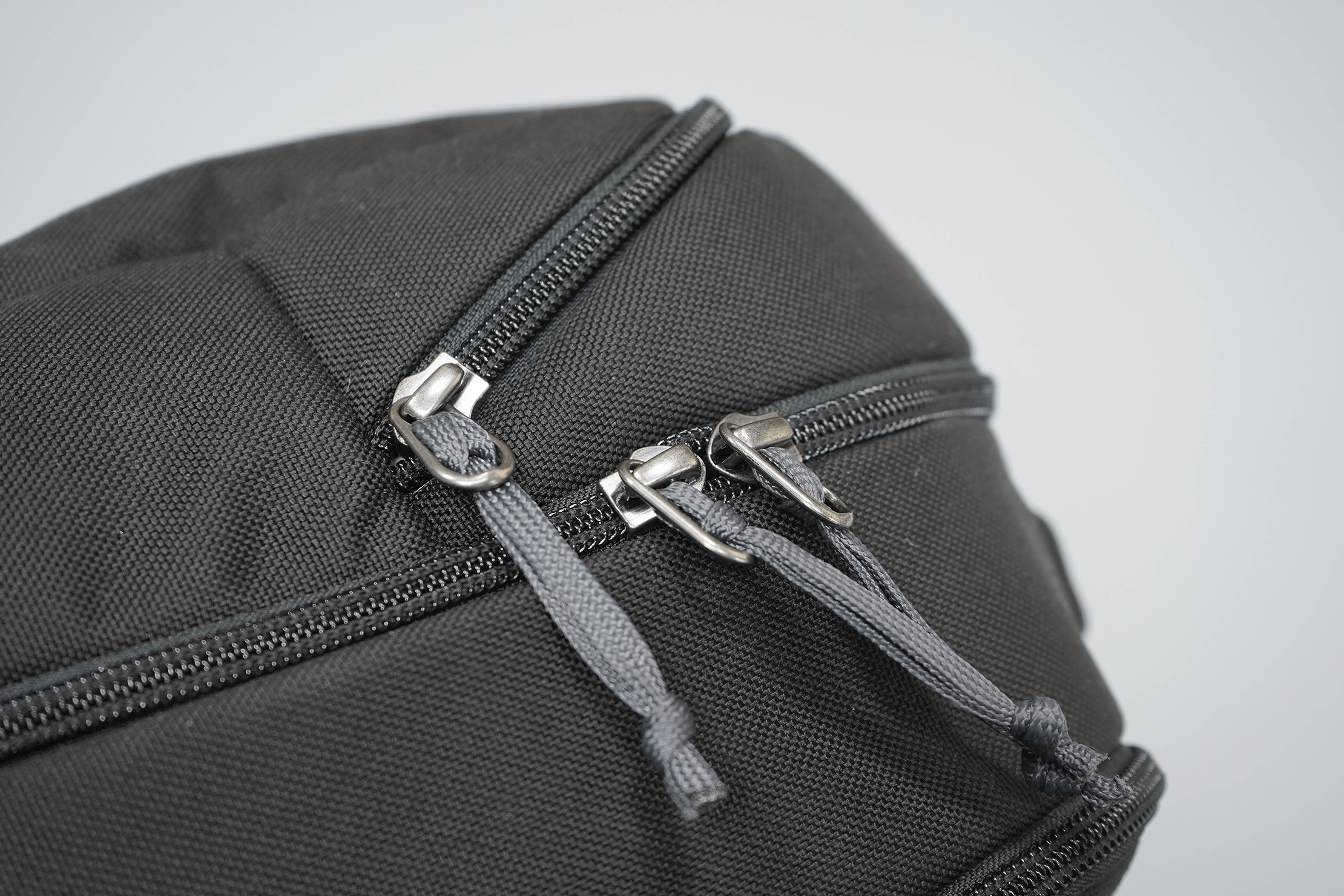 External Components
The harness system on the YETI Crossover Backpack makes for a comfortable carry on this 23L pack. The shoulder straps feature plenty of high-density foam—with some decent squish—which makes them very comfortable to wear.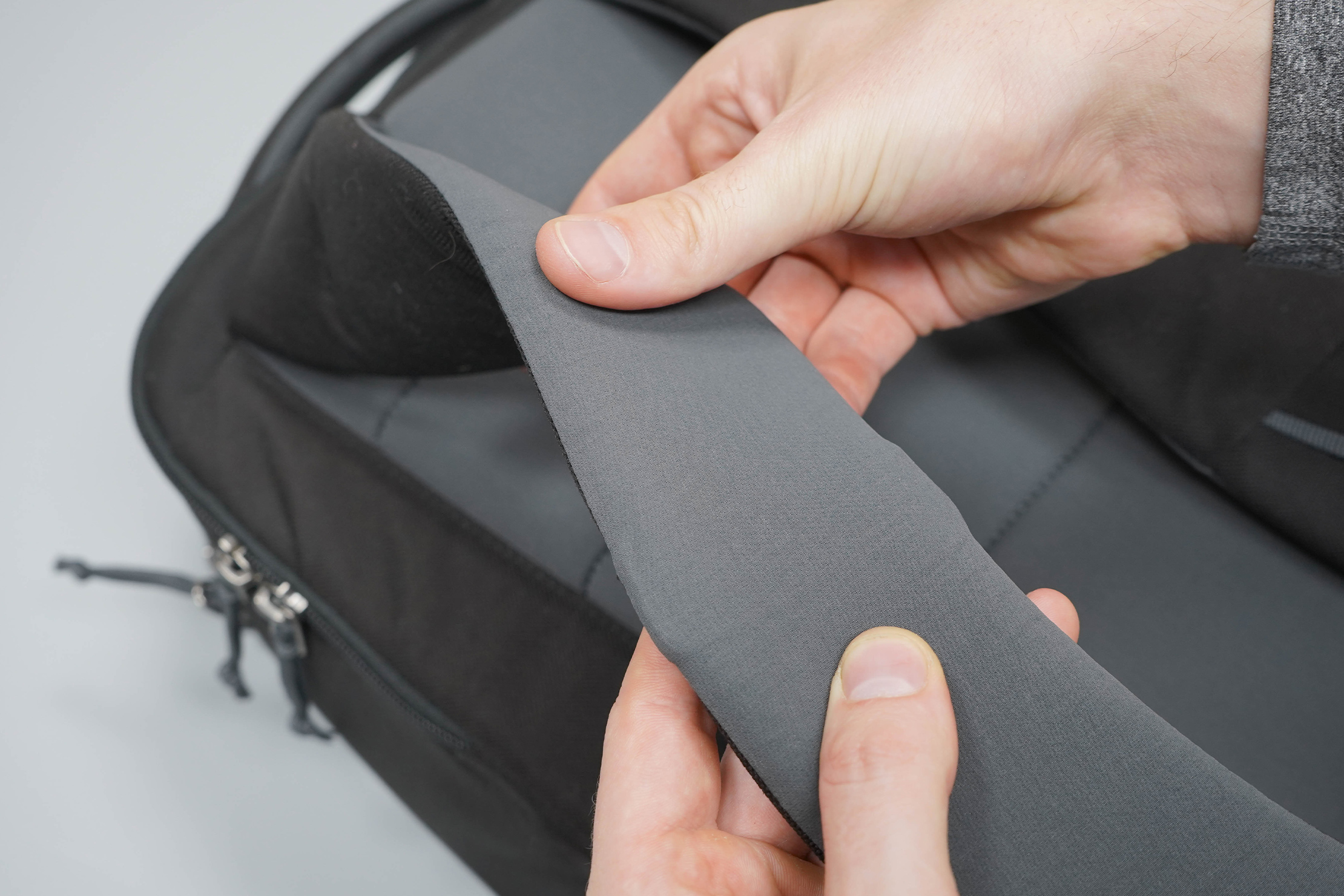 While you probably don't really need straps so dense on a bag this size, we're certainly not complaining. You can count on a comfortable carry even when this backpack is fully loaded with your gear.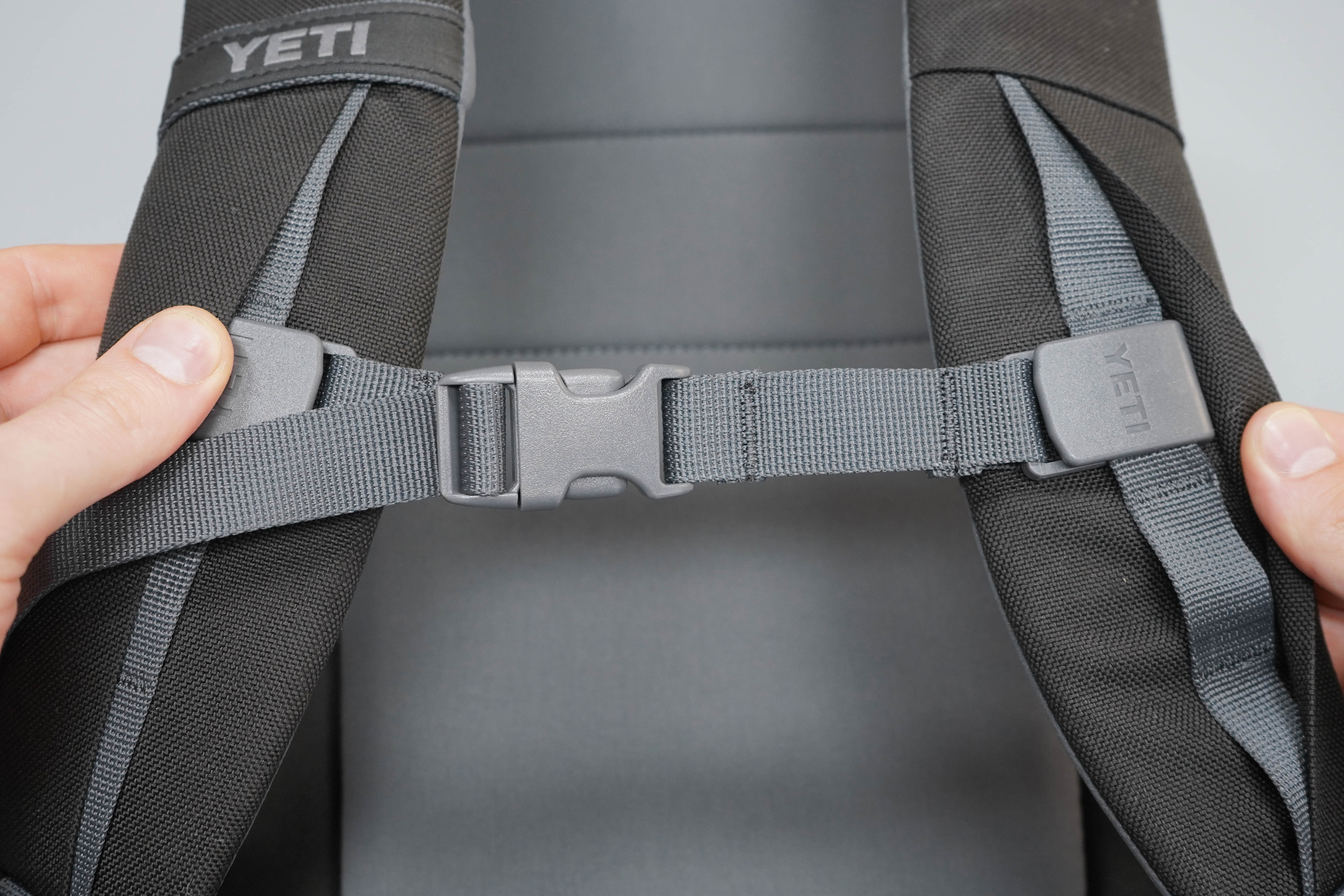 Fabric welting on the straps covers a row of PALS webbing where the sternum strap attaches. The sternum strap stays pretty securely attached so it's not likely to get lost—though it is still possible with a detachable sternum strap of this design.
Moving down the straps, the plastic Duraflex adjusters glide and adjust quite easily.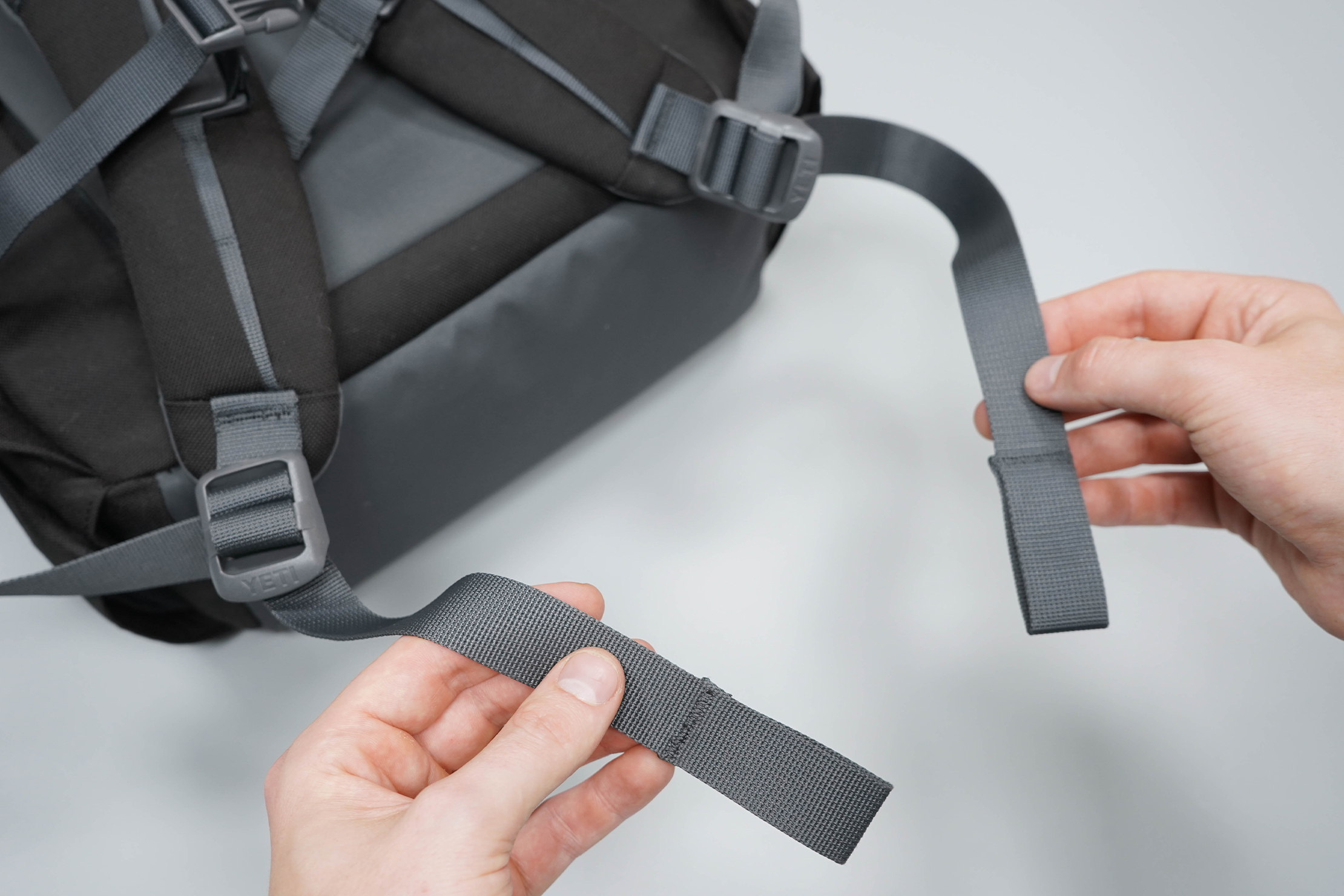 The only thing missing at the bottom of this harness system is elastic keepers to manage the excess strap. We've been using removable strap keepers from Tom Bihn during our testing to achieve that blissful dangle free experience.
On the back of the YETI Crossroads Backpack 23, you'll find a padded back panel—that uses similar-feeling foam to what's in the shoulder straps— but not much mesh to help with airflow. We've found this back panel to be pretty stiff, especially compared with other bags we've tested.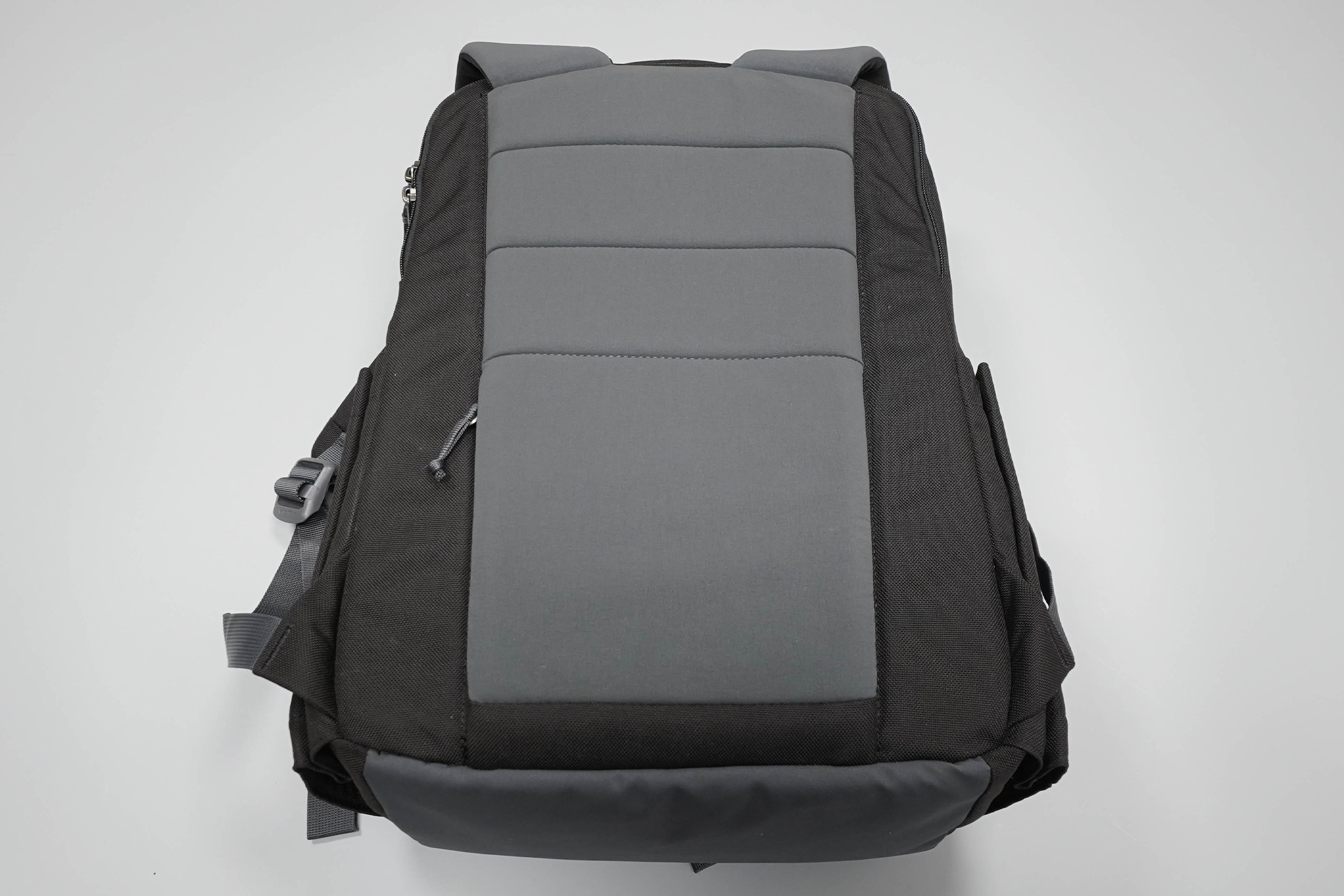 Now, if you're someone who prefers a more flexible bag that will contour to your back, you'll definitely notice this stiffness when you cinch up the straps. That said, if you put a 15-inch laptop along the back of any bag (which is how a lot of brands do it), you'll lose some of that contour anyway. So, it's something to keep in mind.
Overall, though, the Crossroads 23 has a solid, comfortable harness system.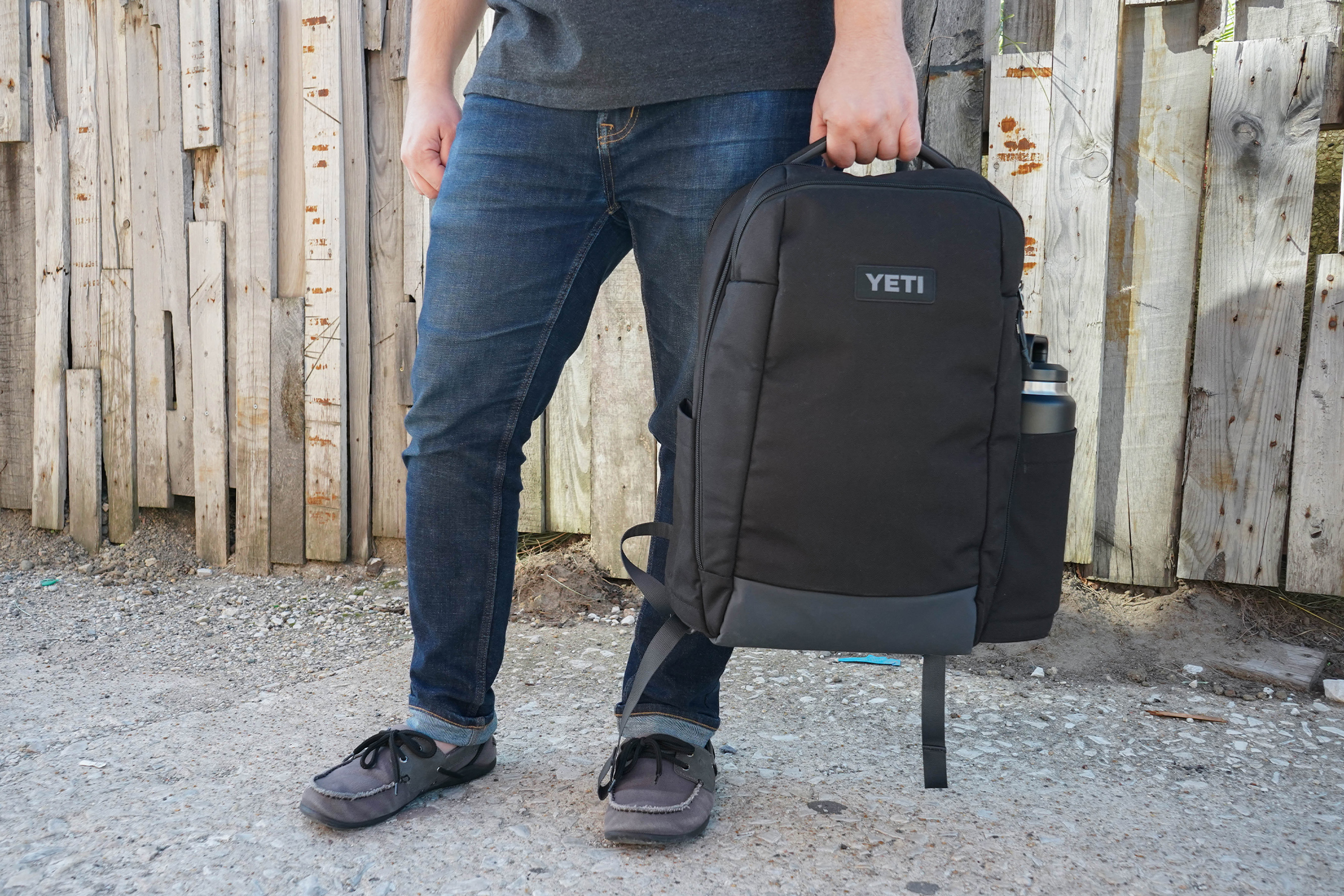 The handle at the top of the bag is padded, grabbable, and pretty much the perfect size. It feels like the handle is attached to some kind of stay as well, which gives this thing additional structure when you're grabbing it.
The YETI Crossroads Backpack 23 has two external water bottle pockets—one on each side. These aren't your average water bottle pockets though. They're expandable and magnetic (!). Meaning, they'll expand to fit most water bottles when you need it, and lay flat when you don't.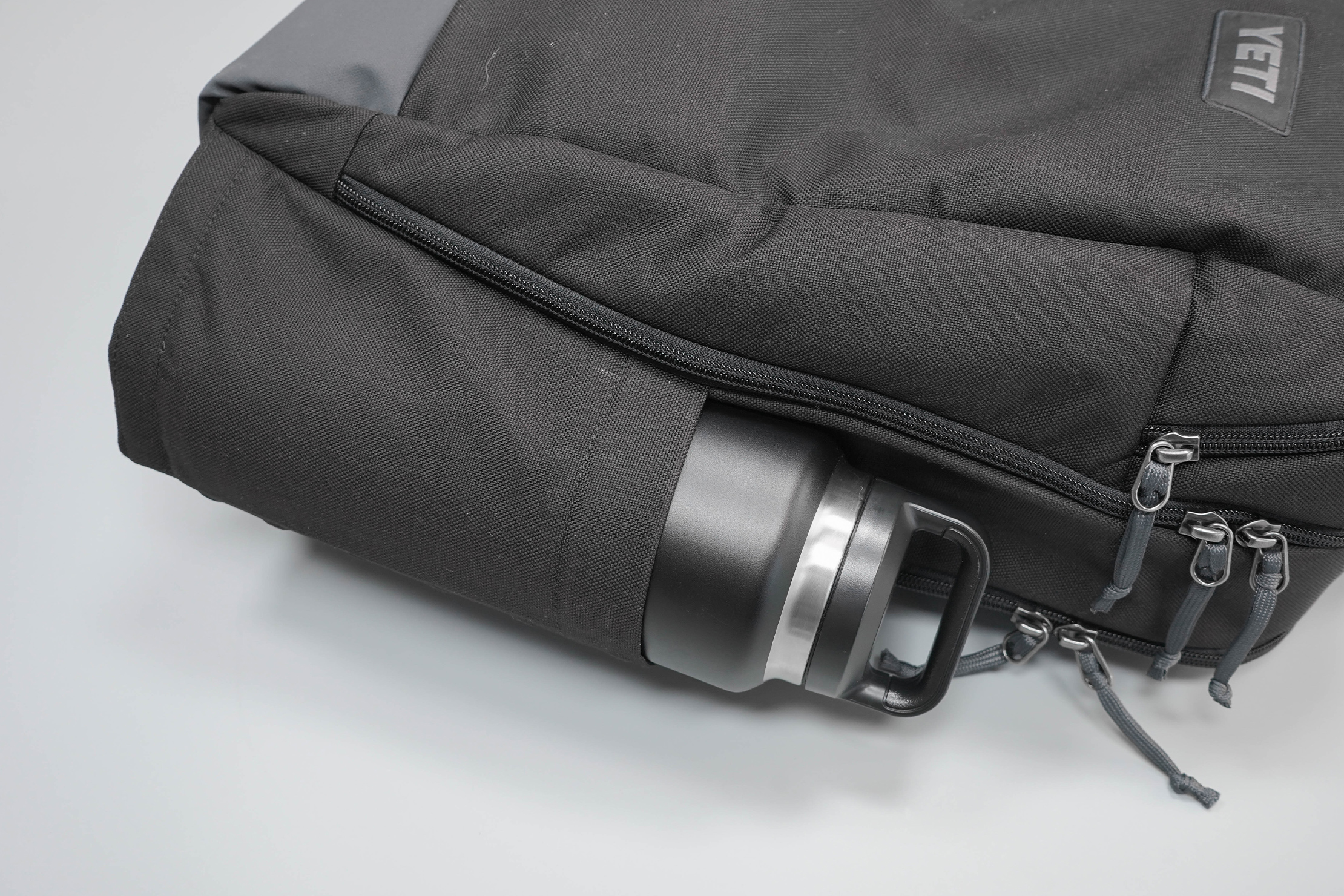 Now, these water bottle pockets are not stretchy (they use the same 1000D material and 420D liner as the rest of the pack) but there is a stretchy mesh at the bottom. Plus, the folks at YETI designed these pockets to fit most Rambler bottles. We've tested them with a 36oz Rambler and it just barely squeezes in
Lastly, this bag stands up by itself—even when it's empty, even when there are no water bottles in the side pockets. Plus, the bottom of the bag is covered in a tarpaulin-like material which adds additional durability and water-resistance so you don't have to worry about where you're setting this thing down.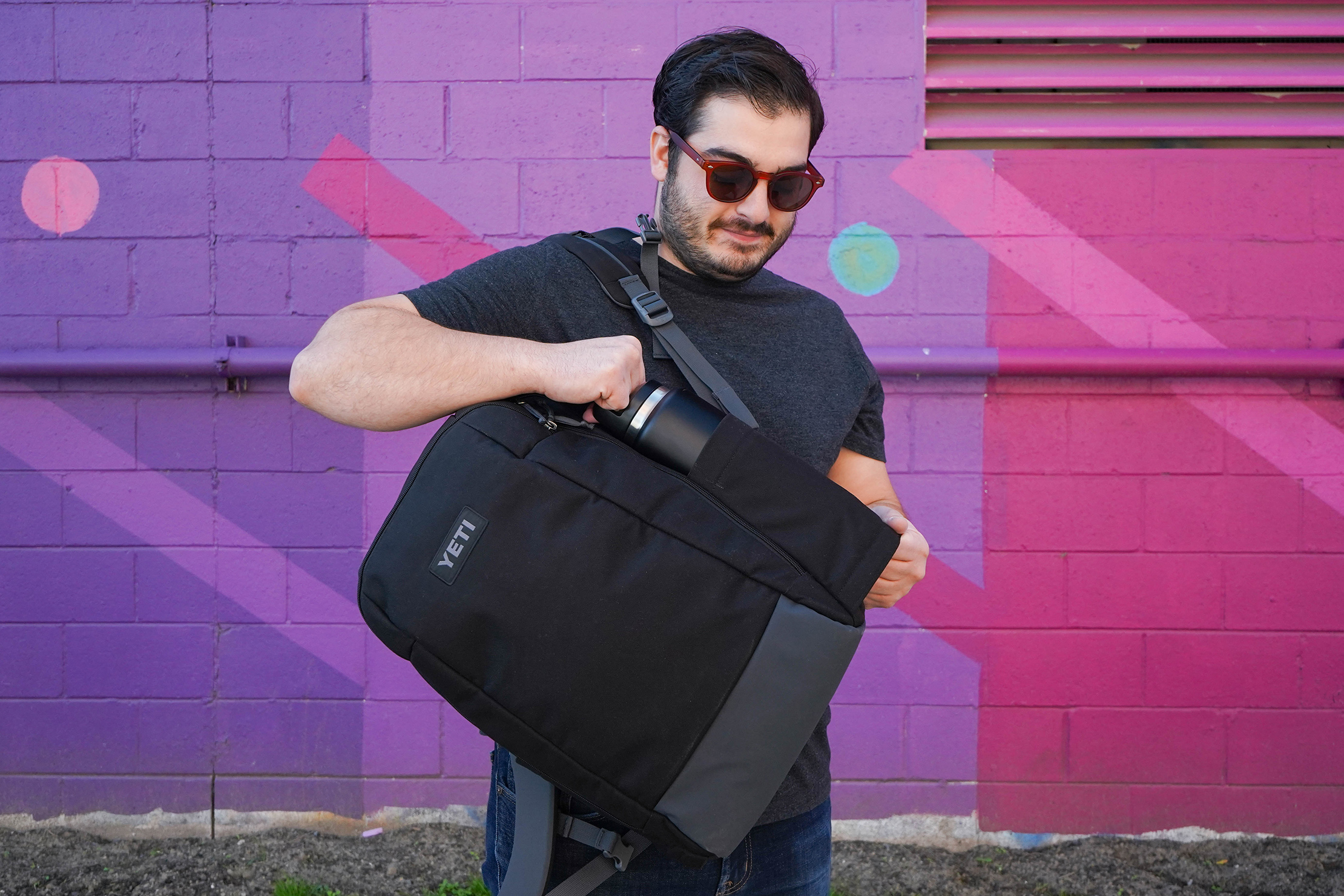 Inside the Pack
Okay, there's some interesting organization in the YETI Crossroads Backpack 23, but it does leave a bit to be desired.
Let's start with the sneakiest pocket on this bag—a zippered pocket that's hidden behind the back panel. It's a great place to stash your passport or wallet while on the go.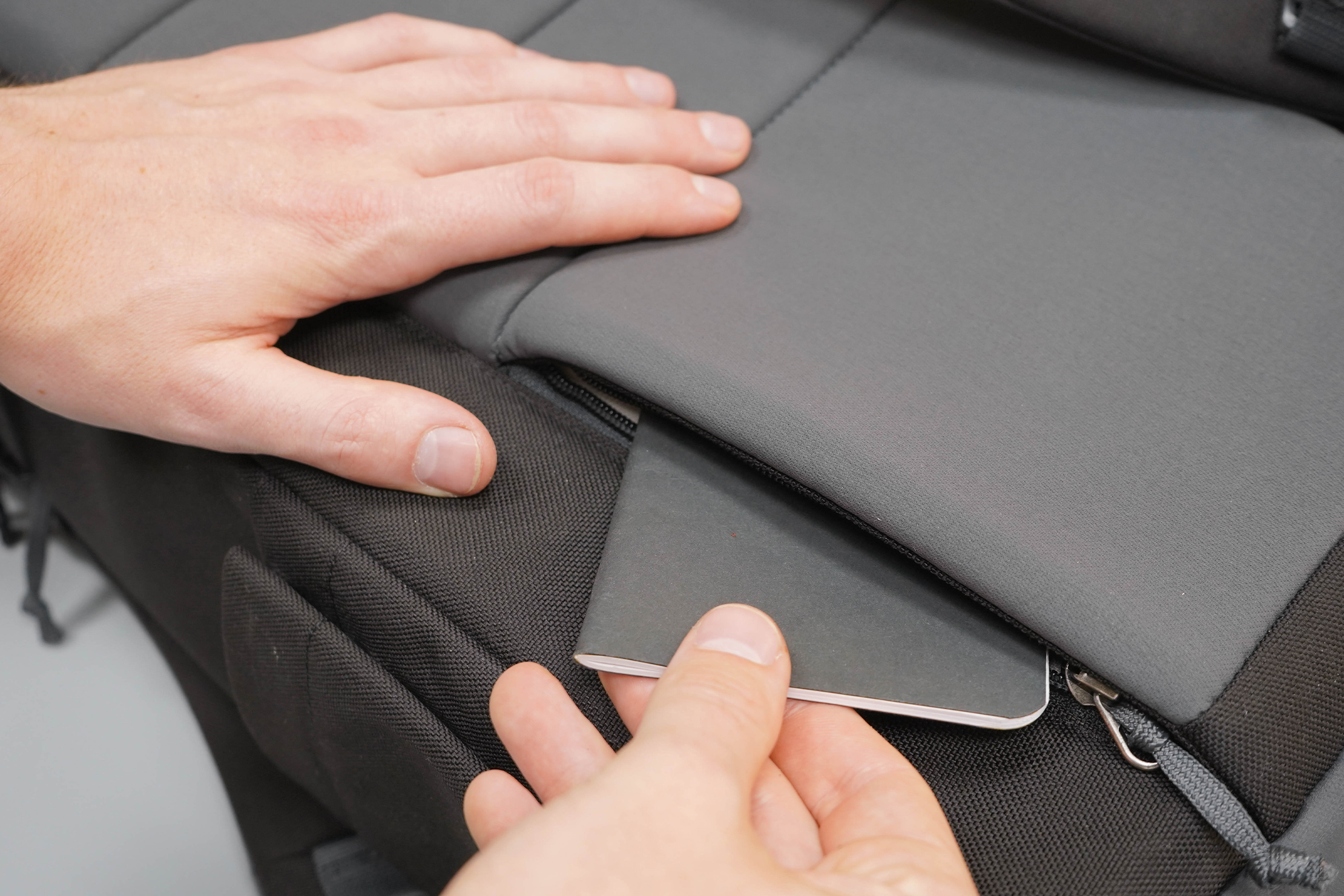 Also, the side of this pocket is gusseted (meaning it has a bit of dimension built-in) and the padded back panel means you won't feel anything poking in your back. That said, flatter items are still probably ideal since anything too big will affect the back panel's shape.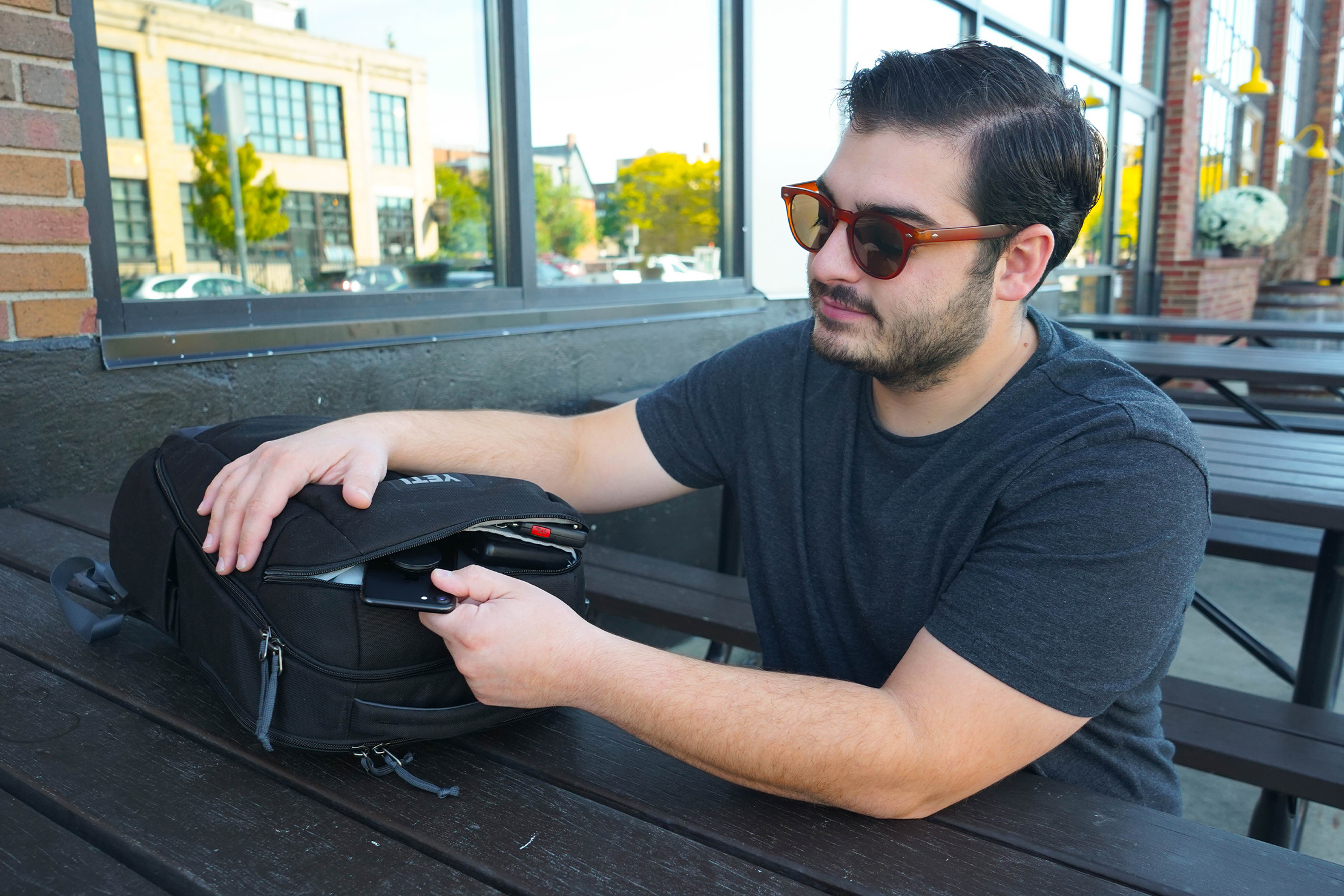 The quick-grab pocket on the front of the Crossroads Backpack 23 opens up and folds down to reveal a sort of tray where you can stash your everyday items. It's perfect for the Airport Pocket Shuffle—you know, when you take everything out of your pockets and put them in your bag to go through security, then put them back in your pockets while also trying to put on your shoes and not hold up the line—or any smaller items that you want quick access to.
There's a divider in this quick-grab pocket that's great to keep things tidy. While it's big enough to fit something like a small notebook or power bank, if you end up jamming the main compartment full, the capacity of this quick-grab pocket will suffer.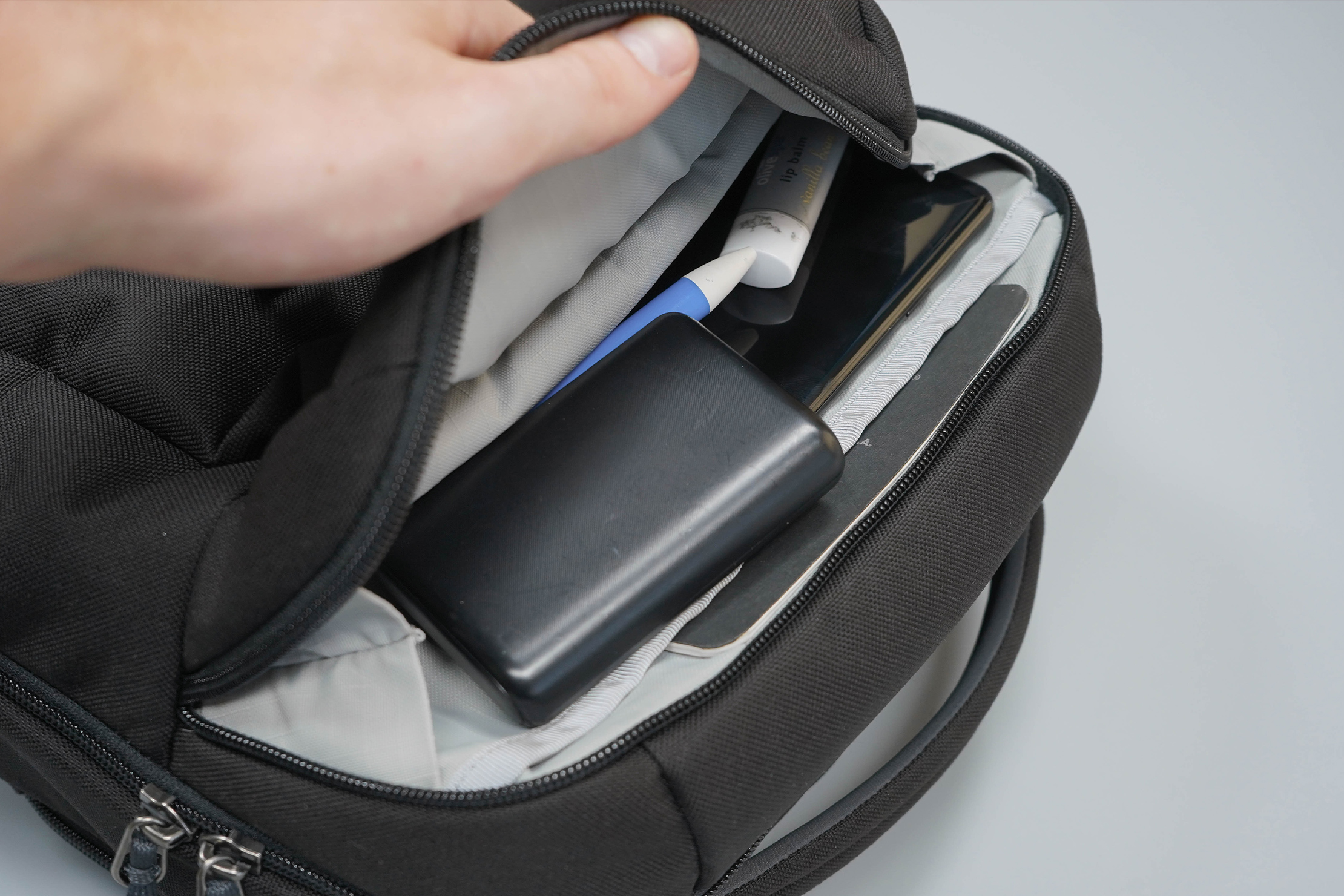 Moving on to the laptop compartment which opens up about a third of the way down the bag. The soft liner and padded bottom on the inside protect your laptop from getting damaged while on the road.
Toward the front of the bag, you'll find a tablet sleeve that's equally soft and padded. One each side of the tablet pocket, there's a sleeve for your pens, pencils, or styluses (styli?).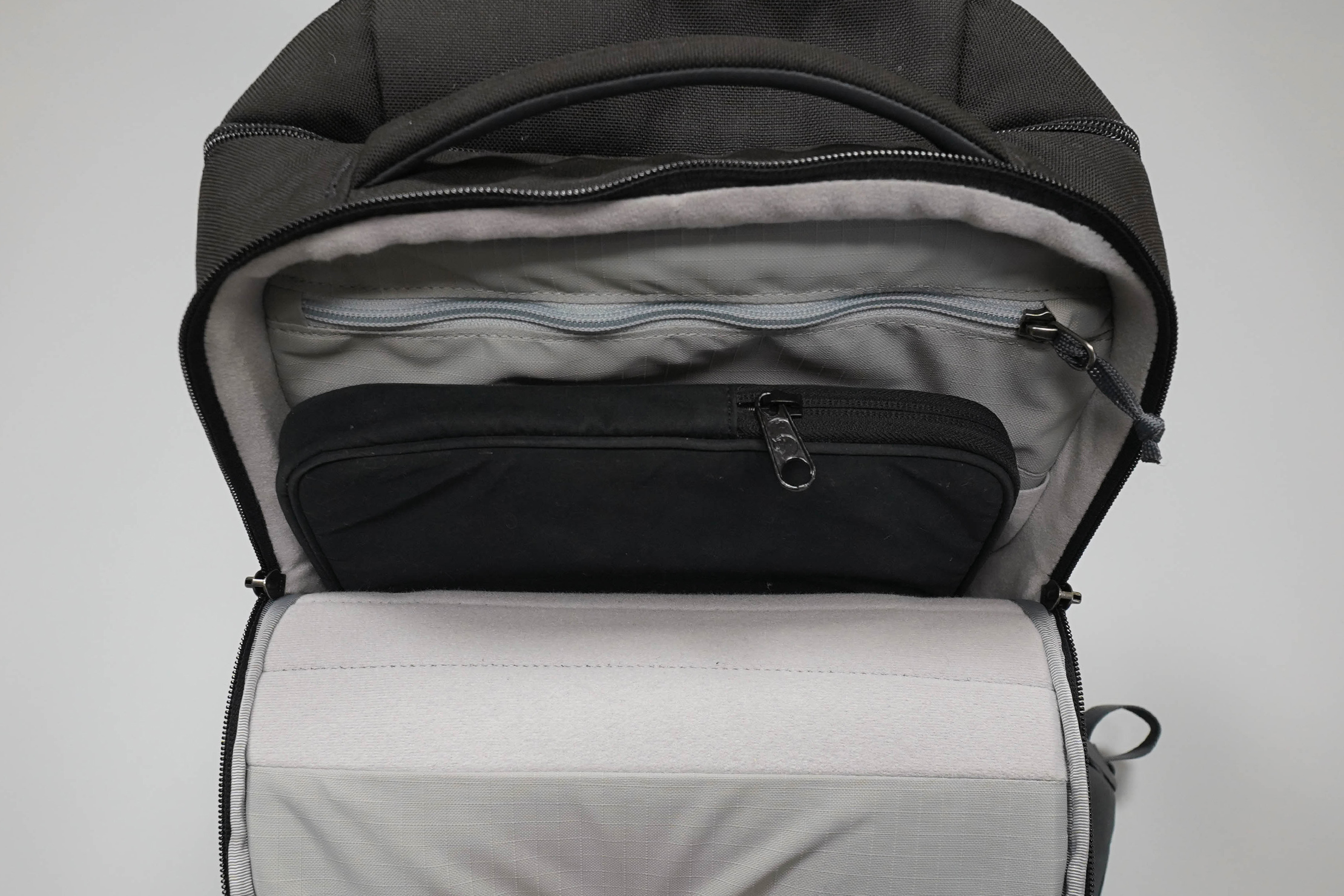 There's a zippered liner pocket above the tablet sleeve. The inside of the pocket is made with the same stretchy material that's on the bottom of the water bottle pockets—and it's a great size for holding extra cords, dongles, or other tech items.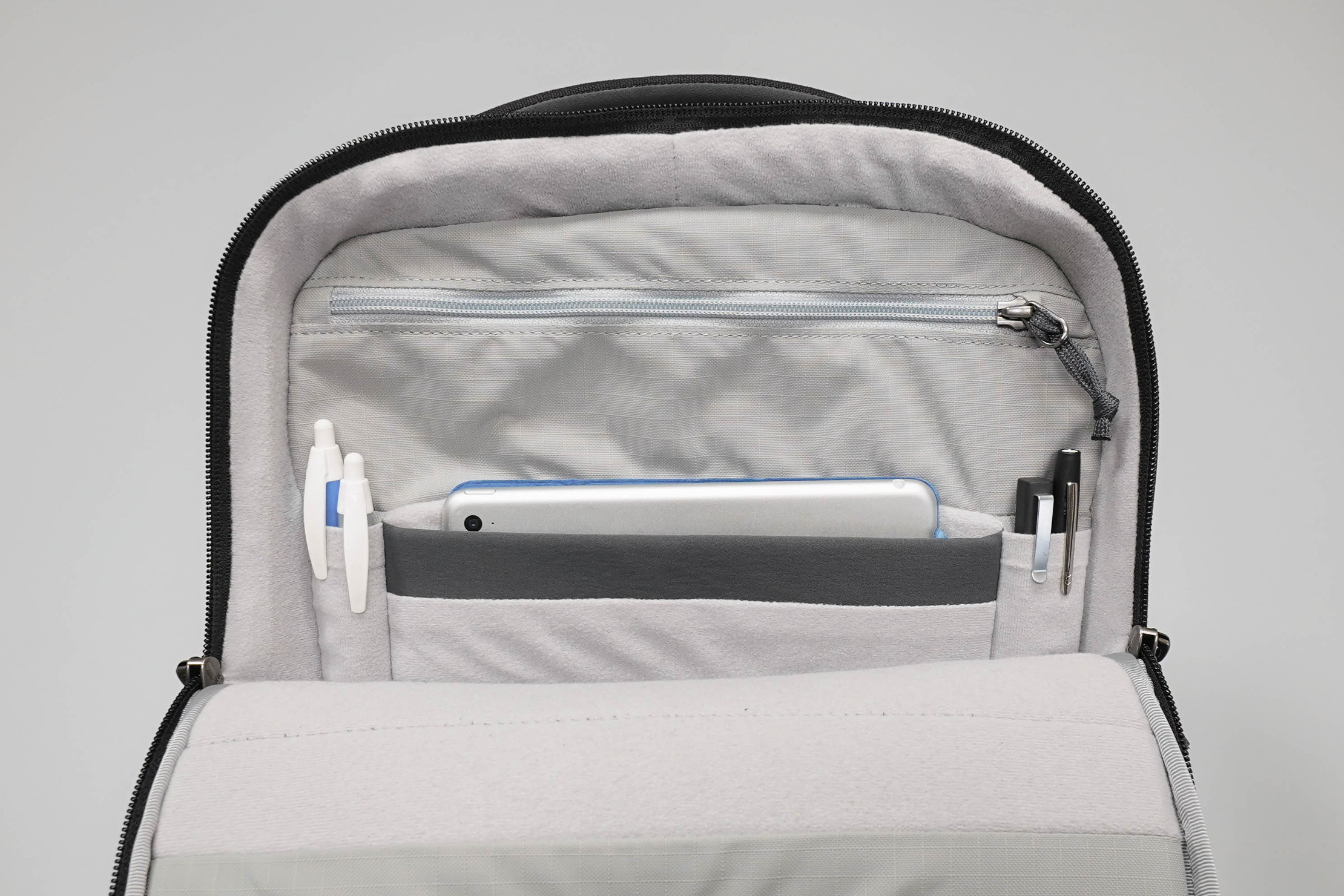 We like the idea of this top zippered pocket a bit more than we like using it. In testing, we found it to be a little awkward to access. Which could be due to the stiff stay under the top handle. Also, if you stuff this pocket full of bulky items, it'll cut into the main capacity of the bag—so we stuck to using it for small things like a super fancy pen and a phone charger. Not a deal-breaker, but something to note.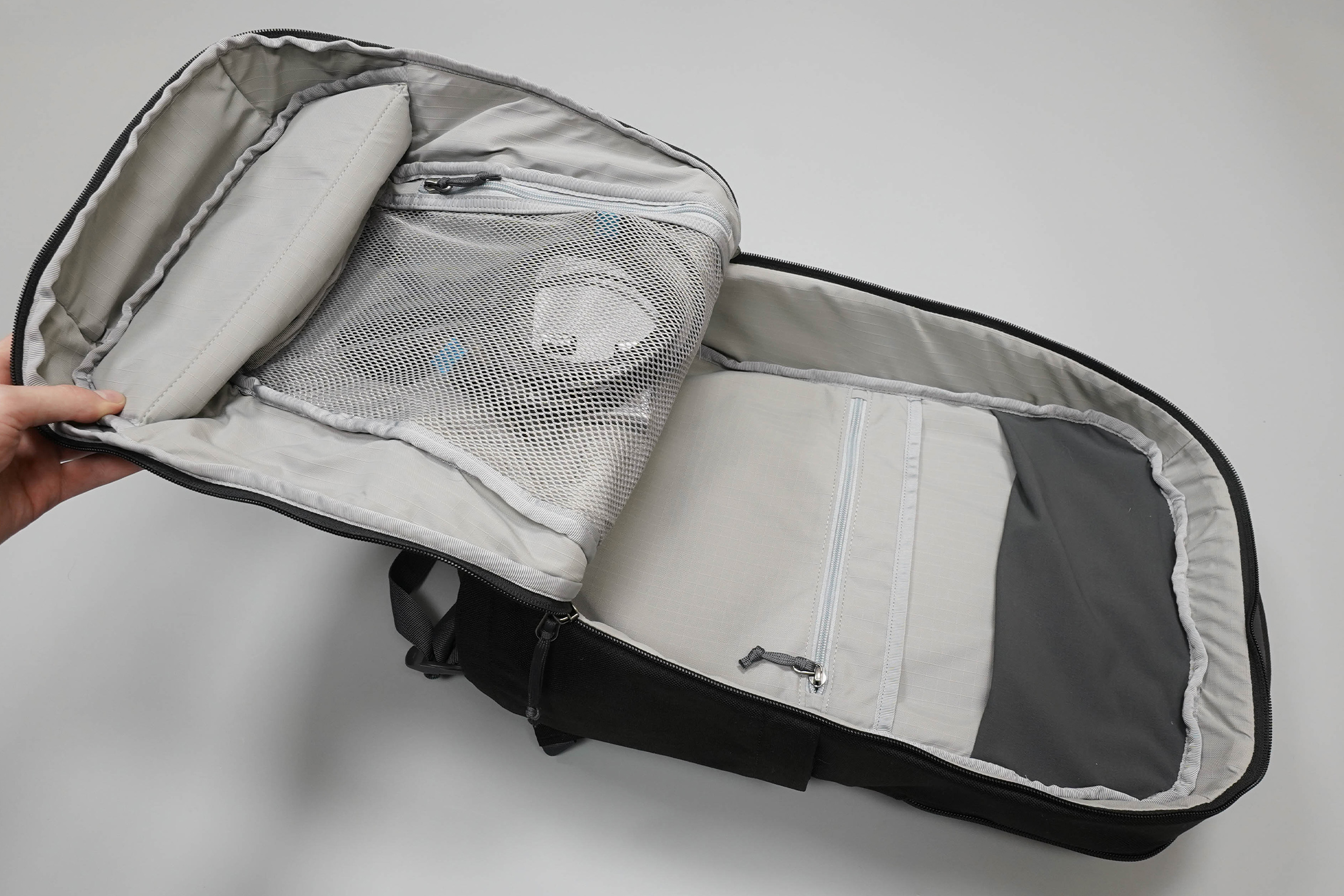 The main compartment of the YETI Crossroads Backpack 23 opens up clamshell-style with a No. 8 YKK Racquet Coil Zipper.
On the front flap of the clamshell, you'll see a zippered mesh pocket. The mesh has some nice stretch to it, but the pocket is best for smaller, flatter items. There's also a key clip in this pocket, which, honestly, seems like an odd place to put it. To access your keys, you'll have to unzip the main compartment, unzip the mesh pocket, then get your keys out. We've mostly stored our keys in the front quick-grab pocket, or a sling bag, since it's much faster to access.
On the backside of the clamshell, you'll find another sleeve for documents, magazines, or a tablet. Keep in mind that depending on what's inside the tech pocket above it, you might have some difficulty accessing this area. In front of that sleeve, there's a zippered pocket for additional organization.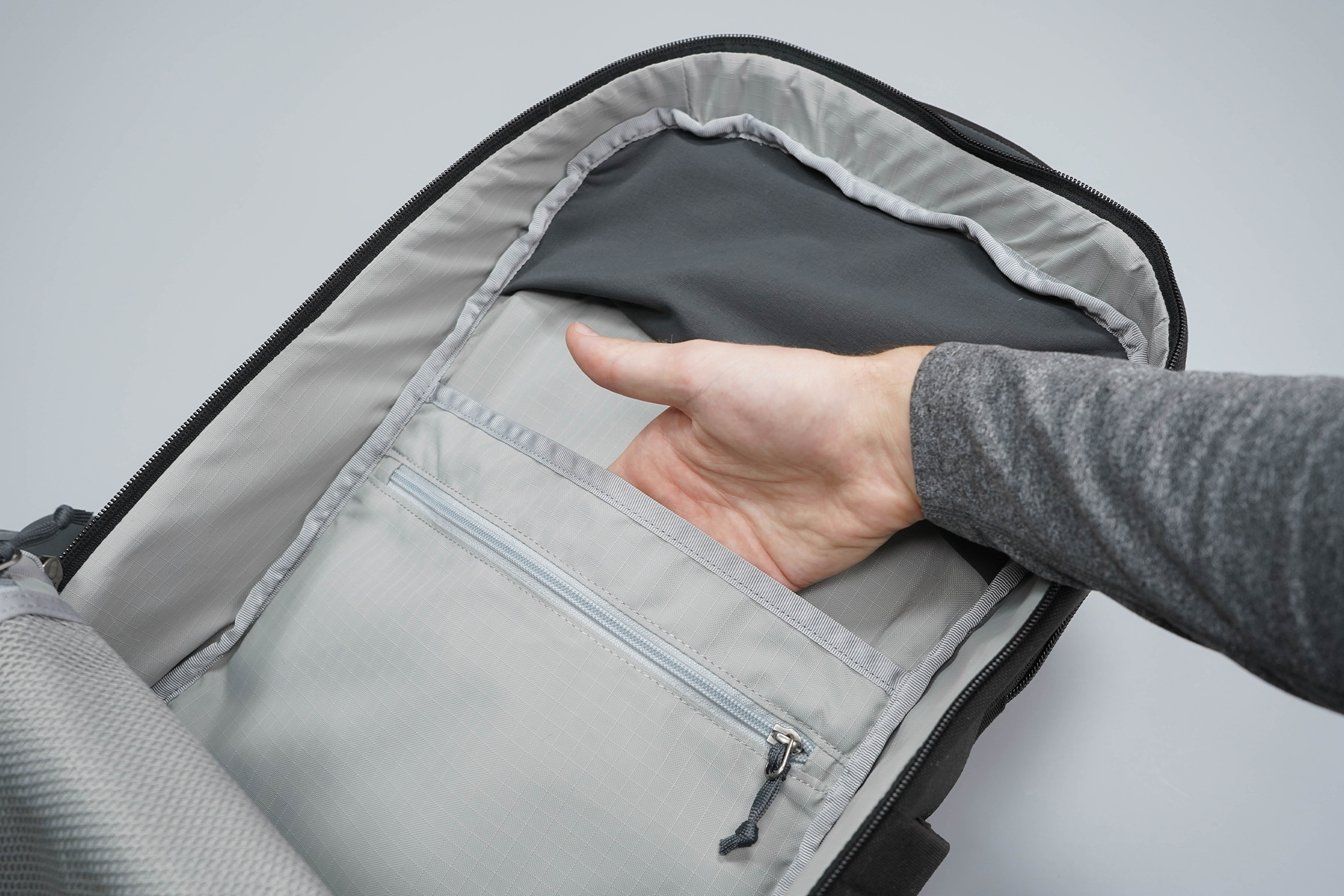 Finally, of course, there's the main capacity of this clamshell area. There's a decent amount of space, but it gets filled up quick. Like we mentioned earlier, if you pack out the stretchy pocket in the laptop compartment, it can bulge into the main capacity. And the quick-grab pocket on the front of the bag can do the same. Overall it just feels tighter than other similar-sized bags we've tested.
Durability & Testing
At the time of this review, our Founder, Tom and Managing Editor, AJ have been testing the YETI Crossroads 23 for three weeks—mostly as a daily bag around Detroit, but with a short trip to northern Michigan sprinkled in as well.
While we like the internal organization, we do have some nitpicks with it. For a 23L pack, it feels smaller than other bags of a similar capacity. And the pockets sometimes get in the way more than they help organize.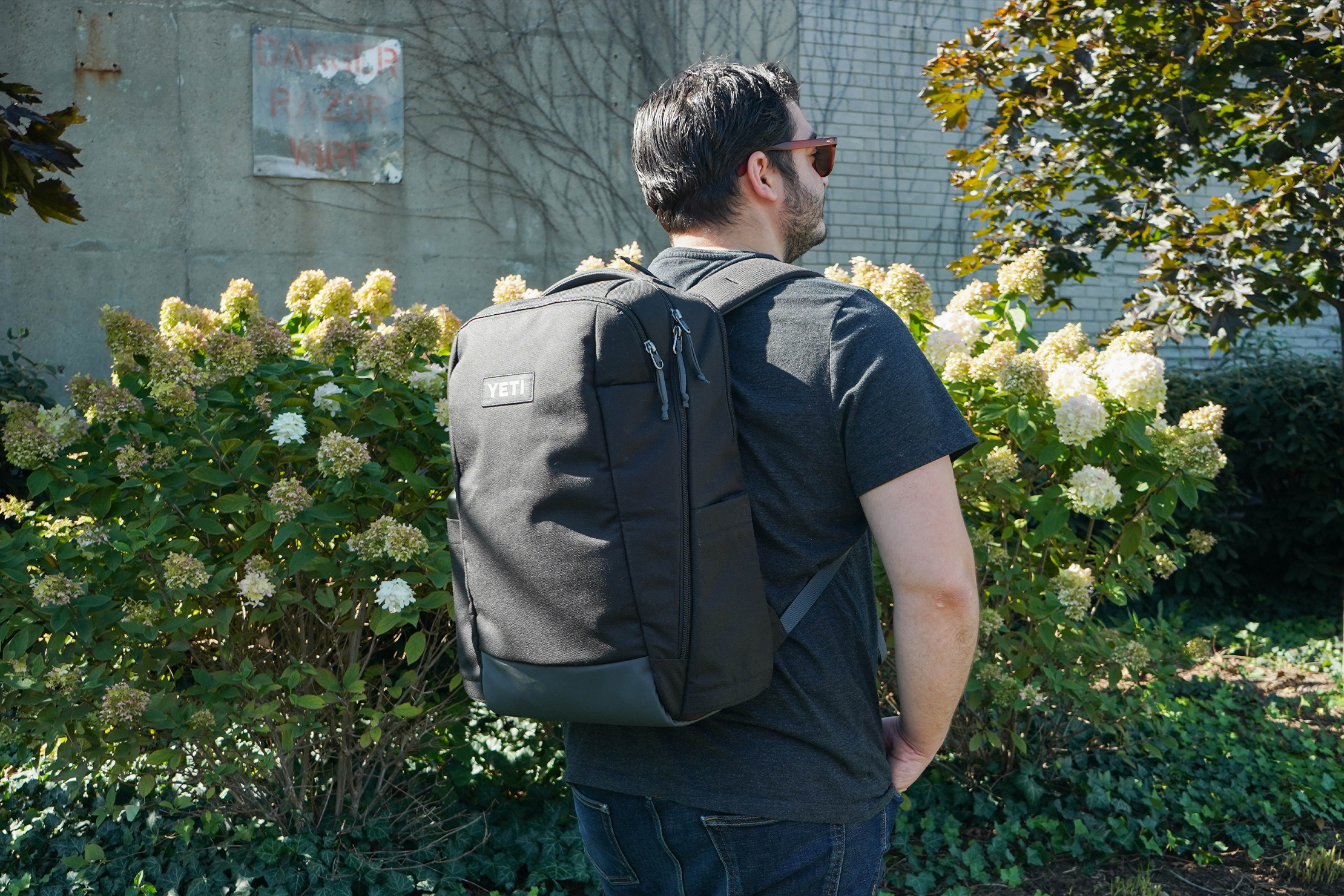 All in all, we've enjoyed using the YETI Crossroads Backpack 23. This bag feels high-quality from the minute you grab it. And has continued to feel high-quality throughout testing. Of course, we'll update the Usage Timeline below if we encounter any durability issues, but we don't expect that will happen anytime soon.
Usage Timeline
Initial Usage
Condition: Excellent
Bag stands up on its own for easy loading and unloading
Nice, padded laptop compartment
Magnetic water bottle pockets keep them low profile until you need them
2 Weeks of Use
Condition: Excellent
Very comfortable carry, but not digging some of the organization options.
1 Month of Use
Condition: Excellent
Main capacity feels tighter than other bags of a similar size
Everything is still looking good as far as durability is concerned
Access the Pro Community Discussion
Get your questions about the YETI Crossroads Backpack 23 answered from our team and the Pro Community right here on the page. Plus, join discussions with other members about gear, guides, and more.
Other Bags & Luggage Reviews