YETI Tocayo Backpack 26 Review
The YETI Tocayo: a travel backpack with the unique ability to stand on its own. It's a solid choice despite some stiffness and laptop accessibility issues.
Our Verdict
Unlock the Pro Summary
Save time. Get access to brief summaries of our reviews so you can browse and make decisions more efficiently.
Pros
Solid and durable materials that pull together nicely
Stands up on its own
The Roundhouse Grid is minimal yet functional
Cons
The zippers could offer better weather resistance
The carry is a bit stiff
The laptop compartment access is not ideal
Recent Pack Hacker Video
Technical Details
Capacity

26l

Weight (lb)

4.1 lb (1.9 kg)

Denier

1000D

Dimensions

19.75 in x 14.5 in x 8.75 in (50.2 x 36.8 x 22.2 cm)

Notable Materials

YKK Zippers, EVA Foam, Nylon, Polyurethane, Duraflex Hardware

Manufacturing Country

China

Laptop Compartment Size

15"

Warranty Information
Full Review
Yes, the same brand known for its killer coolers and drinkware is no stranger to travel gear. YETI describes its 26-liter Tocayo backpack as a "rugged-as-heck gear vault" designed for everyday use. It has a waterproof exterior, roomy and "Rambler-ready" interior pockets and plenty of padding all around.
The Tocayo uses solid construction materials and can actually stand up on its own, which is rare for a bag of this size. It has some physical similarities to one of our favorite packs (no spoilers) so we've been excited to get our hands on this bag and start testing it.
But the question is, does it live up to the YETI reputation? Is the famed cooler brand ready to take on the backpack heavy hitters? As always, we're here to give you all the details so you can make an informed buying decision.
Material & Aesthetic
First things first, we really like the way the YETI Tocayo looks.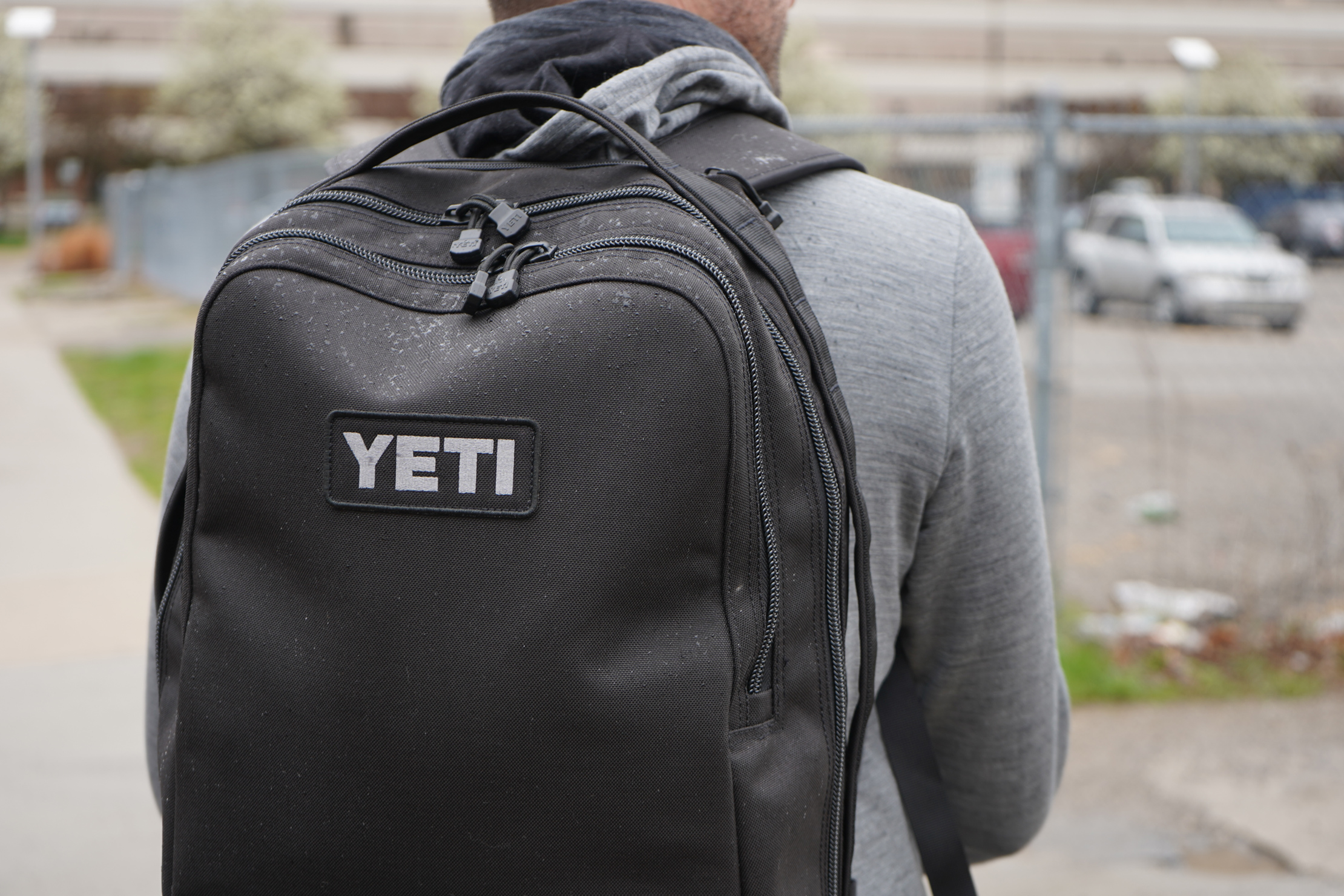 Just judging from an aesthetic perspective, the bag has a similar vibe to the GORUCK GR1, a built-to-last pack we reviewed a while back. GORUCK makes some incredibly durable, military-spec gear—but, as we'll explain later in the review, the similarities between these two packs seem to end with appearances.
The YETI Tocayo has some rigidity to it and a relatively boxy shape at the base, which is what allows it to stand up on its own even when empty. EVA foam on the back panel keeps things nice and straight when you set it down, and provides comfort on your back and padding for your laptop, which we're always happy to see. Even with the bag completely empty, it stands up on its own—and we honestly can't get enough of this feature.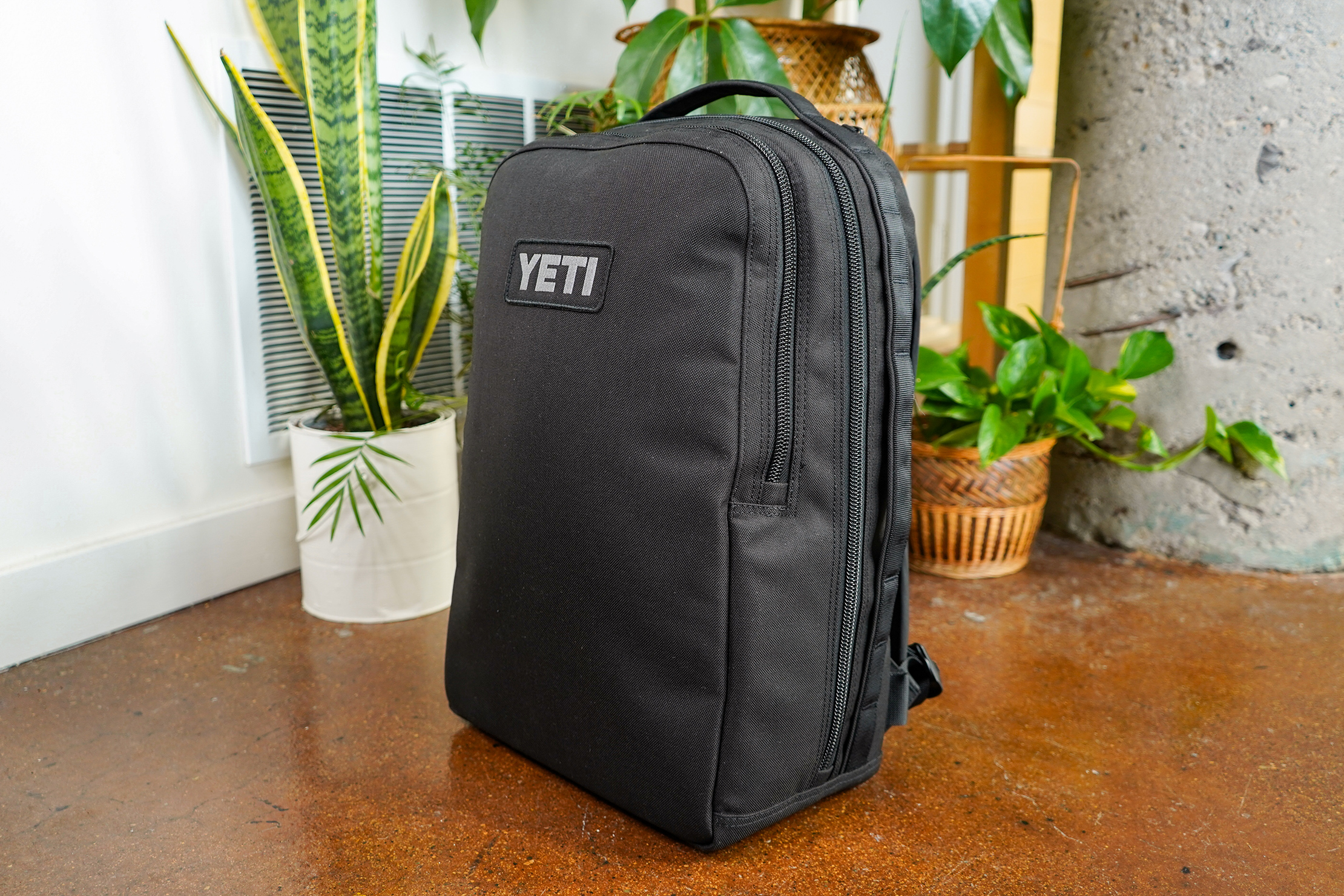 To go along with that boxy base, you'll notice some curvature on the top sides and rounded corners. This curvature makes it look a little bit more like a bag and less like a cube on your back, so we're definitely fans of the overall design.
The main exterior fabric of the YETI Tocayo is 1000D nylon, which is backed with a polyurethane coating, and there's 210D Nylon RipStop inside as well.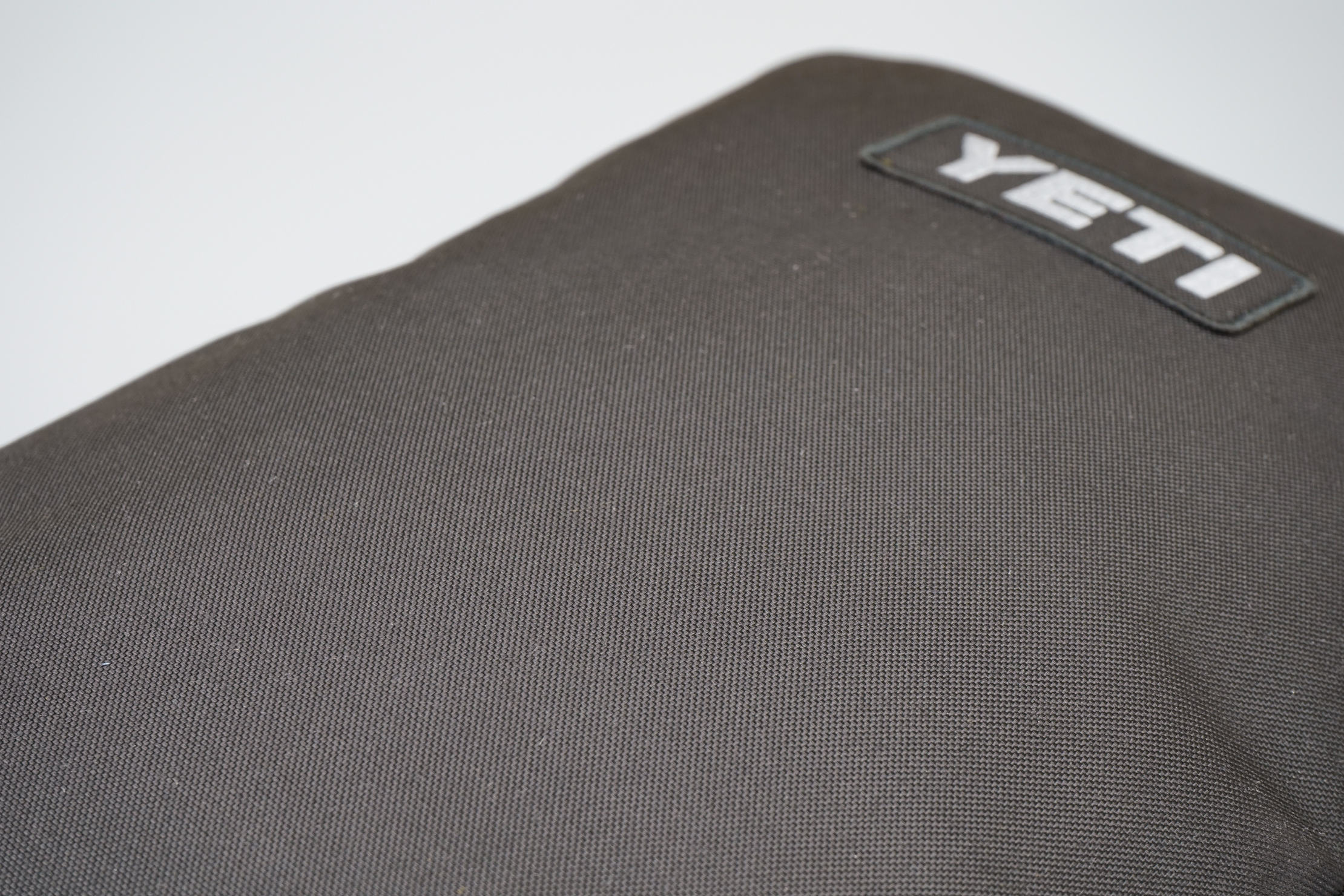 The 1000D nylon gives the bag a softer feel on the outside, while the inside has a swishy or "tarpy" feeling.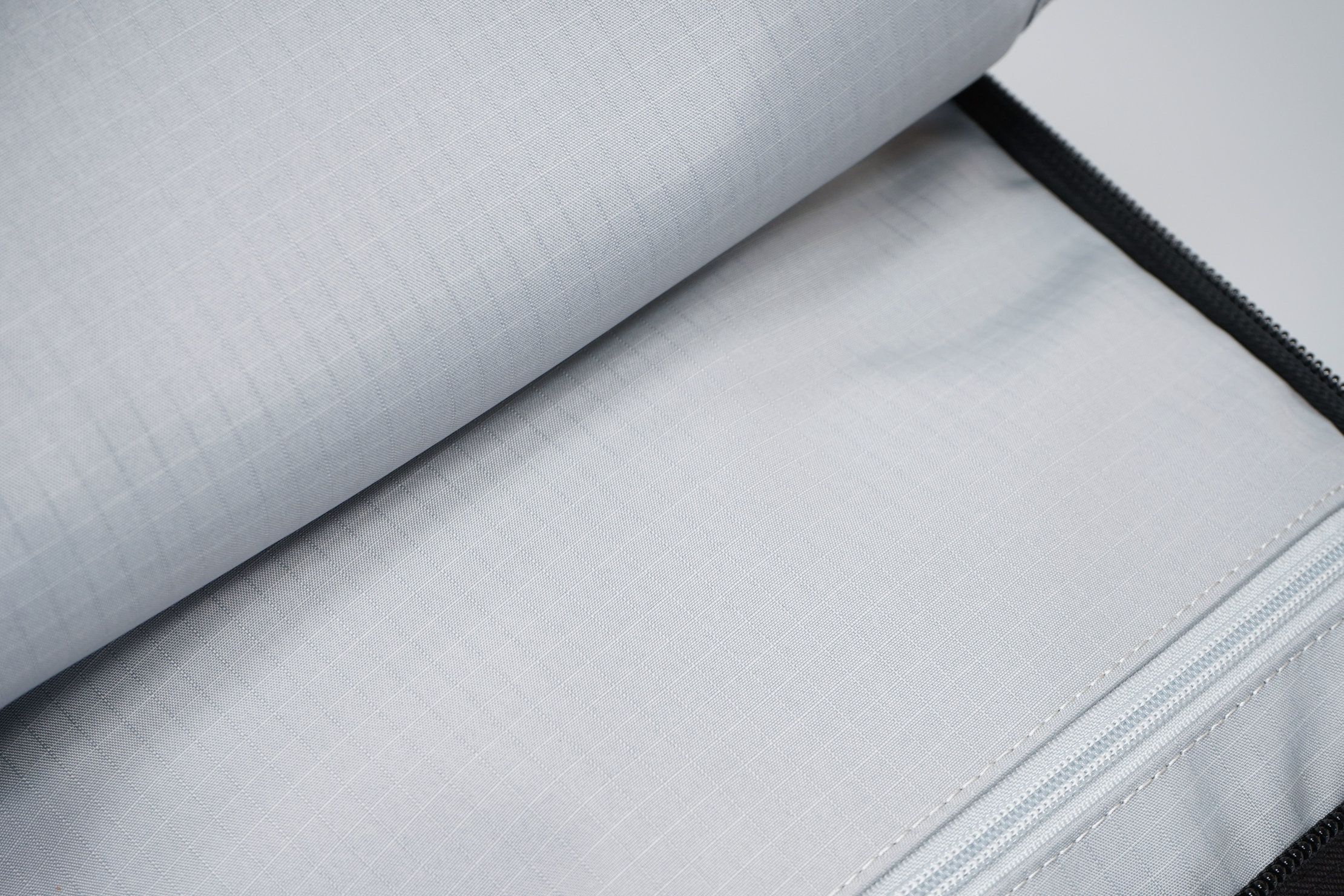 Since this bag is from YETI—the folks who have made a name for themselves with ultra-rugged coolers—we were expecting big things as far as weather resistance from the Tocayo. The brand's experience comes through in most aspects, but we have to say, the zippers are a surprisingly weak point.
Although the pack features high-quality YKK Zippers, no additional weather resistance is provided to prevent moisture from getting inside.

We do like the PALS webbing on the outside of the bag that gives it some nice functionality without going overboard. YETI actually calls this aspect their "Roundhouse Grid," and it's found on the entire exterior of the bag. This is a feature we've noticed on some of YETI's coolers and soft-carry goods, too.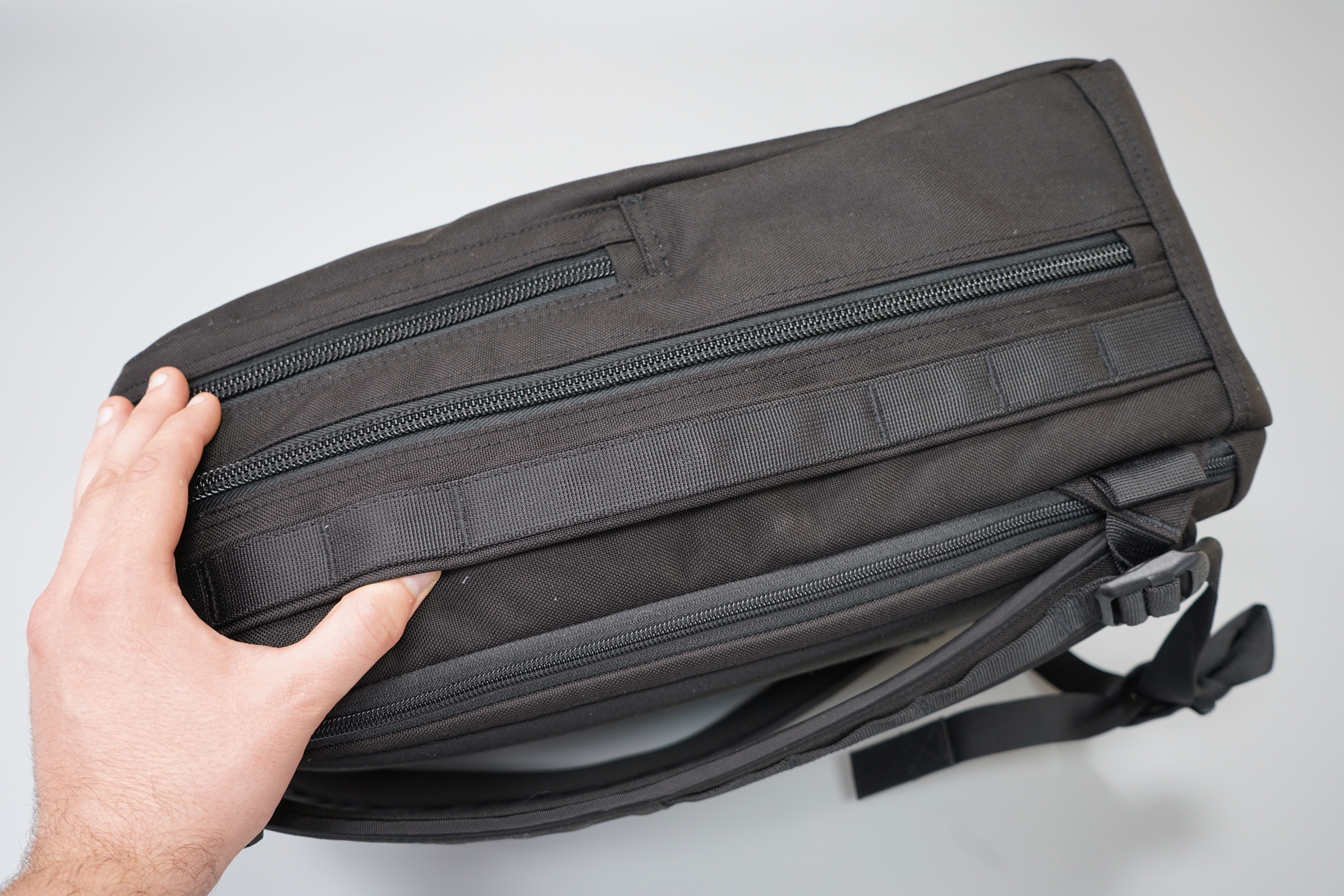 At the time of this review, the Tocayo is available in two colors: black and tan. As per usual Pack Hacker style, we opted for black, but we're pretty sure you can't go wrong with either color.
From a branding perspective, there's pretty much no mistaking what label you're wearing with this backpack. A large YETI logo is on the front of the Tocayo and a smaller logo is found on the straps.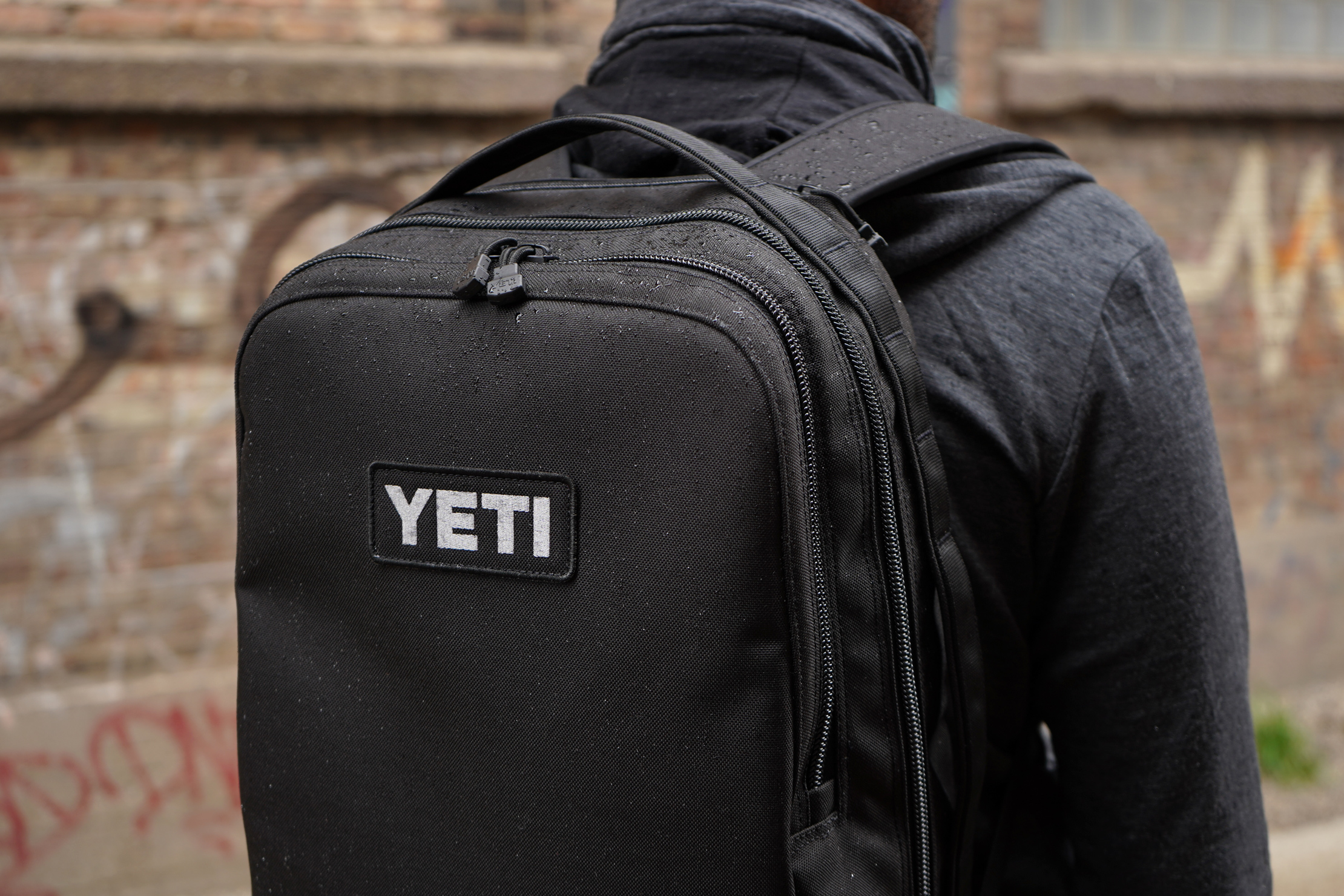 And as if that wasn't enough, there's a massive YETI logo imprinted on the back panel. We'd love to say it's for air flow, but mostly it's supposed to look cool (worked on us). Essentially, there's no question that you're carrying a YETI bag with this one.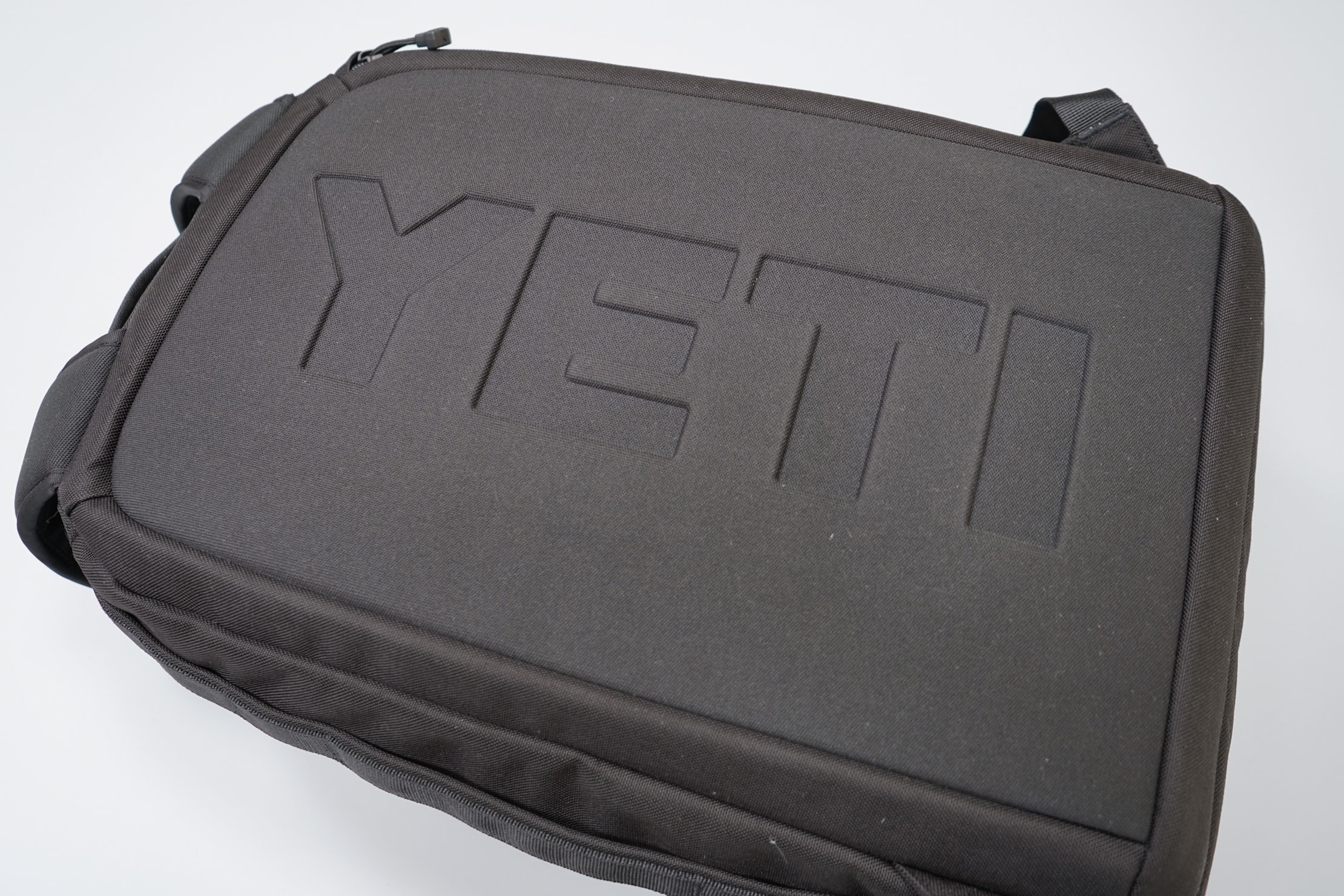 Although we do think this bag looks slick, we always like to see what our Instagram audience has to say. More than half of our followers (54 percent) like the look, while 46 percent gave it a pass. We'd love to hear what you think in the future, too, so be sure to follow us on Instagram, @packhacker.
Wrapping up the materials, the YETI Tocayo has more EVA foam on the shoulder straps for a comfortable carry and some durable and chunky Duraflex hardware for the strap adjusters and sternum strap. All around, some pretty solid materials.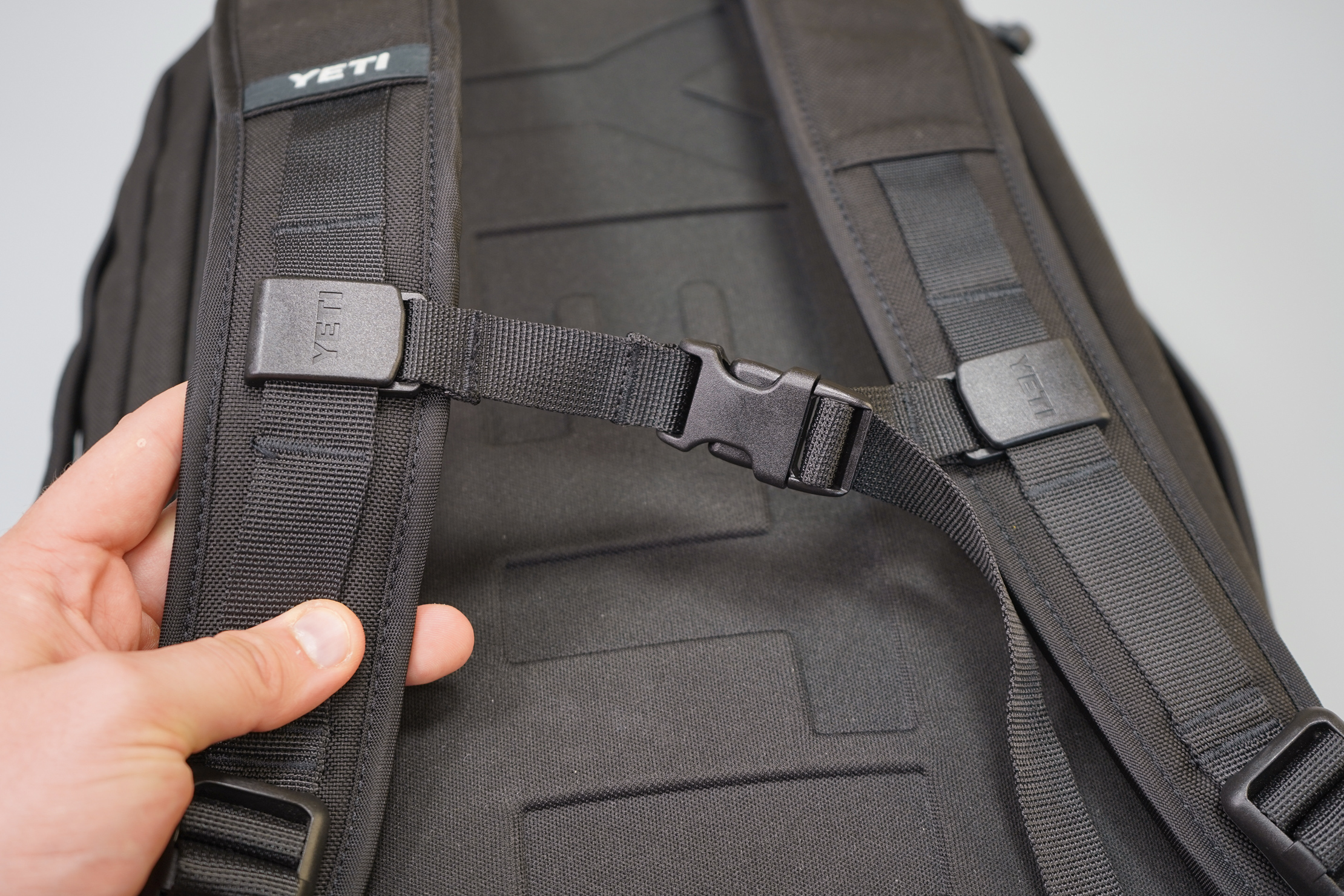 External Components
Now that we've gone over the YETI Tocayo's appearance and what it's made of, let's take a look at the bag's external components. Overall, the exterior on the YETI Tocayo is pretty minimal.
The harness system features some very thin straps, but we can tell you that the dense EVA foam inside does provide a good measure of comfort when you're wearing the pack.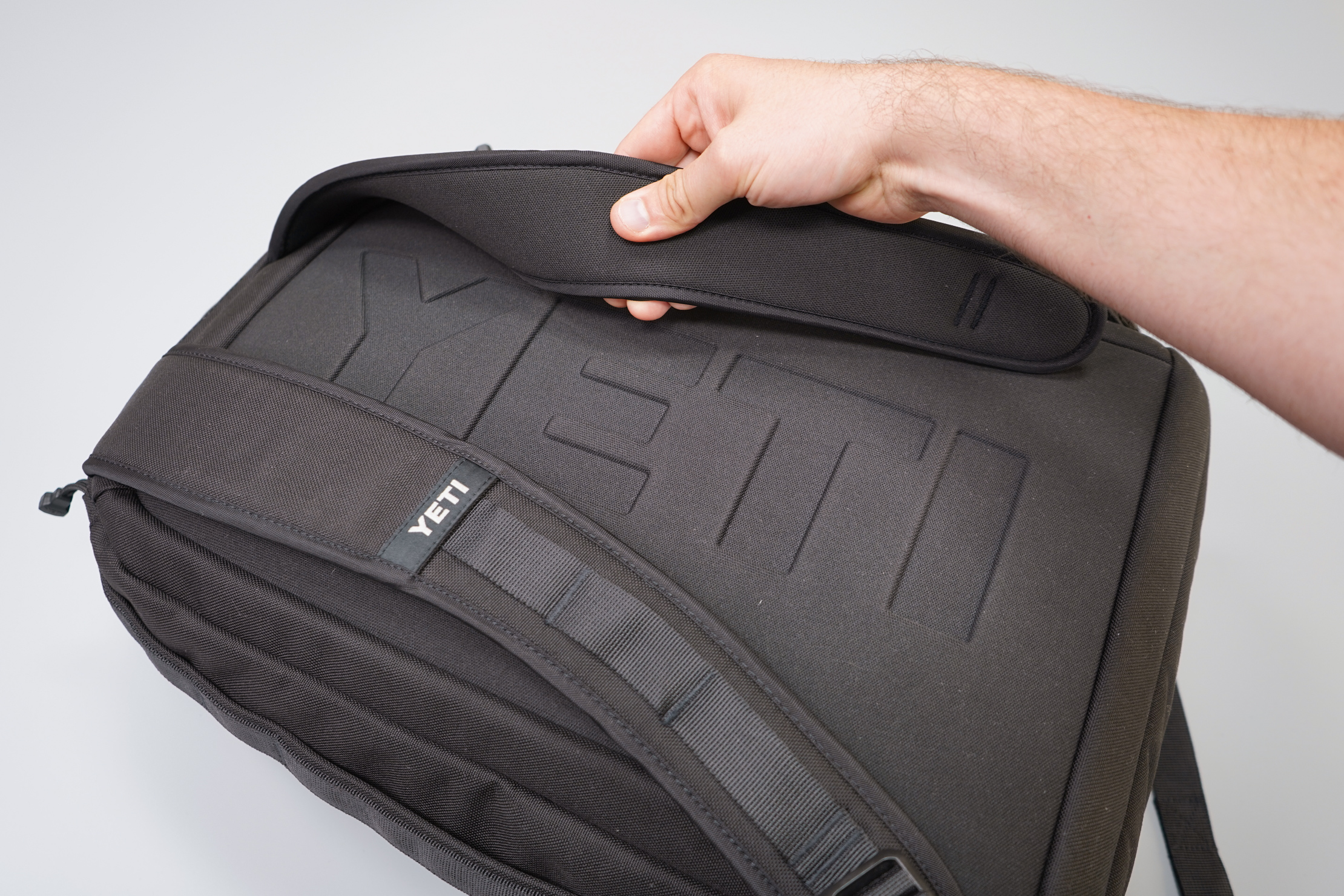 We always like to see as much breathability here as possible, but the Tocayo straps don't have any mesh—just the 1000D nylon. If you're wearing a tank top, you might find the nylon sticks to your skin more than you'd like. But, since it's a smaller bag at 26 liters, we haven't found this to be a major problem.
The bottom half of the strap features three loops of PALS webbing, which can be used for attaching additional accessories' as well as the sternum strap.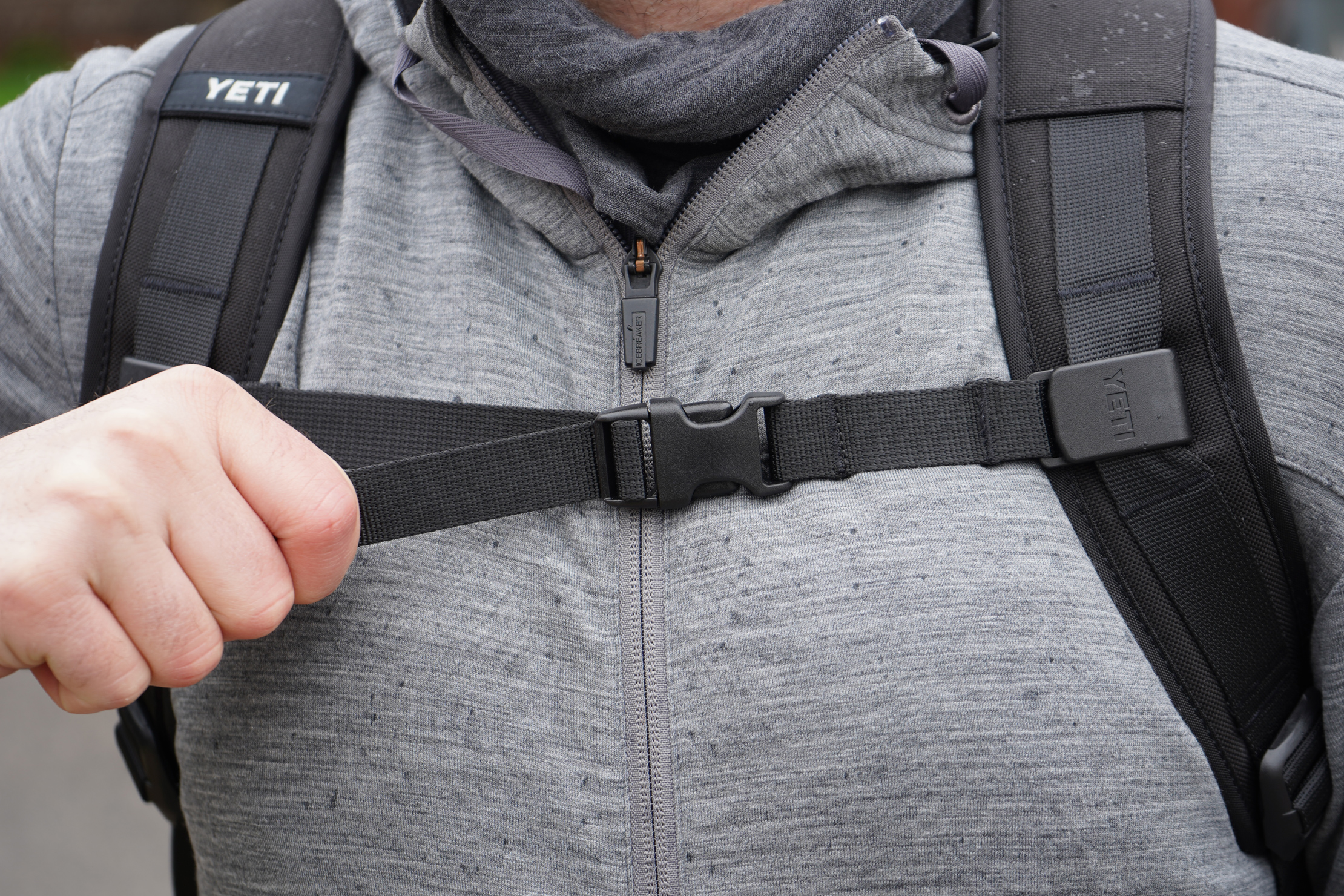 There's no permanent attachment for this particular sternum strap, which is definitely not our preference, but the design has it staying on pretty securely even without the attachment.
We have to say, the super-chunky Duraflex strap adjusters used on the Tocayo are really satisfying to use, so that's always a plus. We also appreciate that they're a bit larger than usual to promote additional durability.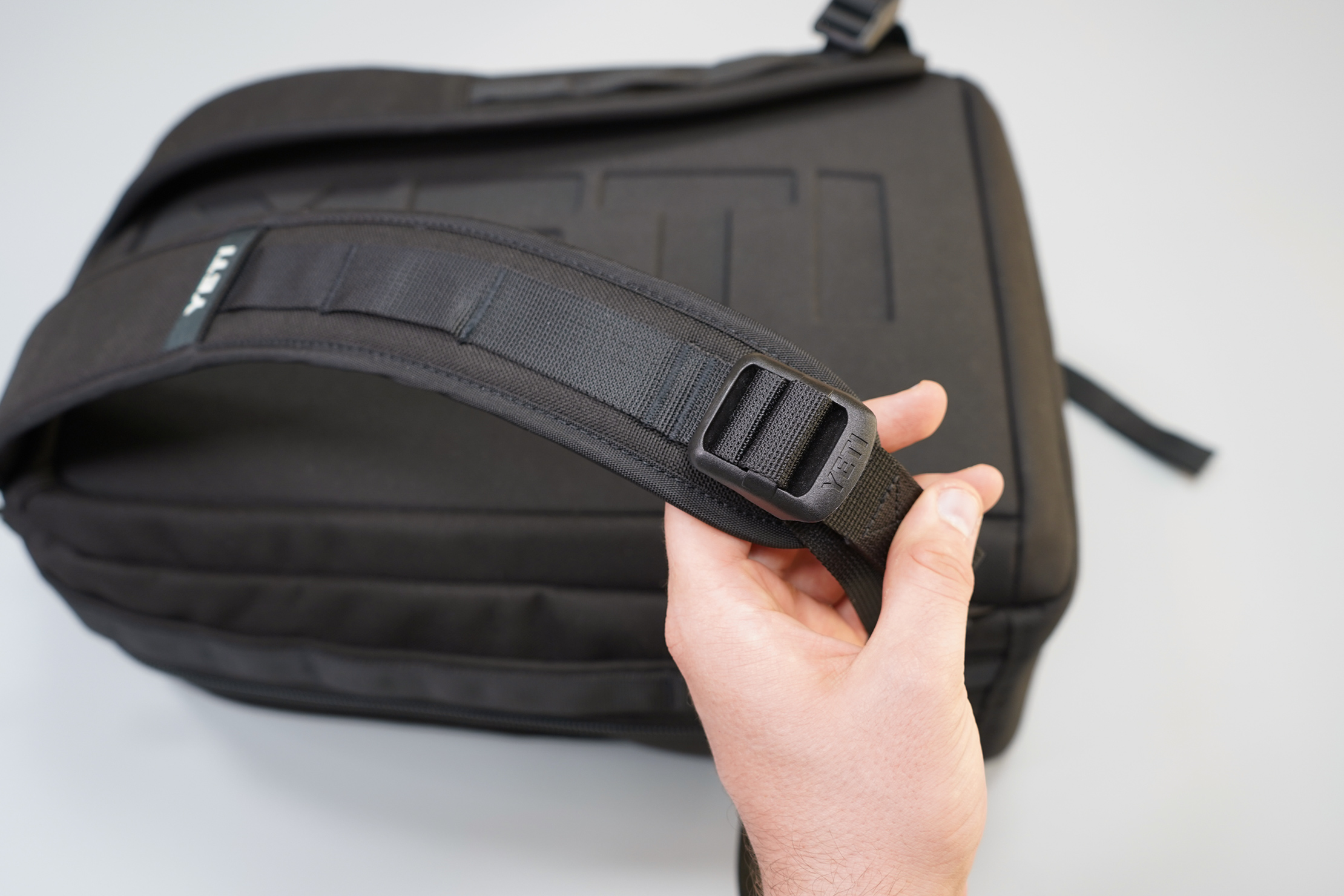 Right where the straps end, you'll find an additional nylon Lash Loop, which is presumably for attaching a hip belt since that's a design we've seen on other packs. That said, we're still checking into this since the YETI product page doesn't list any add-on options for a hip belt.
The back panel is basically just EVA padded foam, again with the YETI logo punched out, so there's no extra breathability here and you'll just have the nylon against your back. This does seem to make the carry of this bag feel a bit stiff, along with the lack of dividers in the back panel and the way the harness system is anchored.
The carry is stiffer, almost like a brick on your back, which takes some getting used to, but it isn't a deal-breaker in our experience.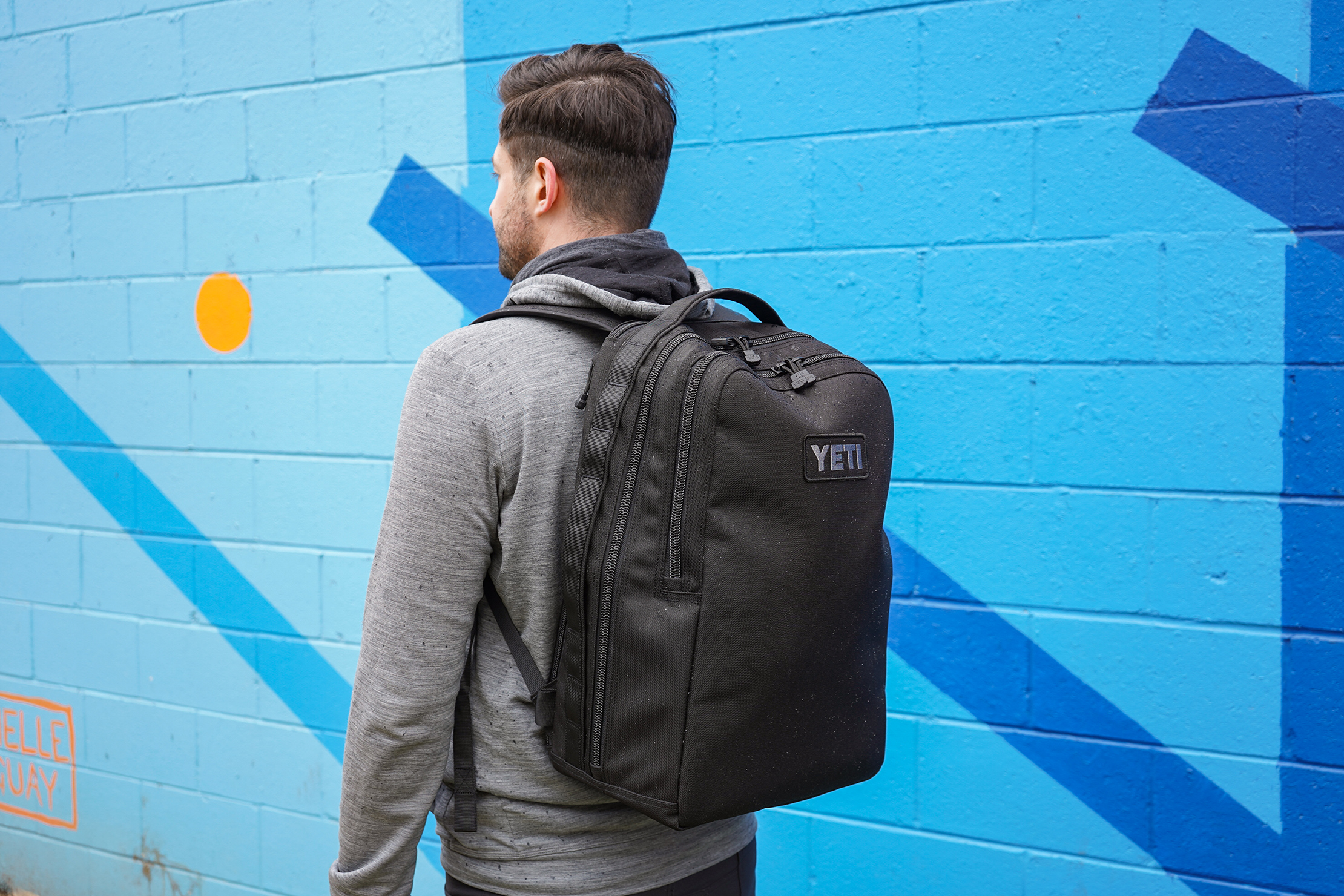 Going back to the PALS webbing "Roundhouse Grid" that goes around the entire length of the pack, this is a feature we've actually grown to love for its functionality during our testing so far. It's ideal for attaching things like carabiners or a small MOLLE accessory.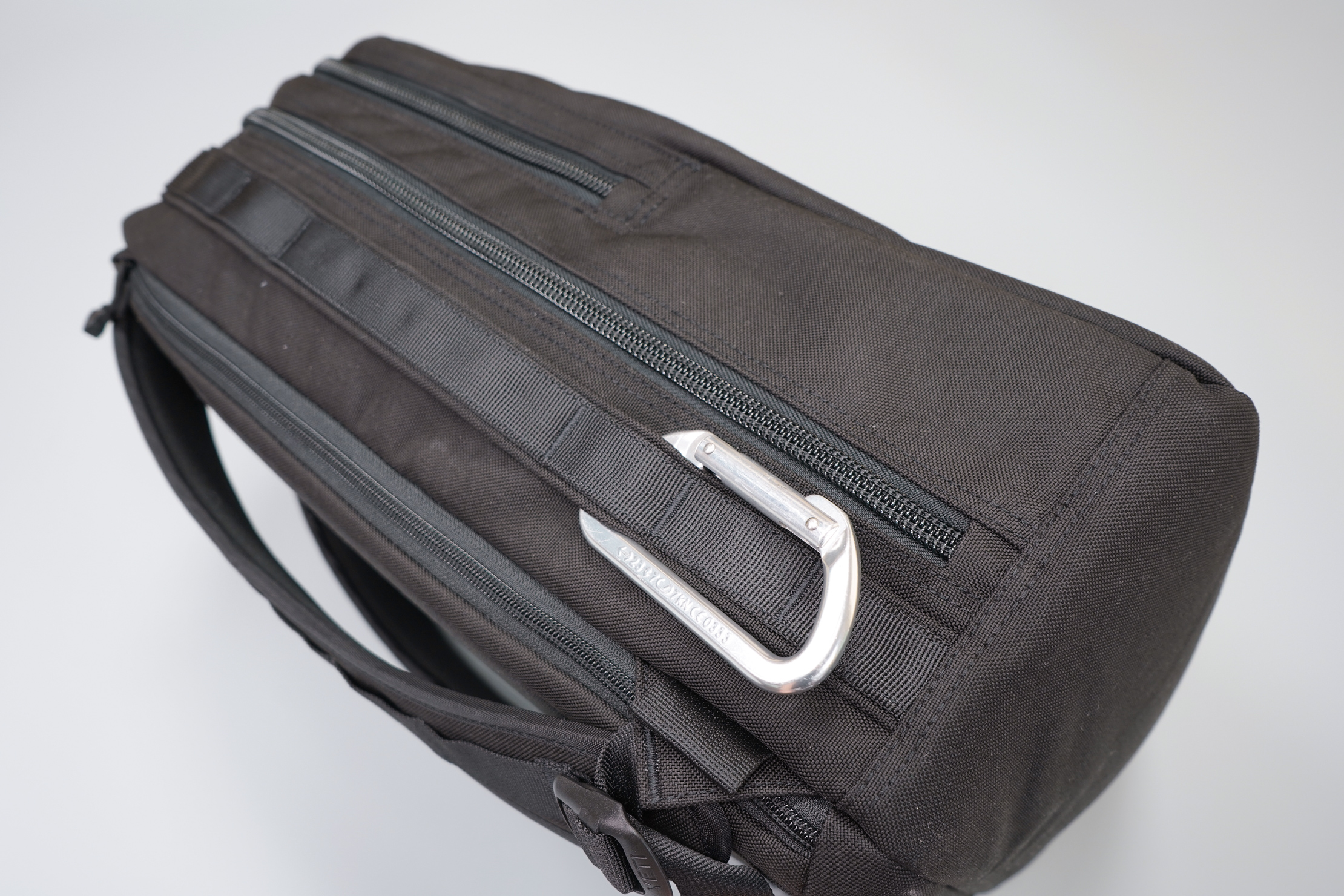 Three grab handles are located on the outside of this pack—two on the side and one on top—and we like that these are integrated directly with the PALS webbing system. These handles give a clean and streamlined look and offer lots of versatility when you're traveling with the pack.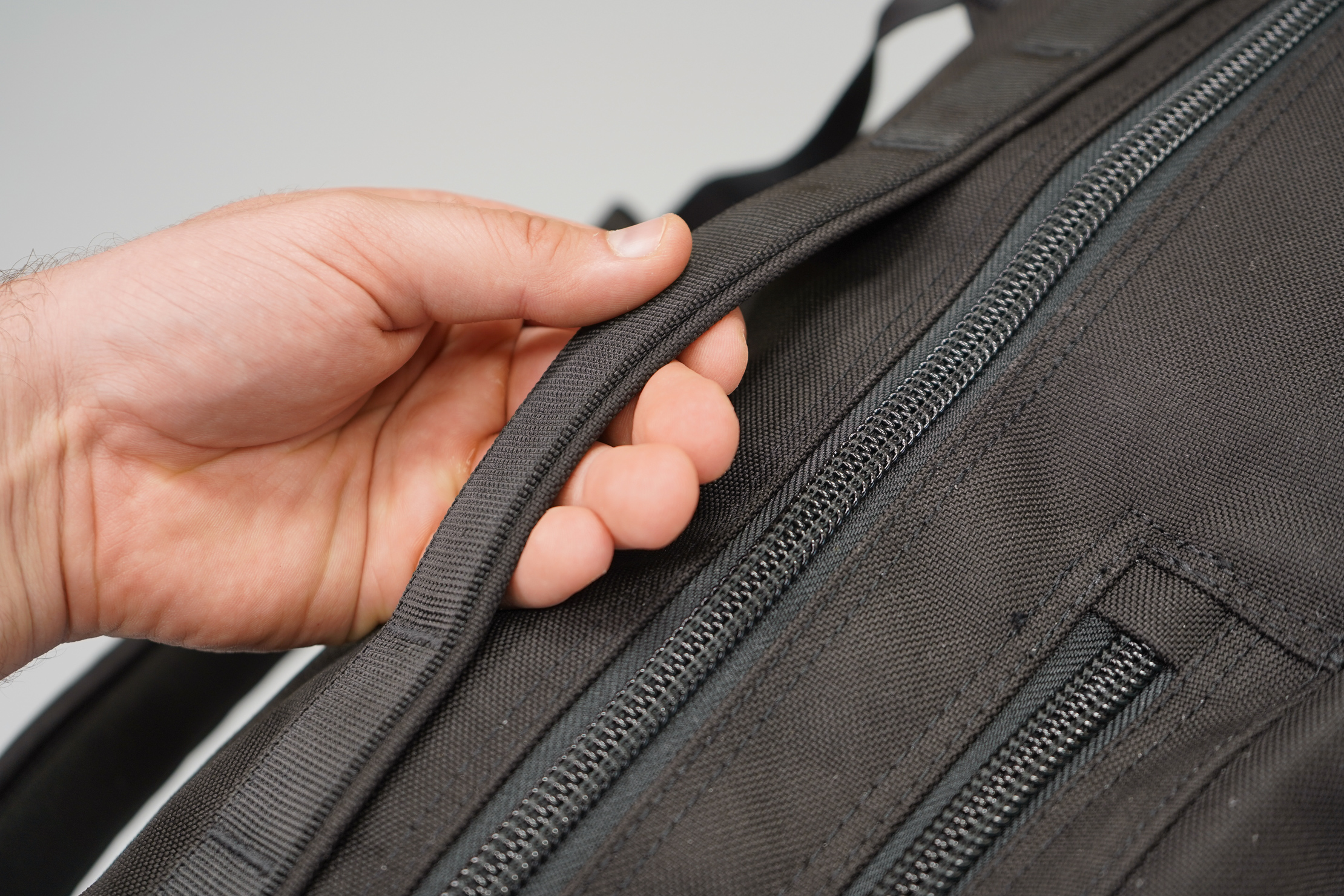 Inside The Pack
Moving along to the inside of the YETI Tocayo, you'll find plenty of pockets and smart spaces for storage.
The quick-stash pocket on the top of the bag—accessed by a zipper opening—is spacious, solid and secure. The pocket is lined with 210D nylon and the sizing is generous enough to almost fit a plus-sized iPhone inside vertically. We're pretty big fans of this pocket, especially since it's located closer to your back and, because the handle is in the way, it offers a little extra security compared to some other backpack designs.

We do want to point out that while the zipper on this quick-grab pocket is a YKK zipper and not a YKK AquaGuard zipper, there is a zipper garage compartment for it, which will add some additional weather resistance for this area. (But nothing close to waterproof.)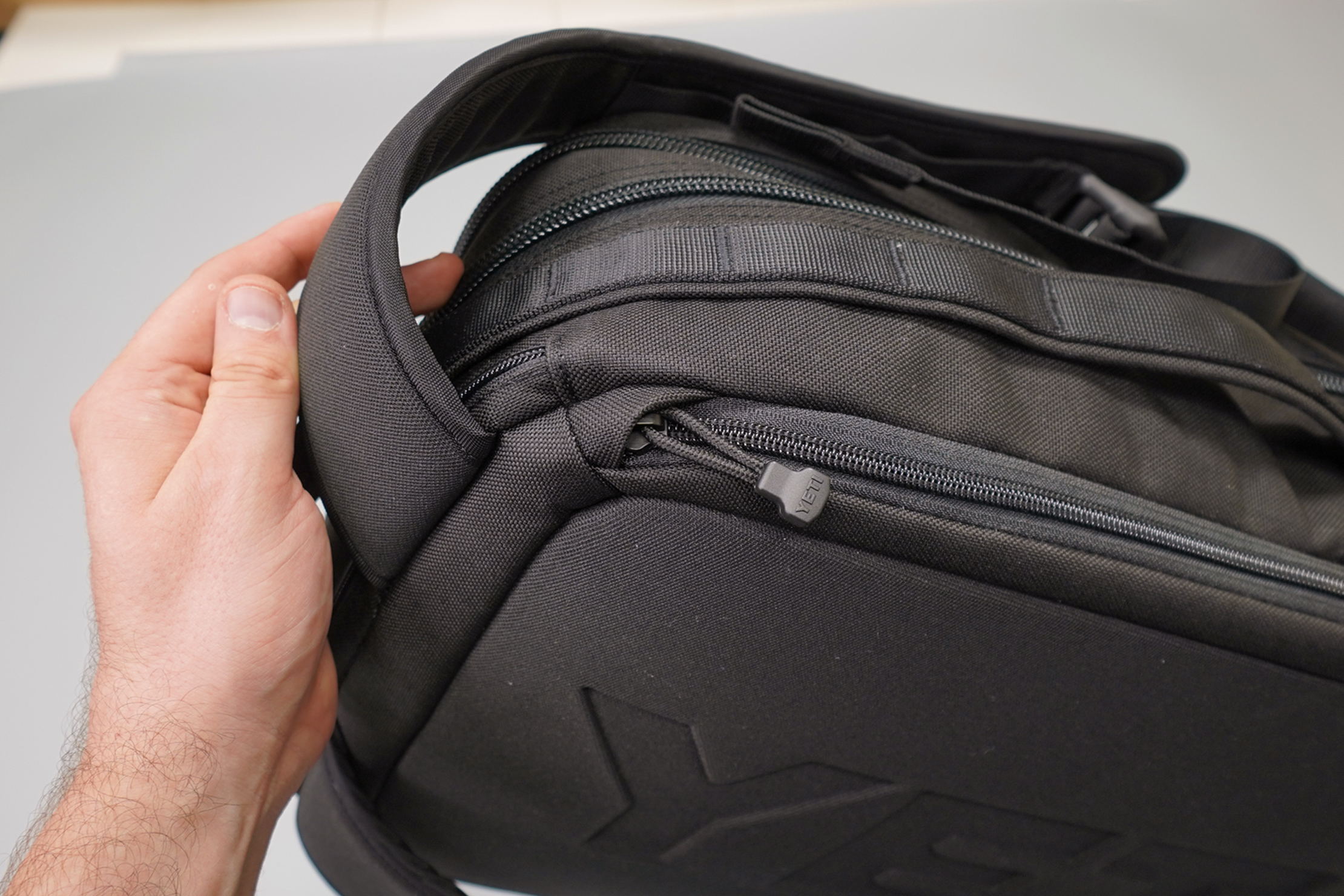 The zipper pulls are nice and pullable (as they should be, right?) and the paracord material makes them totally silent, avoiding any annoying zipper jingling.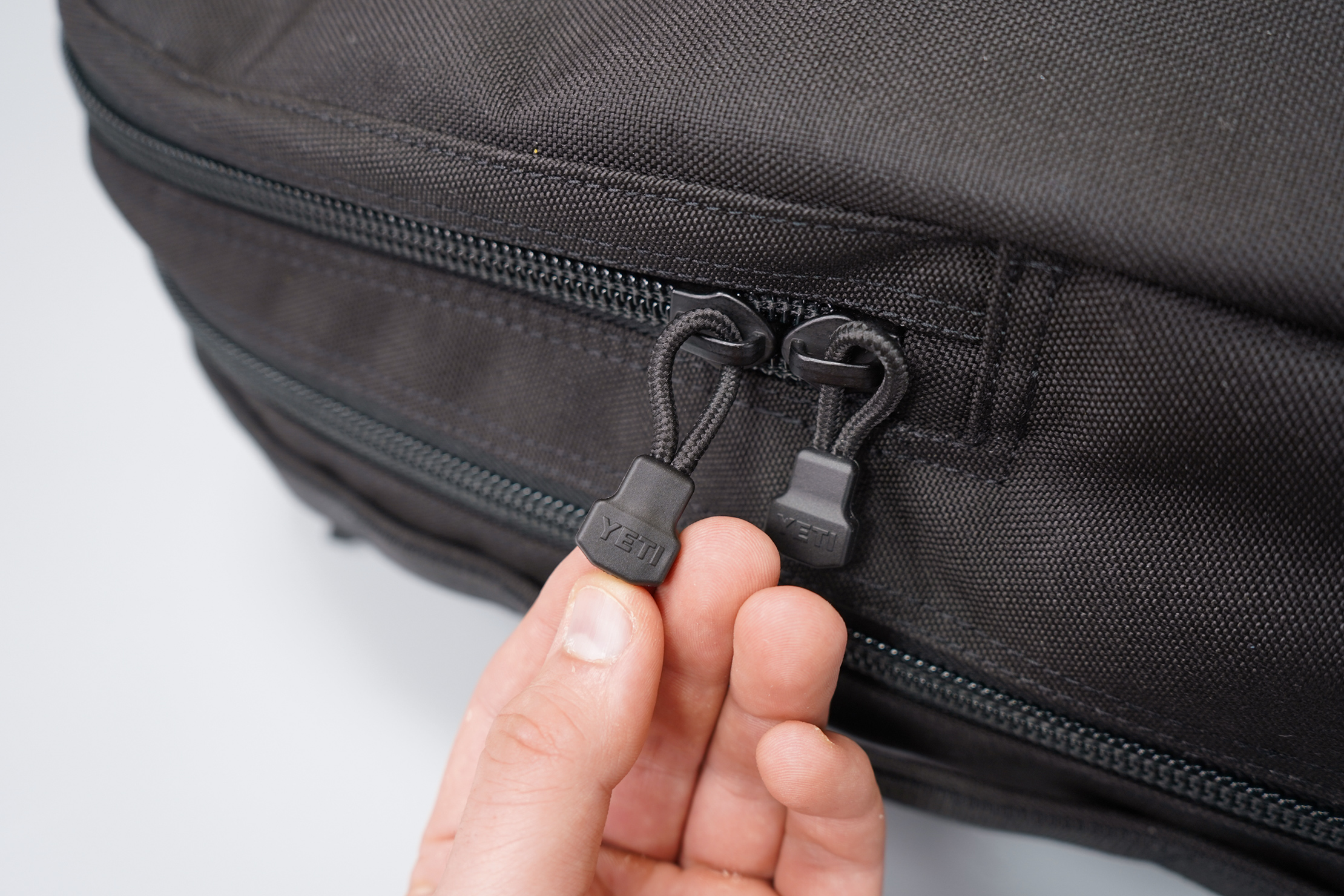 The front compartment opens up horseshoe-style and offers some pretty good width and depth. The pocket goes down to about five inches remaining in the pack, which helps prevent losing things at the bottom. This is an area where the small details really count, as we're all for anything that helps prevent those minor, everyday frustrations.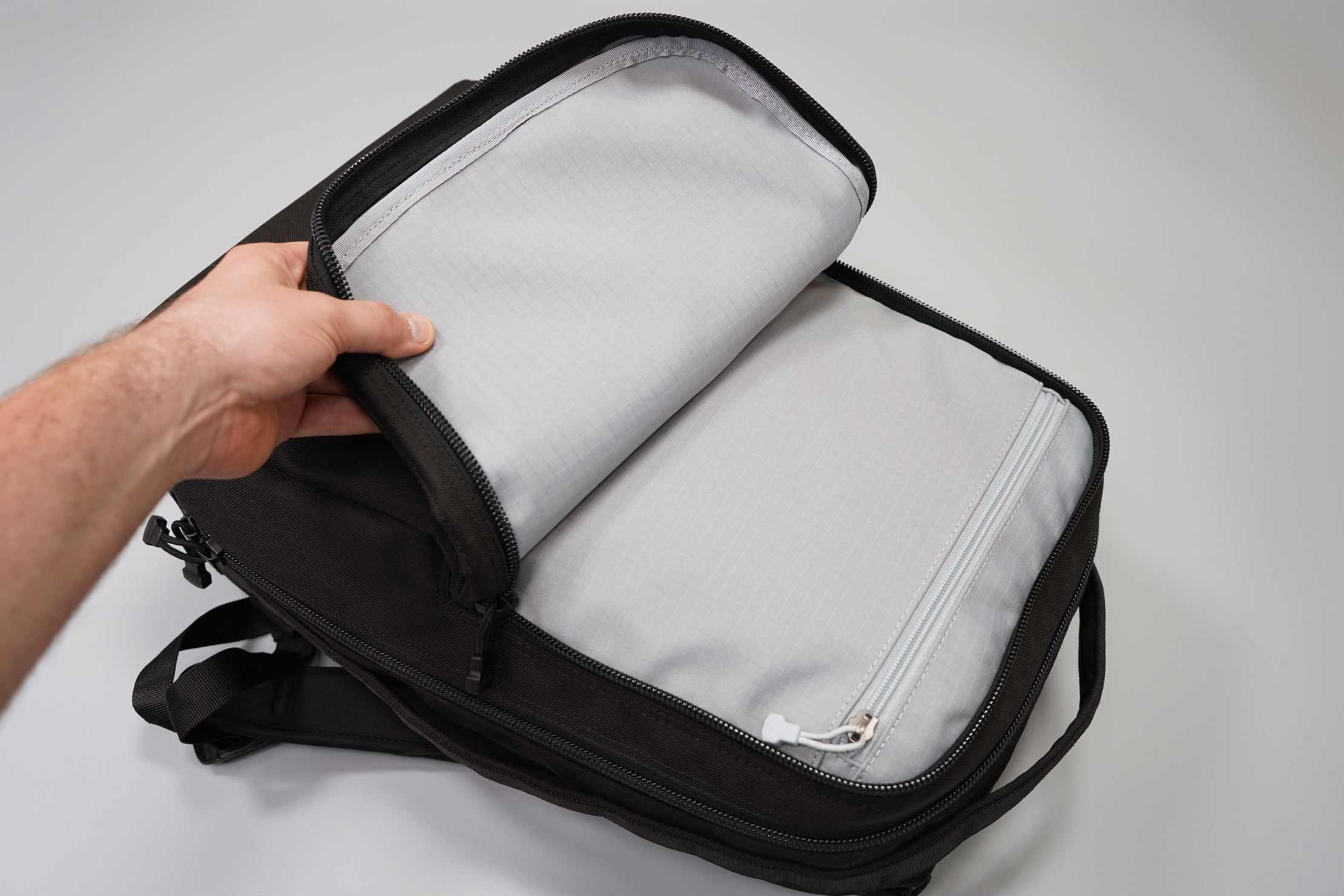 Inside, you'll find another very simple zippered pocket with a gray zipper pull to match the interior fabric. The colors throughout are very subdued, in general. As fans of all things minimalist, we dig this look!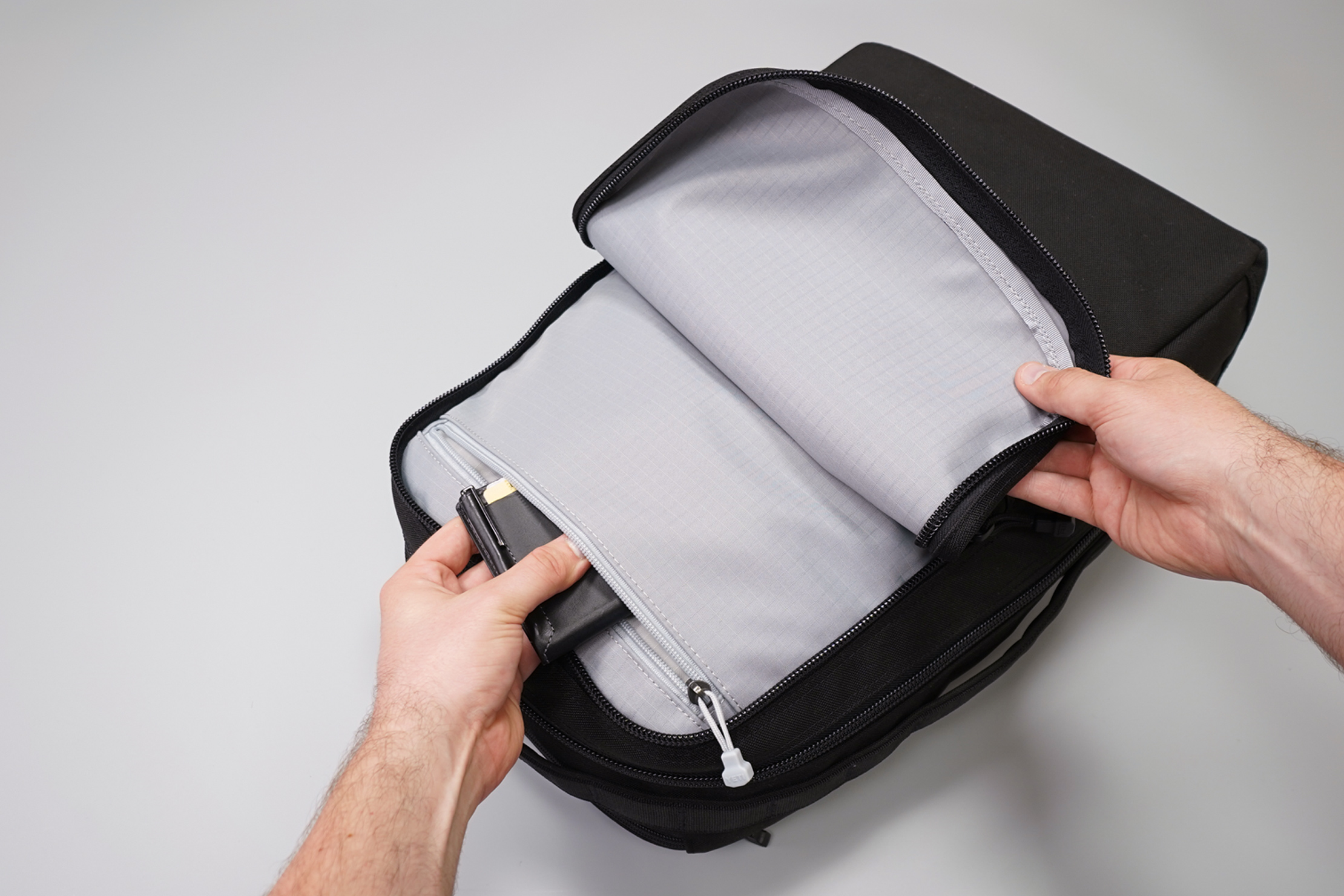 This additional inside zipper pocket is a bit taller than the height of a plus-sized iPhone, so you've got a decent amount of space to work with here.
Now, our least favorite feature of the YETI Tocayo is, unfortunately, the laptop compartment. The laptop sleeve itself is nice and padded on all sides with EVA foam, however, the laptop pocket goes all the way to the bottom of the pack without a false bottom. This means that if your pack hits the ground abruptly, your laptop is going to smack the ground as well.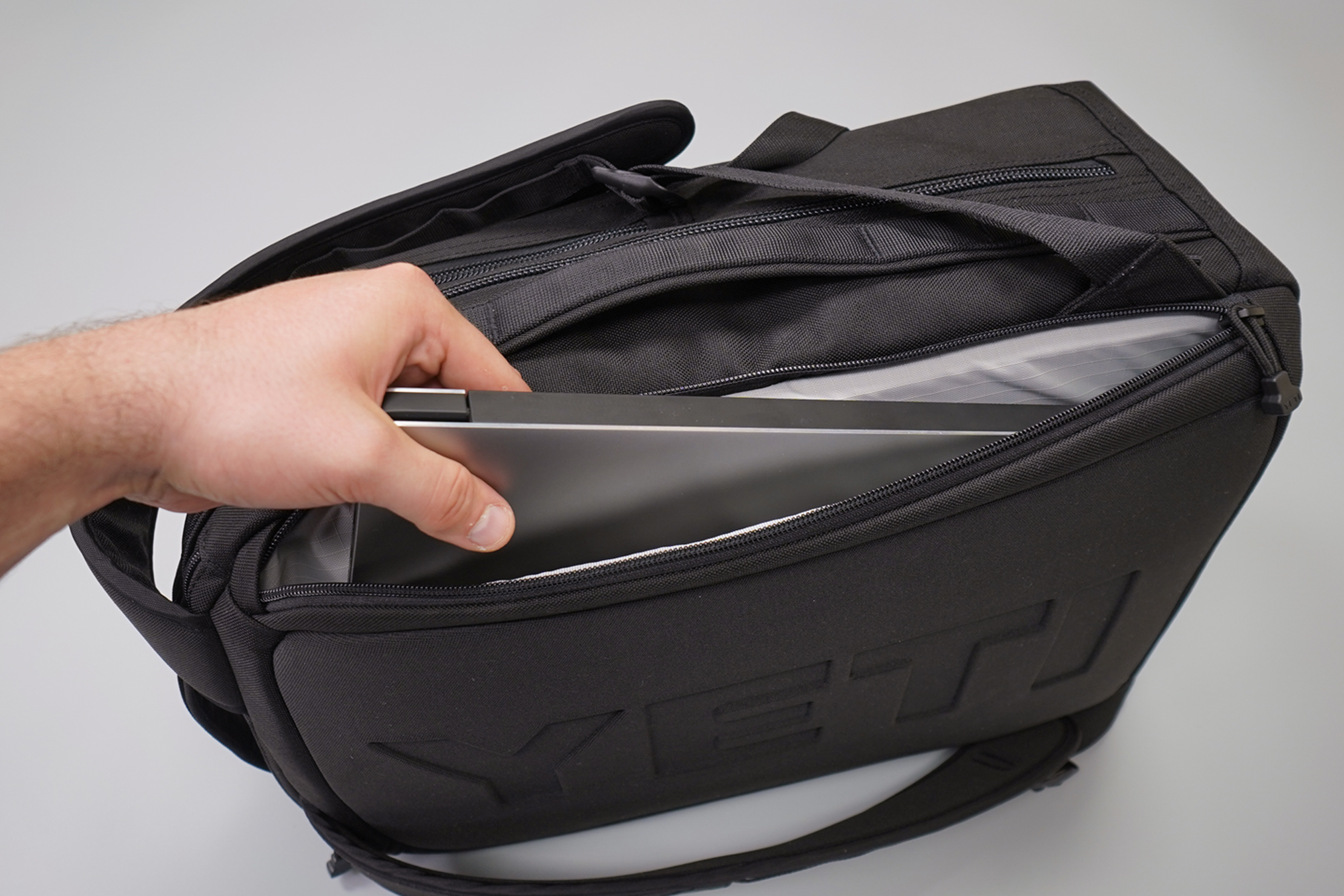 It seems like we're always knocking packs for this issue, and we wish brands would just make false bottoms the standard design—but, alas, that's not the case for now.
The laptop compartment concerns don't end there, though. Sliding the laptop in and out can also be a bit of a pain because the strap can get in the way. When you unzip this compartment, the strap is right in the way of the zipper, which of course isn't ideal. To avoid this, you'll need to flip the strap around a bit to get it out of the way and then you can fully unzip the compartment and access your laptop.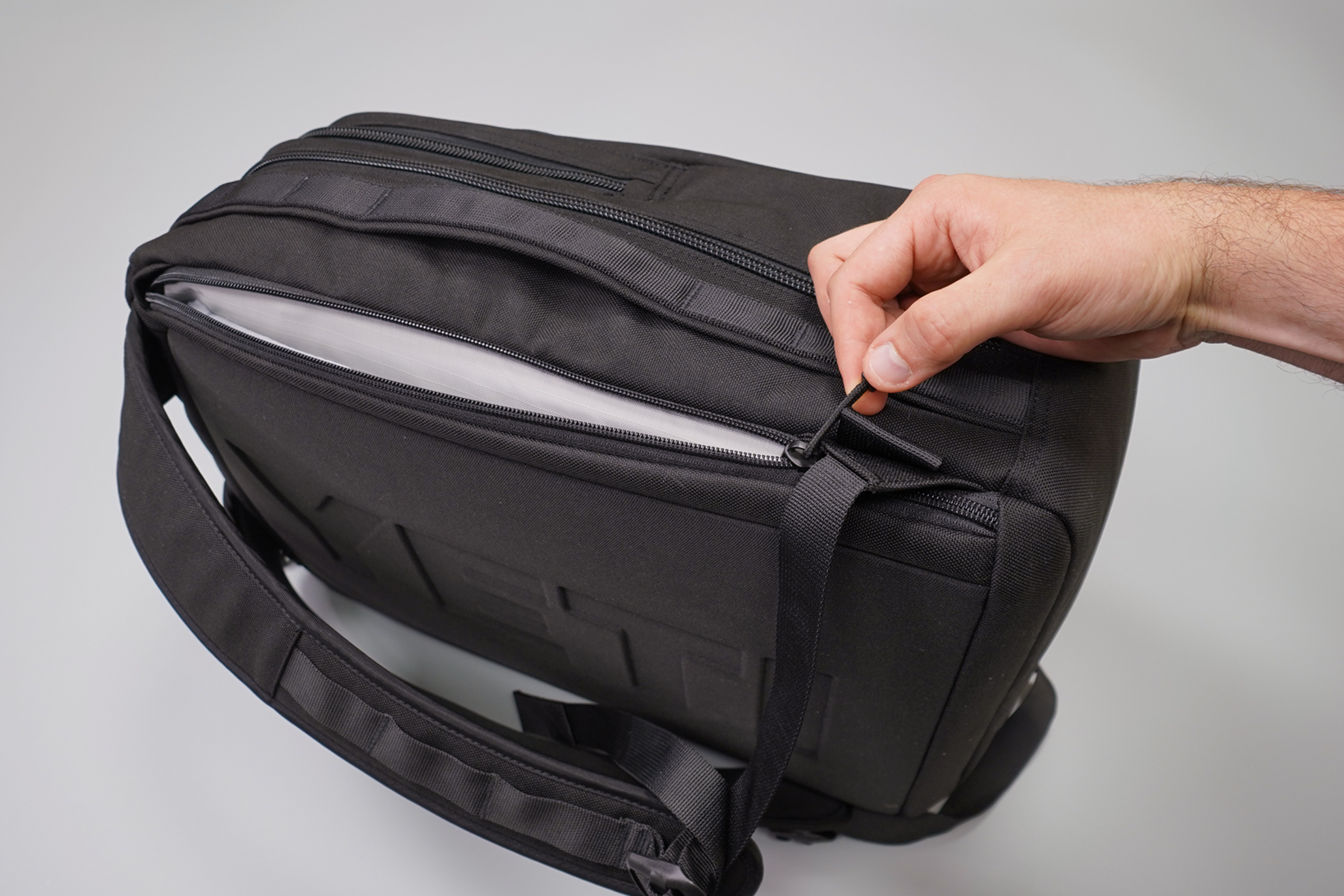 All that said, the laptop compartment is by no means a deal-breaker in our opinion.
Diving into the main compartment of the YETI Tocayo, you'll access this area clamshell-style but it doesn't quite open up all the way since the "box" at the bottom is what allows it to stand upright even when empty. So, although the zippers go all the way down, it won't open fully clamshell-style—but trust us, that's a good thing in this case, since the stand-up option is a major bonus.
You won't find an official water bottle pocket on the outside of the bag, but a side partition is provided just inside the clamshell opening on both sides—just keep the zipper positioned there for easy access.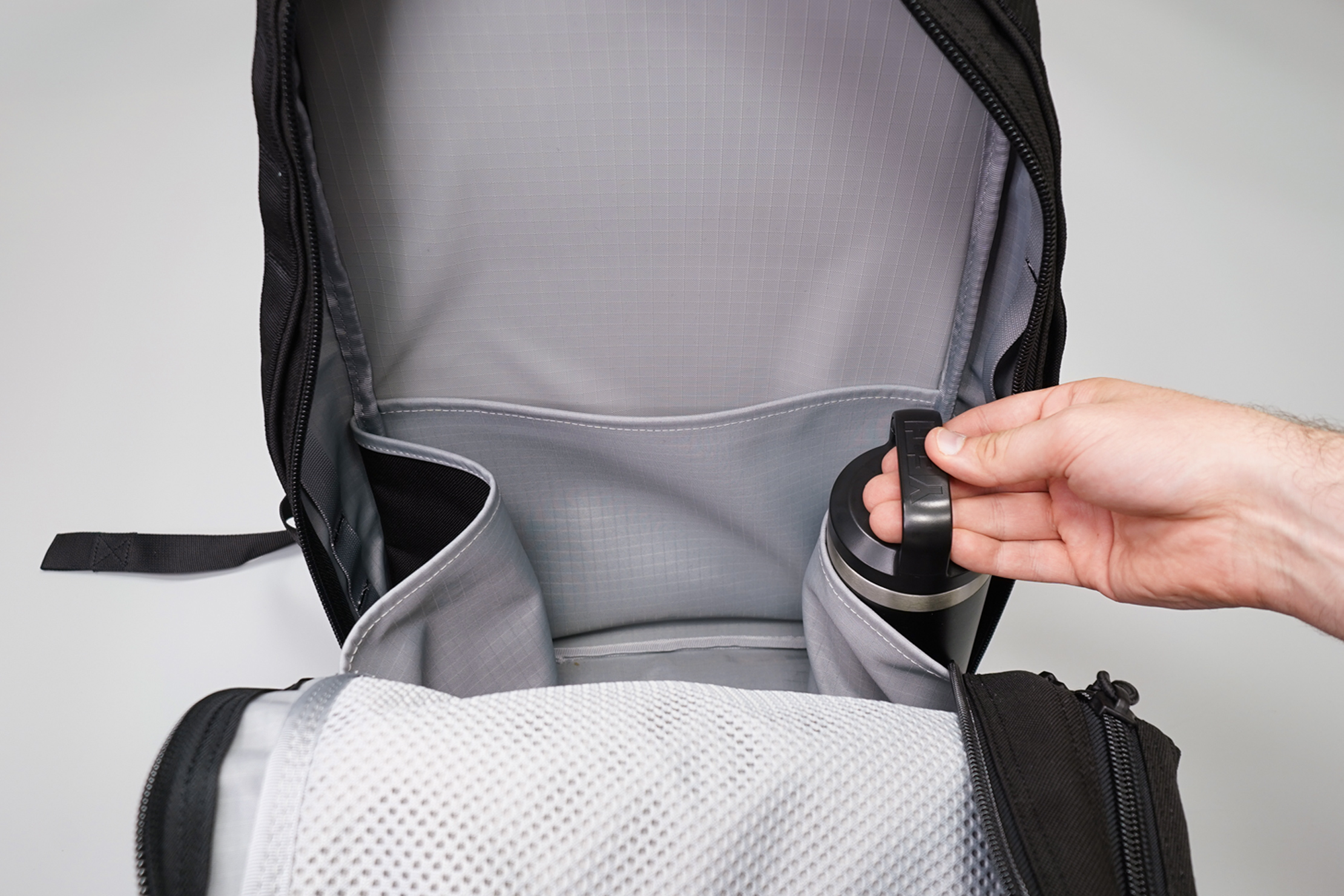 We'll offer a word of warning, however, about placing any potentially leaky plastic water bottles in this section. It will share space with the rest of your gear, so just be careful. These side pockets are also nice for additional compartmentalization.
The box-like system at the bottom of the pack is a unique design that we really haven't seen on other packs—which is saying a lot, since obviously we review a lot of travel bags. This square, boxy style fits in well with other YETI products and seems to be a design nod to the rest of the YETI family.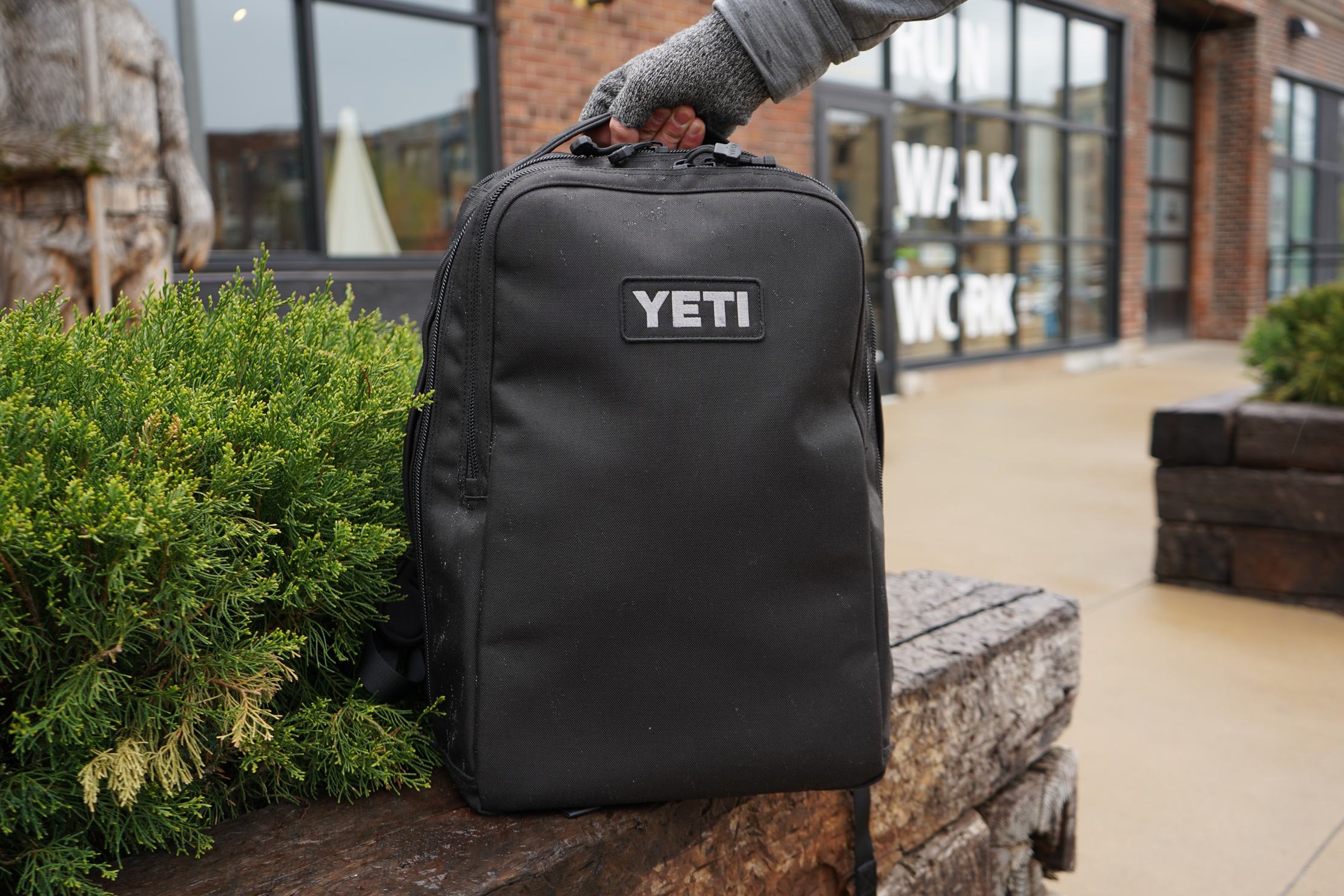 When it comes to using larger packing cubes in the YETI Tocayo, you may find that the side compartments interfere somewhat with utilizing the full amount of space at the bottom of the pack. This is another case where it's not a deal breaker, but just something to keep in mind.
Moving on, a divider pocket along the back of the main compartment is ideal for storing documents, a wireless keyboard or even a second laptop.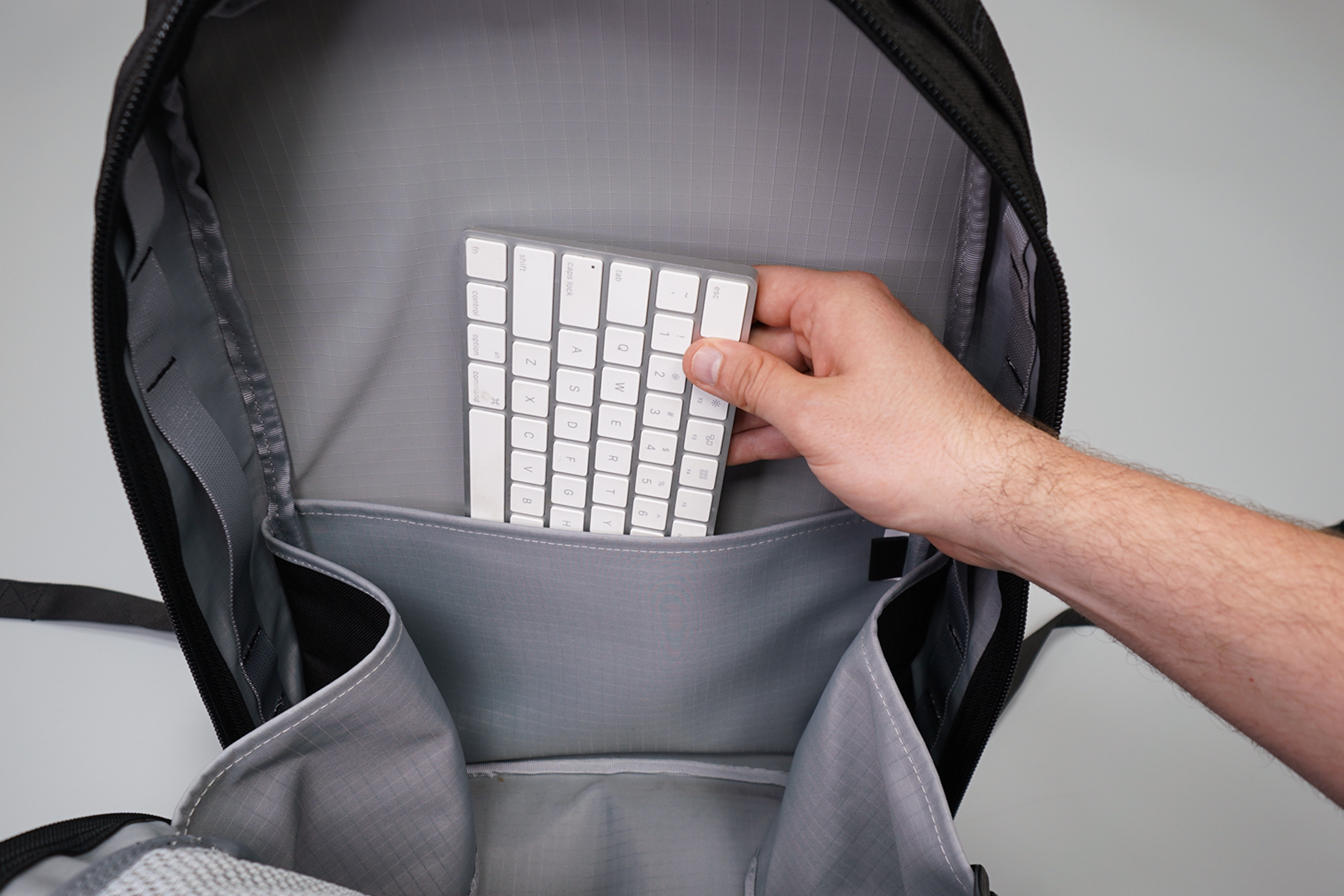 The Roundhouse Grid system is used again along the back panel interior, made with a slightly less robust nylon material, which is always handy to have.
Also featured on the interior is an integrated YETI bottle opener (because why not?) and a soft, mesh pocket with a YKK-zippered access on the front inside panel. The mesh pocket has a small amount of give, but it's still probably best for flatter items.

Durability & Testing
At the time of this review, we've been testing the YETI Tocayo for just over two weeks in Detroit, Michigan.
Overall, it has provided a pretty good carry on trips between coworking spaces, coffee shops and other spots around town. The pack's ability to stand up on its own just by setting it down has saved us plenty of time and effort, which means a lot.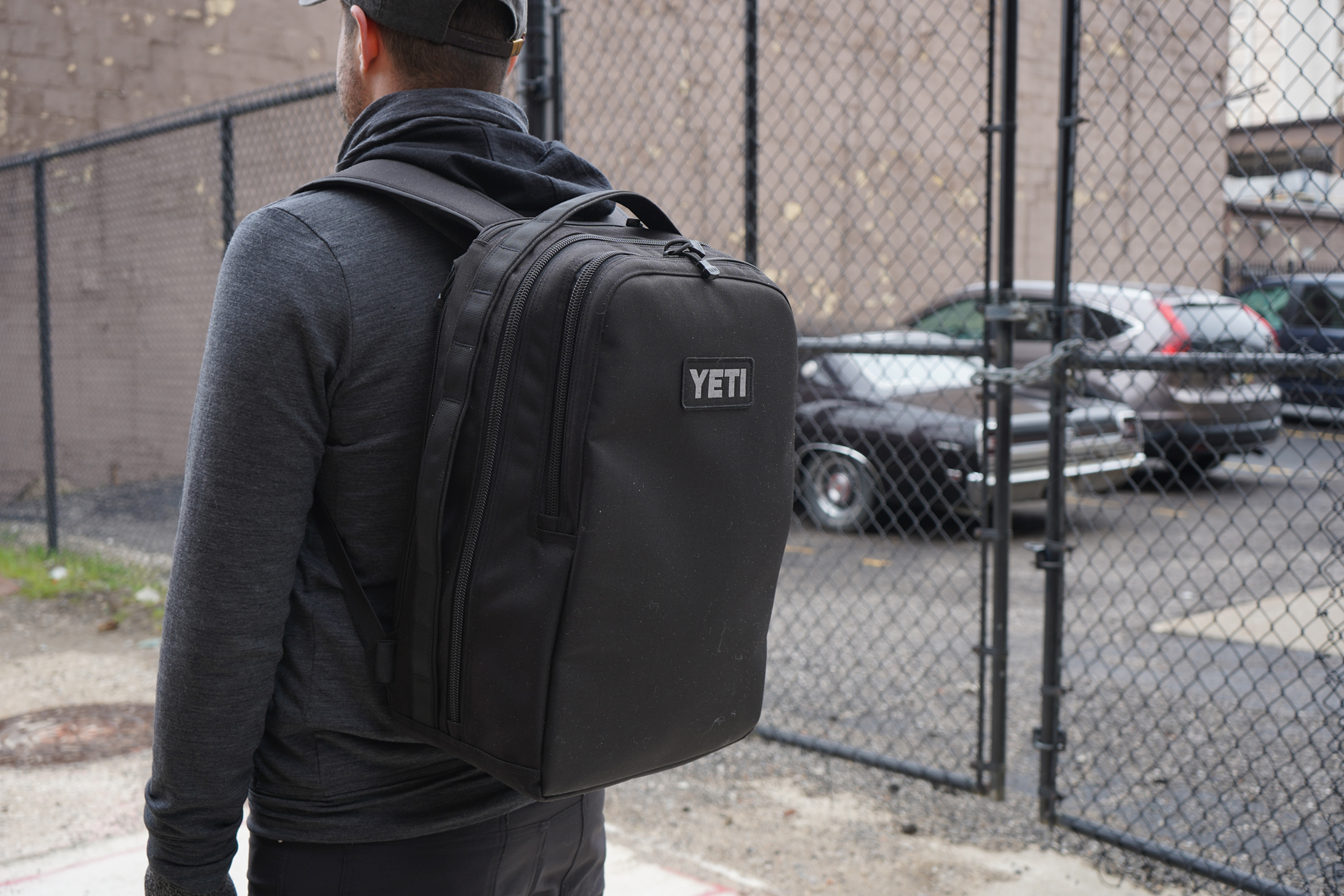 That said, we've lost a bit of time fishing the laptop out of that slightly ill-conceived laptop compartment. The strap definitely gets in the way, which was a bit of an annoyance in use.
The smooth zipper operation has been nice, as well. Everything runs very smoothly right out of the gate.
Usage Timeline
Initial Usage
Condition: Excellent
Looks very similar to a GORUCK GR1, but functions and feels different.
We love that the pack can stand up on its own.
Zippers are super smooth.
Components are of high quality and everything seems well put together.
Heavy!
2 Weeks of Use
Condition: Excellent
Testing well, but feels a little stiff in daily use. Laptop is difficult to access.
Access the Pro Community Discussion
Get your questions about the YETI Tocayo Backpack 26 answered from our team and the Pro Community right here on the page. Plus, join discussions with other members about gear, guides, and more.
Other Bags & Luggage Reviews