Xero Shoes Hana Review
Lightweight, flexible, and versatile, the Xero Shoes Hanas are great for travel—although we wish they were more durable.
Our Verdict
Unlock the Pro Summary
Save time. Get access to brief summaries of our reviews so you can browse and make decisions more efficiently.
Pros
Lightweight and compressible (easy to pack)
Versatile—they look casual, but the sole is built for adventures
Made from vegan-friendly materials
Cons
Not as durable as we would've hoped
Lighter colorways show dirt really well
Not breathable
Recent Pack Hacker Video
Technical Details
Notable Materials

Rubber, Canvas, Microfiber

Manufacturing Country

China

Warranty Information
Full Review
Way back in 2013, the husband and wife duo behind Xero Shoes introduced their barefoot sandals to the world on the ABC reality show, Shark Tank. (For the curious, the couple received an offer from one of the "Sharks," but ultimately rejected it).
Fast-forward five years and Xero Shoes offers way more than the barefoot sandals that launched the business. Currently, there are styles available ranging from sandals to boots to running shoes.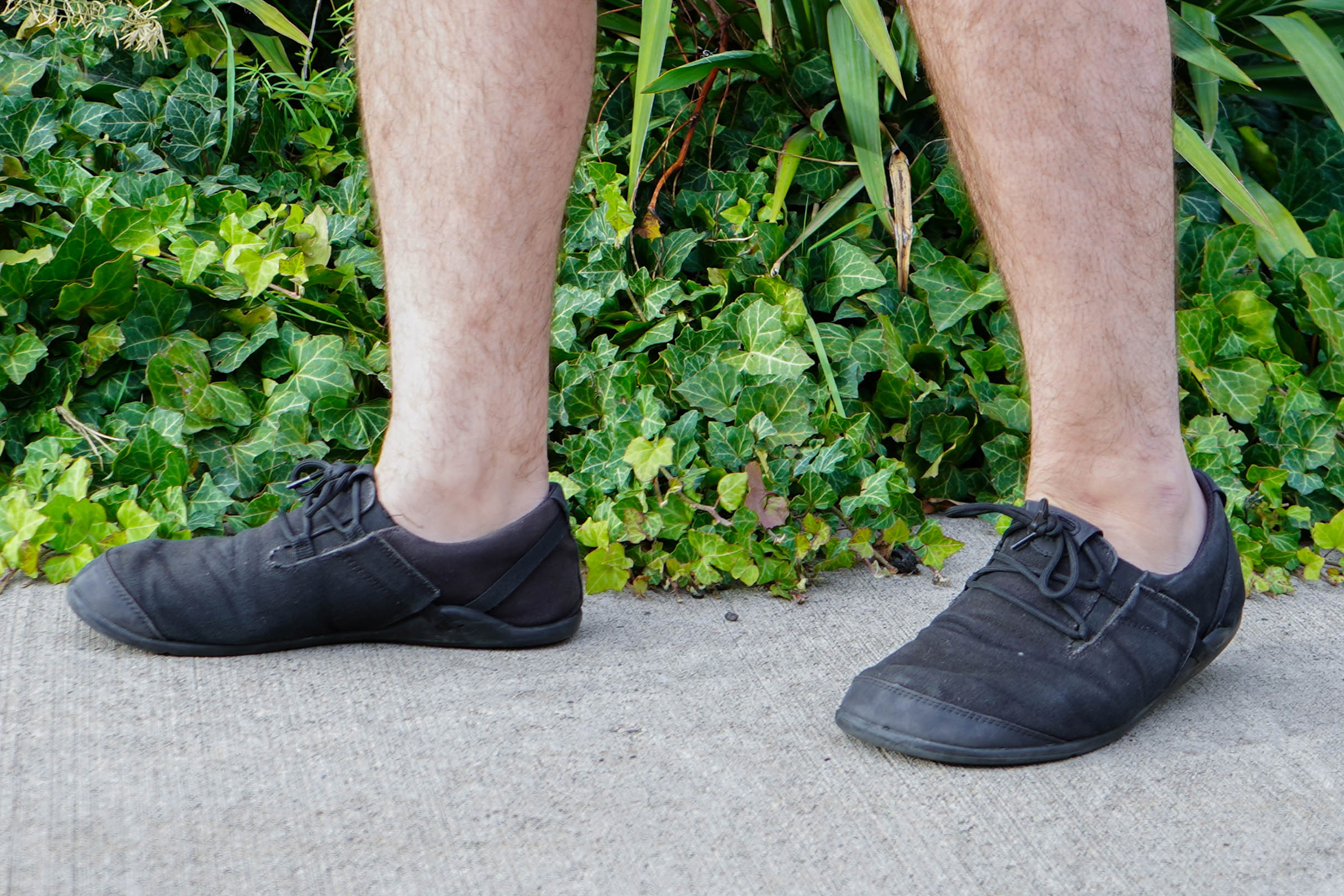 The Hana style is a casual shoe that you can rock both on the trails and in the city. We've been testing multiple pairs of the Men's Hana Shoes for a year and a half and counting. Obviously, we're fans. So let's check them out.
Materials & Aesthetic
Alright, so the Xero Shoes Hana (Men's) aren't the most fashion-forward shoes on the market. But as far as minimalist shoes go they're not so bad. The clown-shoe effect isn't as obvious as other minimalist shoes out there, although we've gotten some comments about the rounded toe-box. People have said they look like "elf-shoes" and, while we don't see it, we've decided to take that as a compliment. Everyone knows elves are awesome.
You can pick up the Hana's in both men's and women's fit—the shoes are practically the same, although the sizing and colorways available are different. At the time of this review, the men's fit has four colorways available, while the women's fit has two.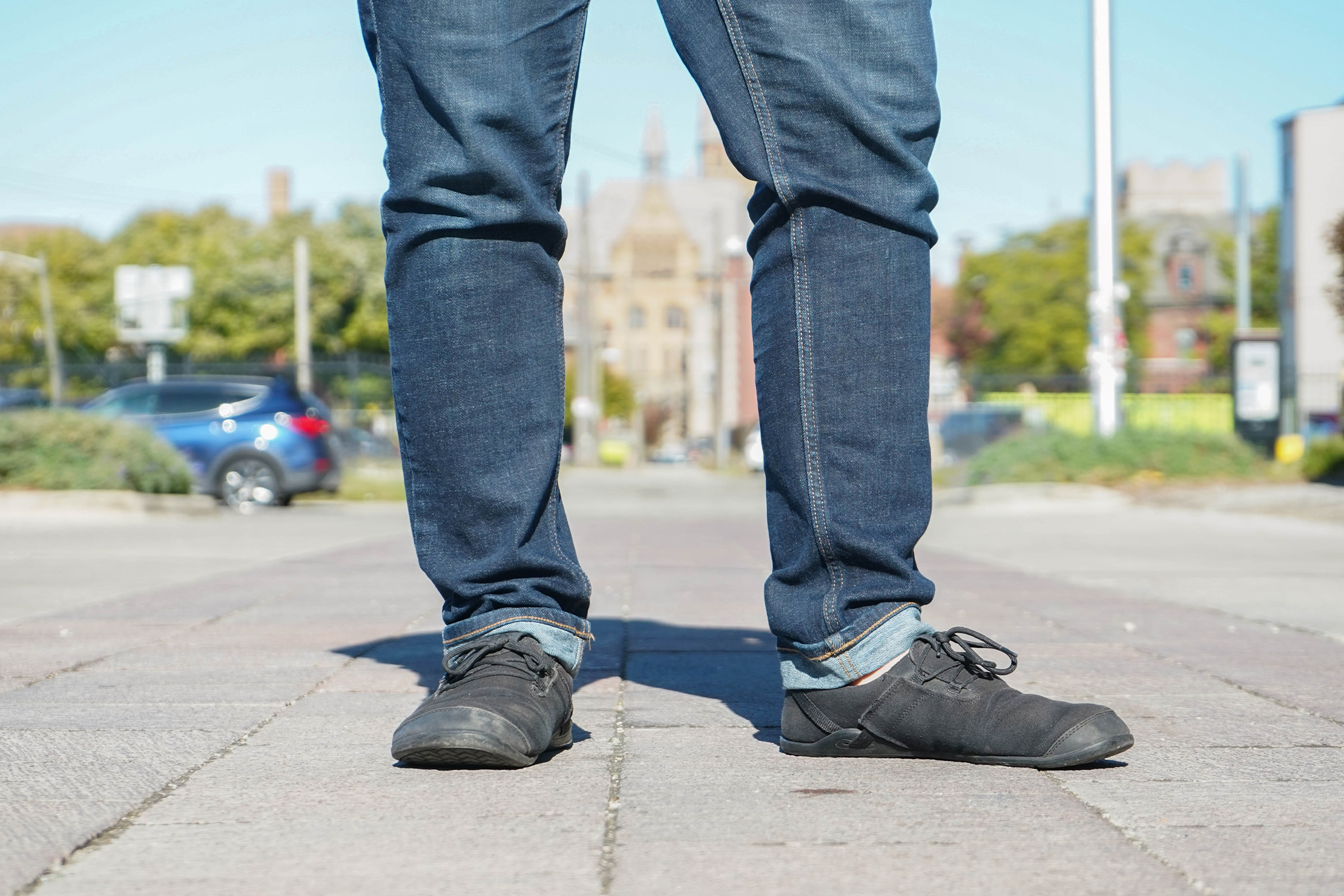 We've been partial to the black colorway as it's the most discreet and versatile. You can pair them with a nice button-up and chinos and fit right in at a nicer restaurant. Sure, your shoes won't be the centerpiece of your outfit, but they won't offend anyone either.
Plus, the black colorway stays cleaner longer. We've tested the "Carob" colorway—also known as light brown—and it gets noticeably dirty quickly. You can clean off your shoes with some soap and water, but let's be real, who wants to take the time to wash a pair of shoes when adventure beckons right outside your door? No one, that's who.
The folks at Xero used all vegan-friendly materials to make this shoe, which is obviously a major plus for our vegan team members here at Pack Hacker and all our friends out there (Hey!). Especially since shoes—and casual minimalist shoes in particular—seem to always involve leather.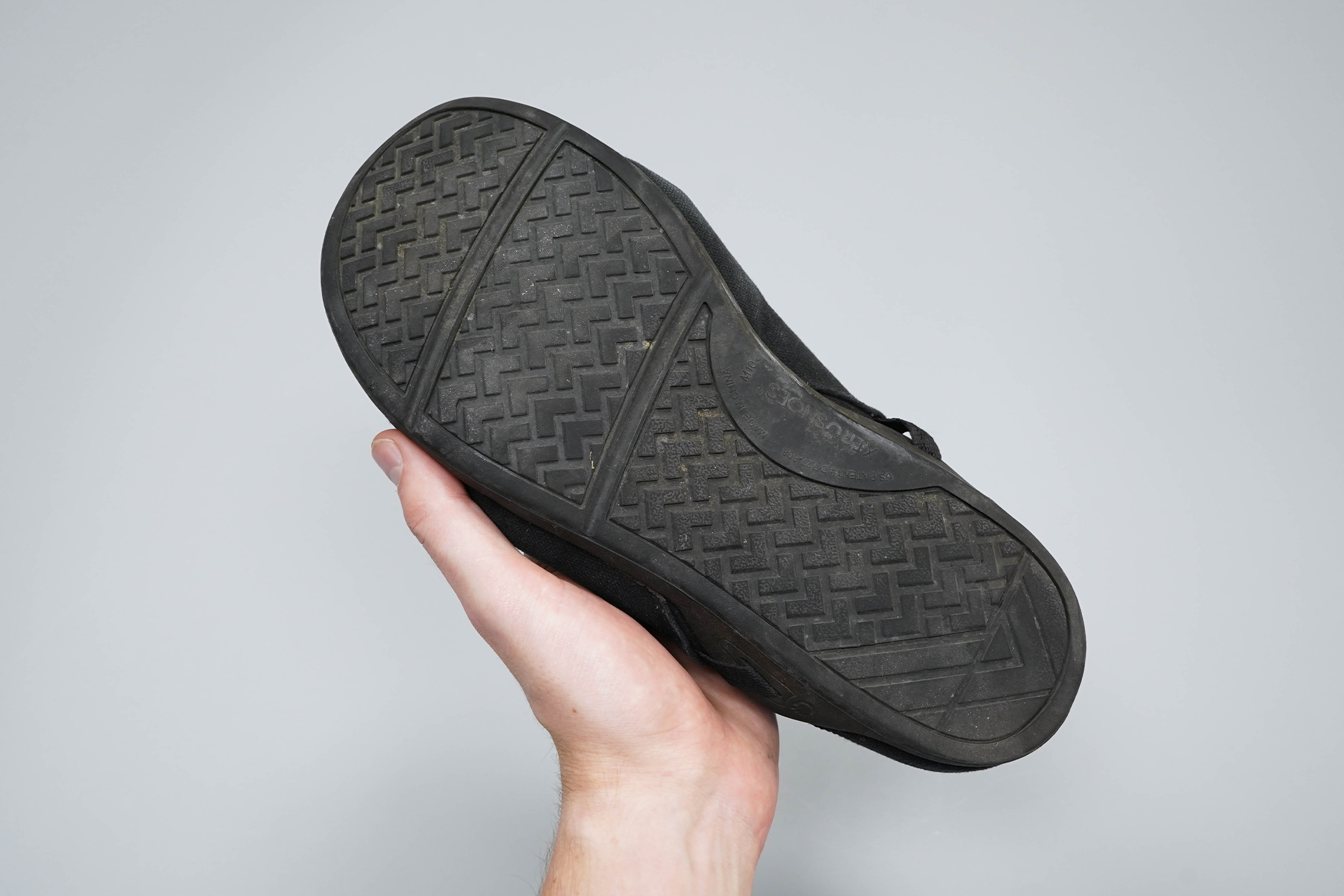 The rubber sole is the same 5.5mm FeelTrue® rubber sole that Xero uses on its famous sandals and other running shoes—designed to let your feet feel the ground while offering protection against disgusting and/or dangerous things you can find on the ground. The 2mm insole is also removable, so you can choose to "feel the ground" even more.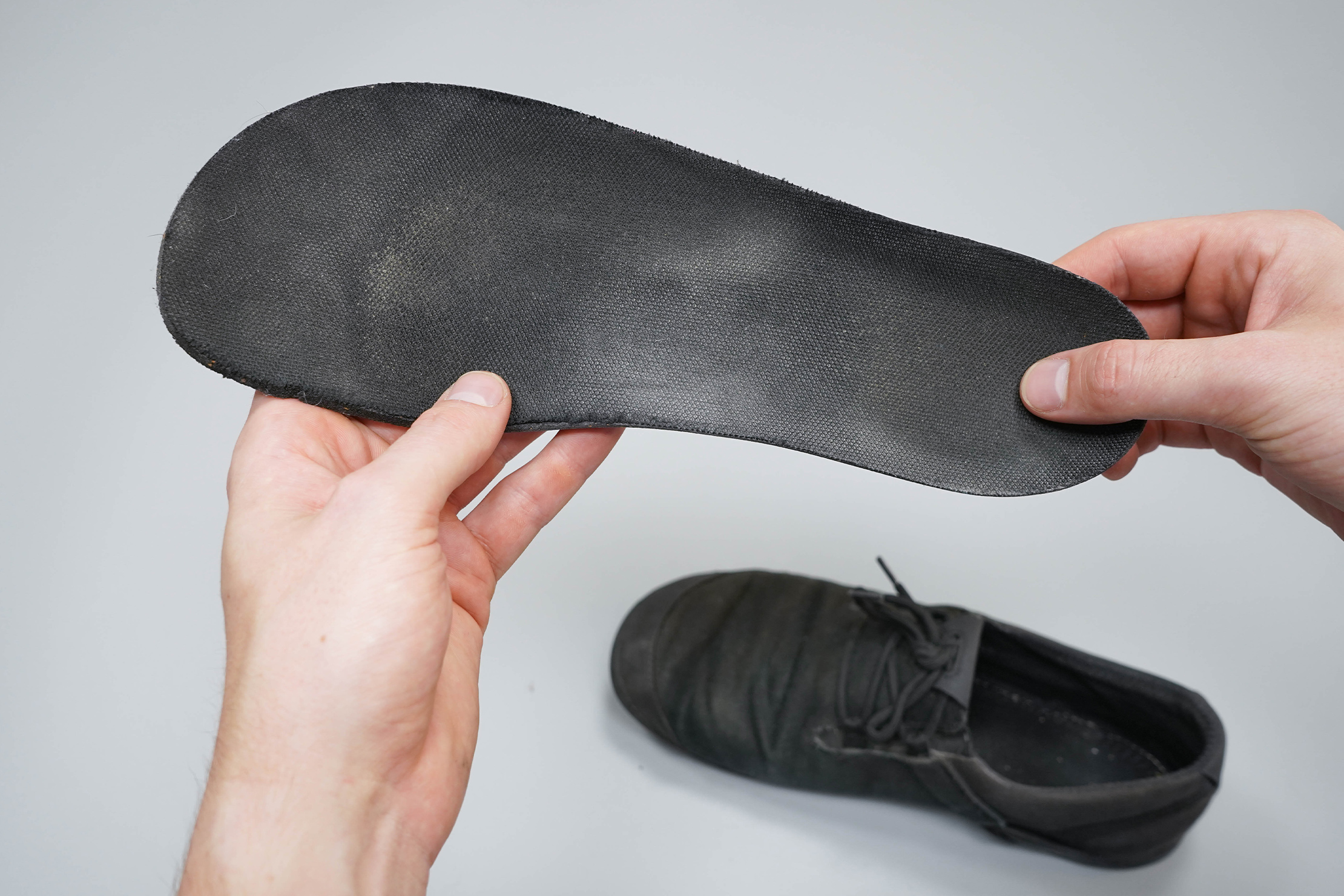 There is a 5,000-mile warranty on these soles. As of this review, Xero claims that if you wear through the outsoles within 5,000 miles, they'll replace them for 60% off the retail price. We haven't had a reason to test them on this yet, so your mileage may vary.
The sole is quite grippy, which is a major plus for both hiking and city-strolling. You won't have to worry about slipping on those pretty-yet-dangerous cobblestone streets, but you may need to be more careful on slick, technical terrain. We love the versatility of this sole, which adds to the versatility of the shoe overall.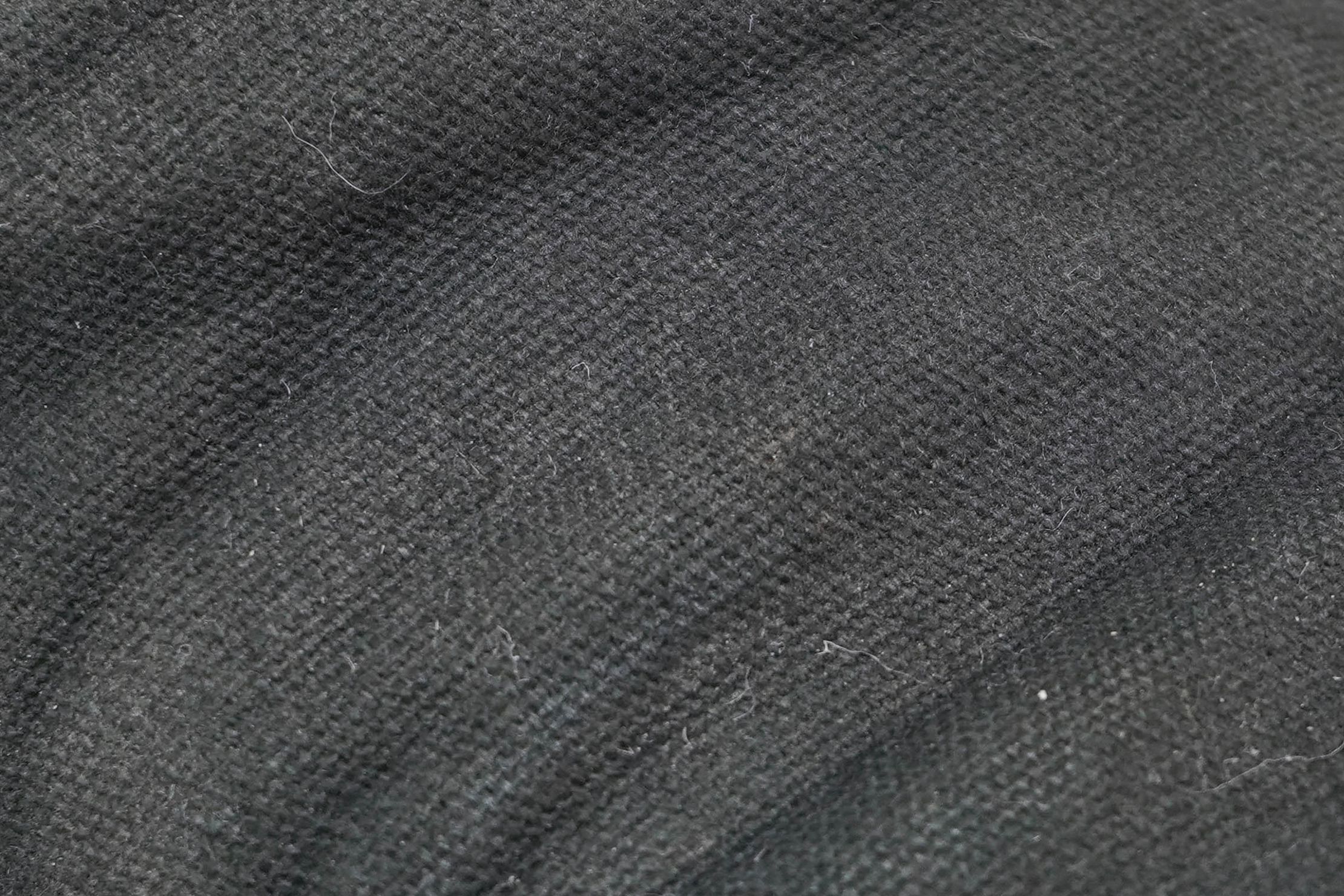 The upper is canvas, while the lining and external accents are microfiber. We've been loving how stretchy the upper is, adding to the overall comfort of these shoes.
New Xero Hana shoes are also treated with a water-resistant coating (our original pair was not). This coating doesn't mean you should wear these shoes in the shower, but it should protect them from getting soaked through if you run into some puddles while out exploring.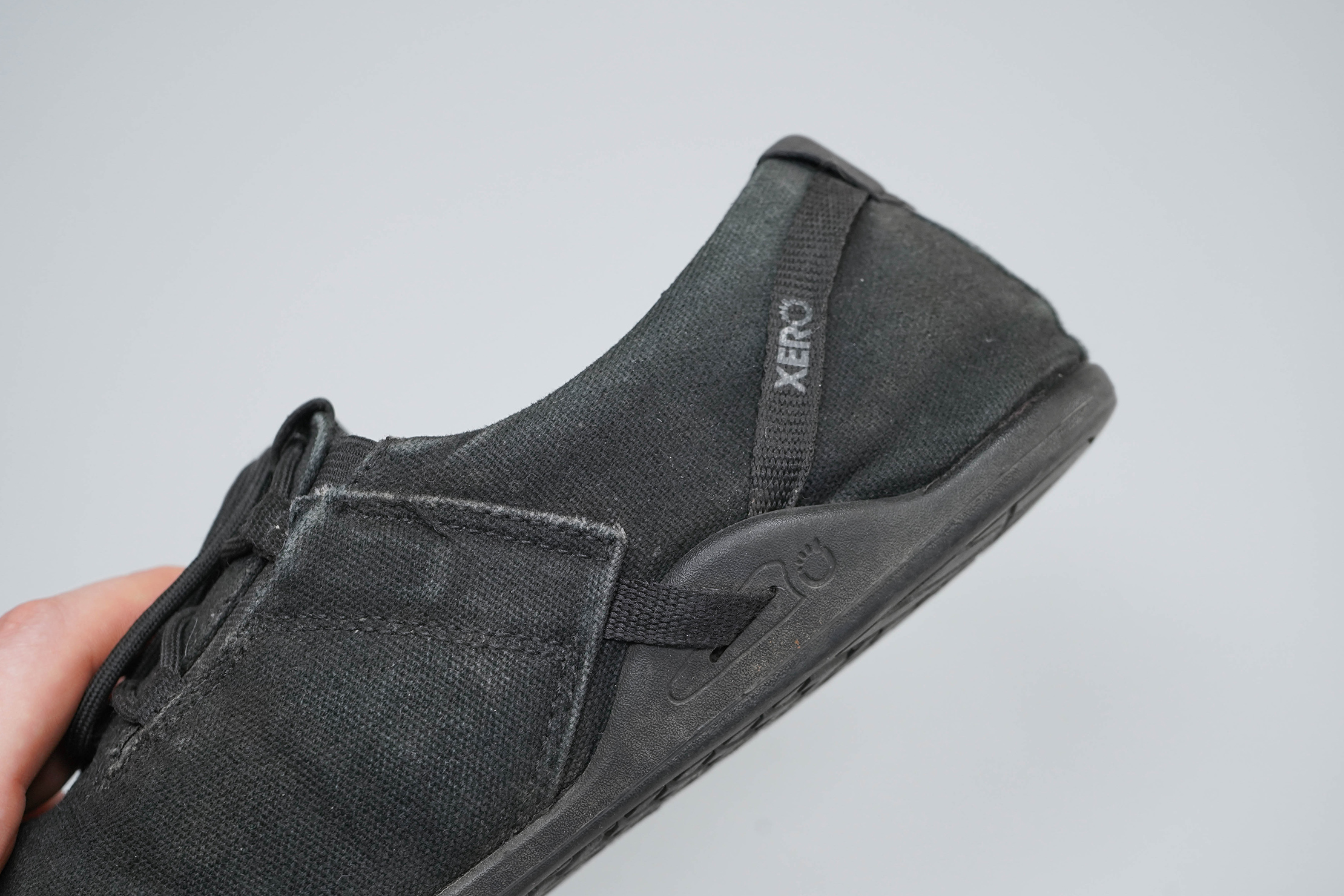 Now, the strap along the heel of the shoe that connects to the laces isn't just for looks. It's a Huarache-inspired design to help you hold your ankle and heel more securely. In practice, we haven't noticed any great benefit to it. If you yank it super tight, it'll tighten the shoe, but only by a small amount.
Features & Benefits
We've already mentioned how versatile these shoes are, but it's worth reiterating. They're a casual shoe with the sole of a running shoe. Meaning you can wear them to a meeting then straight onto the trails. In theory, you can also run in them, but they're not very breathable.
They're basically bags of canvas—we won't go into detail about the impact of this lack-of-breathability, you can probably wager a guess. We've also found these shoes are more comfortable to wear sock-less. Again, we won't spell out what lack-of-breathability + sock-less equals—you can put two and two together. That said, this isn't usually a huge problem unless a lot of activity is involved. Plus, the fabric is moisture-wicking.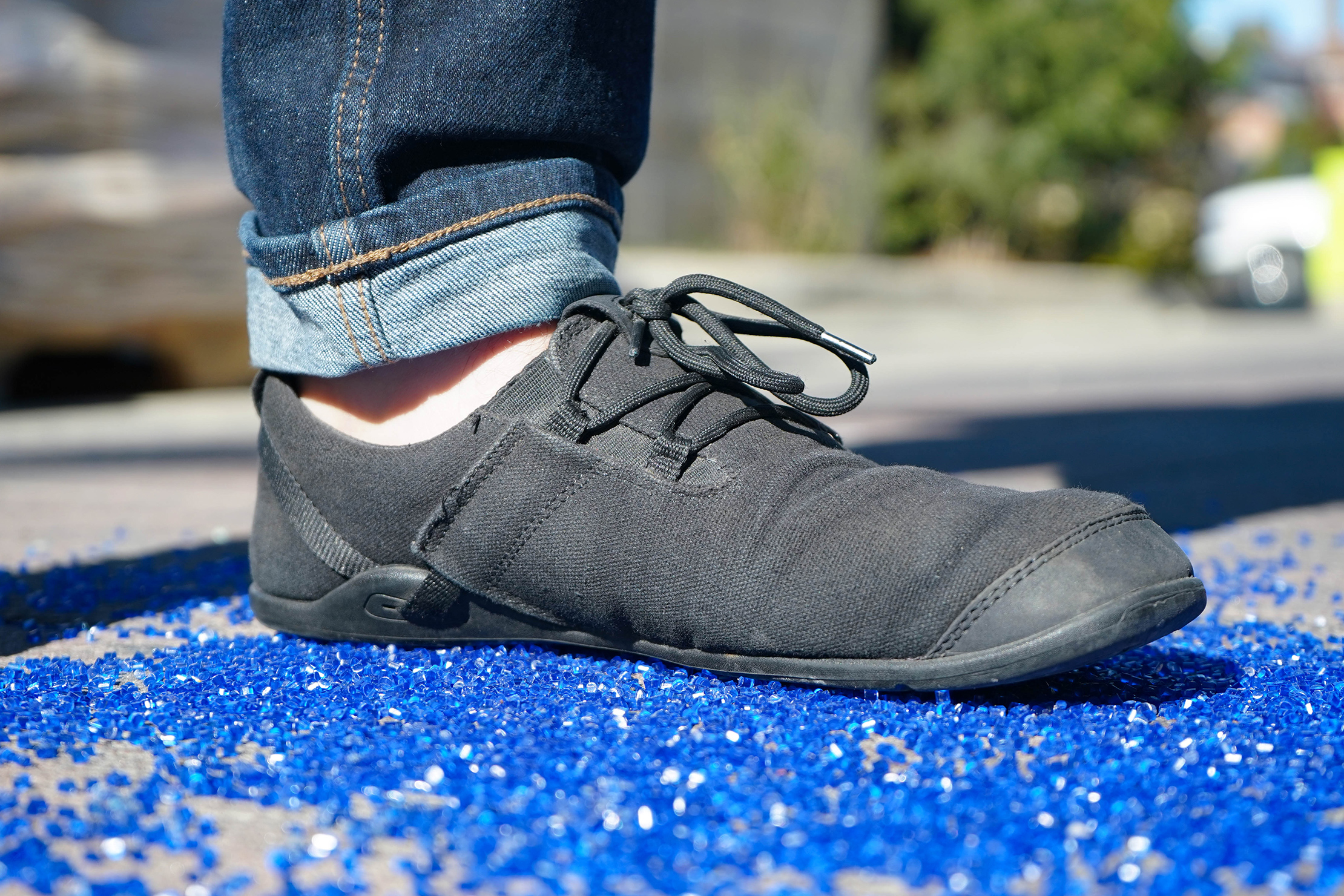 Another major benefit of the Xero Hana shoes is their comfort. Like most shoes, they can take a couple of days to break in, but once they do wearing them is like…ahhh. The word that comes to mind is cozy, especially if you have naturally wider feet, which often get crushed in a regular ole pair of sneakers.
Speaking of—it's time to talk about the proposed health benefits of minimalist shoes. A quick disclaimer: we're not here to convince you to buy into the minimalist shoe movement. We're not podiatrists. If minimalist shoes interest you, we suggest doing your own research—there is a ton of information out there written by people who are a lot more qualified to talk about it than we are.
All that said, beyond possible health benefits, minimalist shoes are great for travel. They're lighter and more flexible than most "regular" shoes out there, helping you make the most out of the allotted space and weight you have in your travel backpack.
So let's take a look at those features.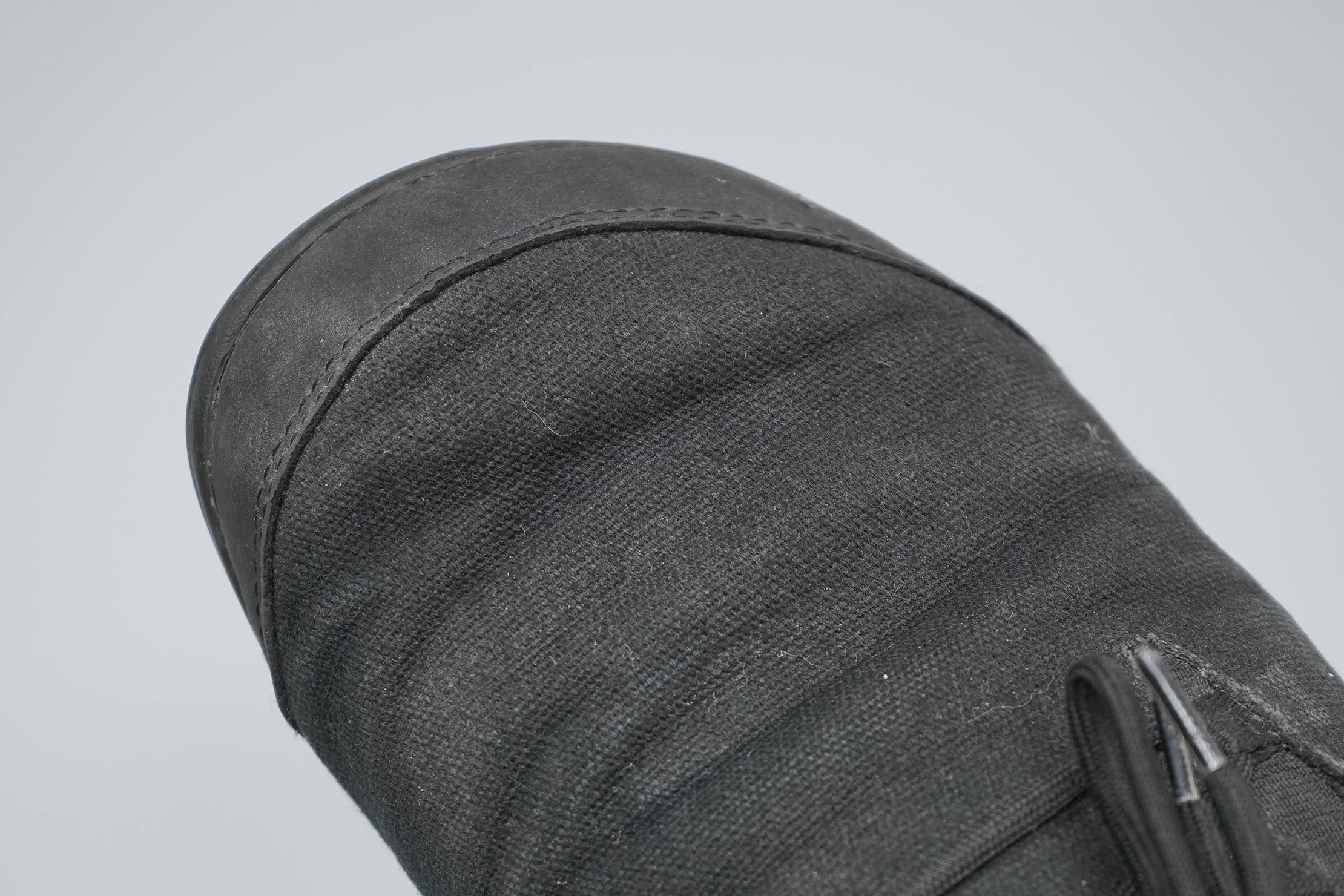 First up, the wide toe-box. Basically all minimalist shoes have this to let your toes spread out and breathe. And it's also nice for those of you with wider feet. Plus, air travel and long hikes may cause your feet to swell—a wider toe box allows this to happen without your feet getting squashed.
These shoes are also flexible. You can roll them up, although we don't suggest leaving them rolled up as that may put an undue strain on the materials. Even when you don't roll them, this flexibility means you can squish them into your pack in any available nook or cranny. They're much easier to pack than a thick, structured pair of shoes. This flexibility is also great for comfort, allowing you to move unrestricted.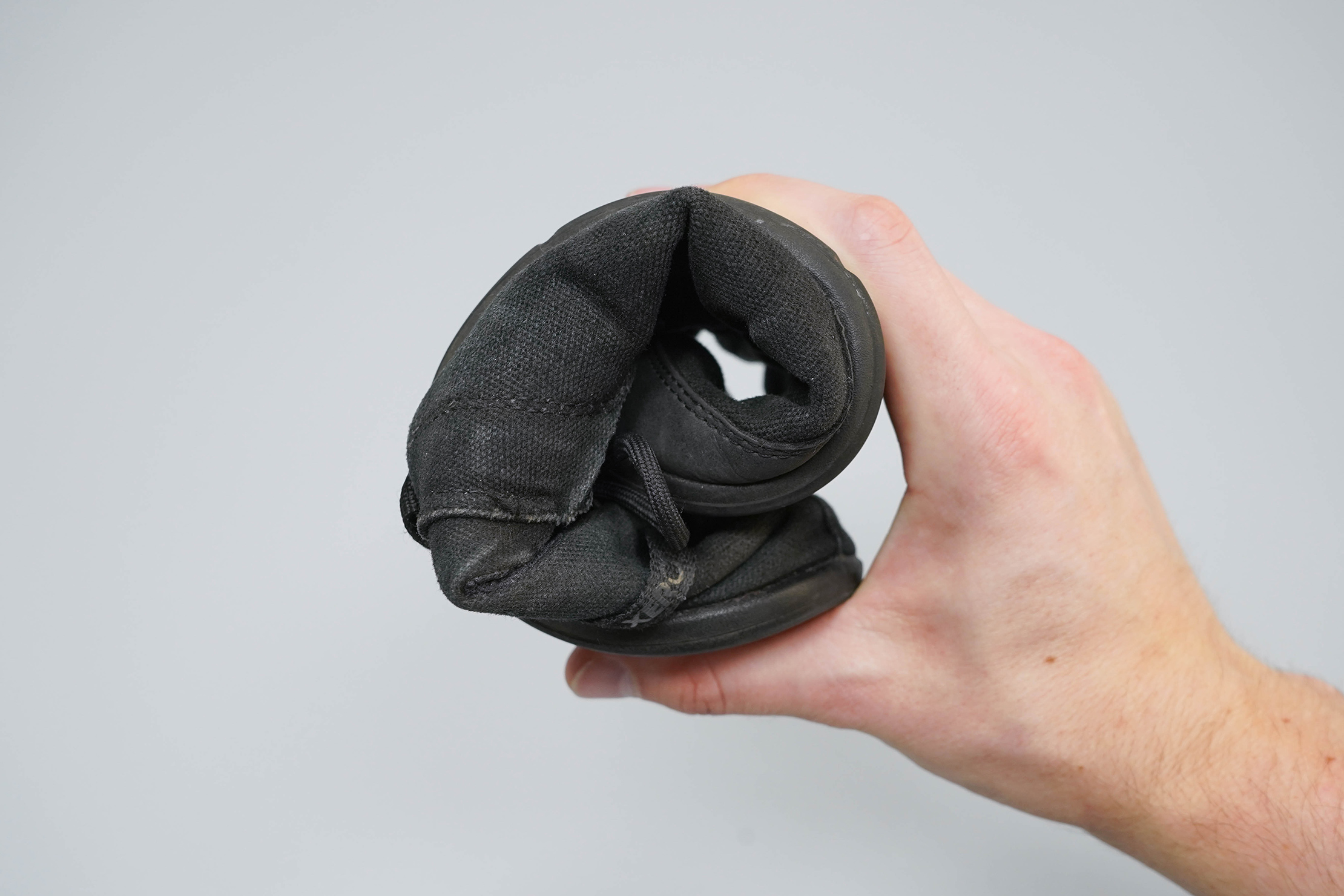 The men's size 9 clocks in at 8oz each, which is super lightweight. Again, this is not only helpful for packing, but for wearing these shoes. You'll barely feel like you're wearing shoes.
Finally, we have the thin sole and "Xero-drop" sole. Most shoes have some sort of drop from the heel to toe. It can be hardly noticeable or super-obvious (think high heels). The Hana shoes don't have any drop. There are multiple reasons for this, including helping with your balance and posture and taking the weight off more fragile parts of your foot.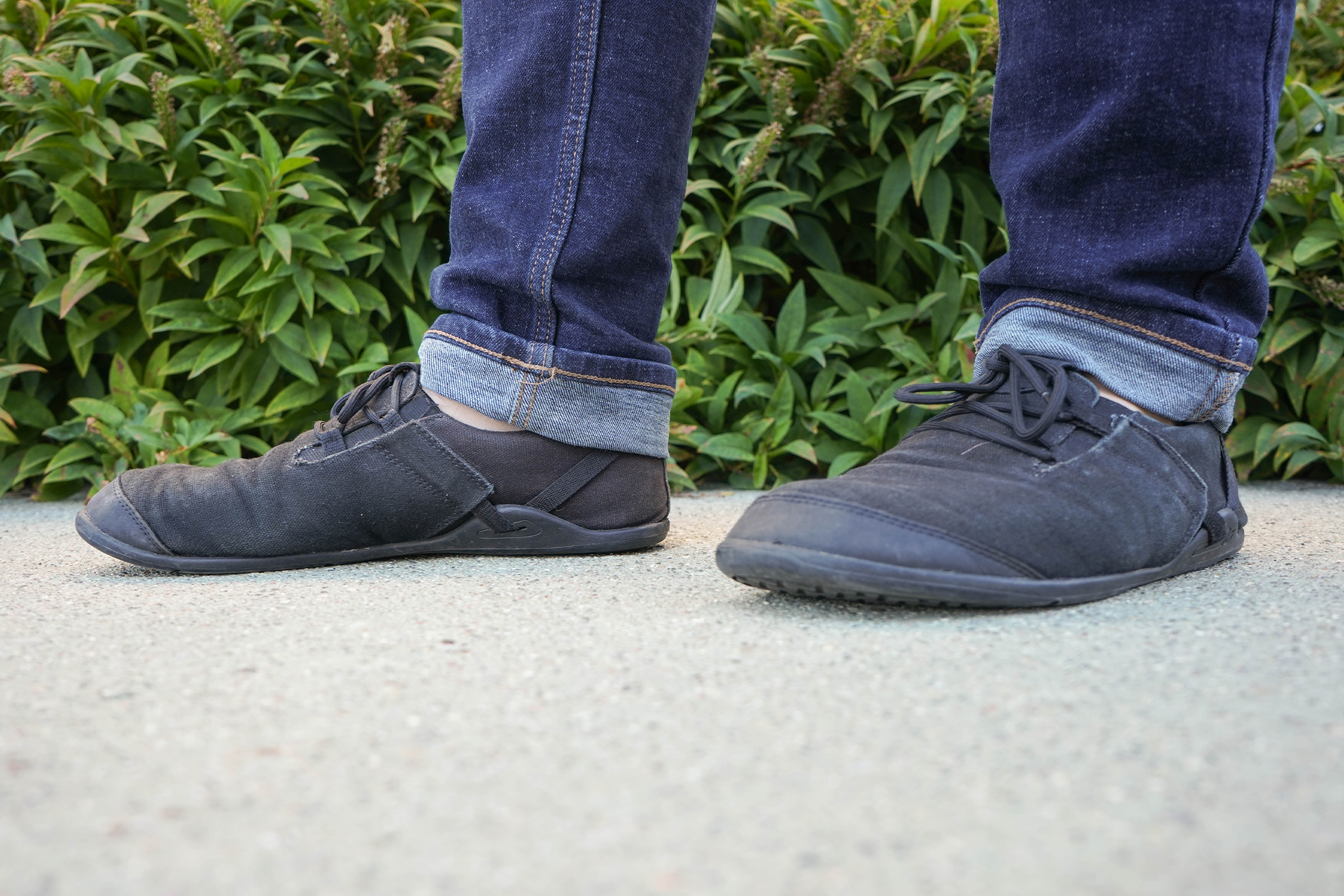 Now, you need to be careful. Most of us haven't been wearing minimalist shoes for our entire lives. Transitioning to a minimalist shoe can time-consuming and painful if you do it wrong. We suggest starting slow. Really, really slow. Don't buy these and take off running. Trust us.
Durability & Testing
As we mentioned at the beginning of this review, we've been testing the Xero Shoes Hana in the men's fit for about a year and a half. While we love them for their versatility and all those aforementioned benefits, they're not as durable as we would've hoped.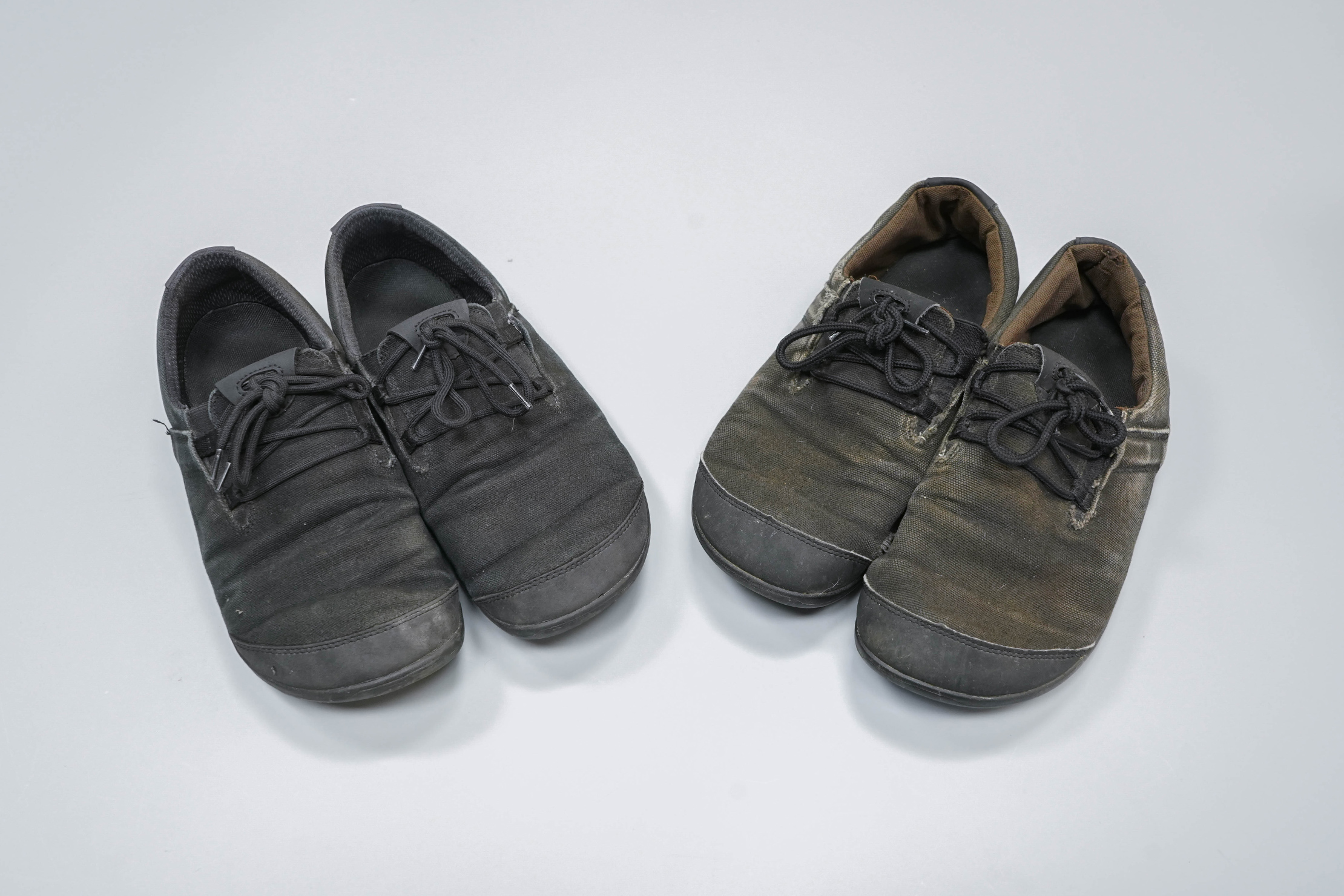 We walked through one pair in little less than a year—about ten months to be exact. By then, the tread had smoothed out, a hole had formed in the upper, and the elastic by the laces had ripped. Actually, this elastic ripped within the first few weeks of testing and continued to get worse over the year. Also, by the end of their life, the shoes stopped tightening well (probably because of that torn elastic). A year isn't too bad of a timeframe when compared to similar shoes—especially with our high-mileage testing—but it's not amazing either.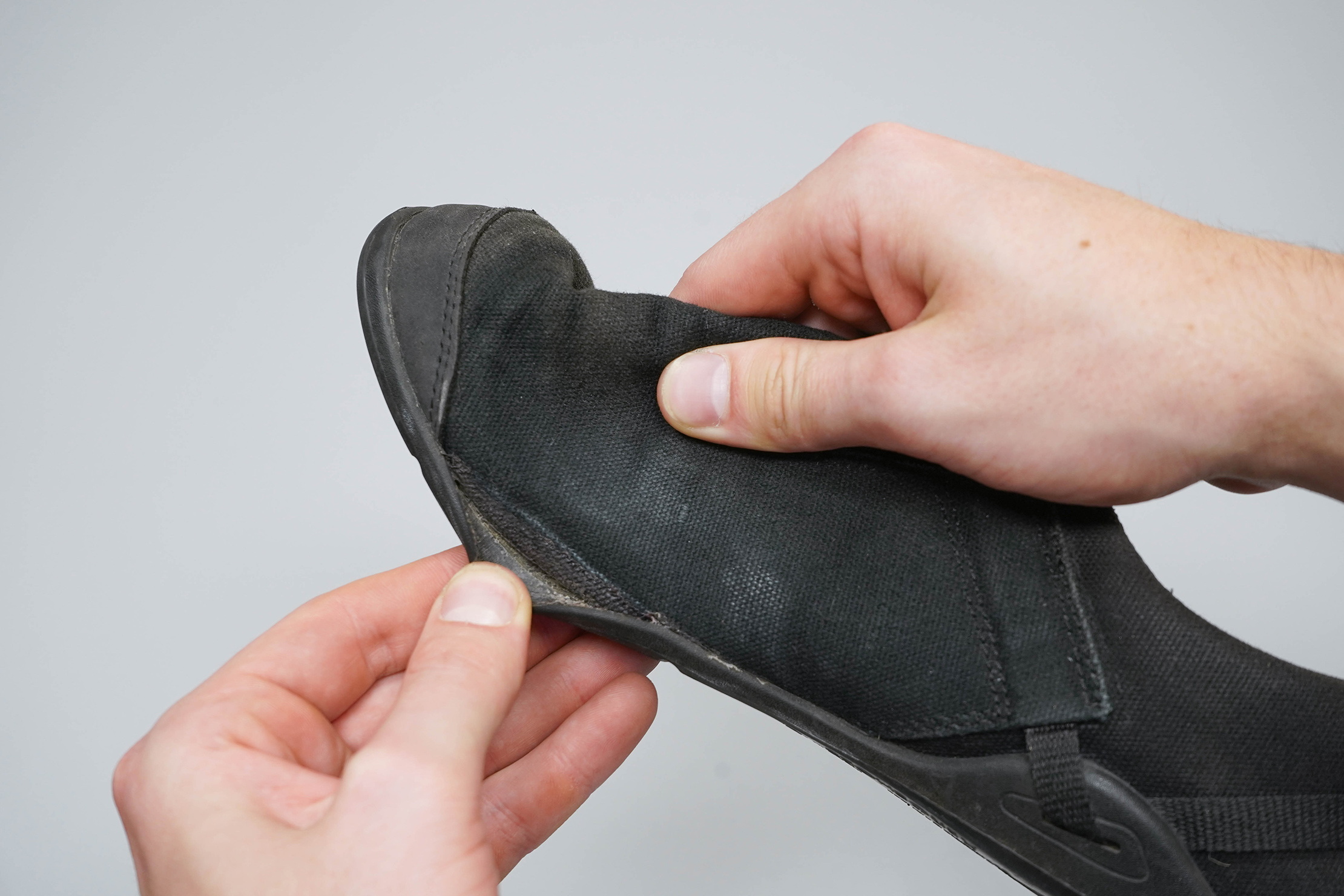 We've already started to see some wear on our newest pair. The elastic bit on one of the shoes has started to fray and the sole has started to peel away from the upper—which is annoying, although not overly concerning at this point.
Still, we would love for these shoes to hold up against all of our adventures. We like them so much, we want them to last.
Usage Timeline
Initial Usage
Condition: Excellent
Digging the casual, versatile aesthetic
Sole feels protective yet thin and flexible
Canvas is not very breathable
1 Month of Use
Condition: Good
The elastic near the straps has torn already…not a great sign? But they're super comfortable, which we love.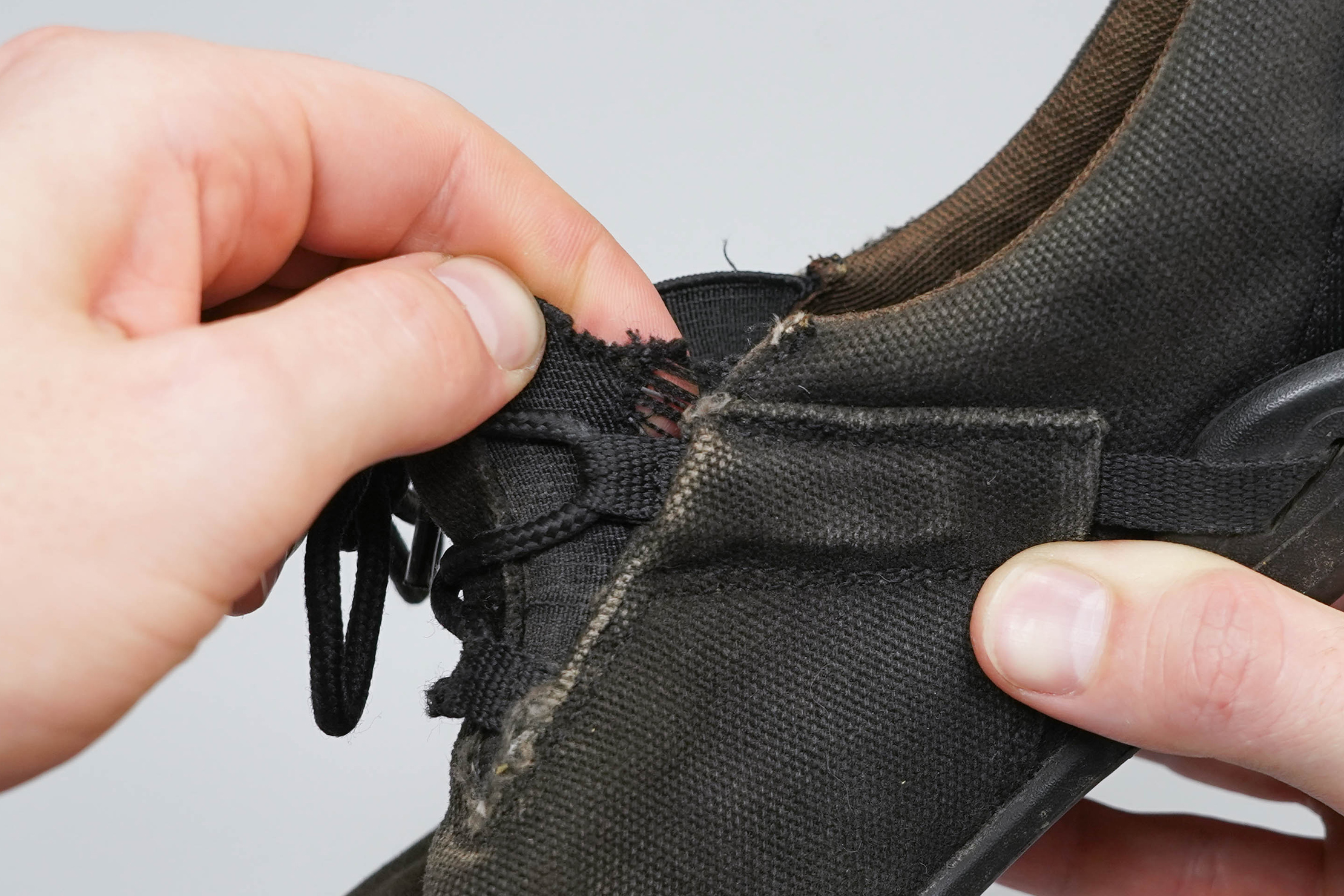 2 Months of Use
Condition: Good
The tear has widened a bit, but not as much as we feared. Everything else still looks nice.
3 Months of Use
Condition: Good
We're digging the versatility. Nothing new to report, durability wise.
6 Months of Use
Condition: Fine
The tread on the sole is starting to wear out just a little bit.
9 Months of Use
Condition: Bad
A disc-golf incident—is that a thing?—caused a small hole to rip through the canvas. Coupled with the sole that's smoothing out and we might need a new pair soon.

1 Year of Use
Condition: Excellent
We've gotten a new pair of the Hanas—we hope these will last a bit longer.
1.5 Years of Use
Condition: Fine
The new pair has taken longer to break in than our original pair, but now they're as comfortable as ever.
The sole is starting to peel away from the canvas upper, which is not so good
Access the Pro Community Discussion
Get your questions about the Xero Shoes Hana answered from our team and the Pro Community right here on the page. Plus, join discussions with other members about gear, guides, and more.
Other Clothing & Accessories Reviews