Western Rise Diversion Pant Review
We're digging the Western Rise Diversion Pant for their soft, stretchy fabric, sleek look, and stain-resistance—although we've found lots of loose threads.
Our Verdict
Unlock the Pro Summary
Save time. Get access to brief summaries of our reviews so you can browse and make decisions more efficiently.
Pros
Super soft and stretchy
Water and stain resistant
Sleek look
Cons
Abundance of loose threads
Phone pocket is too tight for larger phones
Tight fit (even more than most pants with a "skinny" fit)
Recent Pack Hacker Video
Technical Details
Notable Materials

Nylon, Nylon Dobby, Spandex, Elastane, DWR Coating

Manufacturing Country

Vietnam

Warranty Information
Full Review
Get up to 10% off Western Rise • Join Pack Hacker Pro
The competition for the best comfortable, casual and yet nice-enough-to-wear-out-of-the-house pair of pants is fierce. Because we take our job as gear-testers very seriously here at Pack Hacker, we've been testing several pairs of this athleisure style pants, so you can find a pair that works best for you (yeah, poor us, right?).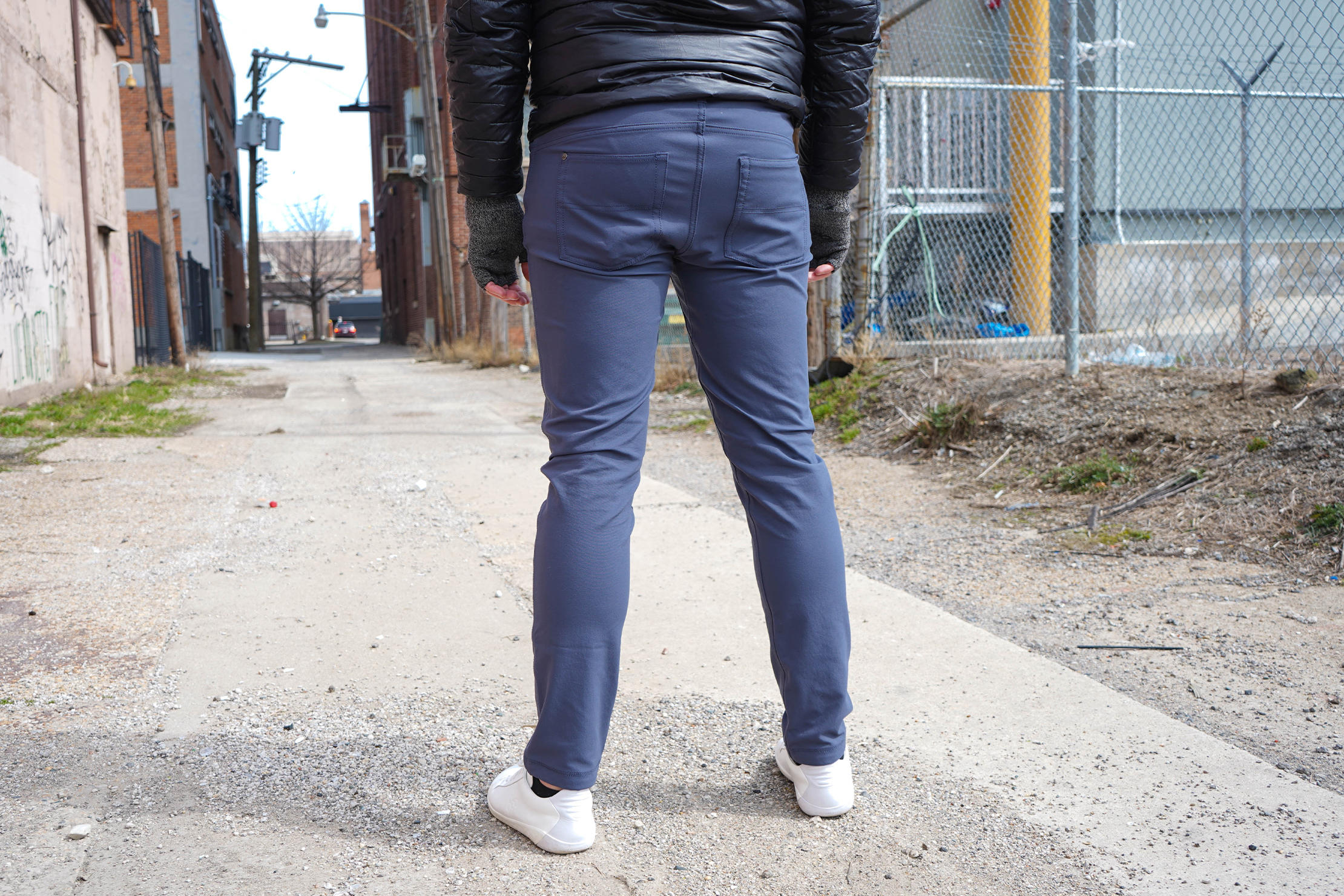 One solid contender is the Western Rise Diversion Pant. We've been putting these pants to the test for a month in Detroit, Michigan. And, spoiler alert, they're our favorite pair of Western Rise pants to date. Why? Read on.
Fit, Fabric & Features
The Western Rise Diversion Pants nail that athleisure genre. They're super comfortable—never-take-them-off kind of comfortable—but definitely don't look or wear like sweatpants. You can wear them to the grocery store, a bar, running errands, a more casual office, or to other similar activities. There are a couple of simple details—like the double hemmed cuffs and matte hardware—that elevate the overall look of the pants. (The double hemmed cuffs also allow you or a tailor to easily redo the hem.)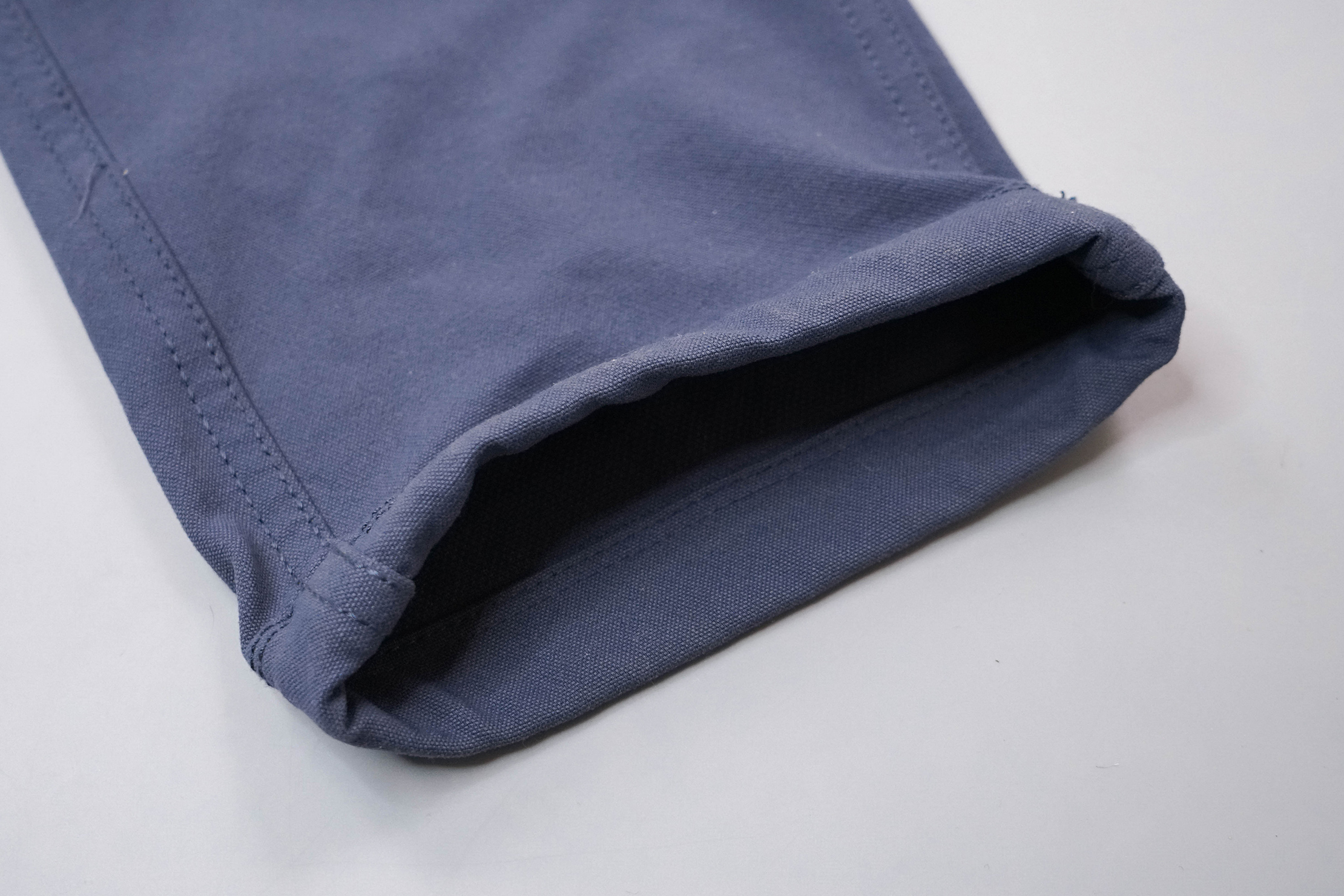 At the time of this review, they're available in two colorways—Flat Black and Blue Grey. We've been digging the Blue Grey color we've been testing, but you can never go wrong with black.
The fit is slim and tailored. (Western Rise says the Diversion Pants are the slimmest pants they offer.) Obviously, personal preference comes into play here, but we like the fit as it kicks the pants further away from the sweatpants category. That said, they run small. Not only in the waist, but the crotch area as well. We recommend sizing up.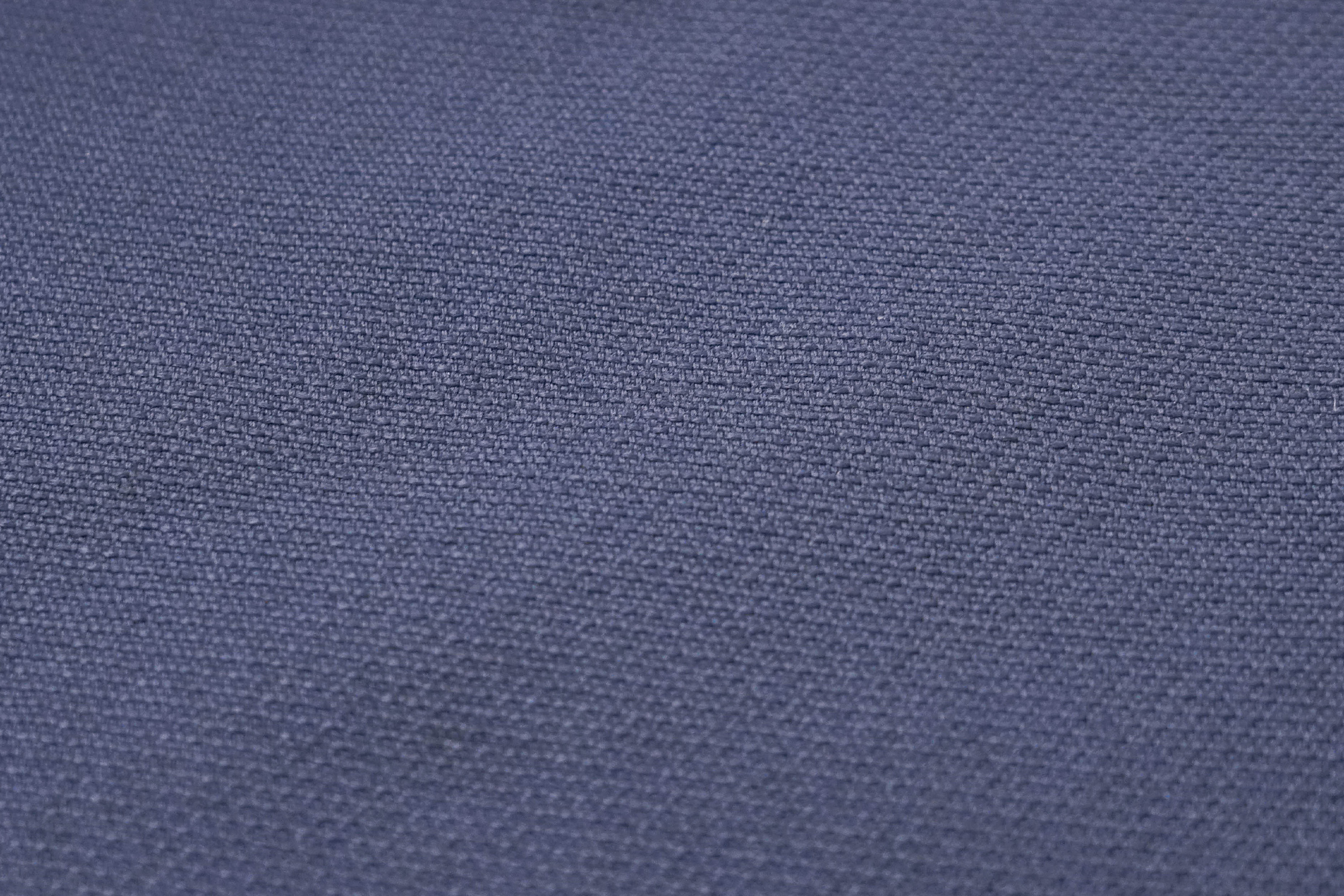 Looks-aside, let's talk about that comfort we mentioned earlier. The pants are made from a blend of spandex and nylon, which has been bluesign® approved. The spandex gives it a 4-way stretch (which we'll discuss further in a moment), while the nylon helps with durability. Now, the interior of the pants feature a dobby weave. And, no, we're not talking about the House Elf. A dobby weave is produced on a dobby loom, which gives the fabric some extra texture. Think sweatpants.
This texture—and the overall softness of the fabric—makes these pants as comfortable as your favorite sweats. The gusseted crotch adds great stretch, flexibility, and overall comfort. We don't want to scare you, but once you experience wearing pants with a gusseted crotch, you (likely) won't want to wear guesset-less pants—like standard jeans—ever again.
The 4-way stretch is also a game-changer. You can easily whip out a few yoga poses, eat your way through a city, or try out kickboxing.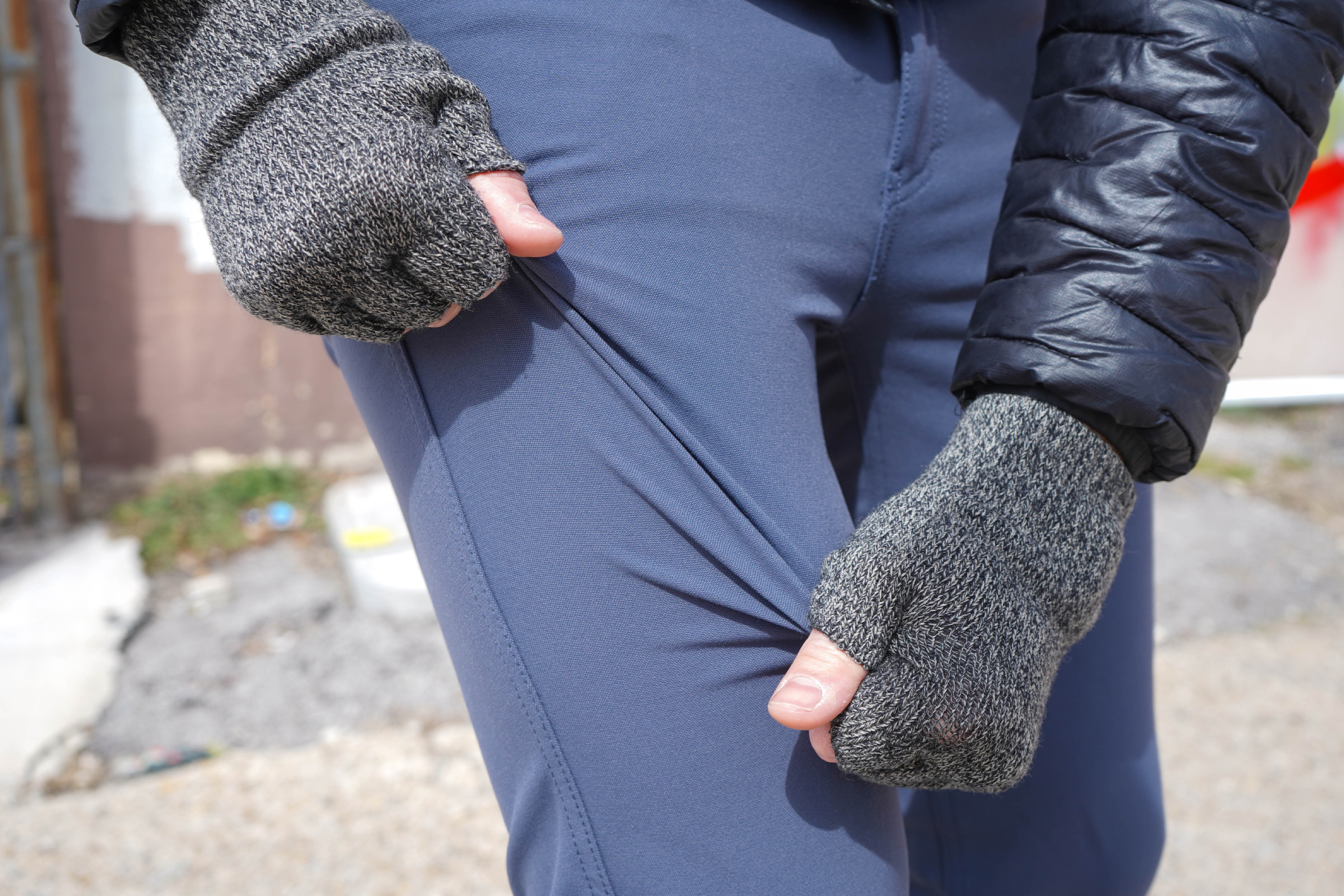 There's also a DWR coating on the fabric to repel dirt, dust, stains, and water. In testing, we've found that this coating works as advertised (meaning it actually does repel said things). And we probably don't need to point out that this is an awesome feature. You can down coffee or slurp up messy spaghetti without worrying about ruining your pants. However, because this is achieved through a coating, its effectiveness can be impacted by body oils, abrasion, and repeated washing. You'll just need to take care of the pants and, as the DWR coating fades, apply new DWR via a spray or wash-in product.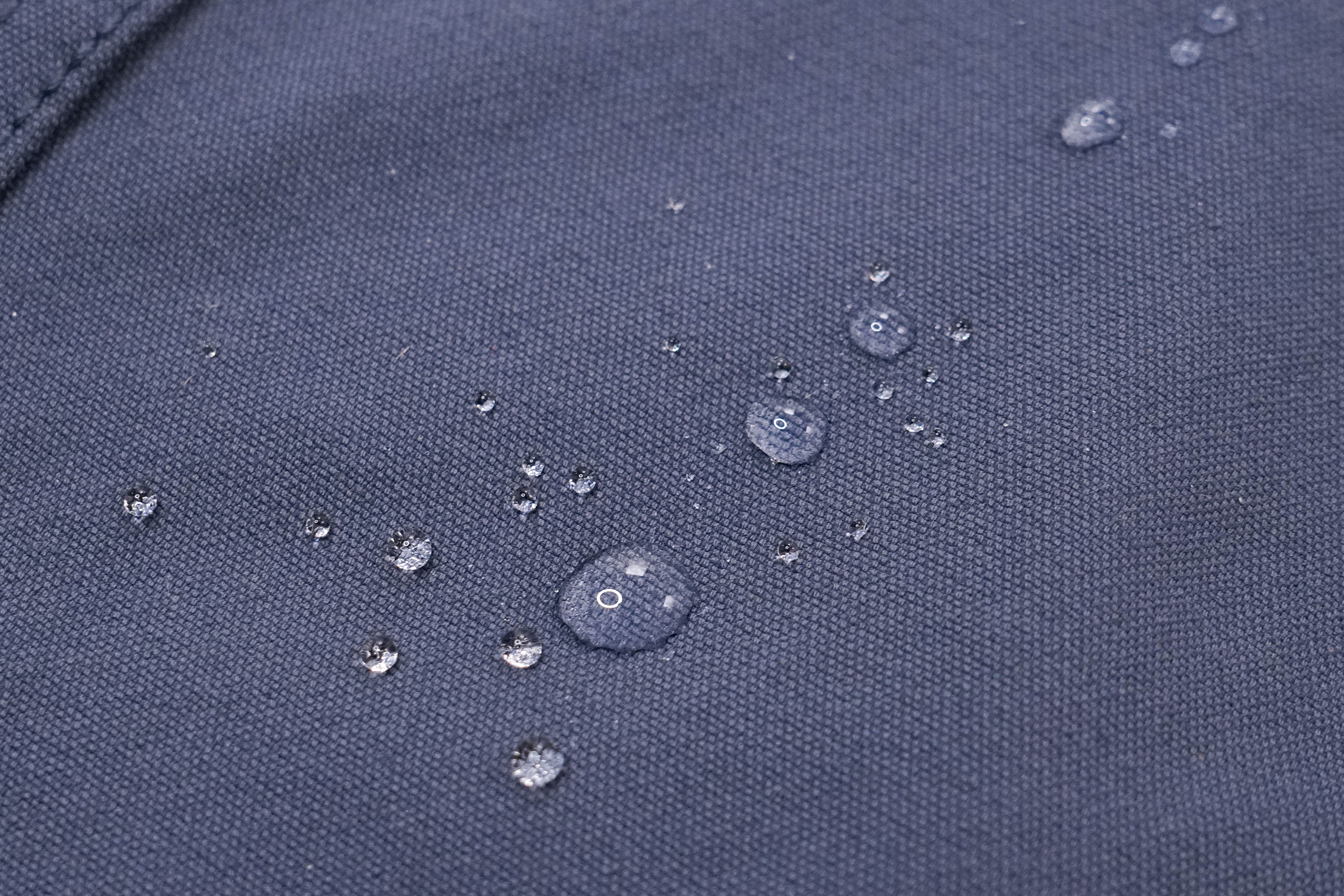 Alright, let's talk pockets. You'll find the four standard pants pockets—two on the front, two on the back—with two additional, travel-oriented pockets. The first one is the phone pocket on the wearer's right side. It has been specifically designed for phones, but will work for other things you want to compartmentalize—cash, coins, gum, etc. If you have a regular-sized smartphone, the phone pocket will likely work well for you. But plus-sized smartphones with a case don't fit as nicely.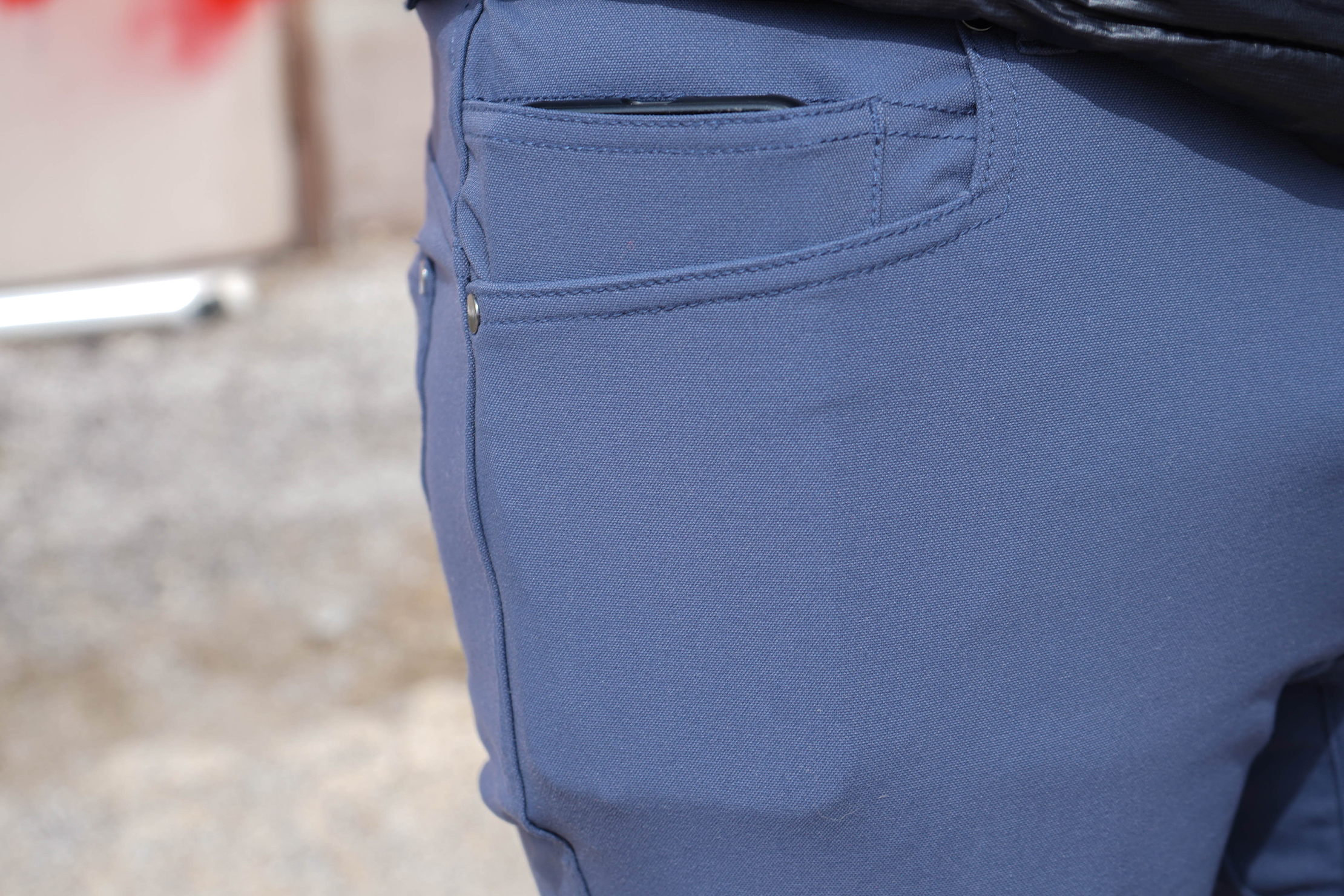 We'll put it this way. You know how when you have a belt on and you bend over, you can frequently feel the belt press against your stomach? The same kind of thing happens when you put a bigger phone inside this pocket—only its bigger, more annoying, and on your leg. Of course, a workaround here is to stash your phone in the larger, regular pocket or carry it in a sling bag or daypack. (Or, you know, get looser-fitting pants.) That said, even the regular pockets feel a little shallow. Not to the point of being a deal-breaker, but they're on the shallower end of pants' pockets and that's worth keeping in mind.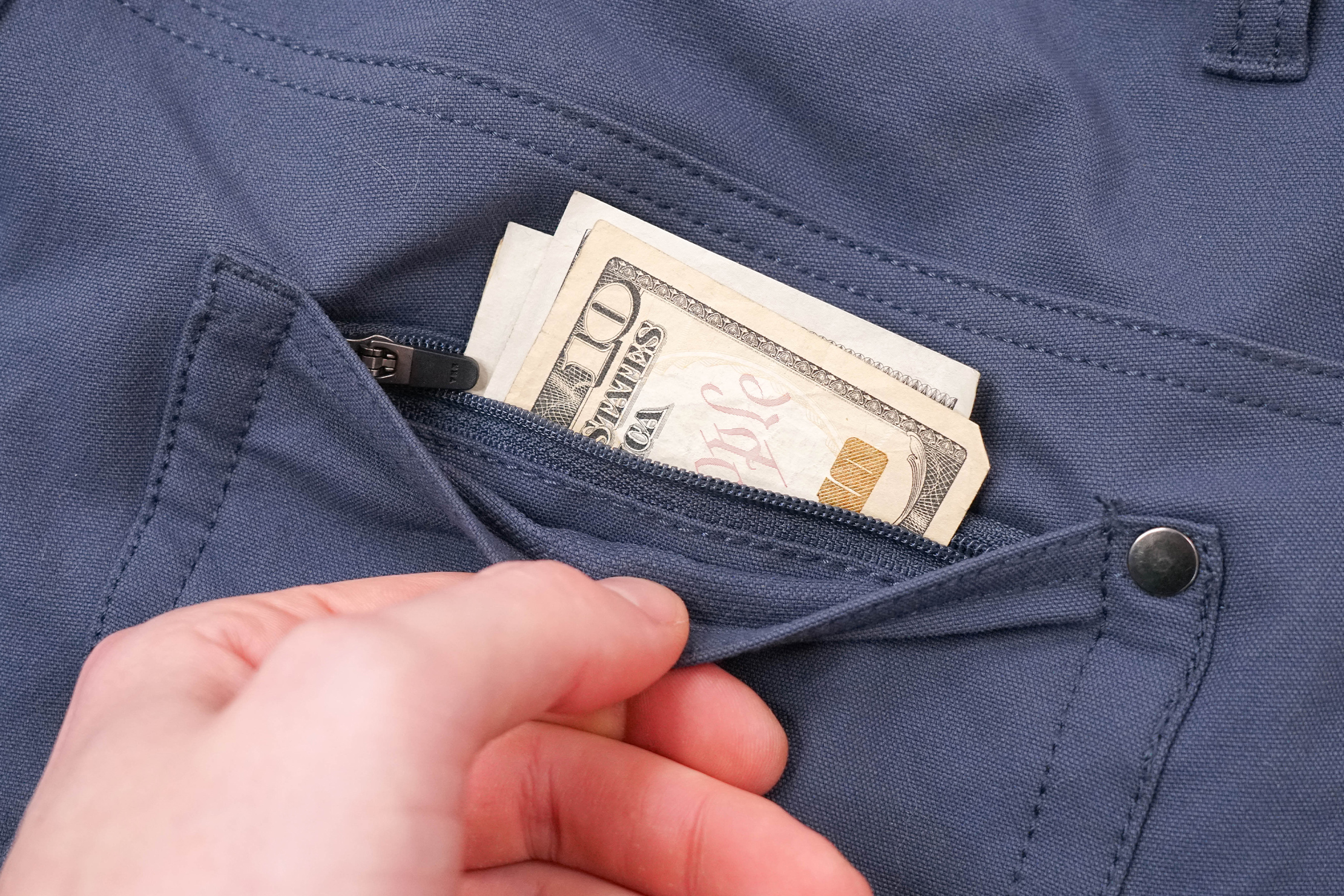 The second travel-focused pocket is tucked into the right back pocket. It's hidden and secured with a zipper. It's also a decent size with the same depth as the regular pocket it's tucked into. Because it's secure, it's a good spot for cash, a wallet, passport, or love note to your secret admirer.
Durability & Testing
As we mentioned earlier, we've been testing the Western Rise Diversion Pants for approximately a month in Detroit, Michigan. It's made of solid components—durable, abrasion-resistant fabric, zippers from the trusted brand YKK—but the craftsmanship isn't as high of quality. There are loose threads abound. You can find them along the inseam, waistband, cuffs, and pockets. We've experienced such an abundance of loose threads on other Western Rise gear, so, while we're somewhat disappointed, we're not surprised. While loose threads are not the end of the world, they make us concerned about longevity.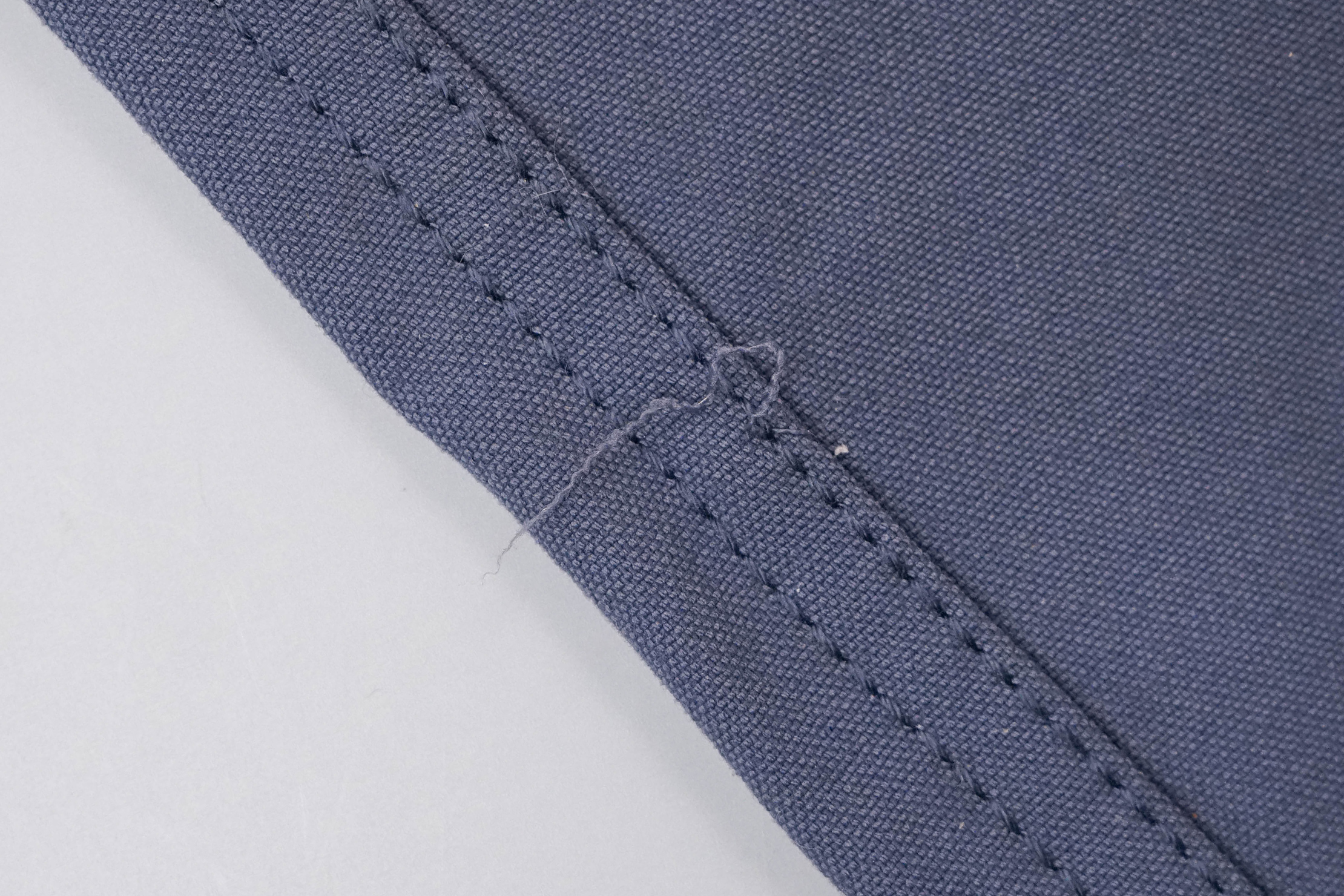 Other than that, the pants seem to be doing just fine durability-wise. And, overall, we've enjoyed lounging around in them. And, as mentioned earlier, these are good daily drivers too. What we're trying to say is that they're comfortable enough to wear all the time and sleek enough to make us feel put-together.
Usage Timeline
Initial Usage
Condition: Excellent
Fabric is soft and stretchy making these pants very comfortable
The phone pocket fits an iPhone Pro Max but can get in the way when you try to bend over
Fit looks and feels great
2 Weeks of Use
Condition: Good
Soft fabric is stretchy, feels great to the touch, and still looks professional—like pants instead of sweatpants. Excellent fabric choice
One of our favorite releases from Western Rise to date
Seem to run a little small compared to other pants brands of the same size
Noticing a lot of loose threads on the pants
Access the Pro Community Discussion
Get your questions about the Western Rise Diversion Pant answered from our team and the Pro Community right here on the page. Plus, join discussions with other members about gear, guides, and more.
Other Clothing & Accessories Reviews