VOLTA Spark USB Cable Review
The Volta Spark is a unique take on a universal charging cable that uses magnets rather than attached adapters, though this comes at a cost of convenience.
Our Verdict
Unlock the Pro Summary
Save time. Get access to brief summaries of our reviews so you can browse and make decisions more efficiently.
Pros
Magnet adapters prevent damage when cable gets pulled on
Braided nylon cable is durable and flexible
Comes with three adapters for use with most devices
Cons
Adapters aren't connected, so they're easy to lose
Included carrying case is bulky
Can be difficult to remove adapters from devices
Recent Pack Hacker Video
Technical Details
Weight (oz)

2.75 oz (78 g)

2 meter cable (1.66 oz without case) 1 meter cable is 2.26 oz (1.06 oz without case)

Dimensions

39.4 in (100.1 cm)

2 meter (78.7 in) length also available

Notable Materials

Nylon

Warranty Information
Full Review
We've seen our fair share of universal charging cables, but we have yet to test one that uses magnets to attach the adapters to the main cable. We think that's a stellar idea, but we're curious if there's anything that will set the Volta Spark apart from the crowd other than the fact that it uses magnets. Let's dive in!
Materials & Aesthetic
The cables are crafted from braided nylon, which feels very tough and durable. Even with how rugged it feels, the cable still has enough give to be easily coiled or bent around corners. It doesn't feel as if the cord is being damaged when you manipulate it either.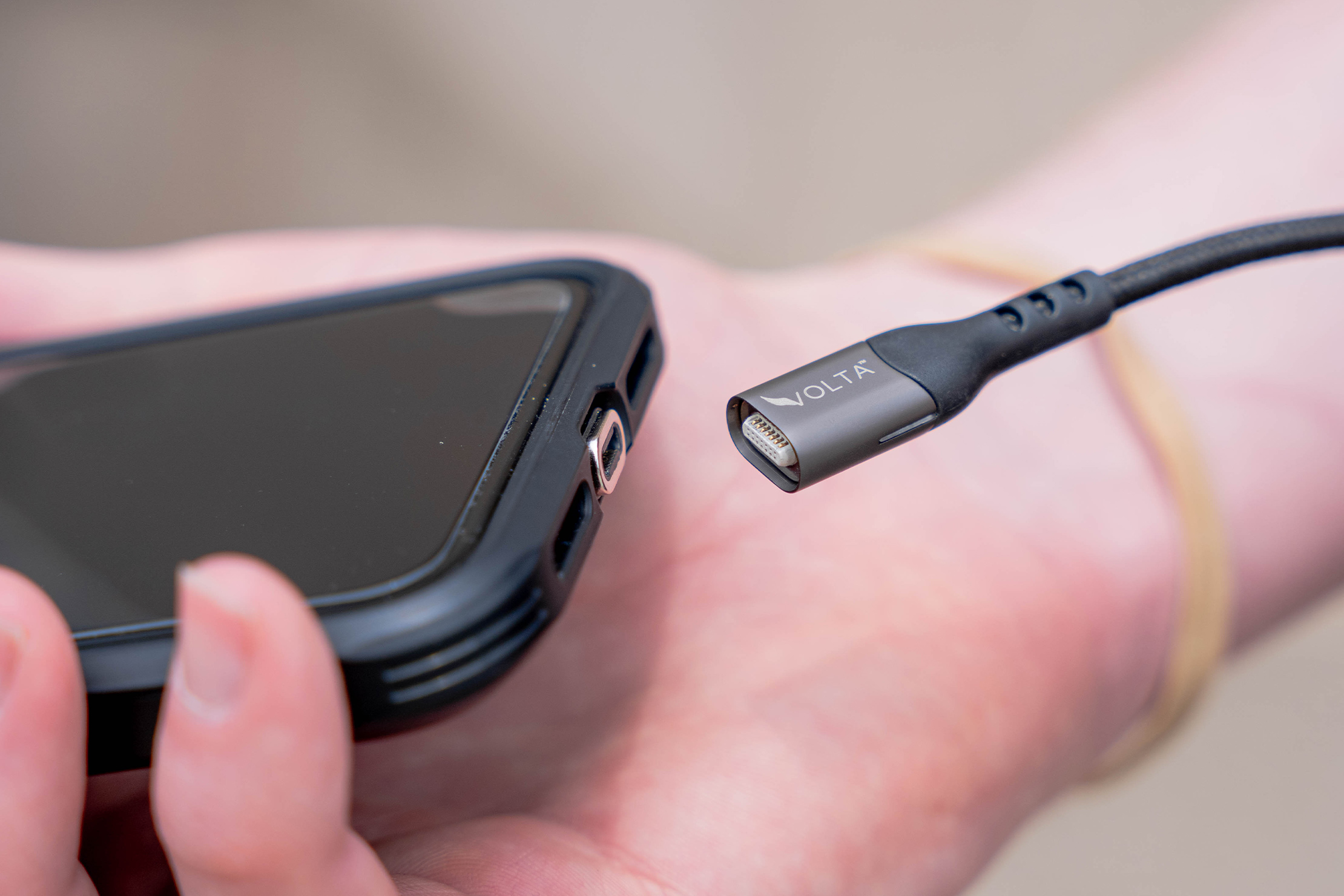 There are two different kinds of hard plastic on the ends of the cable. The first is a softer hard plastic, similar to the material you might find on an outdoor extension cord, located where the cable transitions to the tip that connects to your device. This material has a little give so that it won't snap when you bend the cable, though it feels strong. This transitions into a more rigid, metal-like plastic on the cable's tip that feels extremely durable and doesn't have any give. All around, the cable feels very durable, from the braided nylon to the hard plastic tips.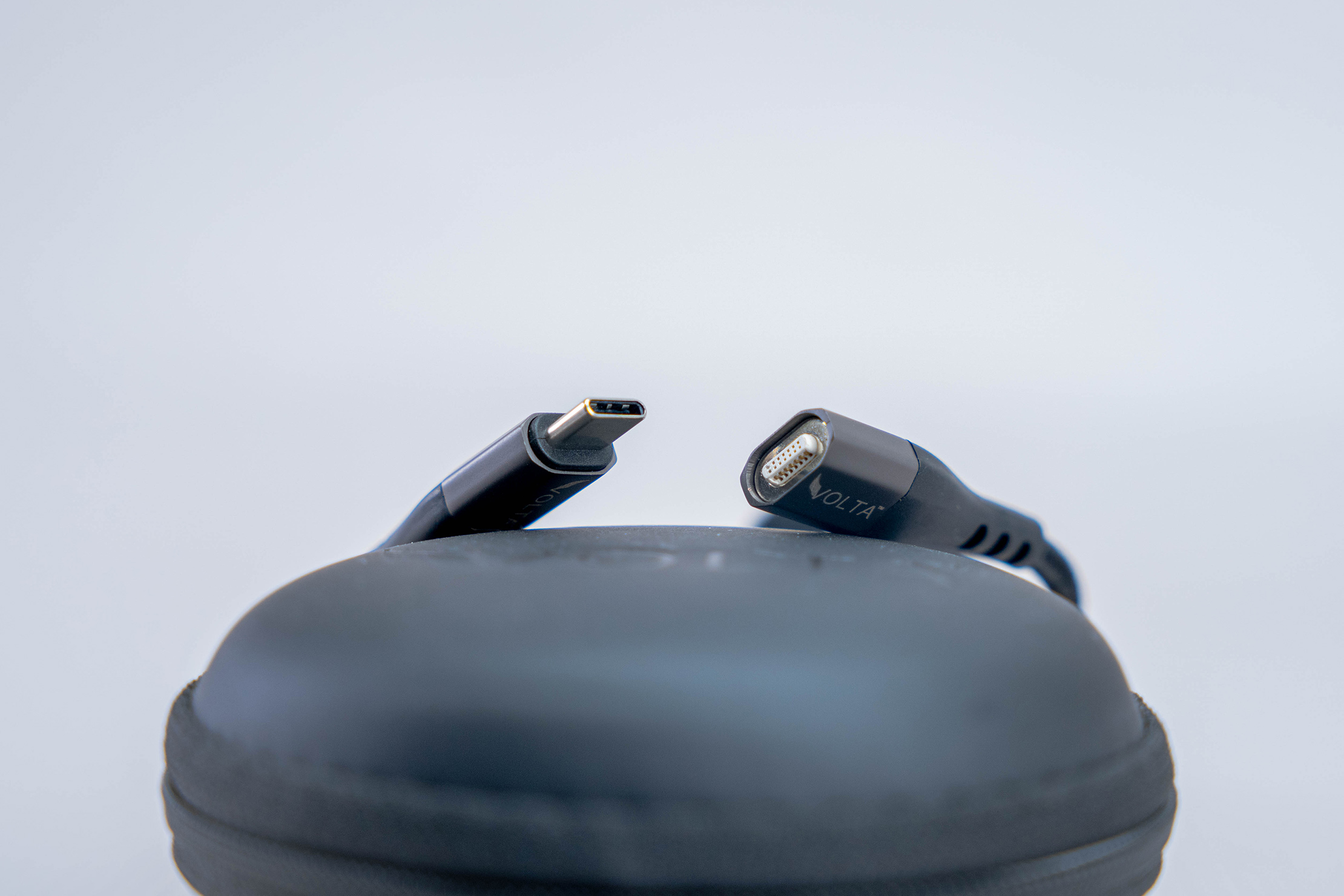 There are two different sizes, 1-meter (3.2-foot) and 2-meter (6.5-foot), and each is available in a 60W and 100W version for a total of four unique cables. Depending on what device you bring along and how far away the nearest outlet is, there's a cable for most needs.
All four cables have a USB-C male plug on one end and an empty plug on the other. The cable comes with three magnetized adapters that slot into the empty side and adapt it for use with different devices. There are USB-C, Micro-USB, and Lightning adapters, and while they're easy to connect to the cable because of the magnets, this also means that they tend to stick together when not in use. The magnets are pretty strong for their size and stay put on the cable very well, however, they can bounce around and stick to other things, like a keyring, when not in use.
As far as usage goes, the cables work just as well as any other we've used in the past. They're more durable than non-braided cables we've tested and feel similar to the Nomad Goods Universal USB-C Cable.
There's an included tool to help remove the adapters if they're stuck in a device, which works well so long as there isn't something nearby to prevent it from gaining access, like a phone case.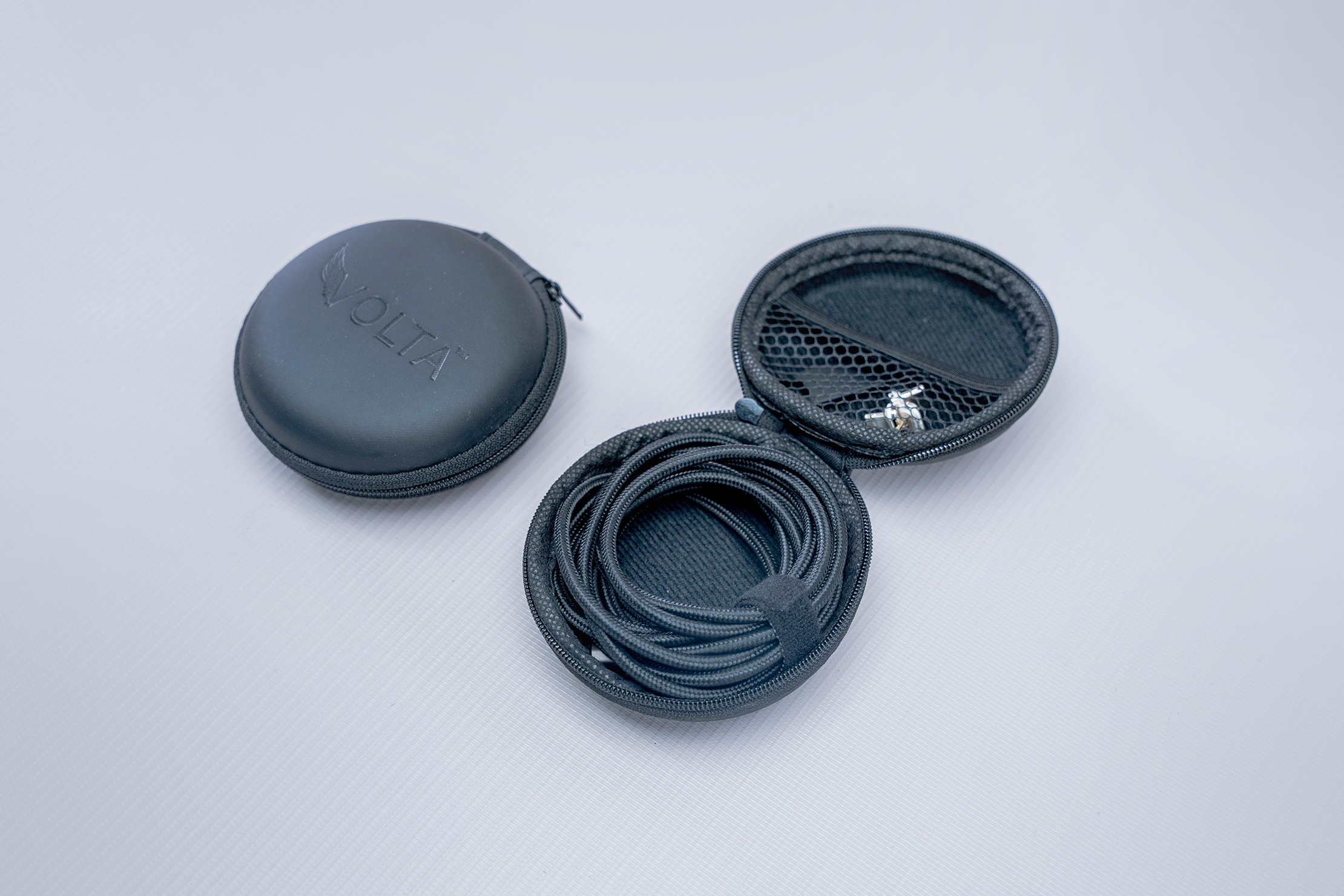 Each cable comes with a carrying case, which is durable and relatively lightweight for its size. There's an area in the interior that is protected by mesh designed to store the cable, the adapter, the mini adapter removal tool, or everything at once. However, no matter how we configure it, we've had issues with the adapters and tool staying put. After a few shakes around, they escape the mesh and bounce around the main compartment. The mesh isn't tight enough to keep them held down, so we found that the best place for them is in the middle of the cable while placed under the mesh pocket. The cable prevents them from escaping the mesh as easily, although it can still happen. It isn't perfect, but it works all right.
The case is fairly large considering the size of the cables. The 2-meter cable fits pretty snug, but the smaller one has a lot of room to move around.
Usage & Features
Volta calls the magnet design Snagsafe, as it can prevent snags when the cable is in use. A few things can happen when you have a device like your iPhone or Nintendo Switch plugged into a standard cable and someone trips over it. The first thing is that the power brick or USB plug comes flying out of the wall, potentially damaging the cable, power brick, and outlet. The second is that your iPhone or Switch comes flying towards where the person touched the cable, potentially damaging the cable or your expensive device. The last thing that could happen is that the cable comes flying out of the device, potentially damaging the cord and hitting you or the tripper in the process.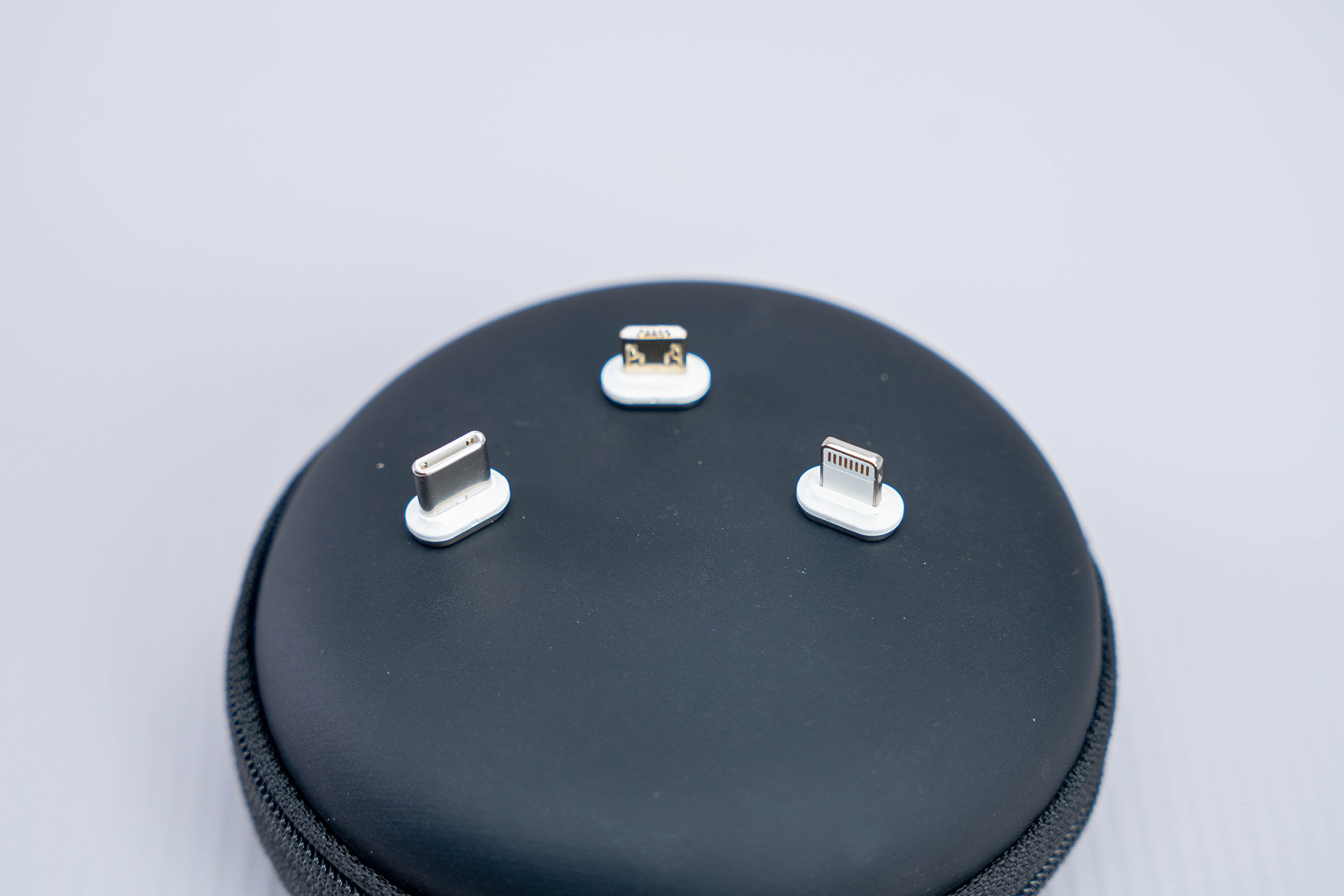 When someone trips over the cable with the Volta Spark, the magnet comes apart, leaving the adapter sitting in the charging port. This feature is great in a cramped coffee shop, smaller Airbnb you're sharing with friends or family, or at a crowded airport. You still run the risk of being hit by the cable or damaging it, but given its durable construction, we aren't terribly worried about the latter.
However, there are some downsides. Sometimes the adapters get stuck in the charging port and can be challenging to pull out. Even with the included tool for removing them, we struggle to get them out from a phone that has a case. If there's a lip on your device or case near the charging port, it can be hard to get your tool, or even your finger, underneath the adapter to pull it out. We found that the best way to get a stuck adapter off was to use the magnets themselves. Just reattach the cable and pull it slowly out of the port, moving straight backward, not at an angle.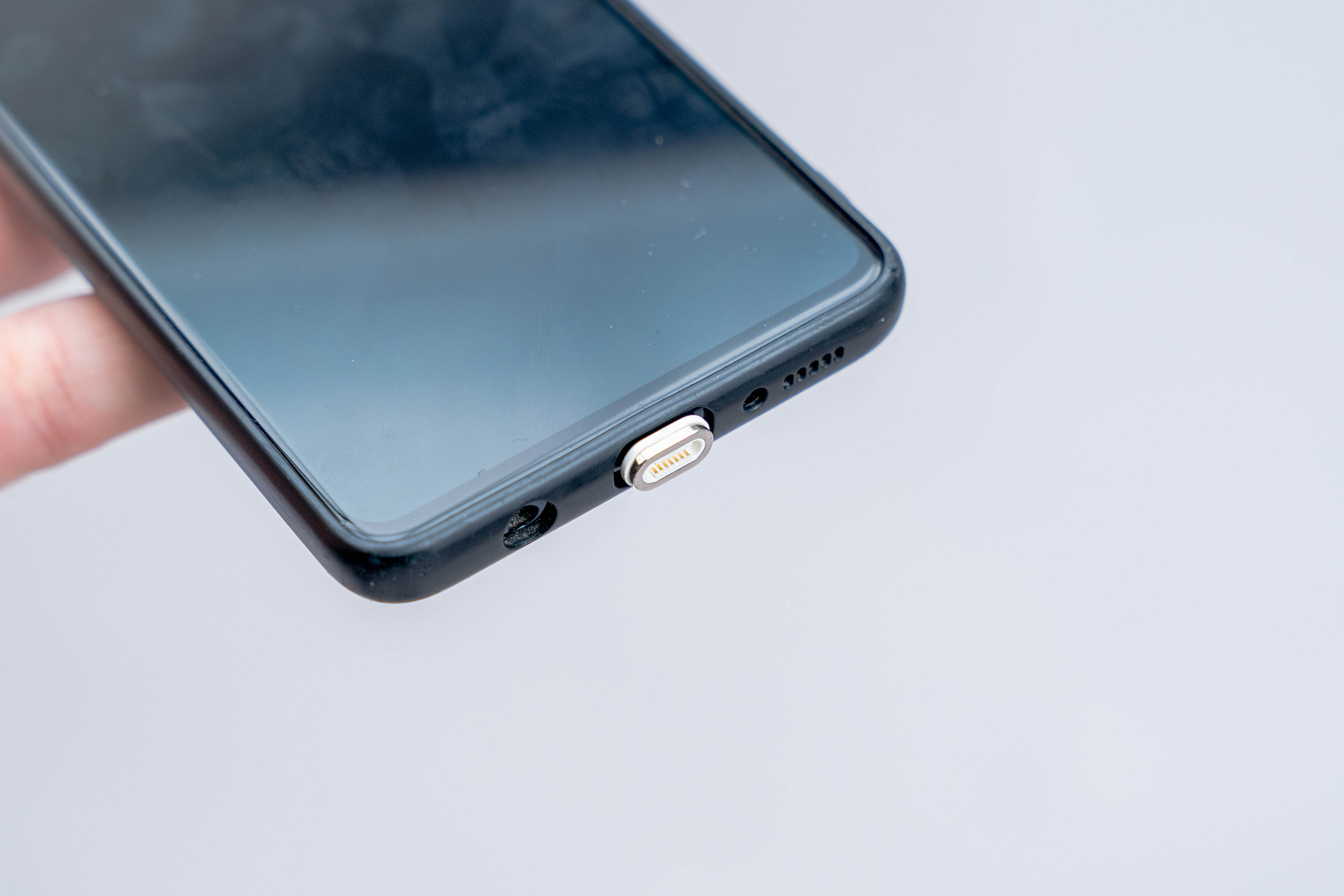 Other universal cables we've reviewed, like the Futurizta Tech Zeus-X Pro, have adapters that are attached to the cable, so you can't lose them. The small magnet adapters on the Volta Spark are unique but easier to lose than those in a fixed position. If you don't plan to use the case, they also often stick to metal objects, like certain battery banks and dongles, which are common in a tech case.
A perk of the independent adapters is that you can leave the adapter in the charging port at all times if desired. This makes snapping the cable on a breeze but can look a little funky without context. You can buy additional adapters online, so in theory, you could keep one in every device all the time.
We mentioned the case's size earlier, and we want to continue that dialogue in this section. We aren't huge fans of the size or usability, but having a place to stow the adapters is imperative. The 2-meter cable fills the case well, but the 1-meter cable has a lot of room to swim around, and it feels like there's a lot of wasted space, which in turn leaves more space for the adapters to bounce around.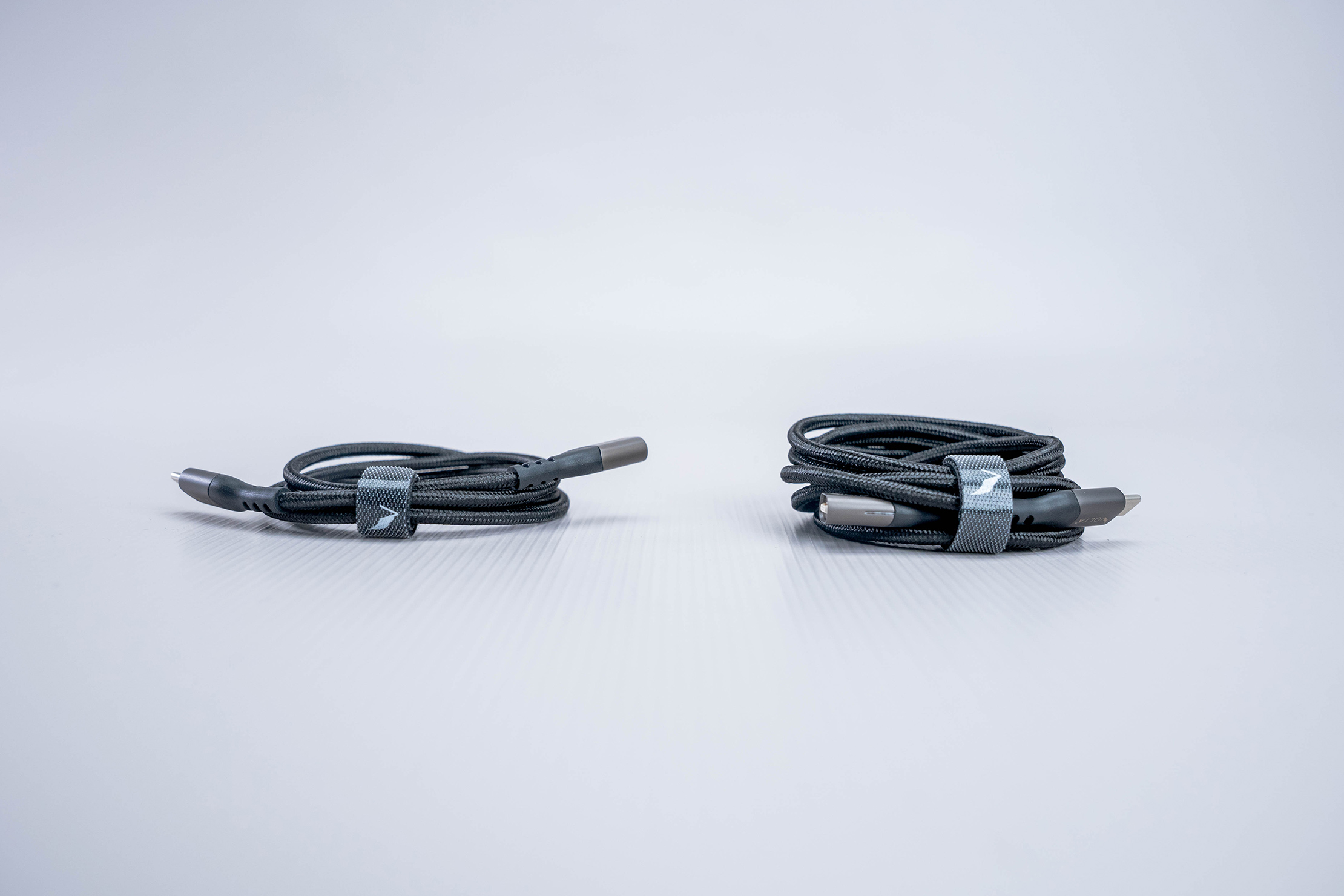 Without the case, the adapters are loose and are easy to lose. If you can find another place to lock them down in your tech case, that's great, but if not, you can use the case.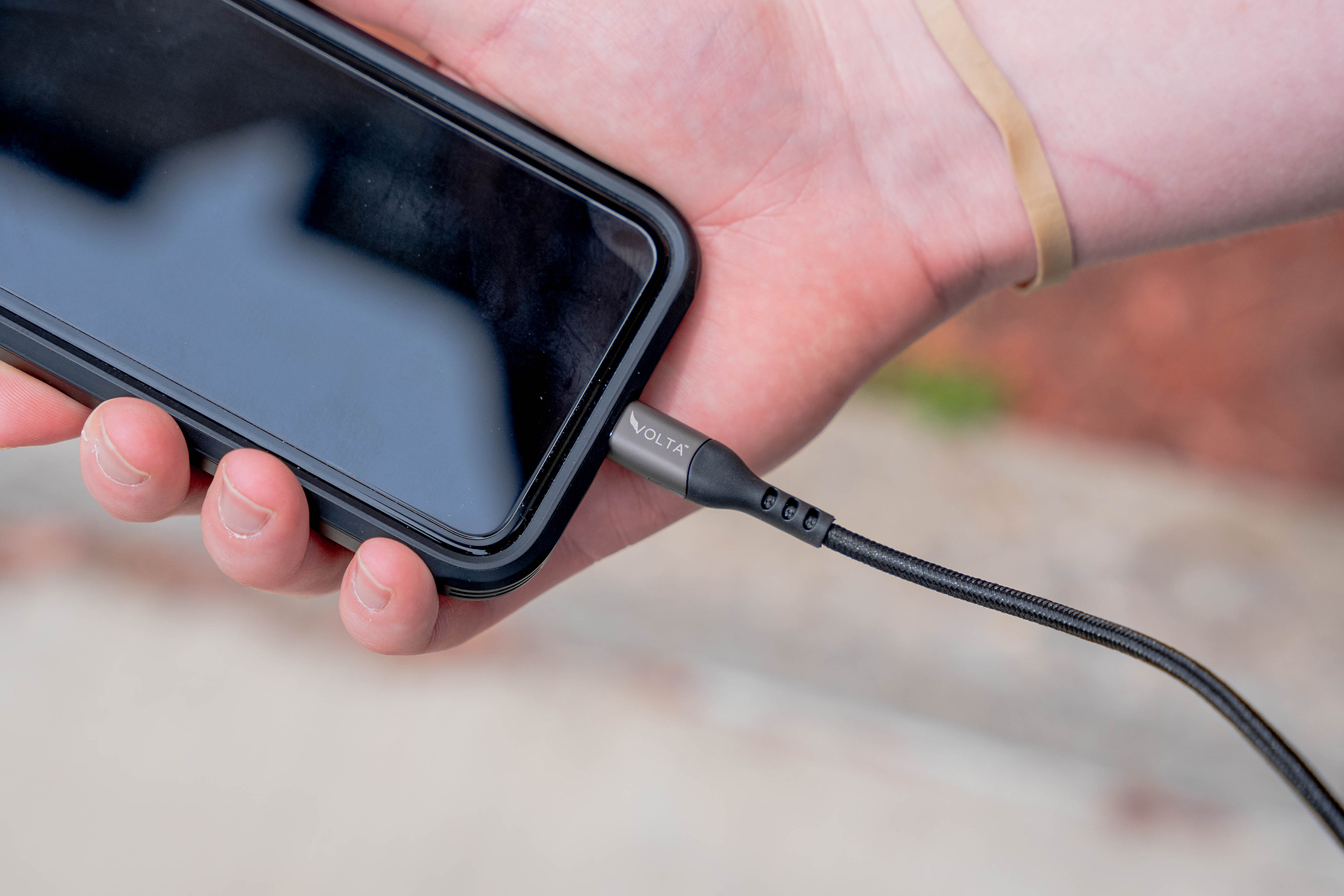 Overall, we're happy with how the cable performs and think it's a unique take on a universal cable; however, there are a few kinks, and we're excited to see how Volta addresses them in future iterations.
Usage Timeline
Initial Usage
Condition: Excellent
100W and 60W cable options for different devices are a nice addition
We worry about how easy it will be to keep track of the tiny adapters
The carrying case is sleek but bulky
2 Weeks of Use
Condition: Excellent
No fraying or damage to cable
Adapters can be hard to get out of devices with cases or hard to reach ports
Carrying case zipper pops open very occasionally
Access the Pro Community Discussion
Get your questions about the VOLTA Spark USB Cable answered from our team and the Pro Community right here on the page. Plus, join discussions with other members about gear, guides, and more.
Other Productivity & Tech Reviews