Futurizta Tech Zeus-X Pro Review
The Futurizta Tech Zeus-X Pro universal cable can fast-charge your devices, transfer data quickly, and withstand the knocks of travel.
Our Verdict
Unlock the Pro Summary
Save time. Get access to brief summaries of our reviews so you can browse and make decisions more efficiently.
Pros
Braided cable is rugged without compromising flex
Adapters are snappy and stay attached
Fast charging capable
Cons
Heavier than standard cables
Adapter arm can slide away from cable head
No length option between one and five feet
Recent Pack Hacker Video
Technical Details
Weight (oz)

1 oz (28.3 g)

Notable Materials

Aluminum, Nylon

Manufacturing Country

China

Warranty Information
Full Review
Get up to 25% off Futurizta Tech • Join Pack Hacker Pro
You might be wondering how a charging cable can warrant a thousand-word review chocked full of details, photographs, and charming comedic writing. Well, we were wondering the same thing until we saw the Futurizta Tech Zeus-X Pro. It has the capability to change the way you travel in a huge way—if you consider the number of charging cables that you bring to be huge, that is. It has a ton of features, so let's dive in to see whether or not they're all helpful.
Materials & Aesthetic
The bulk of the cable is crafted from a nylon-calico braided material, which is a little rough and rugged. It feels strong between your fingers but isn't uncomfortable to hold. Nylon is a synthetic material, and Calico is made from cotton fibers, so we've got a nice mixture here.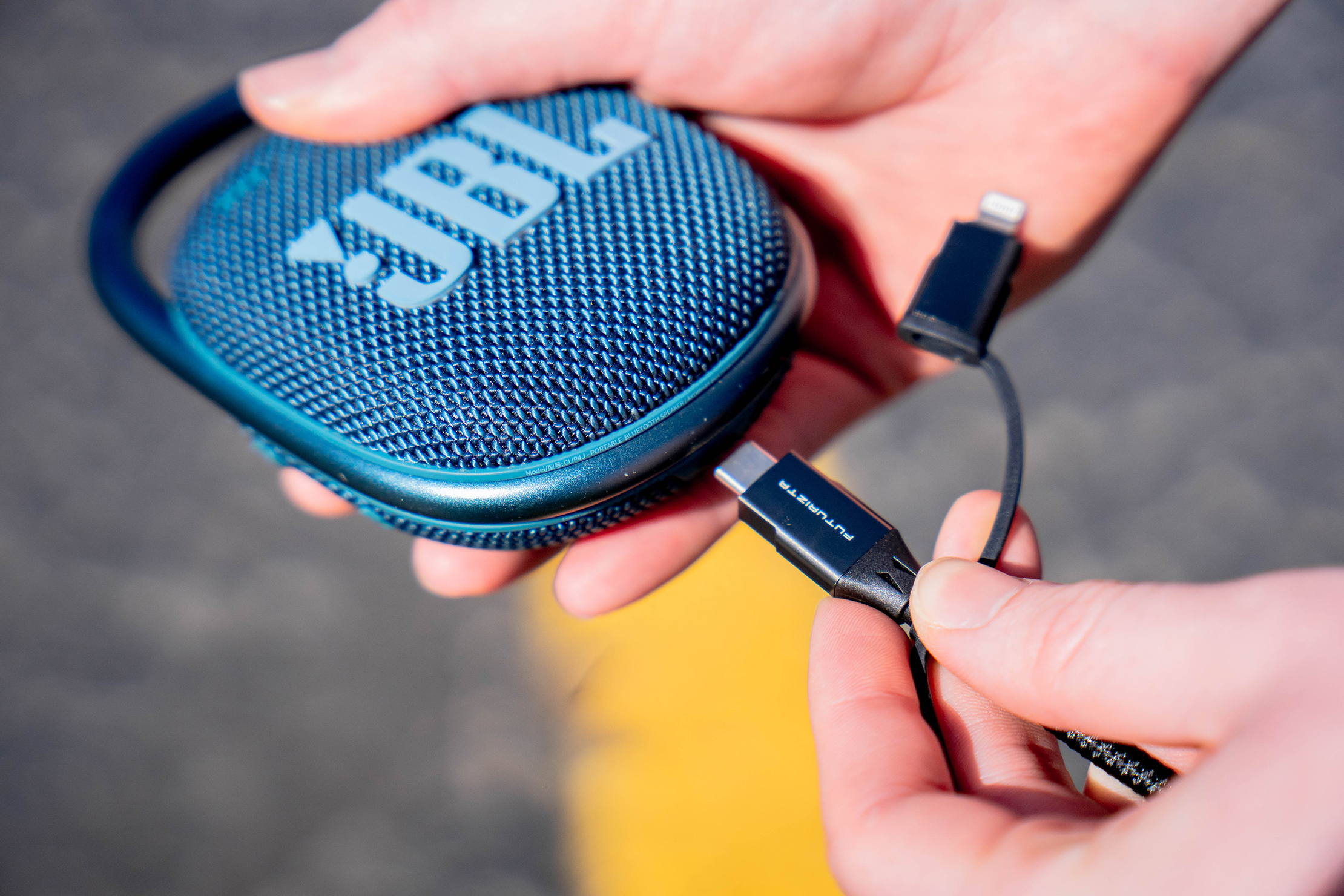 It feels more like a rope than a cable, which isn't the best feeling in your hand, but from a durability standpoint, it performs well. It holds its shape but can be manipulated easily with your fingers.
At the time of writing, the cable comes in three different lengths. There are one foot (.3 meters), five foot (1.5 meters), and six-and-a-half foot (2 meters) options available. The shortest option, 1 foot, fits nicely inside a sling or the liner pocket of a daypack, but the other two options are a bit bulkier. They come with a hook and loop fastener cable manager, but they take up quite a bit of room even when spooled up. Given the strength of the cable, it can be challenging to get the spooled cable to sit how you want it to.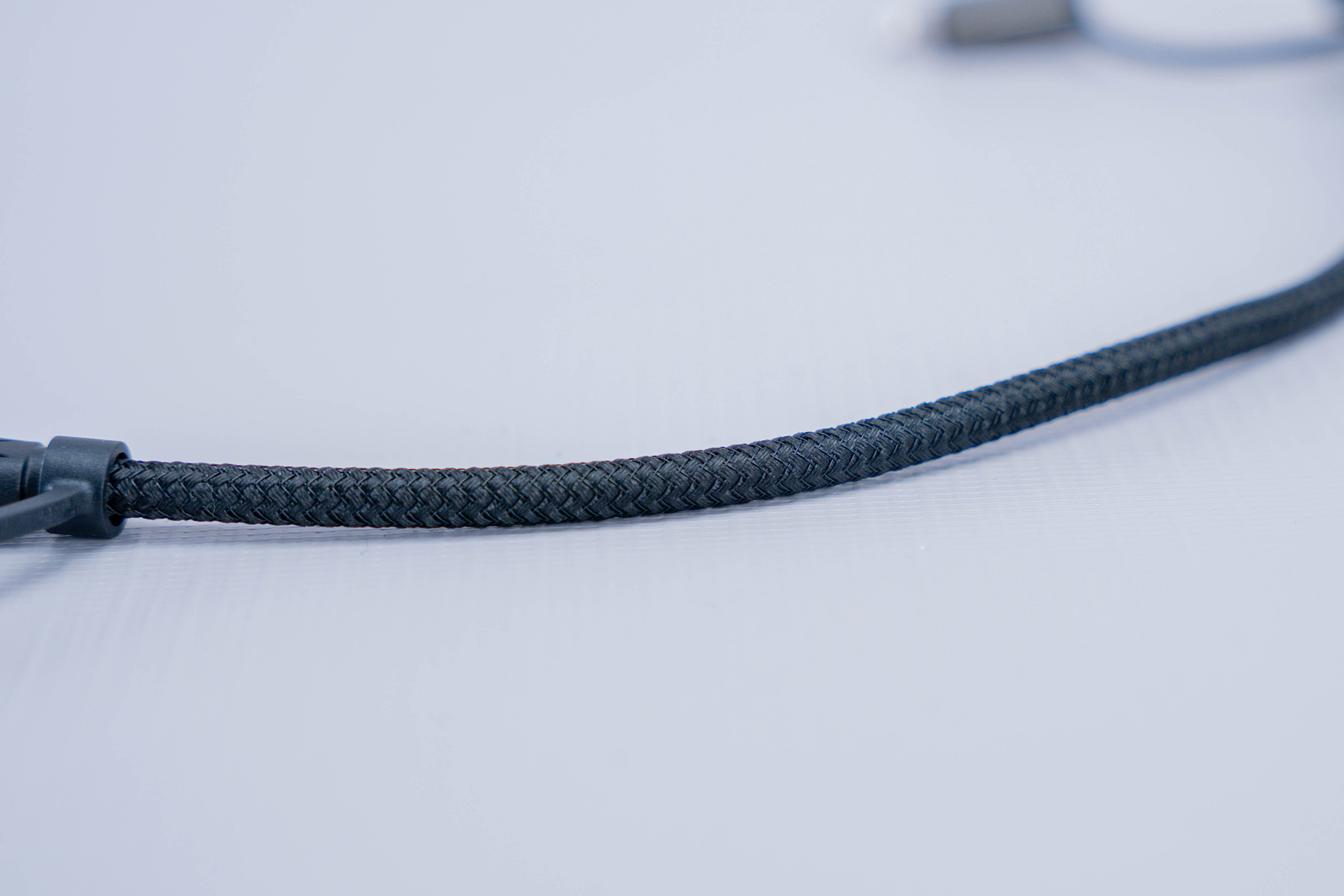 The ends of the cable are crafted from hard plastic. At first, we thought it might be metal, but we believe it to be plastic after close and considerable inspection. It hasn't gotten scuffed or knicked up in our testing and overall feels very durable, so we're not sure the specific material matters here, anyway.
One end of the cable has the Futurizta logo on it, and the other has the brand name spelled out. The labeling is white, fairly easy to see, and looks professional.
The hard plastic ends are connected to the cord via another plastic material, which, again, feels extremely rugged. At no point have we noticed any fraying or displacement between the cable and the end piece. The bridge between the cord and the hard plastic end is also protected by the arm that the adapters are held on, but we'll get to those later. Whether you use the adapters a ton or not, it's nice to have another shield protecting the cable from bends and breaks.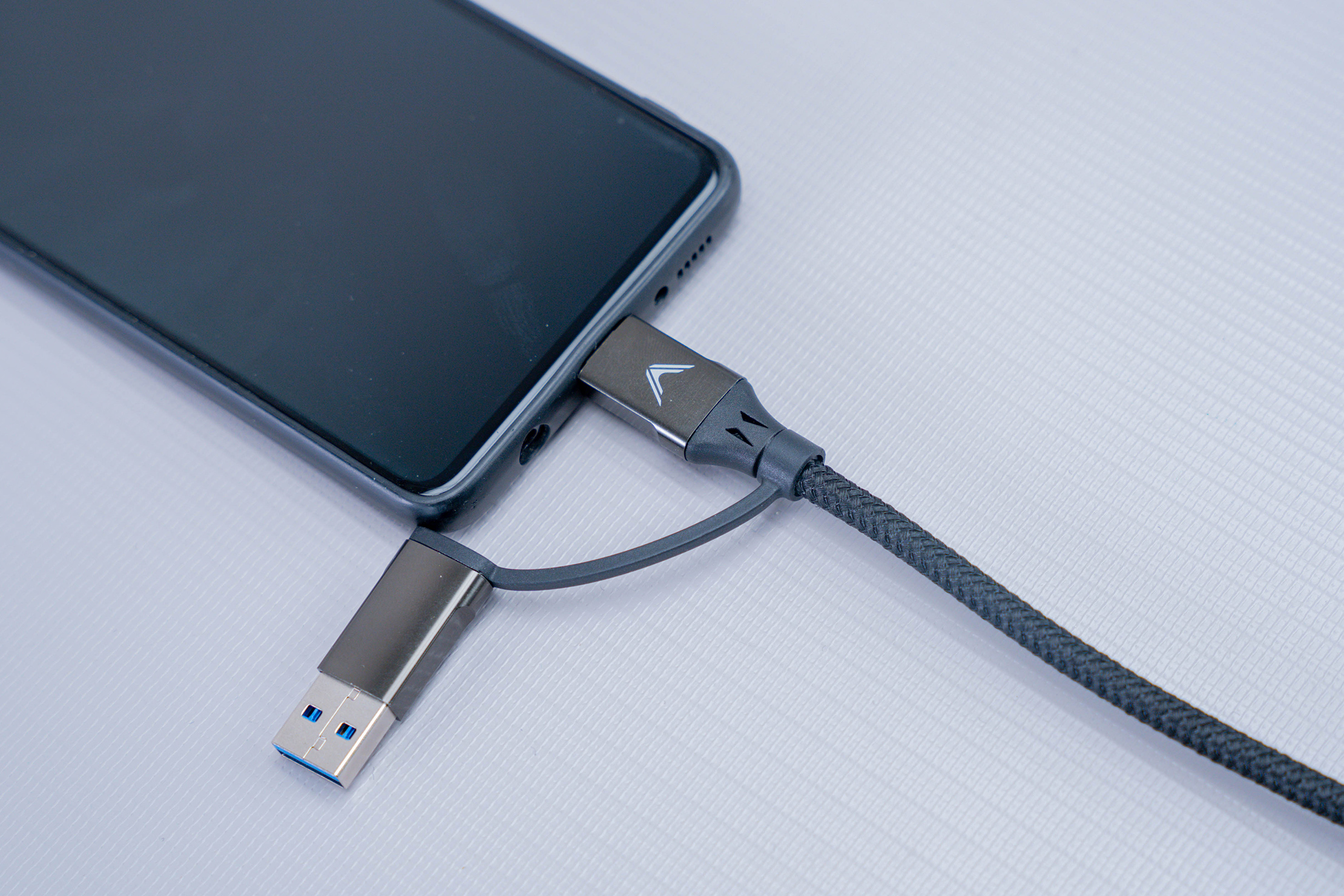 Each of the adapters is identical to the USB-C end pieces of the charging cable, but feature a different way to charge devices you might bring with you on your journey. They snap on reasonably quickly, and we haven't noticed them falling off. Sometimes they don't make the clicking noise when we attach them, but the connection still feels stable. The arm they're fastened to slide to the other end if it gets budged ever so slightly, which can be mildly annoying. It can't physically come off the cable, so the adapters won't get lost, but it can runaway. This is an issue for the longer cables, but not so much on the one-foot model.
Usage & Features
Both ends of the cable have a USB-C connector, which means—at base—this cable is USB-C to USB-C. One end has a USB-A adapter, and the other has Lightning and Micro-USB adapters. Given the five total adapters, two on one end and three on the other, we have six different charging options.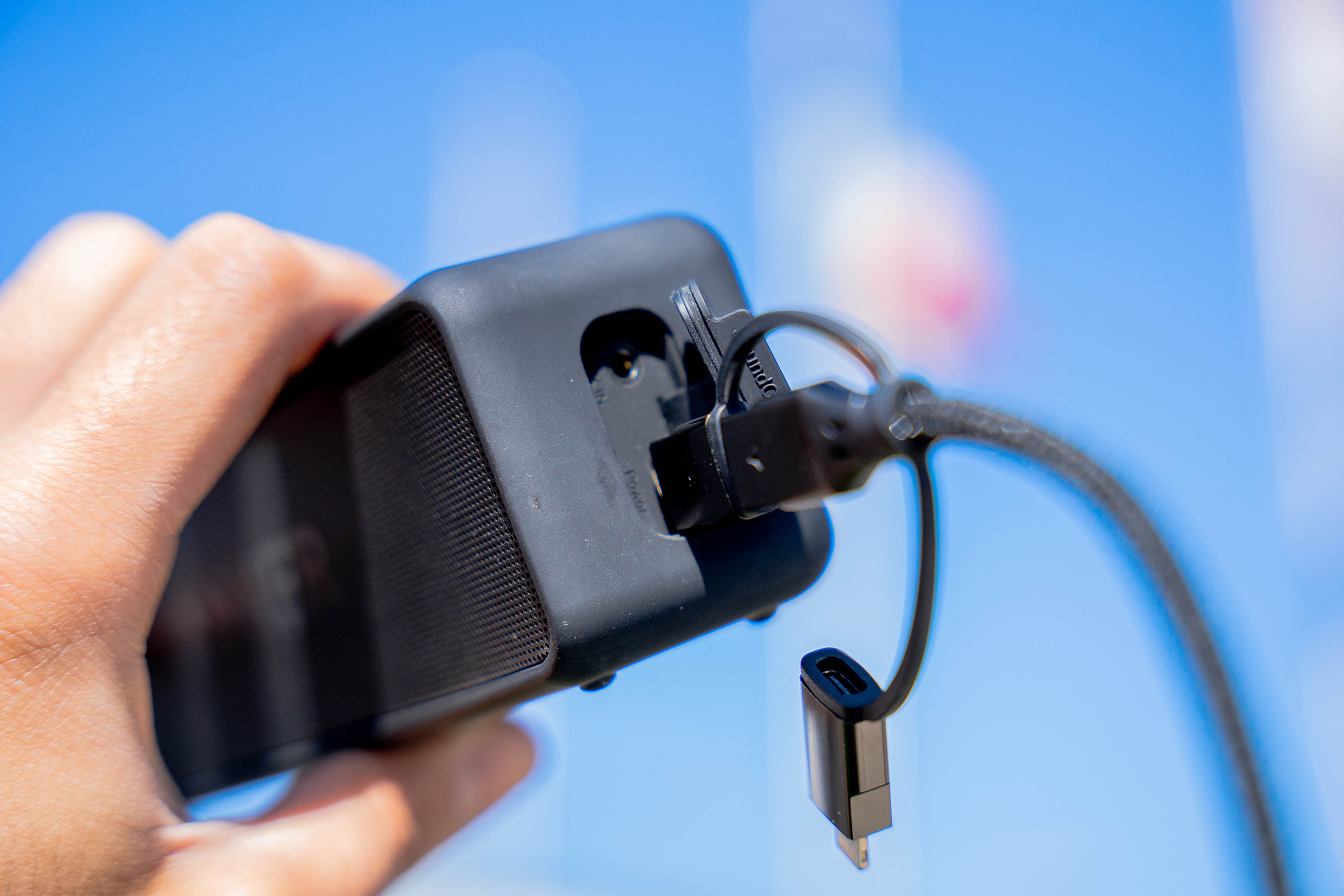 The first three options are USB-C to USB-C, Lightning, and Micro-USB, and the second three are USB-A to USB-C, Lightning, and Micro-USB. It might seem like overkill, but the result is that you can charge almost any device with just this cable, which is great for traveling. It works wonderfully with a battery bank, too.
Instead of bringing a cable for your iPhone, Nintendo Switch, BlueTooth headphones, portable charger, and tablet, you can just bring the Zeus-X Pro and charge them all with the same cable. You are limited to charging them one at a time, but in the name of saving space and weight, it does the trick.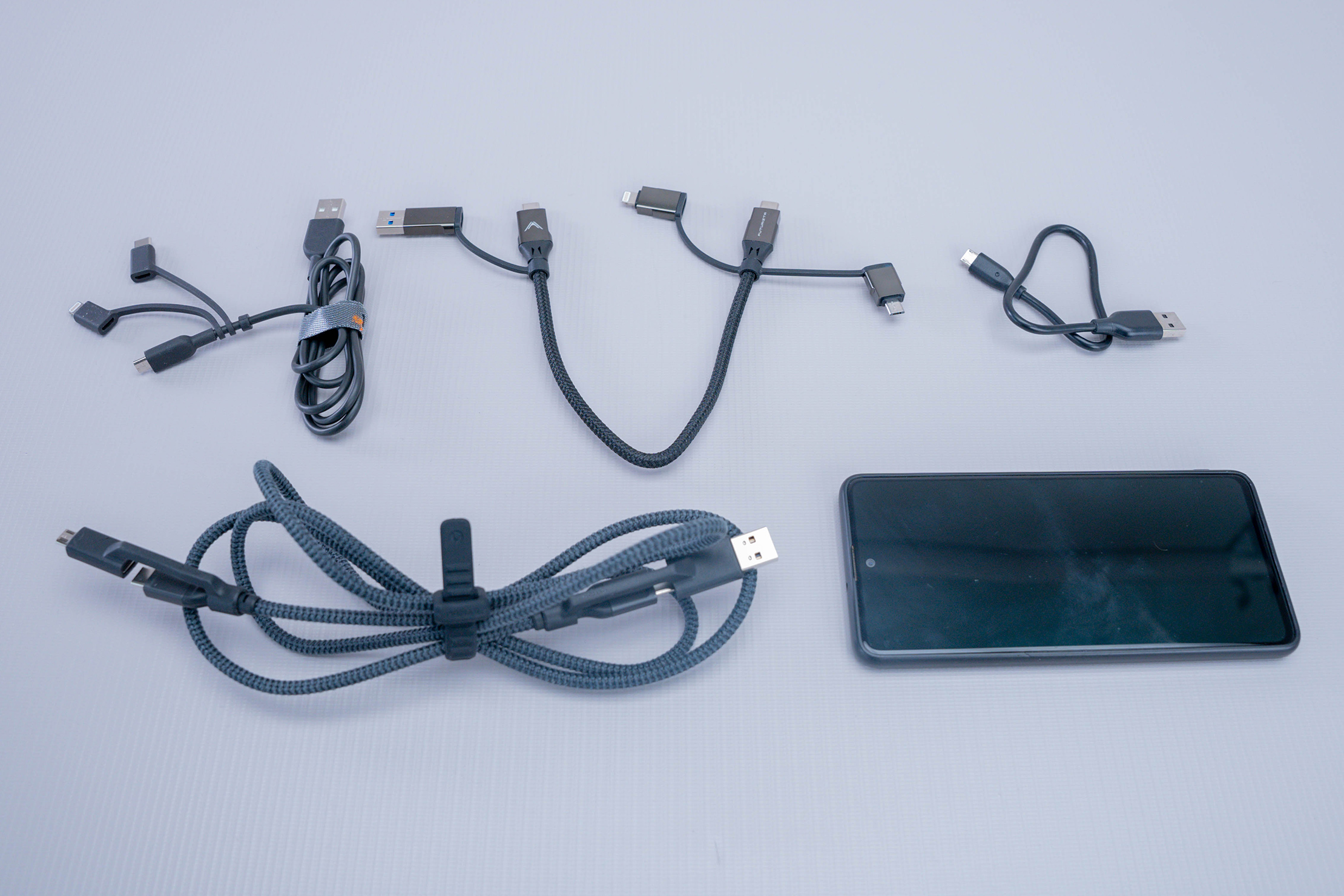 In addition to working as a charging cable, you can also use it as a data cable. It can handle transfer speeds up to 10 gigabits per second, which is fairly standard for a typical cable. It can also be used to feed a monitor up to 4K at 60hz, which is a nice hack for when you need to display something in a pinch. USB-C monitors aren't terribly common yet, so you may still be out of luck if you don't have an HDMI or DisplayPort cable with you.
If your primary need is charging, the cable can handle up to 100W and also supports 20W fast charging. This is great for when you only bring the Zeus-X Pro with you, as you will need to charge each device individually. You can save time by utilizing the fast charge capabilities of this cable and ensure you're charged up before you leave.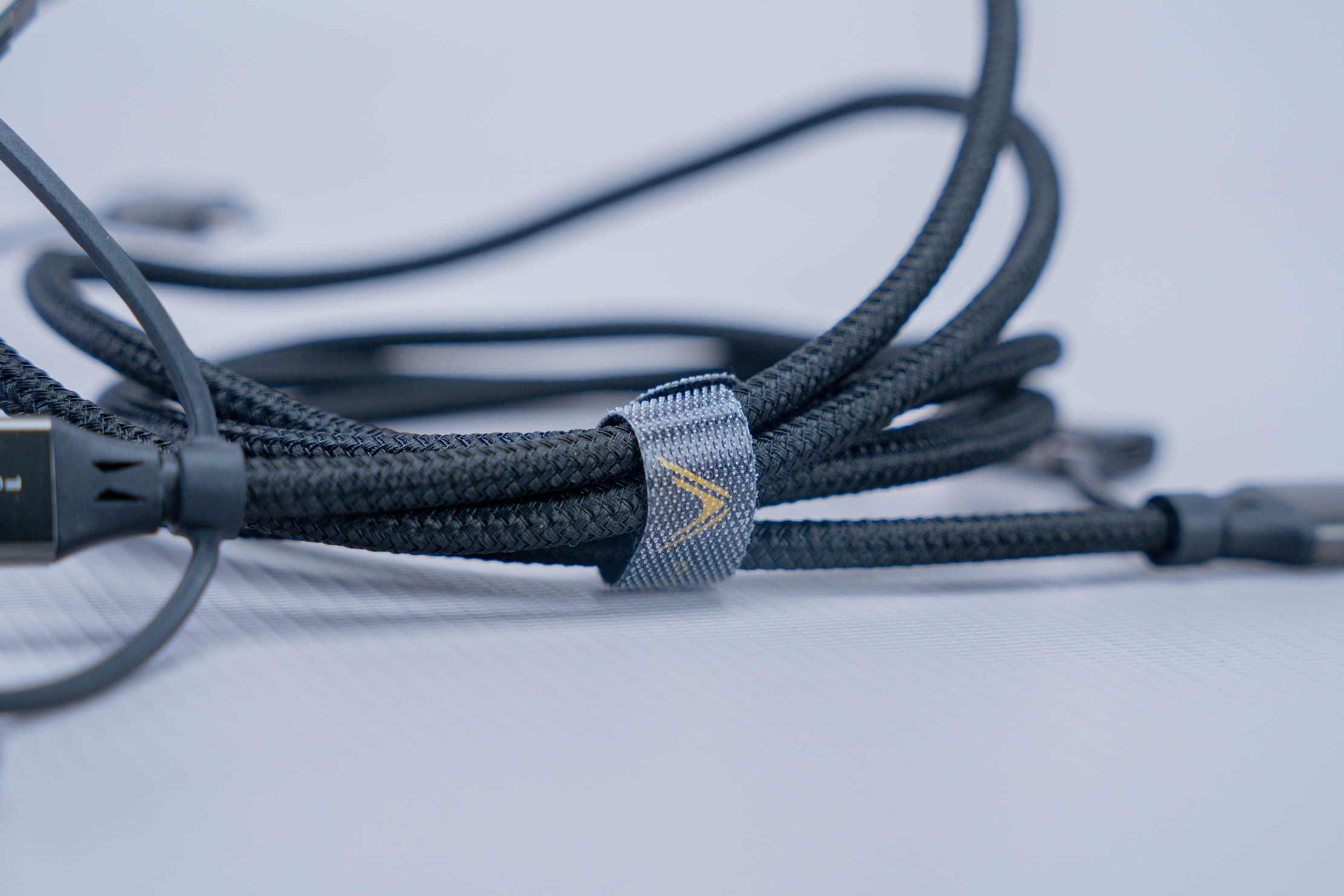 Compared to other cables, the Futurizta feels more durable than the Anker and Apple cables that we have on hand here at Pack Hacker. The braid feels and looks like it'll last, and our testing has shown that. In addition to being durable, you get the bonus of the adapters, which are easy to use and enable this cable to be a dynamic travel companion for several different reasons. It isn't just one single cable, and it doesn't just excel at one single thing.
Compared to other cables that come with adapters, we like the Futurizta for its inclusivity. It has every adapter we might need, which is useful. Compared to the Nomad Goods Universal USB-C cable, which misses out on a lightning cable, we find the Futurizta more useful. The Nomad Goods adapters are more sleek and low profile, which does lend itself to better storage options, as the arms aren't all over the place. Even if you don't have an iPhone, having the option to help someone else out is nice, which you can't do if you don't have a lightning adapter. Who knows—maybe you'll buy a new phone at the Apple Store in Paris.

At the time of writing, the cable does cost more than most standard cables, but for what you're getting, we feel it's worth it so long as you have a use for the features that it offers. If not, you might be better off with something a little less robust.
Usage Timeline
Initial Usage
Condition: Excellent
The other adaptors kind of just dangle around
Supports up to 100W PD charging
Cable feels somewhat stiff, but that should break in over time
2 Weeks of Use
Condition: Excellent
Cable looks and feels brand new
Adapters are snappy and don't fall off
No issues with charging or data transfers noted
Access the Pro Community Discussion
Get your questions about the Futurizta Tech Zeus-X Pro answered from our team and the Pro Community right here on the page. Plus, join discussions with other members about gear, guides, and more.
Other Productivity & Tech Reviews