Nomad Goods Universal USB-C Cable Review
Carry fewer cables with the Nomad Universal USB-C Cable. It has micro and USB-A adapters all on one cord but doesn't include Lightning USB.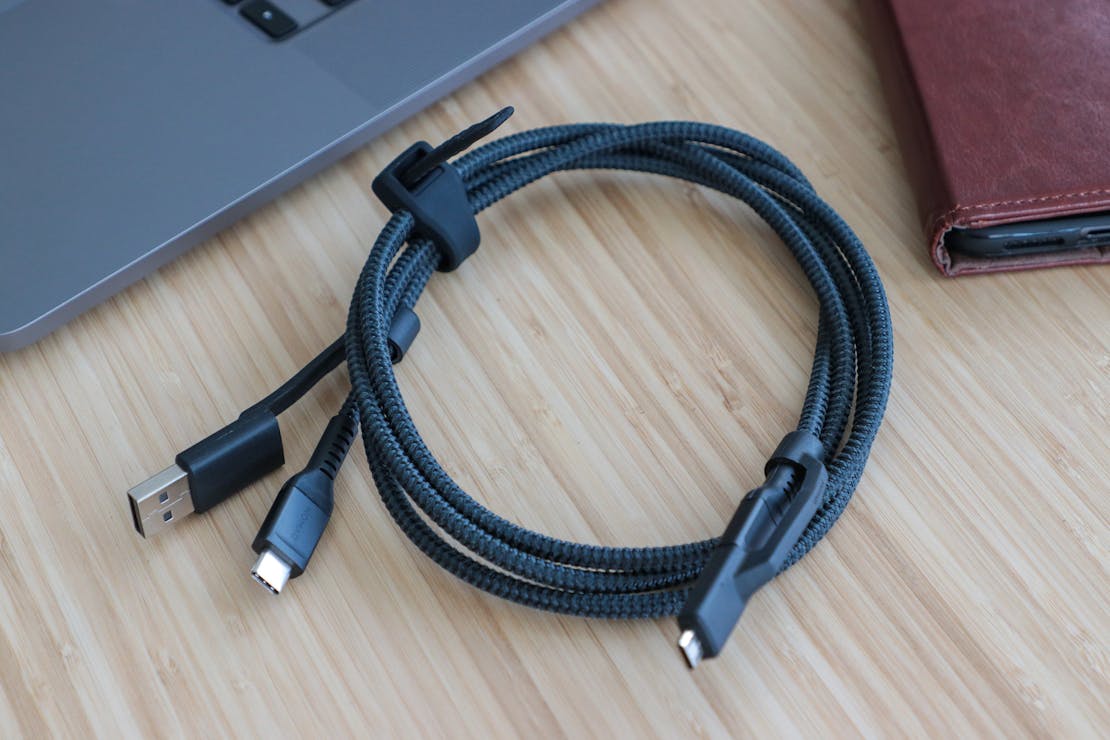 Our Verdict
Unlock the Pro Summary
Save time. Get access to brief summaries of our reviews so you can browse and make decisions more efficiently.
Pros
Can be configured in several ways
Reduces the number of cables you have to carry
Braided cord is resistant against fraying
Cons
No Lightning USB
Adapters slide down the cord and stick out when not in use
Medium length can be too short depending on how close you are to a wall outlet
Recent Pack Hacker Video
Technical Details
Dimensions

11.8 in (30 cm)

Notable Materials

Kevlar, PVC, Metal, Silicone

Manufacturing Country

China

Warranty Information
Buying Options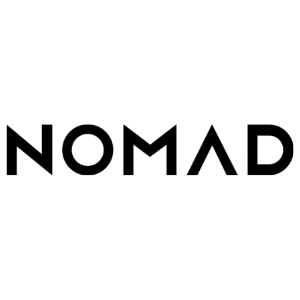 $39.95

$39.95
Full Review
An unruly tangled mess is one of the most annoying things that can happen when you travel with a bunch of cords to keep all your tech juiced. What should you do when you need a USB-C, USB-A, and micro-USB on the same trip? Of course, you can carry them all, get a tech kit with lots of space and clean up those cables with velcro ties. Or, you could get a Nomad Universal USB-C Cable, which has all of those USB types in one single cord.
The Nomad Universal USB-C Cable has the potential to replace at least three cords in your tech kit. It's primarily a USB-C cable with adapters for USB-A and micro USB that you slide down the cord. Simply click whichever adapter you need into place, and you're good to go. You can configure this single cord as USB-C to USB-C, USB-C to micro-USB, USB-A to micro-USB, and USB-A to USB-C. We know that's a lot of USBs, but if reading them on a screen is frustrating, imagine having to carry them all!

People who have to pack cameras, phones, laptops, and Kindles that all use different USB types know how handy this can be. The only caveat is that it does not include a lightning USB adapter, so if you've got an iPhone, you will need at least one extra cord. And, of course, you won't be able to charge multiple devices at the same time. Unless you buy several Nomad cables, which honestly isn't a bad idea—especially if you get one of each length for different uses.
At the time of this review, the Nomad Universal USB-C Cable comes in three sizes and is available only in black. The shortest is 0.3 meters (just under 1ft), while the longest is 3 meters (about 9.8 ft). If you want something in between, there's also a 1.5-meter long cord (just under 5ft). We tested both the short and medium lengths.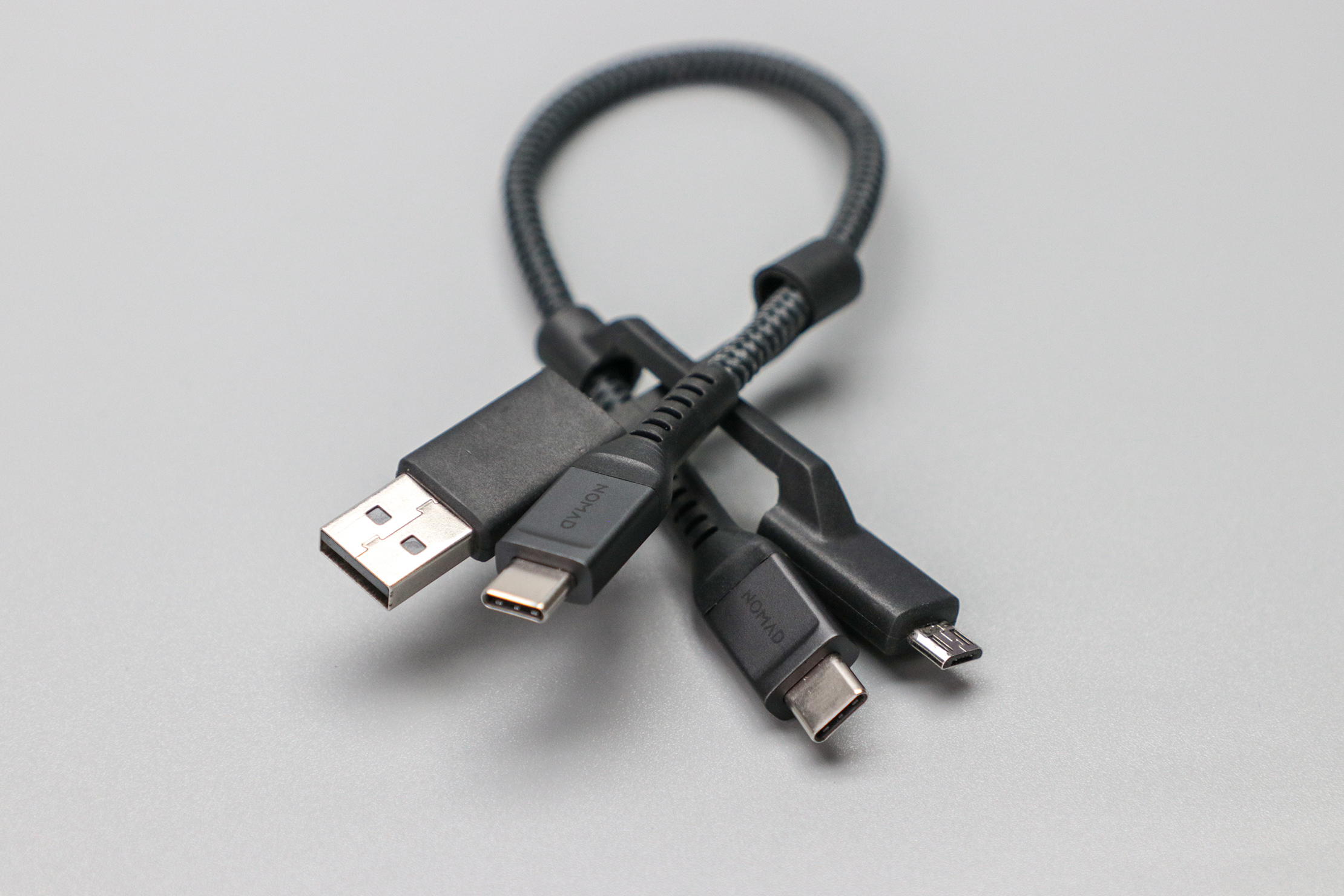 The shorter one works great for plugging your smartphone into your laptop. It's helpful when plugging up anything small like earbuds or a magic mouse if you're working at a crowded desk or tiny coffee shop table. It's advertised as being "travel size" because of the short length, but if you're a digital nomad and the coworking space outlet is far away from your desk, you'll probably want a longer one. The medium length is better for times when the outlet is further away. Although plugging in your laptop to work from a hotel bed can be a bit of a stretch in our experience.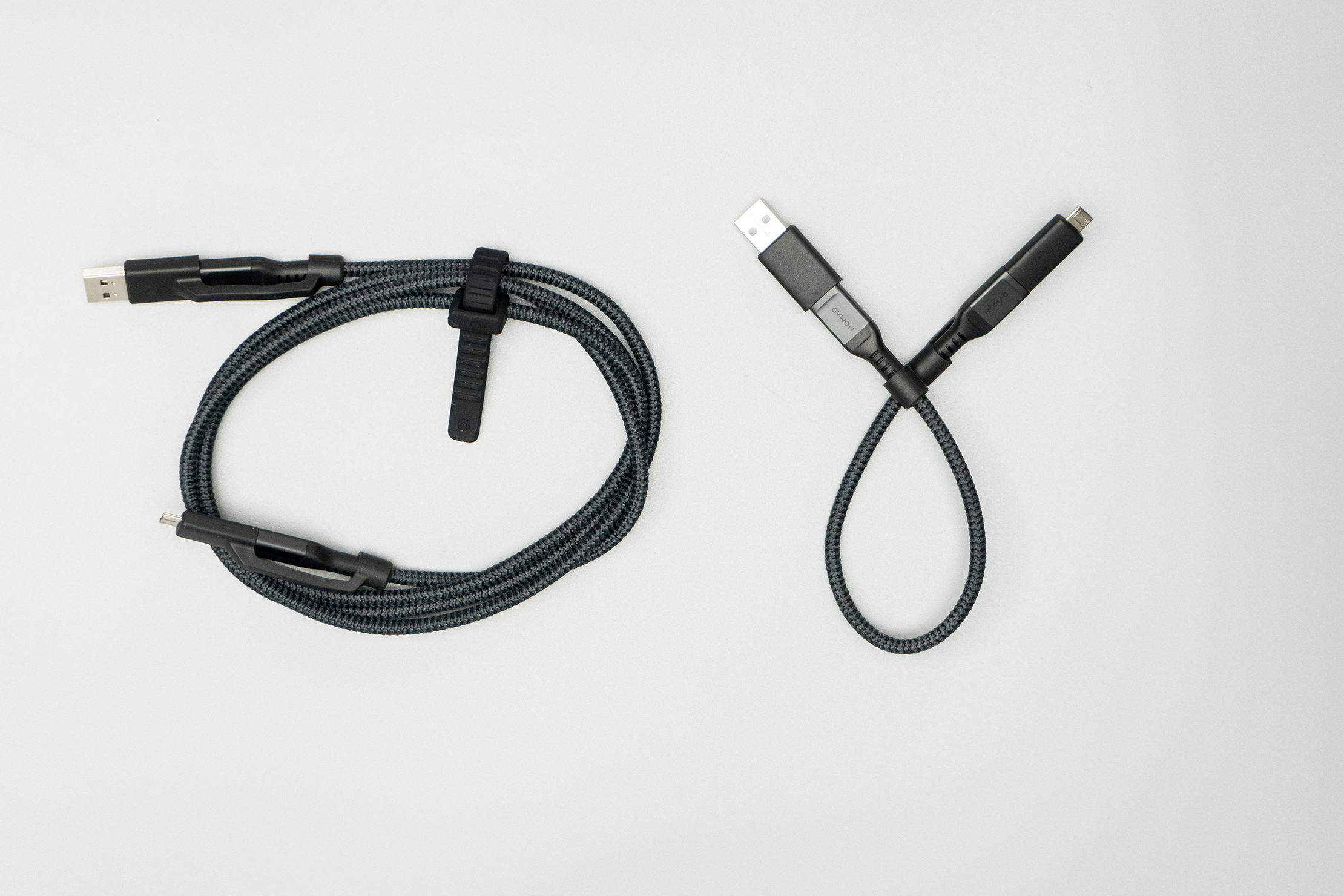 The medium-length cord also comes with an attached silicone cable tie. It's nice to have some built-in cord management for a longer cable, so you don't have to use a rubber band to keep it organized. You also can't remove it, though, so it just kinda hangs there when you're using the cable. A minor nitpick really, it just doesn't look as clean and streamlined as we expected. The same goes for the adapters themselves. If you're using it as a micro-USB to USB-A cable, the adapters sit right on top of the original USB-C ends. If you want to use it as a straight-up USB-C to USB-C, then the other adapters sit either off to the side or further down the length of the cord. Again, not a deal-breaker. Overall, this thing looks sleek and professional, primarily due to its smooth, braided cord.
Features & Usage
The cable itself is covered by a thick double braided Kevlar that protects it against fraying. If you aren't familiar with Kevlar, it's a heat-resistant synthetic fiber with a high tensile strength to weight ratio. It's used in ballistic body armor because the fibers are so tightly spun that they are supposedly impossible to separate and can even catch a bullet. The makers call it "stronger than steel." We don't know about all of that, but this stuff is pretty tough as far as the Nomad cable is concerned.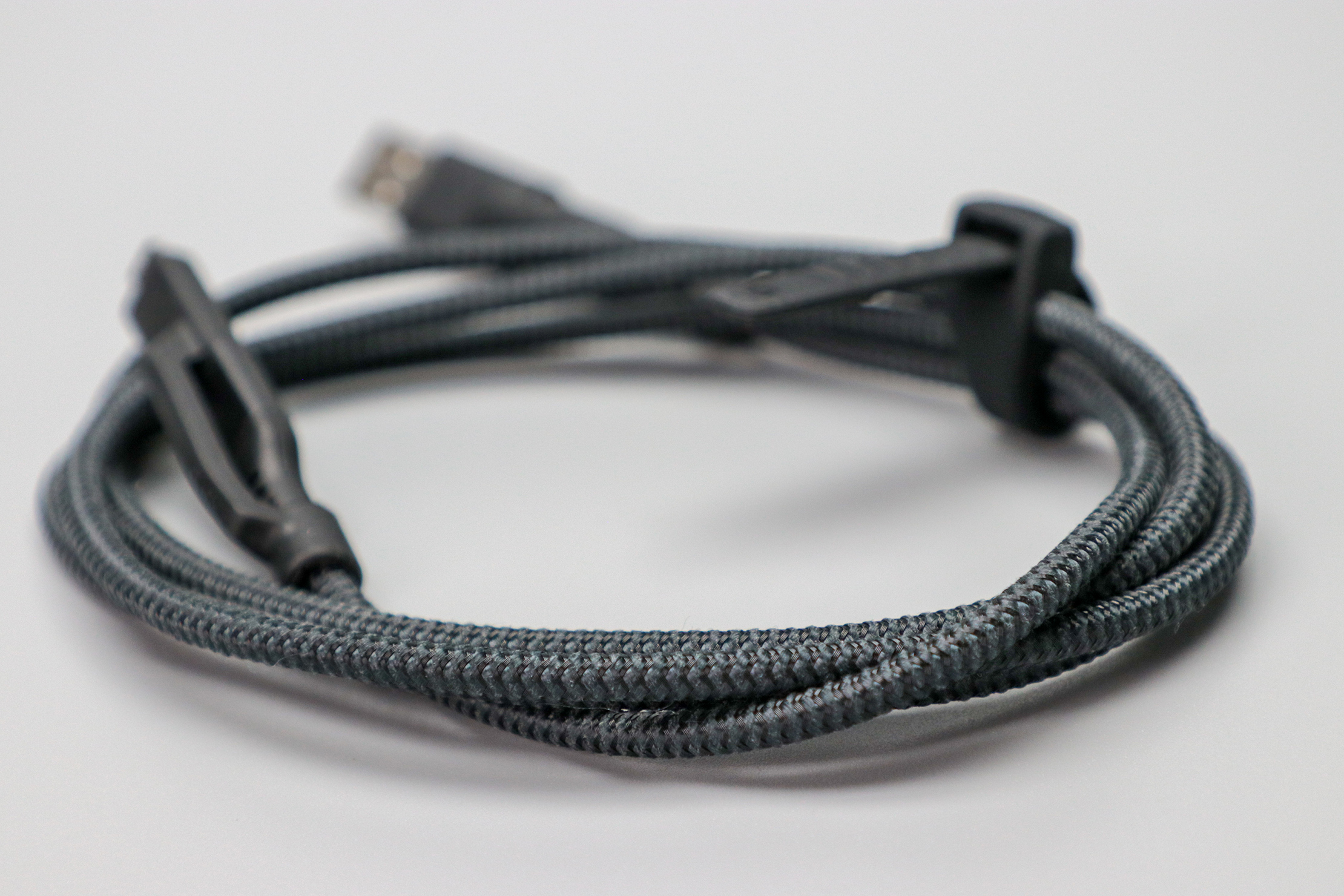 We can't count the number of cheap cords that we've banished to the cable graveyard over the years as they become a mess of exposed wires. While we only tested the Nomad Universal USB-C cable for three weeks, we didn't have any issues with durability and can foresee it standing up to the test of time. Of course, we will update this review if that doesn't prove to be the case!
We've used this bad boy to charge a MacBook Air, Samsung Galaxy tablet, Jaybird Vistas, magic mouse, and even to plug in an Amazon Fire TV Stick. It's still going strong and has become one of our go-to's.
Usage Timeline
Initial Usage
Condition: Excellent
The short 0.3 meter length is just right for hooking up your smartphone to your laptop on a crowded desk
The braided cable is made with Kevlar and feels very high quality
Attaching the USB-A adapter on the USB-C connector results in a long head that sticks out from your laptop
2 Weeks of Use
Condition: Excellent
The amount of possible configurations reduces the number of cables you have to carry
When you're not using one of the adapters, they slide down the cable and it doesn't look very clean
Braided cord is very durable and strong against fraying
Access the Pro Community Discussion
Get your questions about the Nomad Goods Universal USB-C Cable answered from our team and the Pro Community right here on the page. Plus, join discussions with other members about gear, guides, and more.
Other Productivity & Tech Reviews