Vanquest PPM-HUSKY 2.0: Personal Pocket Maximizer Review
The Vanquest PPM-HUSKY 2.0 has ample organization and is built to last, though it requires a bit of planning to place gear so that the pouch closes easily.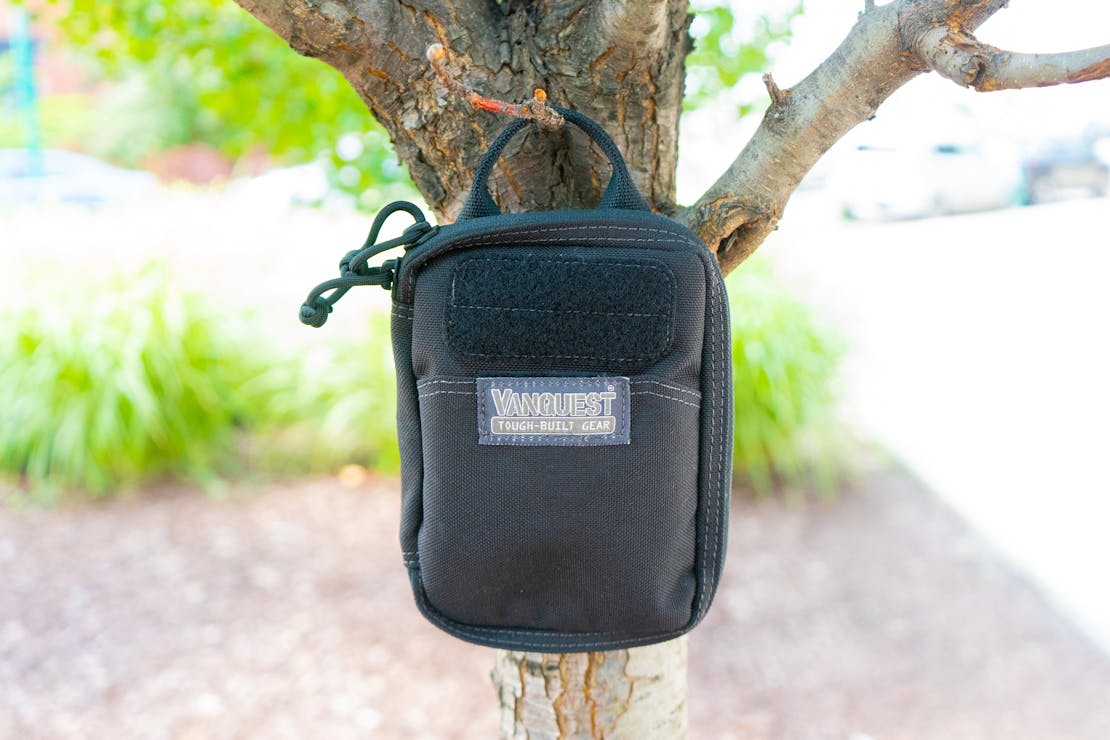 Our Verdict
Unlock the Pro Summary
Save time. Get access to brief summaries of our reviews so you can browse and make decisions more efficiently.
Pros
Sixteen elastic loops for small gear organization
PALS webbing for attaching to other gear
Carry handle makes for easy grabs
Cons
Some elastic loops are tight even for small gear
Difficult to zip up when fully packed out
Bottom row of loops holds gear less securely
Recent Pack Hacker Video
Technical Details
Weight (oz)

3.8 oz (107.7 g)

Denier

1000D

Exterior

Denier

250D

Interior

Dimensions

6.5 in x 4.75 in x 1 in (16.5 x 12.1 x 2.5 cm)

Notable Materials

CORDURA® Nylon, Teflon, Ripstop Nylon, YKK Zippers, Paracord

Manufacturing Country

Taiwan

Warranty Information
Full Review
Sometimes your regular EDC pouch won't cut it. When you're heading out on a long hike through the mountains to get to your AirBnB for a few weeks of remote work or find yourself in need of some SPF chapstick while ripping through the desert on an ATV, the last thing you want to worry about is whether or not your gear can handle the action.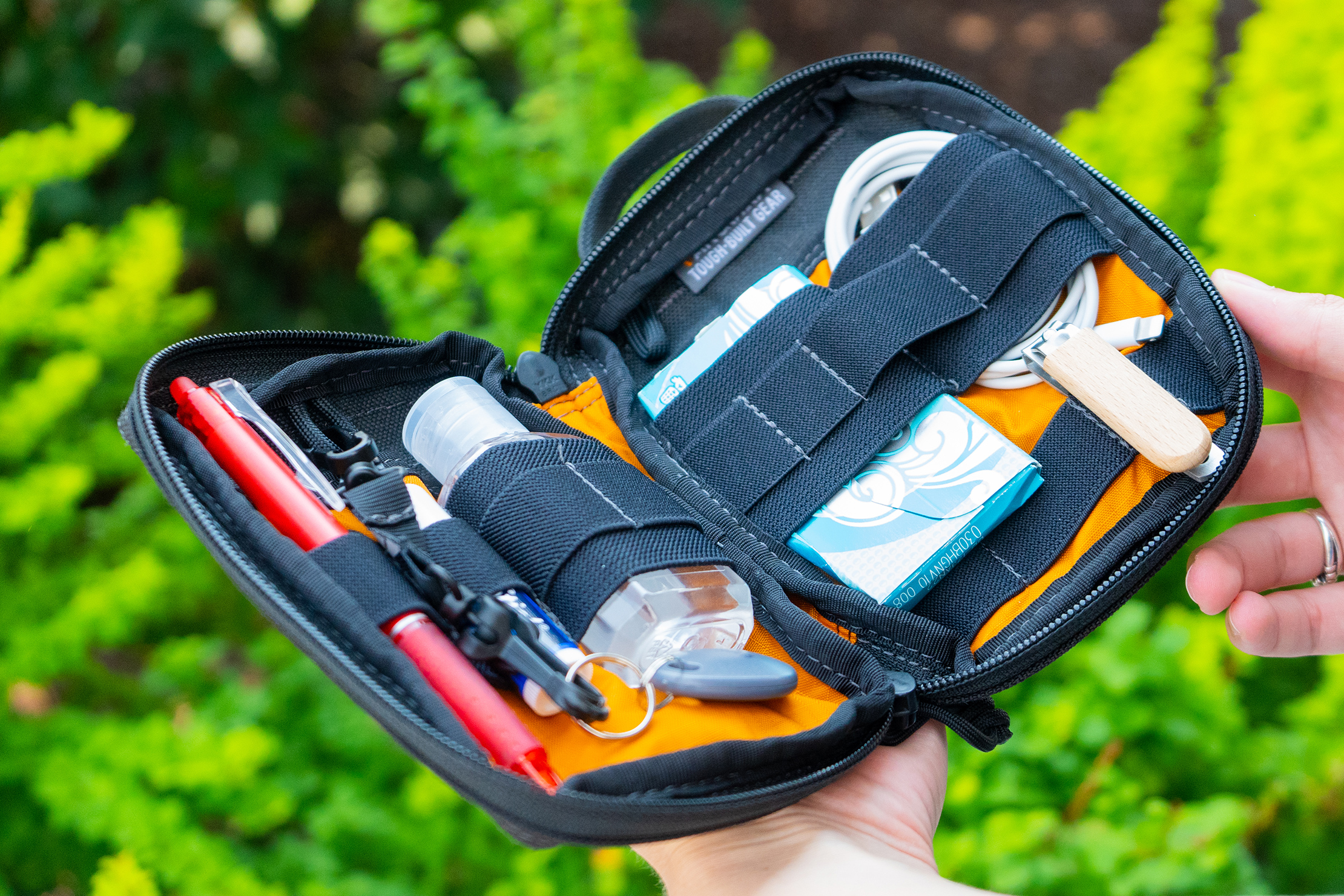 Here's where Vanquest comes in. They design products for tactical travelers, providing durable gear that borders on over-engineered. Do you always need a pouch this durable? Maybe not, but on the other hand, what's the harm in adding some security to your adventures? That said, we think a product's function is more important than its design, so read on to find out how the PPM-HUSKY holds up.
Materials & Aesthetic
At the time of writing, there are three products within Vanquest's PPM product line: the PPM-SLIM 2.0, PPM-HUSKY 2.0, and the PPM-HUGE 2.0. While we'll be focusing on the HUSKY, it's worth noting that the SLIM and HUGE follow a similar design but switch things up in their organization. While the HUSKY is the middle ground, the SLIM sacrifices storage for a compact feel, and the HUGE adds extra space so you can haul lots of gear with ease.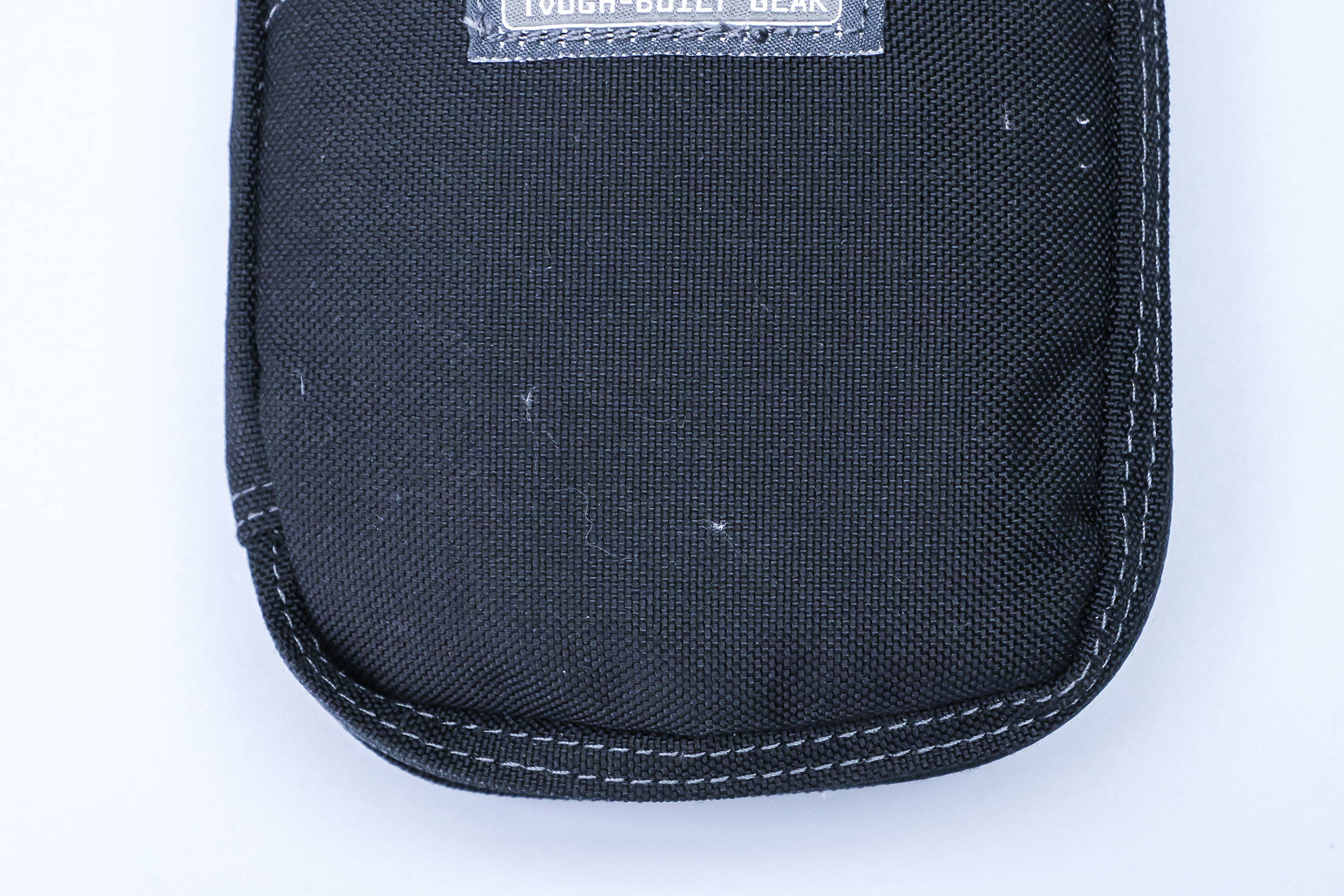 We found the PPM-HUSKY to be more than enough space for our EDC, which we'll go into detail about shortly. At the time of this review, it comes in four colors: Black, Red, Coyote Tan, and Wolf Gray. Don't worry, though; there are no dog-like critters to be found on the design (which is either a good thing or a bad thing, depending on your preference).
Branding is minimal, with a Vanquest patch on the front and tag along a top seam inside the pouch, both sporting their name and slogan: Tough-Built Gear. However, the front also features a VELCRO loop side (think: the soft, fuzzy part) that allows you to attach a patch of your choosing. This is designed for I.D. or morale patches, though you can attach anything you'd like here as long as it has the VELCRO hook side (think: the rough part that sticks to the fuzzy part).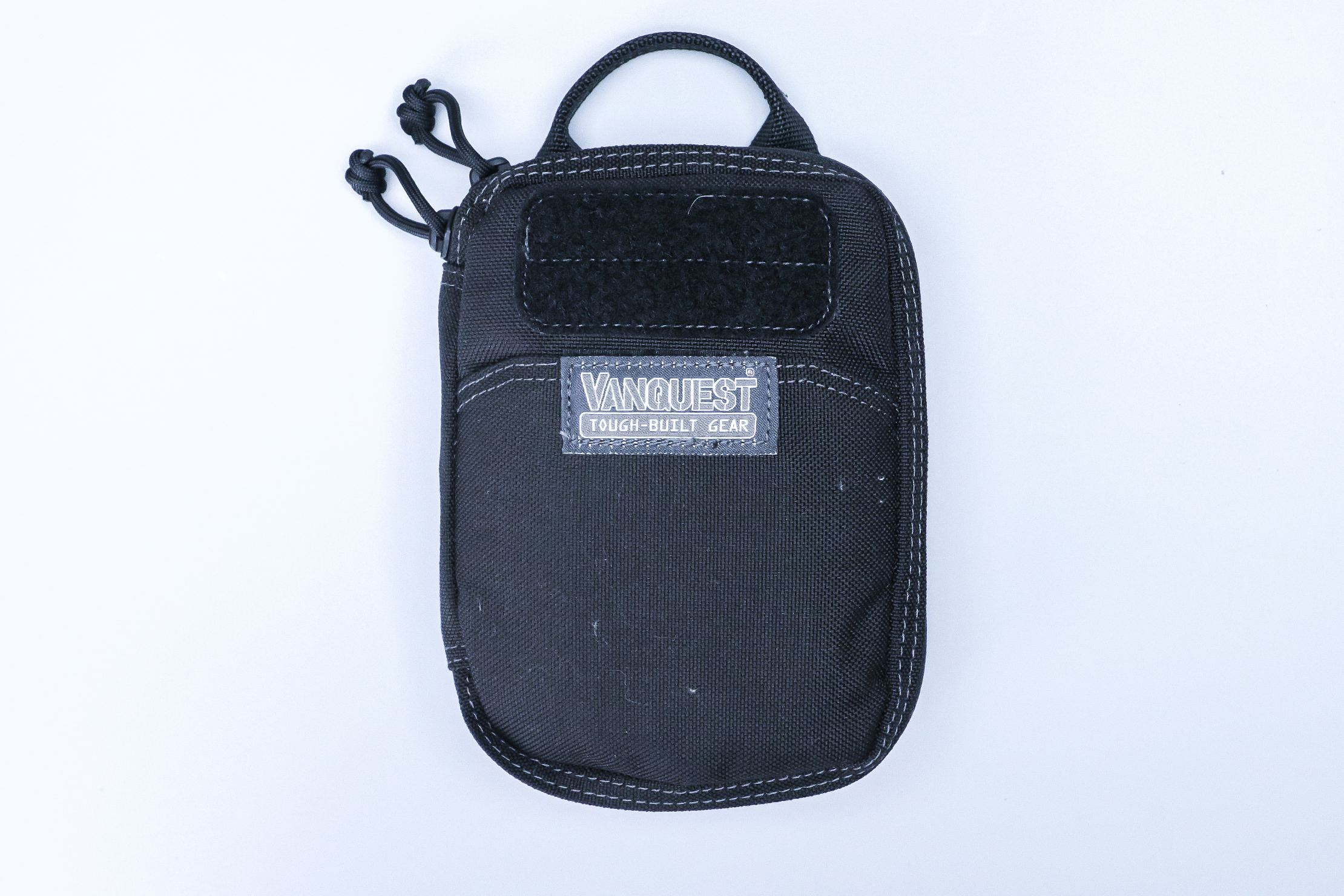 Now, this is where things start to get a little intense. The shell is 1000D CORDURA fabric and water-repellant Teflon, and seeing as the PPM-HUSKY is designed to take a beating, we're not that surprised to see the materials match the use case. Mileage will vary, obviously, and though we can't say we did a ton of military course runs with this thing strapped to our leg, it feels super durable in our hands, and we won't be surprised if it makes it through a lot of rough use in our testing down the line.
Reverse-coil YKK zippers add weatherproofing on top of the Teflon, with paracord zipper pulls to help you get quick access to the main compartment. The 210D Ripstop nylon interior lining is a bright orange color, which we can only vouch for in our Black colorway, but it adds visibility so that your small gear doesn't get lost in the elastic nylon webbing sauce. Ripstop is also a nice touch and adds comfort if your pocketknife somehow pops open while it's tucked away.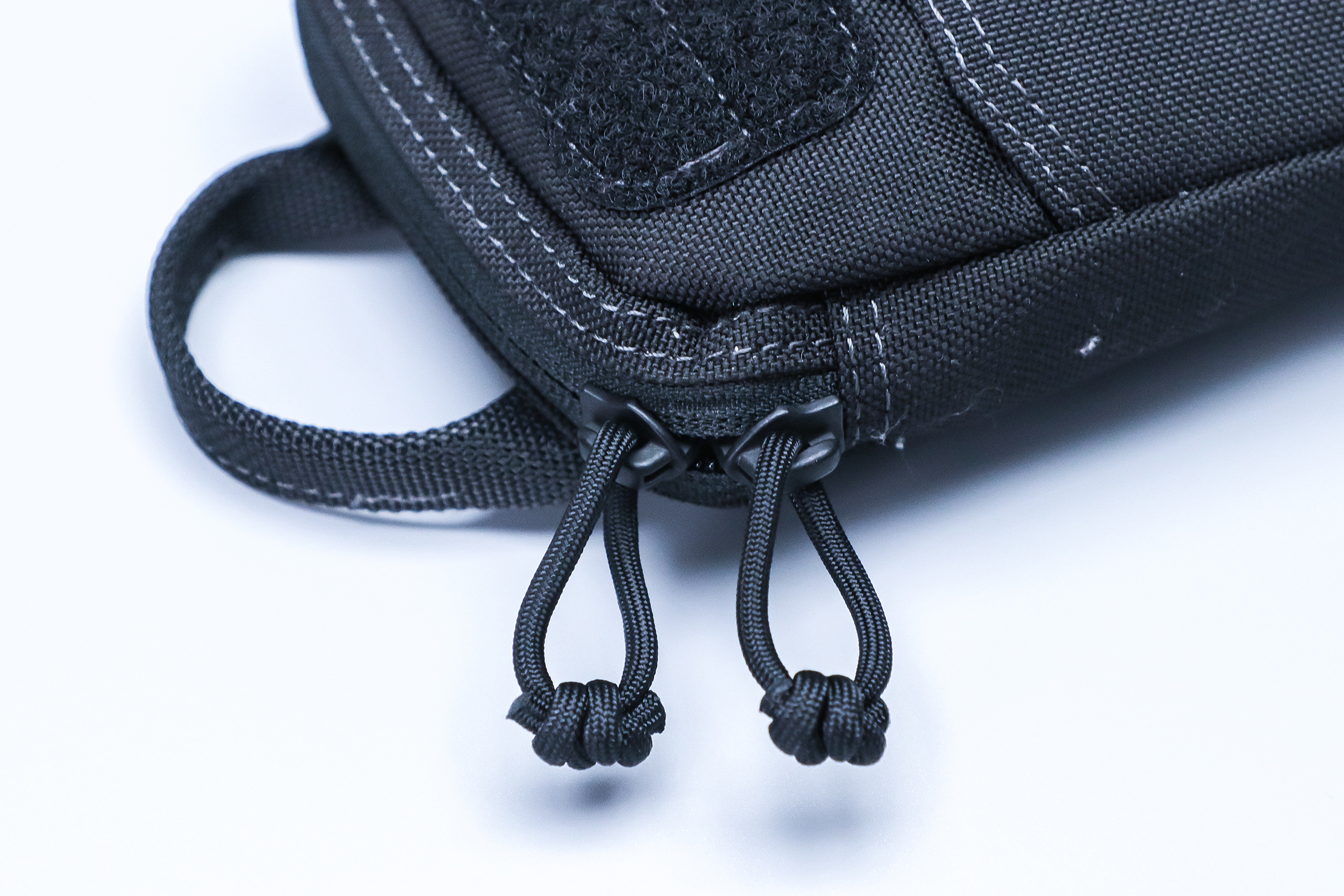 As for the actual profile of the pouch, it's easily impacted by whatever gear you put inside. For example, if you have a lot of square, chunky items, those shapes will start to show through. It's a minor thing and doesn't impact performance, but it's something to keep in mind if you're a big fan of structured gear. Overall, though, this thing is built to last. The materials are durable and dependable, giving us little to worry about when it comes to longevity. But, let's see if the function holds up to the same standard.
External Components
Though the outside is simple, it's thoughtfully designed. Just above the logo on the front, there's a VELCRO opening that reveals a pocket, which we primarily used for holding small, thin items like an I.D. or credit card. The pocket is as wide as the pouch itself, and it does have a solid amount of room for bulky items in a pinch. However, since the inside is so organized, we found it easier to leave this pocket for low-profile belongings we want to get to quickly.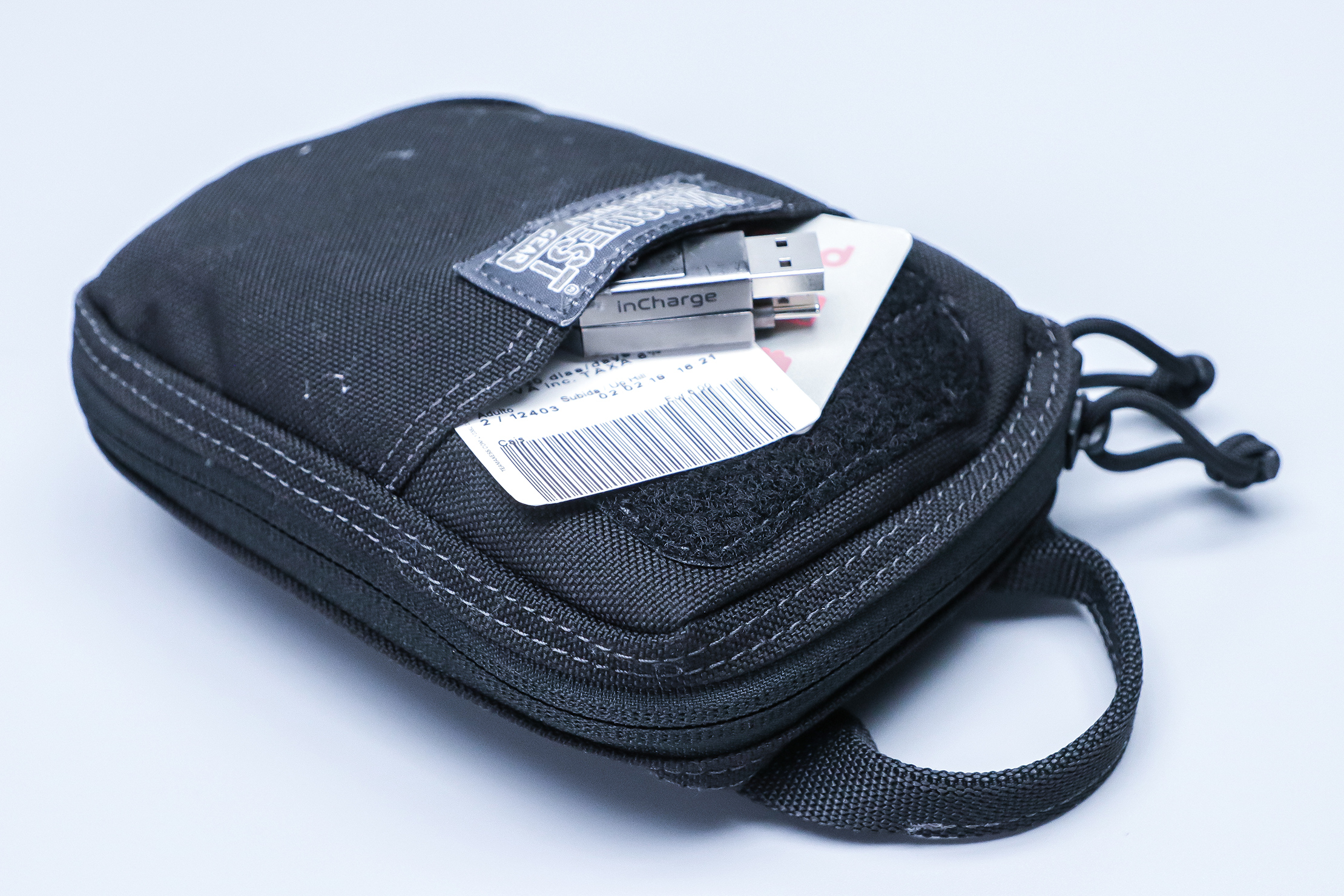 This pocket is also handy because it allows us to use the pouch as a makeshift wallet. More than once, we found ourselves sticking our credit card(s) in the front pocket to run into a store without carrying a larger bag. No, we wouldn't exactly call the PPM-HUSKY a replacement for a sling in terms of style, but it does the job in a pinch and is comfortable to carry by the top handle. This handle also works for quick grabs if you lose it in the depths of your bag. Not that it ever happens to us, of course.
Last but not least, the back features three rows of PALS webbing. It's compatible with MOLLE attachments like Vanquest's MOLLE Sticks, which allow you to easily attach the pouch to your other gear, whether that's a travel backpack, daypack, or even your clothing. Cargo pants are back in style, baby.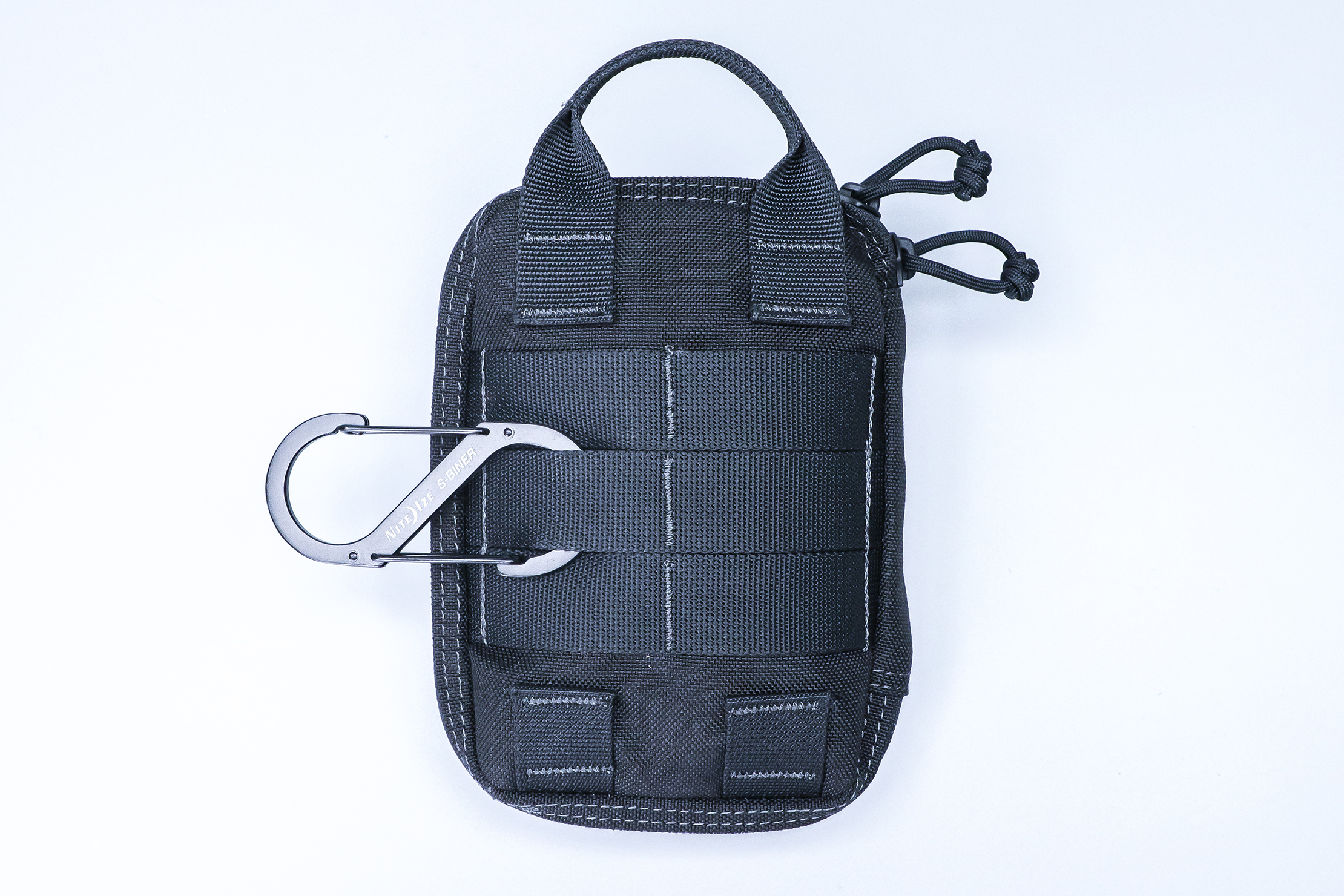 While this may not be the biggest selling point for everyone, it adds a lot of versatility to this pouch. As we've said before, there's loads of storage inside, and if you're carting gear around that you need regularly, you may benefit from keeping it close at hand without carrying it by hand. It may not look like much, but the solid construction of the PPM-HUSKY adds a lot of confidence that it can stand up to whatever you decide to put it through.
Inside The Pouch
Getting inside this thing is easy, as the clamshell zipper allows you to unzip the pouch fully and lay it flat on your preferred surface. This makes it easier to access your gear, but it also makes it easier to pack since you can see everything at once.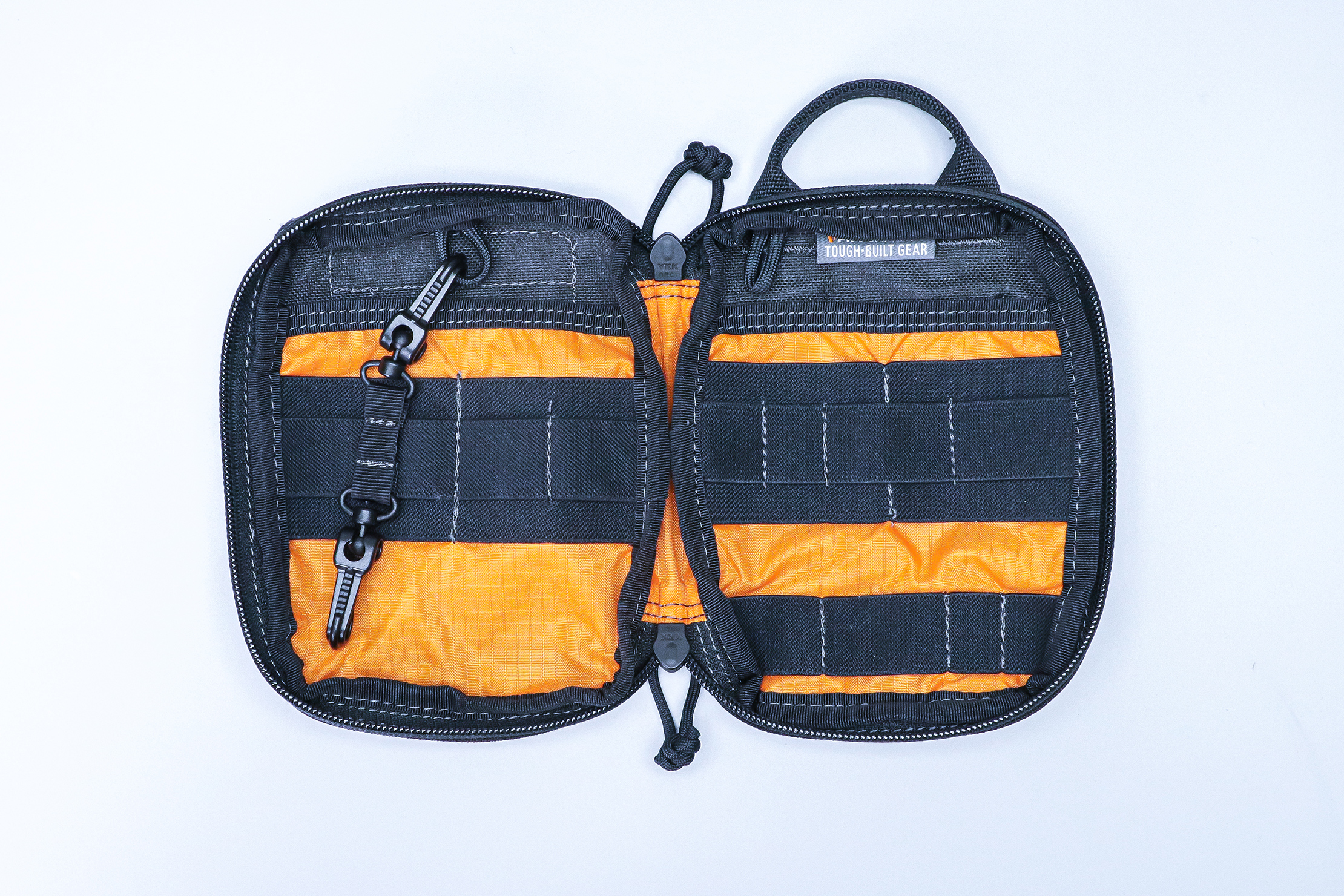 If you haven't picked up on it already, this pouch contains a lot of organization. Like, sixteen elastic loops of it. They're of varying sizes and layered for ultimate optimization. The left features six total—two large and four small—which is great for gear that needs a little more room to breathe. What we used this for varied from day-to-day, but it easily fits larger cords and cables, bulky bottles of hand sanitizer or antiseptic, a pocketknife, chapstick, and anything else in whatever combination you please. Seriously' there's a ton of space, and you can truly pack it out however you'd like.
The other side features ten loops total, and these are a bit more staggered than the other side to accommodate gear of different sizes. Four loops are even too small to fit a tube of chapstick, and while this was often inconvenient for daily use, it came in handy for keeping super small gear like nail clippers snugly in place.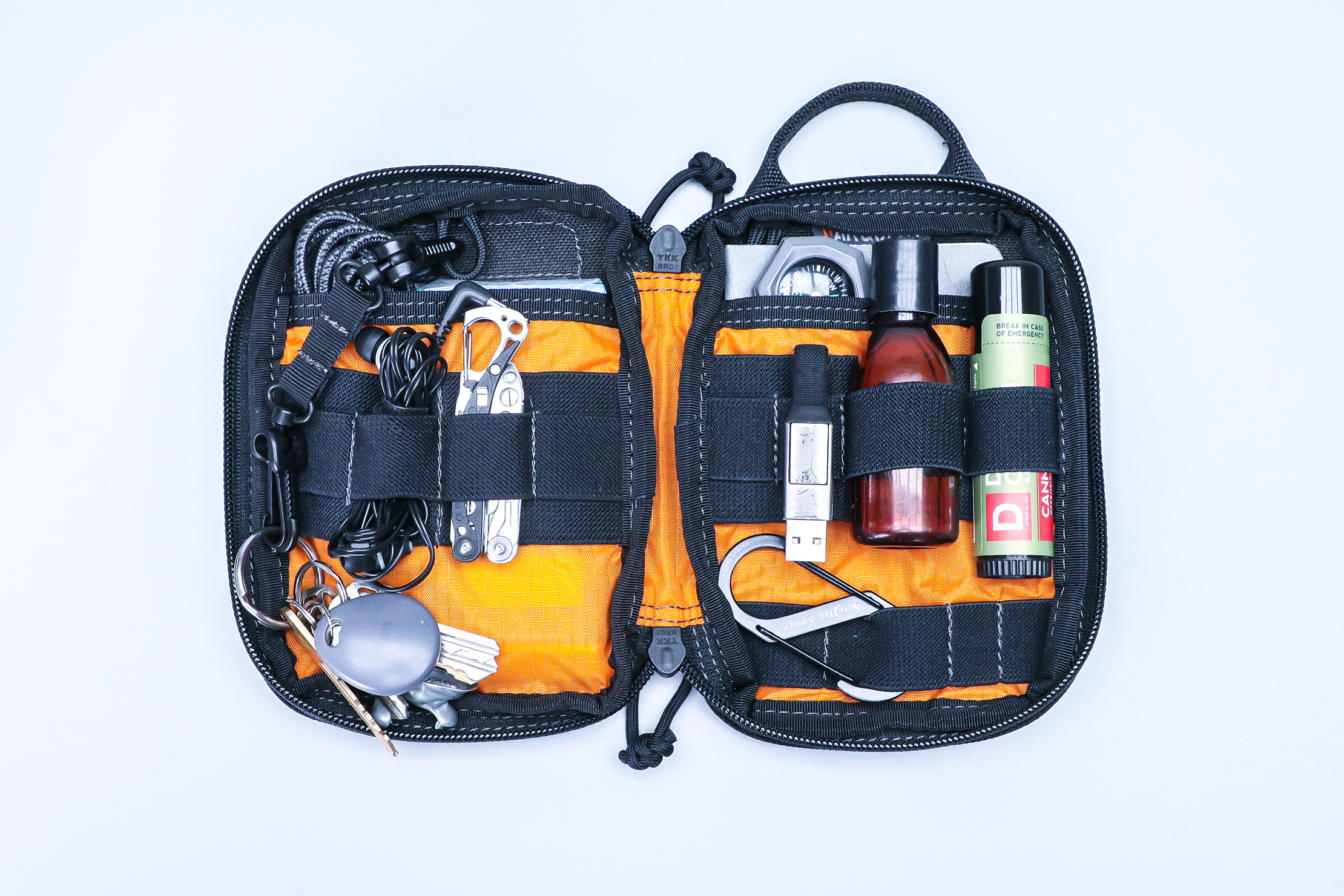 However, we want to note that the bottom row of elastic loops is a little tougher to store gear in since it's so close to the bottom seam. For example, if we put our nail clippers here, they slide out over time. While this isn't totally convenient, the bottom loops do line up with the row of loops above, so you can instead store long, skinny items here and secure them in two separate places.
As for other storage, each side features a large rear pocket for miscellaneous gear or long, flat items that don't fit in the exterior VELCRO pocket. It's great for a small notebook or something with more bulk that doesn't fit in the elastic loops, such as a laptop charging adapter.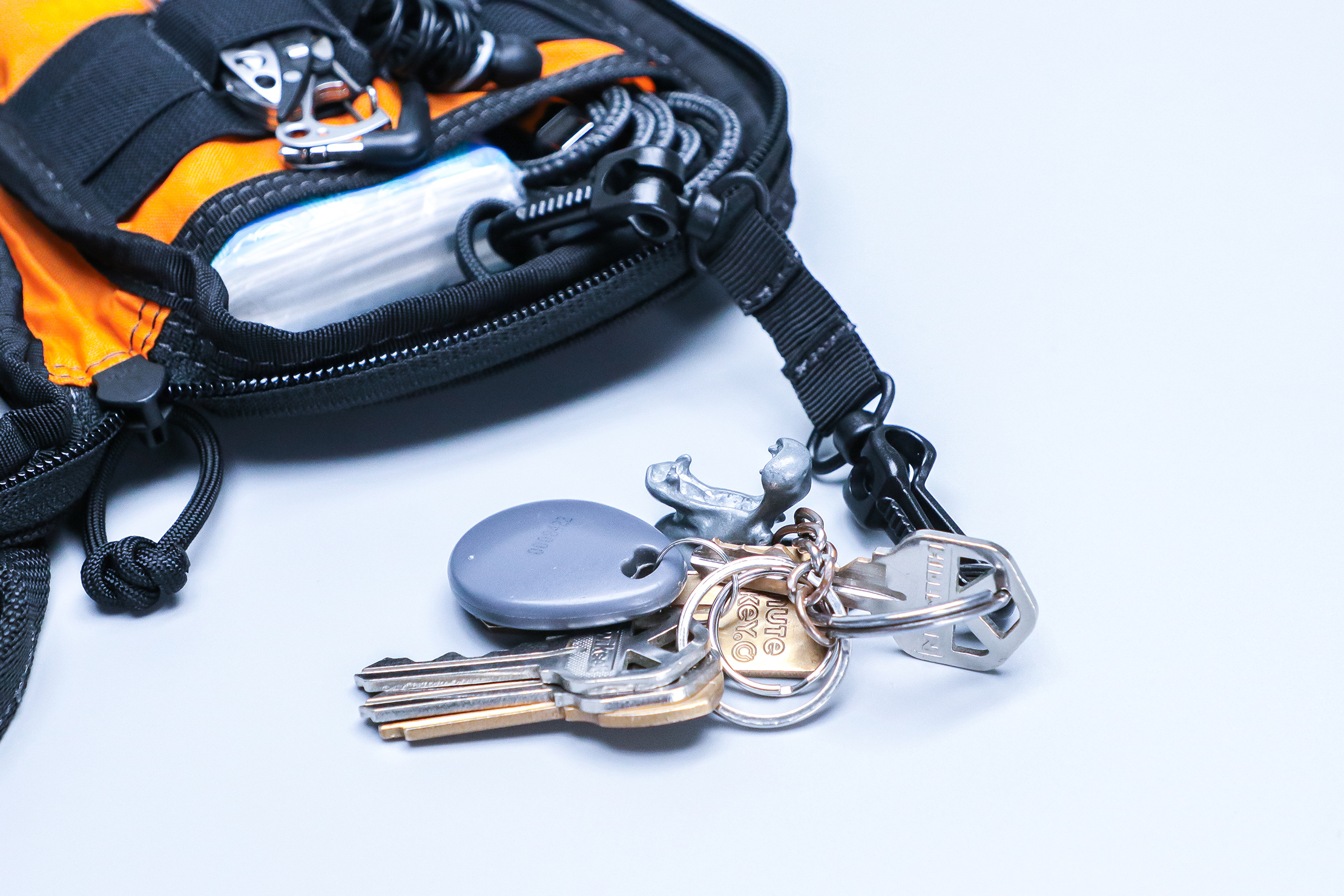 Unfortunately, if you pack these pockets out too much, it can get tough to close the pouch. In fact, this goes for every storage loop in this thing. We found ourselves coordinating which loops got which gear, both because of size and because sometimes the two sides clash a bit too much when you try to close it. It's a relatively easy fix, but something to keep in mind if you prefer to toss all your gear in and hit the road without a second thought.
The final feature inside the pouch is the key strap, which has two carabiner hooks so that you can attach it on either side at the paracord loop. While it's super convenient for keeping a key close at hand, it's also the same length as the pouch itself, which means that whatever you hook on the end doesn't fall naturally inside the main compartment. That said, the carabiner hooks have a lot of flexibility, so it's easy to move the strap wherever you need it to be. You can also tuck the entire thing into the rear pocket, which keeps it out of the way.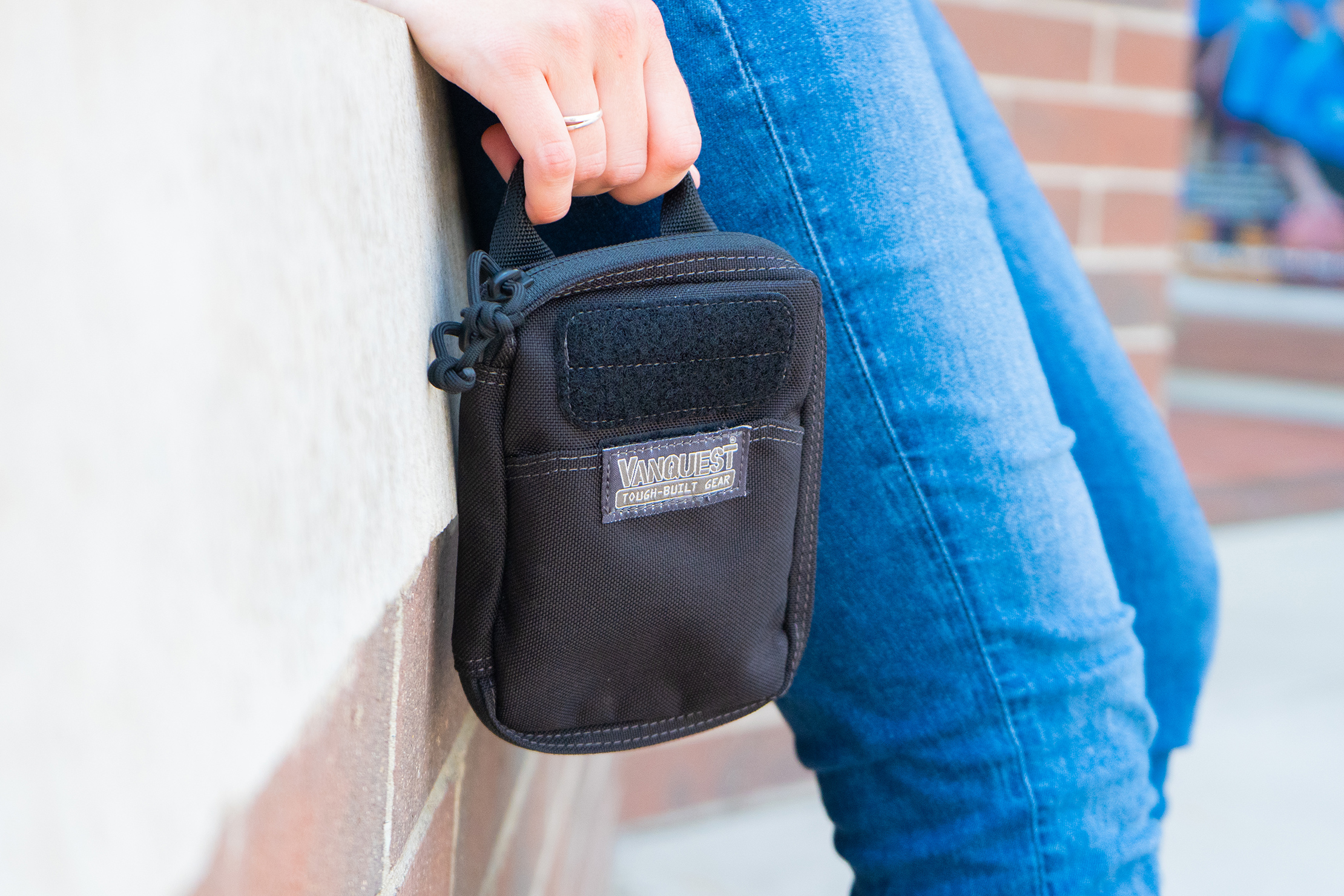 Between its sturdy construction, tough to damage materials, and multiple carry options, this is the kind of pouch that you can bring along on your daily adventures without worrying about your gear inside. Even though it can be a bit tough to organize gear for quick and easy zipping, the amount of available organization makes it a no-brainer if you're the type of person who carries lots of small gear every day.
Usage Timeline
Initial Usage
Condition: Excellent
The loops inside are stacked and staggered
Loops come in three sizes for pens, markers, and small gadgets
There's PALS webbing at the back
2 Weeks of Use
Condition: Excellent
Handle is convenient for quick grabs and carrying
Key clip properly keeps things in place
Stacked loops provide seemingly infinite gear storage combinations
Can get difficult to close if there are multiple bulky items inside
Access the Pro Community Discussion
Get your questions about the Vanquest PPM-HUSKY 2.0: Personal Pocket Maximizer answered from our team and the Pro Community right here on the page. Plus, join discussions with other members about gear, guides, and more.
Other Organizers & Pouches Reviews