United By Blue 15L Commuter Backpack Review
United By Blue's 15L Commuter Backpack features enough space to carry the daily essentials, though the back panel lacks breathability during longer carry.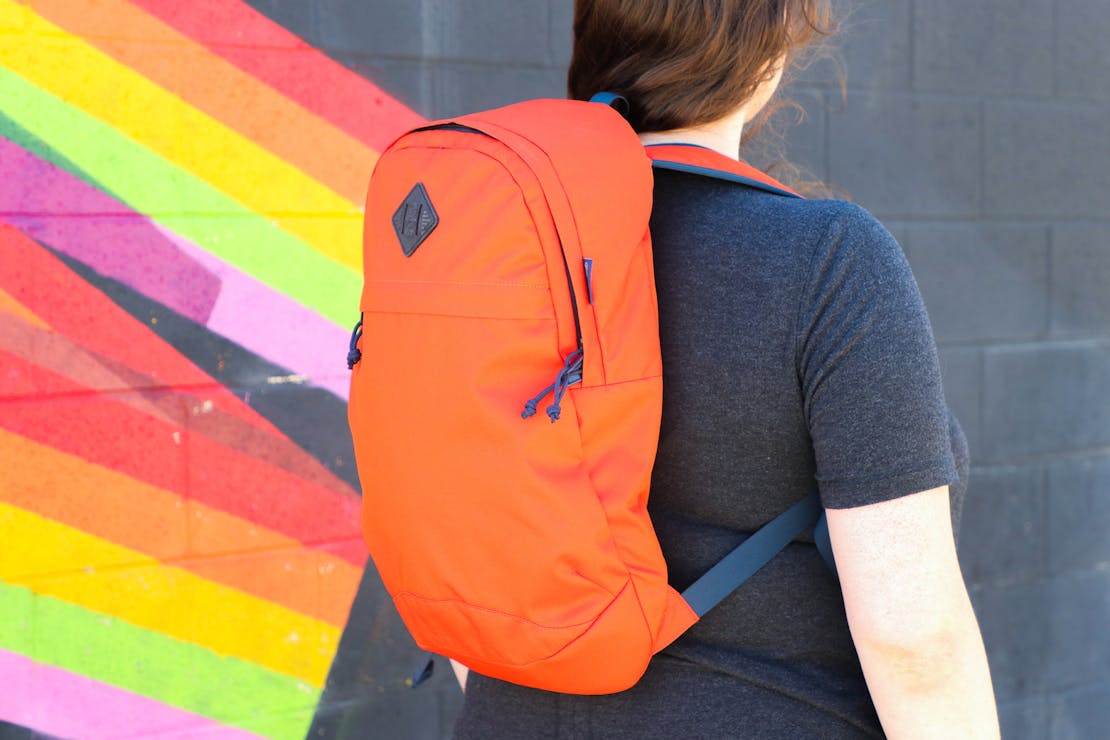 Our Verdict
Unlock the Pro Summary
Save time. Get access to brief summaries of our reviews so you can browse and make decisions more efficiently.
Pros
Sturdy fabric won't give way to everyday wear and tear
Even weight distribution makes commuting comfortable
Pockets of various sizes optimize organization
Cons
Main compartment can be tight when packed out
Getting laptop in dedicated sleeve can be cumbersome
Lacks breathable back panel for extended carry
Recent Pack Hacker Video
Technical Details
Capacity

15l

Dimensions

19 in x 14 in x 5 in (48.3 x 35.6 x 12.7 cm)

Notable Materials

Recycled Polyester, Recycled Nylon, DWR Coating, Aluminum, YKK Zippers, Duraflex Hardware

Manufacturing Country

Vietnam

Laptop Compartment Size

13"

Warranty Information
Buying Options
$98.00

$57.93
Full Review
The 15L Commuter Backpack by United By Blue is sturdy, simple, and functional. If you need a daypack that makes commuting a breeze, this may be a great option for you. It clocks in at 15L (hence the name), so it's great for trips to the office or wandering around town. That said, we found that it lacked sufficient breathability, so if you live in a hot place and/or find yourself walking to and from work, that's something to keep in mind.

This bag's aesthetic may not make you stand out among a herd of commuters, but we like the subtlety—apart from the bright color, of course. Its straps are comfortable and easily adjustable, making it a great option for commuters who regularly need to carry computers, planners, and other items. Inside, it offers a diverse organization system, though its laptop sleeve is a little tight, making it difficult to maneuver. It arrived unblemished, and after two weeks of regular testing, it sustained little wear and tear.
Materials & Aesthetic
The look of United By Blue's 15L Commuter Backpack is simple and sharp. At the time of this review, the brand offers three colors: cardinal, black, and camel. It's important to note that the cardinal color we have here appears bright orange, not red like the bird. This pack is part of their (R)evolution™ collection, which consists of products made with materials derived from recycled water bottles. Each colorway is constructed with 100% recycled polyester topped with a DWR coating for weatherproofing, 60% recycled nylon, and 40% recycled polyester mesh. All of this to say: the Commuter Backpack both looks good and does some good, too.

Its branding is subtle, with only a pig nose lash tab on the front sporting United By Blue's name and logo and a small tab next to the main compartment zipper. Otherwise, this bag lets the vibrant color do all the talking. We did notice that the pig nose is made of a rubber that easily collects dirt and dust, though it's nothing critical and is relatively easy to wipe away.
Its YKK zippers, Duraflex buckles, and aluminum hardware all play on the same theme: understated and functional. You won't notice any oversized buckles or uniquely shaped zippers here, though there are some pretty visible and easy-to-grab zipper pulls to help you get inside the pack.

The interior of the bag continues the theme of simplicity. The liner is solid black, emphasizing its organizational compartments over aesthetics. Its singular color scheme may also offer wearers a sense of security—it's easy to miss the pocket sewn into the inside liner, a perfect place to store a wallet or a set of keys.
We're fans of the subtlety of this bag, though we do wish there were more colorways to choose from, especially considering that the subtle branding and subdued design could work with a range of different styles.
External Components

As for the harness system, we'll start with the highlights. During our testing, we found that the pack offers excellent weight distribution, which is great if you're going to be lugging a heavy laptop to work alongside important files and folders. A properly carried bag will distribute the weight across your torso, and the Commuter Backpack delivers in this department.
The shoulder straps are broad and comfortable, featuring mesh padding on the underside. Adjusting the strap length is easy, even while on the go. The sternum strap is attached via a buckle that slides along a rail so that you can get your preferred height. You can also take it off entirely, as the buckles feature slots to detach it from the rail. Depending on the weight of what you're carrying, the sternum straps may not be useful to you on a bag of this capacity anyway. There's generous length to fit a variety of chest sizes, and it also has a bit of elastic on one side to bump up the comfort level and add extra flexibility to the fit.

The bag features one handle, positioned at its top, that's wide enough for comfortable grabs or easy hanging. It's also positioned so that the bag hangs easily even when it's fully packed with gear. The base is stiffer than the rest of the backpack, which also adds structure so that whatever you pack inside is properly supported.
However, one of the major downsides for us is that the pack does not have any ventilation on the back panel, so it lacks significant breathability. We found that if our commute involved more than a couple of minutes of walking or any warm weather, we were likely to end up sweating through our work clothes before the day began.

The backpack also lacks additional side pockets, particularly ones that can carry a water bottle. It's up to you to decide whether or not this is a downside, but as we'll discuss in the next section, the interior of the backpack fills up fast, and we didn't always have the space to store one inside instead.
Inside The Pack
Going back to the simple design of the Commuter Backpack, there are two zippered pockets on the entire bag: the front pocket and the main compartment. The front pocket is quite spacious, spanning the length and width of the front of the bag. It lacks any interior pockets, but that makes it a good space for larger, loose items that often accompany a commute: computer chargers, over-ear headphones, or a book.

The main compartment unzips to about halfway down the bag, giving you enough space to rifle for your planner and pen. Inside this main area, you'll find a 13-inch laptop sleeve that's padded by the back wall of the backpack and a foam insert sewed into the pocket's front. The pocket offers a snug fit thanks to the elastic seam, but getting a laptop into the bag may take a couple of tries. Because the top and sides of the bag are tapered outward, our computer often caught on the fabric and required a bit of maneuvering. It's a small detail, but if you need to take your tech in and out of the bag multiple times per day, it may be something you want to consider.

The other pockets inside the main compartment are thoughtfully designed. A three-pocket layered system is attached to the front of the laptop sleeve. One is deep—a perfect spot for a planner or large notebook. On the front of that pocket is a pen silo neighbored by a larger pocket. The top of this second (or third, depending on how you look at it) layer is slanted, which seems to be more of an aesthetic choice than anything.

The interior of the commuter backpack offers one more pocket: a zippered pocket on the liner opposite the laptop compartment. It's extremely discreet, making it a great place for personal items like wallets and keys. Otherwise, the rest of the 15L backpack is open to your interpretation for how you want to pack. Add packing cubes, a tech pouch, or just toss your gear in without any organization at all.

However, it's important to note that the bag is quite slim. This may be an asset to you if you tend to commute light, bringing only your laptop and a couple of other must-haves to and from work every day. But if you're someone who packs a lunch, carries a 32-ounce Hydro Flask, and brings an outfit for your after-work spin class, this backpack may not work for you.
Usage Timeline
Initial Usage
Condition: Excellent
Very clean heritage styling on the outside
The water-resistant coating is a nice bonus
Sternum strap adjusts and slides up and down easily
2 Weeks of Use
Condition: Excellent
The backpack is comfortable to wear for a long time, and even heavier loads don't get uncomfortable
The bag is slim, which is nice for commuting, but it's not going to hold the bonus items: workout clothes, bag lunch, water bottle
Small internal liner pocket is a great place for cash, keys, and any other item for safe keeping
Cushy, adjustable straps
Access the Pro Community Discussion
Get your questions about the United By Blue 15L Commuter Backpack answered from our team and the Pro Community right here on the page. Plus, join discussions with other members about gear, guides, and more.
Other Bags & Luggage Reviews