Troubadour Goods Adventure Slipstream Backpack Review
The Troubadour Goods Adventure Slipstream Backpack packs a good balance of style and organization, though a bit of weight can spoil some of its slipstream-iness.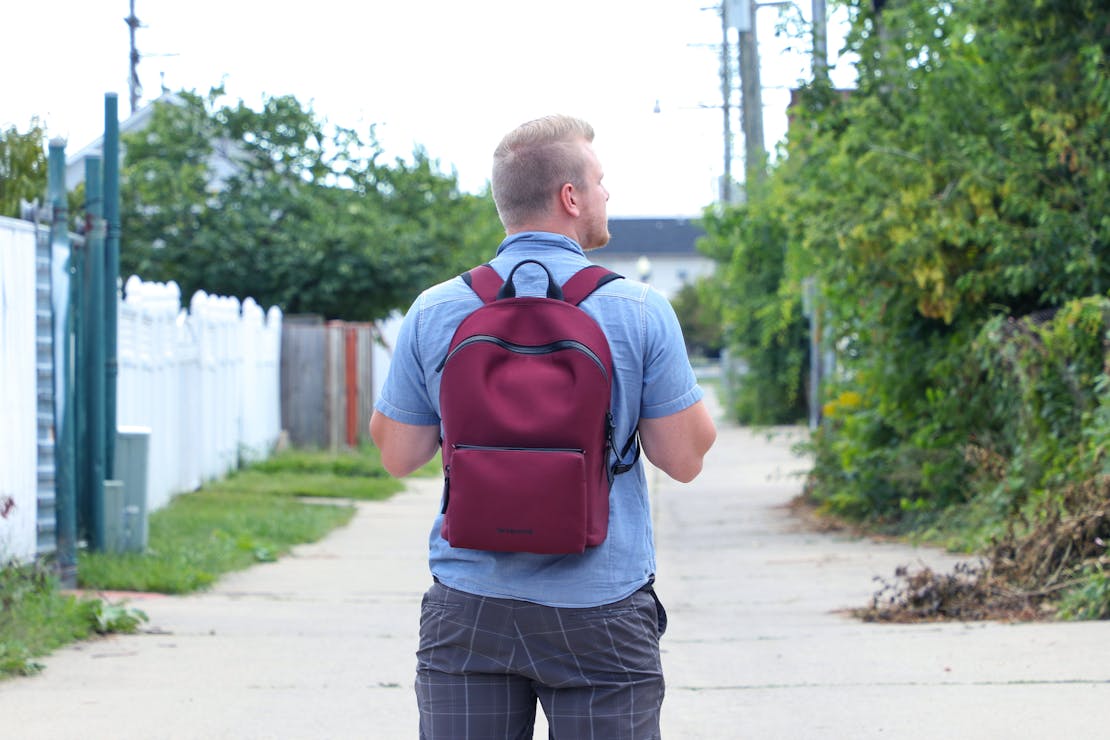 Our Verdict
Unlock the Pro Summary
Save time. Get access to brief summaries of our reviews so you can browse and make decisions more efficiently.
Pros
Fabric beads off water really well
Laptop compartment, straps, and back panel are well padded
Good amount of organization in both front and main compartments
Cons
Zippers aren't weather-resistant
Fishing small items out of the all-black interior can be tricky
Front structure can collapse when the bag's bottom-heavy
Recent Pack Hacker Video
Technical Details
Capacity

21l

Weight (lb)

2.76 lb (1.3 kg)

Dimensions

18 in x 12 in x 7 in (45.7 x 30.5 x 17.8 cm)

Notable Materials

OOK Zippers, Unbranded Hardware, Leather, DWR Coating

Manufacturing Country

China

Laptop Compartment Size

16"

Warranty Information
Full Review
Get up to 25% off Troubadour Goods • Join Pack Hacker Pro
Style and function are two concepts that some may view as mutually exclusive, meaning they can't simultaneously exist. Here at Pack Hacker, we get a lot of gear that successfully combines both. For example, bags from the likes of Bellroy, Away, and WANDRD more often than not achieve a balance of both. They're not perfect by any means, but style and functionality are definitely there.

When we got our hands on Troubadour Goods' Adventure Slipstream Backpack, we were eager to see yet another example. The company definitely nailed the look and feel of the bag in our eyes. Even better, the functionality doesn't suffer as the main compartment is full of pockets for organization. There's more to like about the Adventure Slipstream, like the dedicated laptop compartment, spacious front compartment, and waterproof fabric. So without further ado, let's get into the details.
Materials & Aesthetic
For a bag with "Adventure" written in the name, you'd half-expect something that looks busier. Something along the lines of the outdoorsy YETI Crossroads 22L, or maybe even the Aer City Pack that feels at home in an urban jungle, comes to mind. But hey, it's not the gear that dictates the adventure, let alone how the gear looks. Yes, the Adventure Slipstream isn't overflowing with straps and tough-as-nails fabric, but that doesn't mean you can't have a fun adventure with one.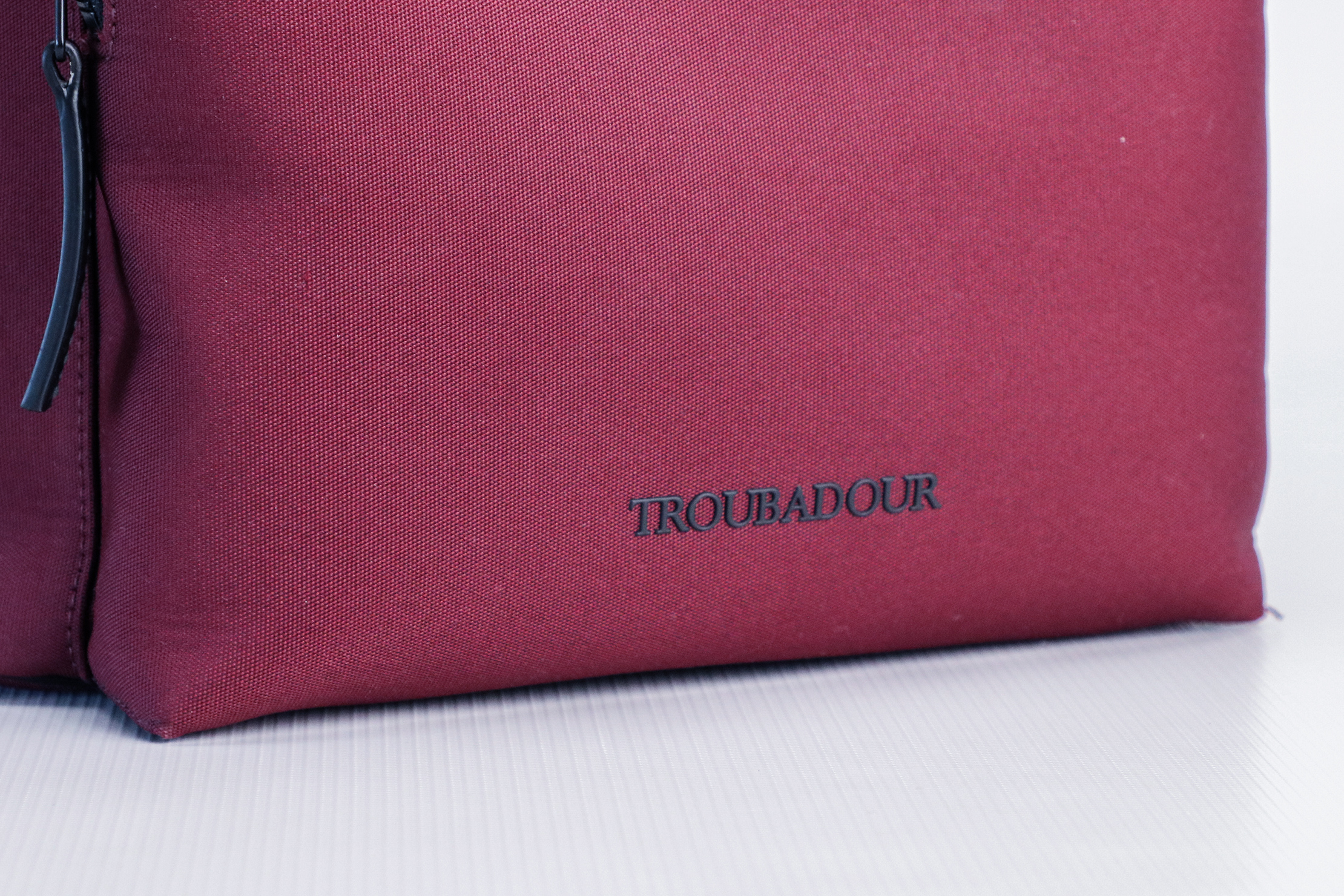 There's a reason why "Slipstream" is part of the name. The bag has structure, and the profile is smoothed out along the surface. It's a minimalist approach to designing a backpack, and we certainly understand the appeal, though it sometimes comes with drawbacks which we'll get into later. Branding is also fairly minimal, with just a subtle Troubadour logo near the bottom at the front and a faint one on the back panel.
At the time of writing, there are five colorways to choose from, namely: Black, Grey, Navy, Green Khaki, and Burgundy, which is the one we're sampling in this review. Most of the colors look subdued, with the Burgundy and Green Khaki ones arguably having the most pop among all five. To each their own, but this Burgundy colorway has a classy air of elegance we can get behind.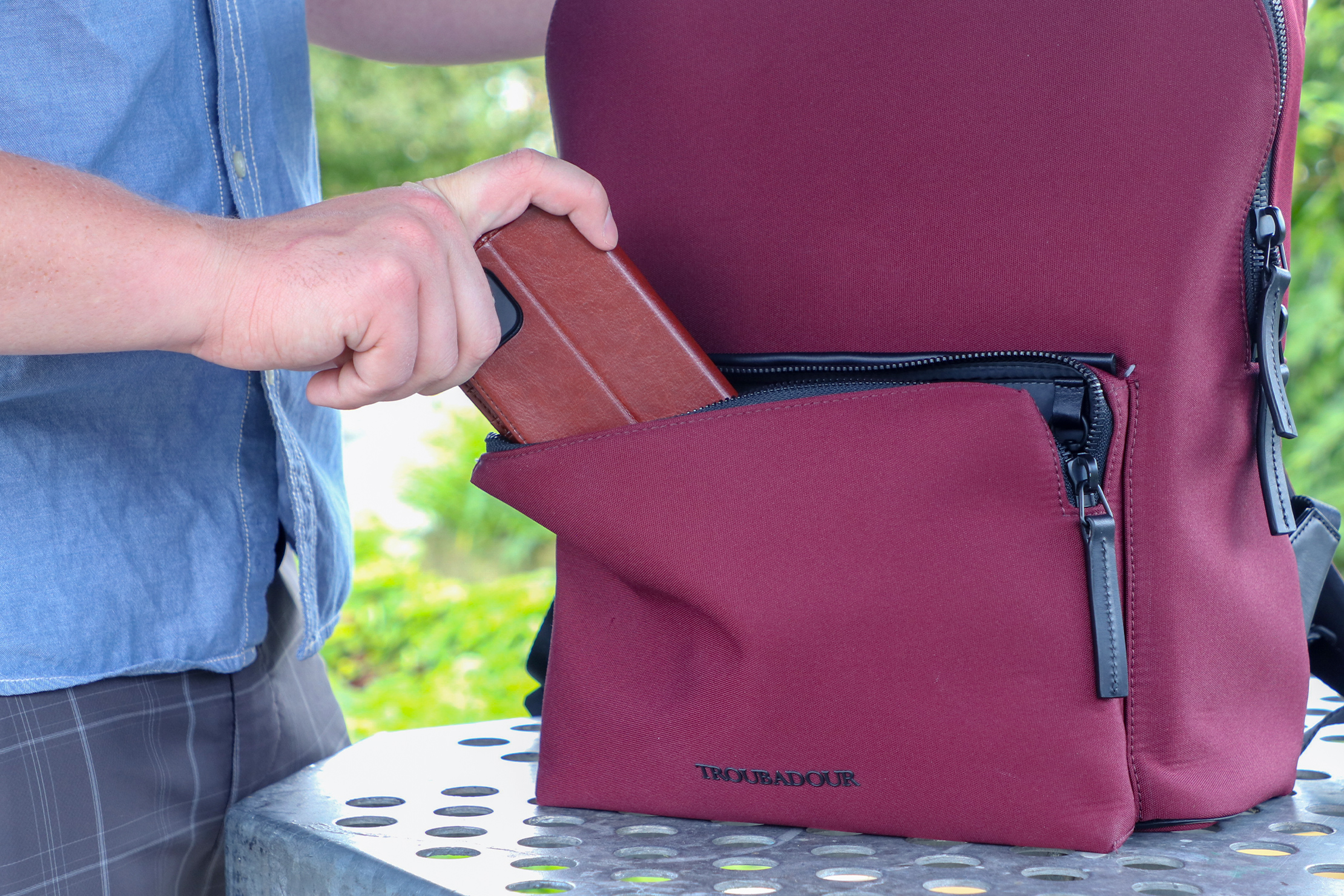 Unfortunately for those trying to avoid leather, the material is scattered around the bag. The top handle is made out of leather, and so too are the bottom anchors for the shoulder straps. There's also leather on a wide accent piece near the opening of the front compartment, inside logo, and zipper pulls.
The outer shell is a waterproof fabric that feels smooth, which lends to the overall streamlined appearance of the bag. That's right; Troubadour Goods doesn't mince words—they explicitly describe the fabric as waterproof. Unfortunately, while the fabric is waterproof and reasonably durable, the OOK zippers themselves aren't. This means water can still seep its way through the zipper elements under a heavy shower. The Adventure Slipstream should hold its own against accidental splashes, but not so much under continuous heavy rain.

The DWR coating on the fabric allows the Adventure Slipstream to perform well against splashes. However, like any bag with a coating, it will eventually wear off over time, so Troubadour Goods recommends applying a coat of Nikwax Tent & Gear SolarProof to maintain the fabric's waterproofness. For minor stains and marks, though, wiping with a cloth dipped in mild soapy water does the job.
External Components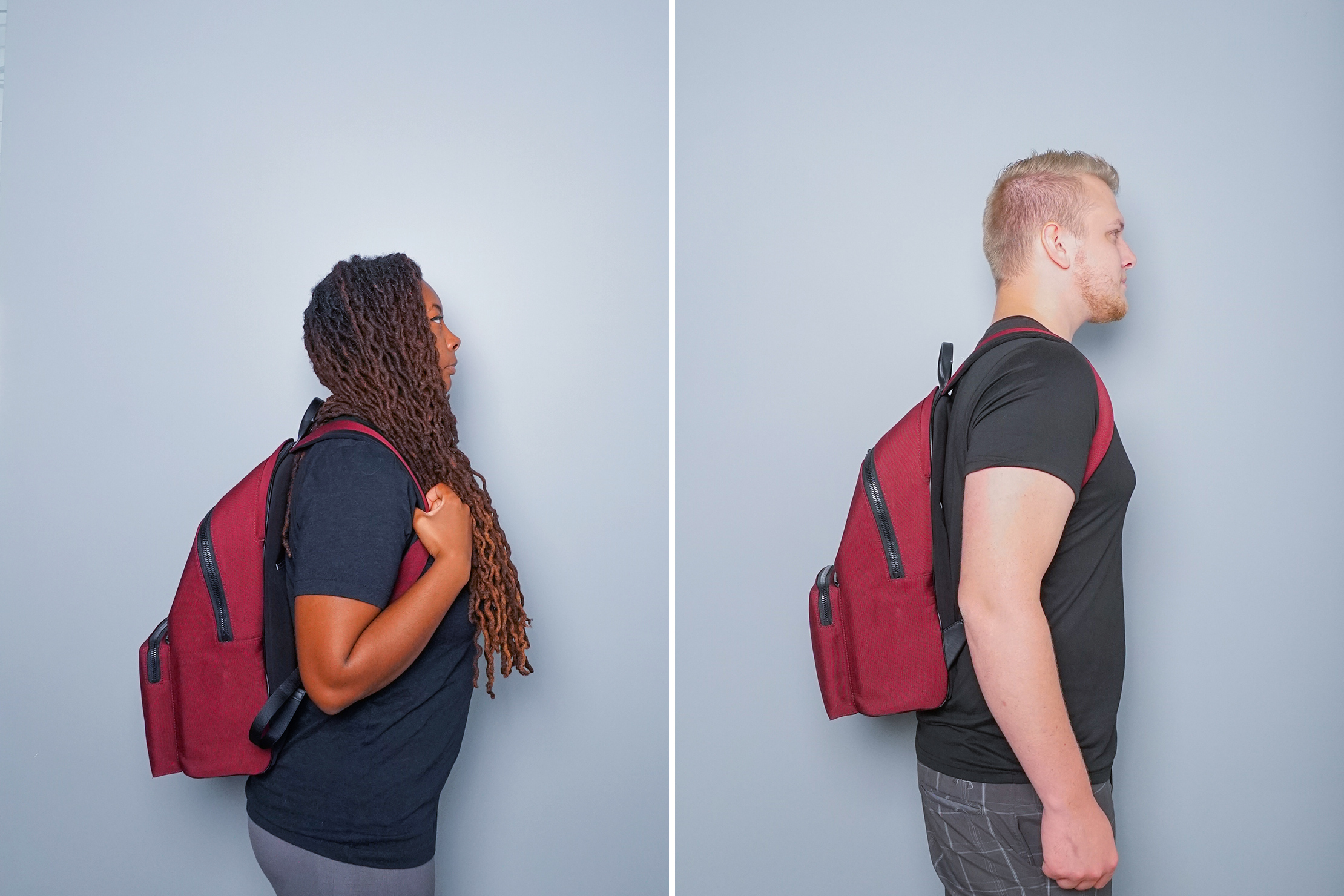 The 21-liter capacity of the Adventure Slipstream puts it squarely within daypack territory. This means there's really nothing too fancy in terms of the harness system. That said, some daypacks come with an extra strap or two to ensure maximum comfort. However, for the Adventure Slipstream, you get two shoulder straps, a back panel, and a top leather loop. There are no hip belts, sternum straps, load lifters, side handles, or bottom attachment straps.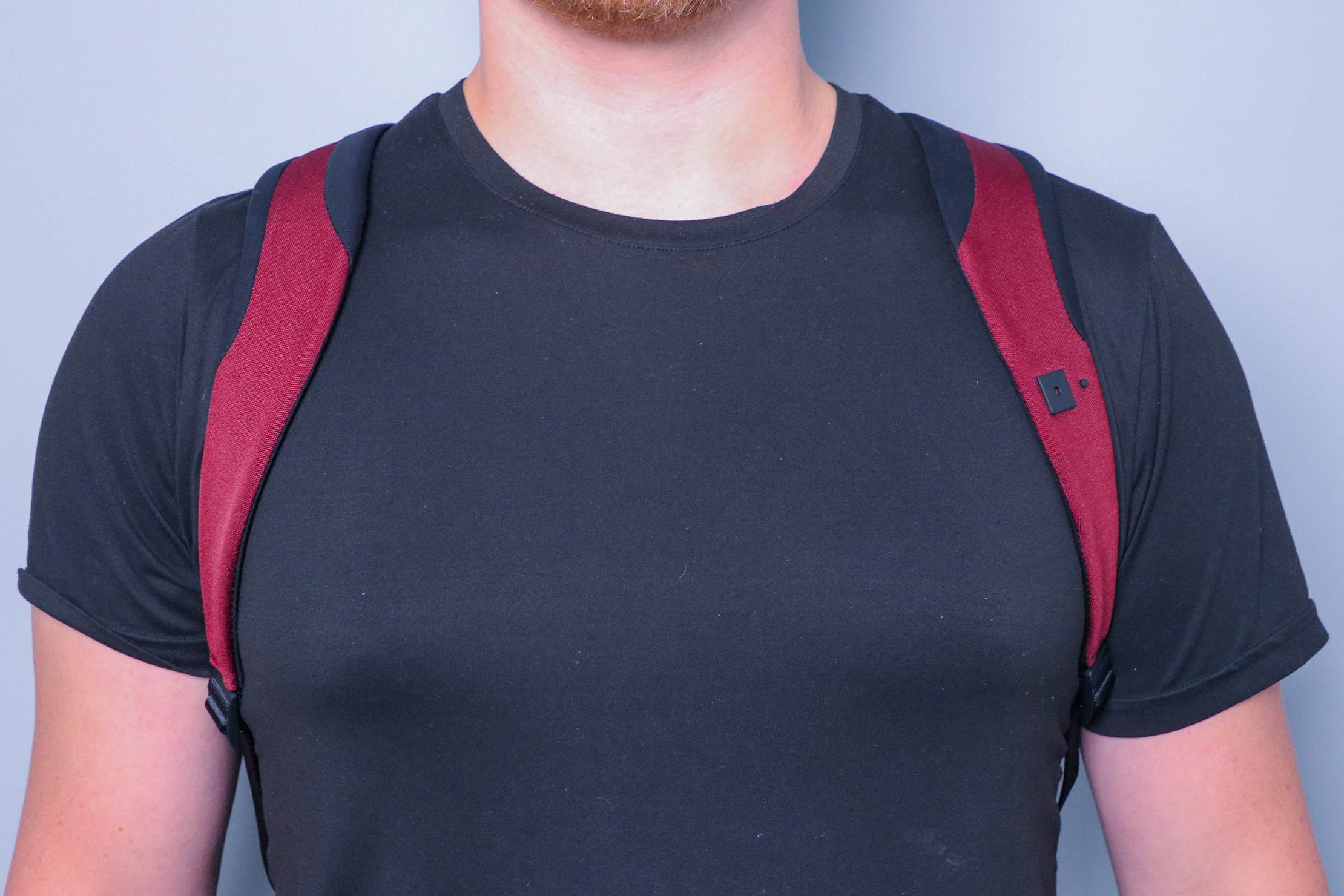 The good news is, we didn't find a need for any of those. The shoulder straps themselves appear to be relatively thin, but the padding is adequate for a comfortable carrying experience. Adjustability is good even when we paired the 21-liter backpack with our big build. The adjusters are easy to move, and it stays in place even after a day's trip of touring the city. Both shoulder straps also have strap keepers to maintain the streamlined profile. Overall, the harness system does come off as being rather basic than exhaustive, but there's little to complain about either.
Apart from being well-padded, the back panel also has a wide luggage pass-through, covering about two-thirds of the entire panel. The bag fits snuggly on our rolling luggage, and that means a more stable walk across the airport while dragging our bags around.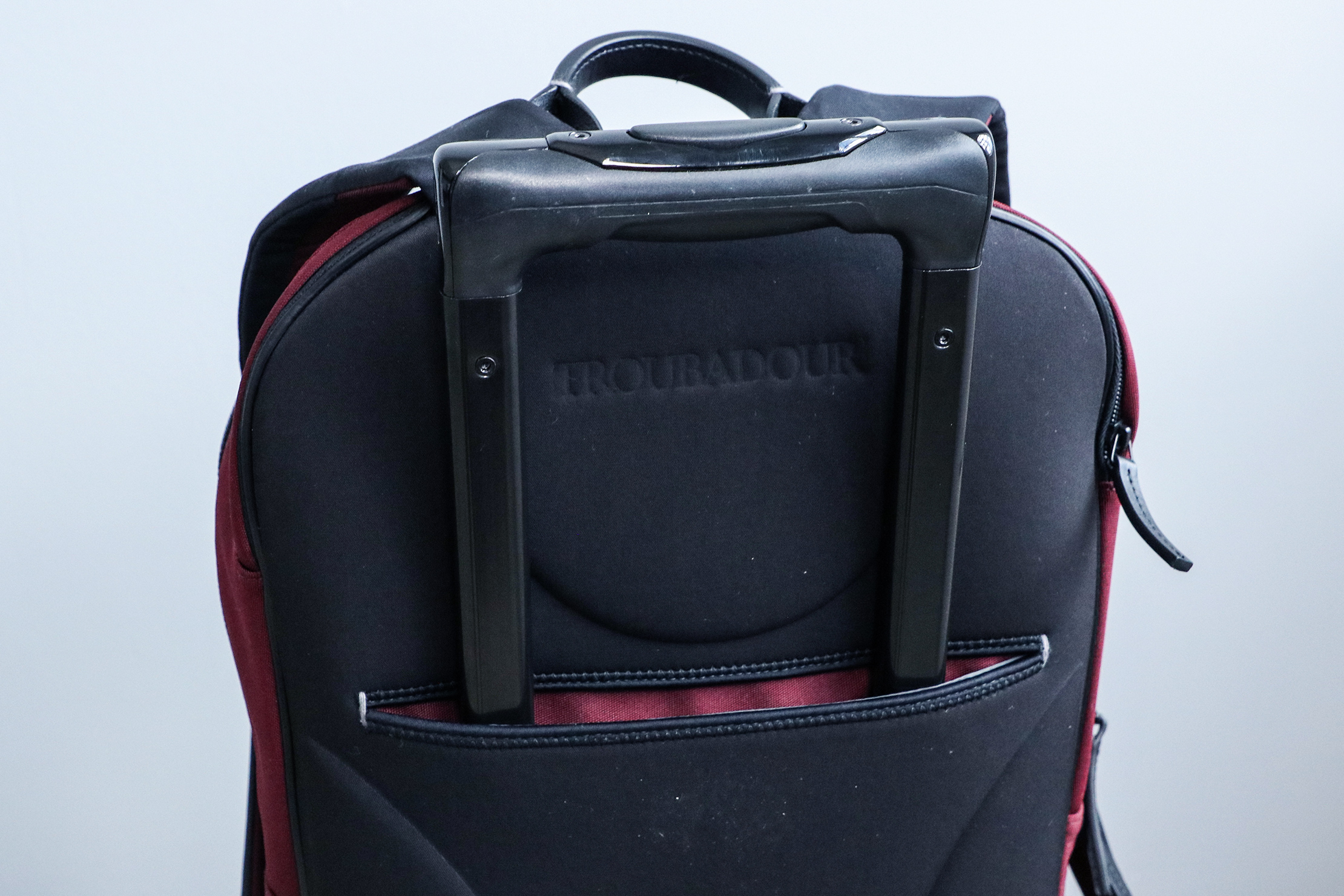 The exterior of the Adventure Slipstream is largely devoid of features apart from the basic harness system and a few tastefully applied logos. But the most notable missing feature has to be a water bottle pocket. We like to carry around our own water bottle, so a side pocket would have been a welcome addition. Unfortunately, we have to resort to putting our bottle inside the main compartment. Thankfully, the main compartment is roomy enough to do so.
Inside The Backpack
Starting off with the front compartment, it's a pouch-style pocket, which is to say that it sticks out quite noticeably. Looking at the bag from an angle, it even appears like someone simply stuck a pouch to the front. That doesn't sound very slipstream-y or streamlined, but it does make for a very roomy front compartment.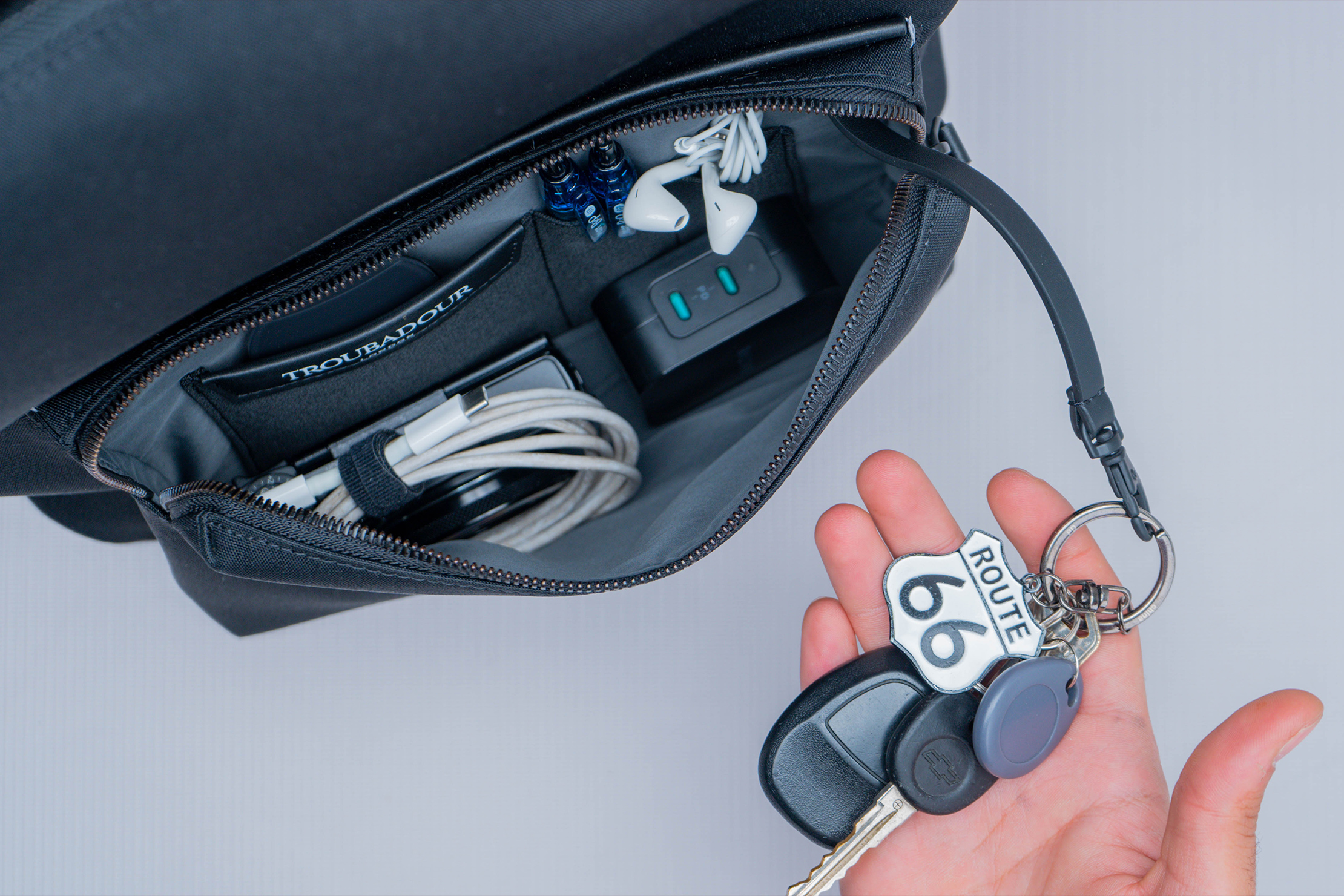 The compartment opens up in a very shallow horseshoe style, which gives it a good degree of accessibility. Inside though, the gray interior liner is quite dark; not quite pitch-black, but dark nonetheless. Fortunately, the wide opening does make up for this, and we don't have too much trouble fishing out items, even from the deep end. There is a built-in key clip that's fairly long. It's long enough that we don't have trouble unlocking doors with our keys attached to it.
As mentioned earlier, the space available is significant, and we're able to fit our MacBook Pro's charger inside, along with its beefy power cord. We often struggle with bulky power cords like these, so it's great to see a suitable spot for it here. But apart from the free space, there are also two pen silos and a liner pocket for a compact mouse. These pockets have a tiny bit of stretch to them but don't count on them being too expandable.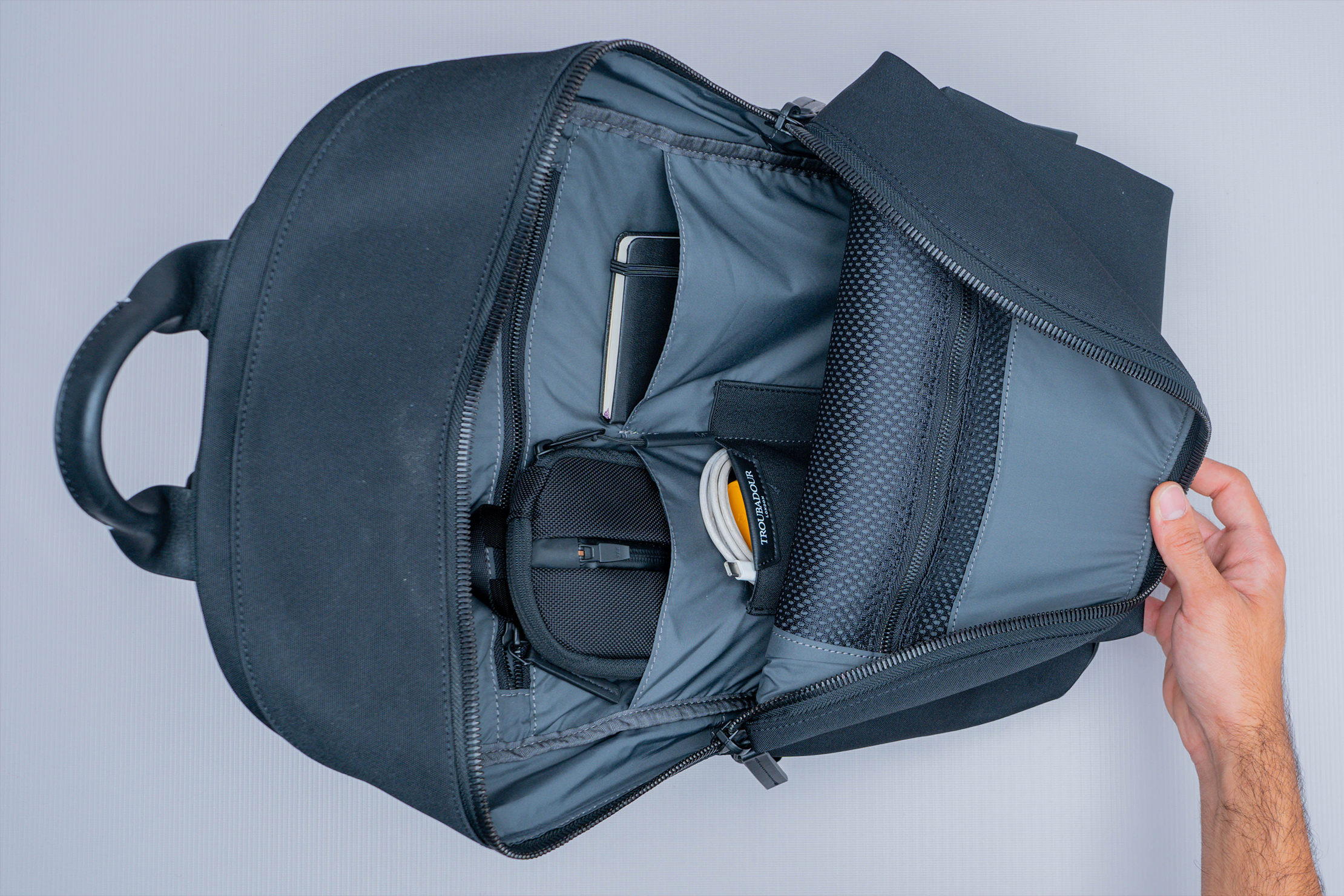 The main compartment's opening is also horseshoe-style, with the OOK zippers trailing along the front edge of the bag. At this point, it's worth pointing out that despite the zippers' lack of weather resistance, the OOKs do slide along nicely, and we have no complaints about how they zip.
Inside the main compartment, there's a healthy amount of pockets for getting items organized. There's a zippered mesh pocket at the front. Though the material doesn't have much stretch, its size is reasonably big and can handle a fair amount of small accessories. For more granular organization, there are five pockets on the opposite side: one pen and one phone stretchy slip pocket, two liner pockets for bigger items like battery banks, and a wide zippered pocket for tablets or documents.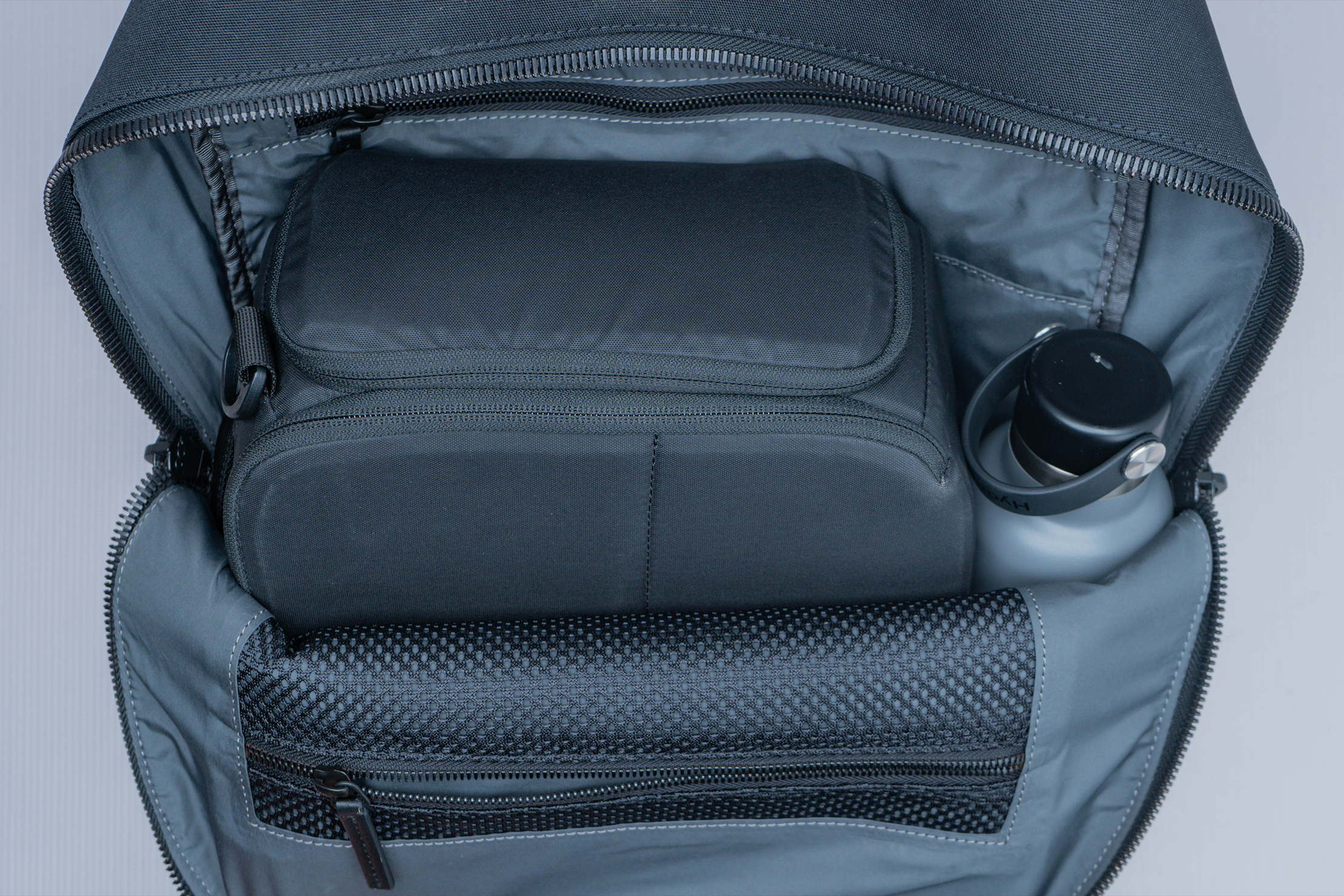 The relative structuredness of the bag makes for a good packing experience. Even though the main compartment comes with its own pockets, we do still use our own camera cube. Our squared-off WANDRD Essential Camera Cube matched well with the corners of the available floor space, and the remaining top space was enough for some pouches and our water bottle.
On a side note, the top portion of the front tends to collapse inwards when the bag's load is focused at the bottom. We frequently observed this whenever we had our camera cube inside and many accessories in the front compartment. Not a huge deal, but we do think it somewhat spoils some of the Adventure Slipstream's looks.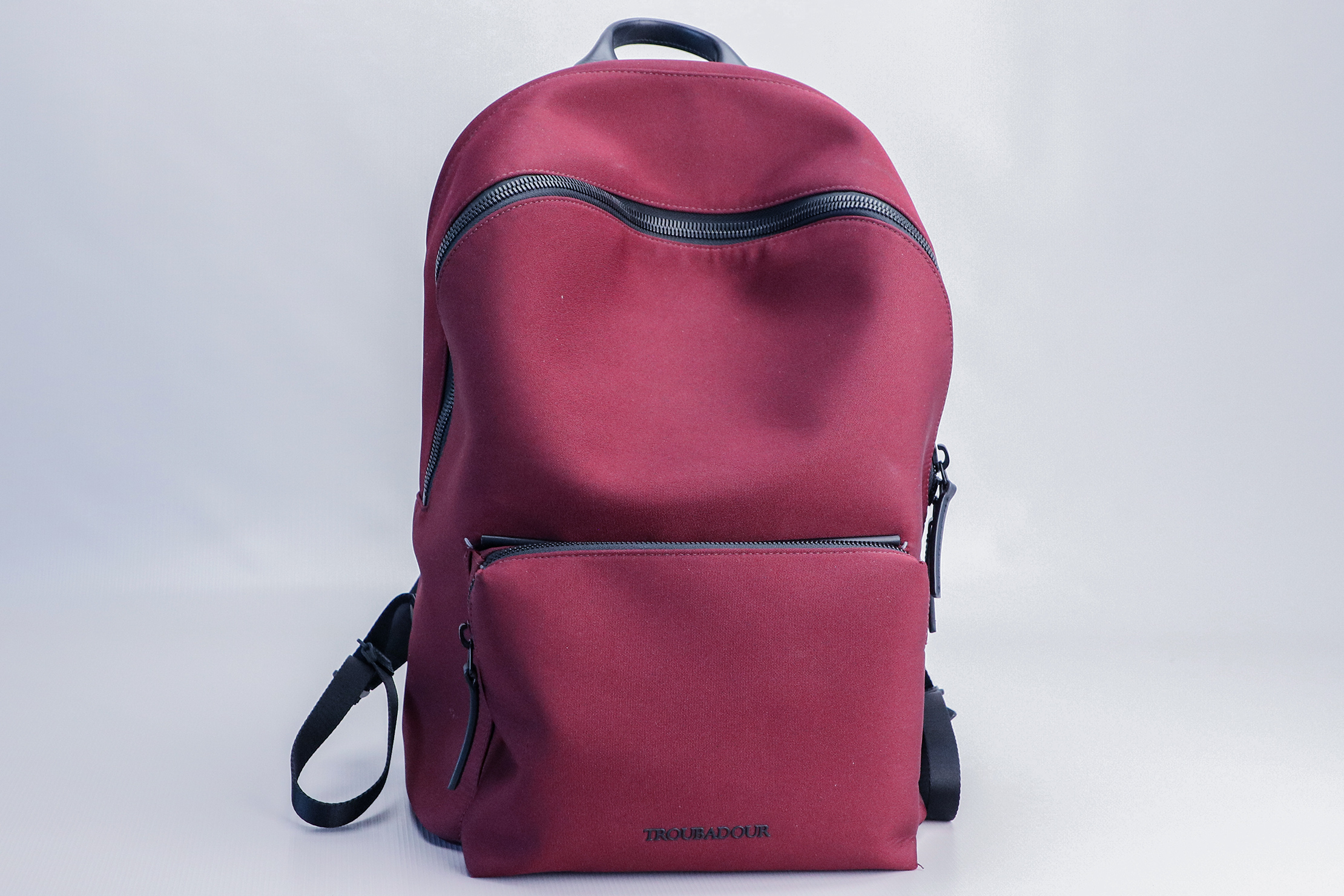 Lastly, the Adventure Slipstream has a dedicated laptop compartment. It also has a shallow horseshoe-style opening, which is plenty of space to slide in our tech. Inside, there's a middle divider that's padded, so there's some protection even at the front. Furthermore, there's also a false bottom to guard against dings from below. The layout matches our setup well since we carry our 12.9-inch iPad Pro along with our 16-inch MacBook Pro. Even with both of them sitting together inside, the divider ensures that they don't bump harshly into each other.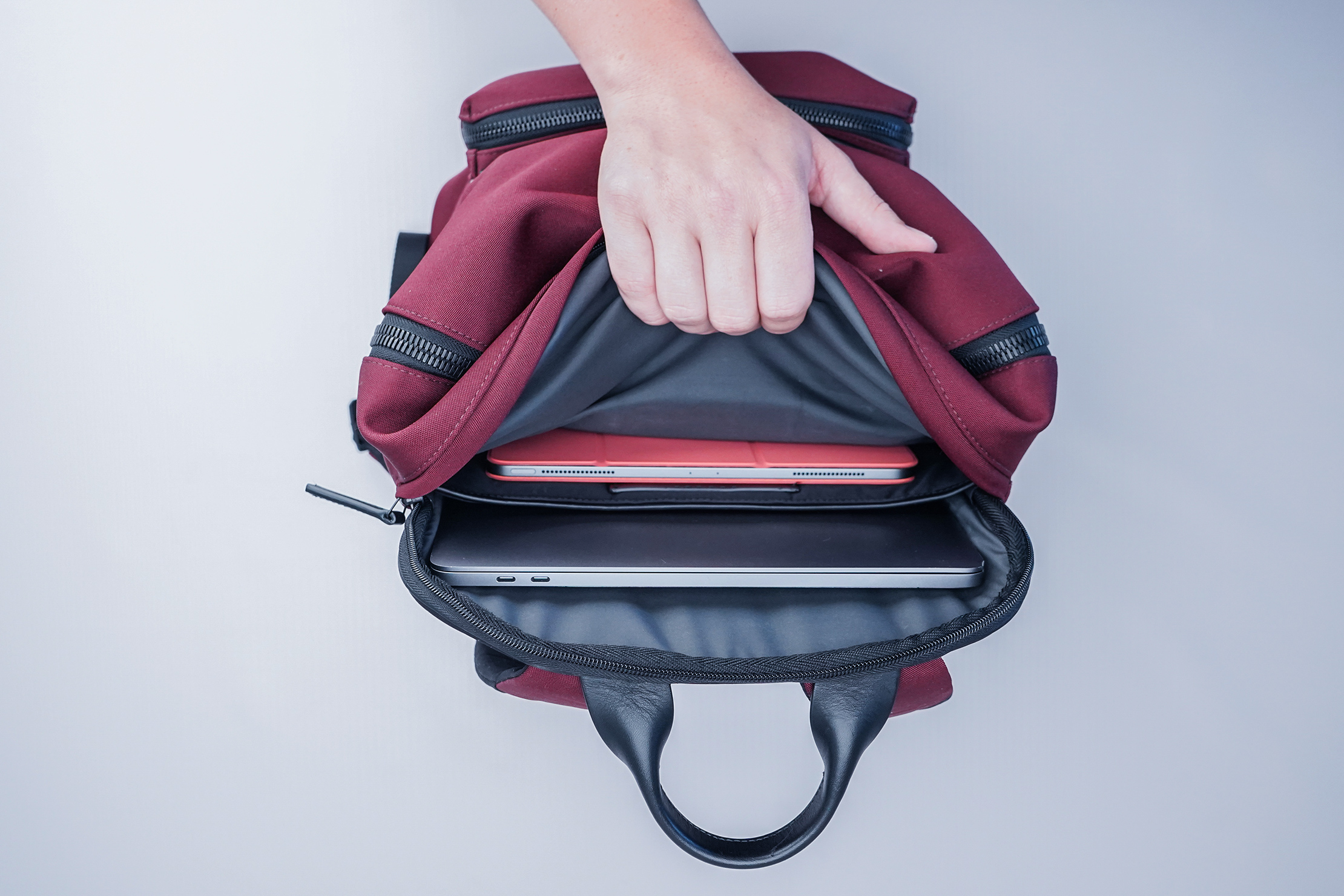 On the surface, the Adventure Slipstream name may not be the most apt-sounding label to call this backpack. However, after test driving it, it all makes complete sense to us. The outside's well-executed and smooth aesthetics—though subjective—deliver the Slipstream portion. For the Adventure part, the bag's well-equipped for it courtesy of the simple but effective harness system and surprisingly well-organized interior. It's a good balance of style and features that we can get behind.
Usage Timeline
Initial Usage
Condition: Excellent
The near absence of seams really gives it a clean, minimalist look
Water-repellent coating holds up well
Harness system and back panel are easy on the back and shoulders
2 Weeks of Use
Condition: Good
A lot of open space to throw stuff into the bag, plus some organization for smaller gear
Padded Laptop sleeve fits a 16″ Laptop and 13″ iPad comfortably
Leather Accents add a great visual pop to an already good looking bag
Has a tendency to cave in at the top unless fully packed out
Access the Pro Community Discussion
Get your questions about the Troubadour Goods Adventure Slipstream Backpack answered from our team and the Pro Community right here on the page. Plus, join discussions with other members about gear, guides, and more.
Other Bags & Luggage Reviews