Triple Aught Design Axiom 24 Pack Review
The Triple Aught Design Axiom 24 Pack is a clever pack with a supremely comfortable carry—although its steep price tag may be a deal-breaker for some.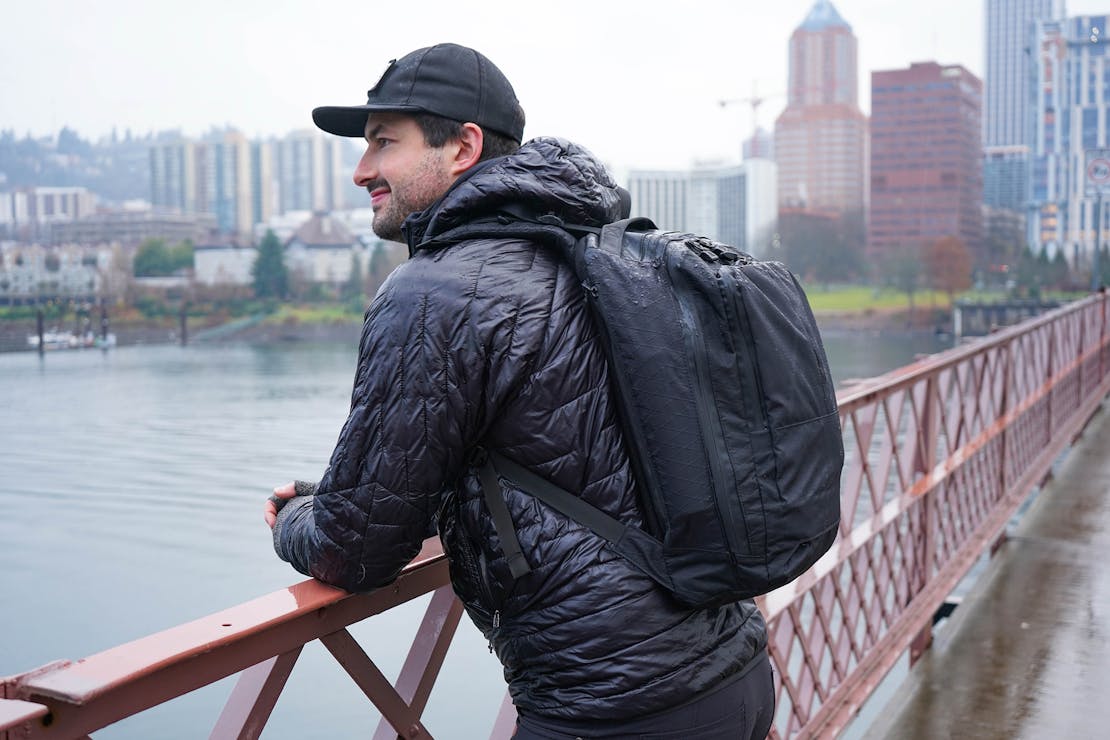 Our Verdict
Unlock the Pro Summary
Save time. Get access to brief summaries of our reviews so you can browse and make decisions more efficiently.
Pros
Supremely comfortable carry
Options for customization and additional accessories
Great back panel
Cons
Top handle is too flat and difficult to grab
Divider pockets in the front compartment aren't elasticated, so your stuff may slip out
Crinkly, shiny fabric may annoy some people
Technical Details
88 %
Carry-On Compliance (Beta)
Capacity

24l

Weight (oz)

37.6 oz (1065.9 gm)

Dimensions

19.75 in x 12 in x 7 in (50.2 x 30.5 x 17.8 cm)

Notable Materials

X-Pac, Hypalon®, Polyethylene, Nylon, YKK Zippers, Duraflex Hardware

Manufacturing Country

United States

Laptop Compartment Size

15"

Warranty Information
Full Review
The Triple Aught Design Axiom 24 Pack is a sleek, clever bag that's performed exceptionally well during testing…but all of that comes at a cost. Literally.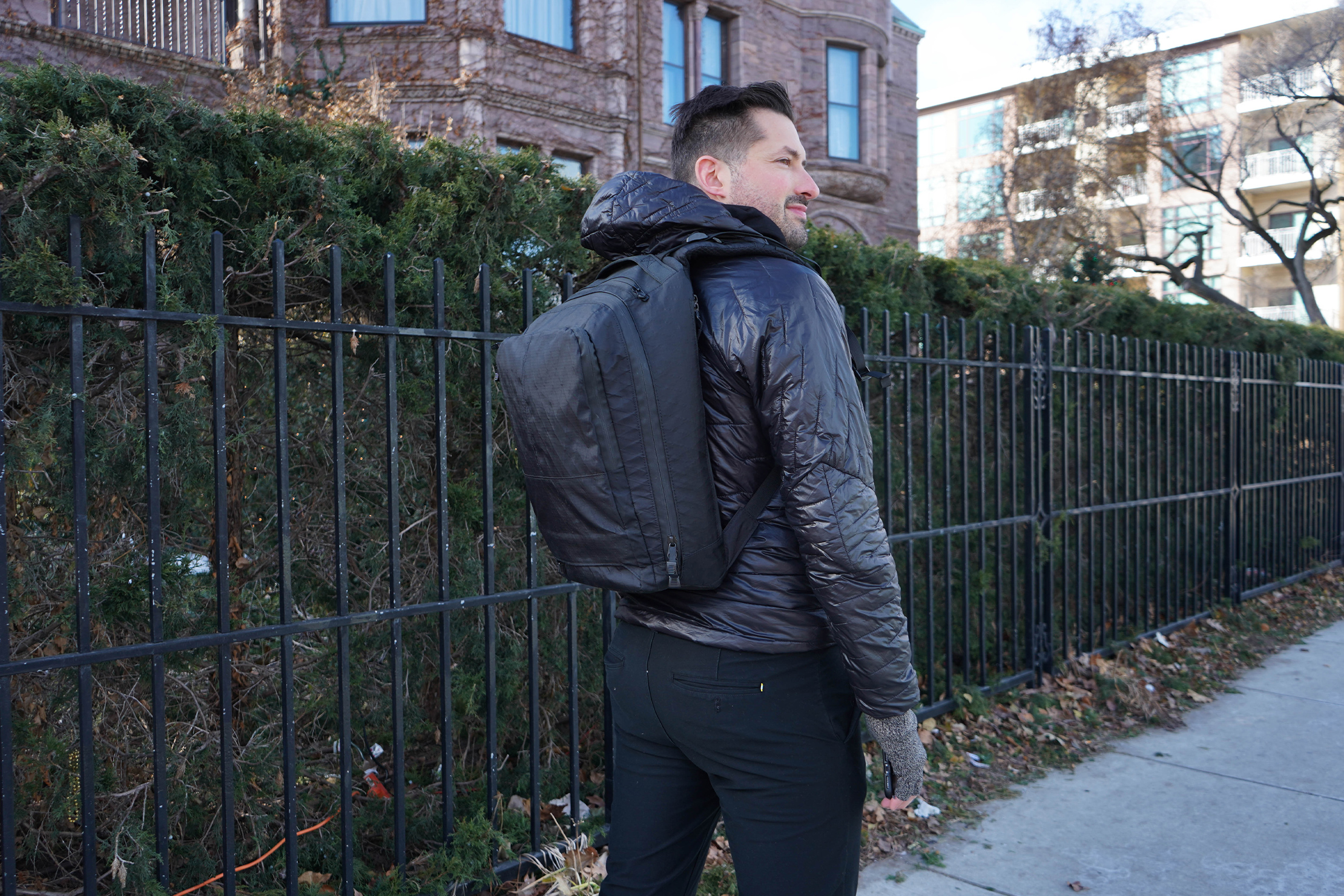 The TAD Axiom 24 has a steep price tag, even considering the high-quality materials and comfortable carry. But if you're alright with its expense then you'll probably love using this pack. We've certainly enjoyed testing it in both Detroit, Michigan and Portland, Oregon.
Before we get into the full review, we should note that we've been testing the newest, 2020 version of the Axiom, which picks up where its predecessor left off. Since we haven't tested any older iterations, we're not going to explain the differences between the versions in this review. Instead, we'll be walking you through all this newest version has to offer.
So without further ado, let's check it out.
Materials & Aesthetic
The aesthetic of the TAD Axiom 24 is polarizing. It has a techy, futuristic, and militaristic vibe that's reinforced by the available colorways: Black and Multicam Black (essentially a muted camouflage with a black overlay). We're usually fans of monochromatic, sci-fi-esque packs and the TAD Axiom is no exception. We're also digging how streamlined and clean this pack looks.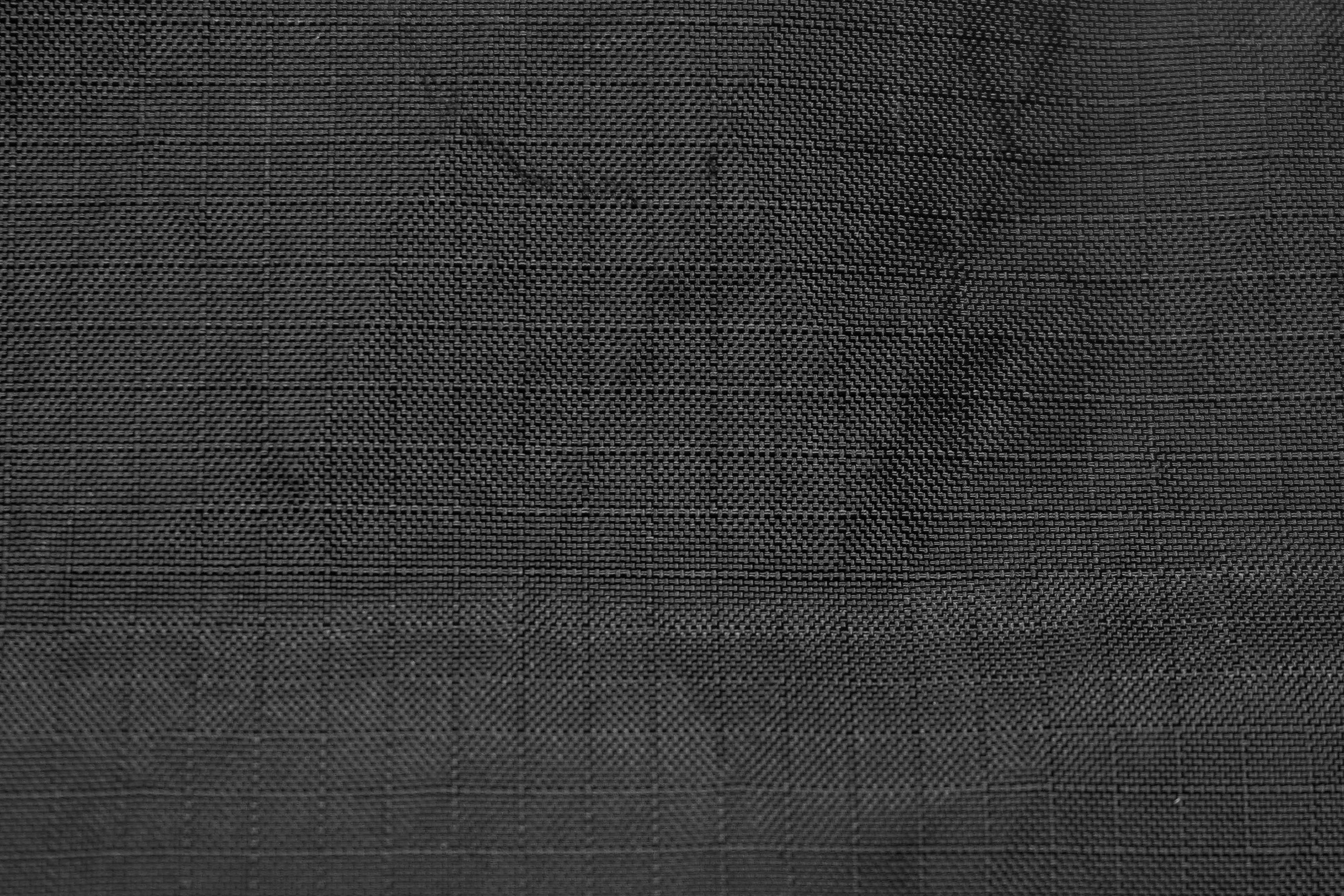 The Black colorway's shell is made of VX-21 Ripstop, which is a tough, highly water-resistant 210D nylon ripstop laminated to X-Pac™ with a VX-03 Ripstop lining. As the name Ripstop suggests, this fabric helps prevent rips from turning into pack-ruining holes and tears. The Multicam Black features a 500D CORDURA® nylon laminated to X-Pac™.
We've been testing the black, which is what we'll speak to in this review.
While the fabric is highly durable, weather-resistant, and lightweight, it's also shiny in a way that you might find off-putting. Additionally, it has a crinkliness reminiscent of opening a package of chips or playing with a plastic bag. Not a big deal in our books—because in return you get weather-resistance and durability—but crinkliness is one of those things that can drive some people up a wall.

The water-resistance is helped by the YKK #8 Uretek® Water-Resistant Reverse Coil Zippers. You won't want to take the Axiom 24 scuba diving, but you should be all set if you're caught in a rainstorm or out exploring on a drizzly day (hello, Portland in December).
Smaller YKK zippers are used throughout the rest of the pack. YKK is a trusted brand and we don't foresee any issues arising…at least for the zippers themselves. The zipper pulls are a different story, which we'll discuss later on in this review.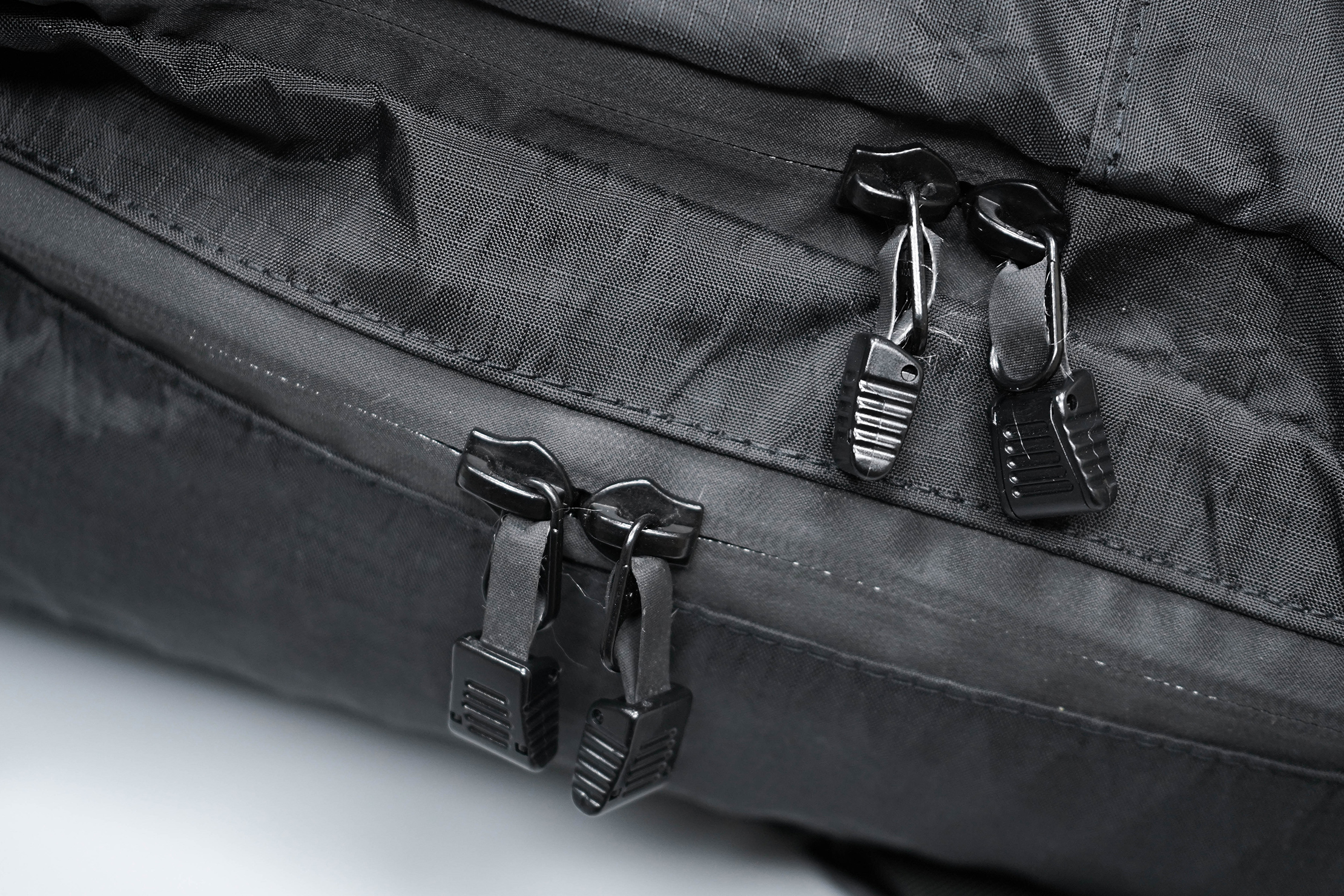 External Components
The exterior of the Triple Aught Design Axiom 24 doesn't have much going on, creating that sleek, clean look that we love oh-so-much.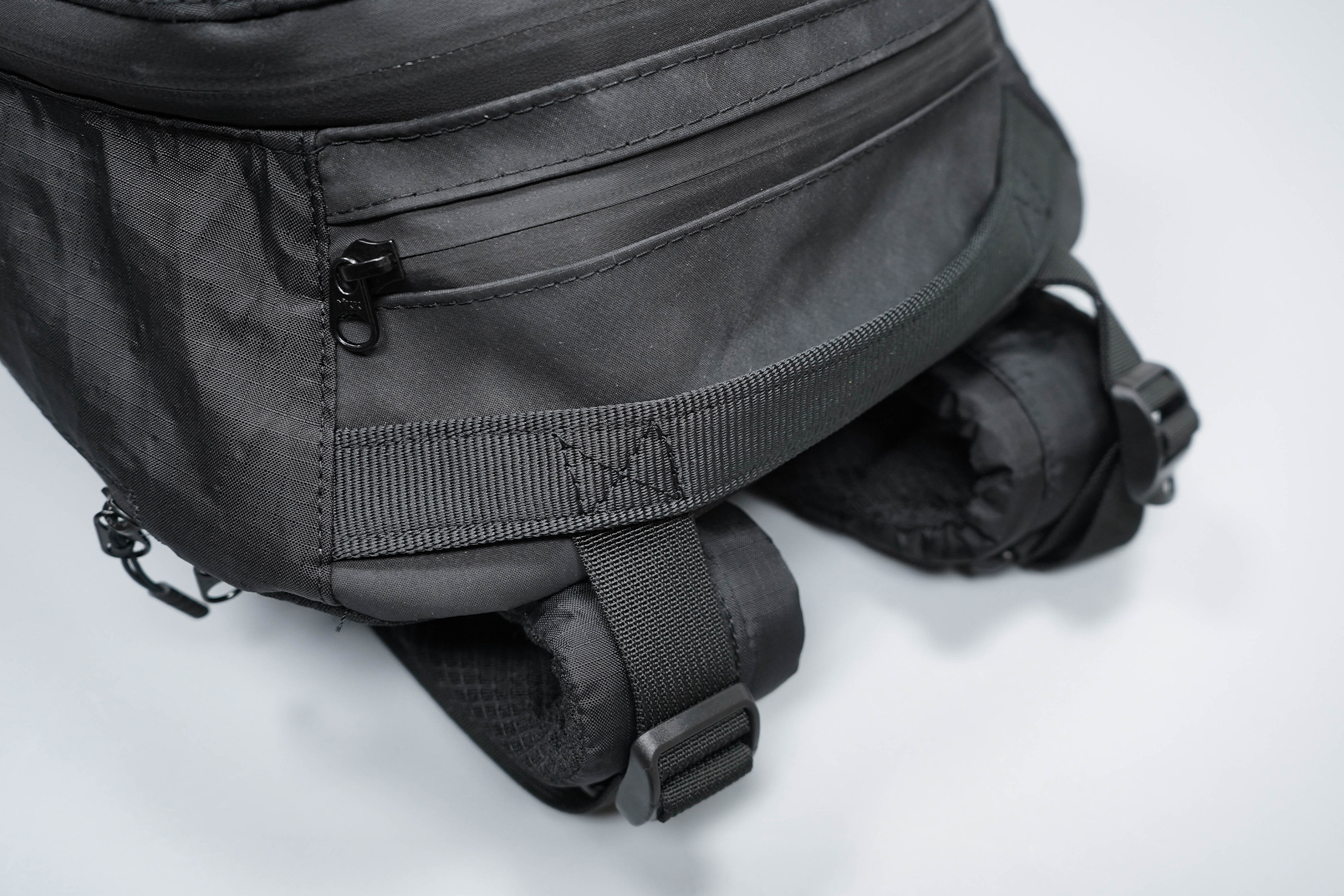 There's a low-profile grab handle on the top. It's tight against the pack, which is both good and bad. Good because it looks nice and won't snag on anything. Bad because it takes a little bit longer to find and grab. That doesn't seem like much of a con, but in practice, those few extra seconds add up. We're busy folks with people to see and gear to test—we don't have time to be looking for grab handles. (Okay, it's not actually that big of a deal.)
The harness system is superb. Seriously. It might be our favorite thing about this pack. We've filled this pack to the brim and spent hours out and about wearing it, and—let us tell you—it's really, really, really comfortable. That's three reallys.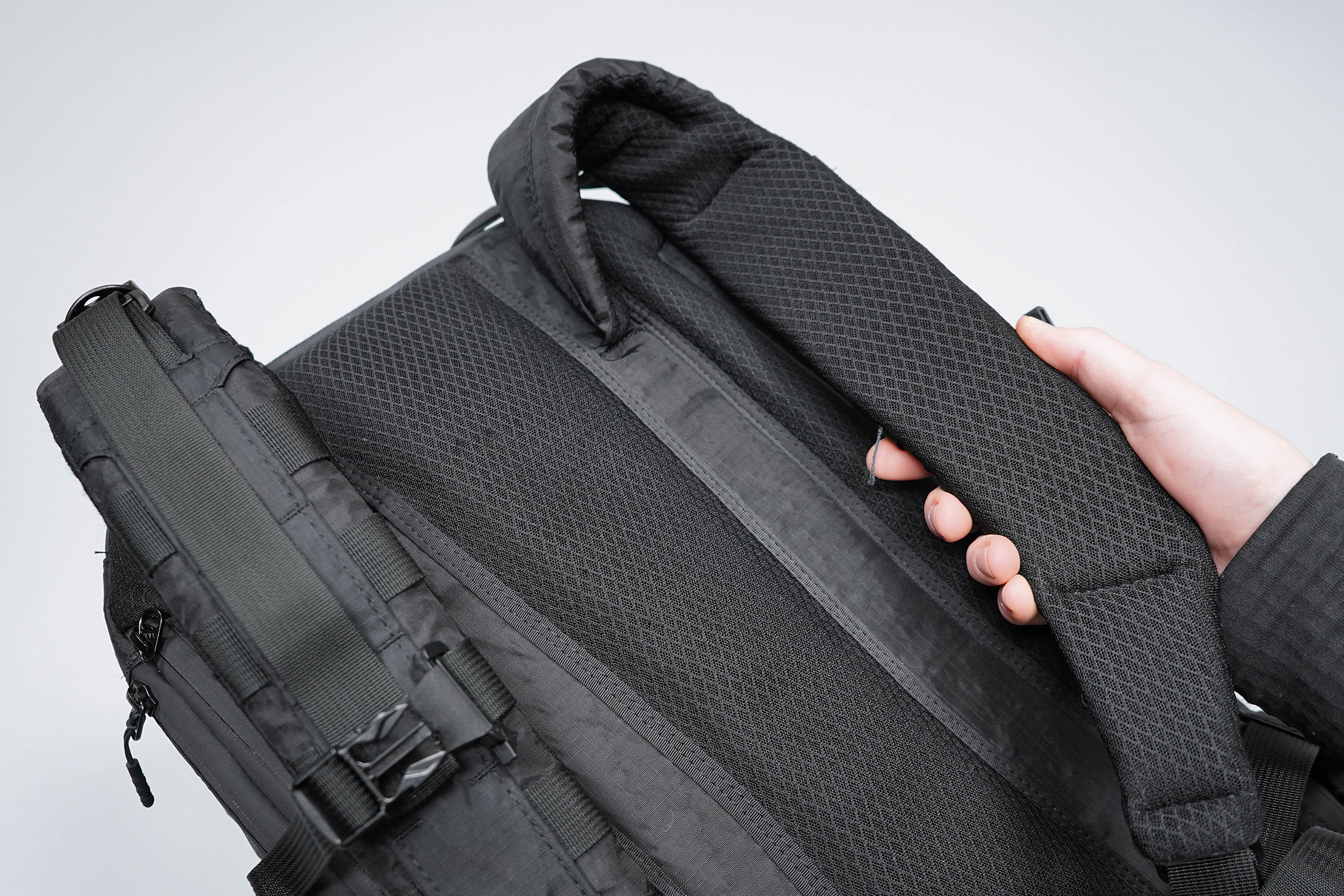 The beefy shoulder straps are pleasant and the frame sheet in the back panel is the perfect stiffness for a 24L pack. A quick side note: Despite the stiff frame sheet, the pack does not stand up on its own. It's too top-heavy for that.
The back panel is padded with dense, polyethylene foam and has air channels and a layer of breathable mesh. It stays off your back as much as possible for a backpack. Once again, it's super comfortable.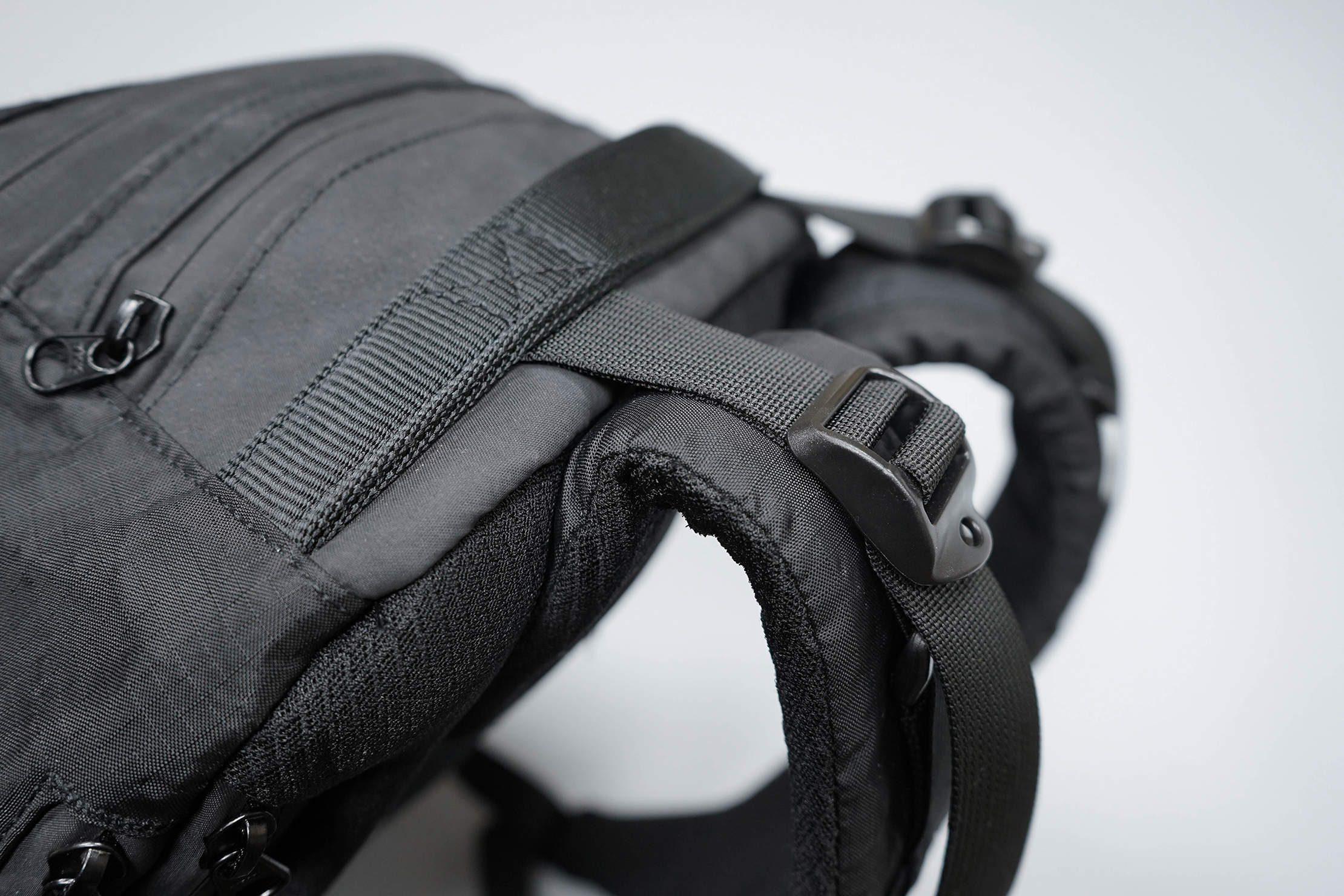 The pack also features load lifters, which work as advertised and help lift the load, pulling the pack closer to your upper back.
While the load lifters are great comfort-wise, we have one issue with them. If you leave them tightened when you take the pack off, the straps kind of spaghetti around and flop to the side. It doesn't impact the carry—only the aesthetic when you have the pack off—but it's annoying enough to mention. TAD keeps everything else so clean that this feels like an oversight. But hey, we're not backpack engineers—maybe that's just the trade-off for a super comfortable harness system.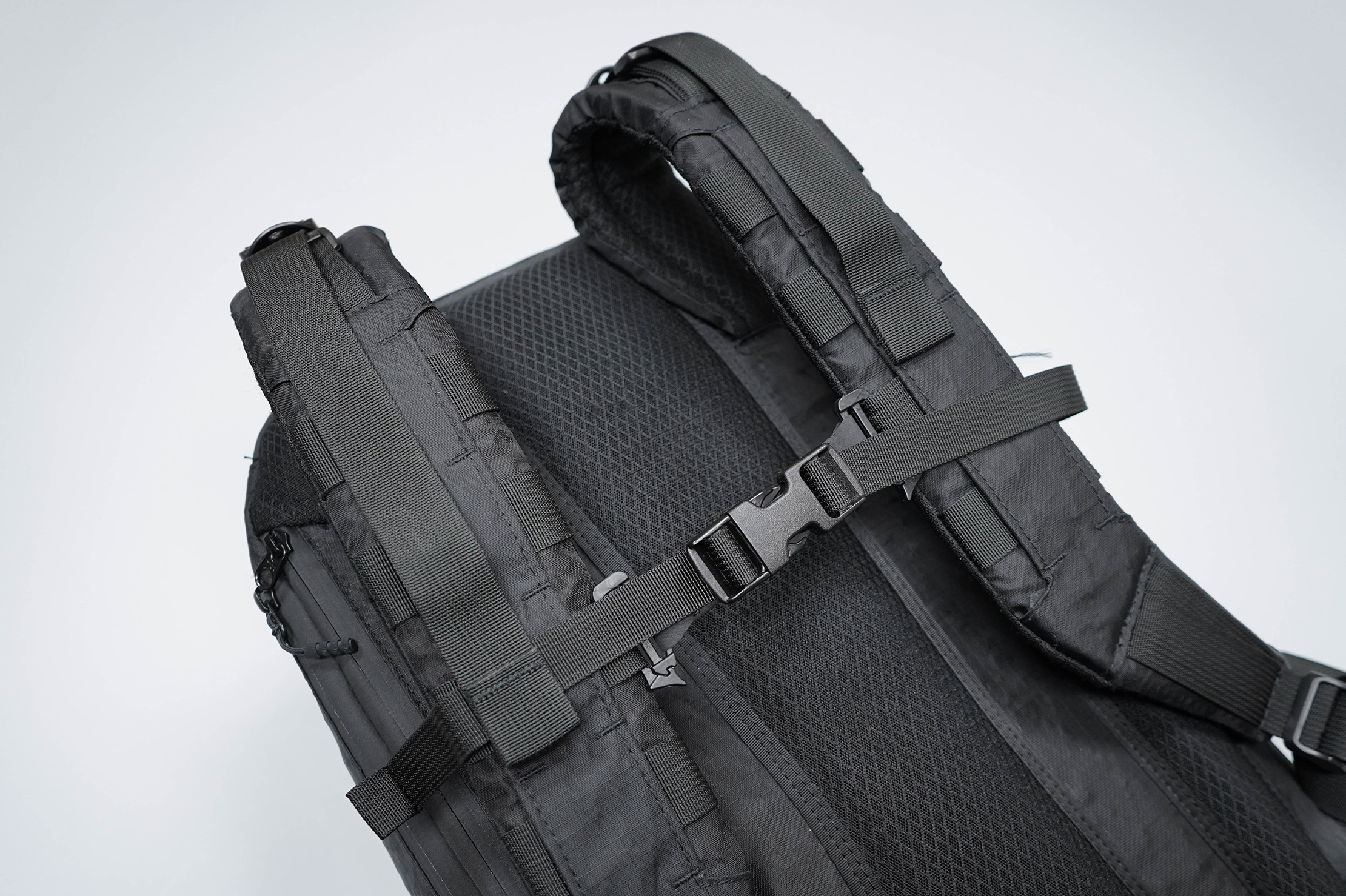 We're digging the adjustable sternum strap, which is adjustable in a secure way (sadly, not something we can say for all packs).
Inside the Pack
The interior of the pack has some clever things going on, so let's just get right to it.
There are two side pockets against the back panel—the one on the left is for documents, a tablet, the Marauder's Map, or other flat items. The one on the right is for your laptop. It can be tricky to tell the difference between these two compartments, but the laptop compartment has a strip of black padding inside the bottom.
While TAD advertises that the laptop compartment fits up to a 16'' laptop, it's a tight squeeze for a 15'' laptop. You have to slowly maneuver/jam it in sideways. A 16'' laptop with a case will be tough to get in there.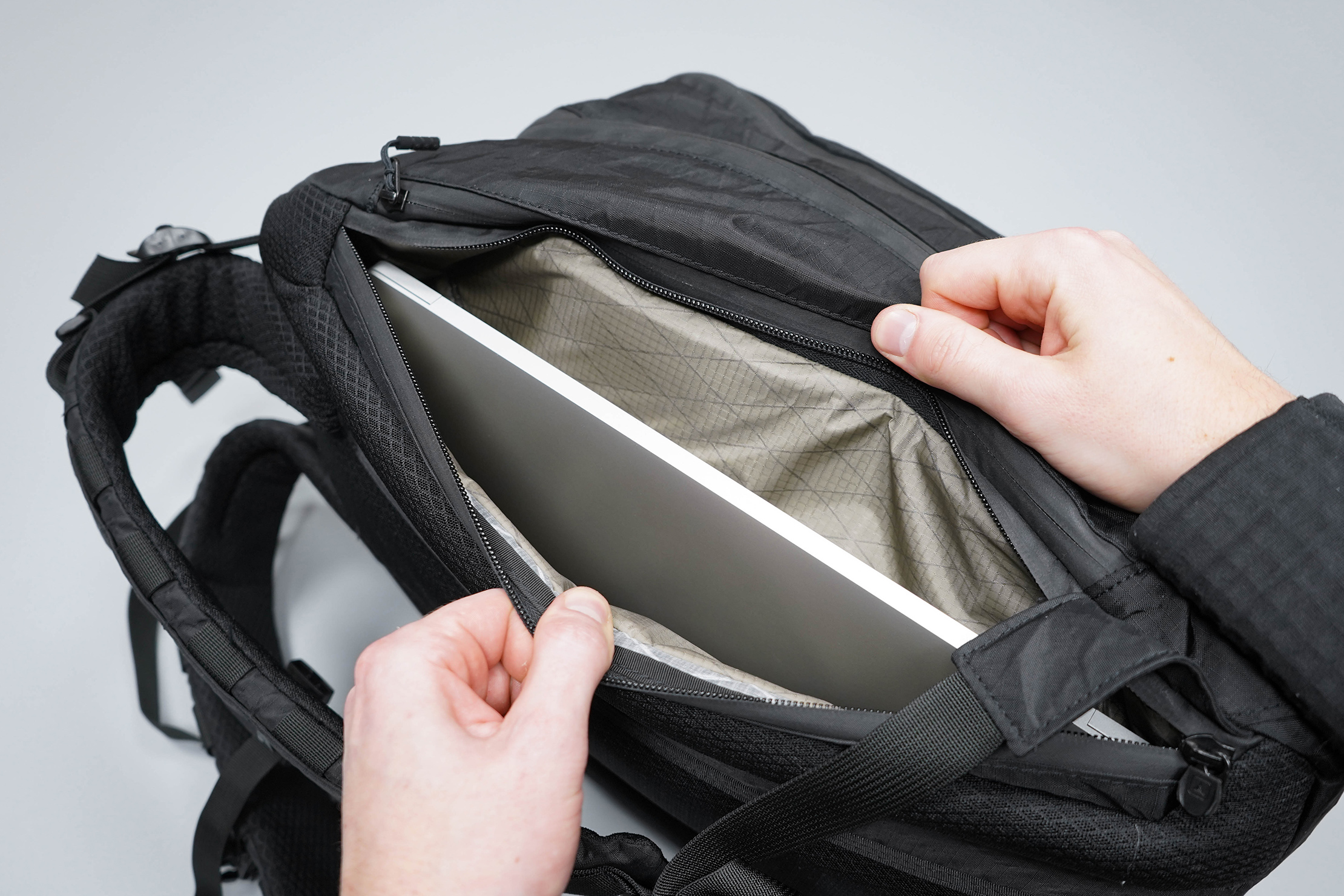 We always appreciate packs that have a separate laptop compartment, but we appreciate them even more when you can access the compartment from the top of the pack. The side access is fine, although can be a pain in certain situations.
For example, say you're sitting in the middle seat on a flight. You've stored the Axiom 24 Pack beneath the seat in front of you because dealing with overhead bins is, well, you know. You've reached 10,000 feet and need to get your laptop out and get to work. You attempt to finagle your laptop out of the side of your pack while simultaneously trying to respect your seat neighbor's space, which as it turns out, is impossible. And you can't help but think that being able to grab your laptop from the top would've saved you a lot of awkwardness.
And, yeah, we speak from experience.
We also wish the compartment had a false bottom. A false bottom essentially suspends your laptop in the compartment, protecting it from unexpected drops. Not a big deal, since the laptop compartment is nicely padded but worth noting.
One design detail we're digging is that the zipper pulls are different for the different compartments. The laptop compartment and zippered water bottle pocket sit beside each other, so without this design feature, you might have accidentally gone for your thermos when you wanted your laptop. What pulls go to what pockets will take a little bit of time to learn, but once you do you'll be able to quickly know which pocket is which. And if you're not a fan of any of these pulls, you can always take them off and attach your own.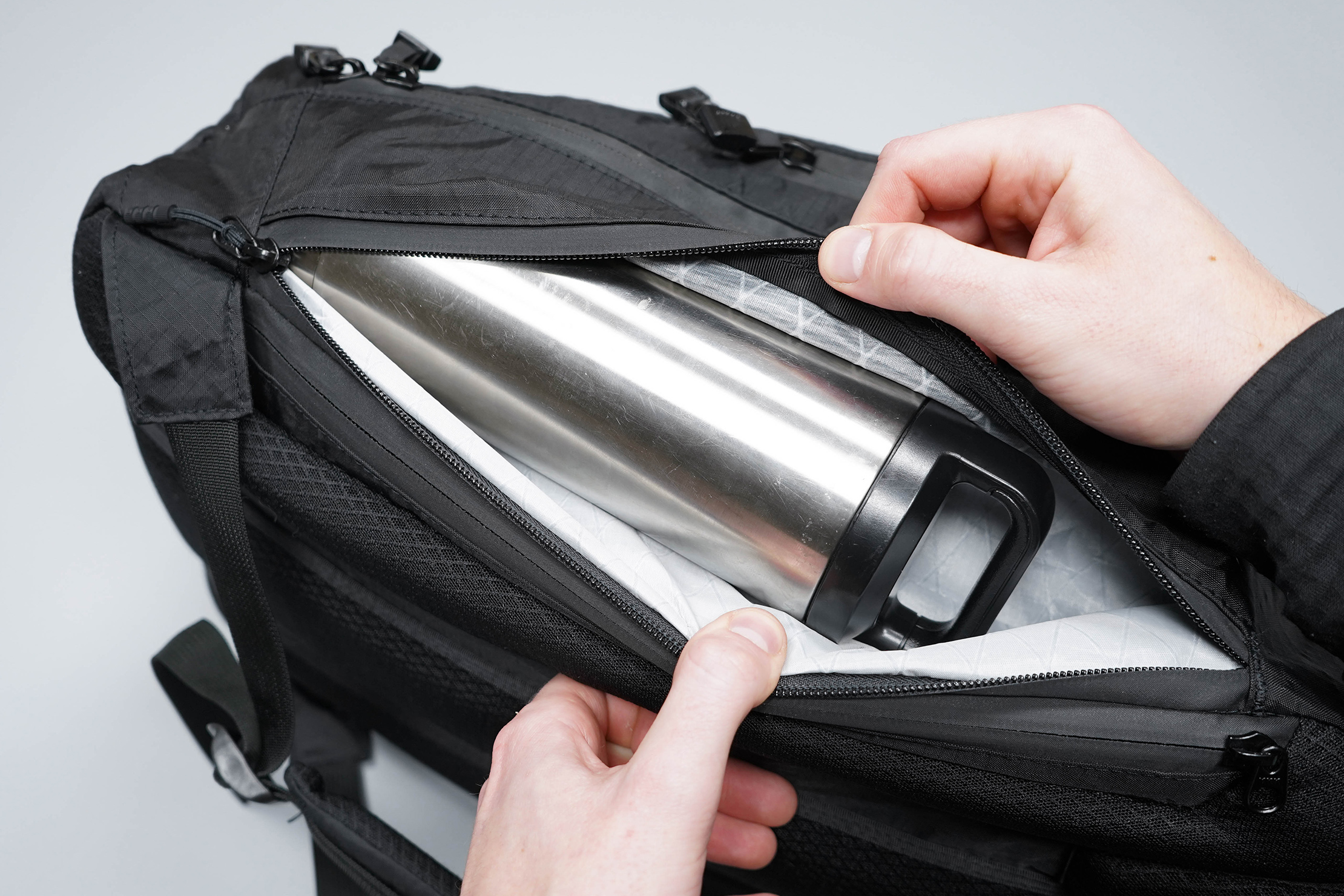 Alright, let's talk about the water bottle pockets. Water bottle pockets seem to be the bane of backpack engineers everywhere who long to design sleek, streamlined packs. Sure, they can leave them off of a pack, but that annoys a lot of us water-drinking folks (as we pointed out in our review of the EVERGOODS CPL24). But including them makes the pack's overall look less minimal.
The team at TAD has attempted to skirt this problem by having inverted water bottle pockets. They eat into the space of the main compartment, particularly if you're using both at the same time, but they don't add any bulk to the exterior of the pack. Plus, they lay flat when not in use. The TAD team really nailed this—the pocket pops right back into place as soon as you stop using it.
They fit water bottles nicely, but you can use them for other things too—charging cables, pajamas, anything you want. All in all, we're digging them.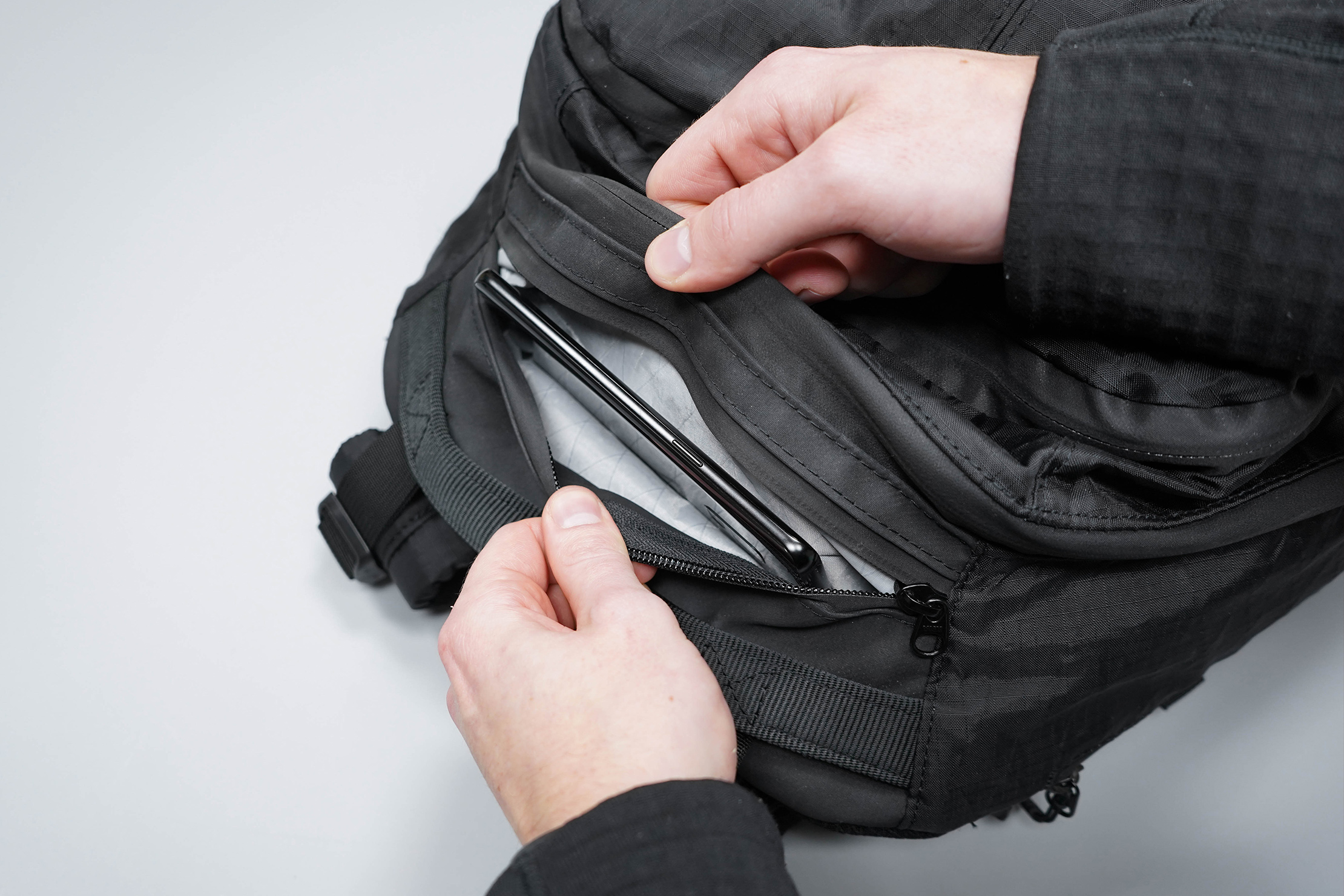 We're also digging the top quick-grab pocket, which is a great spot for those items you usually keep in your pockets and want to be able to access quickly—wallet, snacks, that kind of stuff. Like the water bottle pockets, this one can also eat into the space of the main compartment when in use, but it's pretty minimal. It also lies flat when you're not using it.
We think it could be improved with a nice, soft lining for fragile items like sunglasses or your collection of glass figurines, but we like its size and how convenient it is to get in and out of.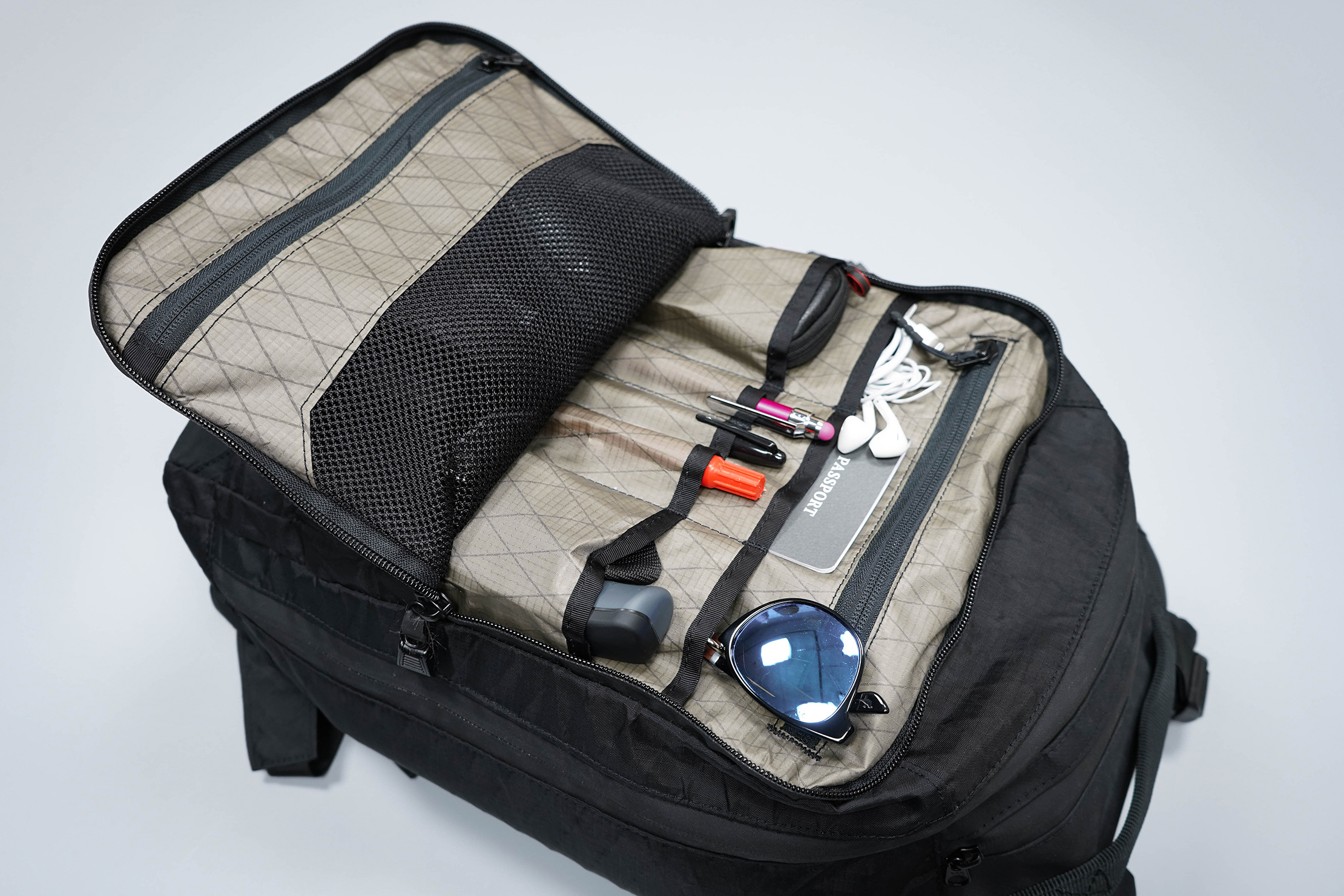 Up next is the front compartment. TAD calls this the "admin compartment" presumably because of all the organization you'll find inside. It has some built-in dimension—there's enough space you can stash a notebook, regular book, or an organizer pouch in it easily—although you can't tell from the outside thanks to some gusseted fabric on the front. That gusset fabric also hides three external nylon loops that you can use to hook on a carabiner or a light.
Inside the front flap (directly behind those loops) is a zippered mesh pocket that we really enjoy. We like that you can see what you've got going on inside of this pocket—we put the Tom Bihn Cubelet here—and that it's made of a stretchy material that expands outward (that gusset we talked about earlier). Just note that if you store something extra bulky here, it will stick out a good amount, making the exterior less streamlined.
Against the back of this admin compartment, you'll find five divider pockets and four pen/stylus pockets. The three divider pockets on the top row are all large enough to fit a plus-sized smartphone with a case.
We like the idea of these pockets, but since they don't have elasticated openings, they are frustrating to use. They don't grip your stuff, so we've had things fall out or jostle around a lot in transit. We've stored camera batteries in two of the divider pockets, and every time we've opened the pocket either one or both of them have fallen out. Yeah, not good.
There's also a zippered pocket, which is for those things you particularly don't want to lose/get stolen. Your wallet, passport, or top-secret recipe for the perfect chocolate chip cookies.
Finally, there's a D-ring where you can attach your keys, a carabiner, a pouch, or whatever else.

The main compartment opens up fully clamshell-style, which is super convenient, allowing you to access the main compartment from a variety of different angles and see everything you've got going on inside. It also makes packing super easy. (We suggest packing cubes here because it'll make your life infinitely easier.)
You'll find two rows of Helix Attachment points on the front and back of this compartment that "allow for an unlimited amount of various modular system load outs to be quickly installed," according to TAD's website. Basically, that means you can customize this compartment with various panels and organizers that the company sells, taking organization into your own hands.
While we think it's awesome that this pack can be customized, the panels are sold separately, so it will add to the overall cost, which is already steep.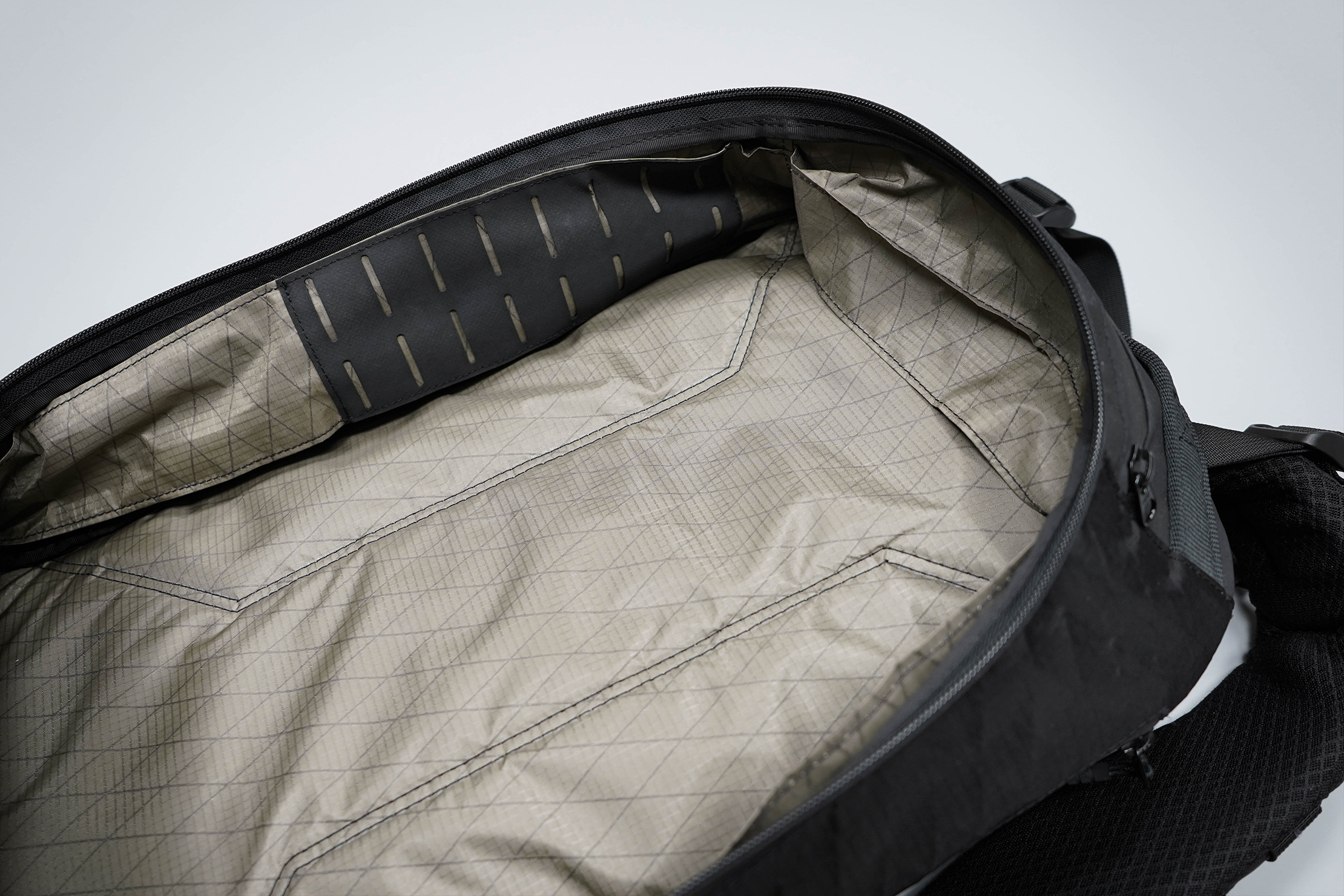 There are also two rows of laser cut PALS webbing along the sides so you can attach more things—carabiners, accessory pouches, whatever. This compartment is designed so you can go buck wild with personalized organization.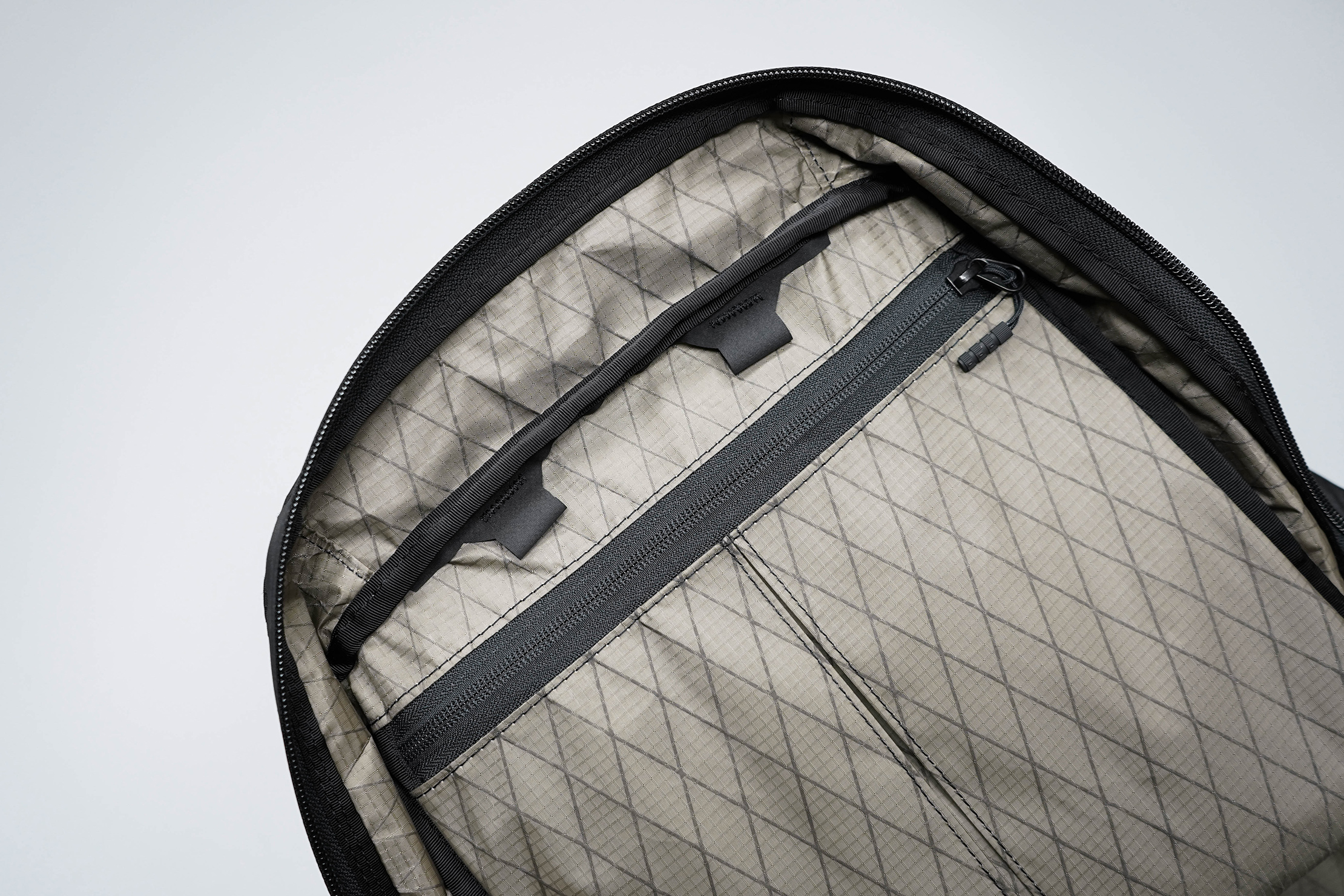 Against the front of this compartment, there's a zippered pocket that you can also access from the bottom, exterior of the pack. It's a great place for something like a jacket or bike lock that you'll want to be able to grab quickly. It's also been designed so that if you do purchase an organization panel from TAD, you can slide the panel out of the bottom or access parts of it without having to go through the main compartment. We love this tricky access—it's a clever detail that's been very well thought out.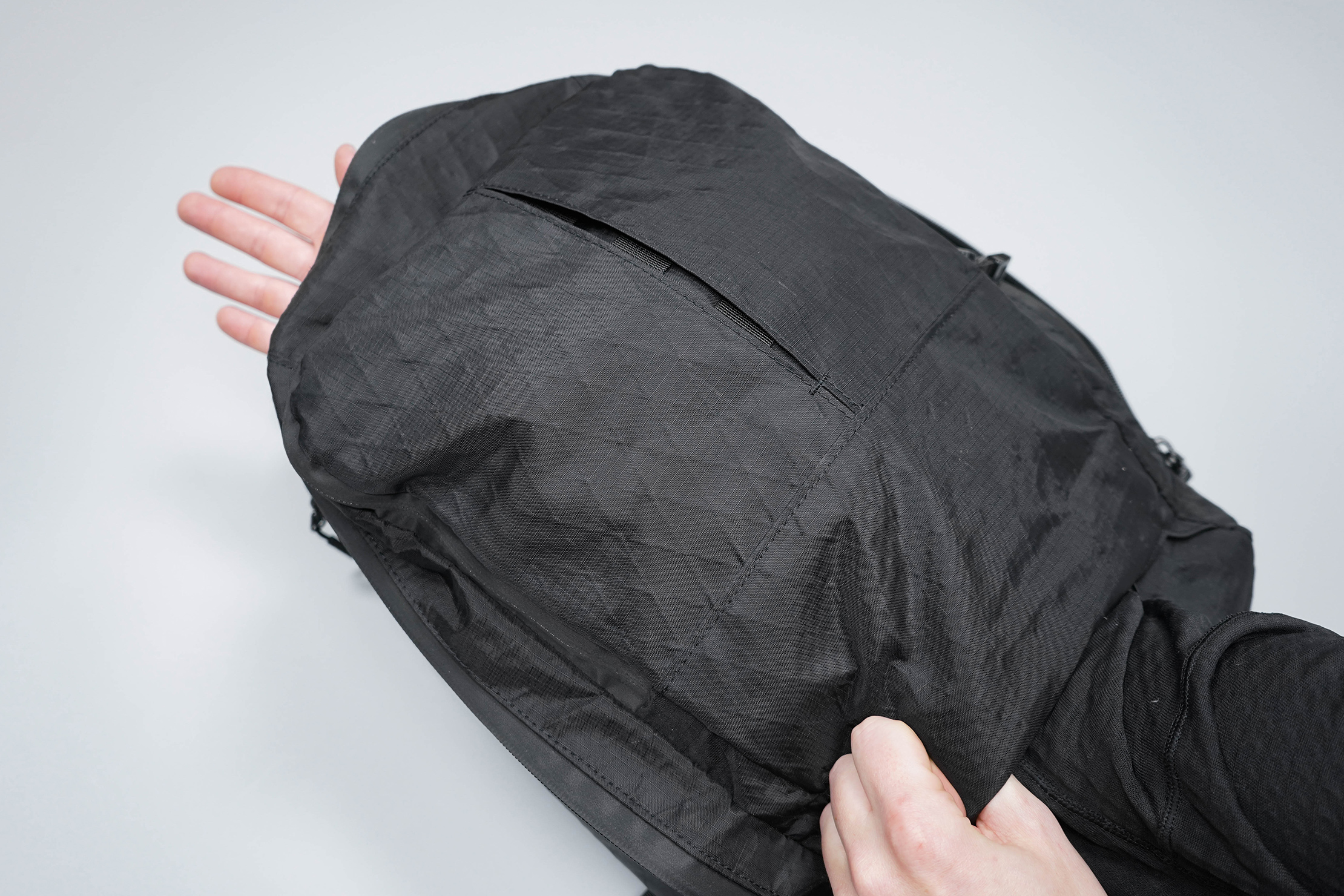 Durability & Testing
We've been testing the Triple Aught Design Axiom 24 Pack around Detroit for over two weeks and have taken it with us on a quick trip to Portland, Oregon. In that time it's been on two domestic flights.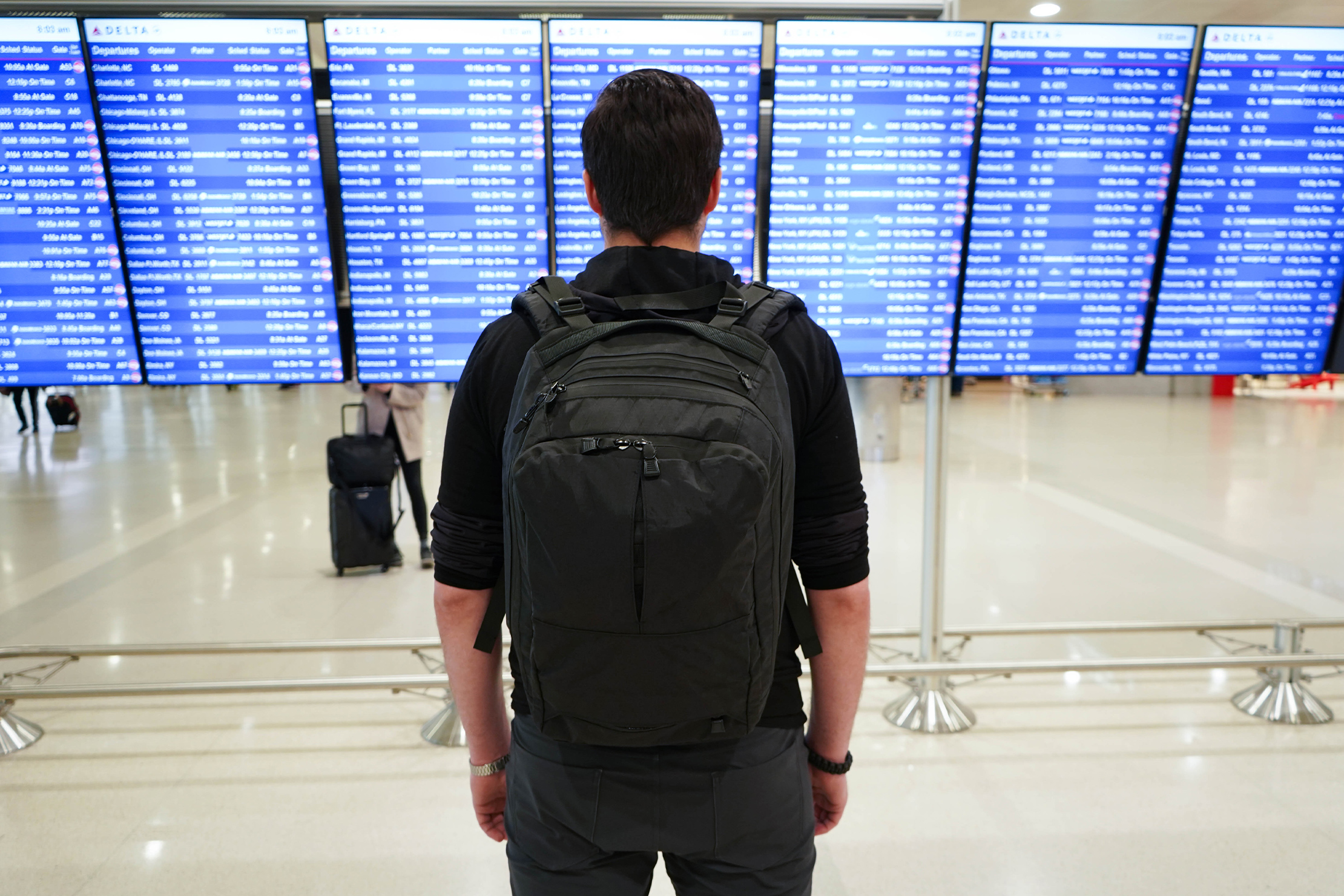 It's been great to use as both a daily driver and as a minimal travel bag. You can fit a lot inside—plus it's exceptionally comfortable to carry.
While we have no major durability issues to report, we do have a few minor ones. For a pack of this price, we're disappointed that the zipper pull on the tablet compartment has already fallen off. Luckily, we were able to find it and put it back on, but it could've easily been lost forever. There are also some loose threads all around the pack, which isn't a good sign.
Usage Timeline
Initial Usage
Condition: Excellent
A couple key streamlined design feature improvements from the previous iteration
Internal water bottle pockets take precious space from main compartment when full, but also lay flat while not in use
Comfortable carry over heavy loads and an excellent harness system
Top handle is a little small for grabbing
2 Weeks of Use
Condition: Good
The zipper pull on the tablet compartment fell off. Not a big deal, but disappointing considering the price.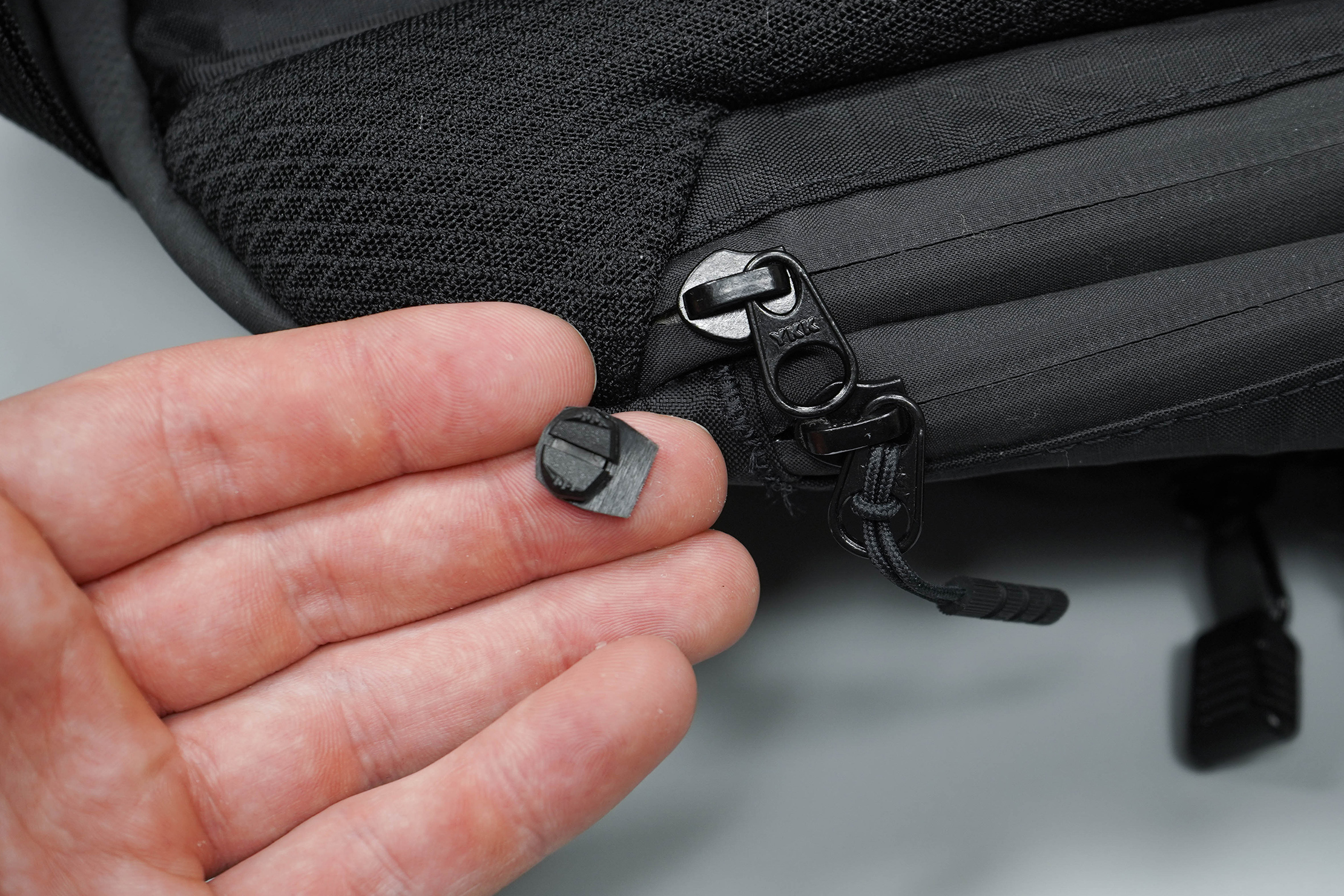 1 Month of Use
Condition: Good
Spotted a few more loose threads around the pack and zipper pulls.
Access the Pro Community Discussion
Get your questions about the Triple Aught Design Axiom 24 Pack answered from our team and the Pro Community right here on the page. Plus, join discussions with other members about gear, guides, and more.
Other Bags & Luggage Reviews