Trayvax Ascent Wallet Review
The Trayvax Ascent Wallet drapes the metal wallet format in premium top-grain leather at the cost of card-carrying capacity.
Our Verdict
Unlock the Pro Summary
Save time. Get access to brief summaries of our reviews so you can browse and make decisions more efficiently.
Pros
Fairly compact and easy to pocket
Leather and stainless steel assembly feels well put together
Edges are jagged yet easy to hold and grip
Cons
Isn't adjustable like Trayvax's other wallet designs
Thin ribbon pull tab lacks high-quality feel of leather and stainless steel
Not the most spacious wallet for heavy users
Recent Pack Hacker Video
Technical Details
Weight (oz)

3 oz (85 g)

Dimensions

3.8 in x 2.75 in x 0.3 in (9.7 x 7 x 0.8 cm)

Notable Materials

Leather, Metal

Manufacturing Country

United States

Warranty Information
Buying Options

$59.99
$83.99
Full Review
Get up to 5% off Trayvax • Join Pack Hacker Pro
Rigid wallets are a good opportunity for brands to make something unique. We've come across many of them here at the Pack Hacker HQ, and they all feel distinct despite sharing common materials and features, like a rectangular metal frame, cut-outs, and maybe a dash of secondary material. In the case of Trayvax's Ascent Wallet, that extra razzle-dazzle comes in the form of top-grain leather.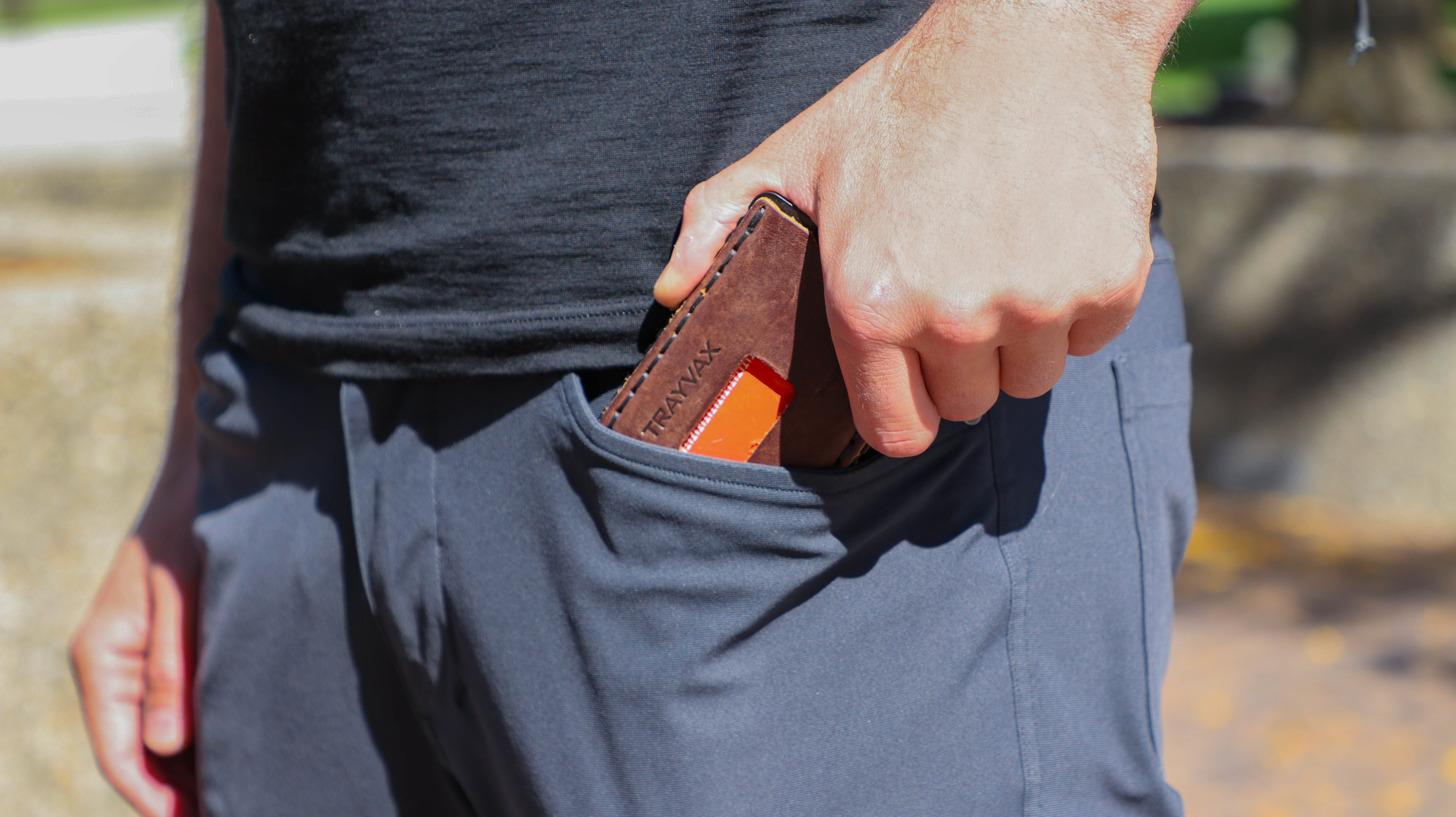 We're not gonna lie, the leather does appeal to us, and maybe it does to you too. "To each, their own," "beauty lies in the eye of the beholder," "looks are subjective," "beauty is only skin deep," et cetera, et cetera. But don't worry, we haven't forgotten to check what really matters. No, not the valuable cash and cards inside; we're testing how the rather slim-looking leather-clad Ascent performs as a day-to-day wallet. So sit back, relax, make sure your current wallet hasn't gone AWOL, and see how well it does.
Materials & Aesthetic
If leather is your thing, you're in luck because the Ascent is about as leathery as you can get. The material dominates most of the wallet's composition, with the metal forms and stitching barely sticking out wherever you can find them. If the Ascent reminds us of anything, it would be a sheriff's badge holder you'd see featured in old cowboy films. Patina develops rather quickly, too, with personalized marks already cropping up in some areas of the wallet. You can't go wrong with a bit of personalization courtesy of good 'ol wear 'n tear, especially with leather.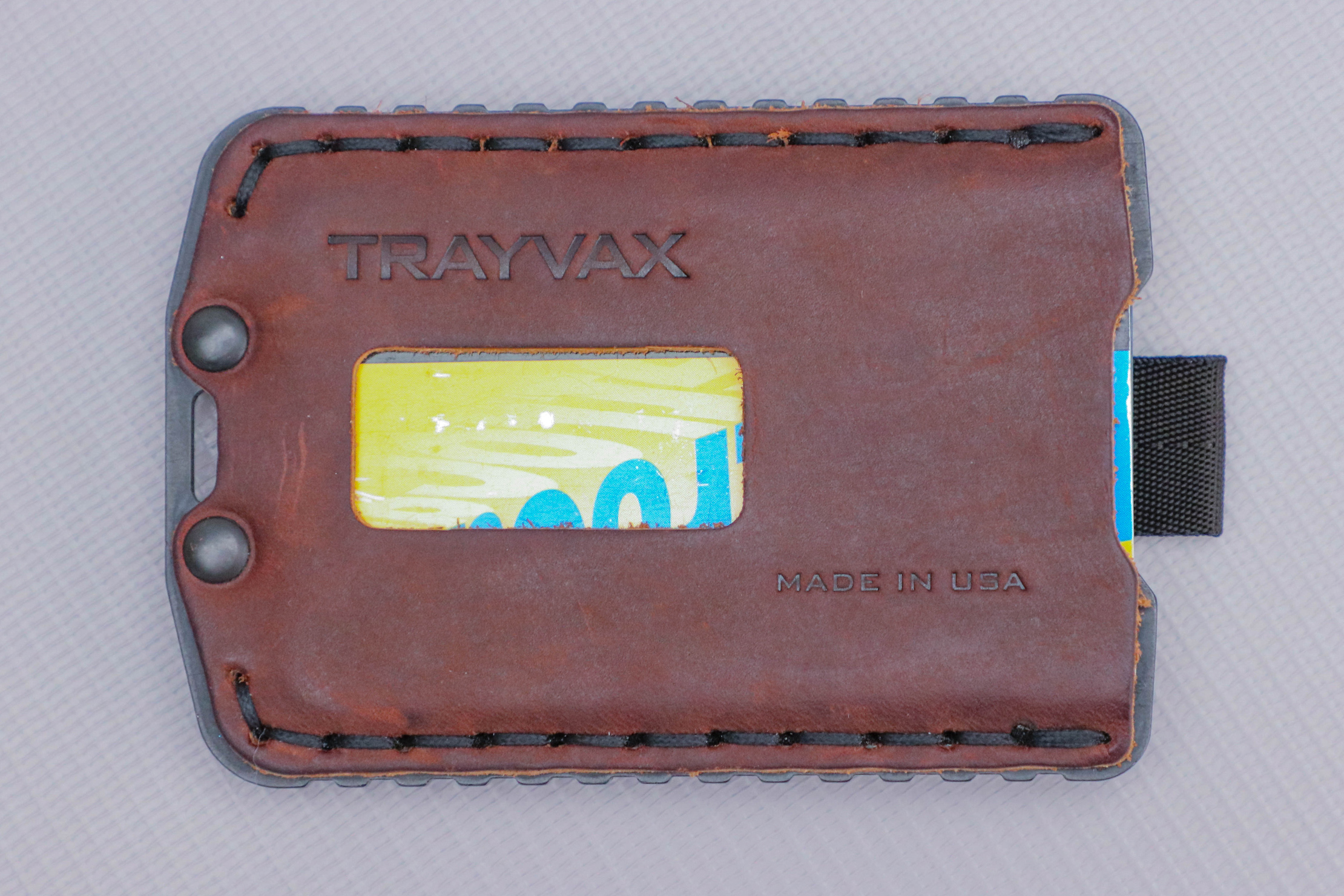 With two colorways for the frame and four for the leather, there are eight different combinations to choose from at the time of writing. The colorway we went for here is the Mississippi Mud colorway combined with the Metal-colored stainless steel frame. This is our preferred look, and we think the darker scheme just has enough brown to still make it stand out. The Tobacco Brown leather is a bit punchier, so it may develop a more visible patina for those who want to go all-in with the leather look. Conversely, the Steel Grey and Stealth Black leather colorways look a lot more modern. The Raw-colored frame contrasts nicely with these latter two, so that would be our choice for the metal.
Not only does the top-grain leather look the part, it also feels genuinely nice to hold. We're not trying to be snobby, but something about the leather Trayvax uses here just sets it apart from others. Compared to the Grip6 Wallet's leather sleeve, the Ascent feels more elegantly crafted. It also feels more solid, no doubt thanks to the beefy saddle stitching around the sides and rivets that keep the leather and the frame tightly bound. Of course, it's worth noting that there is a substantial price gap between the two.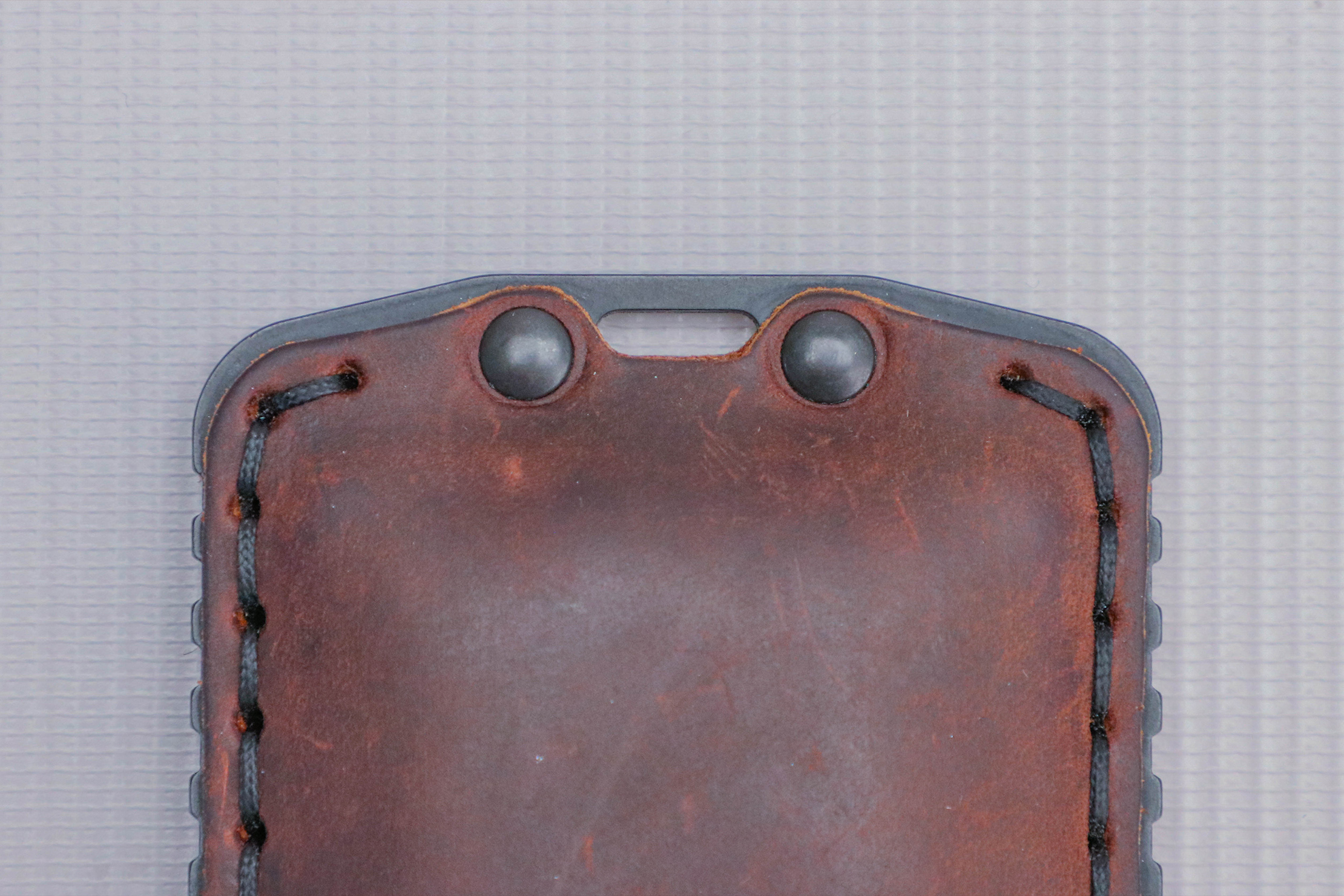 Like with their Original 2.0, Trayvax debossed their logo at the front, just near the cut-out, where it's prominently displayed. Similarly, the Ascent is made in the USA, so the brand also debossed "Made in USA", albeit in smaller letters. We usually lean towards more subtle branding, but we think the bold letters don't harm the Ascent's overall aesthetic.
Usage & Features
There are many factors that make a wallet a nice thing to hold. We've already talked about materials and how well put together the Ascent is, and Trayvax manages to tick both those boxes. Another factor is shape, because what good is a solidly built wallet made of the finest materials if it has bits sticking out of it that pok your palms.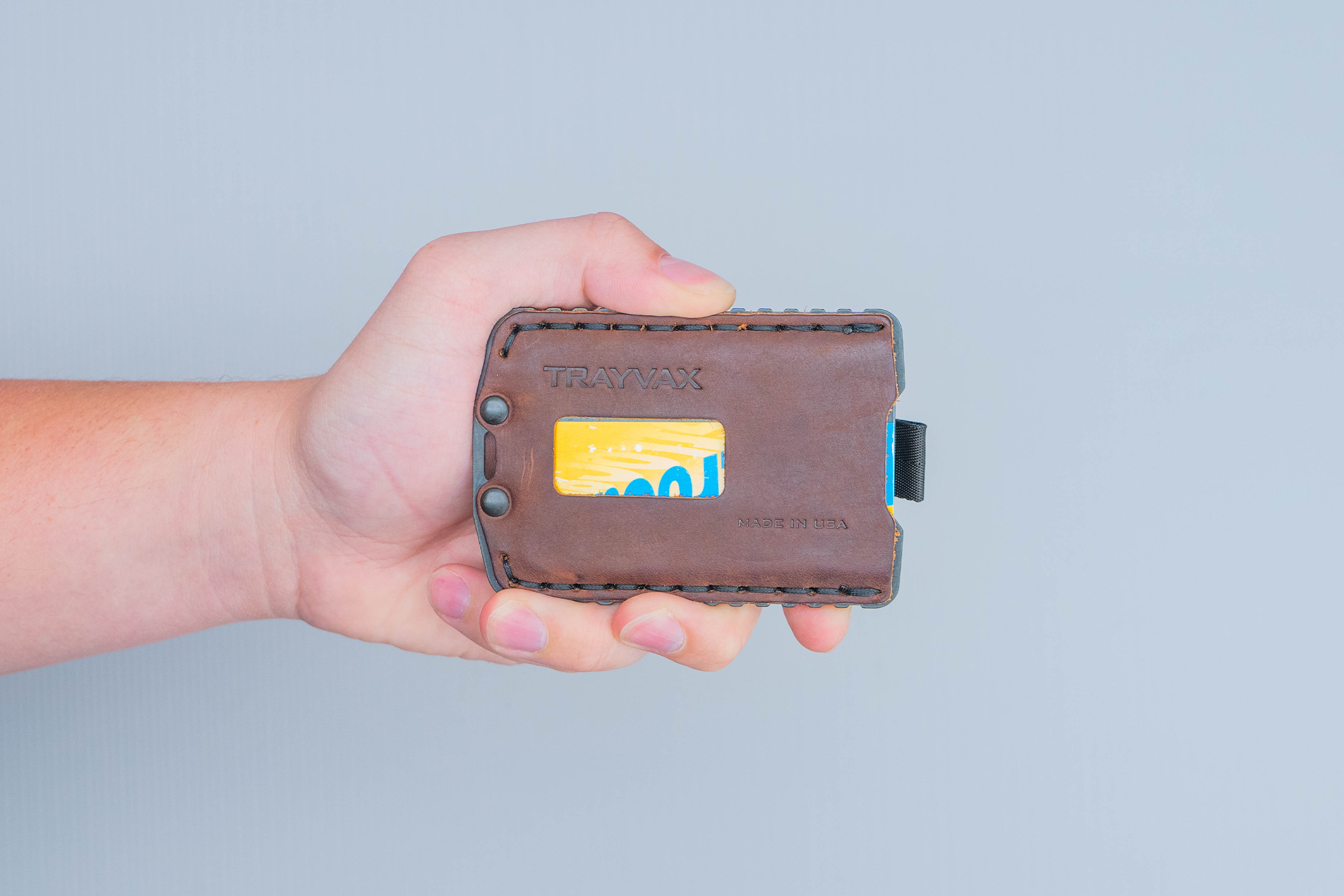 Okay, the edges of the Ascent do have sharp-looking ridges, but don't let the looks fool you. Look a bit closer, and you'll see that the edges, jagged as they may look, are actually rounded. This makes the wallet comfortable to hold and easy to grip so that it doesn't slip and slide under the fridge by accident.
Apart from holding or pocketing the Ascent, attaching it to a sling's key clip is also an option. Just between the rivets is a small hole where you can thread a keychain, lanyard, or any accessory that can fit. Given how small the Ascent is, hanging it off a lanyard like an ID is feasible. The opening of the wallet will be facing downward, but the cards are held securely inside, so we're not too concerned.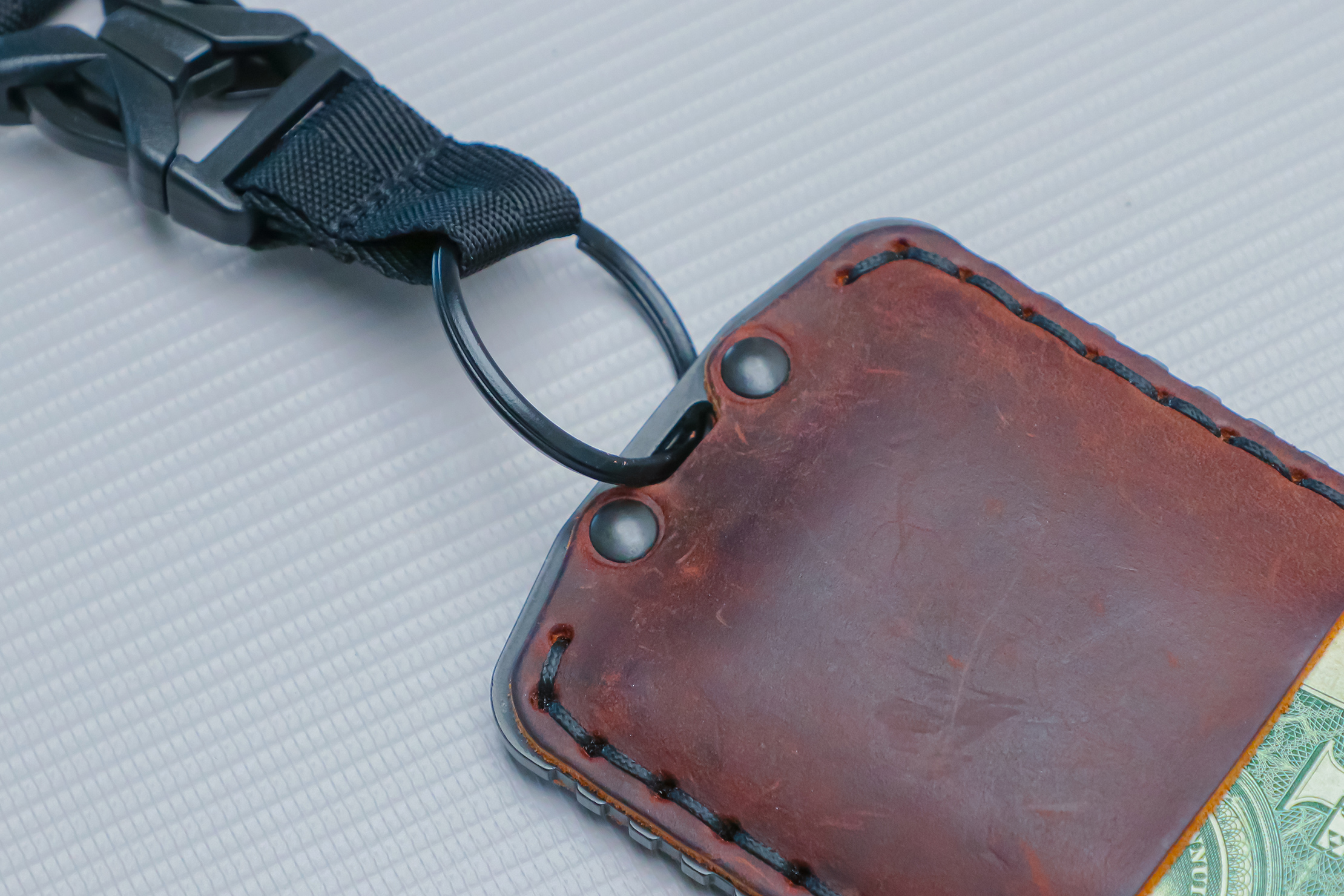 Trayvax quotes the Ascent's carrying capacity as four to seven cards and up to five bills. Not the most spacious wallet, but given the Ascent's small footprint, it's understandable. That said, it pales in comparison to Trayvax's own Original 2.0. Because that has an adjustable paracord which allows it to take an almost ridiculous amount of cards, it's the better choice for heavy users.
Going back to the Ascent, there are three pockets to work with. The front pocket can take in two or three cards and has the ID cut-out for viewing or shuffling through cards. Behind it is where the rest of your cards will live, which fits two to four more. This pocket comes with a pull tab since it doesn't have a cut-out for sliding out cards. The pull tab is the one component of the Ascent that we found not to match the overall premium vibe of the wallet. It feels thin and flimsy compared to the stainless steel frame and top-grain leather. Lastly, cash simply goes into a small slit that cuts into the pocket with the pull tab, so they kind of share space.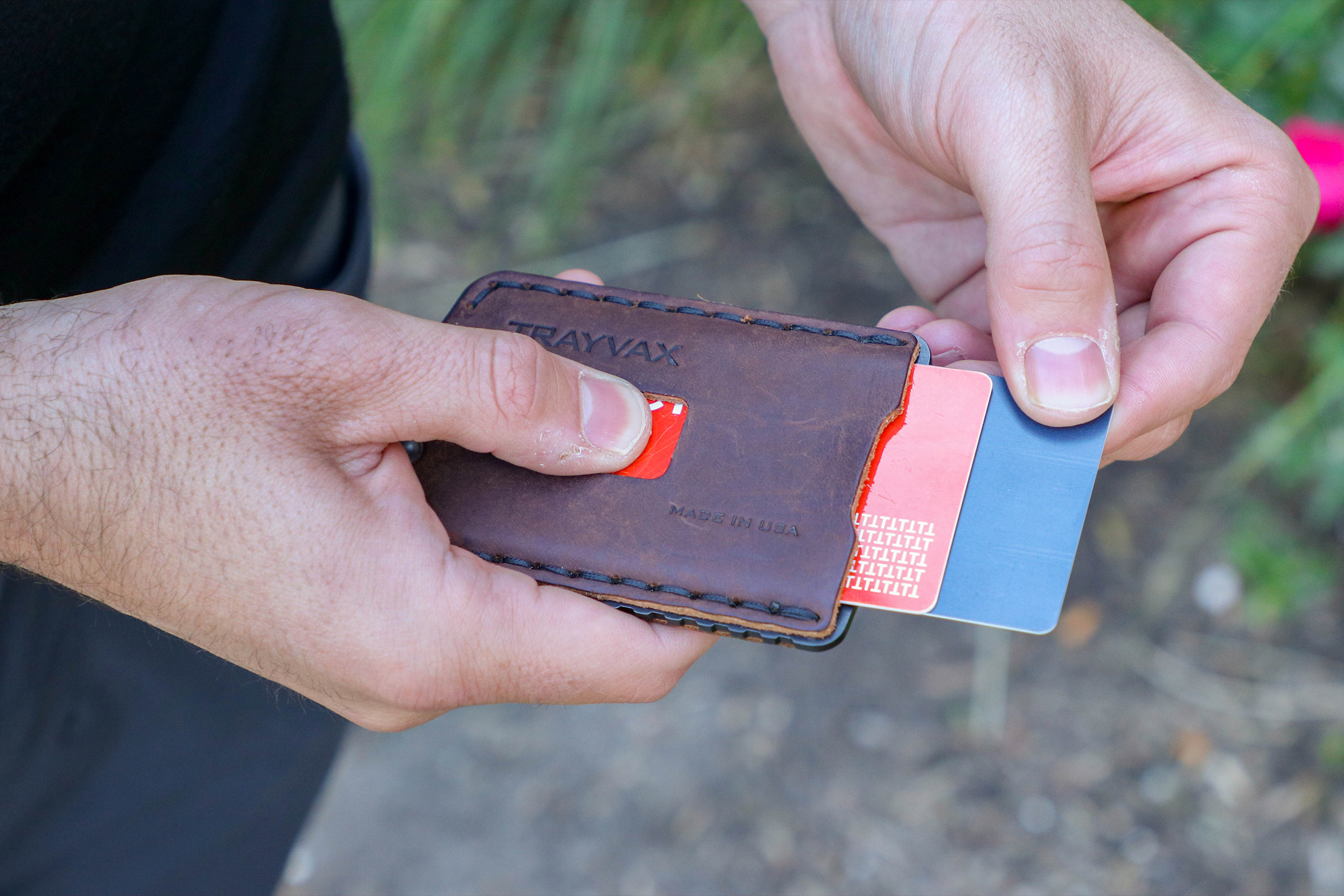 In practice, our setup somewhat does land within the Ascent's quoted capacity. We tried playing around with different arrangements of cards and cash, and we ended up with two at the front, four at the back, plus three bills in the slot. As always, your mileage may vary depending on what type of cards you're carrying. Thick PVC-based cards take up more space than the flexible cards usually used for subway passes. Cash also fares differently based on if they're crisp and new or old and wrinkly. Adding another card or bill to these pockets noticeably jams their usability to the point where it takes a fair amount of force to take or shuffle through cards. We suggest experimenting at home first to get a good feel of your ideal setup.
After we found our sweet spot, carrying the Ascent was a pleasant experience. The thin profile makes it very easy to pocket, even with tight-fitting pants. Shuffling through our cards is easy, and we never had to fumble around, even during those times when we had to make a quick payment. It's also fairly secure since it's RFID-blocking, which is a greatmodern feature for wallets to thwart any would-be skimmer—you never know when they'll strike.
One potential point of conflict is between bills taller than the standard USD and the pull tab. Japanese yen bills, for example, fit inside the cash slot, but their taller profile just barely grazes the edge of the pull tab. Not a huge deal in the grand scheme of things, just something to note because it can look a little busy in that area, especially once you start stacking more bills inside.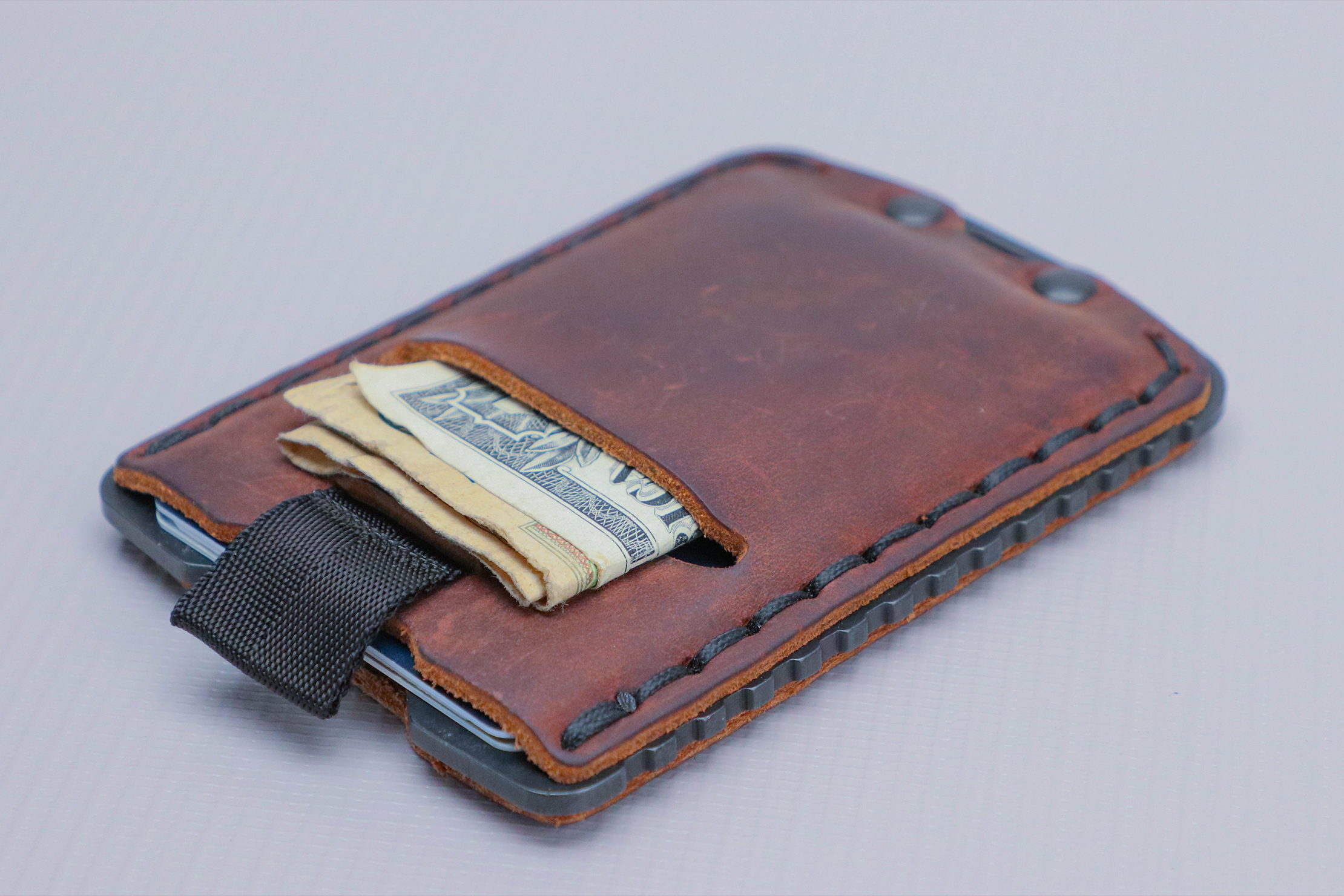 As long as you keep the card and cash count within limits, the Ascent serves its purpose well. Sacrifices do have to be made in terms of capacity since the design is slim, emphasizing the premium leather styling instead. It's not for the heavy user who carries a deck of credit cards, but it's a solid one for a minimalist looking to rock the leather look.
Usage Timeline
Initial Usage
Condition: Excellent
Built-in pull tab for easily deploying cards
There's a small cut-out for pushing cards out
RFID blocking protection
2 Weeks of Use
Condition: Excellent
A nice upgrade to the previous Element Wallet
We like other Trayvax wallets better than this one—the Original 2.0 provides faster access and keeps cards & cash more secure
We dig the look of our Walnut colorway and the patina it's developing
Serrated but soft edge provides a comfortable, solid grip
Access the Pro Community Discussion
Get your questions about the Trayvax Ascent Wallet answered from our team and the Pro Community right here on the page. Plus, join discussions with other members about gear, guides, and more.
Other Organizers & Pouches Reviews