TravelCard Portable Charger Review
The TravelCard Portable Charger is extremely small and comes equipped with built-in charging cables, but it lacks enough juice to get the job done.
Our Verdict
Unlock the Pro Summary
Save time. Get access to brief summaries of our reviews so you can browse and make decisions more efficiently.
Pros
Charging cables are durable
Five different colorways for personalization
USB-A cable doesn't fall off charger when hanging
Cons
Exterior looks dated
Charging cables are short
Very low mAh
Recent Pack Hacker Video
Technical Details
Weight (oz)

1.9 oz (53.9 g)

Dimensions

2.5 in x 3.75 in x .25 in (6.4 x 9.5 x 0.6 cm)

Notable Materials

Aluminum

Manufacturing Country

China

Warranty Information
Full Review
The TravelCard Portable Charger is a tiny charger designed to easily fit into your travel wallet, sling, or daypack. Its charging cables are fixed onto the battery, so you can't change them as you please, which is great when you need a top-up while exploring a new city, but can it hold up to the trials and tribulations of traveling? Let's find out.
Materials & Aesthetic
Starting things off with the front side, we see that it's crafted from aluminum. It makes a nice noise when you tap your fingernail on it, similar to when you tap the metal exterior of a MacBook. The corners are rounded, and it reminds us of an old-school iPod Nano.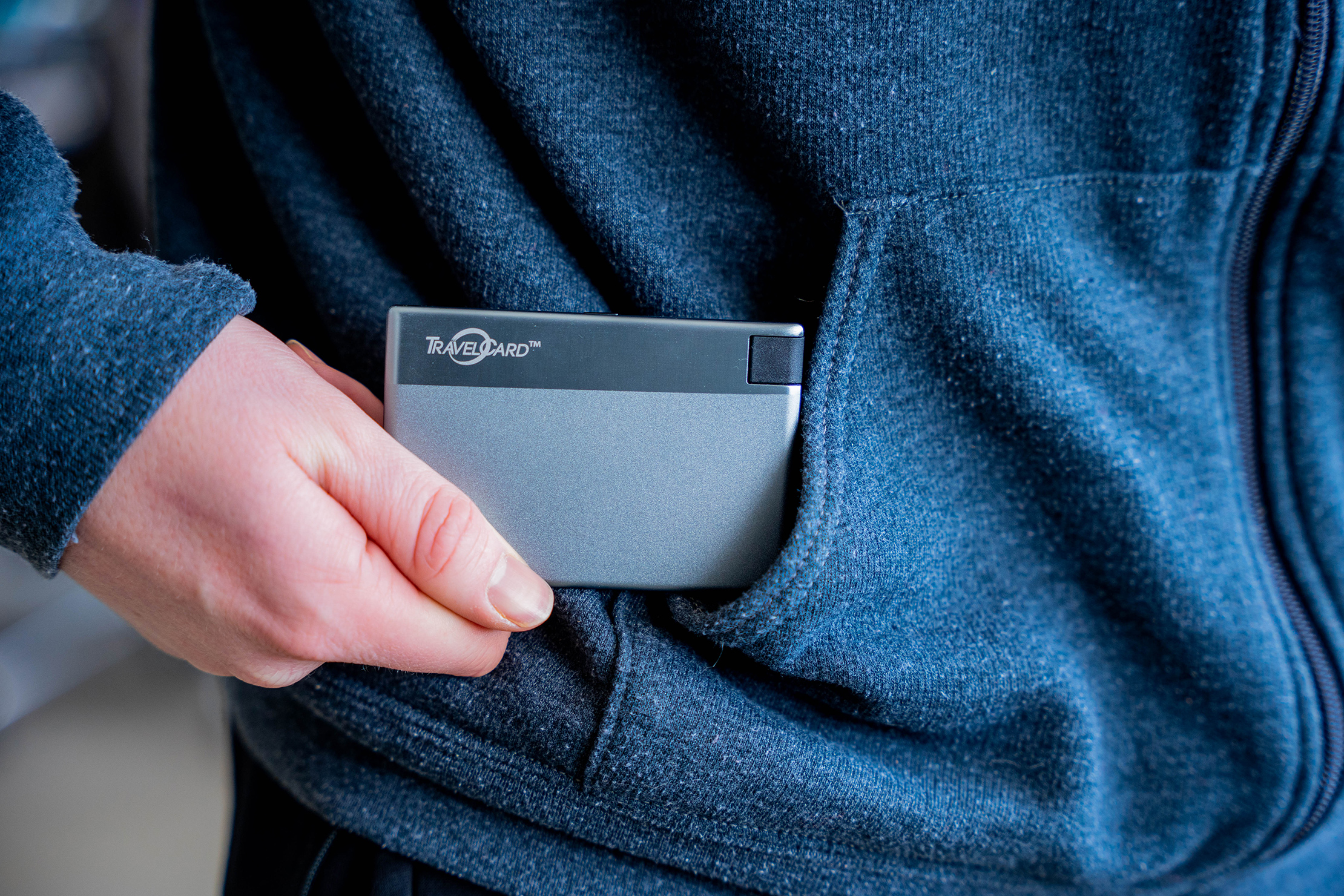 As far as colorways are concerned, there are Silver, Carbon Grey, Black, Red, Indigo, and Blue options available. The front side is two-toned, with the top portion being shinier and slower to run your finger over and the bottom being matte and a little rougher. The split offers some nice contrast on the front side of the battery bank.
The logo is in the top left corner and, honestly, feels a little dated. We can't put our finger on precisely what makes it feel so early 2000s—it almost looks like a logo that would have been on the middle school morning announcements, which isn't necessarily a bad thing, but it's by no means sleek and modern.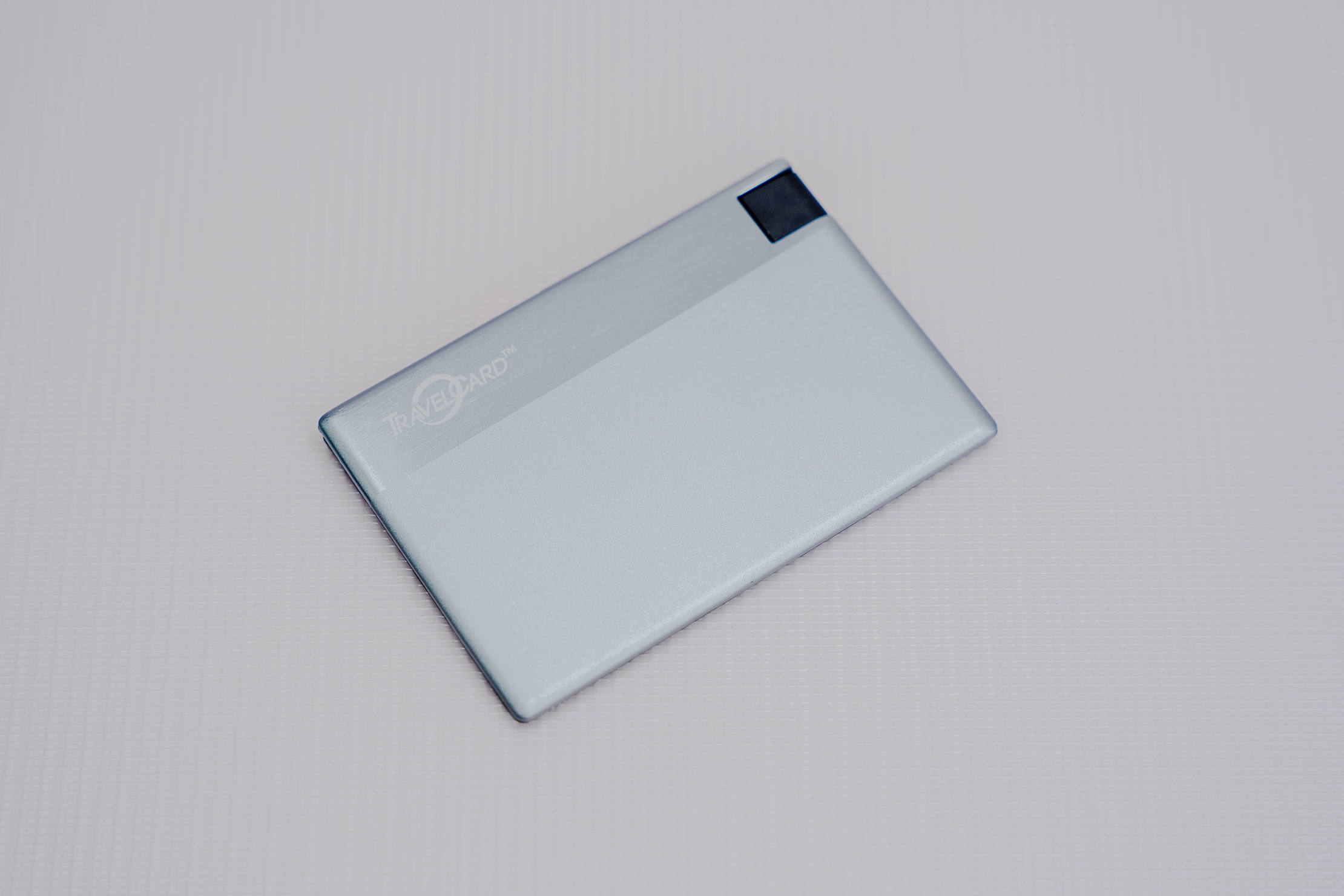 The backside of the power bank is hard plastic and black. It feels durable but not as sturdy as the front side's metal construction. The battery info and other voltage information are on the bottom in white lettering. It isn't as distracting as you may see on the back of something more industrial, which is a plus in our book.
While examining the backside of the power bank, you can see the two cables that come attached upon purchase. The right side has a USB-A cable for charging the bank, and the left side has a cable to charge your devices. Depending on which model you go with, there are three options for charging.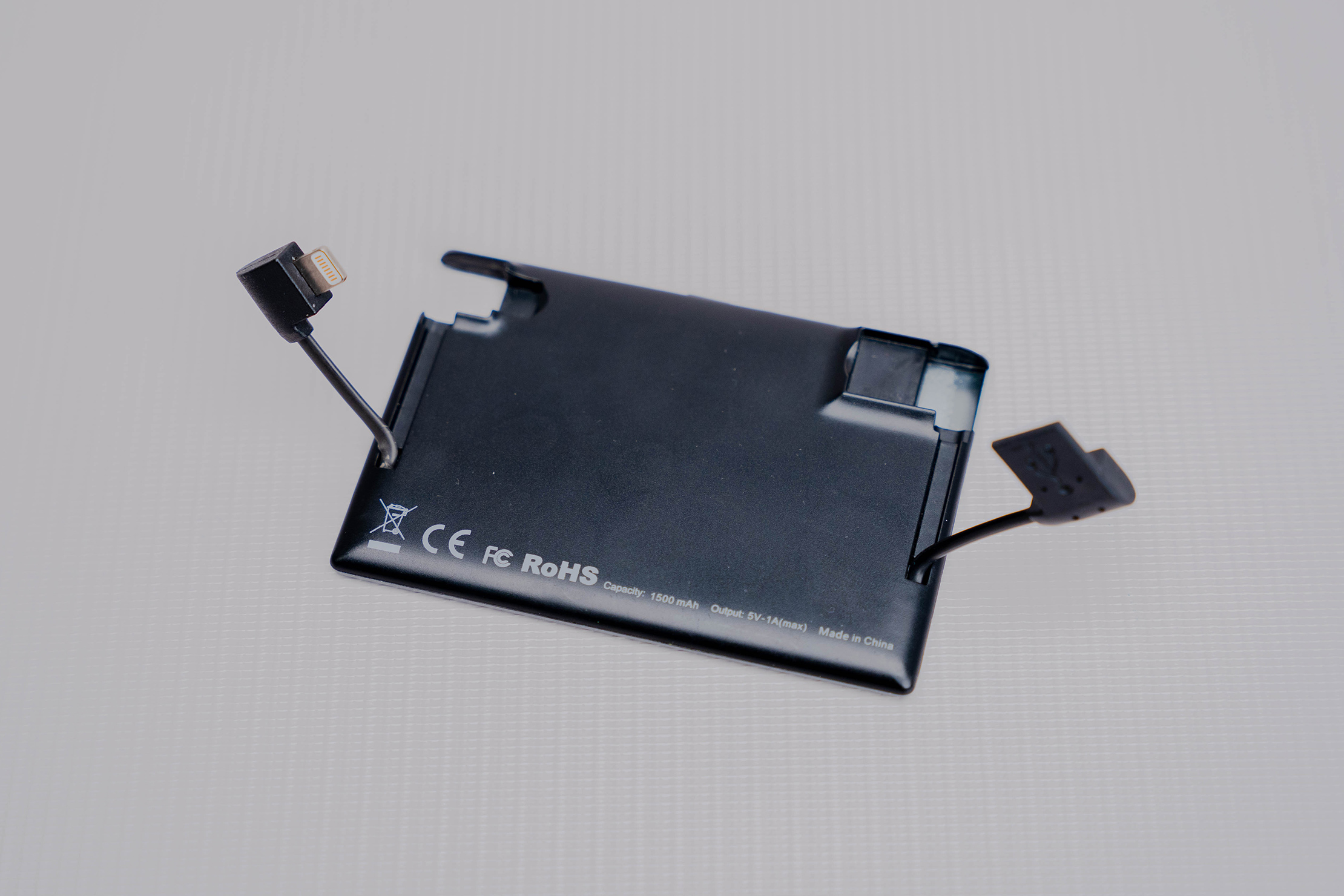 You can go with a Lightning cable to charge your iPhone, charge a wider scope of devices using a USB-C cable, or take things back a few years and go with a micro-USB. The cable itself feels durable, but it's very short. The wires on both the USB-A and Lightning cord are just over an inch (2.54 cm) long. They have a little more gusto to them than the Clutch Charger V2 cables, but we'll talk about that battery bank in comparison in just a little bit.
The USB-A charging cable is a little odd, as it only takes up half of a standard USB-A female brick. We remember seeing these back in the day when tower computers were still the norm, but honestly, we like the inclusion. It securely holds onto a power brick, and we haven't had any issues with it falling while charging.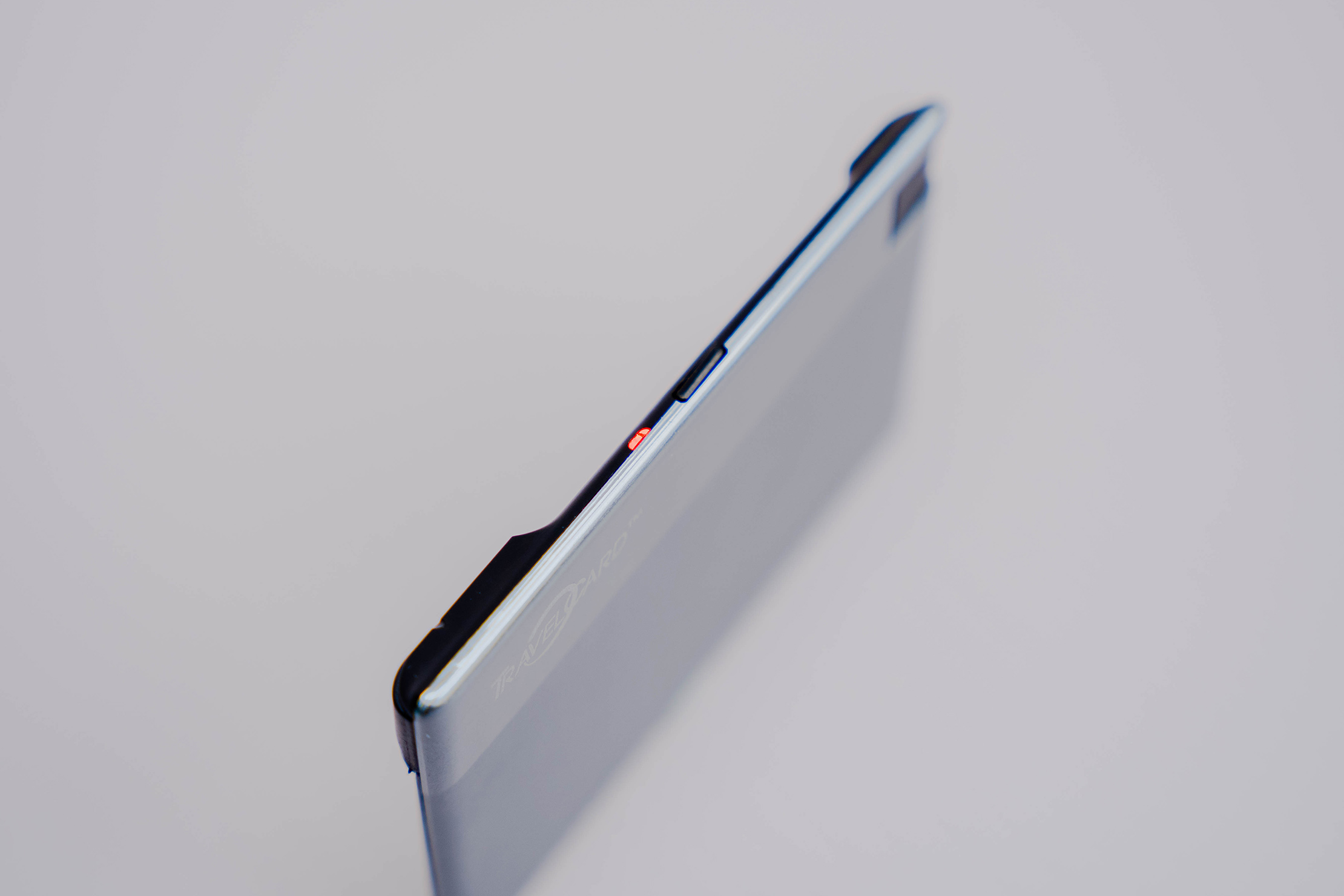 It's important to note that the cables are attached, so there's no other way to charge up or charge a device using the battery bank than with the affixed cables. You get what you purchase, and there's no option to swap once you have it in hand. This is convenient so that you don't need to lug cables with you everywhere, but it can be a little annoying if you have a device that doesn't match the cable adhered to your portable charger.
There's a button on the top of the battery bank to turn the power on. This is a nice inclusion because sometimes batteries can trickle down after a few days if they don't have an off function. The blue light flashes while charging, and once it finishes, it becomes a solid light. It takes roughly an hour and a half to charge fully, which isn't terribly fast but isn't the slowest we've seen either.
Usage & Features
Now that we've gone over the specifics, let's dive into…well, more specifics. The TravelCard Portable Charger comes in at 1.65 oz (46.78 grams), which is one of the lightest battery banks we've had our hands on. The Clutch Charger V2 is 2.3 oz (65.2 grams), and the Goal Zero Flip 12 is 2.55 oz (72.29 grams). When it comes to weight, the TravelCard does pretty well.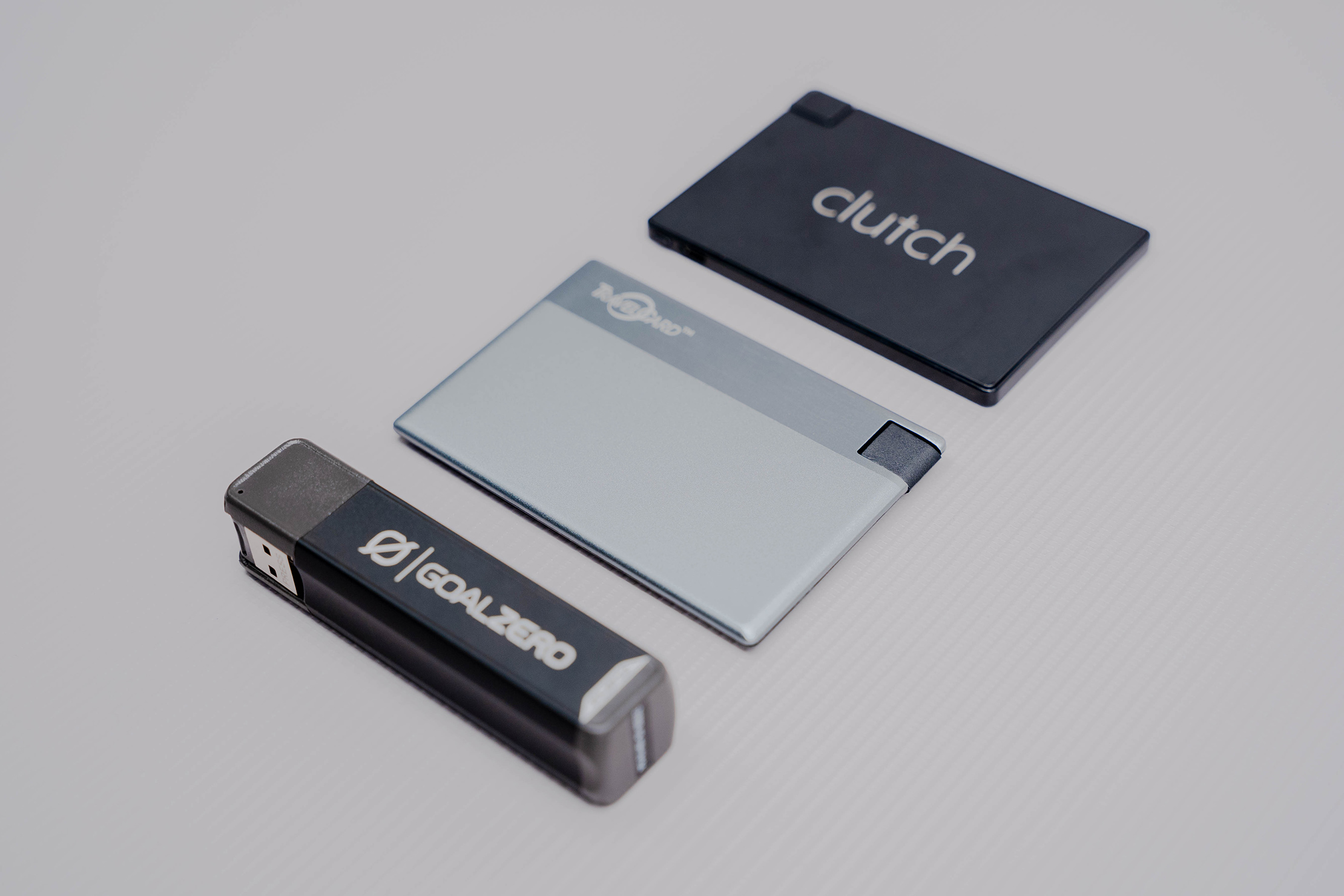 In addition to being super lightweight, the size is great, too. It measures 3.75 inches (9.53 cm) wide, 2.5 inches (6.35 cm) tall, and a quarter-inch (0.635 cm) thick. This makes it the perfect size to fit inside most billfold wallets, travel wallets, or inside the liner pocket of a sling.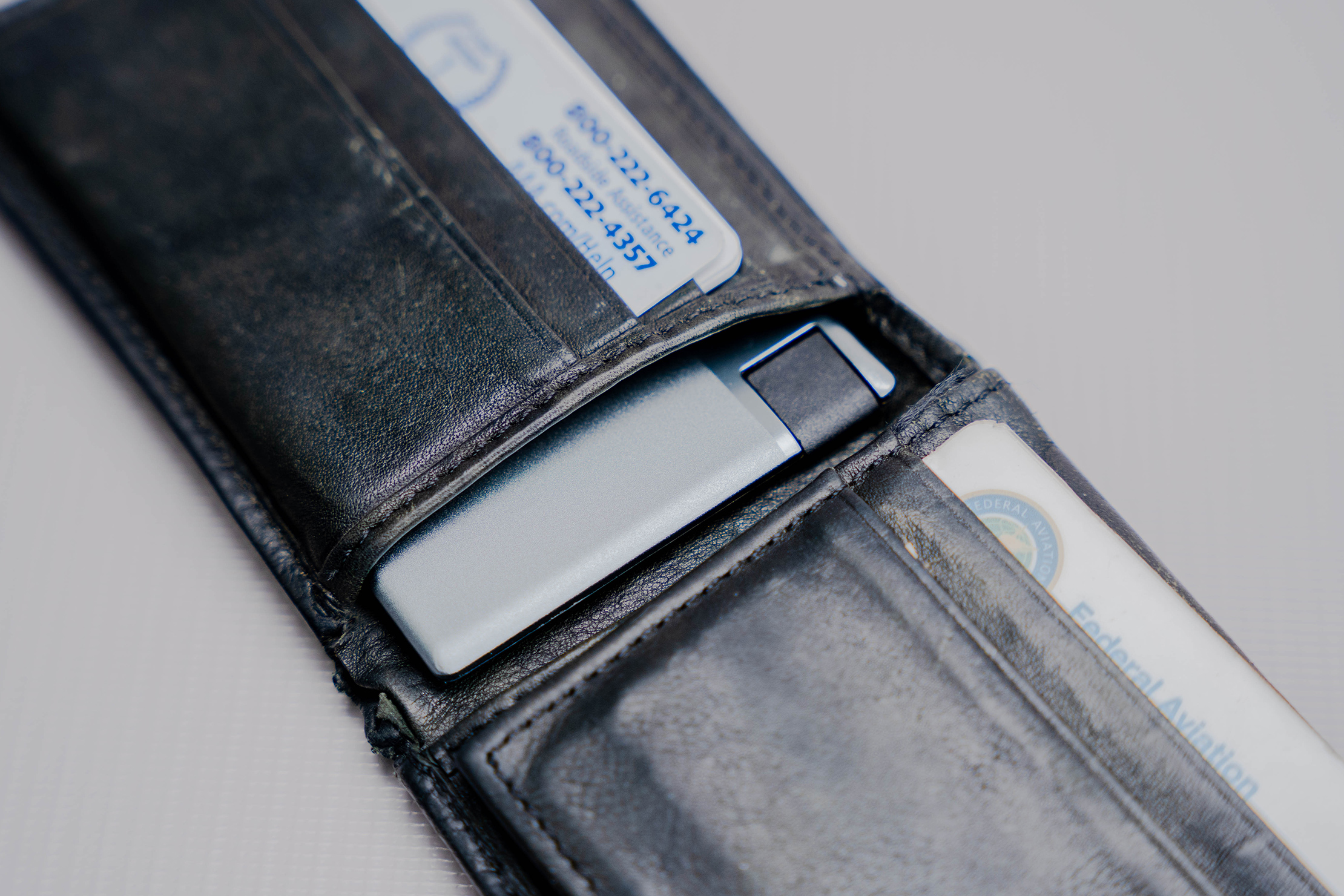 It may be lightweight and thin, but it also has the least amount of juice compared to other similar chargers. The TravelCard has 1,500 mAh of power, which is on the low end of the spectrum. When fully charged, the TravelCard Portable Charger Power Bank will charge:
A regular iPhone 13 to 46.48%
An iPhone 13 Pro Max to 34.47%
A Samsung Galaxy S21 to 37.50%
A Samsung Galaxy S21 Plus to 31.25%
A Samsung Galaxy S21 Ultra 5G to 30.00%
A Nintendo Switch to 34.80%
A Nintendo Switch Lite to 42.02%
While all of that is fine and dandy, it can't hold a candle compared to other chargers on the market. The Clutch Charger V2 is roughly the same size and is .65 oz (18.43 grams) heavier but offers double the power at 3,000 mAh. The Goal Zero Flip 12 has a different form factor and weighs .9 oz (25.51 grams) more but has more than double the charge at 3,350 mAh.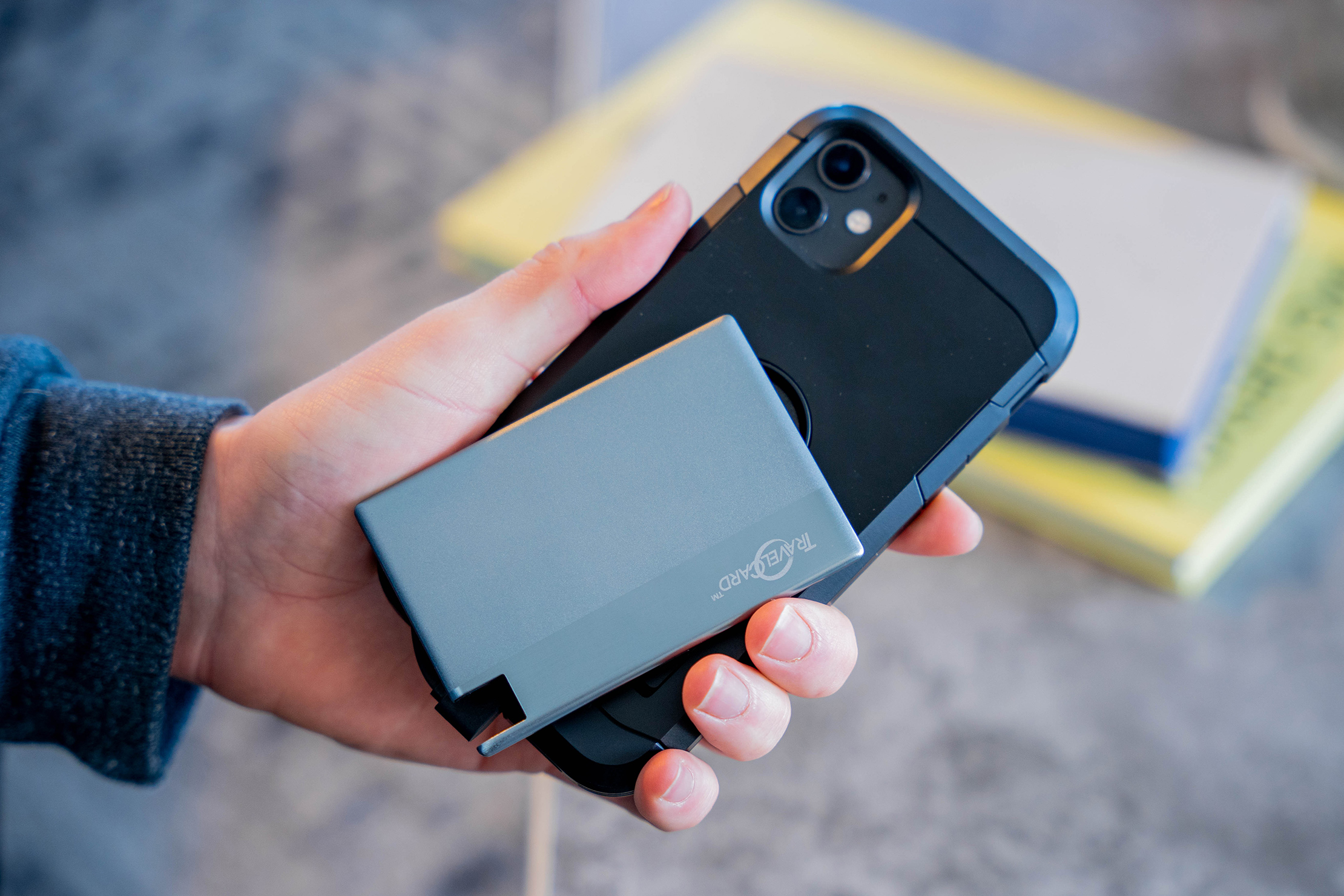 We love the size, weight, and ease of use that the TravelCard Portable Charger offers, but it's hard to get around the amount of battery power we need in the modern age. The iPhone 3GS, which came out in 2009, had a 1,219 mAh battery. Back then, this battery bank may have been an ample travel companion. As for any phone past the iPhone 6 (2014, 1,810 mAh), it merely acts as a topper, and a low amperage one at that.
Usage Timeline
Initial Usage
Condition: Excellent
The USB-A cord is the bare type that can be plugged upside down by accident
It's not as thin as a PVC card, but it fits in our wallet just fine
Not quite as flexible as a short mini cable
2 Weeks of Use
Condition: Excellent
Cables are still in good shape
Exterior doesn't have any scuffs or scrapes
Has remained cool when charging
Access the Pro Community Discussion
Get your questions about the TravelCard Portable Charger answered from our team and the Pro Community right here on the page. Plus, join discussions with other members about gear, guides, and more.
Other Productivity & Tech Reviews