Topo Designs Laptop Sleeve Review
The Topo Designs Laptop Sleeve's carry handle and dense padding add convenience and protection, but its large size makes it a tight fit for smaller bags.
Our Verdict
Unlock the Pro Summary
Save time. Get access to brief summaries of our reviews so you can browse and make decisions more efficiently.
Pros
Dense padding protects from bumps
Tote-style handles are convenient for stand-alone carry
External pocket easily holds thin laptop accessories
Cons
Relatively bulky add-on for bags without laptop compartment
Opening isn't sealed
Flat profile not ideal for bulky tech
Recent Pack Hacker Video
Technical Details
Denier

1000D

Weight (oz)

6.15 oz (174.3 g)

Dimensions

14.5 in x 10.5 in (36.8 x 26.7 cm)

Notable Materials

Nylon

Manufacturing Country

Vietnam

Laptop Compartment Size

13"

Warranty Information
Full Review
Get up to 15% off Topo Designs • Join Pack Hacker Pro
Here at Pack Hacker, we firmly believe that breathing new life into old gear is a more responsible approach rather than throwing it away. Some bags, for example, don't come with a laptop compartment or sleeve built-in. There might be nothing wrong with the bag per se, but it'll start feeling obsolete if it doesn't offer the protection you need for your precious tech.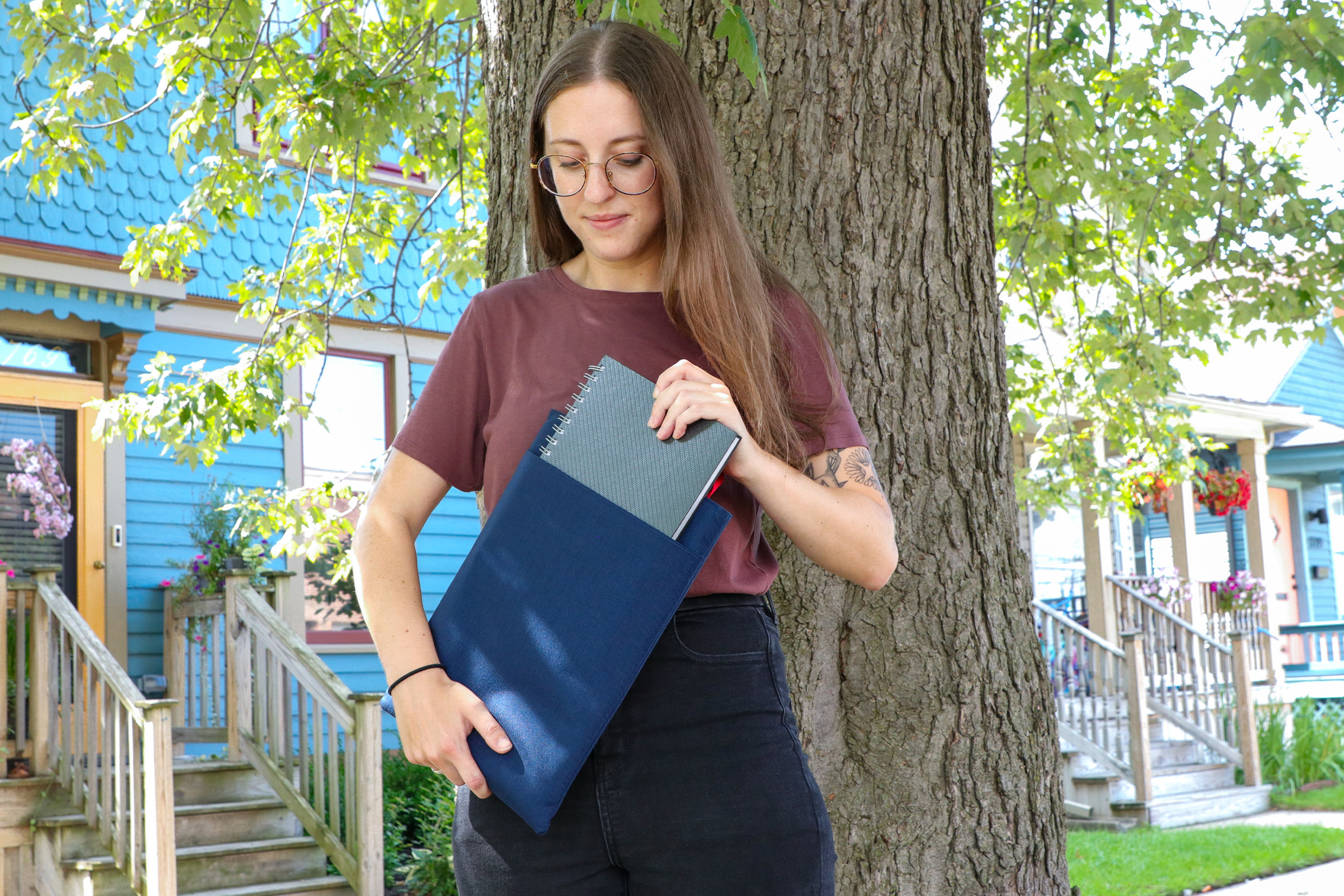 In comes the Topo Designs Laptop Sleeve. It can certainly be used on its own as a well-padded tote bag, but its open design doesn't protect it from splashes. It's relatively bulky for a sleeve meant for 13-inch laptops (spoiler alert: it can fit a 16-inch MacBook Pro in a pinch as well) so pairing it with an equally large bag is necessary. If you're looking to invest in some protection for your laptop, you're in good company with us as we get into this review in 3-2-1 go!
Materials & Aesthetic
If there's anything that comes to mind when talking about Topo Designs' styling, it's probably Fisher-Price toys—and we mean that as a compliment. We dig the fun and vibrant colors they mix and match on their gear because it's a joy to look at. The Rover Pack Classic is a good example of this—a two-tone design that just clicks. This is a style we wholeheartedly welcome and even encourage. A simple splash of colors, even on the much simpler Laptop Sleeve, can do wonders.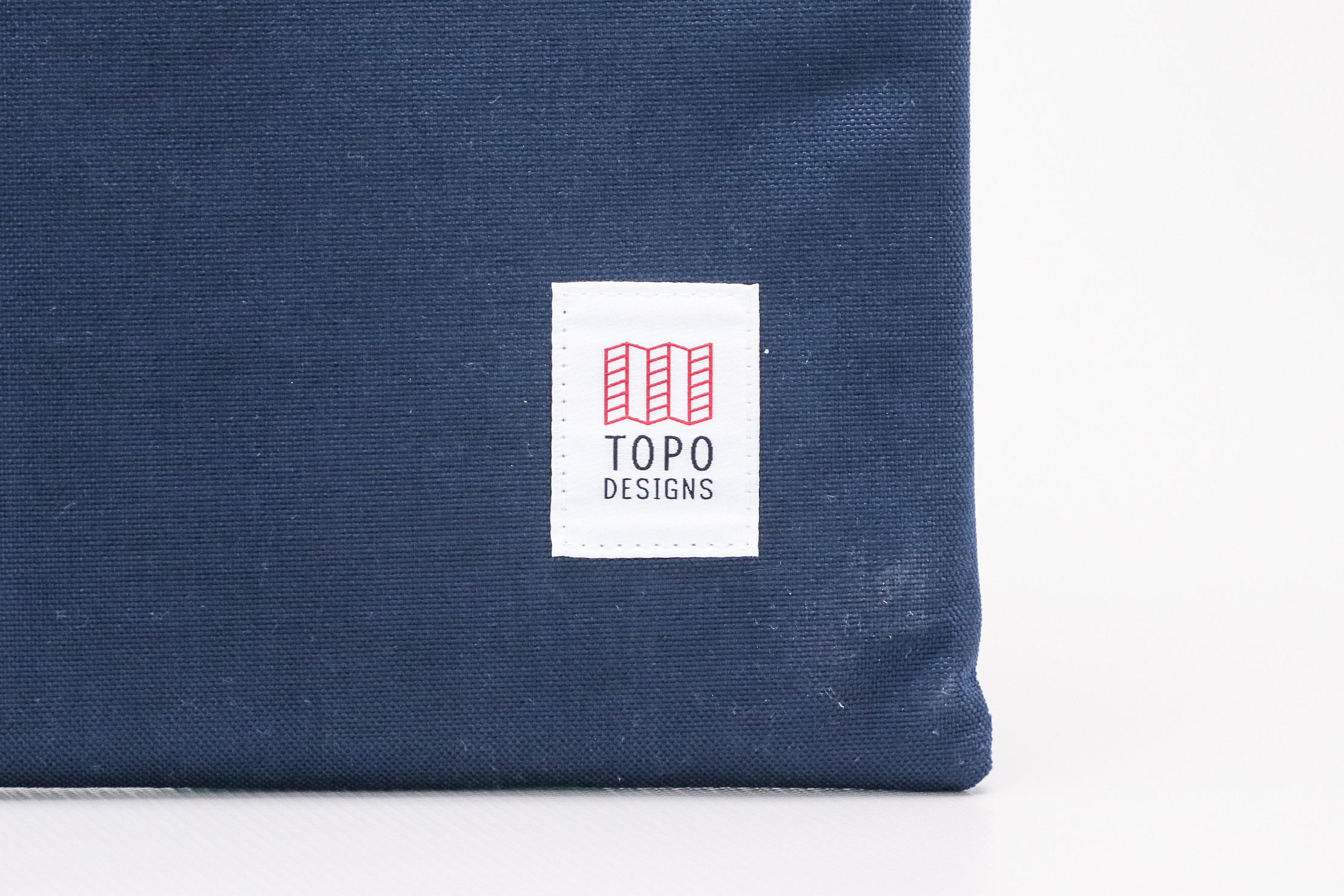 We have to say, though, that the Laptop Sleeve isn't Topo Designs' most extravagant design. It's actually relatively restrained, with just a plain nylon shell crowned with handles that act as accent pieces. A lone Topo Designs logo is located on the bottom right corner, but other than that, it's a blank canvas. We have the Navy colorway for this review, but there are a handful of other choices available at the time of writing: Olive, Charcoal, Black, and Clay.
But don't let the friendly looks deceive you. Get a feel of the fabric, and the impression it leaves is reassuringly durable. Its 1000D nylon stands tall even against rough scrapes and bumps. The handles, simple as they appear, are bar-tacked along the edge of the main fabric. So even if you were carrying a brick of a laptop from a decade earlier, the handles wouldn't be the first ones to give.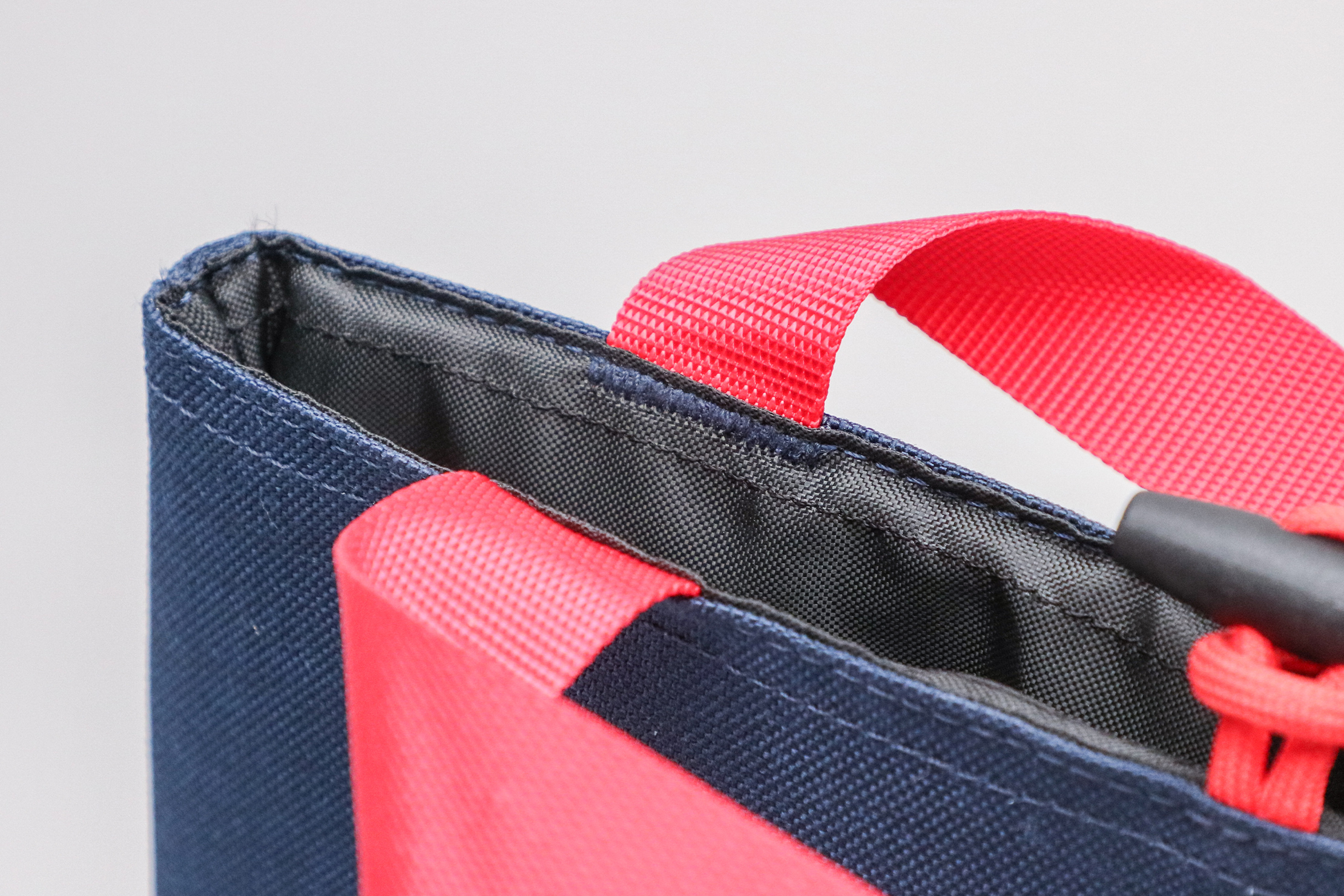 While testing the Laptop Sleeve, we've encountered no loose threads or permanent stains on the nylon. That includes the 210D liner fabric inside. We tested it consistently with a 13-inch MacBook, which jostled around quite a bit, so the fabric remaining intact is a good sign of quality.
Usage & Features
Topo Designs primarily designed the Laptop Sleeve for 13-inch laptops. Now, the reality is most laptop makers list the diagonal screen size for their laptops, not the actual diagonal size that accounts for bezels. This means that a 13-inch MacBook won't be the same size as a 13-inch laptop from, say, Dell or HP. With this in mind, it's great to see that Topo Designs left a substantial amount of buffer along the edges.
Our 13-inch MacBook fits inside with no problem. That said, it's not a fits-like-a-glove situation where the sleeve wraps around firmly; there's a fair amount of room for the laptop to jostle around. Still, the amount of padding ensures your laptop is in a sort of bouncy castle when it's moving side to side.
With all the extra space surrounding our 13-inch MacBook, we wondered how a 16-inch MacBook Pro would fare. Lo and behold, it fits! The catch? A portion of it sticks out at the top, and it's a snug fit. Check out the photo if that's something you're considering, or you can wait for Topo Designs to introduce a proper 16-inch version.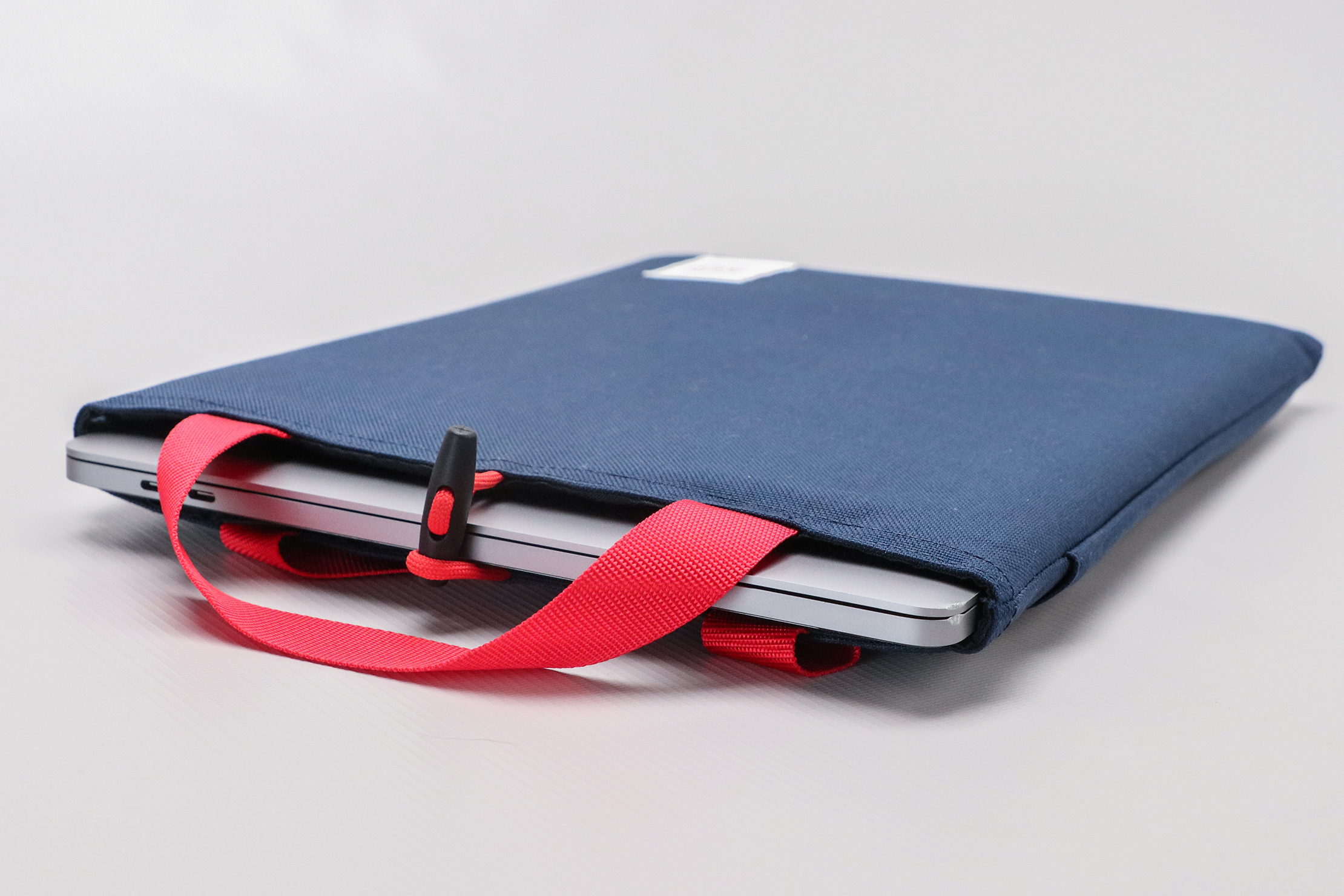 There are no zippers on the Laptop Sleeve, and the responsibility of keeping a laptop secure falls onto a simple loop and toggle. We're initially skeptical of most loop and toggle systems because we've had our fair share of them easily come undone. On Topo Designs' Laptop Sleeve, however, the toggle is quite beefy, so once you've looped it in, there's very little chance it'll un-loop by itself.
That said, this still leaves the top opening vulnerable to splashes and accidental damage. In this regard, we're not one hundred percent confident using the Laptop Sleeve as a stand-alone bag outdoors. Fortunately, we found that it works well as a separate laptop sleeve for bags that don't have dedicated laptop compartments. A good example would be The North Face Base Camp Duffel. Large bags like that pair well with Topo Designs' Laptop Sleeve because they have the space to accommodate it.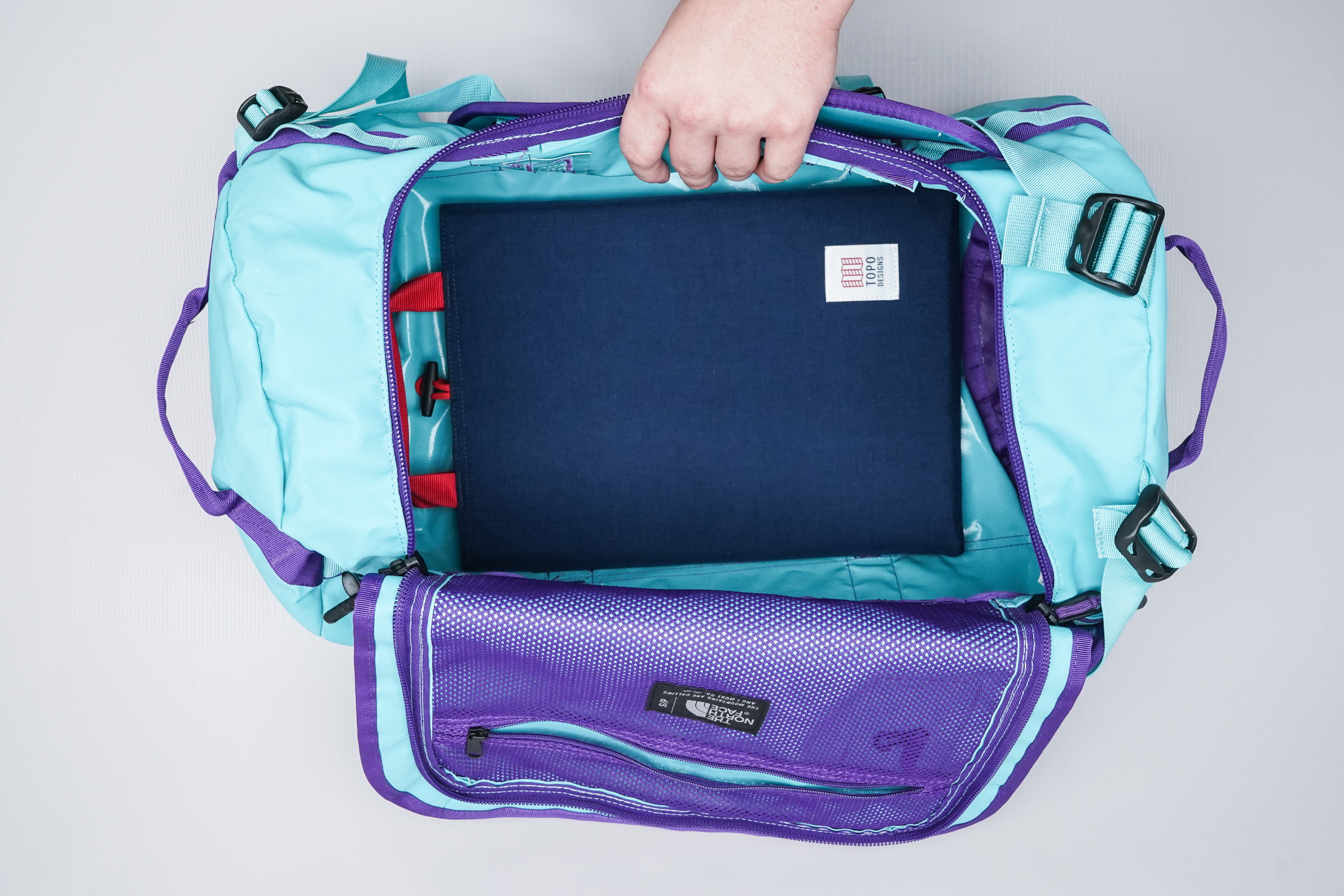 The amount of padding and extra buffer space Topo Designs incorporates here makes the Laptop Sleeve a tight fit on many bags. The exact dimensions are listed above in case you want to measure it against your existing bag. But a good rule of thumb with this sleeve is that it's noticeably bigger than a 16-inch MacBook Pro.
On its own, the Laptop Sleeve carries just as well as a regular tote bag. The handles aren't padded, though we don't think it's necessary since 13-inch laptops aren't that heavy even with accessories. For short trips across campus or within buildings, these definitely get the job done. But for greater distances, we'd put it inside a backpack.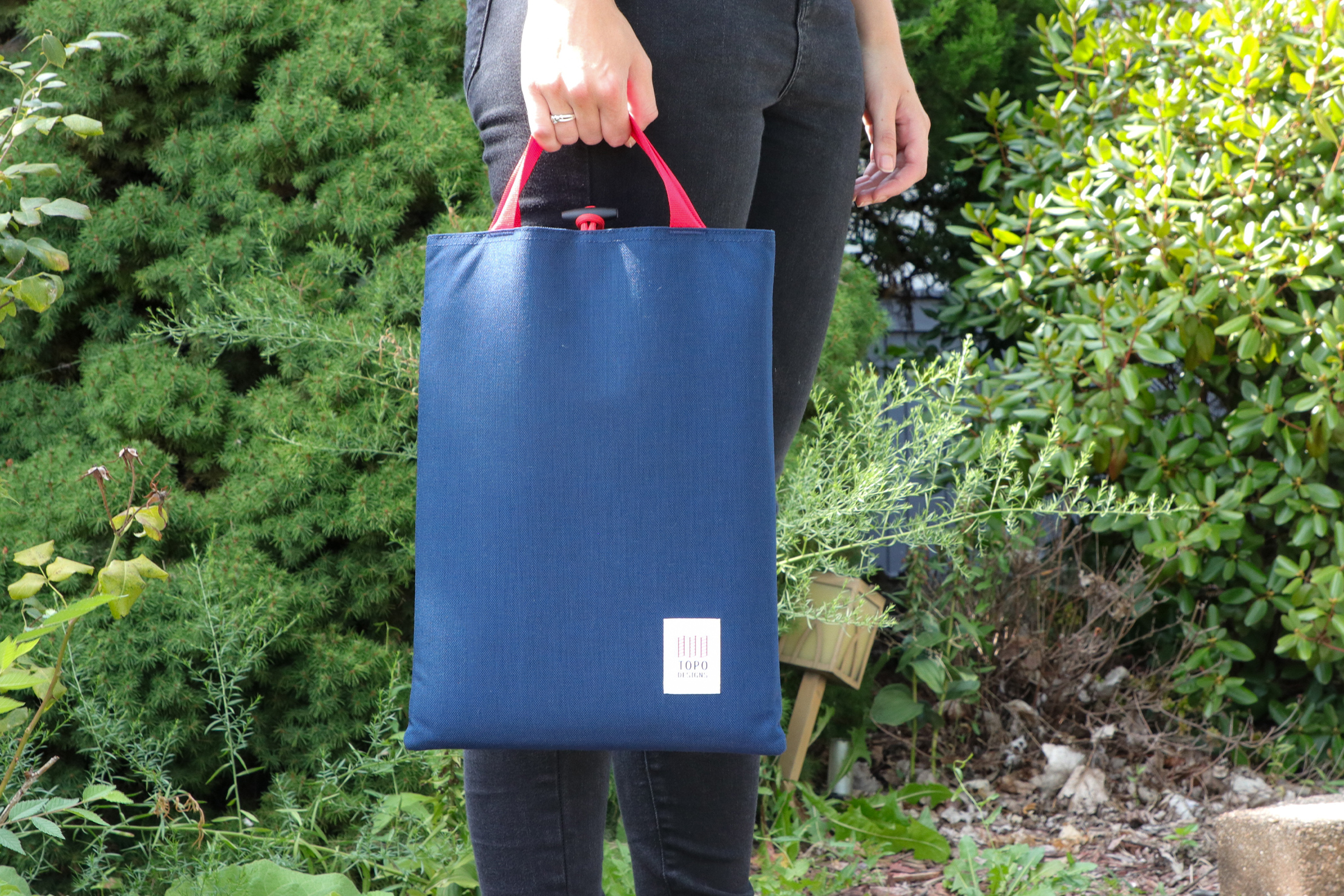 Lastly, the Laptop Sleeve comes with an external pocket for quick stash items. The overall flat profile of the bag limits you mostly to flat items like laptop chargers, portable mice and keyboards, external drives, and a bunch of dongles. It's also a great spot for a notebook or two. For smaller accessories, we recommend a pouch since the pocket is deep and dark, making retrieval a bit tricky. Pick a slim pouch like the Bellroy Tech Kit Compact, though, to avoid unnecessary bulges. Like the main compartment, this pocket also remains open without any closure, so exercise caution.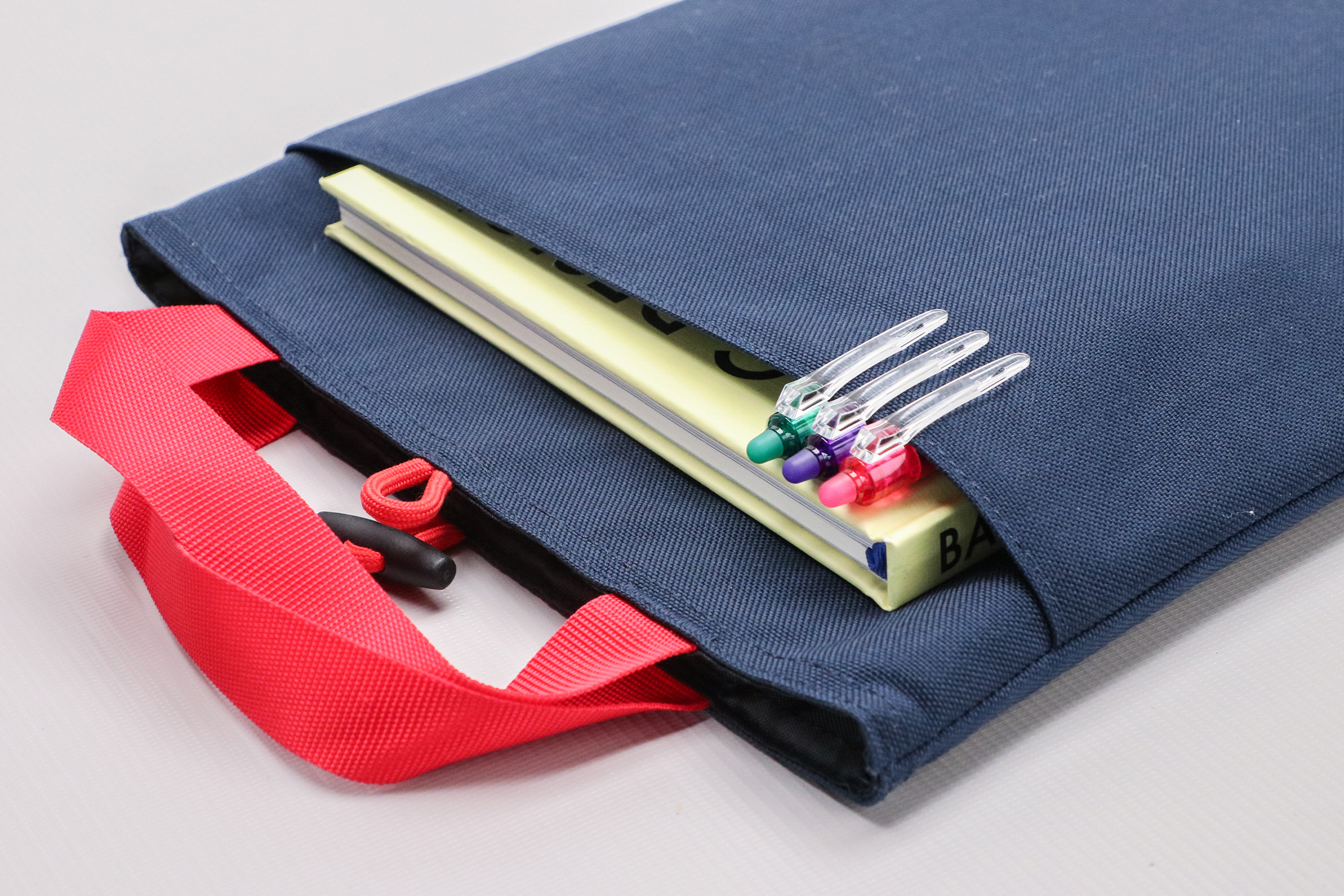 Topo Designs' styling is on point; it's characteristically, undeniably theirs. Plus, it has the right materials to back it up in terms of build quality and durability. There's more than ample padding for protection and enough allowance for most 13-inch laptops to fit inside, and then some. However, one needs to be mindful that it's still very much an open design, with just a simple, albeit secure, loop and toggle system holding things in place. For maximum protection that includes accidental splashes, a large and closed bag rounds it up really well.
Usage Timeline
Initial Usage
Condition: Excellent
Uses a loop and toggle to close the top
It's a mini tote-style bag
Has a separate compartment for notebooks and documents
2 Weeks of Use
Condition: Excellent
Shell and liner have held up with little to no blemishes, and all stitching is still secure
Outer pocket is great for quick stashes
Fits our 13″ MacBook, though anything larger is tight or doesn't fit at all
Foam padding inside the main compartment is cushy and adds comfort
Loop and toggle closure is secure and easy to use
Access the Pro Community Discussion
Get your questions about the Topo Designs Laptop Sleeve answered from our team and the Pro Community right here on the page. Plus, join discussions with other members about gear, guides, and more.
Other Organizers & Pouches Reviews