Topo Designs Core Pack Review
While the laptop compartment and quick-grab pocket could be better, the Topo Designs Core Pack is a simple, solid bag for EDC and minimal travel alike.
Our Verdict
Unlock the Pro Summary
Save time. Get access to brief summaries of our reviews so you can browse and make decisions more efficiently.
Pros
Bright interior fabric helps with visibility
Stands up on its own
Holds more than you would expect for a pack of its size
Cons
Quick-grab pocket is too small and difficult to use
Laptop compartment leaves much to be desired
No air channels on the back panel
Recent Pack Hacker Video
Technical Details
Capacity

25l

Weight (oz)

28 oz (793.8 g)

Denier

1000D

Dimensions

18 in x 13 in x 8.5 in (45.7 x 33 x 21.6 cm)

Notable Materials

Nylon, Packcloth, YKK Zippers

Manufacturing Country

Vietnam

Warranty Information
Full Review
Get up to 15% off Topo Designs • Join Pack Hacker Pro
As its name suggests, the Topo Designs Core Pack is a classic, utilitarian backpack. At 25 liters, it's ideal for EDC (everyday carry), but also works for short getaways if you pack intelligently.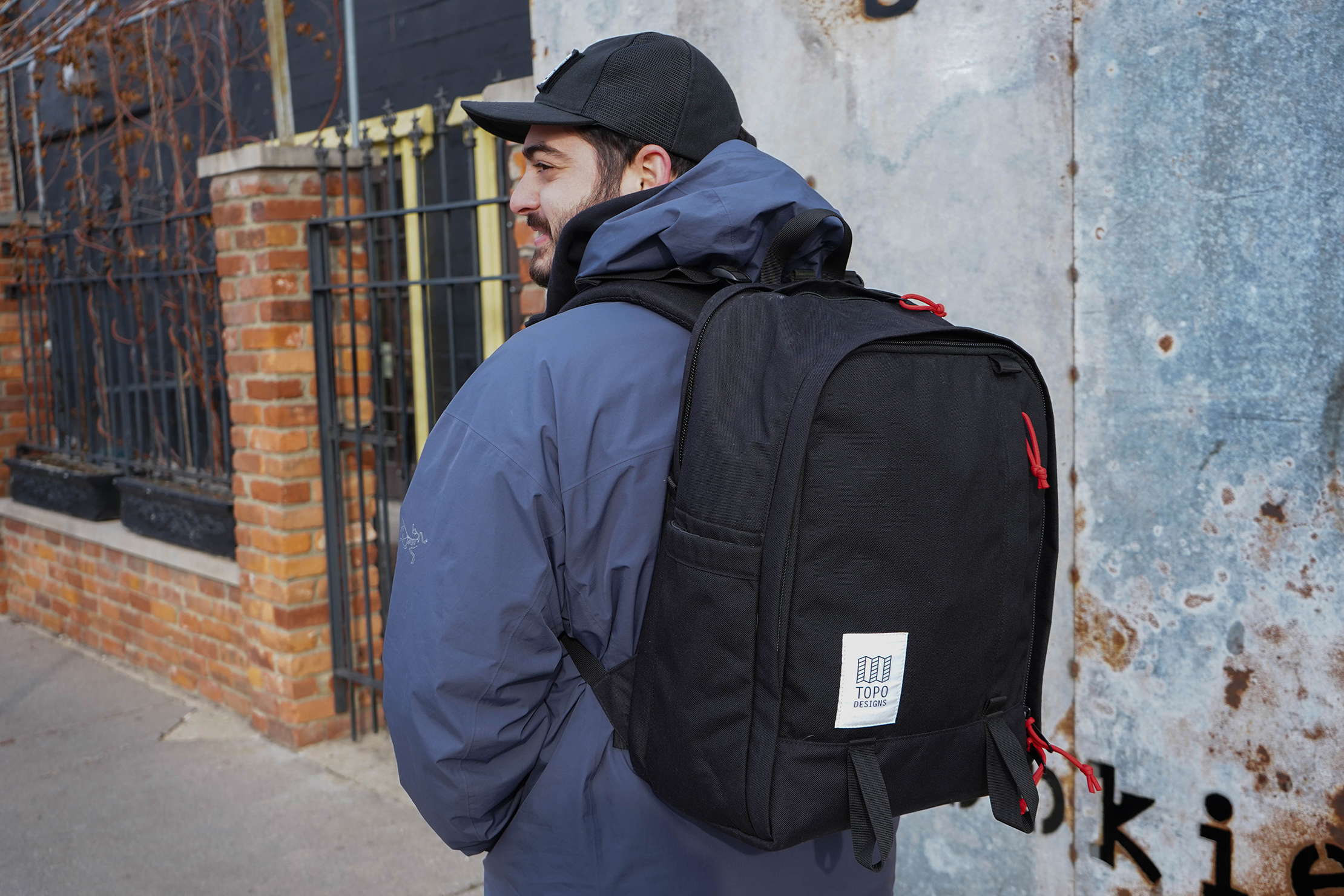 We've been testing it for about a month in Detroit, Michigan and have taken it with us on a few small excursions. Yeah, we've had a lot of time to get a feel for what we like and dislike about this pack.
So let's get started.
Materials & Aesthetic
The Topo Designs Core Pack is less in-your-face than some of the other designs from the Rocky Mountain West based company (like the Mini Quick Pack and 40L Travel Backpack), but still has that classic Topo square shape and heritage, 70's vibe.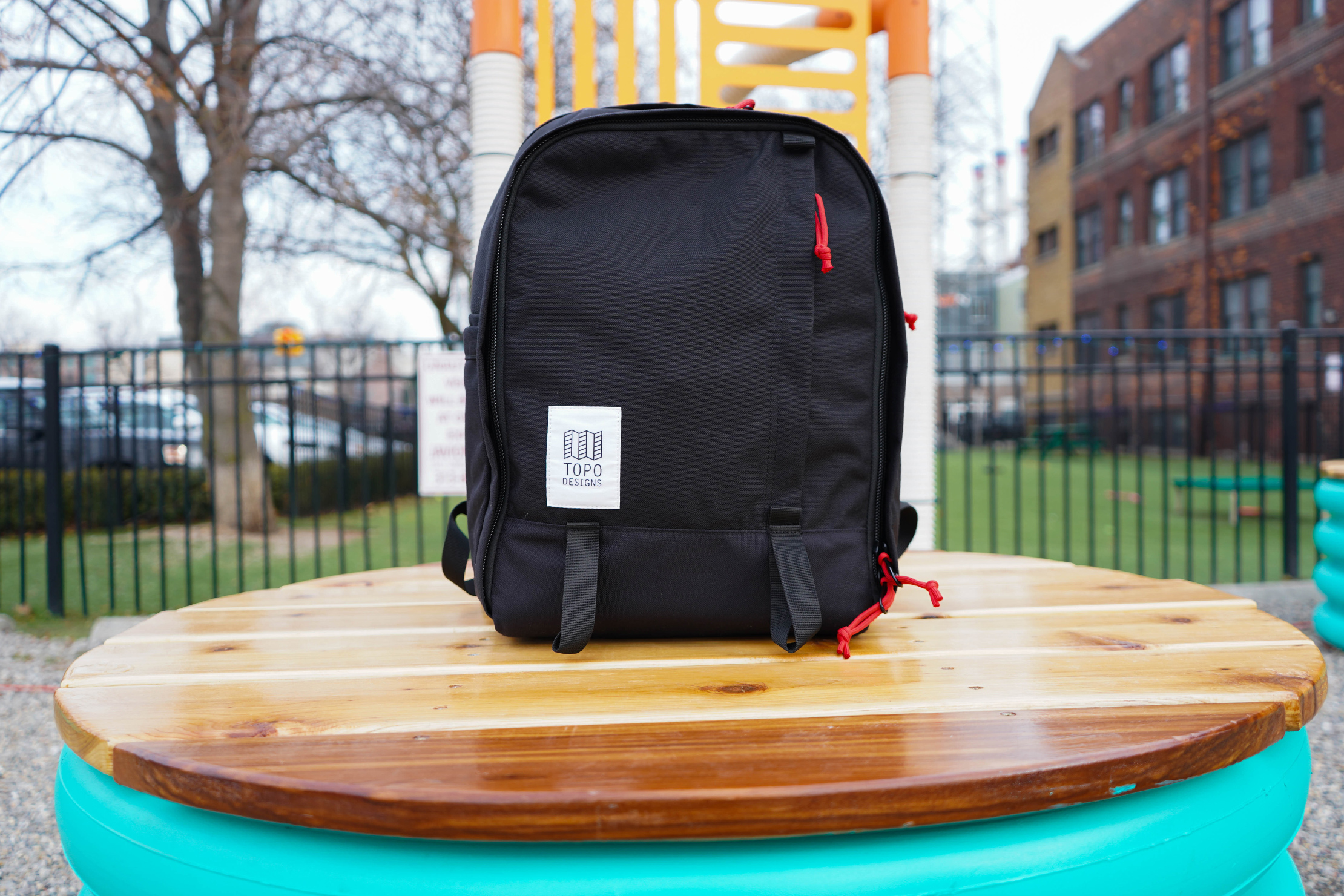 Its structured, square-ish shape also means that this pack stands up on its own…even when it's empty. Yeah, it's as awesome as it sounds. It's always nice to be able to set down your pack beside you without it flopping over.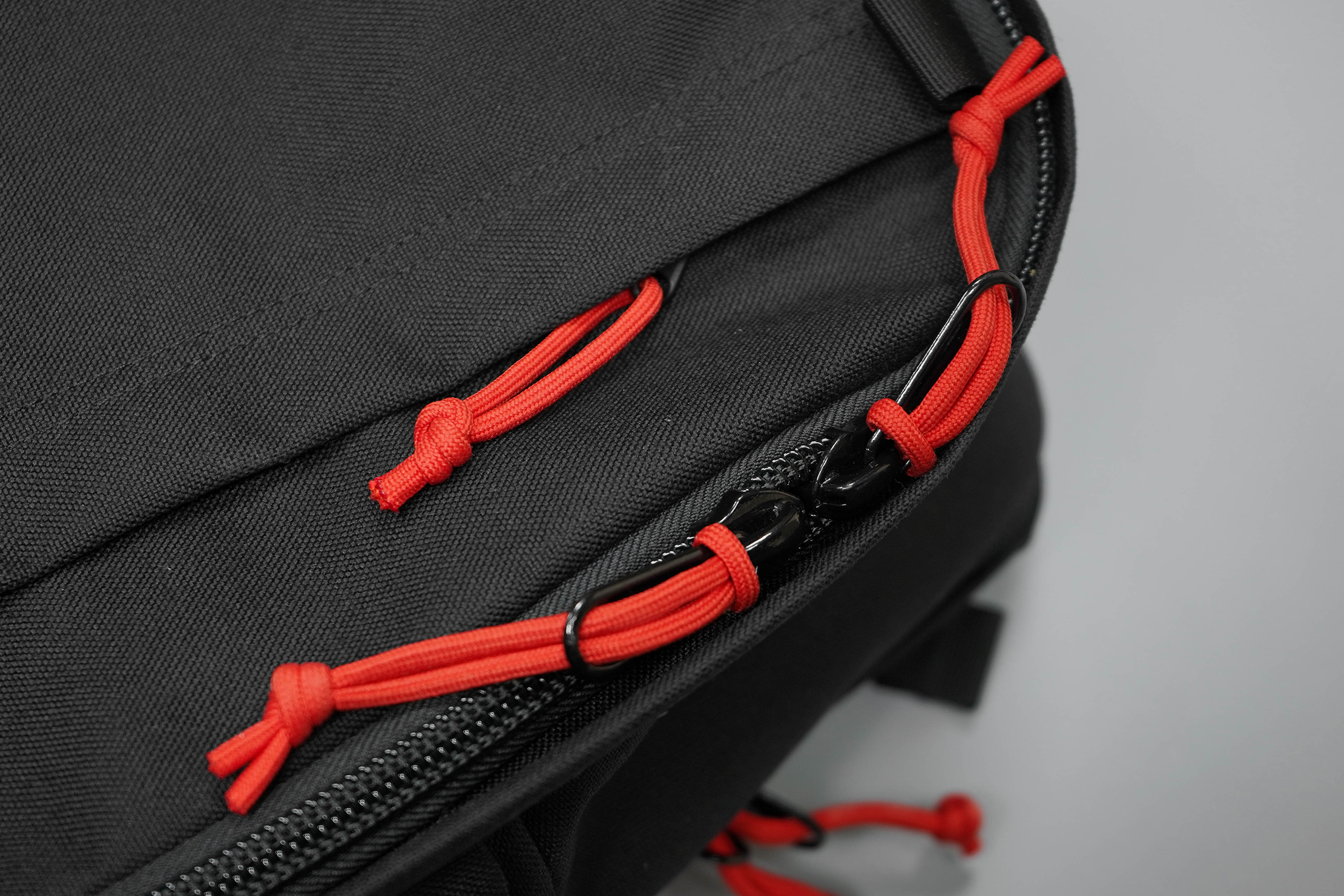 At the time of this review, you can pick the pack up in five colorways, including the black one we've been testing. While the black is far more subdued than most of the other colorways offered—looking at you, Red—it still has a sense of playfulness with chunky, bright red zipper pulls. No matter what colorway you choose, the zipper pulls are cherry red, adding a fun pop color that puts us in a good mood every time we look at them.
The zippers themselves are from trusted Japanese zipper manufacturer, YKK. And beyond being chunky for aesthetic-purposes, their size makes them easy to quickly grab and zip. They're also smooth around the corners and feel durable enough to last you for years to come.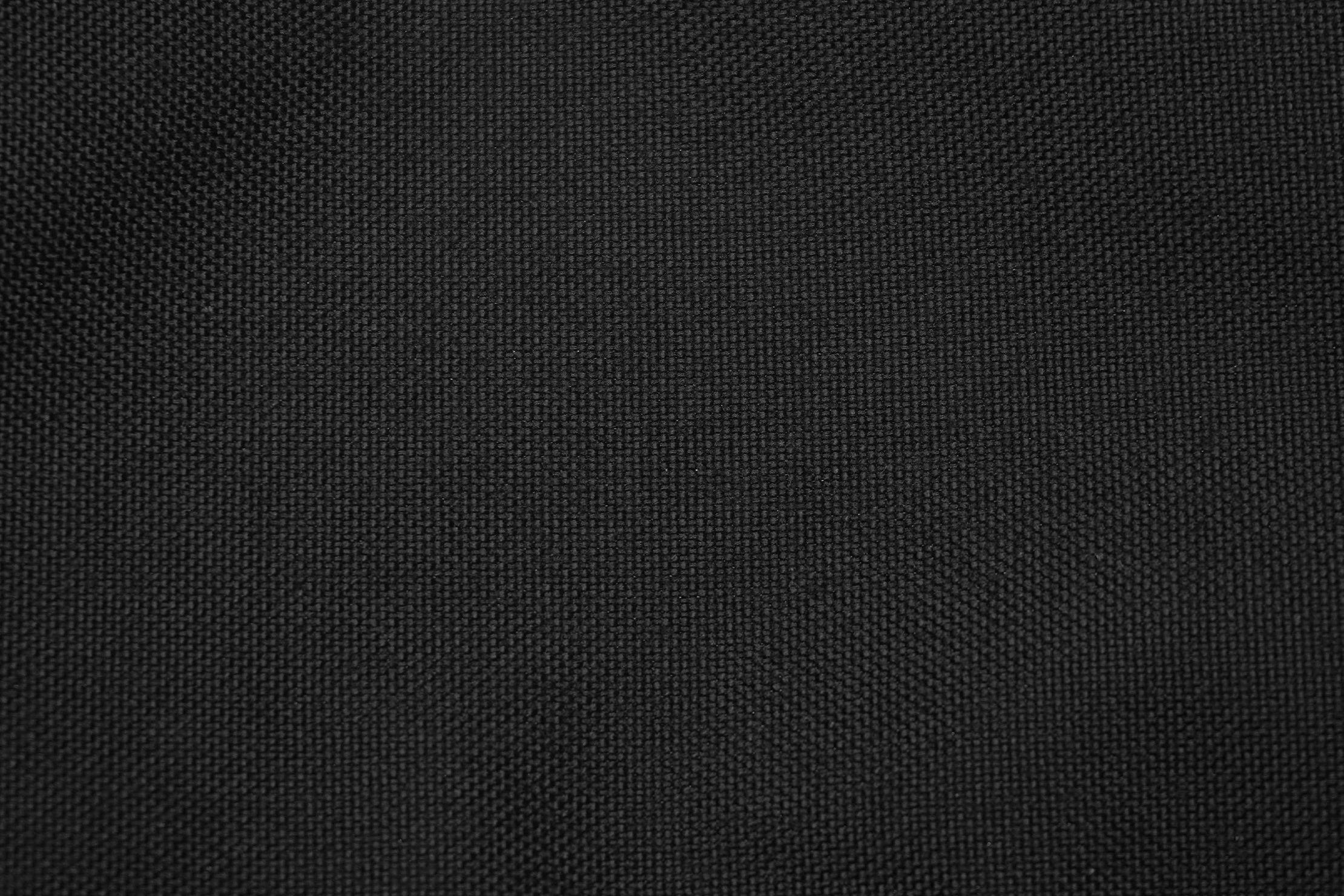 The exterior fabric on the Core Pack is 1000D nylon, and the bag is lined with a 210D nylon pack cloth. The folks at Topo say the pack has been finished with a water-repellent coating, although they don't specify what.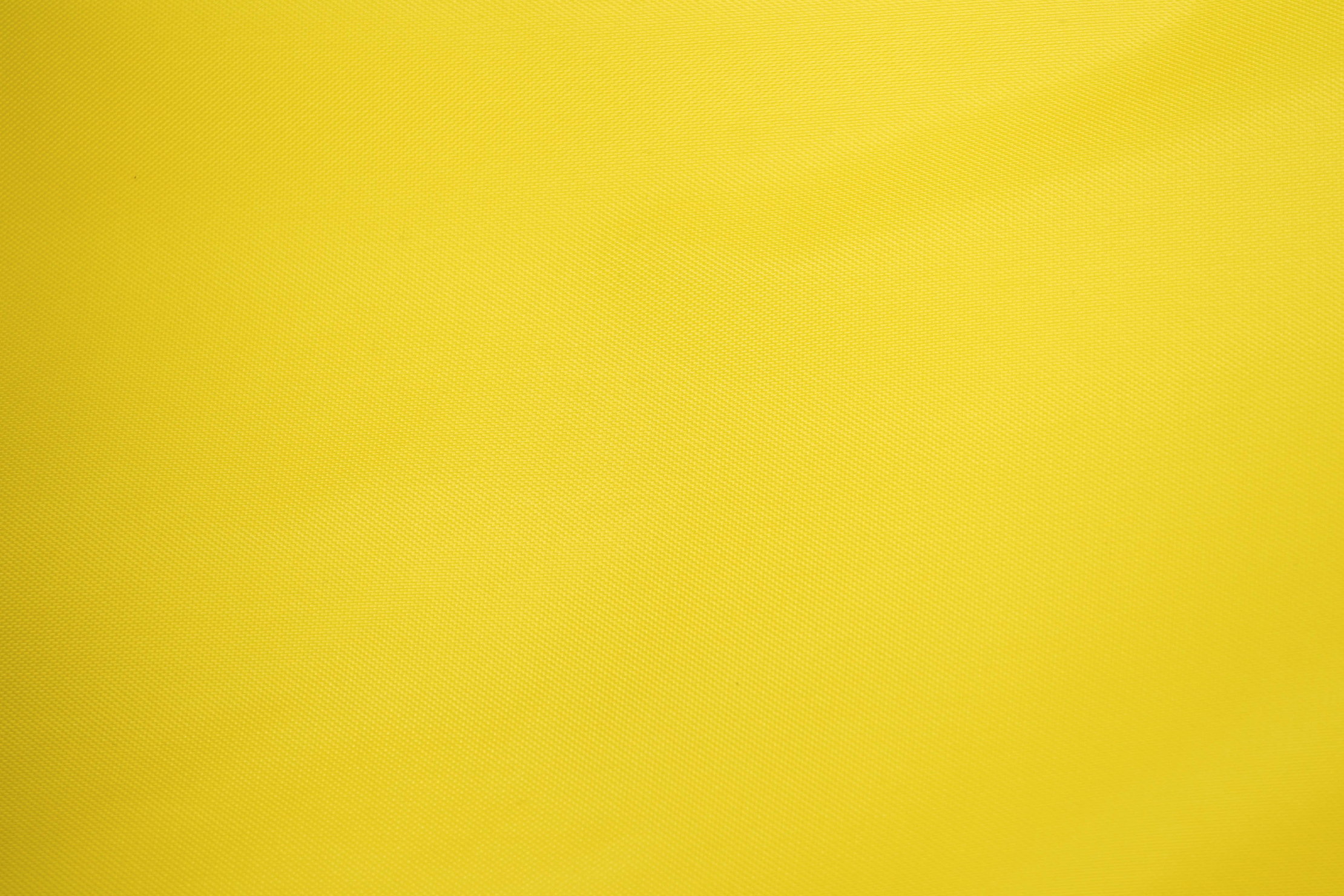 In true Topo fashion, the interior fabric is a cheery, neon yellow that helps with visibility (and style).
External Components
The good news is the contoured backpack straps are far more comfortable than they look. They're nicely padded and feel solid right out of the box. Plus, they're covered in a layer of mesh to help keep the sweat down to a minimum. The load-lifters at the top of the shoulder straps help you lift the load by pulling the pack closer to your upper back, which is a great feature.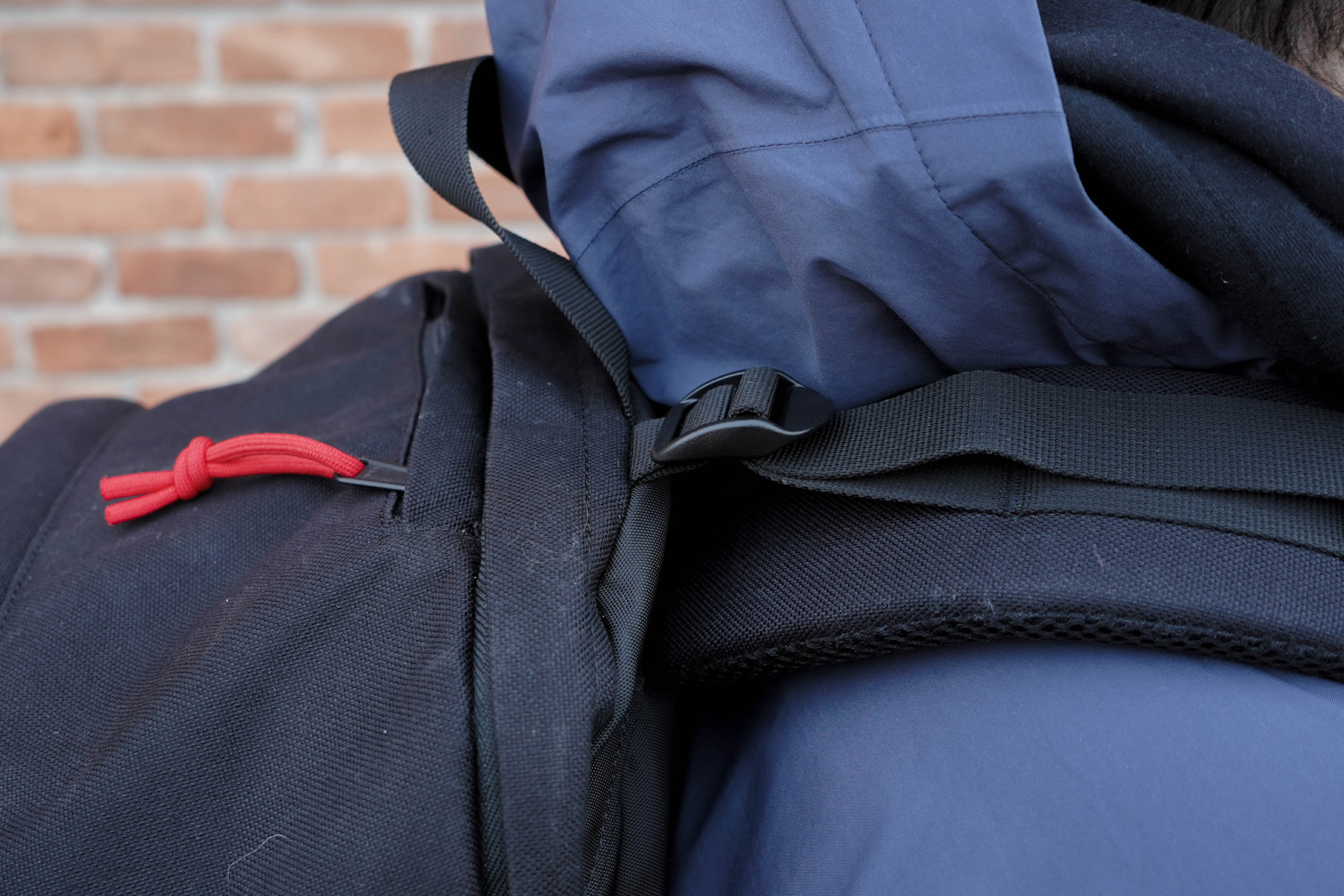 The bad news is the back panel doesn't have any air channels or mesh, meaning it's not great if you have a naturally sweaty back or live in (or travel to) a hot and humid climate. In our testing, this lack of airflow was fine for EDC, but not great for all-day city exploration or hikes. However, there is a little bit of cushioning to help with comfort.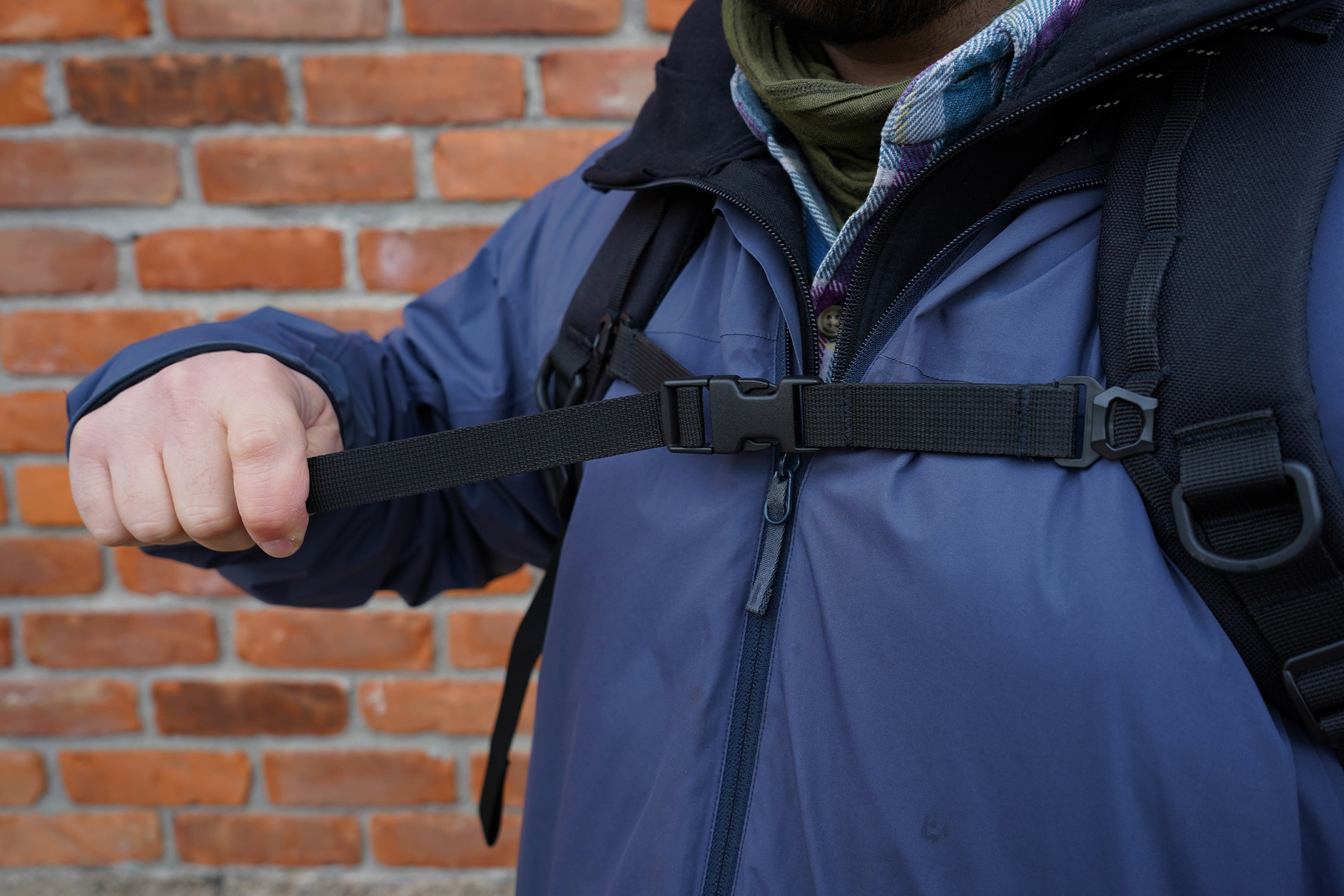 There's also an adjustable, removable sternum strap. While we like that you can adjust and remove it, we're not huge fans of how you can adjust it. We've had no issues with this particular bag, but we've lost sternum straps on other packs with a similar design. It's not very secure—meaning it's easy for the sternum strap to slip out while you're going about your day.
Additionally, there's a removable hip belt that's quite minimalistic. We usually opt to remove it—at 25L this pack doesn't really need a hip belt—but it's great that the option is there if you want it.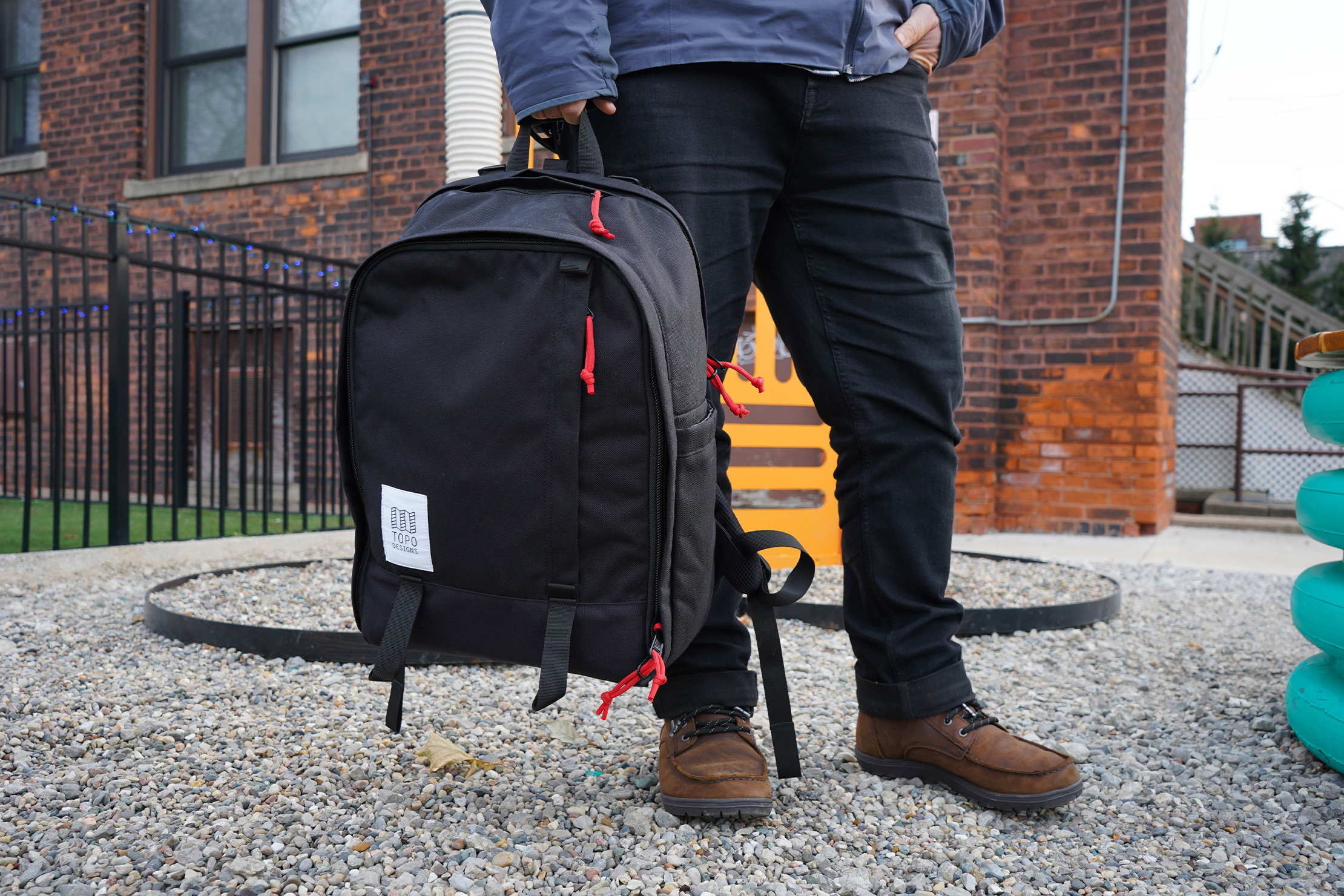 Moving to the top of the Topo Designs Core Pack, you'll find a nylon loop for carrying this pack and hanging it up. It gets the job done, but it's a bit of a bummer. The way the handle is attached to the top of the pack means the bag flops around when you pick or hang it up. Plus, because it's so small and black, it's difficult to find and grab. It blends in too well to the pack's back panel.
Near this handle, you'll find a loop that has been designed to hook on to the Topo Designs Travel Bag. There's also a loop at the bottom of the pack for the same purpose. We always love when companies create brand ecosystems, allowing you cohesively use its gear together, so we like this feature. That said, if you wear the Travel Bag with the Core Pack attached to it, they'll look a little ridiculous—the two packs become one megapack that sticks far off of your back. Sure, it's a slightly hipper look than wearing one backpack on the front and one on the back, but it's still difficult to pull off.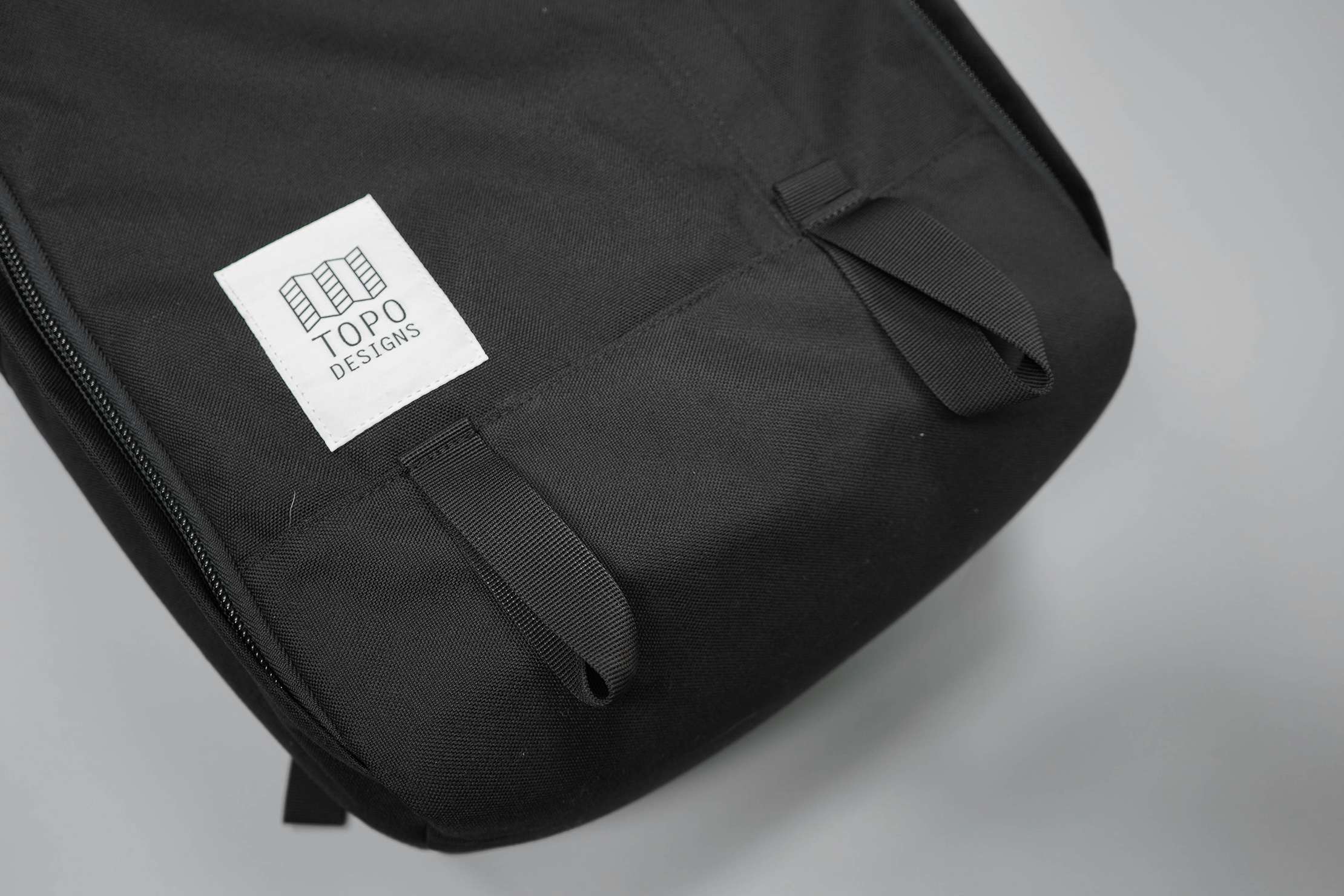 On the other end of the pack, you'll find what Topo Designs calls an ice axe loop. That's right, for carrying your ice axe. We've never used it, but it's made us wonder how many people use ice axes?, should we get into ice climbing?, have we been doing life wrong!?
Anyway. If you haven't hopped on the ice climbing trend either, you can use this attachment point for other things. Hook a carabiner to it and hang accessory pouches, figure out how to strap your tripod to it, whatever.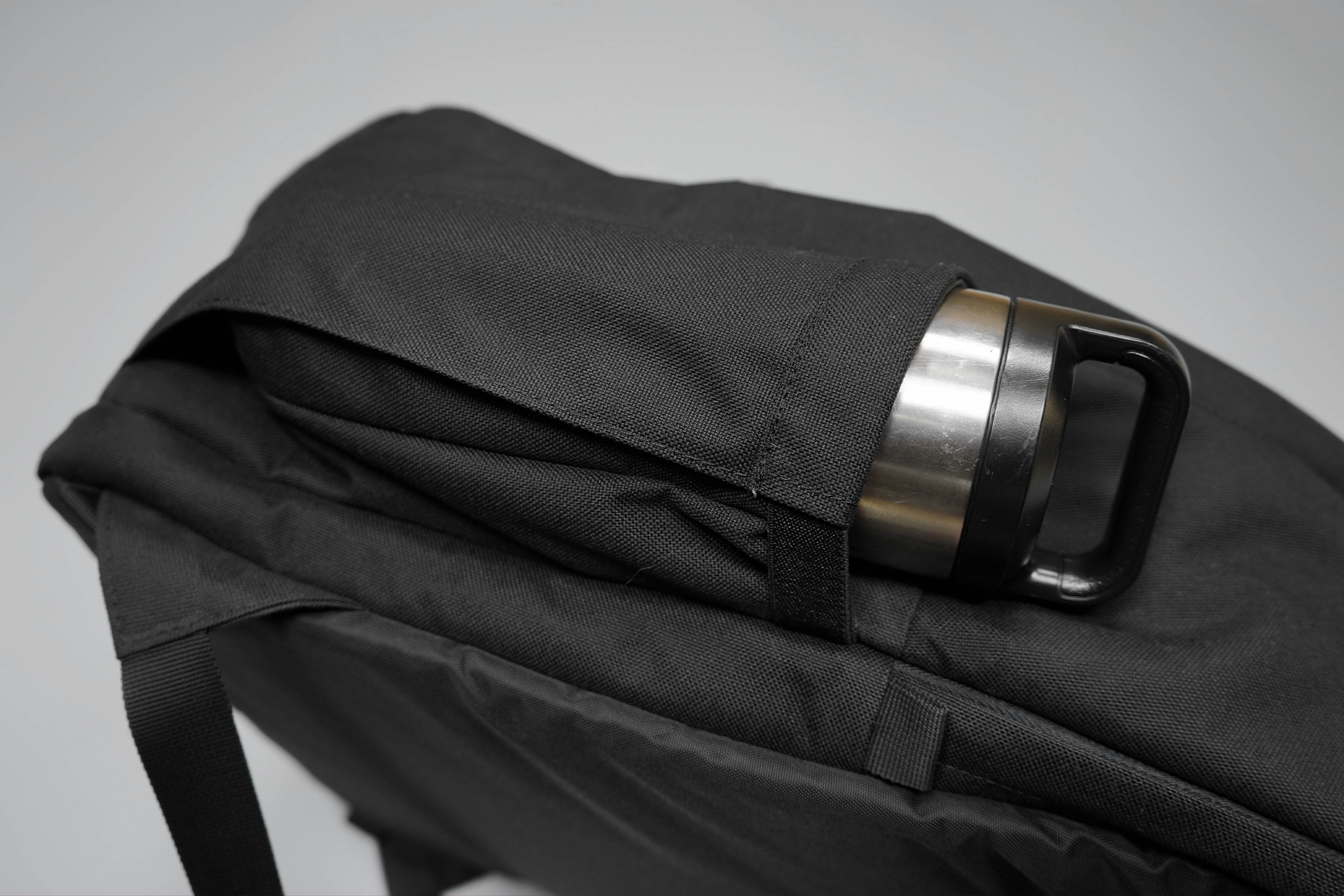 And that brings us to the final external component: the water bottle pockets. They're elasticated in such a way that they lay flat when not in-use, but still allow you to fit most water bottles. We've successfully carried a 1L bottle in one of them. They can cut into the capacity of the main compartment, but nothing major. And, as per usual with backpacks, the more you fill-up the main compartment, the more difficult it'll be to squeeze a bottle into these pockets.
Inside the Pack
Let's start with our least-favorite pocket: the quick-grab pocket that sits at the top of the Core Pack. It's small. So small that it doesn't fit a plus-sized smartphone. For context, depth-wise, it's shorter than an iPhone 7 without a case and width-wise an iPhone 7 will barely slide in. So it's difficult to use. We've ended up stashing little things here—chapstick, wireless headphones, minimalist wallets, etc.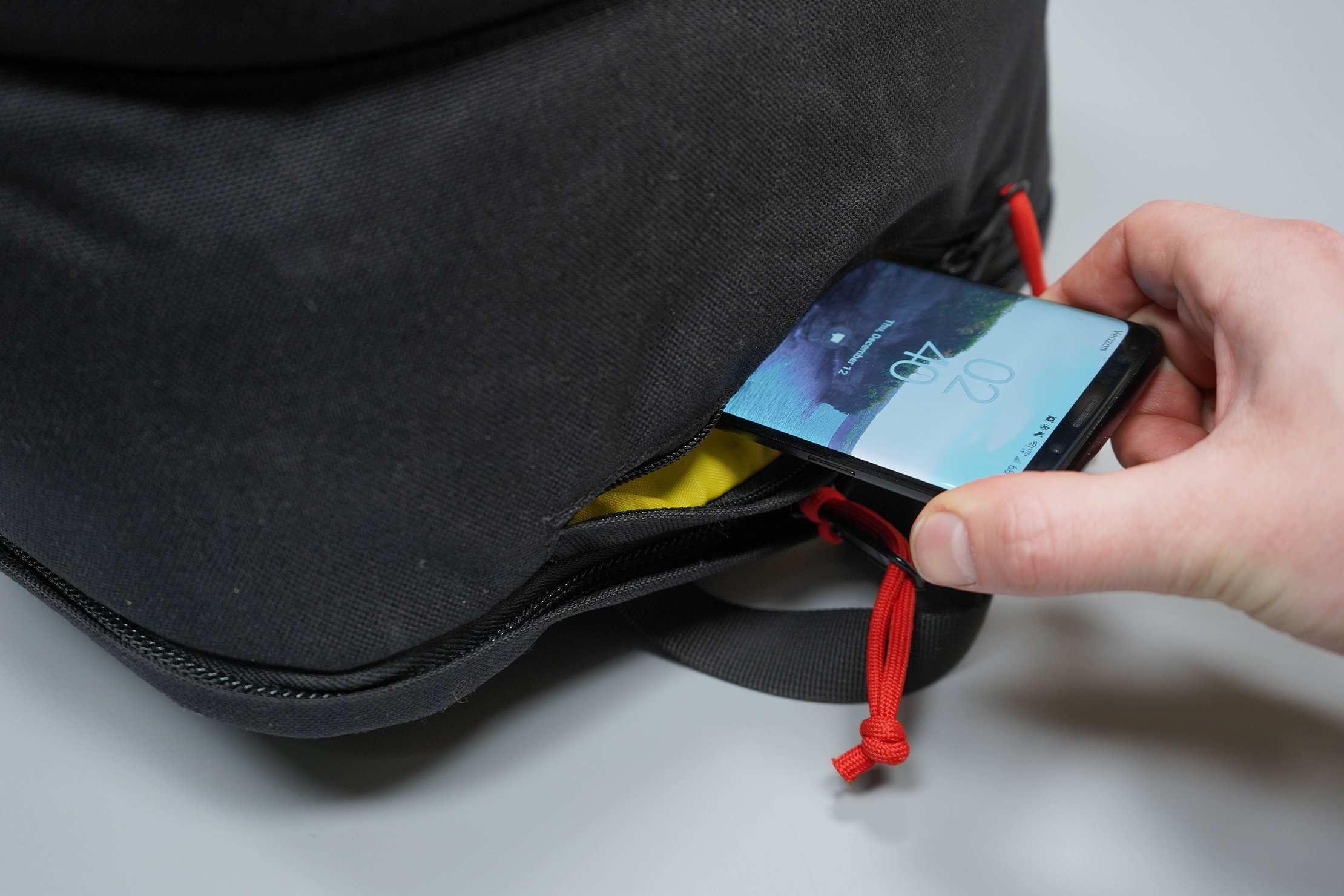 It also flaps into the main compartment. That means 1) it eats into the space of this compartment and 2) when you've filled up the main compartment, it can squish the quick-grab pocket into being even smaller and more difficult to use.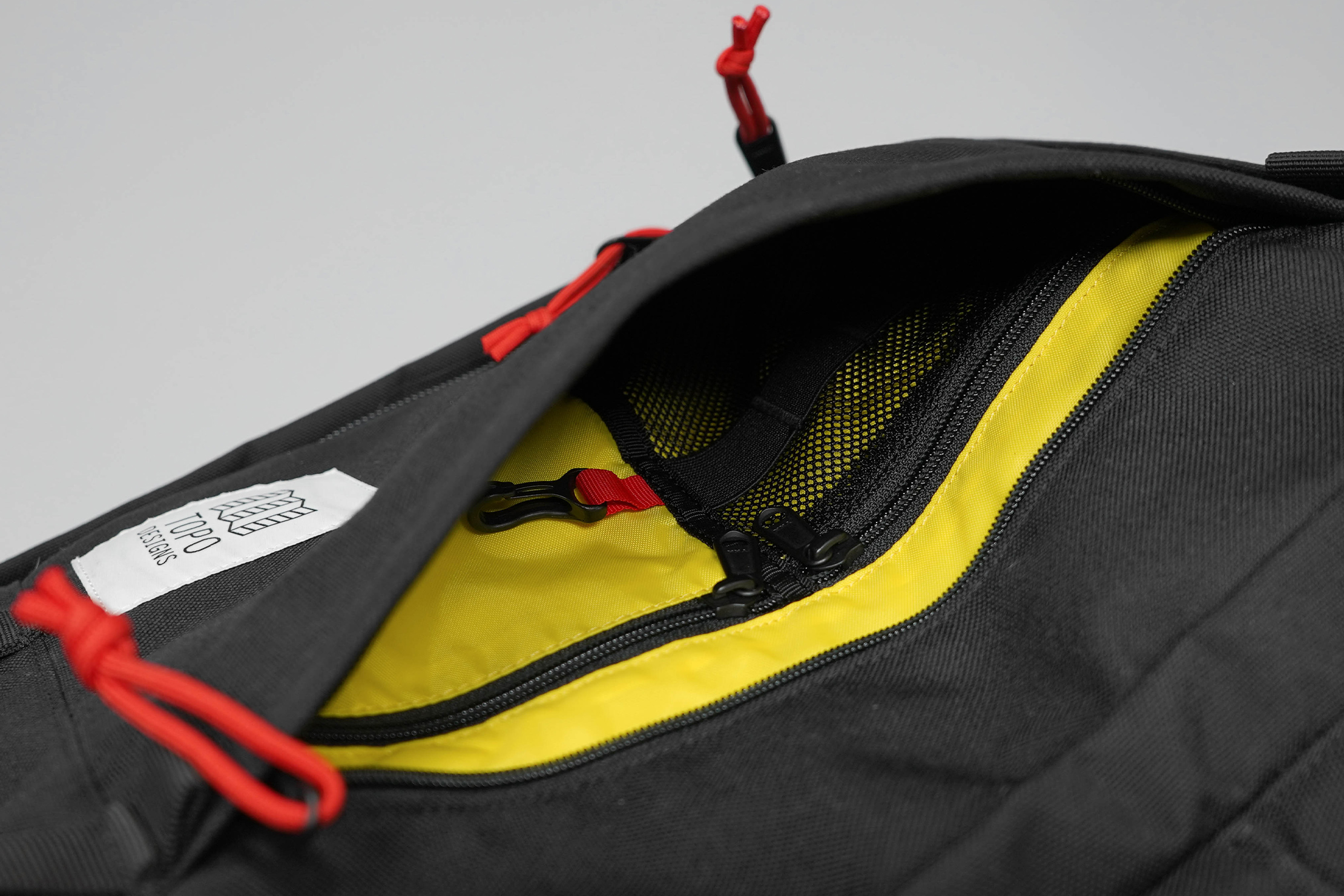 Moving on to the front of the Topo Designs Core Pack where you'll find a flat pocket that's oriented vertically. Because of its size and shape, it's best used for flatter things—it holds a notebook nicely.
Now, oftentimes with vertical pockets, all of your stuff will end up in a disorganized jumble at the bottom. To combat this, the folks at Topo Designs added some internal organization, which is definitely a plus.
There are two zippered pockets, one of which is mesh, a classic liner pocket, some pen loops, and a key leash. We've primarily used this space to hold miscellaneous accessories—cords, SD cards, things like that. That said, it can be difficult to access this internal organization. Especially if you keep other items in the main capacity of the pocket. We've found it works best to keep items here that we don't use frequently.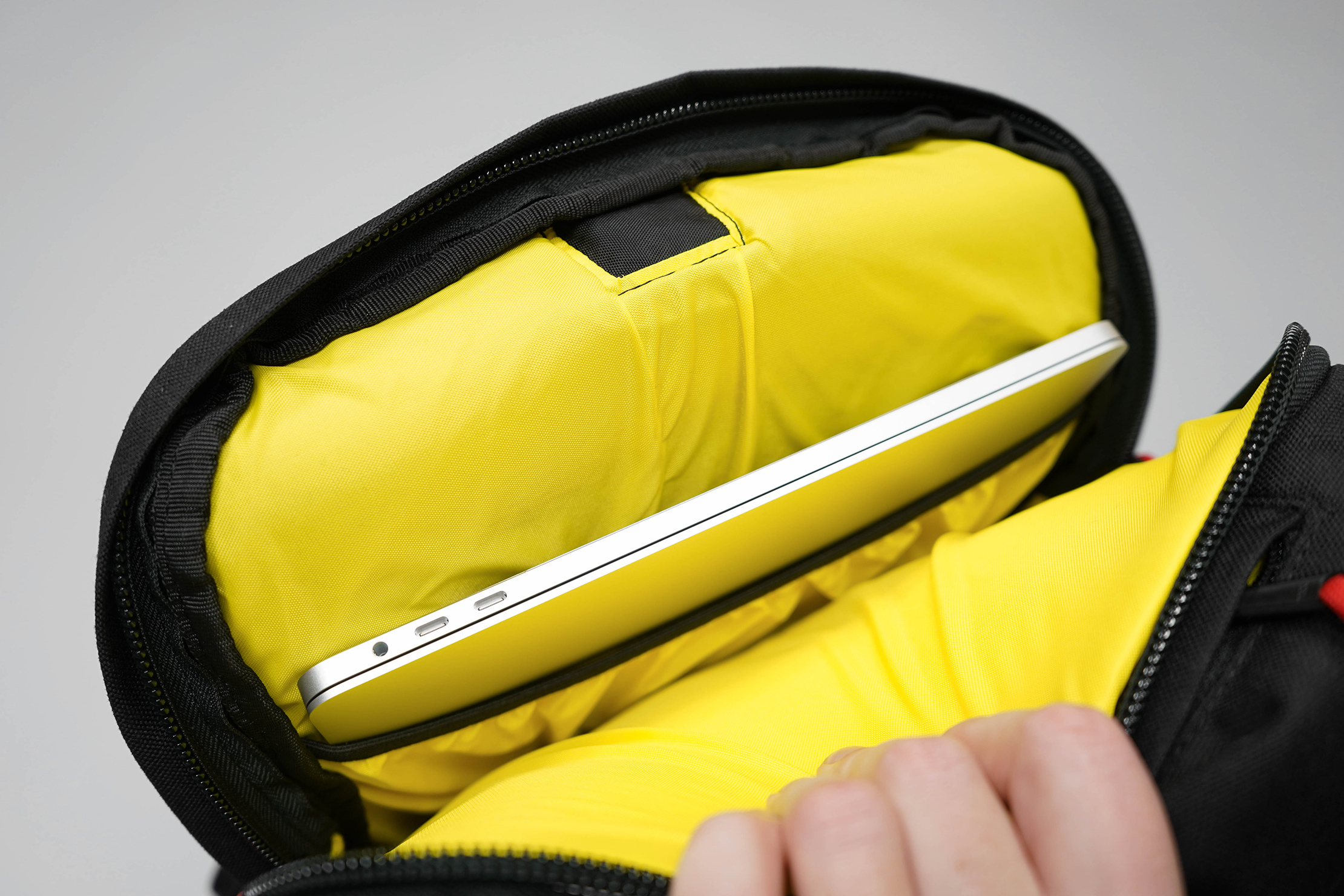 On the opposite side of the Core Pack, you'll find a laptop compartment with a laptop sleeve and a little extra room for documents, a Bluetooth keyboard, etc. At the top of this compartment, there's a pass-through port for cords or a hydration bladder tube for when you're looking to unplug and explore the great outdoors.
To be blunt, we're not impressed with the laptop sleeve. There's very little padding and no false bottom. A false bottom helps protect your computer from damage as it won't connect with the ground if—when more likely—you drop your pack or set it down a little too forcefully. But, that said, if you use a laptop case, you should be okay.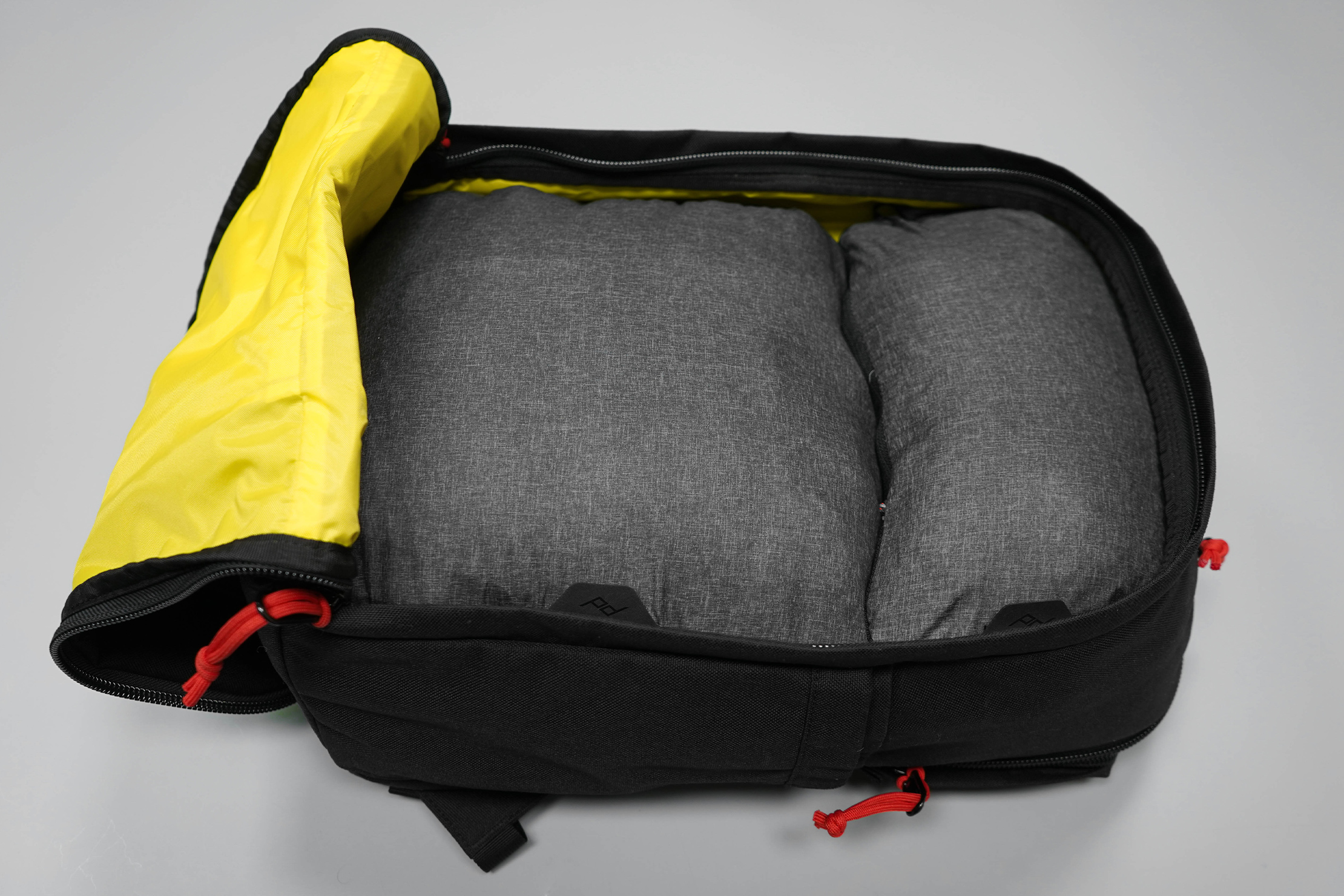 And that brings us to the main compartment, which is a big, bright yellow bucket. And it's been great! You can jam a lot of stuff inside this compartment. Like a lot. More than you would expect from a 25L pack. It easily fits two packing cubes and a Dopp kit. Plus, its clamshell-style opening makes it really easy to pack said massive amounts of stuff.
This is one of those compartments that leaves organization in your hands. You can deck it out with numerous packing cubes, tech pouches, and other organizers, or you can keep it simple. Up to you.
Durability & Testing
As we mentioned at the beginning of this review, we've been testing the Topo Designs Core Pack for about a month in the Motor City and have taken it with us on a couple of short trips. We dig the versatility the pack offers—that it works as an EDC bag, a travel pack, and is okay for the trails too (as long as it's not too hot outside).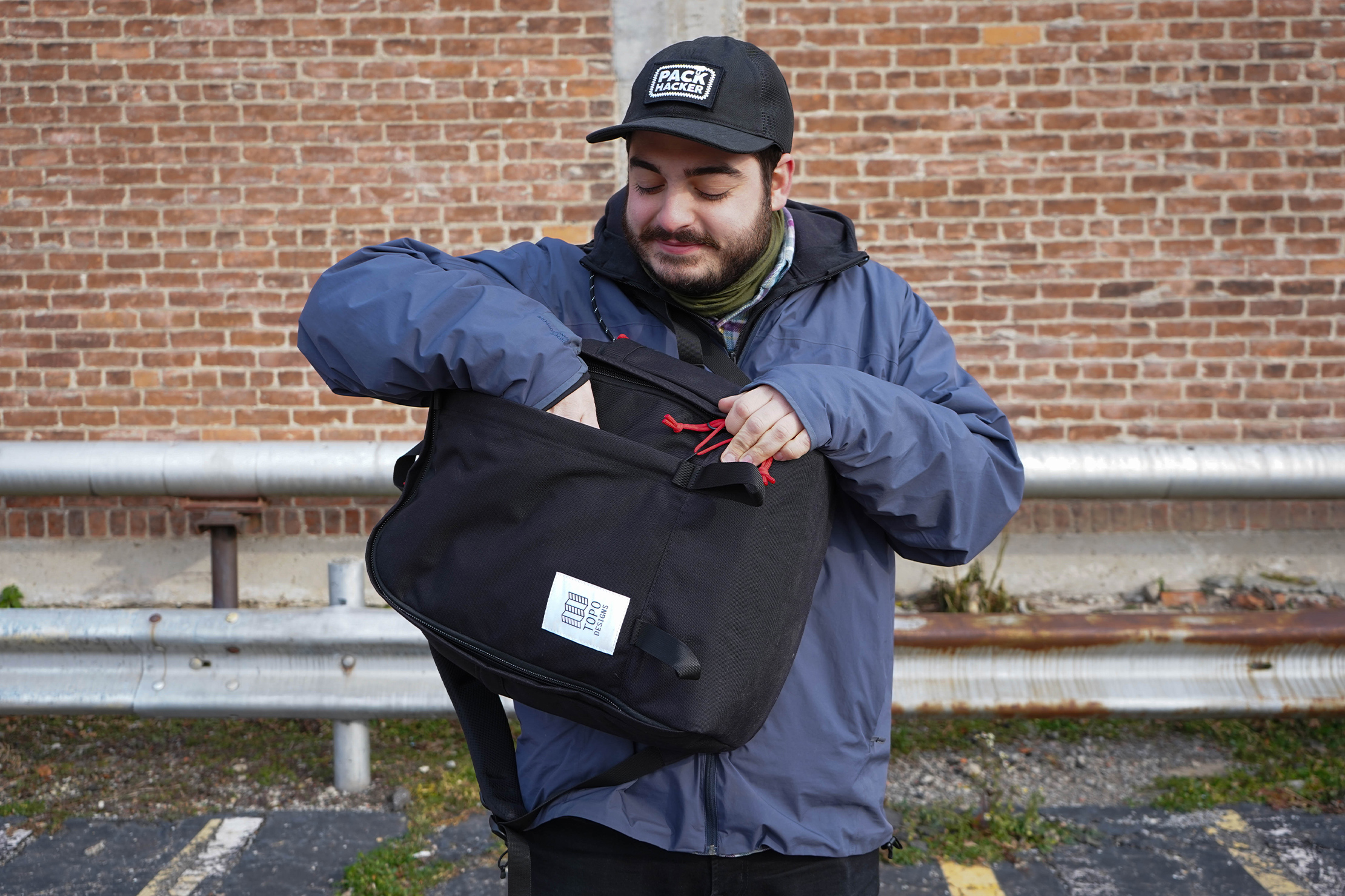 Overall, it's a solid choice if you're looking for a simple backpack that gets the job done. All of our complaints definitely aren't deal-breakers. And, durability-wise, it's looking great. We've knocked Topo Designs before for its fraying logo tags, but so far, so good on the Core Pack.
Usage Timeline
Initial Usage
Condition: Excellent
Digging the simple, classic aesthetic
Comfortable shoulder straps (load lifters are a nice touch)
Quick access pocket is small and could be awkward to access
2 Weeks of Use
Condition: Excellent
Not huge fans of the quick-grab pocket—it's just too small.
1 Month of Use
Condition: Excellent
We've taken it on a couple of long-weekend trips at this point and it works really well. The main compartment holds a lot of stuff.
Access the Pro Community Discussion
Get your questions about the Topo Designs Core Pack answered from our team and the Pro Community right here on the page. Plus, join discussions with other members about gear, guides, and more.
Other Bags & Luggage Reviews