Topo Designs Commuter Briefcase Heritage Canvas Review
The Topo Designs Commuter Briefcase is comfortable in all three carrying modes, but a few elements are literally too rough for our liking.
Our Verdict
Unlock the Pro Summary
Save time. Get access to brief summaries of our reviews so you can browse and make decisions more efficiently.
Pros
Good structure courtesy of the thick leather and zippers
All three ways of carry are comfortable
Very spacious with clean and bright interior lining
Cons
Thick zipper elements are rough on skin when accessing main compartment
Zippers are stiff to unzip
Laptop sleeve's hook-and-loop fastener has sharp edges
Recent Pack Hacker Video
Technical Details
Capacity

15l

Denier

328D

Dimensions

11 in x 16 in x 4.5 in (27.9 x 40.6 x 11.4 cm)

Notable Materials

Canvas, Cotton, DWR Coating, Leather, Aluminum, YKK Zippers

Manufacturing Country

United States

Laptop Compartment Size

15"

Warranty Information
Full Review
Get up to 15% off Topo Designs • Join Pack Hacker Pro
Flexibility is one of the key qualities that often flies under the radar when it comes to traveling. Planning and sticking to an itinerary, for example, is good. But being overly stiff with the schedule might make the trip feel like a chore more than a vacation. The same thing applies to the kinds of gear we bring along on trips. We try to choose products that have a lot of functionality built into one package. Multi-carry bags are good examples of such flexible and versatile gear. We sometimes want to carry a bag by the handle, on one shoulder, or on both.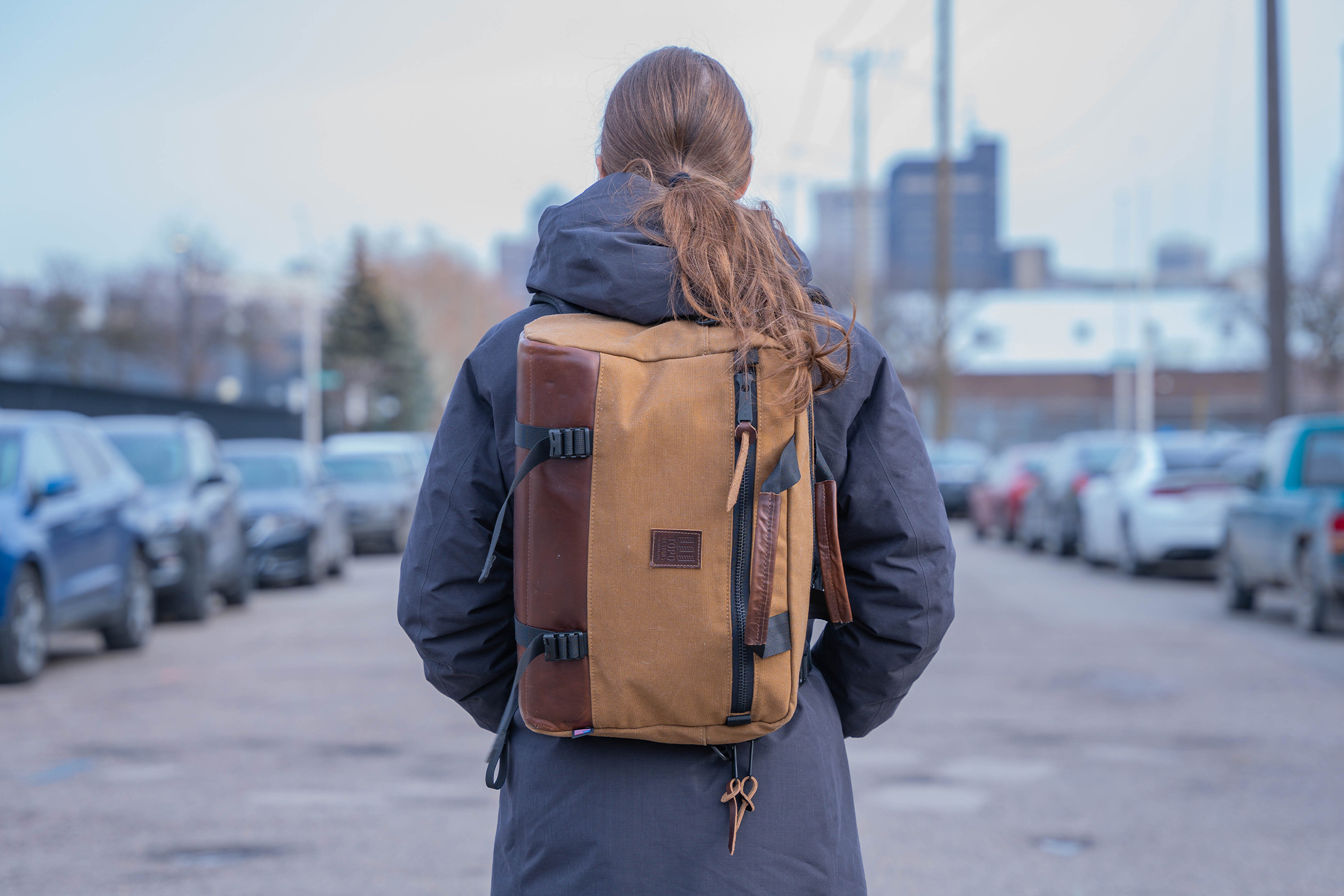 Topo Designs' Commuter Briefcase ticks all three boxes, being a briefcase, backpack, and messenger bag all rolled into one. With its heritage styling and leather-clad looks, this seems like a shoo-in for our day-to-day use. However, some parts come off as a bit rough—literally. We'll elaborate on that thought and more in the review below.
Materials & Aesthetic
There's no other way around it; this is one looker of a bag. This is the Heritage Canvas version of the Commuter Briefcase. While we typically prefer something darker like black, we can't help but be charmed by the vintage vibes this is giving off. The leather looks and feels thick, not like it was just tacked on for the sake of having leather. The whole bag is covered in different shades of brown. But it's not the type of beige that makes you feel like you're stuck in the past.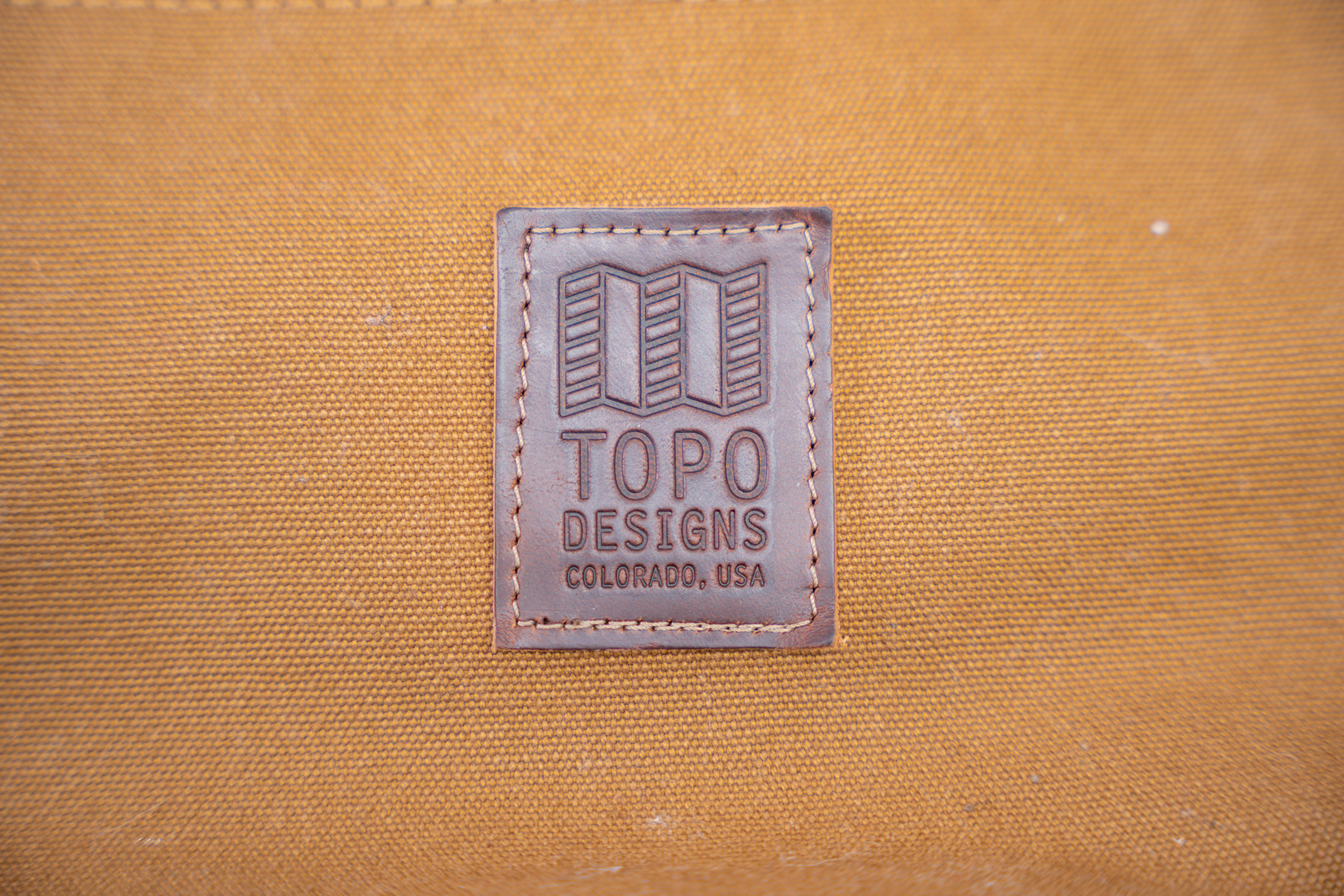 If shades of brown aren't your thing, there are also other colorways available at the time of writing. There's Olive Canvas with Brown Leather, Natural Canvas with Veg-Tanned Leather, and Black Canvas with Black Leather. There's also a regular version that does away with the leather and canvas altogether if you prefer something more contemporary-looking.
The build quality on the Commuter Briefcase feels top-notch. We've already had our fair share of gear from Topo Designs, and we've come to expect nothing less of the brand. One sore spot on Commuter Briefcase is the zipper pulls. They're made with strips of leather that are simply threaded through the metal pulls and don't feel as thick as we'd like them to be. We found ourselves avoiding them altogether and instead grabbing onto the metal part of the zipper.

On the subject of zippers, the Commuter Briefcase comes equipped with chunky #10 YKKs. And when we say chunky, we mean it. To our eyes, the bulky zipper elements (that's the teeth) actually form part of the aesthetic design of the Commuter Briefcase. The black accent plays well into the styling, and we do dig how it looks. However, the downside is that the zippers feel quite sticky and stiff to use, hindering overall accessibility.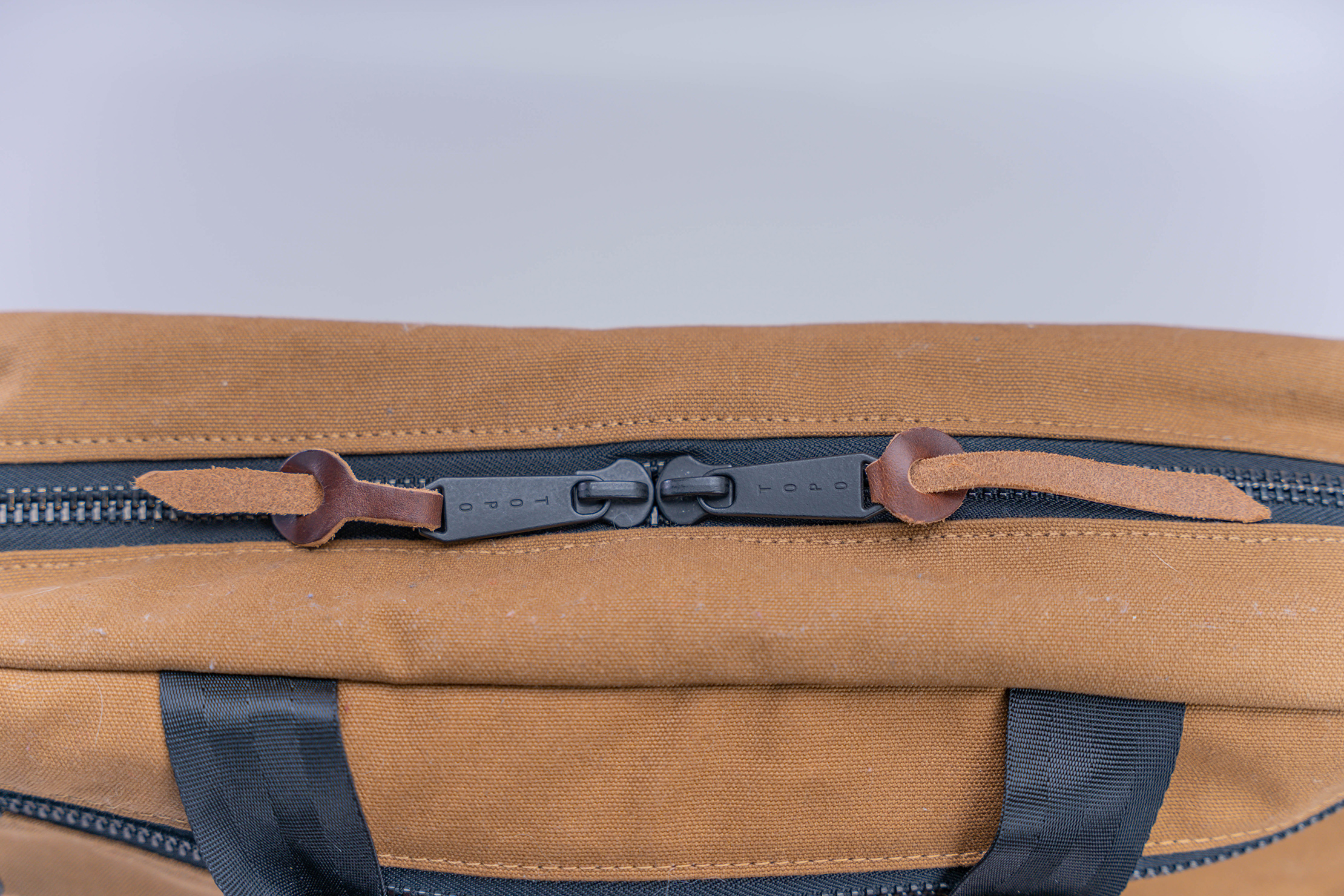 As for the materials, the base of the bag is covered in Horween leather, while the main fabric is cotton canvas with a water repellent finish. The inner liner is also cotton canvas and looks pretty pristine out of the box. The hardware, such as the adjusters and clips, are Duraflex-branded ones, and they all operate smoothly and relatively easily.
External Components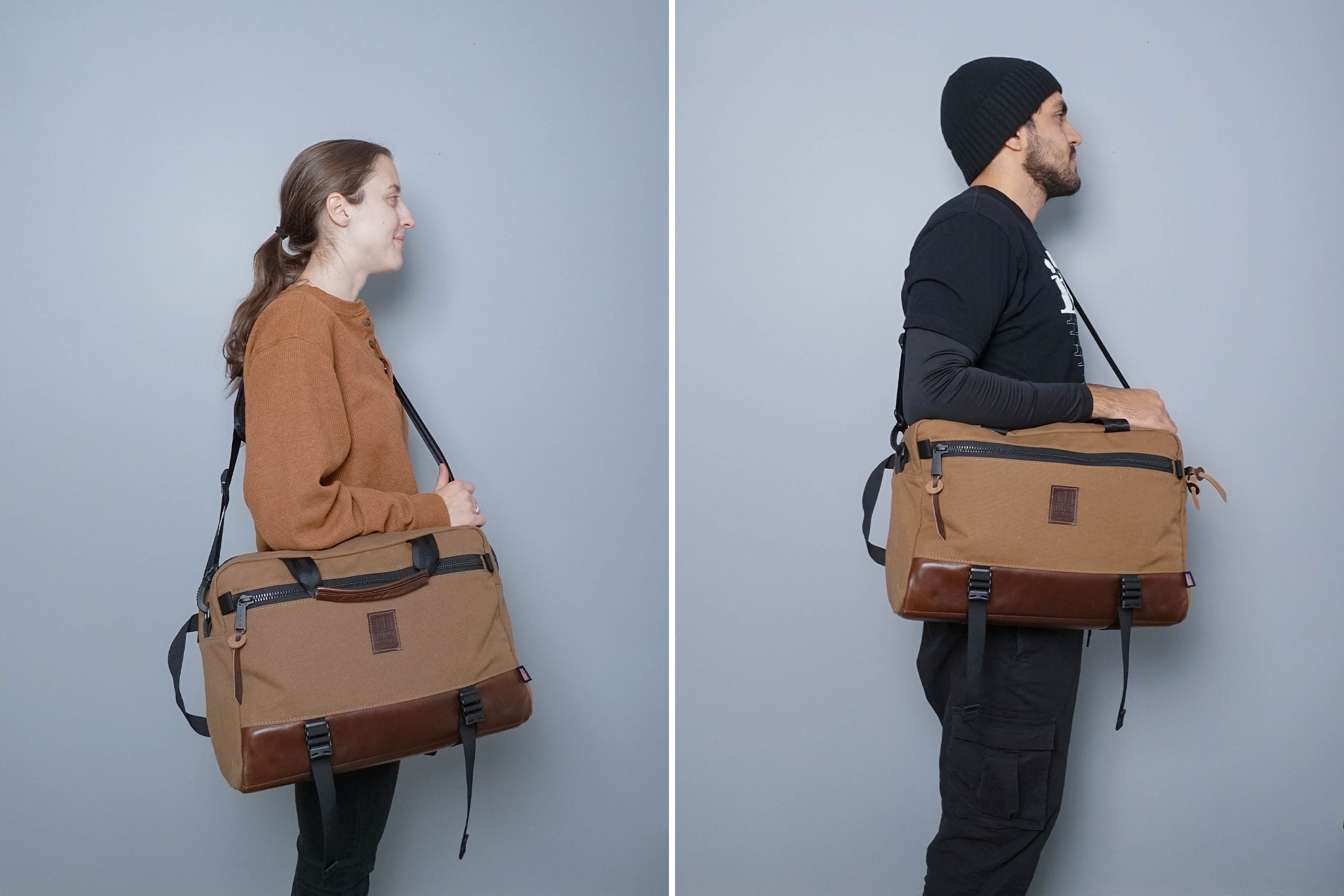 While the Commuter Briefcase is first and foremost, well, a briefcase, there are three ways to carry it. In briefcase mode, the pair of top handles are well-appointed with leather like the other parts of the bag. The leather serves as the padding for these handles, and they do the trick well enough. At 15 liters, the Commuter Briefcase is relatively spacious and can carry a lot of our daily gear. There are some instances where carrying it like a briefcase can get fatiguing rather quickly—for that, there's the backpack mode.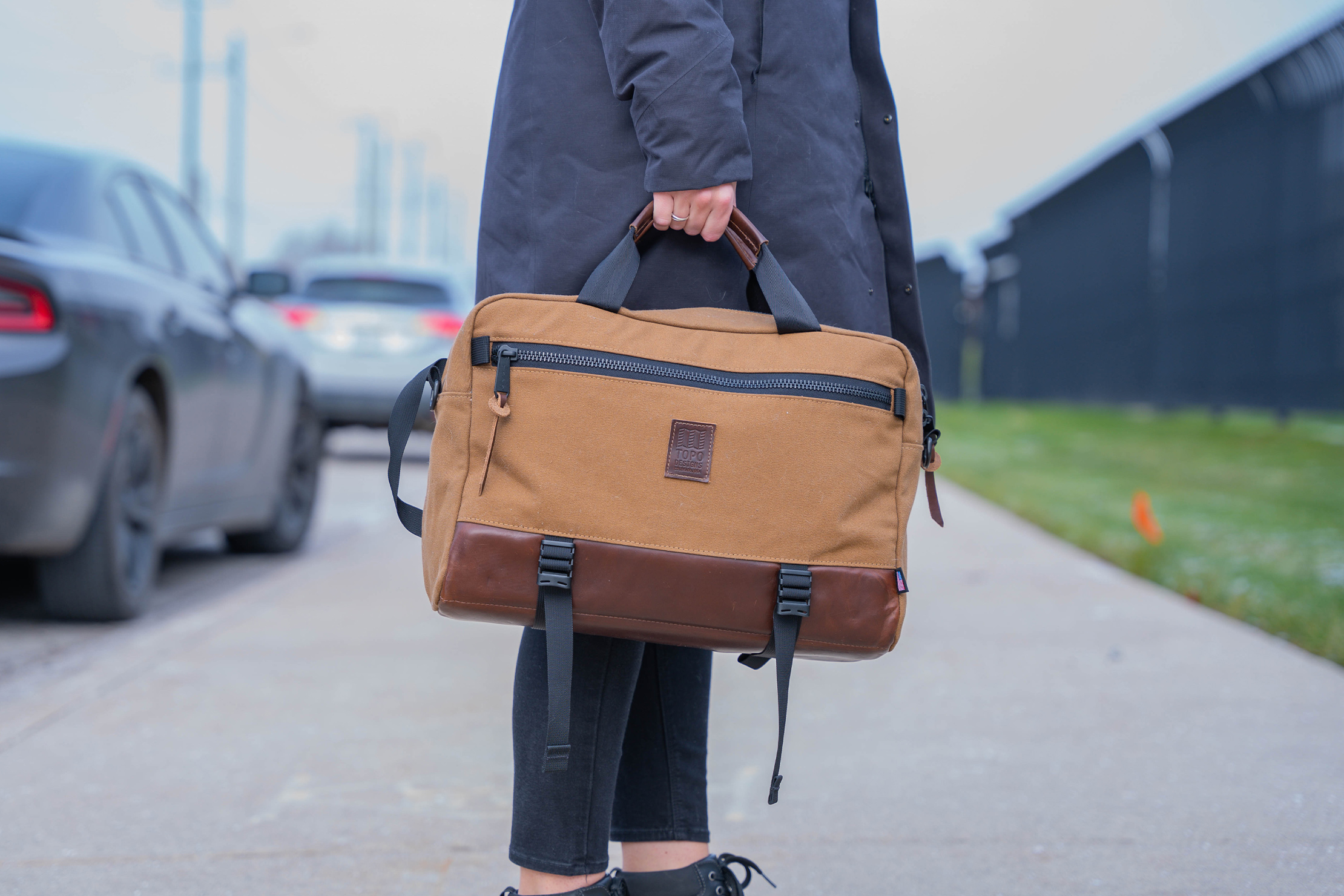 Hidden behind the back panel is a pair of black shoulder straps. They're well-padded, are covered in mesh underneath for breathability, and have D-rings for accessories. Considering that these straps are storable, we're glad there's little to no compromise when it comes to comfort. The adjusters slide easily but with enough resistance that they don't slip out of position after we take our eyes off them.
Nylon loop tabs act as attachment points for the straps, and our only gripe is that they're quite wide and make it hard to buckle the gatekeeper clips. It takes some effort to lock the straps in place properly and remove them when we're finished. On the flip side, we would rather have the fit be tight like this than to have them too loose.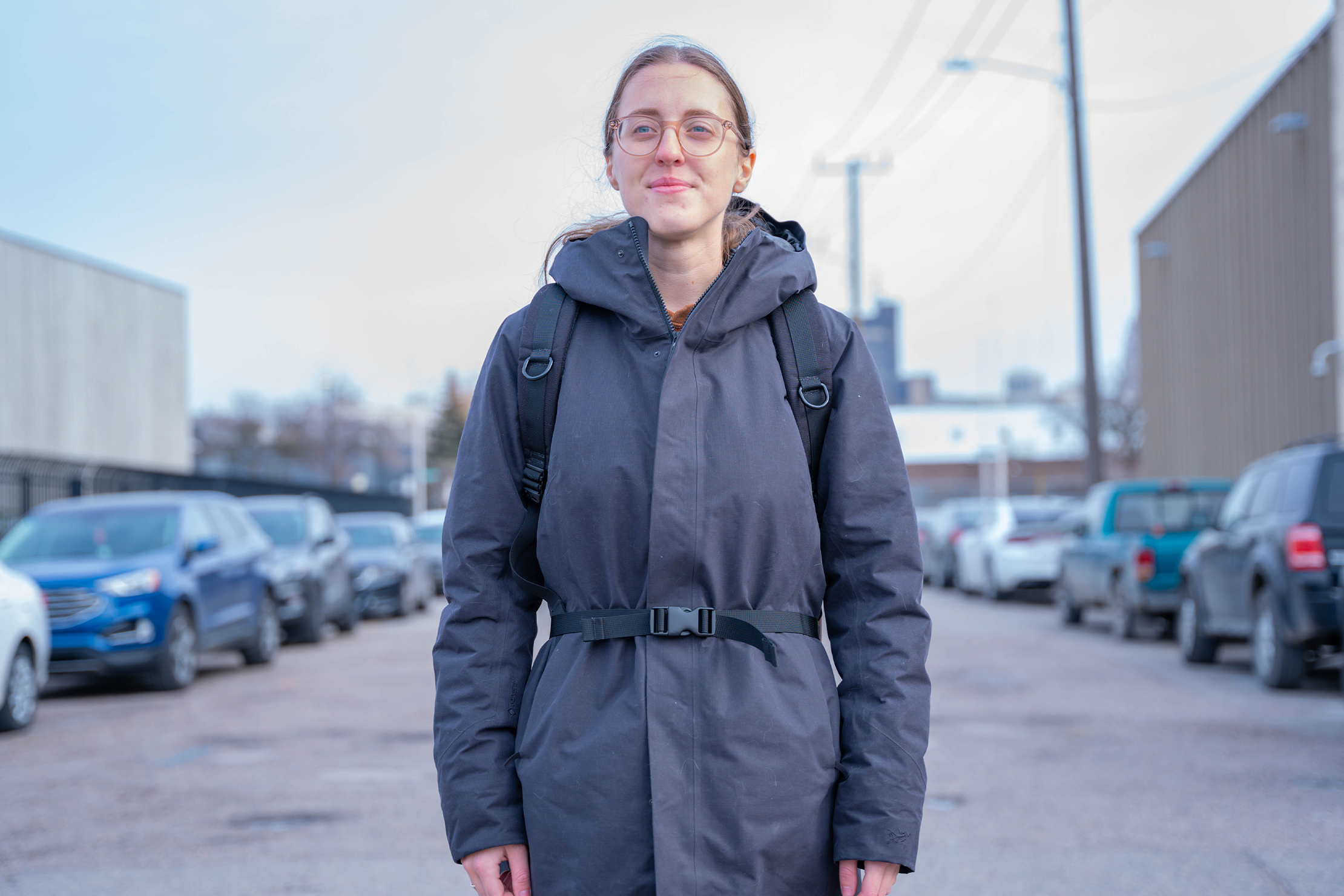 While the Commuter Briefcase lacks a sternum strap, Topo Designs does include a removable waist strap for added stability. Like the shoulder straps, it attaches via gatekeeper clips onto nylon loops near the bottom edge of the back panel. The nylon loops are part of the built-in PackFast attachment points, which is a modular system that Topo Designs uses to attach their gear together. For the waist strap, this just means you can opt to leave it at home if you don't need the extra security. But if you're like us and want extra stability while riding a bike, it's worth keeping it attached or inside the bag.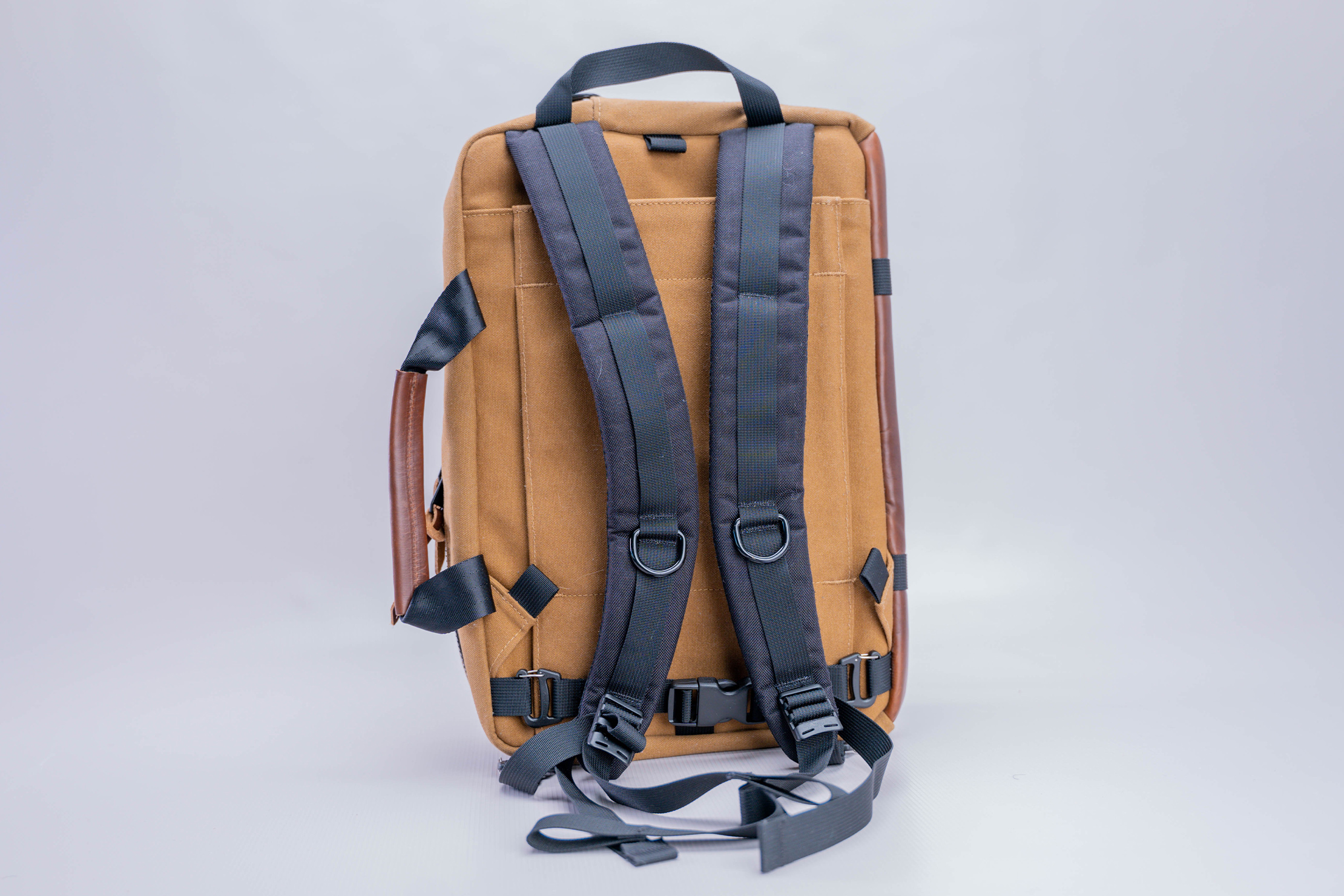 It's worth noting that while in backpack mode, the bag sits vertically. This means switching from briefcase to backpack mode can jostle loose items inside the compartments. Speaking of orientation, the back panel also has a built-in pass-through if you wish to put the bag on rolling luggage. It sits like a regular briefcase, so there's little risk of items inside the liner pockets falling out.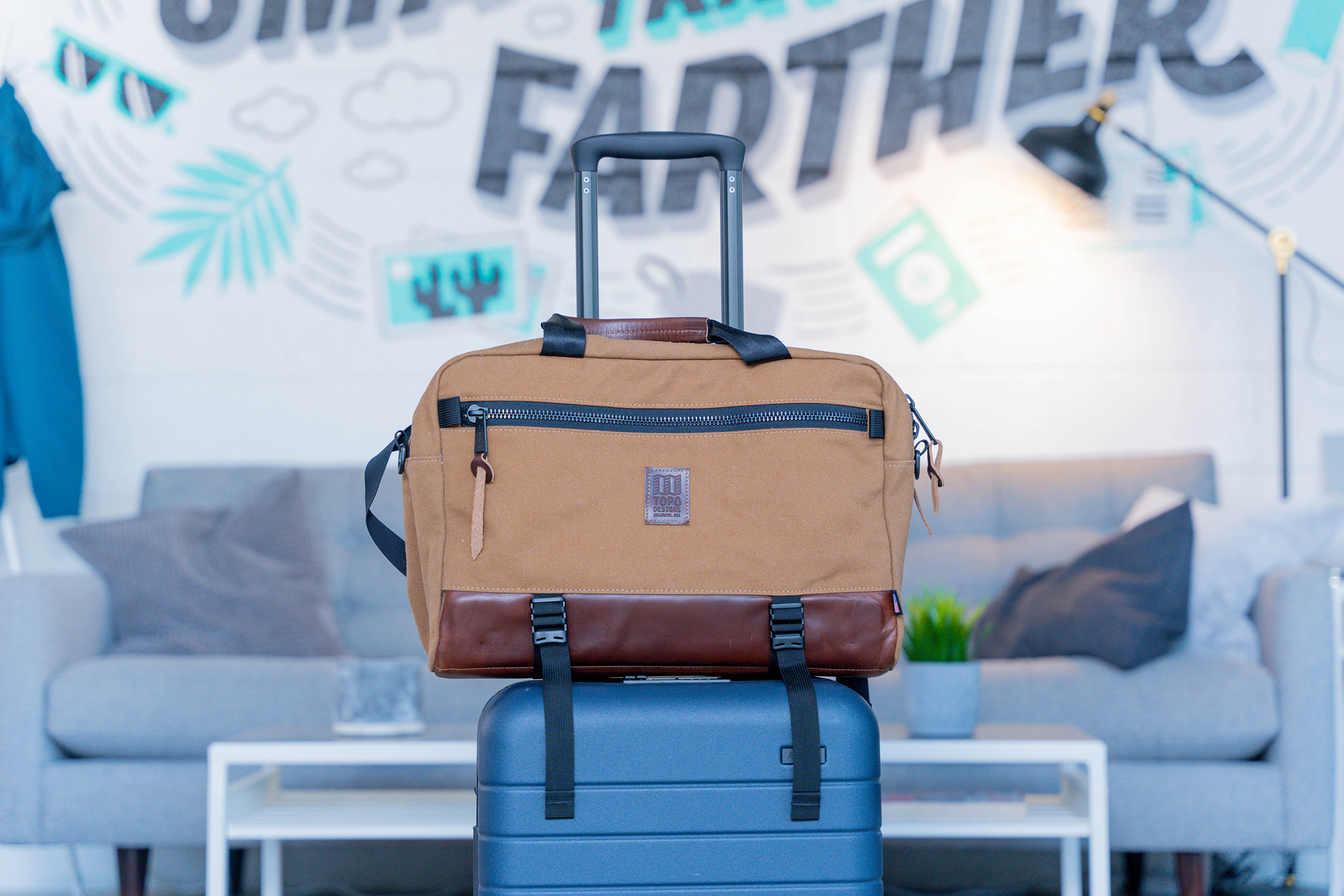 The third way of carrying the Commuter Briefcase is as a messenger bag. Fortunately, the crossbody strap needed for this comes included, so there's no need to cannibalize an old bag for one. It attaches to D-rings that flank the main compartment's opening through—yep, you've guessed it—gatekeeper clips that swivel. The included strap even comes with one of the longest meshed shoulder pads we've seen on a carrying strap. In fact, it spans almost half of the strap's length, so there's little to no need to shuffle it along for a better fit.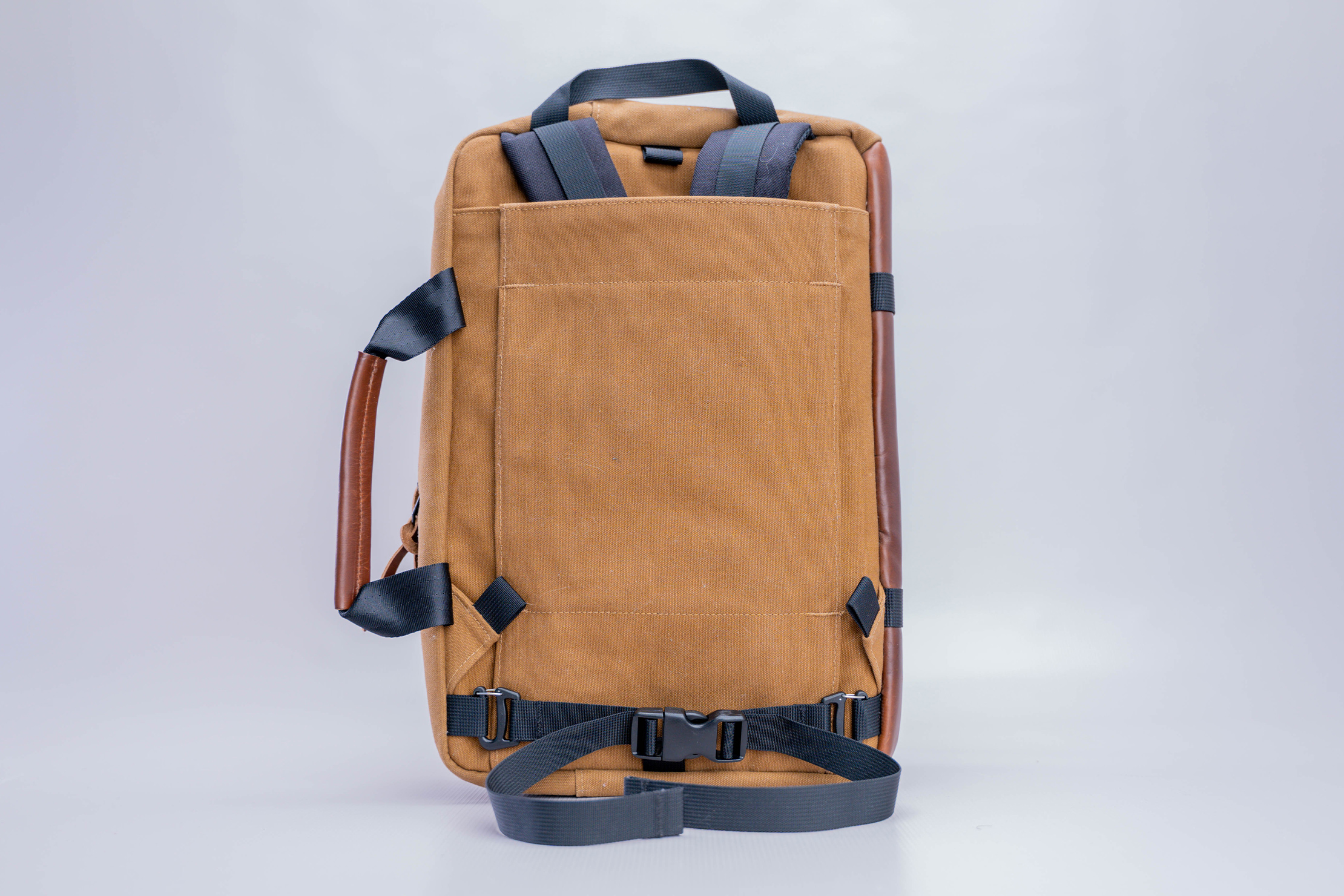 Lastly, there's a pair of permanent straps attached to the bottom of the Commuter Briefcase. Loosen them up, and you can slot in a rolled-up yoga mat or a pair of dirty shoes. These also somewhat act as compression straps. But since the leather material is quite thick, it doesn't compress very well. Another gripe is the lack of strap keepers on these, plus in other areas of the bag. All the extra slack just dangles off, and it can be a bit distracting in windy conditions.
Inside The Briefcase
Once you open the front compartment, one thing is immediately apparent: the liner. The white cotton liner looks absolutely pristine and is easy to navigate. We're also glad for the bright fabric because there's very minimal organization inside. There are no zippered pockets, no liner pockets, no mesh pockets, nor are there any dividers. It's very much just an open space, so we rely on smaller pouches for organization or keep the storage here to a minimum.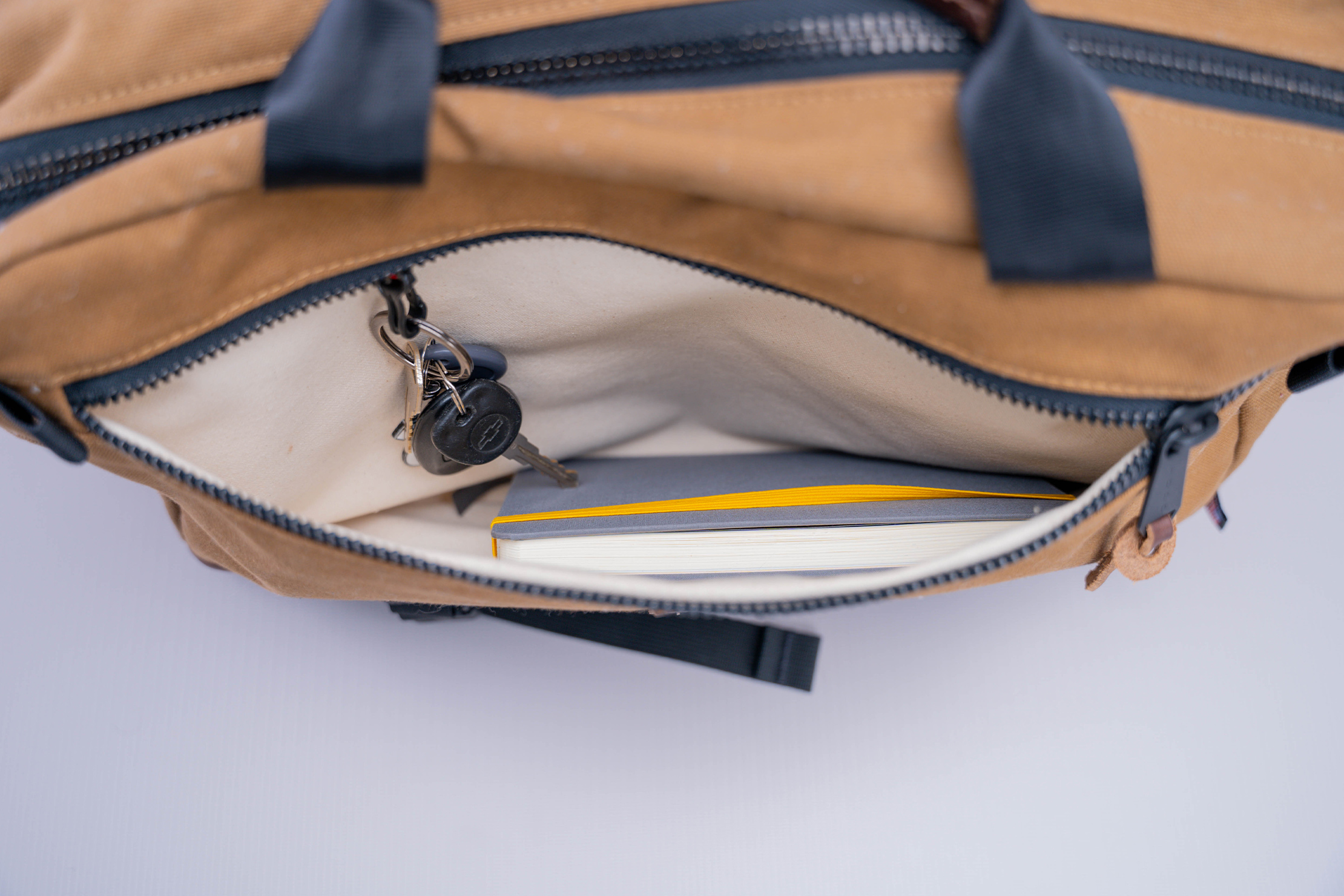 We would have liked to see more organization in the front compartment because of how spacious it is. The only means of getting things organized here is the built-in key clip. Its strap has some length to it, but it's not long enough to reach doorknobs in our day-to-day use. On the other hand, it's short enough that it kept our keys above bunched items at the bottom. Other than our keys, we're able to fit a full-sized notebook, wallet, smartphone, a pack of wet wipes, and other everyday carry items—the compartment never really feels short of space. Anything bulkier can go inside the main compartment.
Unlike the front compartment, the main compartment has a fair amount of organization. It's still nothing too crazy, though; just two pen pockets, a wide liner pocket, and a zippered pocket. We found these to be quite tight. Even our slim Apple Magic Mouse 2 struggled to fit inside the liner pocket. This is good news, though, since it means items are less likely to fall out if you're flipping the bag around (i.e., switching from briefcase to backpack mode). For smaller items that need to be absolutely held in one place, the zippered pocket is the way to go.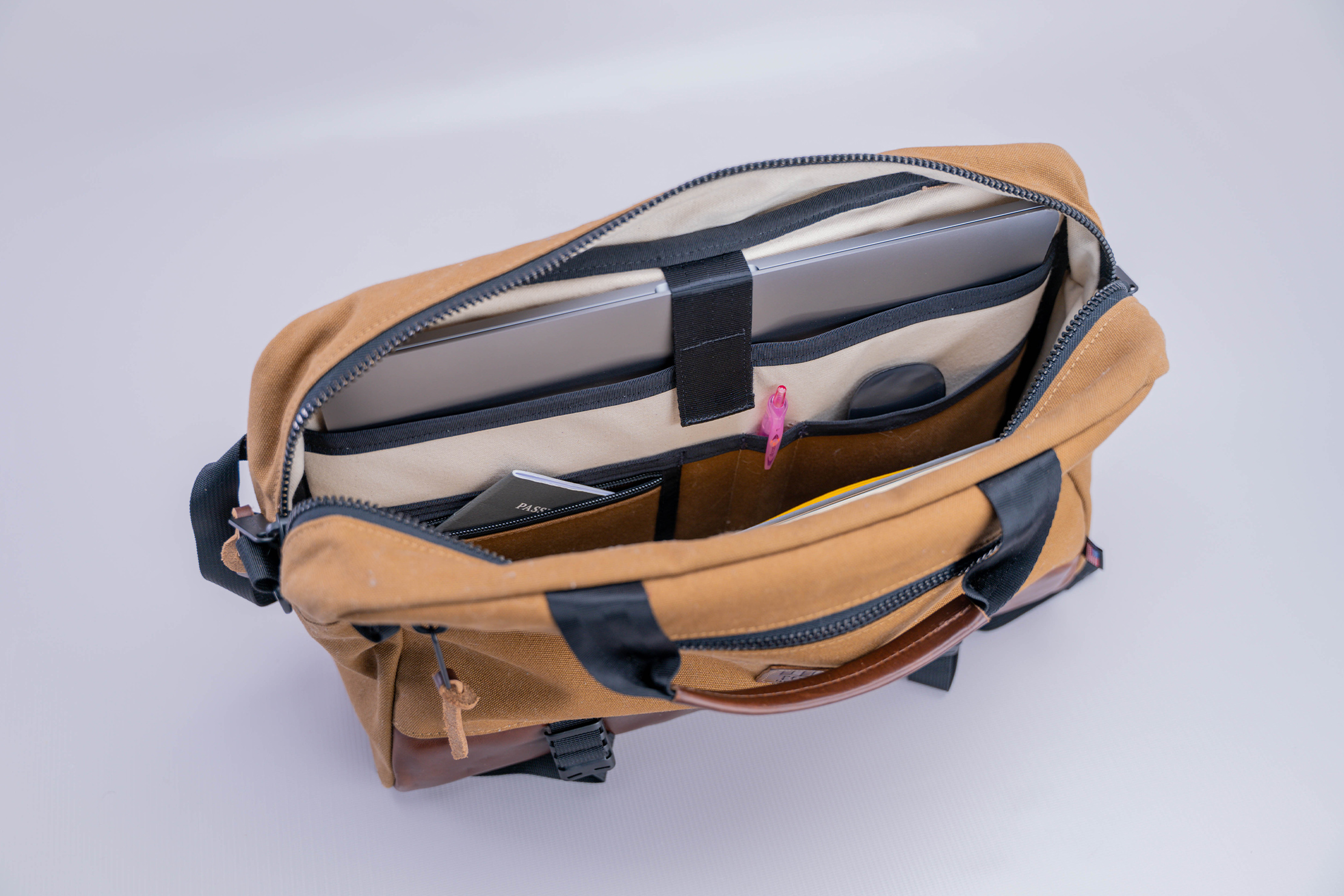 Further towards the back of the bag is the laptop sleeve. It's your standard laptop sleeve, with a cushioned front and backside for protection. It fits our 13-inch MacBook easily, and it's rated for up to a 15-inch laptop as well. That said, when we try to put our 15-inch MacBook Pro inside, we feel a little uncomfortable with how little headroom there is. The corners of the MacBook Pro land near the upper ceiling of the bag, where there's no padding.
The laptop sleeve does come with a loop and hook tab to prevent laptops from slipping out completely. It works and is fairly secure, but it doesn't stop a laptop from hitting the upper edge. Furthermore, the hook-and-loop patch's edges are surprisingly sharp. So sharp, in fact, that we cut our finger on it when we were reaching for something inside. Add to that the stiff and metal toothy zippers elements, and Commuter Briefcase's accessibility is literally rough.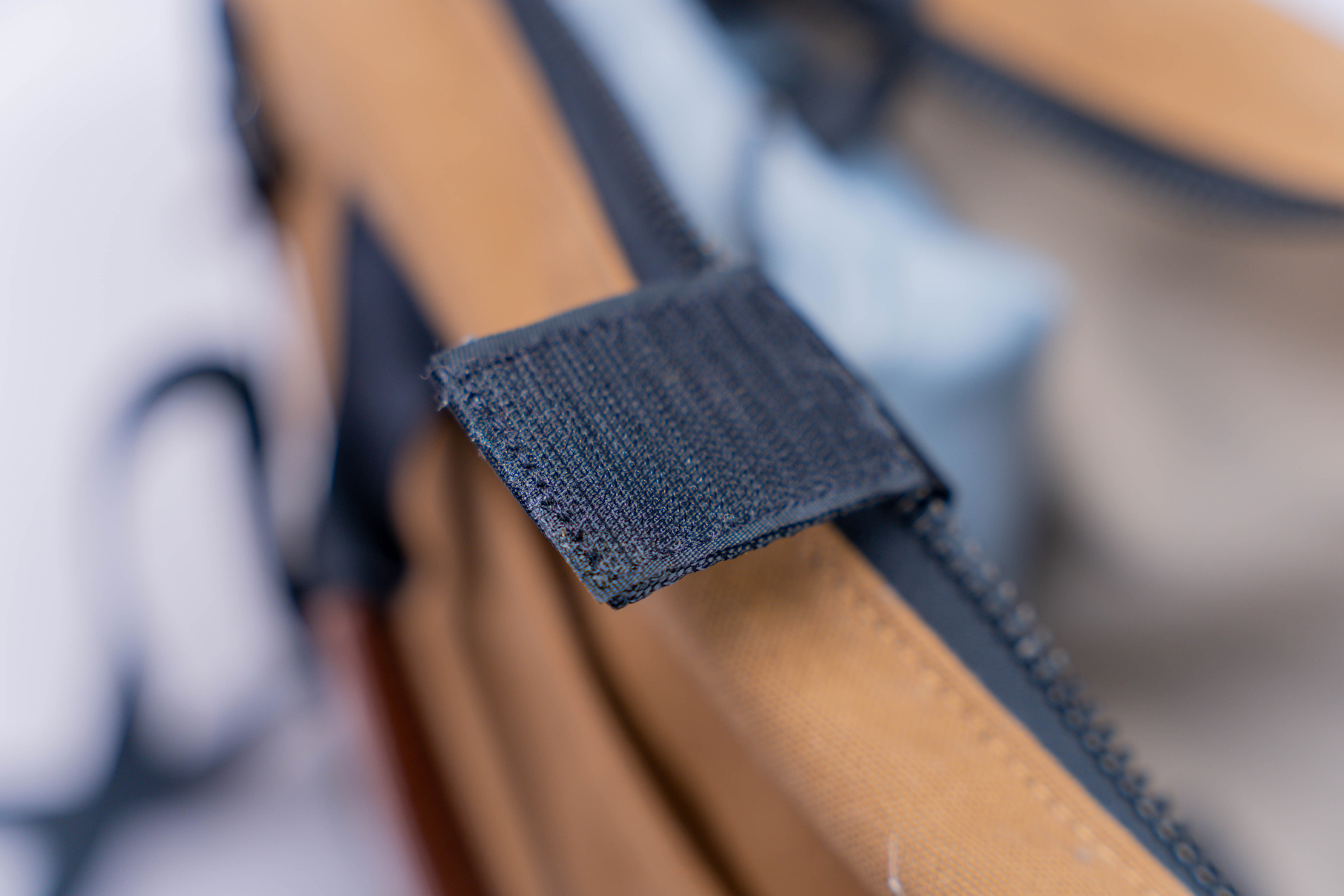 That's rather unfortunate since the Commuter Briefcase is one spacious bag. Fitting packing cubes and pouches inside isn't much of a struggle because there's a relatively wide floor at the base. Whereas some messenger and briefcase-style bags struggle with items stacking and bulging, it's less pronounced here. Even at just 15-liters, the roominess of the bag feels right for its overall size.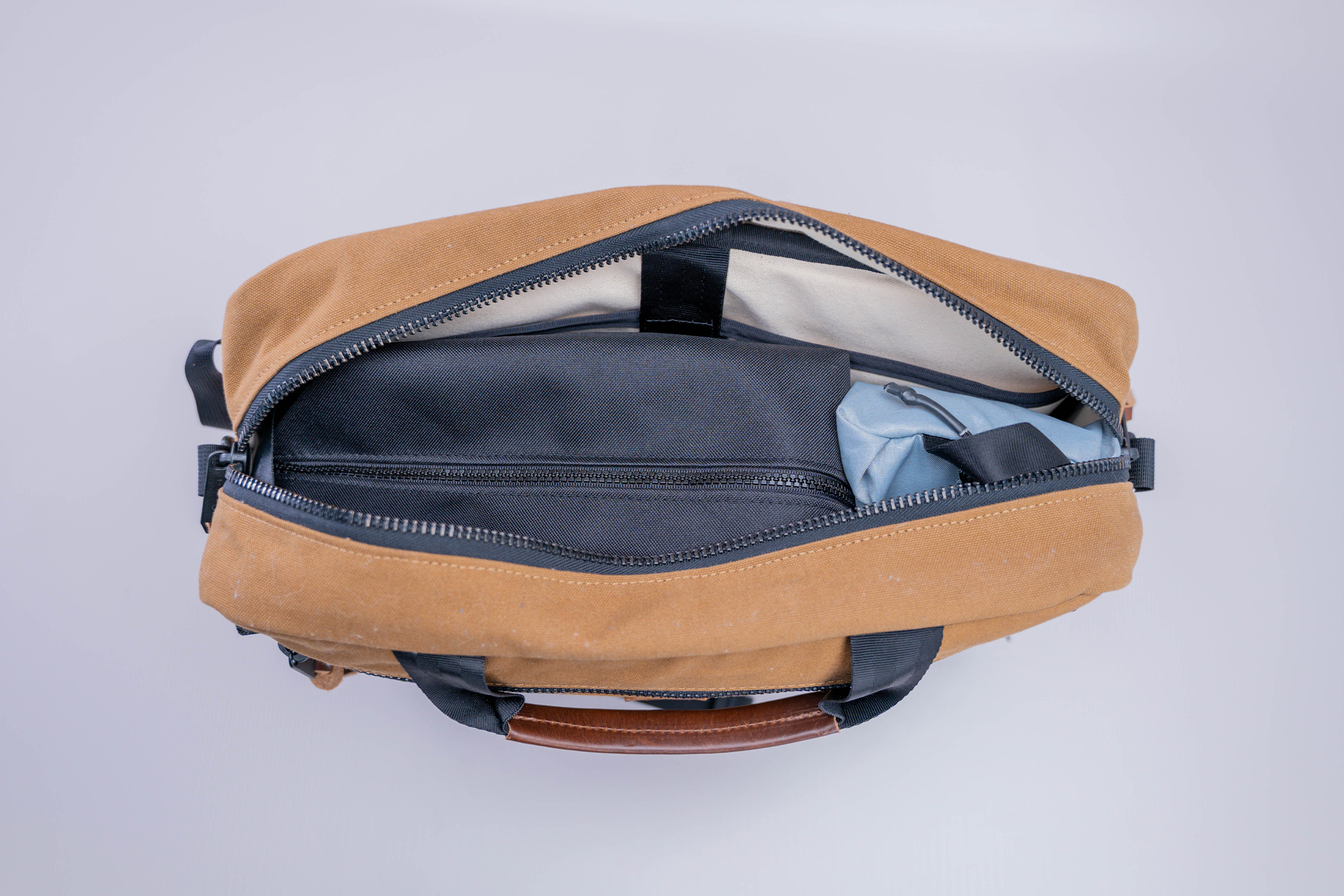 To be clear, we think the Commuter Briefcase nails a lot of its design aspects. The vintage styling is on point, and the materials do feel premium. It's the small details where it misses a few marks, most notably with the zippers being hard to use and too toothy for our liking. That said, it's still a versatile bag that carries comfortably whichever of the three carrying modes we use. So if you're looking for this kind of versatility rocking this kind of vintage vibe, then the Commuter Briefcase is a strong candidate.
Usage Timeline
Initial Usage
Condition: Excellent
Can be carried as a backpack
Comes with a hip belt
Sling strap's shoulder pad is notably long
2 Weeks of Use
Condition: Excellent
Canvas material picks up dust and pet hair easily but comes off with a wipe
Leather starting to develop a nice patina
Some loosening threads on the inside seams but nothing that seems to impact performance or durability—they seem more like the thread ends weren't cut fully
Leather zipper pulls are a bit flimsy for the bulky #10 YKK zippers
Chunky zippers get caught easily and aren't smooth to unzip
Metal zipper teeth can scrape against hands when reaching in for gear
All three ways of carry are comfortable
Waist strap great for stabilization but not super necessary
Access the Pro Community Discussion
Get your questions about the Topo Designs Commuter Briefcase Heritage Canvas answered from our team and the Pro Community right here on the page. Plus, join discussions with other members about gear, guides, and more.
Other Bags & Luggage Reviews