Timbuk2 Spire Laptop Backpack 2.0 Review
The Timbuk2 Spire Laptop Backpack 2.0 is weather resistant with space for a U-Lock for cyclists. We wish the pockets were liter-independent, though.
Our Verdict
Unlock the Pro Summary
Save time. Get access to brief summaries of our reviews so you can browse and make decisions more efficiently.
Pros
Material has good weather resistance in light rain
Laptop sleeve can be accessed in two different ways
Front webbing is convenient for bike U-Locks
Cons
Top pocket can eat into the main compartment
Rolltop can make it difficult to see inside
Internal organization is sparse
Recent Pack Hacker Video
Technical Details
Capacity

26l

Weight (lb)

2 lb (0.9 kg)

Dimensions

19.7 in x 12.2 in x 5.91 in (50 x 31 x 15 cm)

Notable Materials

Polyurethane, Polyethylene

Manufacturing Country

Indonesia

Laptop Compartment Size

17"

Warranty Information
Full Review
The Timbuk2 Spire Laptop Backpack 2.0 is a solid option for your everyday carry if you commute by bike. The webbing on the front is made to fit a U-lock, and the weather resistance protects it from light rain if you get caught in a drizzle on your ride. This webbing detail makes it look a bit more tactical than we'd generally prefer for EDC, but to each their own. If rocking the pseudo-military, oil-slicked style is your thing, then this pack may be for you.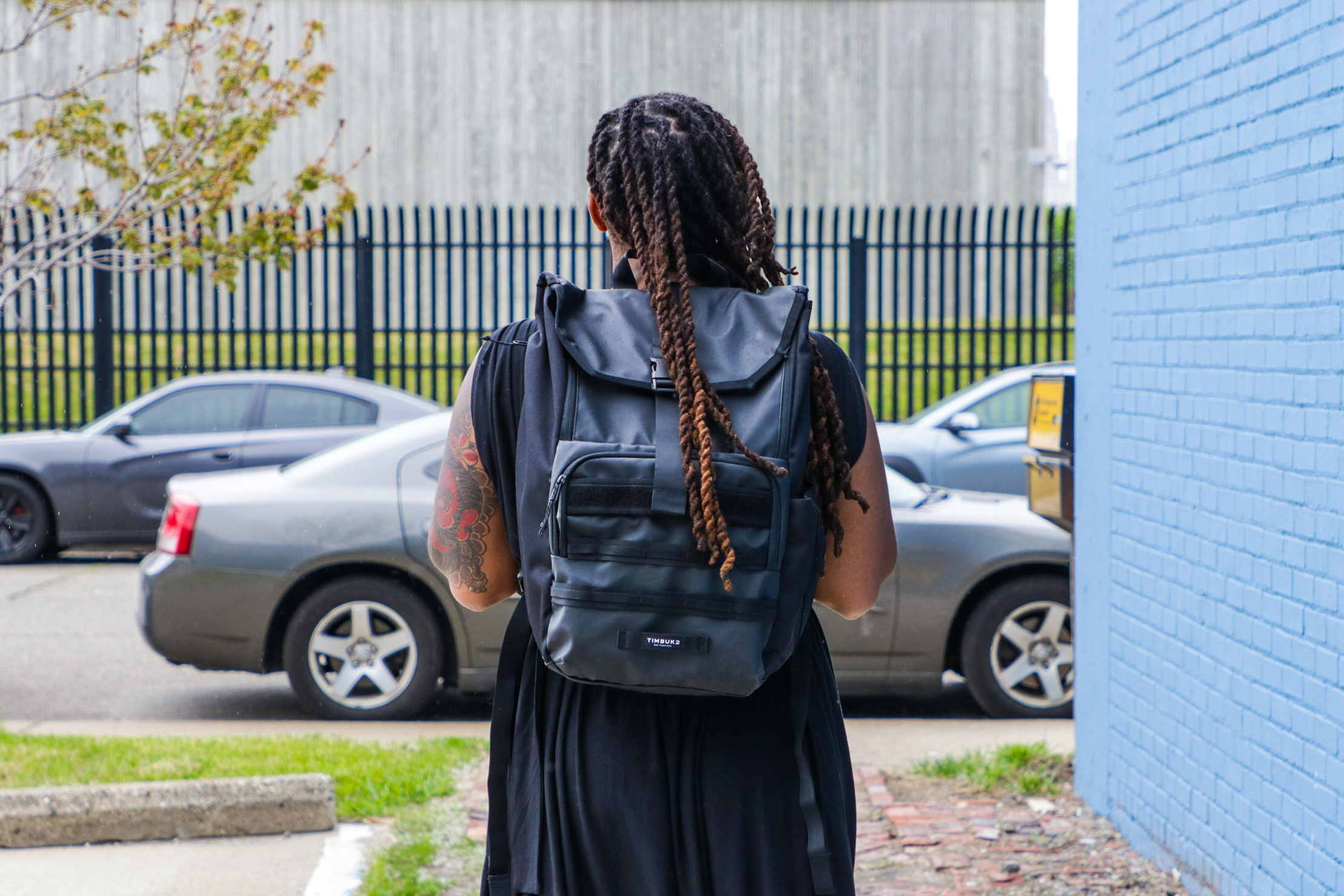 If you're not familiar with Timbuk2, the brand was founded by a bicycle messenger who wanted to make messenger bags for urban nomads. The Spire Laptop Backpack is one of Timbuk2's most popular backpacks for cyclists and non-cyclists alike. Even if you're not a biker—not the kind who rides a motorcycle, we're talking about bicycles here—the Spire Laptop Backpack 2.0 is still a pretty swanky everyday carry bag. The main compartment is elongated and spacious, so it can fit quite a bit inside. However, there isn't a ton of organization except for in the front pocket. So, if you like to stay organized with accessory pouches, this bag is suitable for that, too.
Some of us at Pack Hacker are not huge fans of rolltop packs, as they can be notoriously difficult to see inside. If you're one of those people who picks bags based on style, though, it definitely has heritage vibes going on. It's like old school meets new school—a classic rolltop pack that looks like a sci-fi movie cyborg would wear it. Thankfully, Timbuk2 has incorporated several features like extra zippers to combat the visibility issues. More on that later. For now, let's take a closer look at the materials.
Materials & Aesthetic
The Timbuk2 Spire Laptop Backpack 2.0 is only available in black on black, which lends to those futuristic cyborg feels we mentioned earlier. It's made from a polyurethane and polyethylene vinyl blend. At the time of this review, Timbuk2 doesn't list the materials on their website, but the tag on the inside of the bag doesn't lie. It's the kind of material that sounds like a hip-hop DJ scrubbing a record when you scratch it with your fingernails.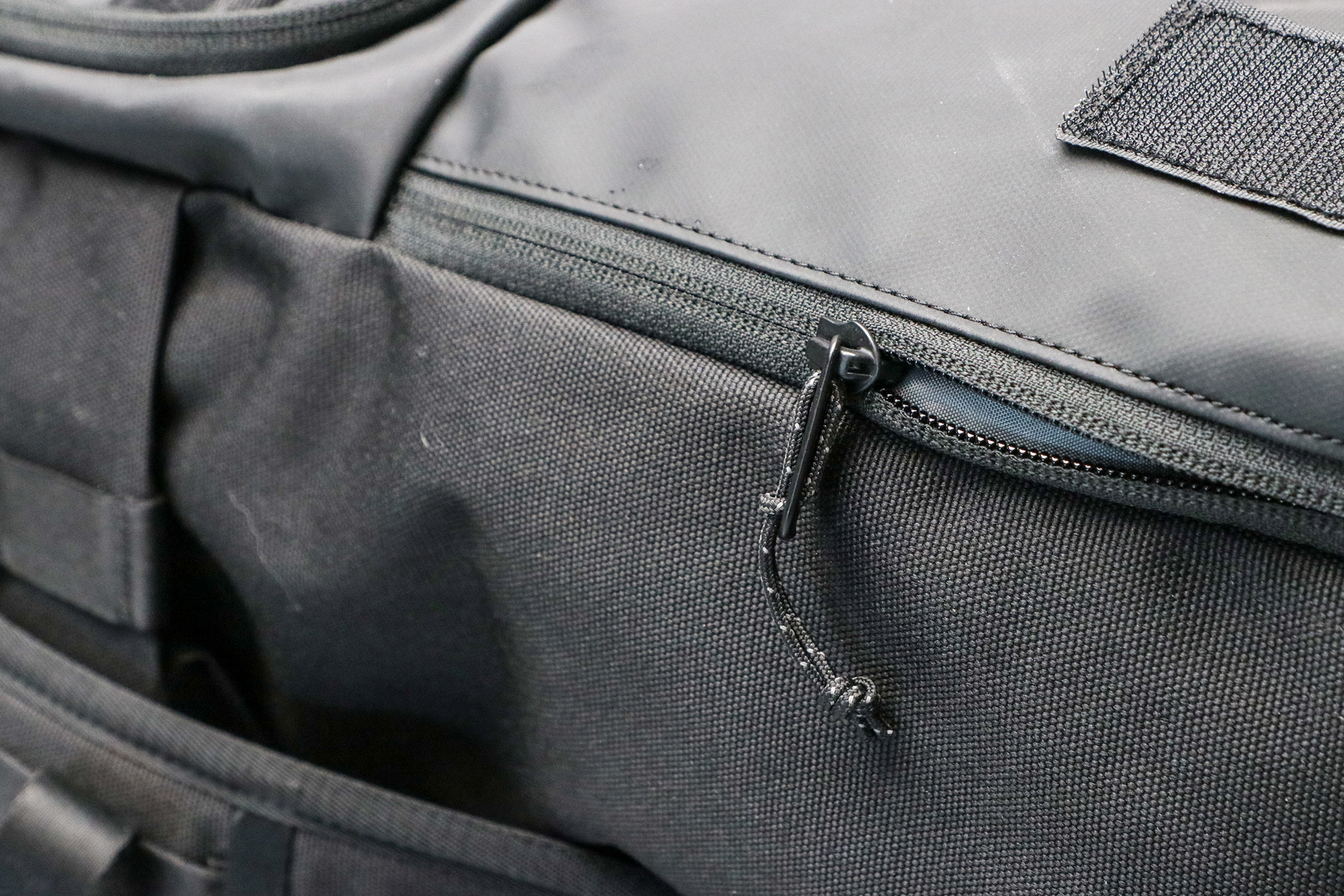 What makes this material great for a bag like this is its weather resistance. Unlike softer, more malleable fabrics, polyethylene is rigid and doesn't allow any water to seep through. Not only do water and moisture roll right off, but it's also easy to wipe away any dirt or spills that get on it. Coffee shop spills are no match for this bag if you're working digital nomad style. This also means if you're biking after a rainy day and roll over a few puddles, you can wipe off any dirt that splashes up on the bottom of your pack without it getting stained.
All the zippers are reverse coil YKK#5 for an extra barrier against unwanted moisture. This works well on the front pocket, especially as it's likely where your tech accessories will go. Right below that front pocket is a tiny Timbuk2 logo, and we dig the minimal branding. It looks much sleeker than having an obnoxious logo slathered across the front. You've also got another Timbuk2 label stamped on a metal buckle on the shoulder strap. The combination of YKK zippers, paracord zipper pulls, and Woojin buckles make us confident that this is a durable pack. These are all trusted brands when it comes to zippers and hardware. We like to think of them as stamps of quality to mark off our checklist.
External Components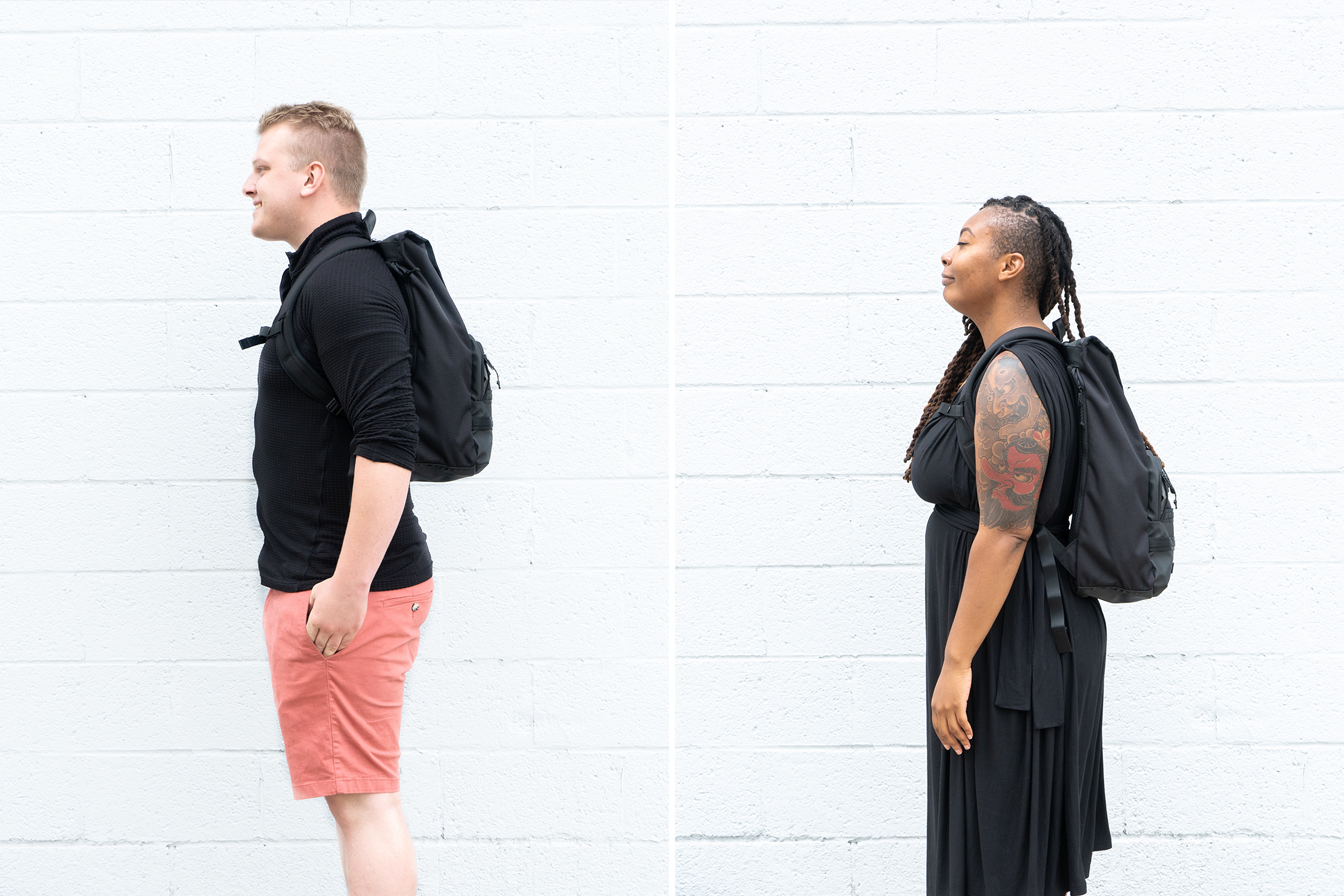 When we first looked at the Timbuk2 Spire Laptop Backpack 2.0, the first things we noticed were the daisy chains on the front. These rows of nylon webbing are to stick a bike U-Lock in. It's the feature that most makes this pack geared towards commuting cyclists. It should fit most standard-sized U-Locks according to Timbuk2's website (it fit ours) and is a convenient way to carry one.
If you're not biking around the city, the daisy chains can also be used to clip on accessories with a carabiner. You can attach a water bottle or any number of organizer pouches if you have more to carry than what will fit inside. When it comes to everyday carry, we prefer our packs to look as clean on the outside as possible, which means not having a bunch of pouches dangling around on the front. This isn't a travel backpack after all, and if it's a weekend trip you're planning, the main compartment has enough space to fit a few packing cubes inside. But, we digress. It ultimately depends on the gear that you have to carry.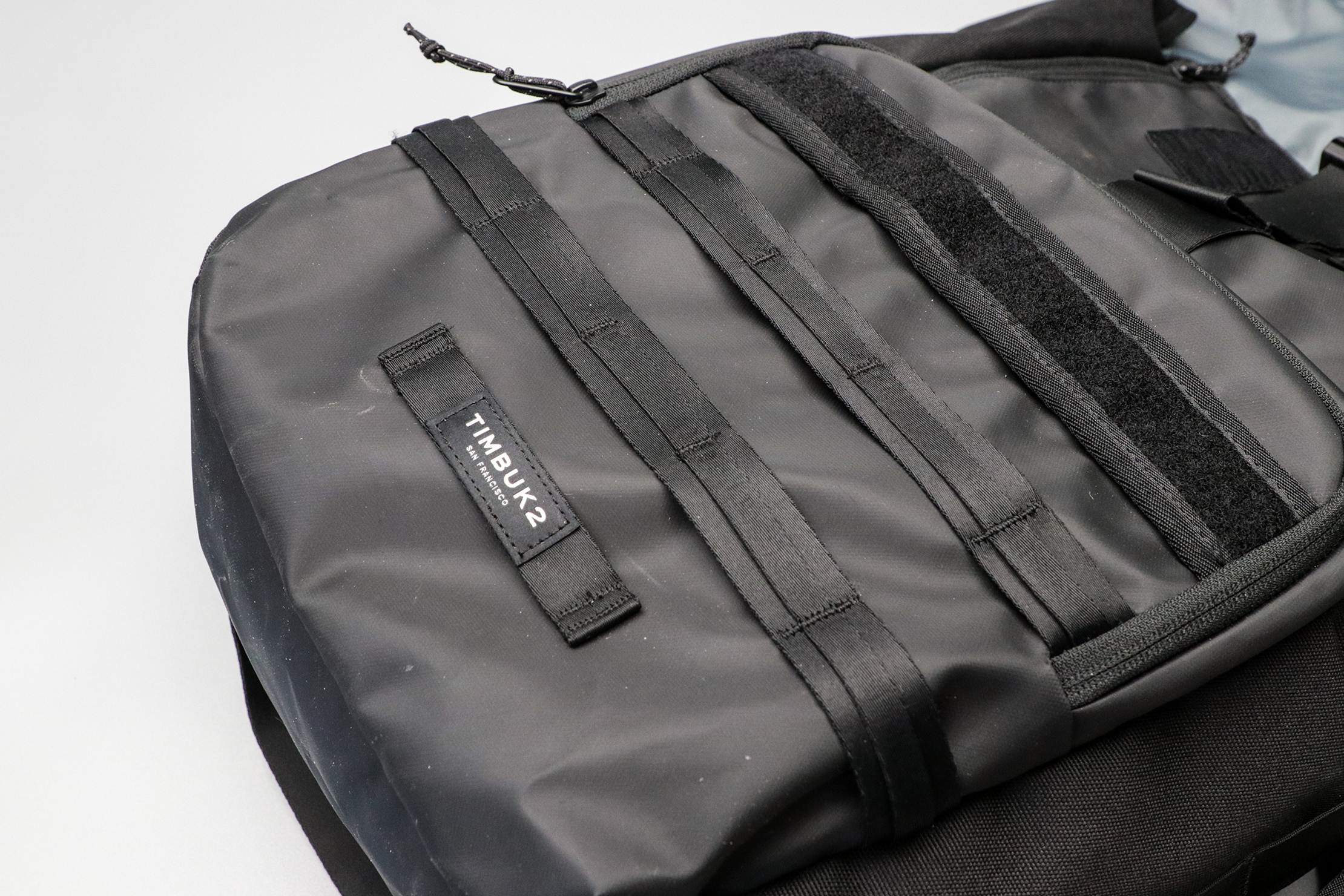 The webbing is just on top of the front pocket, which is an excellent spot for your tech items and small bits. This is the only place in the whole pack that has any organization. Inside, there's a zippered pocket with a few smaller pockets and pen sleeves attached. It functions well as a built-in tech pouch, so there's no need to bring one along. We found there was a spot for all the small bits we needed to carry like our earbuds, mouse, cables, chargers, chapstick, and of course, pens. There's some open space in front of the zippered pocket where you can put quick-grab items like your wallet and keys too.
While we're huge fans of the organization here, it does eat into the main compartment when you've got this pocket filled up. And this isn't just an issue with this particular pocket—none of the pockets are liter independent, and they all compete for space. No problem, if you've barely got anything inside, but that's highly unlikely.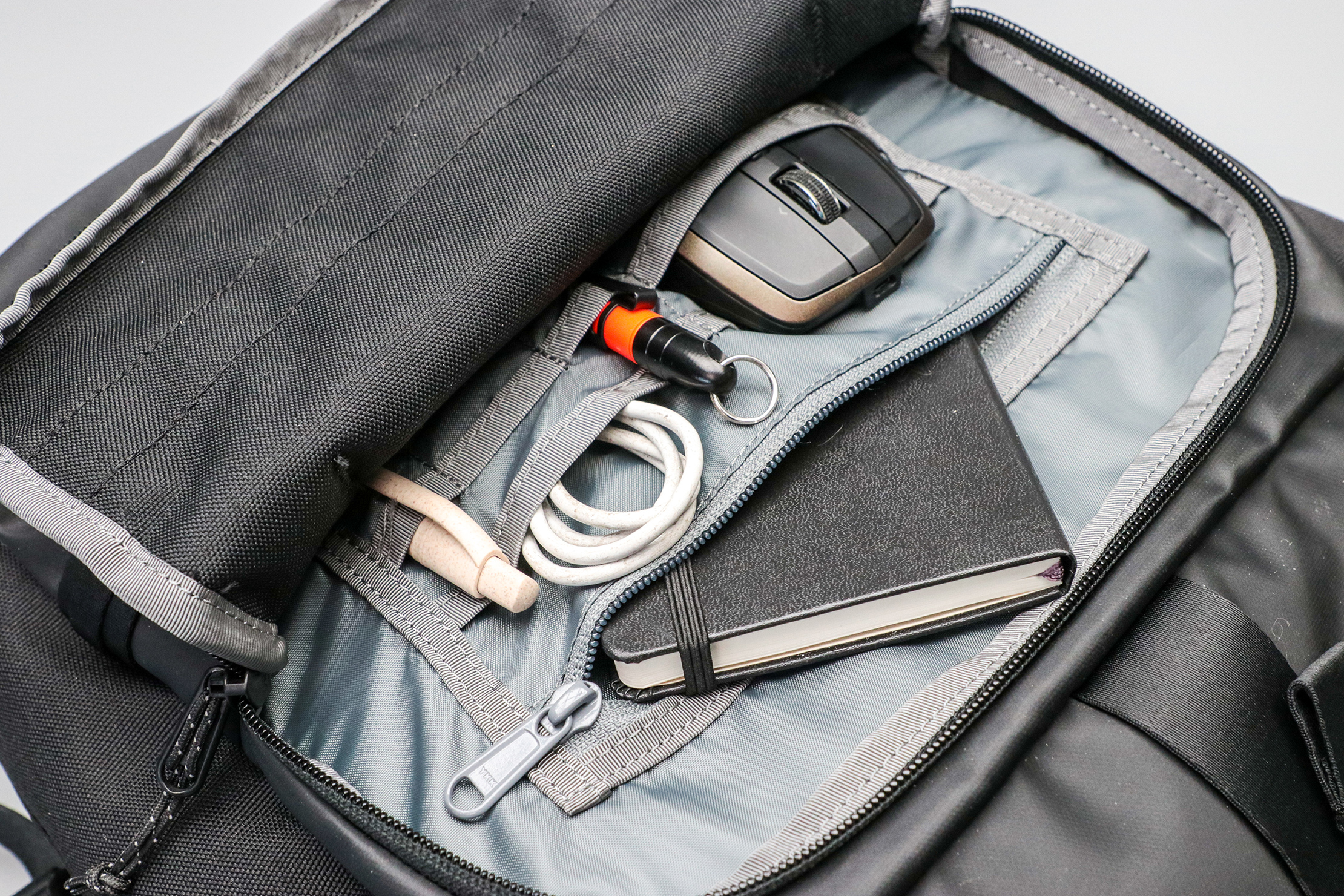 The water bottle sleeve on the pack's side also has a bit of webbing if you have even more accessories to attach. It seems like a bit overkill for us functionality-wise but definitely fits the tactical EDC hybrid style. As for the water bottle sleeve itself, a strip of elastic allows it to stretch pretty wide. You could even stuff an umbrella or rain jacket in here if you needed to.
Let's flip the pack around to its back and check out the harness system. There's a nice amount of foam padding and mesh on the shoulder straps, and by nice, we mean just enough but not too much. The back panel has much more foam padding and mesh for breathability, but this is much appreciated when you're biking in hot weather with a laptop on your back. We found it to be quite comfortable. A sneaky little side zipper along the back panel gives you access to your laptop inside the main compartment. It's well adapted for accessing your device without having to undo the rolltop. Since we're talking about the main compartment anyway, let's go ahead and open it up.
Inside The Pack
The main compartment is secured with a two-factor system—a buckle to keep the rolltop in place and two velcro pieces underneath the main flap. It's not necessarily difficult to access, but it's certainly not as easy as having a single zipper. The strap for the buckle also has a tendency to block the zipper for the front pocket slightly. But, again, it's not difficult to move the strap out of the way. It's just more of a nuisance.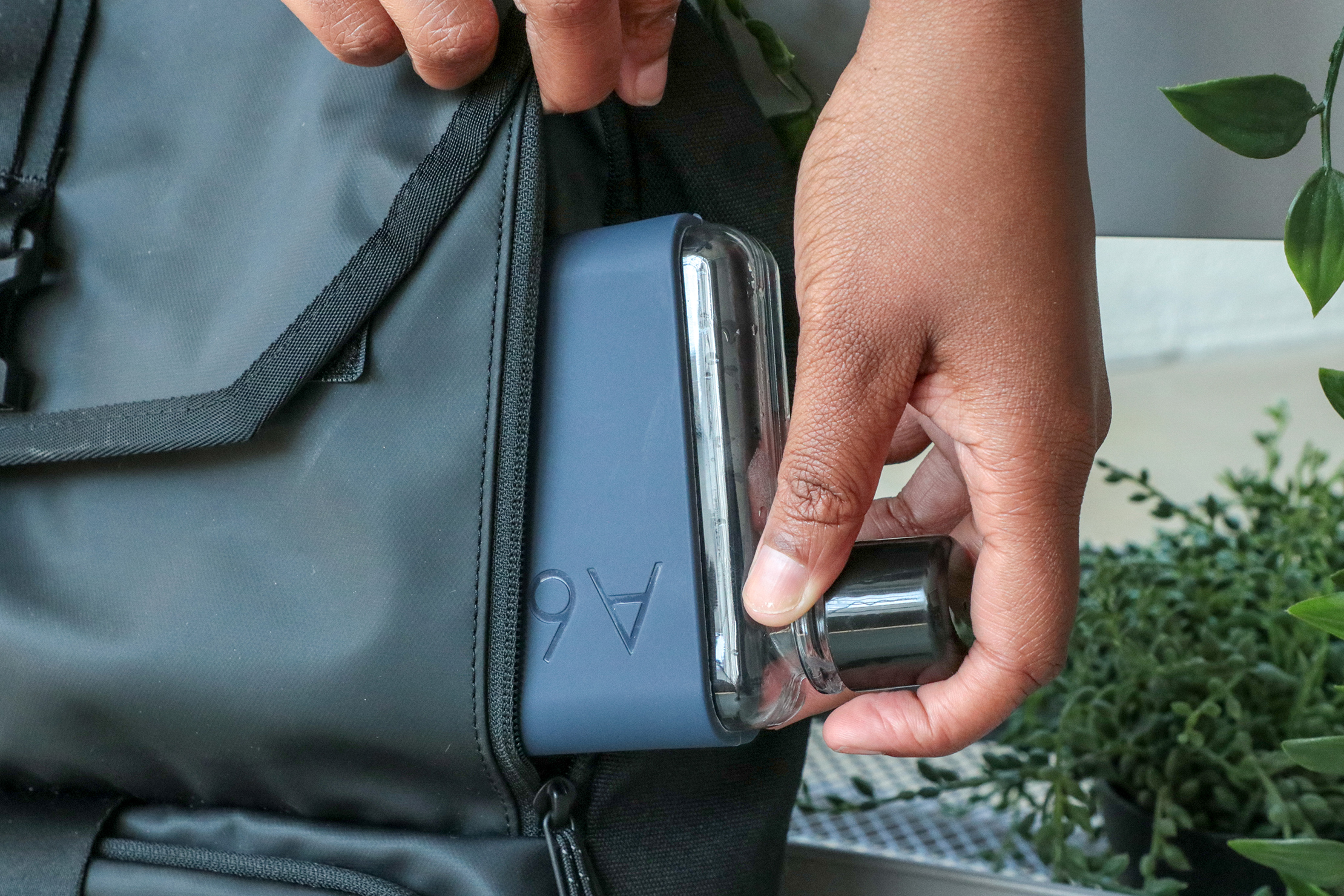 Once you unbuckle the rolltop and lift the flap, you'll notice a small zipper on each side. At first, we thought you could unzip them both for better visibility into the main compartment. This turned out to be only half true. Indeed, one of the zippers does zip down to make a wider entry point into the main compartment. The other zipper, however, is actually a thin vertical pocket. This pocket turned out to be the perfect size for our A6 memobottle, which is shaped like a piece of paper (if you didn't guess that by the name). We don't recommend putting thick or bulkier items here, as it has a serious space-eating problem with the main compartment. On the other hand, it could be a good spot for your boarding pass if you take this pack on a weekend trip. Its position ever so slightly underneath the rolltop means accessing it isn't always smooth, though.
We almost wish this pocket didn't exist and was just another zipper to the main compartment instead. With a zipper opening up the main compartment wider on only one side, you're left with an asymmetrical flap. The bright grey interior liner does at least help with visibility, and we are thankful for at least one zipper—many rolltop packs don't have this feature at all.
The main compartment itself doesn't have much going on. It's a large, open space with a device sleeve near the back. Like the main compartment itself, this sleeve is quite tall and can fit up to a 17" laptop. Just like the back panel, the laptop sleeve is extremely padded (a good thing). We used it with a 13" MacBook Air in a separate sleeve and had space to spare even with a magic keyboard and laptop stand inside.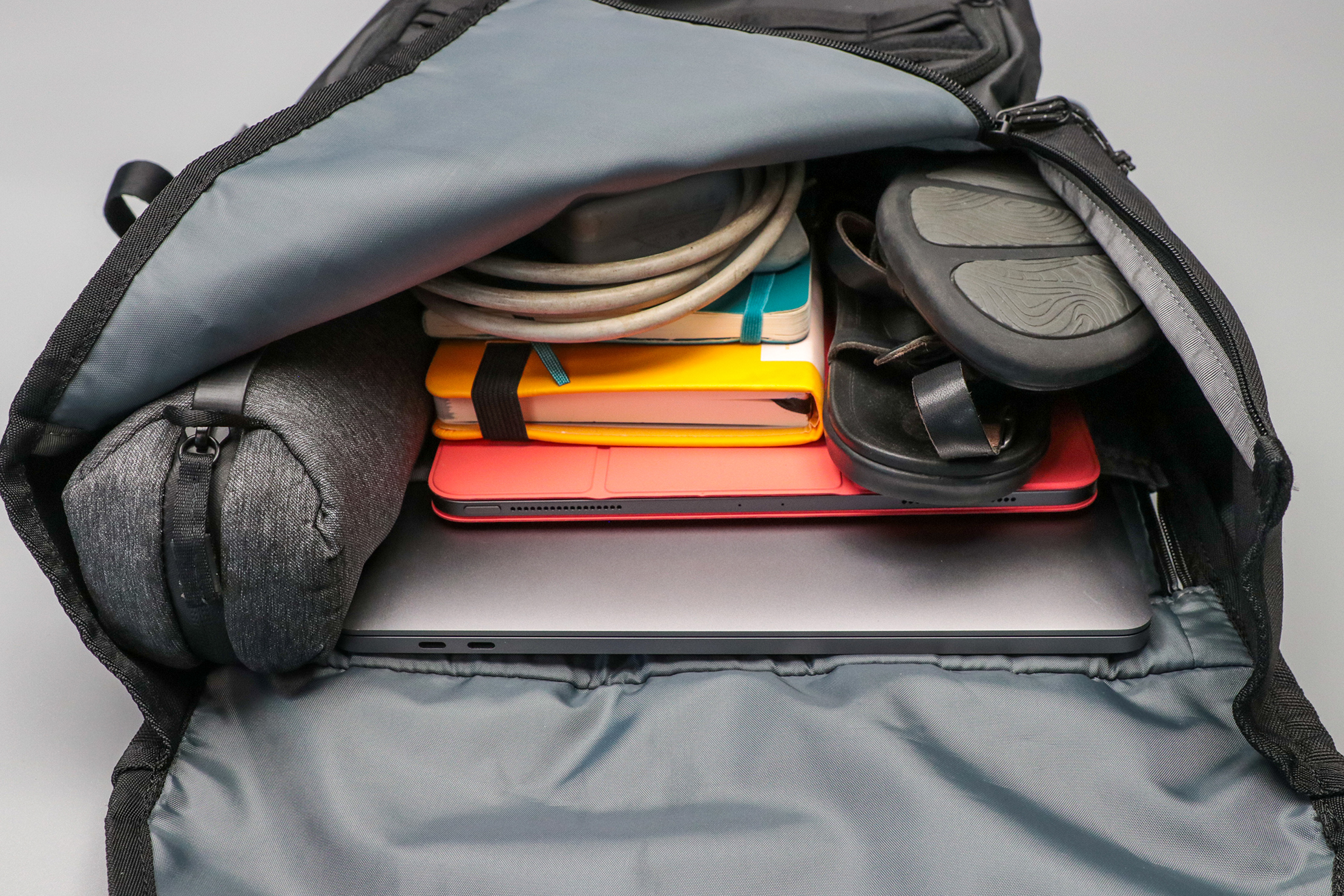 The rest of the main compartment was big enough to fit a pair of sneakers, a change of clothes, a few snacks, and several notebooks with space to spare. It's important to note, the "space to spare" was only when we didn't have the two outer pockets packed. If you don't have a lot in those external pockets, you could fit a packing cube, toiletry bag, and other accessories for a quick trip. Unfortunately, it's also very long and vertical, so if you put smaller items in here, they're bound to end up floating around the bottom. We definitely recommend putting smaller accessories in the front pocket or packing them in an organizer pouch.
Overall, the Timbuk2 Spire Laptop Backpack 2.0 is comfortable for daily carry, whether you're biking, walking, or catching the subway. It's suitable for people who don't like a ton of organization and have bigger laptops to carry. As long as you're cool with the tactical warrior of the future aesthetic, that is.
Usage Timeline
Initial Usage
Condition: Excellent
Has two rows of daisy chains at the front
Front compartment has pockets inside for organization
Has a dedicated side-loading laptop compartment
2 Weeks of Use
Condition: Excellent
Webbing on the front is convenient for putting a U-Lock if you commute by bike
Top pocket is great for flat items but can eat into the main compartment when you fill it with bulkier accessories
Side zip at the top helps with visibility into the roll top
Access the Pro Community Discussion
Get your questions about the Timbuk2 Spire Laptop Backpack 2.0 answered from our team and the Pro Community right here on the page. Plus, join discussions with other members about gear, guides, and more.
Other Bags & Luggage Reviews