Timbuk2 Authority Laptop Backpack (Deluxe) Review
The Timbuk2 Authority Laptop Backpack (Deluxe) has separate compartments for convenient segmentation of your gear—as long as they're packed consciously.
Our Verdict
Unlock the Pro Summary
Save time. Get access to brief summaries of our reviews so you can browse and make decisions more efficiently.
Pros
Three compartments make for convenient segmentation
Densely-padded, comfortable harness system
Efficient features with a clean & stealthy design
Cons
Water bottle pocket doesn't accommodate larger, bulkier bottles
Zippers can get a little sticky when bag is overloaded
No false bottom in back laptop compartment
Recent Pack Hacker Video
Technical Details
Capacity

28l

Weight (lb)

2.4 lb (1.1 kg)

Denier

630D

Dimensions

18.1 in x 11.4 in x 5.91 in (46 x 29 x 15 cm)

Notable Materials

Nylon, Polyester, YKK Zippers, Duraflex Hardware, Thermoplastic Polyurethane (TPU)

Manufacturing Country

Indonesia

Laptop Compartment Size

15"

Warranty Information
Full Review
If you're looking for a bag that means business, the Timbuk2 Authority Laptop Backpack Deluxe is a solid daypack with a sophisticated look and hidden functionality.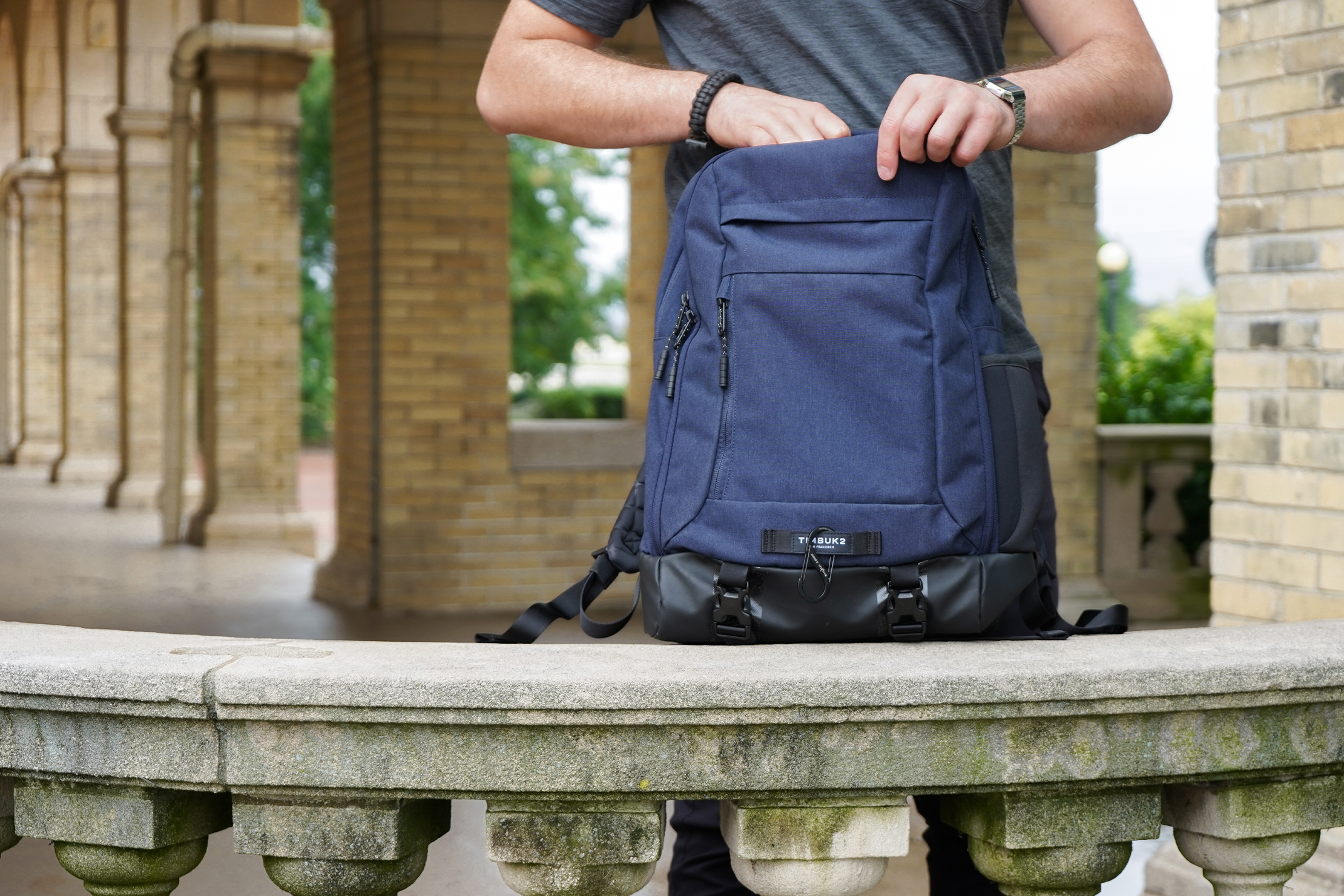 At 28L, this pack has plenty of room for your everyday lineup, as well as the organization to keep it well-segmented and easy to grab. Plus, it's all wrapped up in one cohesive, refined design that fits in with more professional environments—whether you're heading to the office or working remotely.
With two weeks of testing done, we're ready to jump into this review!
Materials & Aesthetic
The Authority Laptop Backpack Deluxe has a much more professional vibe to it that looks at home in the office but can still be worn casually. It's gotten a lot of praise on our Instagram poll, as 81% of you reported to like this pack's look—a higher score than most other bags get, which isn't a big surprise. This pack's features are cleanly-integrated for a more polished, streamlined demeanor that most will appreciate.
We've been testing the Nightfall colorway of this pack for the last two weeks, and we're digging its subdued aesthetic. This colorway, as well as the other four that you can grab the bag in at the time of this review, is muted enough for more sophisticated environments, which you'll appreciate if you're looking to take it into the office.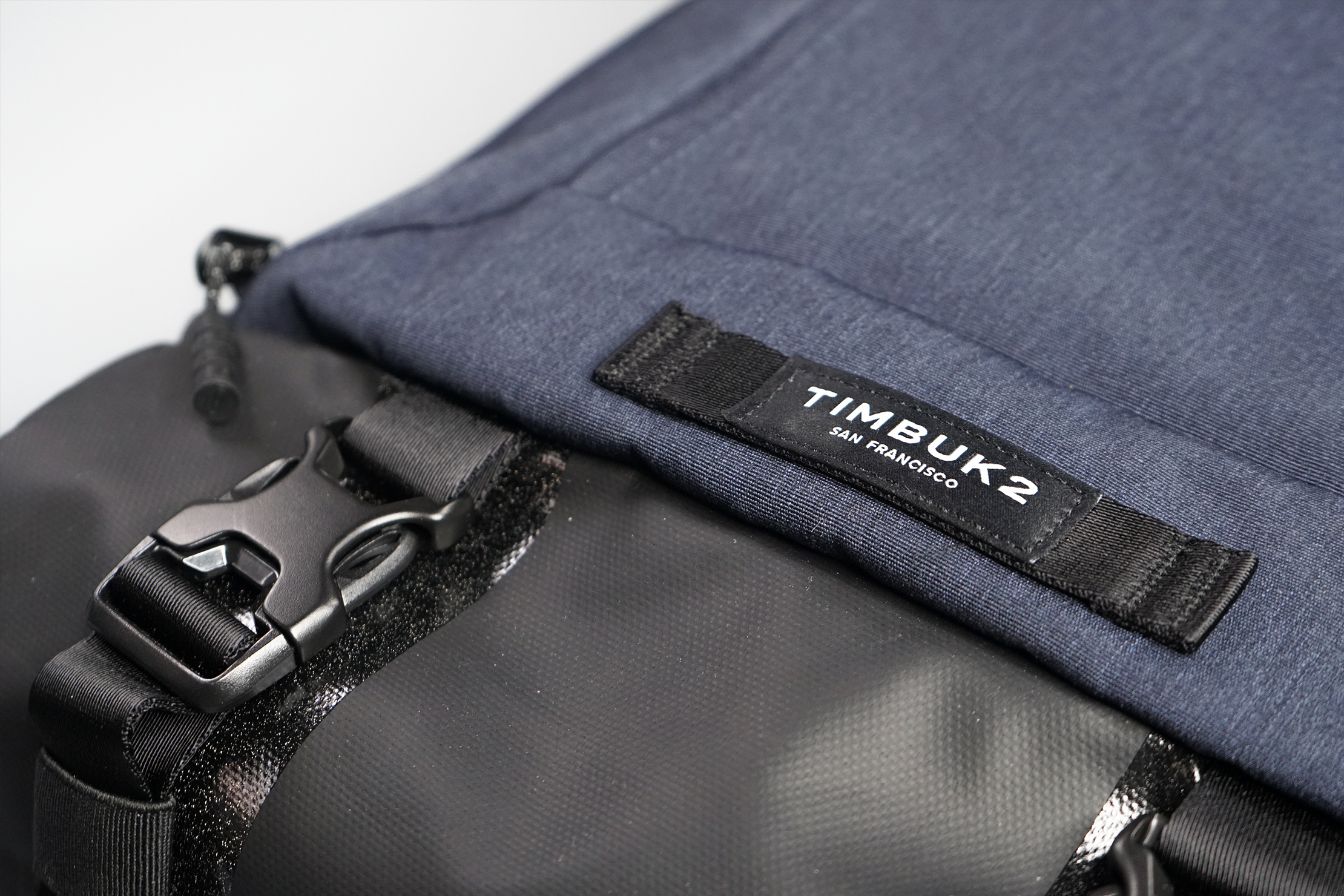 As for branding, you'll spot the Timbuk2 logo on a small tag toward the bottom of the bag. It's white-on-black and doesn't draw too much attention, so it's a much subtler approach than some other brands we've seen, which you may prefer.
Material-wise, the Authority Laptop Backpack Deluxe touts a 630D nylon body fabric that feels a little stiff but robust in hand. There's also a TPU coating on the bottom of the bag for some added weather-resistance, so you can set this bag down on the ground—even on a wet spot—without having to worry about it.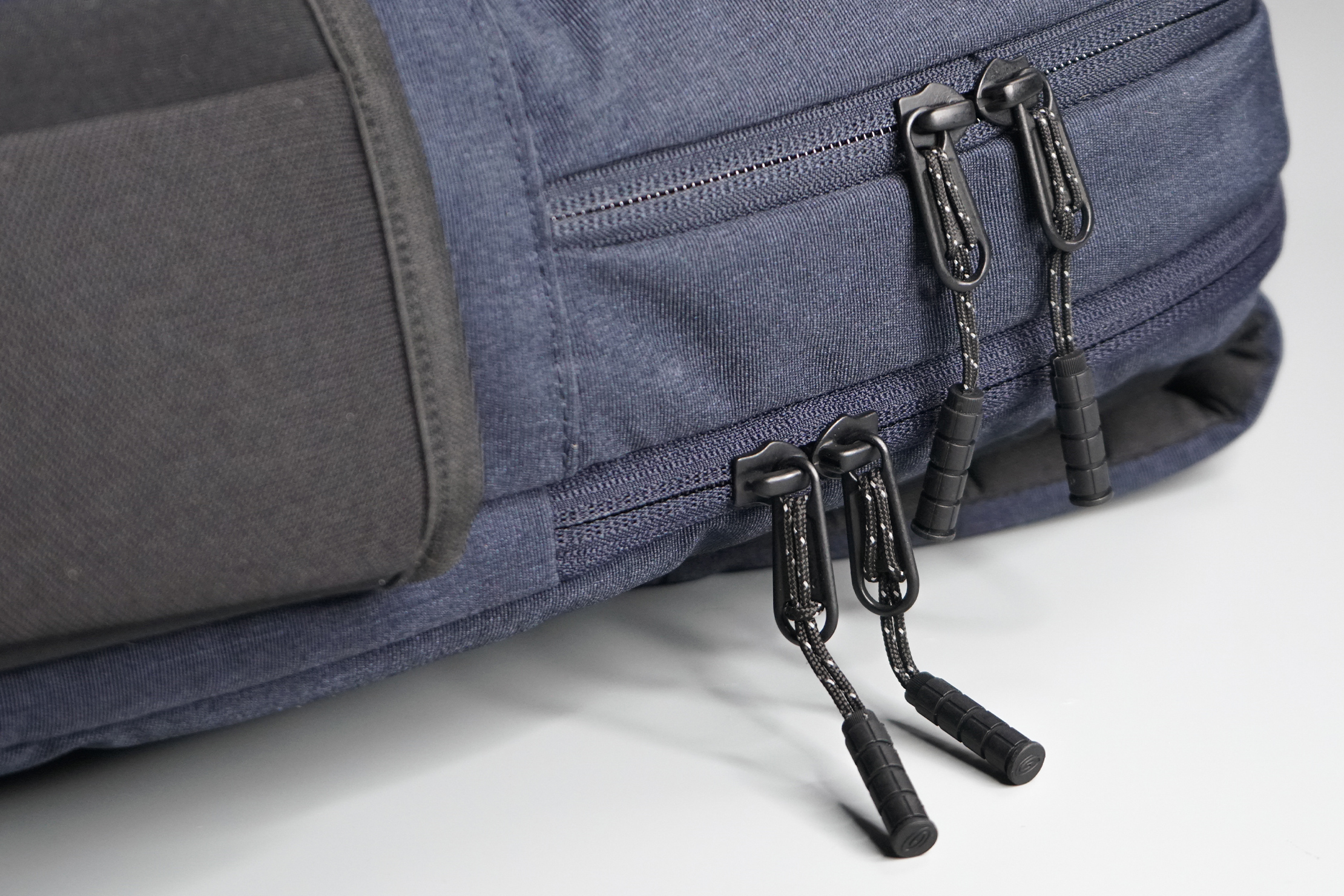 The zippers on this pack have altogether been working smoothly during our testing. They have large, easy-to-grab pulls that help them zip and unzip with ease. This comes as no surprise, as they're from YKK, which is a brand we have mostly positive experiences with (and a lot of them). We do have one small nitpick with the zippers around the main and laptop compartments that we'll cover later in the review.
Duraflex hardware also makes an appearance on this pack, which we're also always happy to see. The shoulder strap adjusters have been working well, in addition to the buckle that secures the sternum strap, so thankfully, we don't have any issues to report!
External Components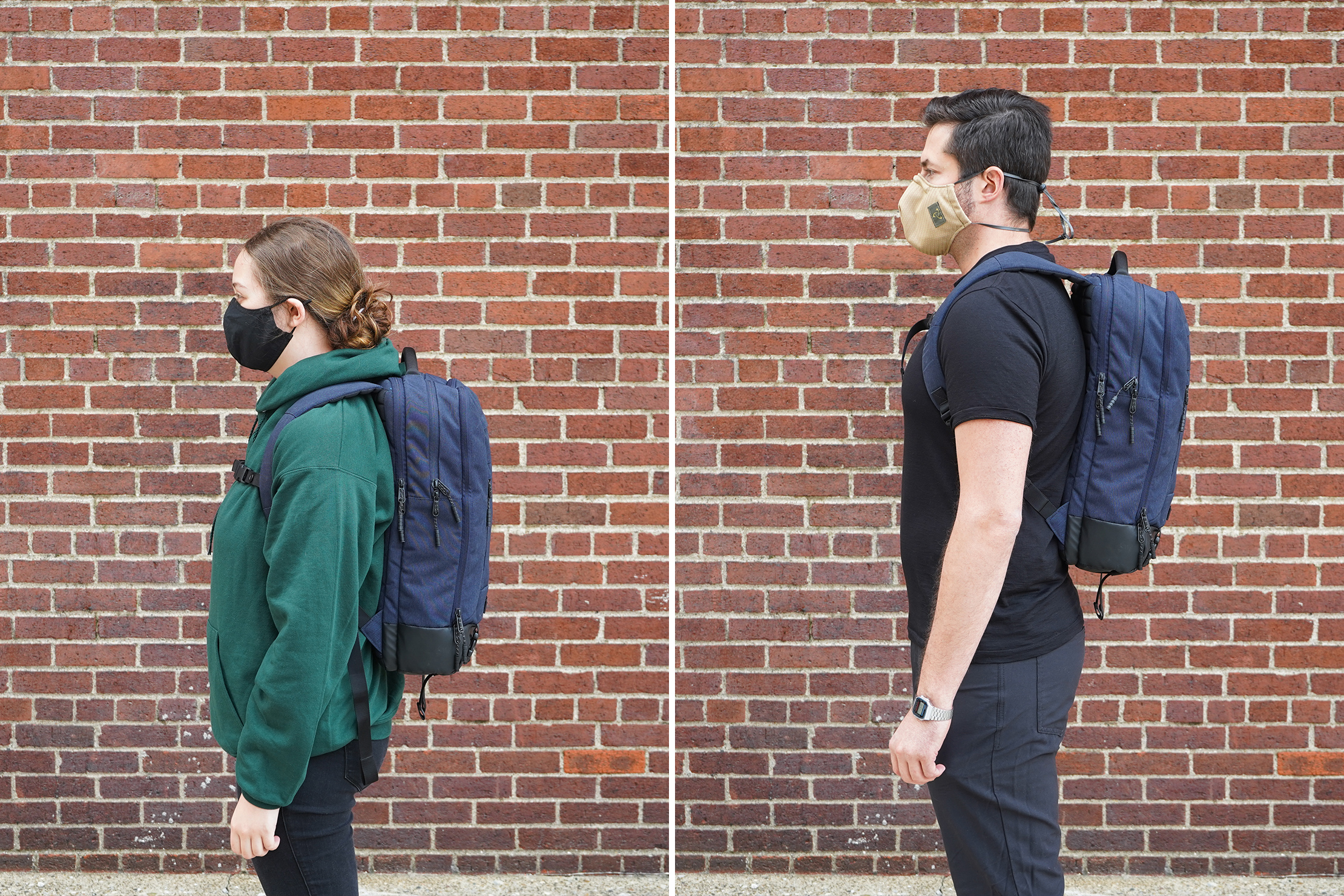 The shoulder straps on this bag are lined with some dense, grid-like padding that we've found comfortable for a bag this size. We wouldn't put this on and go for a two-hour hike or anything, but it works for your everyday commute. We also appreciate the elastic keepers that help manage excess strap and keep us #DangleFree.
Then we have the sternum strap that's secured to the shoulder straps by snap fasteners that are quick to disengage and secure when you need to adjust its position. What we really appreciate here is the fabric welt that hides the adjustment points, as it offers a much cleaner, streamlined look.
When we tested the Timbuk2 Wander Pack, we had a lot of issues with the sternum strap, which attached in a similar way but wrapped around the entire shoulder strap. Because of this, it would float up and down the strap, and whenever we went to take the shoulder straps off, we ran the risk of the sternum strap sliding off entirely and losing it. We much prefer the Authority Laptop Backpack Deluxe's design, and we're happy to see Timbuk2 actively working toward solves for issues we've had in the past.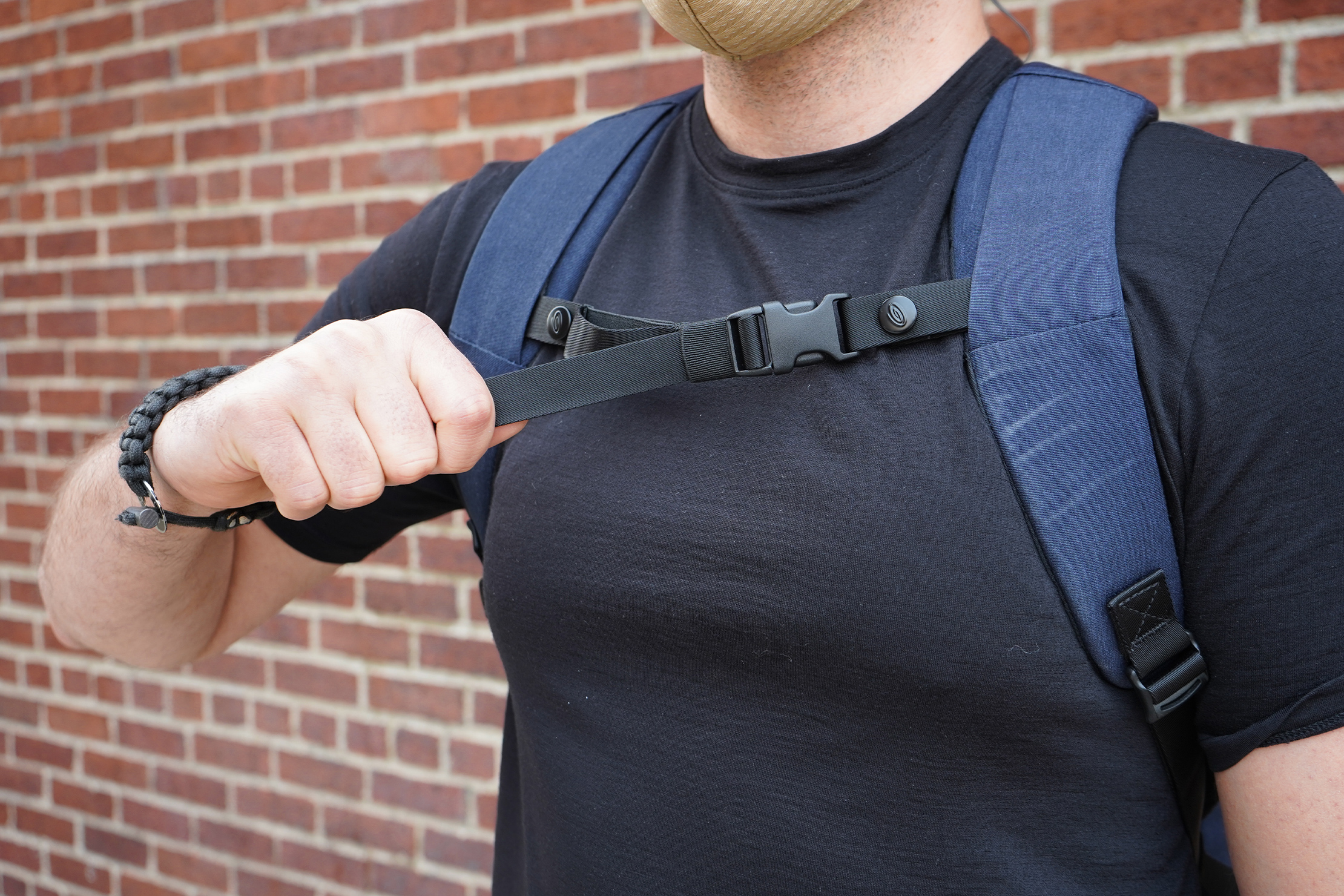 That same padding you've seen on the shoulder straps also appears on the back panel, which we've also found to be pretty comfortable during testing. The air channel down the middle helps keep air circulating, so you have less Swamp Back to deal with on your commute as well. Plus, there's a luggage passthrough you can use to slip this bag on your roller luggage and wheel it around while traveling.
We've seen slicker integrations of this passthrough on other bags in the past that we would've liked to see here, as this pack really just offers a nylon strap instead of a more thoughtfully-designed integration. That said, it does sit flat against the bag when not in use, so it's not poking into our backs or getting in the way, which we appreciate.
At the very top of the bag is a thick handle with lots of padding that's comfortable to grab and convenient for picking up the pack when you need to move it or get something out. It also features that same seat belt-like material you'll find on the shoulder straps that's nice and smooth in hand.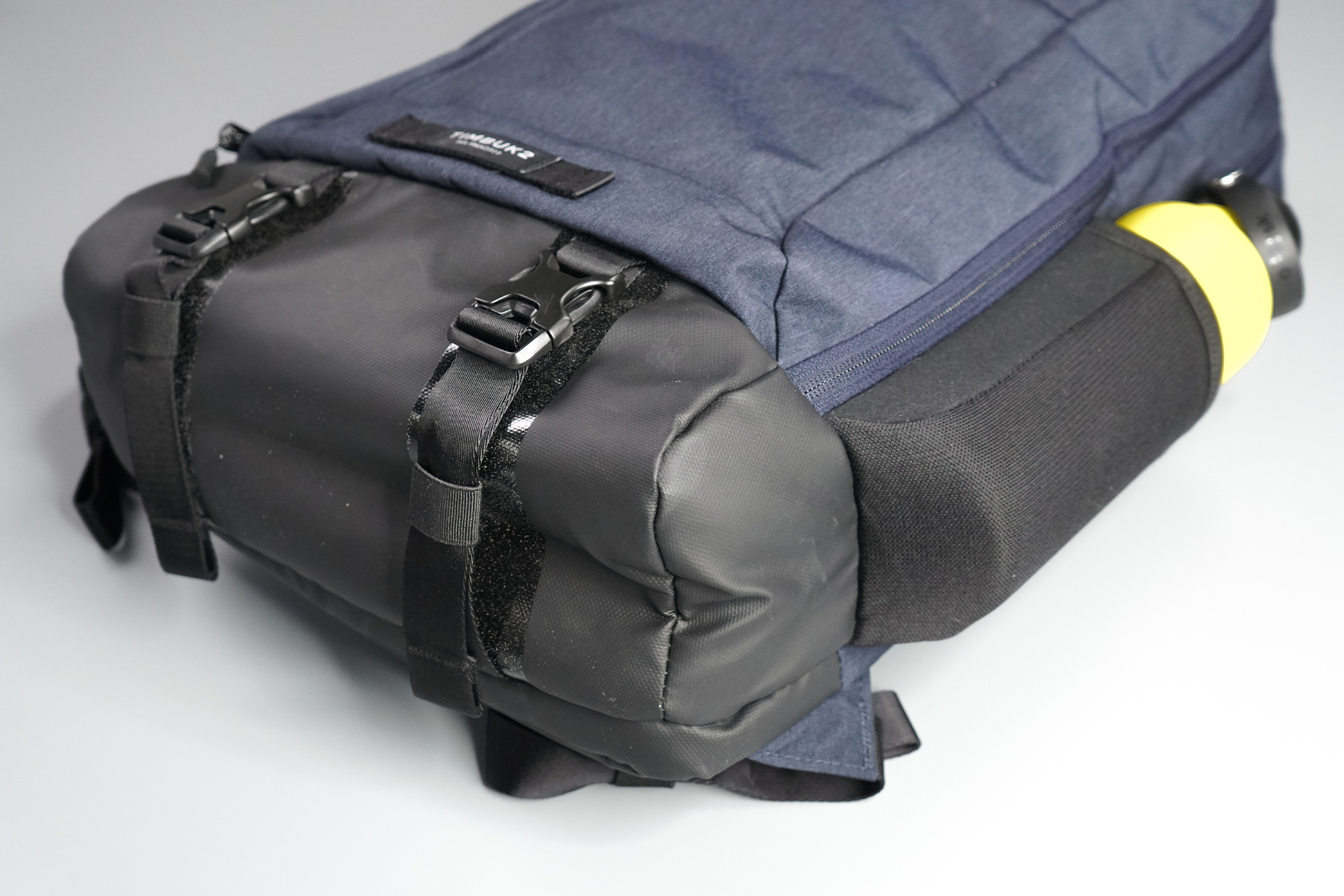 You have two compression straps at the bottom of the bag you can use for cinching it down when you're carrying a lighter load for a more minimal look. They have some elastic keepers to keep any excess strap managed as well, which helps retain that clean, professional look that the bag embodies so well.
Behind these straps, you'll also find some reflective tape which comes in handy for keeping you visible on those late-night bike rides or commutes. It's especially helpful since there aren't really any lash systems or attachment points to clip something like a bike light. You do have that small tag on the front of the bag, but it hangs pretty low, which can be a hassle when you're setting the bag down as you—we're not mind readers, but you likely don't want something like your hat touching the ground if possible. We don't, anyway.
On one side of this pack is a soft mesh water bottle pocket that we've been using to carry a YETI Rambler 18oz Bottle during testing. This pocket is pretty stretchy, but you'll still have a hard time fitting something like a large Nalgene bottle inside—a taller and skinnier bottle will fit and work better here.
Inside The Pack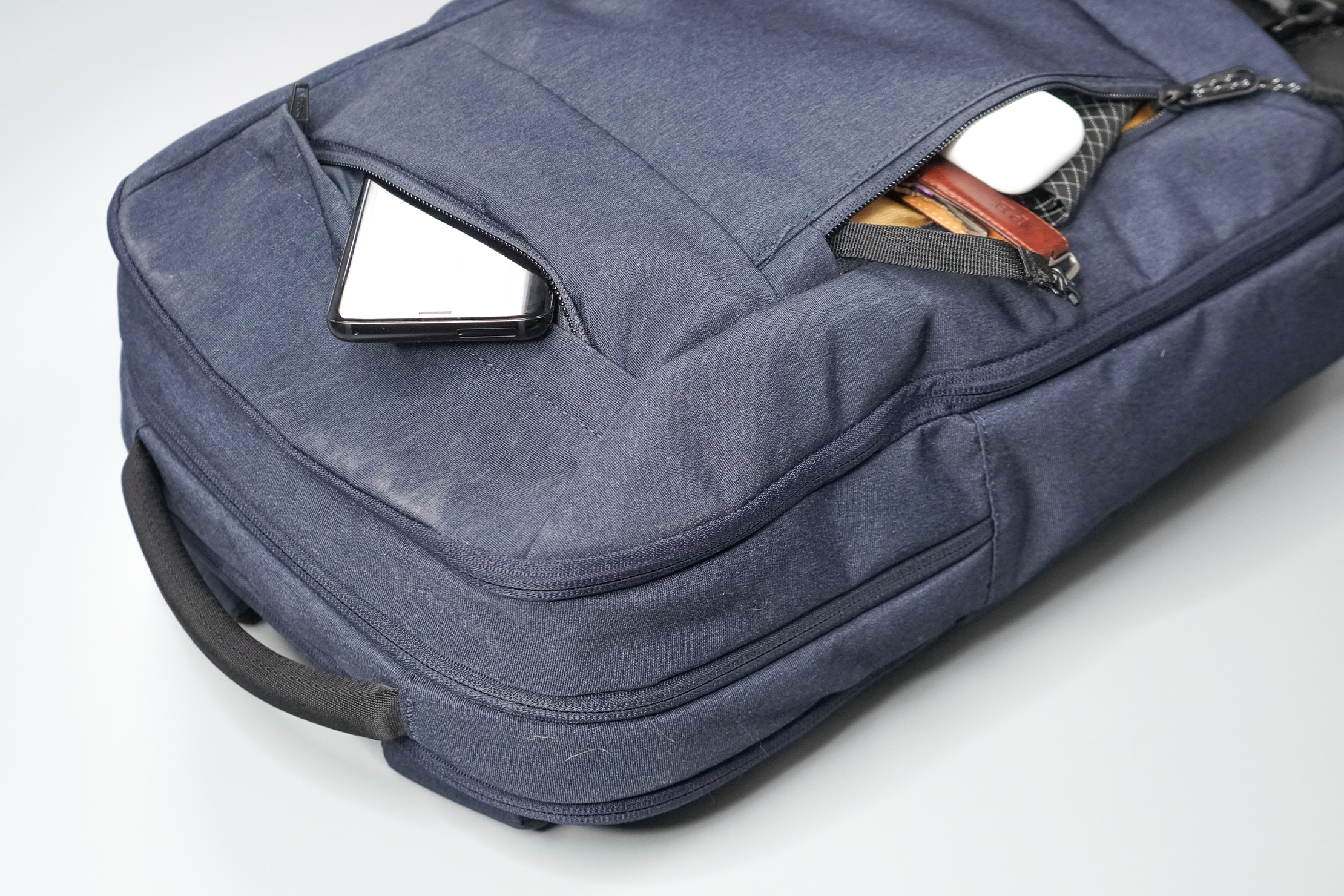 First things first, let's take a look at this pack's external pockets, starting with the large pocket on the front. We've been keeping the essentials like our keys, wallet, and a pair of headphones inside for easy grabbing-and-going while we're on the move, and its bright liner makes everything inside easy to spot. We do wish the zipper for this pocket were on the opposite side, as we're typically slinging bags around our right side when reaching inside, but your mileage may vary.
Above this pocket is a smaller quick-grab pocket where we've been stashing our phone when not in use. A larger iPhone with a protective case fits inside, but tightly, so you may have some trouble getting it in and out each time. You can also keep glasses in a smaller case inside as well, if not a phone, but again, anything too big may be a hassle to take out and put back in, so be aware of that.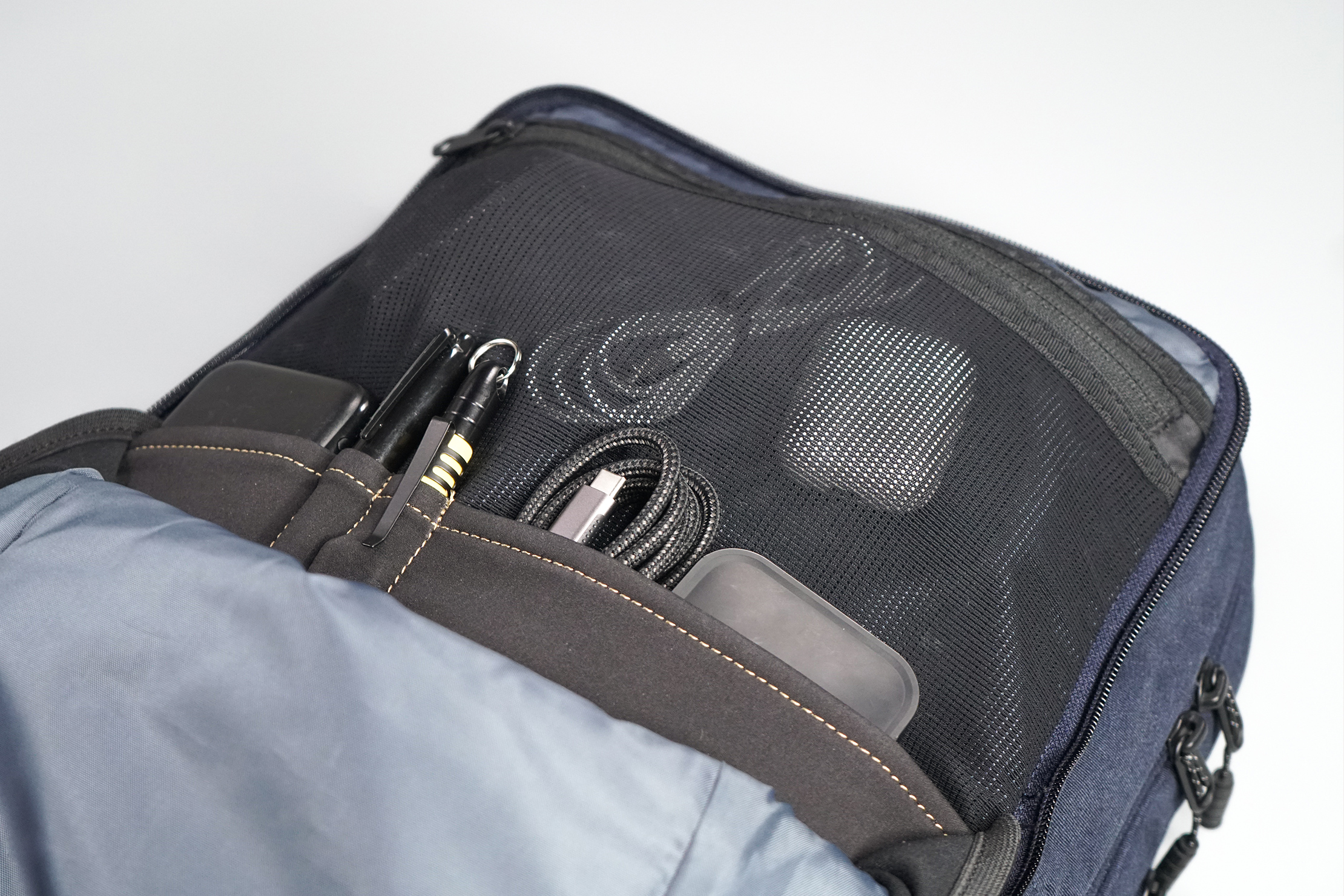 Now, we're going to move into this pack's front compartment. It opens up horseshoe-style and has some gusseted fabric on the sides, which allows you to get some nice visibility and access inside that you wouldn't normally get with this kind of opening.
As for its organization, you have some liner pockets in the middle to help segment your smaller items. You have a pocket that can accommodate a smaller tablet or e-reader on one side, and a smaller pocket on the other side where you can stash a handy spork, a smaller cable, or even a pair of headphones. In between these are two pen sleeves you can use to keep pens, pencils, markers, or a stylus organized and easy to grab.
Toward the top, you also have a built-in zippered mesh pouch to store all of your cables, cords, dongles, and other tech accessories you don't want free-floating around this compartment. The mesh here is super stretchy, so you have a lot of flexibility with what you can pack inside. What's also nice is that no matter how full you pack this pouch, you're not obstructing your access or visibility into the rest of the compartment, which is often a problem on other bags—we dig it.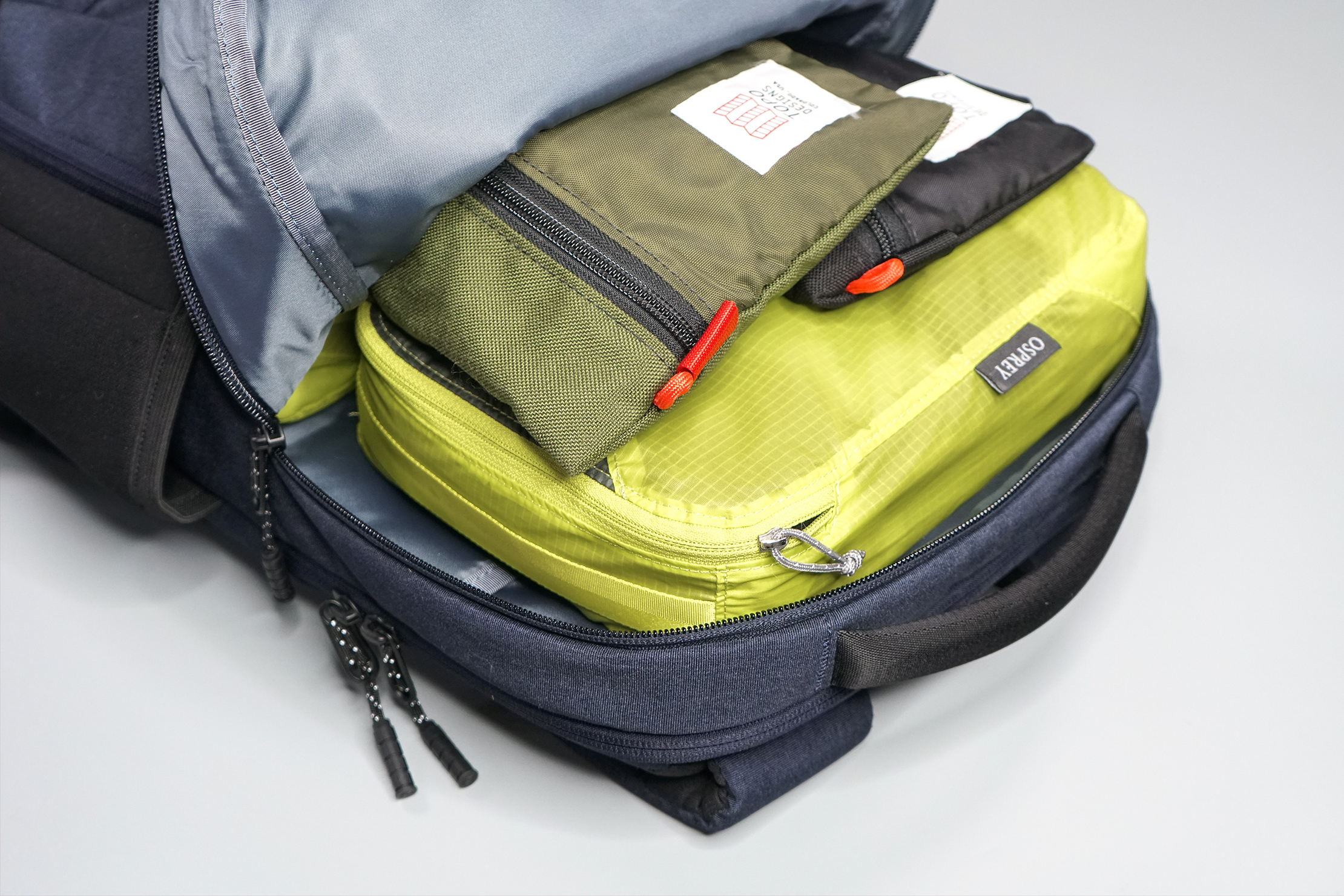 You'll notice that the main compartment of this pack is pretty simple. You do have a sleeve against the back wall for storing flatter items, documents, notebooks, or even your laptop. It's suspended so you have a nice degree of protection when the bag gets dropped or shuffled around, though keep in mind that there is a dedicated laptop compartment at your disposal if you'd like to use this sleeve for something else.
The rest of this compartment is just some free space that you can pack out with pouches or packing cubes as you please. You can stuff a jacket inside for when it starts to get chilly out, an umbrella for those surprise showers, or even a lunchbox if you're taking this thing to work with you every day.
Something to keep in mind when you're packing this bag is that when it's overloaded with gear, the fabric can get lumpy in certain spots, causing the zippers to stick some when going around corners. It hasn't been too bad, but packing flatter items and not overloading the bag can help mitigate this.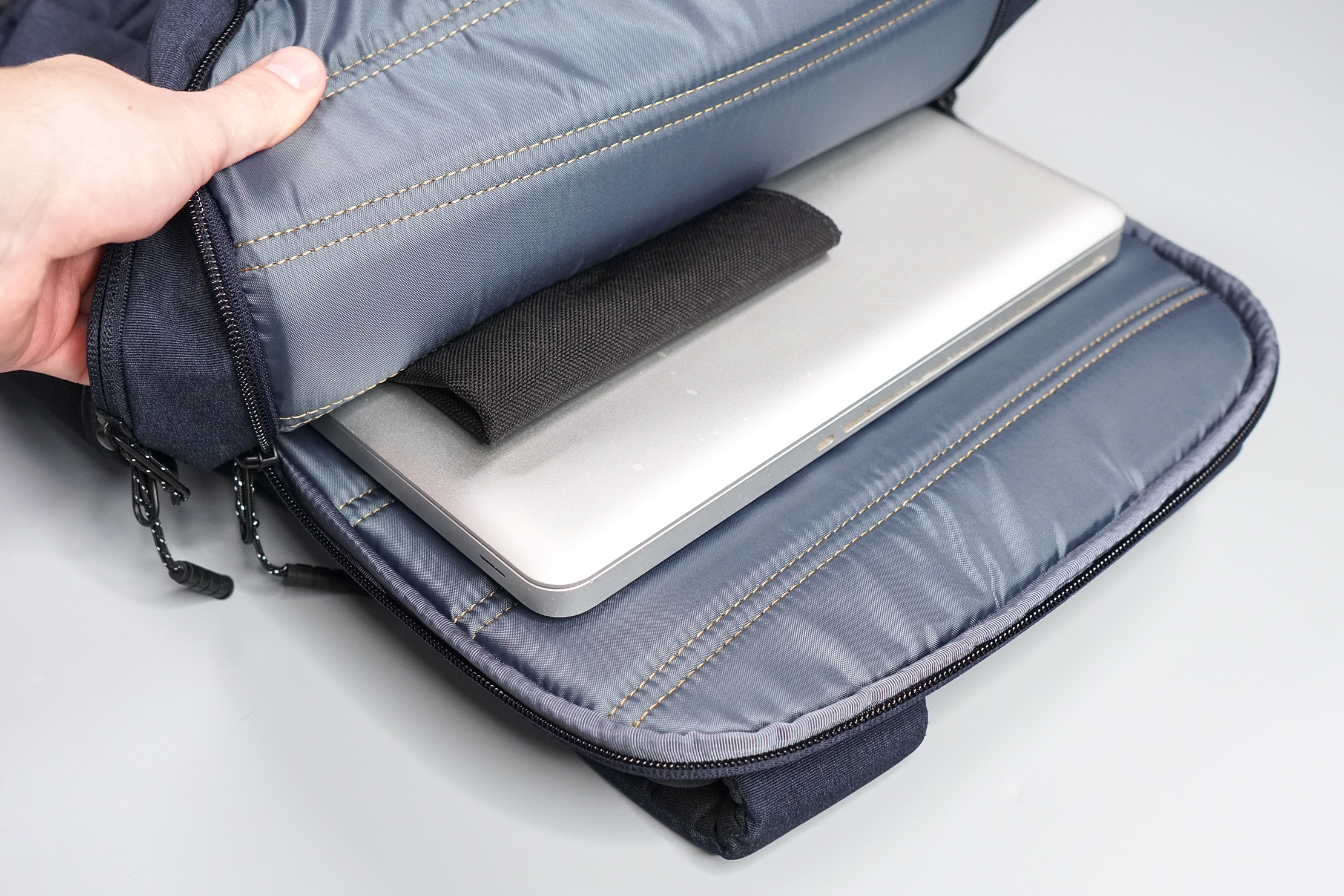 Last on the list is the laptop compartment. It opens up in a similar horseshoe-style fashion as the main compartment so you can easily get your tech in and out. You can fit up to a 17″ laptop inside, which you don't always see with other packs, and we appreciate the accommodation.
We've been keeping a 15″ MacBook Pro, a Roost Laptop Stand 2.0, and a keyboard inside a Roost Minimalist Keyboard Sleeve in this compartment during testing, and it's all fit nicely. There's some really dense padding inside to protect your tech from those rougher trips, but the false bottom falls a little short. We would've liked to see a bit more suspension for added protection from accidental drops and other daily damage.
Usage Timeline
Initial Usage
Condition: Excellent
Thick, dense padding on the back panel and shoulder straps make for a comfortable carry
The laptop compartment is separate from the main compartment and provides more than enough protection
Material and buckles look premium and feel great in the hand
2 Weeks of Use
Condition: Excellent
Liking how the bag maintains a streamlined look, but still offers nice features like the compression straps on the bottom of the bag, and a sternum strap that's covered up with fabric
Segmentation of the separate pockets are nice, and the organization panel is the perfect amount
Comfortable harness system for a bag of this size—even when it's fully packed out
Access the Pro Community Discussion
Get your questions about the Timbuk2 Authority Laptop Backpack (Deluxe) answered from our team and the Pro Community right here on the page. Plus, join discussions with other members about gear, guides, and more.
Other Bags & Luggage Reviews