SnapWireless PowerBase Go Review
SnapWireless' PowerBase Go offsets its chunky size by wirelessly charging three devices simultaneously and doubling as a phone stand.
Our Verdict
Unlock the Pro Summary
Save time. Get access to brief summaries of our reviews so you can browse and make decisions more efficiently.
Pros
Convenient all-in-one charging station for your devices
Apple version is MagSafe-compatible
Works as a phone stand
Cons
Relatively thick, occupying extra space inside a tech pouch
Does not fast charge an Apple Watch
Fabric finish can stain over time
Recent Pack Hacker Video
Technical Details
Weight (oz)

6.46 oz (183.1 g)

Dimensions

10.6 in x 3.17 in x 0.63 in (26.9 x 8.1 x 1.6 cm)

Manufacturing Country

China

Warranty Information
Full Review
While you can plug into every wall socket with a separate cable and wall charger when working from home, that's not always an option when traveling. As such, all-in-one chargers like Apple's MagSafe Duo and Satechi's Quatro Wireless Power Bank have an understandable appeal. Sure, they're not the fast-charging monsters touting triple-digit wattage, but they offer simultaneous charging for a one-stop spot to your devices, and you can simply pack up by the end of your trip.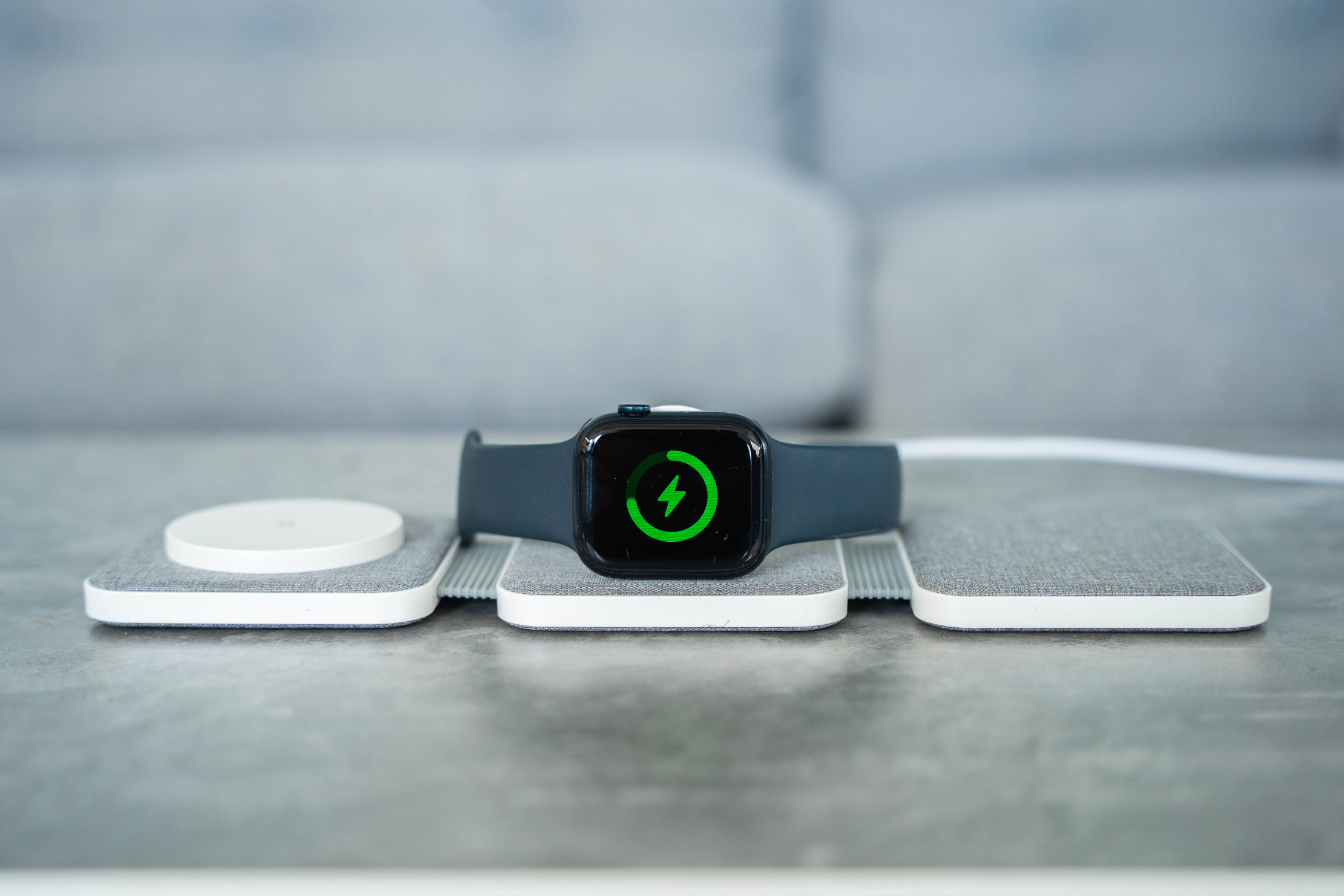 In this review, we'll look at SnapWireless' PowerBase Go. It has three charging spots, each designed for a specific device: an iPhone, Apple Watch, and AirPods. Short of charging a MacBook, this is pretty much a complete package—or is it? It is missing some features, is relatively large for travel, and it doesn't come with a charging adapter. Deal-breakers? Only one way to find out…
…But before we jump in, we have to point out that we'll specifically be looking at the Apple version of the PowerBase Go, as that's the model we have. There's also a Samsung-specific version for Samsung, and SnapWireless says to get that version if you use Samsung devices. That being said, since the PowerBase Go uses Qi wireless charging, it should be quite brand agnostic so long as the device in question also supports the standard.
The Rundown
The first thing you should know about the PowerBase Go is that it doesn't come with a charging adapter, though it comes with a USB-A to USB-C cable. SnapWireless says it's to reduce waste, and it should also translate into savings. Regardless, you'll need a separate charging adapter to supply 18 watts of power. The power requirement is understandable, given that it's charging up to three devices.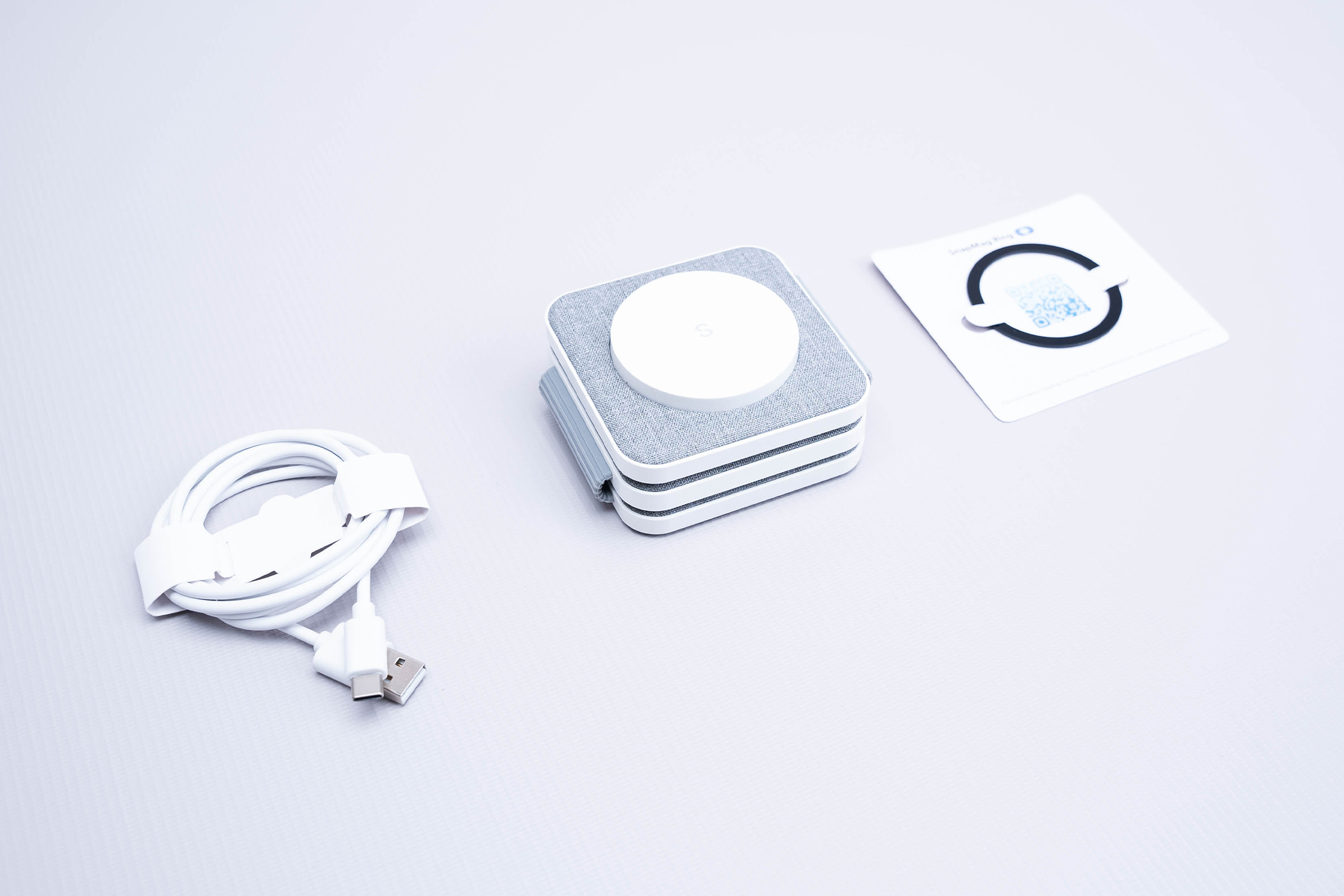 As for the PowerBase Go itself, it's quite aesthetically pleasing. Each pad is its own square base with a heathered gray fabric around it for style. The housing around the edges is a bit plasticky when you poke and prod around it, but it looks quite elegant on any bedside or coffee table. Lastly, the pads connect via rubber segments. They're arguably the cheapest-looking part of the PowerBase Go but they don't really hurt the overall stylishness.
What could hurt the styling is the fabric finish. Anyone with anything made of fabric can tell you that it inevitably stains. Whether from accidental spills or simply the dust in the air, the material can accumulate dirt. Our sample has remained pristine throughout the testing process, though we'll have to see how it holds up during long-term testing.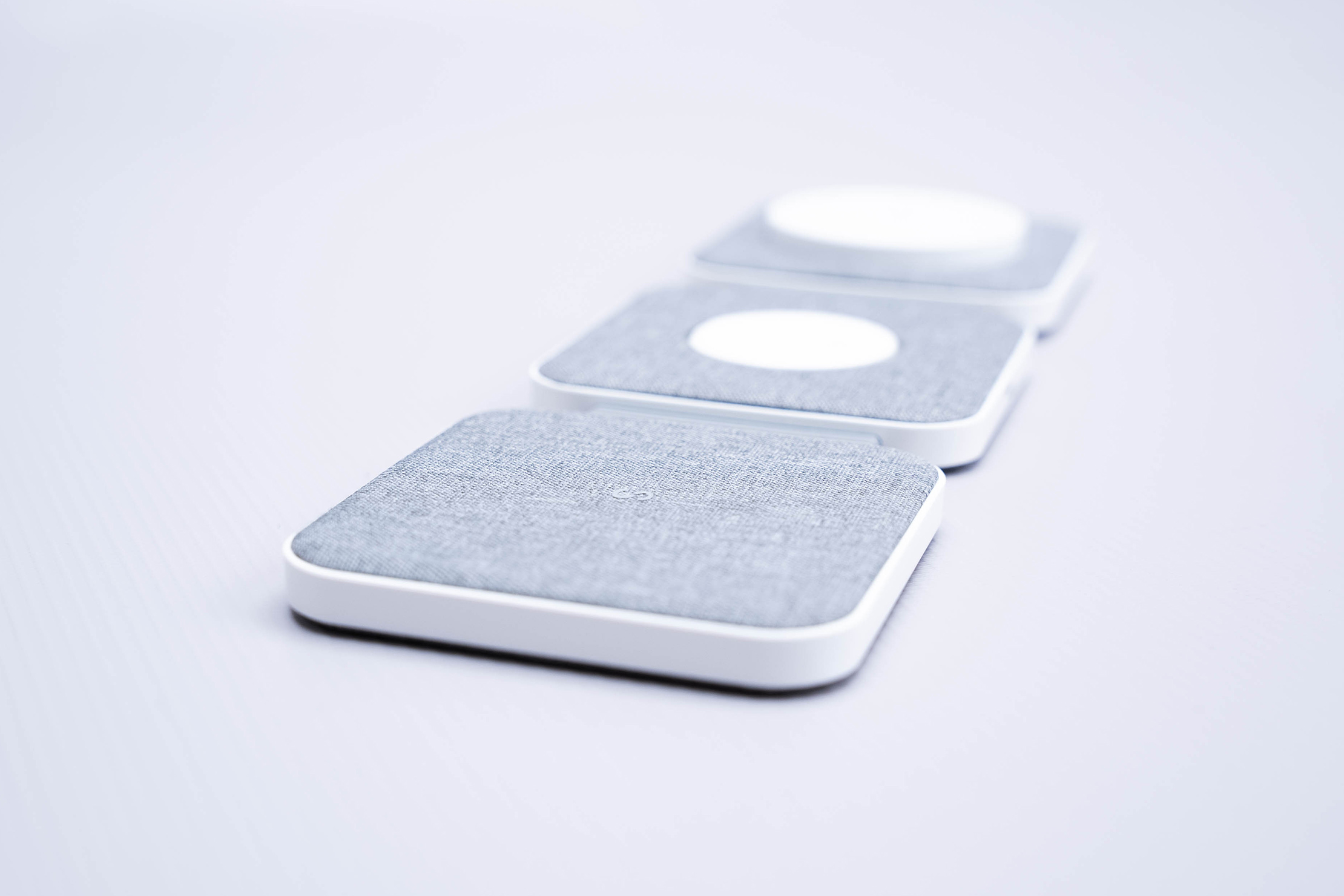 But now, let's talk about the practical side of the PowerBase Go. From left to right, you have the MagSafe-compatible charging pad for an iPhone, the charging pad for an Apple Watch, and the charging pad for a pair of AirPods. All three charge via the Qi wireless charging standard. The included cable plugs into the USB-C port on the far edge of the Apple Watch charging pad. Kudos to SnapWireless for using USB-C, by the way. As prevalent as USB-C is, we've had our fair share of devices that still use micro USB or even proprietary ones. *Ahem* Lightning *Ahem*.
The charging pad for the iPhone supports up to 15 watts of power. Some (we're looking at you, Android users) may scoff at that, but it's arguably more than enough if you primarily charge at night while sleeping. There are magnets built into the pad that correspond with MagSafe-compatible iPhones. If your iPhone doesn't support MagSafe, have no fear, as SnapWireless includes one of their SnapMag Rings in the box. Stick that to the back of your non-MagSafe iPhone (or the back of your case if you're using one), and presto: your phone now snaps securely to the pad.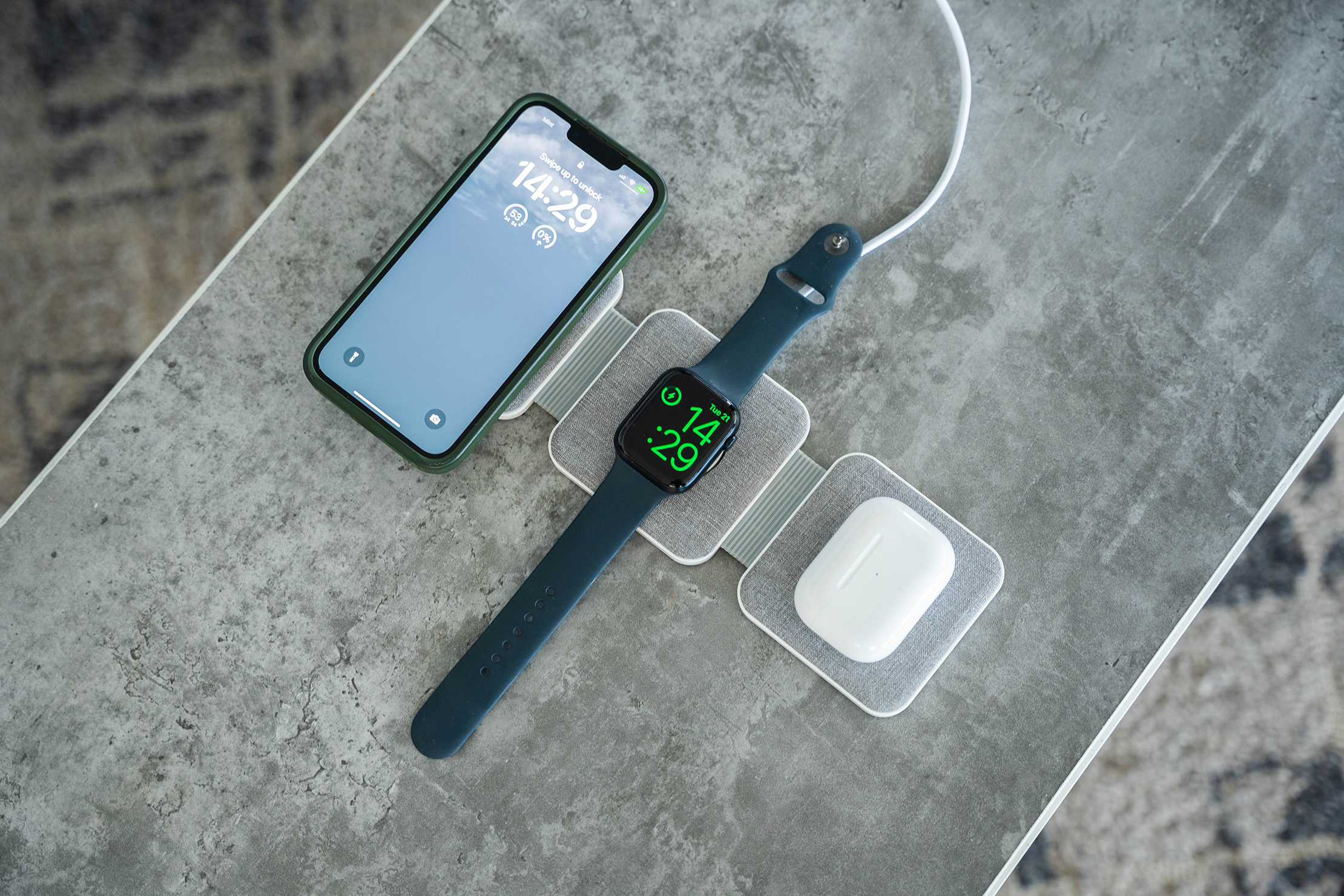 Next up is the built-in magnetic Apple Watch charger in the middle. It flips up so you can still see the watch face while lying in bed pondering the mysteries of life or if the 3 watts of charging is fast enough for you. We can't give any insight into the former, though we can shed some perspective on the latter. For context, fast wireless charging is supported on Series 7 and Series 8 Apple Watches at a rate of 5 watts, while normal charging speeds top out at 3 watts. Like with the iPhone, the slower charging speed isn't as big a deal if you primarily charge your devices overnight. However, if you're looking for a 0-100% top-up while on the go, we recommend using either a faster charger or a more convenient one like Satechi's Quatro since you can carry it while charging.
Lastly is the charging pad for the AirPods, which charges at a 5-watt rate, which is more than enough for the AirPods. We don't have much to complain about, though it's missing MagSafe compatibility. Certain AirPods models support MagSafe, so it would've been nice to see it here, as well.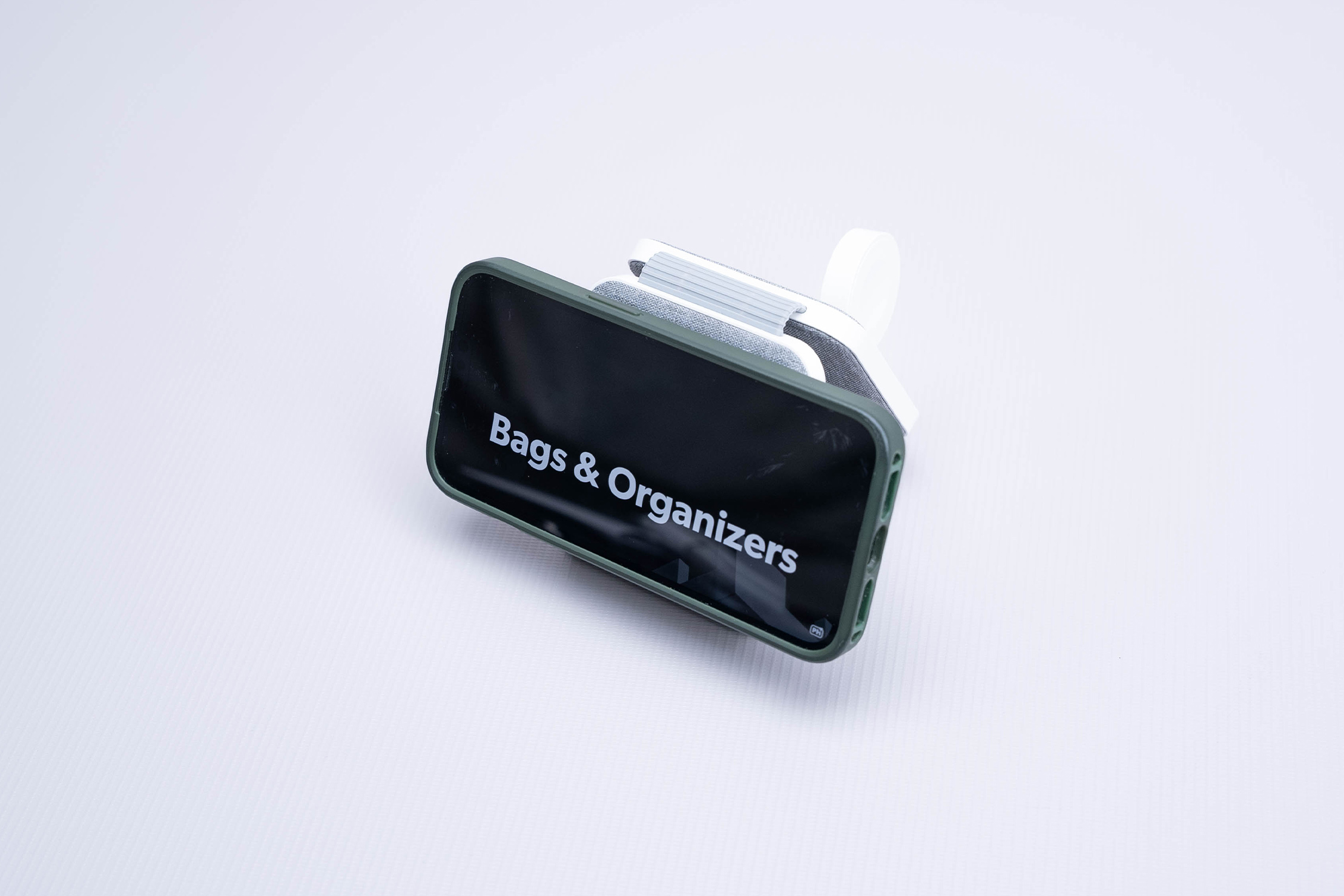 We really dig the clever theater mode feature, so you can use the PowerBase Go as a wireless charging phone stand. Arranged in a triangle, this puts your iPhone in front and your Apple Watch at the back, with the AirPods charging pad as the base. This arrangement makes sense since, if you're watching a movie, you'd ideally be looking at your iPhone, charging your Apple Watch at the back, and wearing your AirPods anyway.
Packability
For travel purposes, the PowerBase Go is on the chunkier side of the wireless charging size spectrum when folded. Don't get us wrong; it's not like it selfishly occupies the entirety of the Aer Slim Pouch we're using. But it's notably thicker than Apple's MagSafe Duo, even on a per-charging-pad basis.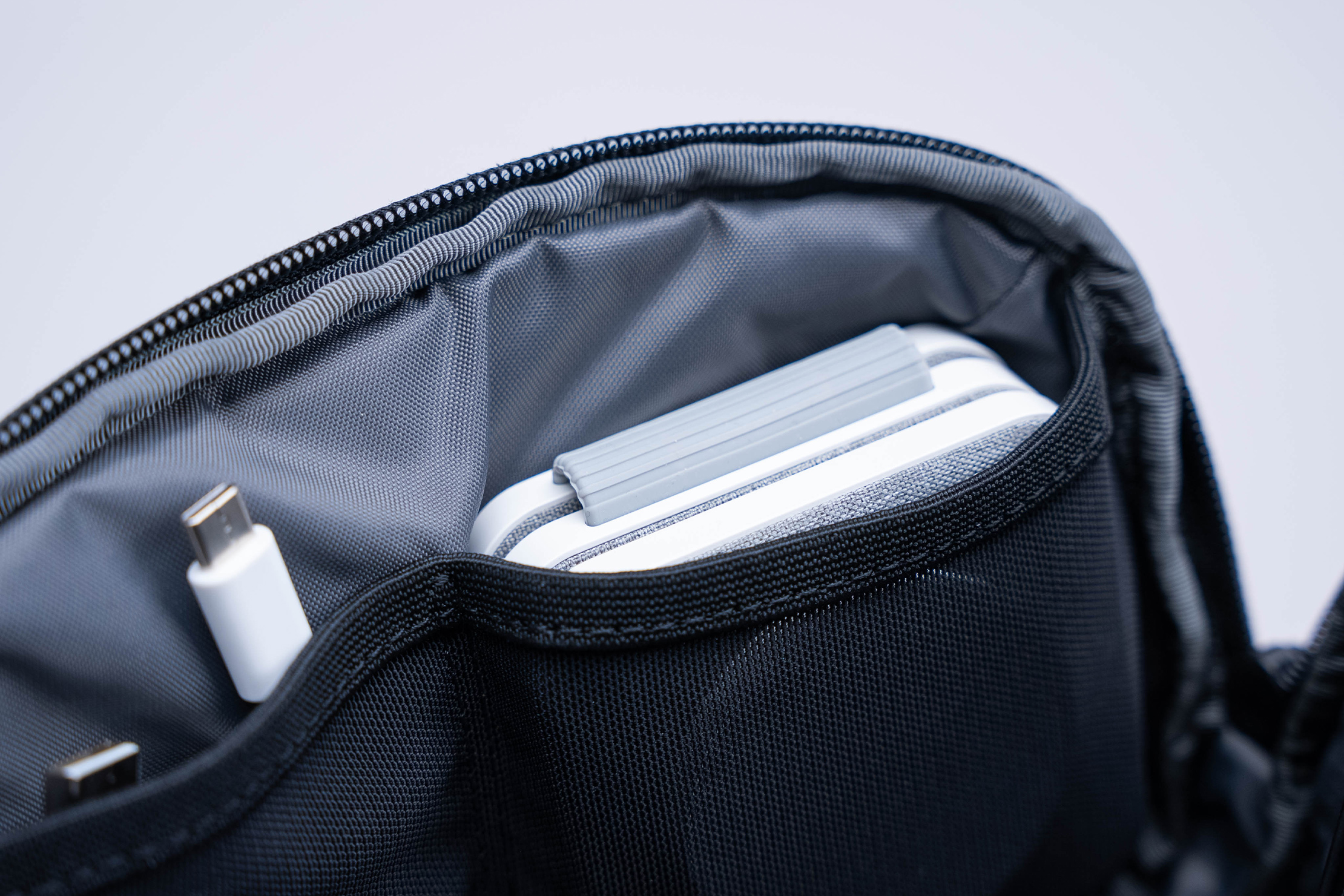 Then again, you do get a lot of functionality for its size since it can charge three devices simultaneously and works as a phone stand. With that in mind, it's not that difficult to justify its chunky size.
Quick Comparison
We have a bunch of different solutions that are comparable to the PowerBase Go. First is a combination of Apple's MagSafe Duo and the included charger for the Apple Watch. In terms of charging speed, it's more or less the same, and any difference is super minimal. For context, the MagSafe Duo tops out at 14 watts for charging an iPhone, which is only one less than the PowerBase Go.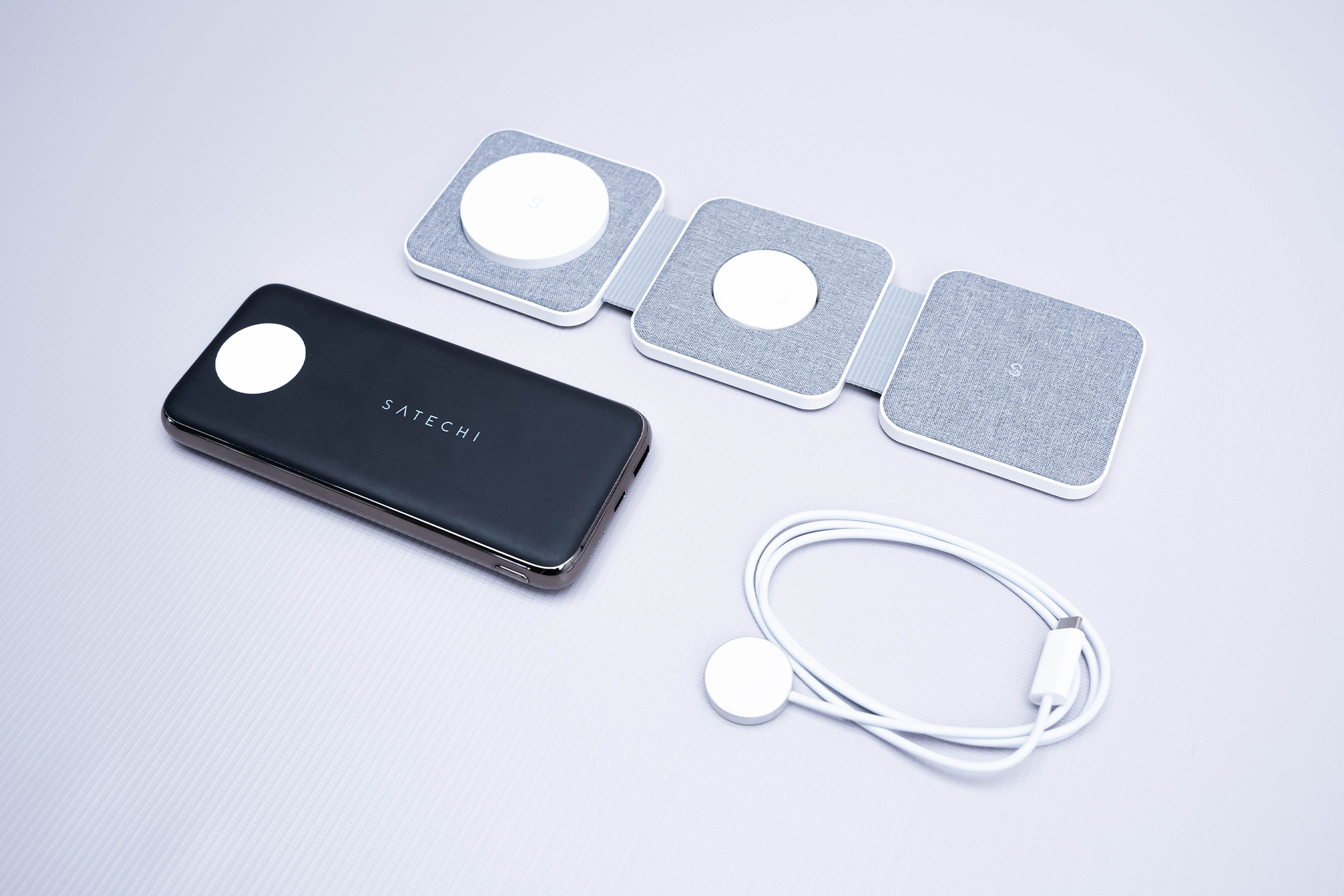 Size-wise, this combination is arguably smaller than the PowerBase Go, even once you factor in the required cables for both. Then again, you'd have two cords versus only one for the PowerBase Go, not to mention you'd need an adapter with two ports. Alternatively, swap out the default Apple Watch charger for Satechi's USB-C Magnetic Charging Dock. However, it still needs its own USB-C port, so you'll have to plug it in directly to a charging adapter or into your MacBook.
Lastly, there's the Satechi Quatro Wireless Power Bank. Like the PowerBase Go, it can wirelessly charge your Apple Watch and AirPods at the same time. If you want to charge your iPhone quickly, you'll have to plug it in using a cable since its Qi wireless charging tops out at 5 watts. So you can use it away from any wall sockets, though you'll have to keep it topped up.
Usage Timeline
Initial Usage
Condition: Excellent
Clever design unfolds to reveal 3 charging pads, though it's much bulkier than Apple's MagSafe Duo
Felt material feels nice in the hand
Apple Watch charging puck folding mechanism doesn't feel the most durable on first test and won't fast-charge your watch at 3W max output
2 Weeks of Use
Condition: Excellent
A little bummed about the watch charger not being rated for fast charging
Great look to it, though the hollow plastic makes it feel a tad cheap
Theater mode is a great touch for propping a phone up in a pinch
Fit nicely inside of a tech kit, but still much bulkier to pack than Apple's MagSafe Duo
Access the Pro Community Discussion
Get your questions about the SnapWireless PowerBase Go answered from our team and the Pro Community right here on the page. Plus, join discussions with other members about gear, guides, and more.
Other Productivity & Tech Reviews