Satechi Quatro Wireless Power Bank Review
The Satechi Quatro Wireless Power Bank's size doesn't seem very travel-friendly, but its ability to act as an all-in-one charging hub makes up for its size.
Our Verdict
Unlock the Pro Summary
Save time. Get access to brief summaries of our reviews so you can browse and make decisions more efficiently.
Pros
Can simultaneously wirelessly charge multiple devices
Matches Apple devices aesthetically
Multi-function LED indicator is helpful
Cons
Relatively bulky for a 10,000 mAh power bank
Construction feels a bit plasticky
Powering on process takes some getting used to
Recent Pack Hacker Video
Technical Details
Weight (oz)

9.49 oz (269 g)

Dimensions

6.4 in x 2.9 in x 0.7 in (16.3 x 7.4 x 1.8 cm)

Manufacturing Country

China
Full Review
Power banks have become somewhat of a necessity for us when traveling. Why? How many times have you been in a situation where you're about to run out of smartphone juice, but there's no outlet nearby? Yep, been there, done that. Worse still, even wireless earphones and smartwatches need to be charged nearly as often as smartphones, so we have to keep them in mind as well.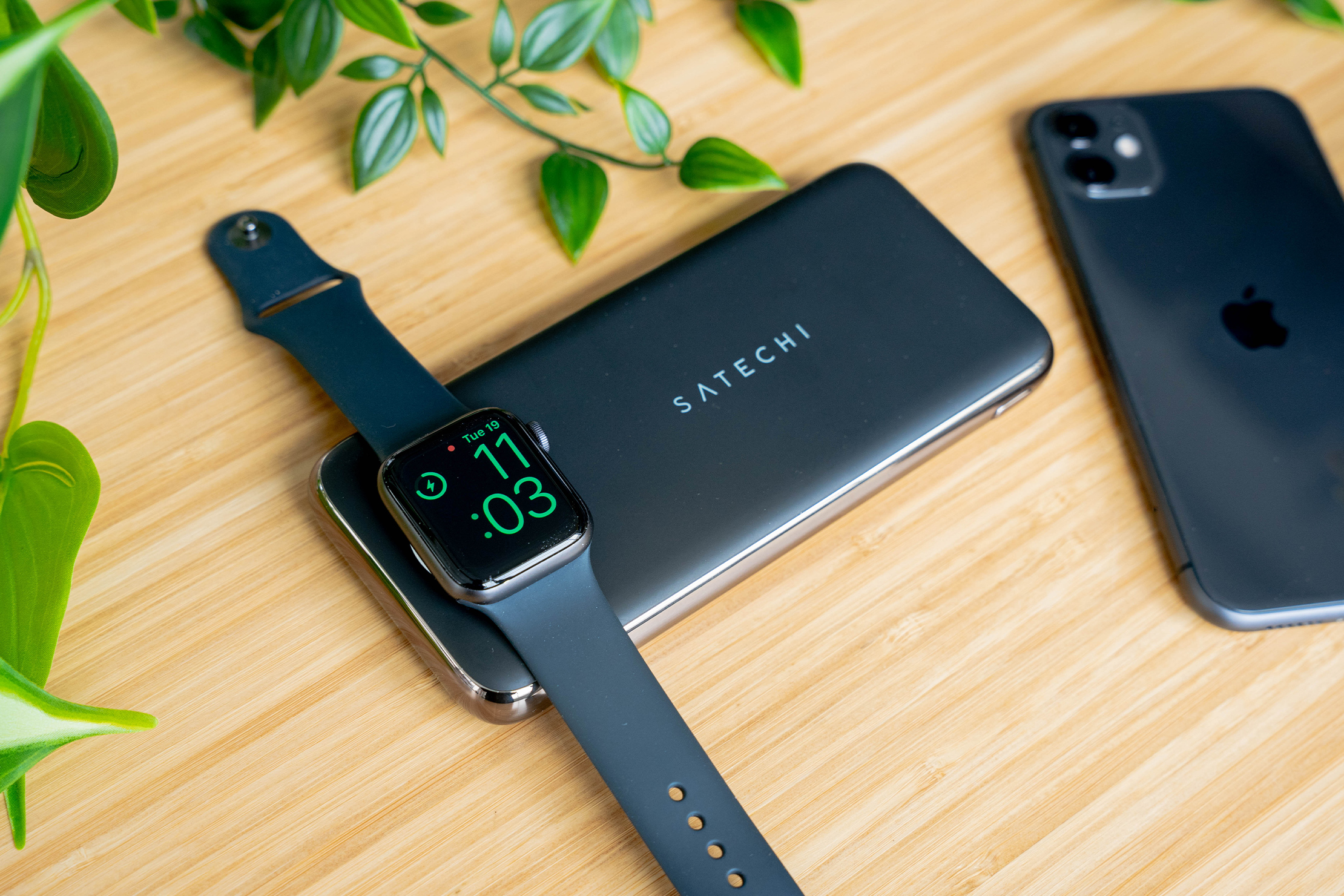 Fortunately, brands are catching on, and Satechi's solution to this problem is the 10,000 mAh Quatro Wireless Power Bank. It's named "Quatro," presumably because it has two USB ports and two wireless charging spots. Yes—you can charge your smartwatch, smartphone, and wireless earbuds simultaneously with this lone power bank. The catch? It's quite bulky for its capacity.
Is it worth the trade-off, though? Let's find out.
Materials & Aesthetic
The Quatro has a shape and profile similar to most other power banks of a similar capacity out there. It's thick and rectangular, but if it were just that, we'd be going to the next section without much fanfare. However, Satechi did a good job dressing up the Quatro to match our Apple devices.

The shiny chromed-out edges mimic the styling of our iPhone 13 Pro Max quite convincingly. The keen-eyed among you might even say the curved edges are reminiscent of the iPhone X or pre-iPhone 4 models. Needless to say, if you're rocking an iPhone, the Quatro won't stick out like a sore thumb right next to it. Now let's take at the finer details that adorn this power bank.
At the front, there's a minimalist but still legible Satechi logo, and further down is a curious-looking, slightly concave white circle where an Apple Watch docks. Next, there's a button to activate wireless charging at the side near the top right corner. Along the top is a set of LED indicators, a USB-C port, and a USB-A port. All in all, it's quite busy compared to other power banks, though it still manages to look quite classy at the same time.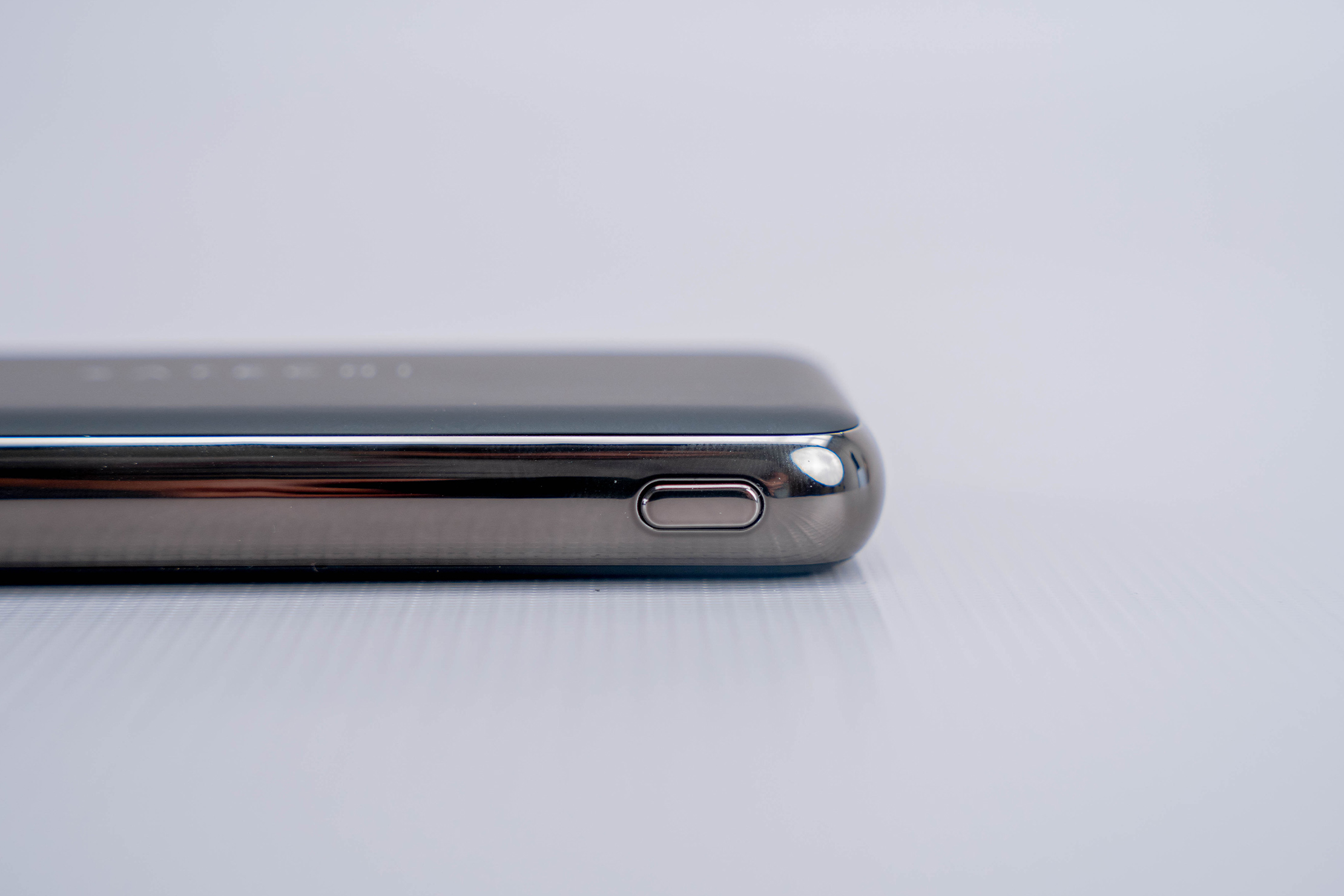 Maybe don't let others touch it, though, to maintain that impression. While the aesthetics match the iPhone's style, the same can't be said about the build quality. It's not that the Quatro falls apart in your hand; it's not flimsy. It just feels a bit too plasticky for our taste. It doesn't have that solid and dense feel we get from other branded power banks, so we have to knock points off in this area.
Usage & Features
So how does this work? To turn on the Quatro, you first need to press the power button once, then double press it to activate the Apple Watch and Qi wireless charging. One of the LEDs will emit a blue light if this is done correctly. The light will turn orange once a device begins wirelessly charging, or it will flash if there's debris in the way. To turn off wireless charging, simply press and hold the power button until the LEDs turn off.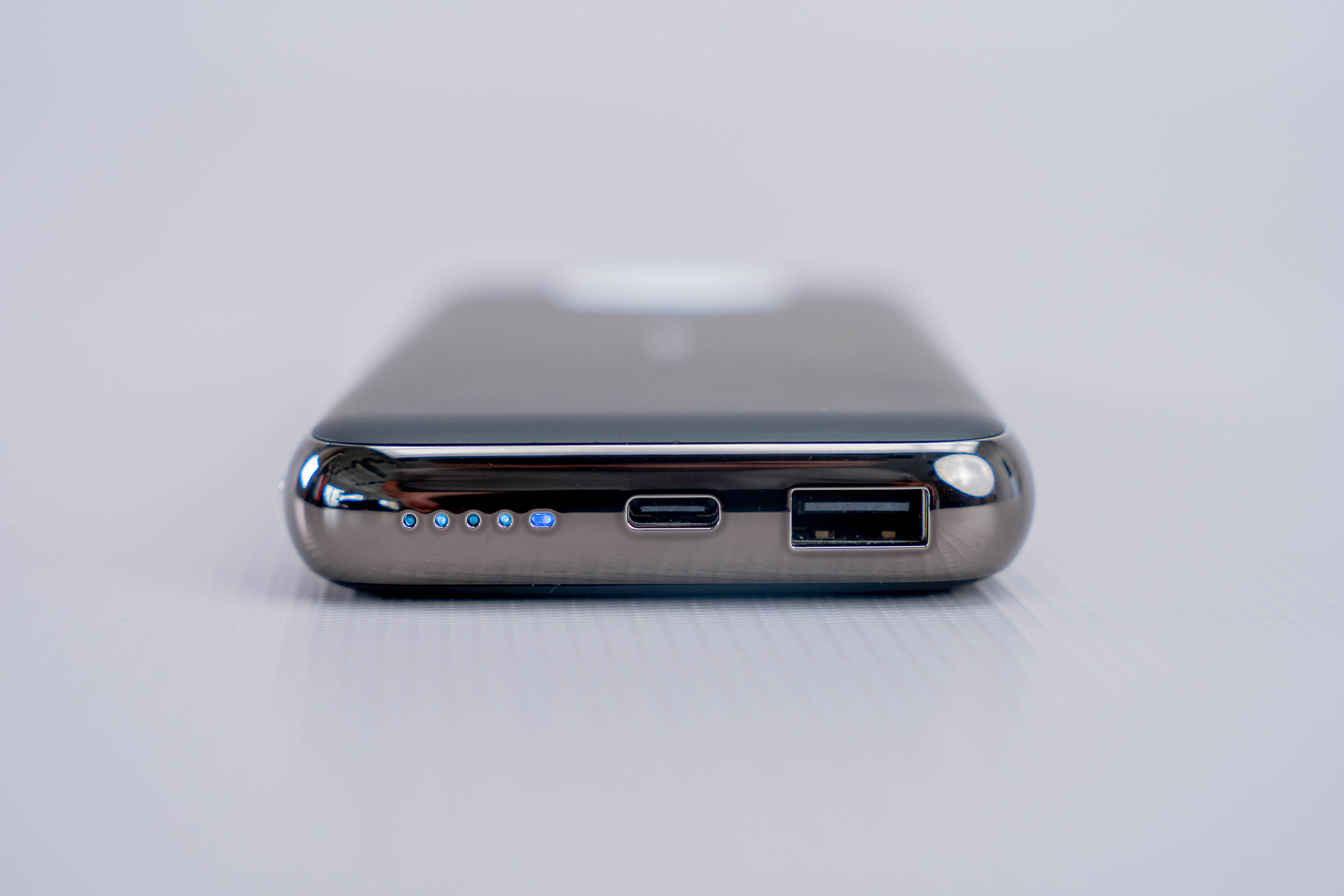 It sounds a bit complicated to memorize the LED codes and button combinations, so we recommend keeping a physical copy of the guide. A guide is also available on Satechi's website in case you lose yours.
When looking at the Quatro in a vacuum, its size doesn't particularly stand out. However, compared to other power banks, it starts to look chunky. Right next to Anker's PowerCore Lite 10000 mAh, the Quatro dwarfs it by a considerable margin. Meanwhile, the Futurizta Pixi Mini at 5000 mAh is less than half the size for exactly half the capacity.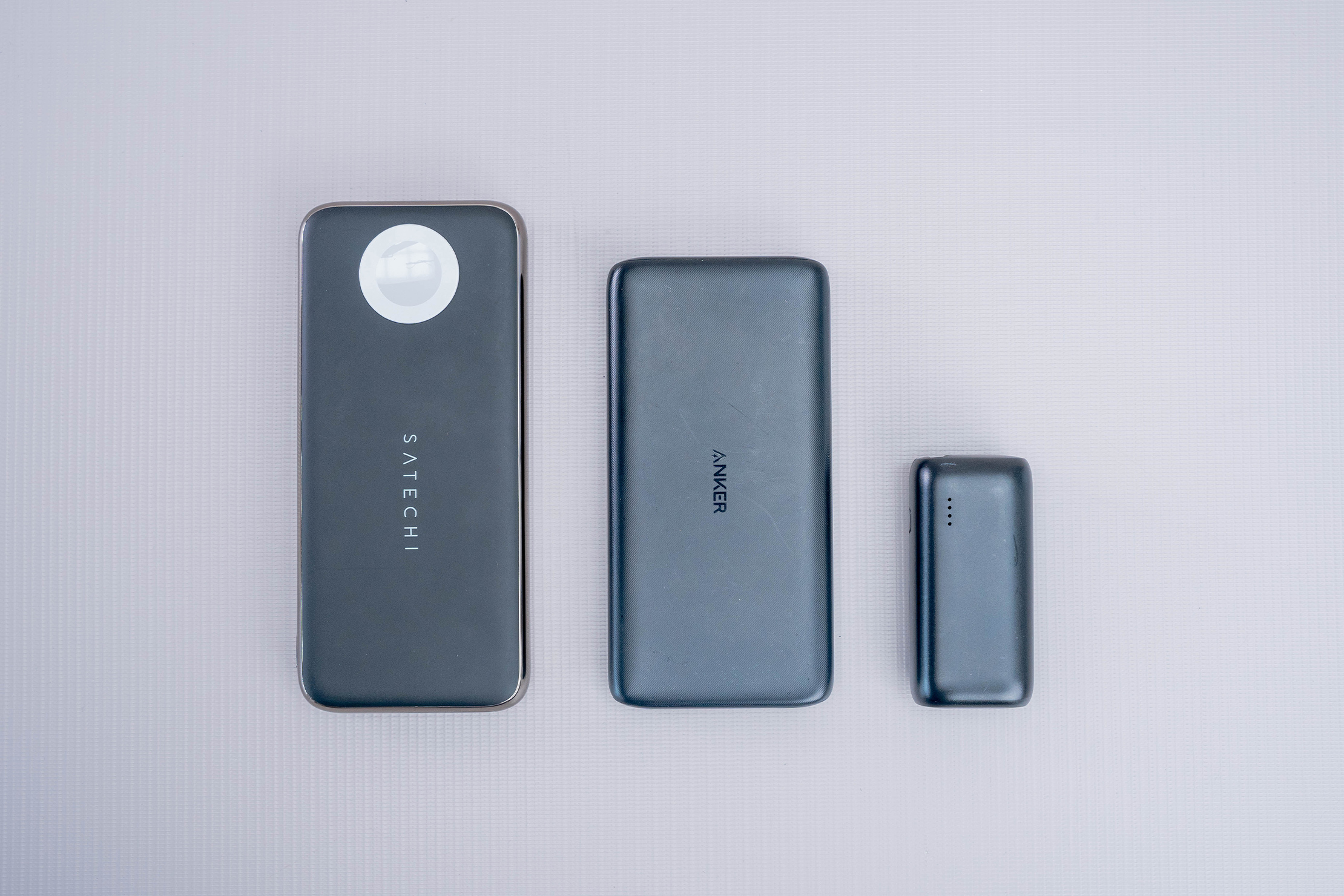 This means the Quatro probably won't be our first pick when we're trying to get as much charge per ounce. The size difference may not seem that much at first. However, those few ounces may mean the difference between being able to close your already-packed-out sling or not. That said, neither of those two other power banks packs the same wireless charging capabilities as the Quatro, so we have to cut it some slack.
So what are these wireless charging features we speak of? For starters, there's the white docking spot for an Apple watch that supports 2.5W charging. At the time of writing, the latest Apple Watch Series 7 supports 5-watt fast charging, so this isn't exactly bleeding-edge levels of fast.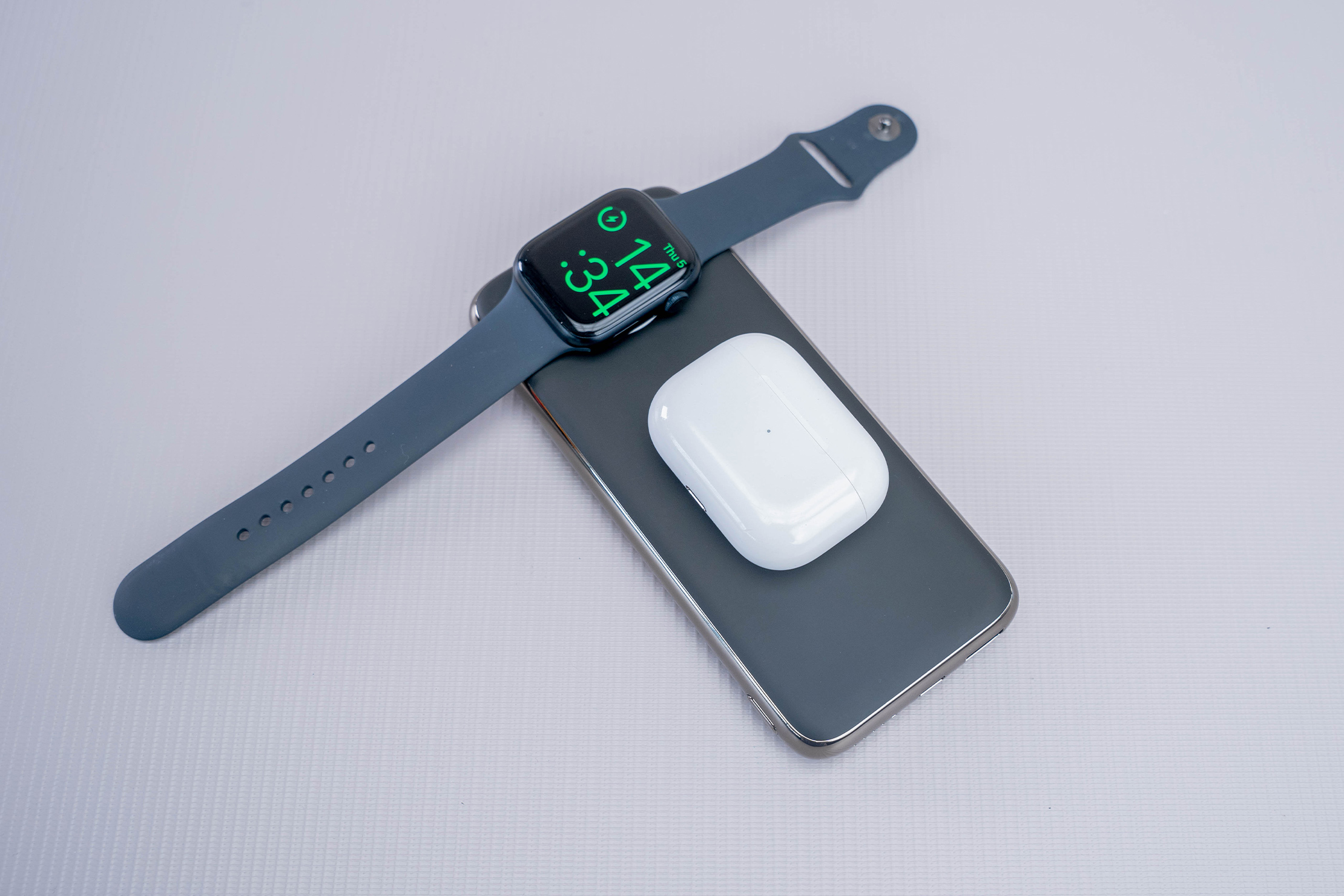 Then there's also an area where you can place a Qi wireless charging compatible device. It's the area around the logo about the size of an Apple Airpods case, which is exactly the kind of device it's meant for. It's not only the size; this Qi wireless charging spot tops out at a meager 5 watts, so you'll only really want to charge small accessories with it.
As for the ports, the USB-C port supports up to 18 watts via USB Power Delivery (PD). That's both input (for charging the power bank itself) and output to a supported device. For those who're curious, a USB-C charging cable is included in the package. Meanwhile, the USB-A port supports up to 12-watt charging.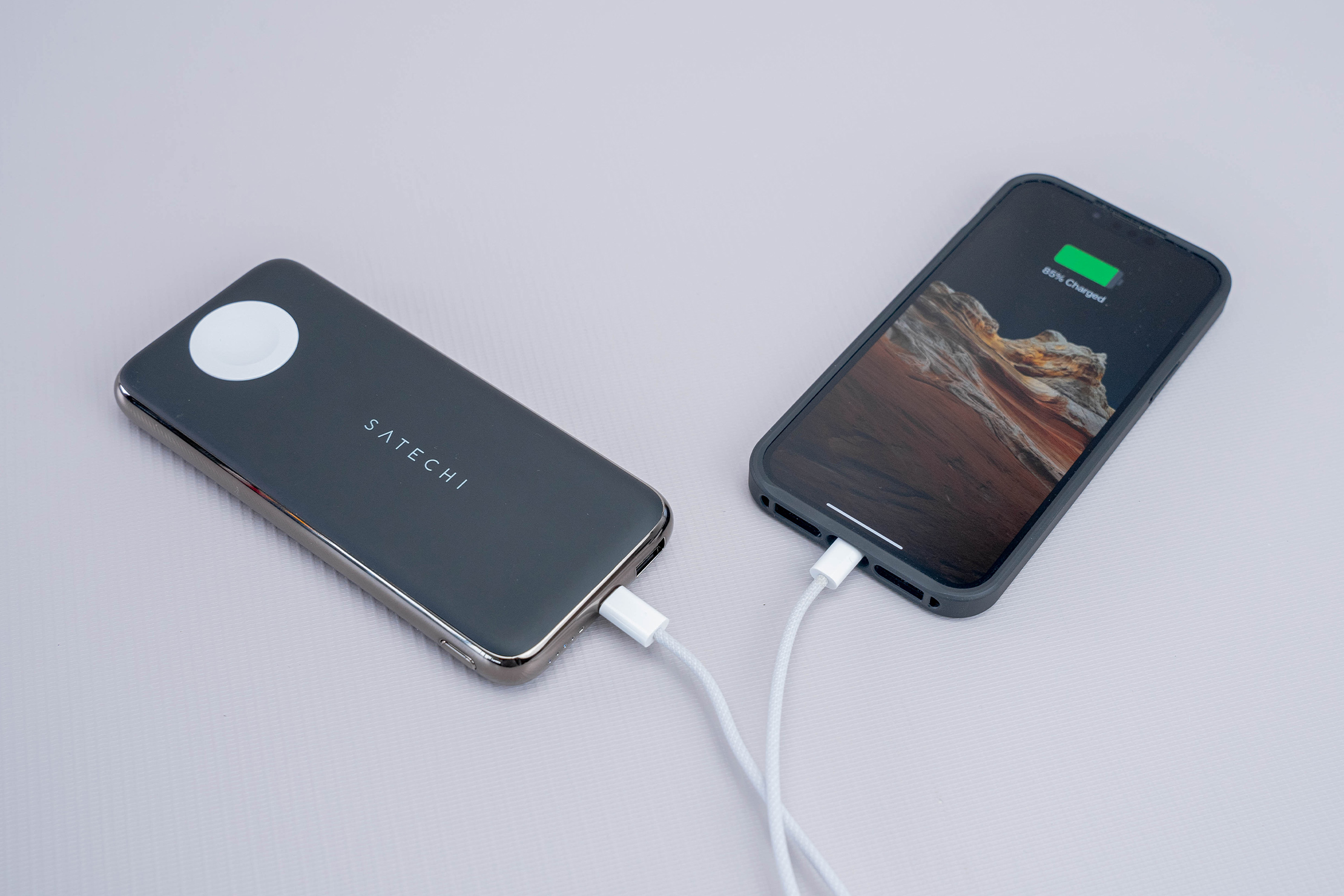 That's a ton of charging options packed into one power bank, with the key selling point of being able to charge multiple devices simultaneously. At 10,000 mAh, we're able to get nearly two complete charges of an iPhone 13 Pro Max, AirPods Pro, and Apple Watch Series 7. That's more than enough to get through even a busy day of exploring a new city, taking pictures, making calls, and listening to some tunes. For charging habits, since the Quatro doesn't have lightning-fast speeds, we tend to charge before we run flat.
Oh, and for those who are wondering, you can technically charge four devices at the same time. However, Satechi recommends charging only three simultaneously, presumably to avoid putting too much strain on the battery.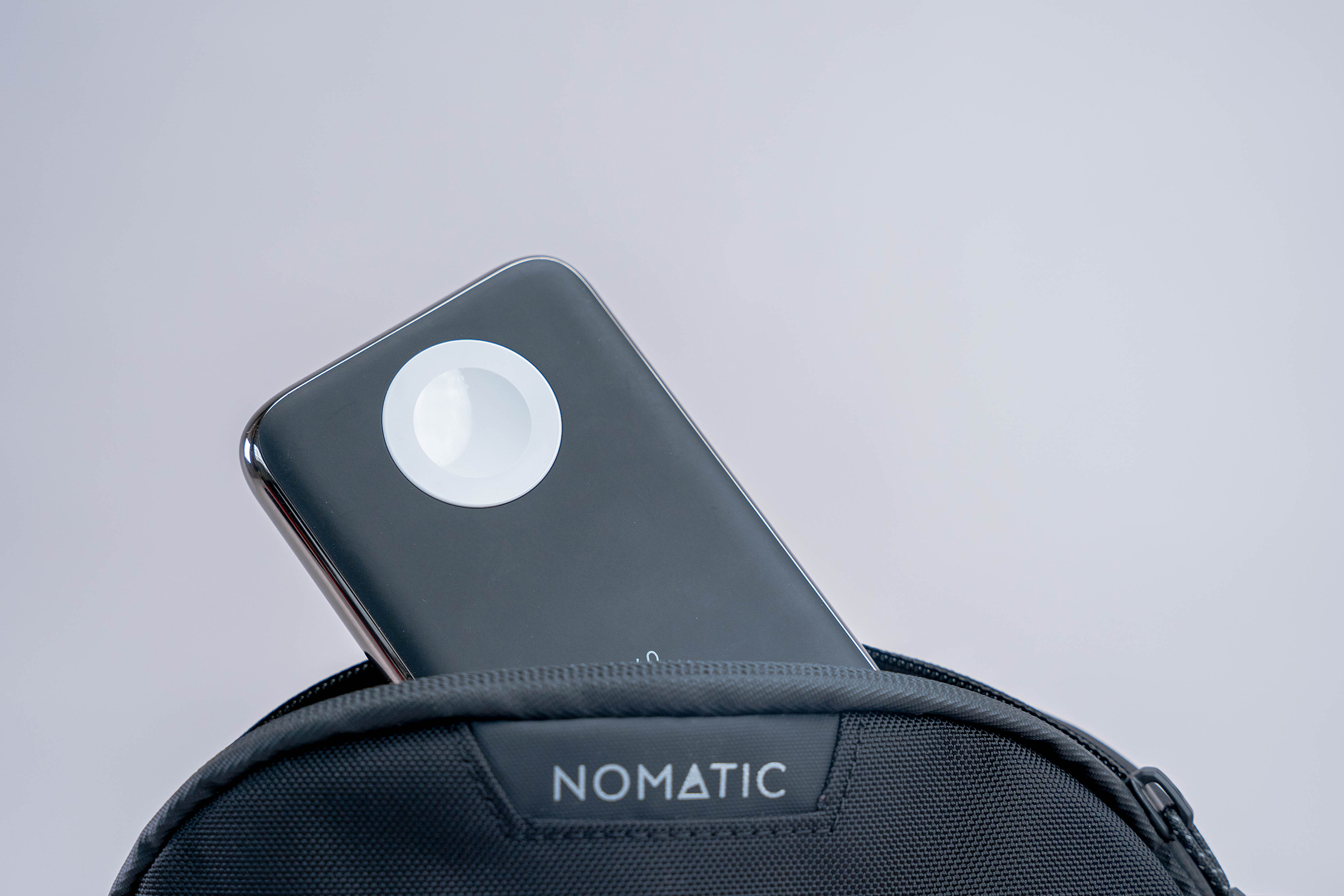 We weren't quite sure about the Quatro at first because of its sheer size. After some use, though, we totally understand its place. It's not the most compact power bank out there, but the functionality of charging multiple devices simultaneously rivals even that of bedside wireless chargers. This means we can confidently leave our Apple Watch's and AirPods Pro's dedicated chargers and settle for this solution—fewer wires, fewer adapters, and more room for snacks.
Usage Timeline
Initial Usage
Condition: Excellent
Qi wireless charging goes up to 5 watts
USB Power Delivery goes up to 18 watts
Quite slim for a 10,000 mAh power bank
2 Weeks of Use
Condition: Excellent
Even though it's bulky compared to other battery banks, it feels great to carry and Apple Watch Charger, Battery Bank, and Wireless Charger in one
Can be a little tricky getting used to double-tapping the button to activate wireless charging
We found that pressing & holding the button turns the LED indicators off—another thing that took a while to get used to
Visual design fits in nicely with Apple Products
Helpful LED indicators—once you learn them
Access the Pro Community Discussion
Get your questions about the Satechi Quatro Wireless Power Bank answered from our team and the Pro Community right here on the page. Plus, join discussions with other members about gear, guides, and more.
Other Productivity & Tech Reviews