Roark Accomplice Missing Link 42L Bag Review
Space isn't an issue for Roark's Accomplice Missing Link 42L Bag, though its straps, handles, and fabric hamper the rolltop's accessibility.
Our Verdict
Unlock the Pro Summary
Save time. Get access to brief summaries of our reviews so you can browse and make decisions more efficiently.
Pros
Rolltop closure offers room to grow
Tarpaulin's slick texture is easy to wipe clean
Accessory straps and loops add modularity
Cons
Minimal built-in organization like pockets and dividers
Tricky to find gear in dark interior
Rolltop closure unrolls too easily on its own
Recent Pack Hacker Video
Technical Details
Capacity

42l

Weight (lb)

1.9 lb (0.9 kg)

Dimensions

28.5 in x 12.75 in x 8.25 in (72.4 x 32.4 x 21 cm)

Notable Materials

Tarpaulin, PVC, Woojin Hardware, YKK Zippers

Warranty Information
Full Review
Rolltop backpacks are nothing new to the Pack Hacker crew. Thanks to their expandable top, they offer a ton of space, though at the cost of fast access. That's a caveat we understand when it comes to this bag style. Unfortunately, Roark's Accomplice Missing Link 42L Bag has features that complicate this issue. Its accessory straps, handles, and even the fabric get in the way of packing and unpacking, making access just a bit slower.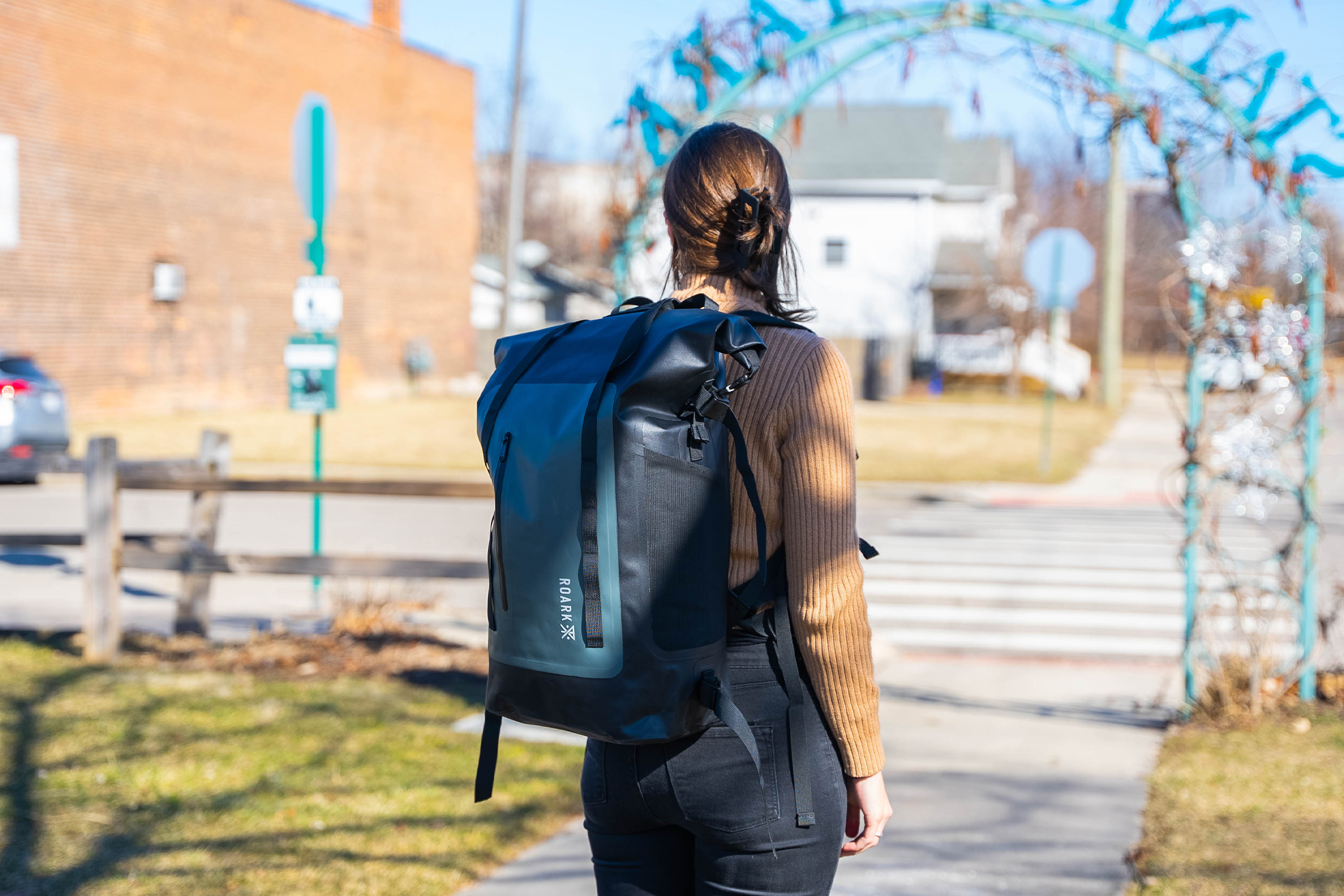 Let's take a step back and see what we have here. Easy to clean tarpaulin? Check. A harness system that includes a hip belt? Check. A security pocket for your travel documents? Also, check. Oh, and have we mentioned that it has a ton of space? We have? Well, that still deserves a check when considering it's a travel backpack—you gotta have enough room for all those souvenir t-shirts, after all.
External Components
The slick and matte-ish exterior comes courtesy of tarpaulin PVC. Don't scoff at it just because it sounds mundane, though. Tarpaulin is incredibly water-resistant, and although we've had our fair share of scuffed tarpaulin-based bags, the Accomplice Missing Link 42L has fared relatively well. This sample is as scratch-free as it was on day one, and its slick texture makes it easy to wipe dirt off.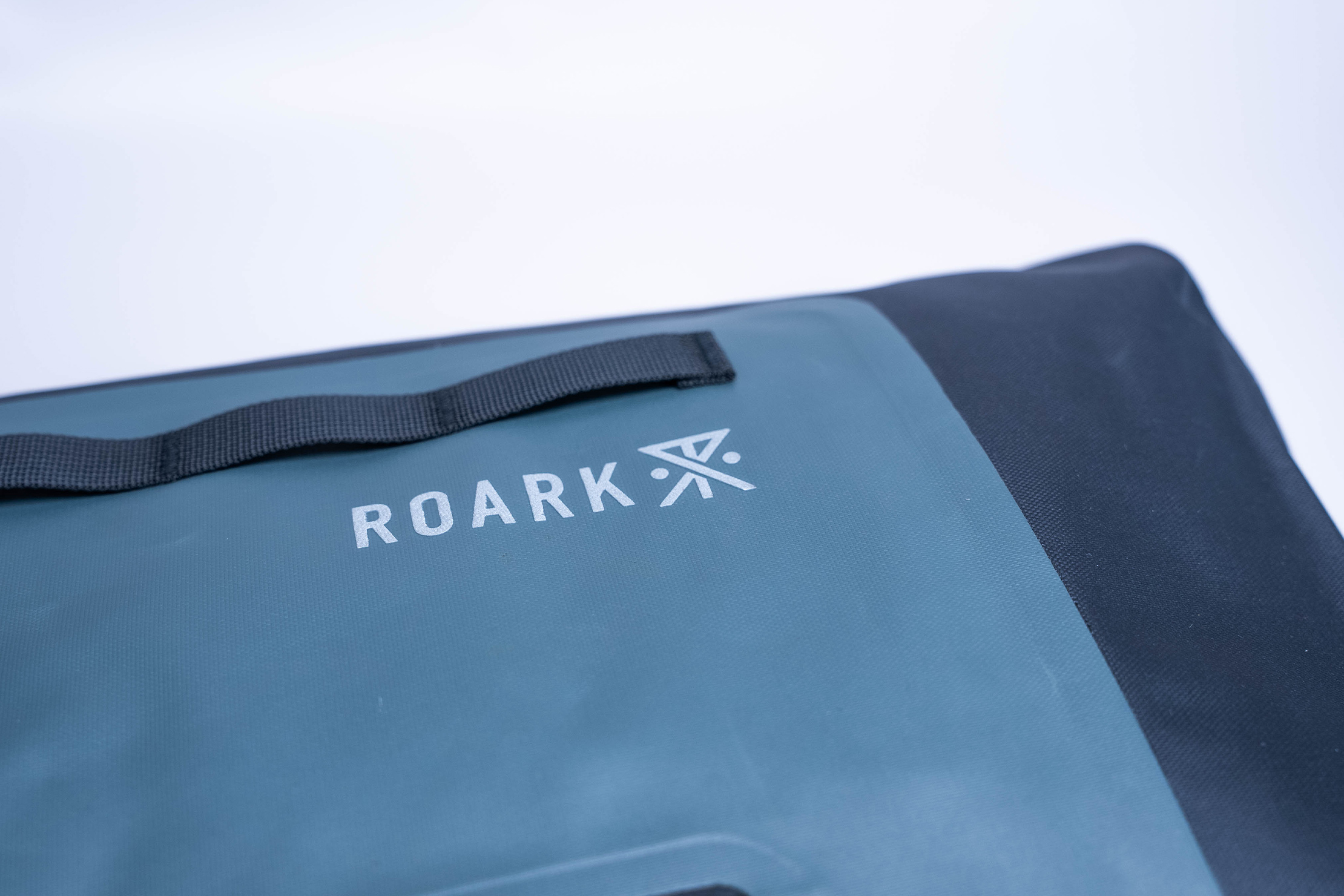 At the front are two vertical daisy chains of loops. These serve primarily as mounting points for Roark's Accomplice Stow Modular bags which are available as separate purchases. That said, you can use them to mount anything you want, including ten keychains, since there are ten total loops.
There are also two bottle pockets, one on each side. We can fit 32-ounce Hydro Flask bottles in either, though we prefer not to. While large bottles like those technically fit, they eat away some of the main compartment's volume. Slimmer bottles in the 21- or 18-ounce range would be more prudent choices. Then again, this is a 42-liter backpack, so it's not lacking internal volume.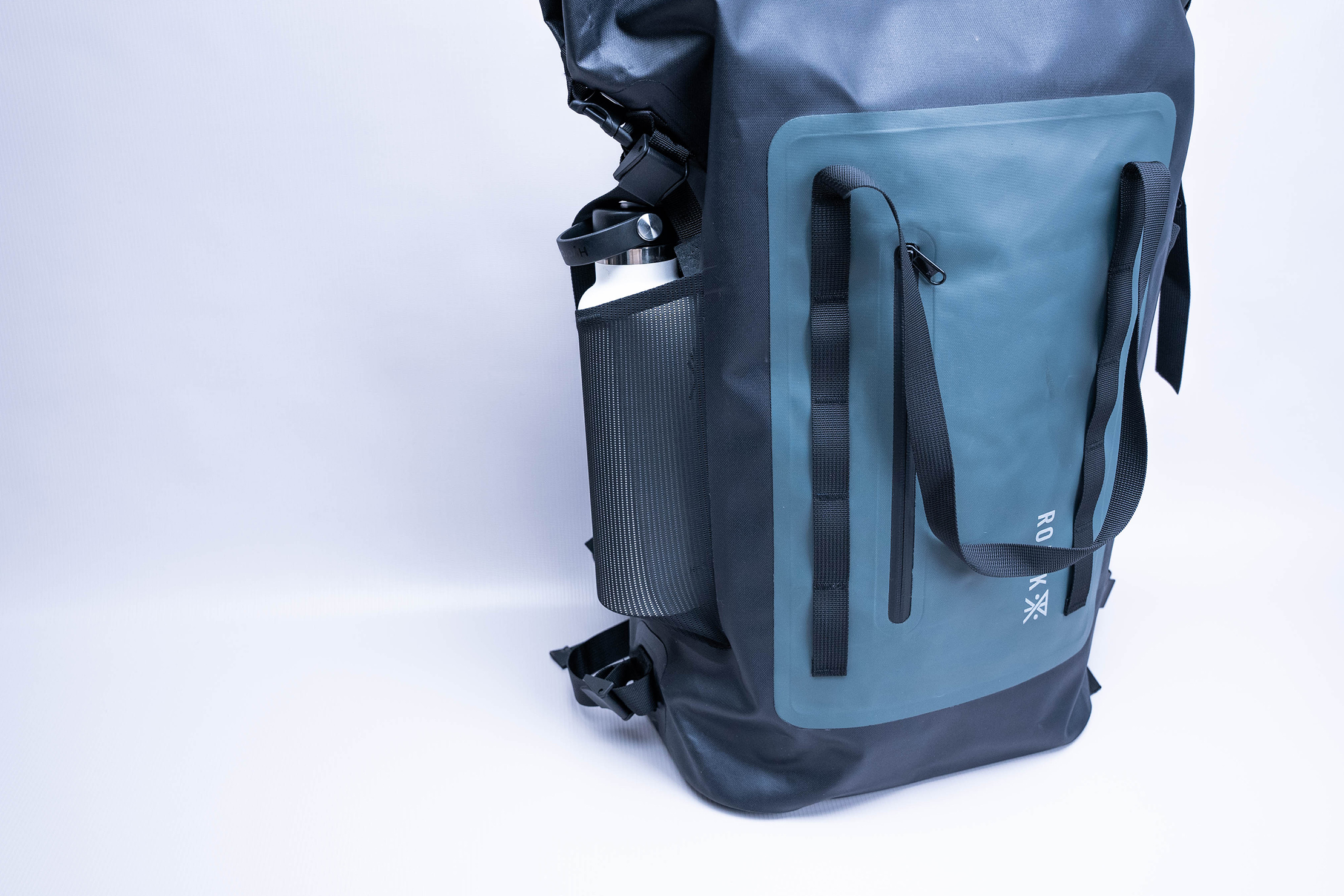 Up at the top and bottom corners of the bag are accessory straps. These are for attaching hiking poles, camera tripods, or to secure a bottle's handle. The straps thread into clips from which they can be completely detached. The amount of slack is a bit excessive, given that they lack strap keepers. Fortunately, you can remove all four straps entirely if you don't need them, and we ended up doing so for the rest of our testing.
The shoulder straps don't have a lot of foam cushioning. Instead, you get relatively wide coverage to make up the difference and perforations that let hot air escape more easily. Despite their thinness, comfort remains largely acceptable, and their curved design allows them to bend more naturally to the back.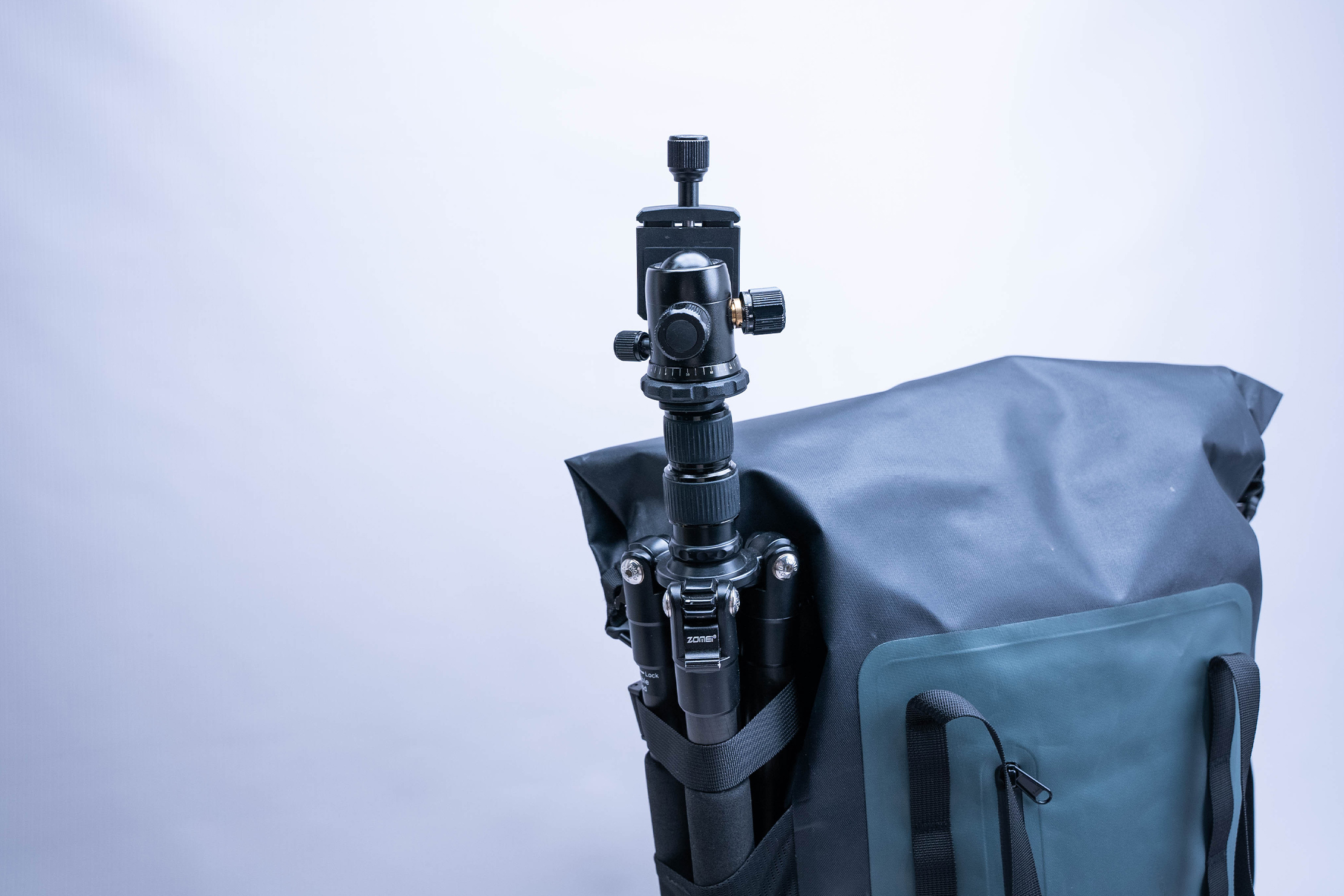 For extras, you get two D-rings and loops for attaching additional accessories (more keychains, maybe?) and a sternum strap. The sternum strap is mounted on rails and is removable by decoupling the strap from the adjuster. This kind of detachment is usually quite secure, as it needs a lot of fiddling to get the strap out. Surprisingly, though, there was an instance where it unexpectedly fell off. We'll chalk this up to bad luck, as we haven't been able to replicate this ever since.
Mesh covers the entire back panel for breathability, although there's not much foam. We're used to seeing more padding on 40-plus liter backpacks like this, and its lack thereof translates to comfort. You feel it most when bulky gear in the built-in pocket bulges against the thin material.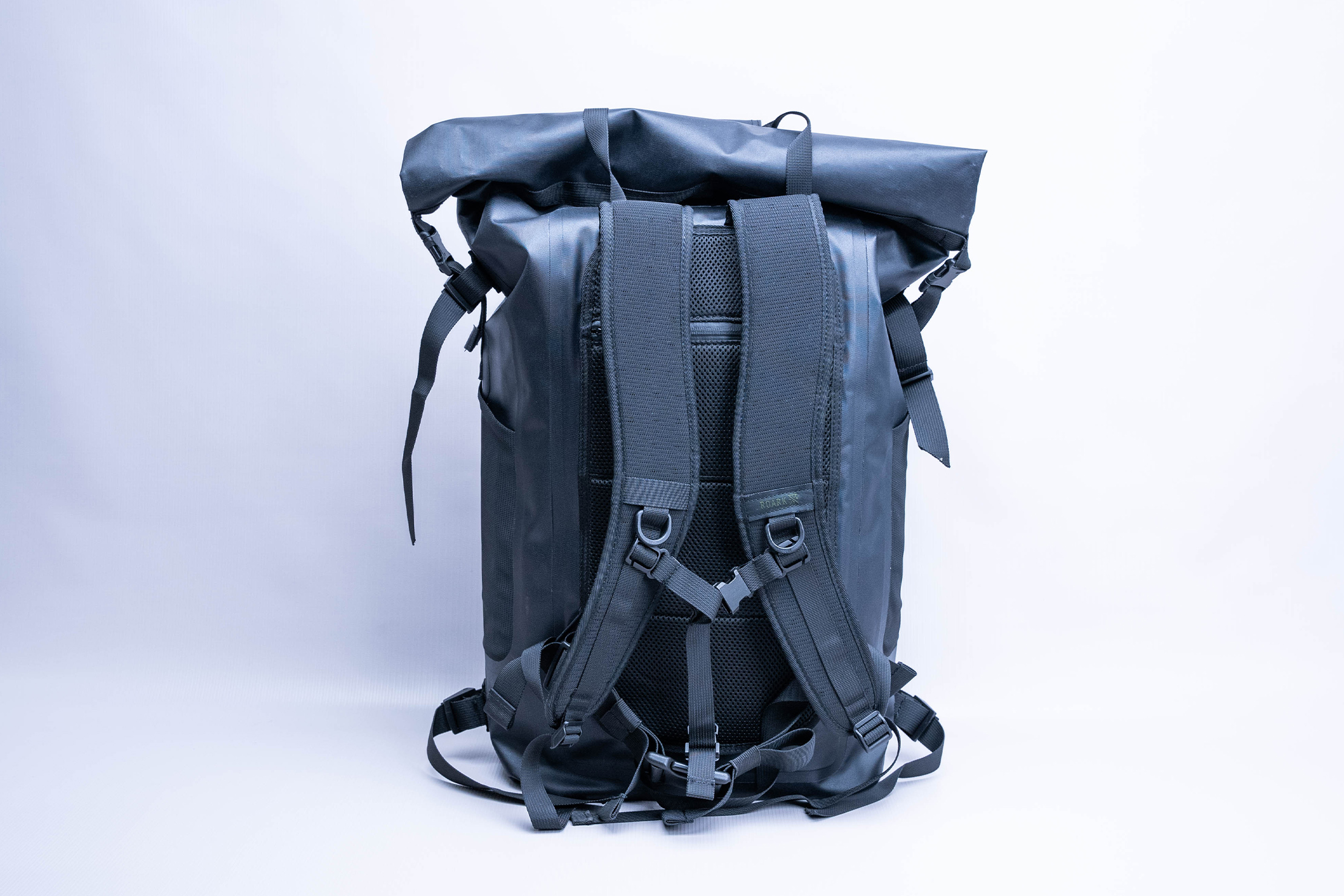 We're not surprised to see an included hip belt, given the Accomplice Missing Link 42L's size, though it may be a welcome sight for many. You can simply cinch down the removable strap if you don't want to bother unthreading it through its adjusters. While we can't feel the buckle against us when we cinch it down, your mileage may vary. It's worth noting that strap keepers keep the extra slack in check—we wish this feature were more widespread throughout the bag.
Up at the top is a pair of grab handles, which you can use to move the bag across short distances. They are particularly handy for large bags since wearing and taking off the shoulder straps each time you want to move it isn't convenient—nor is lugging it like a sack of potatoes. You also get a single thin handle near the bottom edge of the back panel in case you need to pull it from that side.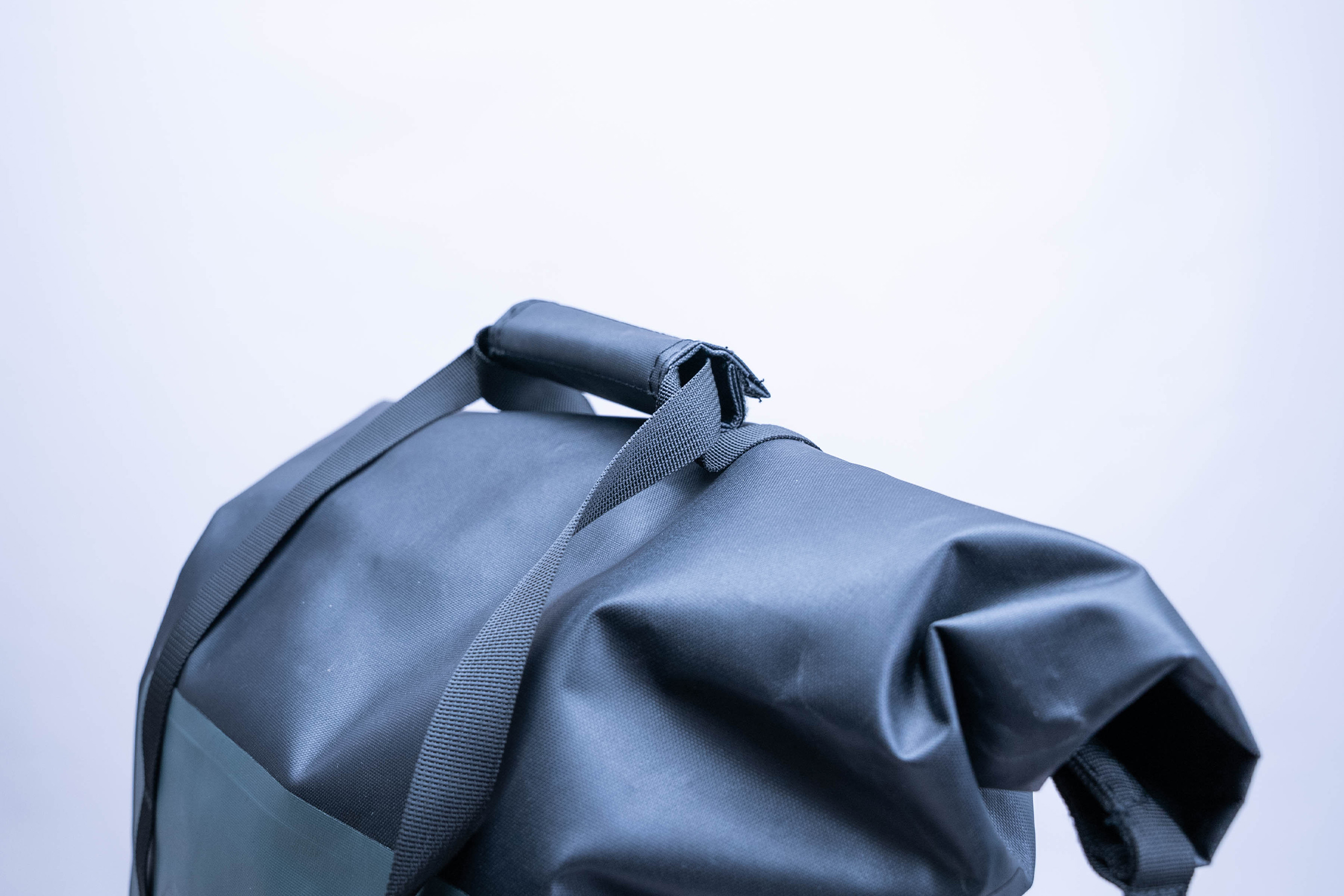 One thing to note is the top handles dangle, and the rear half can slip between the neck and the back panel, which is obviously uncomfortable. You'll have to hold the handles together using the built-in loop and hook wrap. Problem solved, right? Well, not entirely, as we'll see once we get to the final section of the review.
Fit Notes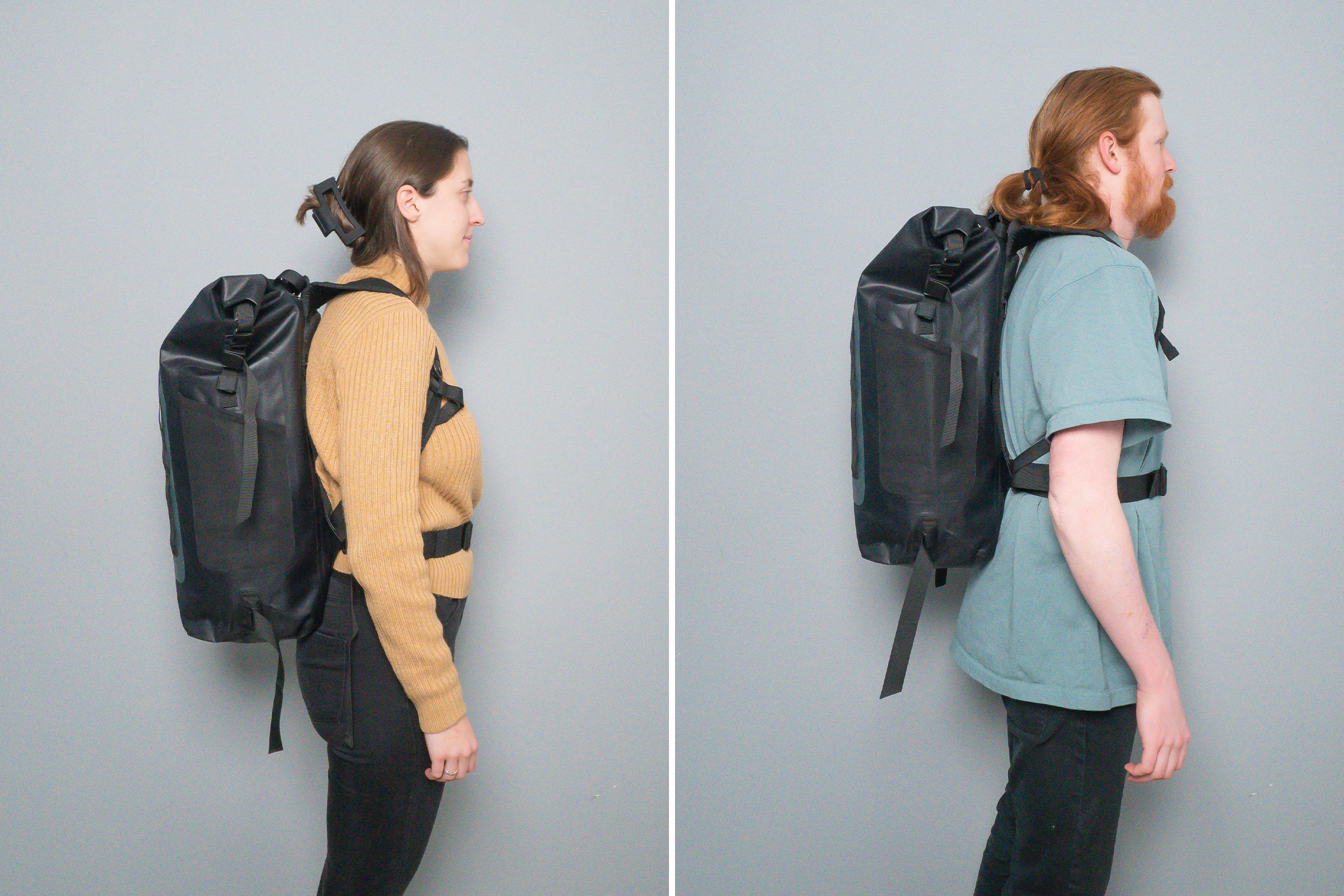 On paper, the Accomplice Missing Link 42 has all the essential parts of a harness system and then some. It's comfortable for the most part, although the hip belt feels too high. A small-framed tester will notice the belt rests along the waist—a spot where there's no bone to bear the weight. Someone with a larger frame would fare worse, but your mileage may vary as not everyone has the same body shape, regardless of size.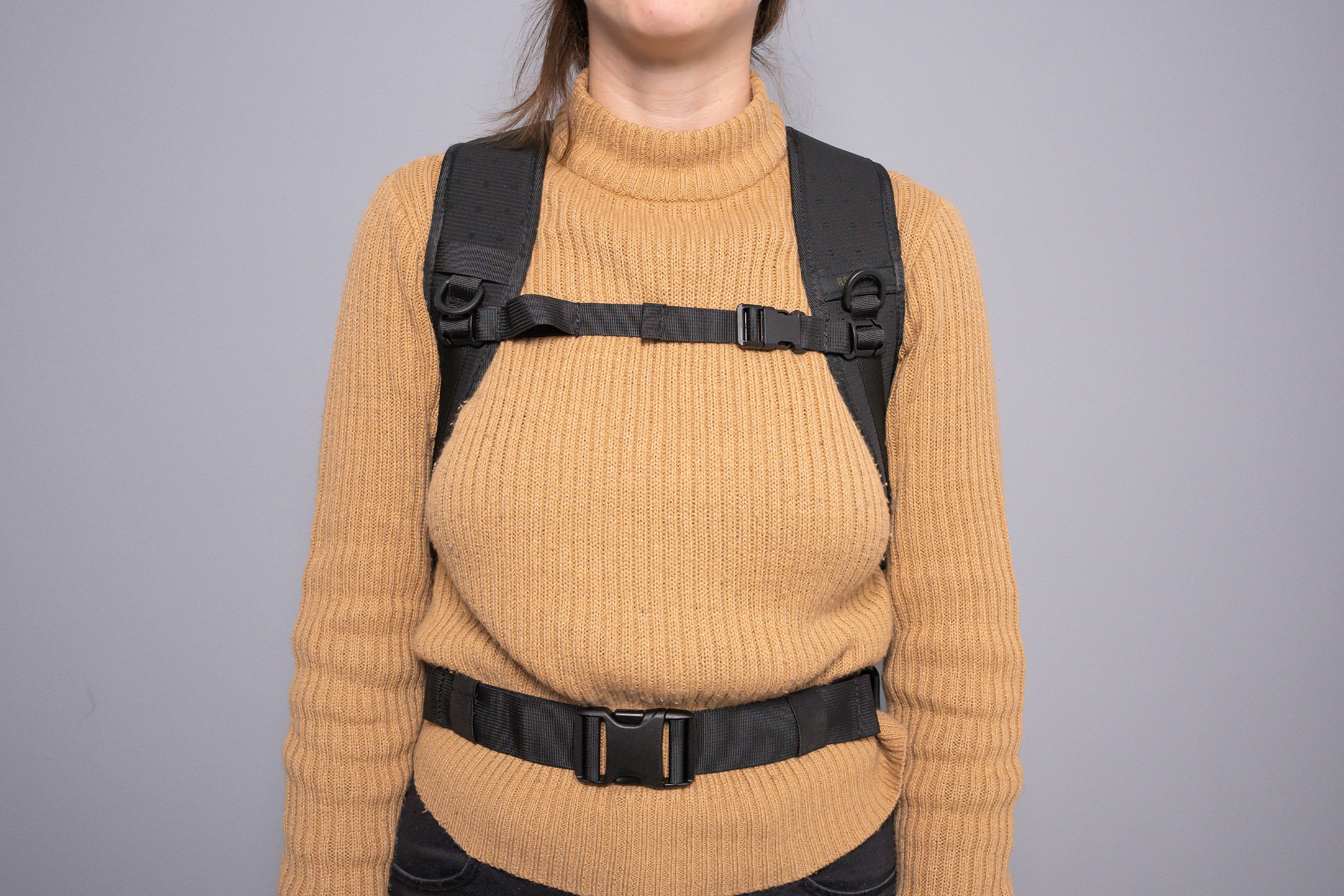 Then there's the aesthetics: it's very saggy-looking. Straps dangle, and the tarpaulin collapses under the sheer size of the bag. The material itself isn't at fault here, as there are tarpaulin-based bags that keep their shape even when they're not fully packed out (WANDRD's PRVKE series comes to mind). Overall, the Accomplice Missing Link is the sort of travel bag that needs to be at full capacity to maintain a cohesive shape and look.
Inside The Backpack
As big as it is, the 42-liter Accomplice Missing Link has a grand total of just two zippered pockets, one of which is at the front. It's a pocket that opens to the left, with a water-resistant YKK zipper. It's not quite the robust AquaGuard-style YKK zipper you may be familiar with, though it's enough to fend off accidental splashes. Space-wise, there's not much room to play with other than for storing quick-grab items like a smartphone, keys, and a wallet.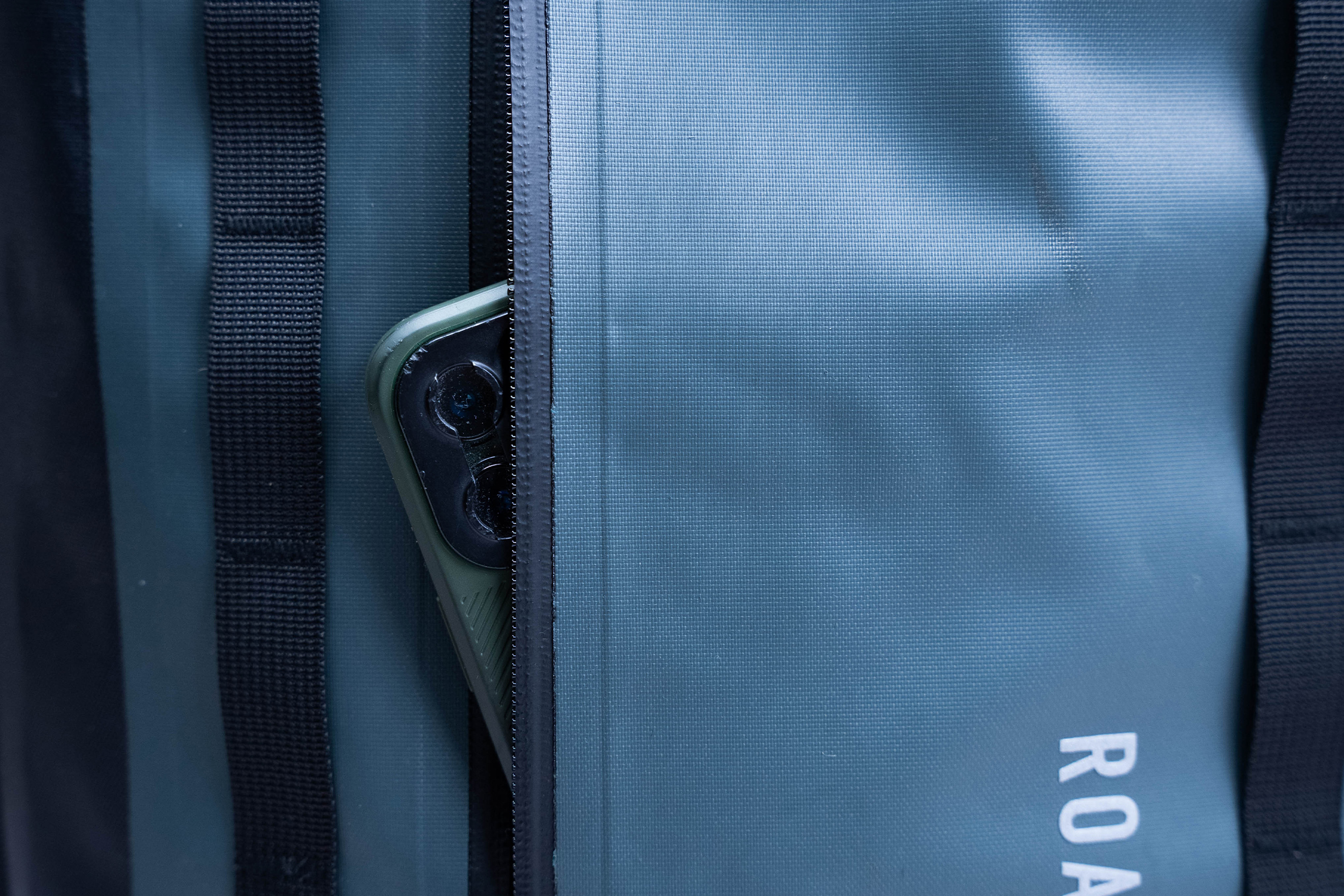 If you want extra storage, you can attach Roark's Accomplice Stow Modular 4.5L Bag to the daisy chains. Unfortunately, mounting a pouch to the front blocks access to the front pocket; it's two steps forward, one step back. Fortunately, you can get creative with the loops by attaching anything else you want, as long as you can find a way to do so.
The rear zippered pocket sits against your back, making it quite secure against pickpockets as long as you wear it. We recommend storing only flat items in this pocket since you can feel anything bulky through the back panel's thin padding. In other words, use it for passports, credit cards, identification, and smart trackers. As to the latter there's a built-in slip pocket inside that can fit an Apple AirTag or Tile tracker.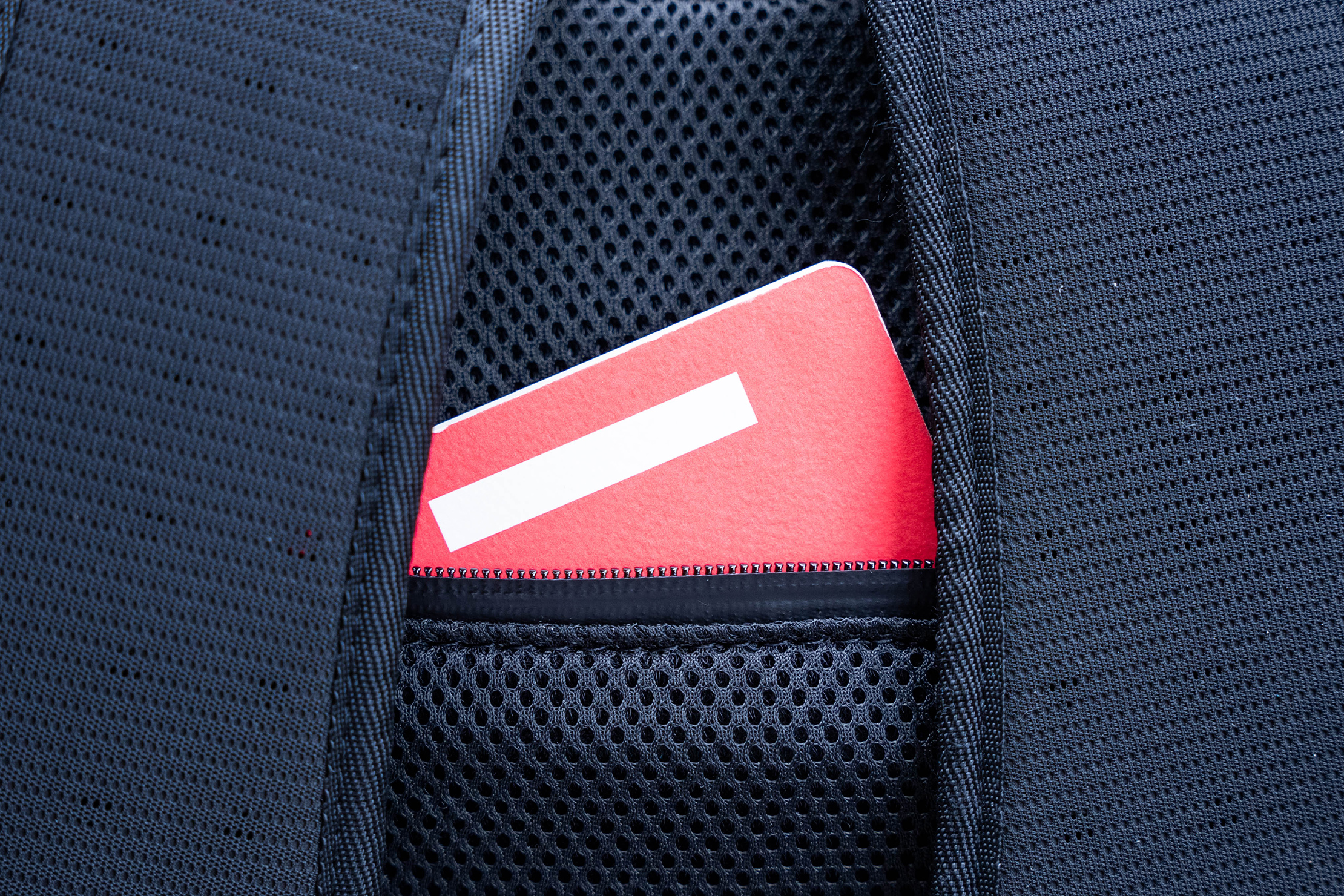 Now it's time to get into the main compartment. Before we do, we have to explain the process of actually getting in because it's quite tedious. Unfortunately, this is the Achilles' heel of the Accomplice Missing Link. Rolltop lovers, don't worry, as it's not strictly the fault of the rolltop style.
The first problem is the aforementioned accessory straps. We initially wanted to keep them on to test the pack in its out-of-the-box configuration. Sadly, the top ones frequently got in the way of the rolltop's buckles. Their slack dangles just in front of the buckle, making it slightly confusing when you're trying to unbuckle/re-buckle quickly. We ended up removing them to streamline the process.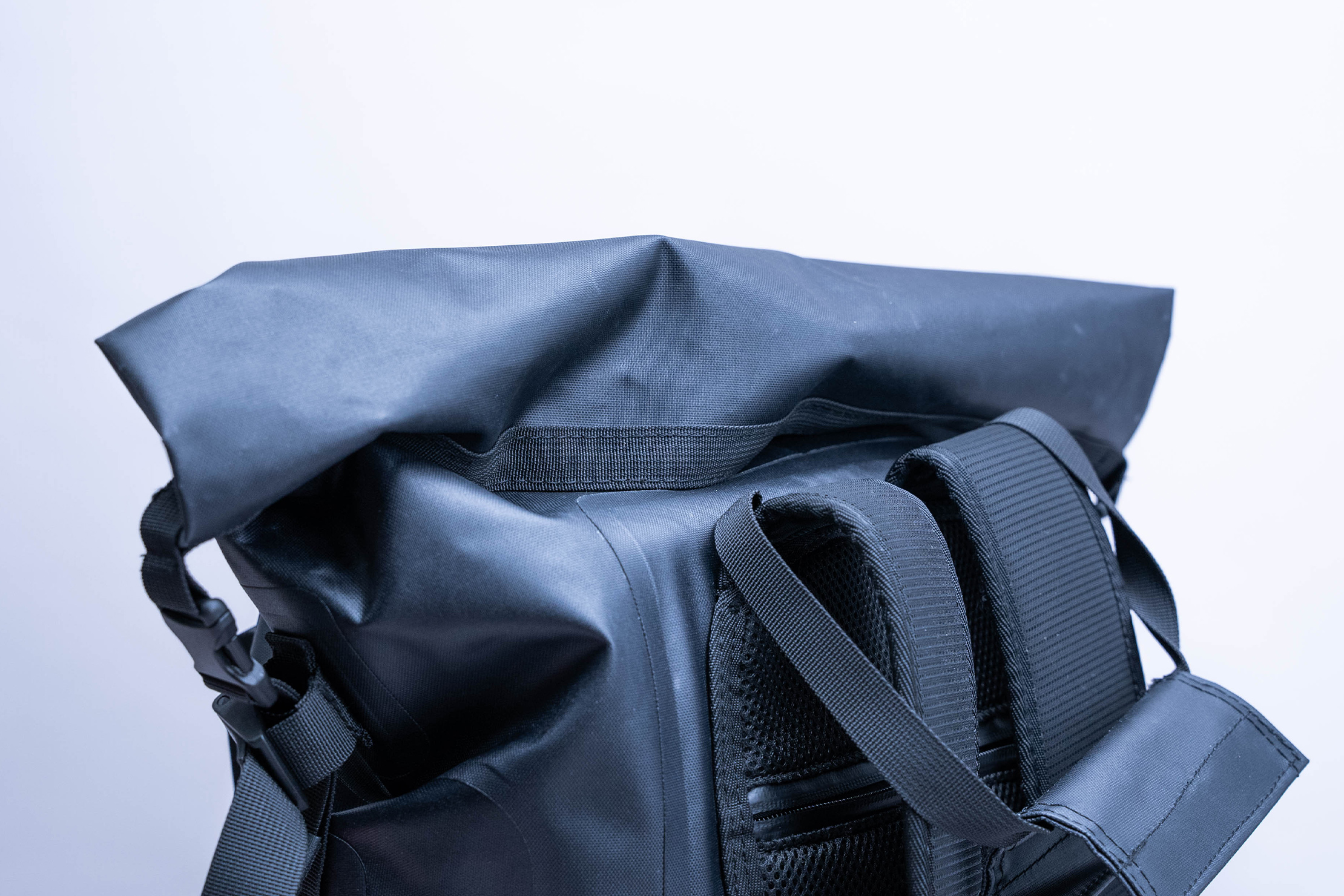 The next problem has to do with the top handles. Remember how we said that you must keep them cinched together to keep the rear half from falling behind the neck? Unfortunately, then you have to uncinch them when it's time to undo the rolltop. That doesn't sound too bad, though Roark put lots of loops and hooks within the handle, so it's a bit tough to uncouple the handles quickly when needed. Our solution? Forgo cinching the handles together and just let it fall where it falls.
Finally, there's the rolltop itself. It may be the composition of the tarpaulin Roark is using here, but the material keeps unrolling by itself. When we try to roll the fabric, we have to pin it with an elbow while we buckle the sides. To be fair, it's not like the main compartment suddenly opens and gets exposed while on the go. However, this makes it hard to keep a minimal profile and size no matter how tightly we roll it.


All that aside, how does the Accomplice Missing Link 42L Bag fare in terms of roominess? Even though rolltops don't excel in accessibility, they certainly do when it comes to space and room to expand.
In a nutshell: the interior is very deep, and you can look at this in two ways. First, it lacks built-in organization options like pockets and dividers, so all your gear gets mixed, which is bad. There's not even a laptop sleeve, let alone a laptop compartment. Alternatively, you can view this as a win if you have already invested in a bunch of packing cubes, pouches, a dedicated laptop sleeve, or other means of organizing gear. After all, those don't fare well when forced into subdivided spaces.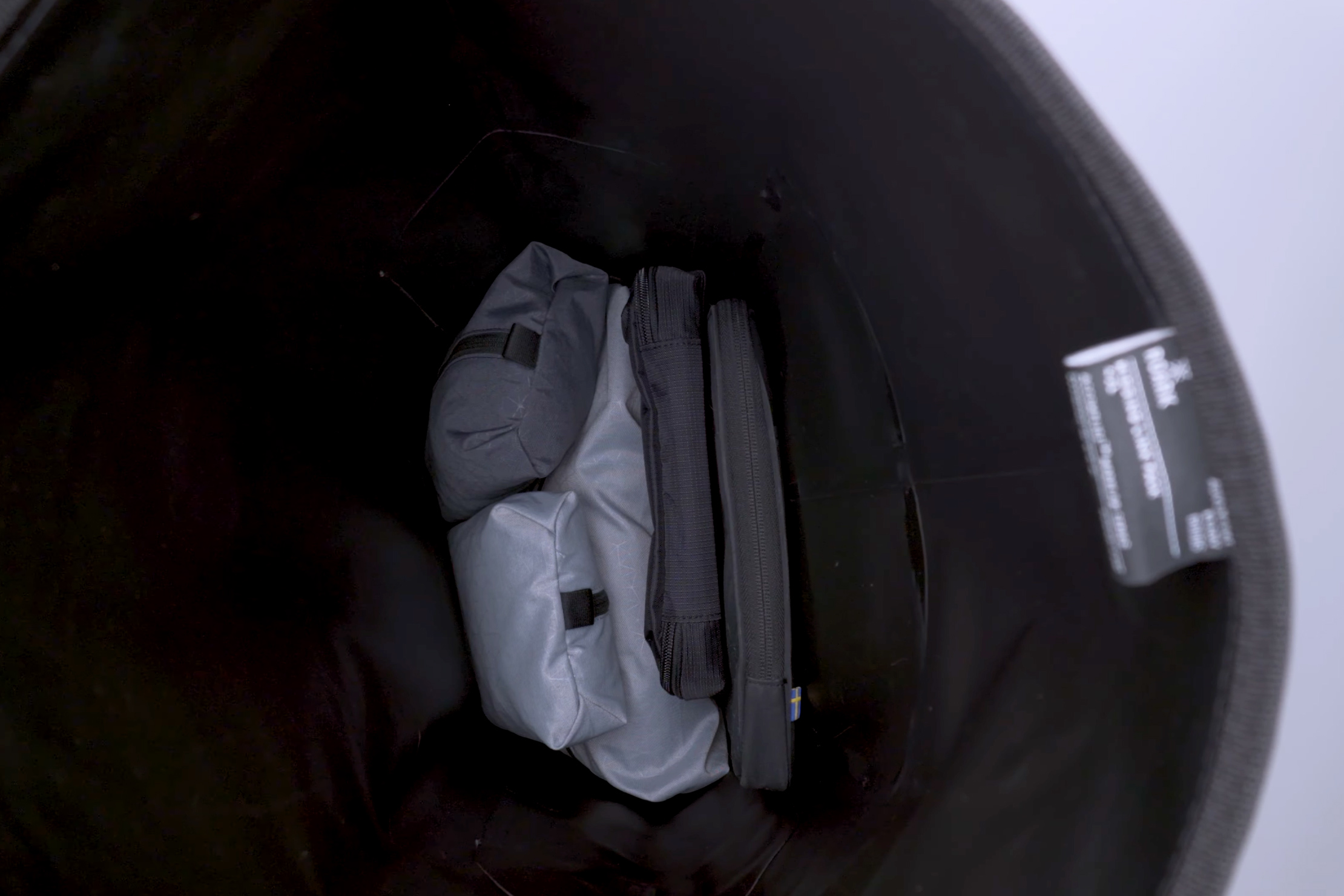 The biggest downside of the main compartment is how dark it is. It's just a big empty void inside, with no shred of bright liner fabric to accent it. Small gear can get lost inside fairly easily, especially dark-colored ones, making packing cubes or pouches more necessary than optional.
Usage Timeline
Initial Usage
Condition: Excellent
Seems roomy, though its hard to see inside the dark interior
Lack of built-in organization is great for choosing your own storage options, though it's hard for smaller gear
Digging the sleek design
2 Weeks of Use
Condition: Excellent
Material is still in great shape
Dark interior and top access makes it hard to find gear inside
Rolltop closure unrolls easily, though it doesn't fully open on its own (which is good)
Access the Pro Community Discussion
Get your questions about the Roark Accomplice Missing Link 42L Bag answered from our team and the Pro Community right here on the page. Plus, join discussions with other members about gear, guides, and more.
Other Bags & Luggage Reviews