Patagonia R1 Fleece Full-Zip Hoody Review
Warm, lightweight, and technical, the Patagonia R1 Fleece Full-Zip Hoody is a solid midlayer for outdoor adventures. But it's not as versatile as advertised.
Our Verdict
Unlock the Pro Summary
Save time. Get access to brief summaries of our reviews so you can browse and make decisions more efficiently.
Pros
Warmth-to-weight ratio is excellent
Super breathable and sweat-wicking
Doesn't restrict range of motion
Cons
Wind cuts through it easily
Not much water-resistance
Looks technical—not suitable for most offices despite Patagonia's claim
Recent Pack Hacker Video
Technical Details
Weight (oz)

13.9 oz (394.1 g)

Notable Materials

Polyester, Spandex

Manufacturing Country

Colombia

Warranty Information
Buying Options


Full Review
The Patagonia R1 Fleece Full-Zip Hoody is a renowned midlayer in the outdoorsy arena. Ask any serious climber, mountain biker, or trail aficionado and they've probably heard of it. (Fun Fact: at the time of this review, it's the 20th anniversary of Patagonia's R1!)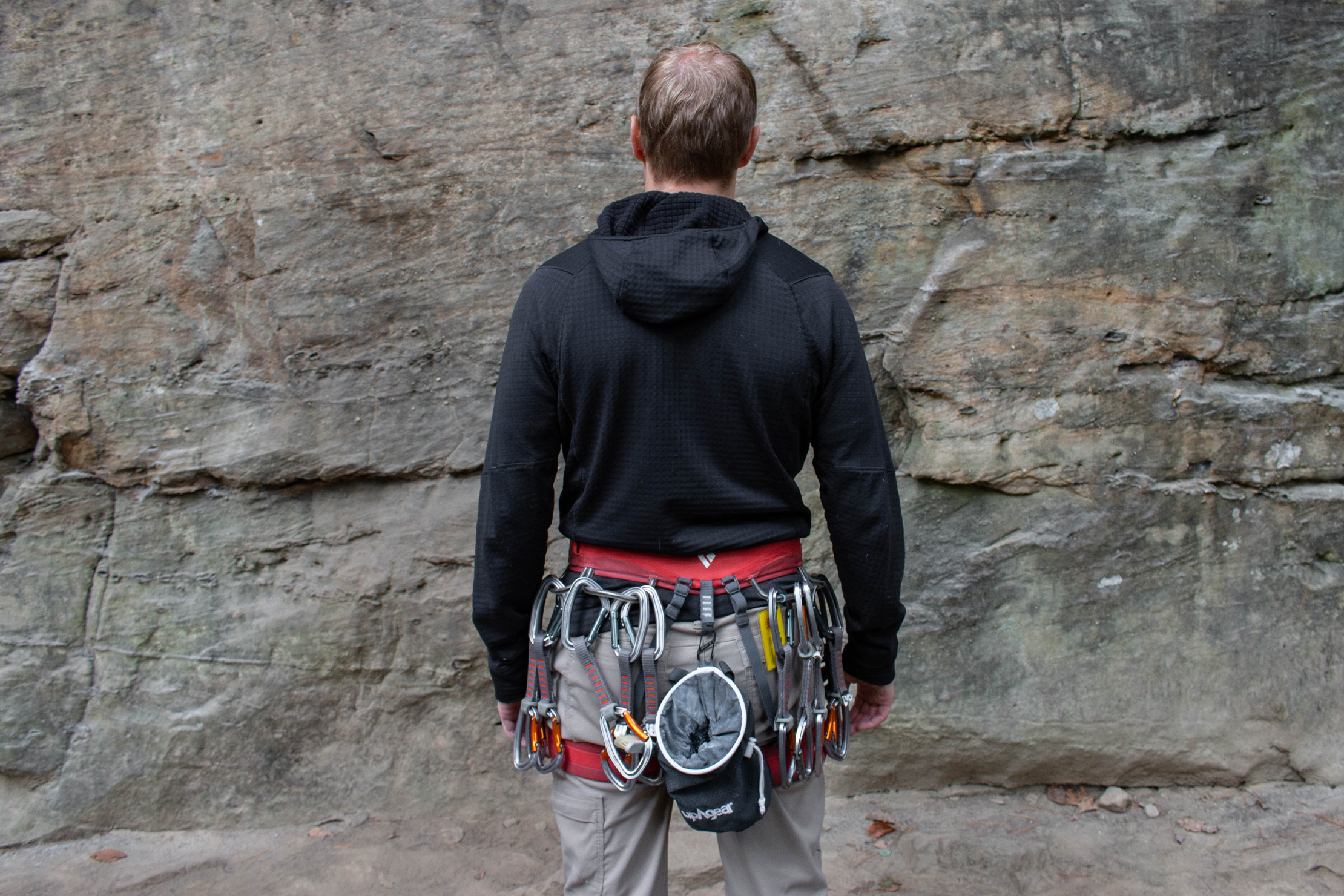 Suffice to say, we've been excited to get our hands on it and see for ourselves if it's as awesome as advertised.
We've been testing this hoody for nearly two months in Detroit, Michigan and have taken it on a climbing trip to the Red River Gorge in Kentucky. Is it everything we hoped it would be? Let's find out.
Fabric, Fit, & Features
Before we get into the nitty-gritty, we want to note that you can pick up the R1 fleece in a few different styles, including a Pullover, Pullover Hoody, and the Full-Zip Hoody. We've been testing the latter, but all the technical elements hold true for all three of the versions. There are also women's versions for the aforementioned styles, which are practically the same with a different placement of the zippered pocket.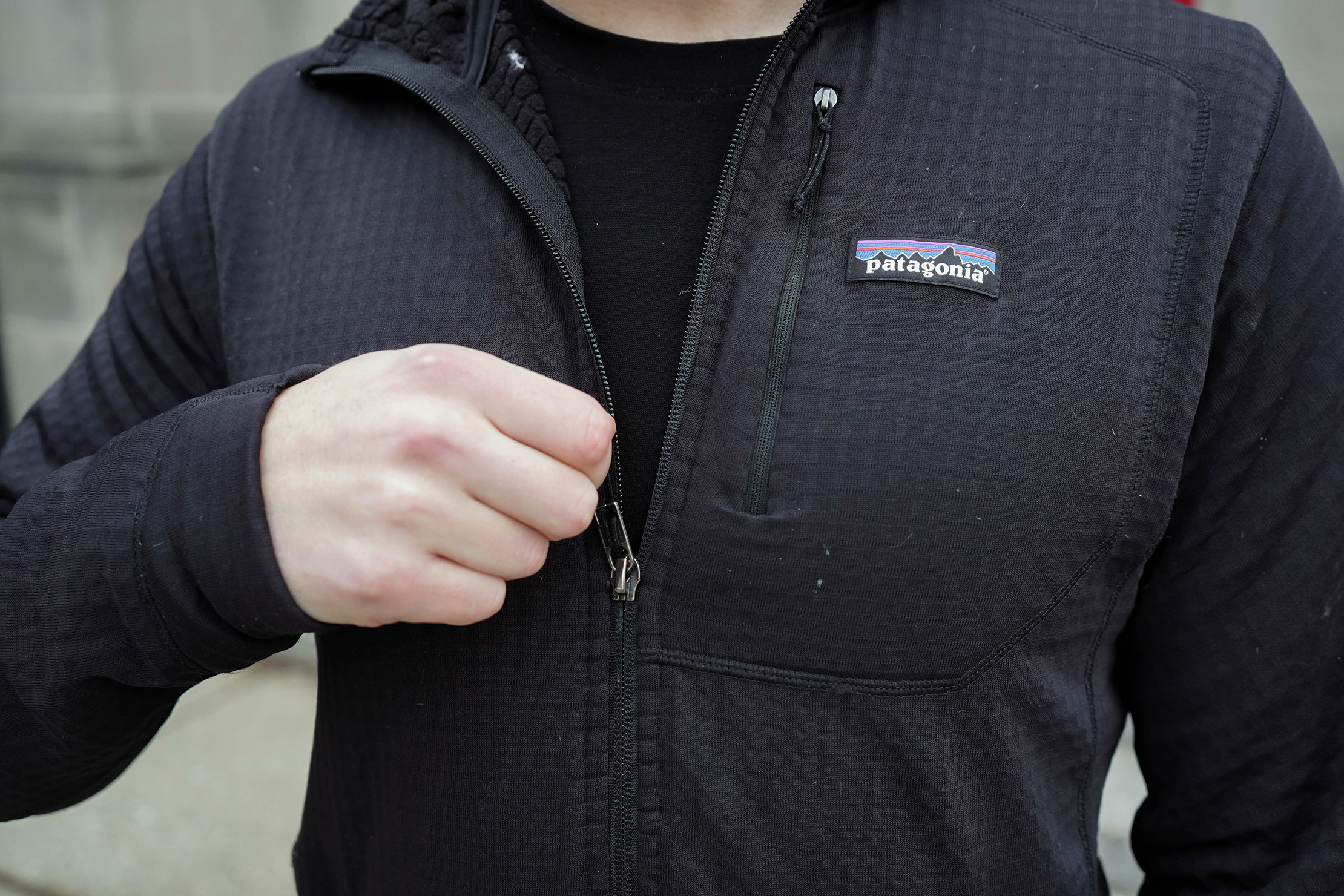 The folks at Patagonia brag that the R1 Fleece Full-Zip Hoody will keep you toasty and dry on the inside, "from the crag to the trail to the office." Most of that claim is true, which we'll get into later, but the hoody's technical aesthetic means it's not going to work at all but the most casual of offices.
The fabric has a checkered pattern (for technical reasons we'll touch on soon) and snug fit that's trendy on mountain passes and river banks, but not so much in desk chairs and behind cubicle walls. Patagonia chose function over fashion here. That's good and well if function is what you're looking for, but if you're wanting to be the trendiest person in the office—and your office isn't Patagonia's HQ—you may want to seek out a different jacket.
What makes this midlayer so popular is its fleece insulation. It traps your body heat while allowing moisture to escape. You'll stay warm, but won't be inundated with your own sweat.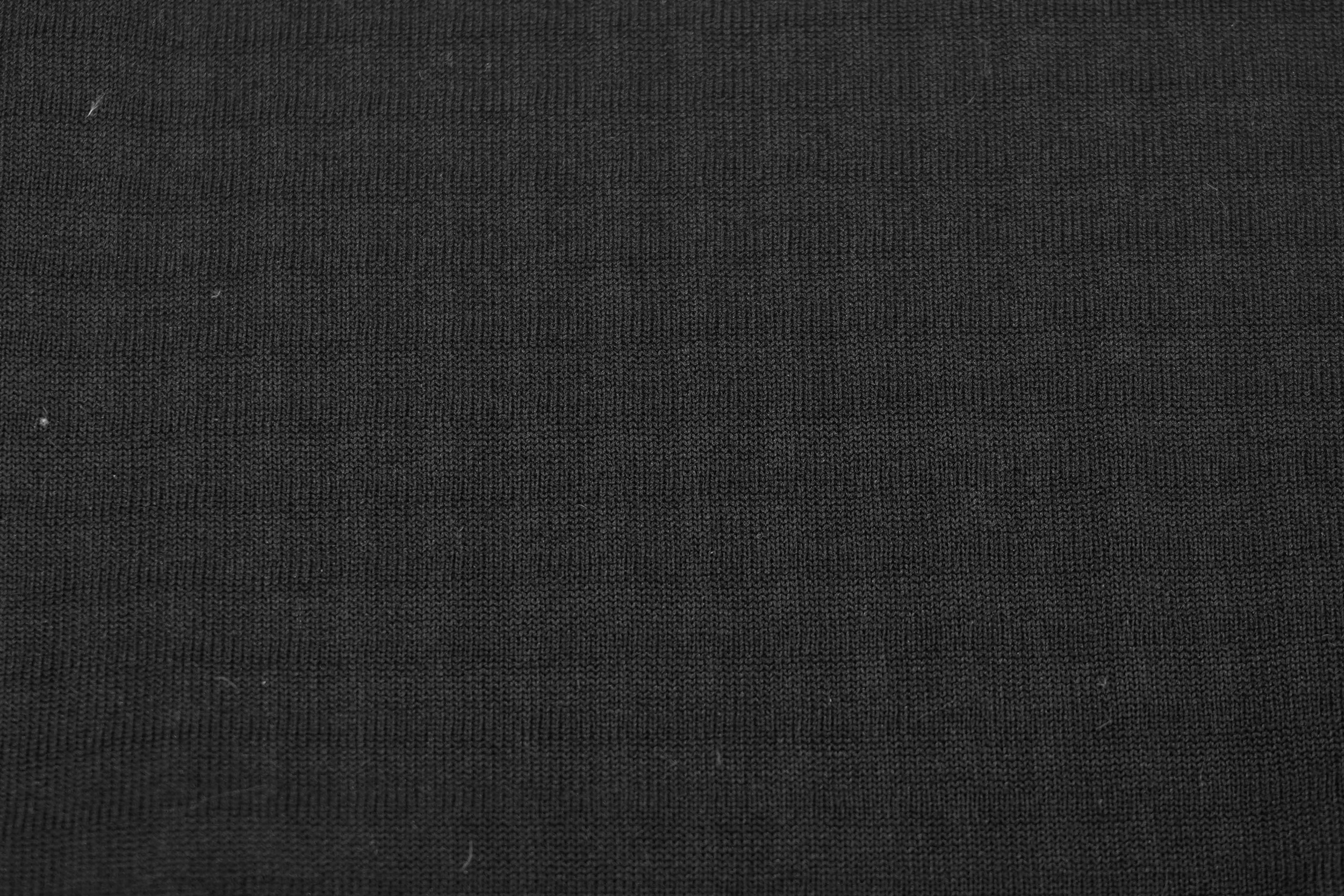 You can credit Patagonia's own Polartec® Power Grid® fabric for this, which is a blend of polyester and spandex. And that checkered pattern we mentioned earlier allows for top-notch breathability. The fact that this hoody is super breathable, while still managing to keep you warm is like magic. Or, you know, science. And, if your body needs to breathe even more, you can always unzip the zipper part of or all of the way down. Such is the beauty of a full-zip.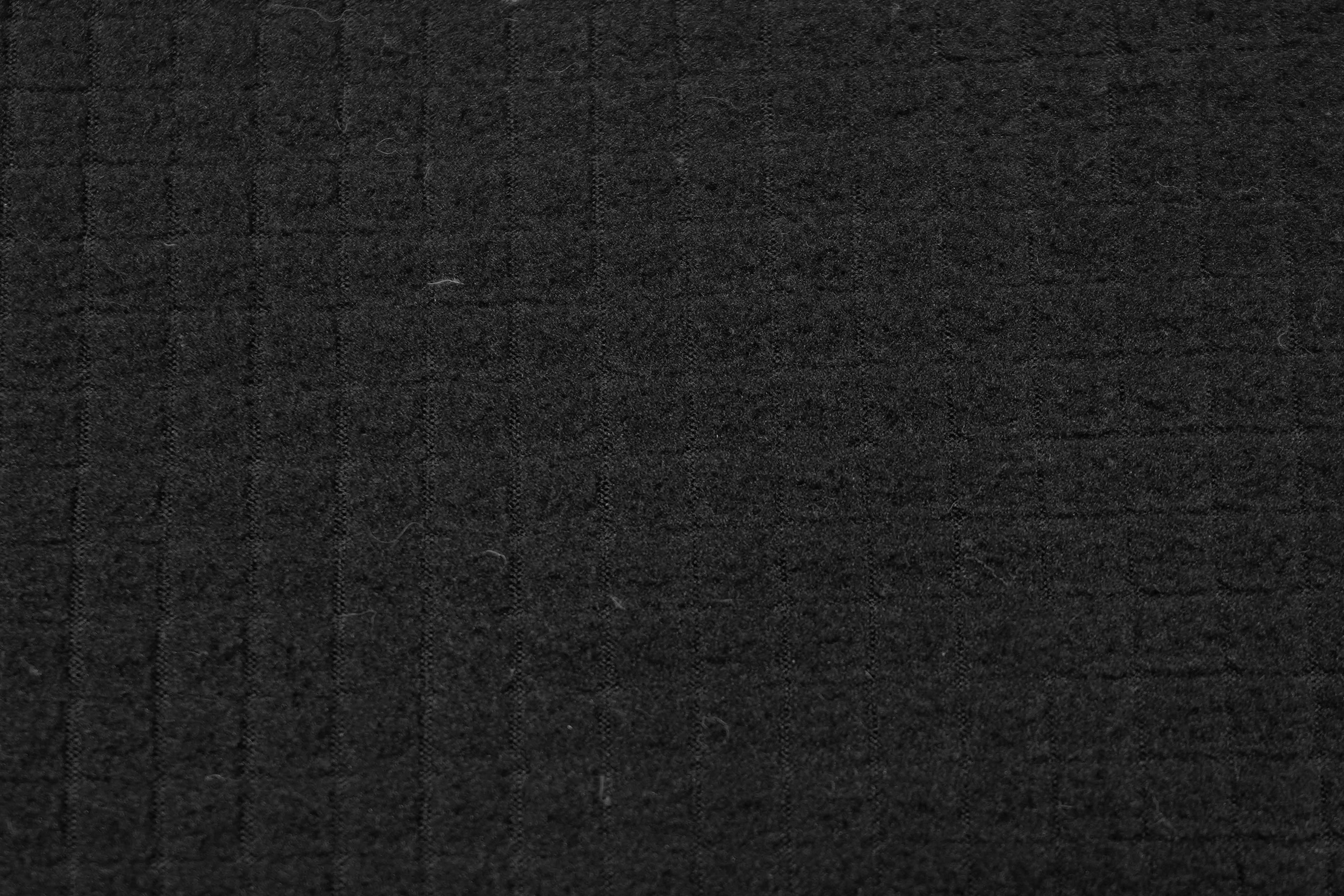 Despite the jacket's magical sweat-wicking properties, you're still a human (presumably) and may sweat from time to time—particularly when doing anything outdoorsy. Which is where the HeiQ® Fresh durable odor control comes in. As Patagonia explains, HeiQ® Fresh is a fabric treatment that "utilizes the natural antimicrobial properties of silver ions" to help with what the folks over there call the "funk factor."
Marketing jargon aside, we've found this anti-stink claim to be true. We've worn this jacket more than other sweaters, performed more sweaty activities in it, and yet washed it less than those other midlayers. We haven't noticed any offended looks that tell us we should wash it more either.
A quick side note: Patagonia is known to be conscious of its environmental and social footprint and its products reflect that mindset. The R1 Fleece Full-Zip Hoody is no exception. It's made from 93% recycled polyester, is Fair Trade Certified™ sewn, and the fabric and anti-stick treatment are bluesign® approved.
Alright, back to the main event.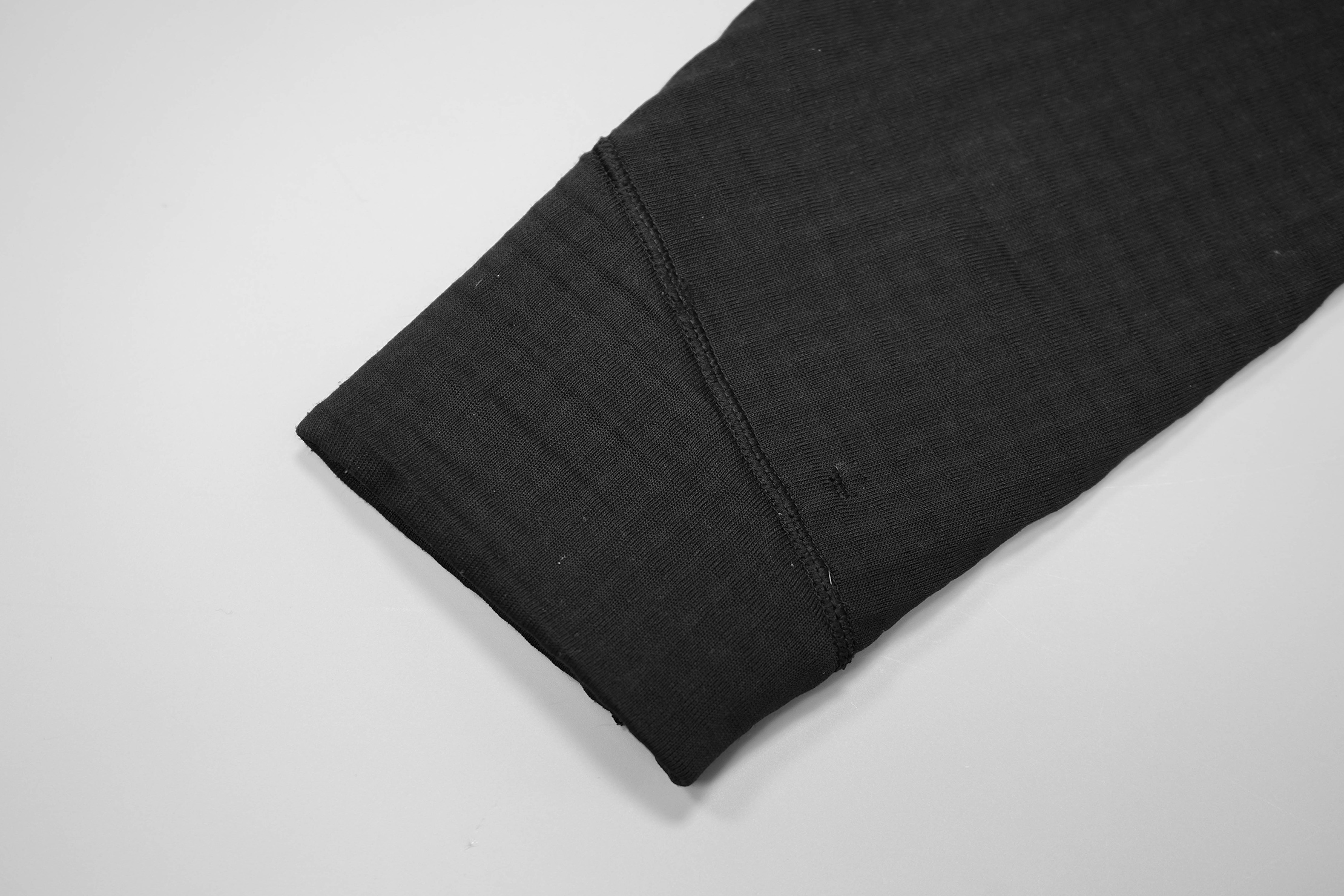 The wrist cuffs have a double layer of fabric, which holds them tight against your body and helps trap heat even further. When you throw on an additional layer, they don't scrunch up in that annoying way most sweater sleeves do (you know exactly what we're talking about.) They also stay in place on your forearms if the sun comes out and you need to scrunch them up for additional ventilation.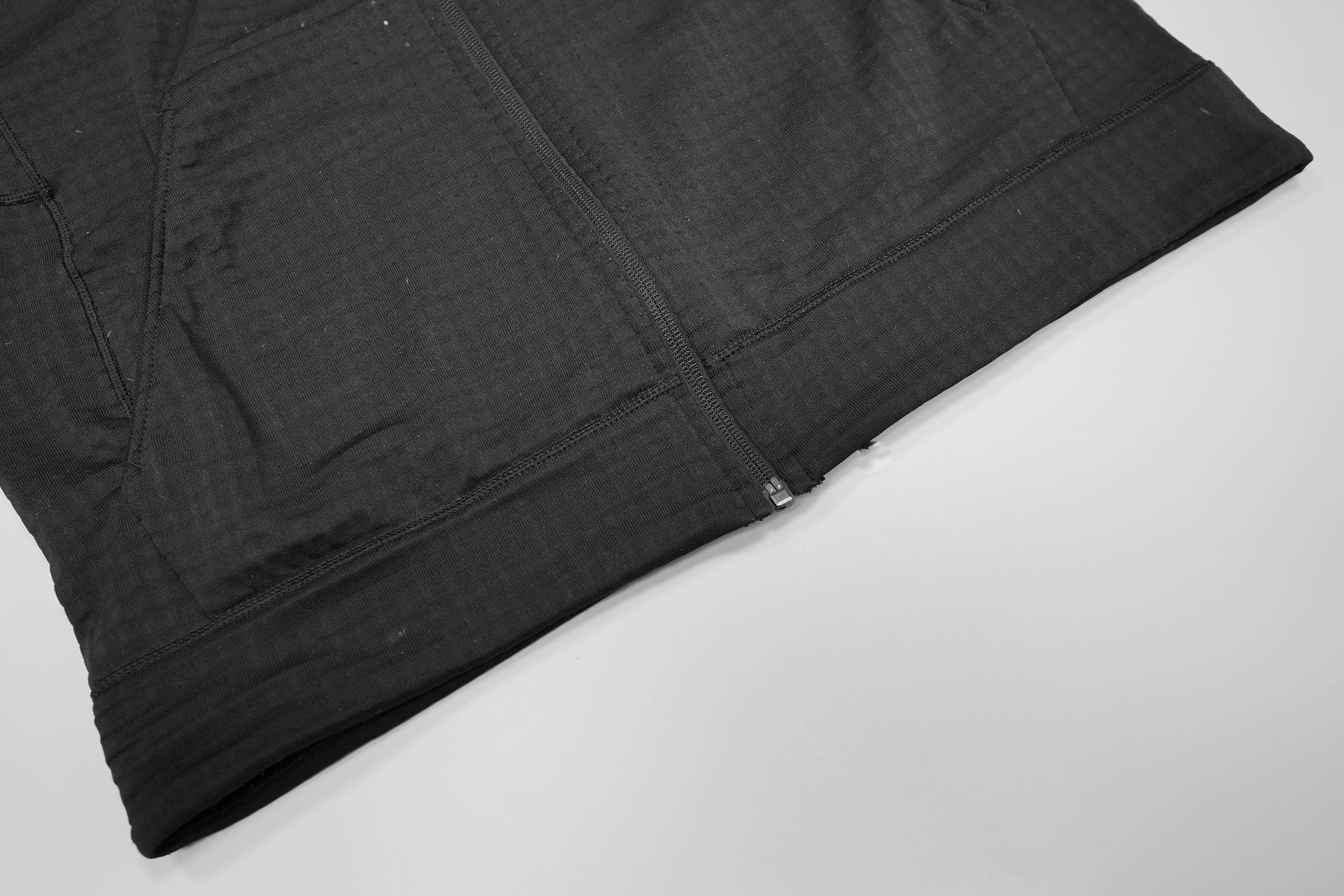 The hem of the jacket boasts the same double-layering as the cuffs, keeping the jacket from bunching up even when wearing a climbing harness (yes, we've tested this), as well as adding additional warmth and comfort.
The R1 Fleece Full-Zip Hoody is also stretchy, allowing you to wear this hoody during active pursuits—think climbing, skiing, etc—without feeling trapped by your clothes. Having a full range of motion is a major plus.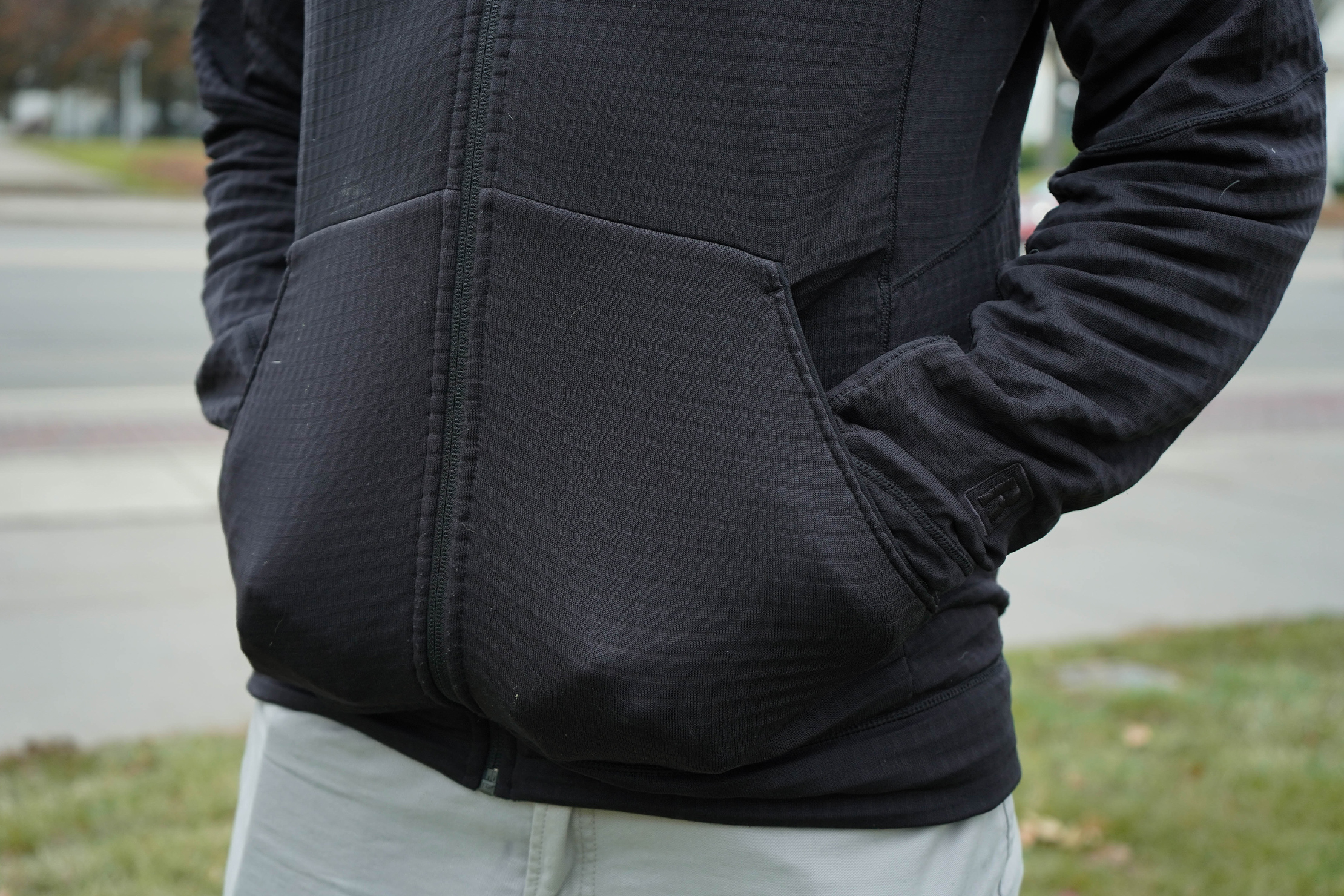 Two of the three pockets are made of that same Polartec® fabric, so you can stick your hands inside to warm them up. The third, which is made from mesh, is zippered and sits on the chest—it's a great spot for things like cash or keys.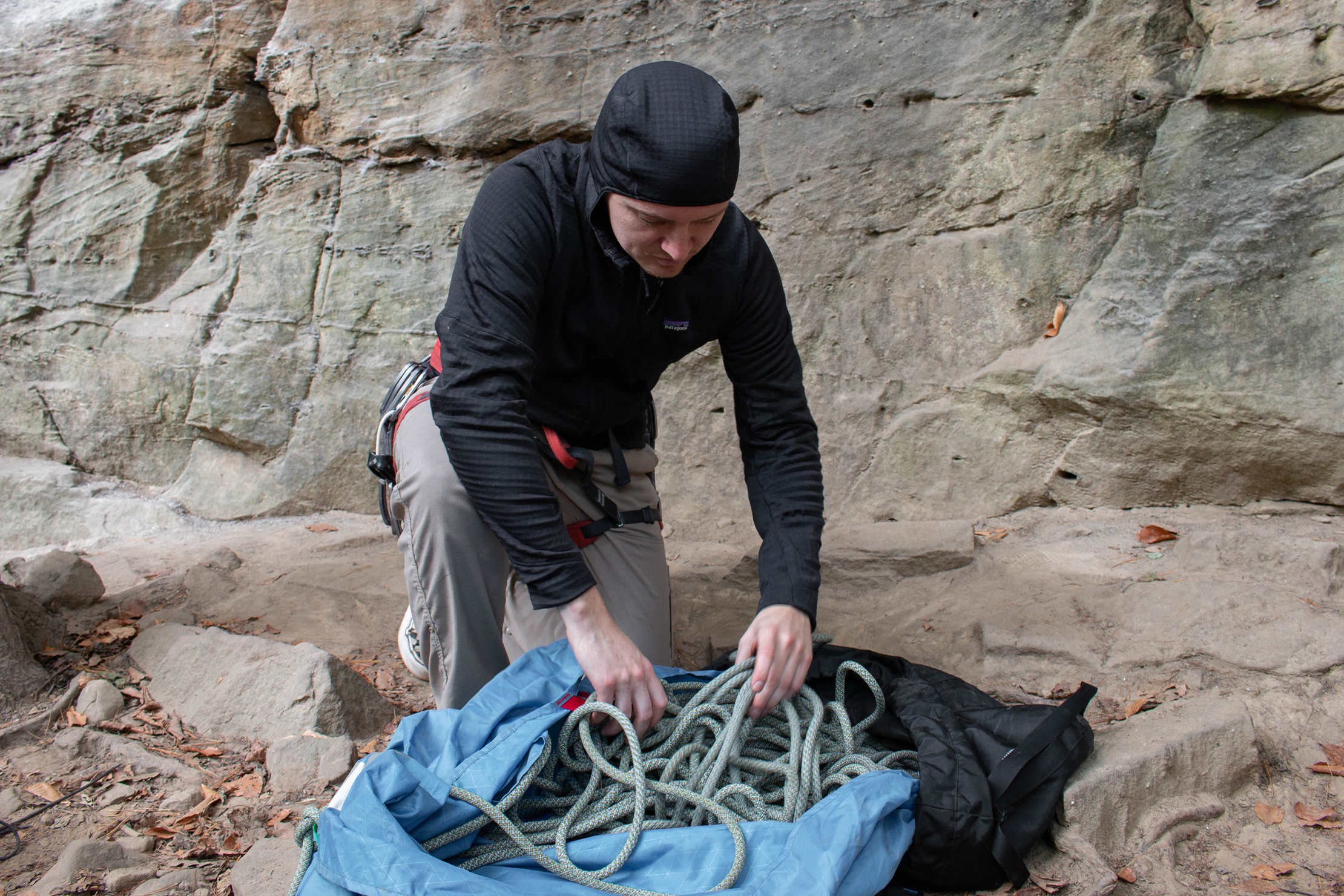 The next feature worth noting is what gives this hoody its name: the hood. The hood is probably the least attractive thing on this jacket. It's made to perform not to look good. It's tight against your head and can be pulled up past your chin to protect your face from the elements. Think ski mask. While we're not digging its aesthetic, it's super effective at keeping you warm while not limiting your sight-lines. And it fits comfortably beneath a beanie or helmet: climbing, biking, snowboarding, whatever.
And that brings us to how lightweight this hoody is. It clocks in at 6.9oz—the warmth-to-weight ratio is seriously top-notch. Now, it doesn't really compress but it does pack smaller than other sweaters out there—which is a definite plus for travel.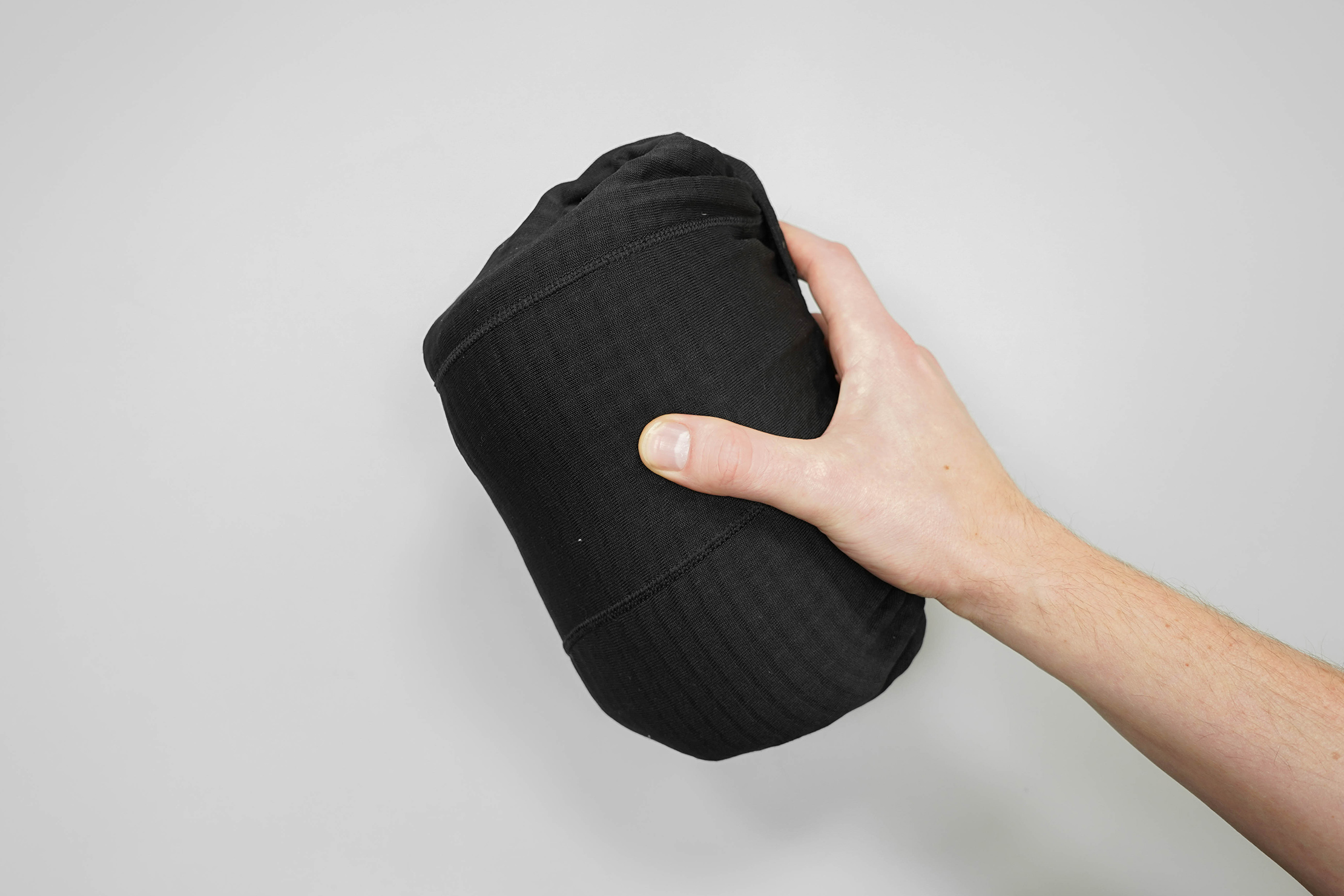 All of that said, and despite how great this hoody is at trapping body heat, it's not going to keep you toasty on those really cold days—at least not on its own. Its breathability means that icy wind tears right through it, making you feel like you're not wearing anything. It's also not water-resistant.
Basically, this hoody excels at what it's been designed for—being a midlayer—but won't work as an outer layer unless you only need a light jacket (say if it's in the 50s or 60s). You can easily pop a rain shell or solid outer layer over top of it if need be.
Now, we're not going to judge the R1 Fleece too harshly for this—the folks at Patagonia designed this hoody as a midlayer. But they've also claimed that it's versatile enough to work on its own. We've found this to be true only in fair weather (and casual situations). Not a deal-breaker, but it's worth pointing out.
Durability & Testing
As we mentioned at the beginning of this review, we've been testing the Patagonia R1 Fleece Full-Zip Hoody for nearly two months. And we think it's mostly as good as advertised (which is not something we say often). This hoody has been designed to keep in as much warmth as possible while being as breathable and lightweight as possible. It's an excellent midlayer for all of your outdoorsy pursuits.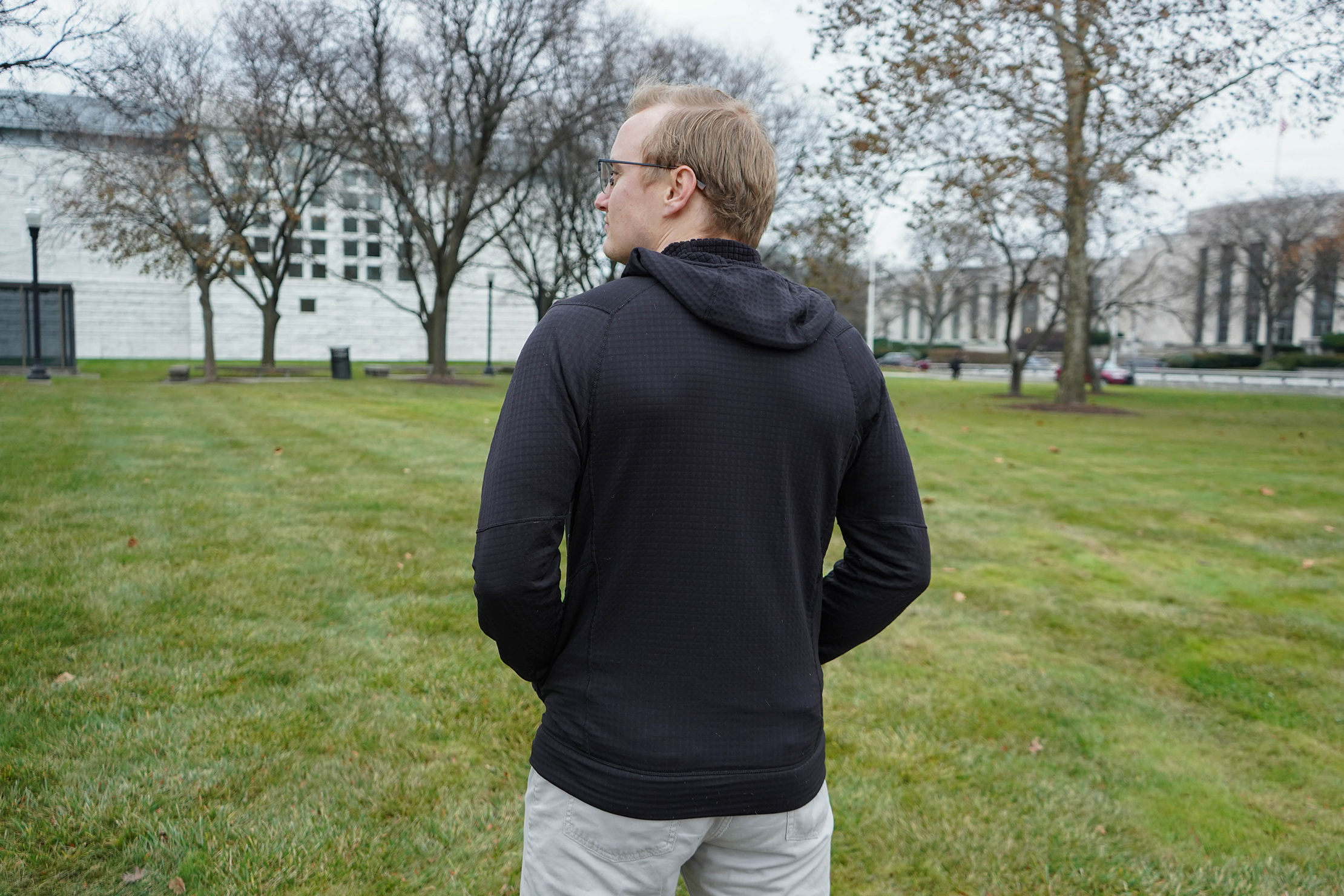 But that's about it. Despite Patagonia's claim, the technical aesthetic won't work in most offices or urban settings, and it's not versatile enough to use as an outer layer except in fair (not windy) weather. Plus it picks up hair and the like relatively easily—when paired with the REI 650 Down Jacket 2.0, it clings to the feathers. Other than that, we have nothing to report durability-wise. Patagonia is a reliable company known for making quality, durable gear. We have yet to see anything to the contrary.
Usage Timeline
Initial Usage
Condition: Excellent
Remarkably warm for its weight
Fits great under a bigger coat for layering
Extremely soft and comfortable
2 Weeks of Use
Condition: Excellent
Loving this as a midlayer. It's been great paired with the REI 650 Down Jacket 2.0.
1 Month of Use
Condition: Excellent
Way too breathable to use as a standalone hoody—the wind cuts right through.
2 Months of Use
Condition: Excellent
Everything is still looking—and smelling—good!
Access the Pro Community Discussion
Get your questions about the Patagonia R1 Fleece Full-Zip Hoody answered from our team and the Pro Community right here on the page. Plus, join discussions with other members about gear, guides, and more.
Other Clothing & Accessories Reviews