Pacsafe CX Anti-Theft Packable Horizontal Tote Bag Review
The Pacsafe CX Anti-Theft Packable Horizontal Tote Bag is a secure carryall for large gear, though it's still bulky when folded.
Our Verdict
Unlock the Pro Summary
Save time. Get access to brief summaries of our reviews so you can browse and make decisions more efficiently.
Pros
Thick material protects delicate gear
Comfortable carry
Removable pouch perfect size for small essentials
Cons
Interlocking zipper pulls fall apart when not secured by clip
Lacks structure and won't stay upright even when full
Snaps must be refastened after unfolding bag to secure pouch
Recent Pack Hacker Video
Technical Details
Capacity

20l

Weight (lb)

0.9920802 lb (0.5 kg)

Dimensions

15.8 in x 21.3 in x 5.5 in (40.1 x 54.1 x 14 cm)

Notable Materials

Nylon, Polyester

Manufacturing Country

Vietnam

Warranty Information
Buying Options

$99.95
$108.00
Full Review
Get up to 15% off Pacsafe • Join Pack Hacker Pro
Safe. It's right in the name. Pacsafe is a brand focused on the safety and security of your gear, with anti-theft features baked into the bag, so you don't have to worry about bringing separate locks. When you're traveling in questionable areas or need to leave your bag unattended for longer periods, they're excellent additions so you can have peace of mind that your gear will be safe.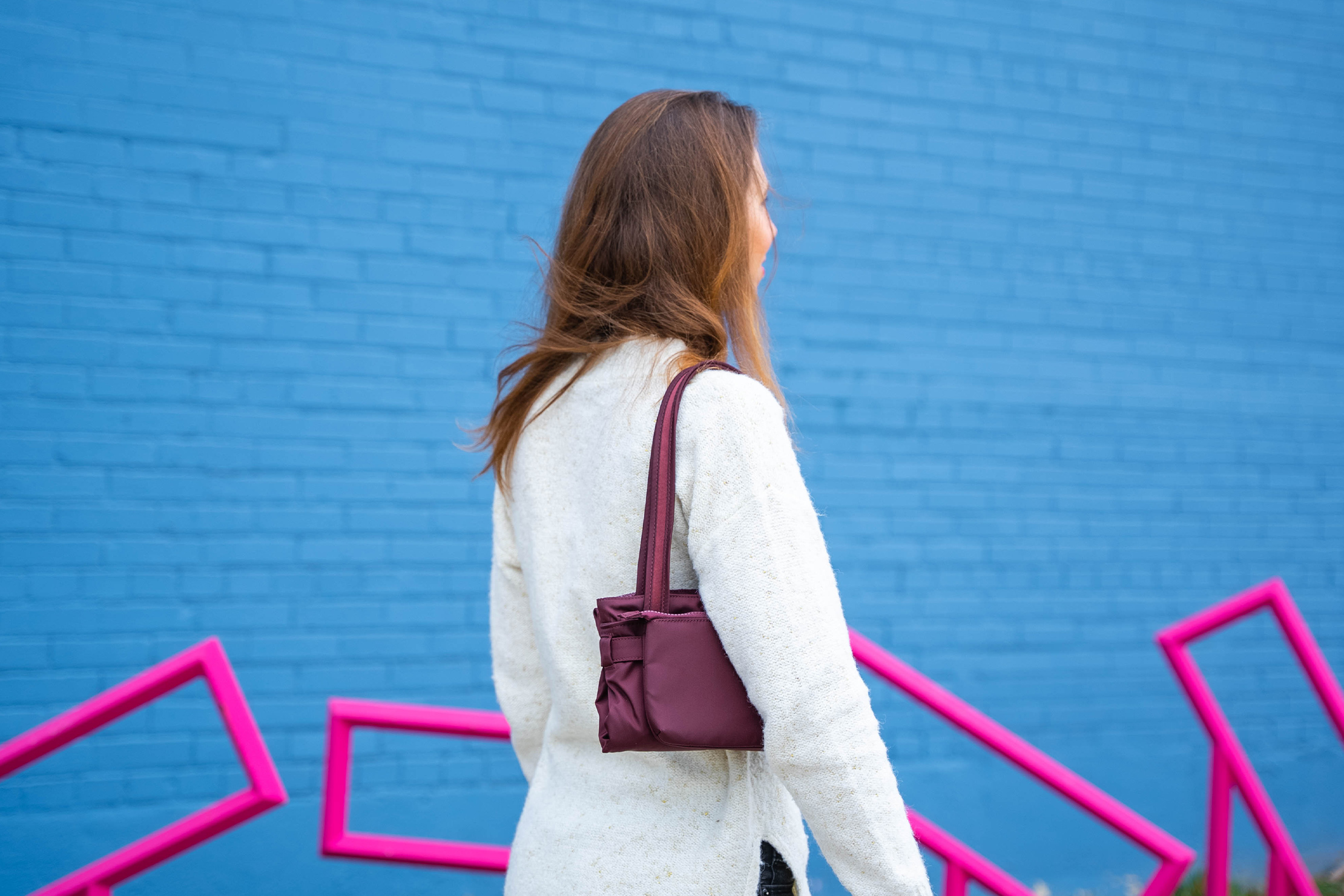 We're used to these attributes in daypacks and slings since they typically have compartmentalization that allows you to bring along sensitive gear like tech, travel documents, and a wallet. A tote bag is usually more of a catch-all for shopping or hitting the pool or beach, though. So is there a case to be made for adding security features to a tote? And is there a reason to pack it away?
Let's dive in and find out!
External Components
Looking at the Pacsafe CX Anti-Theft Packable Horizontal Tote Bag right out of the box, it looks like a medium-sized purse with a large front pocket. The carry handles are about 10 inches long, so it's easy to carry over your shoulder without it slipping off for quite some time. The lighter-color shiny webbing has the same darker 100D Nylon high-density twill along its edges as the main material for a nice contrast on the Merlot colorway. That's the only colorway available at the time of this review, so your mileage may vary as to how you feel about it, though we're digging the deep, rich color.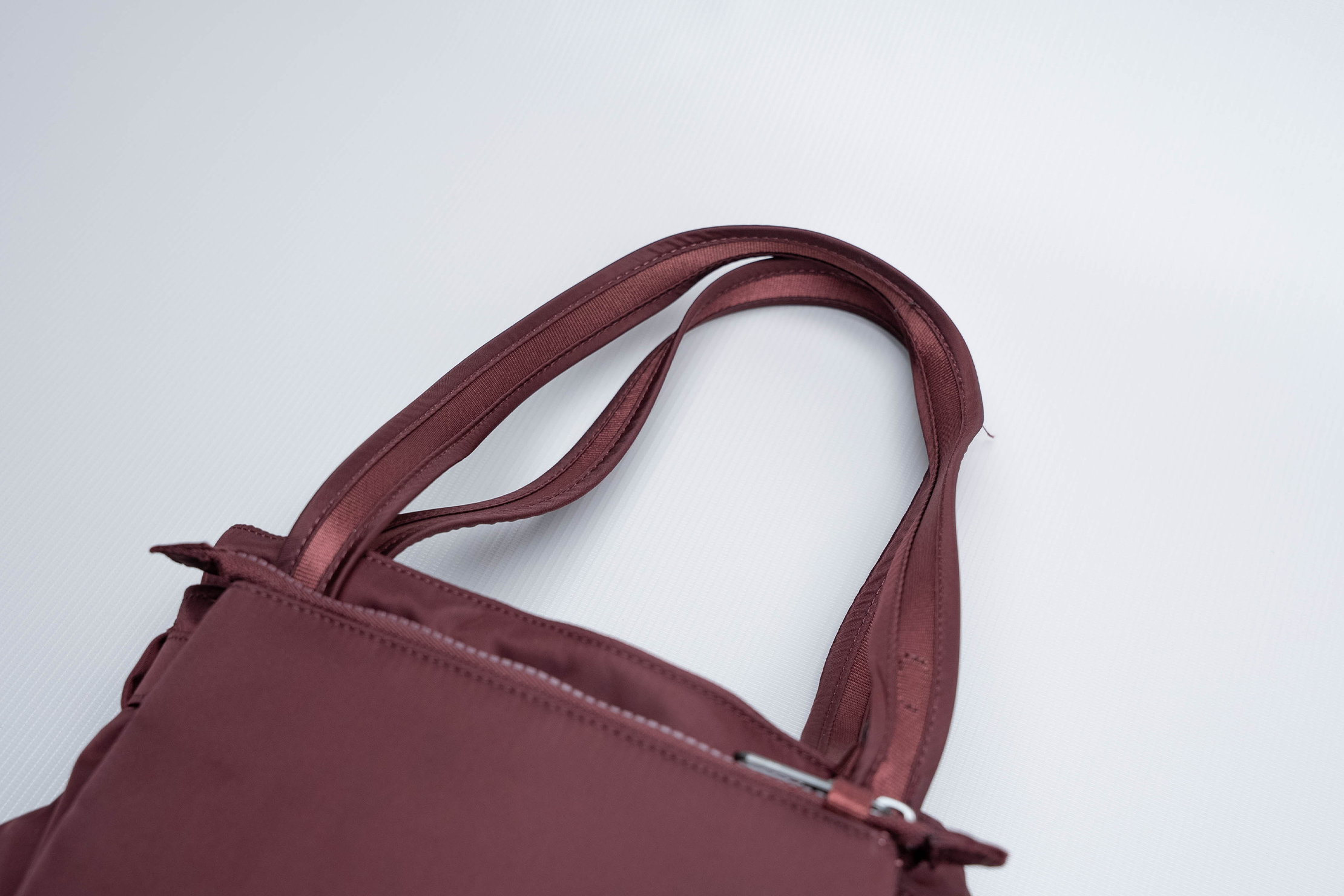 Being Pacsafe, the Carrysafe slashguard strap includes internal wire reinforcement so a thief can't cut and run with your bag. The main material also includes eXomesh slashguard: a built-in stainless steel wire mesh to add cut resistance to the bag itself.
In the bottom right corner of the front pouch is a tiny round metal Pacsafe logo, and the brand name is also printed on the zipper pulls. Two straps round the bag's sides to compress it; they also affix to the tote with snaps bearing the Pacsafe logo.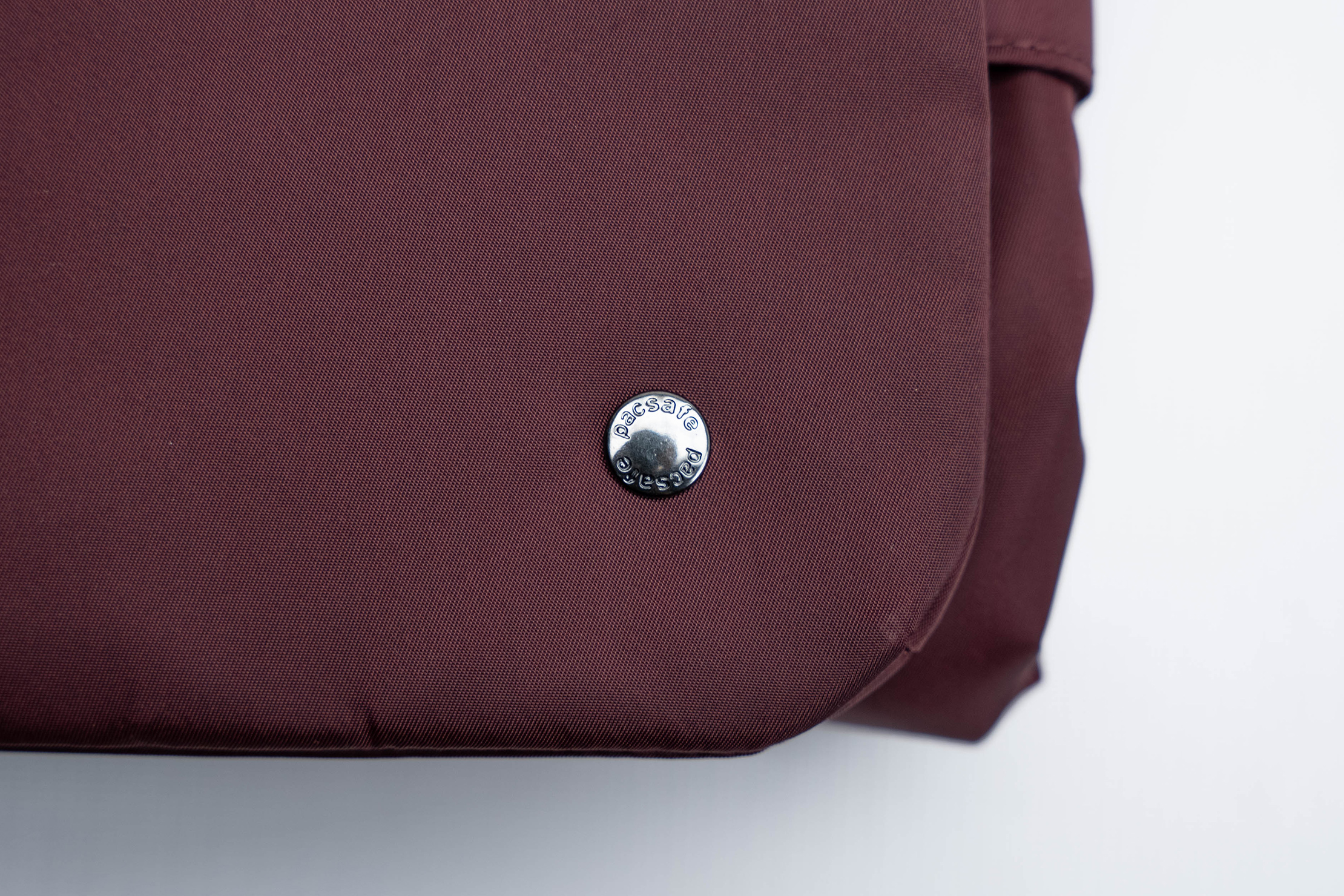 The zippers are unbranded, though they mostly work well. The long zipper on the main tote can be more difficult to close. However, we think it is more a function of the flexible nature of the tote than an actual problem with the zipper.
Speaking of the tote, let's chat about that before we go any further. While we mentioned the bag looks like a medium-sized purse at first, it's called the Pacsafe CX Anti-Theft Packable Horizontal Tote Bag, so you're meant to use it as such.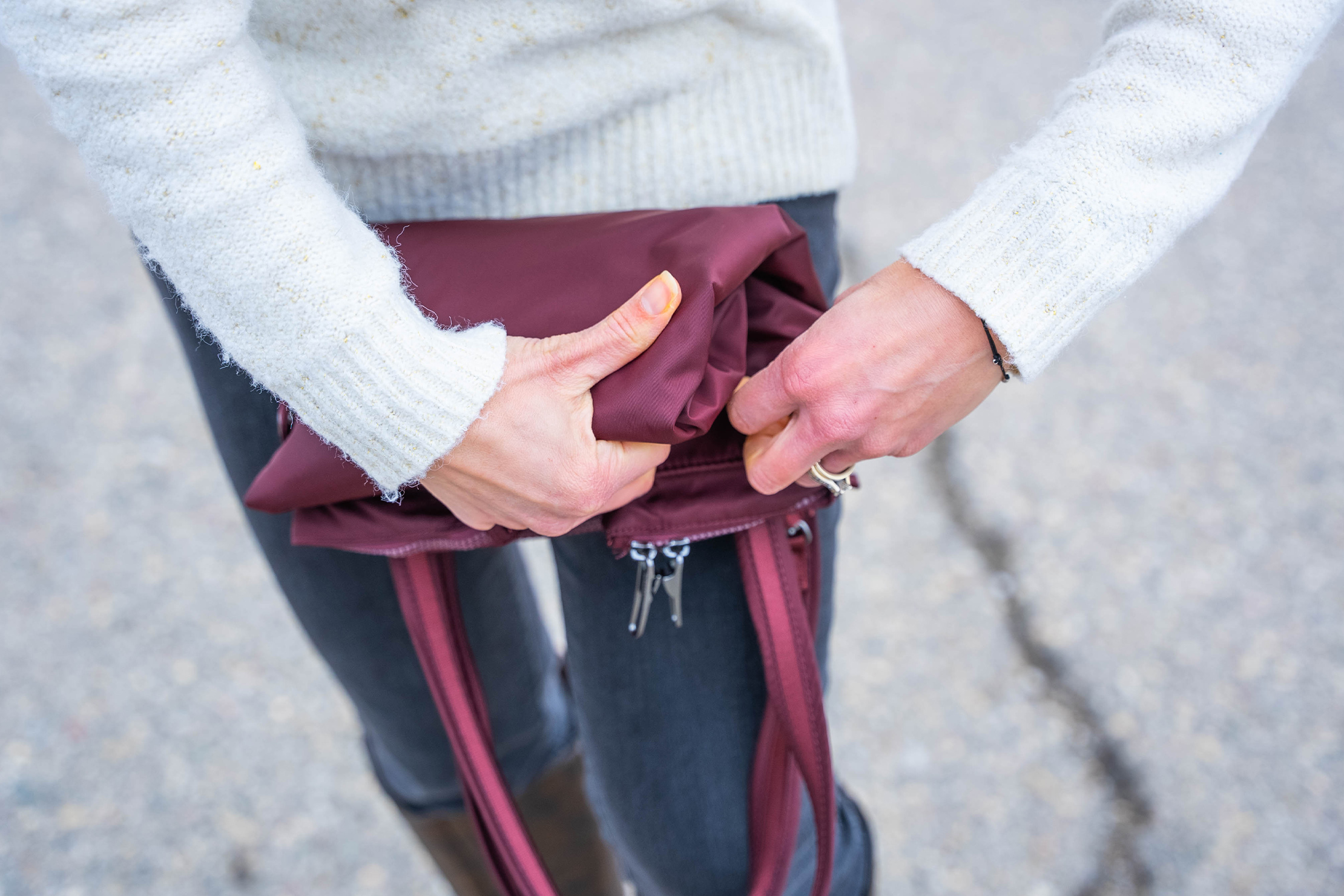 Flipping it around to the back, you'll find where the ends of those two horizontal straps snap to the bag. Unsnap them and unroll the bag to discover its total 20-liter capacity. Before you go much further, it's important to return to those straps and snaps for a hot second; you'll spy a second male end of the snap on the newly uncovered portion of the tote. Snap the tops back onto these fasteners on either side. Otherwise, there's a potential for the pouch to start to slip off the side. It's unlikely, although it can happen if the strap comes out of the loop it runs through on each side.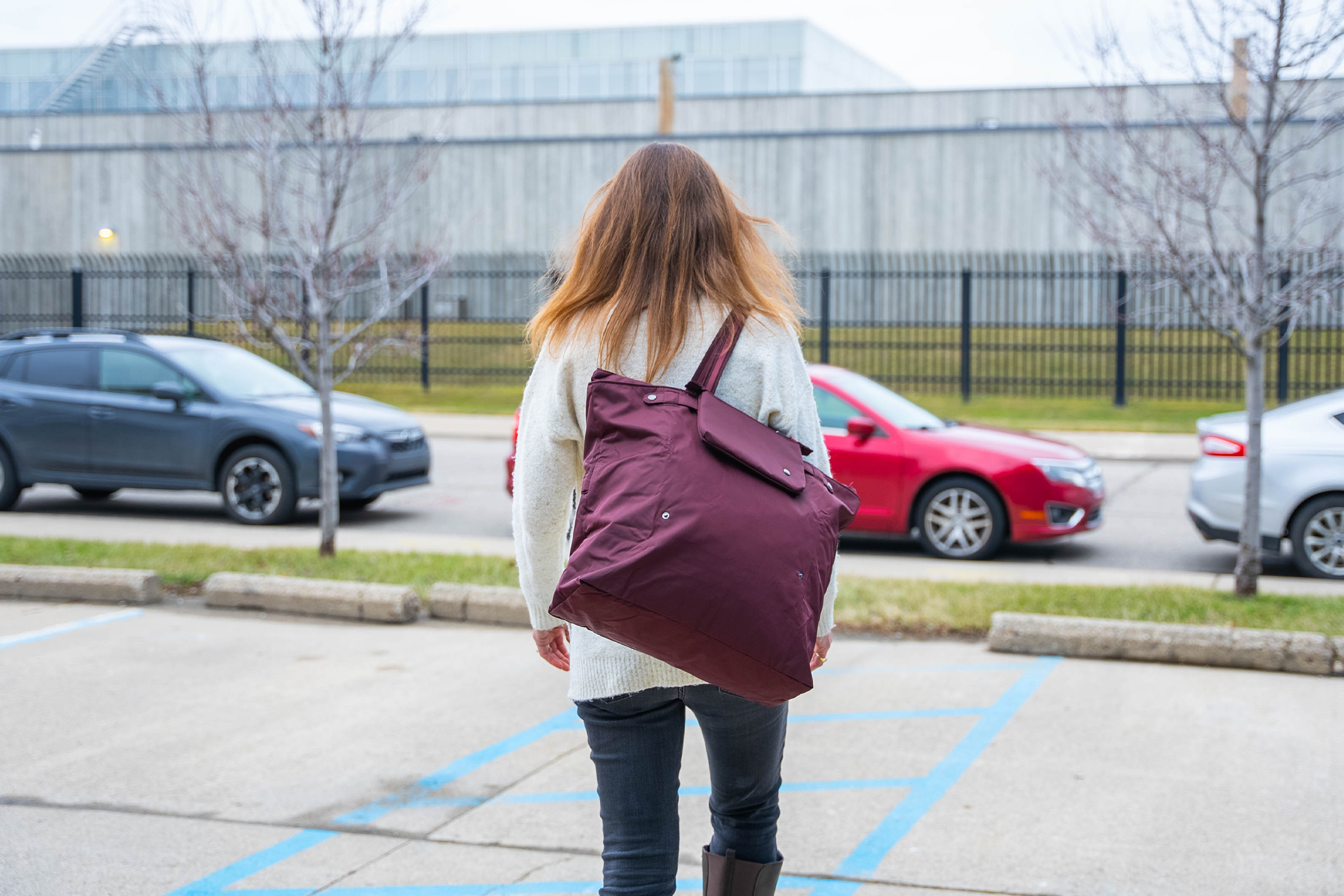 Now, voila, you have a fairly stylish large tote instead of a medium-sized purse, albeit one with the bottom half of two snaps located midway down the front. If that bugs you, flip it around to face the back side outwards. While it includes a pass-through for the handle of rolling luggage midway down the bag, it has the aesthetics of a color-on-color stripe instead of looking like you dropped a silver earring in your wine.
Fit Notes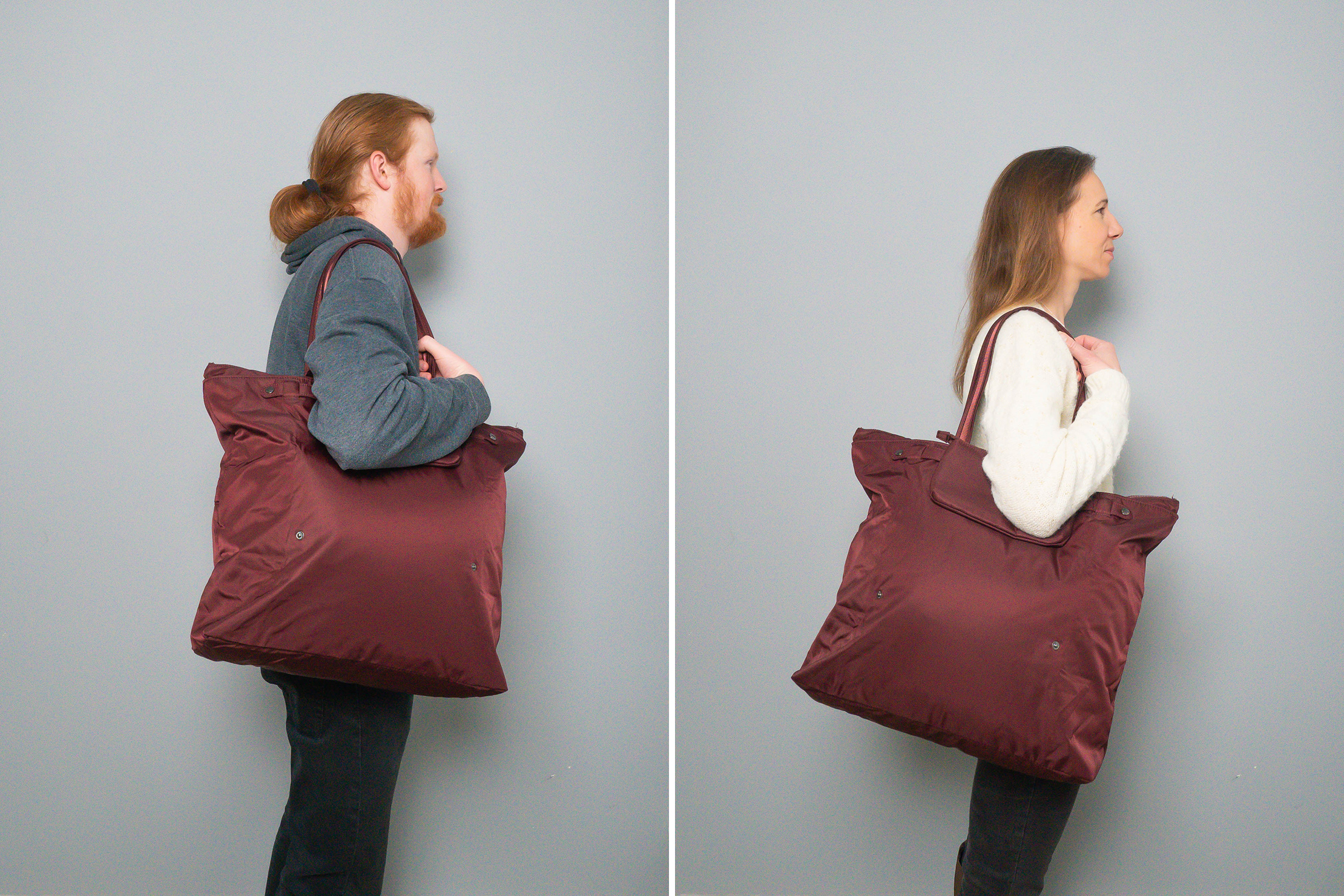 The aesthetics of the Pacsafe CX Anti-Theft Packable Horizontal Tote Bag differ depending on how you're using it. When packed down, it looks like a rectangular purse, although it doesn't function as one. You can still access the exterior pouch, yet you cannot get into the main tote compartment when it's folded and snapped away.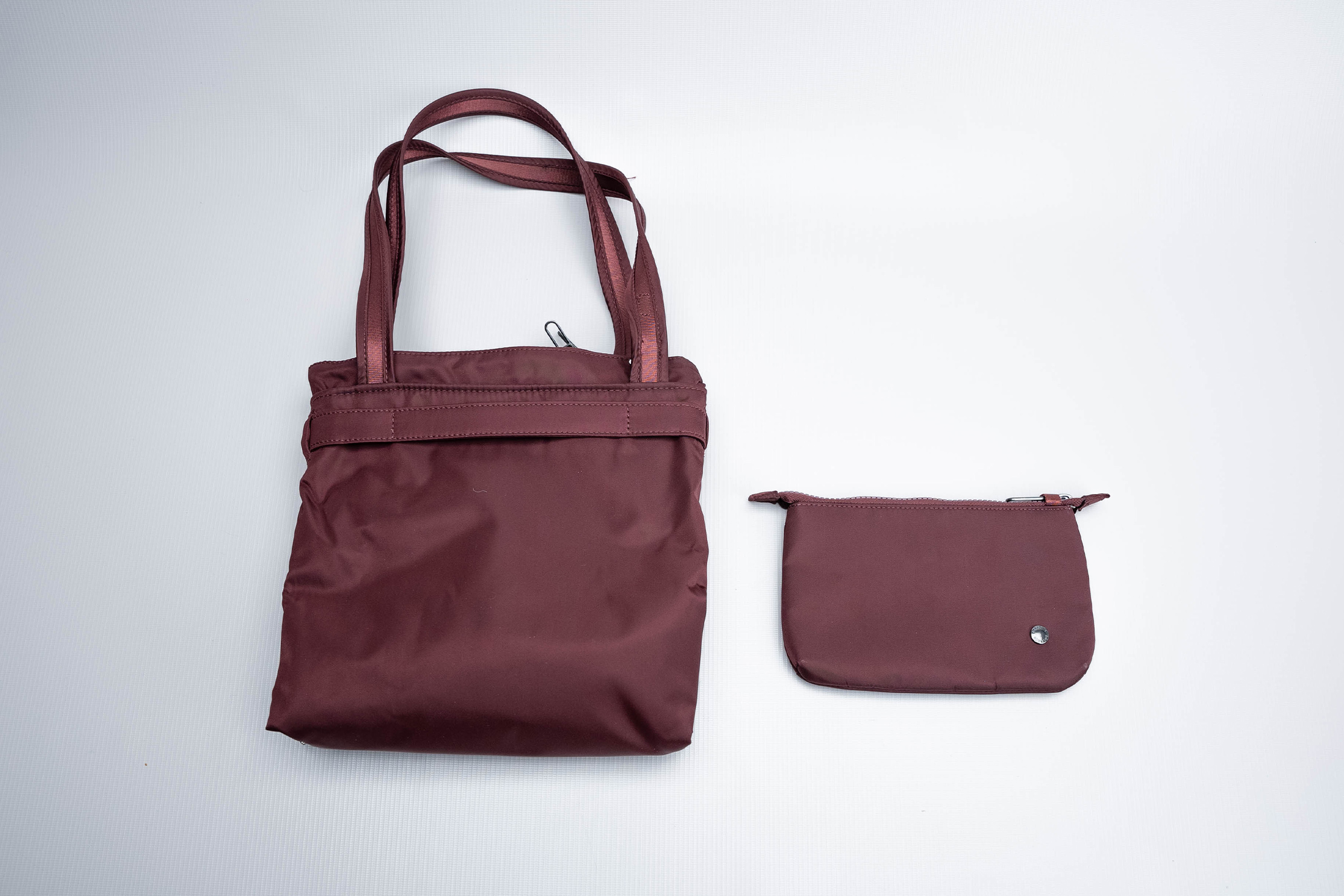 When unfolded, it looks like a sleek and large tote, albeit with a large pocket centered at the top. If that's not a look you love, unsnap the horizontal straps and slide it off. While you'll lose some organization, you can always toss the pouch inside the tote or use the internal pocket—more on that later.
Either way, the tote is comfortable during a long walk to the library or around the local market as you pick up ingredients for a special vacation dinner. Since it folds in thirds vertically (and horizontally) to pack away, the sides tend to curve in toward your body when you're not carrying much; however, this isn't an issue when you've packed a full load inside.
Inside The Tote
Before we head inside the tote, there are a few things you need to know. While the Pacsafe CX Anti-Theft Packable Horizontal Tote Bag doesn't have as many security features as some other Pacsafe bags, there are still a few locking zippers to slow down a thief who wants to steal your phone, wallet, or beach towel.
Let's begin with the external pouch. The zipper pull slides into a tab at the end to lock it down. While this can slow down access, it's still not very hard to pull the long metal pull out from under the tab. Along with the eXomesh slashguard, this pouch also includes RFID-blocking to protect your digital data. It encompasses the entire pouch, which is an open space good for your wallet, phone, and other small essentials.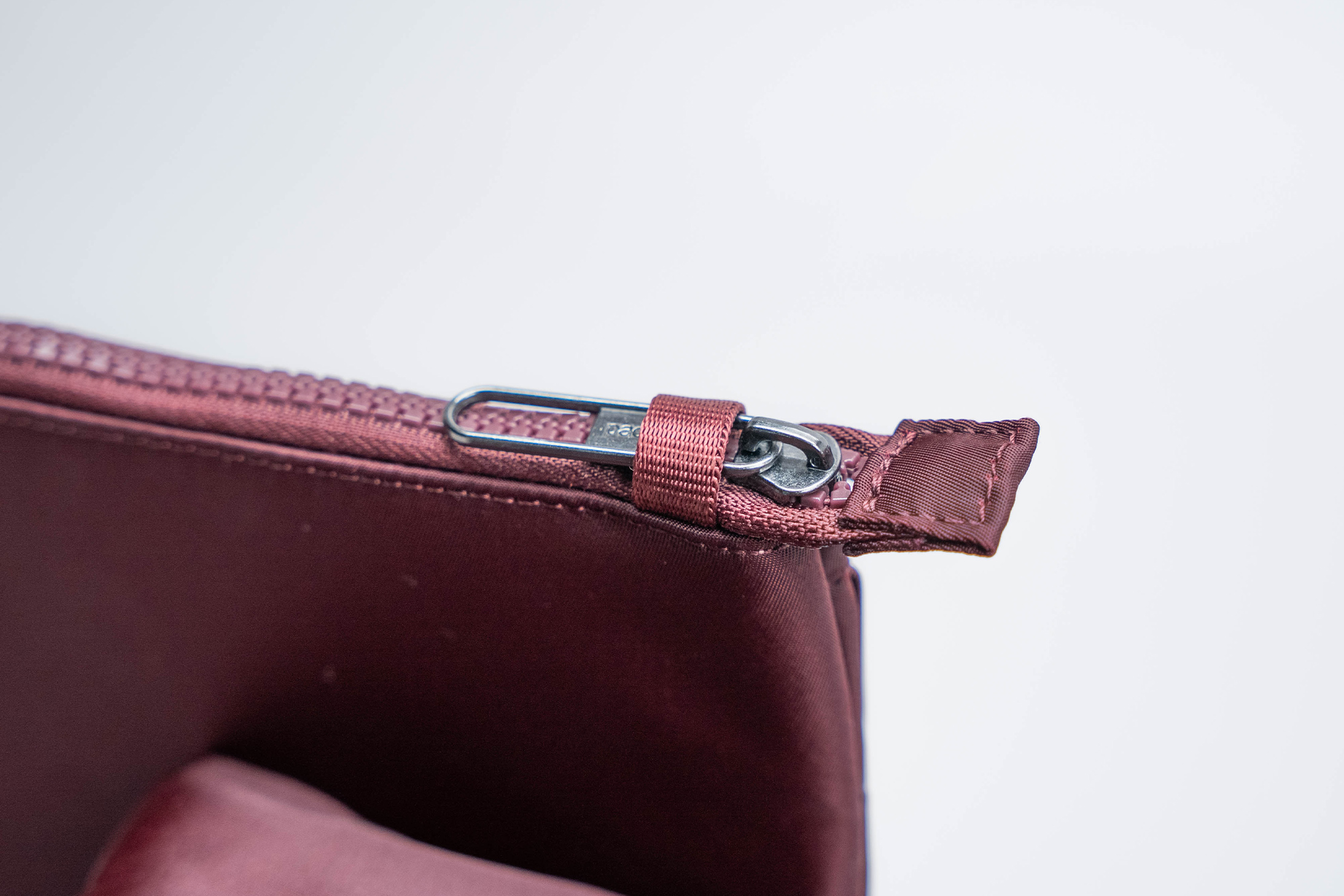 The pouch is also removable; unsnap the horizontal straps and slide them out from loops on either side of the bag. Then you can slide it off and carry it solo as a clutch or use it for small accessories to organize your travel backpack.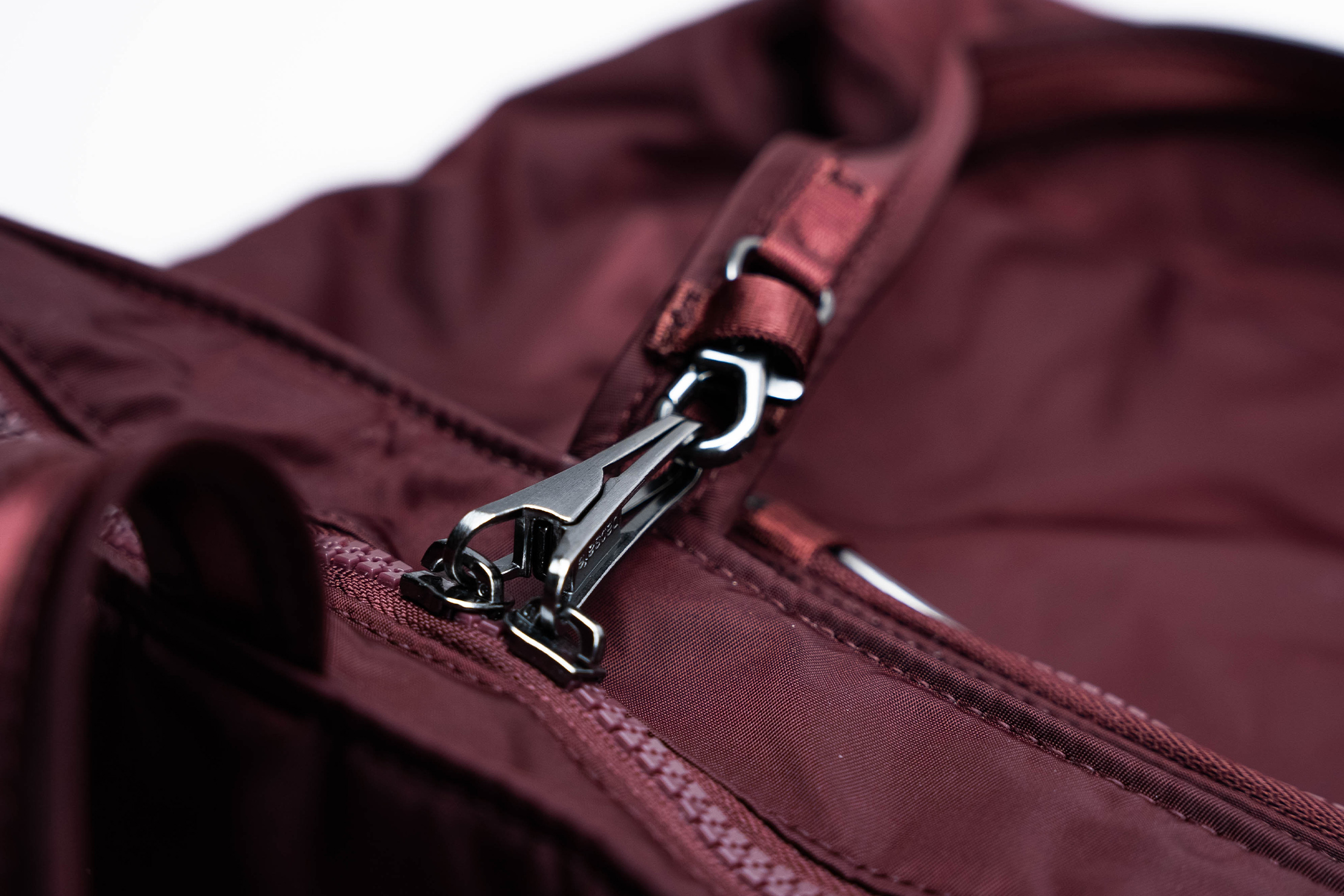 Security features on the main compartment include interlocking zipper pulls and a zip clip. The two zipper pulls that provide multidirectional entry to the main tote area include triangular protrusions that slip together and then lock so that someone can't just yank one pull and get access to your bag. However, unlike other Pacsafe bags, these don't stay together when using the bag. You can, actually, shake them apart quite easily, so it's good that Pacsafe also includes the zip clip: a hook-like clip on the left side of the front strap that can hold the two zipper pulls while they are locked together. That way, no one can get into the tote without you knowing, nor can it accidentally open while you walk around with the bag.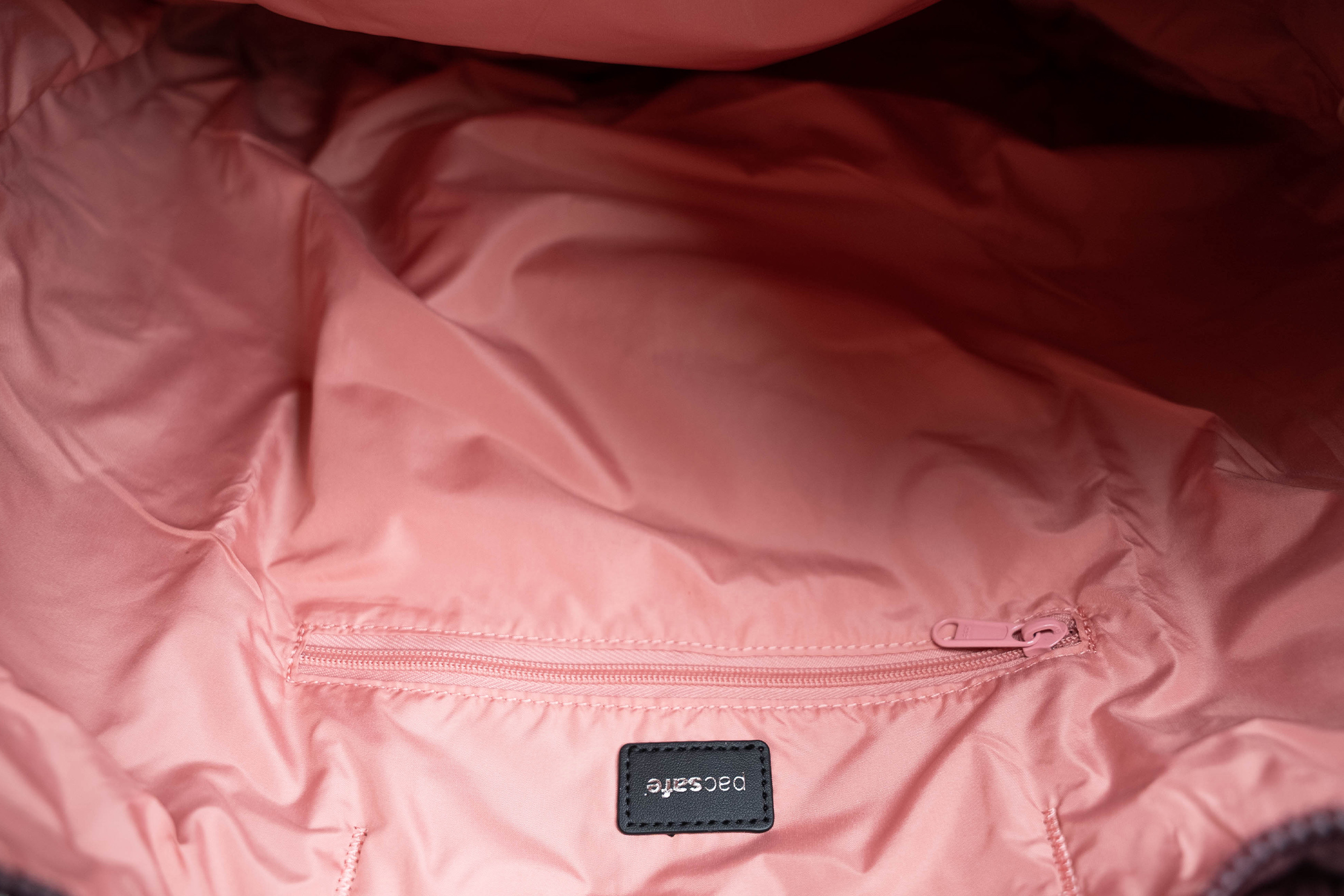 Inside, the bag lining is a light mauve 75D polyester pongee fabric. The 20L capacity is a vast open space except for one 8-by-10-inch zipper pocket for small travel essentials. So pack it up with beach towels and snacks, books and a picnic blanket and lunch, or groceries from the local market.
The way the tote packs up lends itself best to this use. While the word "packable" is in the name—even when it's folded in on itself—it's not the smallest compressible bag we've seen. Instead, the "packable" indicates that it can pack in on itself to be smaller, yet it's still rather thick when compressed. It works well to carry to the store when walking from your hotel or Airbnb since you can stash your phone and wallet in the pouch and then unsnap the tote to full size once you get there to bring your food home.
If that's something you're looking for, this could be the tote for you. If you prefer to have access to more of the bag even when it's folded, however, you may find yourself frustrated by your inability to do so with the Packable Horizontal Tote Bag.
Usage Timeline
Initial Usage
Condition: Excellent
Interested to use removable pouch
Digging the Merlot colorway
Extremely large capacity
2 Weeks of Use
Condition: Good
Convenient and comfortable to carry to the store
Finish rubbing off the zipper pull
A couple loose threads, but they don't seem to be unraveling
Access the Pro Community Discussion
Get your questions about the Pacsafe CX Anti-Theft Packable Horizontal Tote Bag answered from our team and the Pro Community right here on the page. Plus, join discussions with other members about gear, guides, and more.
Other Bags & Luggage Reviews